In the field of SEO, thin content is considered as content of a web page that does not meet the needs of users or does not provide any value. We generally consider pages that do not have enough text and also whose text quality leaves something to be desired as thin content. Thus, we include in this category: Short contents, affiliation contents, duplicate or unoriginal contents, etc…
The latter are sort of obstacles for the SEO of your web pages because Google does not appreciate thin content.
The web search has experienced a great expansion in the early 2000s. At that time when algorithms like Panda did not yet exist to reframe content creators, things were tipping in all directions and poor quality web pages easily rose to the top of the page in the SERPs.
It took Google to think about the user experience by reframing the industry with the Panda algorithm update in 2011 and Phantom in 2015. These updates were made to reduce the authority of sites with poor quality content and promote the best.
Since the updates, the thin content problem followed and many sites lost their position in search results
In this development, I will take you through what thin content is and give some guidelines to fix and avoid thin content on web pages.
Chapter 1: Definition and different types of thin content
Thin content has become a major problem that often affects the SEO of websites
Let's find out in this part what thin content means and how to recognize it on web pages.
1.1 What is thin content?
A content that does not provide any concrete information to the user is considered light or thin. We can recognize thin content under two aspects: the quantitative and qualitative aspect.
Indeed, we speak of thin content on the one hand when the web page does not contain enough content to satisfy the needs of users. On the other hand, thin content means that the texts available on a web page are qualitatively weak to bring an added value to the searchers' request.
Thin content is one of the practices hard fought by Google. It represents a problem for the SEO of websites and appears in the Google Search Console.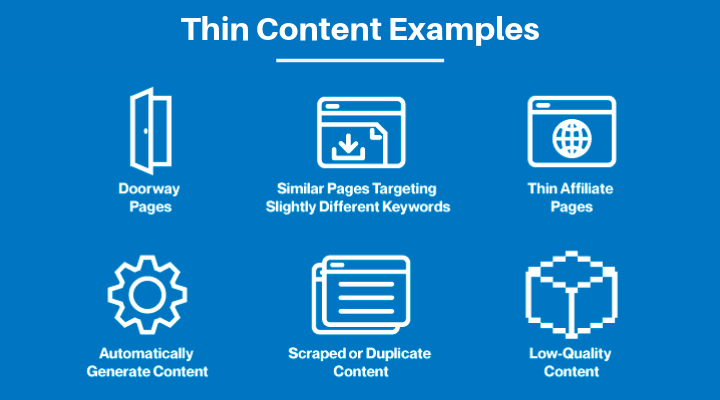 Source Road To Blogging
Therefore, if you systematically fill some of your web pages with thin content, Google may simply ignore its pages without any warning. So, you should ask yourself if your site is not ranking after a long period of continuous optimization or SEO actions.
The presence of thin content may be the reason, who knows? To be sure, you can do a site audit. For a more experienced SEO, it is actually easier to spot the web pages that are affected and fix the problem. But, for an SEO beginner, you will certainly have a hard time recognizing the exact problem.
1.2. The different types of thin content
Thin content can generally be classified into 6 different categories
Recognizing the contents presented in this session on your web pages will certainly enable you to detect the pathology that affects your website's ranking in search results and correct them.
1.2.1. Content that lacks usefulness or depth
It is true that large contents are generally favorable for SEO. But, note that a web page is not necessarily good because it contains a lot of content. Likewise, a web page is not necessarily likely to rank because it has detailed information. A good quality content, which is likely to be indexed and ranked among the SERP results is a content that provides answers to all the user's questions. So remember that a content that respects the editorial rules and contains information that goes beyond the concerns of the user cannot be considered as thin or light.
1.2.2. Duplicate contents
The presence of redundant or repetitive content on your web pages reveals the low quality of these pages. We often speak of duplicate content when two or more web pages of the same site have the same content.
If you have for example on two different web pages an article of 1500 words that repeats almost the same information, Google will consider these pages as thin or light content.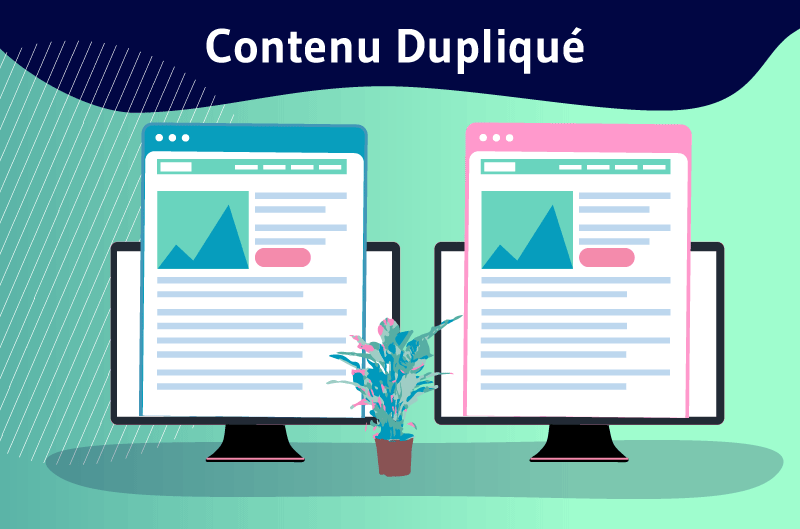 Google may decide to ban one or both of them because it does not know which of the two pages is the original source of the information. On the other hand, if you publish an article of 2000 words that develops the same information from beginning to end, it can also be considered as light because it does not bring anything more to the user despite its volume.
1.2.3. Pages filled with plagiarized content
Plagiarism is a very hostile practice for SEO. In fact Google may have to penalize or de-index pages with stolen content because there is no point in presenting the Internet user with two different sites with the same content.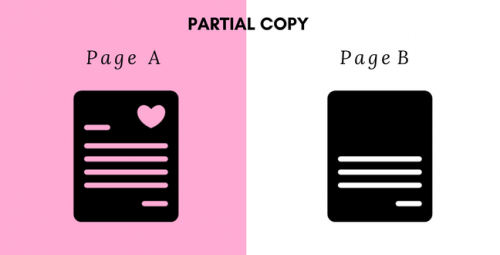 Source Affde
As a result, Google considers these pages as thin content and does not bring them up in the search results. Moreover, plagiarism is a practice that reduces the credibility of your site and prevents you from positioning yourself as an expert in your field.
It is a practice that can be an obstacle to your online marketing in the long run.
1.2.4. Pages with hidden content
Some SEOs use shady techniques such as cloaking in order to get their website ranked or moved up in Google search results. Indeed, it is about hidden contents or redirections that allow to make Internet users and indexing robots believe that they are good quality contents.
Cloaking for example, allows SEOs who engage in it to show only a more or less good part of the site to visitors and search engines.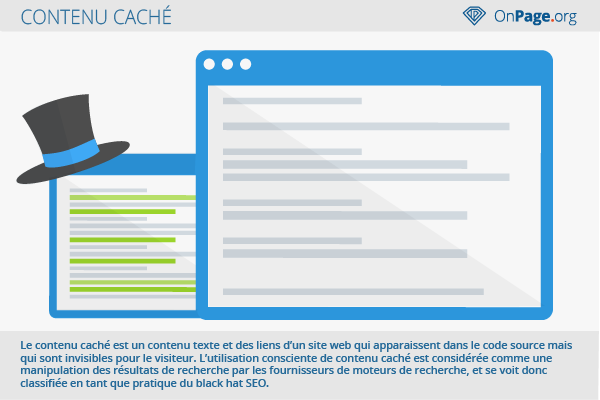 Source Ryte
In the same way, redirection allows to drive users and search engines to another site such as an affiliate site and receive a commission.
Google generally considers the contents of these pages as thin and can simply discard them when ranking the search results because they are in the spirit of manipulation and deception.
1.2.5. Pages filled with advertisements or popups
Popups are intrusive advertisements that are overwhelming in nature for users. The presence of popups on a website affects the user experience. Google may also consider web pages filled with ads and popup ads as thin content.
This is because the contents of the ads are not always useful for the users not to mention the presence of popups which can also represent a blocking element for Google.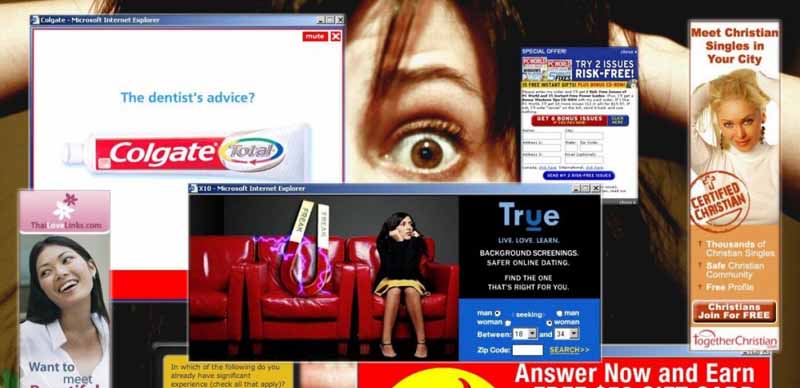 Source Nouvel Obs
This can be manifested by the sole presence of popups as the main content of the web page and can represent a problem for the ranking of this page.
1.2.6. Thin contents present on tag pages or author and category pages
Thin content is most commonly found on author pages and category pages
For example, in an e-commerce context, as the product inventory of an online store empties, the website could end up with empty product-specific or category web pages with no content.
In the case of websites with blogs used for guest posting, it is common to find pages containing unfinished work or even very light and insignificant author pages
Likewise, for websites that have existed for some time, you may find pages with unfinished content or without content that become annoying for search engines.
To better control and manage these types of pages, you should periodically audit your site. Periodic monitoring of the site especially from the "Coverage" tab can allow you to detect thin pages and correct them so that they do not become a problem for your site's ranking.
1.3. Where does the thin content problem come from?
Before the Panda algorithm was updated, Google's search rankings were different from what we see today. Websites would copy and reuse relevant articles from other sites to rank high in SERPs.
This duplicate content does not bring anything concrete or new to users and affects the user experience. In an effort to reframe this problem and make web search more relevant, Google updated the Panda algorithm in 2011.
This update aims to remove poor quality websites that were even ranking high in search results. This cleanup will allow Google to have a fairly clear view of which sites are doing a good job and present relevant results to users.
The main targets of this algorithm are sites consisting of:
Duplicate pages ;

Plagiarized or scraped content;

Combined or keyword stuffed content;

Pages filled with user-generated spam;

Etc.

We can clearly see that Google's objective is to limit or simply avoid the creation of useless or worthless pages with thin content.
Now, let's discover some techniques to detect the presence of thin content on a website.
1.3. identifying thin content
Thin content can be identified manually, but note that this method will take you a lot of time and effort
On the other hand, there are tools that can help you identify thin content faster. In this section, we will outline five techniques for detecting thin or duplicate content on websites.
1.3.1. Use Google Search Console to analyze thin pages
Google Search Console allows you to detect thin content on your different web pages. This tool is one of the best identification tools because it not only presents you with accurate and intuitive data, but it also allows you to view your site as Google sees it.
The ability that Search Console offers to allow website managers to see their website exactly as Google does is what impresses most. In practice, one of the great ways to do this is to check the content of the landing pages or blog pages that you have spent a lot of time on.
In other words, you need to check the articles and pages that you have optimized for the purpose of ranking on precision keywords. Normally, these pages are the most likely to be ranked.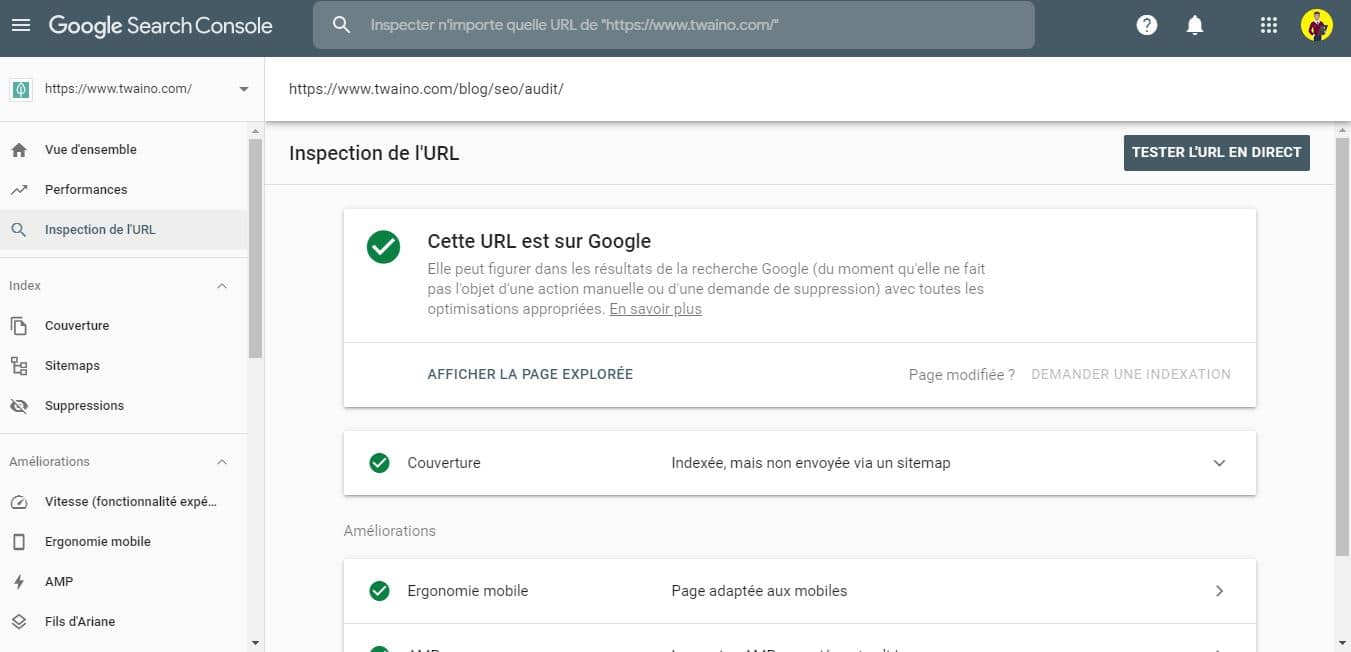 If you find well-referenced pages that would normally be positioned in the search results and are not, this is a signal of thin or qualitatively lower than normal content.
The Google Search Console also allows you to check if your site does not already mention Manual Actions in some way. Exploring the "Manual Action" tab will let you know if it is the manual penalties inflicted by the Quality rater or algorithmic penalties.
Finally, the Google Search Console allows you to have vital information on the Google indexing procedure. The "Excluded" tab of the tool allows you to see all the web pages of your site that Google has banned or the pages not indexed.
You can also see the reasons behind Google's decision. Basically, Google Search Console presents analysis reports to explore such as:
Currently Not Indexed;

Duplicate and unselected URL;

Duplicate without user selected canonical;

Duplicate, Google selected a different canonical than the user;

Etc.
1.3.2. Controlling URL parameters that cause duplicate content
The objective here is to get a list of all valid URLs of your site already crawled by Google followed by a timestamp. To do this, go to the Google Search Console and access the various settings options that are located at the bottom of the left sidebar.
Click on the "open report" option which is under the Crawl Stats. In the crawl stats presented, scroll down and locate the "Crawl Request Breakdown" and then click "OK" which is right under "No Response".
After identifying the URL settings, you can use the "URL Settings" tool to crawl them.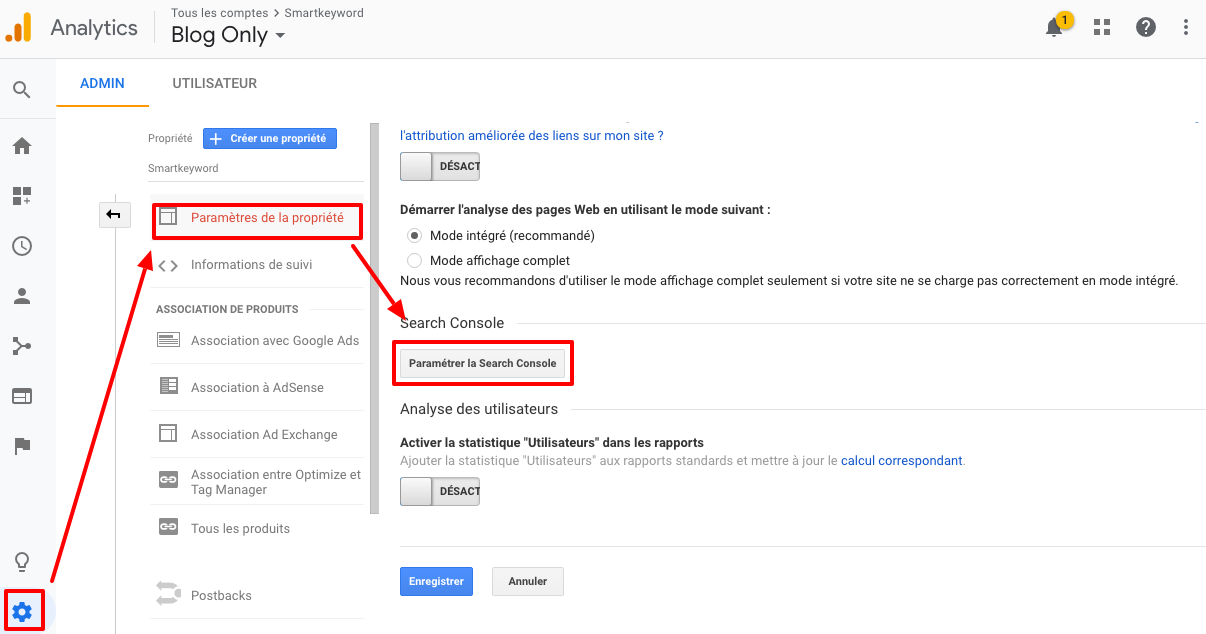 Source SmartKeyword
I suggest you to read the explanation given by Google and the Seer Interactive's guide guide to better understand the use of URL parameters and how to configure them.
1.3.3. Use a ranking tracker to configure your top keywords
With the help of a ranking tracker, you can keep track of different issues that may become a problem for the ranking of your web pages.
You can therefore quickly detect the presence of thin content or other problems like keyword cannibalization or duplicate content. Setting up a tracker is an excellent way to monitor the ranking of your web pages and also to avoid being a victim if the Google algorithm makes a mistake.
1.3.4. Use website crawler tools to detect duplicate titles and meta descriptions
You can quickly spot duplicate title and meta description tags by using website crawlers like Screaming Frog. If you have identical pages on your site, it can hurt the user experience and Google may not index as well.
With Screaming Frog, you can manage your web pages and make sure that the titles and meta descriptions are unique and original. Of course, Screaming's interface may seem complicated if you have no technical understanding of how to use it.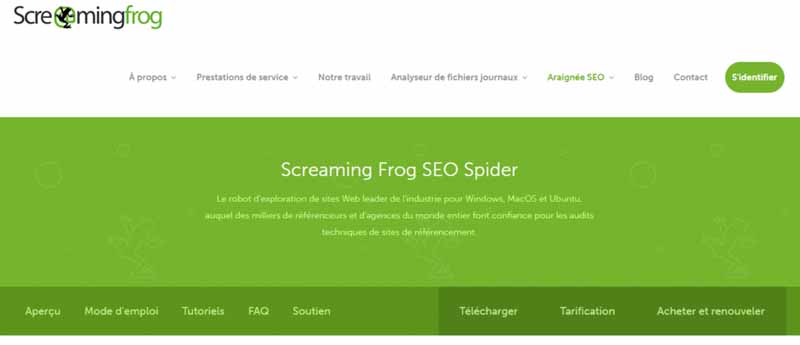 Nevertheless, the tool has a free version that gives you the possibility to check about 500 web pages of a site. In this case, using the tool is simple. You just have to type the URL of your site and wait for the end of the review to analyze the different tabs such as:
Title 1;

Title 1 Length ;

Meta description 1 ;

Meta description 1 Length ;

Etc.
1.3.5. Detecting thin and duplicate content with a crawler
The fifth and final thin content detection technique we present in this document is to use a tool that can evaluate the content itself. Once again, you can use the Screaming Frog tool. It has a lot of features that allow you to detect problems related to your site and solve them.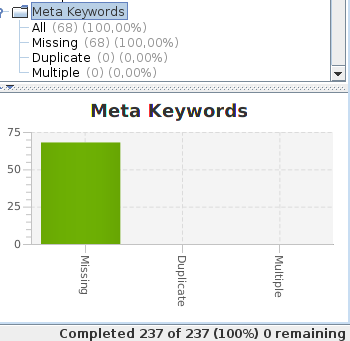 Source Agence-web.cubis-helios
Read this Screaming Frog Guide on how to check for duplicate content.
On the other hand, you can also use simpler tools such as a plagiarism checker to check the presence or not of duplicate content on your web pages. This is an alternative and simpler solution than using Screaming Frog. I recommend plagiarism checkers like DupliChecker, Quetext or even Siteliner
1.4. how is thin content harmful for Google and SEO?
Generally, when you do not offer any added value in the creation of content on your web pages, you lose credibility and ranking.
Indeed, thin content can be duplicate content, of low quantity or of doubtful quality. They do not bring anything more to the visitors and push them to look elsewhere for the answer to their needs.
More explicitly, thin content is detrimental to the performance of your web pages and thus affects the SEO of your site. A thin content signal on a web page can cause Google to de-index that page.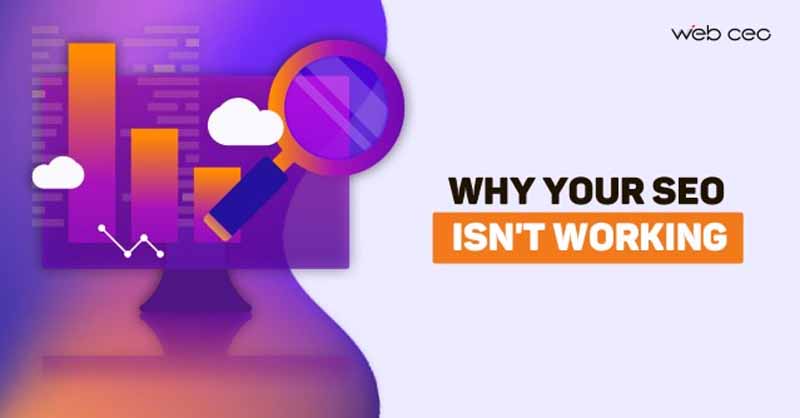 Source WebCeo
Thin content also affects the authority and credibility of your site with your visitors or consumers.
A user who is less or not totally satisfied during his first experience is no longer likely to come back to the same site. The presence of thin content can therefore negatively impact your business in the short and long term.
In other cases, thin content can also cause the phenomenon of keyword cannibalization. This phenomenon occurs when two or more pages of the same site target the same keywords.
The direct consequence of this problem is that the most important pages may be downgraded or de-indexed in favor of the overlapping thin pages
Identifying and solving thin content issues can help you improve your search rankings. The best way to solve this problem is to remove and redirect pages with no value and maintain and fix pages that can still serve you.
Chapter 2: How to fix, reuse and avoid thin content?
As we've defined it from the beginning of this development, thin content is low quality, worthless content. If you decide to finish with and avoid any penalties related to the presence of thin content, you must decide to produce quality pages that positively stand out to users and to Google.
Thus, whatever the type of content you propose, you must deepen your research, develop your arguments, extinguish with expert words and especially illustrate with relevant visuals.
Basically, you will use all the necessary strategies to produce interesting content on your web pages not only to get ranked, but also to impress your consumers.
In this part, I propose twelve (12) tactics to correct and avoid thin content in the future.
2.1. Position yourself as an expert in your field
There are a lot of scammers and unqualified people among the companies and brands on the Internet whose only goal is to get money out of people.
And Google is well aware of this phenomenon. It is precisely to fight against these malicious people that Google proceeds to multiple algorithm updates in order to banish spammers and swindlers from the Internet. Faced with the various forms of scams on the web, everyone is on the alert and no one wants to be fooled.
This is why Internet users are constantly looking for trust signals on websites and do not hesitate to click on links that inspire confidence. In fact, your different actions and the content you publish on your web pages allow visitors to decide whether they should trust you or not.
Note that Google cares a lot about user experience and if visitors like a site, it is likely to rank well. That's why your main goal with your site should be to show that you are an expert in your field and that you run a real business.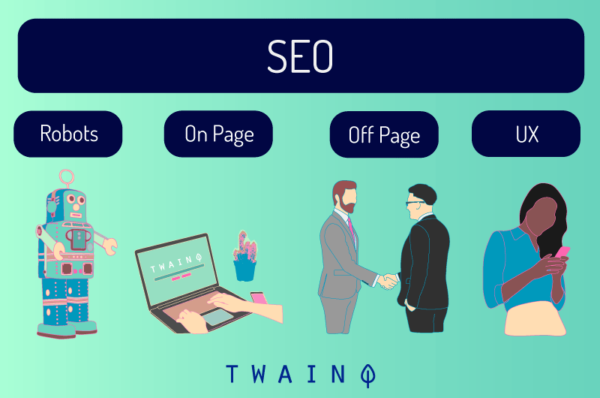 You can do this by displaying your company information on the site in the "About" menu and especially by describing some of your work. It would also be appropriate to be mentioned or quoted by other well recognized media. This is a proof of your expertise.
2.2. Make sure your website is well designed, clean, usable and modern
In marketing, user experience is a high priority if you really want to build customer loyalty and sell. But keep in mind that it's not just about offering quality products and services to claim to provide a better user experience.
Many of your competitors also have better services. In addition, there are other small details that can easily help you add value to your content. These include:
Design of your site;

The colors you use in your communication;

The tone;

Etc.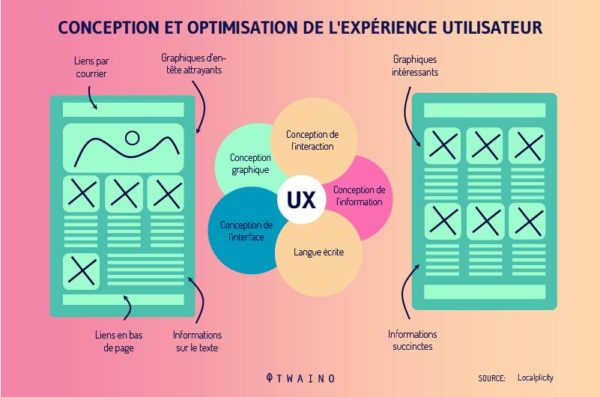 These elements have a direct effect on the psychology of your consumers. There are certain colors that generally provoke reactions in visitors or simply inspire confidence. The opposite is also obvious. Indeed, there are other colors that can scare visitors away. You should also avoid outdated or inappropriate layouts.
If you manage to use these effects well, you can gain the trust of consumers and Google will consider your pages as good resources.
2.3. reduce the number of affiliate links and ads on your site
One of the practices that can create doubt among your consumers is the excess of ads and affiliate links on your web pages. Of course, the initial objective may be to sell, but if you always seem to be trying to sell without taking actions to provide a solution to users, they will run away from you.
Moreover, affiliate content is part of the thin content according to Google, so it can harm you.
Finally, if you overload your site with ad scripts you may not only annoy your users, but the ads may also affect your site's ranking even if they are not considered thin.
2.4. Remove and avoid Black Hat practices like content or link hiding
To gain the trust of users and Google especially, you need to finish with shady practices that are meant to manipulate and deceive vigilance. These are practices like:
Cloaking;

Keyword stuffing;

Link hiding

Etc.
Remember that companies or brands with transparent and open sites are more likely to gain the trust of their consumers and rank well on Google.
2.5. Produce original content that provides a solution to users
Given that you have many competitors in your field producing content on virtually the same topics as you, one way you can stand out is to be original and add value. It's no longer a given that original content is better perceived by Internet users.
Moreover, Google takes into account the opinions of users and will easily index your pages if it is impressed too. To make sure that your content is original, ask yourself if it brings something new to the topic.
The key is to present the information better than others and link to it better. Simply detailing and finding nuances between data can give your content a touch of originality.
There are some topics that contain enough information on the Internet. On the other hand, there are others that are very little covered. This is an opportunity for you to identify the less developed topics and produce content on them.
In fact, these topics are a gold mine for you because you are almost certain to quickly position yourself with them. From personal experience, I can confirm that Google is sensitive to original content and is likely to rank your website quickly.
2.6. Make sure your articles are of good quality
When you create content, you need to put yourself in the users' shoes and predict the likely questions they may have to find what you write. Users are searching to read and understand, so you need to explain and elaborate on the topic you are writing about. Be logical in your development and avoid boring the reader. To do this, you can proceed as in the Netflix series where each episode leaves the suspense to encourage the viewers to continue. The different chapters of your text should lead the reader to continue and discover the mystery hidden in the next chapter.
2.7. Avoid plagiarism
Generally websites tend to reuse articles from another website. You can be inspired or even paraphrase articles from other sites. But especially avoid plagiarism because this practice is against the requirements of Google. Worse, Google is able to recognize and detect plagiarized content on websites.
Your site can therefore be penalized if the search engine detects plagiarism on its web pages. There is no fixed percentage of plagiarism that is in order, nevertheless, I advise you to stay below 3% which includes quotes that you cannot paraphrase.
But to avoid any problems, you can break down the text from another page and explain it better instead of plagiarizing. By doing this, you can easily rank high in SERPs especially if you try to add a touch of originality to your article.
2.8. Issue external links to the original source
When you use content from other websites, one way to give Google a good impression is to put links that will lead users and Google to the original source
Google loves external links because they represent proof of what you're saying. Backlinks show that your content is not a fabrication and that there is a source.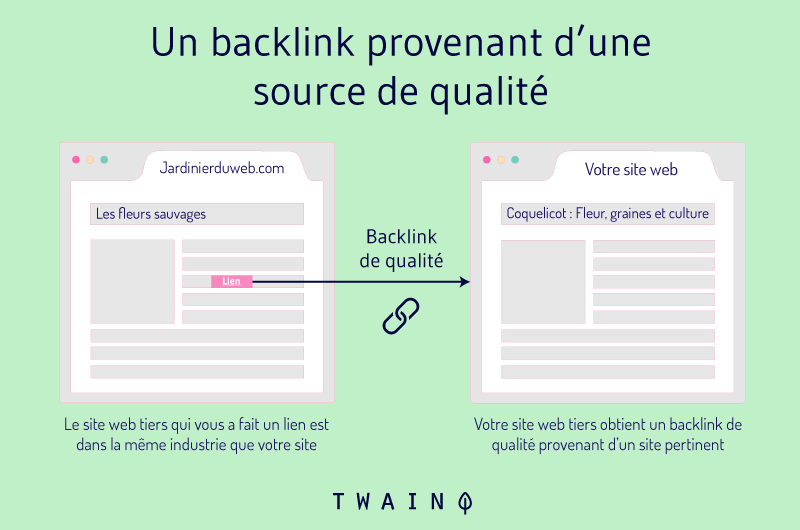 For example, imagine you're writing an article about "the importance of SEO" and you're focusing on statistical data.
In your development, you need to include a lot of numbers to show that this strategy is worthwhile. But to extinguish the data you put forward, you need to mention your sources every time as well as links that redirect directly to the original content.
2.9. Write large articles of at least 1000 words
First of all, it is important to specify that the length of the content is not a ranking criterion for Google. Indeed, the search engine has never given a fixed number of words that you must write in your articles to hope to be ranked or to avoid being considered as thin content.
However, we can establish the relationship that a voluminous content is a well-detailed and in-depth content, and therefore likely to be ranked. The best way to rank and maintain your position in the long run is to create specific, well-detailed and in-depth page content.
When you rank with specific content, it will be difficult for your competitors to outrank you even in the long run. I therefore recommend you to write articles with a correct volume between 1500 to 2500 words or more.
The way to stay logical in your development when writing long texts is to do a lot of research. You can collect a lot of information and it is now up to you to analyze it and sort out the important ones for your angle.
2.10. Write at least 700 words of content on the landing pages
Make sure you produce enough detailed content on your landing pages to avoid having thin content. You can add content on these pages that can help users in the decision making process. To do this, you can diversify and schedule content like:
Product demonstration videos;

A comparison table;

An original text that lists the different features;

Etc.
When a new product is involved, the competition increases and you need to produce content that is up to the search of the internet users in order to attract them. Insufficient and less relevant content means thin content.
2.11. Redirect less relevant pages and pages with duplicate content
If you have any doubts about the presence of thin content on your site, you need to do a site audit to analyze the different pages of your site. At the end of the evaluation, you will surely have a list of pages that you will have to delete and redirect on the one hand or correct the problem and maintain them on the other hand.
When you find pages in the batch that target important keywords, it would be necessary to correct the content and adapt them to the different techniques mentioned above. However, if you identify pages that have virtually no value and are useless, you can delete them and add a 301 redirect redirect that will redirect users and search engines to another page that is more relevant.
By adding a 301 redirect, you are telling Google and users that the page you requested is no longer available and that it is being replaced. You can also avoid showing Google a broken URL or 404 error pages.
Google tends to promote well-maintained sites. If you have a lot of 404 error pages on your site, Google may not promote your site.
2.12. remove URL parameters that cause duplicate pages
Google is a pretty smart search engine to understand the structure of a website. Nevertheless, the presence of certain things can fool the search engine
The presence of certain URLs can give the impression that certain pages exist when they do not actually exist. Examples of this are the URL parameters that you typically use to track the content of your pages
Google may consider these URLs as URLs of existing pages. They will therefore be considered as thin pages.
To make the layout of its parameters not a problem for you, you can tell Google to ignore these URLs in the string. You can do this in the Google Search Console. But before you do so, please check the advice from Google not to remove important pages from their index.
Summary
Thin content is a problem that has been plaguing web search for some time. And with the plurality of websites and the increasing competition, Google has updated its algorithms in order to reframe the search for information on the web
Penalties for sites with thin content are mainly aimed at removing incompetent sites and providing good experiences for Google users.
Therefore, if you follow the points developed in this article, you will be able to avoid thin content and rank your site properly.