Created by Google, Google+ is a multi-functional social networking platform that had made an impactful entry into the social networking arena. It disrupted the web with a rewarding journey before its fall in 2019. Seen as an answer to Facebook, the online search leader also hoped to conquer the social networking market. Unfortunately, Google+ was not as successful as expected and the search engine announced its official closure in April 2019. Nevertheless, some Google+ products still remain, but under different names in G-Suite.
As strange as it may seem, Google has failed many times to create a social network. In 2004, Google created Orkut. Later, it launched Google Friend Connect and Google Buzz in 2008 and 2010 respectively. But none of its services were successful.
However, the American web giant surprised everyone in 2010 with the announcement of the deployment of a dynamic team to build a new social network. It hoped to catch up in the race of social networks.
Thus, Google+ was launched early with great fanfare in 2011 and analysts announced it as a major competitor to Facebook. Beyond a simple social network, Google plus is becoming not only a meeting place for professionals, but also an educational tool
In this article, you will discover the journey of Google+ in the world of social networks and the web.
Chapter 1: How does Google+ work?
On June 28, 2011, the American web giant launched the beta version of its own social network
Google presented the Google+ social network as a way to improve human interaction with the slogan: "Real life sharing rethought for the web"
Shortly after the launch of the beta version, the service is enriched with new features while taking the bases of other social networks. It becomes an autonomous social network that distinguishes itself from Google.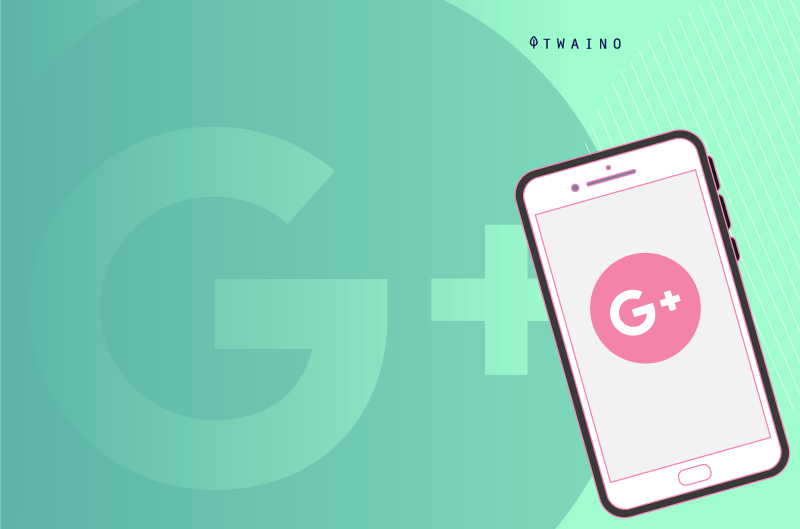 However, it remains synchronized with other Google services to simplify the use of Google services. This integration would later prove to be the main asset of Google plus
1.1 What is Google+?
Google+ is a social network created by Google to reproduce online, human interactions in real life. The social network is based on Web 2.0 standards and specifications.
It is intended for everyone, whether individuals, professionals or businesses. Through this network, Google hoped to compete with Facebook.

G+ allows its users to follow only information and activities related to their interests. A user can therefore follow another without a prior request from friends. It is therefore a non-synchronous social network and appears to be a competitor to Twitter.
Google+ is the first social network to offer to group its friends in categories called circle to better manage information sharing. Thus, users can assign a friend to a given category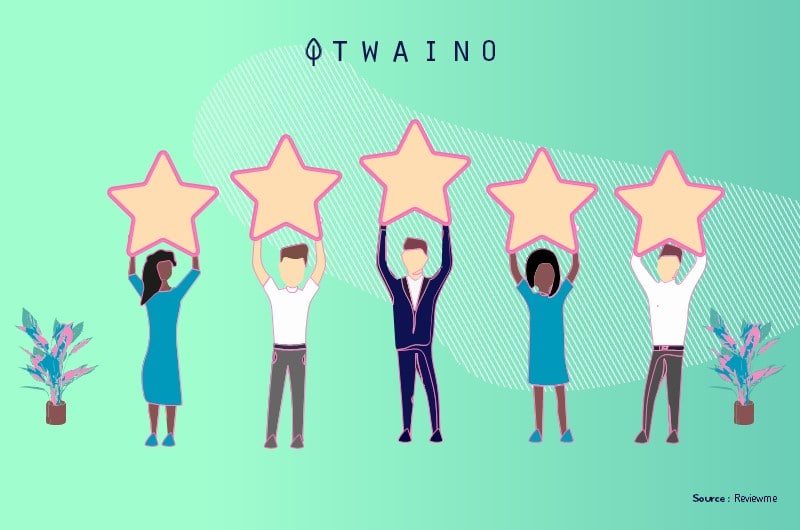 It integrates other Google products to attract more users. It then becomes multifunctional with several new features.
The social network allows its users to share photos, publish content, create instant chats and make video calls.
On the other hand, Google+ plays an essential role in the referencing of websites. It collects data from its users and the Google search engine uses it to personalize its results.
This social network allows web marketers to improve their presence on the Internet.
1.2. some features and services associated to Google+
In this section, we will see some features that make G+ unique. Even if the social network does not exist anymore, some of its functionalities work independently and do not depend on Google+ anymore
These are for example:
Google Photos ;

Google my business ;

Hangout ;

Etc.
1.2.1. The circle
This is a feature that allows you to categorize users according to a particular interest. It can be a grouping of users by professions, family, friends, colleagues, passions and others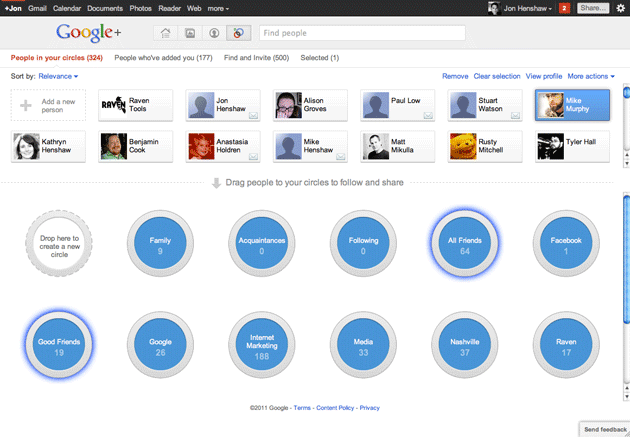 Source: Raventools
For example, educational circles created by teachers with students for a classroom allow group members to discuss school topics
Also, members of a project team can form circles to work online on the project.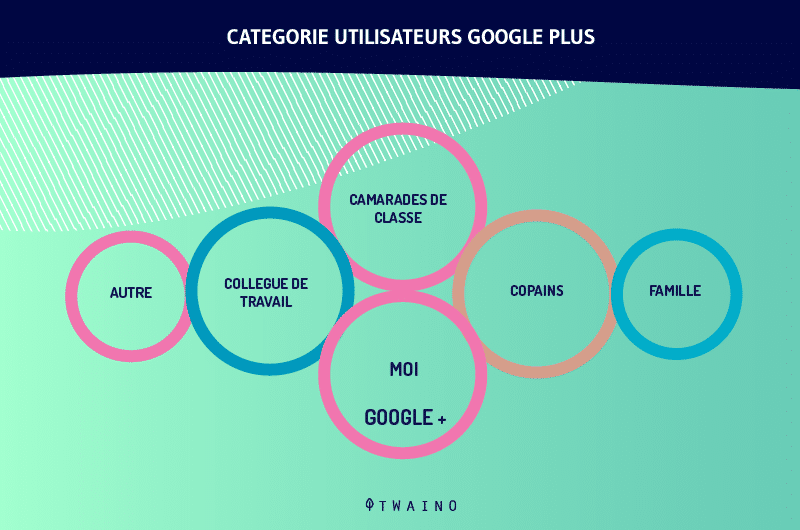 The interest of a circle lies in the sharing of messages. When a content is shared in a circle, it is only seen by the members of this circle. Circles therefore allow members of a group to work in complete confidentiality.
However, members of a circle can decide to share information with another circle. For example, members of a project team circle can share content with their colleagues in another circle.
To better understand the value of a circle for a user, let's take the example of Facebook. In Facebook's News Feed, you see all the updates from your friends that don't even match your interests.
Whereas with circles, it is possible to be informed without seeing your friends' camping photos. This is how communities were formed on Google+.
1.2.2. Hangout and Hangout On Air
Hangout satisfies communication needs through voice calls, video calls, group conferences and instant messaging. It allows you to communicate with a friend or in a group in a circle of up to 10 people.
As for the Hangout On Air, it makes video calls accessible to several people that can be broadcast at will on a Google+ page or YouTube channel.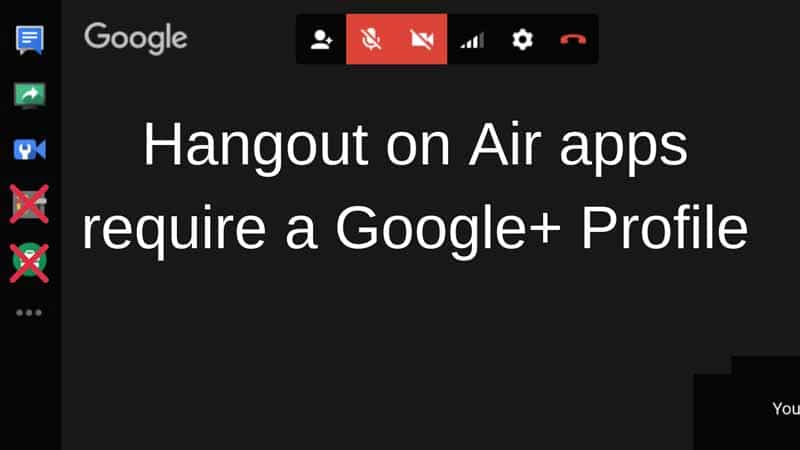 Source 4bp
Thus, this feature facilitates webinars and is highly coveted by speakers as well as trainers. For companies, Hangouts and Hangout On Air have become valuable alternatives for meetings as well as meetings with customers and partners.
1.2.3. Check-ins
With this feature, Google+ users can share their locations and do location searches on their phone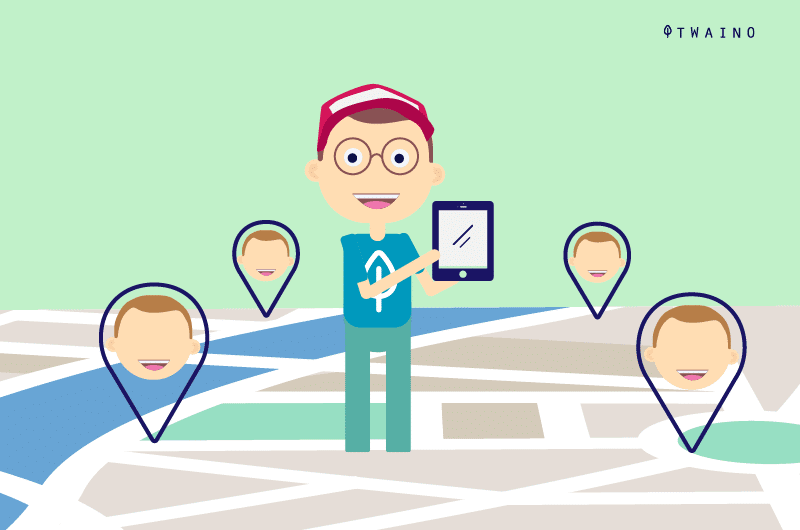 This allows them to find the person concerned in case of a disappearance for example
1.2.4 Google+ My Business
Google My Business is by far the most important Google plus feature, especially if your business has a local presence. It is a resource for business owners to list their businesses on this search engine.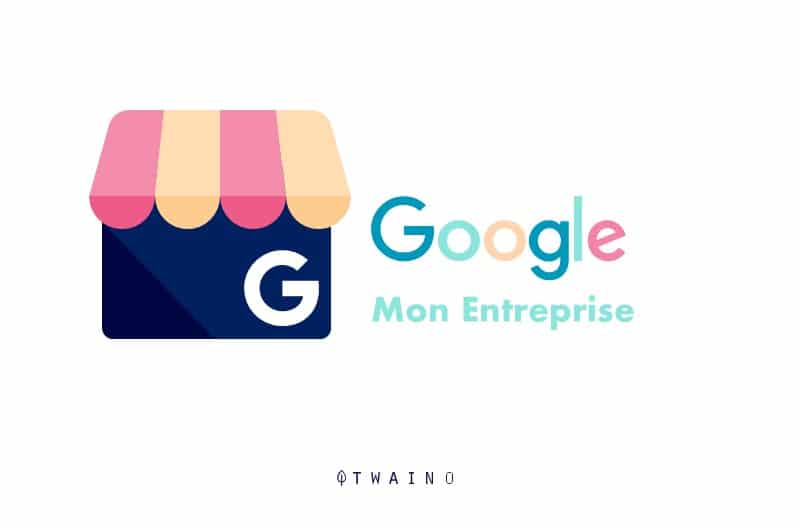 A Google+ business listing can not only increase your visibility on local and mobile search, but it also allows potential customers:
Call you easily;

Get directions to your business on

Google Maps

;

View your business website;

Easily find your photos and YouTube videos on your business page

Leave reviews about your business directly on your Google+ page;

Etc.
It is up to you to fill in as much detail as possible about your business.
1.2.5. Huddle and Sparks
Huddle allowed users to form a discussion group while the second one is used to do saved searches to find interests. But Google+ eventually abandoned Sparks a few years later.
1.2.6. The communities
Google+ communities communities allow you to organize groups of people around a topic of conversation or a cause.
Whether you represent a brand or are a passionate individual, communities are a way to connect with like-minded people.
You can use communities to recruit and connect with passionate advocates for your products or cause. Or you can create a community around a passion or topic of interest, like a soccer club or a movie franchise
1.2.7. Collections
Google+ collections collections are a unique way to group your content by topic. This feature allows you to categorize the content you share on Google+
According to Google, "posts in collections you follow will appear in your home feed, with a link to easily access them and other similar content from the collection's author."
These created collections can be easily found and followed by users of this social network.
1.2.8. Google Photos
The Google Photos feature offers unlimited photo and video storage in the cloud, as well as apps for Android, iOS and desktop browsers
In addition, it stores high-resolution photos and can automatically categorize your photos into people, places, and objects.
When you add photos to Google+, they also become available in your Picasa web albums.
1.2.9. Data Liberation
With Google+, you don't have to worry about losing your data. You will find this section called Data Liberation in your Google Account settings
If we refer to their own words, "Google allows you to save a backup of your photos, profile information, contacts, circles, and Buzz posts on your computer."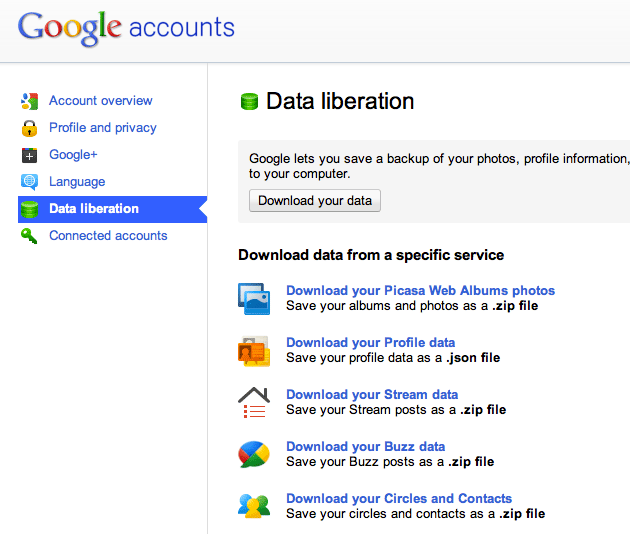 Source Raventools
1.2.10. Google Takeout
A bit like the Data Liberation feature, Google Takeout allows you to easily archive your data such as :
Your buzz publications ;

Your contacts ;

Your circles ;

Your web album ;

Your profile;

Etc.
Source Raventools
1.2.11. The Google+ interface
The Google+ interface is based on the same principle as those of other networks.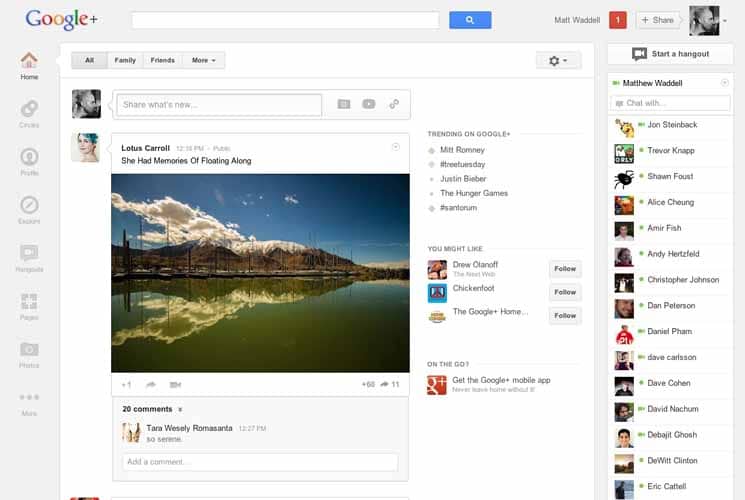 Source: Google
It has a news feed and two columns. The first column displays the user's profile and the other displays the links to explore. The news feed is updated regularly and new publications are automatically displayed at the top.
The comments also follow the same principle. Thus, users never get tired of being online and can stay active for long hours on the social network.
1.2.12. Other Google+ features
Google plus has several other little features that unfortunately we can't list everything here
Sharing

this option remains under the articles and allows to share them in a circle for example.

Profile

profile: A small icon at the top of the Google+ interface represents the profile. By clicking on this icon or on the name, users can access the information related to their profiles and modify them as needed.

The Sandbar

the sandbar: In grey, this option has the notification icon and the sharing icon. The first one informs users about the total number of new updates. The second one allows to make publications from another application or a tab.

Data release:

Google+ offers its users through this button to download their data through a link.
The various Google services such as Gmail, Google Drive, the Google search engine… also integrate G+ to reinforce its performance.
Chapter 2: The challenges of Google+
In addition to being multi-functional, Google has been a success with the SEO community thanks to the indexing of G+ posts in Google searches.
The interest in Google had allowed it to become the second social network behind Facebook with over 300 million monthly active users in 2013: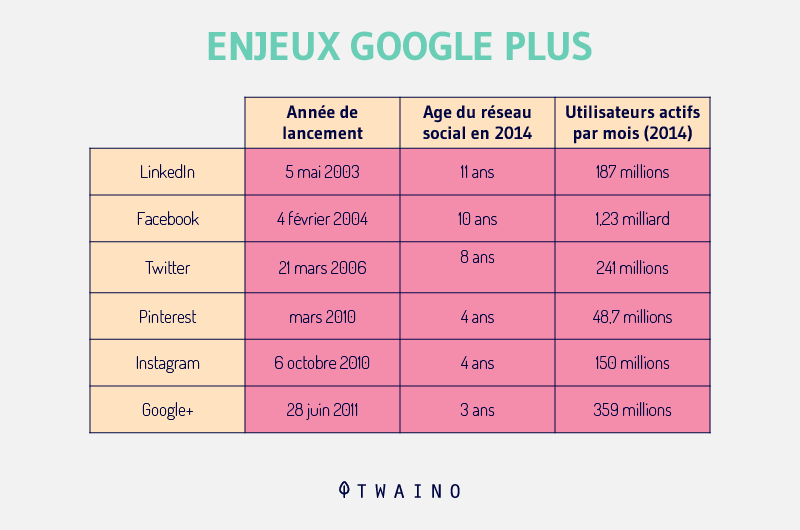 This chapter looks at the collection of user data and the success of Google+ with the SEO community.
2.1. Data collection
Social network users leave behind important data. Social networks collect this data for various purposes. Google+ is not left out of this practice.
Through its social network, Google takes the data of its users and uses it in the search engine. Indeed, users provide information on their identities, their professions, their country and their interests.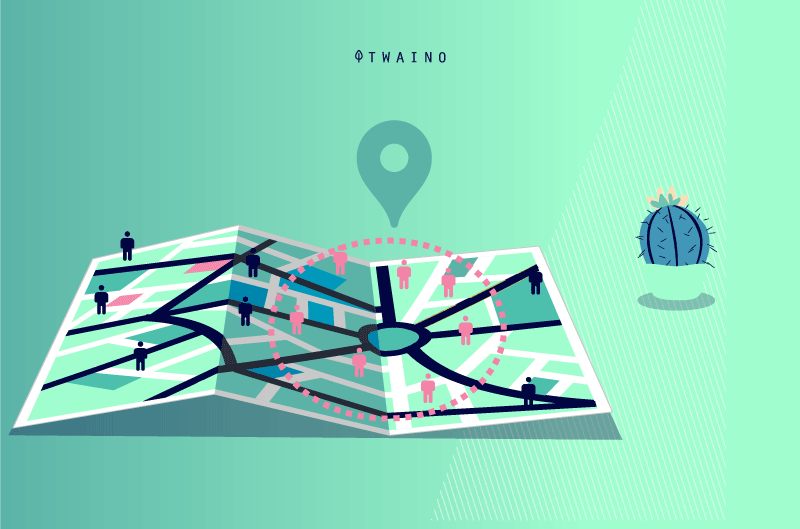 This data allows the Google search engine to refine the results of the queries.
Let's say you are in Marseille and you search on Google for "restaurant near me". Without even specifying Marseille in your query, the search engine will be able to suggest only restaurants in Marseille and close to you.
Google thus improves the user experience with personalized results.
In addition,
Google tracks the activities of Google+ users, including comments and shares, which it calls "
social cues
". Social cues also improve the quality of search results on Google.
2.2. What was the value of Google plus for SEO?
While collecting data through Google+ allows Google to personalize search results, it creates new challenges for websites. It is about how websites should behave in order to appear in Google's search results.
This is how new SEO techniques were born and G+ became a remarkable asset for the SEO of websites.
First of all, it is important to know that Google indexed the publications of Google+ users. By carefully inserting keywords in the titles on Google plus, websites increased their chances of appearing in search results.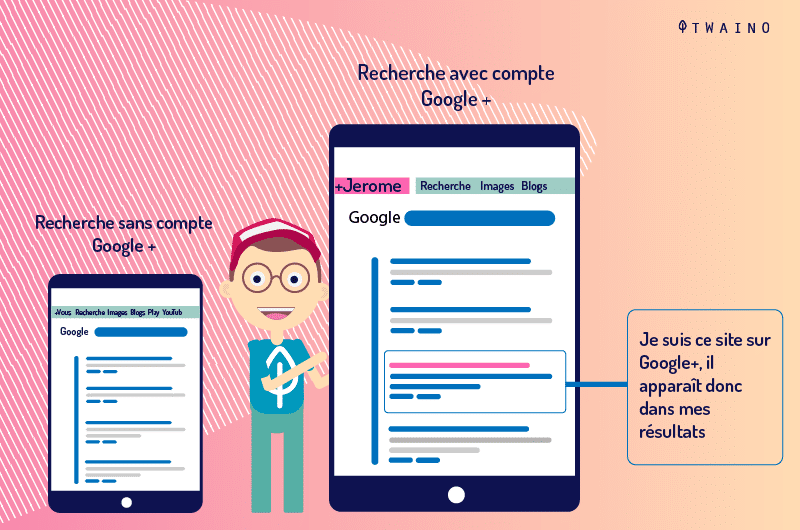 Digital marketing professionals and business managers took advantage of this opportunity to increase the visibility of their activities on the web. The social network allows to generate traffic and to increase the number of visitors to a website.
All these reasons justify the success of Google+ with the SEO community. It should also be remembered that Google has integrated the Google Authorship program to Google plus.
Indeed, Google Authorship facilitates the identification of a content from the HTML excerpts that are displayed in the search results.
So when businesses take care of their Google+ profiles with increased personalization, they improve their chances of appearing in Google search results.
However, Google is ending the Google Authorship program in 2014 after three years of service.
Chapter 3: The fall of Google+
Despite all of Google's efforts to push the Google plus social network on the internet, it unfortunately went into decline leading to its closure in April 2019.
3.1. The hidden face of the Google+ iceberg
Theoretically, the social network had about
2.2 billion
users actually.
This figure was by no means impressive, because in reality, everyone who has a Gmail account also has a Google plus profile without logging in regularly.
There are even registrants who have an account, but have never logged into Google+. Thus, there are only
6 million
active users.
3.2. The decline of Google plus
According to a study conducted by Google itself, "
90%
of Google+ user sessions last less than five seconds".
In fact, Google had difficulties in protecting its users' data from various hacker attacks
The latest attack seems to accelerate the decline of G+. In 2018 Google+ informed the public of a hack it was suffering from. The attack had been going on since 2015.
It was a virus that allowed 438 different apps to gain possession of confidential data of more than 500,000 users. But in reality, it was
52 million
users were exposed to this threat

3.3. The closure of Google+
The various difficulties encountered by Google+ led it to an inevitable fall. In December 2018, Google recognized the low usage of its social network and finally made the decision to close it on April 2, 2019.
However, it allowed users to upload all their data and photos. Thus, the closure began gradually and ended permanently in August of the same year.
3.4. The non-closure of some Google+ features after its fall
After the final fall of G+,
Google converted some of the social network's features into a standalone product
.
Thus
,
Hangout
still exists and receives
updates. The same goes
for
Google Photos
and
Google My Business
In short, Google+ is practically turning into an internal workspace for businesses. It changes its name
to
Google Workspace
with the integration of all Google products
Google Workspace
thus offers companies various collaboration tools
.
Chapter 4: Other questions about Google+
4.1. What is Google+?
Google+ is a social network that, like any other social network, allows you to interact with people and companies that you can classify into circles according to your affinity or type of relationship with each one.
4.2. What are the features of Google+?
The main feature of Google plus is its
Circle
function
that allows you to segment a network into closed groups according to the interests of each user. G+ Circles give users more control over what they share online and with whom they share it.
4.3. What has replaced Google+?
The social network that replaced Google+ is called
Google Currents
and is available on Google Workspace.
4.4. When did G+ close?
Here's what
that Google had claimed
before the closure of the social network: "On April 2, 2019, we will close the version of Google+ for individuals. If you wish, you can download and save your G+ data . As this may take some time, we recommend that you start doing so before March 31, 2019."
In summary:
To conclude, it is worth remembering that the Google+ social network adventure was rewarding. It took human interaction in real life online. It allowed us to discover a new way of referencing websites.
Unfortunately, Google+ did not adapt to the needs of its users. It was also unable to ensure the security of its users' data. All this inevitably led to the closure of the social network.
However, Google was able to turn some of Google+'s features into a standalone product. The giant still continues its adventure in search of a throne in the social networking universe with the launch of Shoelace a few months after the closure of Google+.
I hope you found this guide useful? Do you have any questions or suggestions?
Feel free to share them with us in comments.
Thank you!