Are you considering hiring an SEO agency?
Would you like to know more about how the service works and the advantages of an SEO agency?
In this article, I propose to answer the most frequent questions asked by people who wish to use a natural referencing agency.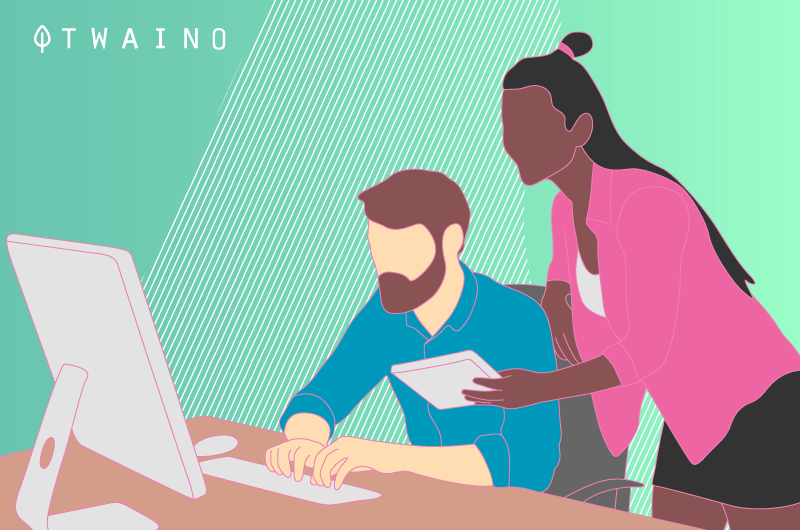 As founder of the SEO agency Twaino, I propose to give you my point of view on these questions, in the most sincere and transparent way possible.
Answers without "fuss" or "blabla" that will allow you to choose a good SEO agency with full knowledge of the facts.
Chapter 1: What is an SEO agency and what are its advantages?
This first chapter will allow me to explain to you what is meant by an SEO agency and to present to you the reasons which justify its importance.
1.1. Definition
For a good understanding of the elements we are going to discuss, it seems relevant that we all agree on what we mean by SEO agency. But first, let's revisit the concept of SEO.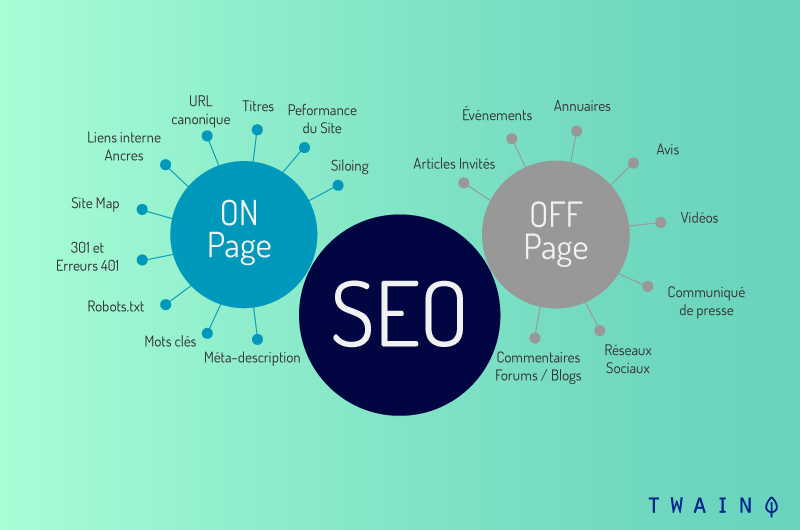 SEO refers to all the methods and strategies used in order to properly reference a website on the result pages (SERP) of search engines.  
The SEO agency or natural referencing agency is therefore a structure specialized in SEO practices.
In short, it is an organization made up of professionals whose task is to optimize a website for search engines.
They bring results in terms of popularity and conversion and increase the visibility of the sites on which they work in search engines such as: Google, Bing, Yahoo, etc.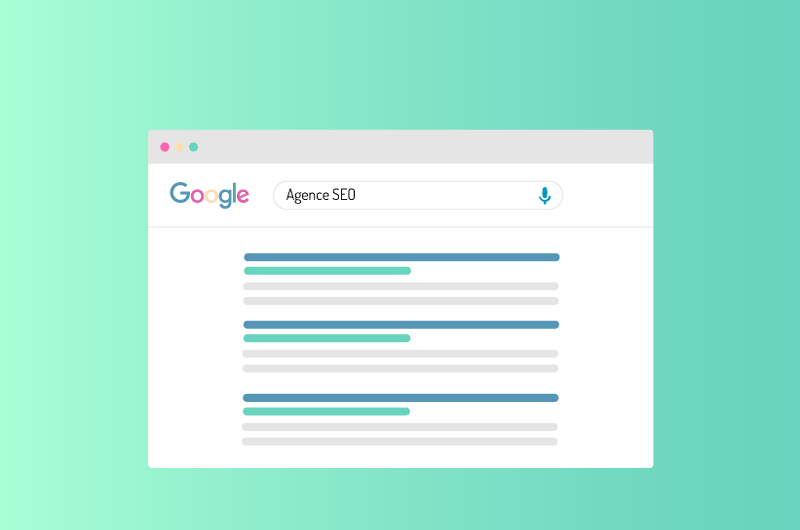 In view of all this, it is clear that the SEO experts of a natural referencing agency are the best qualified people to support you in the process of developing your site on the Internet.
To achieve this, they must master different SEO methods and techniques:
Internal and external networking;
How the WordPress integration works;
Writing SEO optimized articles;
The creation of quality content;
The operation of backlinks and netlinking;
Redesigning or reassigning the content of your site;
Benchmarking and finding partners;
Indexing your website on search engine SERPs;
The information architecture of your site;
Optimizing your site's images on Google Images.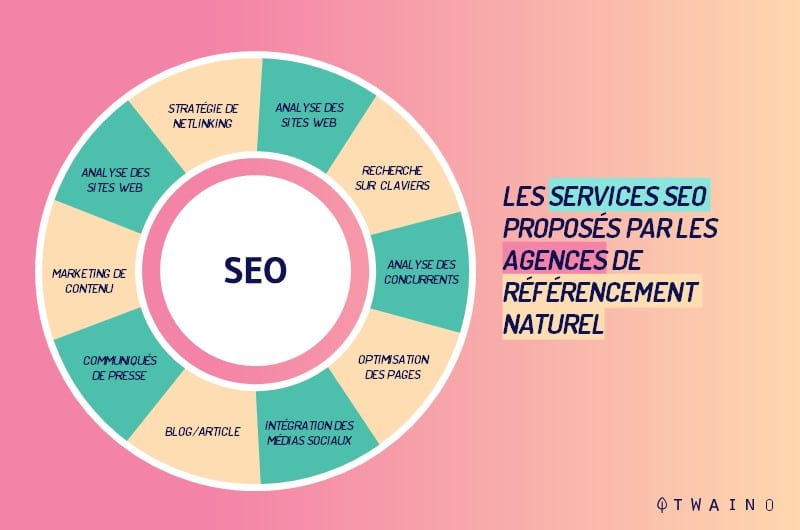 With all these skills he develops, the SEO expert can choose to teach rather than practice SEO. In this logic, you can distinguish three types of SEO agencies:
The first is limited to giving advice and training to enable customers to improve their own SEO themselves;
The second is limited to SEO services;
The last more complete which offers both SEO training and SEO services.
Be that as it may, you should know that natural referencing is a somewhat complex process, which therefore involves a lot of small details and subtle nuances to be clearly understood in order to achieve good referencing.
However, these details share the same objective, which is to help crawlers easily interpret the content of your website for better visibility on the web.
They also aim to improve the usability and ergonomics of your website for your users.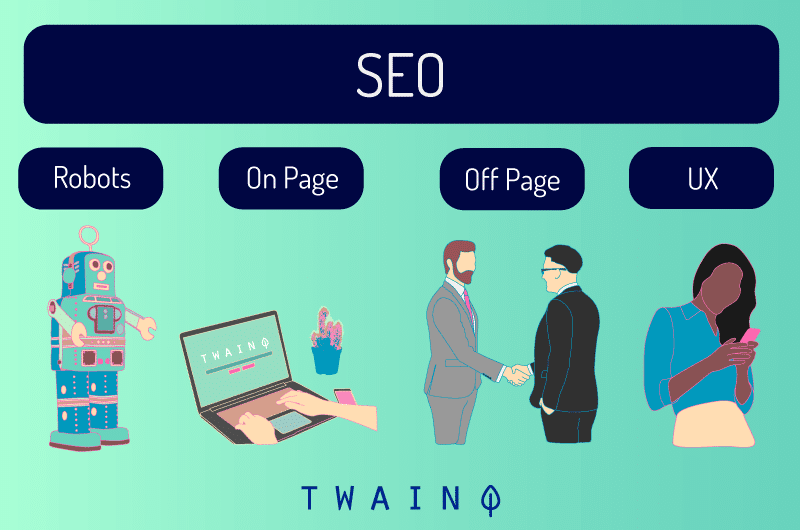 All of these details lead us to divide SEO into several subsets:
content SEO;
On-page SEO;
off-page SEO;
Technical SEO;
Mobile SEO;
Local SEO.
These types of SEO are not, however, different processes.
They are simply a way to break SEO down into smaller sections in an effort to tackle them more effectively. But that's not all, because depending on the size of your business, other types of SEO can be added to the list.
In particular B2B agencies known to help companies personalize their marketing strategies to benefit more from SEO.
They can effectively help you outpace your competition, attract more leads, register more sales, capture more market share, and achieve a significant return on investment.
1.2. Why use a natural referencing agency?
Why use a natural referencing agency? It may seem like a naive question, but I think it's essential to try to answer it as clearly as possible.
The majority of clients hire an SEO agency to increase the number of users who visit their website. That's reason enough, especially when you look at the numbers. On average, when a user launches a query in the search engine, the 1st result gets 30% of clicks, the 2nd result 15% of clicks and the 3rd result 10% of clicks.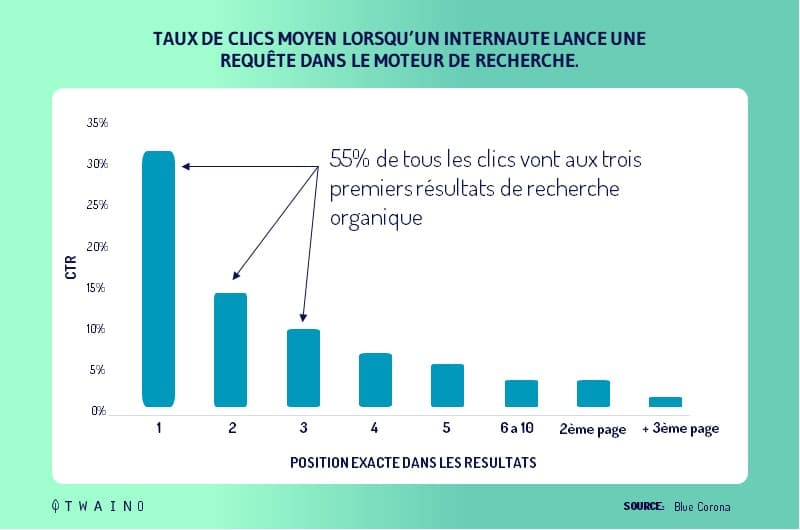 Of course, the more one moves away from these first three results, the less the website will obtain visibility at the search engine level.
Therefore, the objective of an SEO agency will be to optimize the site and its content so that it is well positioned in the response elements returned by Google. This also allows him to have traffic.
But when you look at the bottom of things, you realize that using an SEO agency for the natural referencing of your site has other significant advantages.
1.3. Using an SEO agency: What are the advantages?
When you solicit an SEO agency for your referencing, you:
1.2.1. Take advantage of SEO expertise to improve the optimization of your website
With the definition and objectives of an SEO agency, it is quite possible that the promoter of a website manages optimization issues himself SEO.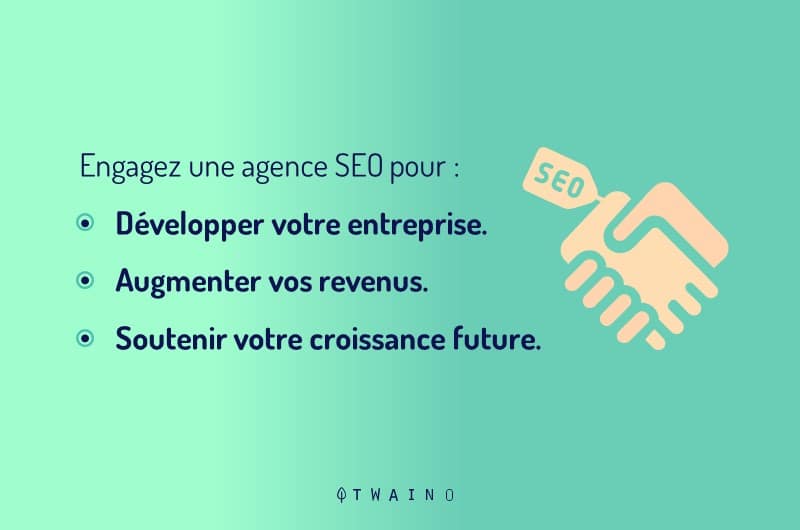 But because of the interests at stake and the constant competition, the most effective solution would be to seek SEO experts to set up an effective strategy.
An SEO agency has a powerful team, experienced and properly initiated to SEO techniques.
They have the experience and skills necessary to provide a solution adapted to the problems of the site, in particular the low conversion rate, the low traffic rate, etc.
These natural referencing experts are able to carry out an analysis of the site for which they are responsible and to offer personalized recommendations tailored to the realities of the site.
This service, adapted to the constraints of your sector of activity, constitutes a kind of pledge to convert your prospects into customers.
And this, by succeeding in increasing the traffic of your site and acquiring more leads.
In addition, an SEO agency is able to continually create new strategies to bring a creative touch to the SEO of the sites for which it is responsible.
Creativity is also one of the privileges you offer to your site's SEO when you hire an SEO agency.
Indeed, the good natural referencing agency is the one capable of bringing original ideas to improve the ranking of your site on the NET.
1.2.2. Improve the ranking of your site thanks to controlled SEO methods
Calling on an SEO agency to ensure your brand's SEO strategy also allows you to benefit from expert monitoring.
Thanks to its experience, an SEO agency will be able to apply effective techniques that have been proven to guarantee you better results.
This will essentially involve:
1.2.2.1. The SEO audit
The projects that SEO agencies receive can differ in several aspects, but agencies always start with an SEO audit.
Still called a natural referencing audit, this audit makes it possible to understand the current situation of the site and is not chosen at random as being the first step.
Indeed, theSEO audit is the first step used by agencies specializing in natural referencing because of its importance in detecting the weaknesses and strengths of the site.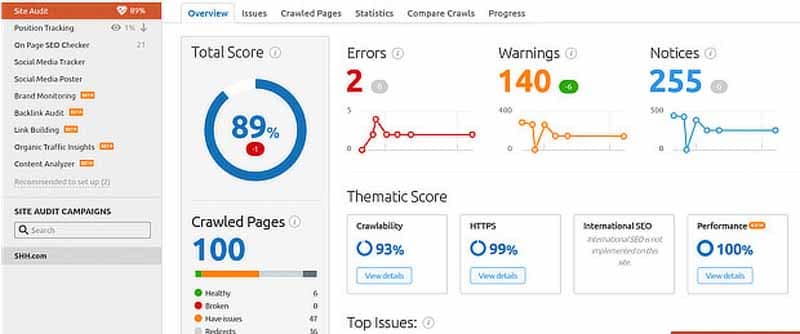 Source: Oneims
In a way, it replaces an inventory and promotes the identification of actions to be taken to straighten out the customer's site. Thanks to the SEO audit, the agency gets to know precisely the performance of the site and the points to be improved to offer it more performance.
Through an SEO audit, the service provider can identify:
What works or does not work on the site;
The elements of the site that need to be modified;
Sensitive sections of the site that need more monitoring.
1.2.2.2. Competitive analysis
In its approach to assisting a website, the SEO agency must set up anSEO competitive analysis. 
A service without which the agency cannot claim to conduct a properly organized SEO campaign.
Duringthe competitive analysis, SEO consultants will take an in-depth look at the SEO strategies used by your main competitors.
After this study, you can know precisely the expressions and keywords on which the strategies of your competitors relate and understand why they are ahead of you in the SERPs.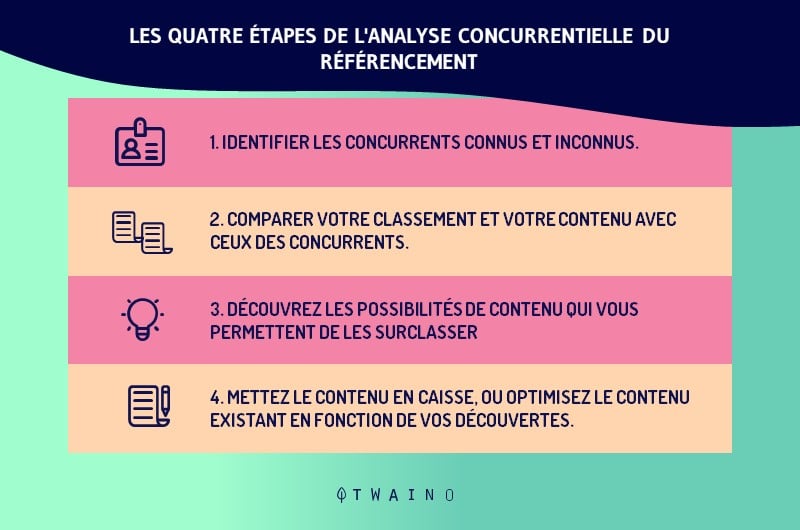 This is an extremely important step which takes into account 4 fundamental aspects:
Identification of the main competitors;
Comparing your rankings and content with those of your competitors;
Gatheringdata using specific tools to uncover content opportunities where you can beat them;
Analysis of the results in order to develop an effective action plan to create content or optimize existing content based on your findings.
1.2.2.3. Keyword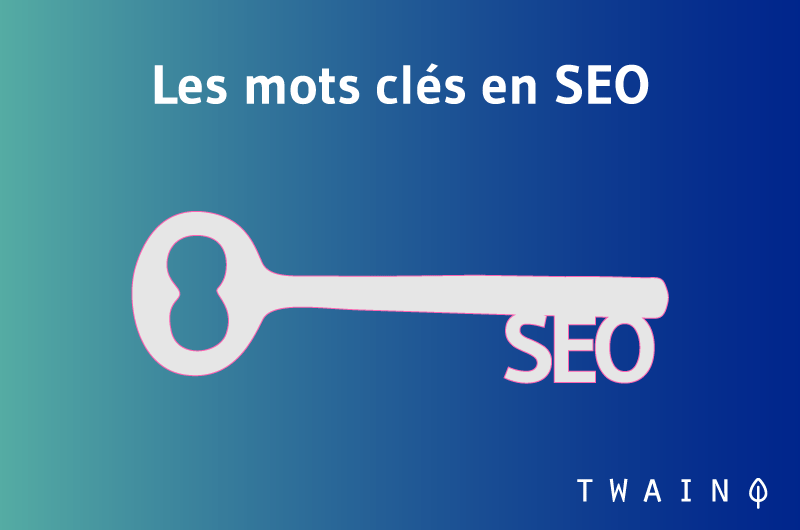 research Keyword research is a very important and even essential step in any SEO campaign.
Indeed, it is thanks to this research that your provider agency will be able to generate traffic to your site and convert users into customers.
An SEO agency has the powerful tools to perform in-depth keyword research to list the words and phrases that your prospects are looking for on Google. 
Thus, the agency will be able to know precisely which keywords to base your SEO campaign on to be as effective as possible.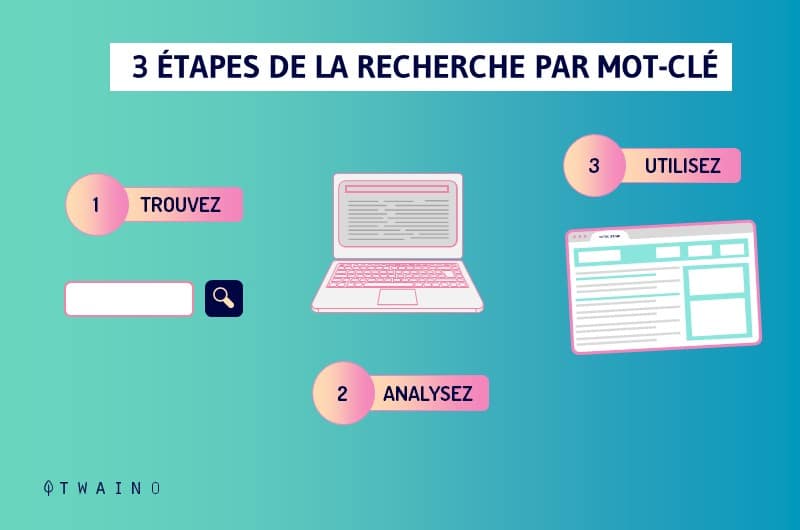 The process of researching keywords takes place in 3 main stages:
keywords ;
The analysis of these keywords;
The implementation of a good strategy to use them.
1.2.2.4. On-page
optimization On-page optimization exclusively takes into account the SEO techniques used inside the website.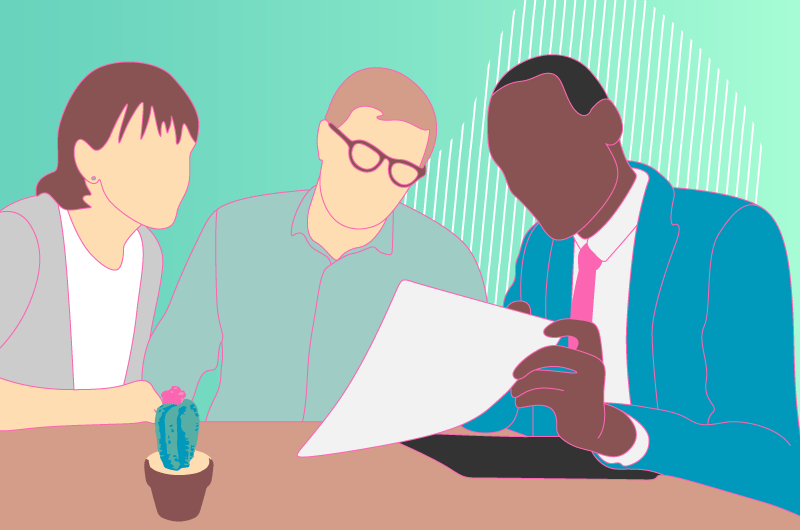 It consists initially in carrying out a global optimization of all the pages of the site.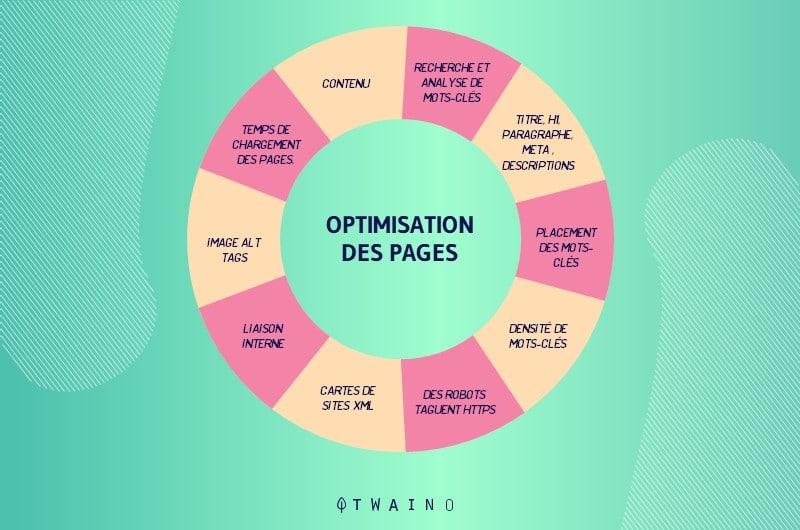 The on-page optimization of your site also consists of establishing a list of actions to be carried out to improve the markup, the formatting of H1 titles, meta descriptions and ALT tags.
The SEO agency responsible for the on-page optimization of your site will then have to offer you advice for successful internal and external linking.
1.2.2.5. Off-page
optimization Off-page optimization complements on-page for a more complete optimization of your site. It works in the background and also helps to improve the positioning of the website on Google SERPs.
Unlike on-page, off-page optimization is not directly accessible from the editor and focuses mainly on link building. It's a long-term process that takes time and involves getting backlinks from authority sites, social media, and social bookmarking.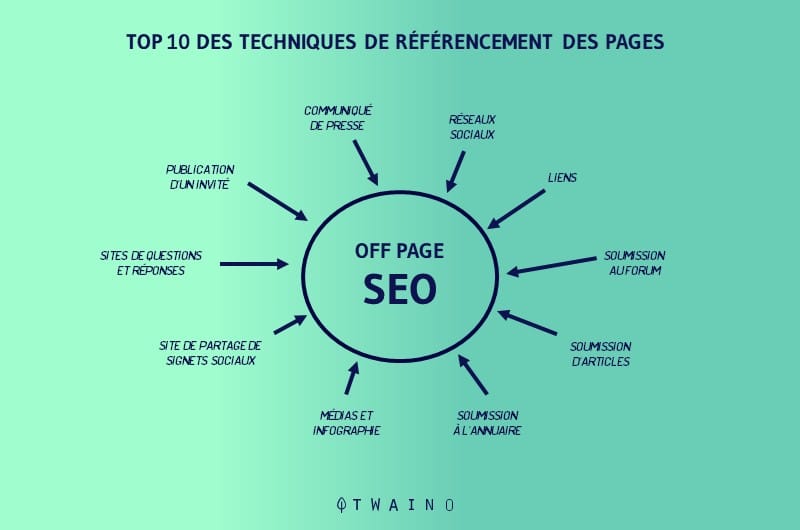 Here, the SEO team will have to recommend the best linking strategy capable of respecting all the SEO criteria required by Google's algorithm.
For this, the proposed strategy can take different forms, provided that it is efficient and natural for indexing robots.
For example, your SEO agency may decide to start from influential blogs to create your backlinks or decide to make backlinks from directories or forums.
Regardless of the form chosen, an SEO agency is able to know which backlink profile has been adopted for a better result.
1.2.2.6. Writing quality content
The American online search giant has officially announced that quality content is now an integral part of its SEO criteria.
According to him,
"If your pages contain useful information, their content will attract many visitors and encourage webmasters to link to your site. By creating a useful and information-rich site, you are writing pages that clearly and accurately describe your topic."
As you can see, Google advocates quality content and encourages sites that post these types of content by improving their rank in search results.
It is therefore important to produce quality content quite often in order to naturally obtain better positioning in Google's response elements.
In the infographic below, we can see that publishing consistent quality content alone takes up 25% of all the SEO criteria used by Google's algorithms.
The creation of quality content is almost the first factor that Google analyzes to rank a website.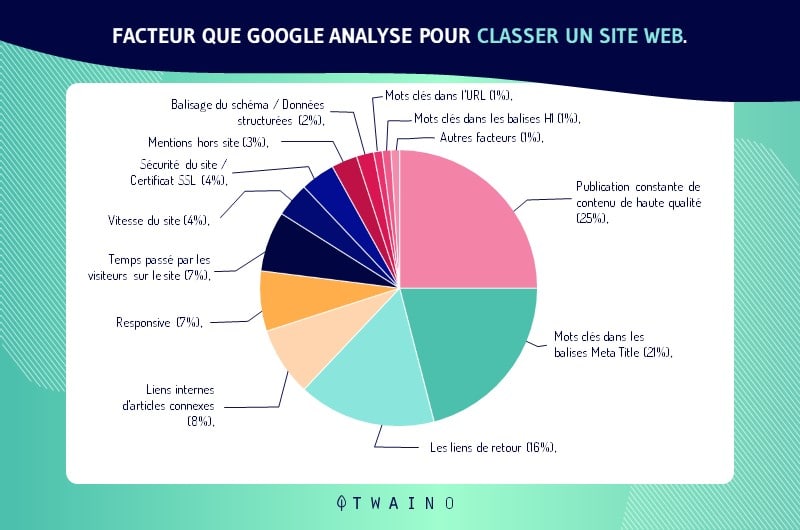 To offer quality content, the SEO agency will therefore classify the content of your site by category. This categorization will then allow them to define the editorial line to be applied to obtain results.
Quality content is also a way to retain your visitors and improve their user experience.
1.2.2.7. Monitoring and implementation of good SEO actions
The service of an SEO agency is not limited to developing an effective strategy to be applied. It also offers a permanent creation of SEO actions and takes care of their follow-up to win the competition.
The SEO agency provider can gradually strengthen the natural referencing of the site through netlinking campaigns and improve its visibility and reputation on the Web.
1.2.3. Save time
Managing alone the referencing of a site requires a lot of time to invest and those who have already undertaken it once can testify to you.
Similarly, if you are used to reading articles on natural referencing, it is possible that at some point you wonder if you will have the time you need to perform the different tasks:
Write new content;
Adopt the ideal architecture for your content;
Make the internal mesh;
Search for keywords;
Improve the elements of the site;
Optimize the code;
Optimize loading speed;
Etc.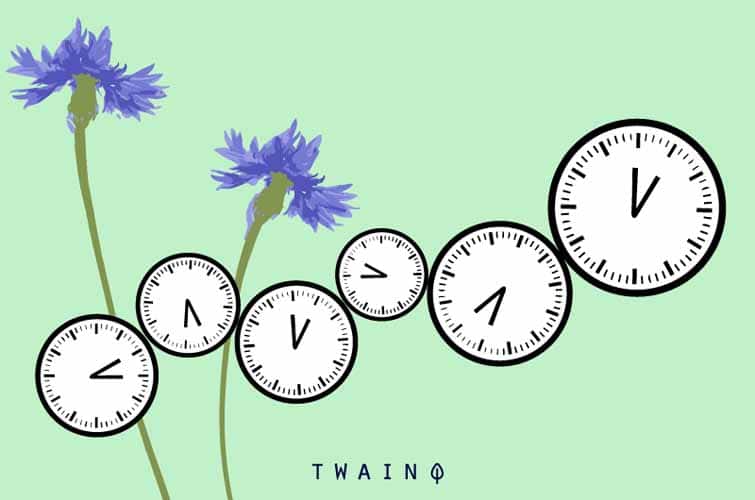 Also, if this is your first experience, you may have some doubts about being up to it and succeeding in bringing traffic to your site within the time frame you have set for yourself.
On the other hand, the advantage of outsourcing the natural referencing of your site and entrusting it to an SEO agency is that you can take care of other things while they do the work for you.
No more stress related to the visibility of your brand on the NET. You can focus entirely on running your business while the SEO agency takes care of bringing you good news.
1.2.4. Save money
When you hire an SEO agency, you save money and this is one of the reasons why some business leaders seek out an SEO agency for the natural referencing of their site.
This is justified by the fact that setting up an internal SEO team can require a fairly large financial investment.
For example, if you opt for an in-house SEO team, you need to cover expenses related to software costs, SEO tools, and employee payroll.
Let's take the example of a report conducted by BKA Content which shows that entrusting the writing of your articles to an SEO agency can save you up to $62,153 a year.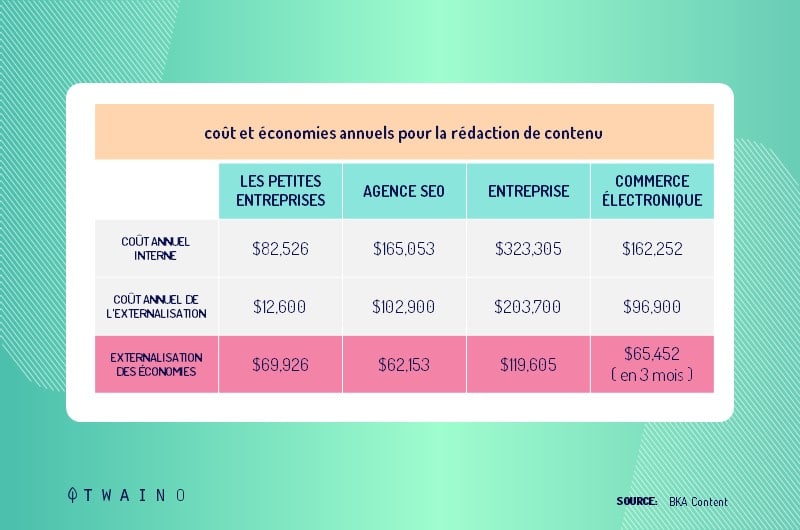 Indeed, hiring a team of in-house SEO experts amounts to taking on certain responsibilities (paid leave, salary bonuses, staff health insurance, retirement, etc.) which are not necessarily profitable for a business, especially a nascent one.
Not to mention that in some cases, you may still invest in training and mentoring these employees to ensure that they are truly competent in the field of SEO.
On the other hand, with a natural referencing agency, you have access to expert advice and impeccable assistance at a lower cost.
1.2.5. Keep up to date with the latest SEO trends SEO
, and the entire web for that matter, is constantly changing.
Between your responsibilities at the head of your company and the smooth running of your business, it is not easy to stay on the lookout for new developments in terms of SEO strategies and tools.
However, the job of an SEO agency will be to offer you the latest trends in SEO so that your site always stays in the race.
It will be able to advise and assist you in the choice of new solutions adapted to your sector of activity.
1.2.6. Ensure the security of your site
You will certainly have understood that SEO is a delicate area that deserves to be managed with a master's hand. If it is sloppy, SEO can expose your site may be exposed to:
Penalties from the Google algorithm;
To spam;
Or even piracy.
If your website is made with WordPress, you must above all take care of its security since statistics show that 90% of hacked sites use WordPress.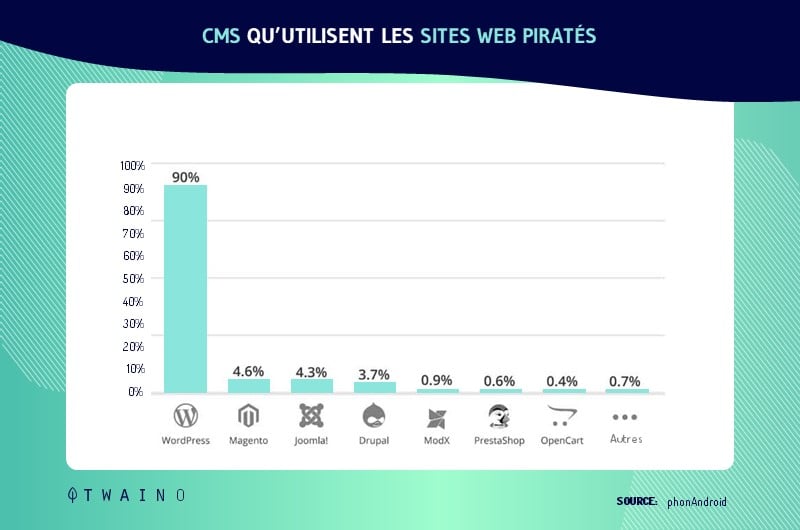 An SEO agency will therefore assess all the possible risks that may arise and ruin your efforts. It will also be able to inform you about the precautions to take to protect the site from all these incidents.
So hiring an SEO agency also means ensuring the protection of your site for the good reputation of your brand and the protection of your users' data.
1.2.7. Increase the turnover of the company
An SEO agency must also aim to increase the turnover of its client.
Indeed, the analysis of certain keywords represents absolutely enormous commercial stakes for the client's company.
If these keywords are well targeted, the SEO agency can allow its client to make a profit from its investment in a sustainable way thanks to the contribution of qualified visitors to the website.
By "qualified visitors" we mean people who are really interested in your service or product and likely to buy it.
Indeed, it is useless to bring on your site people who have no interest in your services or products, and who could be described as "tourist".
In this case, the number of visitors is what is called in SEO jargon "vanity metrics".
To avoid reaching this point, the ambition of the SEO agency would be to attract, through natural referencing, qualified visitors likely to convert into customers.
Consider the graph below which shows how in 1 year organic traffic was able to generate 44.37% of visitors and 116.80% of revenue to an e-commerce site.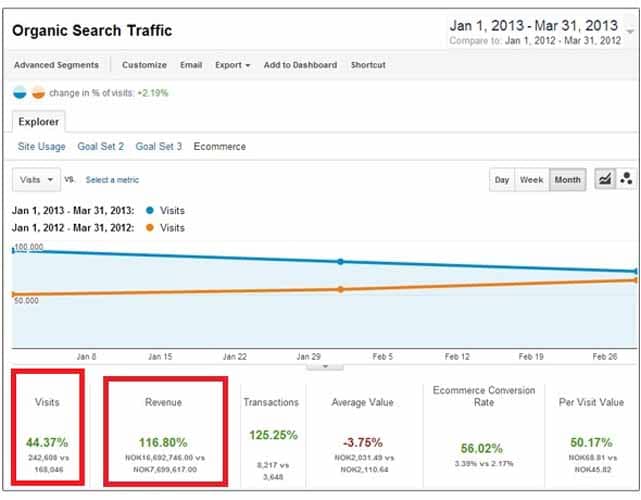 Source : Search Engine Land
There is therefore an obvious causal link between the success of an SEO campaign and the increase in the company's turnover.
1.2.8. Invest for the long term
An SEO agency also allows a website to increase its visibility in search engines, without using paid advertising solutions called SEA.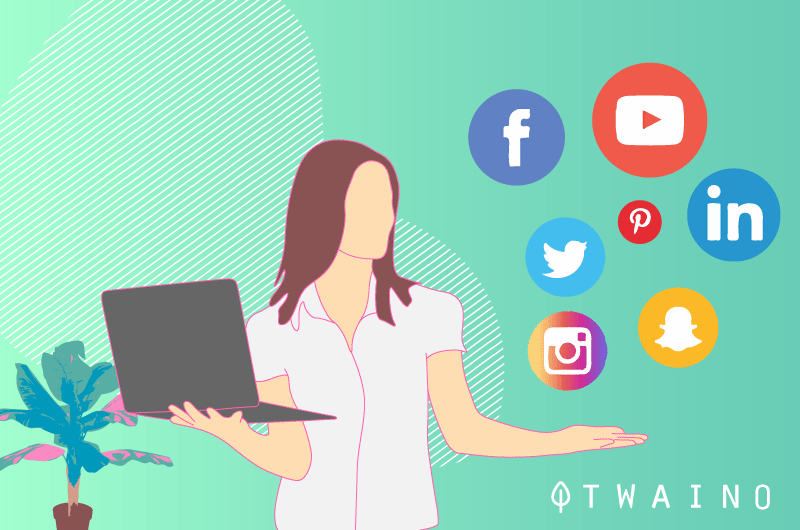 Although these paid advertisements are at the top of Google's results, they do not register the highest scores in terms of clicks.
The fact is that many users have come to understand that these ads occupy a good position just because of a bidding game.
On the other hand, a website that occupies a good ranking just with organic traffic is the result of hard work, a successful user experience, interesting content and an effective product or service that has proves itself.
Thus, an informed user will always prefer a well-referenced SEO site to a site classified by paid ads and this is where the strength of natural referencing lies. Succeed in gently converting Internet users from a low investment that lasts over time.
We can therefore say that an SEO strategy is based on an inbound marketing technique that aims to bring customers to you, rather than to pick them up.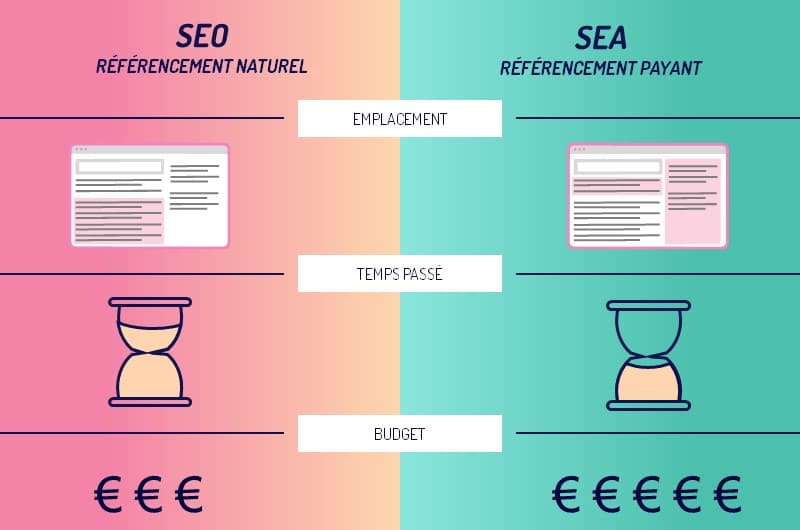 Unlike advertising, which allows you to have immediate results by paying, SEO allows you to obtain results over a longer period of time, which is often a persuasive element for potential customers.
In addition, the big advantage of SEO lies in the fact that this technique allows you to obtain the best return on investment in marketing. This last point is all the more important when we consider the expensive cost of advertising costs which are only for a short period.
1.2.9. Increase your sales
Natural referencing aims to attract as many people as possible from search engines and without advertising. This assumes that you offer them content that really interests them.
Similarly, when this content is of high quality and carefully developed, it responds to the search intent of visitors who are then satisfied and more willing to discover or buy the products/services that you offer on your site.
A good SEO campaign must therefore be particularly effective in allowing you to sell smoothly to a person who is looking for information by offering them the ideal service or product.
1.2.10. Develop your brand image
The ability to create a brand is absolutely essential these days. Indeed, you should know that Google loves brands. Why ? Quite simply, because they represent a pledge of confidence.
Thus, if visitors type the name of your company a lot in the search engine, Google will consider your company as "reliable" and with a strong reputation.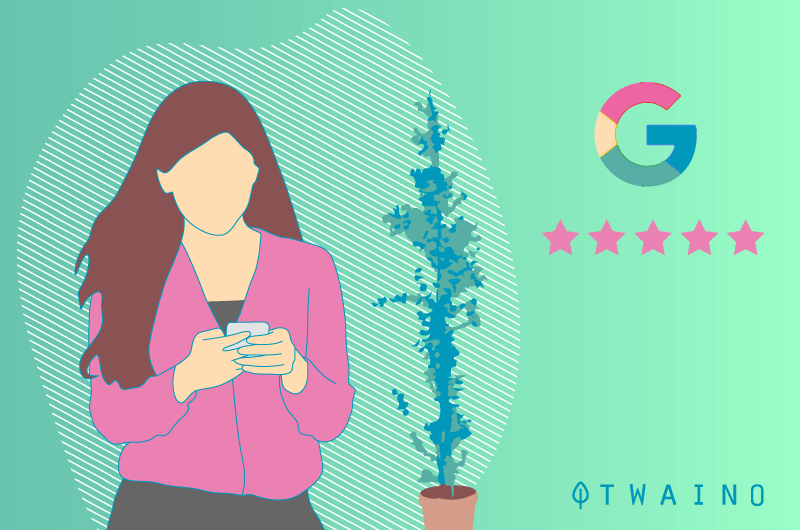 In absolute terms, the real mission of an SEO agency is to enable a site to increase its overall reputation in order to enable it to increase its visibility on a large number of highly competitive keywords.
Chapter 2: When to use an SEO agency?
In recent years, the marketing world has been invaded by digital marketing. Yet nearly a quarter of businesses are still hesitant to use social media and SEO to boost their business.
Today, it is proven that without a successful SEO strategy, a company can invest time and significant advertising dollars without obtaining the expected results.
If you are not adopting a promising enough SEO strategy, you may be able to hire an SEO agency to rectify the situation.
In this chapter, I present a list of circumstances in which you should normally seek the help of an SEO agency:
2.1. When launching your website project
If this is your first SEO experience, why wait for the first difficulties before hiring an SEO agency?
Personally, I recommend that you consult an SEO expert before your website creation project or inform yourself on the subject.
Indeed, without SEO knowledge, it is very likely that you will make decisions without knowing their ins and outs.
For example, if you choose a bad hosting from the start, the impacts on the user experience and SEO will be significant.
This is justified by the fact that there are several elements linked to your host and which impact the referencing of your site.
These include, for example:
The reaction speed of the servers;
Uptime / downtime;
SSL certificate;
Etc.
When you get support from the start, the expert helps you avoid certain classic errors that are fatal when launching your site.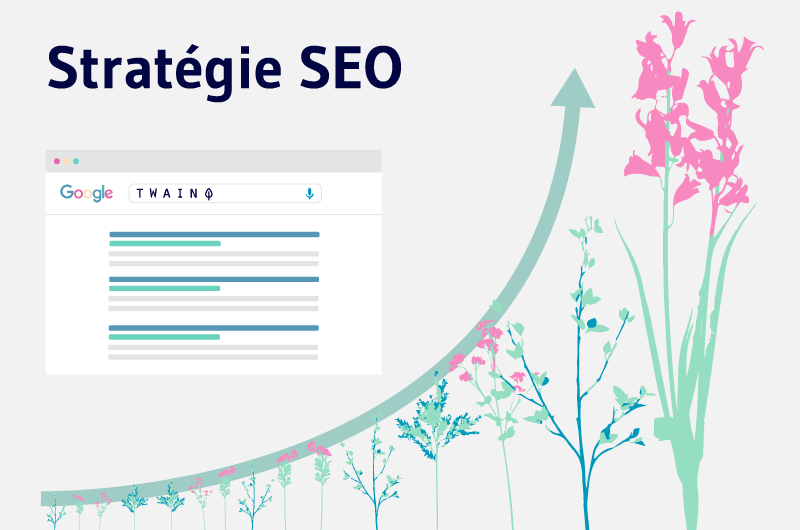 Agency Twaino regularly accompanies start-ups in the start-up phase, and which have a need for visibility.
This is a delicate mission since budding companies often have no reputation on the web.
It will therefore be a question of setting up for them not only a good SEO strategy, but also a correctly targeted content strategy to start having results.
SEO requires precise, constant and consistent work.
All this involves certain prerequisites in HTML or WordPress programming, good SEO practices, mastery of SEO analysis tools and software, promotion on social networks, a local campaign… and so on.
If you do not have enough time to carry out precise and permanent work on the referencing of your site, you might as well seek out an SEO agency to take care of all that.
You will save time and efficiency.
2.2. Your website does not benefit from consistent optimization (on-page and off-page)
A good SEO strategy is not just about creating content and installing plugins on your site.
You may have written good content with good services or products to promote, if your site is not well referenced you cannot obtain a return on investment.
SEO is also technical and must take into account the optimization of the pages of the site as well as a good management of backlinks.
Unfortunately, nearly 42% of businesses still struggle with this link building challenge despite it being one of the most impactful aspects in SEO.
When a company succeeds in creating backlinks, it proves the relevance and trust of its content.
In the same order, Google will allow it to get more organic traffic by displaying high in the SERPs.
2.3. When redesigning your site
Redesigning a site is often the right time to rethink and optimize your site.
So, getting help from an SEO agency can be a very good idea to make your site both optimal for users and also for Google.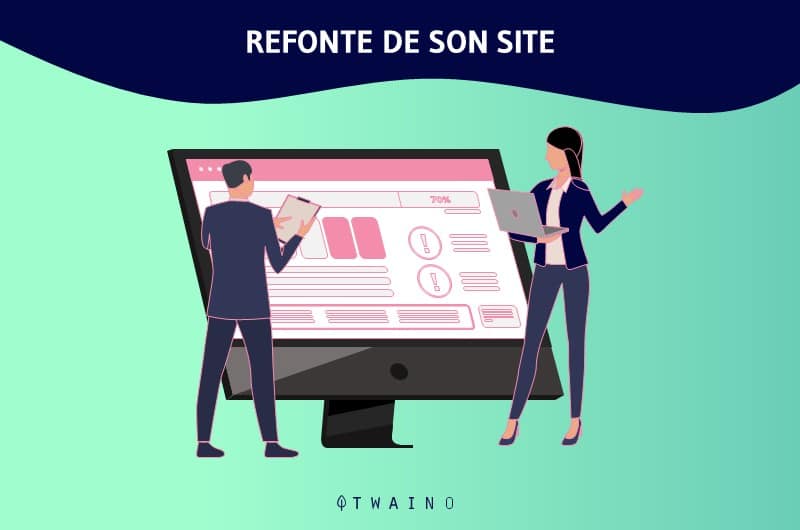 The natural referencing agency Twaino has the opportunity to help companies in their redesign phase.
It offers them a capitalization of the "best practices" of the market and the best solutions to improve brand awareness.
2.4. To optimize and maintain your website over time
As surprising as it may seem, a website needs maintenance to continue to grow.
Thus, it is necessary to constantly create new qualitative content, on promising subjects, and above all to optimize articles and product pages in order to improve results.
In addition, an SEO consultant is constantly on the lookout for new trends, in order to keep a head start for his client. This interview is all the more important if the sector is extremely competitive.
Indeed, a first position in Google can be quickly forgotten if the website does not provide the sufficient and necessary effort to stay ahead.
SEO agency Twaino offers a service that helps websites maintain their good positions in Google over time by implementing practices that respect Google's rules, which allows for sustainable growth over the long term. .
2.5. You don't currently have the time or the skills for SEO
A talented entrepreneur doesn't necessarily have the technical SEO skills or enough time to develop those skills.
But to manage the referencing of his site himself, he must have basic knowledge of:
Desktop and mobile programming;
Web design;
Backlinking;
Metadata management;
Information Architecture;
Conversion rate optimization,
etc.
Of course, all these concepts are not very complicated, they just take time to be well assimilated.
At the same time, that's too much to learn all at once and you're just one person, with your other occupations.
In such circumstances, the ideal would be to outsource the SEO of your website to an SEO agency that already has a qualified team.
2.6. The mobile version of your website is messing around
Connecting to the Internet via mobile devices has become more and more common in recent years. It is estimated that more than 50% of searches are currently initiated from mobile phones worldwide, including influential countries such as the United States and Japan.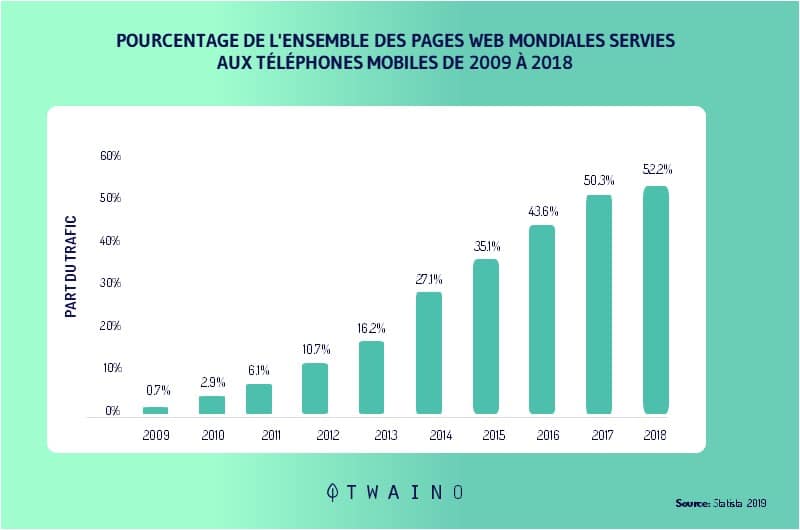 With so many mobile users growing, you need to make sure your site loads faster on mobile. It must also be ergonomic and user-friendly.
When these elements are not respected, you can be sure to lose a good part of your potential customers.
Also, Google recently launched the Mobile First Index which is a set of indexing measures to assess the quality of a website, not only taking into account its desktop version, but also its mobile version.
Google's message in this regard is very strong, the leader in online research has recently prioritized indexing on mobile devices before indexing the desktop version in the background.
Any websites that have a poor quality mobile version are seen as providing a poor experience to their users and are routinely disgraced by Google.
So if the mobile version of your site is giving your users a bad experience, you need to get on it now and improve it.
2.7. You have been penalized by Google
The search engine algorithm has very strict selection criteria for referencing the information it collects from websites.
Sites that do not comply with its recommendations and that violate the recommendations are therefore naturally punished.
They are indeed neglected in favor of other sites that are more "good students" and that is nothing personal. Because Google's primary ambition is to present Internet users with the best results that can help them in their quest.
Google will therefore maintain its sanctions until the site decides to solve the problem and comply with the rules.
Let's analyze the graph below which is obtained thanks to the Google FE International.
It is clearly seen that since the appearance of the first Google sanction, the curve representing the traffic rate of the analyzed website continues to fall.

Source : FE International
It is therefore important to master these Google recommendations and avoid falling into the trap.
Bad practices punishable by Google are often grouped under the term "BLACK HAT SEO". It includes all the fraudulent processes used to try to cheat and circumvent Google's barriers. As black hat SEO practices you have:
Duplicate content;
Word stuffing;
Etc.
If you have already used these bad practices, you can be sure that you have been penalized by Google.
And if you do not have a strategy that works well enough to follow the normal procedure, the ideal would be to call on an SEO agency to rectify the situation.
2.8. You offer your content blindly
What criteria do you use to distribute content on your site and your social media?
If you don't have a carefully crafted and justified editorial calendar, you run the risk of publishing content that won't arouse interest among Internet users.
In addition to the fact that an SEO agency has the skills to provide you with quality content, it also has powerful tools to target content that will be easily consumed on your site.
What you need to know is that the demand exists, Internet users are constantly looking for a product, a service or a subject.
But to get more traffic and get their attention, you have to offer content that addresses needs that are really in demand at the moment.
With the tools at its disposal, the SEO agency will provide you with precision:
The terms that Internet users are looking for the most in your sector of activity;
The frequency with which they carry out this search;
The volume of research carried out by period and by country;
The main competitors who register for its queries the best results.
You can then use this different information to put in place an effective and competitive strategy.
Because as Adam Smires said, information is power.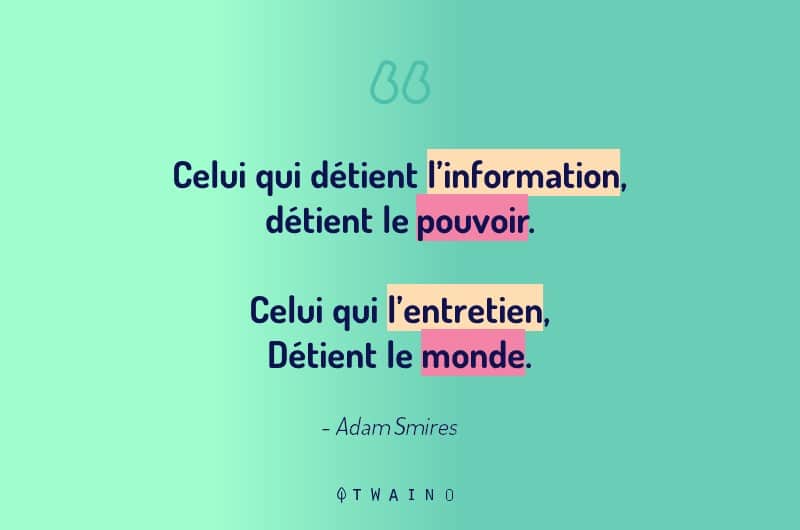 Use these to attract traffic to your site and develop your authority on the NET.
2.9. You can't prioritize SEO
In inbound marketing, SEO is a big factor.
It remains a priority for all companies wishing to remain competitive.
Regardless of your industry, you must prioritize the SEO of your site if you want to gain authority on the Internet.
And to be honest, you can't do it if you're already overwhelmed with other tasks.
If your marketing department is already busy with other work and can't take care of SEO, it would be better to delegate it to a competent agency.
2.10. You don't get the expected results
Whether you implemented your SEO strategy yourself or it was carried out by an SEO expert, it may happen that the results you expect are not there.
This situation which can frustrate you can arise when:
You choose your SEO expert badly;
You don't take the time to define and track performance indicators;
You apply BLACK HAT SEO practices.
Anyway, when you find yourself in such a circumstance, you must keep your cool and try to understand the reasons by asking for help.
Moreover, if you hire an SEO expert and you must remain attentive to the kind of results i his work brings to your website.
If you start noticing negative results on your website, ask for an explanation and make sure it doesn't last long.
2.11. Your site has been attacked by spammers
If you notice that your site is having problems with spammers clogging up your inbox and your comments, it is important that you contact an SEO agency to take appropriate measures.
Unfortunately, this is a recurring phenomenon that is observed in almost all countries of the world.
In this Kaspersky survey, we can see that France is not spared and records 4% of the global rate of spam in email traffic: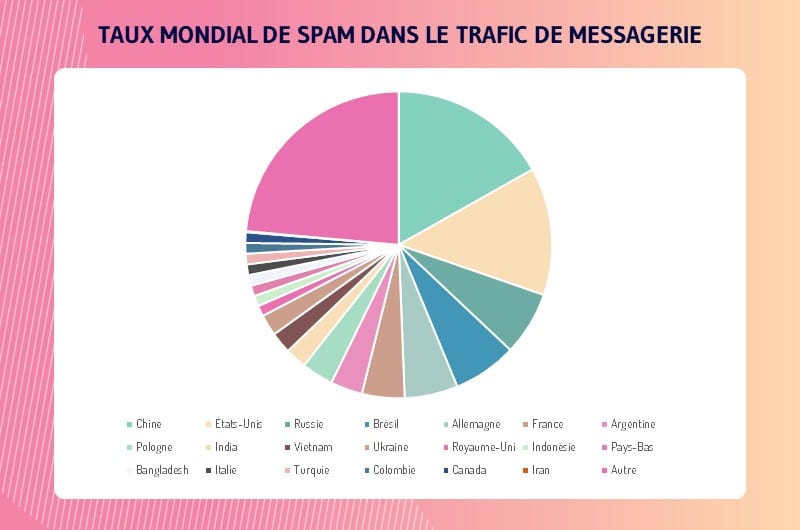 Indeed, some companies allow customers to post content and leave comments, which can be detrimental to the site.
A user can decide to publish the same content here and on other sites.
Which will be perceived as duplicate content in the eyes of Google's crawlers and will seriously degrade your search ranking.
Having an SEO consultant helps you avoid such problems.
The SEO agency provider must secure your site and protect it against spam.
In particular, it must tell crawlers not to treat your users' posts as duplicate content.
2.12. You Missed Local SEO
Every local business needs to be successful with local SEO.
It is clear that a local business should not imitate the SEO strategies adopted by large international firms. Even Google is aware of this.
If a local business decides to compete with these global firms, it will waste money on advertising.
For such companies, the ideal would be to carry out local targeting to find the surrounding customers, but also to appear in the top of the local search results.
An SEO agency knows exactly which methods used for such SEO.
2.13. Your keywords aren't working
Some industries may have keywords that are too general or that haven't paid off.
In this case, banging your head won't change much. On the other hand, soliciting an SEO agency can be useful to you.
The agency's SEO experts can situate you and improve your keywords to achieve the expectations you want.
2.14. Your Website's SEO Traffic Is Capped
Did you know that 25% of the keywords searched each month are not on the top 100 million keywords list?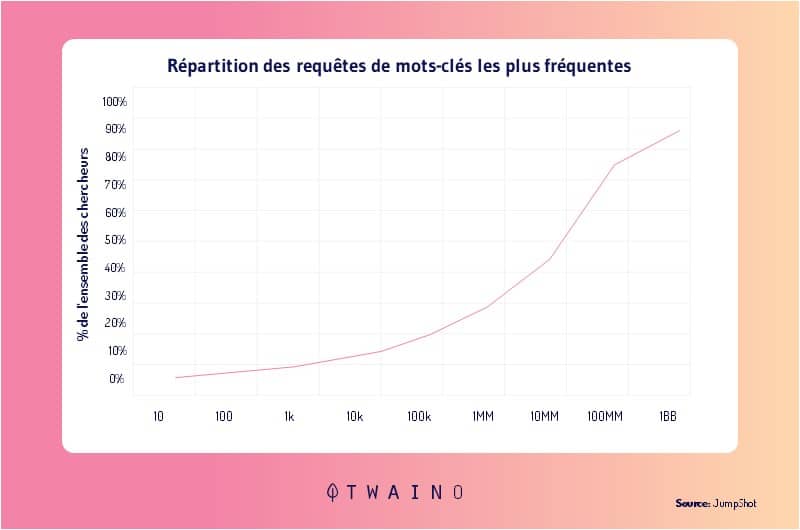 In addition, more than half of the keywords are 4 words or more .
In this context, the likelihood that your keyword research is outdated, unfinished, or devalued is high.
What you need to do to have peace of mind is to ask a professional agency, an analysis of the addressable market at least every semester to know the highly promising niches on the NET.
2.15. You're seeing a steady drop in your organic traffic
If you've been operating without an expert SEO team and for a while you've been seeing a steady drop in your site's organic traffic, know that you're not the only one and you better understand why.
Every year, Google adds thousands of modifications to improve its algorithms. In 2018 alone, the Google team acknowledged making exactly 3,234 updates to their algorithms.
That is 9 daily updates, which represents 8 times the number of modifications made in 2009. You have understood that Google likes change and novelties.
And obviously, the majority of companies present on the Web, can have difficulty keeping up with this rhythm.
Added to this is the fact that the search results offered by Google are increasingly complex and diversified.
This makes it more difficult for companies to succeed in having a good positioning and still to stay there for a long time.
Finally, add all these parameters to the crawlers' abilities to match the right content to a very specific query.
All this involves massive upheavals in many results pages.
Many pages or entire sites can easily lose their rankings in this "evolution" of Google.
Gumroad has provided a list of sites that lost or gained traffic only from August 1 to September 25, 2018 and the numbers are amazing.
Of course the domain names of the different sites are hidden to avoid any prosecution.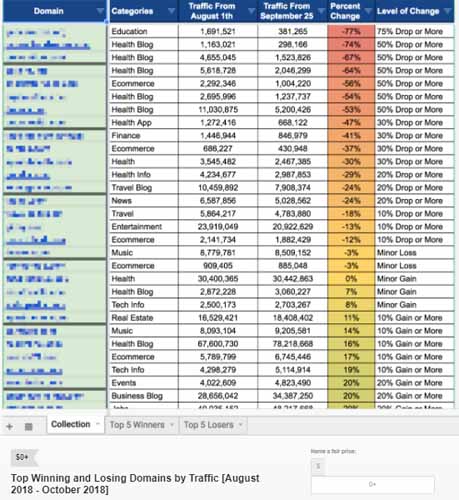 Source : Gumroad
In this frantic race, if you don't have all the necessary logistics to stay in the competition, you might as well outsource the referencing of your site to a competent agency.
2.16. You've Tried (and Failed) to Build a Team of In-house SEO Talent
Any SEO pro can tell you: it's not easy to hire pro-level SEO consultants in-house. The thing is, these seniors in the SEO industry recognize their value and know how much they gain by starting their own firm.
Unless you are willing to invest a fortune to keep these SEO professionals in-house, it will be difficult for you to assemble a highly qualified SEO team.
The best would be to contact an SEO agency and pay for their services.
2.17. Hire an SEO agency and focus on your business
You must understand that hiring an SEO agency is not a way to throw in the towel. Quite the contrary.
This proves that you prioritize a good experience for your Internet users.
If you have not yet decided on which SEO agency to choose, you can contact us for a free consultation.
Chapter 3: Price, deadlines and return on investment of an SEO service
Before contacting SEO professionals, it is legitimate to ask how much a service in an SEO agency costs, the terms of payment, the return on investment and the time necessary to observe the first results.
3.1. What are the prices of an SEO agency?
Far from wanting to give a complicated answer, I would like to say that it is very difficult to answer this question, because it really depends on the type and quality of the services offered by the agencies.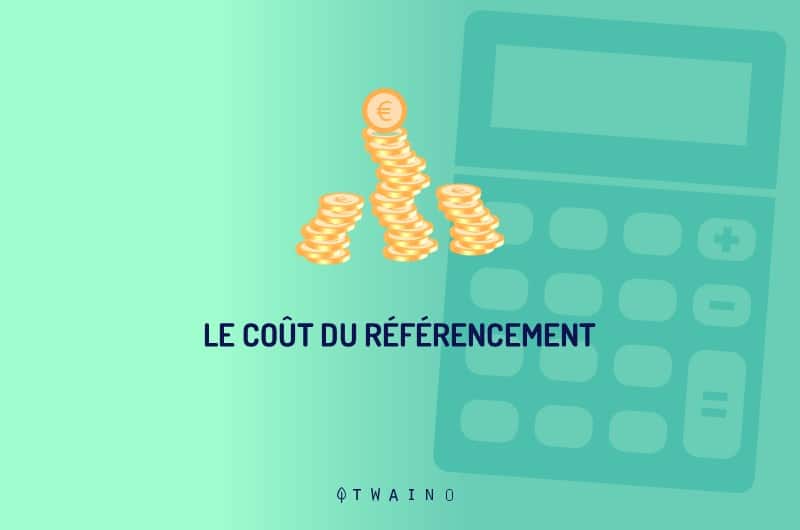 Even when you type directly into search engines "how much does an SEO service cost?" », the majority of the answers will tell you that « it depends ». Which can be a bit frustrating in the end.
But the fact is that the price of an SEO service really depends on a number of factors. Even just based on the early chapters of this guide, you've probably realized that SEO has too many choices.
Indeed, the SEO industry has too many pricing formulas, too many agencies, too many rates, etc.
Thus, it is very difficult to compare an agency that offers a Black Hat service for 300 euros and outsourced in a low-cost country to another agency that will take the time to do a clean White Hat SEO and aligned with Google's rules for not less than 5,000 euros.
At Twaino, we offer a fixed daily rate, with a number of days planned in advance and adjustable when needed. Therefore, things are clear, which allows the client to project themselves.
3.2. How quickly will SEO results arrive?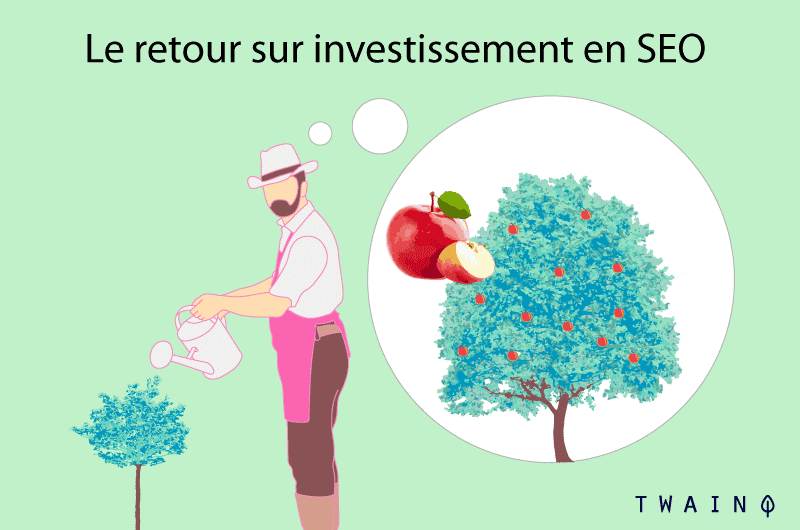 Les délais avant d'obtenir des résultats sont souvent des questions très fréquemment posées, et il n'y a pas de réponses simples.
Delays in getting results are often very frequently asked questions, and there are no simple answers.
The SEO results will depend on:
The popularity of your site before the SEO campaign;
Technical problems with your site;
SEO practices carried out in the past (black hat);
market competition;
And many other settings.
Of course, this list is not exhaustive. So, I advise you to run away very quickly from professionals who will tell you that SEO is "fast, easy and cheap".
If you are a new site owner and want to see results in a very competitive market, it would be a lie to say that the results will come in days. An SEO consultant in a serious agency will tell you several months instead.
3.3. How do you measure the return on investment of an SEO campaign?
The subject of return on investment is often thorny in SEO. Why ? Because it is very simple to sell a service, than to obtain SEO results. Thus, a good SEO agency is not afraid to talk about ROI (Return On Investment).
Here is the complete formula that allows SEO agencies to calculate the ROI of a website: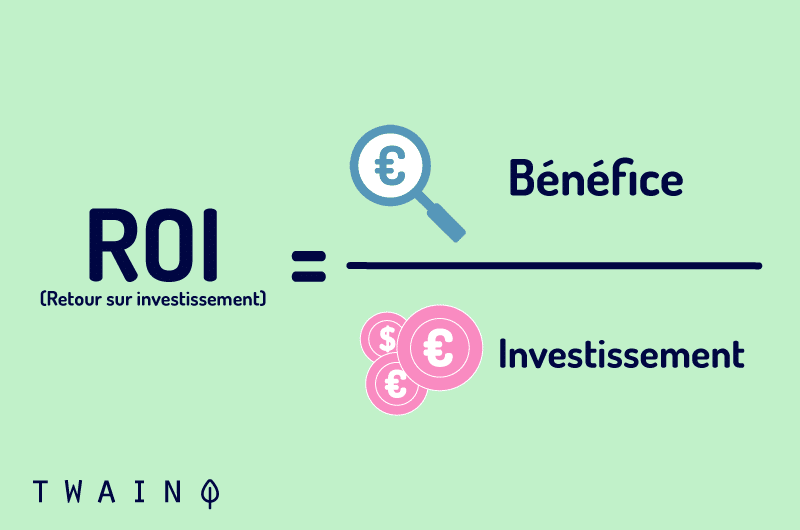 Concretely, this means that it will freeze the results of the client's website before the actions. Then, she will follow the progress over time to see if the numbers improve.
This leads an SEO campaign to have a positive impact on several elements:
Organic traffic : Quite obviously, the objective of an SEO campaign is to bring the maximum number of qualified visitors to your site. This indicator is extremely simple to follow from Google Analytics.
Increase in turnover : An increase in traffic without an increase in sales is of little importance. Thus, the objective of SEO will also be to increase the turnover of the website concerned.
Improving the conversion rate : This concept goes a little beyond classic SEO, but personally I am convinced that it is an important part of the SEO expert's job.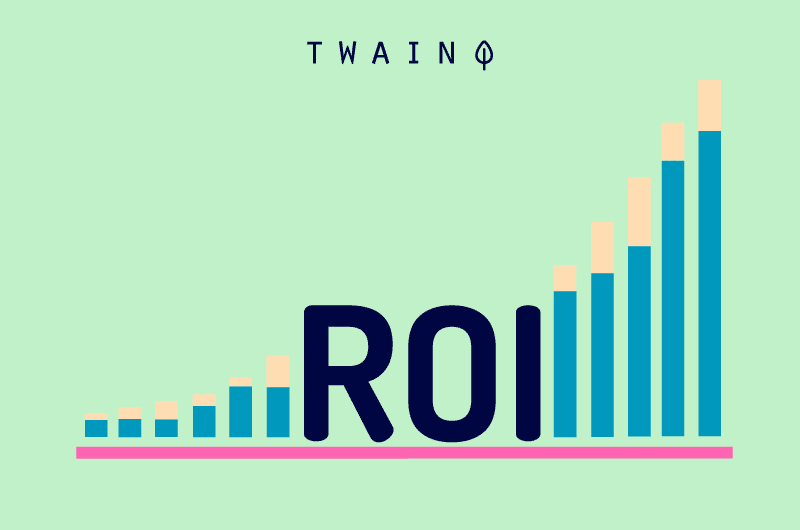 In other words, SEO will help marketing decision-makers make the right decisions and implement the most relevant changes to improve the conversion rate.
Chapter 4: Tips for recognizing a good SEO agency
Several agencies abound on the Internet and boast of being SEO experts when the reality is quite different. Many of these agencies lack experience and competence and provide poor customer service.
But how can you tell a good agency from a fake one?
How are you sure that this agency is ideal for achieving your goals?
Here are some tips that can help you make the right choice:
4.1. Define your SEO goals
Although for most companies the main thing is to appear on the first page of search results, it is essential that you define your own SEO goals.
Once your objectives are well defined, you can better refine your search and not waste time on an agency that is not specialized in achieving them.
The definition of objectives therefore allows you to examine the different services offered by each agency in order to identify those that are best suited to drive your SEO strategy.
Regardless of your industry, you should not, for example, hire an SEO agency with such a vague objective as: Increase organic traffic to your site.
You must take into account that there are several types of traffic.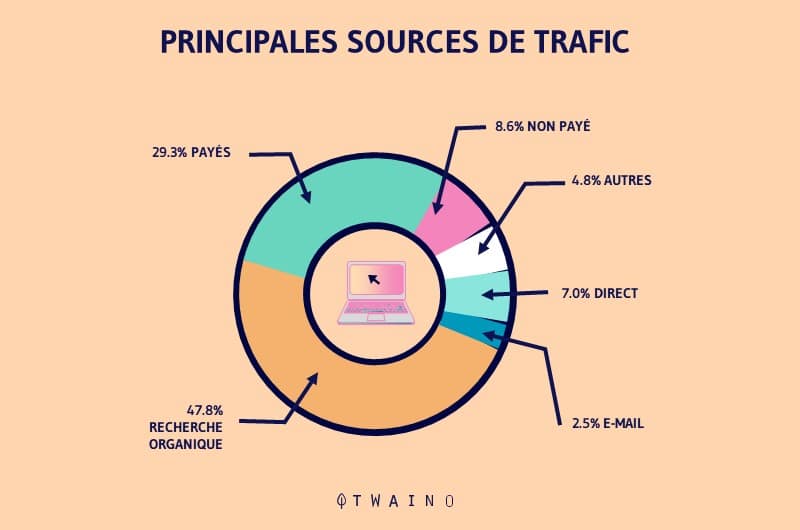 Similarly, you should know that succeeding in increasing one type of traffic does not automatically mean that you will succeed in increasing your income.
Here are some questions that can help you identify objectives for your SEO:
Why do you want your site to be referenced on the NET?
What are your goals as soon as a user connects to your website?
Would you like him to read some articles from your blog?
Do you want the user to buy one or two products before logging off? Do you want him to request a particular service and how?
For your advertising needs, do you want to reach a large audience or a rather small audience?
Do you have any influencers you particularly want to reach with your posts?
Do you want to increase your product sales by targeting certain keywords?
Is your business or brand exposed to potentially harmful elements that you want to overcome or stifle?
Does your business need more sales, traffic, NET authority, or a combination of all three?
Do you have products or services that you would like to sell directly on the NET or via online brokers?
These different questions will allow you to define objectives, but also to know what you expect from an SEO agency.
In addition, thanks to these objectives, you have an eye on the work of the SEO agency.
As you can see, it is quite possible to set several objectives. However, they must be realistic.
This is the time to get along with your team to clearly articulate everything you expect to achieve with SEO.
4.2. Draw up a list of potential agencies
Before recognizing a competent SEO agency, you should already have found one and what better way to start than to do some research on the Internet.
Indeed, what company can succeed in being well referenced on the Internet if it is not an SEO agency?
A good positioning in the SERPs of search engines can therefore constitute proof that the agency has mastered SEO strategies and manages to stand out from its competitors.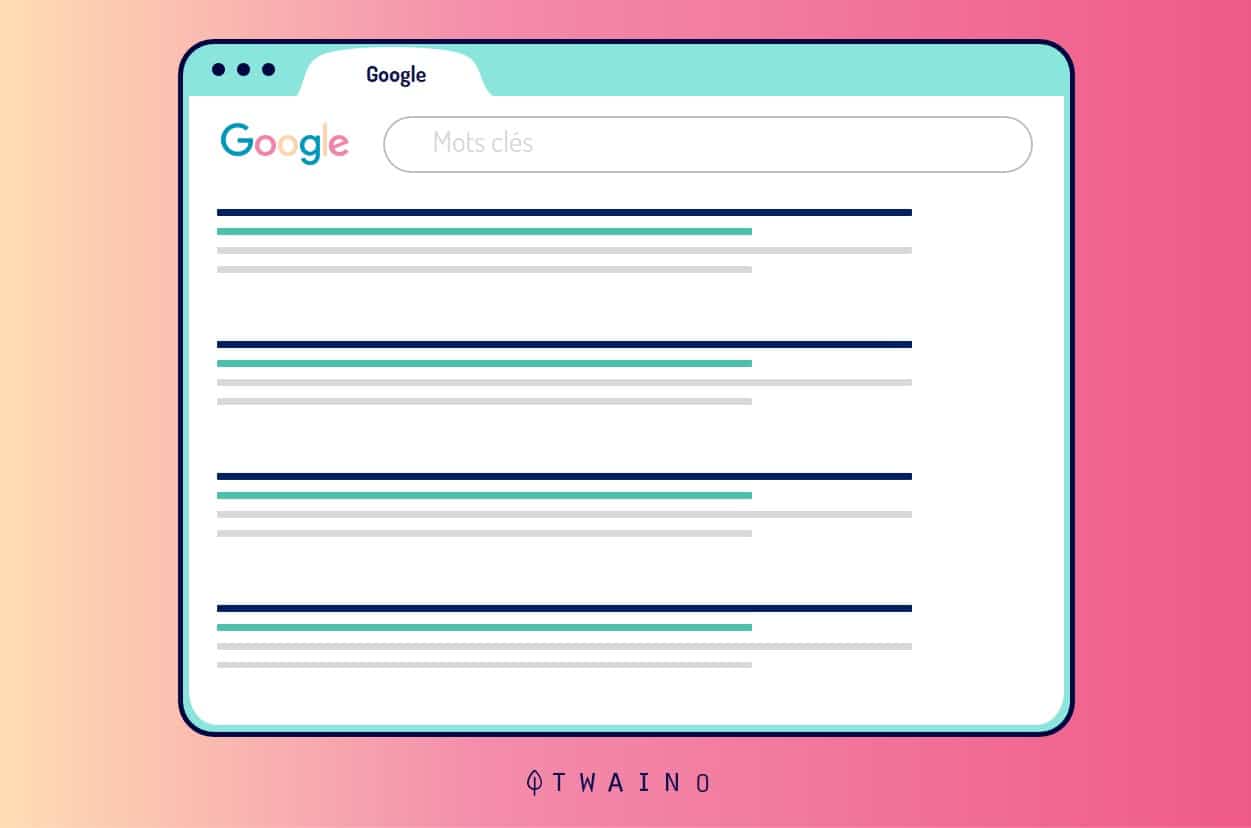 However, this analysis is not always verified. There are many small SEO agencies that can be just as successful and master the workings of SEO. In addition, these agencies are the ones that manage to clearly identify the realities of a company and offer it tailor-made strategies.
Unlike a large agency that tends to offer extensive SEO campaigns sometimes without great results. Also, don't just search on Google.
It is also important that you proceed the old fashioned way by using, for example, word of mouth to find out who in your entourage has managed to find a good SEO agency and adopt it.
It may happen that people in your professional circle recommend a good agency. But we agree that you should not go directly to ask a competitor to give you a recommendation.
He could orient you badly and recommend an incompetent agency, so prefer people you trust completely.
You can go further by asking a few webmasters or marketing managers for recommendations.
4.3. Look at the agency's specialties and services
Once you have successfully compiled a list of potential agencies, the next step would be to check each agency's official website to make sure if their services and specialties are along the same lines as your needs.
Indeed, a serious SEO agency will take care to present its services and specialties on its website.
It will also present its headquarters and all its addresses to allow its visitors to contact it at any time or to be able to visit the premises if necessary.
You can also take advantage of your visit to the site to appreciate the way the agency manages its blog. Does it manage to manage the keywords well? And what do you think of the quality of his blog posts?
How do you find the ergonomics of the site? Is navigation on the site fast, fluid and easy? If an agency can't manage these SEO basics on their own website, you can cross them off your list right now.
4.4. Visit the SEO company
Before hiring an SEO agency for your site, you should schedule a consultation to visit the agency.
Hiring an agency and collaborating together to achieve your goals is above all a matter of proximity and relationship. It is therefore important that you get to know the people who will be working on your project.
It's one thing to reach the agency by phone, but it's quite another to meet the whole team in person to get an idea of ​​who is involved and who will be working for you.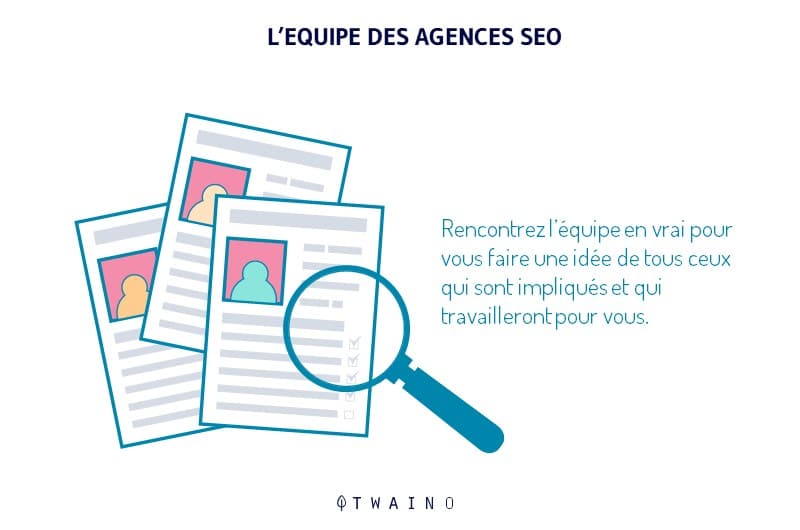 It is also an opportunity for both parties to get to know each other and understand each other from the start on the scope of the project. This will avoid misunderstandings and disputes that may arise in the future.
It is also a way to save time and resources.
During the meeting, the company can also present you with an action plan to achieve your objectives.
You can then appreciate how much it cares about the interests of your company and whether it really deserves to take charge of the management of its SEO referencing.
4.5. Check references and reviews
Before you hire an SEO agency, you should look into their reputation, what they have done in the past. This is a fairly important step, especially since it is a subjective service and the opinions of the agency's former clients can be a weighty criterion in the balance.
And to come to an unbiased judgment on an agency, there is enough data you need to collect such as client testimonials, online reviews, comments, etc.
It is important that you go through them all, starting with the most recent.
These are the signs that make it possible to evaluate the agency's performance and whether it is at the forefront of the latest trends in the natural referencing industry.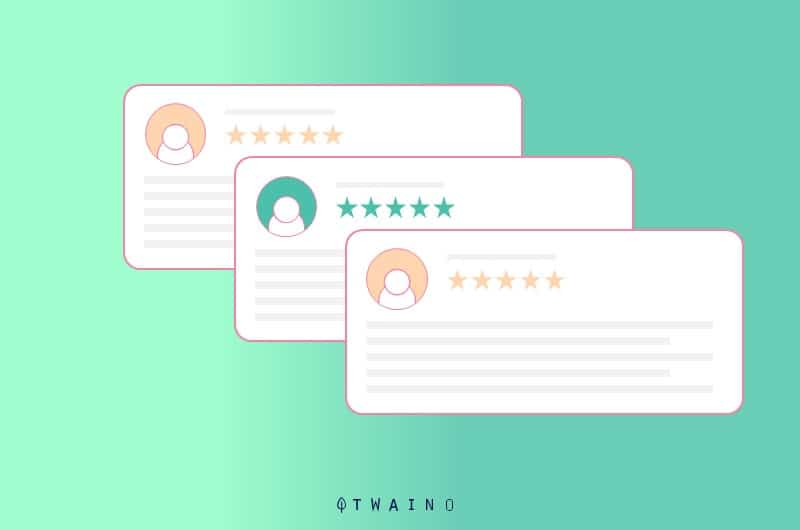 Do your little investigation of the websites for which the agency has had to provide services in the past. A competent agency will not hesitate to give you the list of its clients to convince you of its effectiveness: It should even be proud of it.
If an agency provides you with a list of past clients, don't get carried away with the positive results, follow through. Call some clients to make sure the agency has actually worked for them.
Also take the opportunity to gather their opinions on the quality of the services provided by the agency.
Here are some questions you can ask them in this context:
What do you like the most about this SEO agency?
What do you think this SEO agency could do better?
Have you hired any other SEO agencies in the past?
The answer to these questions, consisting mainly of testimonials, can already tell you if you are on the right track.
4.6. Consult the SEO agency's portfolio and case studies
Next, it is important that you look at each agency's portfolio to ensure the veracity of the opinions of the clients interviewed and to have your own opinion.
By browsing the projects that the agency has already delivered, you can immerse yourself in its style and the final result it delivers to its clients.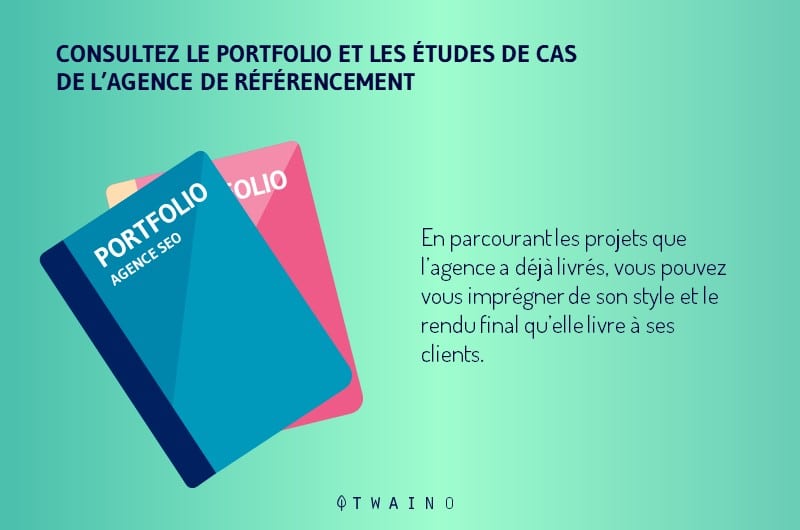 As you already know, an SEO agency that satisfies its clients should not only collect case studies, but also be eager to present them to you.
The case studies presented must clearly show the work of the agency with concrete examples to confirm its expertise and competence.
It is also at this stage that you can find out more about the additional services offered by the agency to support natural referencing.
This can be for example a pay-per-click (PPC) service, a social media campaign or web design.
In case the agency doesn't post their past work directly on their website, you might consider requesting a catalog of past work. By doing this, you get a real insight into what they're doing in terms of SEO campaign. .
To go further, you can ask to see the SEO key performance indicators of the projects they had to deliver to clients.
Even if this information is private data and they are not supposed to reveal everything to you due to the confidentiality agreements of their customers, they can at least go without going into the details.
After all, agencies usually monitor and evaluate the results of their SEO campaigns. This allows them to further refine the methods used for a client until an optimal result is achieved.
The main SEO performance indicators monitored by an agency are:
Leads and sales;
Backlinks;
Pages per session;
The average page load time;
Rankings;
The organic click-through rate (CTR);
Organic traffic;
The ranking of keywords;
The bounce rate;
These SEO performance indicators constitute proof of the agency's competence in its work since they make it possible to evaluate the strengths of an SEO strategy.
4.7. Look for the ethics of the agency
An agency that lacks ethics will not hesitate to cheat or rig the data to try to make you buy falsehoods. This is why it is important to choose an honest and transparent agency from the start.
Unfortunately, you can't know if an agency is ethical by just looking at its profile on LinkedIn or any other platform on the Internet. What you need to do is consult directly with management and meet with the rest of the members of the agency.
By researching the background of each member of the team, it is entirely possible that you will find clues or that someone will try to tip you off on the true nature of the agency.
This is a step that should not be taken lightly because it is crucial that you have confidence in your agency.
If the consultants who must work on your project have no idea of ​​the moral values ​​of a company, it is clear that you cannot expect anything worthwhile from this agency.
On the other hand, an agency that is invested in the community and that encourages a job well done and the personal life of its staff is a good candidate for your project.
Also, an agency has the possibility of managing the referencing of your site in several ways. As explained above, there are great possibilities for managing a company's SEO: Black Hat SEO and White Hat SEO.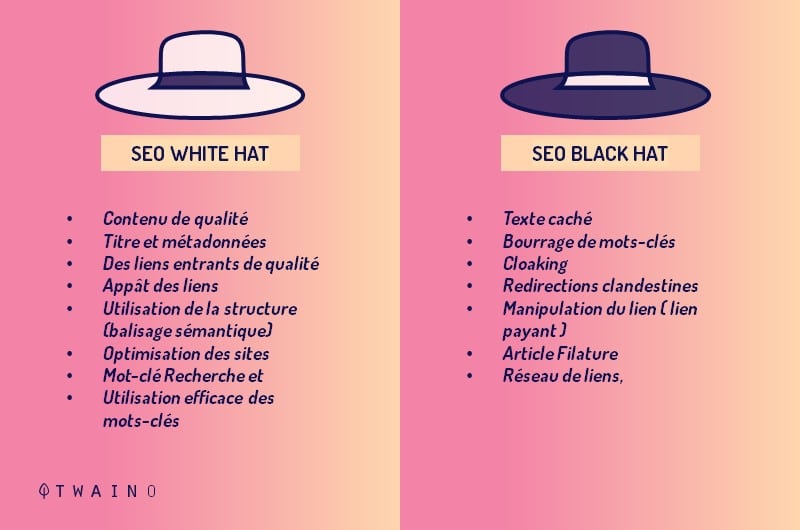 With an SEO agency that has and respects a code of ethics, you can be sure to enjoy at least one SEO campaign focused on good SEO practices in accordance with Google's recommendations.
Conversely, an SEO agency without a code of ethics will not hesitate to use shortcuts and bad practices to reference your site, which is punishable by Google.
It thus exposes your site and your e-reputation to enormous risks that can negatively impact your brand.
4.8. Follow them on social networks
Not everything is limited to the agency's website, also make the rounds of major social networks such as Facebook, LinkedIn, etc.
You can see how the agency runs its own social media campaign and decide if it's right for you.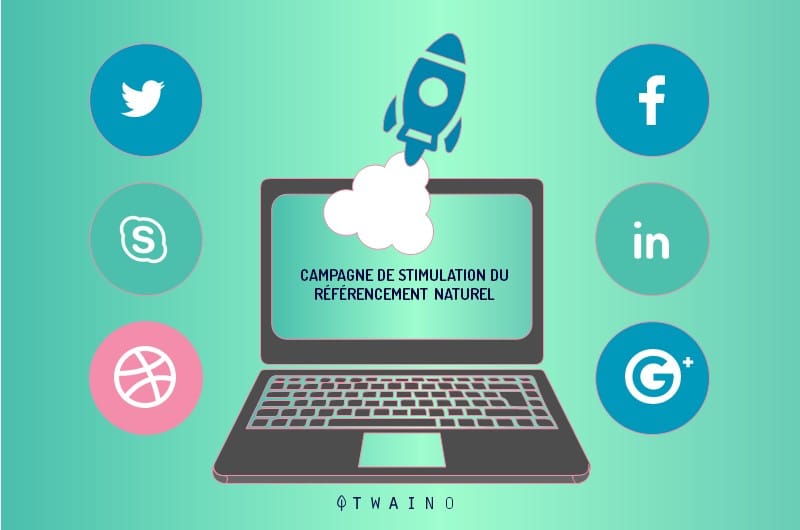 Take a tour of the content she posts and appreciate the style she approaches on each network.
Compare the tones used on social networks and on the site's blog. You can find out the priorities of the agency. Go as far as subscribing to their newsletter and follow how they approach visitors to their site.
If all the content that you have consulted on social networks, the site's blog and its newsletter are quality content, you will have no trouble understanding the messages disseminated even if you have no knowledge of SEO.
Indeed, it is important that the content distributed is as explicit as possible and allows a large number of Internet users to consume it with enthusiasm. Also, these contents must really give the impression that they were written for you:
Which is undoubtedly the mark of a persuasive agency capable of converting your visitors into customers.
At this point, it is certain that you have already eliminated a good number of agencies from your list, but there are still a few steps to determine the most competitive of them.
4.9. Find out about their fees and contracts
The operation of an SEO firm can differ from one agency to another. While some agencies offer a service on an hourly rate, others prefer to offer contracts of 6 months for example.
Just like for any type of contractor, take care to find out about their rates and the deliverables offered for each rate.
Then make a comparison of all these prices to make sure you don't choose an offer that is too expensive when there may be some right next door at a good price and for the same quality of service.
It's exactly the same as when you decide to move into a new house or buy a new appliance.
You always take the trouble to go through all the offers to make sure you choose the offer that has the best value for money.
Also, I guess the ranking of your candidate agencies is really tight at this point. Nothing better than such a sensitive aspect as pricing to decide between and widen the gap between agencies.
However, there is no point in choosing an agency that is cheap but unable to meet your requirements. There are competent SEO agencies with reasonable rates that will meet your expectations.
This brings us to an obvious question, how much are you willing to shell out for SEO for your brand?
4.10. Define your SEO budget
This step is just as important as the others because it allows you to know in advance your capacity to avoid making commitments that you will find difficult to honor.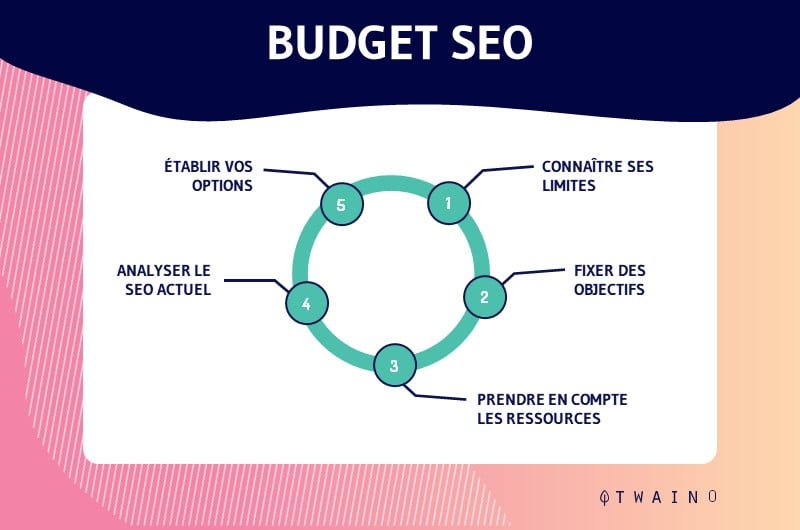 So before hiring an agency, take stock and determine in advance the budget you want to allocate to SEO. Hence the need to find out about the rates, formulas and terms of payment of the agency.
Most SEO agencies offer a variety of monthly plans. It must be recognized that a monthly package should suit you, especially for a start with an agency.
If you are satisfied with the agency's services and the results over a few months, then you can opt for a multi-month contract.
4.11. Pay attention to SEO guarantees
Some agencies can show you positive results and promise you surreal results that make you want to.
Beware of these "talkative" agencies, as it is difficult to accurately predict the behavior of search engine SERPs.
Indeed, while an SEO agency establishes an action plan to achieve optimal results, Google's algorithms are constantly changing their behavior.
Of course, a competent SEO agency will be recognized for its ability to adapt to the situation and achieve despite all the initial objectives set. But not to offer guarantees that are too honeyed, so be careful.
Hence the importance of hiring a reference agency that has years of experience to weather the unexpected and continually adapt to the demands of search engines.
4.12. Think beyond SEO
It's good to think about your site's SEO, but it's even better to consider the bigger picture. Aside from SEO, what else does your website need to stand out from your competition and grow your business?
It is therefore equally important to be interested in the possibilities that you can explore to generate more income with real conversions and sales.
There are several agencies that go beyond classic SEO and offer advanced SEO campaigns. These agencies have the experience and skills to help take your company's brand to the top.
4.13. SEO is not magic, avoid agencies that talk about it in an abstract way.
SEO is a difficult process that takes time. Which also implies that it is misunderstood by not many agencies.
All the agencies that boast of having special knowledge of how Google's algorithms work and that offer miracle solutions are simply lying to you.
Rather, succeeding in generating organic traffic requires a thorough knowledge of how crawlers work and careful attention to all the changes that Google continually adds to its algorithms.
SEO agencies that claim to have particular techniques can use Black Hat SEO to lead the SEO of your site. You will get results, but as you know they won't last long.
Likewise, if search engines can detect these fraudulent techniques on your website, they can demote or ban it from the SERPs. You would then have invested your money for nothing.
4.14. Look for an SEO agency with metrics that work for you.
After you've defined your goals and compiled a list of agencies, it's time to narrow it down to a few whose methods really achieve your goals. It is important that you find an agency that is on the same page as you in terms of key performance indicators or KPIs.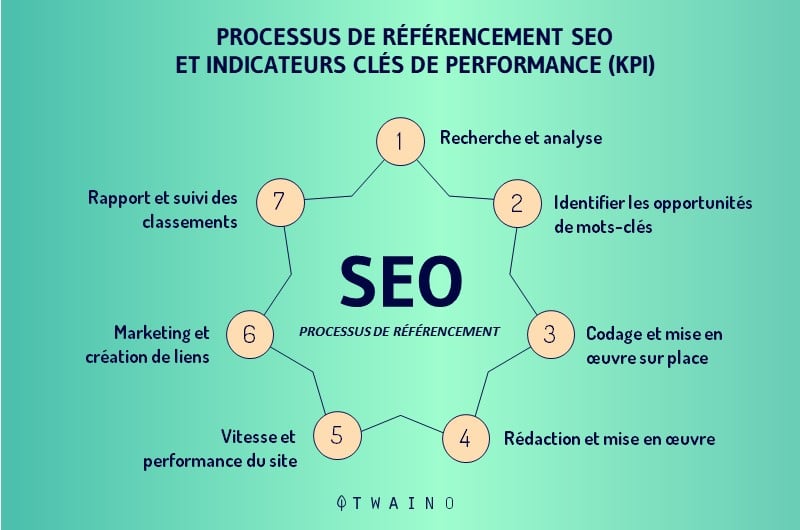 Performance indicators are factors used to assess a company's performance. These indicators can relate to almost any aspect of a business.
In SEO for example, they apply to a lot of different things depending on the business objectives. We agree that a fledgling company does not necessarily share the same objectives with an older company that already has a clientele.
But the problem is that KPIs are about so much data that it's easy to get lost or track the wrong KPIs for your business. Hence the importance of finding an SEO agency that understands the most essential KPIs for your business.
The agency needs to be able to organize this data so that you can easily interpret it. Regardless of your industry or the authority of your brand, there are a few key performance indicators that you should always consider:
Organic sessions: How many visitors are bringing organic search to your website? This is one of the most basic and important metrics to consider in SEO. It can sometimes be supplemented by other more specific measures such as the bounce rate, the number of unique visitors, the average number of pages visited and the duration per session of a visitor.
The conversion rate : What is the percentage of the number of visitors who consume your products, interact with your content or subscribe to your newsletter?
Keyword Ranking : What keywords do you base your website SEO on? And have these keywords really improved your rankings since your agency campaign started?
Crawl Errors: Google crawl is the procedure used by Google's crawlers to automatically crawl the content of your website. There are certain errors that prevent these crawlers from reading all the content on your site. A poorly indexed site will therefore be poorly referenced, which negatively affects the organic traffic of your site.
Load Time: Refers to the time it takes for a page to fully load. If this loading time is too long, visitors will not hesitate to leave your site before finding what they are looking for. According to statistics from Think with Google, the rate at which people abandon a website (the bounce rate) reaches 90% if the page load time exceeds 5 seconds.

Source : Think with Google
4.15. Choose an SEO company that communicates effectively.
An agency has certain SEO tools such as SEMRush, Google Analytics, Google Search Console… to evaluate the KPIs of its clients' projects. As a customer, it is your right to access these tools.
However, sometimes you may not have enough time to analyze all this data. This is why it is crucial to find an SEO agency that can effectively collaborate in terms of trust and communication with you.
This is all the more important since SEO is a process that you can maintain with your SEO agency for years. And even if you're only considering hiring an agency temporarily, increasing your site's organic traffic takes patience, time to invest, and a constructive working relationship.
4.16. Schedule a Phone Consultation
Whether you're steps away from the SEO agency or thousands of miles away, it's entirely possible that you'll request a consultation over the phone. Many SEO agencies offer free phone consultations.
However, if an agency charges for its telephone consultations the price should be affordable. At the same time, it must also have an agreement which clearly states that if the client does not have the answer to his questions during the consultation, he cannot be invoiced.
This is a decisive step in the search for a competent SEO agency. Indeed, during a consultation, you address important topics that can already give you an idea of ​​​​the skills and seriousness of the agency.
A competent agency will be happy to conduct research on your sector of activity and will present to you the strategies that it has adopted on other clients of the same corporation as you.
Scheduling a consultation will also allow you to get an idea of ​​the kind of person you are engaging with and also how creative/passionate they are.
All of this will help build a relationship of trust between you and the agency.
Normally, the agency should address the following points in the consultation:
Social media campaign to improve SEO;
Link building techniques;
Installation of SEO tools such as Google Analytics and Search Console;
On-page and off-page optimization techniques;
Reports.
Certain that you will apply these different tips to choose your SEO agency, I will suggest in the next chapter the questions to ask them to get to know them better.
Chapter 5: The right questions to ask during an SEO consultation
Like any service, that of SEO requires a clear approach to work well.
Generally, customers do not know how this process takes place and the right questions to ask. I therefore thought it useful to present to you in this chapter some hard-hitting questions that will help you recognize a competent SEO agency.
Once in contact with the agency, take the opportunity to ask them:
5.1. What sets them apart from other agencies?
From the outset, it is best to let the agency express itself on its most valuable qualities and services.
You can therefore start by asking them to explain to you how the consultants of their agency differ from the others.
This first answer on the methods and experience of the agency should be a good presentation and give an image of the real skills of the agency.
Indeed, SEO experts must have a certain ease in answering the question "What distinguishes you from others?" ".
How do they manage to explain their content optimization and link building practices? Can you easily assess their skill level and their understanding of how web crawlers work?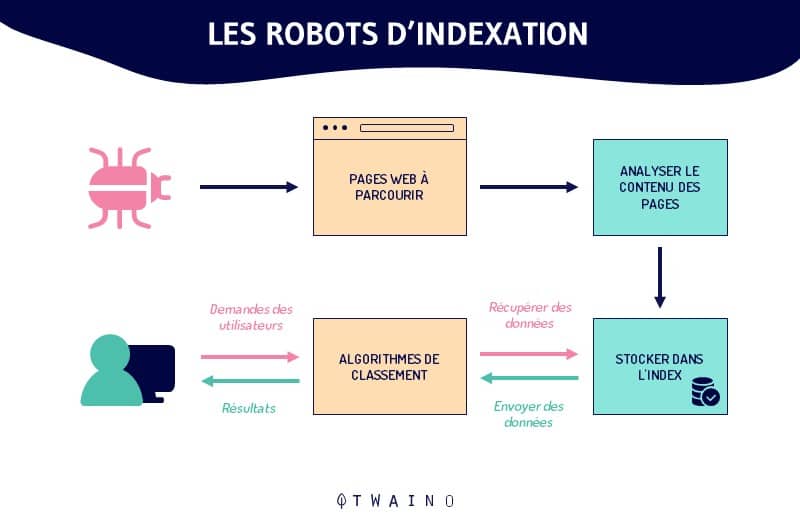 An SEO expert who presents an argument based on concrete results is already a good sign for a start.
You may notice that it relies solely on data to attempt to answer the question posed.
Unlike an inexperienced consultant who will hasten to tell you how much their services are cheaper or faster.
Also, you have to devote time and carry out constant work on SEO campaigns before you can hope to increase organic traffic and revenue for a business.
A trustworthy SEO agency should therefore not make promises about a better ranking for your site in a short time.
5.2. How do Google's algorithms work?
To gauge the agency's SEO capabilities and understanding of how Google's algorithms work, you can ask the experts to explain how Google ranks results.
And how do they manage to influence these results as an SEO agency?
As a serious agency, you should receive answers like "Yes, here's how Google works to deliver results to Internet users…
Here's how we know all this… And here's how we manage to influence these results… ".
5.3. Summarize the SEO process they use for their clients
Depending on the industry, an agency can use several SEO methods to improve a website's ranking and drive traffic to it. What about the agency you targeted?
Ask SEO consultants to walk you through the common underpinnings of their methods.
If you wish, you can start from a practical case and ask them to briefly present the SEO process that they would use in this specific case to improve the performance of the site.
The development of contextual scenarios is one of the skills to assess the reactivity and the real capacities of an agency to master an SEO problem and control the situation.
It will also be an opportunity to assess their capacity in a number of services.
Do they prioritize technical SEO?
Are they able to effectively manage off-page SEO?
Their answer on the SEO process to adopt to solve your practical case should reassure you (or not), if only a little bit, if you are at the right agency.
For agencies that offer a full service, they should clearly answer your question while presenting their full range of digital marketing services. They must succeed in convincing you how other digital solutions can contribute to managing your initial example in a more global approach to the subject.
If you already use pay-per-click (PPC) combined with social media marketing, you should explore how the agency's SEO process could help build your brand authority.
Also take the opportunity to ask the agency if it has had to work for companies that operate in the same sector of activity as yours. This is also one of the important questions that you should not forget to ask.
Supporting the SEO of a company operating in a given industry requires a number of nuances and requirements to be taken into account.
An agency that has had to deal with situations similar to yours will be better able to handle your case effectively.
5.4. The way theyinform their clients of the technical changes they make to their sites
After an SEO service, your website will experience some modifications in terms of its architecture and source code. Sometimes the whole design can be changed a bit like a complete site makeover.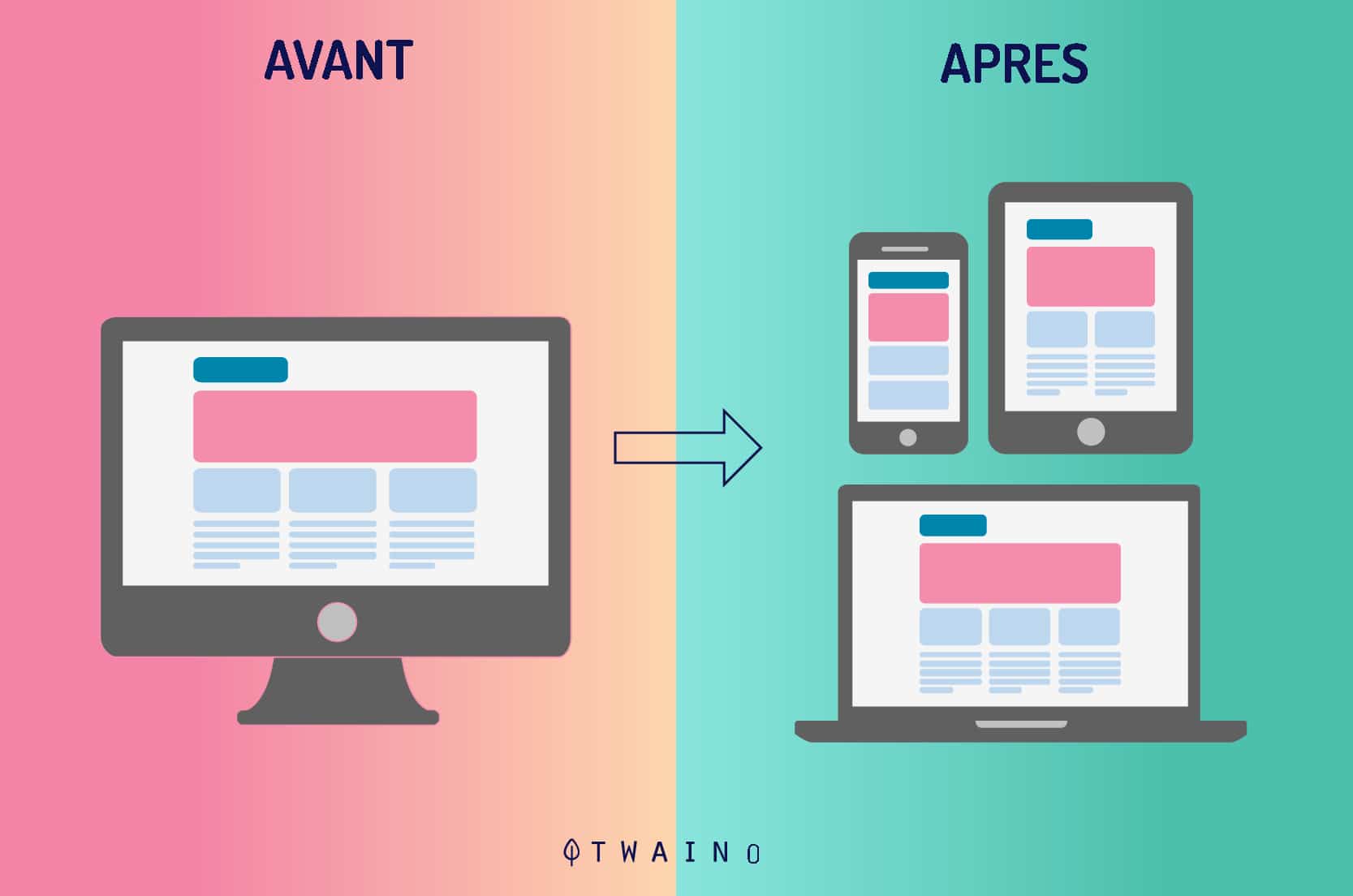 A serious agency must be transparent about the main modifications likely to change the appearance of your site. Even if you don't have to fully understand the technical reasons for these changes, you will at least be aware of the impacts these changes could have on your visitors.
But if the agency uses an educational and methodical approach, you will be able to understand why they are making such changes and remain confident for the rest of the process.
5.5. The tools they use to run an SEO campaign
As an SEO agency runs an SEO campaign for a business, they are bound to use certain professional tools to stay as efficient as possible.
These tools are used to diagnose the current situation of your website, the performance of your competitors, your linking techniques, etc.
A successful SEO agency should therefore be able to prove to you that it really uses powerful tools. The quality of its services and their impact on the overall success of your project depends on it.
To be sure of the performance of the tools listed by the agency, you can do a little research on the top tools used in the SEO industry. You will certainly find tools such as Moz, SEMRush, etc.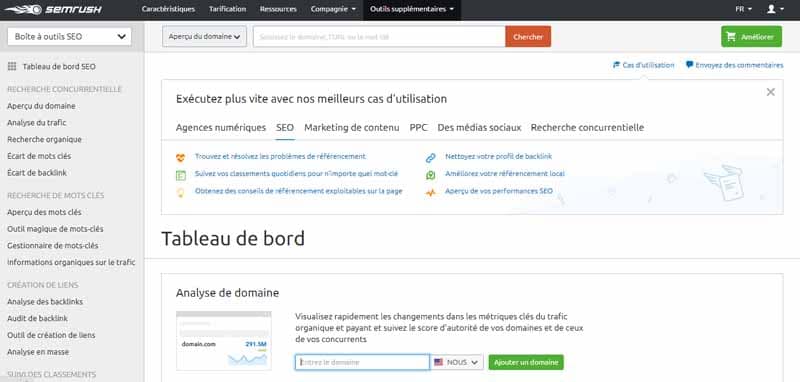 Source : SEM Rush
But an agency can earn extra points if they tell you that they have their own tool.
This shows that you have in front of you an organized team made up of professionals who use different tools to conduct the referencing of their clients.
5.6.The problems they noticed on your site
To begin with, a serious agency will always offer you a pre-audit, in order to consult your site. Why ? Quite simply because the SEO consultant risks saying too much "banality" and "generality".
However, like any client, you need very specific expertise and a clear answer. So inevitably, the SEO consultant must take note of your sector of activity, the authority of your site on the web to better consult the existing one.
The SEO audit is therefore essential for an agency so that it can truly pronounce on the problems of your site.
From there, recommendations can be formulated with the launch of an SEO campaign really adapted to the needs of the site.
But before, you will know the problems identified on your site.
The problem is that an SEO expert cannot answer you right away, because a real audit takes time.
The SEO audit also takes into account an off-page SEO analysis of the site and therefore cannot be assessed at a glance.
It involves research on the Internet, on social networks and access to certain very specific SEO tools.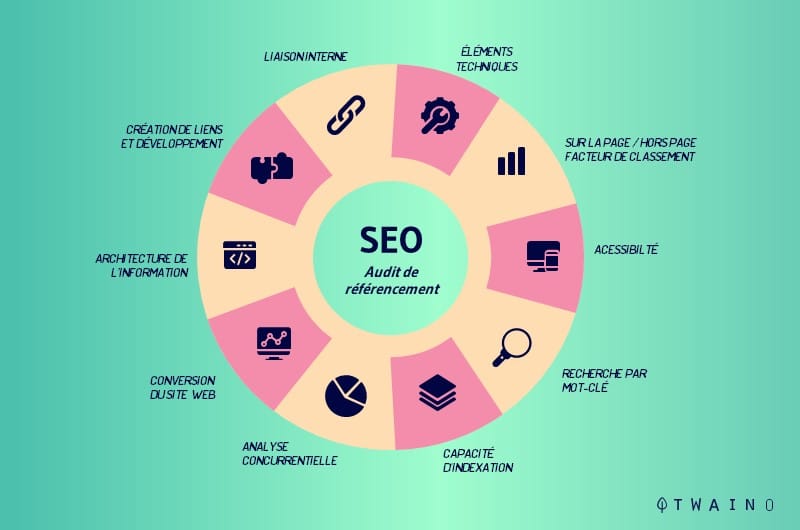 But instinctively, an SEO expert might get an idea of ​​your site's problems and sketch out an answer to your question while they wait for the results of the audit.
However, regardless of the experience of the SEO expert, you should know that even the SEO audit of the most "irreproachable" sites always reveals some points for improvement, so do not panic.
It would therefore be misleading to ask an SEO agency to diagnose your site on the spot and to respond precisely to the difficulties they encounter.
On the other hand, you can recognize a competent agency if they can provide concrete insight into the basic problems that plague your site and prevent it from occupying the top position on Google.
5.7. What do they need to perform an SEO audit?
Most of the time, you can obtain a quote directly from SEO agencies, with the details of the service to be put in place for the referencing of your site.
To carry out the SEO audit, a reliable agency will ask you at least the URL of your site and your email.
Afterwards, depending on the quality of the agency, you will get more or less explanations and details.
With the results, you will be able to realize whether or not the company has really looked into your website and assess its level of seriousness.
You can continue your questionnaire by asking what approach the firm intends to achieve your objectives and why specifically it has chosen such an approach.
Also find out about the tasks and resources that the agency intends to mobilize internally to carry out your project.
It is important that she informs you clearly about these aspects before you finalize the contract.
Don't forget to assess the responsiveness of the agency by asking them, for example, what they plan to do when things go wrong.
To ensure the reliability of the answer that the agency will give you, ask them to provide you with examples of such cases and the actions they have taken to control it.
If you want, come up with your own example and see how they respond.
5.8. How soon can I start seeing the first results?
For that matter, don't expect to see results from an SEO campaign just after a day of getting started.
But how long do you actually have to wait?
Well, each agency operates at its own pace depending on its means, the time it devotes to SEO, and the skill of its employees.
You should know that SEO requires continuous and rigorous work.
As changes are made, the agency should study their behavior on the evolution of the site.
The same cycle must be repeated (with if) possible some updates, to increase the performance curve of the site.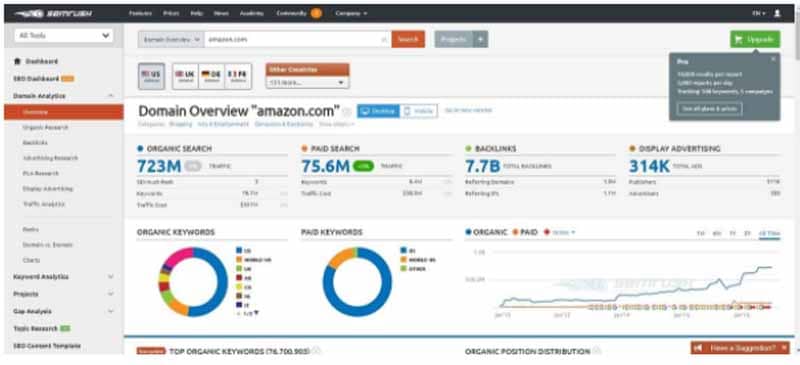 Source : Word Stream
Long-term growth is the hallmark of successful SEO, so it must be taken into account.
But right now, you can gauge an SEO agency's work rate by analyzing their response.
A knowledgeable and experienced agency should be able to give you an overall estimate of how long a campaign will take to bear fruit.
It's not about setting an exact date for achieving your goals, especially given the constant updates Google makes to its algorithms.
But she can take inspiration from her past campaigns that are similar to yours to tell you about the detail to expect.
5.9. How often do you send reports to your clients?
Just as a brilliant student is filled with enthusiasm to show his report card to his parents at home, an agency must delight in sending reports to his clients.
It is thanks to these precious reports that you can consult the level of evolution of your site and the aspects to be improved to progress further.
In other words, the reports allow you to be aware of everything that is happening on the other side of the agency.
These reports can be sent in increments periodically over a one-week, one-month, or three-month period.
As you will see, reports are a reliable means of communication between the SEO agency and your company.
Ask about their communication and reporting processes to find out how often you will receive your reports.
A serious agency will not hesitate to tell you how often it intends to send the reports.
Other agencies will go so far as to offer custom reports by adding customizable options depending on the client's needs.
Also ask to know what these reports contain and what they look like.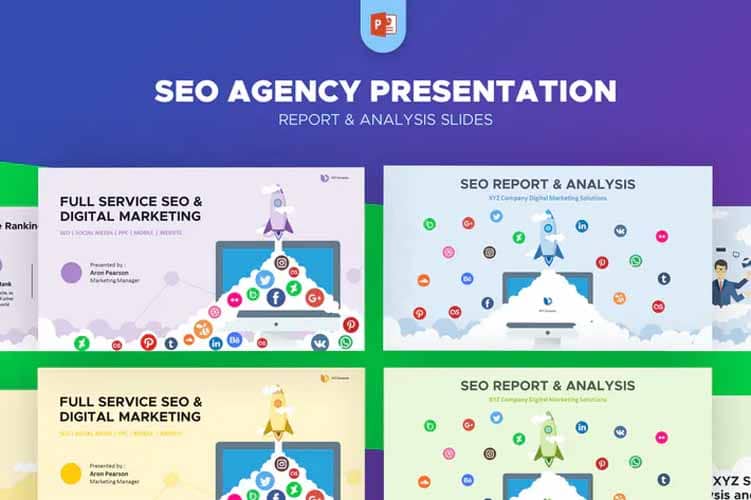 Source : Envato
What parameters will be considered in these reports? What kind of information they contain.
Why do they collect this information?
What is the relationship between the information collected and the achievement of your objectives?
The answer to all these questions will allow you to budget the resources allocated to the SEO of your site.
This will also allow you to follow the progress of the campaign, internally with the members of your team.
5.10. Are you aware of SEO trends?
Search engine algorithms are reviewed regularly.
There are more than 200, the number of SEO criteria that Google has, yet the search engine continues to create new ones.
This is a field in constant evolution and a successful agency must explore all the trends in this field.
An SEO expert must therefore be aware of all these ranking factors in order to effectively carry out his SEO campaigns.
This amounts to subscribing to newsletters and following the publications of reference platforms in the SEO industry so as not to miss any news.
So ask the agency if they are aware of all SEO trends.
What are the important new changes that Google is adding to its SEO algorithms?
And what are the emerging strategies that the SEO agency is using to boost website performance?Where does she find all this information? Google is the leader in online research, the agency must cite at least Google Webmaster Guidelins as its source of information.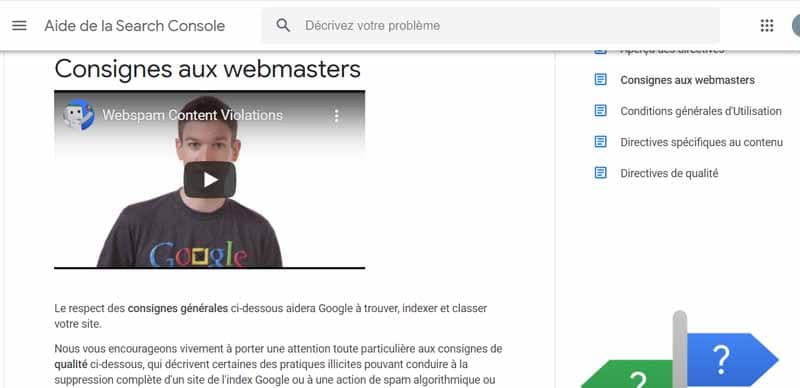 Source : Google Webmaster Guidelines
5.11. What is the price to hire you as an SEO agency?
To answer this question, the agency should present you the list of its various SEO packages with explicitly justified prices without excessive additional costs.
The agency must be able to break down each package and explain to you what each euro and cent is used for. Transparency on the distribution of prices is an important factor that gives the customer confidence and encourages him to subscribe to the offer.
As explained earlier, there is no set price that all agencies should adhere to.
Several factors influence the price of an agency such as the content of the chosen package, the duration of execution, etc.
Also, the rates depend on your objectives, your difficulties, internal capacities and your competitive environment.
You already know that you have to be careful of agencies that offer cheap SEO because of all the investment an SEO campaign entails.
Since the creation of quality content, optimizing a site is an in-depth project that requires a certain number of resources, financial and logistical, for an SEO agency.
Also discuss payment and billing options to get an overview of your collaboration from the start.
You can also offer to be billed for each service and avoid hiring the agency full time.
This is a solution that could save you a few euros, especially if you are at the head of a small business that does not yet have large resources to allocate to SEO.
5.12. How will my site change after the end of our collaboration and what do your clauses say if I decide to break my contract before it expires?
If it happens that you separate from the agency in one way or another, your site must continue to function/progress both in terms of the quality of the content and the design of the site.
So take all the information concerning the termination of the contract to avoid being surprised or sued.
This will also allow you to see if there are any additional charges or penalties when you decide to break the links.
As soon as the SEO agency presents you with the terms of the contract, take the trouble to read it in full.
If you have a team of SEO experts, do it together and fully understand the terms of the contract before signing it.
Don't hesitate to ask questions if you have any concerns. When does the contract end?
And how is the cancellation process?
5.13. What are your accesses to the site during the collaboration?
You don't want to lose your site and the elements that make it up.
Ask your expert for the different accesses he needs to carry out the optimization strategy on the site:
Do you need WordPress, Google analytics or search console access?
Would you even make the recommendations they offer?
Anyway, the answer to this question will necessarily depend on the SEO strategy that the SEO expert wants to conduct on your site.
In general, both parties often have access to:
CMS;
FTP;
Google Analytics account;
Google ads.
5.14. Do you offer guaranteed results?
Ask about the agency's performance guarantees. It has already been said above, beware of SEO agencies that offer guarantees.
Due to all the changing parameters and the difference between each website, it is impossible for a reliable agency to offer guarantees of results.
In other words, the SEO agency cannot guarantee you an exact number of monthly traffic or revenue.
Only he uses this knowledge to improve what was done and helps you understand / analyze the weaknesses of your site.
If you come across an SEO agency that guarantees outrageous results, beware.
These are all important questions you should ask an SEO agency before entering into a contract.
If some of these questions have already been answered without you having to ask them, so much the better, otherwise don't omit anything.
Chapter 6: Mistakes to avoid
It is clear that SEO is important for the development of your business and your brand on the Internet. If so, choosing a good SEO agency for SEO management is even more important.
Unfortunately, many site owners make certain mistakes that lead them to make the wrong choice. So they end up stuck in an SEO contract that earns them almost nothing.
To prevent you from falling into the same traps, here are a series of errors you should pay attention to.
Some of these errors have been briefly stated in previous chapters, but I thought it worth devoting an entire chapter to discussing them in more detail.
6.1. Use Google as a search filter
To find a good SEO agency in a specific area, logic would dictate that you specify the name of the city in your Google searches. So if I'm looking for the best SEO agency in Paris, I'll probably put "best SEO agency Paris" and I will actually have agencies ranked at the top of the list.
But the fact is that the "true" best agencies will not be listed in this exact filter. They will instead be available in a more general filter due to their high visitor retention.
So the agencies well referenced by Google according to a specific filter such as the name of a region or a particular specialty such as "best SEO agency for e-commerce" for example are not necessarily the best.
These are the agencies that are under-demanded and decide to focus all their energy on a city or a specialty to attract attention and find new clients. It may happen that you find a successful agency in this ranking, but rarely.
6.2. Trusting "Top SEO" Listings
Just like the first mistake, many people looking for the right agency enter targeted terms. They can enter for example "best SEO firm", "best SEO consultants", "best SEO agencies" or "best SEO agencies in Lyon".
Based on the words they entered in their query, Google will show sites whose domain names include those words. This brings users, for example, to sites such as www.meilleure-agence-SEO.com or www.meilleur-cabinet-referencement.com.
These types of sites are what we call an aggregator in computing. Their aim is to offer their own ranking, for example of the "10 best products" or the "20 best services" in a given sector.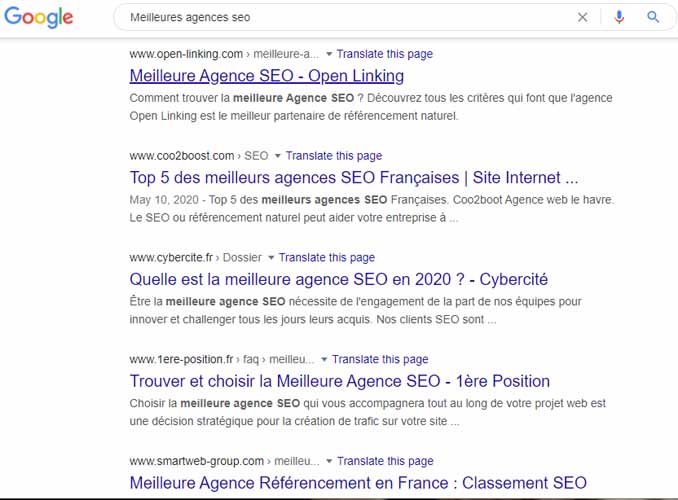 So for our example of an SEO agency, an aggregator site will contact companies that may be interested and offer to sell them a place in its ranking.
An unreliable SEO agency will therefore accept, for example, 3rd place by paying a few thousand euros per year.
This pay-to-play system may be profitable for them, but unreliable for a client who is really looking for a better SEO agency. When you are presented with a list of the best garages in Paris then you discover that these garages had to pay a sum to appear on the list.
You will definitely not trust such a list.
The principle remains the same here too, do not trust unreliable sites that offer baseless rankings.
We do not claim that there is no reputable list that provides reliable and fair ranking. Surely there are, but you have to be careful and not just take into account any ranking of the best agencies that you read on the Internet to choose your SEO agency.
6.3. Believing that there is a secret recipe for good SEO
The third mistake often made is to believe the sales pitch of some consultants who claim that there are secret recipes in SEO.
The truth is that there is no secret recipe, no proprietary process for ranking a site well.
So beware of an agency that tells you how Google works and then says it has some secret SEO techniques.
Moreover, she will not want to explain these techniques to you on the pretext that they are part of a proprietary methodology, but reassures you that they work very well.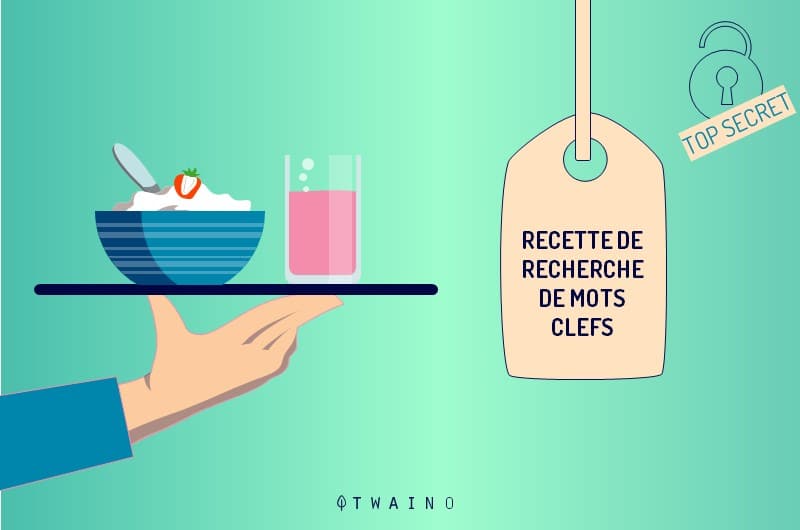 You should keep in mind that natural referencing is a very open field today.
There is very clear documentation for success in SEO just like there is documentation for fixing a car.
Only, some mechanics have been well trained than others and thus repair cars better than others.
That's all the difference and it's the same for SEO.
6.4. Falling for brilliant SEO presentations
You've probably heard of the saying, don't judge a book by its cover. Well, the same rule also applies for SEO agencies.
Yet some people continue to fall for agencies that hold sweet talk with promises that are too pretty to be true. These agencies are not credible.
So beware of any SEO agency that promises you:
Doubletraffic;
Instant leads;
Submissions to search engines;
A specific number of quantity of backlinks.
6.5. Hire an overpriced SEO agency.
In the SEO industry, money is still the sinews of war and if before a company could opt for a cheap (and well done) SEO and manage to get listed, today things have changed radically.
An agency limited by the budget cannot produce you quality content and good management of incoming links. These agencies are those that use Black Hat SEO techniques.
Which can be suicidal for your site. So if you care about your site, especially a main site, you should avoid an agency that offers services at very low prices.
6.6. Hire an SEO agency just because they are located in your locality
One of the great advantages of SEO is that an agency can work well for you from anywhere.
So don't feel obligated to hire an agency because it's located just a few blocks from your home.
However, don't go hiring a foreign SEO agency unless your target market is in that country.
Chapter 7: The other most frequently asked questions
Apart from how to choose a good SEO agency, I receive many other questions that fall under the same theme. I therefore thought it useful to address them in this last chapter of my guide.
7.1. SEO agency or freelance SEO: what are the differences?
This is a question that often comes up in the ranks of clients about to hire a partner for the SEO management of their project. So I looked into the matter and here is what it is about the two options.
7.1.1. Hire an SEO freelance By SEO freelance
, we mean an individual with skills in natural referencing and who has worked in this sector at least once. With his skills and experience in SEO, he can decide to go it alone by working on his own account with the status of professional SEO freelancer and develop his own client portfolio.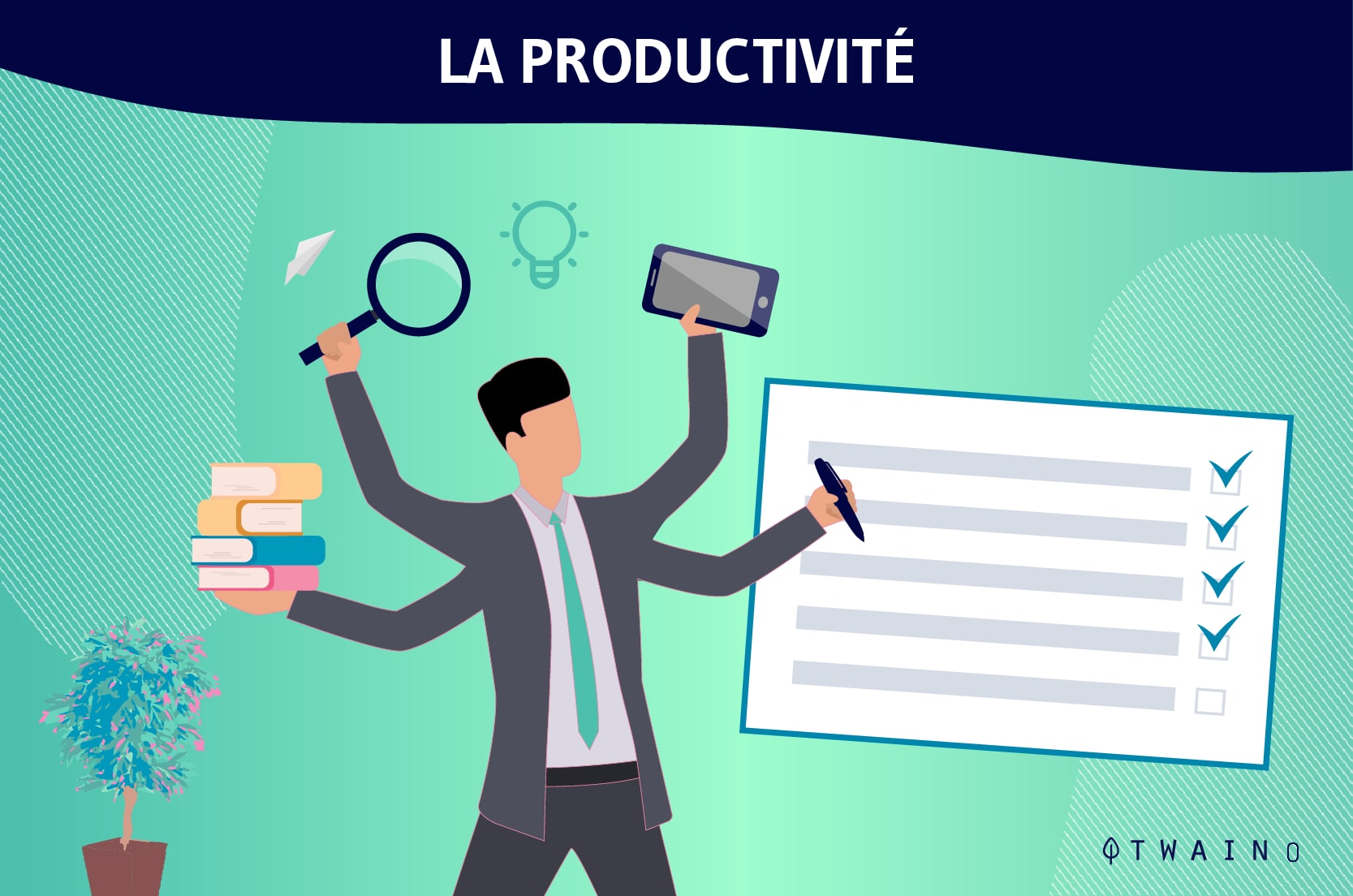 Working alone as an SEO freelancer does not necessarily mean delivering services in a single service. Indeed, an SEO freelancer may well be versatile and belong to a network of other freelancers to whom he can delegate tasks if he wishes.
SEO freelancers therefore come in many shapes and sizes. You have the choice of hiring a freelancer abroad or hiring a freelancer from your country with national rates.
Generally, offshore freelancers cost a few cents less than a national freelancer. However, if you decide to hire a freelancer abroad, you must be very vigilant and very selective.
Already, a freelancer who speaks fluent French should facilitate communication and he would also be able to better understand the content of your site in order to offer quality content in good French.
Certainly, the problem may not arise if the creation of content is not part of his skills. But as a competent SEO freelancer, it should.
Also, given the distance between you, they may not deliver on their promises although they are already paid. However, it is quite possible to find a freelancer abroad who is honest and competent. So it's up to you to be careful enough before hiring him.
The problem with SEO freelancers is that they tend to charge for specific services, for example, writing X number of articles or creating a specific number of links.
The focus is therefore not on building a consistent process for referencing the client's site. A company that is in its first experience of hiring an SEO partner could feel frustrated not to find the results of a service that it has just paid for.
She may therefore lack the motivation to pay for another service and abandon the program long before the freelancer's work actually bears fruit.
When you hire an SEO freelancer, you also need to make sure that they don't use Black Hat SEO methods. Working on your own account can mean less responsibility for some, especially for foreign SEO freelancers.
They can use fraudulent SEO techniques to temporarily increase your site's ranking. Which does not escape Google's algorithms for very long.
Google may decide to make you lose the ranking you obtained and in the worst case put you on its blacklist.
Unfortunately, many clients have bad experiences before finding a good SEO freelancer who really helps them improve the performance of their site.
Still, hiring an SEO freelancer will always cost you less than hiring a home SEO agency and you need to be patient enough to follow through the program.
7.1.2. Hire an SEO agency
An SEO agency is made up of a team of qualified people with skills in all services related to SEO.
While some are more skilled in managing on-page SEO, which includes modifications and changes made directly on the site for its optimization.
Others focus on off-page SEO which involves building external links.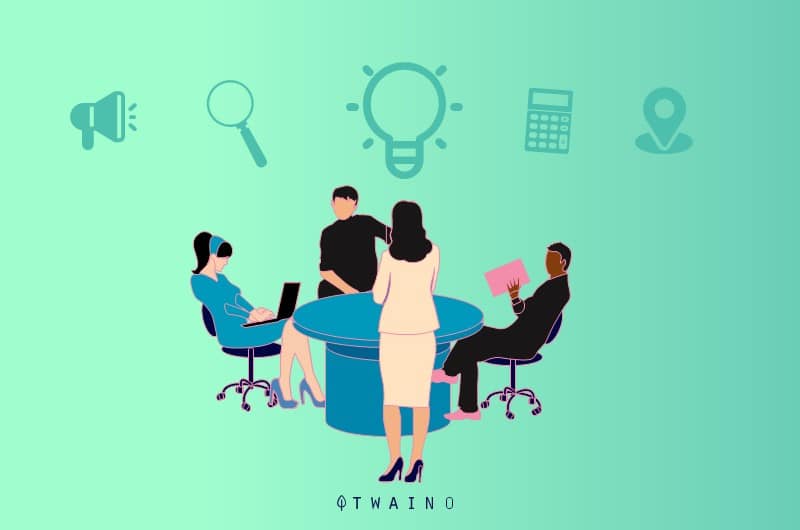 Such diversity gives the agency a certain expertise in all areas of SEO and an ability to manage a project from start to finish.
It also allows an agency to work quickly and meet the deadline agreed with the client, although this is usually quite a long deadline. Hiring an agency therefore comes down to playing for the long term.
Often, agencies use SEO best practices to conduct SEO for their clients. They make sure to help them generate sustainable traffic with White Hat SEO so that they don't end up blacklisted by Google.
Quite simply because the agents of an SEO firm must be accountable to their superiors and preserve the reputation of the company. However, an SEO agency costs relatively more than the rates of a freelancer.
But usually the good things are the most expensive and require patience. Also, working with an SEO agency often requires paying a deposit for at least a few months.
During these few months, the SEO agency will periodically send reports to justify its work and show the evolution of the site. Also, the agencies regularly organize face-to-face or remote meetings by telephone to discuss the project with their clients.
Agencies are therefore setting up a whole system to better accomplish their SEO tasks and help clients make their investment profitable. But like in any industry, there are unreliable agencies and competent agencies.
The competence of an SEO agency is not limited to its theoretical knowledge, but also to its experience in the field. Indeed, an SEO agency that has a large portfolio of clients would be better able to manage your site's SEO if they have already helped a similar company in the past.
So clearly, for the expectation of your objectives thanks to natural referencing, you have the choice between hiring a freelancer or an agency. Even if the subject is a bit mixed, if it is a complex project, the best option would be to hire an SEO agency.
It may be slow and more expensive than a freelancer, but the results are long lasting. But if you are limited by budget, you may prefer a freelancer.
Also, since a freelancer has fewer workloads to manage, he would be the ideal candidate for specific tasks such as retouching, modifying or updating data.
Just make sure he doesn't use Black Hat techniques and have a well-developed track record.
7.2. What do you think of SEO training offered by agencies?
Many companies have understood the importance of referencing for the development of their activities on the NET.
They therefore no longer hesitate to invest in SEO strategies.
Some choose to outsource SEO to a competent agency.
Others have a team of in-house experts or prefer to manage their site's SEO themselves.
Regardless of the option chosen, following professional SEO training by a qualified trainer allows you to understand all the tricks of the field and acquire a certain autonomy, unlike self-taught on-the-job training.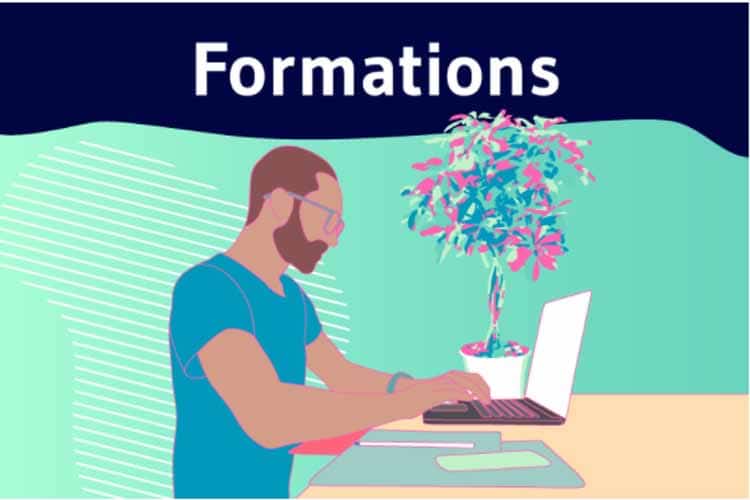 7.2.1. Who can take SEO training?
SEO training is offered according to the levels and profiles of the learners.
It can be intended for all actors of Web marketing. Learning SEO strategies is therefore accessible to:
Bloggers;
Webmasters;
Marketers;
Journalists;
Authors;
CEOs ;
Website managers.
Regardless of your SEO goals, attending SEO training is the best way to start.
Many people don't enroll in SEO training because so much SEO information is available on the web for free.
However, unlike learning based on tutorials freely available online, following professional SEO training has several advantages.
Including direct questions to the teacher, saving time and practical exercises that the learner can carry out directly on his website. Exactly as if it were individual training in-house and tailored to the constraints of your website and your business sector.
In addition, an experienced trainer who has successfully referenced clients on Google explains SEO strategies well, better than all the free articles and videos you can download from the Internet.
7.2.2. The advantages of SEO training
Learn how to carry out an SEO audit of your competitive environment to find out which strategy is used to stand out;
The trainer will assist you in promoting your brand on the web while teaching you the creation of quality content and White Hat SEO methods;
Self-learning based on free tutorials can lead to the practice of illegal or obsolete SEO techniques, which can be fatal for your site;
Thanks to professional SEO training, you will be aware of the latest SEO trends with up-to-date and verified information;
Professional SEO training offers the learner the opportunity to ask questions directly to the trainer, which facilitates interaction and understanding of concepts.
However, the expertise of the SEO teacher is the only condition that can really make training rewarding and truly beneficial.
It allows to acquire inherent skills of SEO tools to have better results.
7.2.3. How to recognize quality SEO training?
With all the SEO training offers circulating on the Internet, it is not easy to choose the ideal training at your level and capable of really helping you.
To guide you towards the right choice, here are some aspects that any quality training must have:
7.2.3.1. A training must be accessible and well staggered:
Customizing an SEO training means reviewing the number of participants and the adaptation of the training to the needs of the learners. Quality training must therefore take place in small teams.
To successfully monitor each member of his class individually, the trainer should not supervise more than 10 candidates. On the one hand, this arrangement makes communication easier, which is also useful for a subject as complex as SEO.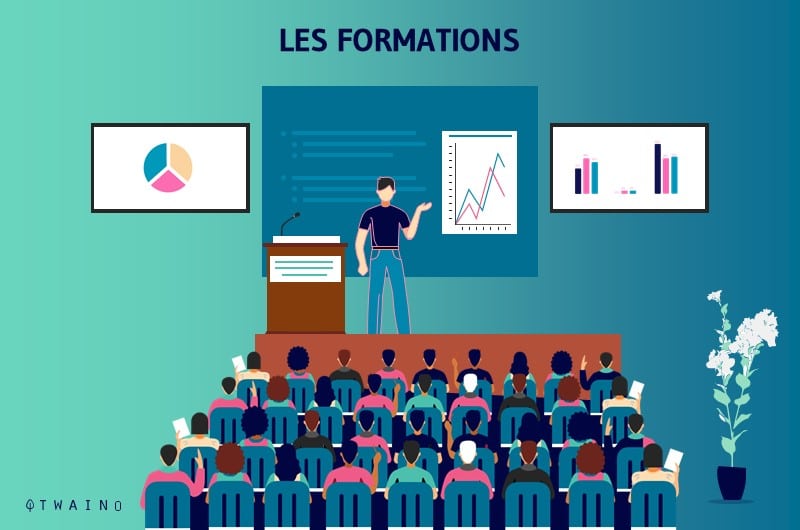 On the other hand, learning with such a small workforce allows each learner to develop an SEO strategy adapted to their site that they can experiment with at the end of the training.
But that's not all, the program must be well staggered to allow participants to better assimilate each concept studied. An ideal training should be divided into several modules and levels.
Thus, each module will address a very specific concept such as on-page or off-page optimization or the different stages of developing an SEO strategy.
7.2.3.2. Trainers must have expertise and be experienced
A good SEO trainer is above all a qualified person and specialist in natural referencing. He must have proven himself in the field and be able to justify his seniority within an SEO agency or at least as a freelancer.
So before signing up for a training, contact the trainer and ask about their background as an SEO specialist. If possible, also find out about the clients for whom he has worked and who are well referenced today thanks to his work.
Even if it seems obvious, you must check if the trainer is really a quality SEO, if he is able to adapt SEO strategies to the requirements of his clients.
The operation of search engine algorithms should no longer have any secrets for him. And he must be aware of the latest major changes that Google is making to its algorithms.
7.2.3.3. SEO training must be methodical and educational
This aspect of professional SEO training combines the last two aspects seen above. Indeed, what is a training course led by the best of trainers, but which uses too technical terms?
It is clear that learners will not be able to learn anything from his teaching, especially if he is too fast without allowing small breaks to give them time to digest everything before continuing.
Aside from the trainer's expertise, good training should be easy and understandable at first, then gradually deepened before tackling the technical and complex terms of SEO.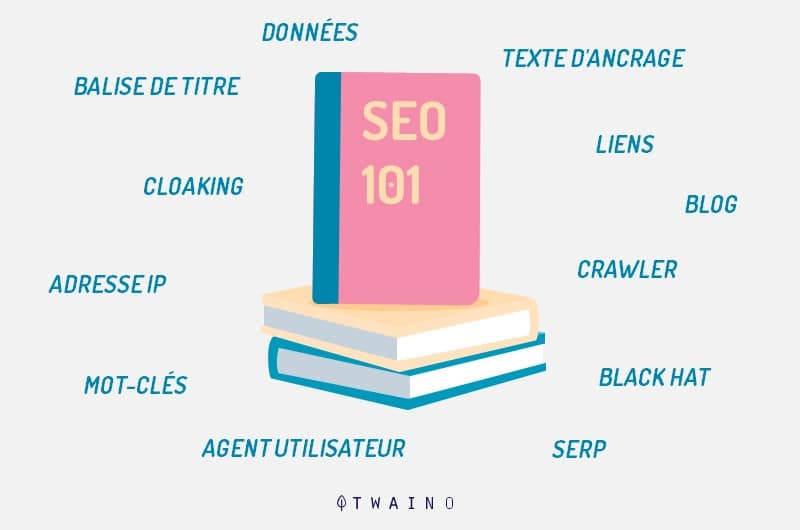 Clearly, learning natural referencing must actually allow participants to optimize their own site in an SEO friendly approach.
And this without having to consult a lot of specialized sites at the end of the training.
7.2.3.4. Good SEO training must be supported by personal research
Regardless of the field, it is always better to do some research to have at least a small idea of ​​​​the topic before starting.
It is not necessarily a question of putting oneself in the shoes of an autodidact, but of browsing a few blogs and videos that deal with SEO, if only just to know some basic notions.
It would be useful for example to know what is a SERP or what is a landing page before starting your training. This is an approach that will help you quickly understand the vocabulary of the trainer and the whole field of SEO for that matter. The SEO agency Twaino regularly publishes new articles on its blog. These are well-written and well-detailed articles that cover all areas of SEO. You can consult this blog here to enrich your notions in SEO.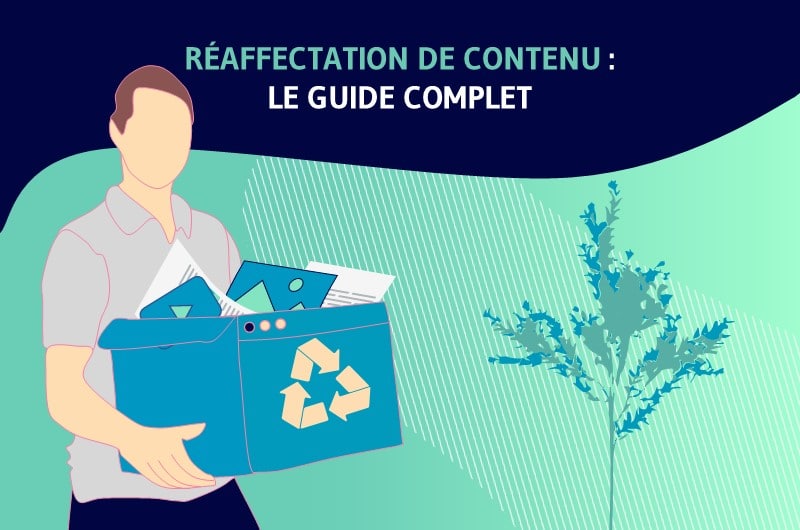 Réaffectation de contenu : Le guide ultime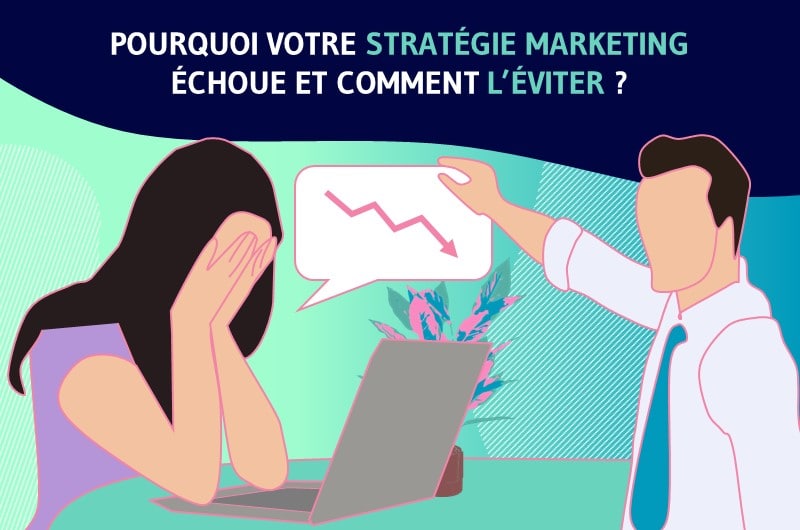 Pourquoi votre stratégie de Content Marketing échoue ?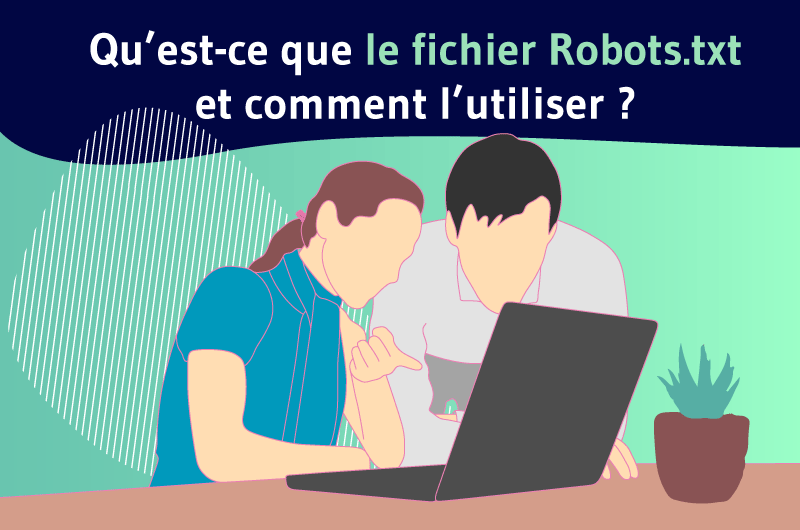 Qu'est-ce que le fichier Robots.txt et comment l'utiliser ?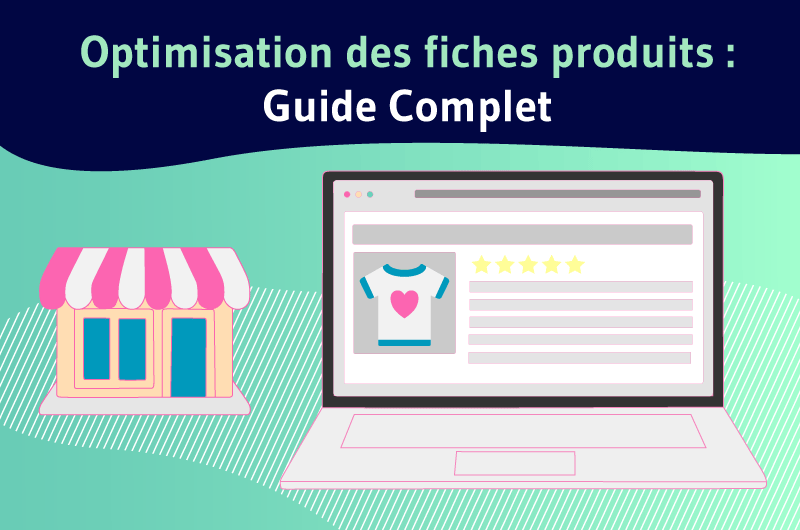 Optimisation des fiches produits : Guide complet
Thus, with your little idea on the subject of natural referencing, you can ask coherent questions which relate directly to your sector of activity and with the needs of your site.
Thanks to these 5 aspects, you can be able to easily distinguish an agency that offers quality SEO training. You already know how to recognize a serious and competent SEO agency, with this little extra, you are able to distinguish a well-organized training even before starting it.
7.3. Should you rather choose a 360 agency (which does a bit of everything) or an agency specializing in SEO?
Many people hesitate between hiring a do-it-all agency and a specialized agency. What are the advantages and disadvantages of each option?
7.3.1. The advantages of hiring a 360 agency 360
agencies are like big machines capable of carrying out large-scale organizations that few agencies can achieve. They are generally the first candidates to meet the needs of larger companies by offering a multitude of services.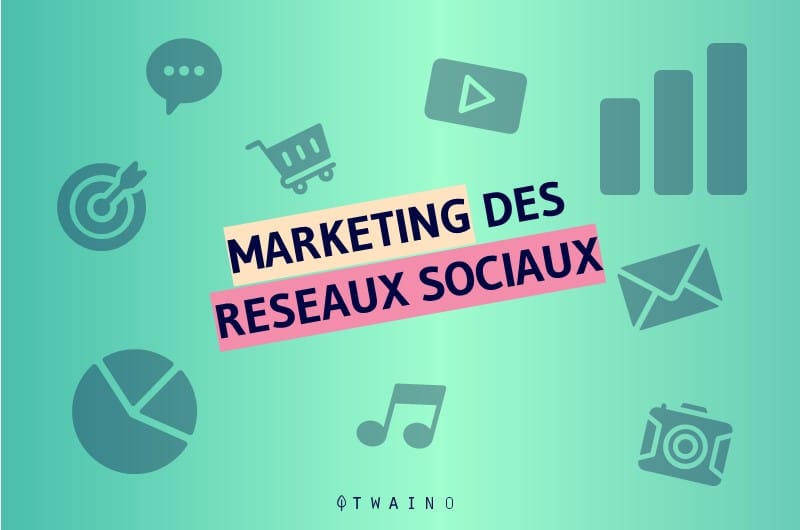 They are able to establish an important process and structure with cross-media and cross-team support for all their clients' projects.
Thus, a 360 agency includes other sub-agencies such as a webmarketing agency, a creative agency and a community management agency.
7.3.2. The disadvantages of working with a 360 agency
It is true that a 360 agency manages to meet the expectations of certain clients. But the problem with these agencies is that they are so huge that they lack expertise in particular services.
Indeed, by bringing together so many diverse professions, 360 agencies have difficulty recruiting specialized talent for each profession. This can be problematic if the client's project requires expertise in a specific area.
On the other hand, an SEO agency will concentrate all its efforts to set up a team of experts in natural referencing only. A 360 agency would therefore be less empowered to adapt its solutions to effectively help small and medium-sized businesses.
7.3.3. The advantages if you entrust the referencing of your site to an agency specialized in SEO
When we go back to our definition of an SEO agency, we notice that an SEO agency is recognized thanks to its expertise and its specialization. This expertise of the agency is the fruit of the efforts of a team made up of SEO experts where everyone accomplishes their mission to the height of their skills.
In addition, the specialization of an employee working in an SEO agency, combined with the routine of the projects carried out, considerably reinforces his level and gives him more experience.
The simple fact that these projects belong to small (or medium-sized) companies with an often tight budget, but which still impose large objectives, testifies to the effectiveness of agencies specializing in SEO.
The SEO consultants of a SEO agency therefore have a real skill that allows them to produce good results even with small financial means.
This is also a challenge sought by many customers, especially those at the head of small and medium-sized businesses.
So clearly, an agency specializing in natural referencing is more competent to manage projects related exclusively to SEO.
7.3.4. What are the disadvantages with an agency specialized in SEO?
The big problem with SEO agencies is that they are limited when it comes to combining SEO with other synergistic areas like SEO data analytics or SEA.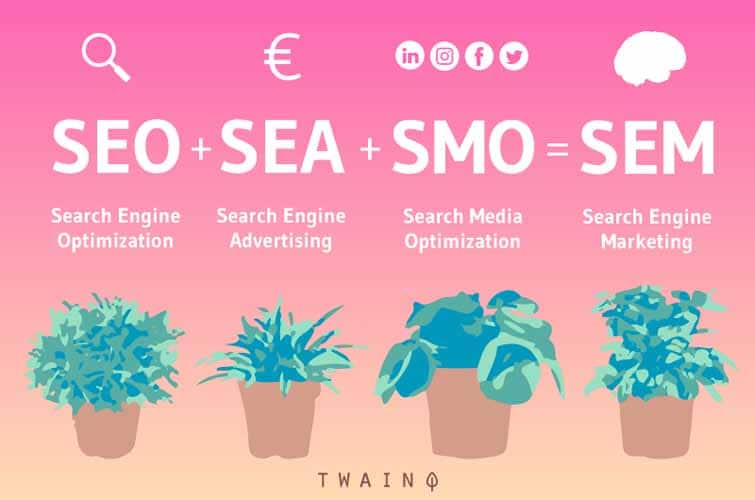 Analytics is an anglicism that consists of conducting data analysis with the intention of extracting information.
As for the SEA which means in English Search Engine Advertising, it is also a form of referencing. However, it is paid and offers to reference a website on marketplaces like Amazon and on the SERPs of search engines.
So many actions that could come to reinforce the services of SEO agencies in a more global approach. There are, for example, major SEA solutions such as Google Adwords or Ads that can reach all branches of Search Marketing.
7.3.5. How to make the right decision?
First of all, you should know that a specialized agency or 360 promises you practically the same things, namely better visibility, an effective strategy, etc.
Whatever your project and your objectives, you will always find an agency, specialized or 360 to meet your expectations according to your means, your needs, the size of your company and according to the competence of the agency you will have. chosen.
The most important thing would therefore be to succeed in choosing a competent, serious and efficient agency.
7.4. Does an SEO agency also take care of advertising?
Initially, advertising was perceived as a means of communication and visibility essentially reserved for businesses.
But since the advent of digital followed by a mass of techniques and communication tools, we can really say that things have changed.
Today, websites, social media and all other web marketing techniques have literally changed the definition we knew of advertising.
What do we mean by advertising in our era? And does an SEO agency also take publicity for your business? Decryption!
7.4.1. Advertising content
Realizing the nuance between natural referencing and online advertising comes down to realizing the difference between advertising and visibility. The simple fact of impacting visibility is not enough to attribute any advertising character to SEO.
Moreover, here is what the Law of June 21, 2004 :
" Any advertising, in any form whatsoever, accessible by an online public communication service, must be able to be clearly identified as such. It must clearly identify the natural or legal person on whose behalf it is carried out.
Through this definition, we can clearly read the promotional and subjective nature of advertising content
7.4.2. SEO content
At first glance, SEO content is not directly aimed at advertising. Although ultimately the objective of an SEO campaign is to improve the visibility of the site, its promotional aspect is not a priority.
Natural referencing prioritizes the creation of quality content to serve the interest of Internet users.
In other words, SEO content is above all "neutral" content which must analyze or describe a subject related of course to the business sector of the company.
It must therefore not reveal any promotional or excessively abusive aspect.
7.4.3. Why does natural referencing not take advertising into account?
Natural referencing is not perceived as a digital method used to advertise and remains accessible to all corporations including regulated professions.
We designate by regulated professions all the professions in which advertising is strictly prohibited such as notaries, lawyers, doctors… If law firms or clinics can hire an agency to carry out an SEO campaign, we can clearly say that the SEO is not advertising.
But this is not the only reason why natural referencing does not take advertising into account. We have the SEA which through the Google Adwords is another form of referencing exclusively for advertising purposes.
7.5. Are you looking for a trusted SEO agency?
Twaino is an experienced SEO agency that offers a high-end natural referencing service to assist you in your projects.
With a team of expert SEO consultants, our agency is available to answer all your concerns in a rigorous and methodical approach. At Twaino, we guarantee impeccable service for long-lasting, sustainable results.
We equate the development of your website to that of a young green plant that needs attention and delicacy. This is why we strive to study in depth the specialties of each client in order to offer an original and effective process.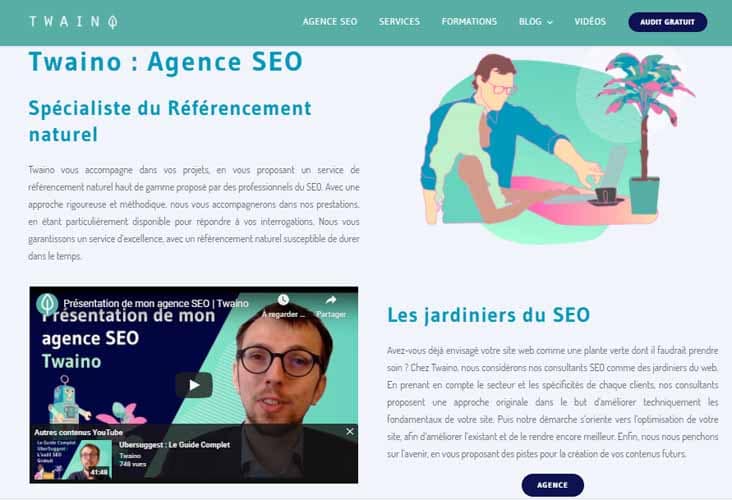 This leads us to develop services around natural referencing such as SEO audit, writing quality textual content, creating illustrations, infographics…
Twaino is also SEO training for you learn and help you apply SEO best practices to your own website. With our qualified trainers who are fine connoisseurs of the workings of SEO, we offer course modules adapted to all learner profiles.
Are you an SEO pro or layman? And what is your level? Beginner or advanced? In any case, we will be able to adapt our approach and our pedagogy to enable you to acquire the knowledge and professional experience necessary to properly manage the referencing of your website yourself.
The features that make Twaino SEO training a distinguished program are:
Rigorous training led by professionals;
An explicit structure;
Practical cases;
A pedagogical approach adapted to the level of the students.
Summary
Today, an estimated 90% of Internet users only go to the first page of Google to search for a service or product.
This means that hiring an SEO agency can help you expand your activities on the NET.
But as simple as it may seem, finding a competent SEO agency that meets your needs can sometimes be difficult.
Indeed, there are many agencies that promise SEO worthy of names without being really capable of it.
Others will go so far as to use unsavory techniques (Black Hat SEO) to try to shorten the normal process of good SEO and circumvent search engine rules with all the risks that entails.
In this article, I had the opportunity to discuss several elements that will allow you to find the right SEO agency.