Siri is an assistance software that performs tasks under voice instruction. It is available only on Apple devices such as iPhones, Ipads, Macs, etc. Its services are very diversified and constitute a real help for the user in the sense that it performs certain tasks for you without you even lifting a finger.
"Say Siri" is the phrase we usually use to address the intelligent personal assistant that Apple has made available to us
This tool saves you time by executing most of your voice commands quickly and efficiently
But even though Internet users take advantage of its services on a daily basis, most of them do not have a real idea of what Siri is
In the rest of this article, I'll tell you everything you need to know about it and its impact on SEO.
Chapter 1: Siri – Its history
Siri is known today as a property of the American giant Apple. But long before it was bought by Apple, it was created by the collaboration between three research programs on artificial intelligence, including a military one.
1.1. The three programs that were at the origin of the creation of Siri
1.1.1. Military origin: The CALO project
In 2003, the team of Stanford Research Institute initiated research on artificial intelligence on behalf of the United States Department of Defense (DARPA)
Indeed, DARPA, a security agency heavily involved in the field of robotics, had the objective of improving the quality and speed of decision making during its military missions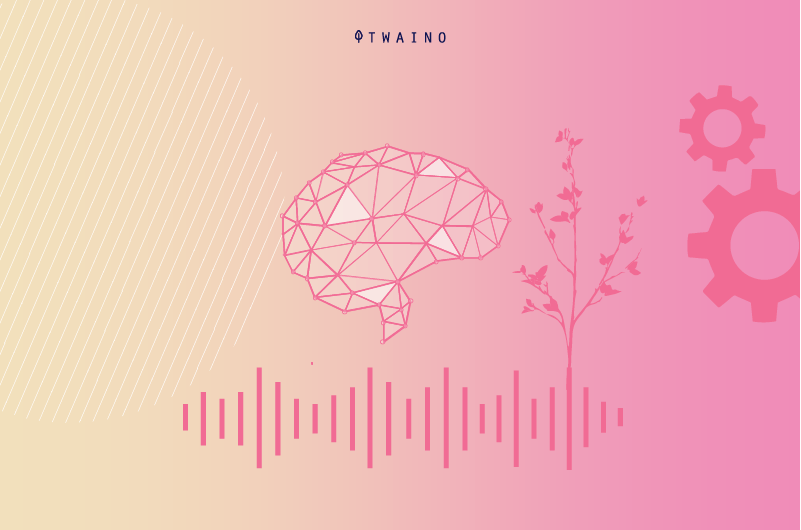 It wanted to make the quality of communication more efficient through the project called CALO (Cognitive Assistant that Learns and Organizes)
DARPA therefore brought together more than 300 scientists who worked for five years on artificial intelligence. This project was financed with 150 million dollars.
1.
1.2 Civilian origin: The Vanguard project
Adam Cheyer, an engineer working at SRI, was at the same time leading another parallel project to CALO, called Vanguard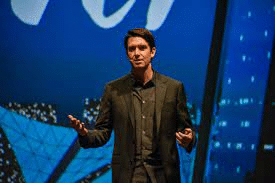 Source Irishtechnews
The objective of the latter was to create an application that will be based on voice command and recognition to improve the use of cell phones. This program is specifically intended for Telekom and Motorola
I must point out that Vanguard was inspired by the CALO project, but with many more features and should be able to reach a large mass.
1.1.3. Civilian origin: The Active project
Finally, the third program is called project Active
In parallel with the CALO and Vanguard programs, the Active project is what brought the SRI International and theÉcole Polytechnique Fédérale de Lausanne (EPFL) to collaborate to release the original version of Siri.
In fact, the first legal form of Siri was called "Active Technologies" before becoming Siri Inc.
This collaboration has been the subject of publications leaving evidence that could justify the creation of Siri
It should be noted that this Active project has been the object of several years of research, and is indeed the product of the doctoral work of Didier Guzzoni. The latter is a doctoral researcher at theEPFL under the direction of Charles Baur.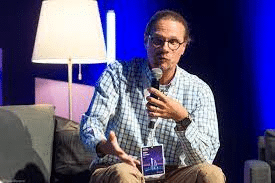 Source Aassets.letemps
1.2. creation of the start-up Siri
At first, Dag Kittlaus, then Director of Motorola, failed in his policy which consisted in convincing his company about the results of the research concerning Siri
In fact, the Vanguard and Active teams had presented their projects to Dag Kittlaus when he was still Director of Motorola.
He later resigned from his position as director at Motorola to become an entrepreneur and co-founder of the startup Siri.
It was in 2007 that the start-up Siri was founded by Dag Kittlaus (former director of Motorola), Adam Cheyer (SRI engineer and Vanguard executive) and Tom Gruber
The company then integrated the respective members of the CALO, Vanguard and Active projects, including engineers Adam Cheyer and Didier Guzzoni (joined Siri as scientific director) are part of it.
Siri then existed for the first time and brought in more than 8.5 million dollars to the startup in 2008. This version of Siri is of course a bit different from the current one.
1.3. Siri and Apple
The collaboration between Adam Cheyer and Dag Kittlaus made Siri an intelligence capable of understanding commands, and even anticipating the user's needs
But their vision of making Siri available by default on the Web became impossible very early on following theintervention of Steve Jobs, the Apple boss
Indeed, a few weeks after the launch of the application on the Apple Store, Steve Jobs confided that he found this voice recognition application interesting and proposed to buy it
Aware of the competition on the market, he proposed a sum of about 200 million dollars and thus broke Verizon's record. Steve Jobs then bought Siri and made it personal and specific to Apple
Siri and his team joined Apple in August 2010 and the contract with Verizon, which previously wanted to install it by default on all smartphones, never saw the light of day
The Siri assistant was introduced the day after the death of Steve Jobs, on october 05, 2011with the release of the iPhone 4s. Even if the iPhone 4S was contested by many users in the time, Siri proved to be better and appreciated by all.
Chapter 2: How does SIRI work?
2.1. The features of Siri
Very early on, Siri proved to be very interesting and very powerful compared to the other assistants known until then in the world of robotics.
It helps iOS applications to perform tasks by linking them to the user's voice. Its services are very diverse and generally cover iOS system applications such as:
Phone;

SMS;

Mail; ;

Safari;

Etc.
Among other things, Siri can help you to:
Make calls with the phone app;

Activate the music application and play a song;

Write text messages to send;

Give weather predictions;

Locate a place (restaurant, café, beach, etc.);

Search with Safari browser;

Activate and deactivate standard features like Bluetooth, Wifi and others

Etc.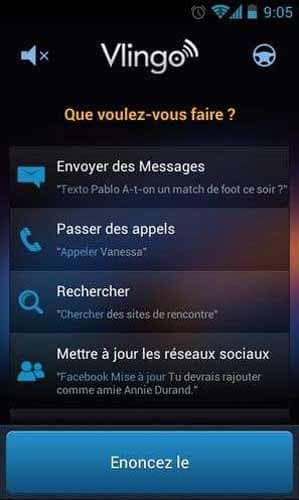 Source Futura-sciences
2.3) Siri and user privacy
We know very well how much Apple cares about protecting the privacy of its users. With Siri, Apple offers you a better experience by scrupulously protecting your confidential information.
Since its inception, Apple's intelligent assistant has been designed to secure the privacy of its users. Apple has made sure that Siri remains data neutral and limits the storage of personal information on its server
Thus, Apple's customers' data is not stored by Siri. Nevertheless, Siri sometimes collects information on its server so that Apple can use it to make it better
Siri uses your information only when necessary. For example, when you request a restaurant, it uses your location to find restaurants in your area
On the other hand, if you send a query, Siri will use your location to provide you with the best results. But, if you ask Siri to read a message, make a call or play music, it just commands the dedicated applications without having access to the data.
Also, Siri uses a coded identifier with numbers and letters to control the information being processed. But this information is coded and dissociated from your Apple identifiers (phone number, email…)
Apple believes that this anonymization strategy remains, so far, the only and the best among the big batch of intelligent assistants.
2.4. The user experience
Siri has become the most useful virtual voice assistant in recent years. It has stood out from the crowd thanks to its intelligence. More than a question-answer application, Siri is built to understand the iPhone user, his tastes and preferences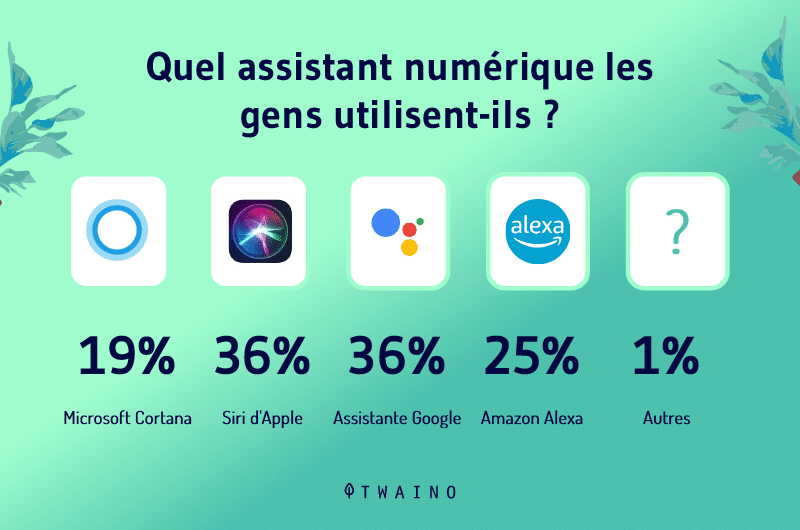 Most recently, Apple has included in the Siri features a new shortcut called "Siri Shortcuts". This feature allows Siri to collect information about IPhone usage habits and make suggestions.
Over the years, Apple's virtual voice assistant keeps getting good impressions from its users and especially getting new fans
Many American companies working in various fields such as aeronautics (American Airlines), catering… have joined the large Siri audience.
For example, the Startup specialized in food delivery has added a Siri shortcut to its application. Shortcuts are one of the strategic developments that Apple has applied to Siri to differentiate it from other virtual assistants
It's even tempting to say that Amazon and Google have taken inspiration from Siri shortcuts to improve their respective smart assistants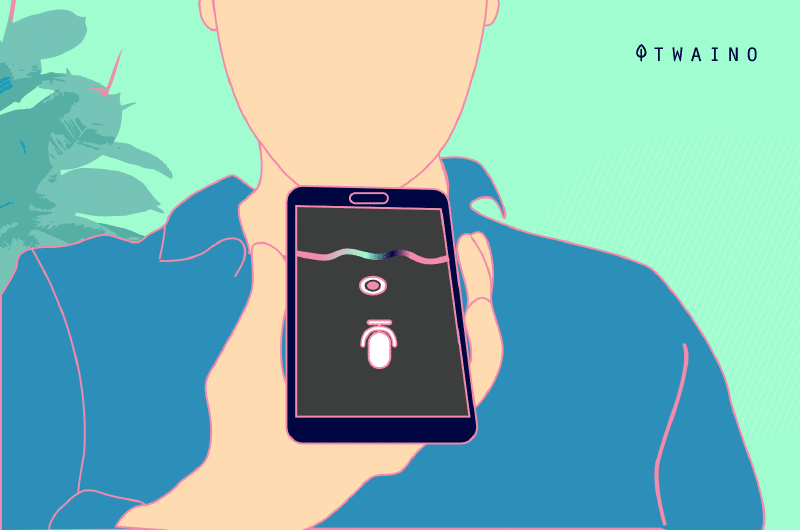 As a shortcut, you can ask Siri to:
Show Your Photos Taken in the Last Six Years: You'll see your old photos scroll across your screen without even touching the screen.

Turn on camera: This shortcut allows you to continue your activity on another application and take a picture. Fantastic, isn't it? Just say "hey Siri, take a picture" and it's done.

Find your lost AirPods: Siri can help you track down your lost or misplaced wireless headphones. This feature is great when they've fallen into your bag, or in the living room, etc. On your voice command, Siri will ask the AirPods to play a sound for you to find them. In case they're unloaded, you can still get an idea of when and where they were last online.

Turn off your alarms: Just say "Say Siri, turn off all alarms" and it will turn off all your alarms that keep ringing.

Share your location: This shortcut requires a prior setting. You must first set the shortcut "Share Location" on your iPhone, choose the recipient and "Add to Siri". For the command, you just have to say for example "Hey, Siri, tell John where I am".

Find your keychain (only, when you have a Tile badge).

And so on.
Thanks to its shortcuts, Siri impresses its customers and stands up to the competition.
Chapter 3: Siri against the competition!
3.1 Siri against the competition: Cortana, Alexa and S
Until 2017, Siri's only main competitor in the field of artificial intelligence is Samsung's S
According to the study of the firm Verto Analytics, in May 2017, Siri counts 41.7 million customers while its competitor was only at 23.2 million loyal users.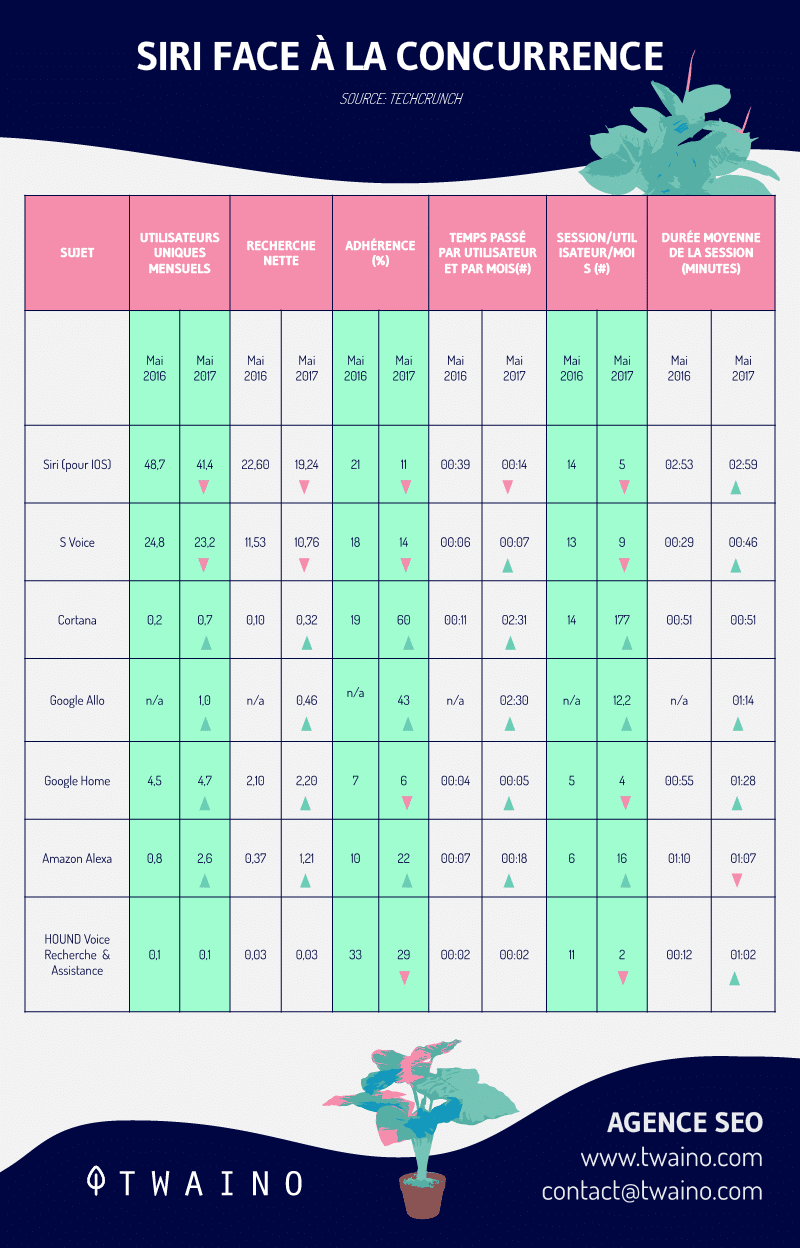 Microsoft's Cortana manages to communicate with its users, but is limited to question-answer only. In the statistics published by Verto Analytics, it totaled only 5.7 million subscribers. Amazon's Alexa came in second to last place with 2.6 million users
Apple's voice artificial intelligence remains the best with mind-blowing features. It has now become a model for others, who are constantly trying to improve their assistants.
However, these previous figures are still an estimate. It should also be noted that Siri lost a large number of its users from 2017. Siri lost more than 7 million fans, or 15% between 2016 and 2017, according to the statistical report from Verto Analytics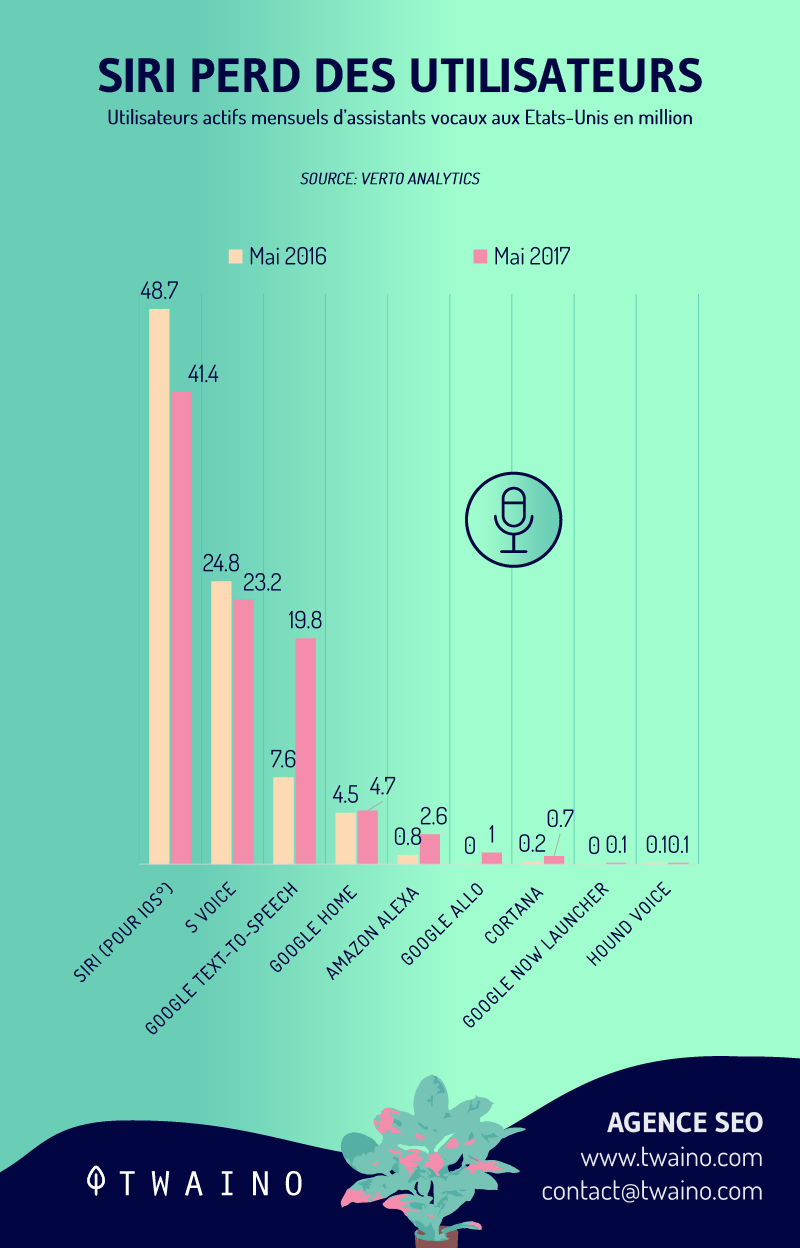 Meanwhile, Amazon and Google are stepping up their research in the artificial intelligence sector to develop and make their respective assistants competitive.
3.2. Apple's next plans to improve Siri
In a statement released by Apple in 2019, the American apple projected the program to improve the user experience with the Siri assistant
The first program was to disable the recording and retention of audios and now use transcripts to improve Siri services
Second, allowing users to choose whether to participate in improving Siri by making audio requests or not.
In a publication of the Wall Street Journal in March 2021, we can remember that Apple wants to allow people with language disorders to communicate with Siri
To achieve this project, the engineers of the giant American company have compiled data Podcasts in which we hear speech defects such as stuttering.
The test will consist of confronting Siri with its data so that it can analyze it and decipher the content.
Chapter 4: Impact of Siri on SEO
With the various Siri-like voice assistants out there, internet users have embraced a new method of voice search that has been growing steadily for some time.
In fact, since 2018, searches through voice assistants have taken off in the SEO world WordStream did an analysis in January 2018 and estimated that voice searches reach a volume of one billion in 30 days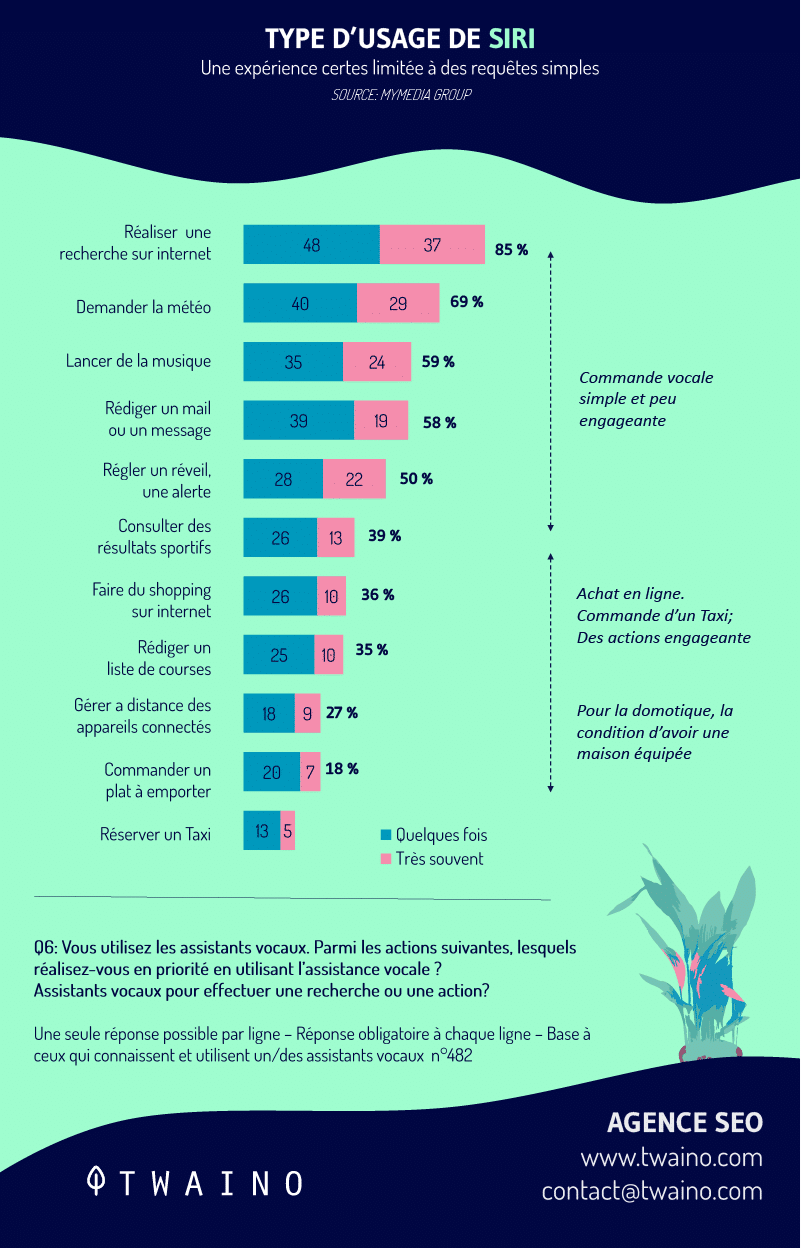 I invite you to check out my guide to voice searchwhere you will have the opportunity to discover about 18 strategies that you can use to have a website optimized for these voice assistants.
You will also have the opportunity to see that these voice assistants are used to perform certain types of tasks :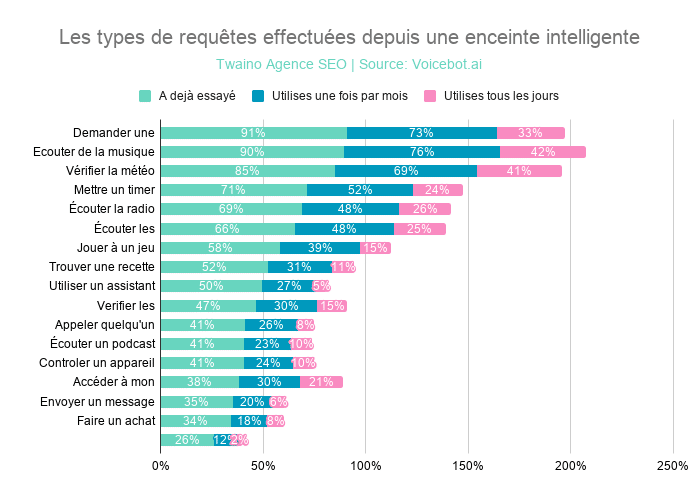 Or the places where this type of equipment is most used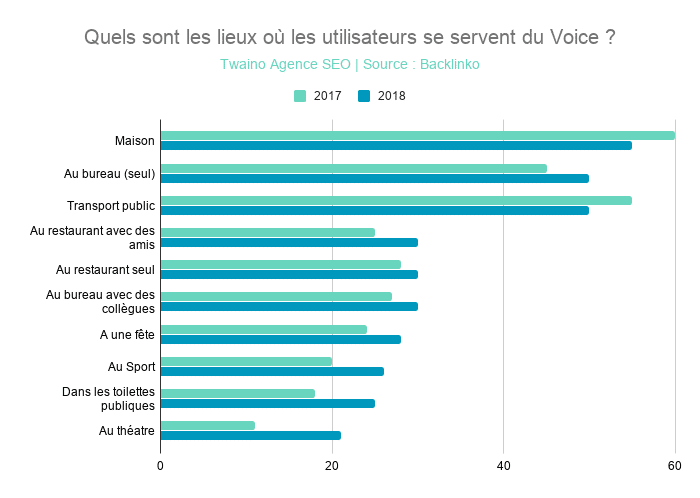 Let's move on to our FAQ section.
Chapter 5: Other questions about Siri
5.1. How do I connect to Siri?
To start Siri, turn on your phone and press the big round button below the screen or the side button if it's iPhone X to plus. As soon as you hear two beeps, immediately release the button: a microphone icon will appear on the screen accompanied by the voice: "What can I do for you? Siri is now activated!
5.2
What exactly is Siri?
We all know Siri very well, the voice assistant from Apple. It helps you simplify navigation on your iPhone by simply listening to your voice and performing the task you want it to do. For example, you can ask Siri to set an alarm or reminder for you at a specific time on a specific day.
5.3. How does Siri work?
Upon receiving your request, Siri records the frequencies and sound waves of your voice and translates them into a code. Siri then breaks down the code to identify specific patterns, phrases and keywords.
5.4
Is Siri really worth using?
Primarily known as Apple's digital personal assistant, Siri is only present on iOS devices such as: iPhone, iPad and Mac
When you have your hands full, you can ask it to make a call or send a message for you. Among the many advantages it offers, we can only mention the ease of search and the saving time
The only problem with Siri is that it can look complicated if you are a beginner. But once you get used to it, it will become incredibly useful.
5.5
What is Siri prediction?
Siri will try to predict the apps you use on your phone. In iOS 9, it will also suggest the apps it thinks you are most likely to use when you pick up your mobile device.
5.6
How do you optimize your site for voice search?
Implementing SEO best practices is the best way to optimize your site for voice search
Gary Illyes of Google said, " If you were careful to write for your users rather than machines, then I firmly believe you are already optimized for voice search. "
In summary
With the impressive development that Apple's personal assistant Siri has undergone, we have witnessed in recent years the impact that artificial intelligence can have on the ecosystem
Siri is a true advancement in technology and has become a connected brain for users of Apple devices. By now, you have all the necessary information about this voice assistant
If you liked this guide, feel free to share it and leave a comment
Thanks and see you soon!