Image SEO refers to all the methods of search engine optimization, but which concern exclusively image files. The idea is to improve the visibility and ranking of a content by making its images easily indexable and understandable for Google and other search engines. To do this, Image SEO will take into account a number of factors such as the size of the image, its name, its dimensions, its title, its insertion context, the Alt tag and many others.
In the search engine optimization process, image files have long been neglected by SEOs.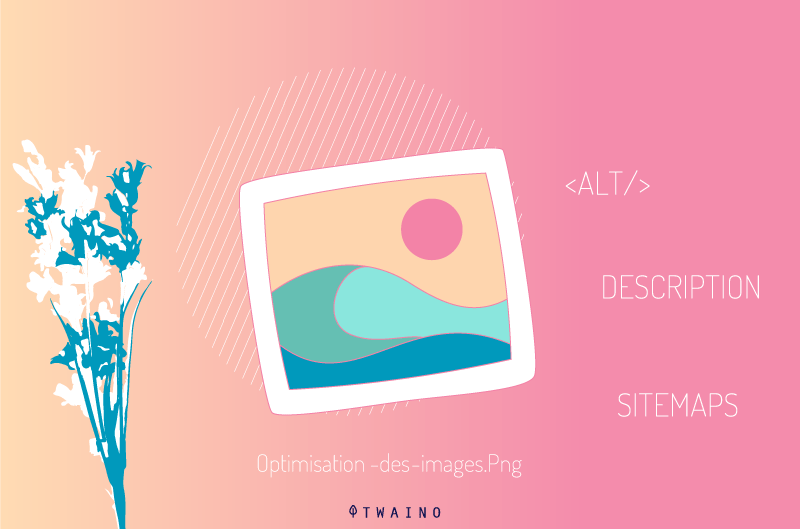 But since Google revolutionized image search in 2011 with its Google Imagesservice, image referencing has become more and more requested
But concretely, what is Image SEO?

What is its importance for a website?

And what are the optimization methods for a successful image referencing?
So many questions to address, to help you better understand the concept of Image SEO. Let's go!
Chapter 1: Image SEO – Definition and importance
Before we get into the techniques of image SEO, we need to agree on a clear and comprehensive definition of Image SEO
1.1) What is Image SEO?
In order to better understand what we are talking about, it is important to start from a good base: What do we mean by SEO ?
Well, SEO is a set of strategies used to improve the visibility and ranking of a web page in organic search results
So, SEO refers to all the techniques used to help a page or a site to appear more often in the search results as soon as a user launches a query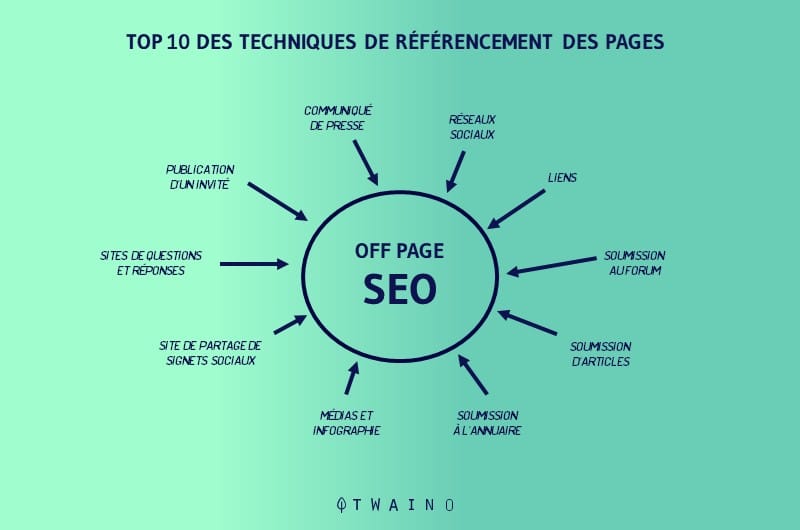 As for image referencing, it can adopt this same definition of SEO with the precision that here, all the optimization strategies used are converged towards image files.
That is to say, instead of optimizing the page in its entirety, Image SEO advocates that we focus only on image files
But what is the interest of a site to complete its SEO with Image SEO?
1.2. The importance of the SEO Image
The SEO Image is very important for the SEO of your site and you will better understand why by discovering the impact that images can have on your audience
1.2.1. The role of images in a content
As soon as a user accesses a site, he makes his first impression in only a few millisecondsand that's where the importance of SEO images lies. Then, afterfter 8 seconds at most, the user can decide to continue his session or leave the page
Getting a user to stay on a page in just 8 seconds is a bit of a challenge with just text and a few offers
Studies have proven that 94% of first impressions come from the appearance of a page. A nice, well-designed site attracts more visitors than a site with an ugly design
In recent years, the importance of SEO Image in the SEO world has become even more apparent. Numbers have proven that companies that create personalized visual content on their sites have a conversion rate significantly higher than others than others.
All of this is easily understood when you consider that for most of us, visuals occupy about 80% of our learning materials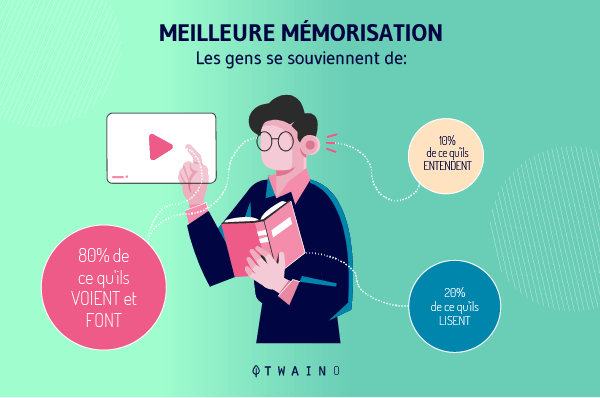 Therefore, by integrating visual content on its website, any company can make its website attractive enough to encourage the engagement of Internet users. Thus, it will be able to communicate effectively with its audience
The proof is in the pudding: blogs that offer visual content are more successful than those that offer no images in their articles.
And of all visual content, images, infographics or short animations are particularly effective in conveying the substance of an article. Let's take the example of an Internet user who doesn't have enough time to devour an article word by word, but who is still interested in the subject matter
By quickly browsing through the images, they can absorb some of the information without wasting time
Studies have proven that the human being can understand an image in just 1 second, while a short written passage of 200-250 words can take an average of 60 seconds to be read and understood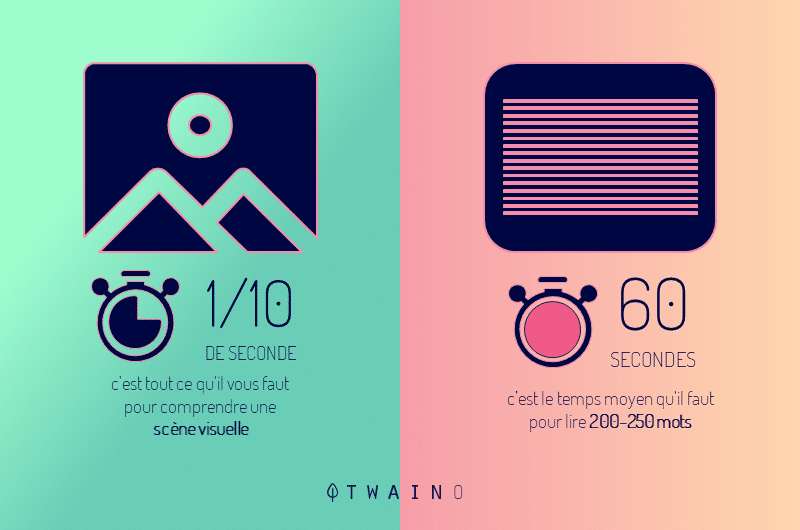 Inserting images into content is an approach that really helps companies interact with almost all user profiles, whether they are reading enthusiasts or not.
1.2.2. More and more brands are turning to the use of images in their SEO marketing strategy
Many companies have realized the importance of images in a digital marketing strategy and the budgets allocated are becoming more and more important
In 2019, Venngage conducted its little survey on the percentage of budget marketers allocate to visual content production and the numbers were impressive
Of all the specialists we met, 31% confided that 10% of their total budget was invested in creating visual content. Then 15% of them admit to having spent 40% of their budget on creating visual content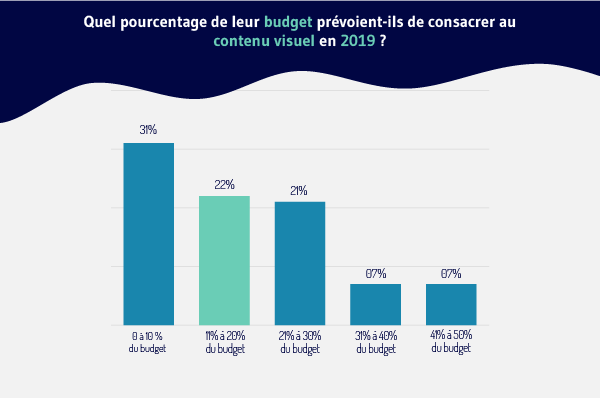 We can clearly see that image creation is gaining momentum in the digital marketing industry. But is this craze for visual content just a one-year story?
Venngage took the survey a step further and asked marketers if the budget for visual content production would increase or decrease next year (2020)
From the looks of things, it's not going to stop, not anytime soon
For the next year, 25% of marketers plan to spend 10 to 20% of their budget on visual content creation. Another wave of marketers are more optimistic and plan to spend 40% of their total budget on it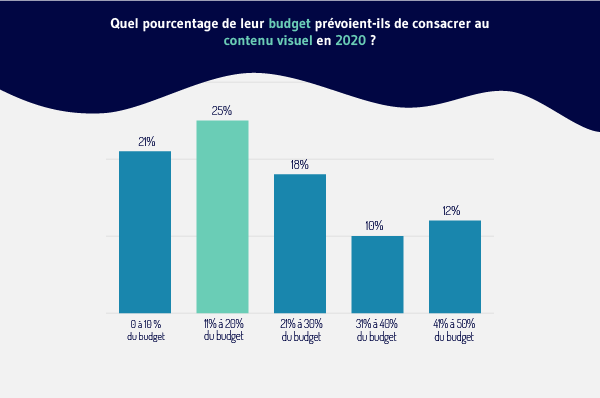 It's clear that visual marketing is gaining acceptance in the digital marketing world
This desire to continue investing in the production of visual content is probably due to a positive return on investment. Indeed, many companies are finding that certain types of content are more likely to attract users than others.
For example, professional photography and custom graphic design have proven to be very effective for many brands. A professional photograph proves that the image in question is unique to the brand and gives more originality to the information conveyed
Stock photography, on the other hand, is a collection of generic images, sometimes already used by thousands of other sites. Inserting such images in your content, alters your credibility a little
But, it must be said that despite all the progress observed, the creation of pictorial content is still inaccessible for many companies. For many of them, the question of time and human resources remains a real problem
More than half of the companies, that is 65.4% admit that they are blocked due to lack of time and personnel
So, although the use of images can be beneficial for a company, it still requires investment and time
But what could explain this success of images with Internet users?
1.2.3. Understanding the psychology of Internet users in relation to images
Understanding why images are so popular with users can be a great asset if you are going to invest in creating visual content as well
Once you understand why images are so appealing to users, you can better direct your visual marketing and make it more effective
Basically, an image that makes users want to spend more time on it should be exciting and engaging.
The better an image looks, the more likely users will be to share it. People love to share content with their loved ones. And no one will share content that can taint their relationships
The observation is made more on social networks where we see that the majority of shared content are those with nice images
When we take the Twitter network for example, the most commented and retweeted posts are those that include images.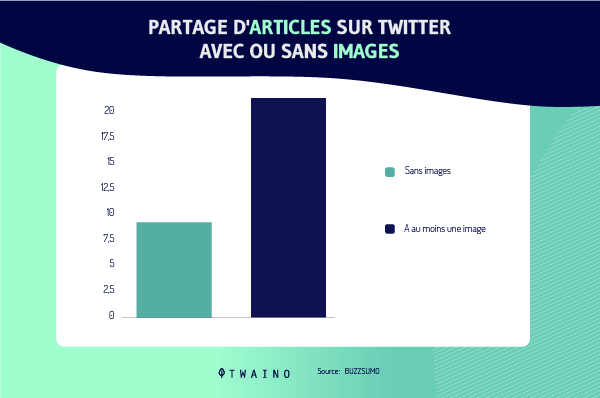 With an image, the content is easier to consume and sometimes looks a little playful. Images also allow companies to highlight almost all the value of their products or services
In fact, the majority of online consumers confide that they will never buy a product until they have a picture of what it looks like in real life
If it were possible, they would also like to be able to touch the product, feel it and get a feel for how it feels in use. Although this is impossible for online sales
But the void is compensated by clear images, sometimes in 3D or videos that try to convey as closely as possible the feeling of seeing the product in real life. If they don't try it themselves, they can see other people using the product
Thanks to these visuals, they will already have an idea of how to use the product and read on the testers' faces signs of appreciation and pleasure
Moreover, it is important to note that the emotion that users feel towards the visual of a product influences their decision to buy
Some users may claim to buy a product based on factual and purely objective choices, but studies have proven the weight of emotion on a purchase decision
It is not impossible to use images to trigger feelings in someone. Just with well-designed images, you can for example show the comfort and happiness of using a product or the friendship that can come from a service
As well as many other pleasant feelings that can encourage users to take a desired action.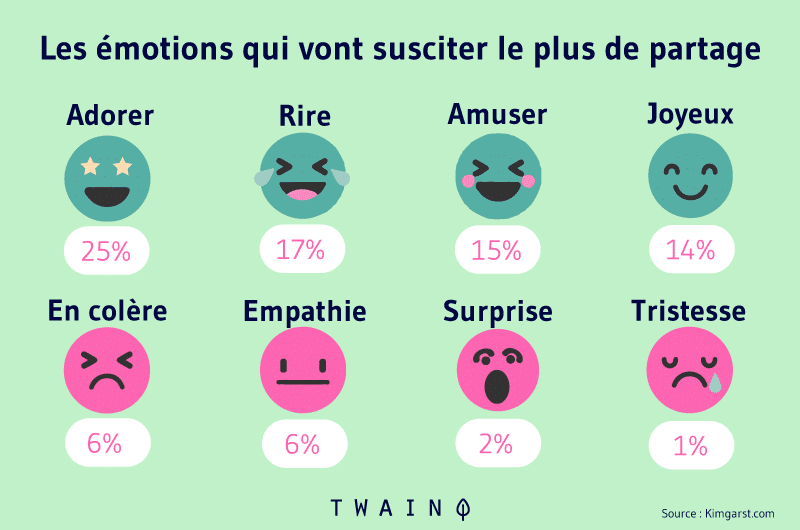 All of this brings us to a better understanding of the value of image SEO
1.3. The Value of Image SEO
According to the statistics of Jumpshot in 2018, over 20% of Google's search results come from its Google Images index
And many SEOs already know how valuable image optimization is to a website
We agree that if your images manage to be selected by the search engine, it will always be a few more clicks on your traffic
We have for example, Dan Morgan from WebSpection who says he got the first place on Google Images for a query in less than 4 days of image optimization.
We also have Robbie Richards who got 150,732 visitors to his blog by applying some image optimization techniques such as adding Alt tags, image compression, etc
So many testimonials that prove the importance of Image SEO. So by ignoring the optimization of your images, you are missing a valuable opportunity to increase your traffic
It's a bit like the engines offering free bread and butter. But, you're just taking the butter, when it would be better to take it with the bread
Here are some of the benefits you gain by optimizing your images:
Strengthen the visibility of your site

google selects a few images to add to the organic results. If your images are relevant and sufficiently optimized for a given query, they may well be displayed on the first page of Google. This greatly improves the visibility of your brand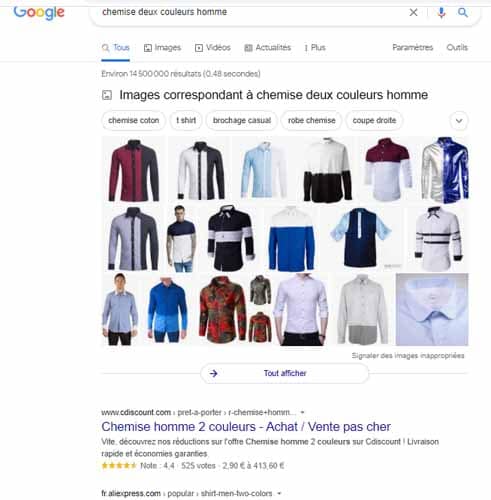 Improve your site's traffic thanks to a good positioning on Google Images

if your images are displayed for a query on Google Images, there is a good chance that users will click on them and go to your site. This constitutes a few more visitors on your site's traffic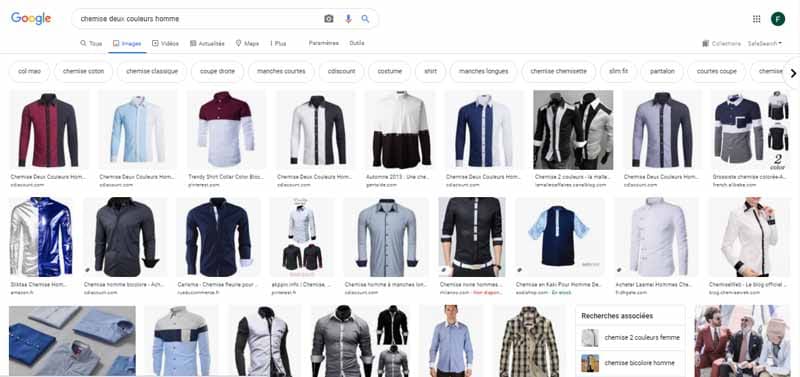 Improve your site's user experience

If your images are compressed to the right size with good quality, the whole usability of the site will be improved
Image compression is especially important for viewing your site on smartphones and other mobile devices. Since they are almost constantly on the move, mobile devices do not have high bandwidth
As a result, image files that are too large in bytes take a long time to load
Generate more traffic if you have an e-commerce store

some consumers search directly for products on Google Images. By being present in these results, you will get more visitors to your site and probably more conversions
As you can see, image optimization is full of advantages, but unfortunately it is not yet known by everyone, as notified by Gary Illyes
"We just know that media search is far too ignored for what it's capable of doing for publishers, so we're sending more engineers there and more outreach."
So by optimizing your images, you're widening the gap on some of your competitors. But how can you optimize your images for successful image SEO?
Chapter 2: 11 Tips to Improve Your Image SEO
Here is a list of some tips that should help you optimize your images well
2.1. Choose the right image format
Images on a website can be available in many formats and it is important to distinguish the different types of formats as well as in what context to use them
The good news is that you don't have to know every image format
Usually, PNG and JPEG images are the most commonly used on a website
PNG

Allows you to create good quality images, but they are often too large

The JPEG

allows you to find the right balance. You will obtain images with reasonable sizes, but without losing all the quality of the image
It is recommended to use PNG for logos and JPEG for photographs or large images
2.2. compressing images
It is a bad practice to upload uncompressed images to your site. According to a study by HTTP Archivethese images take up an average of 21% of the total weight of a web page.
It is therefore important to always compress your images before uploading them to your site to avoid unnecessary clutter. If you are a Photoshop user, you should be able to compress your images easily
If not, there are several online tools such as TinyPNGwhich is also available in wordpress plugin version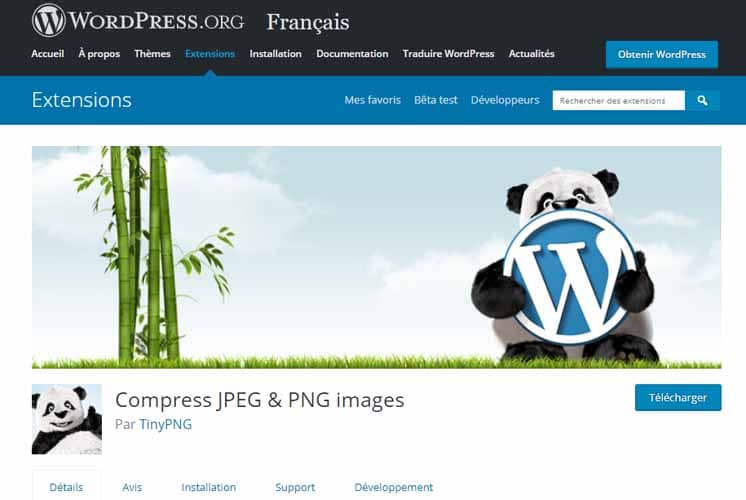 Speaking of plugins, there is also WP Smush which is also an excellent tool to compress your images. It allows you to reduce the size of your image files without affecting their quality
No matter which tool you choose to compress your images, make sure it works so that the compressed files are hosted on the tool's servers. This will reduce the weight of your site
For example, we have Increasingly.com which has improved its loading speed by 33% just by just by compressing its images
If you don't know your loading speed, you can test it on your site by using the PageSpeed Insights tool of Google
2.3. be original in the creation of your images
As explained above, stock images can be found on several other sites, which is not original. So avoid stuffing your site with these generic images to stand out from other websites
Let's take the example of an agency that prides itself on offering advice to help companies become known on the Net. But on its pages, the agency uses the image of a smiling woman. This has nothing professional about it, so it loses some of its credibility
Even if they manage to optimize these stock images well, the impact on their SEO would not be the same with unique and good quality images
The more original images you produce, the better your user experience will be, which is highly appreciated by Google.
2.4. Pay attention to copyrights
Sometimes you may have to use images from other sites to illustrate the outside sources you cite in your content. In these circumstances, make sure that there are no copyright disputes afterwards
There are many cases of copyright disputes that have led to court cases with heavy fines
We still remember the case of the US Postal Service which had to pay 3.5 million dollars to an author after a trial.
We also have the Sketchers case that resulted in a fine of 2.5 million fine
So if you notice watermarks on an image, avoid downloading it or risk being sued
The big suppliers of stock images are Getty, Shutterstock, DepositFiles… be careful and download their images which are royalty free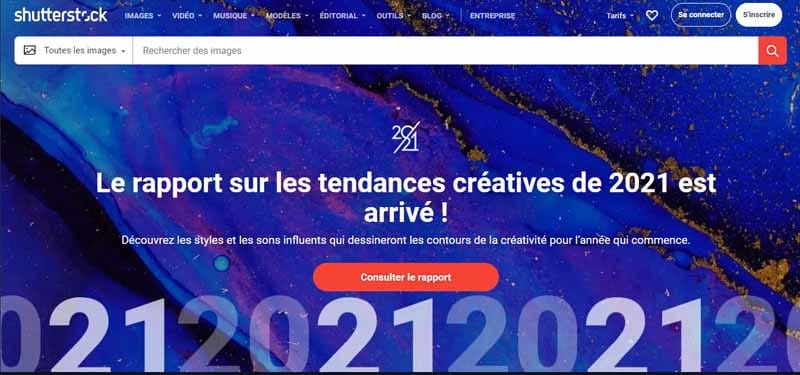 The Digital Millennium Copyright Act (DMCA) can send you a notice of infringement if you use an author's images without a license
In fact, every content owner has the right to take recourse to the DMCA if they find their work on another site
To stay safe from any problem, prefer images available for free download
To do this, you can use Google Images, which allows you to filter the results and obtain only royalty-free images
You can also consult this page from Mindy Weinstein which proposes more than 40 free image banks.
2.5. Customize image file names
In Image SEO, file names are of great importance. It is recommended to avoid automatic names like "Image 2021-01-14 200948" and opt for clear, descriptive names that include the keywords you want to rank for on Google.
Unfortunately, using the default name for images is a common mistake found on many websites
Unlike humans, search engines have not yet acquired the intelligence to understand an image. They will therefore be inspired by what you enter as the name of the image to understand its context.
Once the context of the image is understood, Google will be able to know precisely in which theme your image must be classified to remain relevant in the search results.
For example, let's take this image of a yogurt that I downloaded from the site Passport and Health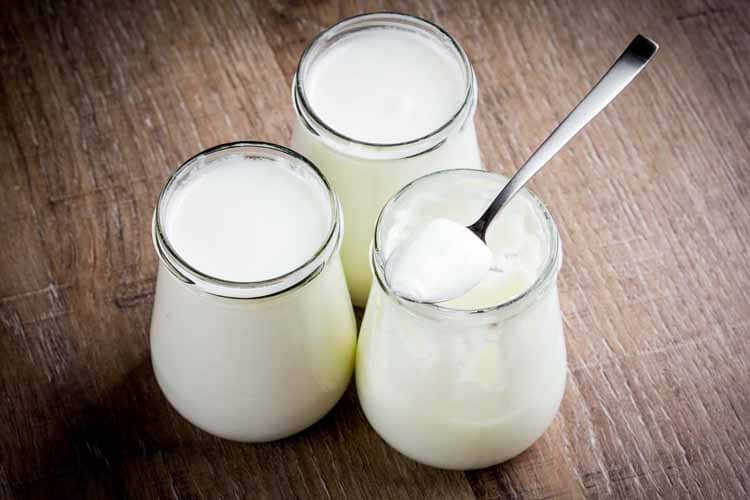 By changing the default upload name, and creating a new name with the keyword "yogurt", I make Google and other search engines understand that the image is about yogurt
This way, this image will not be ranked among images of tires for example, but rather displayed for a user who searches on the term "yogurt"
If you have a large library, it certainly takes some work to rename a whole stack of images. But, this is a necessary step in Image SEO, if you really want to be listed on Google Images
2.6. Propose an alternative text descriptive enough for the referencing of the image
The alternative text is what the Alt tag of an image contains. It is a small text that appears when the browser has difficulties to display the image. Like the image title, the Alt tag is used to describe the context of an image
You've probably come across a page with an image that didn't load, but still displays a descriptive text in the upper left portion of the image area. Note that if this text is well written, it can help the user to have an idea about the content of the image
This is a very beneficial element for the SEO of the page in general. On the one hand, you are optimizing your image well and in the event that the user encounters display problems, you are offering text to help them understand what the image is about.
In addition, Google takes into account the content of the Alt tag to list the keywords for which you want to be referenced, which improves the referencing of the page. This is one more clue that provides the search engine with useful information about the context of the image
It is also the content of the alt tag that helps visually impaired people understand what is in the image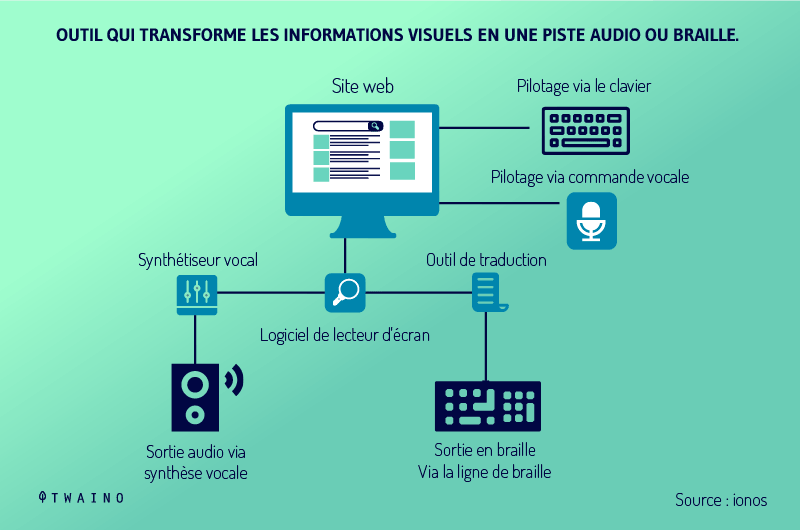 So your alternative texts must be descriptive enough to make the understanding of the images accessible to all user profiles
Going back to our yogurt example, a possible alt text could be simply
Similarly, we could do better and come up with something really descriptive
2.7. Structure the URL of image files properly
In 2018, we were treated to an update to google's image guidelines
One of the important things to remember is that the search engine uses file URLs as well as file names to index images
In other words, the path to an image file as well as its name are also referencing factors for the image
For example, let's say you own an online store with several products for sale
It is not advisable to store all your product images in a single Media or Pictures folder for example. What would be most beneficial for you would be to classify your products in subfolders named after the different product categories like Lighting / Living room / Kitchen…
2.8. Propose a title and a description for the pages
Google also reminded that its algorithms take into account the title and description of a page to index its visual content in Google Images
Here's what it said on Google's support page
"Google Images automatically generates a title and snippet to better explain each result and how it relates to the user's query… We use a number of different sources for this information, including descriptive information in the title and META tags."
As can be seen, a number of basic SEO factors for pages are also taken into account in how Google organizes its results on Google Images
2.9. Be careful to set dimensions for images
It is possible to set dimensions to your images directly in the source code
And even if you use a CMS, make it a habit to set a width and height for your images. This helps to improve the user experience of the site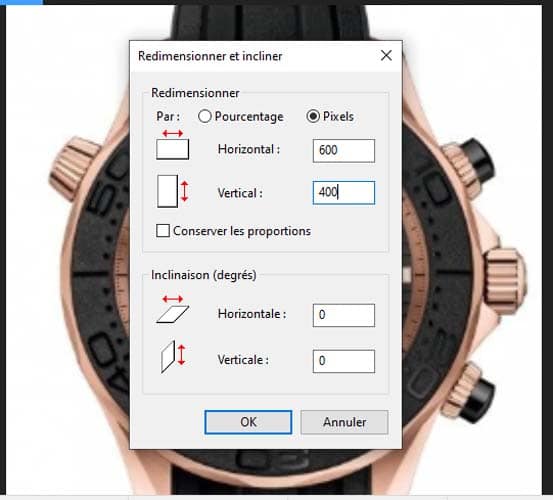 Moreover, the other advantage with this practice is that the user's browser will size the images before loading the content of the CSS file. This avoids jumps during loading
2.10. Adapt images for mobile devices
When your site is not adapted to mobile devices, you may experience a high bounce rate with low conversion rates. Conversely, a mobile-friendly site is a real asset for SEO and user engagement.
When it comes to images, how do you optimize them to fit easily on small screens?
The secret to winning the mobile-first index is to offer responsive images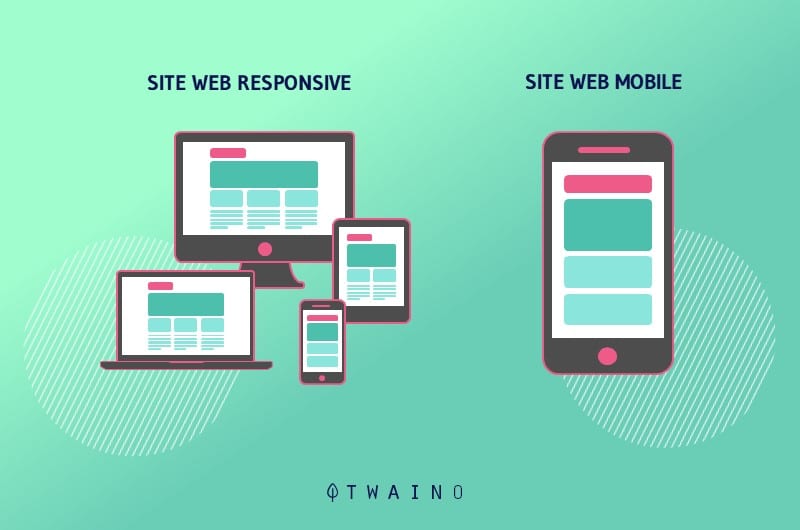 That is, the size of the images automatically adapts to the user's screen resolution, regardless of whether he or she is connecting from a desktop computer, a tablet or a smartphone
2.11. Add images to the sitemap
Whether or not it's a new sitemap, it's a good idea to add your images to your sitemap. This is a way to increase the chances that your images will be crawled and indexed when crawlers pass by your site, thus generating more traffic
WordPress already offers a plugin, which facilitates the handling of the sitemap. It is the yoast pluginplugin, which is widely used in the world of SEO
Conclusion
In sum, Image SEO is a specialty of SEO that complements SEO for a more promising optimization. If this contribution of SEO Image is proven and so appreciated by SEO, it is mainly due to the ability of visuals to arouse emotions in Internet users
Indeed, it is proven that an image can either drive away an Internet user or incite him to more engagement. But, it is not a question of adding images to your site to hope to have a positive return
Together, we have discussed the best practices to optimize your images and improve the ranking and visibility of your site
I hope you enjoyed this article and that it helped you better understand the concept of Image SEO
If you have any questions or even other techniques to optimize your images, feel free to share them with me in the comments
Thanks and see you soon!