Universal search, also called "combined search" or "enhanced search" is one of the most important changes made by Google since its creation. It is a feature initiated and developed in 2007 that allows the search engine to display a variety of search results in the SERPs following a query.
Universal search essentially presents results in the form of: textual content, news, images, videos, maps, shopping, etc. Basically, universal search allows Google to give more value to the different queries of the users and to present the answers in several forms.
Google's updates are not limited to algorithms. In its mission to make the user experience better and better, Google is constantly adjusting the SERP (Search Engine Result Page)
Since April 2007, the ten blue links theory is over and today we only talk about universal search.
So, what does universal search mean?
What does universal search mean?

How does Google choose which content to include in universal search?

What advantage does it offer to website optimization?
These questions are the concerns of most digital marketers À this article, I will provide more details on each point to answer these questions.
Chapter 1: What is Universal Search?
Since its launch in 1998, the Mountain View company has never stopped improving its search engine in order to enrich the quality of the results offered to the different user queries.
The integration of different features and modifications has transformed the simple search engine into an answer and recommendation engine.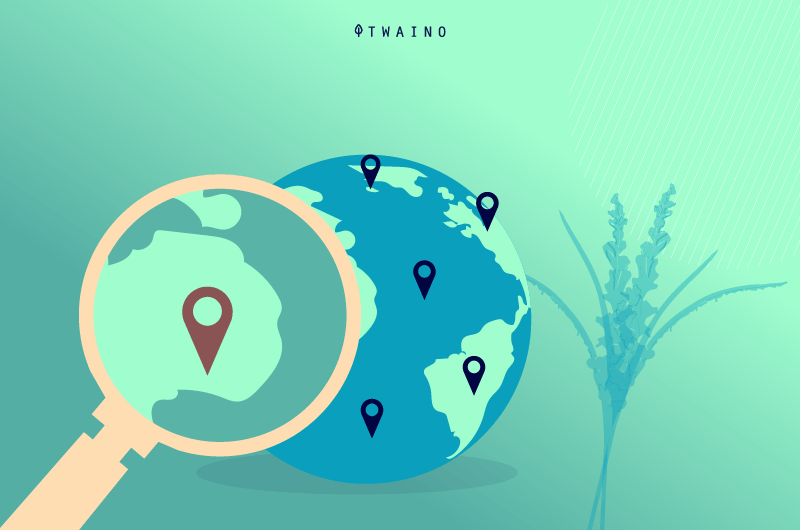 In this chapter I will bring more clarification to the term universal search.
1.1. 2007 Integration of Universal Search
The concept of universal search refers to the possibility of discovering all the content of one or more databases in different formats via a single search field
Regardless of the format of the specific content, it all appears vertically in the same Google search result.
This Google feature was integrated into the organic search results in 2007 and includes vertical search engines such as:
Google Images;

Google Maps; and

Google News;

Google Videos;

Google shopping ;

Etc.
Source SearchEngineJournal
Content from vertical search engines are all integrated into the organic search result and displayed according to the keyword searched. The user has the ability to select results individually through the menu at the top of the search page although the menu is not stable and changes depending on the user's query.
The integration of universal search with the enrichment of search results pages is a big step forward in fulfilling Google's desire to make the user experience even better
Universal search essentially allows Google to better understand the needs of users and instantly provide a variety of content that more or less perfectly addresses the different queries of users.
In short, universal search allows users to reduce search effort and time by eliminating additional searches.
1.2. Why the term "universal"?
Google uses the term "universal" to refer to the display of results in the SERPs. This is because Google now provides content that responds to different user queries not only as links to web pages, but also results in many other forms or formats.
Google's goal is to make the different types of content it offers in the SERPs integral and universal. That's why with each update, the search engine tries to add new features such as
The weather;

The display of a list of movies;

The inclusion of social media;

Specific content for mobile search
Basically, the selection of results displayed on the search pages is of a diversity that brings Google search closer and closer to universality.
1.3. The different vertical search engines integrated into universal search
As I mentioned above, universal search allows Google to offer a wide variety of formats for displaying search results in the SERPs
Discover in this section the different vertical engines that are displaying search content in Google's search pages since the launch of universal search.
1.3.1. The integration of Images: Google Images
Google Images is a Google feature that allows users to search for images online. Just like the search engine, Google images works by querying relevant keywords and retrieving data from web servers.
However, it remains a specialized feature or offshoot of the world's largest search engine. The only difference is in the way the results are displayed. While Google search displays results as web pages with textual content, Google Images displays multimedia image content instead.
To determine which images should appear on the image search results pages, Google relies on the search terms and also the textual information that is on the same page as the image
To access Google images in the search results, you can click on Images in the top right corner on the home page of Google.com homepage or through images.google.com which is a faster way
In some fields, image search is crucial and allows web marketers to make their business visible and diversify their traffic source. You must therefore specify and optimize your images in the Google index so that they reflect your company's identity and its offerings
I therefore recommend you to:
Name your images;

Include in your illustration a relevant content rich in keywords;

Mention the presence of your image in a specific sitemap;

Use the ALT attribute of images;

Etc.
1.3.2 Integration of geolocation data: Google Maps
Google Maps is a mapping tool or a feature of Google that allows you to geolocate a specific point, evaluate the distance between two points, find the nearest places of interest or even more.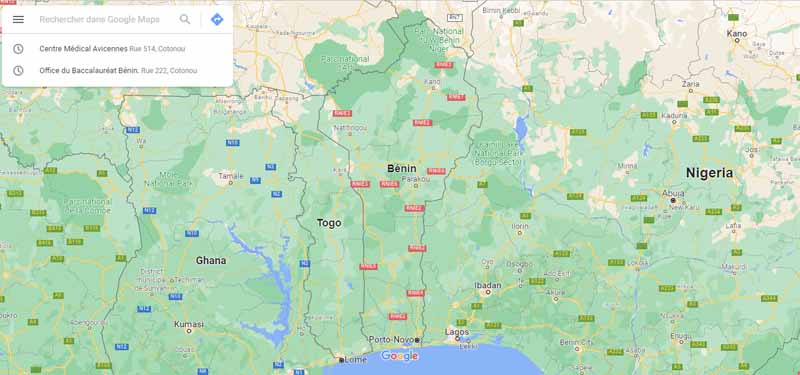 The latest release of this Google offshoot includes new and even more useful features:
Offline map access

Street View;

The visualization of the interior of some important places like airports and stadiums;

And more.
In the SERP of a relevant keyword query, Google displays in the Local Pack the local results related to the user's search
Indeed, when the user launches a search, Google triggers the nearby search that uses the geographical location or IP address of the user to provide local results directly related to his surroundings. In the report of a study conducted by Local Pack-o-Meter and relayed by the French site Abondance, we note that 40% of searches on Google trigger the display of the Local Pack SEO.
For SEOs and website owners, it is crucial to update the Google My Business listing to make their businesses appear in the results displayed in the Local Pack of universal searches.
1.3.3. News display: Google News
Google News is a vertical engine integrated in 2006 and allows to display news instantly (reference to recent events) in the universal search results. This information is not stable and tends to disappear or be modified. The news displayed in the "News" menu on SERPs have a time limit of 48/72 hours.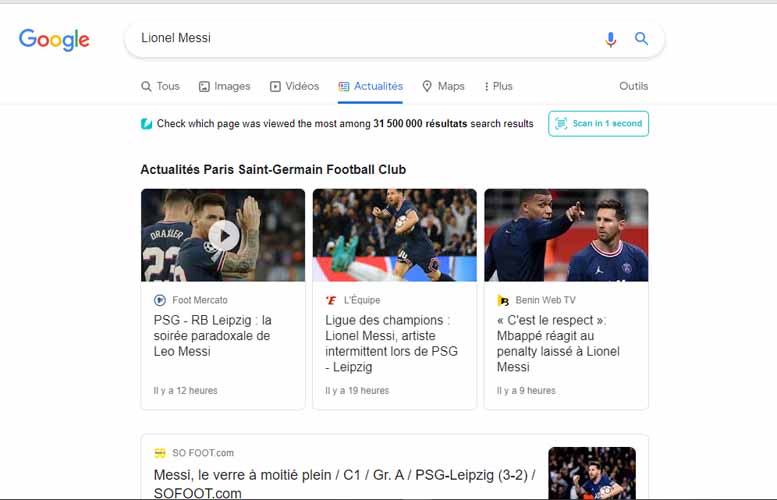 To take advantage of this service and have your site appear among the Google News results, you must:
Produce quality content;

Mention the date of the subject you are dealing with in your article and sign;

Have an editorial charter and respect the copyright;

Send an XML feed to Google;

Etc.
1.3.4 Integrating video content: Google Videos
The videos integrated in the Google Videos viewing feature are mostly hosted on YouTube, but not totally. Google also presents videos from platforms like Dailymotion or Vimeo in the SERPs.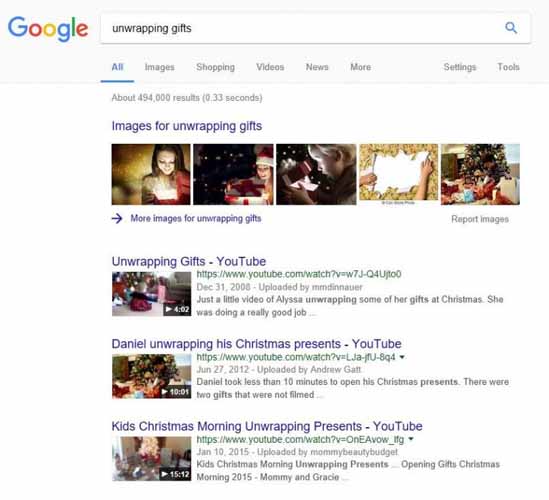 Source Searchmetrics
It should be noted that site owners also include videos in the content of their web pages.
As a result, the difference between the display of videos in the vertical engine category or additional content in SERPs and organic results has become very thin. Indeed, videos are now listed and considered as organic search results.
This is due to the fact that they are no longer sectioned by frame or by a "box".
1.3.5. Price comparison integration: Google Shopping
Google Shopping is a price comparison tool developed by Google in 2002 under the name "Froogle". It underwent an update in 2013 and Google renamed it Product Listing Ad (PLA).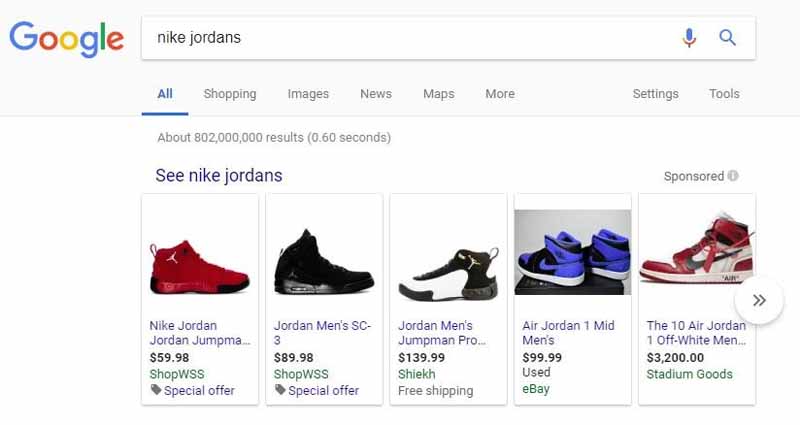 Source wordstream
Since then, the PLA price comparison is no longer free and is now part of the paid advertisements for advertisers in the category of products that are likely to be ranked above the SERPs. To edit PLAs, advertisers usually include: product names, images, product prices, and a link that redirects to the supplier.
1.3.6. The Knowledge Graph
This is a knowledge assembly built from data collected from competent and recognized sites like Wikipedia. Google uses the data and information from these sites to provide various forms of enhanced and relevant results to its users. Google's Knowledge Graph service can appear in SERPs for queries such as:
Searching for public figures;

Searching for cooking recipes;

Weather;

Dates and history;

Etc.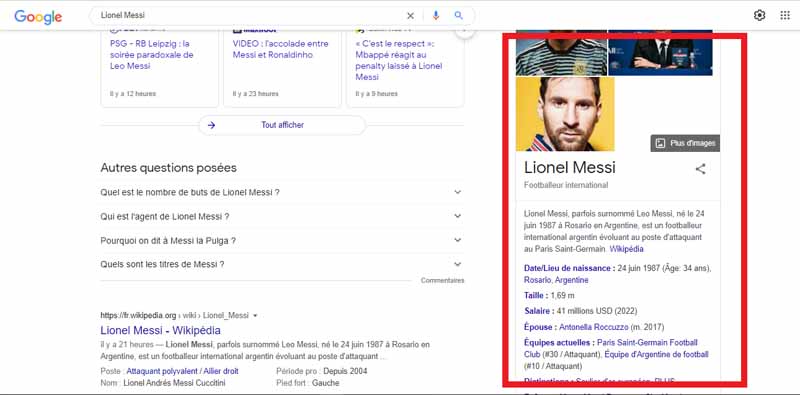 Unlike other types of integrations, the Knowledge Graph does not pull this content from Google's indexes, but rather from external sources like Freebase, CIA World Factbook, Wikipedia, etc.
1.4. What factors influence universal search?
Google does not display additional integrations based solely on the query (the keyword searched). Several other factors can influence universal search such as:
The user's search history;

The technology used to do the search (Smartphone, Tablet, Desktop);

The user's location and localization;

The use of cookies;

Etc.
Google generally collects information and browsing data about users from their previous searches. This data allows Google to recognize the user and to better personalize the results of their queries.
Chapter 2: Universal search and SEO
The integration of universal search is an opportunity for SEOs and website owners to boost their ranking. Generally speaking, the operation of universal search offers SEO benefits such as increased visibility, improved ranking in SERPs, and most importantly, dominance over the competition.
2.1. Improved visibility of websites
Google combines in the SERPs of universal searches, results from different services or vertical engines. Therefore, you have a strong chance to make your business visible if you have quality content in one or more of its vertical engines.
When your site appears for a relevant keyword query in the organic images, videos and search category, you have a threefold chance of making your business visible. It also represents a proof of expertise and trust.
The presence of your content in different categories of universal search results allows you to diversify the sources of traffic and users will easily contact you and take advantage of your services.
2.2. get a better positioning in the SERPs
The different optimization actions you carry out on your web pages are not without effect on the positioning of your site in the universal search results. Indeed, universal search allows Google to display a variety of results in the SERPs.
If you implement SEO actions that not only make your content more relevant, but also make it easier to navigate your web pages, Google will not hesitate to move your site up in the SERPs. These are essentially actions like :
creating relevant content (any type of content);

Well done image tagging;

Site optimization on mobile ;

Loading time of images and other types of content ultra fast ;

Etc.
2.3. Dominate the competition
With the integration of universal search, you have the opportunity to have an advantage over your competitors. Indeed, universal search should encourage you to have content on different platforms or vertical engines.
Your presence in different content formats on the same search result page allows you to be more prominent than the competition. This can make it easier for you to attract visitors, get traffic and also convert.
Whether it's from a marketing perspective or from an SEO ranking perspective, the advantage will be huge.
Conclusion
In the field of search engine optimization, universal search refers to the insertion of several types or formats of content in Google's SERPs. This change made by the world's most used search engine has benefits not only for Internet users, but also for website owners.
In short, universal search helps Google users to find relevant and concrete answers to their queries faster. On the marketers' side, it allows websites to be well positioned and offers a variety of traffic sources to dominate the competition.
I hope you enjoyed this article, feel free to comment and let us know what you remember about the concept of universal search.