The Key Performance Indicator (KPI) is a numerical element, a measurable value that must be determined before launching a marketing project. It is a marker that allows you to evaluate the scope of a marketing strategy over a period of time and to determine the ROI (return on investment). Companies use the KPI to examine the effectiveness of the various actions taken to achieve business objectives. In search engine optimization, KPIs allow to track and demonstrate the impact of a website's SEO strategy. There are different categories of KPIs that play specific roles.
How can you demonstrate the performance of your SEO strategy? How can you prove the impact of each action included in the SEO strategy?
There are usually many questions when it comes to reporting on an SEO campaign.
Are you sure you've created a great site? You have optimized the content, created semantic cocoons, done netlinking…in short, you have done a remarkable SEO job.
However, you can't objectively measure the success of your SEO campaign if you don't first define KPIs.
What is a KPI?
Why is it important in SEO?
What are the most important KPIs to follow in SEO?
Find in this article the answer to these questions.
Chapter 1 : What is an SEO KPI ?
KPIs are very important elements in the development and implementation of an SEO strategy. They are essential to determine the success or not of the different actions carried out by the company.
Let's discover together the definition of the anglicism Key Performance Indicator and its role in the functioning of an SEO strategy.
1.what does the concept of Key Performance Indicator in SEO mean?
The performance of a website's SEO actions can be determined with specific metrics
The SEO KPI or Key Performance Indicator is the set of metrics that confirm the effectiveness of an SEO strategy. This concept is used in SEO, but also in marketing and advertising
KPIs are generally used to measure the productivity of a device established to achieve a particular goal.
These objectives can be:
Commercial;
Managerial;
Marketing or analytical.
KPI analysis takes into account both positive and negative results. For SEOs, KPIs allow them to establish the SEO report and to communicate clear data to their clients or manager.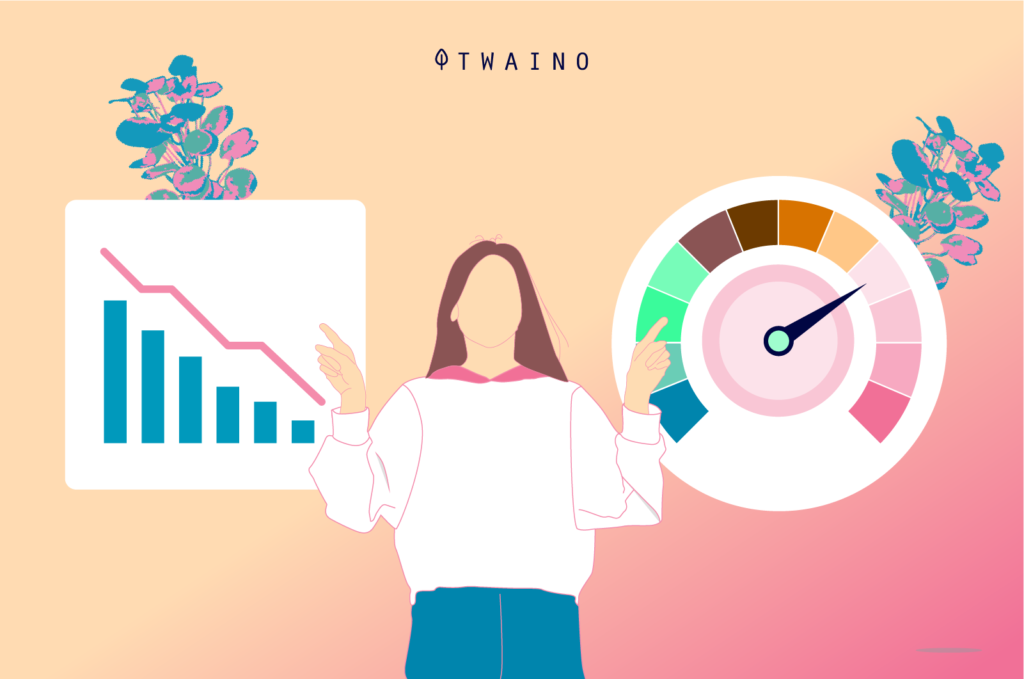 As for site owners, KPIs allow them to have a more precise control on the impacts of SEO actions carried out by the team
These are
Macro data: This is data that includes all elements that are not directly related to the website. Example: Algorithm updates, etc.
Micro data: This is all the metrics that reveal the evolution of your website. We can cite data related to traffic, ranking of web pages in SERP (Search Engine Result Pages).
For a good performance of the SEO strategy, the key performance indicators must be defined before the implementation of the planned actions.
Indeed, these are the KPIs that will help you to propose corrective actions to restore the failures in case they exist

This measure of analysis in SEO has a specific objective. That of monitoring and encouraging proposals for corrective actions to be implemented to improve the ranking of a website in Google search results.
1.2) Relationship between Key Performance Indicator and Metrics
We sometimes use the term metrics to refer to KPIs and vice versa. Even the greatest web SEOs sometimes make this confusion
Sure, metrics and KPIs are related in many ways, but they are not the same.
KPIs represent objectives set at the beginning of a marketing or advertising project to better monitor the impacts of the strategy developed
In SEO, KPIs give importance to your strategy and encourage your collaborators to focus on reaching the goal.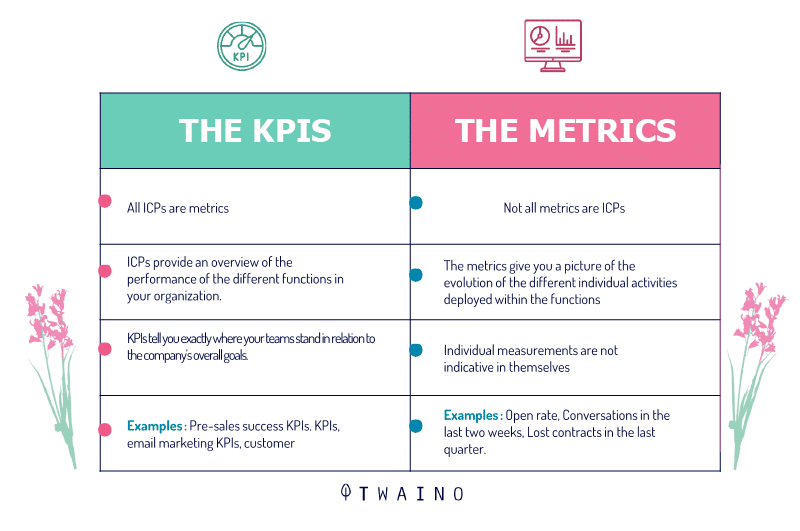 The metrics help to evaluate the scope of the various daily actions that corroborate the KPI measurement. It is the set of metrics that actually form the key performance indicators. I can cite as metrics in SEO the monthly visits to a site, the subscription to the newsletter, etc.
Chapter 2: Why are KPIs essential in SEO?
Whether you are working as a freelancer with clients or in-house, KPIs are essential elements for the success of an SEO campaign.
There is no doubt that a successful SEO campaign is the sure result of a whole monitoring system undertaken by a team. This control system is nothing but the key performance indicators.
They act as warning signals and allow the team in charge of leading the SEO strategy to see early on what is working among the actions and what is bound to fail.
In this section, I will show you how to track and improve the results of your SEO campaigns.
2.1. SEO objectives and KPIs
At the beginning of an SEO job, it is important that you define objectives. These objectives are actually the reasons for your SEO strategy and the different actions included.
It's the same when you start a digital marketing project. The first step is to define an overall goal and then identify specific objectives.
This same logic applies to SEO. The role of KPIs here is to help justify with data the evolution of the SEO strategy.
They will help you demonstrate precisely how SEO actions will contribute to the strategy's progress and to the achievement of the overall goal. That's why you need to identify KPIs that match the specific goals you've set.
It is appropriate to dig deeper when you decide to position your site on a given keyword. You must necessarily ask yourself certain questions such as:
Why do you want to rank on this keyword?
What will be the benefit for your business if you manage to rank your site on this keyword?
Answering these questions will help you understand the reasons why you want relevant traffic on such a keyword and the conversion goals that are involved. When you understand the real goals of ranking on a given keyword, you can identify key performance indicators.
Ranking for a keyword is your first and most visible approach. But propelling your sales from traffic coming from organic results is another, more interesting benefit behind your ranking goal.
To be clearer, I'll just say that KPIs are connective tissue that link business goals to SEO strategy.
2.2.1 Using the marketing funnel to categorize goals and KPIs
A pretty handy trick for categorizing goals and KPIs is using the classic marketing funnel. Simply link the different parts of the funnel (which in our context represents the objectives) to the corresponding KPIs.
Awareness
Engagement
Conversion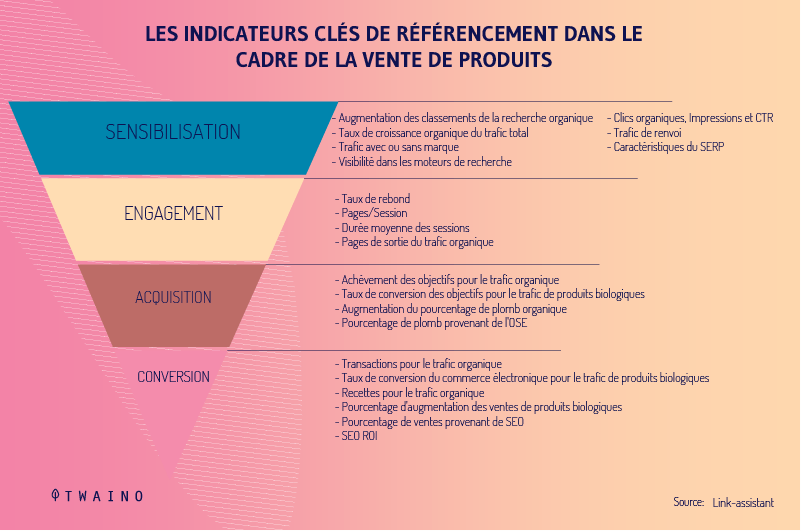 Determine the most important points of your SEO project and make sure that the SEO strategy actions will allow you to achieve these goals. The categorized KPIs will help to declare this.
2.2.2. Use the VQVC model: Volume, Quality, Value and Cost
There are four metrics that have real value in any SEO project. These are:
Volume;
Quality; and
Value;
Cost.
These measures are also a better way to categorize KPIs. But to use them, you need to have a clear plan and understand what best fits your goals.
Here's how you can categorize goals and KPIs with the four VQVC metrics.
Volume is unique visitors, visits, page views, etc.
Quality is determined by bounce rate, length of visit and pages per visit.
Value determines the financial interest of a visit, a lead or a conversion.
The cost allows to know the expenses necessary to acquire a lead from the SEO strategy.
2.3. importance of KPIs in SEO
Taking stock of an SEO campaign is a great challenge. Especially when we use SEO tools like Google Analytics that provide a large amount of data.
To be effective, you need to identify the KPIs that will allow you to track the campaign from start to finish
When using SEO tools to track KPIs, you need to make sure that you customize its tools according to the business needs.
You need to customize Google Analytics, for example, by linking the specific goals of the SEO campaign to the categorized KPIs.
Beyond simply tracking rankings for a few specific keywords, your KPIs should examine the impact of SEO actions on the brand and its products or services. They should allow you to determine organic traffic, the quality of that traffic, i.e., engagement, and the likelihood of that traffic generating a conversion or sale.
Chapter 3: Important KPIs to follow in SEO
In this section, I will introduce you to some key performance indicators that you can use to measure the reach of your SEO strategy. These are the traditional KPIs that will need to be compared to the equivalent values of your competitors in a similar situation.
When there is an increase in the authority and trust of your site, you can associate this with the position of the site on certain keywords in the organic results.
3.1. how to categorize the key performance indicators?
To better identify the KPIs that correspond to each SEO objective you need to think of a way to categorize them. SEO goals are considerably different from one project to another.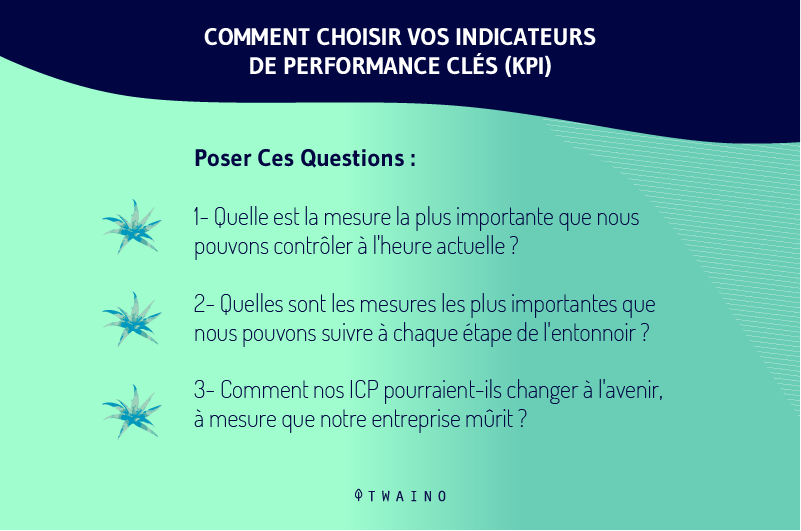 For example, the goals of launching a new product and the goals of promoting an existing product are quite different from each other. A local business may develop its SEO strategy to attract more visitors to its site.
Still, a service business will tend to want to generate leads. When it has a new product, the SEO strategy will be more oriented towards actions that can increase awareness and create a distribution network.
It is important to understand each of the SEO goals and categorize the KPIs in the most logical way possible.
3.2. The different categories of SEO KPIs
There are several categories of KPIs in SEO. Keep in mind that the categorization and the list of key performance indicators that you will discover in this article are not exhaustive.
3.2.1. The real SEO KPIs
The real SEO KPIs allow you to know the direct impact of SEO work on the site as a whole. The real SEO KPIs are very important because they allow to determine the increase of traffic, the pages that generate overall traffic.
Here are the most important KPIs to track in this category:
Organic traffic;
The number of organic impressions;
Percentage of organic conversions;
Organic traffic increase per page;
Organic click-through rate;
Percentage of organic traffic by geographic region;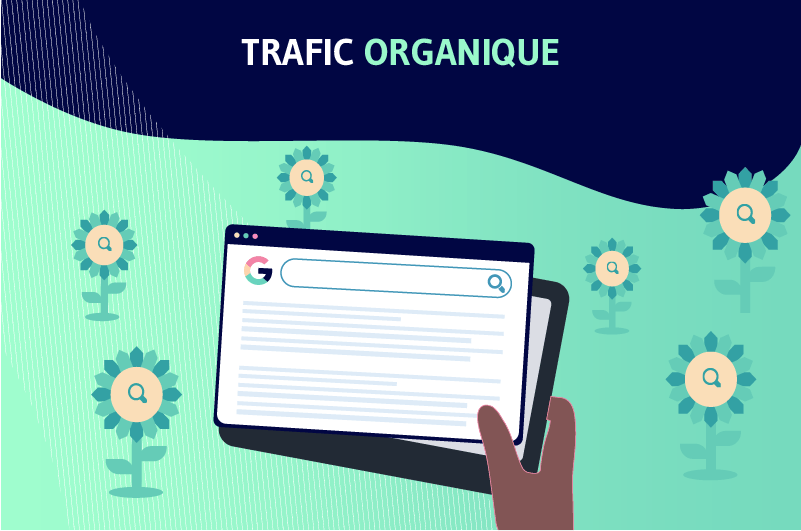 3.2.2. Referral Traffic KPIs
The increase of organic traffic is not the only impact of a SEO strategy. You can also focus on link generation
In this case, you must choose KPIs that will allow you to demonstrate the value of these links.
Sometimes, a good qualified referral traffic leads to a better conversion rate than an organic search traffic.
So now is the time to illustrate this with relevant metrics. Among the key performance indicators of referral traffic, we can mention:
The percentage of referral traffic;
Conversion rate from referral traffic;
Percentage of engagement metrics such as: bounce rate, page load time, etc.
3.2.3. Link Building KPIs
Link building represents the main asset for the functioning of a long-term SEO campaign. They are part of the three indicators that contribute to improving the visibility of a site on search engines.
Therefore, you must follow the evolution of the links on your site with relevant data. The KPIs to follow in this category are :
The total number of links generated;
The total number of links generated by authority sites;
The total number of links generated by relevant sites.
3.2.4. Lead generation KPIs
Lead generation is one of the main objectives of an SEO campaign. Although lead generation does not always mean sales, it is important to track these indicators.
These KPIs can include social media sign-ups, newsletter sign-ups, and downloads. For your SEO reports, you can track KPIs such as:
Newsletter sign-up percentage;
The number of subscribers and the rate of interactions on social networks.
3.3. Some key performance indicators to track in SEO
It is always impressive to track the progress of your SEO campaigns and know the impact of your efforts. Below are 12 SEO KPIs that are very important to track
3.3.1. The organic click-through rate (CTR)
The click-through rate is not really a confirmed SEO KPI. However, when your organic CTR is good, you generate more traffic to your web pages
The organic click-through rate is a pretty interesting metric that gives clues about the percentage of people who clicked on your page in the SERPs.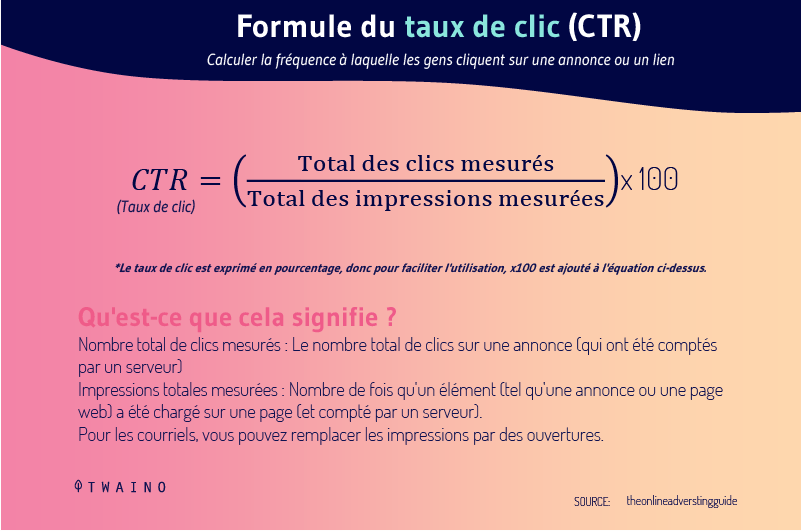 The organic click-through rate is most useful when you want to determine the relevance of your meta title and meta description
These are actually the elements that are displayed in the SERP and that encourage the user to click and discover the content of your page. If your click rate is high, then you can be happy with your feather.
3.3.2. Return on investment
The main objective of an SEO strategy for all companies and brands is to make money. The return on investment is therefore a performance indicator in SEO allowing to appreciate the evolution of its actions.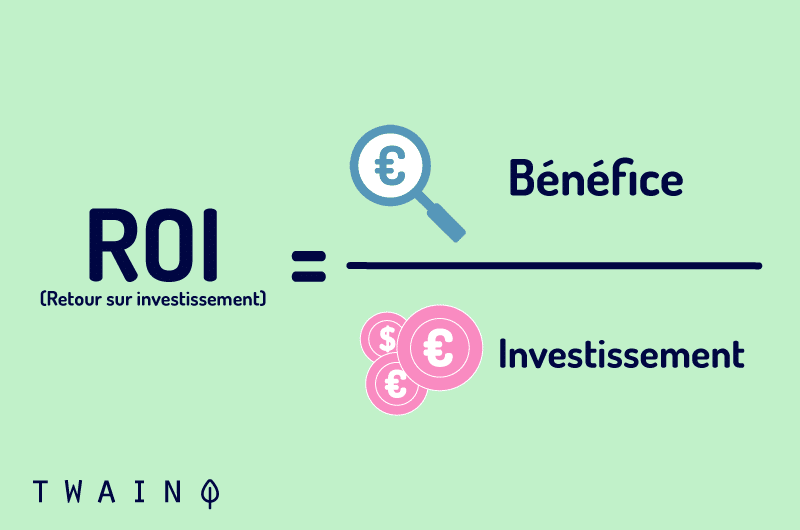 It is a measurement tool to follow to take stock of the gains and/or losses of your SEO strategy. To follow the return on investment, you must regularly measure your performance against your initial objective.
In clear terms, the ROI measurement is done according to the SEO objectives and investments
3.3.3. The bounce rate
The bounce rate is a very important key performance indicator that allows you to evaluate the relevance of your pages in relation to the keywords on which they are ranked. A high bounce rate is synonymous with a missed conversion opportunity. The cause can be in the quality of your content, the loading time of the site, etc.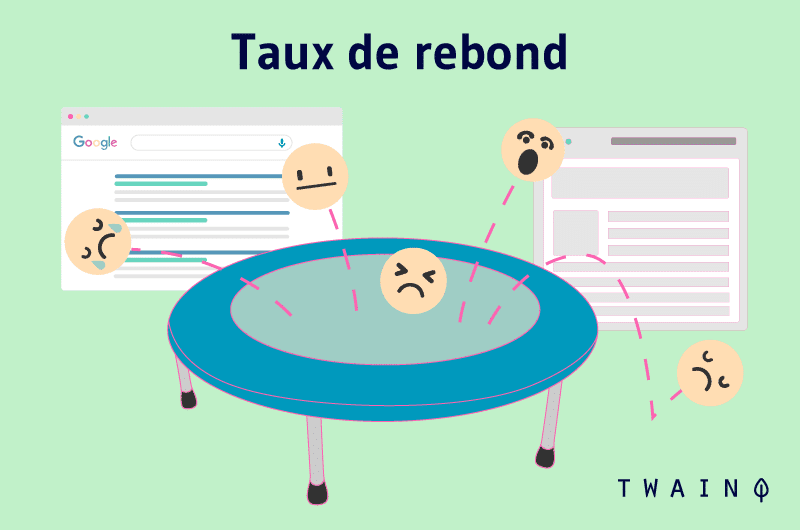 Monitoring this KPI will allow you to quickly notice irregularities on your site and correct them. To find the bounce rate of your site, use Google analytics and consult the Behavior tab.
3.3.4. Conversions (sales and leads)
While ROI is the KPI that many brands are working on, it turns out that conversion is impossible to do without. Conversion metrics should also be a core part of the SEO strategy. Tracking conversion is like having an eye on your sales and leads.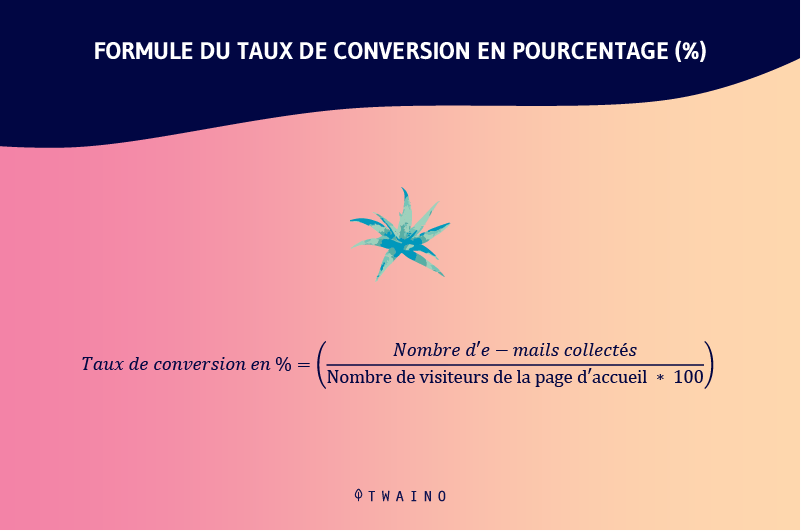 It is an effective and solid way to determine your level of success. Increased conversions would be a mark of the effectiveness of your SEO efforts.
It would be difficult for you to measure and track your conversions if you don't know the conversion benchmark. So the key is to know the conversion baseline before you launch a campaign.
I recommend you to take the average conversion at the beginning of the campaign as a reference. This will allow you to easily measure the growth of your actions. You can track conversions through Google Analytics
3.3.5. Average time on page
Web users who spend more time on a website are more likely to be engaged and converted. It is therefore important that you examine the average time your visitors spend on the site.
This examination will be done by looking at the site in general on the one hand and each page on the other.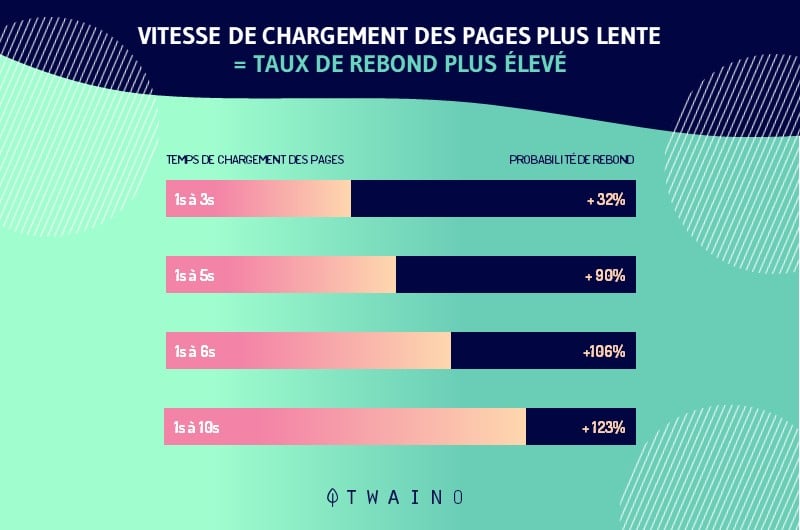 When you notice that the duration is low, you must consider actions to increase it. This metric is available in Google analytics.
3.3.6. Organic visibility
Organic visibility is a very important and easy to track KPI.
You can track this performance indicator to measure the growth of your SEO activities on a daily basis. You can find this indicator in two ways. First, Google Search Console shows you the growth of impressions. Here, we are not necessarily interested in clicks. The impressions show the keyword searches in which your site appears. We speak of organic visibility when there is an increase in impressions.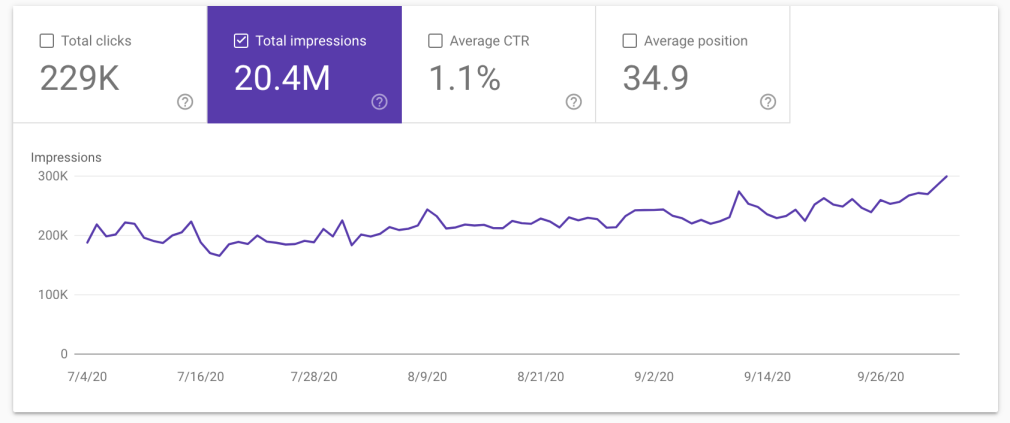 Source : Semrush
The organic search tool of Semrush also gives you the possibility to display the evolution of the organic visibility of your site. In this case, the exercise consists in analyzing the trends (increase of visibility) of each keyword on which you have positioned your site.
3.3.7. Exploration errors
Find in Google Search Console all the errors or coverage problems present on your site. There are several types of crawl errors including :
5XX server errors;
4XX errors;
Crawl anomalies, etc.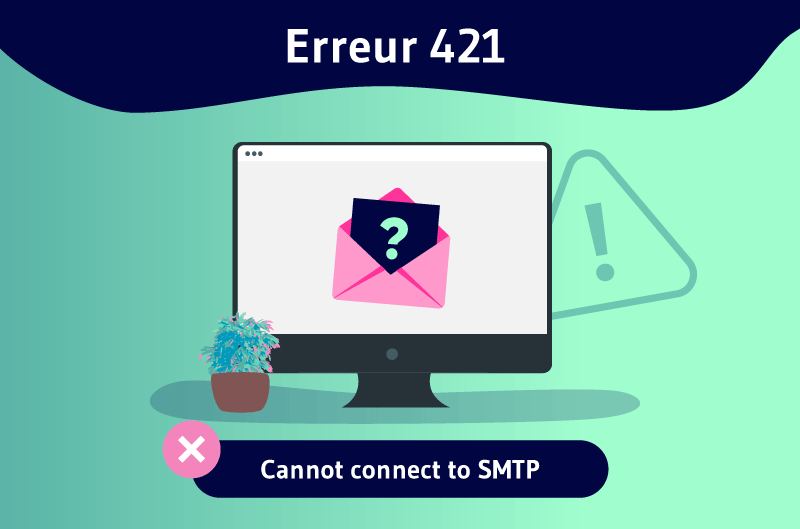 This set of key performance indicators allows you to track the crawling problems that your site may be facing. Keep in mind that these errors can prevent visitors from accessing your site if you don't take corrective action quickly.
It may not be a true SEO KPI of success, but when you fix the errors that may be hindering your site as you go along, you ensure good visibility of the various web pages.
Crawl errors can be found in the Coverage section of Google Search Console.
3.3.8. Organic session
The increase in organic impressions can lead to an increase in organic sessions (traffic). This indicator shows the real effects of your SEO strategy in the SERPs
Your traffic will be most impacted by impression growth and traffic growth drives organic conversion
Tracking organic sessions is therefore essential for improving your SEO ROI.
With Google Analytics, measuring organic sessions will be very easy.
3.2.9. Evaluate the speed of web pages
Site speed is a metric that can impact ranking and conversion on your site if neglected. It is a very important KPI to track closely because it is likely to change over time and for different reasons.
Nobody wants to waste time and the same goes for your site visitors. First of all, you risk losing rankings when your site takes a long time to load, because Google is very sensitive to the slowness of web pages.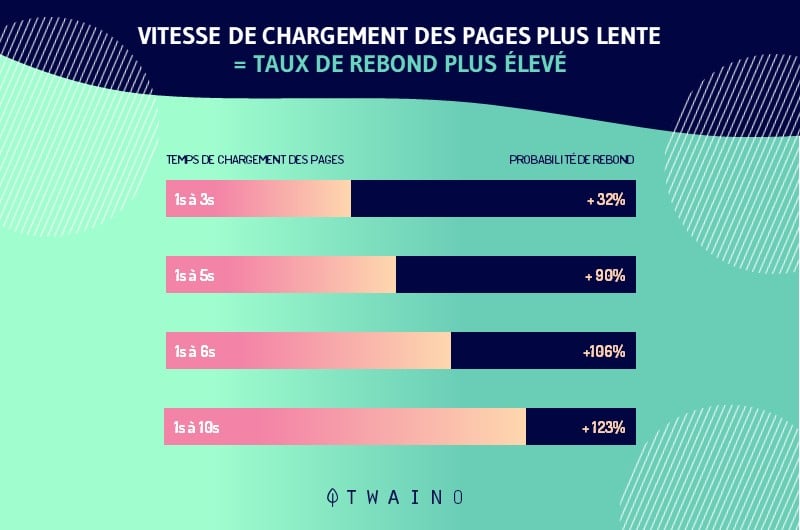 Moreover, your visitors will migrate to your competitors
The problem is that the loading time of the site can change at any time. So you need to monitor it and make corrections if it changes. The load time can be found in the Semrush audit tool.
3.2.10. Branded traffic
Branded and unbranded traffic tracking allows you to analyze the changes and progress of the percentage of traffic to your site. Branded traffic is generated when your company is already known.
It is not traffic generated by your SEO activities. Unbranded traffic is generally made up of users who arrive on the site from search results.
These are users searching for keywords related to your ads. It is recommended to measure both branded and unbranded traffic to determine the evolution of activities.
3.2.11. Site Ranking on Keywords
Site ranking on keywords is important although it is not considered by many SEOs. You should strongly track your website's ranking on your targeted keywords to see their usefulness as performance indicators.
Tracking keyword rankings allows you to improve your keyword choices and thus increase traffic. Use position tracking tools to track your keyword rankings on the SERPs.
3.2.12. Backlinks
Backlinks are one of the main ranking criteria of Google. Therefore, careful tracking of them is very important when running an SEO campaign
The link metrics you can measure include:
The total number of backlinks;
The number of referring domains;
The total number of links gained;
The number of lost links;
Toxic links.
The tracking of your backlinks is possible on Backlink Audit by Semrush.
Summary
KPI's are important measures that would make an SEO strategy difficult to achieve
They will help you to be precise when you establish your SEO report.
KPI's should be identified early on in the implementation of the SEO strategy
This will allow the SEO to follow the evolution of the results of the different activities. The KPIs help identify what is working and what is not working in the current strategy
I have presented in detail in this article 12 important KPIs to follow in SEO. I hope that this content will be useful for your next SEO campaigns