Google Trends is a feature of Google designed to search for trending topics. It helps determine the popularity of a specific term in Google Search, Google News, Google Images, Google Shopping and YouTube. This feature allows users to explore users' search interests by region and track the popularity of a trending query over time. With a number of filters, it also allows users to compare trending terms and find related topics.
Google remains for years, an undisputed leader on the web thanks to its numerous services. The American firm dominates the world market share of search engines and has processed this year more than 90 % of all online queries.

This figure proves that the search engine is an integral part of the daily life of Internet users and they refer to it when they have a query on a given subject.

Google collects information on all the queries made on Google Search and its other platforms. More interestingly, it synthesizes the data from online queries and makes it available for free through Google Trends.

People can use this data for many purposes such as marketing and SEO. Because of the power of Google Trends, everyone who conducts online activities must know how to use it properly.

In this article, we will learn about the features of this fantastic tool from Google. Then we will go through 7 ways to use Google Trends in SEO. Finally, we will see how to use this tool to optimize your YouTube videos.


Chapter 1: Google Trends: What is it?
Google Trends is an ingenious tool that many marketers around the world use on a daily basis. Discover in this chapter this tool and its different features.

1.1) How can we define Google Trends?
Created in 2006, Google Trends was initially a way to analyze and follow the search interests of Internet users. It has become a very useful tool with the recent updates both for SEO and Big Data.

This tool provides data on the popularity of queries on Google. The analysis of search query data provides a unique perspective on what people are interested in and what is trending.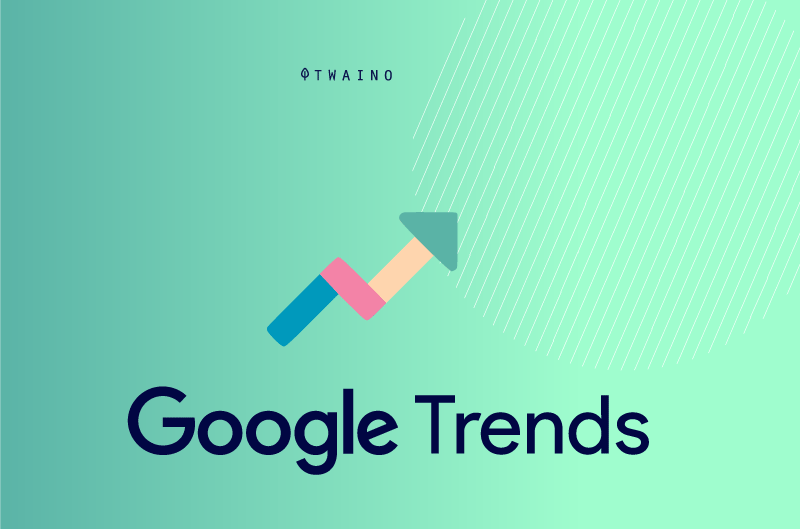 The filters of this tool offer many possibilities and allow you to group data by category in order to measure the interest of Internet users for a particular subject whether it is:
In the whole world ;

In a country;

In a city.
For the record, this tool has accurately predicted most US presidential elections so far.

Source fatjoe

Source fatjoe
The effectiveness of Google Trends in finding trending queries is no longer in doubt. They help users explore the global reaction to major events.
For example, business owners can use it to learn more about how their business and brand are perceived by a targeted audience.
For content creators, it can determine when certain terms are popular or whether people in a region are excited about a particular product.
Google Trends does not provide the volume of queries, but gives an overview on an arbitrary scale from 0 to 100.

According to the Google Trends Help Center:
"Trends synthesizes search data to make it easy to compare multiple terms. The number of queries is divided by all searches in the geographic area over a period of time to give the relative popularity."
Simply put, relative popularity is nothing more than the ratio of two volumes: that of a specific search and that of possible searches.
The value 100 expresses a high search interest and the relative demand curve observes a peak. However, the value 0 does not mean no search for a term on Google, but only a small number compared to the peaks.
1.2 What are the different features of Google Trends?
1.2.1. Trends and current topics
Google Trends automatically puts the search queries and shows the fastest growing ones on the homepage. This is where users can find in real time the trending topics in the world.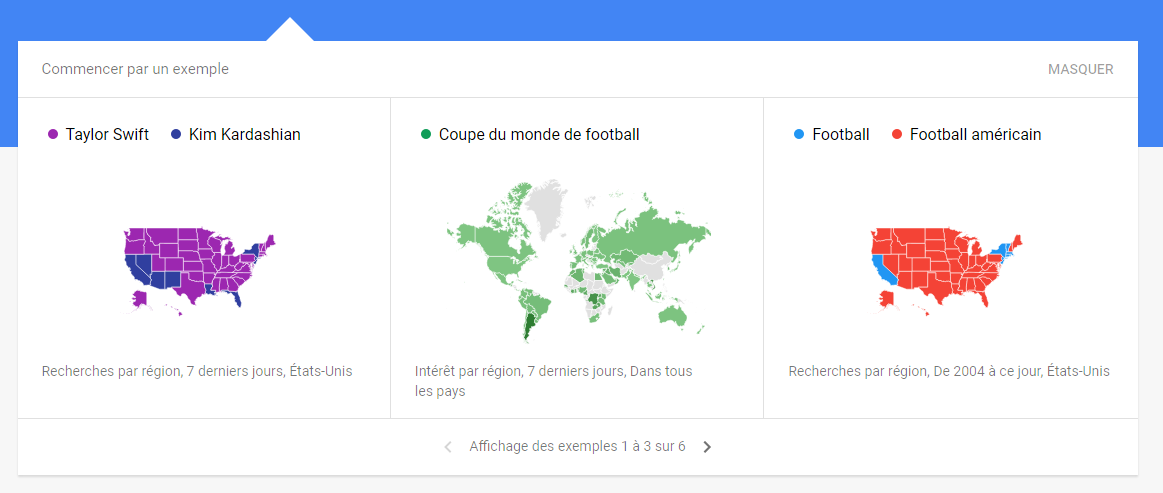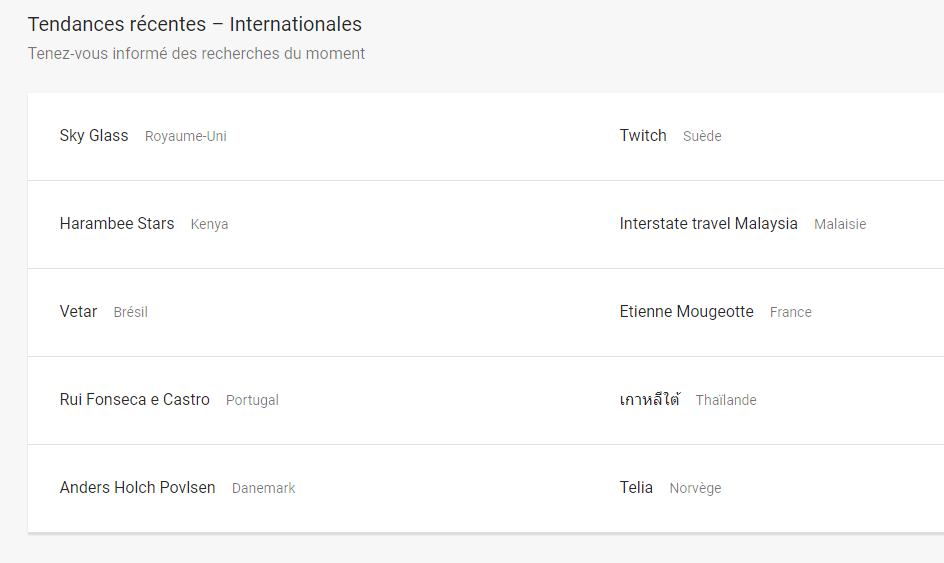 As can be seen, the tool at the home the popular search queries in the world and by region.
1.2.2. Search by region
Users can observe the search interest by a given location. They can choose to see the popularity of a term in the world, in a country or in a city.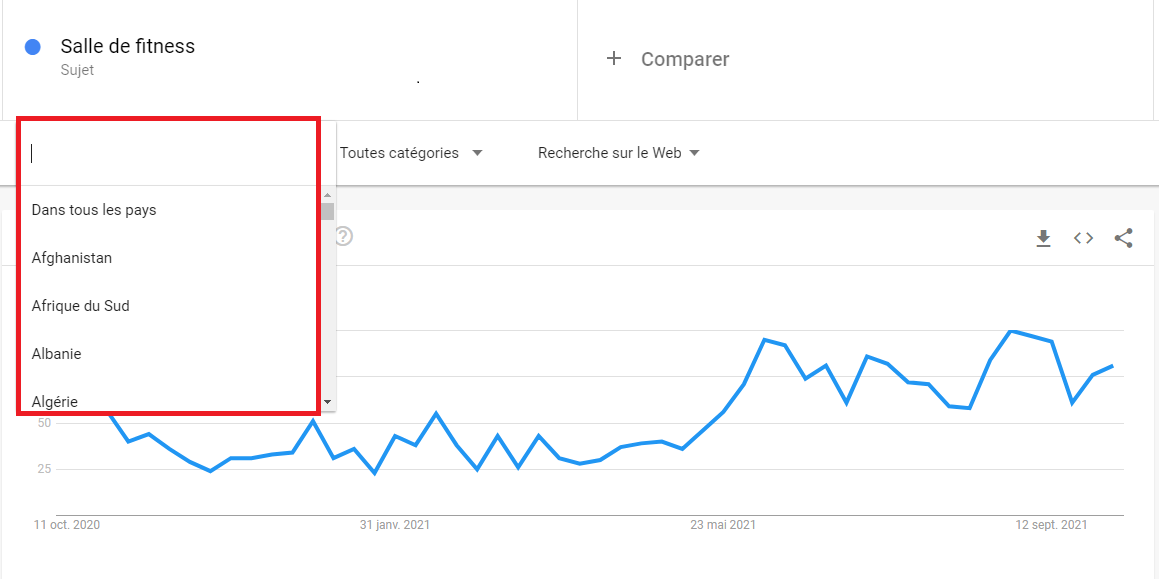 Searching by region is useful for testing the popularity of a brand in a specific region. It also allows you to get suggestions for queries that are popular around you.
1.2.3. The search period
This function is very practical and interesting to follow the popularity of a given subject over a period of time with the possibility of going back to 2004.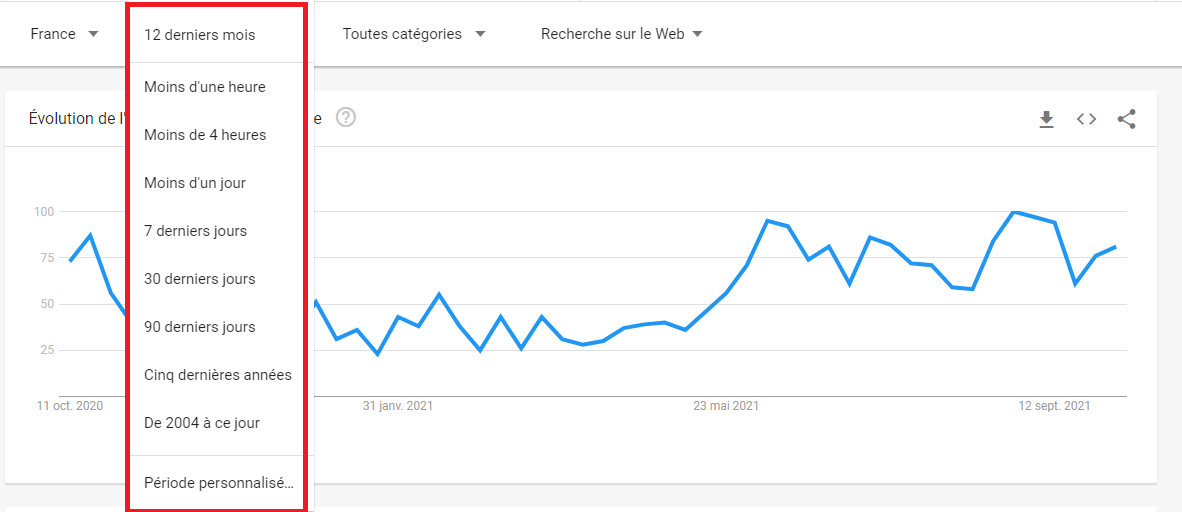 However, it is possible to follow the evolution of a search interest minute by minute over the past hour or to define the search period.
1.2.4. Search categories
It offers several options and allows to display only the results of a given category when the search term is ambiguous.

1.2.5. Search Type
This filter allows you to track the popularity of a term for web searches or universal search integrations and platforms like:
Google News ;

Google Images ;

YouTube ;

Google Shopping.

Video creators can use this filter to improve their reach on YouTube by determining the trend of a term specifically for this platform
1.2.6. Compare terms
It's possible to compare search terms on Google Trends to see how they perform with different audiences. To compare search terms, simply click on "Compare" and enter your terms or topics.

We will still be able to customize this dual search according to:
The time period ;

The category ;

The region;

The type of search.
As an example, we will compare the queries "gym" and "jogging" in France in the web search during the last 12 months.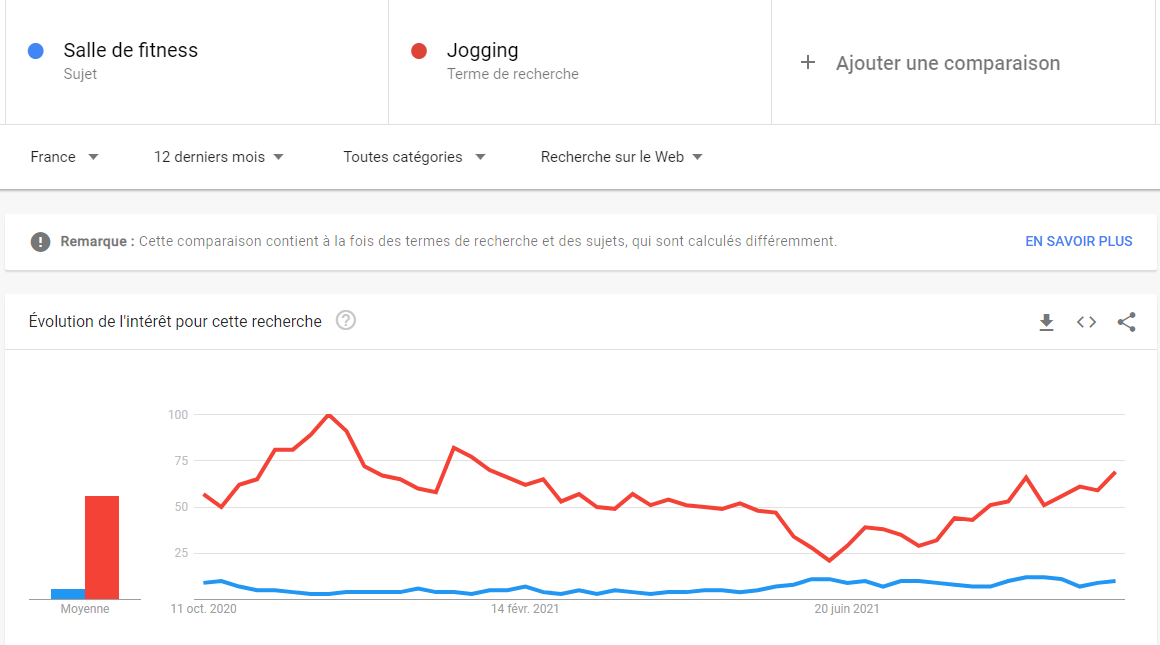 The graphs generated by Google Trends show us that the French internet users are more interested in "jogging" than in fitness centers.
Thanks to the filter by region, we can sort the results to see the cities in which each of the terms has aroused the most interest among Internet users.

The search results show separately the queries associated with each search.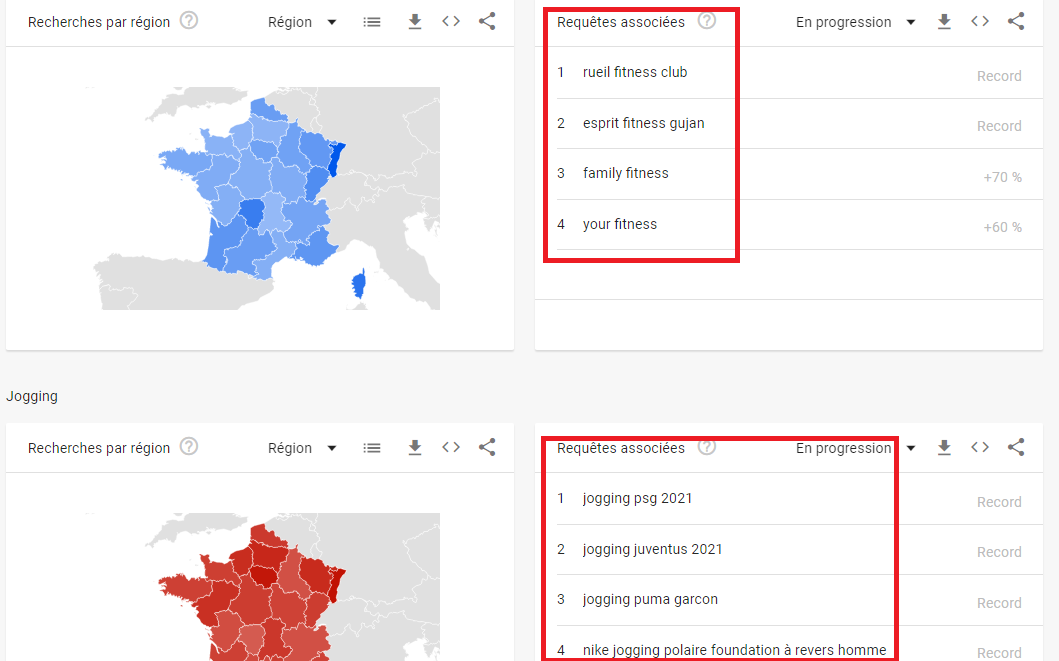 Using the "compare" function, companies can monitor their competition and see how they are performing on the web.
This is also recommended by Cassidy Barney, the SEO manager at Epic Marketing.
"I love using Google Trends to analyze the competition or to see how interest in a brand changes over time. After entering a single keyword, you can add up to four others for comparison."
For more accurate data, you can combine the other filters to make your comparison:
Within a country;

Within a region or state;

Over a period of time;

In a specific category
Chapter 2: 7 uses of Google Trends for SEO
On the first page of Google, the first five organic results represent 67,60 % of all clicks. So there is no longer any need to demonstrate the usefulness of SEO to drive traffic to a website.
There are many ways to exploit the potential of Google Trends to the benefit of your website. In this chapter, we will see 7 ways to use this tool in your SEO strategy.
2.1. Analyze keyword volume trends
Online content continues to grow and become the main source of information for many people. Knowing what words to include in that content and how to place them properly is paramount.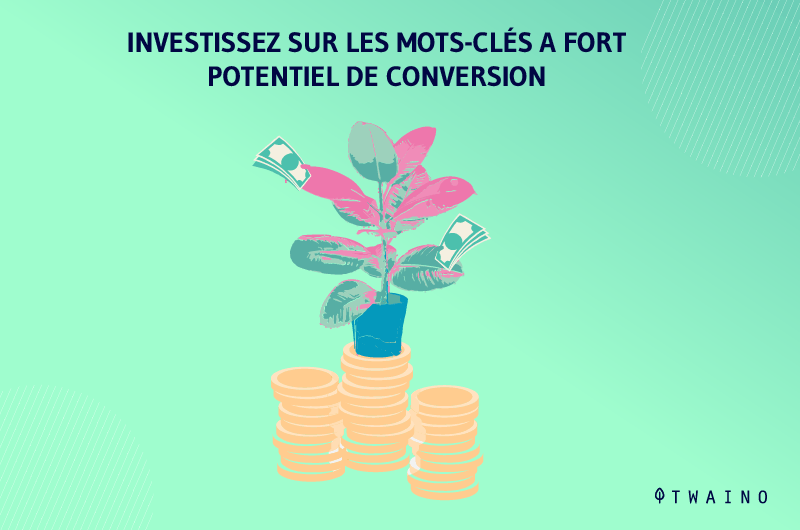 The data that Google Trends provides is used to examine any keyword and determine how people's interest in it has changed over a period of time.
Researching keywords with this tool allows you to know which ones generate the most traffic and attract the public's attention.
In addition, finding the keywords that are trending will allow you to get ahead of the game and create content around the terms that are relevant to the industry that people are searching for.
In the same sense, Google Trends can also help you avoid keywords that are decreasing in popularity.
While it is true that there are other keyword research toolsbut they only show the volume following a period.
The special thing about Google Trends is that users can predict the future popularity of a keyword.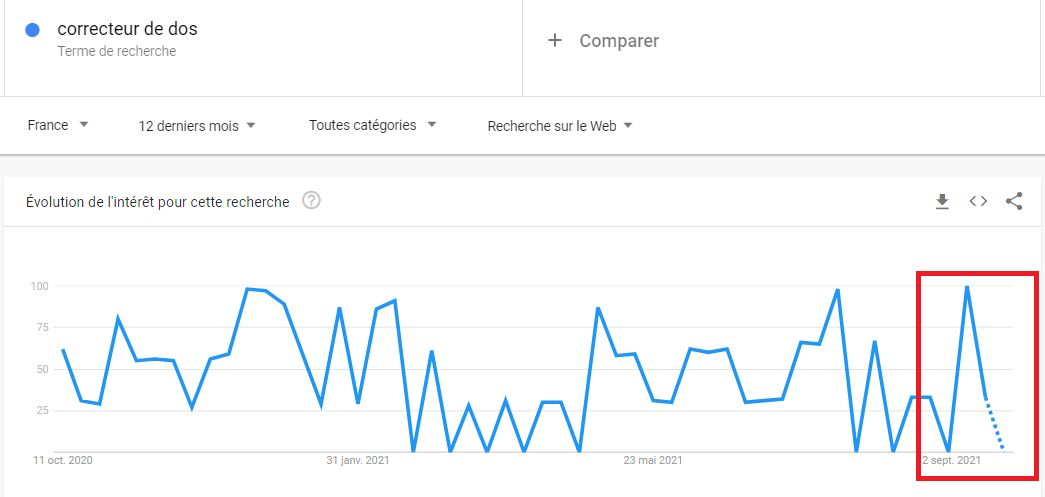 On this subject, Allison Schmidt, the marketing manager of "Get Online NOLA" said:
"Google Trends is not our first step in choosing a keyword, but it is very helpful in choosing the right keywords . Once you have an idea of your topic, this tool can help you find the right way to phrase it."
To find out if a keyword is trending, simply adjust the trending period. The graphs offer a better idea of how the trend is changing when you go back the last four years. With the example above, we have :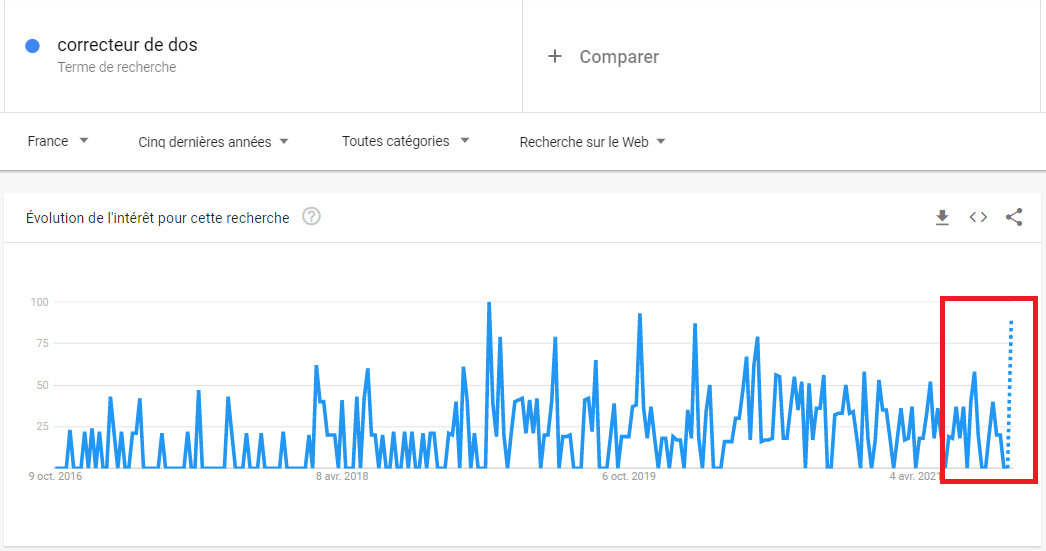 On this graph, we see that the keyword will be very popular while the first graph for the same keyword showed that its popularity is decreasing.
This process also helps marketers to recognize seasonal keywords. Indeed, some keywords become popular at certain times of the year.
Marketers can use this tool to plan their content calendars and know when to produce content that is likely to be highly searched.
2.2. Research related keywords
Related keyword research is one of the powerful features of Google's trending tool. The tool suggests related keywords that are also increasing in popularity.
Google Trends recommends keywords that it considers closely related to the search term and ranks them in order of percentage of popularity.
In order to try this great feature, we will proceed to search for the word "Pajamas". We will then scroll down to see the proposed queries associated with our search.

Google Trends offers us a series of related queries. This type of information can be valuable when creating content for marketing campaigns or on social media.
With the help of this function, you will be able to find the regional difference in the preference of the expressions by using the filter by country or by region. The phrases that people use to refer to an object can vary from region to region.
But thanks to semantic latent indexing, Google is able to identify the relationship between the words and the associated queries are nothing more than LSI keywords.
You can also compare the associated queries proposed by Google to determine what your target is looking for on the web.
2.3. avoid temporarily popular keywords
It can be difficult to know if a keyword is booming or just temporarily popular. Google Trends lets you know if a word is only hot today when you search over the past 12 months.
This process clearly shows when a keyword peaks. Words that become popular at certain special times like the holidays do not bring in new visitors throughout the year.
As an example, the phrase Casa de Papel gained popularity in September of this year when the series was released.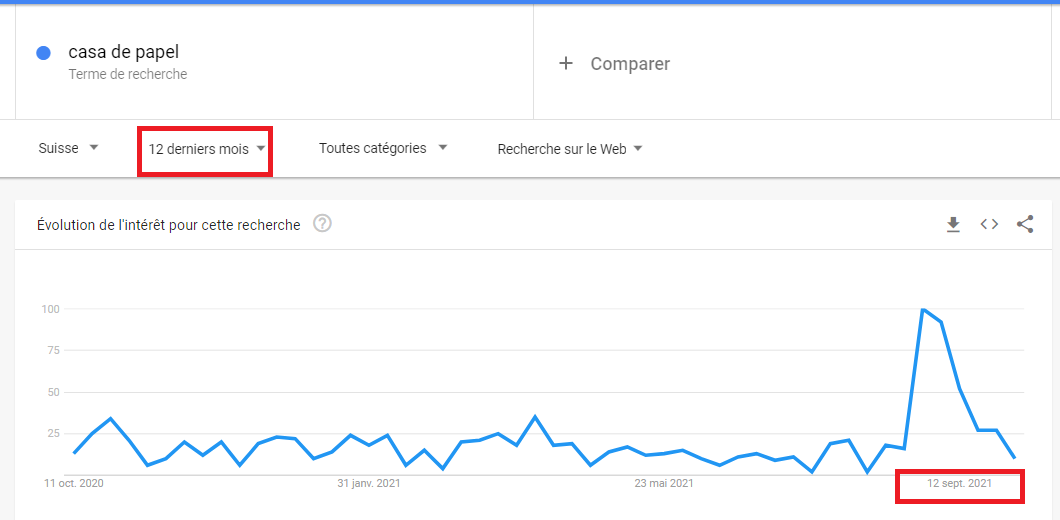 As the image above shows, the popularity of this expression dropped quite quickly and the curve is not about to go back up. These keywords that suddenly become popular should be avoided in favor of words that have good prospects in the future.
However, you can take advantage of certain periodic events by looking to find out what people are curious about.
2.4. Look for related blog and video topics
One of the hallmarks of a good content creator is the ability to anticipate future content. Google Trends makes it even easier and offers a small table with the top five searches after a keyword result.
This is a set of general terms that are very beneficial for SEO. Content creators can use this to populate their blogs and create videos on topics that people are searching for.
This feature offers two filters: trending and most frequent searches.

Rising searches show topics that are currently trending. Most frequent are topics that are getting a lot of monthly searches, even if they are not necessarily increasing.
2.5. Targeting the location for local SEO
Local SEO is the process of increasing the visibility of a business that serves a local community in search engines.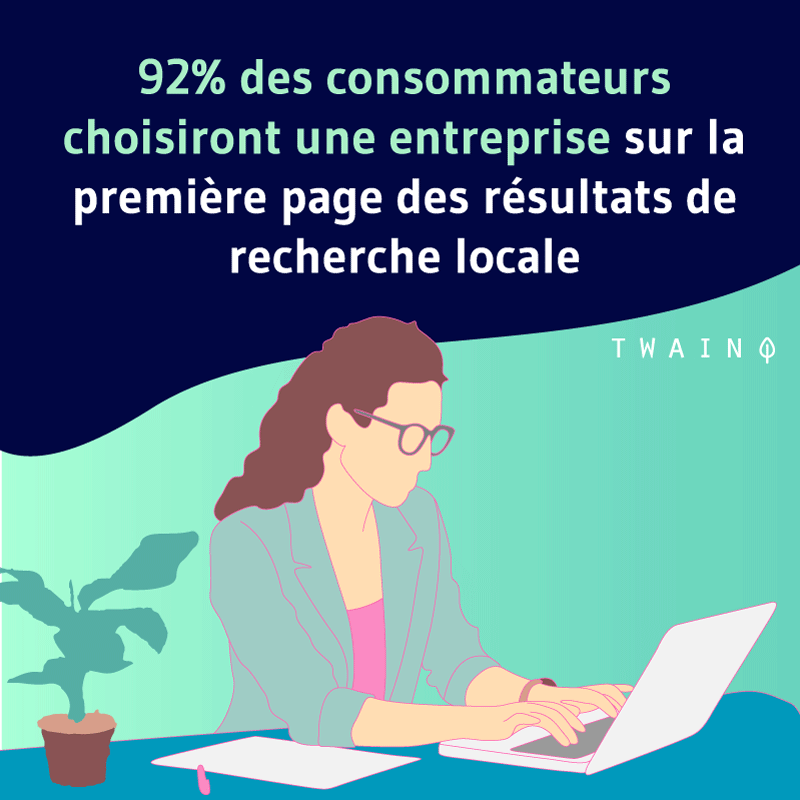 The Local SEO has several advantages that lead more and more companies to be interested in the positioning of their website.
In fact, more than 92 % of Internet users search for local businesses on search engines and 76 % of them visit businesses within 24 hours of their request.
That's why businesses must also consider location in their SEO strategy. Google Trends remains an indispensable tool for all businesses looking to monitor and analyze search activity in their area.
Location filtering not only allows you to find local keyword trends, but also to see exactly which regions and sub-regions need your products or services.
This will allow you to focus on the geographic areas where there is a growing demand for your products or services.
2.6. Use Google Trends to discover niches
When it comes to e-commerce, Google Trends can help you find trending products or booming niches.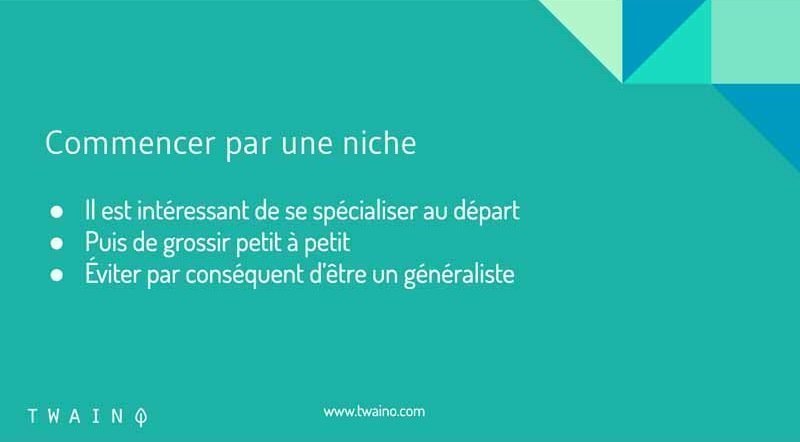 When you search over the last 12 months, you will clearly notice if the search volume in a niche is increasing or decreasing.
In addition, seasonal trends can help you determine the right times to launch certain types of products. You can also promote your store around seasonal events.
The category filter can also help find products that are as trending as your search term.
Chapter 3: How to optimize YouTube videos using Google Trends
Video creators can also leverage the potential of Google Trends to better rank their videos among the multiple videos posted on YouTube every day.
They can use the previous chapter as a guide to find relevant keywords or to create useful videos specifically for people in a particular region.
This chapter shows you how to use Google Trends to optimize YouTube videos.
3.1) How does the YouTube algorithm work?
YouTube's algorithm is the recommendation system that suggests which videos users of the platform should watch. In 2018, YouTube's recommended videos represent 70 % of the platform's viewing time.
According to YouTube most channels' traffic comes from the homepage and videos. Given these statistics, video creators need to master how YouTube's algorithm works.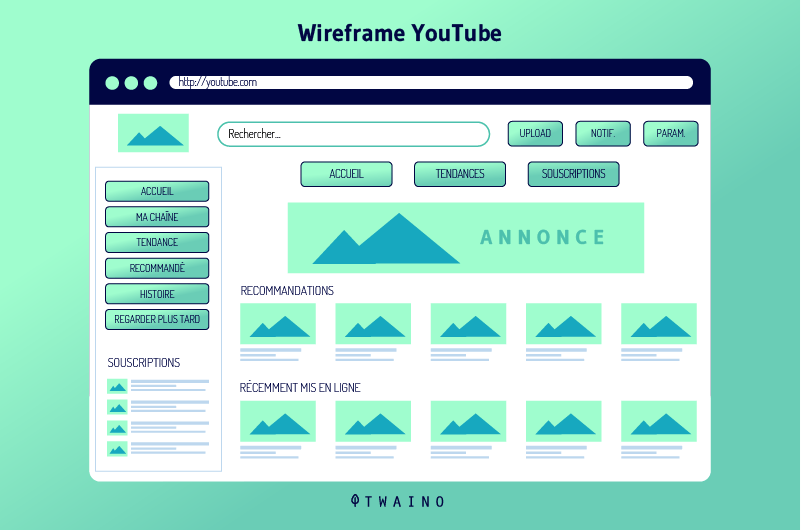 The algorithm seeks to provide each user with the right video to encourage them to continue watching. It is generally based on individual video performance including:
Click-through rates;

Average viewing time;

The number of likes;

Popularity;

The novelty of a video;

Frequency of publication;
3.2. how to improve your video content strategy with Google Trends?
3.2.1. Use the category filter of Google Trends
The use of the "category" function of Google Trends will allow you to identify specifically the topics that your channel covers. It is possible to find in Google trends proposals, topics that are not intrinsically linked to your domain.

This is due to the fact that these topics overlap at the moment and people are interested in these topics in addition to your search topic.
By clicking on the related topics, you will find information that can help you establish the link between them. By determining the connection between these topics, you can use them to create content for your channel.
3.2.2. Consider the different types of research
While trending search on Google's search engine is useful for generating content ideas, you can also leverage the "search type" filter to find trending content on YouTube.

Searching for "cooking recipe" revealed that the queries "oil-free fryer" and "chicken breast" are also popular on YouTube.
Having an even clearer picture of what is popularly searched for on YouTube allows you to prioritize your content creation.
3.2.3. Analyze seasonal trends
Just like e-commerce, seasonal trends are just as important when you check Google Trends for video creation ideas.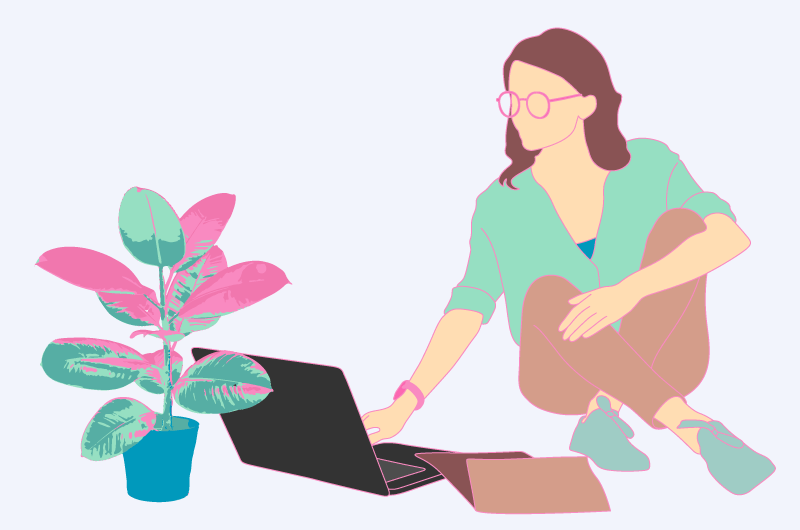 Some topics are only in vogue seasonally, and you can plan your video creation and prioritize around the seasons.
Since YouTube's algorithm prioritizes new videos and trends, you'll be able to take advantage of a topic that becomes popular because of a particular situation.
Conclusion
To sum up, Google Trends is a great tool to stay informed about any topic. It really helps in SEO to a greater extent and helps in improving one's content creation strategy.
This tool helps content creators to find trending topics to expand their catalog. This helps to increase traffic to their blogs or even YouTube channels by updating popular articles just in time for the peak seasons.
The many features of Google Trends are also valuable resources for local SEO and merchants who want to sell their products online.
In addition to the uses of Google Trends discussed in this article, let us know in the comments what you use this incredible tool for.