Google Possum is the name given to one of the recent updates to the Google search algorithm. It was launched in September 2016 and mainly affects local search results. Its particularity is that it acts on local search by deciding when a business can appear in the local pack or not. More concretely, this update diversifies the results that are displayed after a search while preventing spam from being displayed. It also prevents the display of similar results
Nowadays, Google monopolizes the online search market with a share of over 90%
This has only been possible thanks to various updates to the search algorithm, which now better understands the user's searches and provides useful and relevant information
One of these updates concerns local search. It was launched in September 2016 and is called Google Possum.
What is it about?
What is its impact for search?
How do you optimize sites to meet these requirements?
These are all questions I will address in this new article
So follow along!
Chapter 1: What is Google Possum?
In this part, I explain what is the Possum update through
Its definition ;
The choice of the name ;
The parameters it affects;
The advantages it brings.
1.1. Definition of Google Possum
As I just mentioned, Google Possum is the name of an update to the Google search algorithm. It was launched in September 2016 and acts mainly on local search
That is, any search made with the aim of finding information, a product or a service in a geographical space close to the location of the Internet user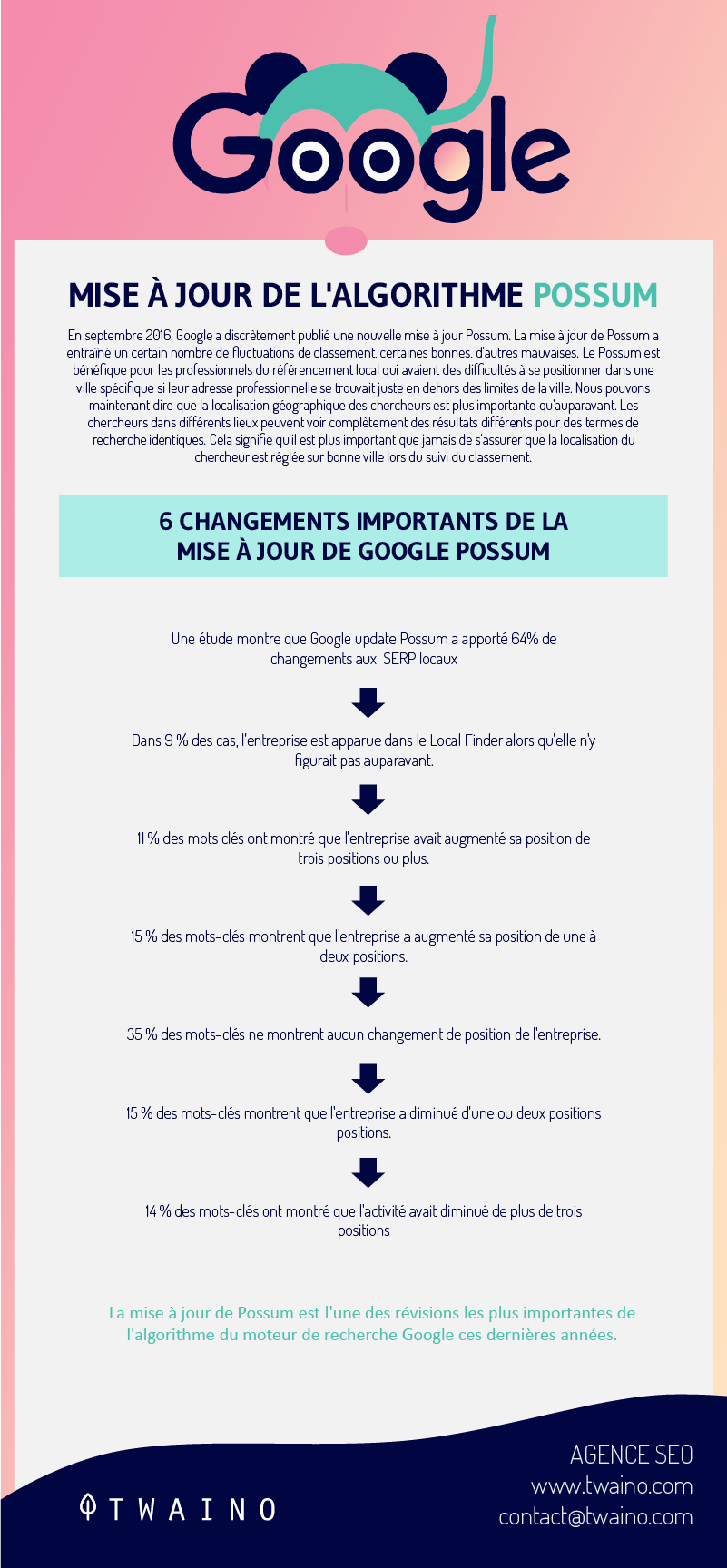 This update only affects local search. It filters the local search results and determines what will appear in the 3-pack list
The first ideas about implementing such an algorithm started as early as 2013. During that year, Google had even filed a patent for reverse-engineering spam detection algorithms
More clearly, it is a system that assigns spam scores to business listings to flag or filter out spammy or non-existent businesses that try to rank in the results of local business listings.
The desired goals of this system were:
Elimination of spam or fake business listings;
Eliminate duplicate listings;
Display more specific results based on the user's location;
Improving the overall user experience.
Therefore, Google Possum decides when businesses will appear in local search results. It also removes certain businesses from local search results. This means that some local businesses may not always appear for the same query.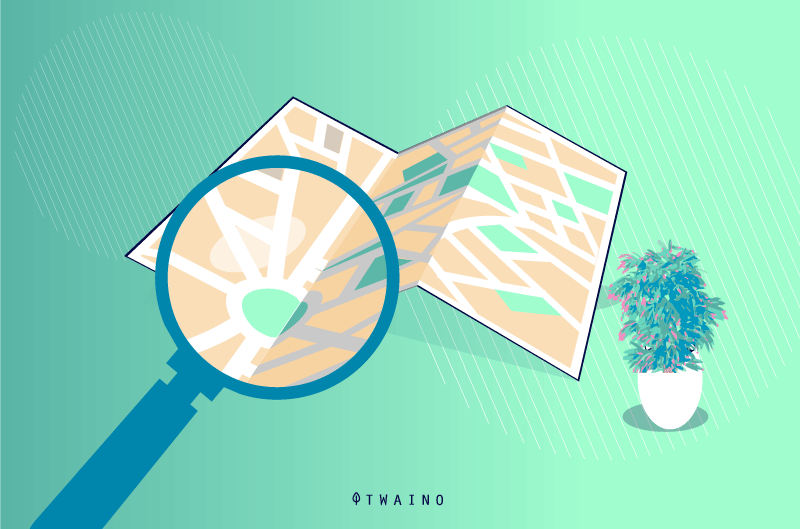 Many webmasters rightly believe that Possum's goal is to vary local search results while preventing spam
Now that you know what Google Possum is, one can legitimately question the purpose of the name Possum.
1.2. Why Google Possum?
As you may have noticed, Google has taken the habit of naming its algorithms with animal names.
As an example, we can mention
Google Panda;
Google Hummingbird;
Google Penguin;
Google Pigeon ;
Etc.
The choice of the word Possum is therefore essentially in line with this logic
In fact, no official name had been given to the new algorithm, it was the SEO community that took the initiative of the name "Possum".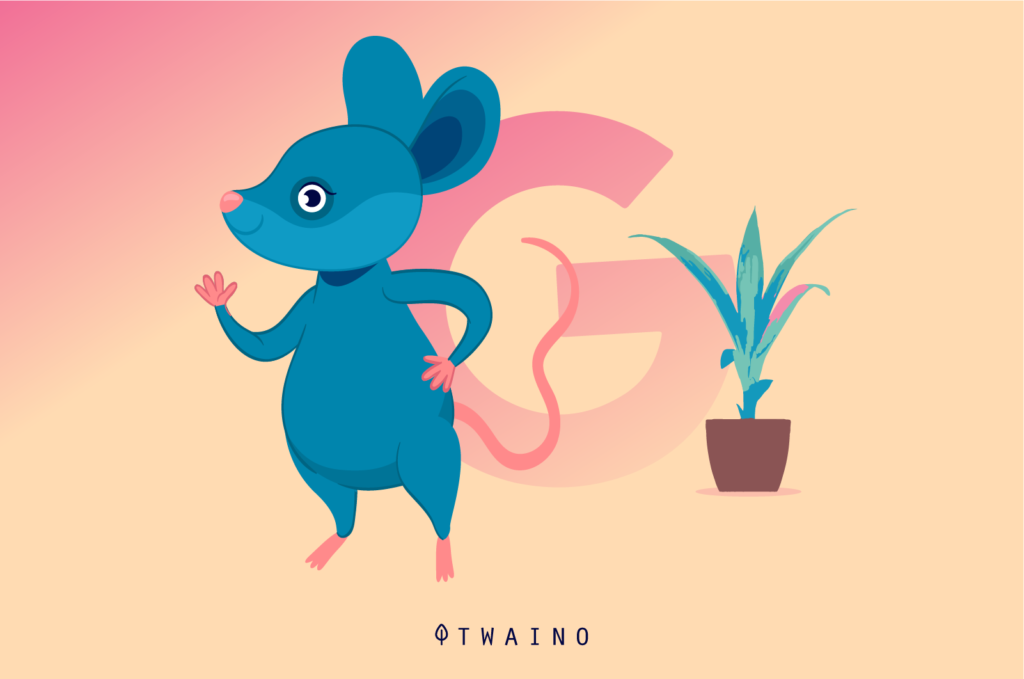 This marsupial moniker made sense, as many businesses thought their Google My Business accounts had been deleted overnight when in fact their profiles were simply not ranking as well and therefore no longer appearing in search results
"they posed as dead when in fact they were simply hiding because of their downgrading"
In any case, let's remember that the Possum update has effects on both the local parameters of the website and the display of search results
Chapter 2: What are the impacts of the Google Possum update?
The Possum update can affect
Businesses located outside city limits;
Businesses located at the same address as a similar business;
Businesses owned by the same parent company.
As you know, with every Google update, there are winners and losers
The latter, for one reason or another, often find that their site has regressed in the search results rankings or no longer appears
The Possum update, as you have just seen, acts mainly on sites that share the same local addresses or that present other links that could lead to confusion
This can be seen, for example, when two independent companies in the same sector work in the same building.
In fact, this could lead the search engine to display the same business several times in the local search results
It is actually the risk that such a classification does not bring anything interesting to the Internet user that led the search engine to set up a filter to avoid letting results that could be similar pass by
In addition, MyBusiness entries in the same sector category with the same address are recognized by Google as belonging to the same set. Therefore, only one entry is displayed.
In this section, I will explain how this update affects some local SEO parameters and local search results
2.1. The effects of Google Possum on some local SEO parameters
With this update of the Google search algorithm, experts have noticed changes in the following elements
2.1.1. User location
After the Google Possum update, local search results have been influenced more than ever by the location of the user who entered the query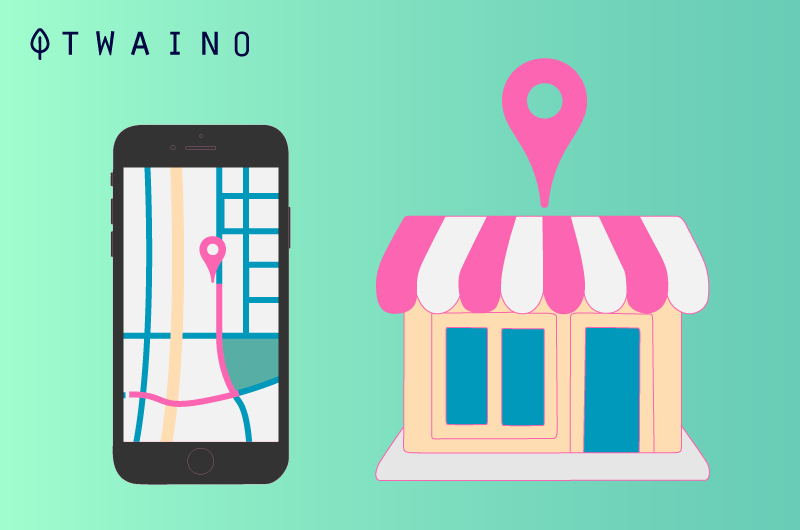 thanks to this, the results are no longer displayed in the same way. They vary depending on the location. So for the same request made from two different locations, the results are no longer the same
2.1.2. City limits
With the new Google Possum update, Google has relaxed the consideration of city limits and takes more into account the actual proximity to the user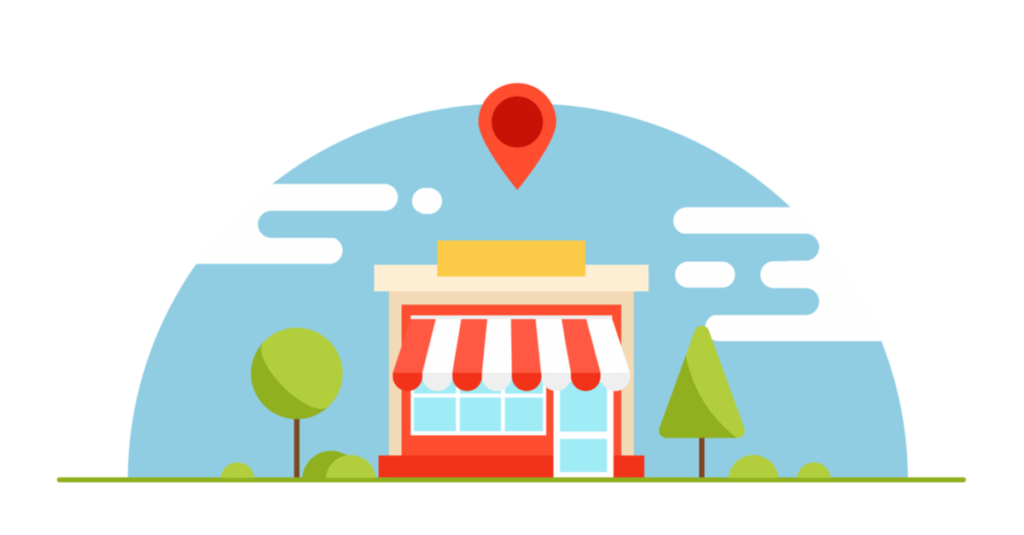 Source: net offensive
Previously, city limits were more rigid towards businesses that are outside of a city's borders and were not considered because of their zip code or phone code
These limitations can be problematic for businesses located outside the boundaries of a city where the user is searching
With Possum, improvements have been made so that these limitations are no longer an impediment to the display of sites in local search results
2.1.3. The postal address
Prior to the Possum update, Google delivered only one result per address
As you can imagine, this results in only one supplier being displayed for a given type of product or service even if several suppliers share the same address. The other suppliers cannot be seen anymore. This prevents Internet users from discovering other offers. They are thus limited in their choice and do not have the possibility to compare several offers to choose the one that really suits them
But after the update, competitors or partners with the same address now appear equally in the search results.
Let's not forget that in this perspective the Google My Business entries are decisive.
In fact, Google uses addresses to prevent businesses from having multiple entries in the SERPs.
Phone number and domain name were mainly used and businesses with the same domain name had little chance of ranking
But with the advent of the Possum update, Google is increasingly using location address
2.1.4. Keywords
Before the Possum update, similar keywords were more likely to show up in the same search results as the main keywords

Also, making a few small changes to the keyword was enough to trick the search engine into showing your site for other search results. Today, with the Possum update, the exact keywords and the associated search volume are becoming more and more important.
Keyword variants are becoming more and more important and can now return different search results than those displayed for the main keyword
2.1.5. The local and organic filter
Google has made local search more independent from organic search
In a local search based on location, Google attaches more importance to local results than to global results. Also, Google's bots treat location and address with priority.
The location of the search query matters in the display of search results
Because with Possum, search results are massively determined by the searcher's location, so the same user gets different results if he or she changes location
Apart from these findings, it should be noted that the Google Possum algorithm also has an impact on local search results
2.2. The impact of Possum on local search results
With the Possum update, we can see that :
2.2.1. Results are filtered by affiliation
Before Possum, it was normal for several businesses sharing affiliations (same Google category and located in the same building) to appear in the same local pack/local finder result

Source: Moz
Local pack results are the set of (usually three) local business listings that appear in conjunction with Google's organic results when a query has local intent.
The local search results are the expected results obtained by clicking on the "more places" link at the bottom of the local packs.
As an example, multiple attorneys specializing in the same subject matter could all appear in the same local search results for the same query
But with the Possum update, Google is preventing many of these affiliated listings from appearing. It actually shows only one, or even two, of the lawyers specializing in the same subject matter, not all six.
This loss of local rankings at the pack/finder level can lead other owners to think that their Google My Business listing is no longer useful. It is worth mentioning in this regard that generally a zoom on the map makes the listing appear in the search results
An example of this filtering phenomenon can be found in the Moz Q&A forum thread
A fishing charter company sharing a dock with several other companies represented by the Google category "fishing charter" suddenly disappeared from the local results
Only by zooming in on the map or choosing user filters like "Top Rated" will the business reappear at its former top-ranked location in the local finder
2.2.2. Businesses Beyond City Borders Move Up the Rankings
Joy Hawkins, a local SEO practitioner, has documented the phenomenon of increasing local rankings for businesses that have a mailing address in a given city, but are physically located beyond that city's borders
You can see how Google delineates the boundaries of a city by searching for the city in Google Maps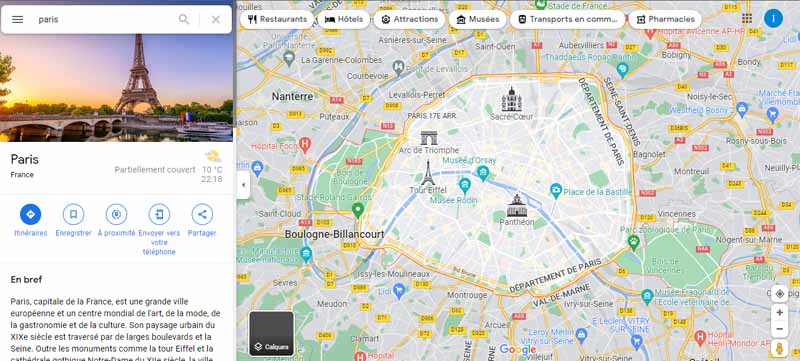 This is notable, as it has long been observed in the local SEO industry that businesses beyond city borders are unlikely to get local rankings for queries originating in those cities or containing those city names.
2.2.3. Other effects of Google Possum
Apart from the effects I just outlined about the algorithm on the display of results and web SEO, several others have been mentioned by webmasters.
These concern
The increase in sensitivity of searcher proximity;
The distance between the physical location of a human searcher and the businesses that Google displays in its local pack results.
Also, some believe that Google's local filter works more independently of organic filters in that businesses get high rankings for listings pointing to website pages that have low organic rankings
It is fair to say that today there is a gap or even a separation between the algorithms of the local pack and those of Google's organic results
This is certainly the reason why we notice that some companies are well ranked in local search despite low rankings in organic search.
Now that you have an idea about most of the impacts of the Possum update, let's now see how to know if your site is affected by such an update and how to get out of it
Chapter 3: How to know if a site is penalized by Possum and what to do about it
In this last chapter, I will explain how to know if your website has been affected by the Possum algorithm and the recovery solutions
3.1) How do you know if you have been affected by Possum?
Any of the following scenarios may tell you that your website is affected by the Possum update
Your Google My Business listing that enjoyed high local rankings in packs/searchers disappeared on September 1, 2016
Your business shares a category with another business in the same building (even if you have a different suite number or other address element), search on your typical keyword phrase and then zoom in on the cards next to the local search tool to find out if your listing reappears
If your answer is "yes" to all of these criteria, chances are you'll be hit with the effects of the Possum filter.
But apart from these solutions which are more of a deduction, you can use two SEO tools namely
3.1.1. Panguin Tool
Panguin Tool is a barracuda tool. It can help you check if your website has been affected by Google search algorithm updates. In order to use it, you must first log in from your Gmail account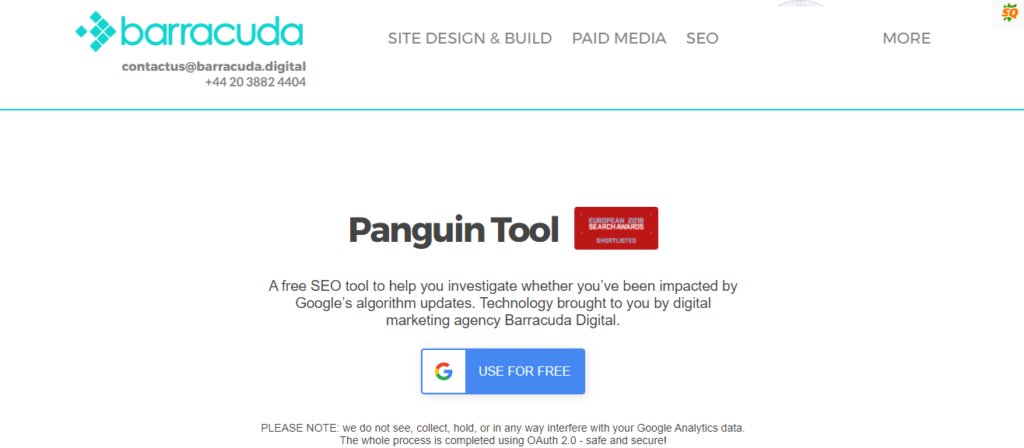 Once you are logged in, you can enter your website's URL in the space provided and run the search.
You will then have an overview of how the traffic on your site is evolving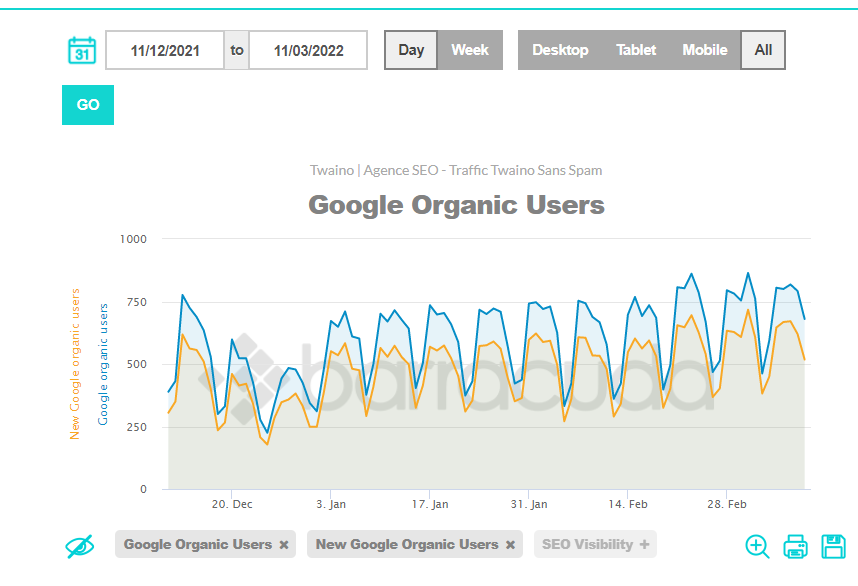 The analysis of the graph will allow you to know if your site has been penalized
3.1.2. Fruiton Penalty Checker
The fruiton Google penalty checker is a tool essentially dedicated to the search for Google penalties. It offers both paid and free plans. As such, you have the option to start for free without a credit card
To do this, you must first register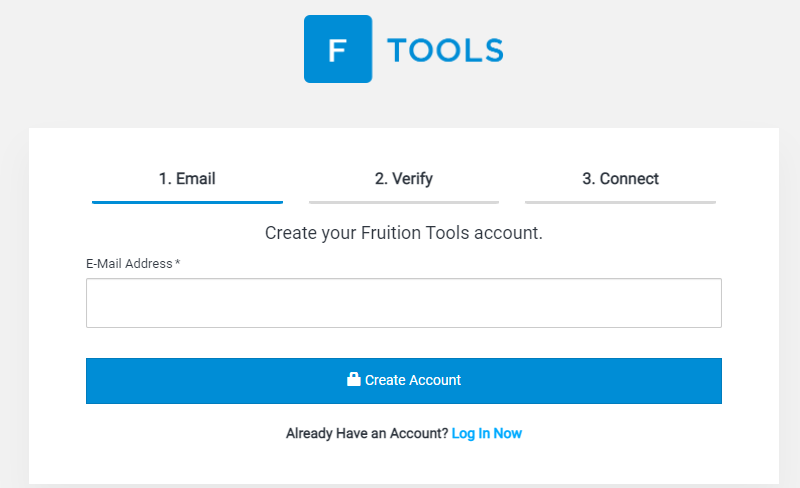 Once you have registered, you will be able to analyze your site's data to find potential penalties
3.2. how to optimize your site for the Possum update?
When your site loses visibility due to a Google update, the correction is not always easy. Therefore, it is important to know the best tips to keep your site from Google penalties
To prevent your site from being affected by the Google Possum update, here are some practices you can implement
3.2.1. Improve your local SEO
When you optimize your website for ranking in Google search results especially the local pack, you need to do a good local SEO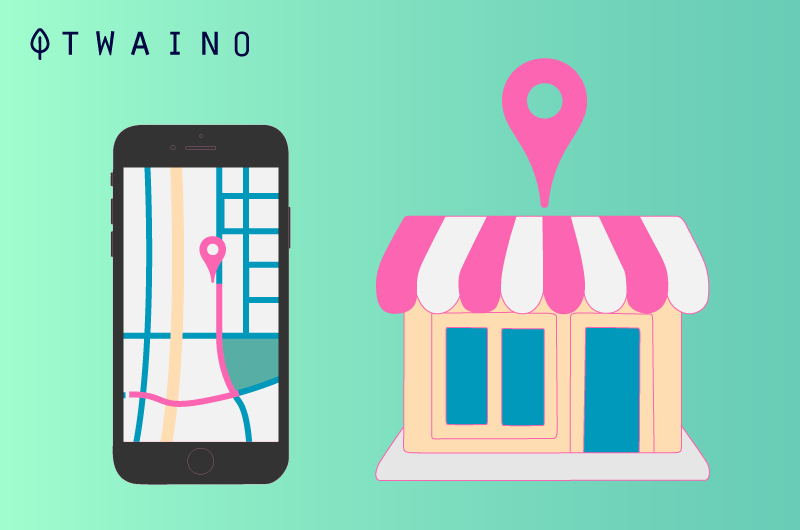 This work must take into account the optimization of various elements namely:
Your links
The content;
The distribution of citations ;
The opinions of your users;
Etc
Improving these different elements could help crawlers "convince" Google that your business is the best option for the user. Consultthe complete guide to referencing your business for more information.
3.2.2. Modify your Google My business settings
Since having multiple businesses in the same category is also likely to trigger the Google Possum algorithm, you can prevent the adverse effects of this algorithm by changing some settings in your Google My business account. These are mostly category settings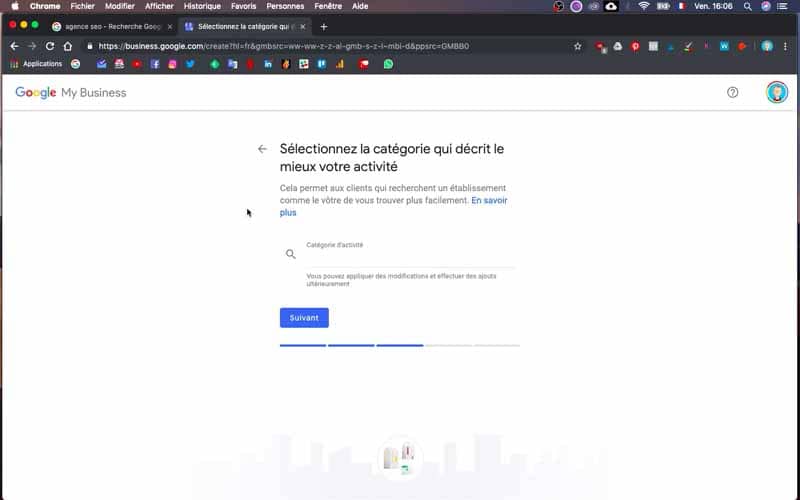 For example, choose a more specific category or, if possible, one that is completely different from the one in which you notice your proximity to another business
If you choose such a method as a solution, you will have to be careful not to apply the changes casually, because a wrong manipulation may damage your website
Indeed, you should be aware that changing categories can cause massive fluctuations in rankings and traffic and should only be undertaken with a clear understanding of the potential negative impacts and Google's category guidelines. To learn more about how to choose categories for your business on google my business, see the article how to create and set up google my business.
3.2.3. Vary the keywords you use
When you want to prevent your site from the Google Possum algorithm, even the keywords you use and how you use them matters.
Different iterations of keywords and keyword phrases will lead to different results, even if you are communicating the same idea.
So you need to organize your local SEO strategy around a good keyword research method. The objective is to avoid that each keyword returns different results
In summary
In order to offer better content to Internet users and to reward sites that respect most of its advice, Google regularly modifies and updates its search algorithms
This is where the Possum update comes in, which aims to help the search engine reduce spam in local search results
In this article, I explained what the Possum algorithm is and proposed solutions to optimize your site for such an update.
I hope it will help you better optimize your website to perform better in local search results
See you soon!