Google news, also called Google news, is an information platform offered by the web giant to allow individuals to benefit from verified information in real time and publishers to serve good information to the whole world.
A survey shows that 60% of people trust the information they read on Google News more than elsewhere.
This is the main reason why millions of people visit the platform daily in search of a wide range of factual information.
For publishers, it is a great opportunity to showcase their news expertise to the world in order to increase traffic to their websites.
On the other hand, Google News is the best place to find relevant and verified information for users, regardless of their location.
On both sides, Google News plays a vital role in the distribution and consumption of information on the Internet.
If you want to know more, I invite you to continue reading this article.
Chapter 1: What is Google News and how does it work?
Let's review in this chapter the main points about Google News.
1. What is Google News?
Founded in 2002 by Krishna Bharat, Google News is a platform initially designed to bring accurate information to people about the World Trade Center attacks of September 11, 2001.
The basic principle is to allow the reader, with extreme ease, to have access to various local and global information.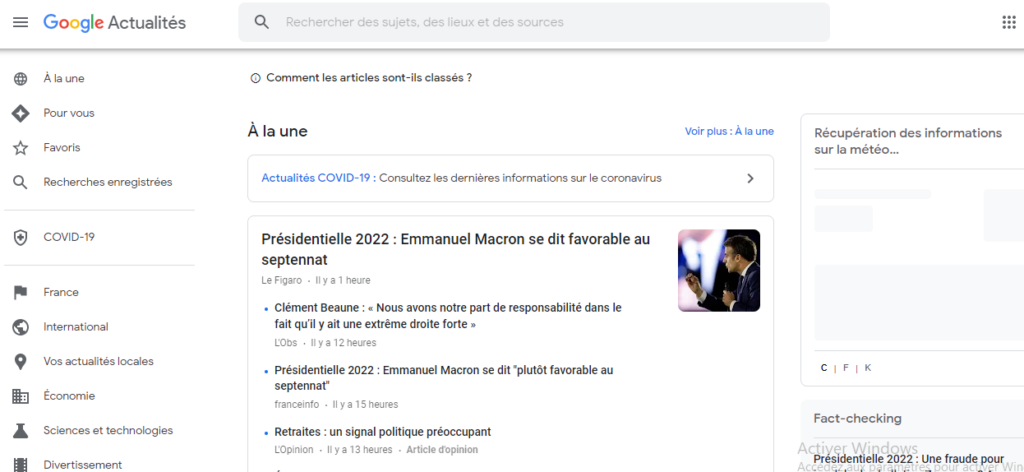 More and more powerful nowadays, Google New is presented as a news aggregator providing information in a direct, fast and global way.
The definition of Google News can be based on these three adjectives that qualify this aggregator in its main characteristics
The information is direct, because it arrives from the editors to the readers without them having done any search within the engines
Rather than a physical team of editors, Google relies on an algorithm whose methodology is a well-kept secret.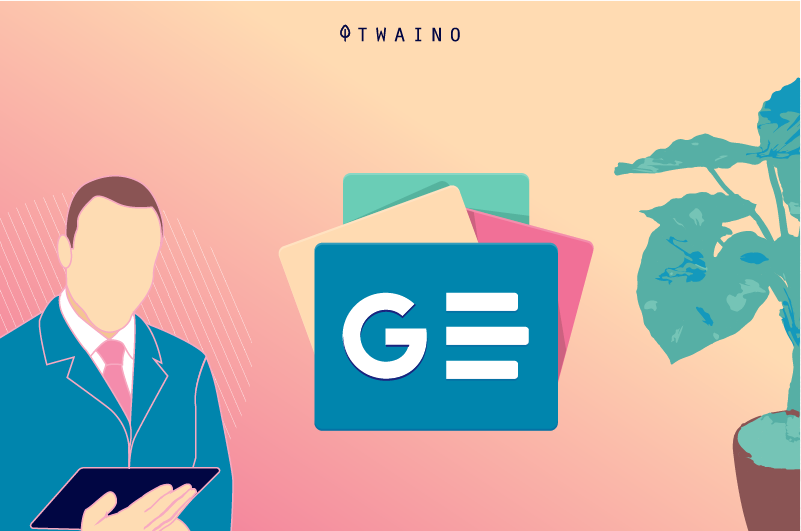 The algorithm selects textual content, images and videos to be displayed in an order based on language and geographic area.
In addition, the algorithm automatically examines the content, looks for quality indicators and evaluates the placement of a news item based on:
The number of user clicks it attracts
Popular consensus on the reliability of its publisher
The relevance of the story to the reader's current geographic location
And the freshness of the story in question.
The recurrence of specific keywords in publications and the level of public interest indicated by user searches guide the algorithm in creating and organizing specific topics into clusters.
1.2 How does Google News work?
Google News selects and categorizes news items into the following categories:
Headlines;
For You;
France;
Business;
Science and Technology;
Health; Sport
Sports ;
Etc.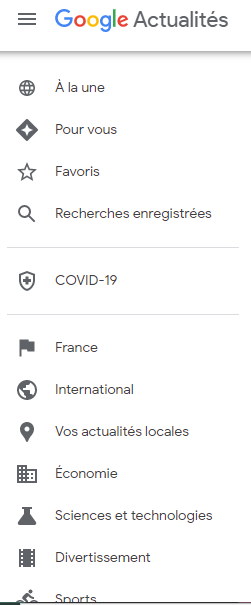 The sections defined by default are not completely immovable, as they can be easily customized by users.
Google News gives you the ability to follow local news categorized by geolocation, a pretty accurate feature of the platform.
You also have a section that specifically lists the latest searches you've done.
In fact, Google News users have a drop-down menu to manage all the available sections.
Users can also choose news articles that refer to different languages and countries
You can also bookmark your favorite sources to receive specific news of a certain type. In addition, users can block sources that they do not find useful enough.
Searches on Google News can be done in a variety of ways
You can search by category, geography, date, website, by simply typing in a specific keyword or by searching specific sources.
The Google Alert service is another very interesting feature of the platform, to keep up to date with the topics of interest that concern a specific area
All you have to do is set the alarm by entering a word on which you want to be updated, then by email you will receive reports of all the articles regarding the topic of your interest.
1.3. What are the ranking factors of Google News?
To display pages, whether on its homepage or in search results, the Google News algorithm takes into account several factors, some of which are standard and others quite specific.
Here is a list of them
1.3.1. The number of articles produced
The number of articles produced by a publisher in a given period of time has a strong impact on the ranking of content in Google News.
Evidence shows us that the more articles produced, the more average traffic each article receives from Google News
Publishers really need to find the right balance between producing high-quality news articles and the volume of content published.
1.3.2. Average article length
The length of articles varies a lot. We recommend an average length of 350 to 700 words.
If the article is too long, you may get a crawl error that will impact the article indexed in Google News.
But in all cases, the importance of news source coverage is the amount of content created by the publisher on a particular topic compared to the total amount of content produced for that topic
Generally speaking, the more resource allocated to informing the public about a given event, the better the reward.
1.3.3. Breaking News Score
This factor measures the ability of the news source to publish an article shortly after an event has occurred
It is also one of the most important factors for ranking on Google News
Thus, editorial structures that do less research have little chance of appearing regularly on Google News.
There are many creative techniques to improve this score, such as automation, a method that is increasingly used today
Some of the larger publishers use bots to quickly provide information on business or sports news
1.3.4. Engagement or CTR models
Click-through rate and bounce rate are two different indicators that allow Google to assign a quality score
In order to give a good impression to Google, you need to minimize the bounce rate as much as possible and increase the click rates.
For this, a catchy title and a captivating summary can be a good option.
Brand strength also plays an important role in engaging readers with your content. For example, well-known sites, such as the BBC, tend to be preferred over less popular sites.
1.3.5. The Google News sitemap
While having a separate Google News sitemap is obviously not a ranking factor, it will make it easier for the Google News bot to index pages.
A separate sitemap is recommended and should include up to 1,000 URLs for articles published in the previous two days. In addition, it should be updated as soon as new articles are published.
But, if you plan to create a number of URLs over 1000, it is necessary to opt for a sitemap index file to manage them all at once.
The standard XML sitemap is a driving path for a Google News sitemap, except that here, a few specific elements are included.
Each included article URL has three required tags
Once the sitemap is created, it must be validated using an XML sitemap validator and submitted to Google Search Console.
The most common errors in sitemaps are related to incompatibilities between the URL included in the sitemap and the URL seen by Google News.
1.3.6. Site architecture
Making a website easy for Google to crawl and index should be the focus of any site architecture. This requires a clean and easy-to-understand architecture for categorizing articles
Whether it's categories, sections or any other custom taxonomy, the goal should be to make it easy for users and Google to navigate the site.
It is ideal to keep the structure of the site as uncomplicated as possible, as this avoids too many clicks to get from the home page to any other page on the site.
1.3.7 Author information
Google News requires that every article have a byline attributing authorship to a human being, not a company name.
Otherwise, organizations should provide author information.
This means that each article should contain the authors' full name, photo and a short biography about them
Another option would be to link the author page from the signature. This author page should include this information, as well as contact information in more detail.
This information serves two purposes
First, it shows accountability and transparency, it answers the question of who is responsible for this content
Second, it demonstrates the expertise or authority of the authors.
1.3.8. Fresh or topical content
Obviously, sites seeking Google News approval must offer timely and accurate information on important, relevant and interesting topics
You can ensure that your article appears as a news story by writing it in a PR press release format
Avoid posting job offers, how-to articles, advice columns, event announcements, etc., if you want to appear on Google News
Most importantly here, the content should be up-to-date so as to provide information first about an event or issue.
1.3.9. Journalistic standards
Google News approval requires that sites maintain quality journalistic values, such as honest attribution and original reporting
If you want to add syndicated content or original content, mark it with the syndicated source or original source meta tag
If you're going to publish aggregated content, make sure it doesn't get mixed in with your original work. You can separate the two or use your robots.txt file to restrict Google's access to aggregated articles.
1.3.10. Source authority
It's important to present clear expertise for Google News approval
Regardless of the category of content you publish, being an authority in the field will always help your site's ranking and reputation
Therefore, it's a good idea to write what you know best.
Chapter 2: Why is it important to appear in Google News?
For publishers and bloggers, getting their content to appear in Google News should be a challenge, as it has several benefits, some of which are
2.1. Brand focus
As you publish more articles, it increases the chances that users will see and discover the brand multiple times
If the content and UX are great on every visit, it will build brand loyalty and drive conversions.
For example,
Subscribe to the email newsletter;
Or sign up for a Pro account.
Exposure of your brand through Google News is free and has a multiplying effect when you regularly publish good content.
Moreover, having a position on Google News offers you a great chance in terms of logo potential with significant influence on your audience, especially if you are looking to increase the attention paid to your brand.
The simple reason is that Google, being the most used search engine in the world, has adopted changes in the page ranking model with the sole purpose of providing its customers with enjoyable content.
So, when your content is regularly displayed in the news, it means to users that you have authority to the point where Google associates with your brand.
2.2. Strong backlinks
Appearing on Google News implies that you are a legitimate news source
This is because all news sources have been verified by Google News manually or algorithmically
Because of this implicit trust, news publishers, bloggers and other types of contributors are more likely to link to your articles.
In addition, many new websites are constantly searching for highly ranked content in Google News to see what topics are trending.
This is also a great chance to get credit for the links they will create to you to illustrate their ideas or statistics.
This will later help you get a wider target market and rank high in Google's organic SERPs.
If you write a trending news story on the web, you can easily create dozens of connections just from that one post.
2.3. article indexing
Fast article indexing is a significant advantage of indexing your website over Google news
When you produce an article for your website, Google indexes it almost immediately, with a maximum of 10 minutes after you write it.
Not only that, but the article you just scraped will also be indexed in the top Google search results for the same example
Let's say you are the first website to heavily publish the latest trending news, you will be listed in Google News and its core index on the first position available to everyone.
2.4. Instant global traffic
Appearing in Google News means you are instantly exposed to a global audience
As a result, you are more likely to acquire consistent daily traffic from all countries around the world.
Ordinarily, organic traffic from Google does not have the same impact as traffic in Google News
Without being listed in Google News, a site's content will generate traffic from other countries, but not much, unless it is targeted to specific countries
However, Google News acts as a global platform for your content that would otherwise not be exposed to a global audience without the internationalization efforts.
2.5. Authority status
If you have a website listed in Google News, your logo will be considered the authority page for your primary target topic
Thus, a large and growing number of people will link to your website, which is valid for bookmarking.
As a result, other search engines such as Bing and Yahoo will add benefits to your website creating a win-win strategy for Google and your brand.
2.6. Increased Authenticity
Google's listing not only helps you increase site visitors, but also validates you as an authentic brand that can be easily relied upon in the target market
With the Google name, people automatically associate great authenticity and trust with the logo.
This gives you a major advantage over your competitor when your customers feel that you have a genuine logo with super distinctive features that are in line with the target market requirements.
2.7. Increased organic traffic
Google News sends over 10 billion clicks to publishers. Therefore, being featured there will bring you a ton of traffic.
This is a no-brainer because for news topics, Google displays news articles at the top of search results.
This means that the likelihood of someone clicking on your website, as opposed to the millions of others they might choose, increases exponentially.
Once you are featured on Google News, you will likely see an improvement in both your domain authority and the number of backlinks generated from your content.
2.8. Visibility in Google Discover
Without a doubt, there is a strong correlation between Google News and Discover
However, many publishers have found that articles that have worked well for them in Google News are in most cases, closely related to Google Discover traffic in Google Search Console.
2.9. Less SEO effort
The advantage of being indexed in Google is that you don't have to put much effort into your SEO-based ranking
Because your content structure is so powerful, Google consistently gives you the highest rankings based on the performance of your content.
Your specific content is your advantage with Google News.
2.10. Google News helps publishers
In 2018, Google launched a $300 million initiative to elevate and strengthen quality journalism and combat fake news and misinformation on the web
The Google News Initiative is a 3-year project based on improving and adding features like:
Those that help publishers build a stronger future for news
Those that help publishers generate subscriptions and increase revenue;
And so on.
Chapter 3: How to use Google News
Using Google News is pretty easy and interesting when you understand each of its features.
In this chapter, we will develop the different tactics of use for individuals, and then for publishers.
3.1) How can users use Google News?
If you are an individual user of Google News, here are some ways to make better use of the platform:
3.1.1. Use the search bar
Using Google News becomes even more interesting when you let it know what you want.
To do this, you'll need to familiarize yourself with the search bar. You can find it in the top corner at the top of the web page
The search field is the key to unlocking the full potential of Google News.
If you are looking for a specific source Twaino, you can type that query into the search field and press the "follow" button when you are on a phone, type "enter" when you are on a computer.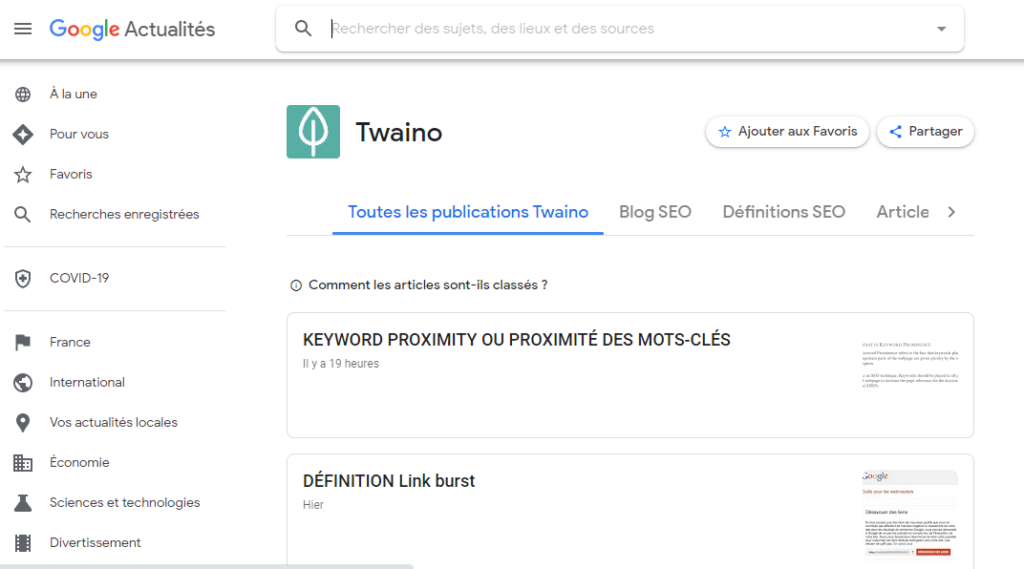 As you can see, the specific source appeared with a timeline of the last published content
In fact, this is the freshness factor of Google News, it tries to display up-to-date information to users
Also, if you want to search for a topic rather than a source, such as Google or iPhone, you can also choose to save them for future reference
Just like with sources, you can follow as many topics as you want, and Google News will aggregate all the news about that topic that it can find.
Also, when you click Show More Coverage at the bottom of a topic, the algorithm will only show you similar topics. So you start by letting it know your news preferences.
3.1.2. Save and Share
The share and save option allows you to share the content you find interesting with your friends and family and save it for later reading.
Next to each news item, you will see an overflow menu on the far right that contains links for sharing and saving when you are on a phone.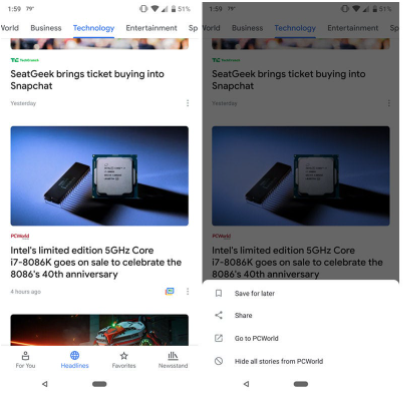 But on a computer, you can copy the link or simply send it via Google+, Facebook or Twitter
If you just want to save the post, you can press the bookmark icon and it will be added to your list of articles on your Favorites page
Since Google News is always chronological and there is no marker to identify a previously read or unread article, it can be difficult to keep track of every article you want to read. Saving for later is a great way to remember.
3.1.3. Show Google News your preferences
Google Reader was great for organization, but it wasn't very effective for discovering new sources of information
Think of the "For You" section in the right sidebar as a station where Google News shows you articles related to things you like, and the more you use it, the more it automatically personalizes.
For example, lately I've been doing enough research on "real estate trends. And when I go to the "For You" section of Google News, the first news topic is about real estate.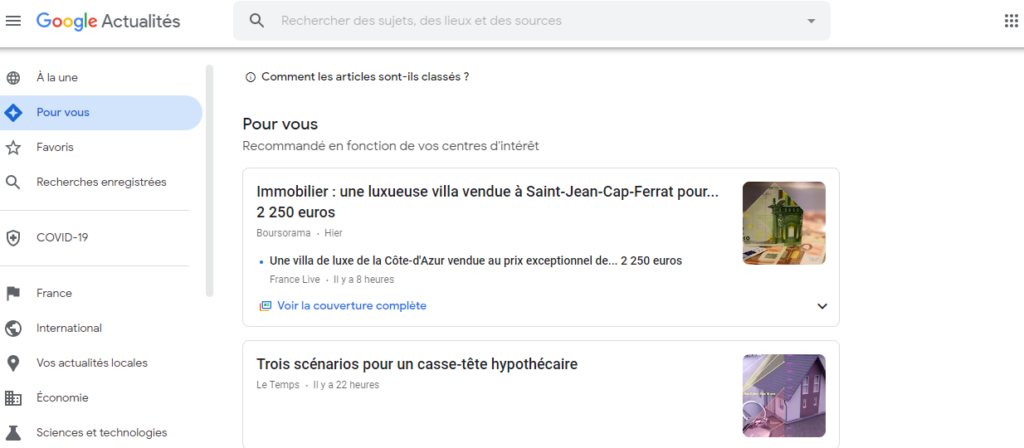 This is where you can nudge Google News to better capture your topics of interest.
In the overflow menu that appears when you hover over each piece of content, you'll see options for "More articles like this one" and "Fewer articles like this one," as well as "Hide articles" from the source they came from.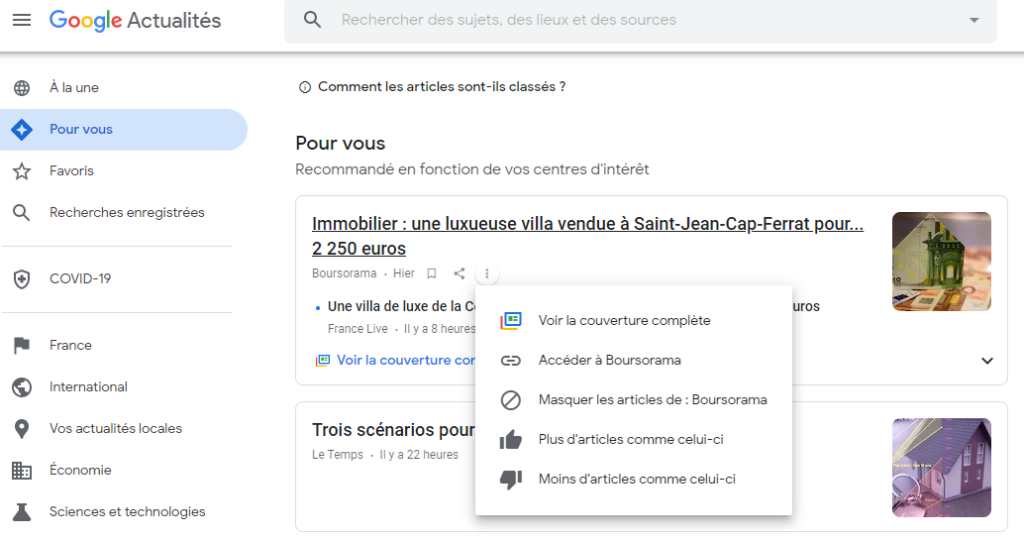 The more you use these buttons, the more Google News will filter out the content you don't want and suggest what you do want.
3.1.4 Save stories for offline reading
Google News allows you to download stories about an entire topic for offline reading.
Google News relies on an Internet connection to keep everything up to date. If you're going to be on a plane or without access to a solid connection, you can download any of your favorite topics or sources for offline reading
Go to the Favorites tab, press the overflow menu at the top right of any of the icons and choose "Download"
A small download arrow will appear and once the download is complete, an arrow will indicate that Google News has saved all the news inside for offline reading
3.1.5. Customize your notifications
If you don't often have time to check Google News diligently throughout the day, you can customize it so that it sends you updates on the latest news
In the app's settings, you can customize your alerts so you don't get cluttered with news all day.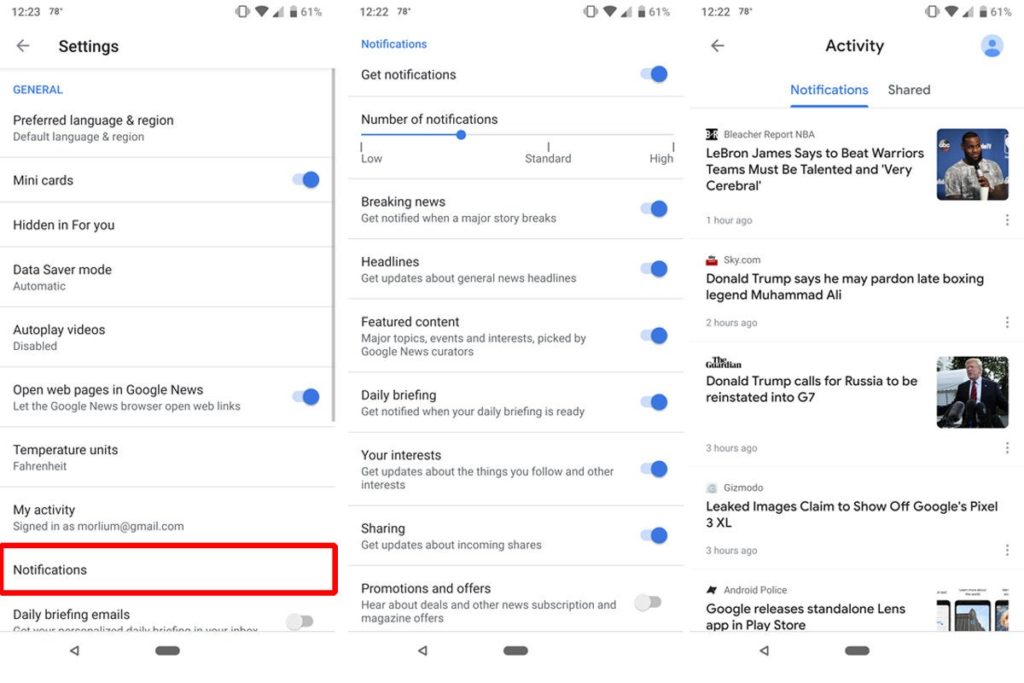 If you only want content about the sources and topics you follow, turn off all toggles except your interests
You can also set the frequency of notifications from "low to standard" to "high standard", with a few intermediate steps. Typically, the standard setting will send five to seven per day, while the high setting could send up to a dozen
3.2. Usage settings for publishers
Publishers who have a blog or newspaper that produces valuable content that can be categorized in Google News fall into the category of topics that publish news
To be published, a news item must be on a site that has been verified with Google Search Console and pass the Google News Publisher Center review process
Publications can also be cancelled or deleted
Ranking in Google News is algorithmically determined based on content relevance, authority, news, location and language
3.2.1. How to become a Google News source
Inclusion of a website on Google News is not automatic and is subject to acceptance by Google
It is not like the search engine web channel, where a submission is sufficient
To appear on Google News, it is necessary to apply for inclusion and wait for confirmation from Google.
In the form for inclusion in Google News, it is necessary to indicate various information about the website and the editorial organization
You need to provide general information about the number of authors who contributed to the creation of the content, the URL of the editorial contact information and the address where the information about authors and editors is available.
You must provide information about the website you wish to submit
The city and state in which the organization that runs the news portal resides, the name of the website, the URL of the website and the language.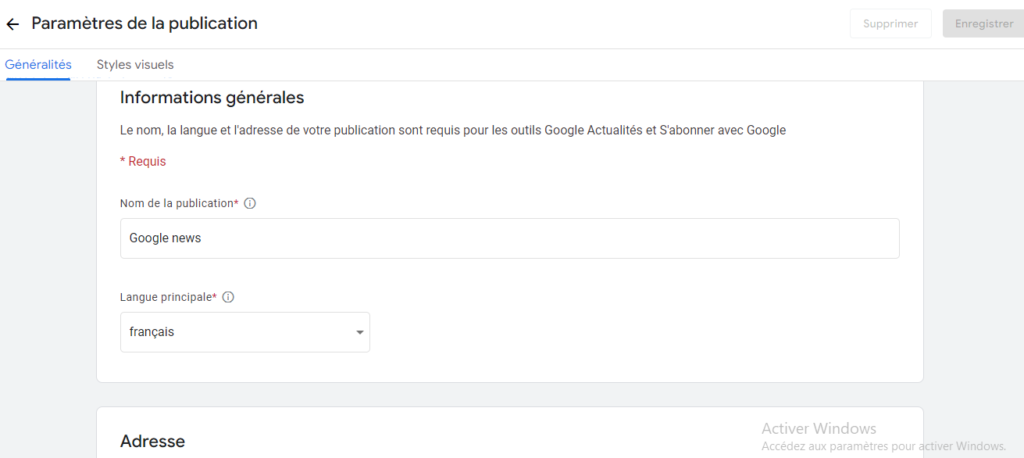 It is also necessary to provide:
The exact URL where the latest content of the site is published
The section of the site dedicated mainly to news;
The type of topics covered such as news, sports, technology, economy ;
Etc.
Finally, it is necessary to indicate the contact information such as name, first name, email, subject and possible free comments in order to be contacted by Google
3.2.2. Not all requests are accepted by Google staff
Google staff is very selective to ensure a minimum level of guaranteed quality for news on Google News. However, if the website complies with Google's guidelines, it is still advisable to try it out.
The website should have content that consists mainly of news articles on topics, events and current affairs
Articles on the site should be original, produced by a writer or author organization, whose information is public and accessible
Publications should focus on current events, not advertorials, promotions or product announcements.
Chapter 4: How to optimize your content for Google News?
Optimizing content for Google News means adopting specific practices rather than standard ones
4.1. Produce high quality original content
Just like the original search algorithm, the Google News crawler does not approve of plagiarized or low-quality content
However, writing for Google News means producing the highest quality text possible and ensuring that your external links lead to reliable sources.
To ensure the credibility of the content, Google also pays attention to the author's rank
For example, when the system finds a particular author's publications on any other trusted resource like Forbes. In this case, it adds credibility scores to the author, and thus to your website
Because Google does its best to exclude irrelevant content from search, this allows you to be more confident about the quality of the content it is pushing up
4.2. make headlines compelling
The best strategy with headlines when it comes to ranking in Google news is to keep it as clear and simple as possible
News headlines also have a strict character limit of 110
Search engines like more elaborate headlines because of their role in brand differentiation. That's why it's best to stick to the facts
With this in mind, staying fantastic in the construction of headlines only makes it harder for bots to understand the content.
Google crawls the pages in its news index just as it does its search index. In order for Google News to determine the correct title (hed), you must follow its best practices for article titles, which are summarized in these points:
The basic rule is to place the content title in view above the body of the article, as in a

tag ;

Make your article page title in the HTML
Keep the anchor text that points to your article in your section pages matched to your article or page title;
Using the article title or a subtitle as an active hyperlink in your article page is not good practice;
You should avoid putting the date or time in your article title;
Article titles should be at least 10 characters long and between 2 and 22 words;
Make sure your article title can be displayed properly on mobile devices.
4.3. Make your site fast
Google cares about site performance, and this is especially more important when it comes to news
Google's preferred format is AMP, but it's not a mandatory option
Only that it is a format that gets preferential treatment in the carousel and top stories for mobile results
However, it seems that high-performing sites that don't use "AMP" work just as well on Google News.
But, there are many reasons why you should consider using AMP:
Google has always given preferential treatment to AMP in the Top Stories carousel. However, the AMP ranking factor for mobile results is specially governed by Core Web Vitals since June 2021;
It is optimized for speed and UX by default;
It is easy to add it to WordPress through the use of an AMP plugin.
On the other hand, there are also several reasons why you wouldn't want to use AMP:
It creates two versions of the same content;
It's difficult to implement the same branding and user experience as if your pages are non-AMP; and
It's not necessary if your site already works well;
If a single piece of code is not validated, Google excludes the affected AMP pages from its search results.
Using AMP is a strategic decision that depends on your resources and needs
If you are an established publisher that competes with other large publishers, then AMP is a requirement
But if you're a smaller or newer site, it's probably not necessary or worth the effort.
4.4. Research the trends
Even if you're not familiar with SEO, monitoring the fluctuations of trends is something to master
The most effective tool for this is Google Trends. It is useful to discover current trends in order to come up with ideas as well as subtopics for your articles.
This simple tool shows current trends on the web so you can get an idea of what might be getting more attention from readers at that time
It also lists related topics that help set the direction for future posts.
Inclusion in Google News depends not only on accurate headlines and compliance with Google's news requirements, but also on the ability to produce content on topical issues that users are looking for.
For any news publisher specializing in a particular niche, it's helpful to identify the main keyword to use from time to time in headlines and copy to give Google an idea of your editorial expertise
There are many tools on the web to research keywords that will give you a clear idea of which keyword might be most attractive to you in terms of search volume, use them wisely
3.5. Use the Publisher Center
The Publisher Center is a very useful tool to appear in Google News.
It is recommended to share your content with Google News using RSS feeds, website URLs or videos using the Publisher Center tool
It uses a specific web crawler to find your site and helps your article be recognized as news.
Please note that display or ranking in Google News is not necessarily guaranteed by the Publisher Center.
While it is not necessary to use the Publisher Center tool, it does offer some benefits.
You can design and customize the sections of your post and its content in Google News to suit your needs;
You can use your content area to serve ads, as Google News supports ad serving, even premium solution ads, and this is done via Google Ad Manager. A paywall option is also available and can be used via Subscribe with Google;
You get an additional benefit if your publication contains commercial terms. Google News has its merchandising team, which independently selects these publications for Kiosk based on timing of the promotion, quality of user experience and relevance to the promotional theme.
3.6. Technical requirements
In order for the crawler to be able to explore your site properly and regularly, it must be well organized
In this case, here are some guidelines that you must follow
Build a Google News site map: To make your content easily accessible to the Google robot or spider, you must create a simplified path on your website.
And it would be even more interesting for you to use the Google News sitemap for this
If you already have an XML sitemap on your website, Google recommends creating a separate one for news articles. A WordPress site can use this plugin which will create dynamic feeds that conform to the Google News Sitemap Protocol .
Once you have created a sitemap for news, submit it and manage it through your Google Search Console account.
Watch out for static URLs: A static URL is one that doesn't change, so it usually has no URL parameters. The Google News bot likes this type of URL, as it makes your pages easily accessible for crawling
Dynamic URLs, on the other hand, create blocks for the crawler, so they tend not to work well for Google News.
Structured data: It helps if you can keep the code clean with the use of structured data
Structured data is a general format for providing Google with clues about the content of your content
This saves the system time in understanding the topic and content of an article
It also helps Google structure the data by elements, so users can find your page while searching for a particular element in the article.
Having clean code is a must for a news publisher, as everything about news website crawling comes down to improved speed.
3.7. Optimize images
The image used in a news article in the order Title > Image > Date > Body Text is measurably responsible for the click-through rate (CTR) and can be used as a thumbnail for news ranking in organic search.
The image must be hosted on the same web host as the rest of the domain's content in order to serve as a thumbnail in Google News
The ALT attribute must also be used. In addition, the schema.org or og:image tags can be used to suggest which image should be used as a preview.
In addition, images should be available in standard file name extensions, such as JPG, JPEG or PNG
This should be in a small file size, but not too small either. Images should be at least 60 x 90 pixels in size
It is not enough to simply link the image. It must be regularly embedded in the HTML source code within an element.
3.8. Niche news is high priority
Google is very keen to include targeted niche websites in the top news carousel
As long as you write regularly about a specific topic, Google will recognize your editorial specialty and perceive you as a news website that can be trusted to publish on that topic.
For example, if you type in "marketing news" or simply "marketing" and switch to the "news" tab, you'll see sites that specialize in marketing at the top of the newsstand.
Google News has a slightly different algorithm than Google
It doesn't have a lot of time to analyze content in depth, as it has to quickly find articles to put in the top stories carousel
It basically analyzes titles and title tags to understand what the article is about. That's why you need to make sure that you regularly put the keyword or topic you want to rank for in your headlines.
3.9. Provide detailed information about the author and publisher
Google News also wants as much transparency as possible when it comes to identifying publishers.
According to their content policies, your site visitors want to trust having information about who is writing and publishing content.
That's why news sources on Google should provide:
Clear dates;
Signatures
Author information
The company or network behind the publication
And contact information.
Therefore, it is recommended to include a short author biography after each article and to create a detailed author page with the publisher's contact information at the bottom of each page:
3.9.1. Add a short author bio at the end of articles
Google News doesn't want readers to have to search for details about the author
That's why it's a good idea to include a short biography of the author at the end of each article
Usually, a short biography is inserted dynamically from the biographical information stored in the user's WordPress admin
You can use the "get_the_author_metafunction" to insert it on the page:
3.9.2 Creating an informative author page
It's also reasonable that author pages contain very little information about the author and only include a list of articles they have recently written on the site
But, what Google News wants is a more detailed page about the author, not the articles they have written.
You can update the author.php template or use a normal page for the author detail page
In this case, it is up to you to express that you are a real person and that you are qualified to write for the site. Preferably, include your photo and highlight your most remarkable experiences.
3.9.3. Include the editor's contact information
Like on an author, Google News also wants readers to be able to find information about the publisher effortlessly
In particular, the idea is to make it easier for readers to call a publisher.
The best way to address this is to create a contact page with a physical address, phone number and email address
3.10. Writing for Google News
The biggest challenge to appearing in Google News is creating the right kind of content and doing it regularly.
3.10.1. Best writing style for Google News
The first thing to do is to read the Google News content policy
They list and describe the type of content they prefer and what they would not like
So here are some types of content that Google News would not like:
Personal and confidential information;
Copyrighted content;
Sexually explicit content;
Graphically violent content;
Hateful content;
Medical advice;
Dangerous and illegal activities;
Harassment and cyberbullying;
Deceptive practices;
Spam and malware
Etc.
The writing style that Google News wants is journalistic. This means that articles should be well researched, provide references, be grammatically correct and follow the principles of good journalism
In addition to writing in a journalistic style, it is recommended to create links to relevant sites mentioned in the article
3.10.2. Ideal publishing frequency for Google News
Writing a few articles every week for a month will probably not be enough to make your articles appear in Google News
It should be obvious to Google News that the site is intended to provide regular news
So you should expect hard work in terms of frequency of publication and the quality of what you provide as well.
Google News takes into account previous articles to determine whether or not to include your site in its results
Conclusion
It can be noted that Google News is a credible information sharing platform, both indispensable for publishers and individual users.
Its great popularity is due to the verified information it provides to visitors. This suggests that on the publishers' side, an effort in terms of quality is quite required to join Google News.
In general, relevance and quality are two basic principles of Google news.
In this article, we have provided the best ways for users to interact with the platform and for publishers to optimize their websites to be crawled by the Google News algorithm.
I hope you found this content useful, feel free to give us feedback in the comments.
See you soon!