Google Keyword Planner is a free tool provided by Google that helps advertisers and online content creators research keywords and gain valuable insights into what their audience is searching for.
For those looking to plan a Pay Per Click (PPC) advertising campaign, there are a number of online tools available
But there is only one tool that allows unlimited access to data directly from Google: It is Google Keyword Planner.
So:
What is Google Keyword Planner and why is it important?

How to access it?

How to use it?
By answering these questions, you will understand why the google Keyword Planner remains the number one choice for PPC professionals
In this article, I will also present some good tips on how to get the most out of the tool, while also looking at some issues you might not be aware of.
Let's get started!
Chapter 1: What do you need to know about the Google Keyword Planner tool?
In this chapter, I will only talk about the basics related to Google's keyword planning tool.
1.1 What is Keyword Planner?
In simple terms, the Keyword Planner (keyword planner) is a free tool offered by Google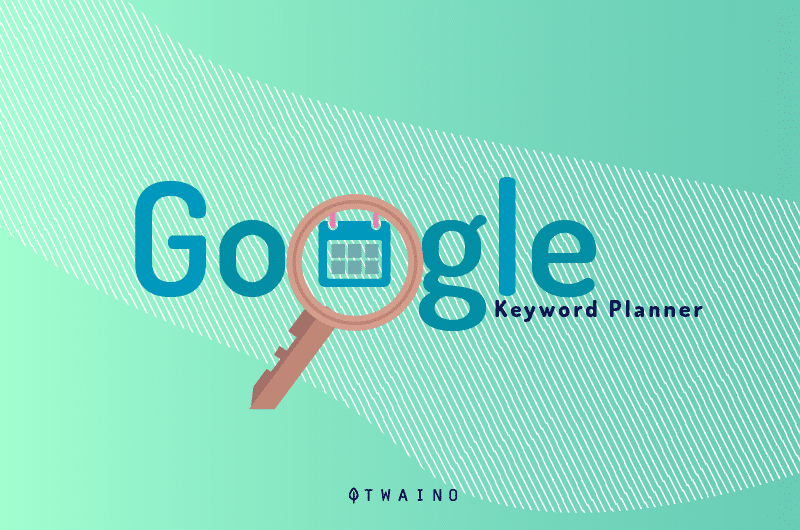 Although it is sometimes used by search engine optimization (SEO) professionals, its main role is to help those who want to launch pPC campaigns.
The tool leverages Google's own database, allowing advertisers to see key information about individual search terms (sometimes described as keywords)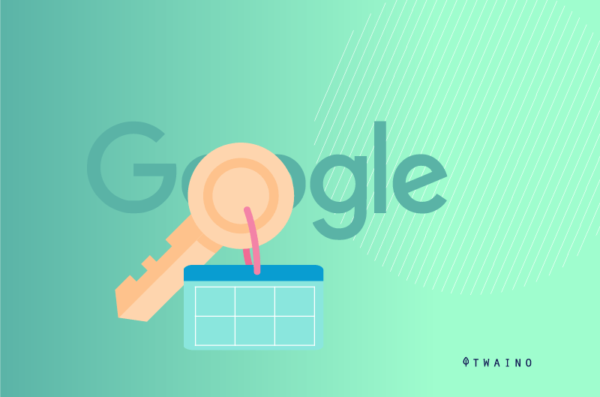 What kind of data do you want? There is a wealth of information available, including estimates of how many times search terms are used in a given month
You can also view data specific to your geographic location
In addition, the tool can also give you access to information on the competitiveness of specific search terms as well as the amount of money you will need in order to bid for a given keyword and reach your goal.
Let's take a look at some of the points that justify the importance of this tool.
1.2. Why use Google Keyword Planner?
Here are four reasons why you should consider using this tool for your daily keyword research:

1.2.1. Free to use
With so many different tools to choose from, why not pick one that will save you a lot of money. Finding a tool that will save you money while being effective is an opportunity you should not pass up.
1.2.2. Dual use
As mentioned above, Google Keyword Planner can be used for both PPC marketing and SEO purposes
The advantage that the tool has for SEO lovers is that, despite creating a Google Ads account to access the tool, you don't need to spend money on ads to use it.
1.2.3. Competitors' perspectives
You have the option to enter your competitor's URL directly into the tool to examine the keywords they rank on (more on this later)
You can then decide if the keywords they are bidding on are worth adding to your own campaign accounts.
1.2.4. Makes it easy to add keywords to your keyword plan
One feature that can sometimes be overlooked when considering a tool to use is: The ease of adding keywords to your "keyword plan"
Google's Keyword Planner allows marketers to add easily keywords to their overall strategy, implement them in their accounts and start getting results.
Let's take a look now, how you can access Google Keyword Planner.
Chapter 2: How to access Google Keyword Planner (GKP)?
Previously, accessing Google's Keyword Planner tool was incredibly simple: You bookmark the tool's location in your favorite browser, and that's it!
Things got a little more complicated when Google decided to restrict access, limiting it only to those with valid Google AdWords accounts.
It's true that some people didn't agree with this change, but it's not a disaster.
Why?
First of all, most GKP users will have (or want) an AdWords account anyway. After all, that's the most likely reason to do keyword research
Second, it's free (and easy) to create a Google AdWords account. If you haven't already done so, you're in the right place.
In this chapter, I'll show you how you can set up a Google Ads account (which is free) to start using the popular keyword tool.
First, you need to visit the google Ads main page :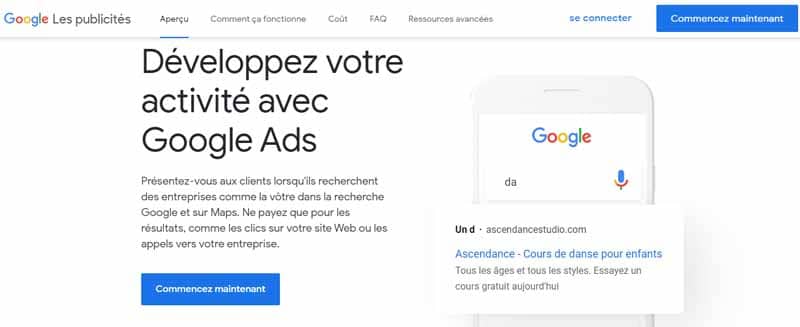 Note: What you see on this landing page may be slightly different depending on your location
Next, click on the blue " Start Now " button to begin setting up your account.
You will receive a message, but since you don't have an account yet, click on " New Google Ads account ".
Once you've done that, you'll see queries about your primary advertising goal with the ad campaigns you're about to set up.
The options at this point are:
Get more calls

Sell more or get more website registrations

Attract more visits to your physical location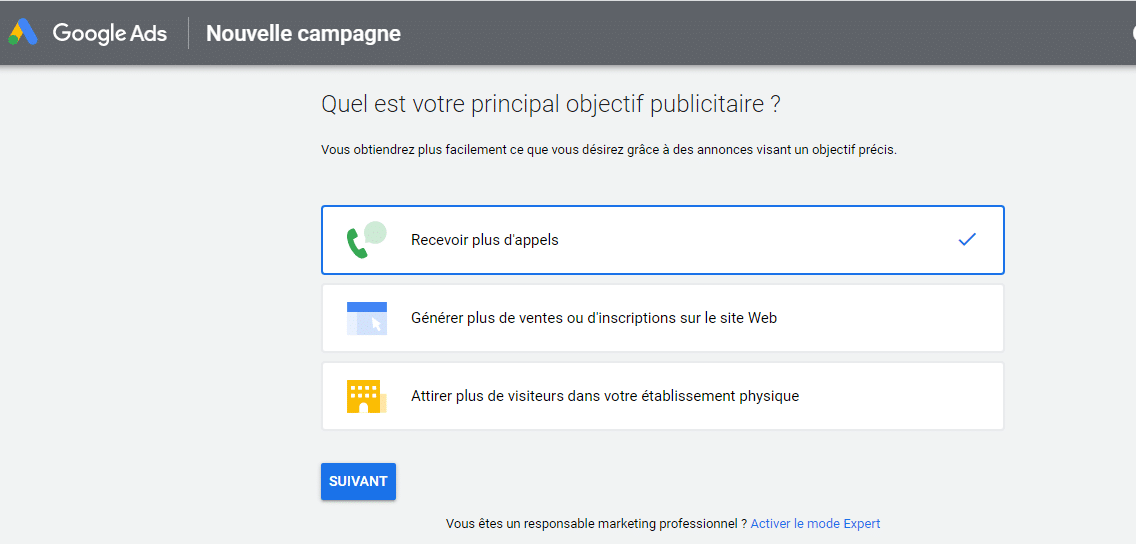 As I mentioned earlier, we want to start using the tool without needing to set up an actual campaign.
To do this, you need to click on the hyperlink text below the three options that says " Activate the expert mode " :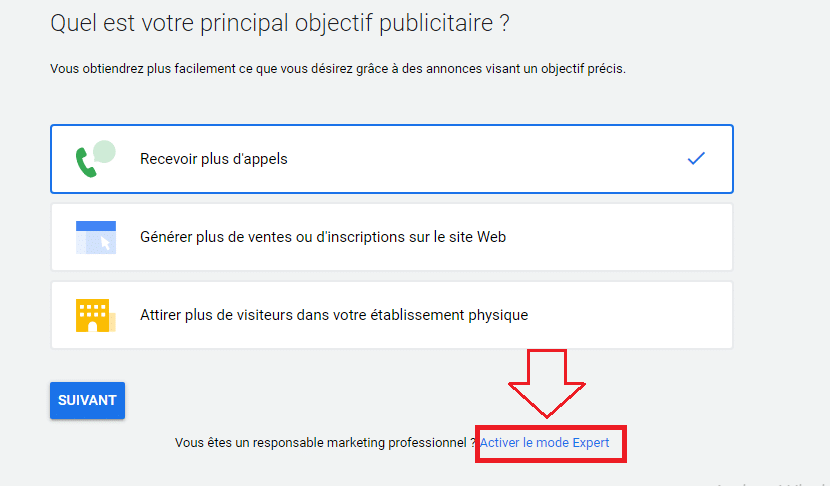 After clicking on this option, you'll see a menu that (once again) asks you to set your primary goal.
Once again, click on the hyperlink below that says " Create an account without a campaign ". This way you won't have to set up an ad campaign to create a Google Ads account :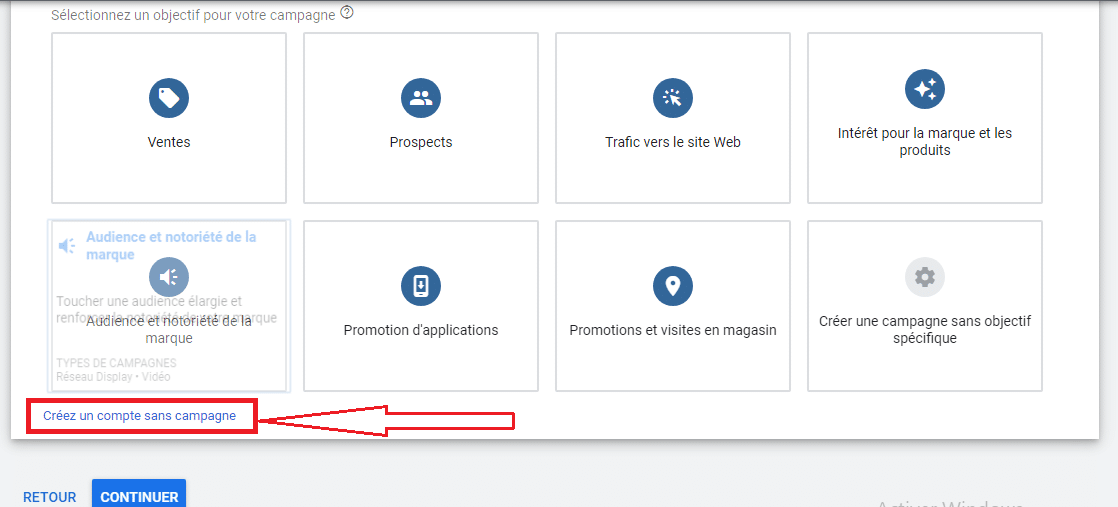 Next, you will need to confirm and submit the information that is going to be used to create your account. This information is divided into three categories:
Your location

Your time zone

Your currency
Since I am based in France, the information I gave is the following: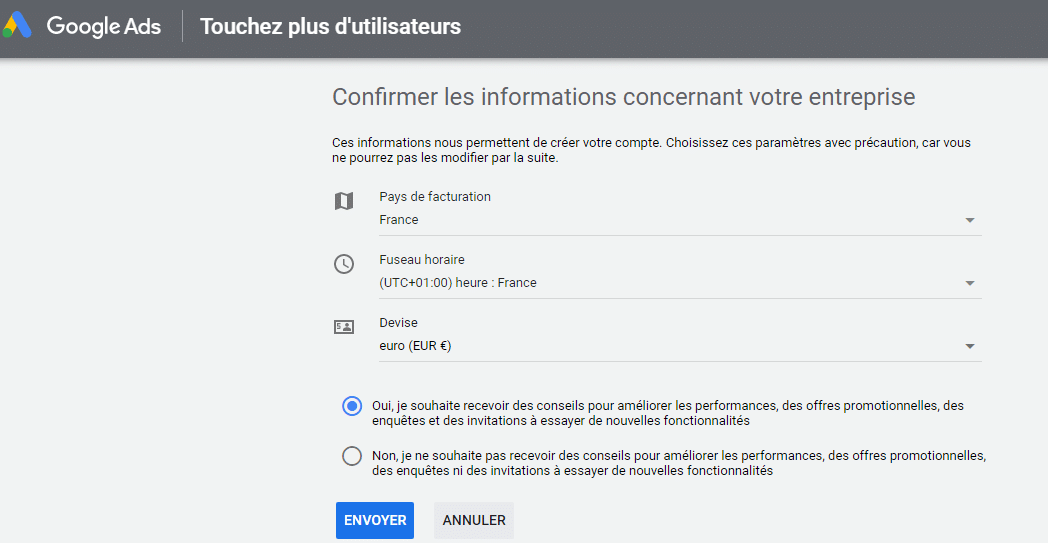 Once you have clicked on " Send once you click "Submit", you will see the following message congratulating you on setting up your account and encouraging you to explore it.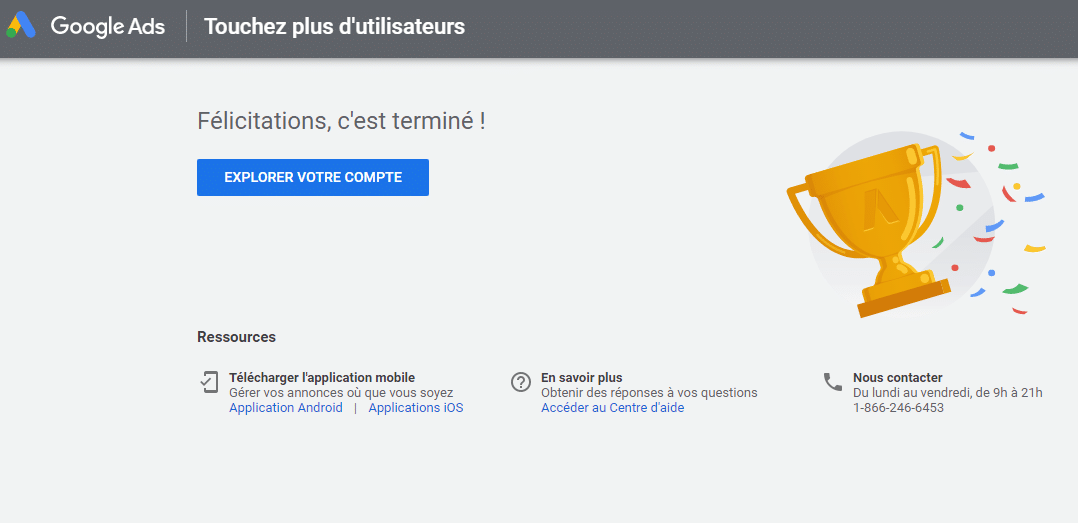 Click on " Explore your account "and wait a few minutes until your new account is set up and ready to use: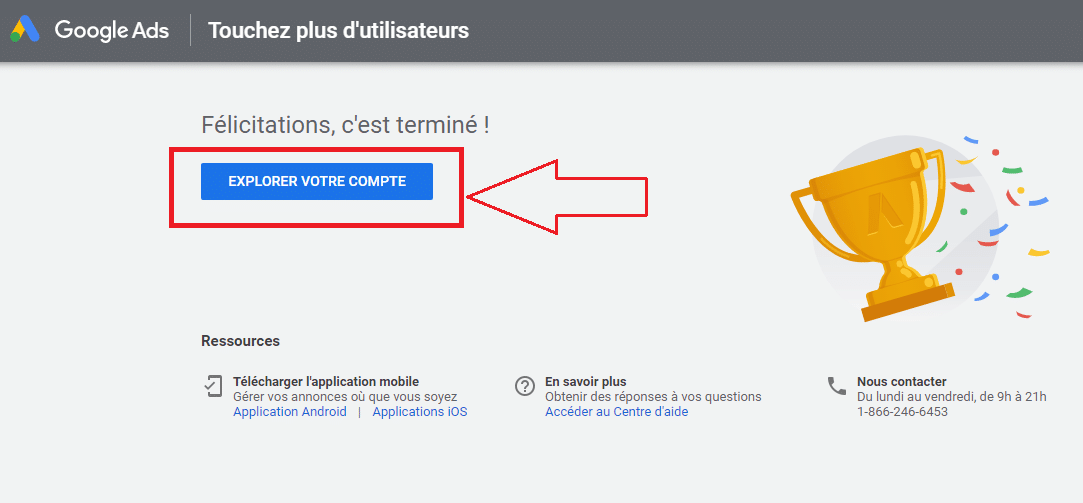 As you can see in the screenshot below, your account will be "in progress" once you get to this point:

Now you can already start by using Google's Keyword Planner tool to receive keyword suggestions and start exploring new keyword opportunities.
Once you have created your new account, go to " Settings and click on " Activate expert mode " :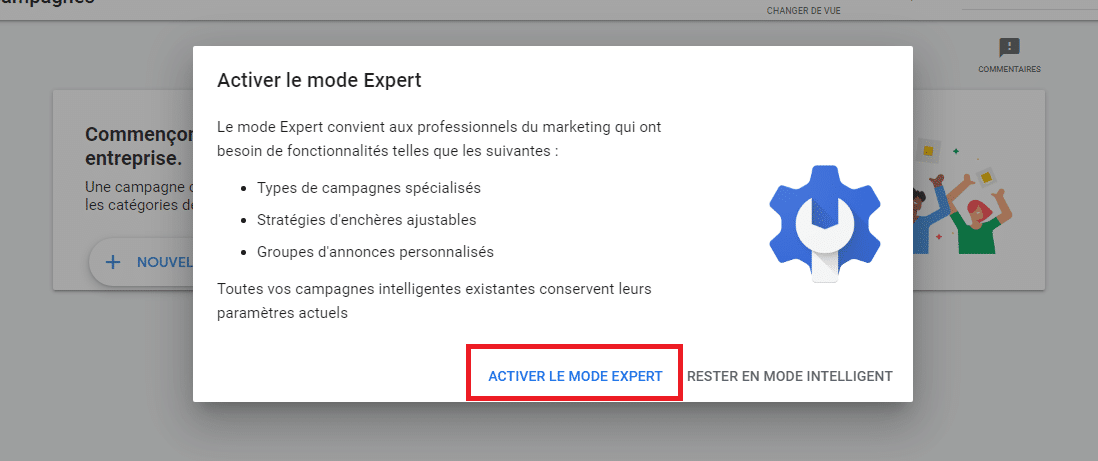 After clicking on it, you will be shown a warning message at the top of the screen Activate the two-step validation in your account – Protect your Google account against password theft.
To begin, click on the FIRST STEP :

Clicking this button will take you to a new tab. It is in this new tab that you will proceed with the two-step activation of your account.
In order to show you the process clearly, I will use the fictitious contact information: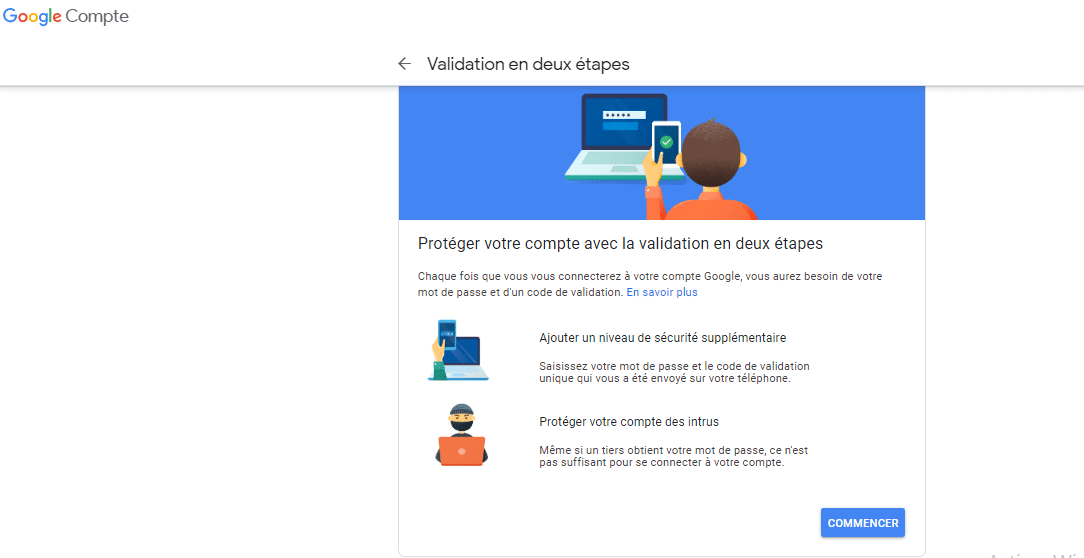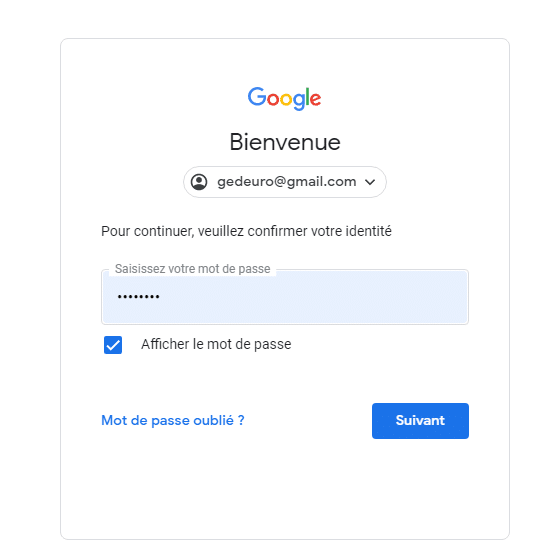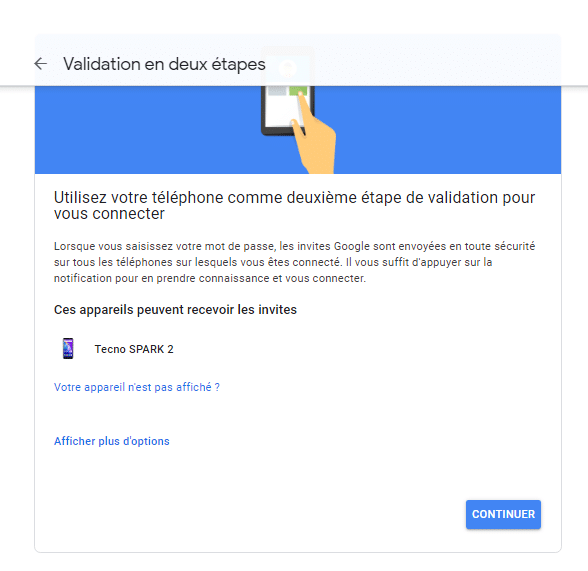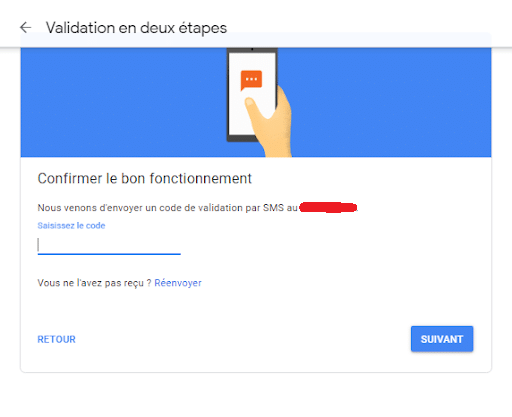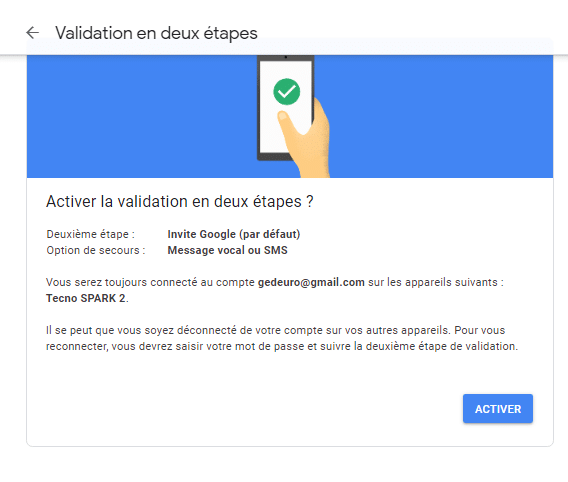 After clicking on the ACTIVATEbutton, go back to the old tab.
This will take you to the screen below, where you can start using the tool. To go to Google Keyword Plannerclick on " Tools and settings "in the top menu:
The part that interests us here is the column Planning. Click on it and you will see the four planning tools: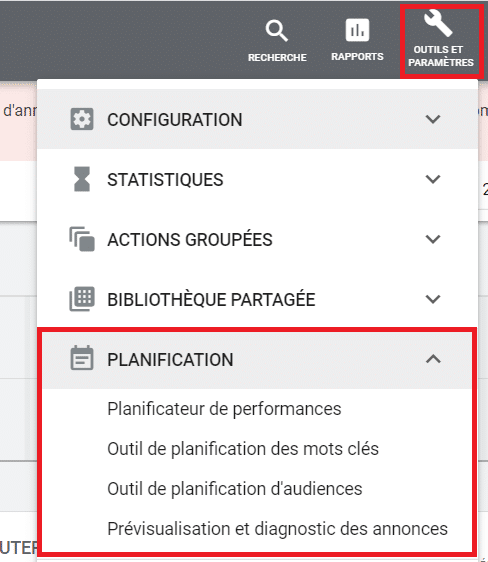 As you know, the tool we need is Keyword planning tool.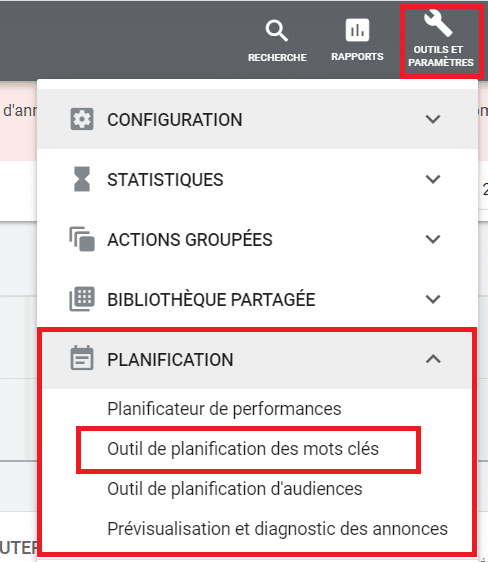 As you can imagine, these tools are mainly used for advertising purposes
Nevertheless, the planning tool we will choose is the one that (as I mentioned before) can be used for both PPC and SEO. So, select " Keyword planning tool "
Since this is your first appearance on Google Keyword Planner, you'll see a pop-up that explains what the tool can do for you
The four main functions of the tool (according to Google) are:
Get the most relevant keywords

Exclude branded terms

Collaborate on plans

Get seasonal forecasts
While most of these features are closely related to PPC, they also have real value for content creation and SEO.
If you don't want to follow the procedure Google suggests in the window and would rather just start using the tool right away, just click on the screen.
Once you do that, the window will disappear and this is what you will see next: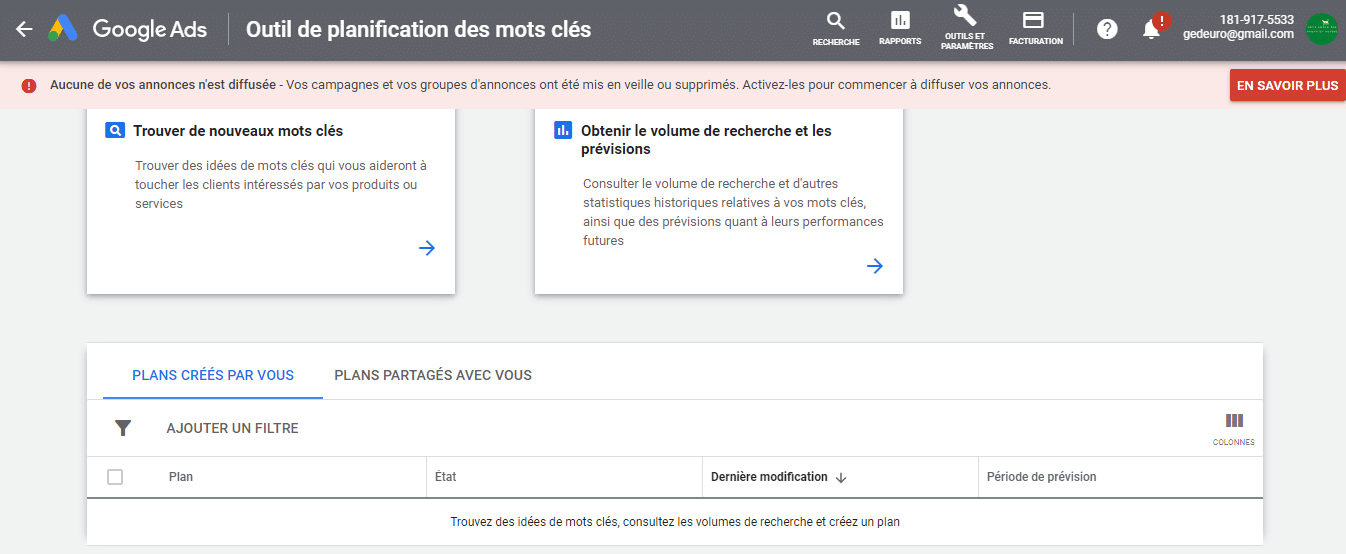 At this point, you can start with the use of the tool!
A small note at this point It is possible to access the Keyword Planner once you have created an AdWords account, even if you don't have a campaign in place. However, Google has decided to limit the amount of data available in this case
Therefore, if you want full access to the Keyword Planner GKPyou need to create a campaign in your AdWords account
This campaign does not need to be online (you don't even need to enter billing information in your AdWords account), but a campaign must exist.
After accessing the tool, let's now see how you can use it.
Chapter 3: How to use Google Keyword Planner?
After showing you how to access Google Keyword Planner, we will now see how to actually use it.
3.1. Using Google Keyword Planner in four steps
In this section, I will break down the process of using the tool into four steps:
3.1.1. Step 1: Choose a tool
First, you need to choose a tool.
As you can notice below, the keyword planner has two main tools: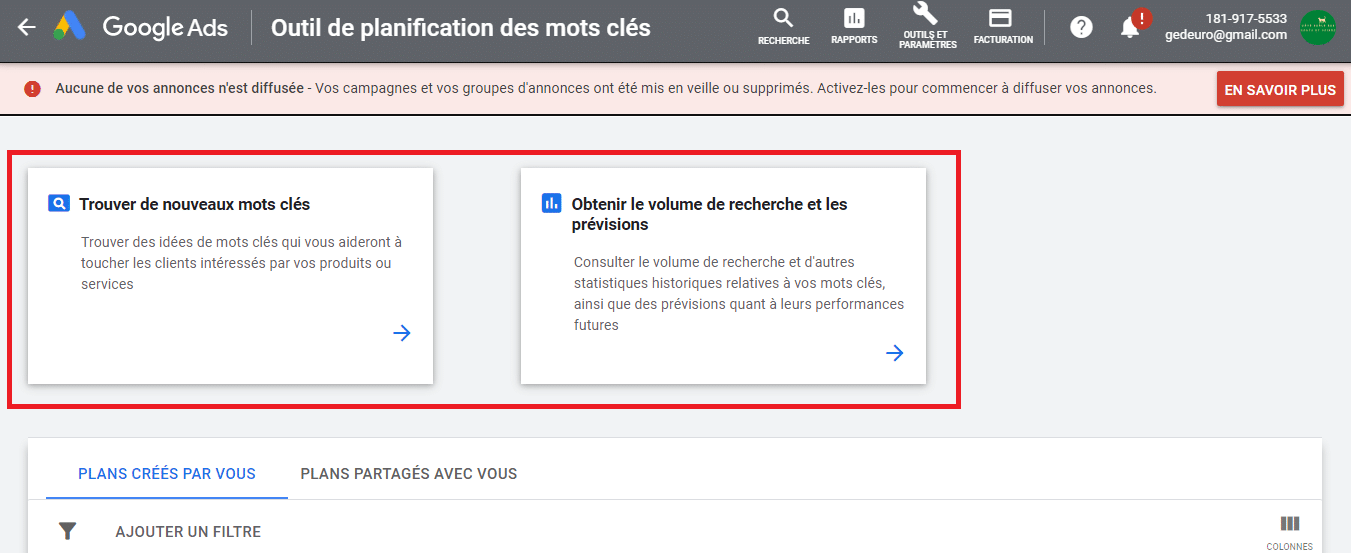 Both tools are important, but for different reasons.
Let's take a look at each of them, but we'll start with the second one, which is much simpler.
3.1.1.1. Tool #1: Get search volume and forecast
According to Google, this tool helps you "see search volume and other historical statistics for your keywords, as well as forecasts of their future performance."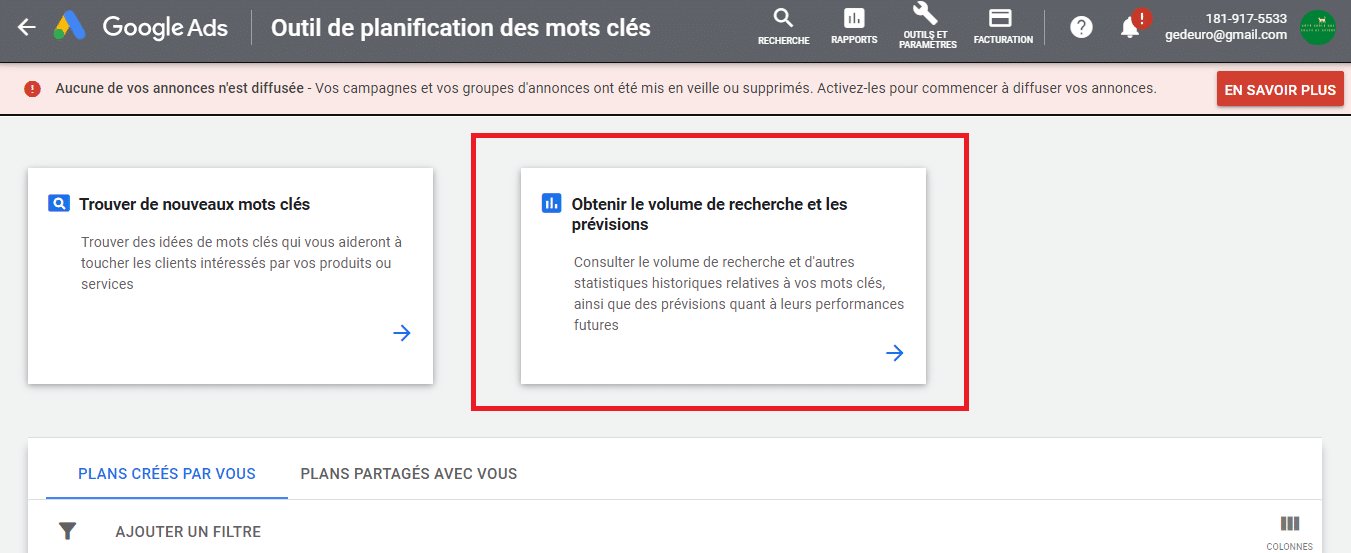 First, click on the blue arrow at the bottom: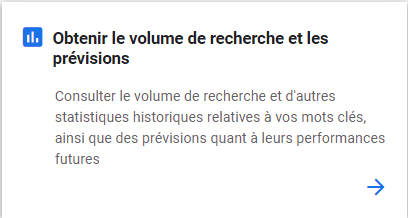 Next, add a list of keywords you are interested in.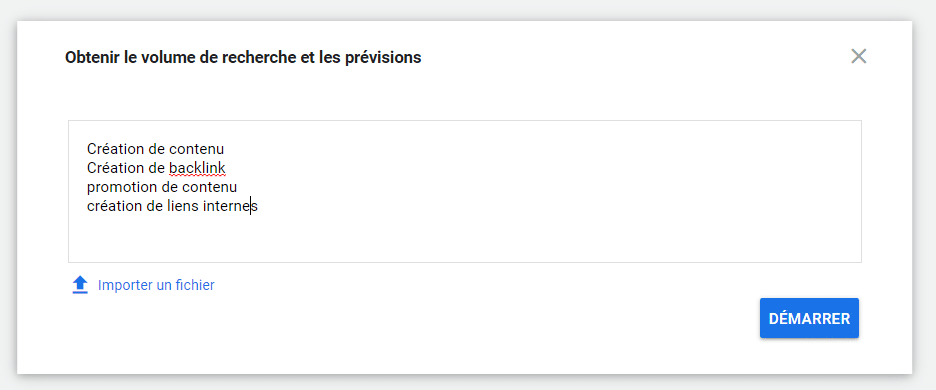 As you can see, I manually inserted a list of keywords (one keyword per line), but you also have the option to upload a file with a list of keywords.
We then get a report with three main options:
The forecasts provides you with important statistics for each of these keywords:

With this simple report, we get an overview of the competitiveness and popularity of each of our keywords
By default, the report contains columns like
Ad Group

Max CPC

Clicks

Cost

CTR

Average CPC
These columns are not relevant when we only want to get keyword ideas for a content.

Exclude keywords is a relevant and important report for advertising purposes only.

Historical statistics is a report that contains pretty much everything we can find in the forecast report.
So, as you can see, this tool, although useful, is not as important as the other tool we will analyze next.
3.1.1.2. Tool #2: Find new keywords – Start with keywords
According to Google, this tool allows you to "get ideas for keywords that can help you reach people who will be interested in your product or service".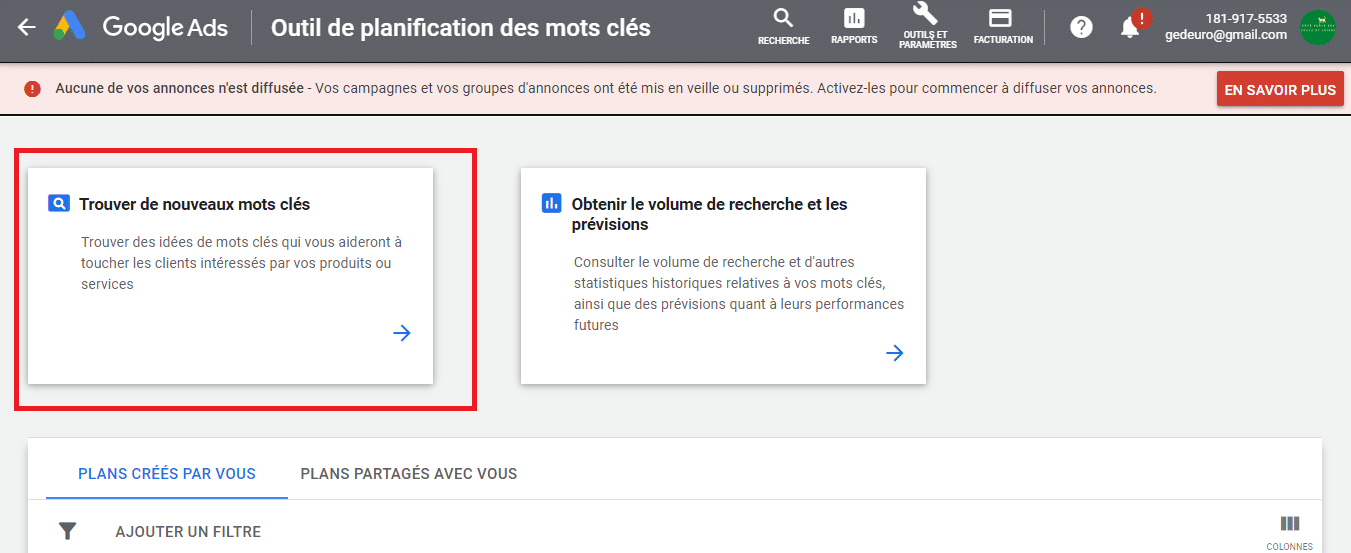 First, click on the blue arrow at the bottom :
Here's what you'll see next: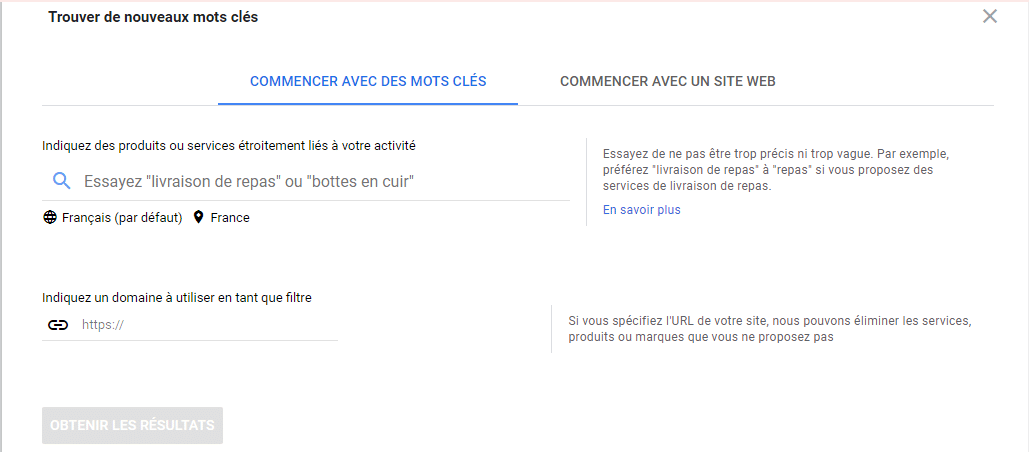 As you can see, the tool has two main options:
START WITH KEYWORDS

START WITH A SITE
We'll start with the first one.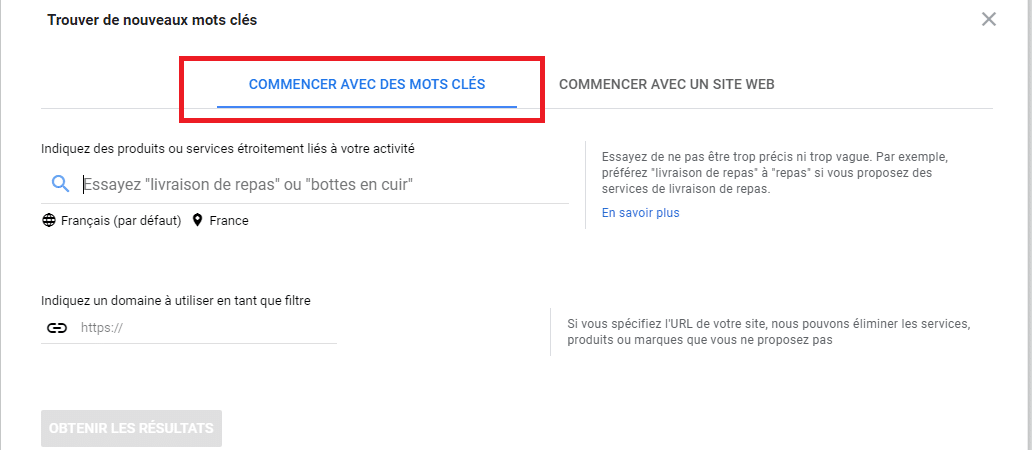 For this example, let's assume you run an agency that helps people build links and promote content.
Type in one of these keywords and start your search with that. Let's start with " link building " :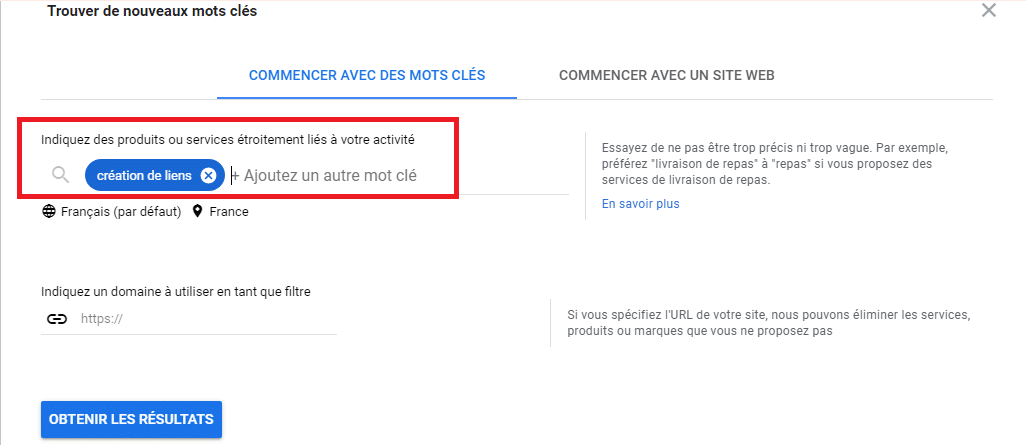 One thing you'll need to consider here is the domain(s) you'll be targeting and the language you want to get results for
As you can see in the screenshot below, my language / region is set to French / Francebecause these are the default options of Google when I set up my account: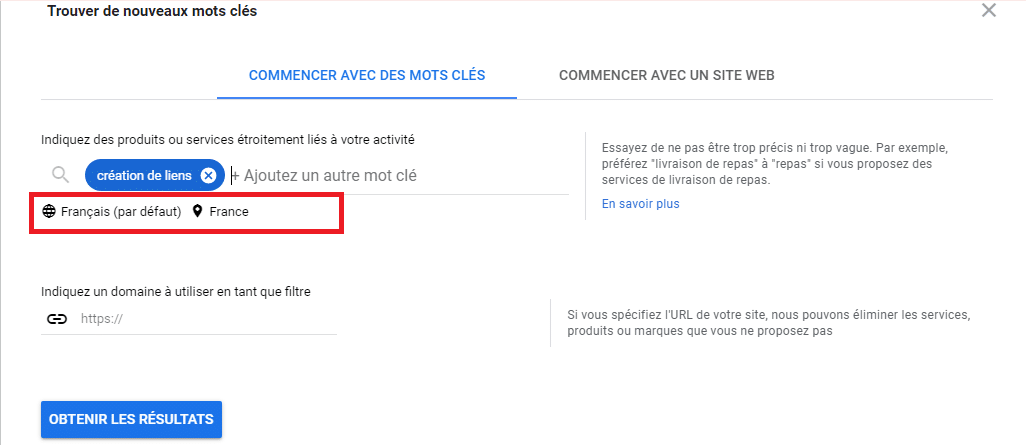 However, if you want to change the language, just click on the default language and choose from the dropdown list the one you want: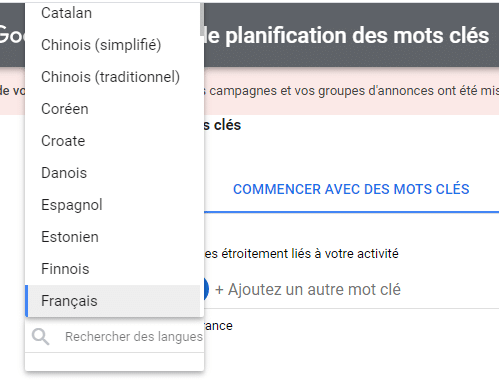 Then you can do the same thing for choosing the country or countries from which you want to get keyword data.
However, we can only do this if we want to change the default country. In this case, just delete the default country and keep only the one you want to target (in our case, it's still France)
First, search for the country you want to target in the search bar and select it from the list. At the end, click on " Save ".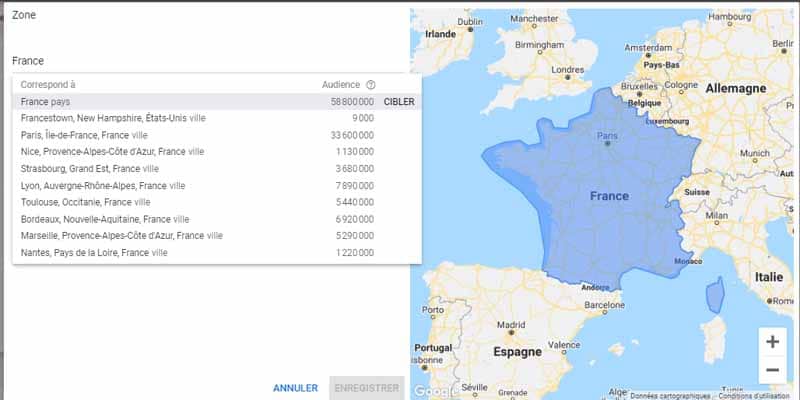 In addition, we can add a domain that will be used as a filter :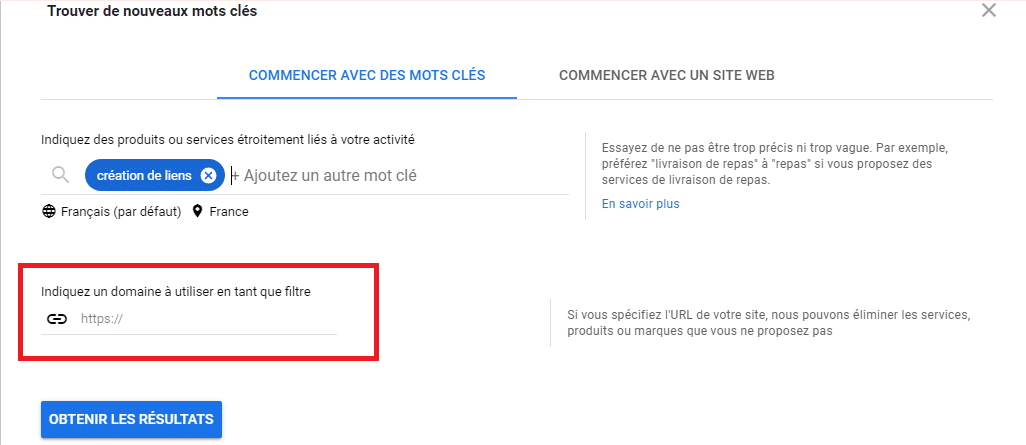 This means that the tool will show us keyword ideas that were found on the site we used.
The results will be displayed when you click on " Get results ". We have 45 keyword ideas from which we can "expand our search" to get even more keyword ideas:

Note: Results may vary depending on the keywords you use.
By default, the keywords are sorted by relevancebut we can also sort by :
Average number of monthly searches

Competition

Ad impressions rate

Top bid (low and high range)

Account status

Keep in mind that the more advertisers bid for a particular term, the higher its commercial value. This means that keywords with higher commercial value may not be the best for content ideas.
However, at the same time, if a keyword has "low competition," that doesn't mean it's easy to rank for organically.
Overall, remember that this is primarily an advertiser's tool and therefore the data it gives us has to do with advertising.
From the report that the Keyword Planner has generated for us, we can also change the columns we see by clicking on the " Columns "in the upper right corner:

Here are some other options we can use as columns:
Competition (indexed value)

Organic impression rate

Average organic position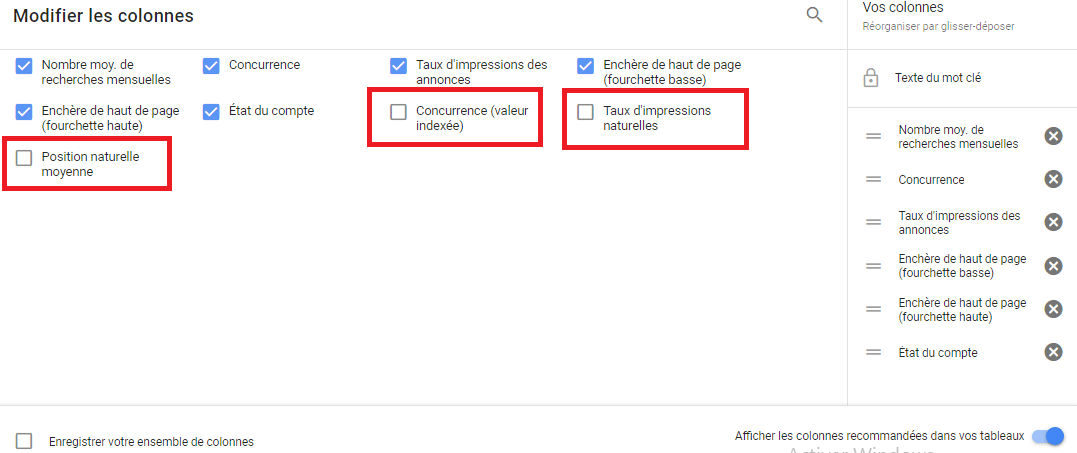 Remark: You can also change the position of all columns other than " Keyword text ".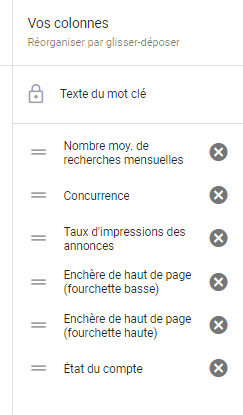 Whenever Google does not find data for a particular keyword, you will see the following symbol in this column: " – ".
Also from this page, you can download the raw data you have by simply clicking on the blue button " Download keyword ideas " :

3.1.1.3. Tool #2: Finding New Keywords – Getting Started with a Website
The other option for using the "Find new keywords"tool in the Keyword Planner is to "Start with a website" :

It is assumed that one of the keywords you are interested in is " link building ".
If we take a look at the SERPS for this particular term, we can see that one of the top results comes from Metadosi.com :

If we want to create something that will outrank this site, we need to copy / paste this URL (Page URLnot domain URL) into the keyword planner: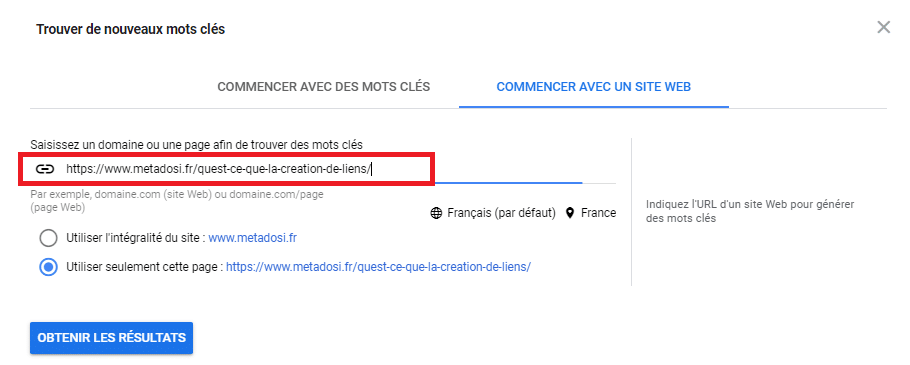 Always use the page URL and not the domain URL as the keyword source by choosing the " Use only this page ".
Then click on the blue " Get Results ".
Here is what you will see next:
As you can see in the above capture, the keyword ideas we have here are more numerous than the other method.
In the next step of the process, we need to filter the results we have.
3.1.2. Step 2: Filtering the results
Let's see how we can filter the results to get a good list of keywords that we can export and start using.
First of all, click on " Add a filter " :

From there, you can choose the type of filter you want (for example, " Competition ") :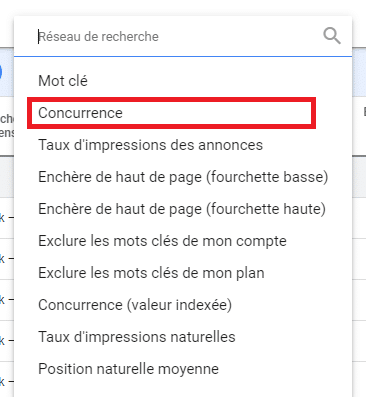 Next, we will see the conditions we can choose based on the filter we selected: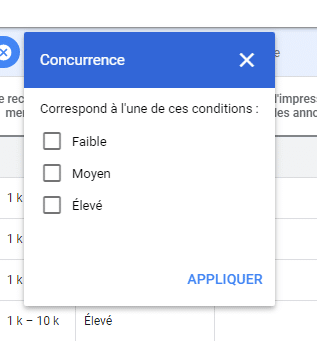 Next, we need to choose the conditions (criteria) we want. For example, you can choose only the keywords for which the competition is low: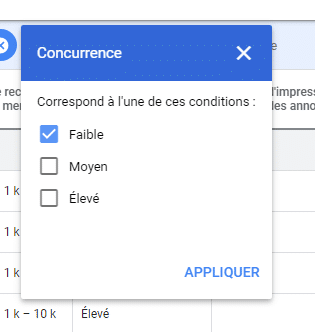 The tool will then give us the keyword ideas that match our criteria in our example

Note: You can create lists of keywords to exclude using these filters. This can be for example keywords with high competition. This will allow you to improve your advertising campaigns in the best way.
You can add as many filters as you want. It also has to do with the starting keywords you used, which in most cases determine how many generated keyword ideas you get.
Once you have completed your filtering, you can start analyzing your keyword ideas.
3.1.3. Step 3: Analyze the keywords
After reviewing the keyword ideas and the initial filters we've implemented, we next need to do an analysis that will tell us which of these keywords might represent an opportunity for our content.
While different companies judge keyword opportunities differently, as an example, I would say that a keyword such as " amazon affiliation " seems to be quite promising.
There is low competition for this keyword, which means that the term may have commercial intent behind it :

How you analyze your keywords after filtering them generally depends on:
Your goals

Your capabilities

Your current status
For example, for a new website, it makes sense to target keywords with low competition. Why? Because a new website will not be able to compete with the big, old sites in its industry for the same keywords.
Most people look at search volume data when analyzing keyword ideas
Unfortunately, many try to avoid long tail keywords simply because the search volume for these keywords is often low (in most cases).
However, when you are just starting out, keywords with low search volume and less competition may be exactly what you need.
Let's move on to the final step of the process.
3.1.4. Step 4: Choose a keyword and start designing
As I mentioned before, Keyword Planner is primarily a tool for advertisers. However, as an SEO expert, I always have organic potential in mind
So the last part of this process is to choose a keyword and start identifying the content you need to create.
Ultimately, the keyword you choose depends on many different factors, such as:
Your domain authority

Local authority

Number of links

Age of the domain
These are just some of the factors that can affect the process of choosing the right target keyword.
If your target keyword is "link building", search for it online. Take a look at the top results, try to rank the search intent, and then start creating your content.
Choosing the right keyword is important, but it's certainly not enough.
Let's see now, some tips on how to use this tool.
3.2. Some tips on how to use Google Keywords Planner
Now that you know the basics of basics of the Google Keywords Plannerkeyword Planner, we can start to deepen the way you can control your campaigns
For example, did you know that you can get the exact search volume for each of your search terms in Keyword Planner?
Most people think this is not possible, because at first glance, search volume can only give you a rough idea.
However, there are some workarounds
For example, you can enter a list of keywords into your search tool, then look at the estimated impressions for the maximum CPC to get a more accurate view of your potential traffic volume and ROI
Otherwise, the easiest option is to install the extension "Keywords everywhere"extension, which provides search volume information and CPC data for the websites you already use. However, the problem with this tool is that it is not free.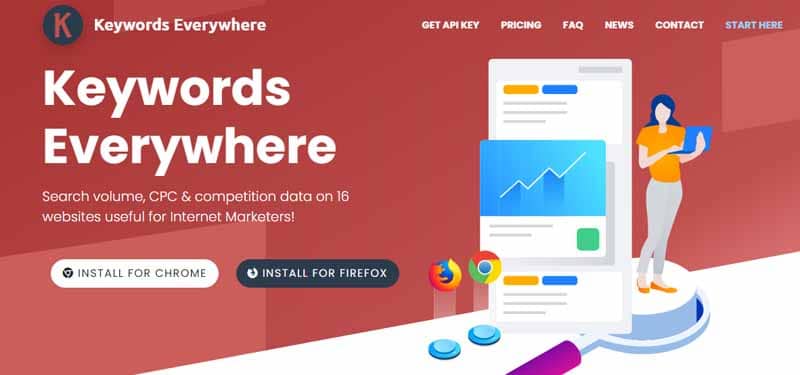 The extension also brings back search volume details into the Google AdWords keyword planner
Here are some of the other ways you can get the most out of Google Keyword Planner:
3.2.1. Balance your keyword selection
Learning how to use Google Keyword Planner for keyword research is not just about learning about the software. You will also need to determine how you will select the required keywords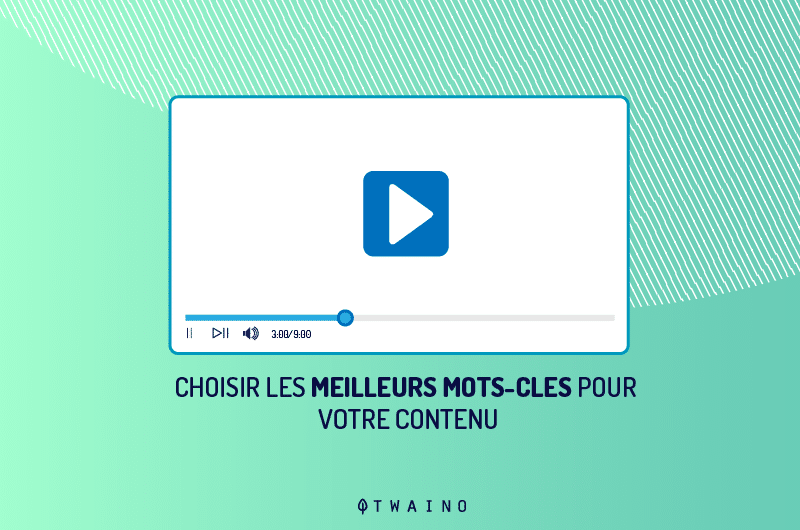 For example, chances are you'll get a lot of traffic if you go for a broad keyword that has a high search volume, but that traffic won't be very targeted.
3.2.2. Search for local keywords
Global keyword rankings are great, but it's always a good idea to take advantage of local targeting for your PPC and SEO campaigns
While many keyword research tools can't tell you much about how many people are searching for terms in specific locations, Google Keyword Planner is a bit different
You can use this tool to see impressions for very specific areas, including certain cities and towns.

You can also drill down by filtering your search by country and then looking at the top cities and towns in which a term is searched.


3.2.3. Steal the keyword from the competition
It sounds a little sneaky, but if you're willing to make the most of competitive analysis, there's always more you can do in digital marketing.
Fortunately, the AdWords Keyword Planner can help you by generating suggestions from a specific URL
You can grab URLs from your competitors and paste them into the search bar, then select "Entire Site" or "Page Only" for your search.

You'll get thousands of suggestions, including some you might not have thought of yourself
You can use the filters provided with Google AdWords to get rid of any content that may be particularly brand-related.
Be sure to research keywords from multiple competitors to bring endless new ideas to your PPC and SEO.
3.2.4. Determine what your audience wants to know
Successful keyword research isn't just about making sure you're targeting all the same keywords as your competitors
You'll also need to make sure you know what questions your audience is asking as well. Knowing what your audience wants to learn can be very helpful when it comes to coming up with content ideas that set you apart from your competitors.
One of the easiest ways to start looking for question ideas is to talk to your sales and marketing team. These people talk to your customers every day, so they should know a thing or two about how they work
Alternatively, you can also try other free keyword research tools outside of Google Keyword Planner. For example, the Other Questions Asked tool from Twaino can help you a lot.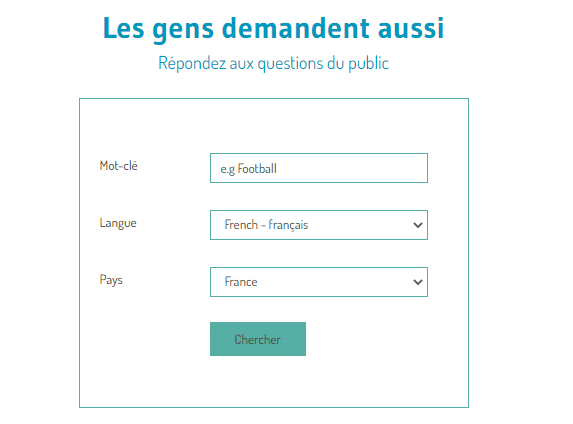 You can also choose to take advantage of the Keyword Planner experience by accessing the filtering component of the search, then clicking on "Keyword Text", then "Include".
Then add a who, what, why, when, or how to the filter. This will help you come up with keyword ideas such as "What is SEO" or "What is the keyword planner?"
3.2.5. Find the most lucrative terms for your SEO or PCC campaigns by checking the "Suggested Bidding" feature
Another handy way to make sure you know how to use Google AdWords Planner effectively is to take advantage of the "Suggested Bidding" feature
This aspect of the keyword planner will give you insight into which terms are most likely to be lucrative for your PPC and SEO campaigns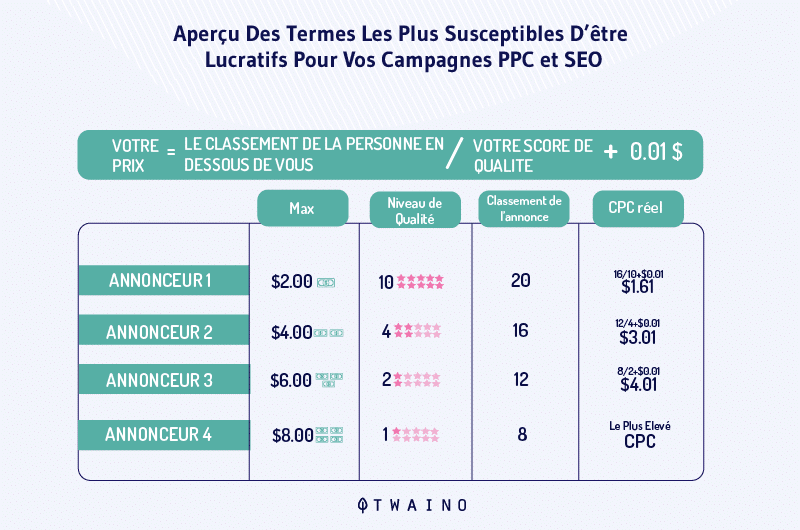 The bidding keywords at the top of the page highlight terms that advertisers have historically paid a lot to rank for, based on things like location and search network parameters.
At first glance, high bids may seem relevant only to your PPC campaigns. However, the truth is that you can also find value for your SEO
If people are willing to bid a lot for keywords, there's a good chance that the terms they bid on will turn into sales or leads
With that in mind, you'll likely find many keywords that are filled with commercial intent for your SEO in this way.
Now, I'm going to provide summary answers to some questions that commonly come up about Google's Keyword Planner tool.
Chapter 4: Other questions asked about Google Keyword Planner
4.1. What can Google Keyword Planner be used for?
Keyword Planner allows you to find keywords for your search campaigns. You can use this free tool to discover new keywords related to your business and see the estimated searches they receive and the cost to target them.
4.2. how to access Google Keyword Planner?
First, you need to have at least a valid Google Adwords account. Then you need to connect to this Google Adwords account
In the toolbar at the top of the page, click on the the key icon (tools and settings) and you will see an option Schedule which contains four scheduling tools
By choosing thekeyword planning toolyou will see two options, such as: "Find new keywords"and "Get search volume and forecast"
Depending on what you want to do, you can generate thousands of potential keywords by selecting one of these two options.
4.3. Can I access the Google Keyword Planner without creating an ad campaign?
YES, you can access the Keyword Planner with your Google Adwords accountaccount, even if you don't have a campaign in place, but the amount of data accessible will be limited
Therefore, if you wish to have full access to the Keyword Planner GKPkeyword Planner, you must create a campaign (it can be offline) in your AdWords account
4.4. how to search for keywords in the Google Planner?
Enter words or phrases that accurately describe your business or service. You can add them in the field where it says Enter products or services closely related to your business and click on Get results
The Google Keyword Planner will offer all relevant options.
4.5. How to download keywords from the keyword planner?
You can download or export keywords from the keyword planner by clicking on the Download keyword ideas.
4.6. Is Google Keyword Planner still free?
Google Keyword Planner is 100% free to use. To access it, you don't have to spend a cent on AdWords ads. You just need a Google account. In short, you can access the tool WITHOUT running an AdWords ad.
4.7. Is Google Ads free?
Signing up for Google Ads is free, but if you want to start a campaign with them, you will have to pay.
4.8. Is Google Keyword Planner good for SEO?
Although it has some limitations, this tool is considered an effective keyword tool that should not be overlooked. It is a fantastic way of identifying new keyword opportunities for SEO and PPC campaigns.
You can also use it to predict the potential impact that Google Ads can possibly have on your business.
4.9. How to use Google Keyword Planner without paying?
Once you have created a Google account, you will then need to set up your Google Ads account before you can access the Keyword Planner
Currently, the keyword planner is free to use and you do not need to pay or enter your payment information to use it.
4.10. How accurate is the Google Keyword Planner?
The truth is that Google Keyword Planner was never that accurate anyway. The numbers were always rounded up to the nearest thousand and they are only estimates anyway, not precise numbers
This makes the Keyword Planner a great tool to discern estimates and give you an idea of your keyword strategy.
4.11. how do Google keywords work?
As the name implies, keywords are key words or phrases that users enter into Google when they search to find the information they need
Google Ads allows advertisers to bid on keywords relevant to their business so that their ads are shown to users when those keywords are entered.
4.12 How to do a successful keyword research study?
Research your niche;

Define your objectives in advance;

Make a list of relevant topics;

Create a list of keywords to start with;

Use powerful keyword research tools;

Conduct a search intent study;

Identify long tail keywords;

Keep an eye on your competitors.
Bottom line:
Google's Keyword Planner is an invaluable tool for many businesses.It is packed with extremely valuable information that is difficult to obtain from any other keyword research tool. However, it should be noted that it has its limitations.
So you can use it with other tools to learn more about your market, your competitors and your customers
Getting the most out of your keyword planning strategy may seem like a challenge at first, especially when you are new to things like PPC and SEO
The good news is that the right combination of tools and a little guidance from an sEO agency can get you back on track in no time.
Leave me a comment below if you enjoyed this article.
Thanks and see you soon!