A bookmark (also called bookmark or favorites) is a URL or web page address deemed relevant by a user and saved for future use. Generally, it is used in two cases, the first of which is saving bookmarks on a browser. The second refers to websites that allow saving bookmarks to an online account.

With thousands of websites available on the net , it often happens that you come across excellent or very useful content, tools or web pages.
But how can you find them later if you have nowhere to look? What if they no longer appear in your search engine results?
Instead of trying to memorize them or write them down on paper, you can save their address on your browsers or social bookmarking sites in order to find them easily and quickly.
To help you better understand this concept of Favorites, as well as the difference between simple favorites and social favorites, we will discuss the following points:
What do browser bookmarks and social bookmarks mean?
What differentiates the two?
How to create and organize bookmarks on browsers?
How do social bookmarks work and how do they help with website SEO?
What are the best social bookmarking sites?
Let's find out together !
Chapter 1: What do browser favorites or bookmarks mean?
In this first chapter, we will discover the basic notions of Favorites or Bookmarks, the nuances that may exist and how to create them in your browsers.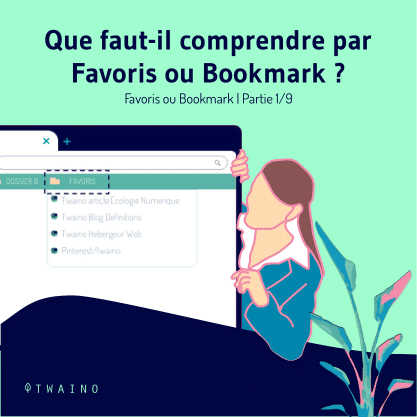 1.1. Favorites & Bookmark: Do they mean the same thing?
Favorites and Bookmark, also called bookmark, play practically the same roles, only that each browser has a particular name for this same functionality.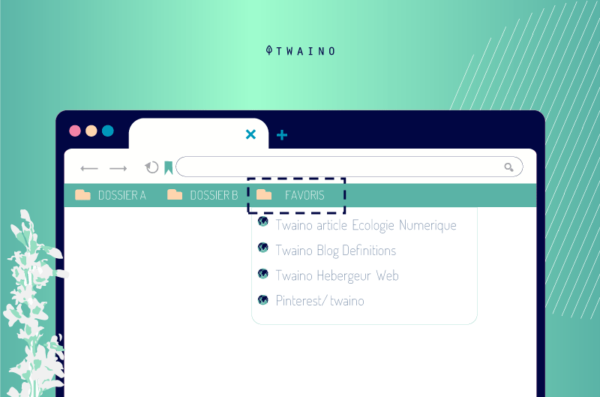 Although the name in one browser might not be the same in another, Bookmark and Favorites are pretty much the same thing.
For example, when you save a page in your Windows Internet Explorer browser to read it later, this is called Favorites.

But if it was done with the other web browsers such as Mozilla Firefox, Google Chrome and Apple Safari, we speak, however, of Bookmarks also called Bookmarks or bookmarks.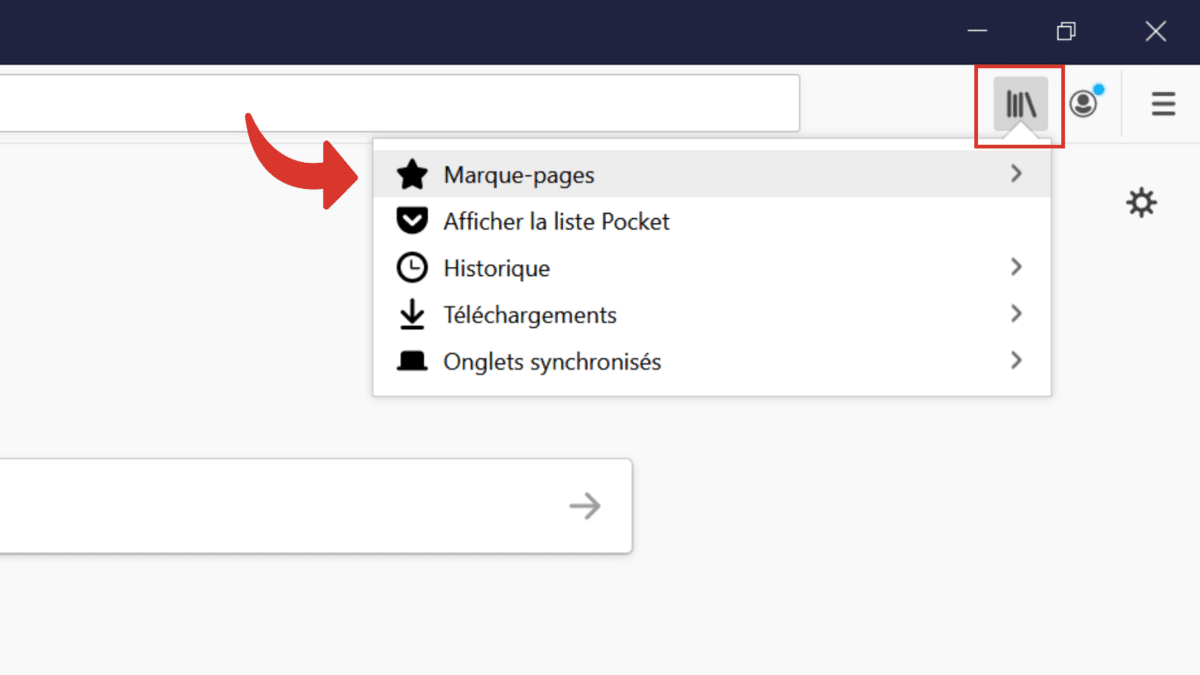 1.2. Simple Bookmark & ​​Google Favorites: What's the difference?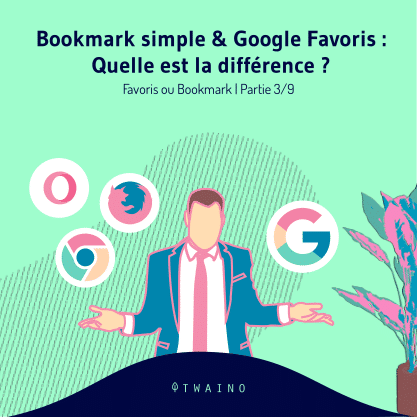 If you have ever heard of bookmarking, you should know that it is a service provided by Google Bookmark or Google Favorites.
Unlike simple bookmarks, Google bookmarks can only be saved when you have a Google Bookmark account.
This would mean that you can access your Google bookmarks online, and from any device, as this will involve logging into your Bookmarking account.
Whereas simple bookmarks are immediately available and only in the browser used to make the registration.
There are useful plugins or add-ons that can make it easier to administer and navigate your Google bookmarks.
1.3. Where are Favorites Browser
When you start by typing the name of a bookmarked page into your browser's search bar, you will be presented with a list of all bookmarked pages.
You will find the address of the page you want to review and it will be immediately available to you when you click on it.By default, Google Chrome does not show the bookmarks bar and will only be accessible via the ( … ) menu.
You will have to click on the three vertical dots in the upper right corner of the browser and select "Favorites" then "Show the favorites bar":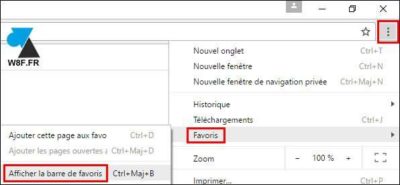 Once enabled, the bookmarks bar will be displayed below the Google Chrome address bar. If you have favorites already saved, these will be displayed in this bar.
Also, with Microsoft Edge, the bookmarks bar will display the pages you have saved under the address bar.
This means you can get to them faster and is useful for links you access frequently.
For this to appear, you must activate it from the "…" menu located at the top right of the browser. Select "Settings" then "Show favorite settings", and activate the "Show favorites bar" button: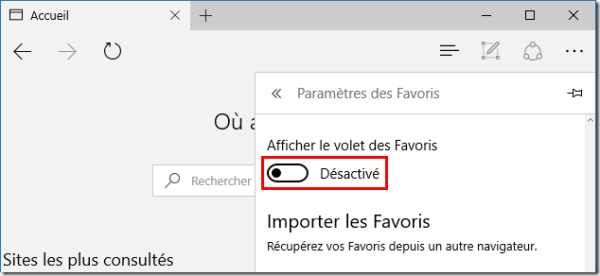 In Firefox, to display the bookmarks bar below the address bar, you can click on the "book icon" located at the end of the address bar and select "Bookmarks":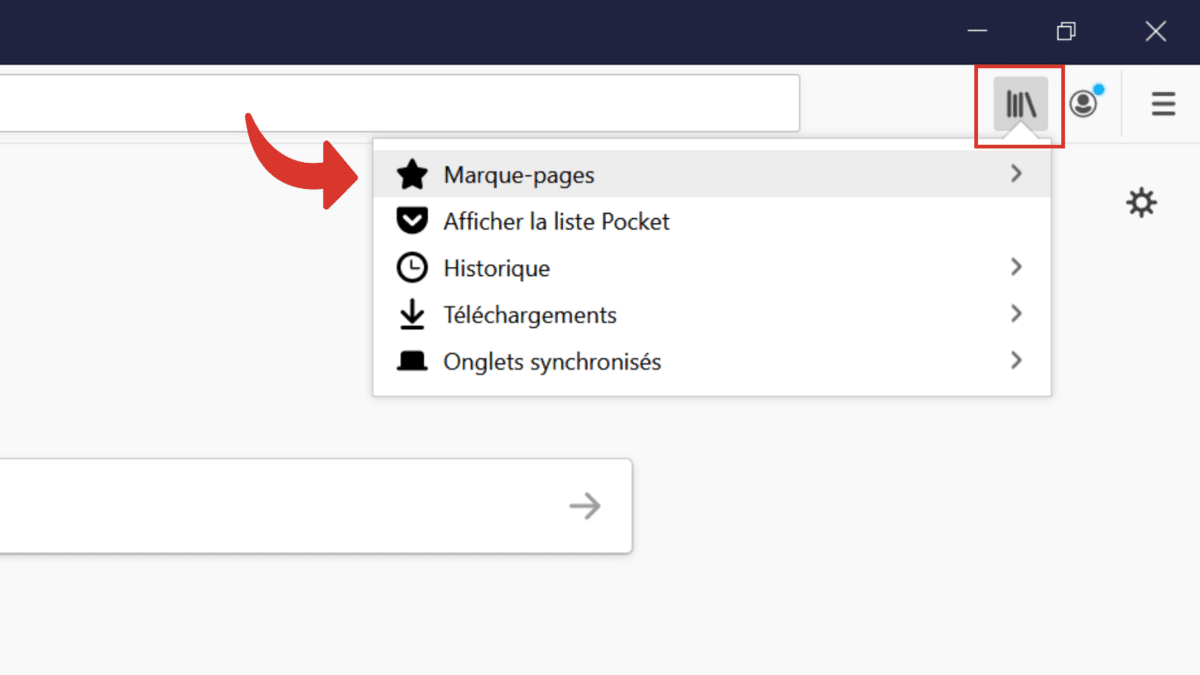 Once in this menu, select "bookmarks", then "bookmark creation tools" and finally "show bookmarks bar".
Very often, favorites are recognized from the star or bezel symbol visible directly on your browser.
1.4. What is the use of Browser Bookmarks?
These bookmarks are useful for basically storing on your browser the websites you access frequently and the ones you want to revisit later.
Most browsers allow you to create a group of bookmarks which you can then open all at once.
This is a really convenient way to simultaneously launch all your favorite web services like:
Your social media accounts;
Email accounts;
Favorite news websites;
A recipe you want to try one day;
A long news article that you want to read later;
A tutorial you want to work on;
A useful online tool that you want to be able to find later;
Etc.
If you want to keep one of these types of web pages in view, the best way to save the website is to add it to your favorites.
Now that you know the usefulness of simple bookmarks, let's take the practical step of creating, organizing and synchronizing them across multiple browsers.
Chapter 2: How to create, organize and synchronize bookmarks across multiple browsers?
2.1. How to create Favorites?
Since not all browsers have the same name for this web address recording feature (Favorites for some and Bookmark for others), the creation steps also differ from one browser to another.
2.1.1. Creating bookmarks in Internet Explorer
In Internet Explorer, you will see at the top right of the search bar, a small icon in the form of a star. Click on it and select "Add to favourites".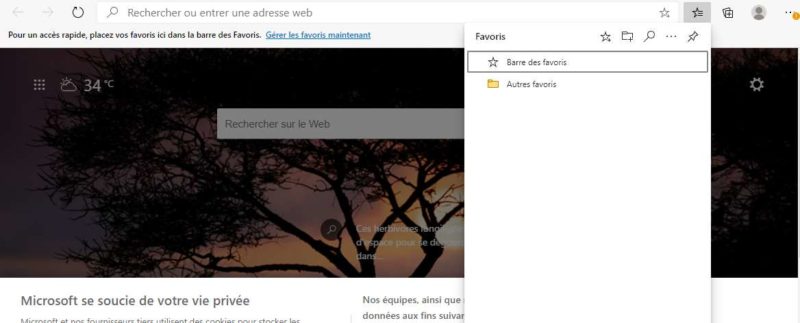 A small window appears with the name of the web page you can change to a shorter, more recognizable name.
At this point, you only have to create a new folder. You can also click on the "Create in" box to place the website in a folder you have previously configured. And the next step will be to click "Add".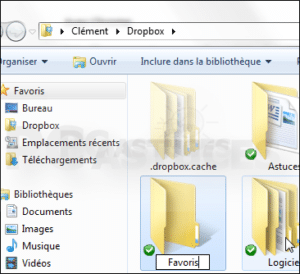 To upload one of your favorites, just click on the star icon. You will see a list of saved web pages and folders. After opening the folder, click on the page you are looking to review.
2.1.2. Creating bookmarks in Chrome While in
the Chrome browser, click on the star symbol located on the right side of the search bar.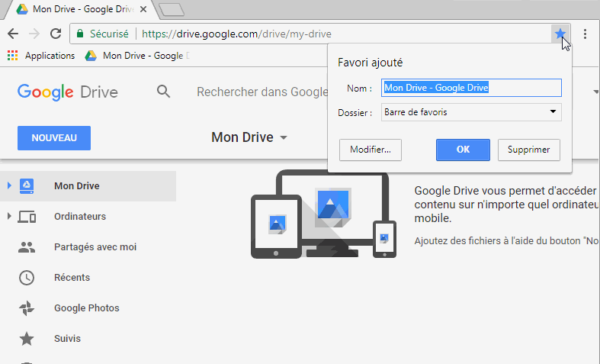 The favorites box opens. Here you can change the name of the webpage to something recognizable.
Then click the arrow in the Folder box to display a list of folders. Select the one where you want to store the page. Or select "Choose another folder" and click on "New folder".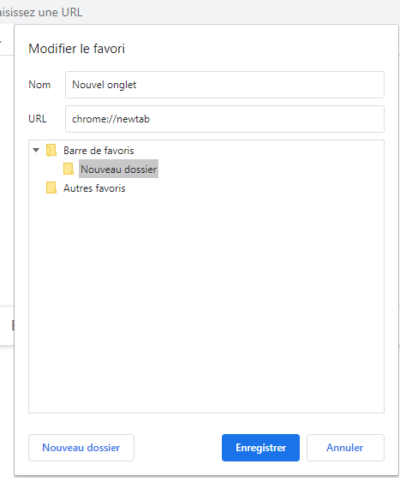 To upload a website stored in your bookmarks, click Other bookmarks in top right of the screen to bring up a list of folders. Click on the one that contains the page you want to review, then click on the page.
2.1.3. Creating bookmarks in Firefox
In Firefox, click on the star icon to the right of the address bar and in the small box that appears, you can change the name of the web page and choose the folder in which it should appear.
To get your list of folders, look for "Folder" in the menu and click on it. Select the one you want. To create a new folder, click on Choose, then on the + symbol. Then rename the newly created folder and click "Done".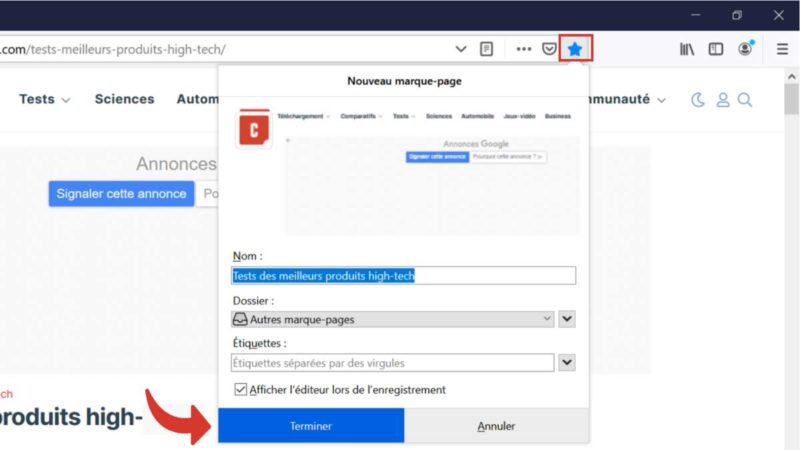 To quickly access a site stored in your bookmarks, click on the star image at the top of the screen and select Show All Bookmarks. Finally, click on the correct webpage.
2.1.4. Creating bookmarks in Safari
Click on the + in the toolbar, in the box that appears, you have the option to change the name of the web page.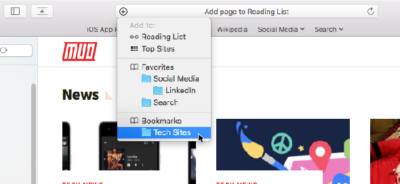 Then click on the arrow button to display a list of folders, select the one in which you want to store the page and click Add. Create new folders using the Bookmarks menu at the very top of your screen.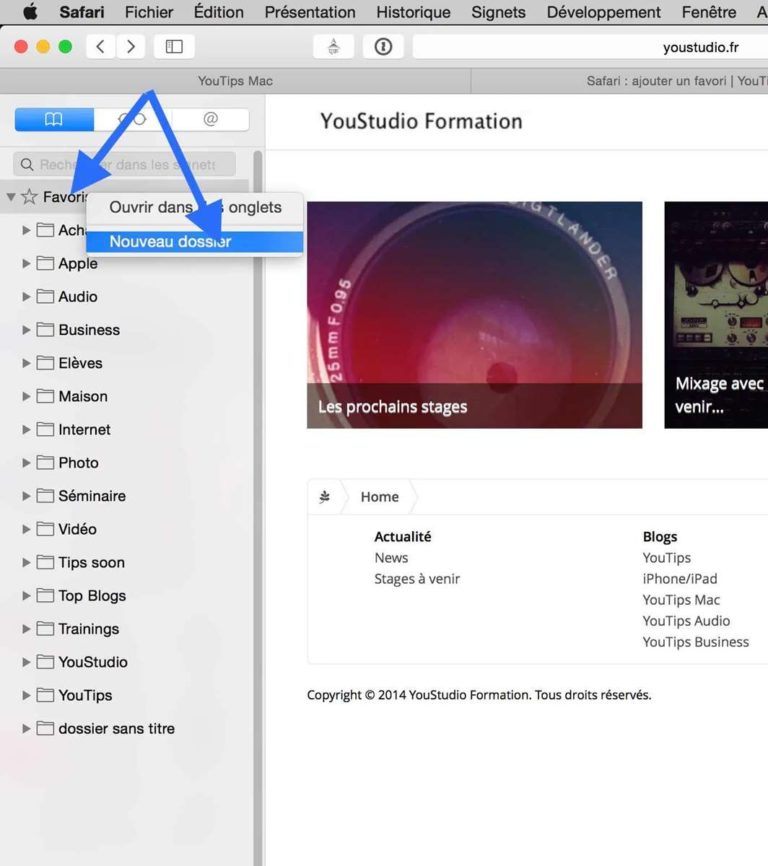 To view your bookmarked page, click the book symbol in your toolbar, and click on the correct folder, then on the desired page.
2.1.5. Creating Bookmarks on Smartphone
Tablets and smartphones also allow you to create bookmarks or favorites in folders.
Go to your browser and look for a star icon.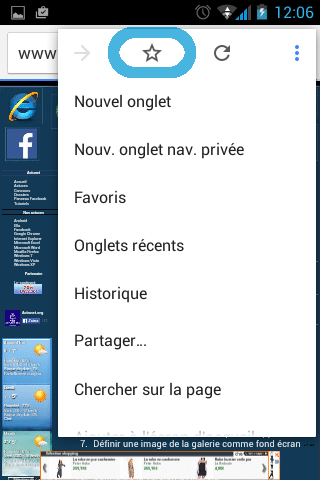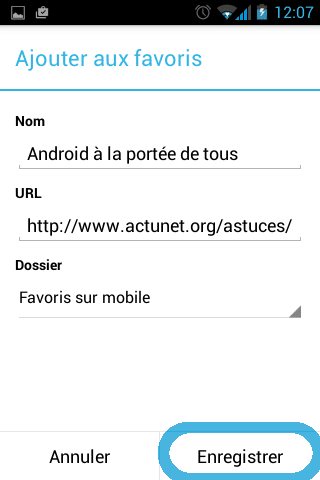 Click on "Edit", on some phones this may be a pencil icon), and you should be able to save to favorites. existing folders or create a new one.
On some phones, you can also save a web page to your home screen where it will look like another app that you can visit with just one click.
After creating bookmarks, it would be great to organize them so that you have good visibility of your bookmark folders:
2.2. How to organize favorites?
It's a simple process, but it varies depending on the browser you're using:
You can sort your bookmarks by clicking the three-line or three-vertical-dot icon in the top-right corner, then "Bookmarks " and then "Bookmarks manager" (Ctrl+Shift+O):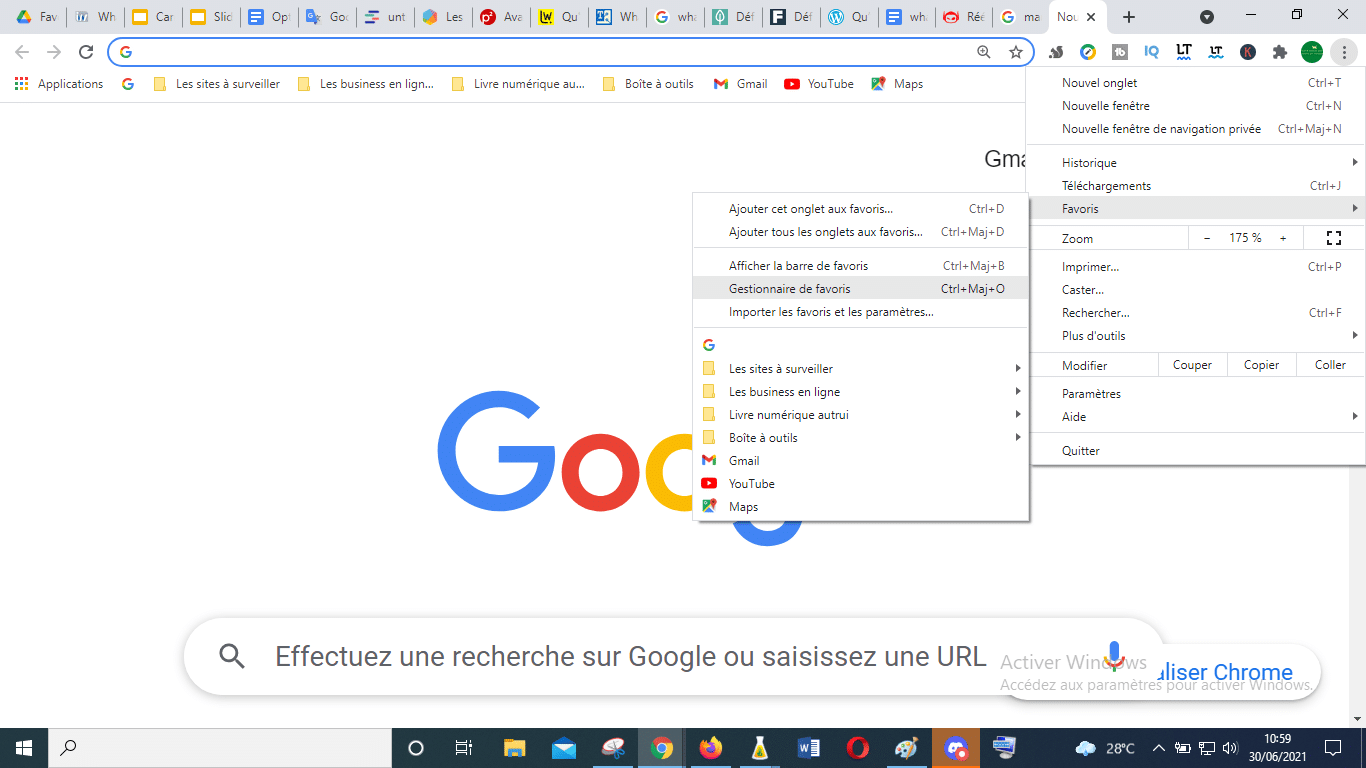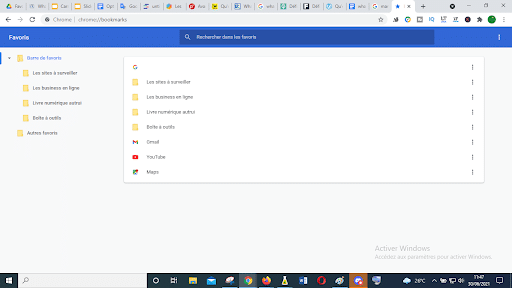 Then click on the three vertical dots at the end of the bookmarks search bar, and click on "Sort by name":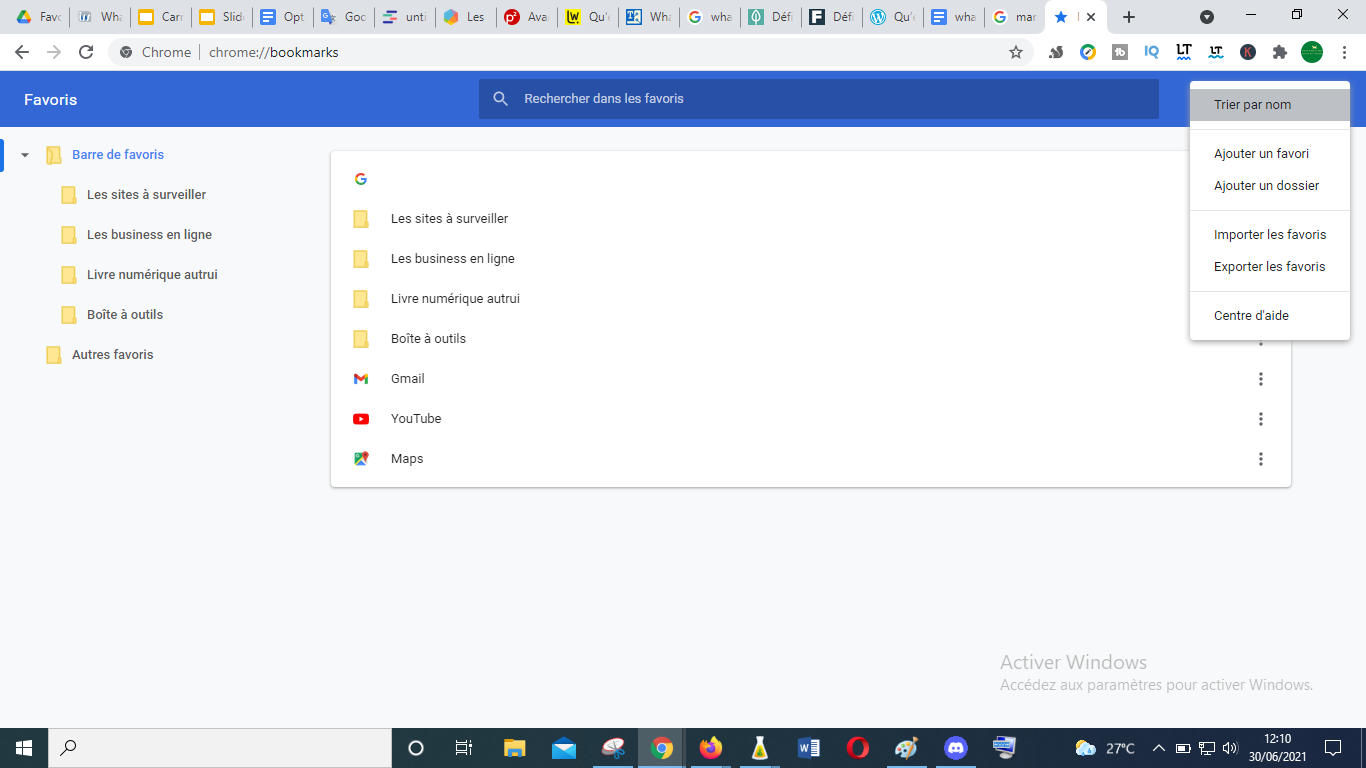 Among these same options, you can also click to add a new bookmark or a new folder: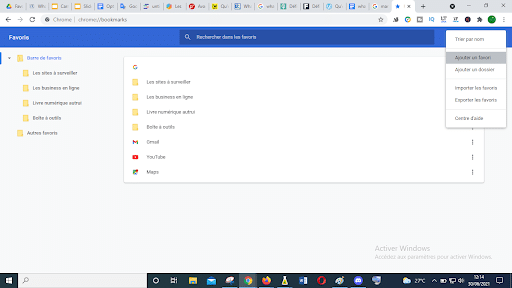 To move pages into folders, drag and drop them on the screen into the required folder.
To go faster (shortcut), click Ctrl+D and choose the name and folder of your favorite page: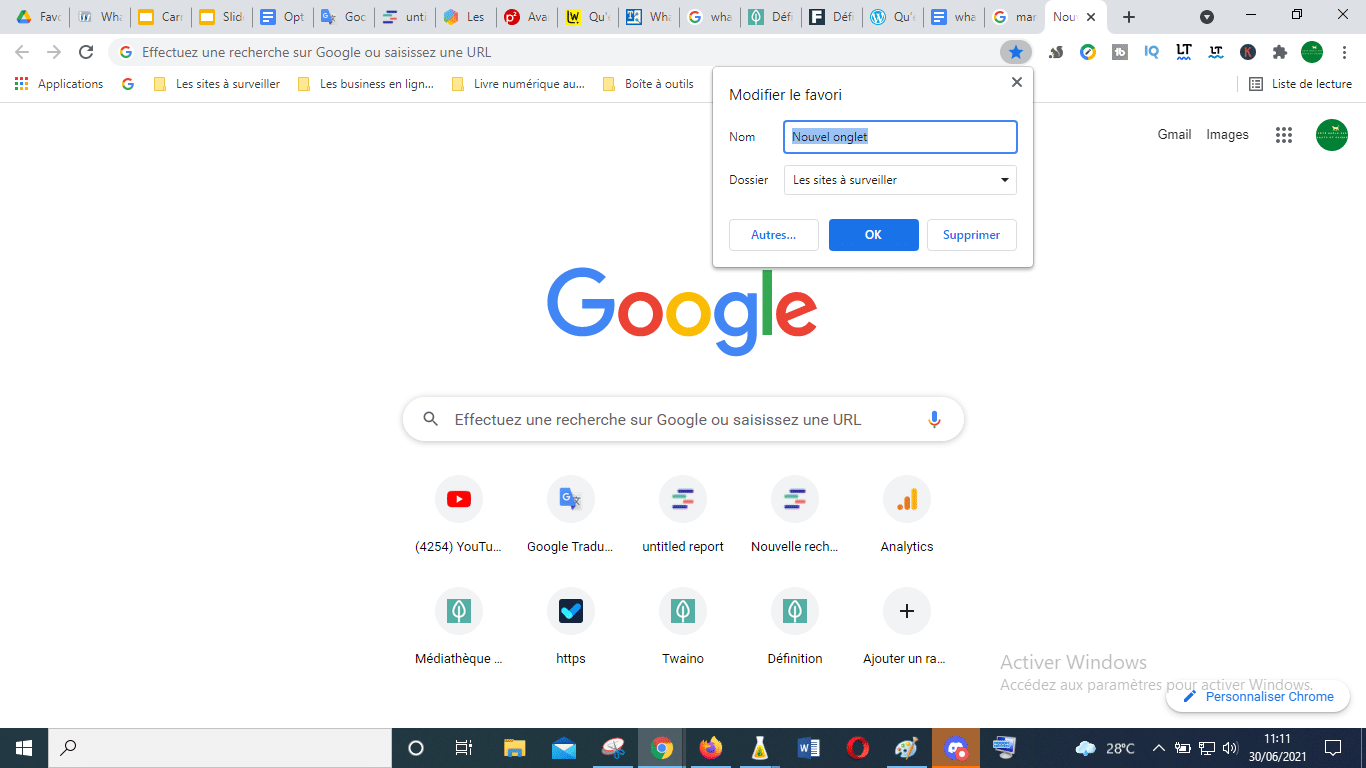 At the end, click the blue OK button.
In the bookmarks bar, click the open book icon to open your bookmarks list. To add a new folder, click the + at the bottom of the list in the left sidebar and type the name you want to give the folder.
You can click and drag if you want to move them to another place.
This video can guide you better:
First, you can save, name and choose a folder for your favorites page by clicking on the star icon located at the end of the address bar: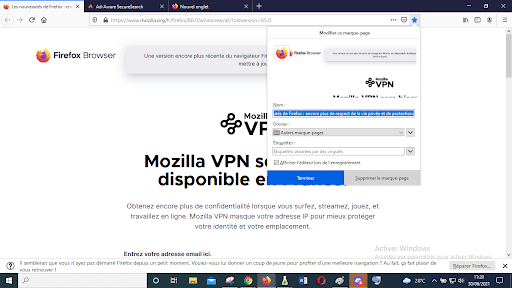 If you want to sort links by alphabetical order in any folder, right-click on this folder and select "Sort by name":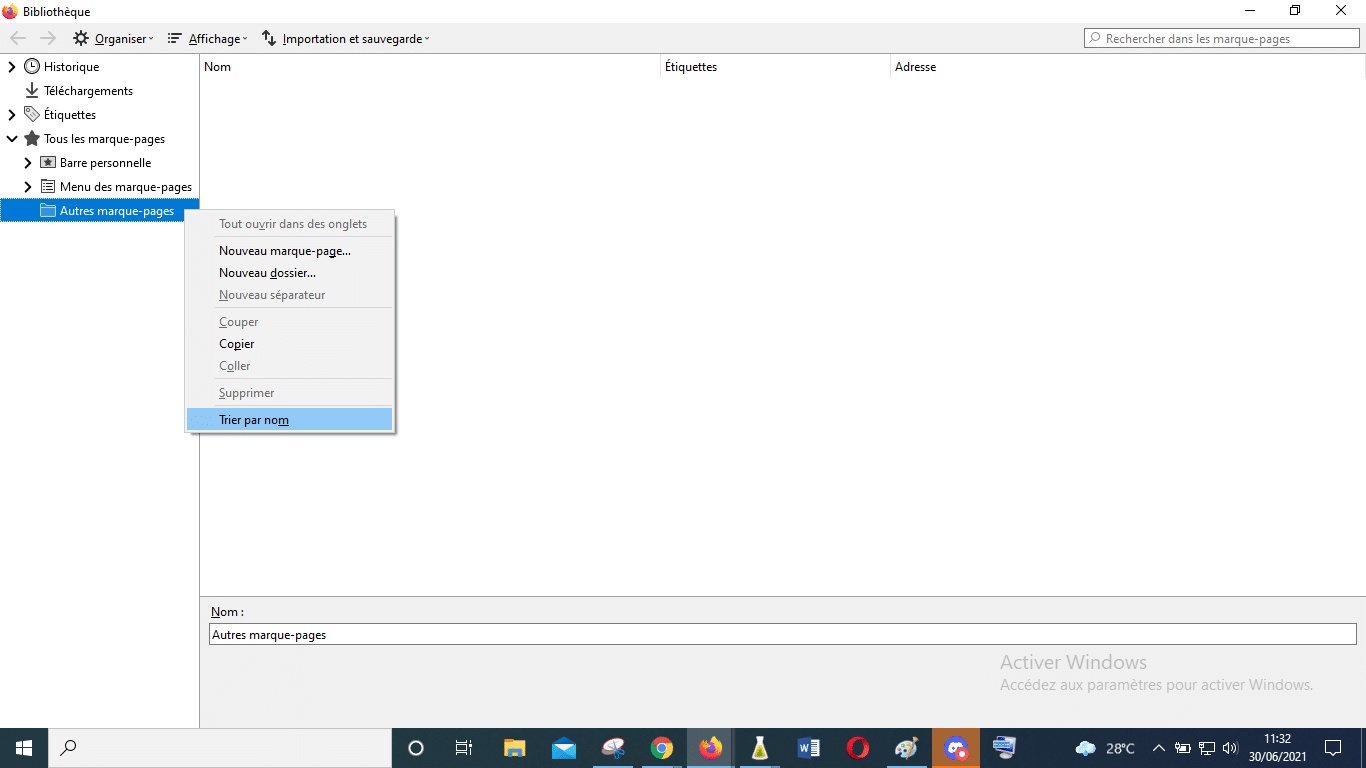 To go to the page above, you will have to click on Ctrl+Shift+O or click on the four vertical lines in the upper right corner, then on "Bookmarks" and finally on "Organize bookmarks":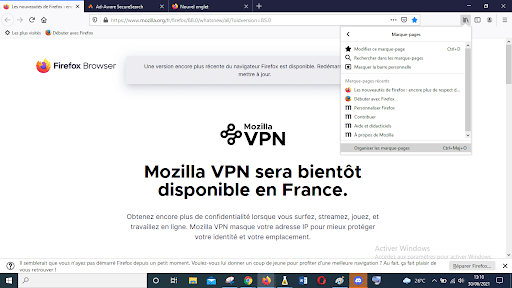 You can also move links and folders by dragging and dropping them. dropping it to the desired location on the screen.
If you right-click on any folder, you can choose "New Folder" to create a new folder directly: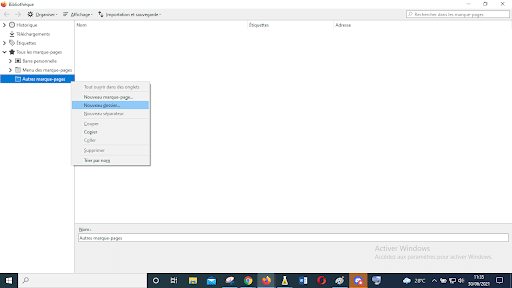 But, on a Mac, click the gear icon and select New Folder from of the.
For more clarification on the organization of bookmarks on Firefox, you can consult this video:
After organizing your favorites, it is important to synchronize them on several browsers in order to avoid possible losses:
2.3. How to sync bookmarks across multiple browsers?
The problem with the internal sync option for Firefox or Chrome is that it only works in that browser, not other browsers.
If you use a combination of Firefox, Chrome, IE, and Edge, a third-party bookmark sync tool is a better option.
Let's see some of these: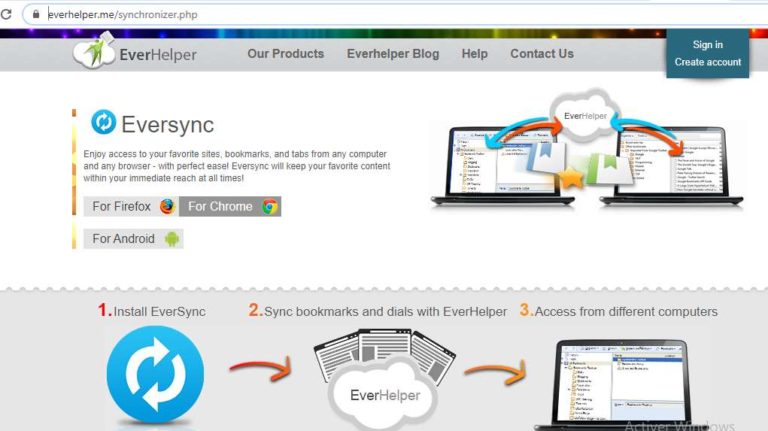 Eversync by Nimbus is an extension that can synchronize your bookmarks on Firefox and Chrome on Windows, iOS and Android.
The first thing to do is to create an account that will allow you to save your bookmarks online.
Then you can merge your local and online bookmarks. From there, they can replace each other.
You can manually sync your bookmarks if you want, and select an option to automatically sync them in the background every 30 minutes.
Favorites can also be manually backed up to your account at any time and then restored from a saved dataset if you experience any issues with your current favorites.
Nimbus encrypts your bookmarks to secure and protect them when syncing.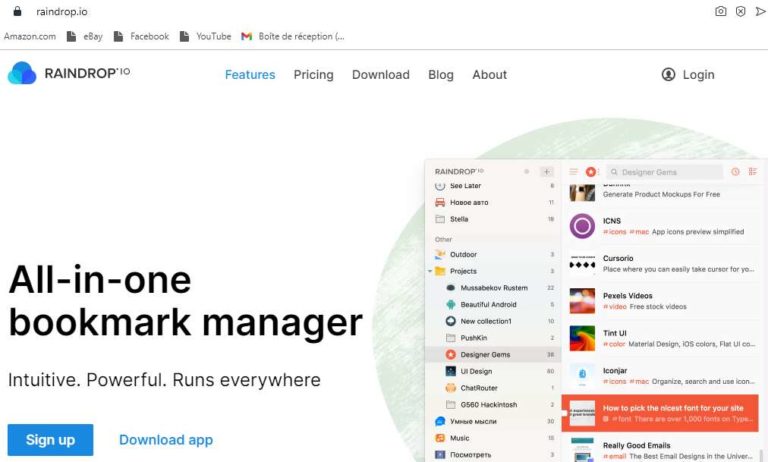 Raindrop.io works a bit differently than Eversync. Instead of using and syncing your bookmarks locally, you do so through the Raindrop website. Their online access is just as convenient as their local access, but not so fast.
You can view and work with your bookmarks through the Raindrop toolbar icon or through the Raindrop pane. After installing the Raindrop.io as an app or extension and creating a free account, you can import your existing local bookmarks into the service.
From there, install the program for other browsers on your other devices, log into your account, and you'll see your stored bookmarks. You can sort your bookmarks by name, date and othercriteria.
Edit or delete a bookmark in one browser, and the edit appears immediately in other browsers, because they're all running in the same collection.
To create a new bookmark, click on the Raindrop icon, choose the folder where you want to store the bookmark, then click "Add on bookmark".
Raindrop directly supports Chrome, Firefox, Safari and Opera. The program is compatible with Windows, macOS, iOS and Android.
In Internet Explorer or Microsoft Edge, you can use Raindrop as a web application to view and open your bookmarked pages.
This video shows you things step by step:
Those of you who use RoboForm as a word manager can also use it as a bookmark synchronization tool.
Like Raindrop.io, RoboForm takes over your built-in local browser bookmarks. So your bookmarks automatically sync across any computer or device you run RoboForm on.
To configure this, in the Options window, select the Account and data setting. Click the Import button. If your bookmarks are stored in folders and subfolders, check the "Sort imported data into subfolders" box.
Then click the Import button next to the browser containing the bookmarks you want to import.
RoboForm works with any web browser. If youwant to access a bookmark in a browser that uses RoboForm, click the RoboForm icon in the toolbar and select the entry for bookmarks.
All of your bookmark folders will be presented to you. Simply open the folder and select the bookmark of the page you want to launch.
You can fully manage all bookmarks stored through RoboForm by clicking the RoboForm toolbar icon, selecting the entry for bookmarks, and then clicking the Edit command.
Here is a video guide of this tool:
2.3.4. Favoris iCloud on iOS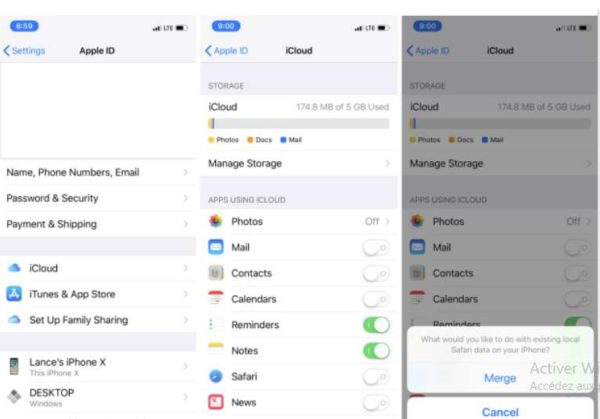 You can use iCloud to sync your bookmarks between Safari on your iOS devices and Chrome, Firefox or Internet Explorer on your Windows PC or Mac.
To start by setting this up with your iPhone or iPad, you need to click on "Settings". Then tap on your profile.
On the Apple ID screen, tap the entry for iCloud. Enable the setting for Safari. Tap the option to merge all existing local Safari data on your iPhone or iPad.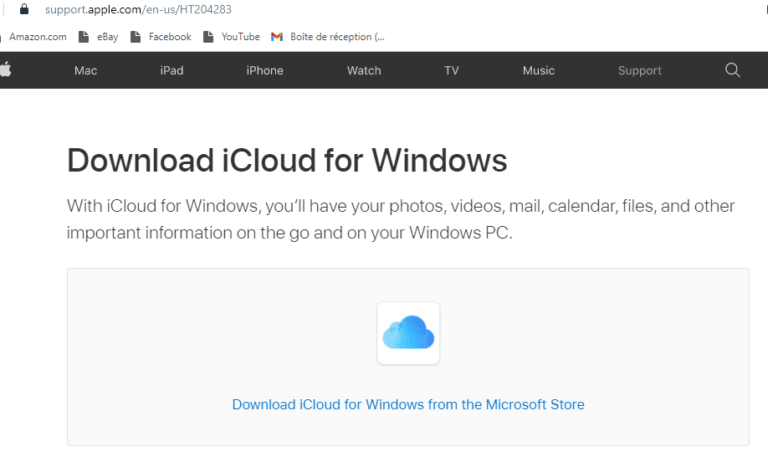 On a Mac, the necessary iCloud program is integrated . On a Windows PC, download iCloud for Windows if you don't already have it. Open the iCloud program on your computer and click the check mark for bookmarks.
In the Bookmarks Options window, check the browsers you want to include in bookmark synchronization: Internet Explorer, Firefox and/or Chrome. Click OK, then Apply.
You are then prompted to download the iCloud Bookmarks extension for Firefox or Chrome. When you click "Download", your browser opens to the iCloud bookmarks page.
Click the Add button to add the extension to the browser, then restart your computer. When the computer restarts, open the backup browser and your bookmarks should now be synced between Safari on your iPhone or iPad and the browser on your computer.
Apart from bookmarks on browsers, there is also another form of bookmark called "Social bookmarking". This is what I will try to explain to you with all the details that follow in the next chapter.
Chapter 3: All about social bookmarks
3.1. What is social bookmarking?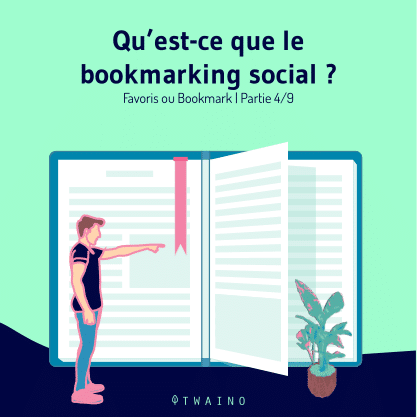 Social bookmarking is an off-page optimization method that allows you to save links to your favorite pages on online bookmark sites rather than browsers.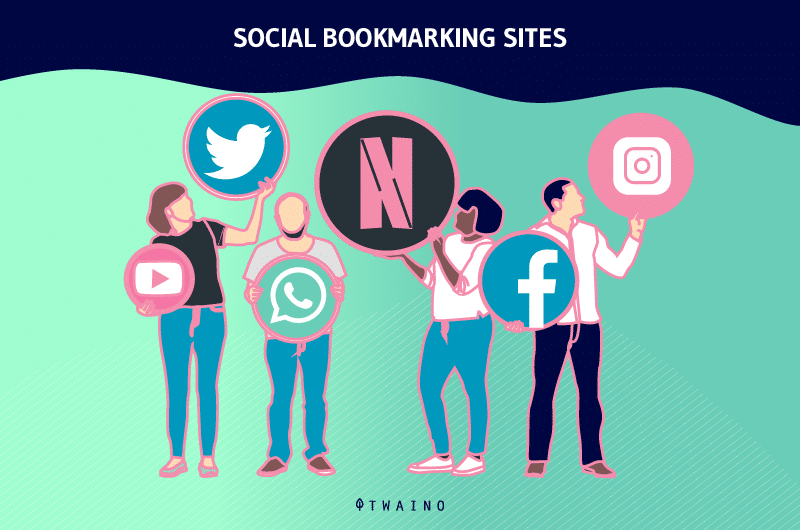 These links or bookmarks are marked up pages on the web that can be accessed from any computer or phone with internet access, and therefore zero risk of loss.
Thus, each such bookmark acts as a backlink which helps to improve the SEO of the site.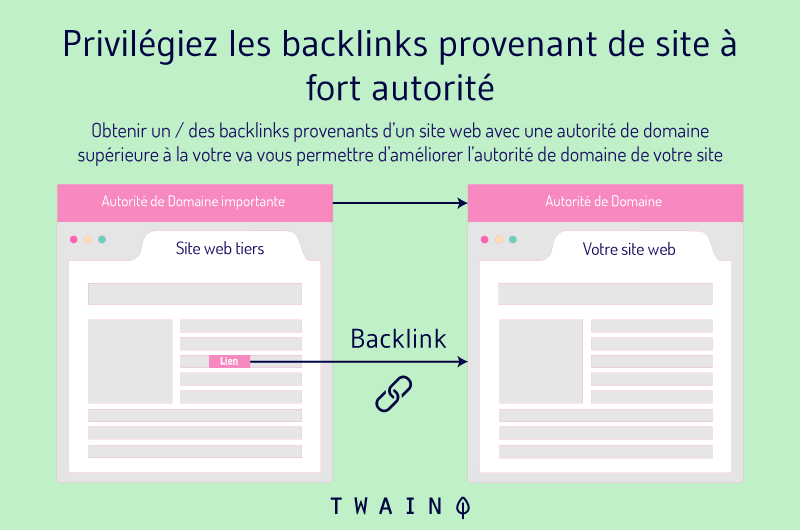 These stored links are considered quality backlinks because in most bookmarking sites you can give your URL a title and add a description and related keywords.
Therefore, the title is stored with the link which acts as anchor text for the backlink. You can also incorporate your primary keywords into the title to turn your social bookmark into a keyword anchored backlink.
3.2. How do social bookmark sites work?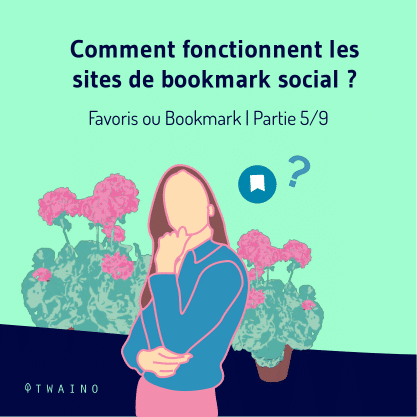 With these sites, you can:
Save your favorite web pages and send them to your friends;
To see what other people have found interesting enough and marked as favorites;
Browse only topics that are currently popular or recently added.
They also give you a categorized list of things you want to look for, such as:
Shopping;
Education;
The sports ;
Etc.
In short, social bookmarking sites work much like traditional search engines in many ways.
3.3. Social Bookmarking vs Social Networking: What's the Difference?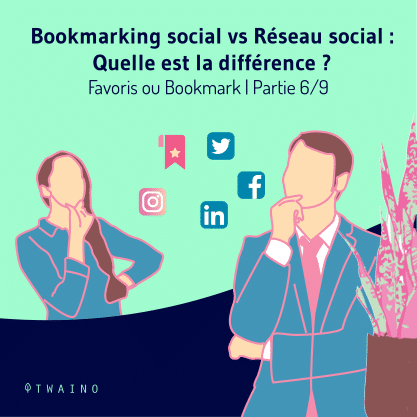 We can sometimes confuse social bookmarks and social networks simply because the term "social" is found in both expressions.
Just focus on the first part of these expressions: "Bookmark" versus "Network".
On a social networking site like Facebook, a person or business typically creates a profile with a description and then interacts with a community.
On the other hand, the main purpose of social bookmarking is online registration or bookmarking of a website that will be visited later.
Social bookmarking sites like Tumblr, Digg, YouTube, and StumbleUpon are different from social networking sites like Facebook and Instagram. These online favorites sites function as an archive or directory of websites.
But socialnetworking sites can also be used indirectly as social bookmarking sites. Among these, we can see: Twitter and Pinterest. We will see more details on this point in the section of the best social bookmark sites.
3.4. The main benefits of social bookmarking for individuals and businesses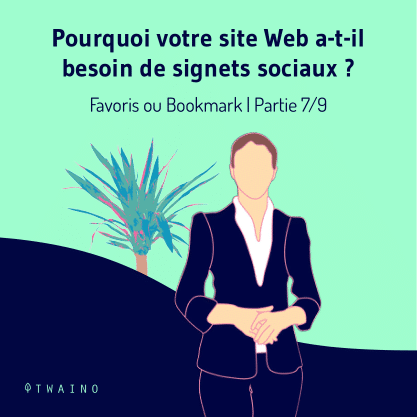 Social bookmarks are not only useful for saving information to review later, but also for sharing it with other people. They are likewise great ways to do business marketing.
Here are some of their benefits:
Ability to share photos, videos, and links
Social bookmarking websites allow you to save your online favorites, tag relevant keywords, and share them with groups.
Since these bookmarks are on a website and not stored on your computer, you can view them anywhere in the world. By simply registering on the relevant social bookmarking sites, you can easily safeguard your assets.
Listing your business on social bookmarking sites will help you attract many visitors in the form of traffic. In fact, people coming to your website from a social bookmarking site are there because your website appeared in the results of the topics they were looking for.
Easier to show up on SERPs
If you're on a bookmarking site, search engines may list results from there. This means that your content, when it goes viral on these sites, will have a higher chance of appearing in search engine results.
Easier By adding social bookmarking buttons to your website, it becomes easy for readers to save and share your content, increasing traffic.
help If you are on a bookmarking site, there may be chances that you (your website) will be tagged on other websites.
It's a great way to promote your website and it also helps with link building. All of this for free, as the vast majority of social bookmarking sites do not charge for their services.
Generates quality backlinks
Most social bookmarking sites allow webmasters to create quality backlinks to their sites.
Backlinks generatedby content submitted on social bookmarking sites help improve Google PageRank.
Social bookmarking sites are known for their fresh content. They are therefore frequently visited by search engines.
These sites allow you to save and secure your favorite web pages online. So you can access them from anywhere with any device.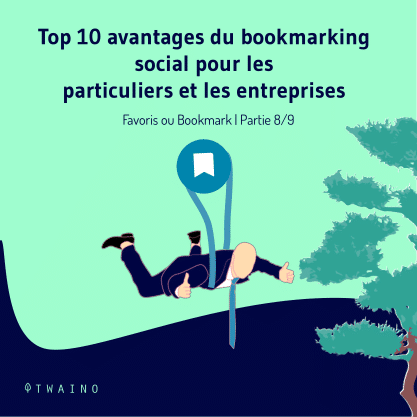 Now that you know the usefulness of social bookmarking sites, how do you choose the right one?
Chapter 4: Some popular Social
Before we introduce you to social bookmarking sites, let's look at some best practices you should follow when choosing them.
4.1. Three (03) best practices for social bookmarks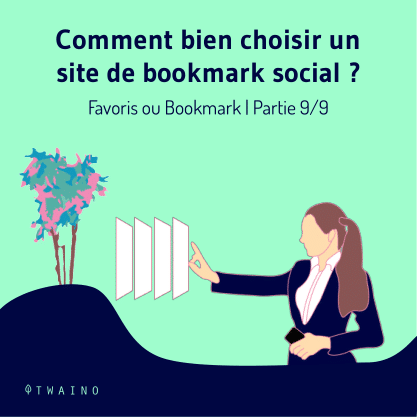 Like all areas of the web, there are best practices that you must take into account to hope for better results. Here are three main things to consider when using social bookmarking to improve your SEO :
4.1.1. Choose quality sites and sign up
Spend your time and effort on respected sites. Take a look at the suggestion in the next section. Don't waste your time on low authority sites.
In fact, posting your content on dubious or spammy sites can hurt your domain authority.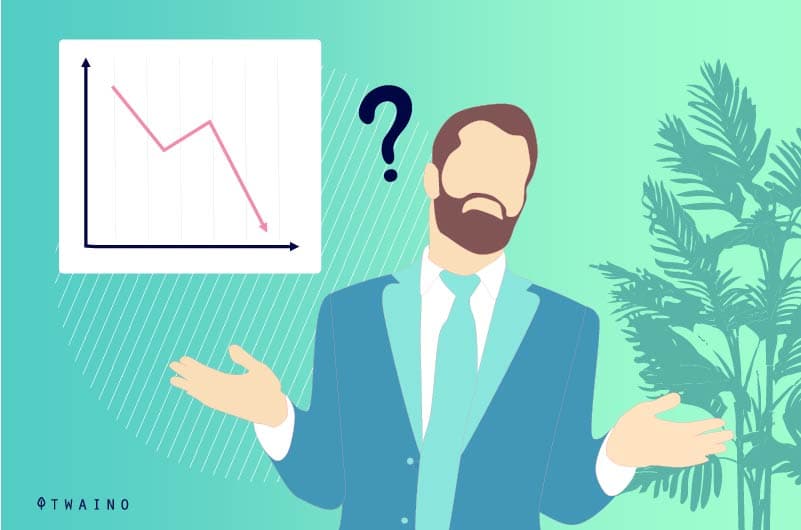 A weak authority domain means lower ranking in search engine results.
4.1.2. Make a habit of always completing your profile on social bookmarking sites
Claim your profile on every social bookmarking site you use. Add complete information about your business. Be consistent and know that clear, concise, and complete information helps search engines index a site better.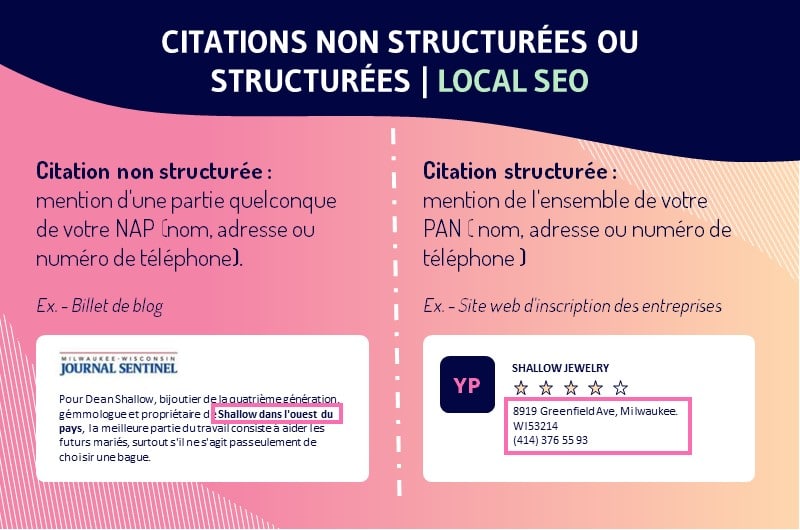 4.1.3. Engage with your audience
Social bookmarking works best when you're active. Don't disappear after completing your profile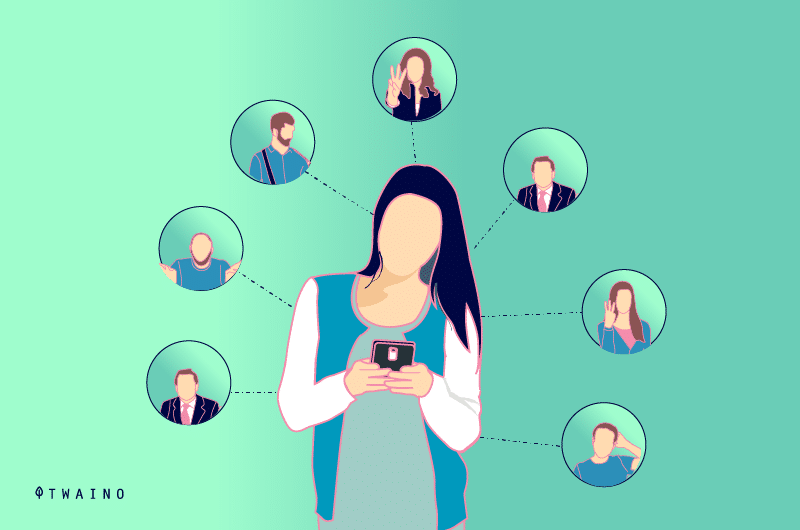 These social bookmark sites work pretty much like social media platforms. Interact with other users and don't try to be everywhere. Just choose one or two main sites and stay connected to them.
Aim to be a regular, long-term user. Set up a viable strategy by adding new pages on a weekly basis.
Now, let's see some useful platforms you can choose from for a good social bookmarking strategy.
4.2. Some popular social bookmark sites
4.2.1. Google Bookmarks Google Bookmarks

synchronization lets you add and remove bookmarks on one device and make changes take effect on all devices you work on.
The service works by connecting to Google's Chrome web browser.
To use the Google bookmarks synchronization service, you will need a Google account. Signing in to Google Chrome with this account will allow your browser to begin syncing your bookmarks with other devices where you sign in with identical credentials.
This is because Google centrally stores your bookmarks data with this account, and the only way to retrieve it is to provide your username and password.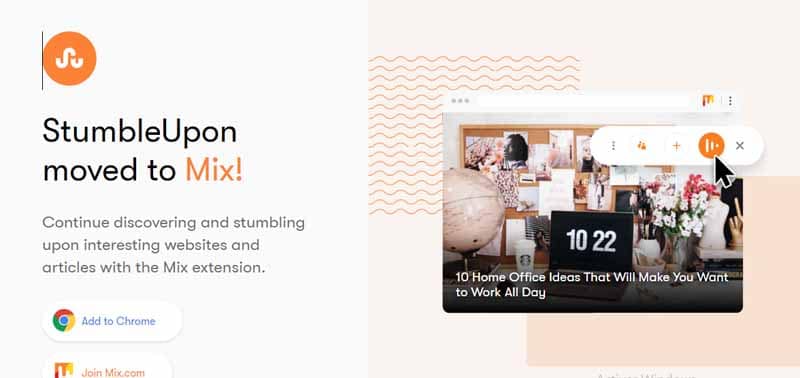 StumbleUpon is one of the biggest social bookmarking sites, but is now called Mix. Whenever you add something to your bookmarks, it offers you the option to add additional details, such as the type of content and its subject.
It comes with an excellent toolbar to simplify this process. It also allows users to sort by their own interests to see relevant content submitted by other people.
The more you use the site, the more it learns what you like. This means users who like your content will see more of it.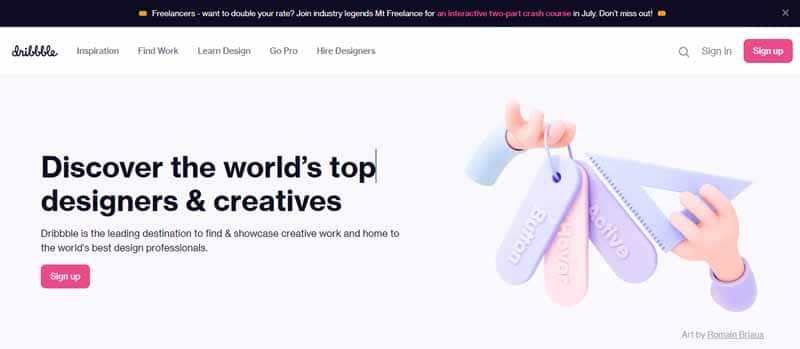 Dribble is a great (and beautiful) bookmarking site for designers. Not only is it a great place to get inspired, but also to drive traffic to your site if you're a designer or have a design team.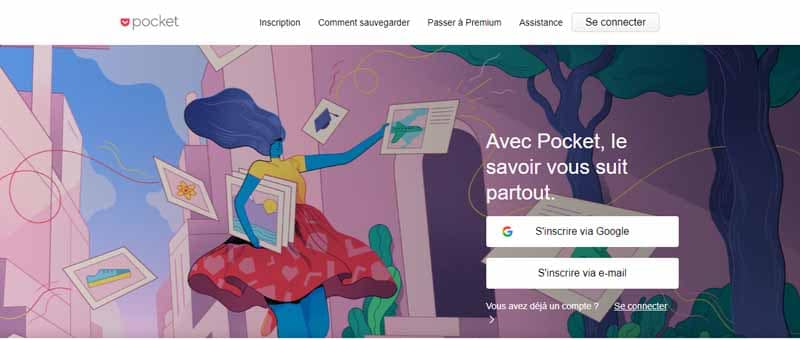 With over 22 million users, Pocket is a very popular social bookmarking site. It makes things a little easier for its users by offering an app to access the site from their device.
You can also carry out your research taking into account your personal interests to find the information you really want.
Plus, adding your own content to the site makes it easy for other users to find, which ensures quality traffic to your site.
Digg is a high authority site, but has changed a lot over the years. Previously, it was more like Reddit where the homepage was curated by site users. Now this is done by editors, but it retains its favorite page submission feature.
Digg can be a great place to find new content and organize it through your profile. It is also a great source of traffic that can bring you a lot of visitors when you submit really good quality content.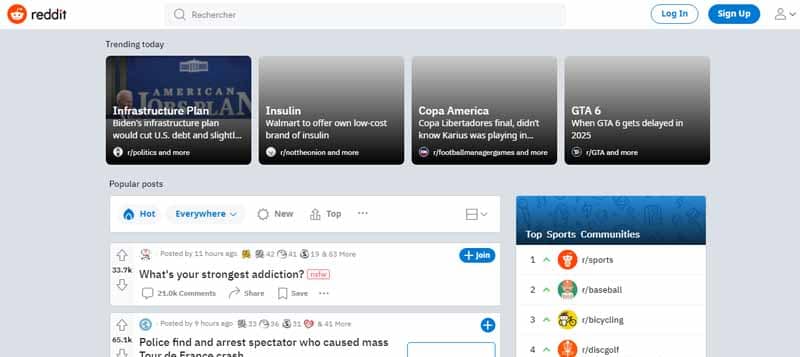 This is a very popular site with enough terms of use. Users submit links to stories, images or videos that they found interesting on the web. Other users have the choice to vote for or against these submissions.
You can also use it to promote your own content. If you want to use it in your marketing, you can take a look at our article on how to use Reddit.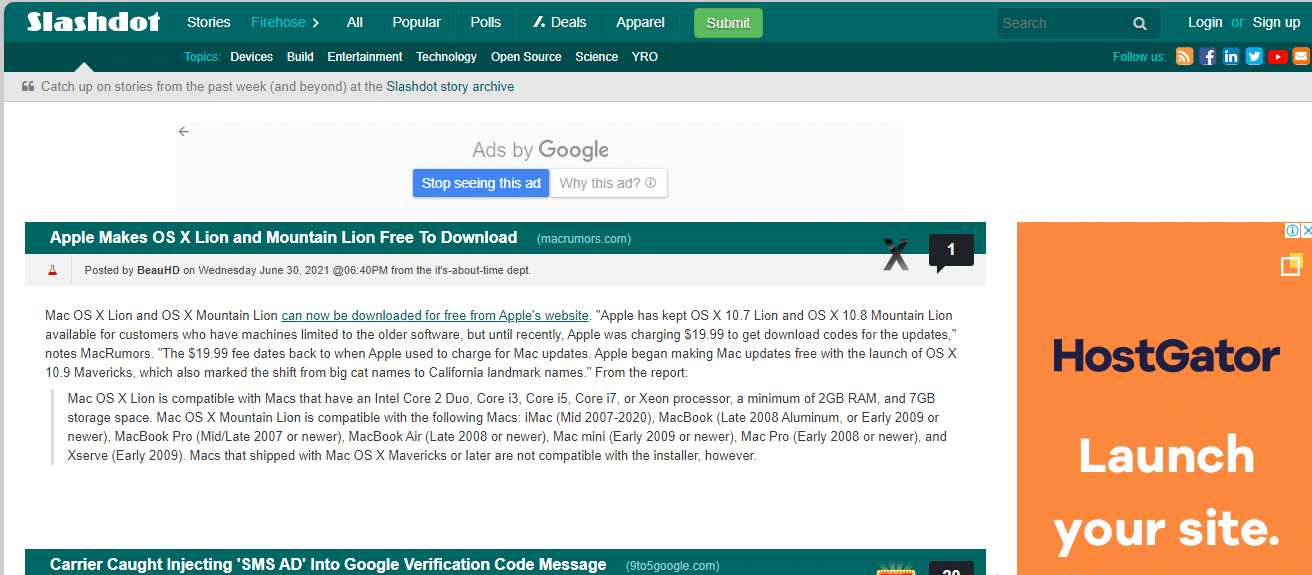 Slashdot isn't too different from Reddit. It is designed as a social news site featuring user-submitted content (with appropriate links). This often relates to topics, such as:
Technology;
Science ;
Entertainment;
Security ;
Management ;
Book reviews;
Etc.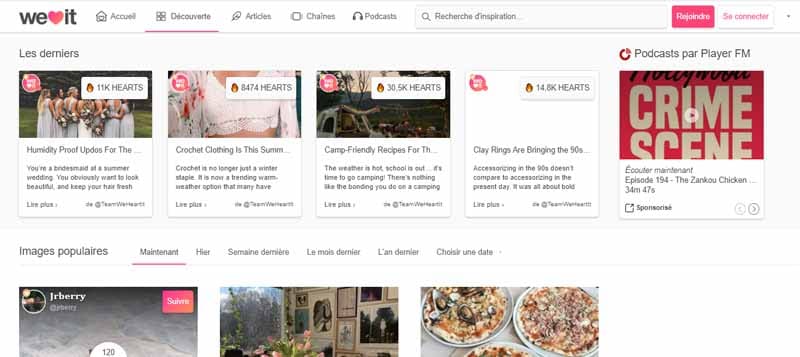 We Heart It is a bit more specific. It mostly sticks to visuals (images, GIFs, and videos) and also acts as a social network.
The site has about 45 million users, so it is worth using it. You can submit your own content and expect good levels of traffic in return.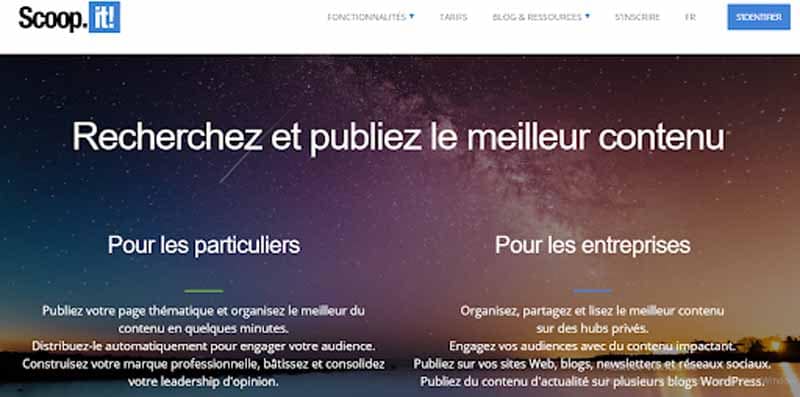 Scoop.it is aimed at professionals, businesses and non-profit organizations. The site has over a million registered users, so even though it's not the biggest site on this list, it still has a substantial following.
It lets you choose between a free and paid plan. It really depends on how many topics you want to post on.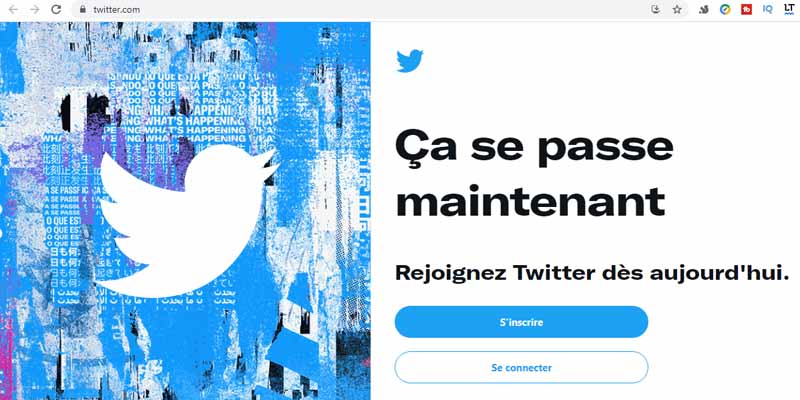 Of course, Twitter! You may not think of it as a social bookmarking site, but it is. Twitter is a great tool for this and you can achieve this in several ways.
First, simply posting links, images, and content with your account means you'll have technically submitted them as favorites. You can then return to your account to find them.
In addition to that, you can also use the "Like" button for certain tweets. Many users use it to flag interesting posts they find so they can come back to them in the future when needed.
Chapter 5: Other questions asked about Favorites or Bookmarks
Answering some frequently asked questions will allow you to deepen your knowledge of favorites a little more.
5.1. What is social bookmarking or social bookmarking?
Wikipedia defines it as:
" a method for Internet users to store, organize, search and manage bookmarks of web pages on the Internet using metadata ".
In other words, it is a method used to record and store online information or web pages for future use. It also helps you share links with your contacts.
Instead of adding your favorite web pages to your "favorites" menu in your browser, it would be better to bookmark them online, using a social bookmarking site.
With the latter, you can access your saved pages anywhere with any device that has a working internet connection.
5.2. Why is it important to submit favorites to social bookmark sites?
When we surf a site and find a particular page relevant or useful, we bookmark it so we can read it later.
But what if your computer breaks down? What if it's formatted or stolen? All your data saved in the favorites menu of the browser will be lost. It is to help avoid this situation that online favorites sites intervene.
5.3. How do social bookmarking sites help you?
These sites can help you get almost any information you are looking for on the web. They allow you to refine your search to find exactly what you are looking for.
Usually, all social bookmarking sites update and display recently added favorites lists along with popular links. That is, they allow you to get the latest versions of the information you are looking for.
In addition, they offer you relevant suggestions related to your search terms.
On top of all that, it also allows you to get free traffic to your site when you submit your own content.
5.4. How do social bookmarks help with SEO?
When we bookmark web pages on bookmarking sites, search engines see them as quality backlinks. This helps to improve the beneficiary website traffic and Google pagerank.
This is one of the reasons why SEO professionals include social bookmarking in their SEO strategy.
5.5. Can an article address submitted as a bookmark show other content?
When bookmarking a blog post, it's important to bookmark the permalink of the post.
Websites with regular updates like blogs, news sites and social networks, have many pages that aggregate the latest or most popular content.
As new content is added, the ranking of the content on these pages also changes.
This explains why it is important to bookmark the permalink of the content page rather than the home or news page of the site.
5.6. Can I add a password-protected webpage to my bookmarks?
Yes, it is possible to bookmark a password-protected page.
If a webpage offers an option such as "Remember me" on the login screen, selecting this option will store your login information as a cookie stored in your browser.
Then, when you visit the site after, your login information will be automatically transmitted to the web page and you will be automatically logged in.
While setting your browser to automatically sign in to your most-used accounts is handy, it's not recommended if you're using a shared computer. In fact, anyone using the same profile on the computer will be able to access your account.
However, if you use your computer alone, it is a convenient way to quickly access your favorite web services, such as email, social network websites, etc.
In summary
Favorites or simple bookmarks are a feature that every browser has to allow you to easily save your favorite pages.
Social bookmarking, on the other hand, requires saving your favorite pages online in order to access them with any device at any time. In addition to that, it is a great way to share information with friends and promotes the SEO of a website through the creation of quality backlinks.
I hope this content has been useful for you to understand the concept of "Favorites" also called Bookmark.
Thank you and see you soon !