In its simplest form, a datacenter is a building composed of computer equipment installed together to process and store digital data. The search engine Google also has its own datacenters to store its users' data and the web pages listed in its index.
Data backup and production remains a major concern for all companies that accumulate sensitive data and information
Data centers are an important solution to the problem of accidental data leakage, data loss and cyber attacks.
What are data centers and what do they do?

How do Google's data centers work?

Why are data centers important for SEO?
Find the answer to all these questions in the rest of this guide.
Chapter 1: What is a data center and what is its purpose?
Before discovering the importance of datacenters for SEO, it would be useful to offer a clear and thorough definition
1.1) What is a datacenter?
A datacenter is a warehouse that houses sensitive data pertaining to the various activities of a company as well as its customers. This data is stored on computer equipment such as
Computers ;

Storage bays;

Telecommunications equipment

Etc.
The rooms of a datacenter are specially designed to contain hundreds of thousands of databases on which the contents of websites are hosted on a global scale
The construction of datacenters takes into account security aspects such as
A cooling system ;

A fire protection system;

Highly sophisticated surveillance and security systems;

Geographic location

Etc.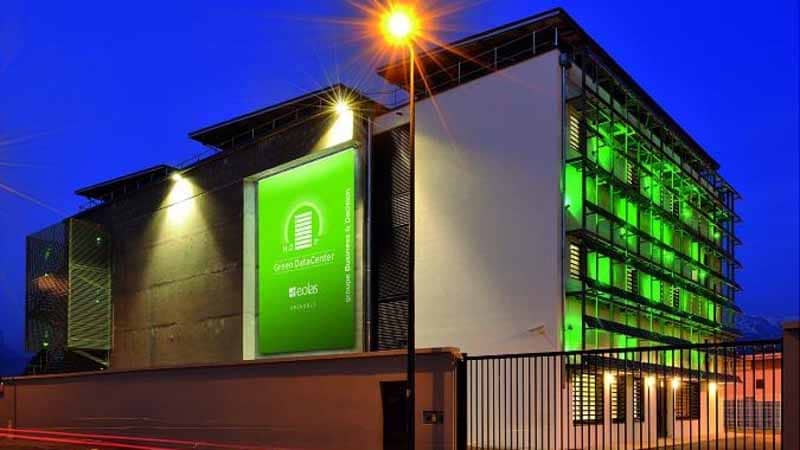 Source www.silicon.fr
Large companies like Facebook, Amazon, Microsoft, Twitter… have their own in-house data centers. The American giants Facebook and Amazon, for example, have their data processing center in Prineville, Oregon
In their data center compound, there are storage racks that contain servers called 1U servers or "pizza boxes" or "U". These are 1.75 inches in size and are meticulously stacked or stored in the storage bays as in the following image: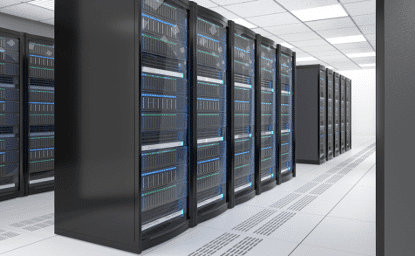 Source itnewsinfo.com
In turn, the storage bays are arranged along with some computers of the same size so that they form corridors of traffic within the data center.
1.2. where the idea of creating data centers came from
Buildings were constructed on millions of square meters to protect data servers even before the internet bubble that affected the computer and telecommunication sector in the late 1990.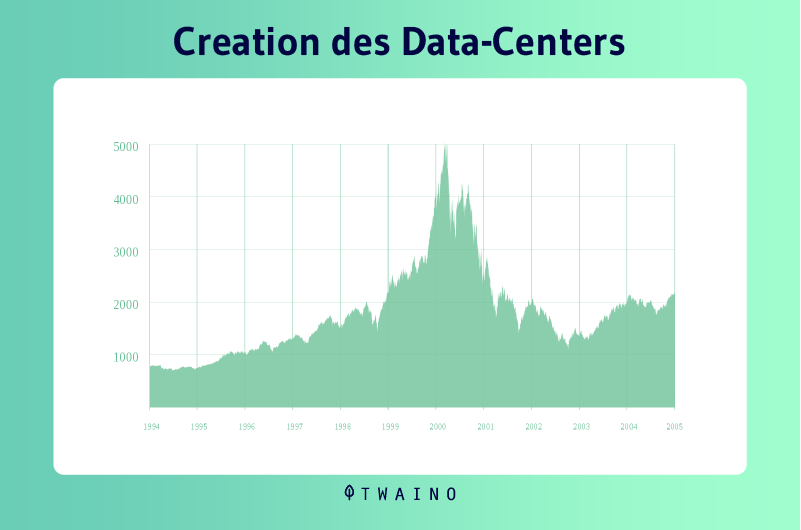 After the dot-com bubble, research continued to mature these centers and especially to equip them with cooling systems and to control energy consumption
This trend was combined with computer science to create green data centers with the appearance of more efficient and specialized tools.
Given the increasing growth of data from large companies such as Google and Amazon, data processing centers were created in 2008 and contain at least 250,000 servers with optimal air conditioning.
The Open Compute project was created later in 2011 to share concepts and techniques of data center design with giant companies, players in the IT and telecommunication sector. This project has helped Facebook to limit and save energy consumption by its servers.
1.3. The advantages for a company of renting storage space in a datacenter
Many companies are already taking advantage of renting a data center. This is a very beneficial approach for businesses on several levels, including
1.3.1. Benefit from quality IT logistics and expertise
When a company is co-located in a data center, it benefits primarily from the entire IT infrastructure of its provider
It will be able to see its data stored and benefit from a computer network with all the necessary logistics (electrical power, air conditioning, fire detection and extinguishing system, etc.).
1.3.2. Save money
Colocating a datacenter also means you don't have to worry about construction costs, electricity, air conditioning, maintenance and more, which is a big saving
As a "colocated" company you just pay the data hosting fees for the space you need
1.3.3. Benefit from enhanced security
The other advantage with renting space on a datacenter is the optimal level of security you can enjoy.
Data center colocation service providers have the latest tools in terms of data security, complying with current standards and regulations.
1.3.4. 24/7 availability of your IT equipment
There's no point in storing your data securely if it's not available when you need it. The advantage of working with a data center colocation provider is that they ensure that your equipment is continuously connected so that you can access your data at any time and from any location
1.4. What is a datacenter used for?
The databases of websites, cloud services and businesses receive hundreds of thousands of data items per day. Most of this data is personal or sensitive, and processing and backing up this data is a tedious task for companies.
The creation of data centers is a better solution for storing and processing an increasing amount of this sensitive data. The high level of security provided in data centers ensures the integrity and operation of the devices and prevents computer attacks of any kind
A data center brings together databases and servers in which computer data is stored.
It should also be noted that data centers have the capacity to process data, hence the role of data processing center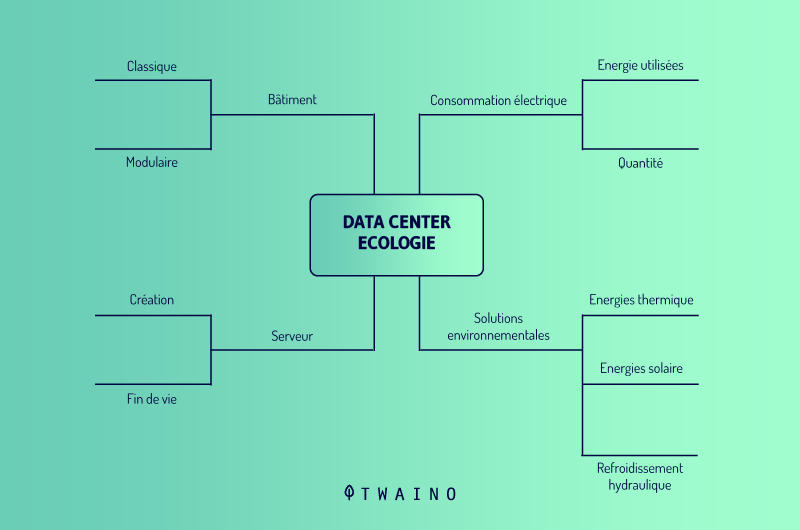 Basically, a data center is set up to handle large volumes of data and traffic with optimal execution time
A data center is therefore particularly useful in several use cases, the most common of which are
Storing, backing up, retrieving, managing and protecting megadata

:
The primary use of a datacenter is to keep a company's data safe
Unlike cell phones or computers that can only store a few gigabytes of data, a datacenter can hold billions and billions
Hosting business productivity applications in-house
A company can develop its own business programs in-house. But instead of using them in a local network, these applications can be hosted on datacenters for large-scale use
Supporting large-scale e-commerce transactions

e
If you run a local store, your sales and customer data can fit on a small computer
Large e-commerce brands, on the other hand, need a large storage medium
And a datacenter is best suited to securely store all the millions of transactions they make every day
Powering online gaming platforms and communities
Playing and saving video game data on a console or computer requires enough resources from the machine
A datacenter, on the other hand, can easily store the data of millions of players connected simultaneously from all over the world
There are billions and billions of gigabytes on the internet, information and data generated by all the internet users in the world. Data centers are used to house all this data, process it and distribute it in a timely manner and are used by everyone.
Large companies have their own data centers, some rent colocation warehouses and others use public data centers. This means that your data is stored in a datacenter from the moment you use an email, an online hosting service (website) or social networks. The users of the datacenters are mainly:
Social media;

Cloud, email and instant messaging services;

Financial institutions;

Government offices;

Online blogs and sites;

Online game providers

Media and telecommunications agencies

Etc.
1.5. What are the different types of data centers that we can find?
There are 5 different types of data centers that a company can choose from depending on its needs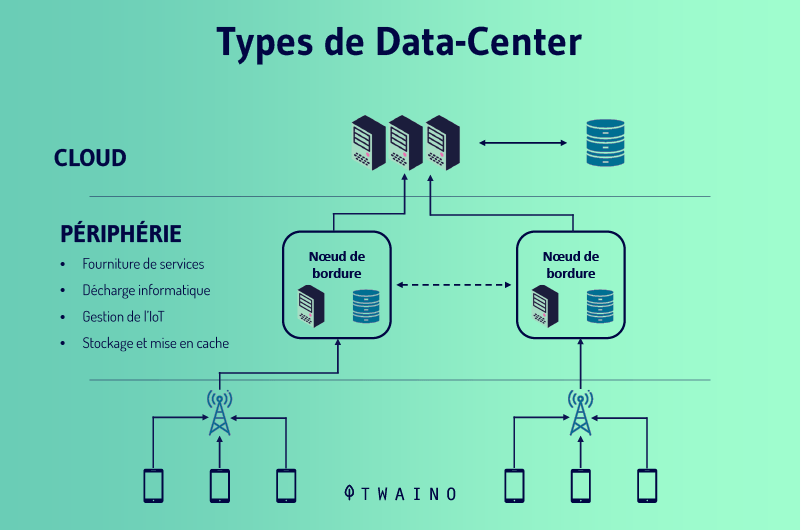 Among these types of data centers, we have
1.5.1. Colocation data centers
As the name already suggests, a colocation data center is when the equipment, space and bandwidth used are rented from a data center owner.
The "co-locator" can then outsource some or all of his IT equipment to the allocated space if he wishes
1.5.2. Corporate data centers
Corporate data centers are data centers that are entirely owned by a company for the purpose of storing its internal data and hosting its applications
1.5.3. The Cloud
It is possible to request the services of a provider and configure a virtual datacenter hosted on the cloud
This is an approach that could be compared to colocation, but it allows you to benefit from other specific services beyond a hardware rental
1.5.4. Edge datacenters
Edge data centers are small data centers located close to the end user. Unlike huge data centers, the idea with this concept is to set up small centers to best address latency issues
1.5.5. Micro datacenters
A micro datacenter is a datacenter that has been scaled down as much as possible to the size of a small office. This type of datacenter only handles data from a given region
But it must be said that massive data centers are the most widely used. However, there are new studies that plan to create hybrid data centers for a marriage of the traditional datacenter and the cloud.
1.6. The tiering of data centers
There is also a convention known to companies that classifies data centers by tier according to the availability and reliability of the data center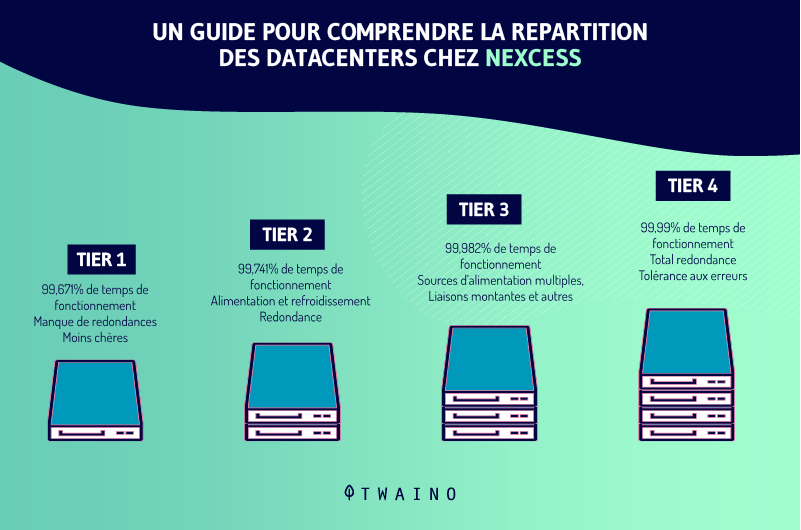 We therefore distinguish between datacenters of
Tier 1 Level 1 data centers have a single power and cooling circuit with optional some redundant components. The availability of level 1 data centers is estimated at 99.671% with an unavailability time of 28.8 hours/year
Tier 2 tier 2: Tier 2 data centers also have a single power and cooling circuit, but with some redundant components. Their availability is estimated at 99.741% with 22 hours/year of downtime
Tier 3 level 3: A Level 3 datacenter is distinguished by multiple power and cooling paths. The expected availability for Tier 3 data centers is 99.982% with 1.6 hours/year of downtime
Tier 4 tier 4: Tier 4 data centers offer greater fault tolerance due to its multiple circuits and redundant components. They have an estimated availability of 99.995% with only 26 minutes of downtime per year
But it must be said that apart from the level of data center you choose for your business, there are also other factors that come into play to take advantage of choices and let the data center unfold its full potential
One of these is the location of the data center, which is a very important aspect for the optimal functioning of your data center
1.7. The location of your datacenter can affect the SEO performance of your site
You may not know it, but the closer your visitors are to your datacenter location, the faster they will be able to access your website
The time it takes for a server to receive a request from a visitor and process it is called latency
If a user on the other side of the world tries to access your site, this latency will be relatively slower than if they were on the same continent as your datacenter facilities
Page load speed will be slower and the site's SEO may take a hit
Here are some figures that illustrate this
A delay of 1 second in the loading time of a product sheet can lead to a loss of 7% on the conversion rate of an e-commerce store

40% of visitors will abandon a website that does not load completely after 3 seconds;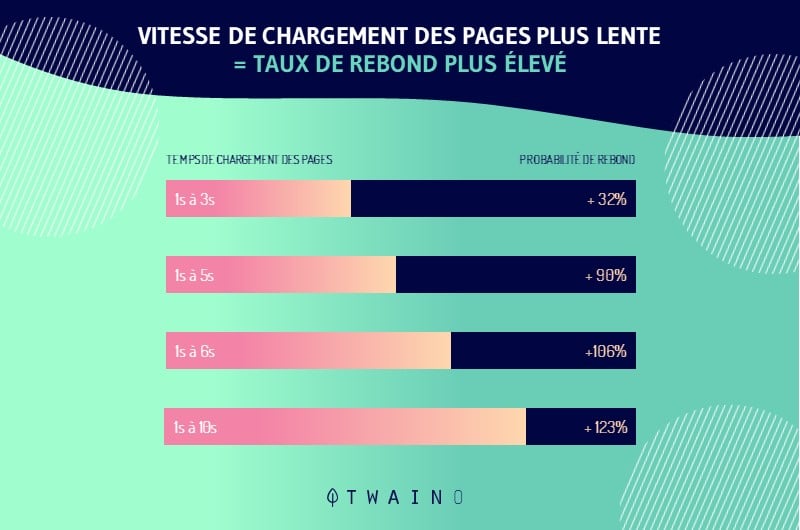 Firefox's research showed that a 2.2-second improvement in page speed would result in a 15% increase in conversions

Amazon estimated that a delay of just 1 second in its page load time could cost it $1.6 billion in sales each year

Google calculated that by slowing down their search results by just four tenths of a second, they could lose 8 million searches per day, which means they would run several million fewer online ads.
That's why it's important to carefully consider the location of your data centers before proceeding with the installation
1.8. Some things to consider before choosing your data center location
Before deciding where to locate your data center, it is important to consider the following aspects
Proximity to your audience proximity to your audience: For best latency and stable connection, it is best to locate your facility as close as possible to your primary markets and customers
Quality and cost of labor it's true that there are regions where labor is particularly affordable. But that's not a good enough reason to rush into them. You also need to make sure the location has the right people in all the areas needed to operate and maintain your data center
Environmental conditions environmental conditions: Although weather forecasts can be made, some weather events are not predictable. For a long-term installation of your equipment, it would be best to choose regions with stable environmental conditions lest your data center be swallowed up by an earthquake or blown away by a hurricane
Accessibility to the area and practicability of the roads as you can imagine, to set up a data center, heavy equipment must be transported to the chosen location. This may complicate deliveries if the area is landlocked
Availability and price of real estate in the area before building or buying a property to house your data center, it's a good idea to research the price of real estate in the area and the requirements of the owners.
Local government requirements beyond the issues of building or purchasing domain, the local jurisdiction may impose certain requirements on you for development or redevelopment if it is a rural area. If the location is more of a downtown area with a large population, generally taxes and some requirements are required
Availability of telecommunication infrastructure another aspect to consider is to ensure the quality of service of local providers in terms of bandwidth and other telecommunication needs
Cost and quality of utilities costs may vary from country to country or region to region. In any case, it would be prudent to do some research on this aspect as well and consider alternative power sources if possible
1.9. Physical data centers: an evolution to the cloud?
Unlike traditional data centers with an absurd amount of cabling, imagine being able to provision or configure a data center to be fully functional with just a few clicks.
This is one of the main reasons why many companies are moving from the traditional data center to the cloud. It's a modern approach to managing networking and traffic flows via an IaaS service.
Then there is the issue of air pollution, nICTs consume about 6,800 TWh of primary energy, or about 1,400 million tons of greenhouse gases discharged into the environment each year worldwide.
These astronomical figures are much higher than the carbon emissions of some countries such as Japan or France :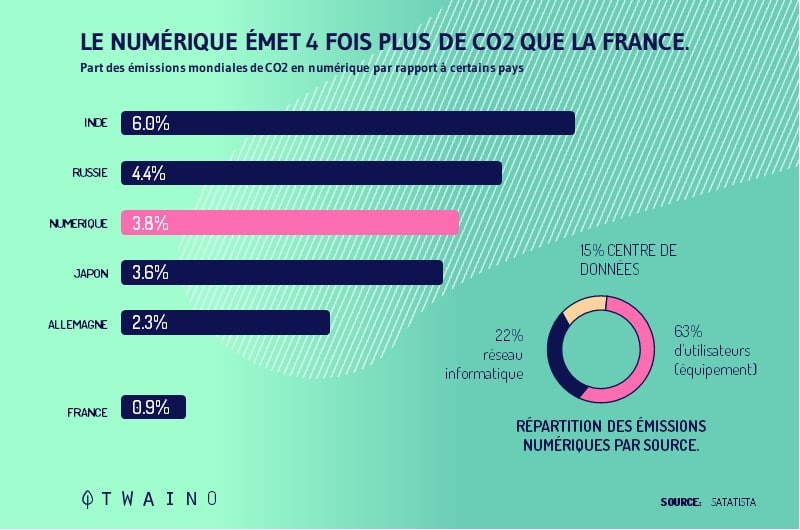 Basically, each tweet posted, each email sent or each Netflix program you follow is equivalent to an amount of carbon emitted by a datacenter somewhere in the world
Faced with this critical situation, 2 solutions have been brought to try to reduce the carbon footprint of datacenters: the cloud and free cooling
The cloud is a kind of virtualization of physical datacenters and therefore technically does not require any electricity consumption. It does not require a cooling system or even a physical space.
On the other hand, it must be said that not all companies are ready to take this step and they have good reasons
According to a 2019 report, companies are companies are paying more each year for cloud infrastructure services than for physical hardware for the first time
That's why some companies would still prefer to keep physical data centers but using renewable energy or even free cooling
When you look at the diagram of of energy consumption in a datacenter, we can see that the cooling system occupies up to 43% of the share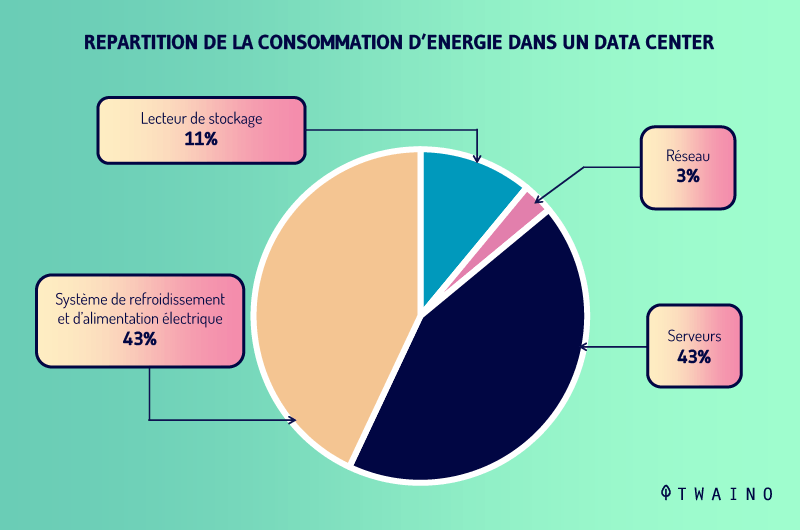 Since the cooling system cannot be eliminated due to its importance in the functioning of a data center, specialists in the field have come up with the ingenious idea of installing data centers in the coldest areas of the planet
This is called Free Cooling. The idea is to take advantage of the local temperature to save electrical energy that could be used to power the cooling system
One example is Google, which has set up its data centers in Finland, where the average temperature can drop to -14°C
Chapter 2: How does a data center work?
Let's remember that a data center is just an assembly of servers. Server equipment that can be either a high-performance computer with a large storage memory, or several very powerful processors.
The data storage and processing centers operate on a permanent basis. The devices that make up the data center are constantly running and must not experience any interruptions or performance drops
In fact, all measures are taken in advance to anticipate any malfunction that could weaken the security and integrity of the data stored in the data centers.
Among these provisions, we have a few measures and management systems that have been put in place, including
2.1. Outage management measures
Given the multitude of data to be processed and stored, the data centers must be active 24 hours a day, 7 days a week
Malfunctions of any kind (power outages, equipment failures, etc.) are promptly handled and resolved.
In fact, everything is set up for immediate response and the fastest possible recovery, even in the event of fire or large-scale damage.
2.2. Heat management measures
Data centers are equipped with a computer system (ultra powerful computers and other electronic devices) that generate a considerable amount of heat that often exceeds the threshold. Therefore, it is crucial to think about a heat cooling strategy.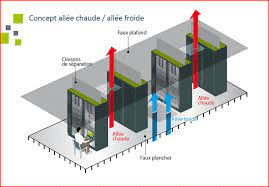 Source encrypted-tbn0.gstatic.com
The Data Processing and Storage Centers therefore all have an air conditioning system set at a constant temperature of 20 degrees Celsius. There is also a modern center built specifically to handle and optimize the air conditioning of all servers
This highly efficient system reduces the energy consumption and costs associated with installation and hosting. There is also a strategy of air-conditioning from renewable energy with less energy consumption.
2.3. The security management system
Given the sensitivity of the data contained in the servers, the security measures are very strict both physically and digitally.
First of all, physical access to the data centers is reserved for authorized personnel only. In addition, there are video surveillance cameras that monitor the movements of all personnel, not to mention the security guards who watch over the center day and night
To avoid and prevent any loss of power supply in the center, all the electrical systems are duplicated, even the emergency systems.
Fire hazards are immediately detected and eliminated by a sophisticated fire prevention and extinguishing system
In addition, most data storage facilities have two alarm systems. One alarm system is specifically designed to go off when a particle in the equipment reaches the heating threshold. These particles are likely to start a fire when they exceed the heating threshold.
With this alarm, the suppression system can quickly eliminate the source of the fire before it is triggered. The second alarm system is triggered when it detects the start of a fire. All this equipment is in addition to the fire doors and gates.
Basically, all measures are taken to prevent access to intruders and prevent computer attacks of any kind (hacking, computer virus attacks, etc.).
For some centers containing extremely sensitive data, the addresses are even kept secret.
2.4. The energy management system
Since the computer system and the air conditioning system of a data center are constantly running, they consume a considerable amount of energy. Even modern servers installed in 2012 consume up to 45 degrees Celsius, but require a cooling temperature of 20 à 35 degrees Celsius.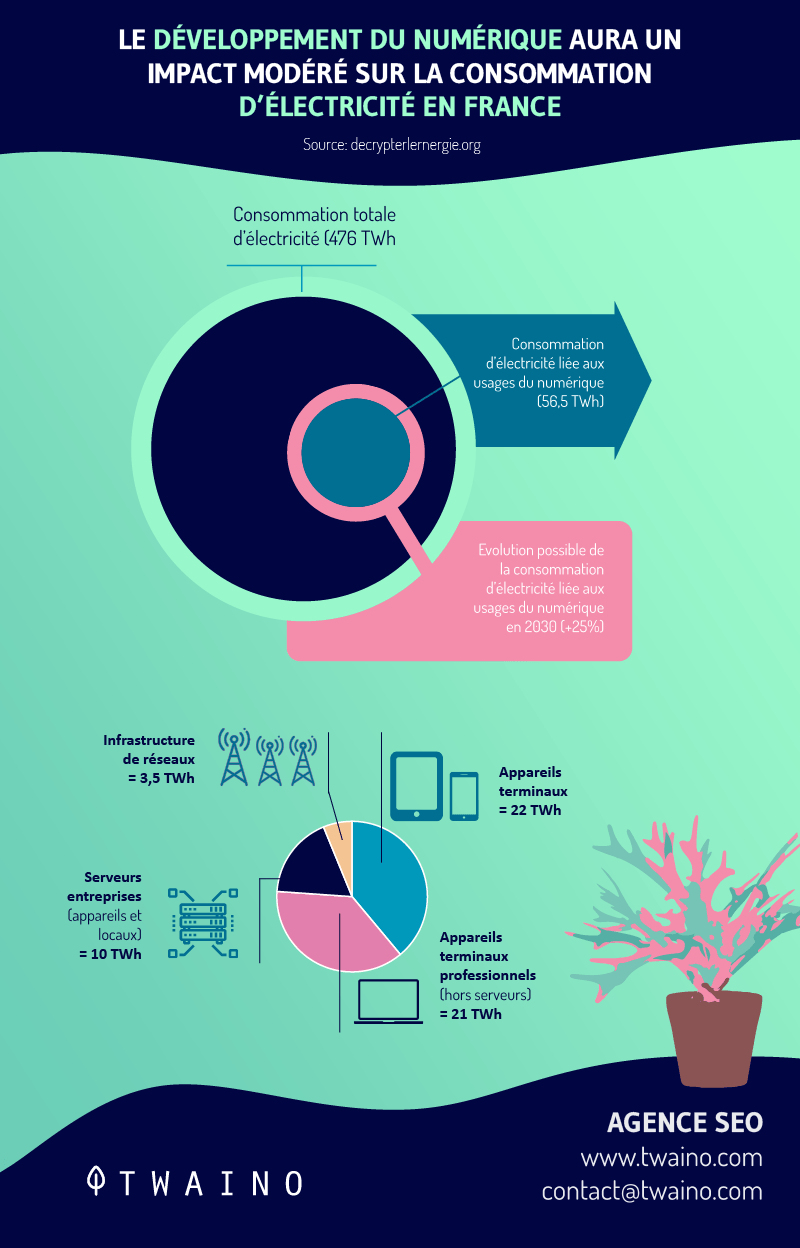 The limitation of energy consumption by the center's servers is being studied and improved. One of the current challenges is to reduce the consumption of electrical energy by using renewable energy.
The heat emitted by the operation of the computer and cooling system is therefore captured and used by a recovery system installed for the purpose.
Chapter 3: Google's datacenters: Functioning and relevance for SEO
As one might already expect, the world's leading online search company must also have its own data centers due to the size of the company
3.1. Google's data centers
Google's data centers are the most important works of the large American company. They host all of Google's websites in servers and instantly provide billions of web pages as Google searches around the world
The search results provided by Google following a query on its homepage come from the many data centers that Google has.
Indeed, when you perform a search on Google, it serves you in a few seconds long lists of results composed of web page addresses, titles and meta descriptions
All the results contained in this list and even the order in which the results are displayed are recorded and stored in the data center servers. Google's data centers are located all over the world.
Google currently has about 40 data centers in the world, of which 20 are located in the United States. The rest are spread across the rest of the world, especially in Asia and Europe. The confirmed Google data center sites are:
Lenoir (North Carolina, USA)

Dublin (Ireland)

Mountain View (California, USA)
In addition, Google's global data centers have over 900,000 servers. They are in constant operation 24 hours a day, 7 days a week, to enable the search engine to respond promptly to the various requests made by Internet users
Let's remember that more than 3 billion searches are performed daily by Internet users worldwide.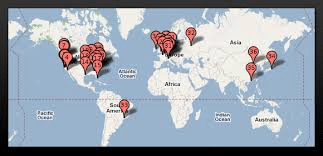 Source: Encrypted-tbn0.gstatic.com
According to the latest information, Google is funding the construction of new, more modern data centers in countries such as Berlin, London, Paris and Tokyo. It should be noted that more detailed information about Google's various data centers has been kept secret. Google does not like to reveal details about its data centers due to the sensitivity of the contents of its data centers and also because Google considers its own data centers as competitive advantages.
3.2) How do Google's data centers work?
Google's data centers are interconnected in order to enable equivalence in data exchange. In general, the main role of international data centers is to provide country-specific versions of Google to each country in the world
They also provide results for local queries. For example, it would be a waste of energy to transmit a query result from the United States to France.
Search results are more reliable and faster when the servers that contribute to the delivery of these results are located in the same country as the user according to the CDN (Content Delivery Network)
It is therefore with the intention of allowing users to access reliable sources that Google would have thought about installing regional data centers in specific countries
The regional data center sites that Google uses host websites from the location or region and provide results in the languages that users use to perform the search.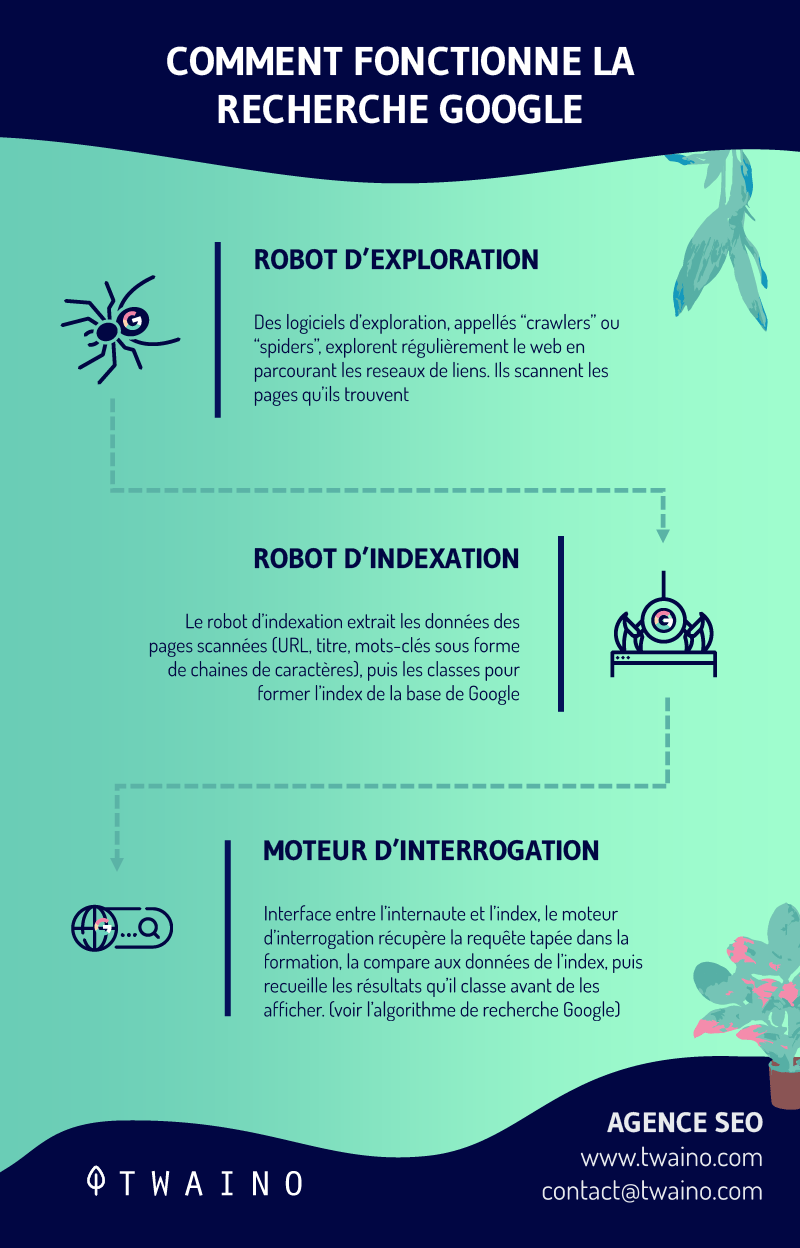 To guarantee the operation and permanent availability of its regional servers, Google has developed a rather efficient and specific technology. In fact, Google uses special network devices that it combines with an electrical capacitor to keep the servers working constantly
As for the power supply, Google mostly uses renewable energies. The processing of large amounts of data is done by processing software such as Big Table and the Google file system
These software are specifically designed to process large volume data and even combine data from various centers.
3.3. The relevance of Google data centers for SEO
Google's services are spread across the globe. These different servers store hundreds of thousands of web pages scanned by crawlers around the world
In each Google data processing and storage center, there is a "master" server that is in charge of organizing and classifying the results so that they are displayed on your screen when you perform a search.
However, it is possible for two different users to perform the same search without getting the same results. This is because Google has data centers all over the world
The servers in these data centers are responsible for providing the user with results according to the language of the search and the websites available in the region. This explains the diversity of Google results for the same query from one user to another.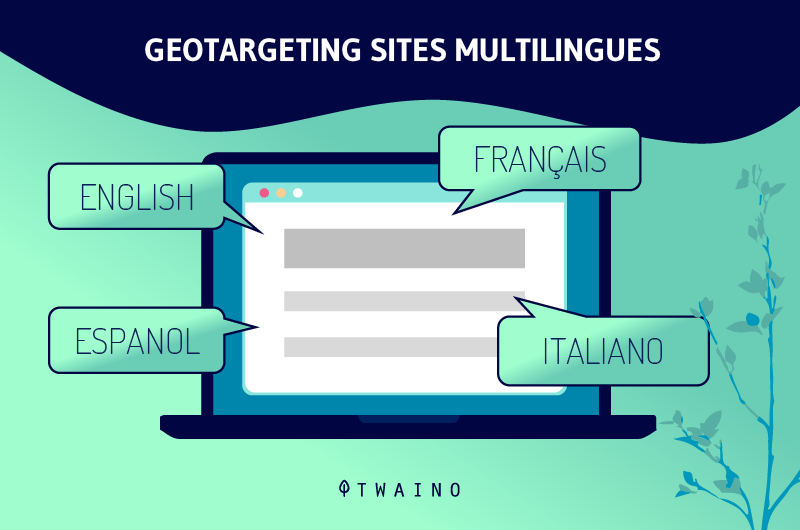 On the other hand, Google regularly makes changes to its algorithm. Because not all data center sites are in the same location or country, updates are not applied in all centers in time
When one data center starts posting new results, it is possible that the others will do the same, but this is not always obvious. This point is very important for all SEOs.
Indeed, the SEOs have the different lists of IP addresses of the Google servers that host their websites. From these IP addresses, they can closely follow the positioning of their different sites, especially when an indexing update is planned by the Spiders
Thus, SEOs have the means to estimate the probable positions that their site may occupy at the end of the update. This work requires a great effort and a constant business intelligence
It should also be noted that Google sometimes changes the IP addresses leading to the servers. As a result, a list of IP addresses used during an update may be obsolete for the next update.
Chapter 4: Data centers and SEO strategy
There are a significant number of data centers in the world. In 2014, there were over 3300 data centers spread across the planet Earth. But despite this huge number of data centers, small and large companies and bloggers prefer hosting centers that are in their country or close to their regions.
Indeed, companies need data hosting services whose centers are located in their countries in order to better control their web servers and closely monitor their positions in search results related to their domains. The proximity of the data storage center also contributes to the marketing of products and services put online by companies.
When the location of the products and services put online by the company is well spotted and shares the proximity with the users, the website pages are well positioned in the SERP results
It should be noted that the proximity of products and services that constitute the data of the company's website depends on the proximity of the server that hosts them in a data center.
The marketing departments of the companies and the SEOs must take advantage of this better strategy of using data centers as well as the proximity of the hosting services to better work on the natural referencing of their sites in order to find a good position among the SERPs
Considering the competition, all companies aim for the first position in the search results. For them, it is not enough to have a good web server, but the main thing is to get the big part of the market
Google, for example, has its own data centers and positions itself as the leading search engine with more than 92% 70% of the entire world market of search engine usage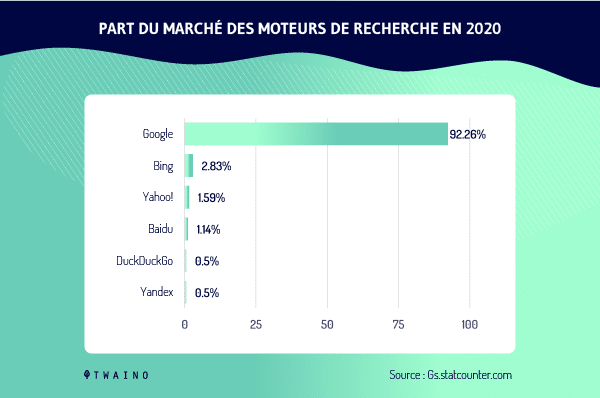 Google has data centers all over the world and allows the companies that host their sites there to occupy and dominate the local search market
Google's servers use just about every local language. This allows users to search in their own language and get satisfactory results.
In general, companies whose sites are hosted on web servers stored in its local data centers have a much better chance of success than companies whose servers are abroad
Therefore, apart from the SEO techniques applied to the pages of a website, marketers and SEOs need to think about the hosting of the site. Hosting a website with a provider whose server is stored in a local data center is more advantageous.
Chapter 5: Frequently Asked Questions
5.1. How does a data center work?
The purpose of creating a data center is to secure a large amount of data in a dedicated building, equipped with video surveillance and access control systems to prevent entry by outsiders
A datacenter must meet certain basic criteria such as
A control switch

A ventilation and cooling system

Internet access

Internet access, etc
Let's also add that data centers are very energy intensive and are real ecological disasters. A single datacenter can consume the equivalent of the energy of an entire city
To limit the impact of datacenters on the environment, the power sources are often alternated by renewable energy, including wind and solar energy
5.2. Who can use a datacenter?
Well, anyone can use a datacenter. Note that all companies manage data, even if it is a list of orders or customers
As long as they save data on a computer as a server, that computer can be considered a datacenter
Obviously, the larger the company, the more data it will have and the more resources it will need to set up the data center
Moreover, even if you are a simple social network user, technically you are using a datacenter because your data is necessarily stored somewhere on a server
5.3. Where can I find a datacenter?
A company can either have its own datacenter or outsource it to a provider who exclusively offers this kind of service
AZNetwork, Extendo DC, SFR Netcenter Bordeaux are all datacenters in France that offer data hosting services
Moreover, according to Universe FreeBox, ihere are no less than 215 data centers in France in 2021
France is also ranked l'one of the 10 most attractive countries for companies wishing to set up new data centers
This is because France offers good performance in terms of cyber security and because its energy network is one of the most reliable in Europe.
5.4. What's in a data center?
A datacenter in its simplest form is a physical facility in which we can find all the necessary hardware to securely store and manage organizations' data
We have among others
Physical servers

Hard drives

External and backup power supplies

External networking and communication systems

Cabling systems

Security systems

Environmental controls

Intelligent control center to optimize data center performance;

Etc
5.5. What component of a data center consumes the most energy?
The majority of a data center's power consumption comes from its cooling and air conditioning systems, accounting for 40% of all power consumption
This is the most energy-intensive component of the entire data center facility. Presumably, these same systems account for about 60% of a data center's energy costs.
5.6. What are the different types of data centers?
There are up to 5 different types of data centers
Colocation data centers;

Enterprise data centers;

Cloud;

Edge datacenters;

Micro datacenters
5.7. How many different levels of data centers are there?
In addition to the types of data centers, there is also a classification that arranges data centers by levels. There are a total of 4 levels of data centers
Level 1

Level 2

Level 3

Level 4.
Conclusion
Data processing and storage centers are one of the most important infrastructures for companies. They allow large companies like Google to host and ensure the security of their data as well as that of their users
Data centers have several other benefits for businesses as well as for Internet users that we have been able to cover throughout this guide
I hope this content has been useful to you and helped you understand what a data center is
If you have any questions or concerns, please feel free to ask them in the comments
Thanks and see you soon!