Unless you are an experienced webdesigner, installing a theme is the best way to quickly make a website presentable. Moreover, you have a vast panel of possibilities since WordPress, which is the most used CMS in the world, gives access to more than 3 500 free themes . And that's without counting the paid themes and those that are not in the WordPress directory. With such a quantity, it is quite difficult to find the ideal theme at the first attempt, so you may end up with several themes installed. But once you've made your choice, it's important toclean up your system by removing the other themes that are still installed. However, even if it is a simple process, there are sometimes precautions to take. For this reason, I have put together this guide that is likely to help you properly remove WordPress themes from your website.
Also, I invite you to follow the accompanying video that offers a visual on the whole process. So follow along.
Remove a WordPress theme
Today, I show you how to delete a theme on WordPress
:
Definition and use of a WordPress theme
A WordPress theme is a block of files that allows you to customize the visual part of a website. This takes into account the overall appearance of the site as well as the display of content. Note that a theme does not change the content of your website which can include :
The posts ;
Pages ;
Visuals ;
Descriptions ;
Etc..
Indeed, it is the files that make up a theme that allow the CMS to properly display your website to Internet users. We distinguish among others :
The default images ;
PHP templates ;
JS scripts and functions;
CSS style sheets ;
Etc..
It is important to keep in mind that the better the code used in these files, the faster the theme will load. Hence the importance of being able to choose your WordPress theme in order to have visibility for your project
.
How to choose a WordPress theme ?
Choosing a WordPress theme is not a step to be taken lightly, especially if you have specific needs. In this article, I have already listed some criteria to consider when choosing a WordPress theme. You will also find all the steps that will allow you to install them correctly.
To this extent, the different points I list here simply complement the previous ones.
The possibility to use the theme on several domains
Most WordPress themes can be used on different domains or subdomains. And this, without you having to pay several times for the theme in question.
So make sure you choose a theme with an unlimited domain, especially when you need it according to your desires or needs.
Check the update conditions
This aspect is very important and I invite you to pay attention to it. Indeed, some themes only offer updates for a given period, which sometimes implies that you will have to make some payments afterwards in order to benefit from the updates that will come after this period.
In case you don't do this, you won't be able to update your theme and since WordPress updates itself regularly, the two may become incompatible. This often leads to a not entirely secure website, bugs and plugins that don't work.
On this subject, you can read my article on updating plugins and themes, which addresses these different points.
Check the support period
Sometimes you need technical assistance to solve one or several problems. To do this, check the support period of the suppliers
before purchasing their products. Since the support period is sometimes part of the subscription, especially when it is limited.
In addition, consult user reviews, which will give you an idea of the quality of the support.
Check the compatibility of the theme with e-commerce
In case you want to open an online store, advocate themes that are compatible with e-commerce. This is because these themes already include a number of elements that are usually very useful. These include:
From the shopping cart ;
Wish list;
Payment options integration;
Etc..
Choose a theme optimized for search engines
Most themes are optimized for search engines. I draw your attention to this point so that you can make sure that the one you have chosen is indeed optimized.
Indeed, these SEO optimized themes allow your website to rise much more easily in the search engine results
. This is likely to have a significant impact on your traffic and consequently, your income.
A theme with translation support
Very useful when you want to have multiple languages on your website. By opting for this kind of WordPress theme, you will directly benefit from the translation option in other popular languages. This is likely to allow you toexpand your audience. Note that some themes offer up to five different translation languages.
By considering these different aspects, you will be able to find the right WordPress theme
for your website. However, it may happen that you already have an active theme on your website that already gets traffic, and you still need to change it.
Best practices for changing a WordPress theme
Installing a new WordPress theme is very easy to do. However, it can lead to serious consequences if you don't take certain precautions, especially if you already have good traffic.
Indeed, installing a theme can sometimes cause serious problems or even crash your website completely. And if you have a site dedicated to business, you may lose a lot of revenue.
Moreover, changing a theme often leads to a change in the layout of the content of a website, which can be confusing and drive away some loyal readers.
Therefore, before changing or removing the WordPress theme you are currently using, think about these different aspects.
Make a backup of everything
You have absolutely nothing to lose by making backups, so why not also do it before changing your theme? This is obviouslya precautionary measure that may be a lifesaver in case there are any problems.
So backup your database, your plugins, without forgetting your theme files. Also, remember to take notes on your current theme. This means writing down the bits of code
you used before to fix certain problems or to add certain features manually.
Indeed, these code snippets are likely to be used again on the new theme. This obviously takes into account the tracking codes you have integrated for analytics tools such as Google Analytics
.
Pay attention to your navigation menus
Navigation menus can be set up through widgets and these are often integrated with the theme. If yours is also integrated with your current theme, keep in mind that your various changes may be deleted after the theme is removed.
So, installing your new theme may lead to new navigation menus. But this sudden change may affect your users' experience a lot, especially when they are already used to your website.
So be sure to save and add the codes from the sidebar.php file to the new sidebar.
Switch to maintenance mode
While you are making the various changes, it is not at all interesting for your visitors to see them. For this, you just have to activate the maintenance mode for the time that the theme change and the settings will take.
Check that all site components are working properly
After you have installed and activated the new theme, I recommend that you make sure that all components of your website are working properly. These include:
Plugins ;
Widgets;
The appearance of your various pages;
Etc..
At this level, don't forget to integrate the codes you had a chance to write down to check that your new theme is perfectly suited to your needs. Also, add new features if you need them.
Check the compatibility with the various supports and browsers
The display of web pages is sometimes not the same from one support to another or from one browser to another. Indeed, small screens like cell phones, often fail to display a page correctly when the theme is not responsive. This can penalize you enormously, especially in terms of indexing and referencing by Google.
Moreover, browsers may not display web pages correctly, which is particularly the case of Internet Explorer. For this, check that the theme you are using is displayed correctly and automatically on all major browsers. This way, you won't lose a part of your readership.
Make adjustments and clean up
When you have made sure that the new theme works properly with all components of your website and all media, you can now proceed with the other changes.
This includes changing the color of your links when you change the main color of your website. For example, when the colors of your links remain in red, while the main color becomes yellow, it is not necessarily consistent. So make adjustments to the appearance according to the new design you want.
On the other hand, keep in mind that themes often come with many features. To this extent, if you have for example installed widgets or plugins that play the same roles as some of the theme's tools, it would be relevant to remove them. This allows you to lighten your system and gain speed
.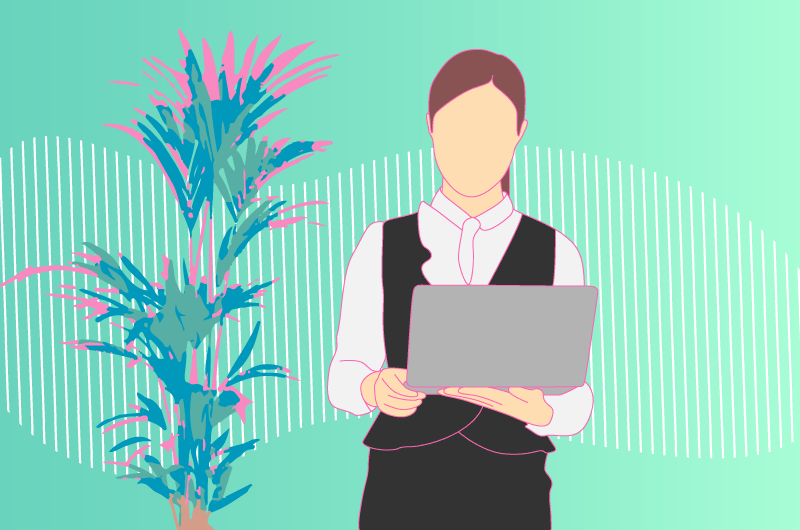 Test the loading speed of your website
The loading time of your website is a very important factor since 40% of visitors leave if this time exceeds 3 seconds, according to orson. Therefore, take care to measure the speed of your website before and after the change of theme.
The speed can improve or not and in the latter case, you must make the necessary adjustments. For this, don't forget to check :
The plugins ;
The sliders ;
Widgets ;
The visuals ;
Etc..
If there is no improvement, I advise you to go back to the old theme or simply find another theme.
Let the readers know and listen to them
After changing your theme, sometimes it still has some elements you forgot or some bugs you didn't fix in time. So the best thing to do is to write an article quickly and tell your readers about it.
This way you can ask them to report bugs or problems that they will encounter. Moreover, some users can take advantage of it and share their suggestions and remarks. This can be very useful since you will be able to rework your website so that it is to your audience's liking.
At this level, do not hesitate to make surveys, especially on social networks to get quick answers.
How to remove a WordPress theme: Steps to do it yourself
In order to properly understand the process of removing a WordPress theme, I will use the website of my SEO Agency, Twaino.com.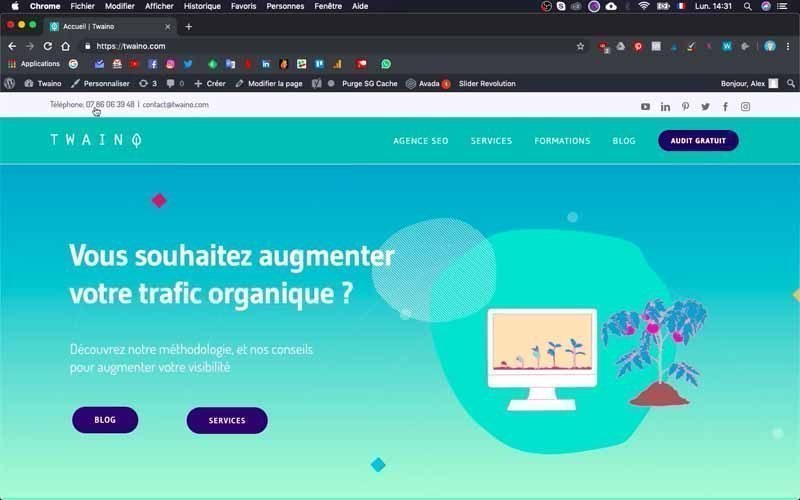 Indeed, I have a total of 4 themes, three of which are installed by default that I will remove because they take up unnecessary space and are likely to weigh down my website.
On that note, let's go!
1) Login to the Dashboard
To remove the themes, you must first access your website's dashboard.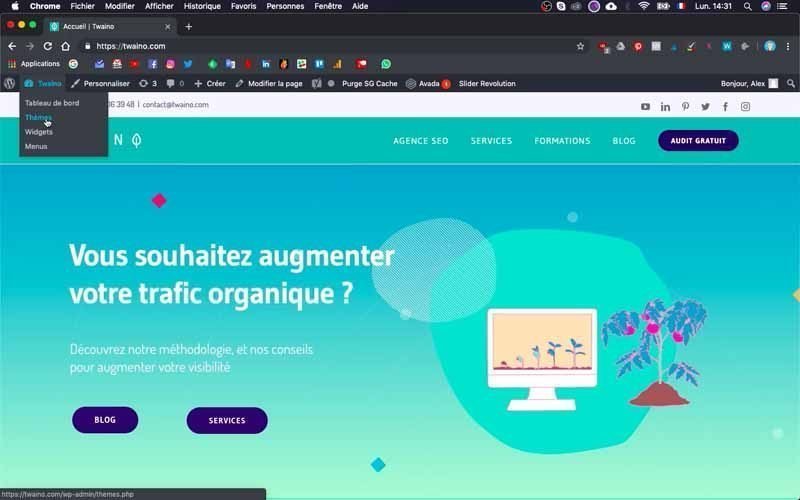 To do this, simply complete the entry "…./wp-admin" at the URL of your website and launch. At my level, I have the link " https://twaino.com/wp-admin".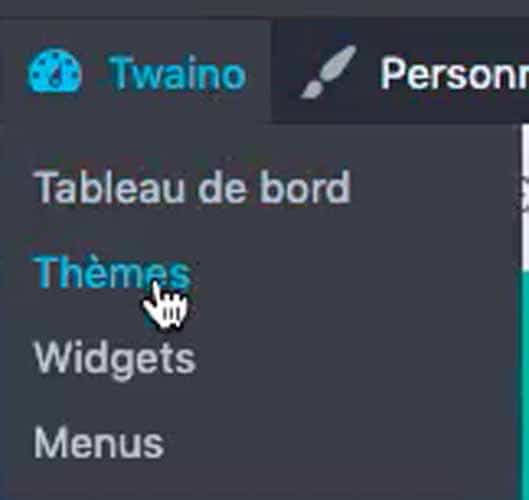 On the login page that appears, you just have to fill in your credentials and validate to access the WordPress console.
2) Go to your themes directory
Once in your back office, click on the "Appearance" section located on the left sidebar.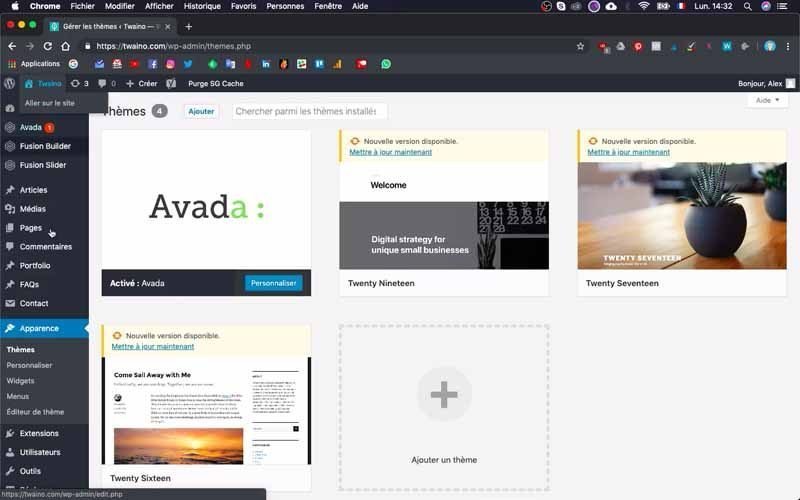 In the menu that appears, select the "Themes" option and you will be taken to all the themes you have installed on your website.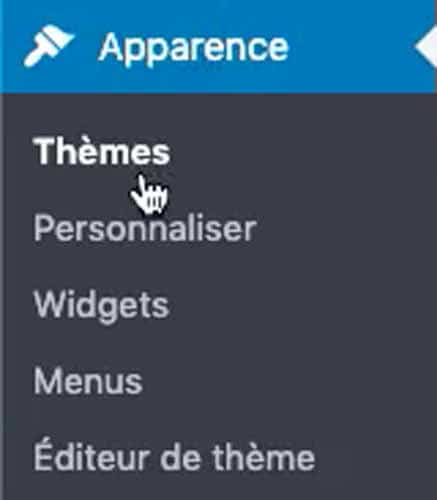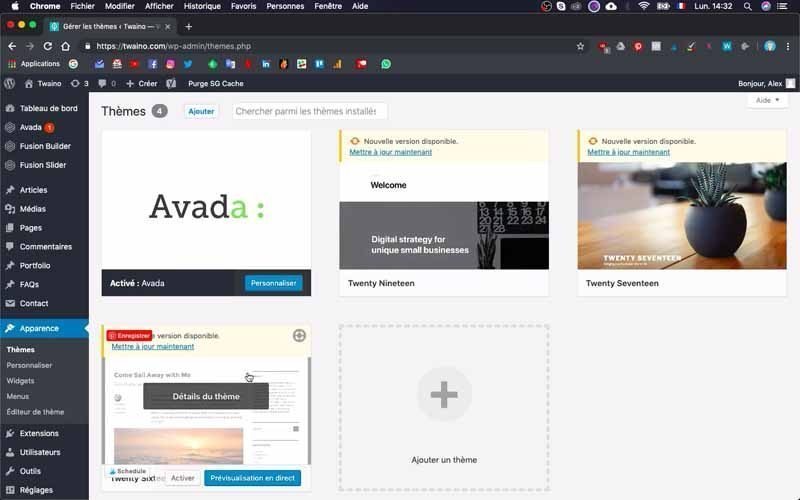 At my level, I have four themes in total including:
Avada: Which is the theme I'm currently using and is therefore activated;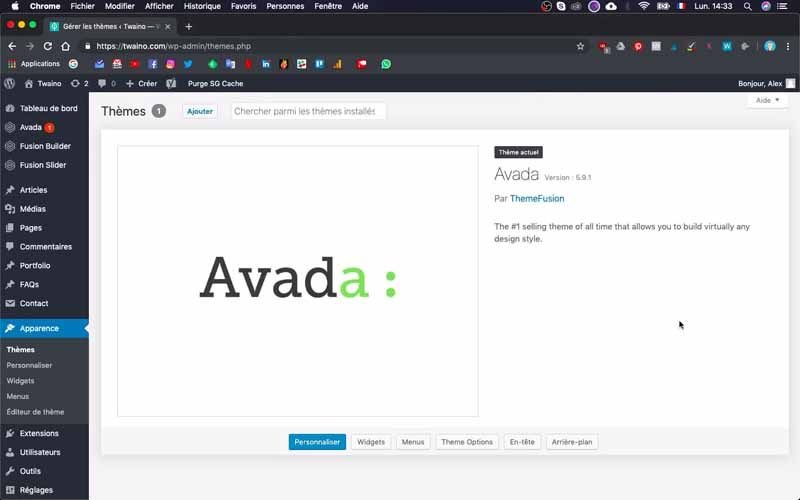 Twenty Nineteen : The second theme installed, but inactive ;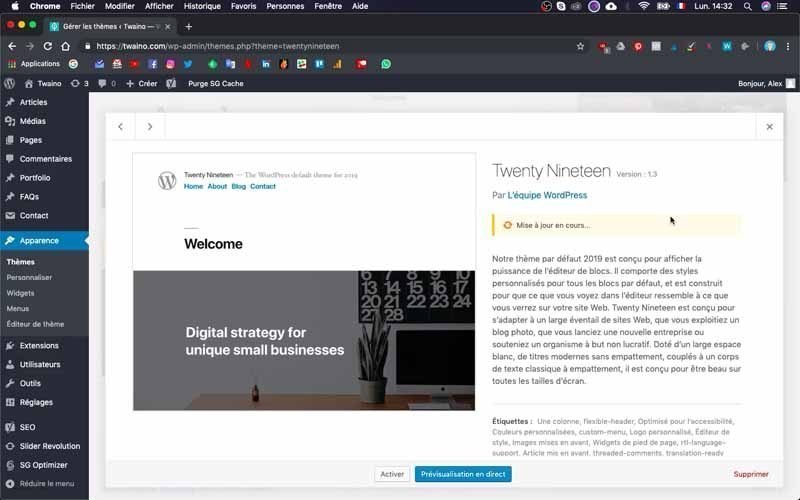 Twenty Seventeen : Also installed, but inactive ;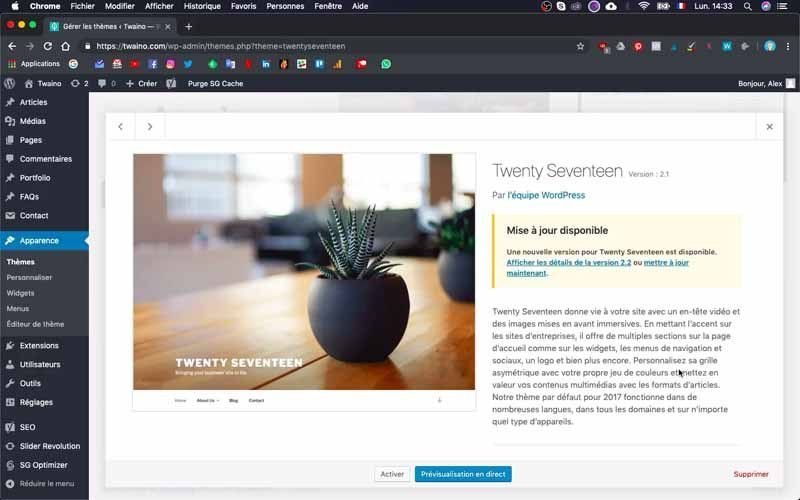 Twenty Sixteen : The last theme installed, but also inactive.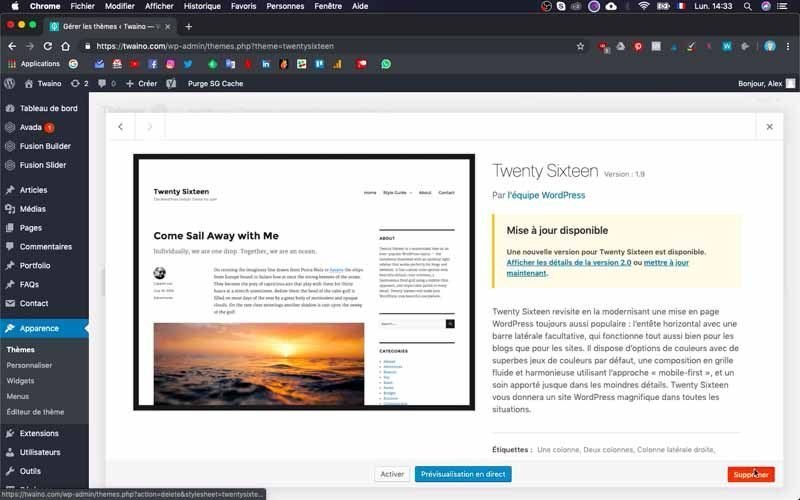 the last three themes are the ones that were installed by default by WordPress and that I will remove.
3) Change the theme
Changing themes is pretty simple, just click the " Activate
" button for the theme you want to use.
4) Delete the theme
To move on to removal, click on the theme which takes you to an interface, where you have the options and information about the theme.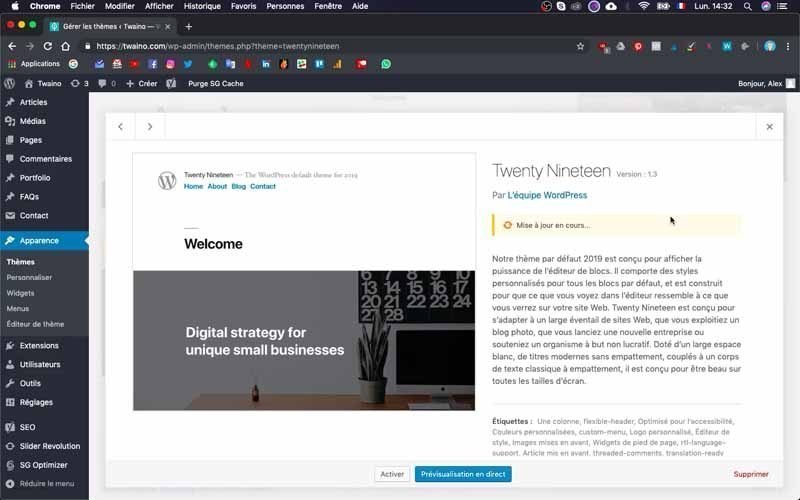 In the bottom right corner, you have the delete button
which is sometimes not very visible and which you will click on.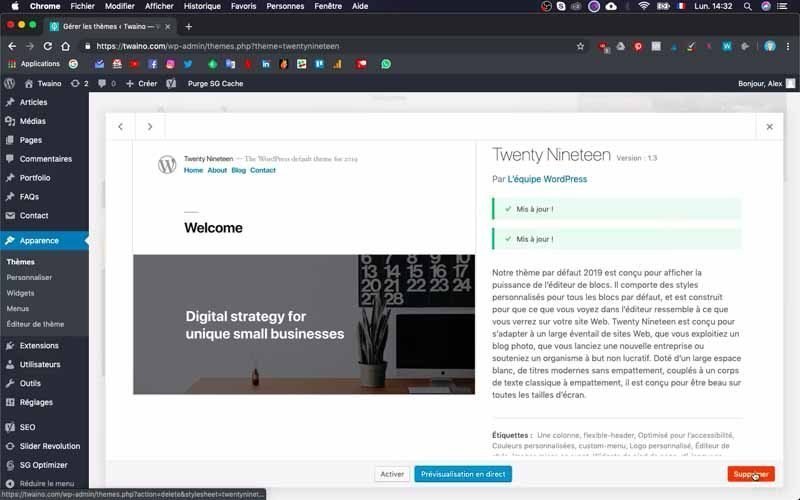 Then a dialog box with the message "Are you confirming the deletion of this topic?" appears at the top.

Press the " Ok" button to confirm.
That's it! You have just removed one of the unnecessary themes from your website.
Conclusion
The appearance of a website is a very important factor in the success on the internet. And to get through this stage, using themes is the fastest and most effective solution, especially when you are not an expert in the field. But even if it is very easy to install them, the most difficult thing is to find the ideal WordPress theme that will perfectly meet your needs, since there are many of them with different characteristics. For this reason, I invite you to consider the selection criteria and reduce the number of themes installed on your website as much as possible, in order to improve its performance. By the way, the removal process is quite simple, but when it comes to changing a theme, you must take certain precautions.
See you soon for another article!