Since the advent of content management systems (CMS), it must be said that the creation of professional websites of any kind (blog, storefront, e-commerce …) has become much simpler and easier than the traditional method
Instead of starting from a blank sheet of paper, CMS offer thousands of pre-designed and easily customizable themes to have a fully functional website without even having to enter a single line of code
However, although you have a plethora of themes to create your website, not all themes are equal in terms of functionality and performance
Moreover, by using the same themes, many websites end up looking like two drops of water, which is not very professional for your image with your audience
To have a unique website that stands out from the crowd with good performance, it is important to opt for paid themes. They offer the best features with advanced modifications to create a unique site that truly reflects your brand identity
But in concrete terms
What is a theme?
How does it work?
What is the difference between a theme and a plugin?
And which are the best marketplaces to buy a theme?
Let's find out together!
Chapter 1: Theme – Definition, importance and difference with a plugin
Before discovering the best sites for buying paid themes, let's first look at what a theme is
1.1) What is a theme for a website?
In computer science, precisely when it comes to software design, the word "theme" refers to a set of files, including graphics files, style sheets and code, which works to give the display of the software interface. It may well be the interface of a website or a software
In other words, a theme is the visual representation of a website proposed by content managers (CMS) or developers.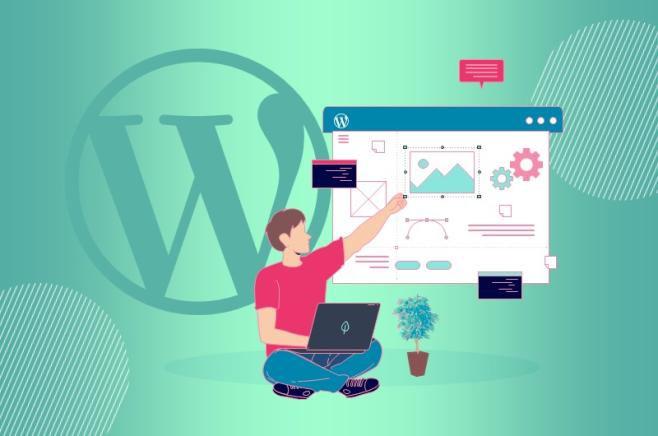 But it is important to note that a theme is not just a simple skin for a website, it also covers several other aspects such as responsive design, 404 page customization, responsiveness, compatibility with certain extensions, SEO options and much more
1.2. how themes work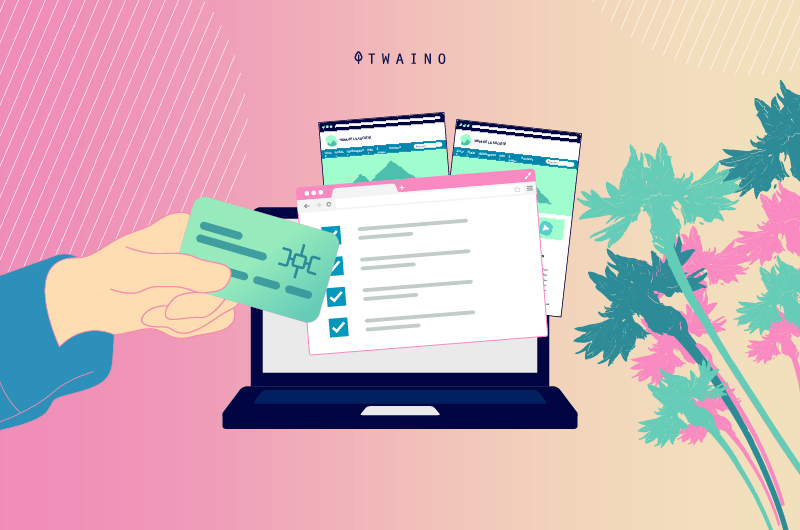 The peculiarity of content management systems (CMS) is that they offer a free framework that brings together the necessary tools to design a basic website even without any knowledge of software programming.
But to control the look and feel and some special features of your website, you will need to use themes and plugins
It is the combination of these elements that have made it possible to create most of the personal blogs or small business sites you visit on the net and even sites of large corporations and government organizations.
Even though there are times when you can make an exception of plugins, a website necessarily needs a theme to work.
Typically, to create a website, most content managers give designers the opportunity to explore and choose a theme that they deem suitable for the site's activities
Once the theme is chosen, the designer can decide to keep it for immediate use or modify it as they wish.
This is an important step since using a theme for your website can have huge impacts such as improving visual appeal, responsiveness on mobile devices, etc.
Moreover, there are pre-designed themes specifically tailored to certain niches that you can choose and install according to your industry
No matter which content manager you choose to create your website, you will always have a dashboard to access the integrated library of themes and install the ones that suit you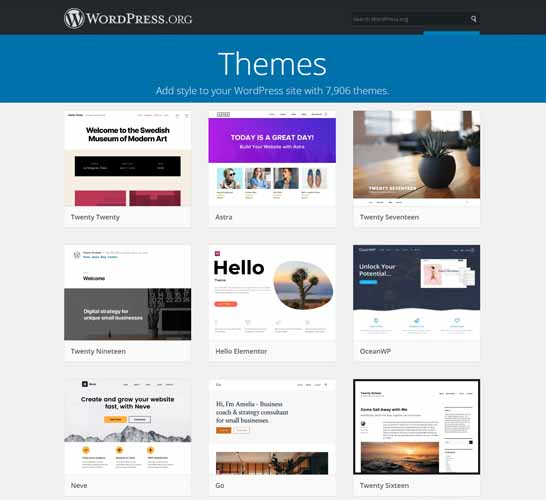 Source : kinsta
Generally, you can choose to scroll the page and browse the available themes or directly enter the name of a theme in the search bar to find it. You will then discover a list of free and paid themes
As you might expect, free themes are free to download, while paid themes require payment before you can use them
Whether paid or free, the themes available on content managers are the result of the work of a worldwide community of developers who are constantly looking for new and effective solutions for users
1.3. What are the different types of themes?
There are mainly four types of themes
1.3.1. Free themes
As the name already indicates, these are the themes that are available for free to everyone
But we have to admit that although they are free, these themes are still designed according to the latest trends or regularly updated, which makes them quite effective for creating websites.
Customization of free themes is often easy because they usually don't come with enough editing options. And for the few options available, it can be said that they are relatively less complex. This can be an advantage for beginners.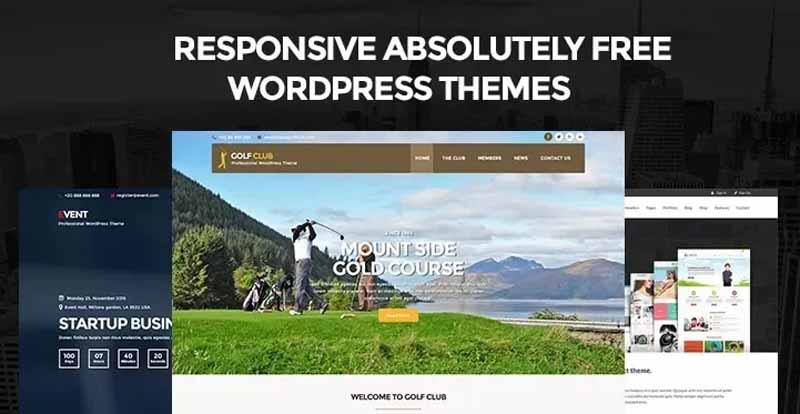 Source : skttthemes.org
On the other hand, the problem with free themes is that they often lack interesting features such as page builders for advanced customization. Moreover, these themes are usually not compatible with some important plugins.
1.3.2. Premium themes
Unlike free themes, premium themes come at a cost and usually come with all the important features. They also come with page builders and many paid plugins.
In addition, each premium theme has a unique design that guarantees a certain uniqueness and originality to your site once it is hosted on the net
On average, these themes cost around $30 to $100, which is pretty affordable considering all the features you get.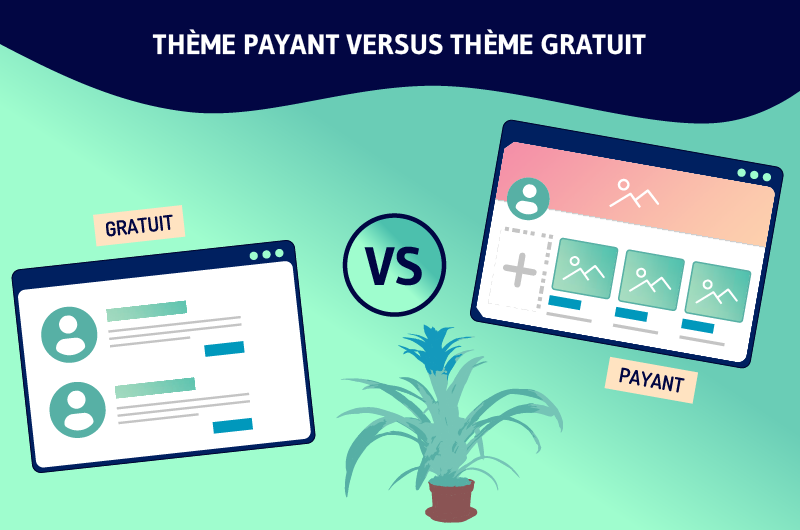 These themes come in all shapes and sizes and for all needs, whether it's a showcase site, a blog or an e-commerce store with some minor licensing restrictions that shouldn't affect the important functionality of the website.
1.3.3. Niche themes
Niche themes are often tailored to a specific topic or industry, having quite specific customization options
Although niche themes do not include enough customization options, their refined functionality still suits the needs and requirements of niche businesses
Generally speaking, niche themes can be solid options if you are working on a website that requires very specific features
As an example, let's take a look at the Nexos theme specifically designed to promote real estate business.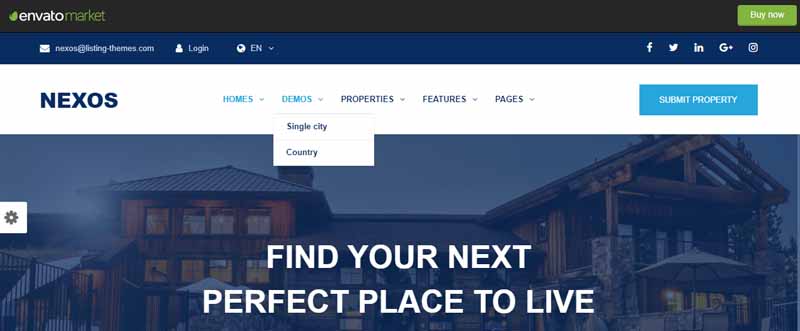 This theme contains a ready-to-use property listing feature, which is very useful for any real estate agent
As we can see, there are advantages to using niche themes that optimize the performance of certain tasks in every industry.
These themes also tend to be easier to use since they are devoid of any cumbersome features that could confuse the user
1.3.4. Multipurpose themes
Multipurpose themes can be used for creating different types of websites regardless of the industry.
These themes usually include various types of pages, codes, extensions and other tools to customize your website, whatever your goals are.
Versatile themes also come with page builders to create beautiful pages and overall an elegant site.
Throughout this section, we've talked a lot about "plugins" without really explaining what they are
1.4. What is the difference between a theme and a plugin?
Just like applications installed on a smartphone, themes and plugins are third-party elements that are added to the core of content managers
They are two separate elements that allow you to have a website with a unique look and the ability to integrate additional styles and options.
In other words, themes and plugins are tools in their own right, which together participate in the design of a website as well as in the addition of extra functionality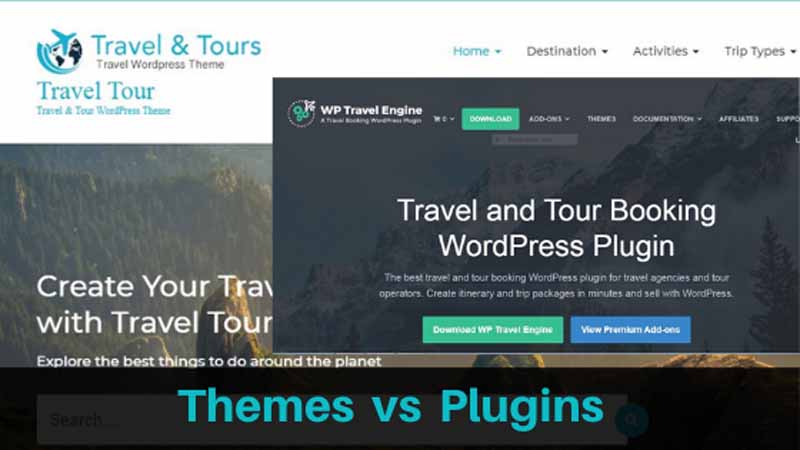 Source : thebootstrapthemes
To better highlight the difference between these two elements, let's propose a separate definition of each of them
1.4.1. What is a theme?
As defined above, themes are predefined solutions essentially used to build the graphic display of a website or any other web application.
Generally, anyone who creates a website using a CMS installs themes to decide the visual appearance of the site.
The advantage is that instead of starting everything from scratch, the user can install a theme of his choice and customize it to his liking to have a unique website that he can make his own
1.4.2. What is a plugin?
While a theme is designed primarily to define the design of a website, plugins are only created to add additional functionality for a more complete website
So unlike themes, the biggest difference to note is that plugins generally do not affect the design of a website
While there are exceptions where megamenu plugins can change the appearance of a website, the design of the website is technically not within the purview of plugins.
Plugins vary in how they work and the content they provide. One plugin may provide only one feature to your website as another may provide a long list of features.
Let's take for example the plugin Contact Form 7 which has only one function, to collect contacts of visitors to a website
The plugin Jetpack on the other hand, offers a wide range of features such as website security, backups and speed improvements.
1.4.3. Plugins and Themes: Two distinct but complementary elements
Despite the difference that can be noted between themes and plugins, there is still a complementary relationship that links the two elements
They are both extensions, i.e. third-party programs that are incidentally installed on a website. Although they play different roles, they still belong to the same category and complement each other to get the most complete website possible
For example, some themes include page builders that are often provided by plugins
Conversely, there are also themes, especially for e-commerce sites that offer the possibility to make changes to the site menu such as creating an "Add to cart " button or a complete payment form
Source: Adobe Stock
This goes far beyond a simple interface modification, these are essential functionalities for the sale of online products that are more the function of plugins
As you can see, themes and plugins can sometimes perform very similar or substitute tasks
It is not uncommon for example to see people using a plugin to add a community forum to the theme they have chosen for their site. As it is quite possible to find themes with this community forum functionality already integrated.
Since we are talking about difference, let's take the opportunity to talk about the difference between a template and theme. This is also a question that comes up often
1.5. What is the difference between a theme and a template?
A theme defines the appearance characteristics of each page of a website such as color, font, layout, etc. The theme also takes into account the specifications for mobile design.
Templates, on the other hand, are part of a theme. Generally, these are pre-formatted layouts for different types of pages or publications
For example, many themes may include templates for sidebars on the left and/or right with the main content in the middle.
Or, there may be specialized templates that you will only use once on your site, such as a testimonial template or a contact template.
Chapter 2: Why use a premium theme?
There are thousands of reasons why you need a paid theme, some of which are:
2.1. to guarantee the uniqueness of the website
It is a safe bet that everyone wants to have a website created with a theme that is absolutely unique or rare on the web and this is where premium themes can be useful
When you design your website with a free theme, you should expect that other websites will be designed with that same theme. Every day, thousands of themes are downloaded, especially free themes
So the probability that you will come across sites that look almost exactly like yours is higher when you choose a free theme
But, when you buy a premium theme from a serious platform, you have more chance to enjoy a rare, almost unique theme
2.2. Security and site performance
Given the astronomical number of free themes available on content managers, there are probably some that are made with malicious codes.
This would mean that downloading themes from free theme directories can expose your website to security issues, especially if it is an e-commerce site where customers give their bank details to make purchases
Moreover, both free and paid themes need to be updated regularly for security reasons. But unfortunately, some free themes are not subject to any update frequency, unlike paid themes
So a free theme can be a way to make your website vulnerable to computer attacks
Premium themes on the other hand are supported by experienced developers and equipped with the latest trends in terms of website security
2.3. Easy and advanced customization
The other advantage that should be noted with premium themes is the ease of customization with advanced settings
Premium themes also come with attractive and intuitive interfaces that users can easily modify them with just a few clicks.
They offer much better features and customization options to better meet all your business requirements
So, you can customize a premium theme according to your business model and really tailor it to your needs
For example, FoodFork is a premium WordPress theme for restaurants. In addition to Avartan Slider and other restaurant-friendly features, the theme offers a customizable menu grid to change food items as well as their prices.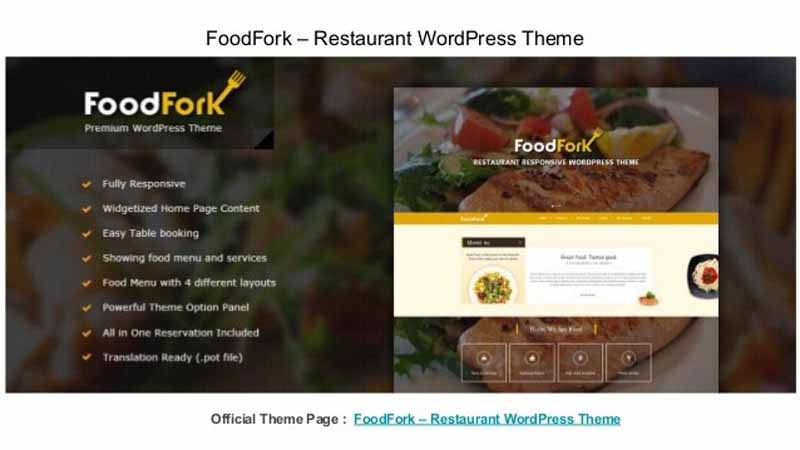 Source: slideshare
It also offers unlimited sidebars to easily create custom sidebars.
2.4. Quality and professionalism
Another rather obvious reason to use premium themes is that they are created with the spirit of making them more qualitative than free themes
Therefore, developers strive to provide quality themes that actually live up to the amount invested by the user
This is an important aspect since internet users are more likely to prefer visiting well-designed sites with an elegant style
Despite all the quality content you publish on your site, if its design leaves something to be desired, Internet users will probably not take the time to discover the qualitative content you have taken care to produce.
Using a paid theme is also a way to enhance your brand image and prove your professionalism
The fact is that by discovering all the elegance of your site, Internet users can already get an idea of your authority in your sector of activity and the level of professionalism that you demonstrate internally. A first impression that can easily make them loyal to your site if it is successful
2.5. Search engine optimization
When it comes to a website, you can't ignore the importance of search engine optimization or SEO. As a reminder, SEO brings together the optimization techniques used to help a site occupy the top spots on search results pages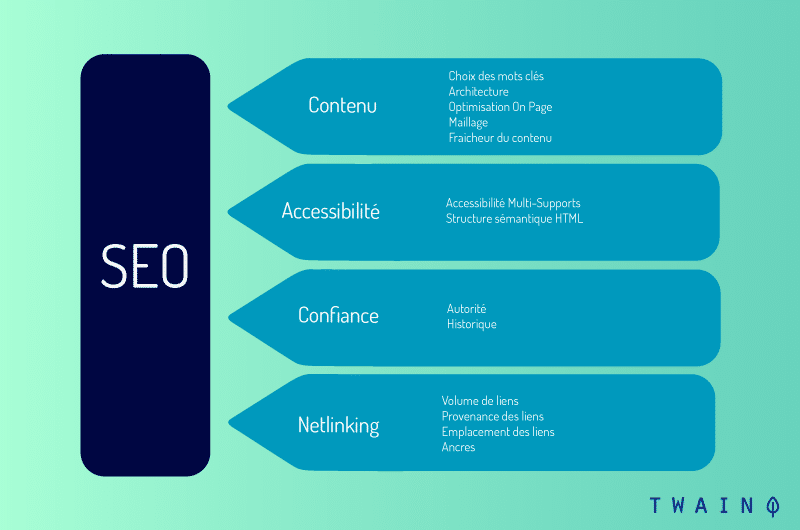 It is a complex and time-consuming discipline. When you use a free theme, you are forced to install a lot of plugins dedicated to SEO before you can perform some SEO tasks on your site
The advantage with paid themes is that they already include some features that make it easier to optimize your site for search engines. This could save you time while guaranteeing you a quality SEO that will last over time.
2.6. Get better support when you need it
When you choose to use a free theme, the customer service may be unavailable when you need help the most. Sometimes, you'll only have to make do with forum discussions where a question can be answered and resolved after days
But, when it comes to premium themes, you often get almost instant support to fix any issues or problems you encounter on your site
Customer service availability is also an important aspect to consider when creating a website. As a user, you cannot know in advance what difficulties you will encounter and a customer service that is fully available to you can only be helpful
Now that you have more than one reason to prefer paid or premium themes for creating your business website, let's take a look at the factors you should check to make a better choice.
Chapter 3: What are the criteria for buying a theme?
It's true that buying a paid theme has some definite advantages, however, without knowledge or recommendation from someone close to you, you can easily buy the "wrong" theme
Here are some criteria to look for before buying a theme:
3.1. The purpose of your site matters
For a successful choice, it is recommended to focus on themes that best reflect the essence of your brand and the message you are conveying
This means paying attention to details such as theme colors, layout style, fonts… and any other visual elements that must fit your niche and appeal to your target audience
If you are a vegan restaurant for example, it is agreed that one of the colors that should dominate your theme should be green. Also, if you have a rather older audience, it would be wise to avoid too fancy fonts with a reasonable font size for easy reading
Simply put, just make sure your theme matches your brand's context and the tone you want to converse with your audience.
3.2. Theme responsiveness
Basically, a theme is usually adapted to computers. But in recent years, developers have brought the concept of "responsive design" which is to create sites that display easily on smartphones without you needing to pinch or enlarge the screen
In today's context, a responsive theme is one that is fluid enough and able to automatically adapt depending on the device the user is using to access the site
What good is an attractive theme with the best possible design if users have trouble accessing the website? Not much certainly and this is one of the advantages of paid themes
Developers who produce such themes strive to provide a well-structured source code to ensure a better user experience even from mobile devices.
According to statista, more than half of the web traffic worldwide is due to the use of mobile devices, and this rate is only increasing day by day. Hence the importance of choosing a responsive theme for your website design
But how do you recognize a mobile responsive theme?
First of all, the first way is to resize the screen when you view the demo of a theme
The theme should be clearly readable as you minimize and maximize the display on your screen of any device.
The second way to do this is to test the theme's demo page URL using Google's Mobile Friendly Test tool
Just paste the URL and run the analysis. The tool will generate an analysis report after a few moments mentioning if the theme is well adapted or not to phones and tablets
It should also be added that the responsiveness of a theme does not only offer a better user experience, it is also an important ranking factor for search engines
3.3. Theme loading speed
Just like responsiveness, the structure of the source code can also impact the loading speed of a theme, a very sensitive factor when it comes to web design
When your site takes 5 seconds to load completely, the probability that visitors will abandon their session without making an additional click is estimated at 90%. And as the loading time increases, so does the probability of bounce rate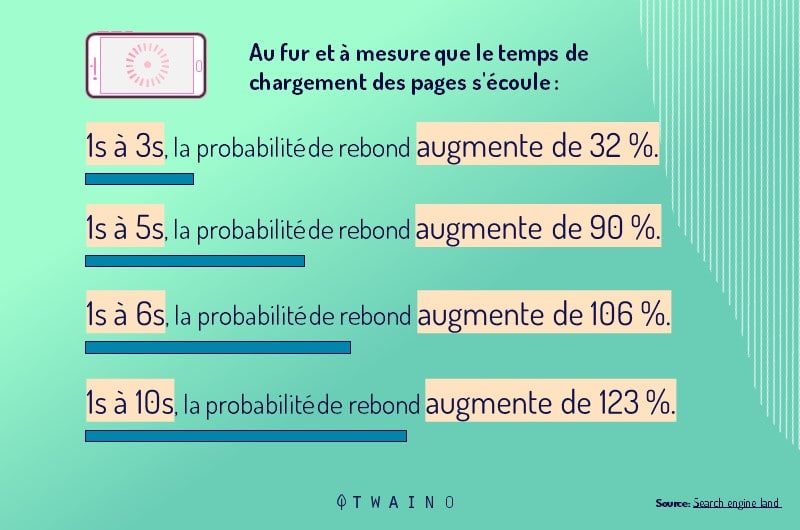 Optimizing loading speed remains a major challenge for any website owner, including big brands
Google for example noticed that a delay of only four tenths of a second on its search results could make it lose up to 8 million requestsper day
The stakes become even higher when you operate in the online retail sector. Amazon also confided that a slowdown of 1s on the loading time of its pages would cost it 1.6 billion dollars in sales each year
These figures show the importance of a fast website. That's why you should test the loading speed of a theme's demo before buying it and for that you can use tools like IsItWP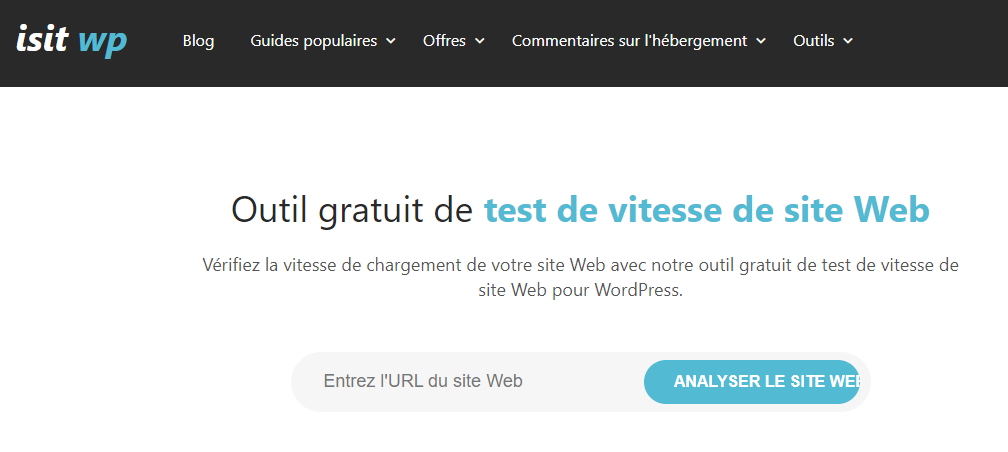 The results from the test will let you know how fast the theme you have analyzed is.
It should be said that you don't have to choose a theme whose demo URL analysis reveals record loading time. If you like a theme and only the loading speed is a problem, it is possible to perform some optimization techniques to improve its technical performance
But this requires some knowledge, but also a lot of time. So it would be better to choose a theme that directly offers a better loading speed
3.4. The possibility to customize the theme
In reality, even with premium themes, it is unlikely that you will come across a theme that would perfectly suit your needs. And even if it did, it's still recommended to add your own personal touch
Basically, all themes are customizable, but some may offer fewer modification options while others offer a wide range of features to customize your theme to the point of making it completely original
You can evaluate the level of flexibility of the theme by previewing the possible modifications that can be applied in the demo video. Generally, the modifications that do not require special coding knowledge are the ones that work thanks to the drag-and-drop functionality
So, check the compatibility of the theme with the best page builder plugins like Elementor before buying it. This will give you plenty of scope for advanced customization without much difficulty
3.5. Other users' opinions on the theme
One equally important thing that you should not ignore in choosing your theme is what other users like you think about the theme.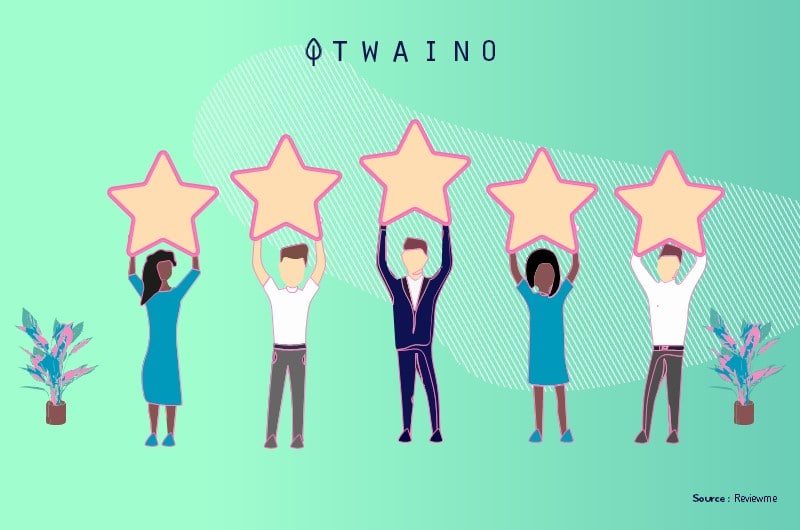 For this, do a little research on Google by searching for the most purchased or popular premium themes and then take the time to read the reviews that users may have left
A product, even if it is of good quality, cannot receive only positive reviews. So don't jump to conclusions when you come across a few consumers who speak badly of the theme
So take the time to go through as many reviews as possible to see if the balance is tipped much more towards positive reviews
Also, the benefits and limitations of a theme can be subjective to some extent. For example, less available customer support may not matter much to someone who is comfortable exploring the code or documentation of a theme
On the other hand, less experienced site owners may find it too difficult and criticize the theme negatively. So, you should analyze the online reviews carefully and make your own opinion before deciding
And if by the way, you don't have many reviews on the theme, it would imply that it is not often bought and surely not interesting. But again, check this out for yourself before making a decision
3.6. Compatibility of the theme with users' browsers
The theme you want or have purchased may work well with your browser and have a problem displaying on the users' browser.
That's why it is always important to check the compatibility of a theme on browsers
It's true that most premium theme developers test browser compatibility before releasing their product, but you don't lose anything by checking, especially since it's an investment.
To do this, nothing too complicated, try to display the theme on the most used browsers such as
Chrome ;
Firefox ;
Internet Explorer ;
Etc.
If the display does not cause any problem with a browser during this first test, it is unlikely that a compatibility problem will occur later.
3.7. Compatibility of the theme with plugins
The quality of a premium theme does not completely exclude the need for certain features that will send you back to the plugin user.
For this, you need to make sure that the theme you choose supports popular plugins
Thanks to plugins, you can carry out several actions on your site such as
Customizing your design;
Adding additional features
Improving the performance;
And many more.
However, when you come across a theme that does not support popular plugins like WPForms, OptinMonster, AIO SEO or Yoast SEO, it is highly recommended to consider other options.
Sometimes, some themes are already pre-installed with certain plugins, otherwise the best way to find out if the theme you are considering supports adding plugins is to ask the developer.
2.8. Compatibility with page builders
Page builders are tools that web designers sometimes use when designing web pages.
Sometimes, customizing a theme can seem like a daunting task and may require some recourse even when an expert is in charge of designing the site
But, with page builders, you can easily design website pages with a simple drag and drop of the elements you need.
However, using poorly designed page builders can weigh down your site and impact its loading speed
Therefore, it is best to choose a theme that is compatible with the most popular page builders such as
Elementor
Divi Builder
Beaver Builder
Brizy
Etc
3.9. Pay attention to the quality and standards of the code
Without a doubt, a theme with sloppy code is bound to have a negative effect on the performance of the website.
Not only can the database return errors, but the very website in question is exposed to the risk of hacking.
That's why you need to make sure that your theme properly meets the latest standards and good coding practices.
It is true that if you are not a developer yourself, it will probably be difficult for you to assess the quality of a source code and its compliance with the industry standards.
But there are a few tips that may well help you to know
Firstly, choose only themes designed by the most reputable developers in the field. This gives you the assurance of having a well-coded theme.
For this, it is advisable to sort out the premium themes offered by the marketplaces that are quite old and have proven themselves in the market. We will come back to this in more detail in a later chapter.
For more assurance, then consider taking a look at the number of downloads obtained by the theme. It is obvious that a frequently downloaded theme is of good quality and meets the needs of users
Last tip, you can use the Theme Check plugin to scan your theme to find out the quality of coding used
3.10. Make sure there is support and updates available
Most paid or premium themes often come with high-quality support.
Some providers can assist you through a forum, others through email contacts or even direct online chats.
So, the developers should be able to help you when you feel a bit lost with the functioning of the theme you have purchased
So before choosing a paid theme, make sure that it offers a customer service and especially available to answer you as soon as possible when you need assistance
Finally, you can check the history of previous versions of the theme to see if its developers offer regular updates
Chapter 4: Top 5 most popular themes
Before we discover the markets where you can acquire themes for your website, here is a brief list of the most popular themes: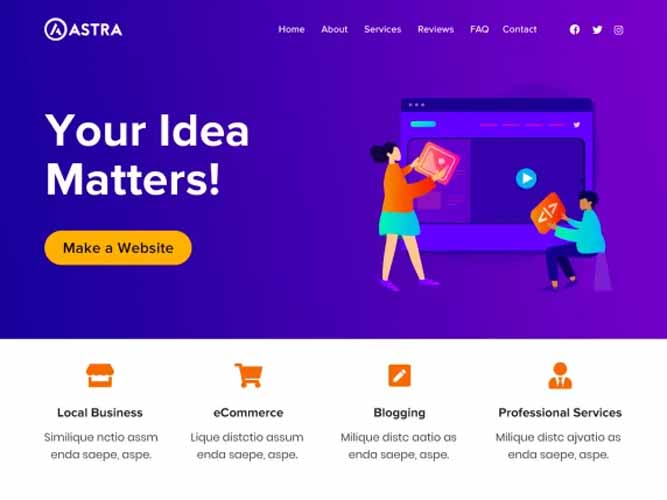 Astra is a very popular and one of the fastest multipurpose themes on the market, providing an elegant design that users can customize to their liking.
This fully customizable theme integrates seamlessly with the giant WooCommerce online store plugin, a great opportunity to create any type of site.
Despite its performance and advanced features, Astra usually occupies only a total of 50KB on your hard drive space.
Its very fast loading speed can mean that you can adapt this theme to any type of large site.
This popular theme currently has over 1 million downloads and over 4500 positive 5-star reviews.

Astra lets you choose to work with its free version or use the premium version to better discover the theme's potential
The paid version of Astra is technically a plugin that you install with on the free theme to extend the theme's customization features.
The goal of the versatile theme is to allow you to easily customize your site and create a professional looking site with an intuitive page builder
With the Astra pro addon, you will have access to 19 different premium modules to save a lot of time when designing your website
Here are some important modules you should know before using the Astra Pro theme.
Typography: The Astra theme is designed with over 700 built-in Google fonts. This Astra typography module allows you to have complete control over your website and manage its typography well.
With its built-in font plugin, you can set the font size to fit for each device
Colors: The design and color of the theme are essential elements for any website. With this Astra plugin, you can apply the colors and background of your choice on all corners of your website
The free Astra theme gives some basic color options to choose from, but with the Astra Pro plugin, you have more customization options
Mega Menu: With this module, you can add menu sections on your site like sliding menu for example ;
Mobile Header: Mobile header modules are used to customize and adjust header breakpoints, set a different mobile-friendly logo, custom menu styles and specific colors for mobile devices;
Integration: Astra contains LifterLMS, the LearnDash plugin that allows you to create very user-friendly e-learning sites;
Custom layouts: With this module of the Astra theme, you can create headers, footers, 404 pages and use them throughout the website. You can also set display conditions for particular pages;
Global design options: Overall, Astra's design modules allow you to display your logo on different header positions, add breakpoints, display flyout menus, add a hamburger menu and add a stick header;
WooCommerce: Astra's WooCommerce module allows you to design an online store
With this module, you can display your products in a grid layout, add an off-canvas sidebar on the store page, Infinite Scroll on the store page, display a drop-down cart, etc.
Astra also offers free WordPress plugins for Astra Starter sites to import predefined website designs with one click
You can choose your favorite page builder between Elementor, Beaver Builder and a Gutenberg-based WordPress site to import
While the free version of this theme only gives you access to 35 layouts, you can find up to 150+ predefined layouts in the paid plan.
Everything is designed so that even beginners can create websites with a professional design without having to enter a single line of code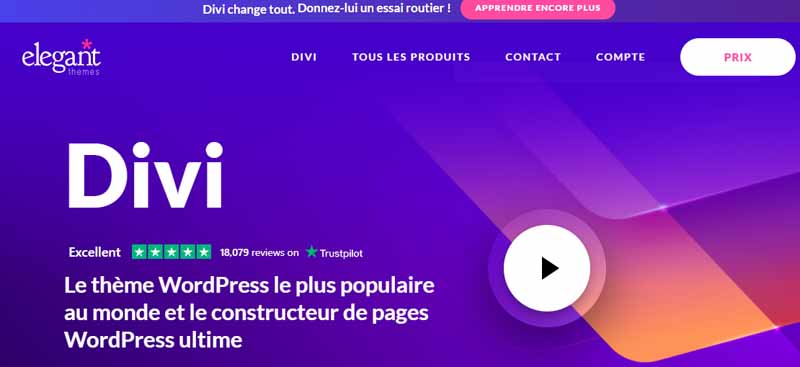 Elegant Themes has been known for the fame of its Divi product, a versatile theme that allows you to create any type of website.
After several updates and improvements, the Divi theme now features:
A super powerful page design tool with a little drag and drop action;
A number of website templates to choose from
More advanced and useful customization possibilities;
And more
Divi continues to maintain a good position in the competitive market thanks to its countless features and the excellent user experience it offers.
The theme has a Page Builder setting, a powerful feature that allows you to customize the pages or article you create simply and with a few clicks. All this with a simple drag and drop gesture.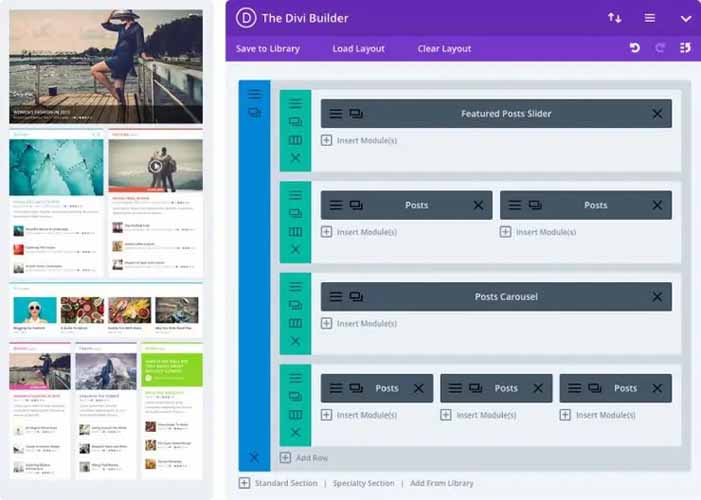 This feature allows you to:
Create sections
Insert sub-sections
Add images;
Insert videos;
Add text;
Insert testimonials and CTAs;
Add contact and membership forms
Etc.
This theme allows users to take advantage of its countless fonts to adapt your writing style to your texts.
You can choose to use the page builder also in blog posts, as well as create landing pages or specific pages for your website.
Another interesting feature of the Divi theme is the import and export function.
Divi gives you the ability to import your layouts, upload the json file to the library so that the template is immediately available and installed on a page
In addition, one of the analytical innovations that Divi brings, unlike other themes, is the ability to perform A/B testing.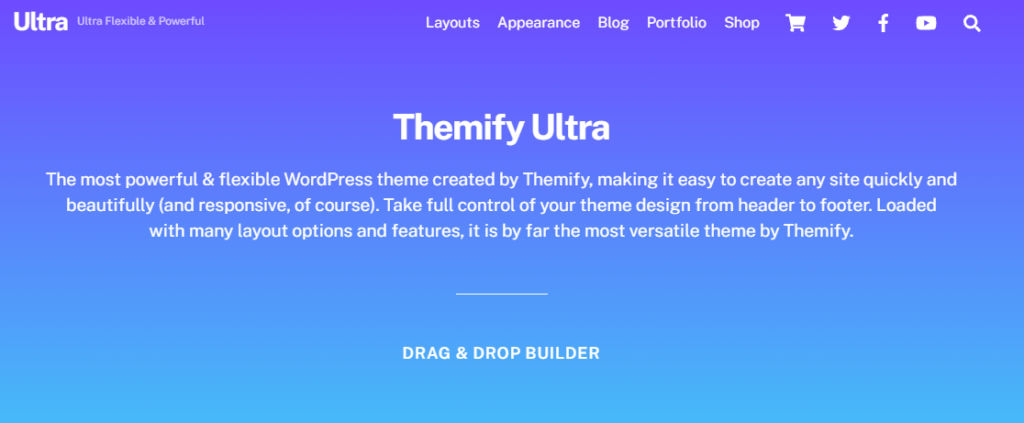 The Ultra theme is a product of Themify, a very reputable theme development company in the market.
They have a large list of themes that they have created and released for specific purposes.
In this batch of themes produced by the company, Ultra is the most powerful one and the one that has caught the attention of designers.
It is a versatile theme that allows you to create any type of website, which makes it a must-have for anyone who works with many types of websites.
Ultra comes with all the standard features as well as a bunch of other specific features and benefits.
The fact is that all Themify themes share a few standard features, some of which are:
Drag and Drop Builder: Themify's drag-and-drop setting allows you to build your layouts on the frontend without code, with super admirable effects ;
Easy Demo Imports: The Ultra theme gives you the ability to import the demo from Themify in a few clicks using their demo import feature, then customize it to your liking; and;
Powerful hooks: You can use Themify hook content to insert ads anywhere without making use of any code ;
SEO Optimization: All Themify themes are coded to be SEO optimized, so you can be sure to build a site that can rank well on search engines;
Social icons and Google fonts: Each Themify theme comes with over 600 Google fonts and the most popular social icons.
In addition to these standard Themify features, the Ultra theme comes with several other additional benefits that make it a winning theme.
Here are some of the most important features of the Ultra theme:
Countdown timer: You can add a customizable countdown timer anywhere on your site, ideal for time-based offers ;
Price Table: With the theme you can build a responsive table that shows the prices and description of your products and services;
Maps Pro: This is a module that allows you to customize your map by inserting location markers, changing styles, etc;
Audio : This feature allows you to insert audio files in the form of a podcast in any column of the Themify generator, so that your audience can listen to them on the page;
WooCommerce: This is an integrated plugin that allows you to create, display and customize your online store pages in the Themify generator;
Contact: This powerful contact form plugin allows you to create beautiful forms with an intuitive drag-and-drop interface;
Image-Pro: This is an add-on module to help you create eye-catching images with even more visual impact like add image filters to your photos, create animation effects, insert text overlays and captions and much more.
In addition, Ultra comes with many customization and smart layout options that allow you to have full control over all visual aspects of your website.
Depending on the look you want, you can explore the long list of page header templates to choose one for your website. You can even define individual header styles for specific pages, which is quite useful.
You can use Ultra to create beautiful headers by defining custom header backgrounds. For example, you can use a solid color, slider, animation or even insert a video to customize your headers.
You can also toggle the different elements of your headers and footers depending on whether you want to show or hide them, like your logo and social links.
If you don't like the predefined typography options offered, you can choose from over 600 Google fonts.
Another great feature of the Ultra theme is section scrolling, which allows your website visitors to scroll your page line by line
This gives a similar look to a presentation slideshow and contributes to a better user experience.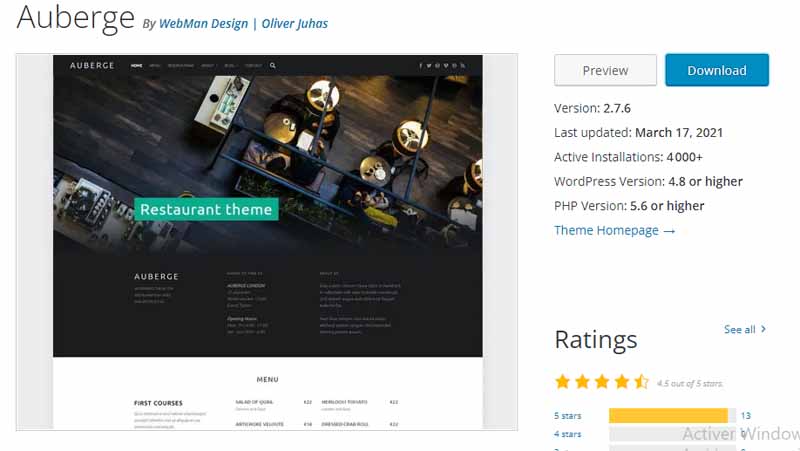 It is true that there are fewer themes on the restaurant niche, but there are some that are good enough to meet your needs and requirements.
However, the biggest concern with most restaurant niche themes is that they are usually marketed as a complete package with everything built into the theme, including menu management
The inability to separate the menu data from the theme means that users can't mutate the contents.
What makes the Auberge Theme special is that it is exempt from this way of design observed on other themes of the niche.
The theme's homepage features a large header image, with blog posts and/or a preview of the optional food menu displayed below.
When you view the live demo of the theme, you'll notice that the menu page is divided into sections. The menus are responsive and each item can be assigned an image, price and description.
The integration of the WebMan Amplifier plugin with the Auberge theme, enhances its ability to offer more options to customize your website with restaurant ingredients and recipes.
The theme also requires the Jetpack plugin to support many features you see in the demo, including:
Food menu items;
Featured content configuration (banner area);
The tiled gallery;
The image lightbox zoom effect;
Infinite scrolling;
The sharing buttons;
The site icon, favicon and image logo;
Related articles ;
Etc.
Auberge has an excellent customizer to provide layout options for placing blog posts and food menu sections on your website's homepage
You can also customize the header background and text colors, accent color, footer and widget colors
The customizer also contains options to set the base font size according to the recommendations of the Google Web Fonts Typography Project.
If you prefer the layouts as they are on the demo site, the theme author has prepared all the markup for each page to be copied.
Just go to the "Demo content page layouts" section of the theme documentation.
If you are looking for a restaurant or cafe theme that offers better menu content, Auberge is a solid option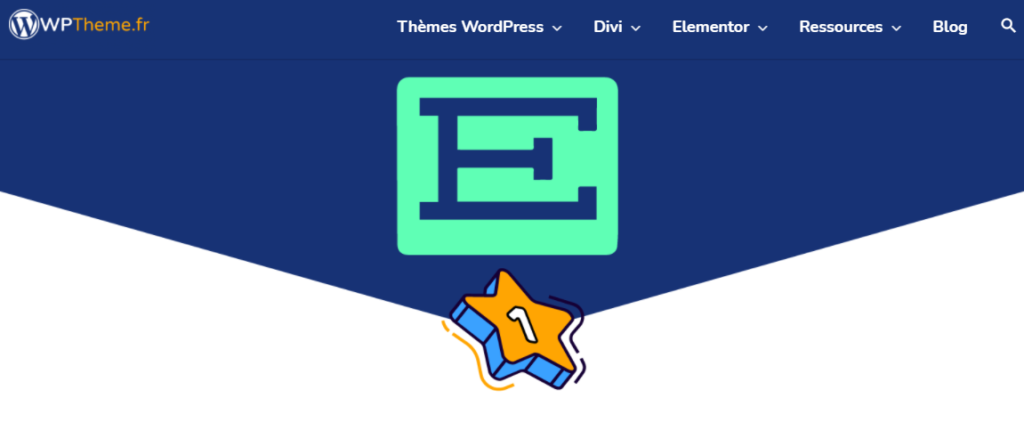 At its core, Extra is a magazine-focused theme, but if your desire is to simply create a blog with a beautiful and rich design, you have the theme for it.
Like any other theme, for advanced customization, you'll need to integrate plugins with your theme.
However, you will need a lot of content, including writing, images and video, to make your site look like the demo
If you're installing this theme on a new blog, don't expect it to look just as amazing on day one.
Packed with all sorts of features, Extra comes with the following:
Divi Builder Integration;
The ability to use either the standard back-end editor or the front-end visual editor;
Divi Builder for custom pages based on categories;
Built-in ratings and reviews;
WooCommerce integration;
Portfolio, project and product support;
Multiple navigation options, including mega menus;
Fully responsive;
Custom widgets ;
Etc.
Moreover, it is integrated with the main menu of the Extra theme, the Divi Builder plugin that gives you every chance to customize your website to your liking
The theme options panel is where you can control all the main features of your site. It is broken down into 7 sections:
General Settings: In this tab you can import and customize important elements of your website such as your logo, favicon, sidebar settings, social profile settings and URLs, specific page and publication settings and finally a section for custom CSS;
Navigation: This section contains page settings, categories and general settings. You will be able to control things like sort order and the number of navigation dropdowns;
Layout Settings: This will allow you to adjust the meta setting for individual posts, comments on pages, as well as general information about posts and the layout of the archive page;
Ad Management: This page is where you can enable or disable specific ad blocks on your site;
SEO: Depending on whether or not you are using a third-party SEO plugin, this is where you can fine-tune your SEO settings.
The theme customizer is where you'll do the vast majority of your theme customizations
This is one area where Elegant Themes has made it very easy to create a unique look for your theme.
The module customizer is a convenient way to make global changes to specific modules within your theme
For example, changing the header size or input font size for all contact forms on your site can be done with a simple adjustment.
The range of options in the module customizer is just as impressive as the theme customizer. They allow you to make almost any kind of changes you need.
If a client or employee has ever made unintentional changes to a website, you will really appreciate the role editor. It's a simple way to ensure that each user role is assigned the appropriate privileges.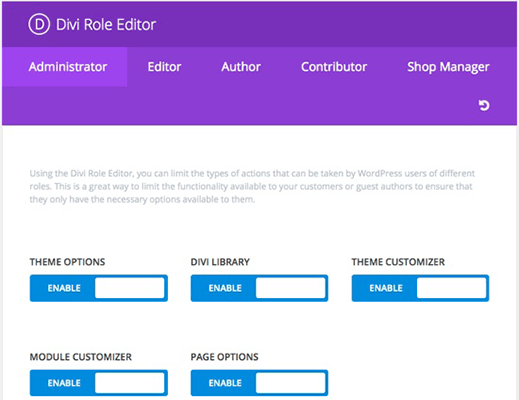 If you're creating multiple websites or even multiple pages on the same website, the Divi library can really speed up your workflow
With just a few clicks, you can save, load, import or export layouts, modules, rows or sections.
So let's say you're building a lot of landing pages. The Divi library allows you to create and save a template or section of a landing page template that you can use again on any number of sites
This is where Extra stands out from the competition, and really from the Divi theme or Divi Builder in general
If you have an existing website, you've probably already created a few template categories. Most of the time, when people create different categories on their website, they end up using the exact same template for each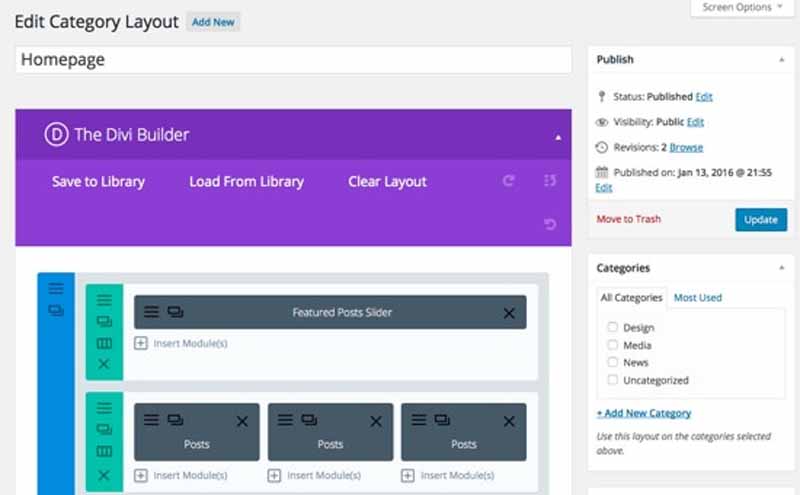 Located at the bottom of the Extra menu is the Category Builder, which when clicked displays the Category Layouts page.
If you've ever created a page or post in WordPress, things should look pretty familiar here. The process of creating your layout is as simple as adding sections, rows or desired modules.
Chapter 5: 10 Best Sites to Buy a Theme
As we announced, in this chapter we will discuss the best platforms where you can buy a high-quality theme.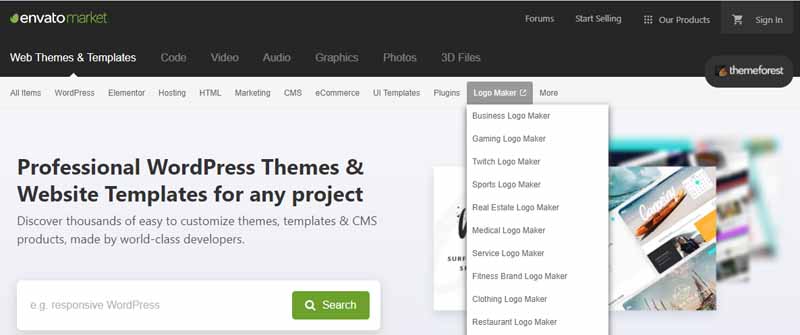 ThemeForest is a fairly reputable and popular theme buying resource of the market. In addition to wordpress themes, ThemeForest team develops themes also for Joomla, Magento phpBB and develops plugins for most popular open source CMS.
Themes created by ThemeForest team are works of a professional level and the quality of each component is very high
The search is facilitated by the categories in which the themes are divided and the price varies between 25 € and 60 €.
Included in the price is online assistance for installation and troubleshooting. In addition to this, there is a community providing details, comments and reviews that allow you to evaluate the theme.
For those who use WordPress to create e-commerce sites accompanied by a blog, ThemeForest is the right store to choose professional themes at a good price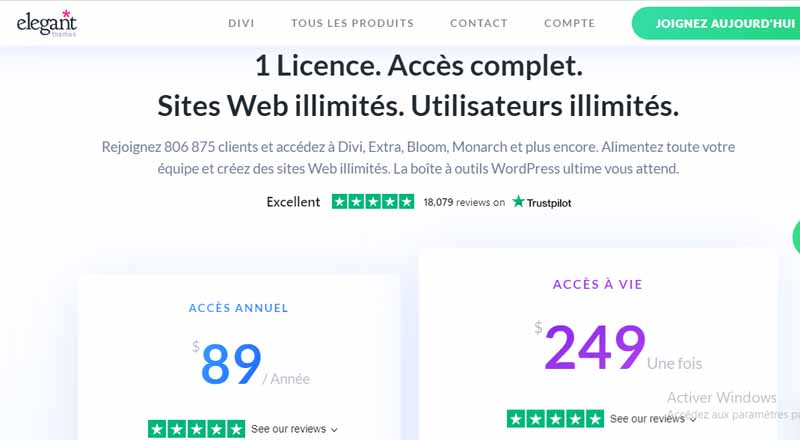 A theme store that has made its way through the high quality of its products is Elegant Themes, a site where you can find many excellent quality themes at a competitive price.
In addition to the high quality of the products, the Elegant Themes team offers a very fast and satisfactory support service
You can ask questions or ask for help via a forum or directly by e-mail, you will receive a response very quickly.
Moreover, each theme comes with an installation and user manual which is very useful to help you go fast.
In this manual, you will find the instructions to customize the theme thanks to its very simple configuration interface proposed on all the themes offered for sale
With this interface you can for example quickly change the fonts or the layout color without having to change a single line of code.
Another strength of Elegant Themes is the price, less than $40 with a 30-day money back guarantee if you are not satisfied.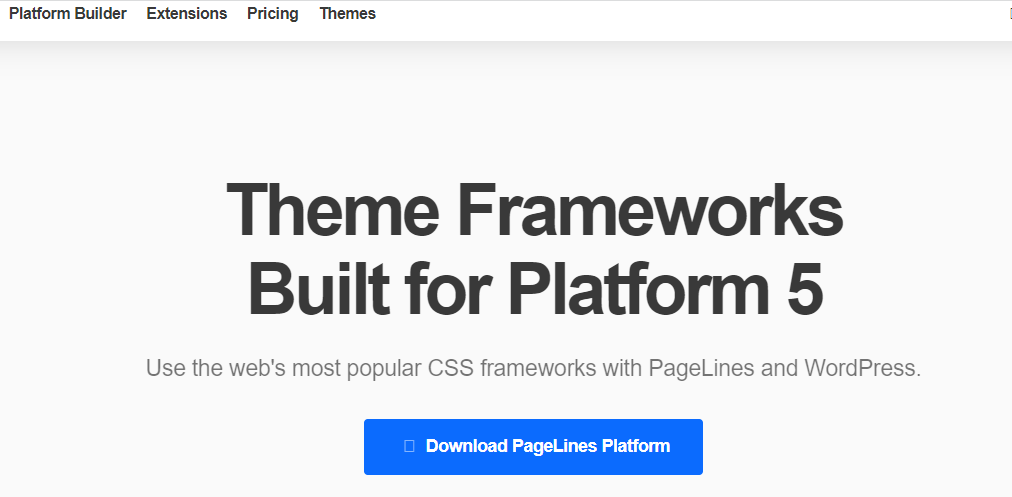 PageLines themes are seriously recommended for anyone who has no technical or web programming knowledge
The framework offered by these themes is indeed very popular for its drag and drop functionality
When writing an article, you can for example insert an image or a slideshow of images by simply dragging an icon into the text.
A very practical feature that completely replaces shortcodes. And that's not all, these themes are of very high quality and made with the latest technologies and web trends
Each theme offered on this platform can be customized directly from the administration interface by choosing Google fonts or changing the basic colors
Moreover, the available themes are responsive and therefore perfectly adaptable to mobile devices such as smartphones and tablets.
This user experience focused marketplace offers drag-and-drop themes that simplify website design
Themify's dedicated marketplace offers several theme categories for a variety of pre-built websites that you can modify to your liking
From personal blogs to online e-commerce stores to tempting restaurant websites, there is something here to suit most users and their business requirements.
Although it originally specialized in theme design, Themify later expanded its service towards creating plugins to complement the features of its themes.
This page also offers the possibility to sell your themes, plugins and services whether for WordPress, Magento and many other popular CMS
The platform has over 7,900 items for sale, including 900 premium themes with over 50,000 users, which makes it rather a good choice for your purchases.
Every theme or template offered by Themify Theme goes through a review process where each design is carefully examined to ensure high-quality coding standards.
The site is well organized into different categories with a filterable search function, this allows buyers to quickly locate themes designed for a specific industry or category.
It also has a support assistance system, each item has its support forum where buyers can browse different products and ask for help.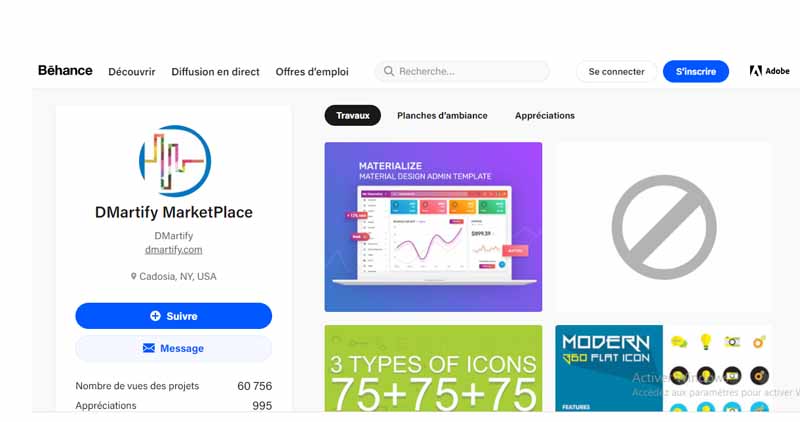 DMartify is a powerful and affordable marketplace for buying and selling digital items such as themes, templates, graphics and scripts online anywhere.
DMartify is the marketplace where anyone can safely sell, find, rate and buy a premium theme.
Most developers prefer to market their products on DMartify for several reasons including the fact that
When you are a developer or want to sell on the marketplace, you can start selling immediately within the next 5 minutes with DMartify and earn a fixed 70% commission.
As an author or seller, you will receive a flat commission of 70% per sale;
No minimum payment before taking advantage of the platform's services;
No exclusivity rules, you are free to sell your items elsewhere and still enjoy the 70% revenue share;
You can set your own price and change it at any time
Etc

Creative Market is a marketplace for creative content producers, with nearly 32,000 stores and 5 million products
The platform offers themes, templates, graphics, fonts, photos, design add-ons and 3D elements
There are themes for Shopify, WordPress , OpenCart, Drupal, Joomla, Ghost, Magento and Tumblr
Creative Market also provides various tools for sellers to track statistics, customer base and manage support and allow sellers to keep 60% of each sale.

Template Monster is a marketplace for buying quality digital products. The site lists nearly 58,000 themes, templates, plugins and graphics, including Bootstrap-based website templates, HTML5 and CSS3 ready-made solutions, icons, logos, UI elements, etc
Template Monster also offers e-commerce themes for Shopify, Magento, PrestaShop, OpenCart, VirtueMart, MotoCMS eCommerce, etc. Sellers in this marketplace earn an average of 65% on every sale they have made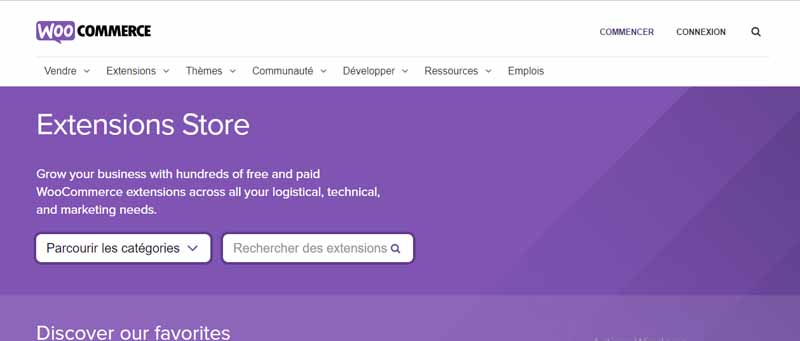 Woocommerce Marketplace offers both free and paid themes and extensions for the open source WordPress plugin
The site contains elements developed by WooCommerce as well as third-party developers. On the platform, you can browse themes by industry or choose to customize a storefront theme
On WooCommerce MarketPlace, you will also find extensions for payments, shipping, marketing, subscriptions, store management, and more
Theme and extension developers on WooCommerce MarketPlace can earn 60% of net revenue from the sale of their exclusive items or 40% for non-exclusive ones.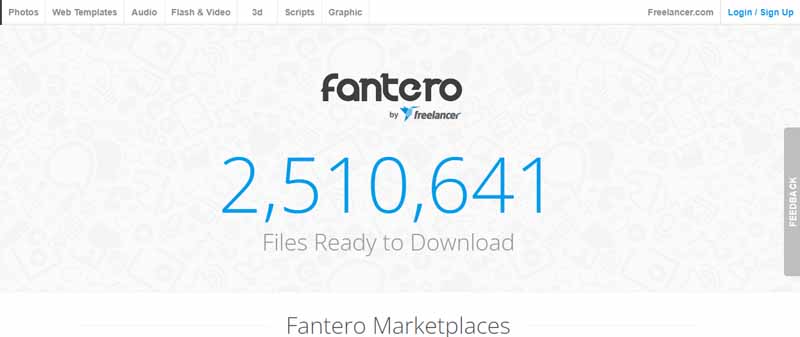 Fantero, part of Freelancer.com, is a web design platform with a collection of over 2.5 million items
There are templates, plugins, scripts, graphic and web elements, photos, videos and 3D models
Fantero also offers themes and templates for WordPress, Joomla, Photoshop, HTML, etc. and its sellers can keep from 50 to 75% of each sale.

WordPress.org, the download site for the WordPress content management system, is also a repository of:
Over 57,000 plugins;
Over 7,800 themes;
Stores offering GPL-licensed themes and premium support services to transform a WordPress site
For developers, WordPress.org offers a directory where they can submit plugins and themes they have created
Conclusion
Themes are elements that define the visual aspect of a website. It must therefore be well chosen for an attractive site.
Sometimes, the choice of a theme can go far beyond the questions of appearance and impact on the performance of the site such as the speed of loading pages or the responsiveness of the site on different devices
That's why it's important to choose a good theme, especially paid or premium themes which remain by far the best in terms of features and quality.
Together in this content, we have discussed the criteria to check to choose your theme, the most popular themes currently on the market and a list of 10 best marketplaces where you can buy quality themes for your site creation
If you know of any other reliable platforms for buying themes, you can add to the list in the comments or ask any questions if you want more clarification on any aspect.
I hope you enjoyed this content and found it useful. Thanks and see you soon!