Do you dream of sipping a cocktail on the beach while generating a full-time income for only 4 hours of work per week? It's possible with affiliate marketing.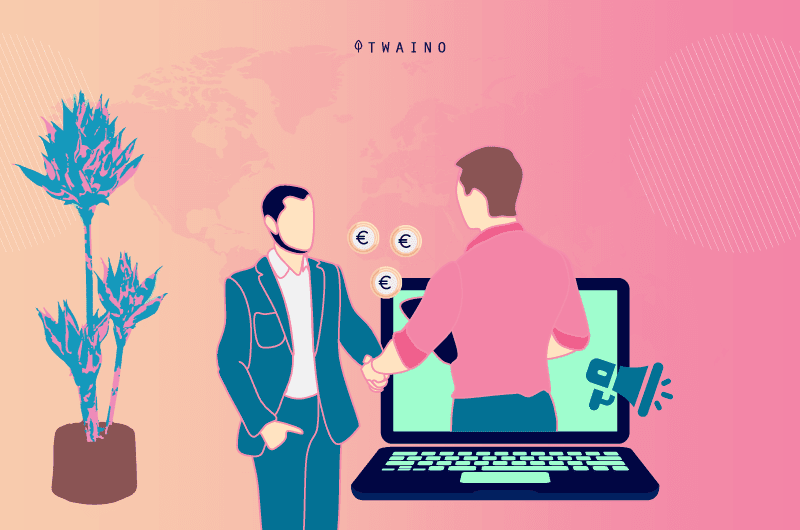 You may not know it, but affiliate marketing is still one of the most used ways in the world to earn passive income on the Internet.
81% of corporate brands have already joined affiliate marketing in order to sell their products on the market.
Moreover, studies by Statista already predict that the sector could reach $8.2 billion in spending by 2022 compared to only $5.4 in 2017.
But in concrete terms, what is affiliate marketing?
How does it work?
And what are the steps to start affiliate marketing from scratch?
Here's a complete guide to understanding the concept and starting to generate your first dollars from the comfort of your home with affiliate marketing.
Do you dream of sipping a cocktail on the beach while generating full-time income for only 4 hours a week? It's possible with affiliate marketing.
Chapter 1: Affiliate Marketing – Definition, Origin and Benefits
Before you get started with affiliate marketing, we agree that it is important to understand what it is.
1.1. What is affiliate marketing?
Affiliate marketing can be defined as a way to promote products for third party companies.
You've probably already come across bloggers or influencers who recommend you try new products. We won't deny it, sometimes we give credit to these recommendations as if they were coming from a close friend.
But unlike your friends, these influencers get a commission on every product you buy by clicking on their link.
This is called affiliate linking and all of this can be possible through an affiliate network.
So if you belong to a network, you will choose a product that you feel is easily marketable and then simply promote it on a digital channel of your choice.
Every time your marketing efforts result in a sale of the product, the product owner will pay you a commission to reward you, it's that simple.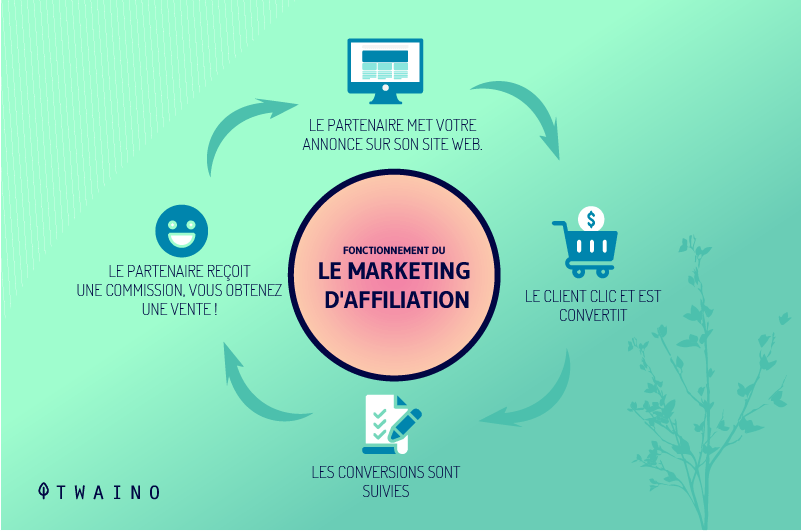 You don't need to learn how the financial market works or be an expert in stock trading to make money with affiliate marketing.
And where affiliate marketing can be even more interesting is that it can easily reach large scales. Typically, a traditional seller only markets products from one supplier.
But with affiliate marketing, you can market multiple products from multiple companies and earn commissions from each of them without worrying about after-sales service.
All this may sound like affiliate marketing is an easy business, but it's not.
Unless you already have a quality audience, selling a product or service on the Internet can require a significant investment of time and money.
The real challenge here is to get traffic and retain your audience. This is practically the major problem that many people face in affiliate marketing.
1.2. Origin of Affiliate Marketing
Affiliate marketing may seem like a modern concept, but the fact is that it was first introduced into marketing in 1989 by William J. Tobin.
While he was the founder of PC Flowers and Gifts at the time, the American entrepreneur noticed how much profit could be made from an online promotion.
So he initiated the Prodigy program, which is still recognized as the first affiliate marketing program in history.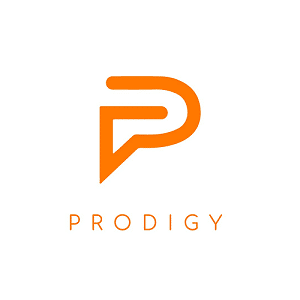 Source : Affi.io
Gradually, other similar programs were created all over the United States until the first owners of e-commerce stores also joined the concept.
A large network was created linking e-commerce sites and websites to a large number of people all over the world.
All kinds of products were offered on the websites through contents and banners with clickable links to e-commerce stores so that customers could make purchases.
For each sale recorded, the store owner paid a commission to the intermediary site for recommending the product to its users.
In July 1996, the market was revolutionized with a worldwide affiliate program launched by Amazon to promote its products.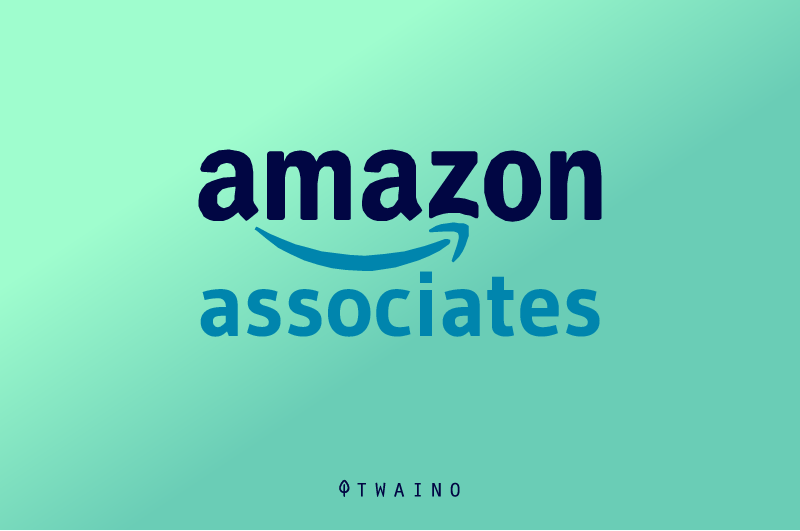 Already in 2000, we could say that affiliate marketing has become a concept known by all and used in all corners of the world.
A success that would probably not be possible without this history that has lasted more than two decades. Today, affiliate marketing has been improved and accepted as a stable and risk-free business model.
Many entrepreneurs have entered the field not as a source of extra income, but rather as a safe and full-time business, since affiliate marketing is legally recognized worldwide.
There is even a market dedicated to the sector, where you can find all kinds of affiliate programs, especially in the field of digital products.
1.3. Does affiliate marketing really work?
This question could be replaced with "Can you really make money by joining an affiliate program"? Well, if you look directly at the statistics, the answer to the question is a big YES.
You may not realize yet how profitable affiliate marketing is for affiliates. Statistically, 16% of all sales in online business come from affiliate marketing!
When you consider that online commerce generated $2.3 billion in 2017 and statistics prove that it can reach $4.5 billion by 2021, you realize that this is a huge number that speaks volumes about the reliability of affiliate marketing.
So much so that it was voted the second best source of revenue for an American company just after the Google Adsense monetization program.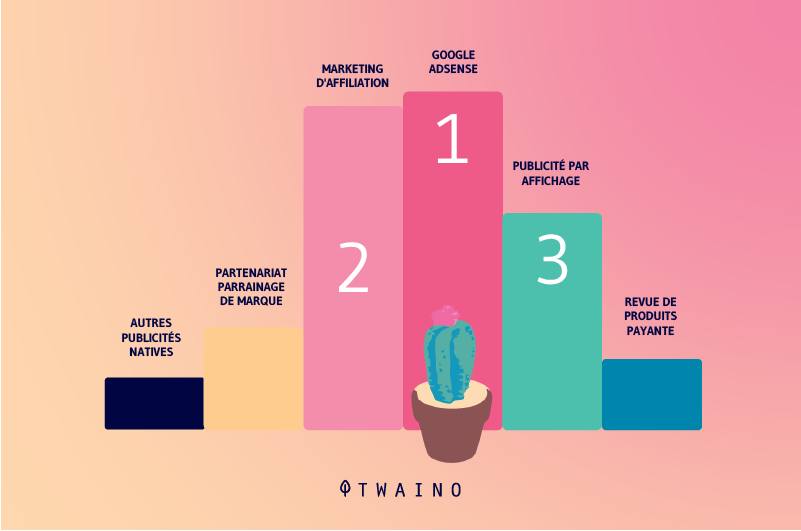 So there's no doubt about the effectiveness of affiliate marketing if you're still reluctant to get involved.
1.4. How much money can you make as an affiliate marketer?
It would be a bit difficult to give you an exact figure, but if it makes you feel better, there is no limit to the amount of money you can earn through affiliate programs.
It all depends on your niche and how hard you work. The best specialists in the field who have strategically organized their work make up to 7 figures of monthly income.
Pat Flynn of Smart Passive Income is still remembered for making exactly $105,619.13 in commissions on affiliate sales in December 2017.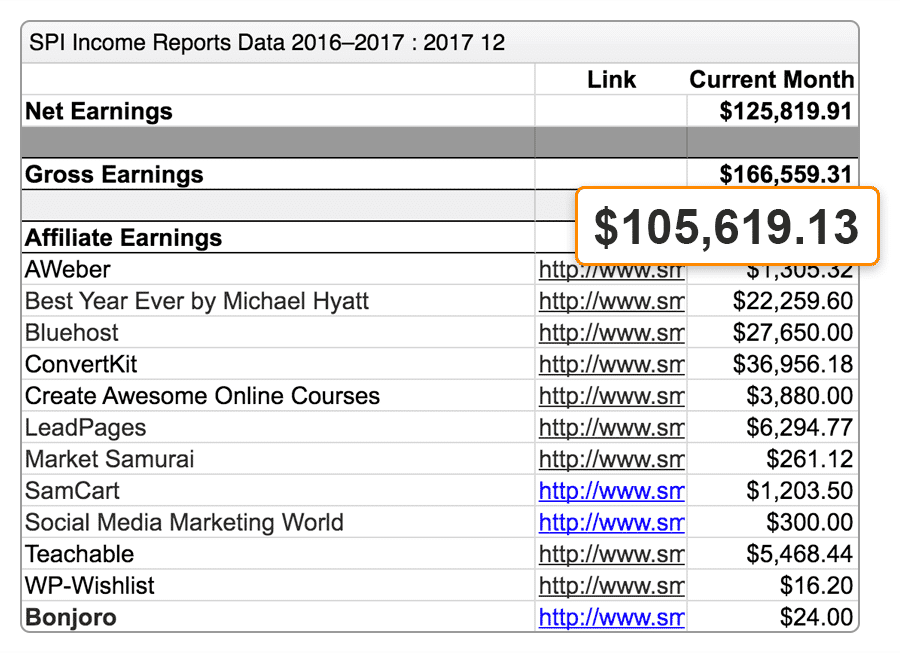 Source : Ahrefs
Or affiliate marketer Ryan Robinson who estimated his total commissions in October 2019 at over $19,000.
We also have The Wirecutter, an affiliate website that claims to have reached $ 10 million as revenue through affiliate programs. A performance that prompted the New York Times to buy the site for $30 million.
But it is important to note that all these people had to work strategically their brand to achieve such records in the field. It's practically years of hard work that led to this performance.
The idea is not to make you believe that such gains are unattainable in affiliate marketing.
But it's simply to make you understand that an affiliate who doesn't work on his marketing strategy or who is just starting out will earn small amounts, a bit like in the picture below: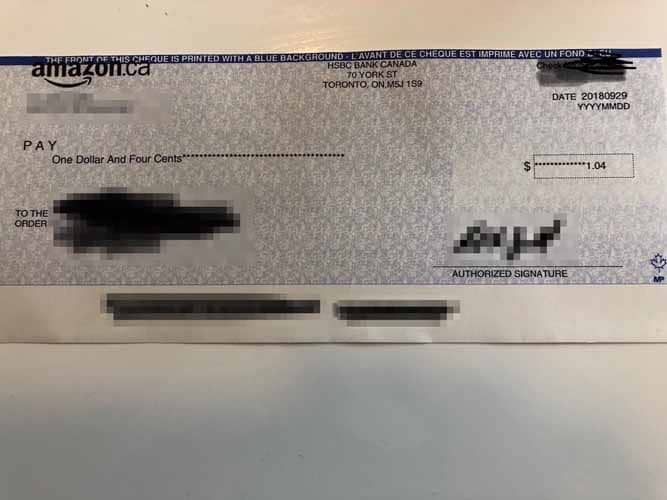 Source : Ahrefs
It is obvious that you will earn small amounts at the beginning, but you have to manage your expectations and not get discouraged.
Take the success of the first examples as a source of motivation not to give up when you encounter difficulties in your first steps.
With enough effort on a consistent basis, you can also achieve these levels of performance.
As mentioned earlier, some people do not make affiliate marketing a secondary source of income, but rather a permanent source of income.
Among affiliates, about 35% earn more than $20,000 from their affiliate programs.
As for businesses, nearly 81% of them use affiliate programs to market their products.
So honestly, the amount of money you can earn varies from 0 to millions. It all depends on your product type, the traffic you generate on your channel and your overall digital marketing skills.
Making money may be the only benefit that comes to mind when talking about affiliate marketing, but the list goes on.
1.5. Benefits of participating in an affiliate program
There are several reasons why someone might want to get into affiliate marketing. The main reason is that it is a simple and independent money making opportunity.
Mind you, sometimes all it takes is one ad for the affiliate to reach thousands of visitors with the possibility of converting much of that traffic into sales.
But that's not all, there are other advantages that make affiliate marketing an even more interesting system.
1.5.1. A sector free of investment risk
One of the ways to make money on the Internet is to create your own online store and sell products all over the world. Although it is a good business idea, e-commerce requires a lot of investment to start.
However, after its creation, there is no guarantee that an e-commerce store will survive or generate enough income to make the owner's investment profitable.
The proof is in the pudding, there are up to 24 million e-commerce sites worldwide with new sites being created every day. At first glance, these figures could lead one to believe that the sector is highly competitive, but in fact it is not so.
Less than 1 million of these e-commerce sites do not sell more than $1,000 per year, not to mention those that die over time due to lack of planning and experience.
On the other hand, affiliate marketing is also a solution for making money online, but apparently safer because registration is totally free and requires no investment.
1.5.2. Start with zero products in stock
One of the advantages that makes affiliate marketing so popular is the ability to make money on a product directly online without having it in stock or even being the creator.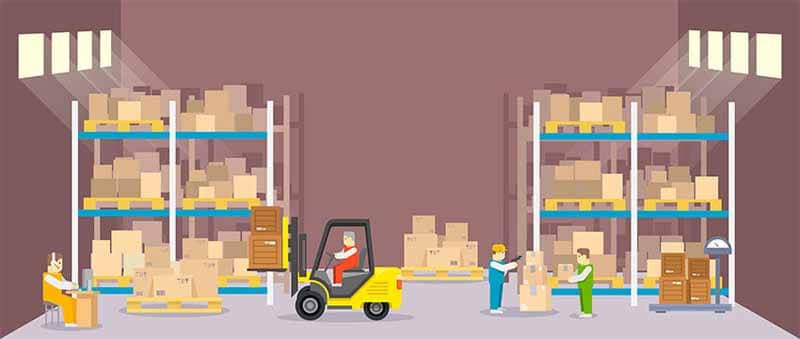 Source : Chris Van Der Linden
Just an affiliate link with a few clicks and you get your share of commission. This means that you don't have to worry about storing the product, the risks involved in keeping it or even delivering it.
1.5.3. Working on your own account
When an affiliate signs up for an affiliate program, it is just like starting his own business. He makes his own decisions and strategies to improve his work and get good results.
He remains his own boss and sets his own schedule without being inspected by anyone.
1.5.4. The possibility to promote a multitude of products
Affiliate marketing offers the possibility to promote many different products. The industry has thousands of products ready to be marketed, available in several models and spread over dozens of niches.
So, no matter what your audience's profile is, you are sure to find products that might interest them and that you can easily sell
1.5.5. You don't have to have a website or special skills
You don't have to have a website to get started in affiliate marketing. You can use other tools such as social media or emailing.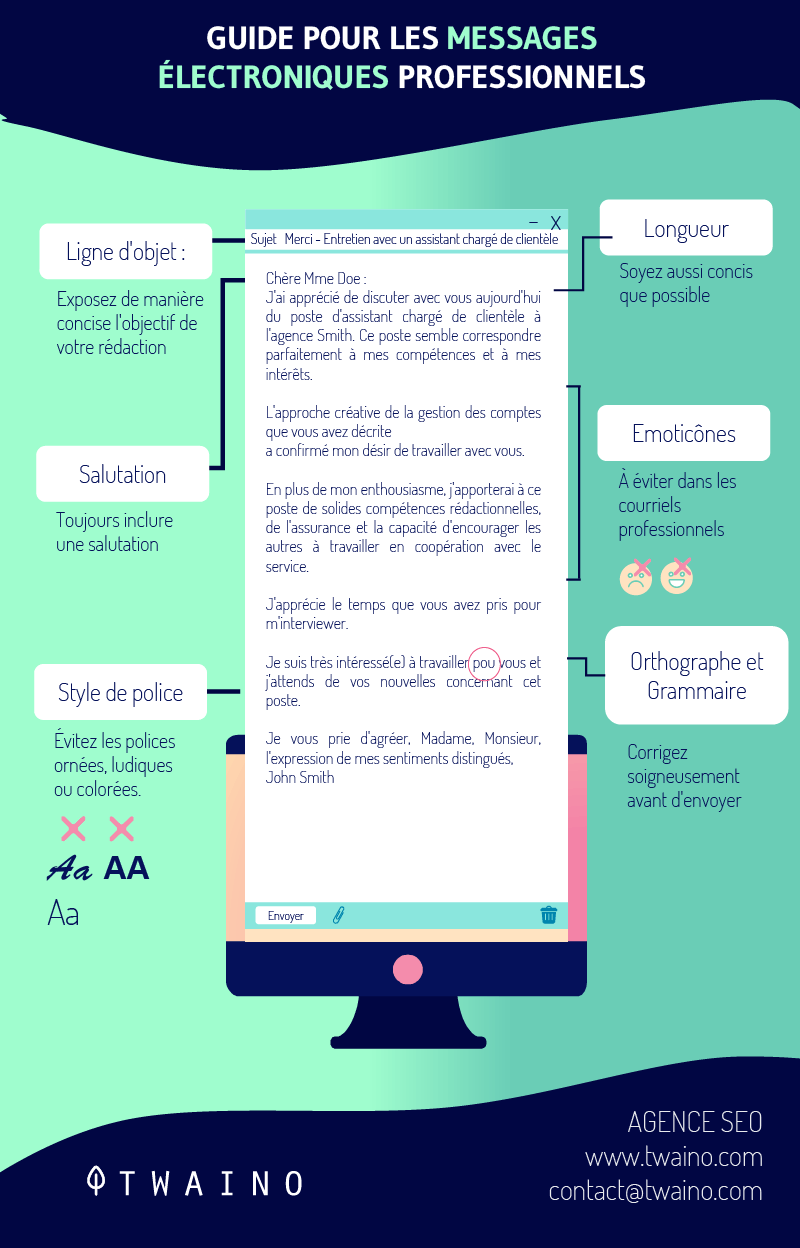 You don't have to have any special computer skills to be a successful affiliate marketer either. If you can already surf the net, you can join an affiliate program.
1.5.6. You choose the profit margin that suits you
Since the product belongs to the seller, it is normal that he sets the profit margin on each product present on his platform. This margin varies from one product to another and can reach up to 80% of the total price of the product.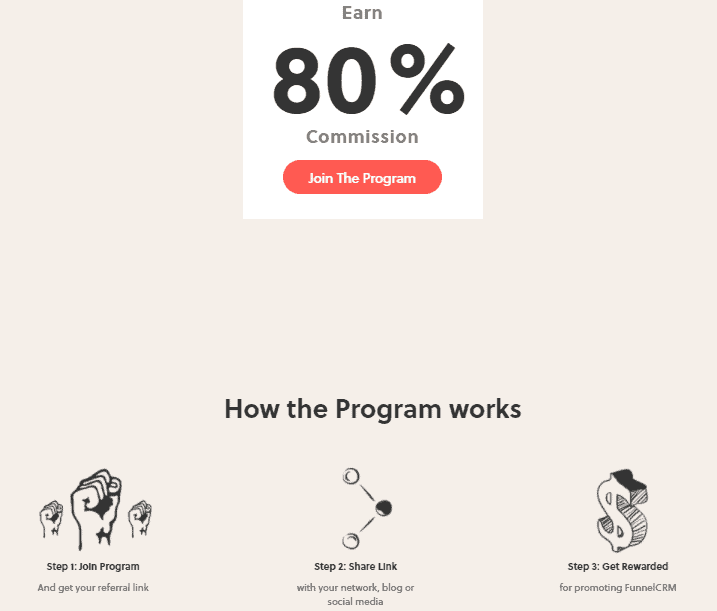 Source : BloggingX
The advantage for the affiliate is that he has the choice between a wide range of products with different profit margins. He can then choose the product with the margin that seems rewarding enough to start his business.
1.5.7. You have a control panel to track your referrals
How do you know if your affiliate marketing efforts have paid off? Well, when you sign up for a new program, you'll have access to a control panel so you can see the progress of all your referrals.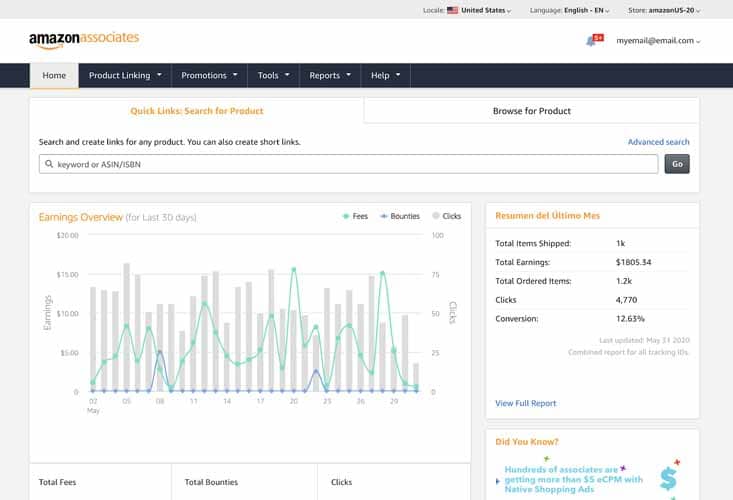 Source : TubeBuddy
This is a control panel that shows all the sales that your links have generated to the seller. This way, you have a clear idea of your performance as an affiliate and the total amount of commissions you should earn.
1.5.8. You are guaranteed to get paid your commissions
One of the advantages that make affiliate marketing reliable is the guarantee of payment of commissions. Indeed, as an affiliate, your earnings are managed directly by your registration platform.
Each time one of your referrals makes a purchase on the seller's site, the commission is systematically calculated to avoid any risk of error. No need to worry about your payment, it is fully guaranteed.
1.5.9. The possibility to further develop your business
Affiliate marketing is not a fixed business, which means that with satisfactory results you can develop your business as you wish.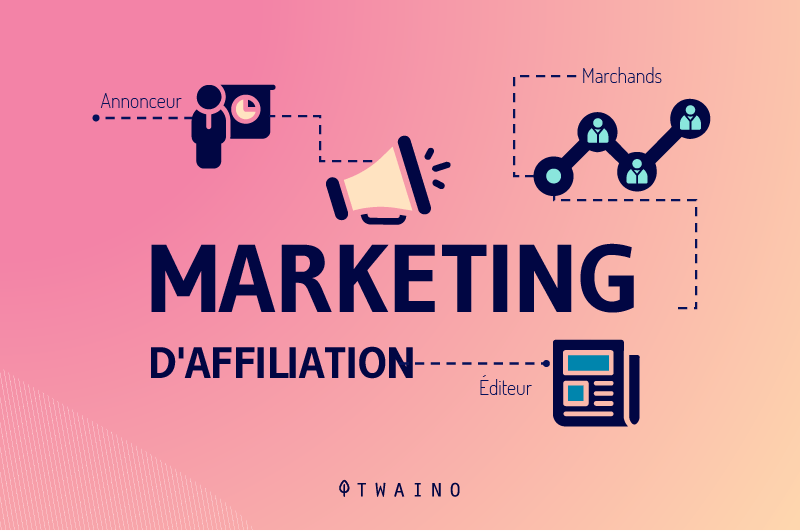 Generally, people start their affiliate business at a rather slow pace. In the beginning, many affiliates just promote their products on social networks and a blog with a free domain name.
But with your first payments, you can allocate some of the funds exclusively to further develop your business.
1.5.10. You don't have to take care of the after-sales service
In affiliate marketing, all the discussions with the customer are the responsibility of the seller.
Whether it's customer service, after-sales support or transaction security, the affiliate is not involved in any way. Your job is just to promote your affiliate link and that's it.
All these advantages are appealing, but to have a solid foundation in affiliate marketing, it is important to understand how it works.
Chapter 2: Everything you need to know about how affiliate marketing works
Before presenting how affiliate marketing works, let's first take a look at the different actors involved in its development.
2.1. The different parties involved in affiliate marketing
Generally, there are four parties involved in making affiliate marketing work:
The affiliates;
The creators of the product;
The affiliate networks;
And the consumers.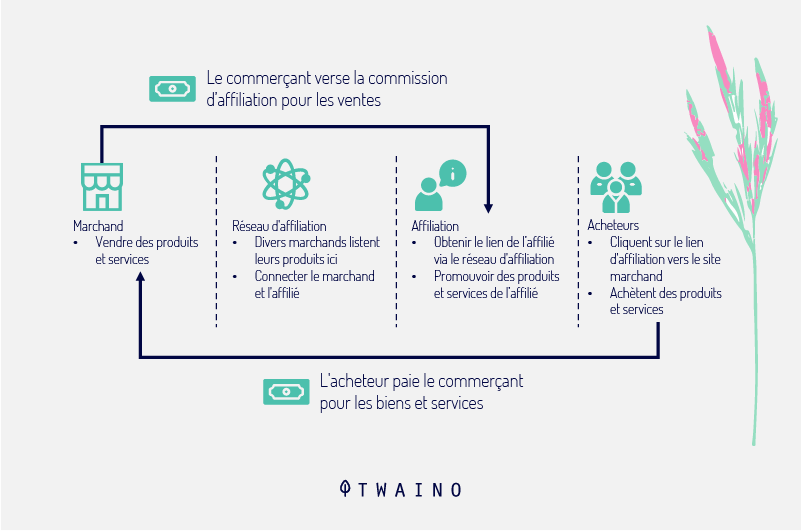 What do we mean by these four terms?
2.1.1. Affiliates
In affiliate marketing, the term "affiliate" is used to describe any person, whether a legal entity or an individual, who is able to promote a product or service for another company.
Often, the affiliate, also known as a "publisher" is a blogger or influencer with knowledge of the industry of the product he/she is promoting.
They may be comfortable presenting the product and making a sales pitch in blog posts, videos or other content.
The terms and conditions as well as the amount of his commission depend on the affiliate program he has subscribed to.
2.1.2. Merchants
The merchant can also be called the merchant or the advertiser and generally refers to the owner of the product or service brand. It is the merchant's responsibility to share a portion of their revenue with affiliates as a commission.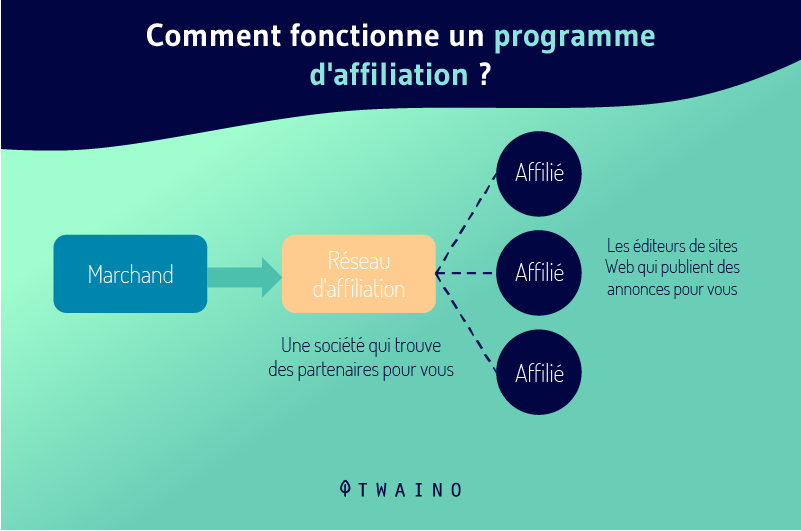 An individual can be the merchant as well as a business, much like our agency Twaino for example, who decides to pay commissions to any affiliate who is able to generate sales on our eBooks.
Being a merchant does not require any particular skill, except for having the product in stock and the means to pay affiliates for their contribution to each sale.
Moreover, the merchant does not have to be the owner of the brand of the product being sold.
We have for example the case of Amazon which is indeed a merchant in affiliate marketing without being the creator of the products it commercializes.
2.1.3. Affiliate networks
An affiliation network can be seen as a bridge between merchants and their affiliates. But it must be said that a network is not always mandatory to do affiliate marketing.
An affiliate can earn commissions on sales without necessarily going through an affiliate network. But some affiliates prefer to belong to a network to bring more confidence to their business.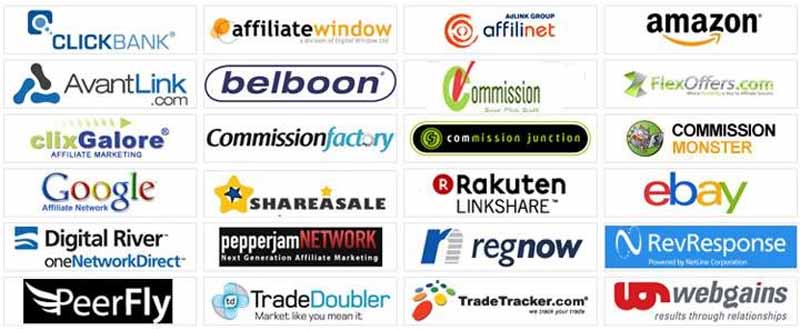 Source : Business 2 Community
Indeed, an affiliate network establishes terms and conditions to which the affiliate must conform before being part of the network. This is a measure that forces affiliates to be transparent, which significantly reduces the cases of fraud in the field.
Some merchants also prefer to collaborate with an affiliate network often due to lack of time or resources to monitor transactions and manage distributions to affiliates.
2.1.4.

Consumers

As you can already expect, consumers are nothing more than customers who buy the manufacturer's product through the affiliate.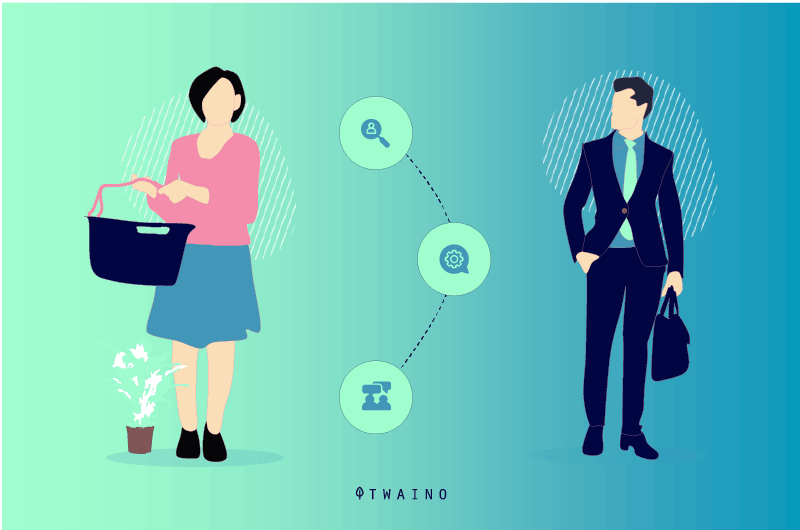 It can also be a service or a lead form to fill out. It all depends on the type of product the merchant decides to promote.
2.2. How does affiliate marketing work?
Typically, the merchant provides each of his affiliates with a personal link to clearly recognize which customer is coming from which affiliate to better redistribute commissions.
Typically, an affiliate link looks like this:

Source : Ahrefs
As soon as a customer clicks on an affiliate's link, a cookie is deposited on his device to keep in memory some useful information to easily identify him during his next connections.
In short, an affiliate cookie will be used to :
Help the merchant to pay the commission of each transaction to the right person;
Set an expiration date to pay the affiliate even if the customer delays his purchase.
To better represent this, let's imagine that you wrote an article about a hair straightener with your affiliate link redirecting to Amazon to buy the product.
Then, an Internet user was seduced by your sales pitch and really decides to buy the hair straightener. He starts the process by clicking on your affiliate link, but when he is about to finalize his purchase he gets an urgent call and abandons his session on Amazon.
The shopping takes him all day, but in the evening he remembers the hair straightener and returns to Amazon without clicking on your link again. But this time, he also decides to buy other products like shampoo.
The good news is that Amazon's affiliate program offers a 24-hour expiration period.
This means that not only will you be compensated for the purchase of the hair straightener, but also for the purchase of the shampoo, since it is thanks to your link that the customer was able to make all these purchases on the platform.
Although the conditions may vary from one affiliate program to another, this is a typical overview of how affiliate marketing works.
2.3. How is an affiliate marketer compensated?
Generally, an affiliate marketer can be paid in 3 ways:
2.3.1. Pay per sale
With pay per sale, the affiliate is entitled to a commission every time his affiliate link generates a sale to the merchant. But it is important to note that the commission will actually be paid to the affiliate only when the consumer validates the purchase.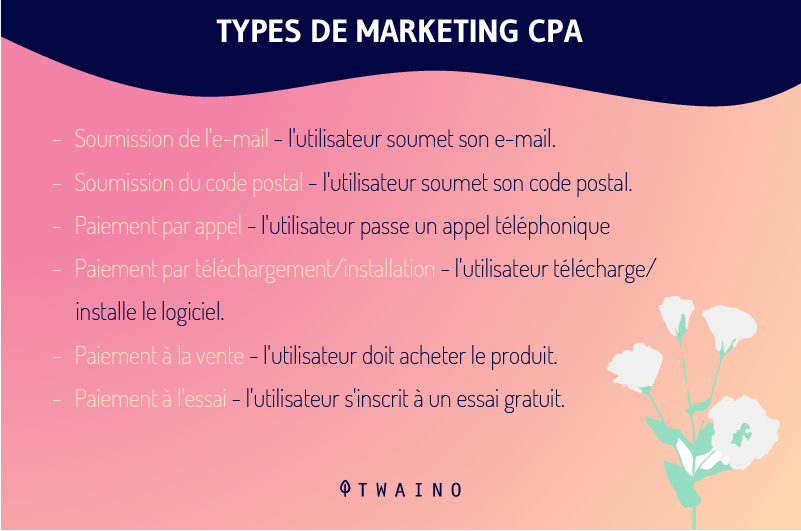 The amount to be paid does not only apply to the product presented, but to the whole cart.
That is, if you promote a laptop through your affiliate link and the consumer ends up buying a case and an external drive in addition.
Your commission will be calculated based on the entire shopping cart exactly like the previous example of a hair straightener. However, small adjustments can be made to the conditions depending on the merchant's requirements.
2.3.2. Payment by click
With this payment method, you are only paid according to the traffic you manage to redirect to the seller's site.
It doesn't matter if the visit leads to a sale or not, the merchant will pay the agreed percentage, calculated on the basis of the number of visitors you generate to his platform.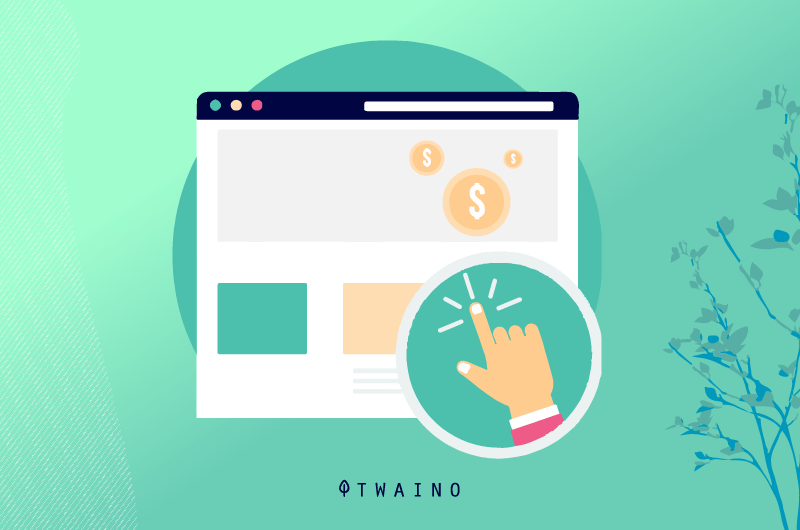 You may have noticed that this way of earning commissions is a bit easier compared to paying per sale. That's why the pay per click fee is usually lower than the pay per sale fee.
But very quickly, the affiliate can accumulate considerable earnings because it is obvious that the number of clicks on a product rises faster than the number of sales.
2.3.3. Payment per lead
Here the commission is calculated according to the number of leads the affiliate generates to the seller.
That is, you get paid only when the user visits the merchant's platform via your affiliate link and manages to submit a contact form or subscribe to a mailing list.
Both conditions are necessary for the affiliate to receive his commission in the case of lead-based payment.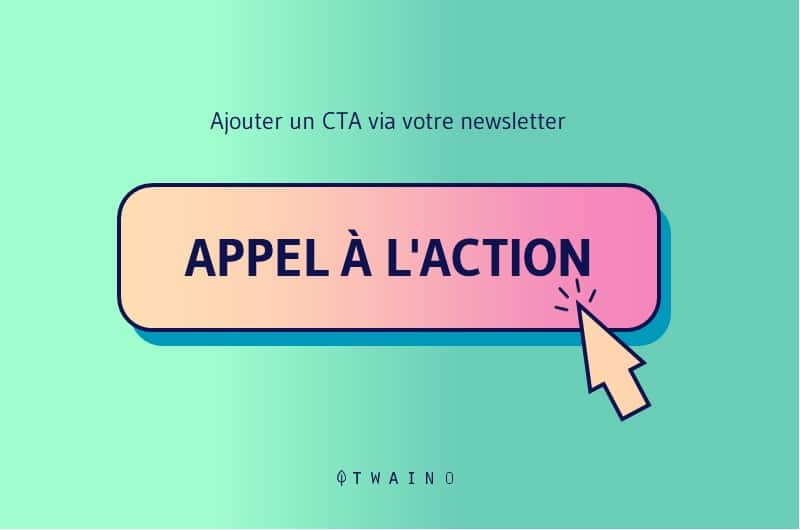 Although each type of payment has its own specificities that make it different from the others, the more traffic you get to your channel, the more money you can earn with any affiliate program.
Now, the basics seem to be well established, so we can tackle the different steps to start affiliate marketing.
In affiliate marketing, as in any other field, it is important to respect a minimum of basic rules and to draw up a roadmap to be precise in your approach.
Here are 6 simple steps to follow to start your affiliate marketing activity:
Chapter 3: Step 1 – Choose your niche
It's no longer a given that blogs are an excellent channel for attracting traffic to a website, but let's not kid ourselves, it's also a fairly competitive field.
There are more than 600 million blogs in the world with more than 2.5 billion articles published each year.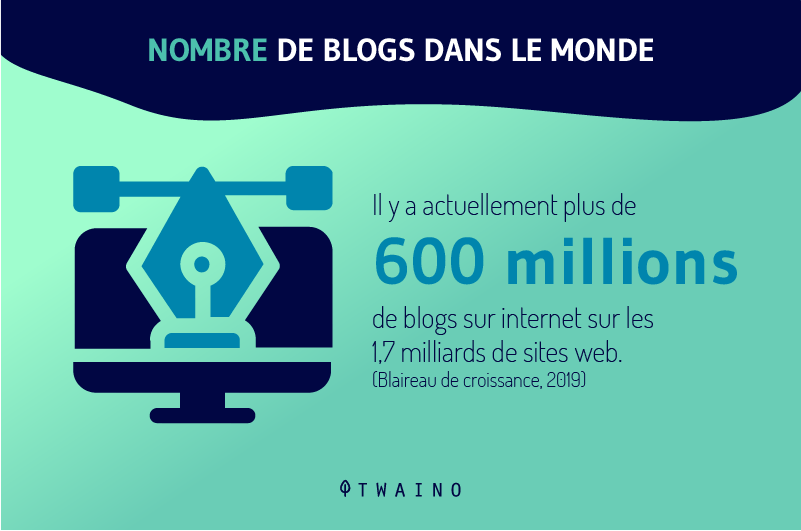 Faced with this mass of bloggers already available on the Web, the best solution to quickly stand out is to specialize.
Choose a fairly specific topic and focus the writing of your articles around it: this is what is commonly called "niche" in affiliate marketing. When you take digital marketing for example, it's a pretty broad topic.
But I chose to specialize in SEO, which allowed me not to compete directly with all the digital marketing bloggers, but only those who also specialized in the SEO niche.
And I can say that it's a choice that works pretty well for me since I started with 0 visitors when I created my Twaino site.
But thanks exclusively to the SEO campaign I've been running since the beginning, Twaino is now on the first page of Google for a good number of keywords and has more than 20,000 active visitors every month.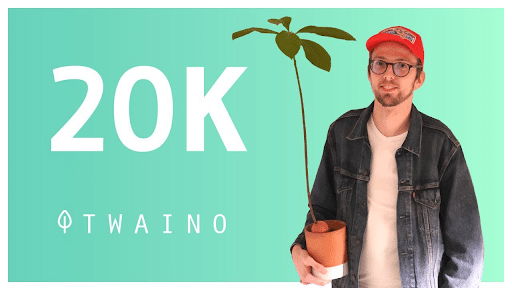 On your side, you can start with a first niche and then gradually expand to other niches if you start to establish a certain notoriety in your field.
But which niche to choose for a start? First of all, to make a good choice I suggest you choose something you are really passionate about.
It is not uncommon to see many affiliate sites die within a short period of time after their creation. By choosing a niche that you are particularly interested in, you will find it easier to enjoy what you are doing and not give up at the slightest difficulty.
But if you can't find a niche that you are really passionate about, here are some tips that can help you find the perfect niche:
3.1. Find inspiration at home
The first thing you can do right now to find a niche is to look for inspiration around you. Think about your everyday struggles and try to find an area that is still unexplored.
What product or service do you find useful to alleviate these problems while saving you time and money? Also, take a look at the products you buy and use for your daily needs.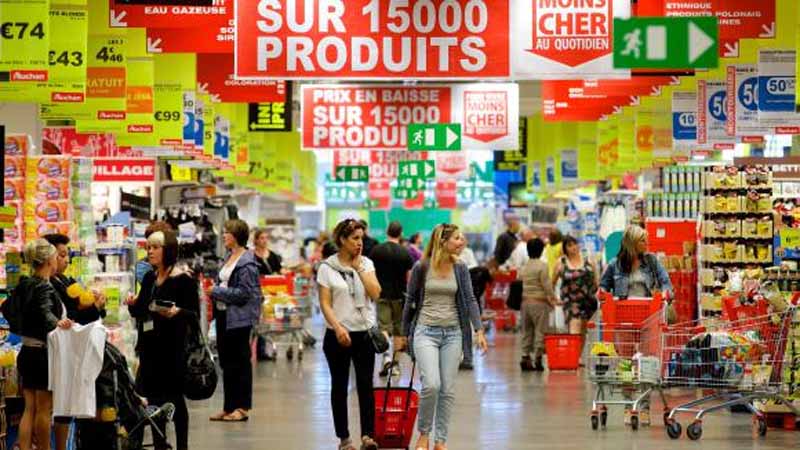 Source : FranceInfos
Which of these products are indispensable, but expensive? By focusing on this point, you may notice an area that is served by products that are too expensive.
The idea would then be to choose that niche and find a more affordable, but equally effective solution to conquer the sector.
If this tip has helped you find the niche of the century, then congratulations! If not, don't despair, the next step could be the right one.
3.2. Observe your environment
You can also draw inspiration from your surroundings, from the lifestyle of the people you meet every day. To do this, observe their behavior carefully.
You will notice that buying habits may differ from one person to another or from one social class to another.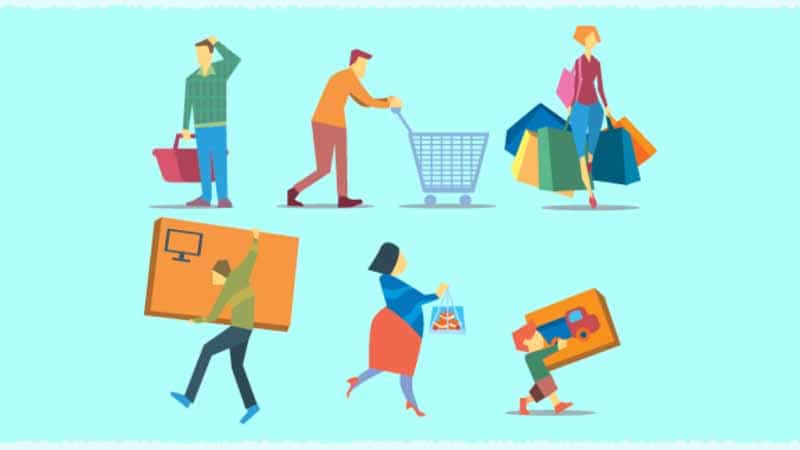 Source : Blog Summer
This can open your eyes and make you notice a promising niche that was right under your nose.
You can take your research a step further by looking at more specific numbers, like demographics for example. Which areas are seeing the most sales in the market? And what age group are the people interested in those areas?
Since demand is high in these niches, there is a good chance that by reaching them you can generate enough traffic to your site with a better conversion rate.
But finding the right niche is not only limited to the sectors that are already working in the field. You can also look for offers that are not yet available, but that could bring relief to many people.
To do this, go through the consumer reviews and look at the complaints. Then you can come up with an idea of paid offers to provide a solution to those unhappy consumers.
3.3.Take an interest in the ads on social networks
You'll probably name at least one of those annoying ads that scroll by when surfing on social networks and that we all ignore.
On Facebook alone, 1.95 billion of the platform's 2.5 billion monthly users receive these ads on their devices.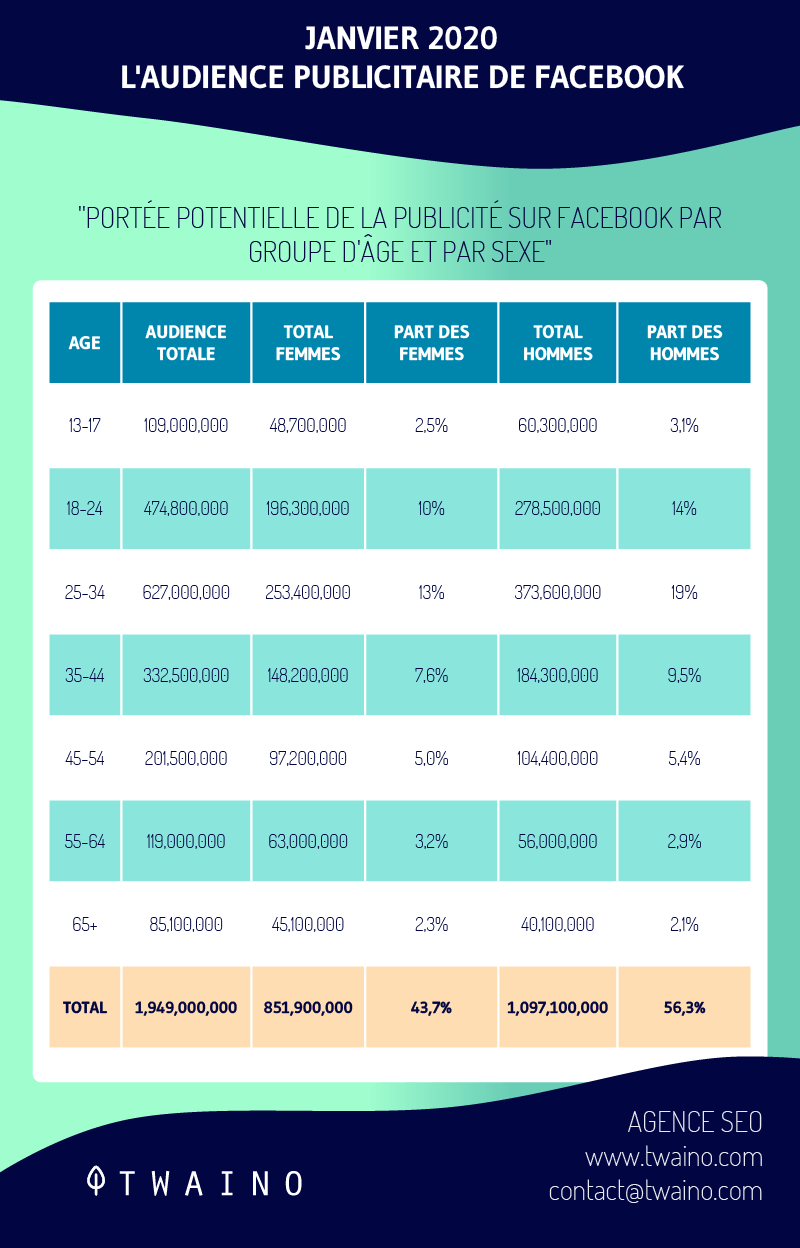 Well, soon you won't be ignoring them so much.
Take the time to look at these ads and get interested in what they offer. You may very well find your niche from these ads and start your business.
These ads may also give you some guidance on what type of market you can target for your chosen niche. Or perhaps you can try to target this type of market to a similar niche.
3.4. Get inspired by technology trends
One of the tips that might also be helpful when looking for a niche is to follow technology trends. Keep up with the news on new technologies, this can give you an edge over other affiliates.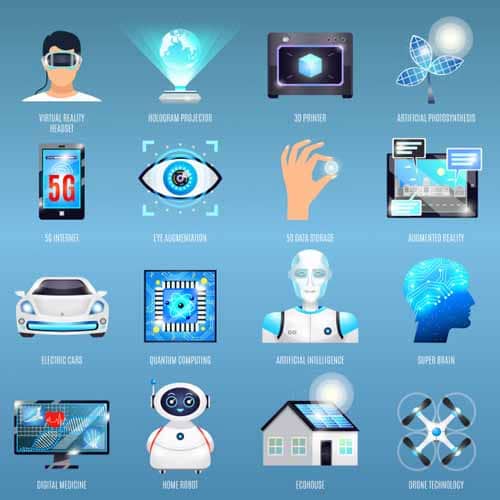 Source : Freepik
When you already have an idea about a future technology, it's a chance to anticipate and create a service that people don't have access to yet. And usually in the technology field, the big piece of the pie goes to the first mover.
If after these tips, you still can't find the right niche to start, here's a list of over 80 niches you can check out.
But finding the right niche does not necessarily mean finding the right products.
3.5. How do you find the right products?
Once you have found the right niche, the big challenge will be to find the product you will work on.
Logic would dictate that as a beginner, you start with a product that will allow you to generate your first sales quickly, even if the commissions are not that high.
Then gradually as you progress in the niche, you can then move on to product categories that offer the highest commission rates.
But no matter how high the commission is, you need to make sure that the product you are planning to launch on is saleable. You probably wouldn't want to invest effort in promoting an iPhone 4 for example or those old fashioned cameras.
So how do you ensure that a product is saleable? Well, by simply doing a market research.
This is a very important step because it will allow you to analyze the trends and to know if the industry of the product you have chosen is about to die or if it is expanding.
Once you are reassured that the industry is not about to die out, look at the quality of the product and the different models available. If you really want to excel in affiliate marketing, it is important to offer good quality products to your customers.
And one of the most effective ways to evaluate the quality of a product is to look at the quality of the product. o evaluate the quality of a product is to look at the reviews that consumers have left on the product. To find these kinds of reviews, go to e-commerce platforms that sell a little bit of everything, much like Amazon.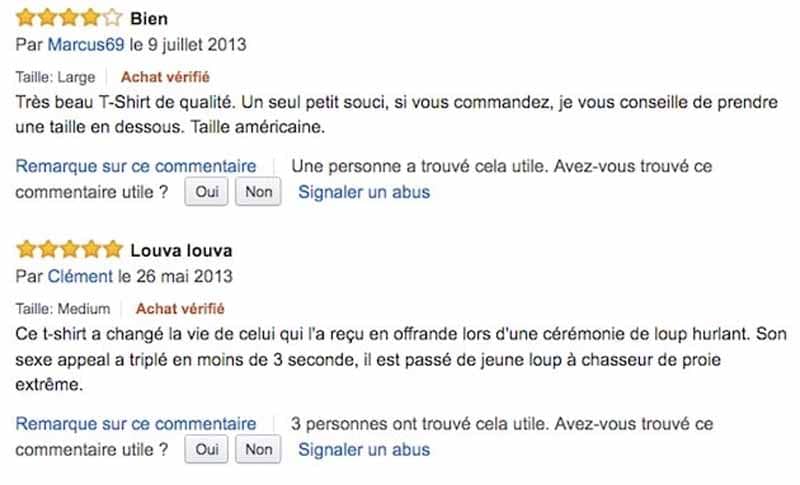 Source : Macg
Already statistically, the best selling products are the ones with the most positive reviews. So if you notice more positive reviews of your product in Amazon reviews, it's likely that the product is also liked by your customers.
But Amazon is not the only platform on which you can have consumer reviews. Although e-commerce sites are a reliable reference for evaluating the quality of a product, you can also find reviews on social networks.
Chapter 4: Step 2 – Choose your communication channel for affiliate link promotion
Theoretically, you can start affiliate marketing on any channel, even Instagram can do the trick.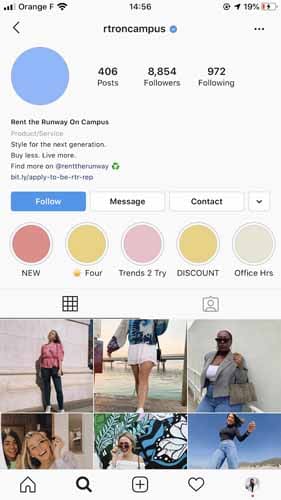 Source : Later
However, you should recognize that it's easier to develop an audience for your affiliate link promotion from these two channels:
A blog;
A YouTube channel.
4.1. Creating a blog
Creating a blog is now accessible to everyone. If you don't know how to do it, you can read my article on the 5 steps to create a website.
And the good news is that creating a blog will only cost you a few euros per year.
After that, you will have to create contents and especially think about optimizing them for search engines to improve their visibility on the Net.
For this, I invite you to visit my blog where I regularly publish articles on good practices and SEO tips to improve the visibility of a website.
But already, I want to reassure you that my blog is entirely free and that I have not slipped any affiliate link into it, not for the moment anyway.
4.2. Create a YouTube channel
The second channel I recommend to start affiliate marketing is to create your own YouTube channel.
The advantage with a YouTube channel is that creating and adding new videos is completely free. This explains why the platform is widely used by many affiliates.
Moreover, YouTube is the second most used search engine in the world, just after Google. So you can imagine the impact that your presence on this channel can have on your affiliate revenues.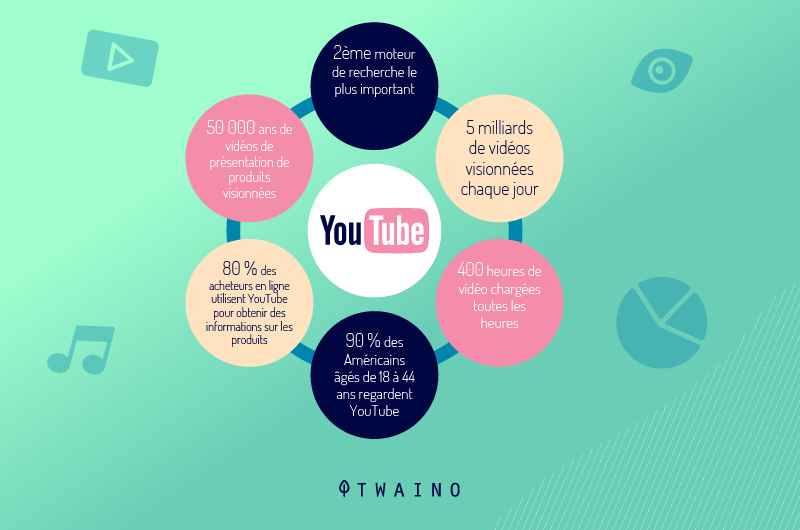 Figures show that YouTube remains the most used channel by companies to share content on the Internet. You can therefore take advantage of the large community already available on the platform to promote your products.
But just like the blog site, once your YouTube channel is set up, you also need to create new video content and optimize it for search engines.
The principle remains the same: boost the visibility of your content to increase the chances that it will be seen by as many Internet users as possible.
However, we must admit that it is not obvious that you master all the optimization strategies on YouTube, especially if you are at your first YouTube channel.
So you can read this content in which I present the top 20 tips to get more views on YouTube.
Chapter 5: Step 3: Research affiliate programs to join
Once you have chosen a product to promote, you will need to join a program to officially start your affiliate marketing business.
This is a computerized program that contains the terms of your payment, a kind of agreement between you and the seller.
5.1. Forms of affiliate programs
Generally, there are three types of affiliate programs:
5.1.1. Limited and well-paid affiliate programs
These types of programs concern niche products that offer high commissions.
For example, we have HubSpot's affiliate program that offers a fixed commission rate of up to $1,000 per product purchased with 90 days as the life of the cookie.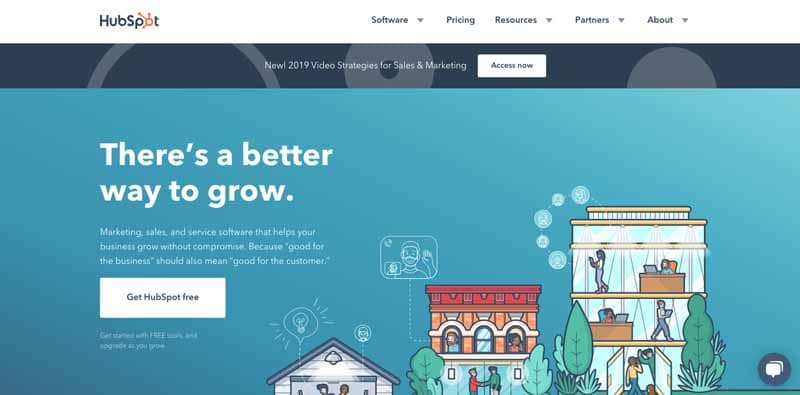 And these are often applications or products related to web hosting. But it must be said that there is usually a lot of competition around affiliate programs that offer high commission rates.
Since you are just starting out, it will probably be difficult for you to make a lot of money because of all the affiliate marketing experts who already covet these kinds of programs.
5.1.2. Highly solicited, low commission affiliate programs
These types of programs abound on the Net, but offer a relatively lower commission rate than the previous ones.
Generally, these programs are for products that sell out very quickly on the market such as PS4 video games for example. According to Statista, there were about 114 million monthly active users playing on the PlayStation Network in 2020.
So you can imagine how much video games are consumed, but a game costs on average only $50. As a result, the commission you can earn on a sale is usually in the low single digits, between $2 and $3.
But since the demand is high, with a good traffic, it will be easier for you to accumulate your commissions to get a more considerable gain.
We have for example Amazon which is a reference in this type of affiliate program with a commission rate of up to 10% on almost all items sold on the platform.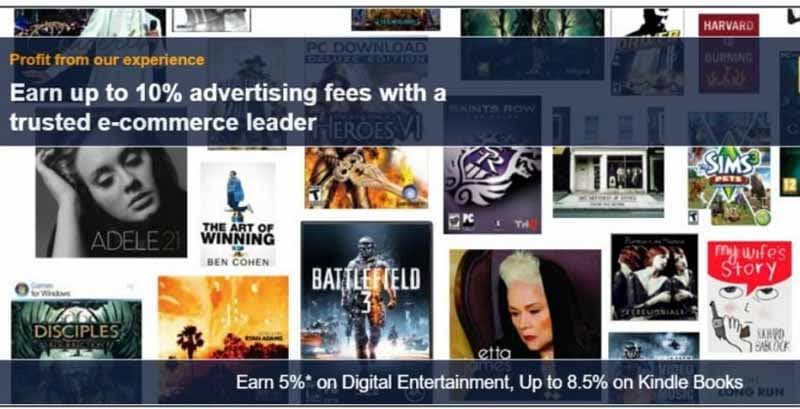 Source : KeywordTool
Moreover, remember, the other advantage with this type of affiliate program is that the commission rate does not only apply to your product, but to the entire customer's cart.
5.1.3. Highly solicited and well-paid affiliate programs
For this type of affiliate program, the products concerned sell very well and the commission rate offered is still high. These are the must-have products like credit cards.
We all agree that everyone needs a credit card and that you don't change banks overnight. So notice that through your marketing efforts, your merchant can retain the same customer for years, even decades.
This explains the fact that despite the high demand, commission prices are still attractive.
But the problem here is that most affiliates are experts with significant resources to feed their promotional campaigns.
Others will even resort to spammy techniques to get customers quickly. Basically, as a beginner, it will be very difficult for you to compete with these big names.
But since this is a beginner's guide, we won't go into depth about these kinds of programs, the idea was just to let you know that they exist.
5.2. Les 11 meilleures plateformes de marketing d'affiliation
As you can already guess, choosing the right program depends mainly on your niche and your level of expertise in affiliate marketing.
If your niche products sell like hotcakes on the market, the second type of program seems to be well suited for you: small commissions, but high sales volume.
If your niche is more of a professional audience, the ideal choice would probably be the first type of program: high commissions, but low sales.
A Google search will bring up affiliate programs that are right for you.
To help, here's a list of 11 best affiliate marketing platforms you can check out:
5.2.1. ShareASale
ShareASale is one of the best known affiliate marketing platforms of the moment with over 4,500 advertisers available. A rich address book that allows affiliates of the platform to collaborate with advertisers in almost all sectors.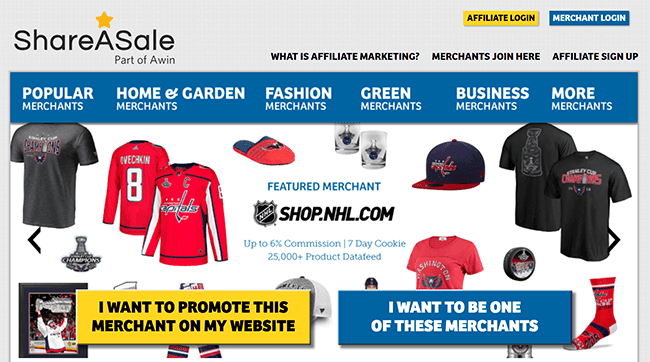 ShareASale has a personal dashboard for each affiliate to view all the merchants they work with in a single space as well as interesting statistics on the number of links generated and sales recorded.
But it must be said that the affiliate has to apply to one merchant at a time and wait for approval in return, which is rather "standard" for a platform of this scale. Anyway, ShareASale remains an excellent choice for promoting both physical and digital products.
When it comes to digital products, for example, you have several tools to make your job easier such as an extensive library of WordPress themes and plugins, web hosting solutions, and much more.
As for physical products, you have a choice of merchants of all sizes, both large and small. Examples include:
Warby Parker specialized in the sale of sunglasses ;
Reebok the giant of sports equipment;
But also Sun Basket ;
WayFair;
And many other companies.
Overall, no matter which niche you choose, chances are you will find your products on ShareASale with interesting offers to promote.
Things to remember about ShareASale:
Niche or Product Type: You'll find a little bit of everything, both physical and digital products.
Average Commission Rate: Set by the merchant you are collaborating with.
Cookie duration: Set by the merchant you work with.
Minimum payment: $50.
Advantages and disadvantages of ShareASale
Advantages:
A platform that brings together thousands of advertisers specializing in digital and physical items, including major brands.
Serious platform – ShareASale has been around for many years and works with large, well-known companies around the world.
Work with exclusive advertisers. More than 1,000 advertisers who are loyal to ShareAsale and you won't find them on any other platform.
The platform comes with a bookmarklet so you can easily customize your affiliate link building.
Disadvantages:
While a lot of effort has gone into building the platform's dashboard, it can still be improved.
5.2.2. Awin
Originally launched as Zanox, Awin is now a popular affiliate network that connects you with over 15,000 merchants operating in different industries.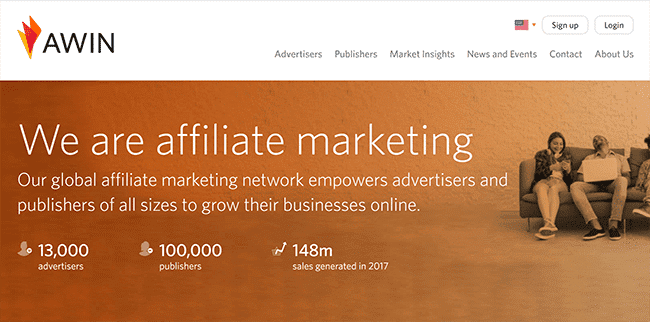 The platform bought ShareASale in 2017, but did not merge the services offered on both platforms. They remained as two different entities with different advertisers.
But with its directory of more than 15,000 merchants, it's safe to say that Awin offers more opportunities, both on digital and physical products with big brands like:
Etsy
AliExpress
HP
XE (money transfer)
StubHub
Underprotection
Gymshark
There are also small brands in almost all niches.
The platform is of German origin, which explains the fact that a good part of its merchants operate on the European market. Although there are also many companies from America and the rest of the world.
Like ShareASale, you can only apply to one advertiser at a time and then track your data on the dashboard.
What to remember about Awin:
Niche or Product Type: Find physical and digital products in almost any niche with the 15,000 merchants available on the platform.
Average Commission Rate: Set by the merchant you collaborate with.
Cookie duration: Set by the merchant you collaborate with.
Minimum payment: $20.
Advantages and disadvantages of Awin:
Advantages:
A large number of merchants to choose from
WordPress plugin for easy product import
Affordable minimum payment, only $20.
Disadvantages:
$5 registration fee, refunded only when affiliate application is approved.
5.2.3. Amazon Associates
The Amazon Associates program is still a benchmark in physical product promotion through affiliate marketing.
The advantage of Amazon's program is that you can earn a commission on almost everything that is sold on the Amazon store.
What makes the Amazon Associates program even more interesting is its policy of encouraging affiliates by allowing them to earn a commission on all the products in the customer's shopping cart, not just the product they promoted.
Initially, the platform paid a commission rate to affiliates based on the revenue they generated for it in return. But since 2017, it follows a flat commission plan calculated based on the percentage of the category to which the product sold belongs.
Here is a table that informs the percentage given to each product category: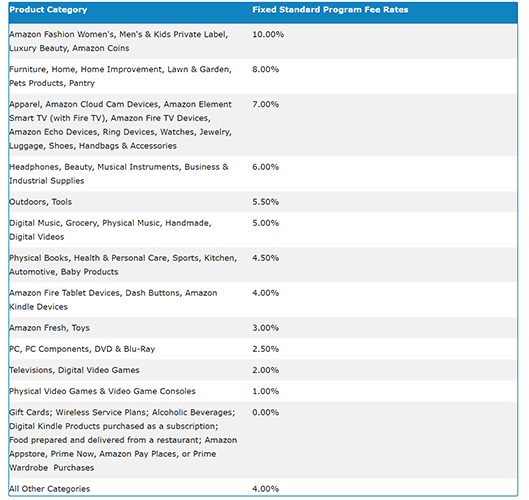 Source : Ahrefs
It must be said that this new measure does not suit affiliates who are already making significant sales on the platform.
But Amazon's idea is to allow everyone to benefit fairly from its program, especially small sites that should reach a certain number of sales before receiving significant commissions.
Things to remember about Amazon Associates:
Niche or Product Types: You can promote anything sold on Amazon, including products from vendors associated with the platform.
Average Commission Rate: Can vary between 1-10% depending on the product category.
Cookie Duration: Amazon offers a 24-hour cookie duration. However, if a customer adds a new item to their shopping cart, this cookie duration is extended to 90 days, but only for the specific item in the cart.
Minimum payment: $10 for an Amazon gift card or direct deposit.
Advantages and disadvantages of Amazon Associates
Advantages:
Wide range of products to promote;
Universal cookie earning commission on anything the customer buys during the life of the cookie;
Benefit from the reputation of the world's largest online shopping platform;
Affordable minimum payment, only $10.
Disadvantages:
Cookie duration is only 24 hours;
Some product categories generate a very low commission rate, sometimes 1% as for video games;
Individual registration for each targeted country;
The platform is known to lower its commission rates from time to time.
5.2.4. CJ Affiliate
CJ Affiliate – formerly Commission Junction – is also one of the best affiliate platforms you will find on the market with several thousand merchants ready to collaborate with you..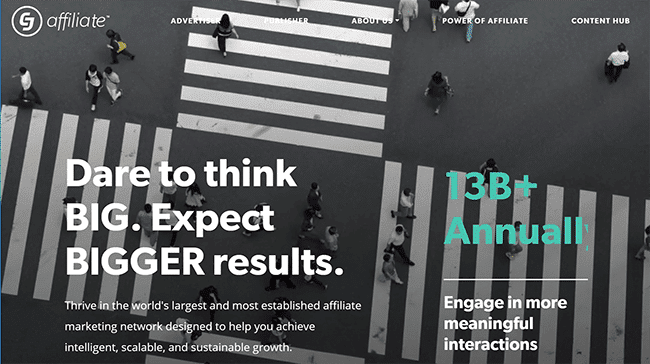 Currently, the platform has more than 3,000 merchants in various industries. Among these merchants, we can notice small companies, but also big names such as :
Lowes
Overstock
Office Depot
Priceline
GoPro
IHG (Hotels)
Grammarly
Again, affiliate applications with merchants are done individually with a dashboard to track your activity on the platform.
Things to remember about CJ Affiliate :
Niche or Product Types: Just like the previous platforms, CJ also covers a wide range of niches and physical as well as digital products.
Average Commission Rate: Set by the merchant you are collaborating with.
Cookie duration: Set by the merchant you work with.
Minimum payment: $50 for a direct deposit or $100 for a check payment.
Advantages and disadvantages of CJ Affiliate
Advantages:
Rich directory of merchants to choose from, both large and small
Attractive dashboard to easily manage your affiliate marketing activities
The platform offers a bookmarklet to easily generate affiliate links and customize them
Disadvantages:
Although attractive, CJ Affiliate's dashboard can be a bit hard to figure out, especially for a beginner.
5.2.5. Rakuten Marketing (formerly LinkShare)
Formerly named LinkShare, Rakuten Marketing is now one of the most popular affiliate marketing platforms on the market with influential advertisers such as:
Walmart
Best Buy
Macy's
Papa Johns
Although the platform doesn't have a rich directory like Awin or CJ Affiliate, it is still an effective solution for affiliate marketing.
Moreover, the platform offers interesting features such as the ability to scroll through ads without necessarily taking a wordpress plugin for example.
What to remember about Rakuten Marketing
Niches or Product Type: With a network of over 1,000 advertisers, you will definitely find products to promote in most niches.
Average Commission Rate: Set by the merchant you work with.
Cookie duration: Set by the merchant you collaborate with.
Minimum payment: $50
Advantages and disadvantages of Rakuten Marketing
Advantages:
Collaborate with big brands such as Walmart or Best Buy
Take advantage of the reputation of a large company. Rakuten is a $1 billion company.
Great built-in features like the ability to easily rotate ads.
Disadvantages:
The dashboard can seem a bit cheesy
A merchant address book not as large as some affiliate platforms
5.2.6. Avangate Affiliate Network
Avangate Affiliate Network is much more specialized in promoting digital products, especially software. If your niche is related to software programming, this network is really for you.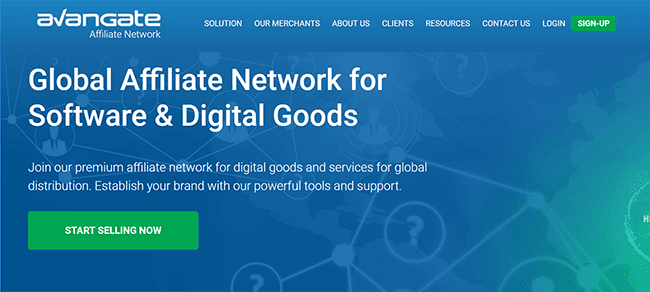 You will find great software developers such as :
Bitdefender
Kaspersky
Hide My Ass (VPN)
Awario
In total, the platform offers more than 22,000 applications that you can promote to your audience, if your niche is related to computer programs of course.
But it's important to mention that Avangate bought 2Checkout in 2017, which explains the fact that the original Avangate tool shares the same domain name with 2Checkout.
So don't be confused if you find the two brands merged together in the same space.
If you want to join the network, the affiliate platform stands out with the words "Avangate Affiliate Network".
Things to remember about Avangate Affiliate Network:
Niches or Product Types: Avangate Affiliate Network is known for its specialty which is digital products and software. The platform offers the ability to browse its advertisers without necessarily registering first.
Average commission rate: Set by the merchant you collaborate with. But the platform also has digital products on which you can reach commission rates of up to 85%. This is likely to be a rate that you will not find on some of the products offered on other platforms.
Cookie duration: Set by the merchant you are working with, but the platform sets a range of 30 to 180 days for advertisers as the lifetime of the cookies. So no matter how long the merchant chooses, you are sure to end up with cookies that last at least 30 days.
Minimum payment: $100
Disadvantages and advantages of Avangate Affiliate Network:
Advantages:
The possibility to get paid via PayPal
A wide range of digital products to choose from
Most advertisers offer high commission rates, up to 50%.
Disadvantages:
A minimum payment of $100 relatively more expensive than other platforms.
5.2.7. ClickBank
When you look at the sheer number of digital products that ClickBank offers, you might almost think that the platform works exactly like Avangate Alliate Network.
But the difference is that ClickBank also offers physical products.
In addition, while platforms like ShareASale and Awin are known for bringing together large companies as advertisers, ClickBank seems to bring together only "small" merchants.
In fact, the platform is full of several vendors that offer e-books, online course modules or membership platforms.
Although these sellers are not big brands, as long as you operate in the same niche, you will surely find interesting offers to promote on your channel and generate affiliate sales.
But you need to be careful when working with a seller, because some of the products on ClickBank can be of poor quality.
Although the platform has made efforts to improve its system and filter out advertisers who offer these low-quality products, you still need to be careful.
Things to remember about ClickBank
Niche or Product Types: ClickBank offers enough digital products, but the platform also offers physical products with interesting offers that you can promote if they fit your niche.
Average Commission Rate: Set by the merchant you're working with, but usually remains quite high. ClickBank offers both flat and percentage commission rates.
Cookie duration: Set by the merchant you work with, but generally cookies last 60 days with ClickBank.
Minimum payment: $10
Advantages and disadvantages of ClickBank
Advantages:
There are more offers for small niches on ClickBank than on any other affiliate platform you'll find on the market;
Most commissions on ClickBank are quite high;
Affordable minimum payment, only $10;
Ability to earn commissions weekly.
Disadvantages:
You may come across poor quality products.
5.2.8. FlexOffers
FlexOffers is one of the affiliate platforms that have been around for quite some time. Today it has more than 12,000 sellers in almost all sectors.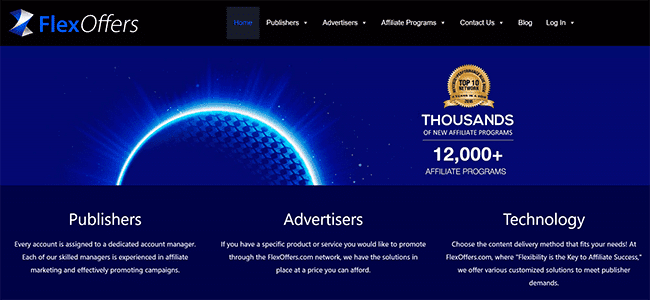 FlexOffers
FlexOffers is one of the affiliate platforms that have been around for quite some time. Today it has more than 12,000 sellers in almost all sectors.
And it is safe to say that FlexOffers offers one of the most aesthetically pleasing dashboards.
What's more, you'll always find new offers to promote with FlexOffers since the platform adds 50 new sellers to its address book every day.
These offers come from small businesses, but also from large international companies such as :
Skechers
Priceline.com
Macy's
Lenovo
And many others.
Also, the platform offers the possibility to check the list of available merchants before you decide whether to join the network or not.
Just like the majority of affiliate platforms presented so far, FlexOffers has been around for years, so you don't have to worry about it disappearing overnight.
Moreover, what makes FlexOffers a bit special from other platforms is the account manager that the network dedicates to each registered affiliate. This is a pretty original idea that can help you improve your affiliate marketing activity by discovering better and interesting offers to promote.
What you should know about FlexOffers
Niche or Product Types: The platform has over 12,000 merchants, so you can find physical and digital products in almost any niche.
Average commission rate: Set by the merchant you work with.
Cookie duration: Set by the merchant you collaborate with.
Minimum payment: $50 in the US or $100 outside the US.
Advantages and disadvantages of FlexOffers :
Advantages:
Over 12,000 merchants to choose from to start your affiliate business.
Well presented dashboard
Get a dedicated affiliate manager
Disadvantages:
Affiliates who reside outside of the US have one payment method, PayPal. But if the payment amount exceeds $5,000, the affiliate may well take their money via bank transfer.
5.2.9. Peerfly
Peerfly is a platform that is growing quite impressively with already more than 3,300 merchants who have joined the network.
Well, compared to the number of merchants on Awin or FlexOffers, it's not that small, but 3,300 merchants is not that small and you'll probably find products that could fit your niche.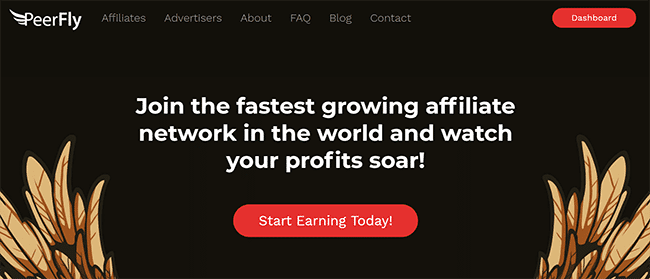 The platform brings together small businesses like the subscription service Loot Crate, but also larger companies like Target, Uber, Agoda, etc.
On Peerfly, you also have a featured dashboard to track your affiliate revenue.
What you should know about Peerfly
Niche or Product Types: The platform offers a wide range of physical as well as digital products.
Average commission rate : Set by the merchant you collaborate with.
Cookie duration: Set by the merchant you collaborate with.
Minimum payment: $50
Advantages and disadvantages of Peerfly
Advantages:
A nice dashboard
Availability of physical and digital products
Weekly payments allowed starting at $5,000 in earnings per week
Interesting features like "Cash Flow" which allows you to withdraw money quickly, but for a fee.
Disadvantages:
Application takes 3 days to complete.
5.2.10. Walmart Affiliates
Technically, Walmart Affiliates is a network that belongs to Rakuten Marketing, but the reason we decided to make a whole section about it is because the platform has interesting features that can be compared to the Amazon Associates program.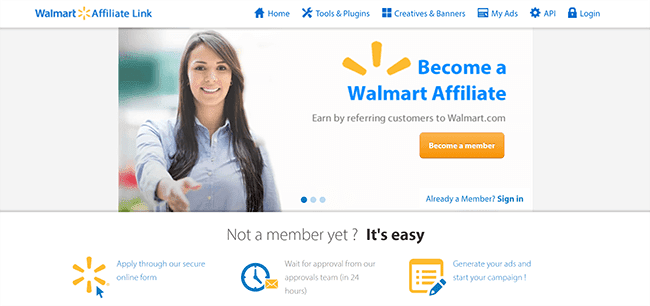 If your niche involves physical products, Amazon Associates is probably the biggest affiliate program for you.
And this is understandable since the brand is the leader in e-commerce in the US with almost 50% of the online sales recorded in the market.
Walmart on the other hand has only 3.7% of the online retail market. It is true that this market share is far from Amazon's, but the fact is that Walmart is 3rd on the list, just behind eBay which holds 6.6% of the market.
Also, since Amazon Associates revamped its commission allocation policy, many people have become interested in the Walmart affiliate program. Well, because the platform offers higher commission rates than Amazon in certain product categories.
When you take toys for example, Walmart offers a commission rate of 4% compared to Amazon's 3%.
In addition, Walmart's cookie lifetime is 3 days, while Amazon offers only one day.
Basically, Walmart Affiliate is still a program that you should try if your niche allows physical products.
If you've already signed up for Amazon's program and you notice that Walmart offers better commissions on certain products, there's nothing to lose by trying Walmart.
And it goes both ways, if you originally signed up for the Walmart Affiliate program, you can always experiment with higher commissions at Amazon and see if the change increases your revenue.
Things to remember about Walmart Affiliate
Niche or Product Types: Earn commissions on anything that's sellable on the Walmart website, including partner sites.
Average Commission Rate: Can range from 1% to 18%. Most categories offer 4% or 1%.
Cookie duration: At Walmart, cookies are valid for three days.
Advantages and disadvantages of the Walmart affiliate program
Advantages:
Wide range of products to choose from
Higher commission rates than Amazon in some product categories
Take advantage of a brand that is already known to consumers
Longer cookie lifespan than Amazon
Disadvantages:
Minimum payment of $50, which is higher compared to Amazon
Although large, Walmart doesn't have as many products as you would find at Amazon
5.2.11. eBay Partner Network
Like Amazon, eBay also has its own affiliate program known as the eBay Partner Network that allows you to earn commissions on all products listed on the platform.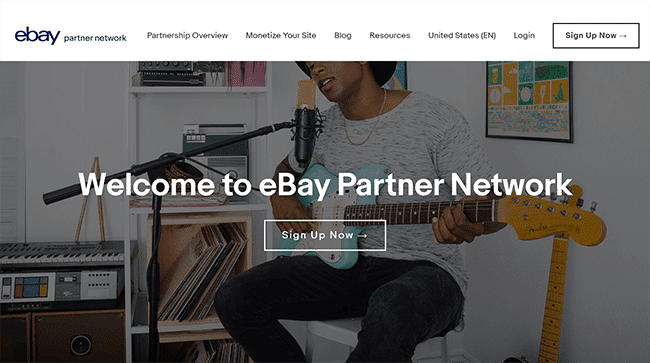 With eBay's reputation, its program gives you access to a multitude of products that you can use to fuel your promotional campaigns.
The only problem with eBay is that many of the products offered on the platform are transient, but that doesn't stop you from finding permanent deals.
What to remember about eBay Partner Network:
Niche or Types of Products: The platform offers mostly physical products, but you will also find some digital products.
Average commission rate: The commission rate on eBay varies from one product category to another, but it is calculated according to eBay's revenues.
That is, the percentage of your commission is not applied directly to the purchase price of the product, but rather to the commission that eBay itself earns on the product. This percentage can be as high as 50 to 70%.
Cookie duration: 24 hours, but the affiliate can still earn a commission even after 10 days as long as the user has placed a product in the cart within the first 24 hours.
Minimum payment: $10
Advantages and disadvantages of eBay Partner Network
Advantages:
The affiliate can promote all the products that are offered on the platform, which offers a wide variety to choose from.
eBay Partner Network also accepts used products, which is a first in the affiliate marketing industry.
Affordable payment – only $10
Disadvantages:
Cookie life is only 24 hours
That was a list of the 11 best affiliate platforms you'll find on the market.
However, if there is a product that you are particularly interested in and you want to promote it without necessarily going through a public affiliate network, you can always contact the company and request an affiliate relationship exclusively with you.
By now, you probably have everything you need to choose the right affiliate network. But once you've chosen a platform, how do you plan to promote your products?
Chapter 6: Step 4 – Create content to promote products
This is where the blog site that was created in the first step will be most needed. Basically, it will be a matter of producing good quality content to feed this blog, but more importantly to insert the affiliate links.
6.1. The creation of content
To create content, promote your products and excel in affiliate marketing, you don't have to be an expert in your chosen niche. Don't try to reinvent the wheel, everything you need already exists on the net.
Do your homework, glean information from Google and then concoct interesting content that really grabs readers.
However, if you find that you don't have enough time to create your own content, the best thing to do is to outsource it to an agency.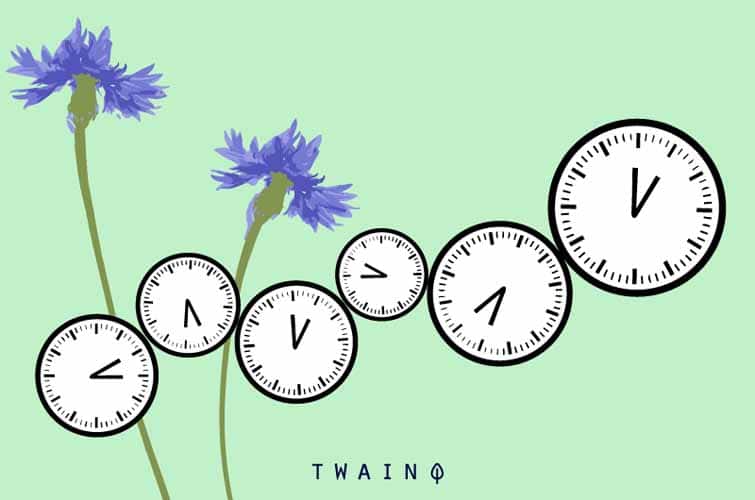 But we agree that it is better to work with a competent agency that can attract the attention of your audience and really make them want to consume the product.
At Twaino, we have a team of talented web copywriters who can easily find the right words to create quality content that will captivate your audience and generate the most conversions.
Moreover, once the content is created, the work is not over yet. You also need to think about SEO optimization.
More than 4.4 million blog posts are published on the net every day. If you really want your content to stand out from the crowd and have a better chance of being read by as many people as possible, the best solution is SEO.
First of all, 93% of Internet users' online experience starts with a search engine.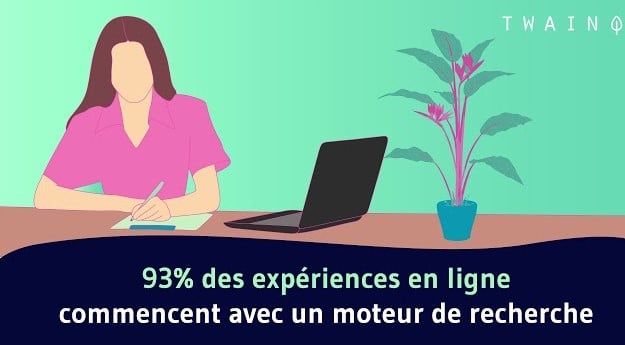 In addition, more and more users are ignoring the ads in search results.
Some will go as far as to use computer programs to block these ads during their session.
According to Statista, about 25.8% of Internet users in 2019 were blocking ads on connected devices.
And the reason is quite simple: a page may well end up on the first page of Google thanks to paid ads regardless of the quality of its content.
But a page that manages to rank well on the first page of Google thanks to optimization efforts necessarily conveys something interesting and credible.
So to give more credit to your content to Internet users, SEO remains the best solution.
But contrary to what many people may think, SEO is not just about inserting a few keywords in the content. Google's algorithms are becoming more and more demanding and look for other ranking criteria in addition to keywords, such as
The length of the content ,
The insertion and optimization of images
The backlink profile of the site
And so on.
All these criteria will not only "please" Google's algorithms, but also your users. By respecting these criteria, you offer a better browsing experience to your visitors and they will be more inclined to stick to your site.
Being an SEO agency and having a blog, we are in a better position to understand your expectations.
We will organize our SEO experts to take care of the creation of your content from the selection of relevant topics in your niche to the application of SEO strategies.
6.2. L'insertion du lien d'affiliation
Once the content is written and optimized for search engines, it will be time to insert the famous affiliate links that will allow you to earn income.
As a reminder, the affiliate link is personal and is generated by the affiliate platform you have chosen.
The procedure for acquiring the affiliate link may differ from one platform to another, but it is quite simple for all platforms.
As far as its insertion in the content created, especially in blog posts, it must be natural. That is, you should not rush to insert it every two lines.
Let the reader discover your argument and find the right tempo to slide the link. Once convinced of the benefits of the product, they will be more inclined to click on the link and consume the product.
To illustrate this, let's take the example of Tim Ferris who also inserted affiliate links in one of his contents, but in a rather ingenious way.
To begin, the blogger first interviews 100 prominent people on the following question:
"What purchase of $100 or less has had the most positive impact on your life in the last six months (or in recent memory)? "
Then, he writes content in which he publishes the answer of each interviewee and it is then that he inserts a link to the product mentioned in each of the obtained answers :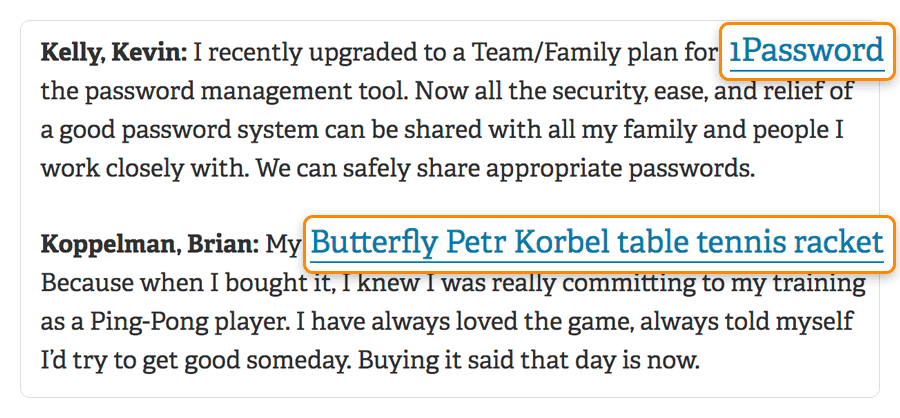 Source : Ahrefs
The result was spectacular, visitors loved the content. This is also what you should do. Proceed with small tricks to captivate the reader and make him forget that you are about to sell him a product.
An article can be well developed, but if the link insertion is missed, people can read it well without clicking on the affiliate link.
To avoid such a situation, you can apply these tips to get more clicks on your affiliate links:
6.3. L'emplacement des liens
In your opinion, what would be the ideal place in a content to place an affiliate link? Some will choose the introduction, others the footer or in the middle of the content.
Well, there is no exact position that should be respected at all costs. It's all about balance and common sense because what matters most is the user experience.
Note that if all of your affiliate links are in the footer, some users may not see them, which will significantly decrease the number of clicks.
Also, if you take every word of your introduction and make it a link, the content would look like spam to search engines.

What you need to do to place an affiliate link properly is to look for the right balance and for that you still need to consider two other criteria: the context and the caption.
6.4. Le contexte d'insertion
To better understand the context for inserting your affiliate links, let's start with an example.
Let's say you've written a piece of content about the best graphics cards and you offer this as an introduction:
"Today I'm introducing you to the best graphics cards for your computers". The insertion is out of context and the search engines will probably take it as spam
.
An introduction like this might have made more sense:
"Today, I present you the 3 best graphics cards you can find on Amazon starting at 100 € :
Graphics card 1: 100 €.
Graphics card 2: 200 €.
Graphics card: 300 € ".
Of course you can produce even better content. The idea is to just show the difference in context between the first example and this one.
6.5. The caption
You can go further by using more personalized captions such as buttons, tables or boxes to make the content more appealing and get users to quickly notice your affiliate links.
For example, we have this page from Wirecutter that illustrates this way of customizing your captions very well: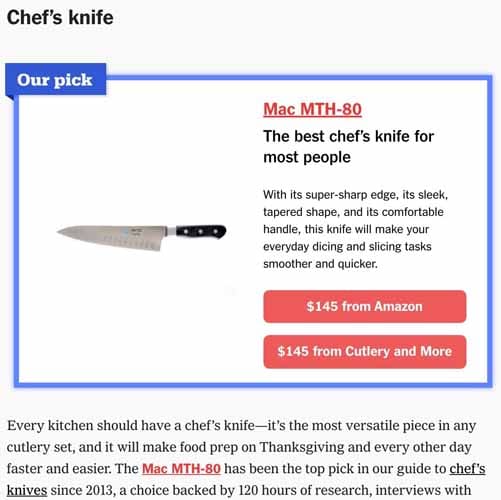 Source : Ahrefs
Or this example from PC Mag which uses a table with clickable buttons: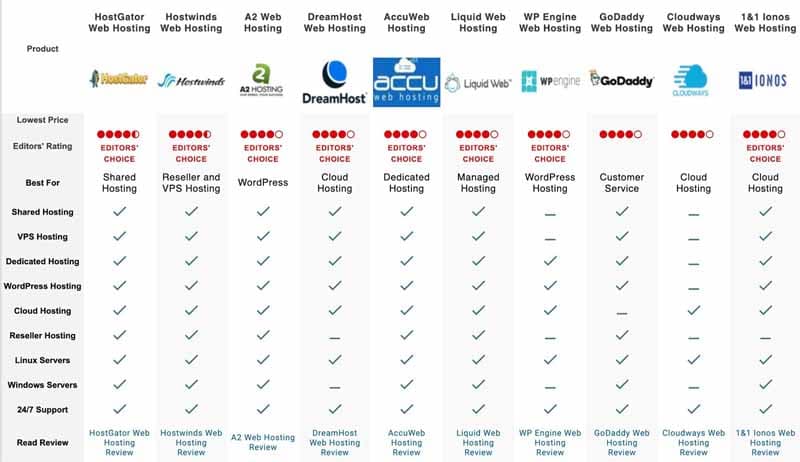 Source : Ahrefs
Before closing this section on inserting affiliate links, there is one last very important point to pay attention to: link disclosure.
6.6. Disclose the affiliate link
Now you can insert your affiliate links in a natural and attractive way to get clicks.
But it's important to remember that you must be transparent when including an affiliate link in content. This is a requirement of the Federal Trade Commission (FTC) that could lead to heavy penalties if you violate it.
But what does this mean in concrete terms? First of all, the FTC is an independent body of the American government in charge of controlling anti-competitive commercial practices.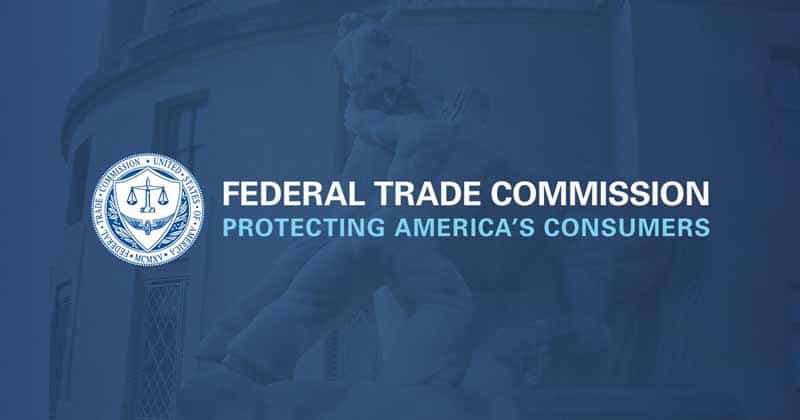 It assumes that content creators have some ability to influence the choices of Internet users.
You've probably bought a product or service online after being seduced by a video or article that touts the product.
If the author had made it clear that he or she was promoting the product for a fee, you might have reconsidered your decision.
That's why the FTC requires transparency around products offered in affiliate marketing for consumer protection.
In plain English, it will just be a matter of writing a short blurb, not far from the affiliate link that clearly states that you are doing affiliate marketing and that you will be compensated by the vendor for making this recommendation.
And this applies equally to blog posts, videos, social media posts and all other forms of online advertising.
Therefore, it is illegal to subtly slip affiliate links into content without making it clear to the viewer that it is a sponsored link.
Yet a 2018 study by Princeton University found that 90% of affiliate links found on YouTube and Pinterest are not mentioned as sponsored links.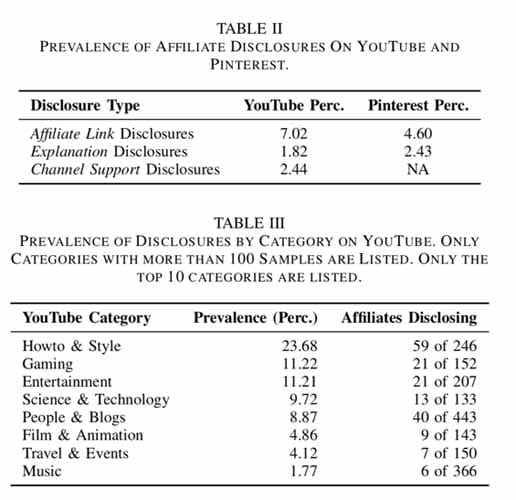 Source : Média Rails
To avoid potential lawsuits, it would be wiser to comply with FTC requirements and transparently disclose your affiliate links.
However, it must be said that these requirements are only in force in the United States, but also in the United Kingdom and Canada which have also adopted similar guidelines.
In France, as in the rest of the EU, there is no law requiring you to disclose your affiliate links as such.
However, since you will be collecting data from your users, you will need to comply with the General Data Protection Regulation (GDPR).
Here's an article from Affiliate Royale that explains how the GDPR can affect your affiliate business.
Also, if you chose an affiliate program that is seated in the United States, the FTC requirements probably apply to you as well, even though you don't live in the country.
In any case, to be safe from any problems in the future, it would be best if you comply with the affiliate link disclosure.
And to do so, you can write the statement as you like as long as you comply with these two points:
State the affiliate link;
Explain clearly and without assumptions that it is an affiliate link.
Basically, just give a brief explanation of the affiliate link and state that you will receive a commission as soon as the user clicks on the link.
If you chose to start affiliate marketing with a blog, you can create an entire page dedicated to the statement or drop the excerpt in the footer of your site, something like this:

Source : Ahrefs
Or if you preferred to start with a YouTube channel, you can insert it in the video description: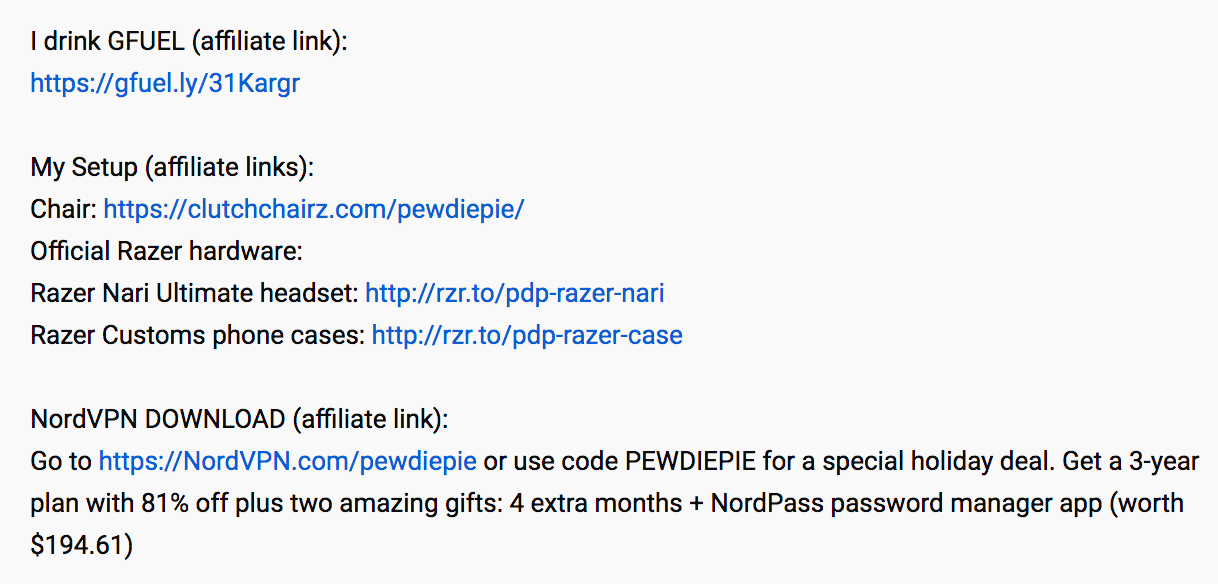 Source : Ahrefs
This way you can be sure that you are complying with the current measures regarding the disclosure of affiliate links and be safe from possible prosecution. It's a way to play fair with your customers and build trust.
Chapter 7: Step 5 – Promote content through different channels
To get more clicks on your link, it would be wise not to limit yourself to just your blog and YouTube channel. You can use other channels to maximize your chances.
And for that, we have :
7.1. Social media
Social media is one of the most traffic-generating channels on the net today.
According to Statista, there were more than 3.6 billion Internet users surfing on social networks in 2020. And this number is expected to reach 4.41 billion by 2025.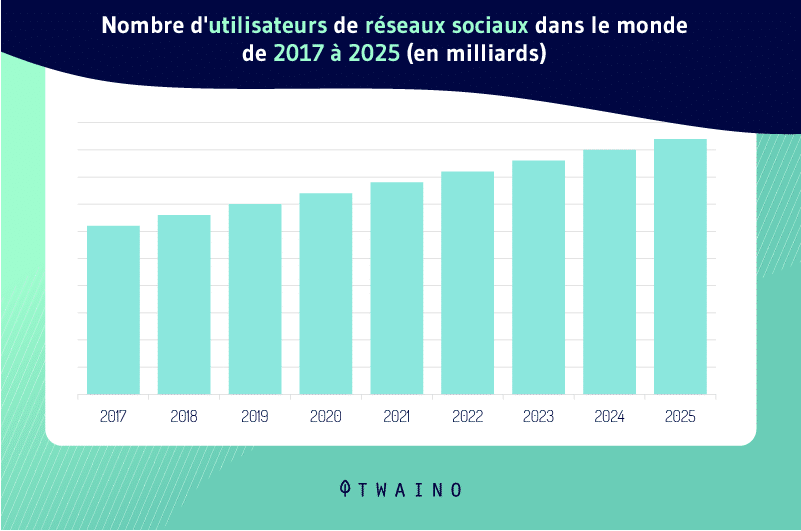 In addition, 43% of internet users search for products online via social networks, which makes social networks a great opportunity to get your product noticed.
So for a more important promotion, it would be wise to also consider social media, especially Facebook which remains the network with the most users.
7.2. Emailing
Although they have been around for a long time, emails are still relevant and are one of the most effective channels to market a product or a service worldwide.
Statistics even project an increase in the number of people using email to over 4 billion users by 2023.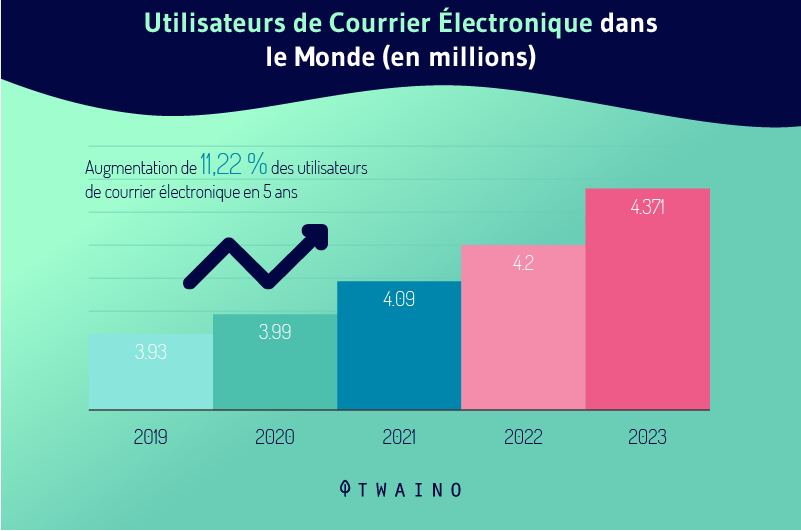 And the best way to promote with emails is to create a mailing list.
The advantage with mailing lists is that you can communicate at any time to a stack of people simultaneously with just a few clicks.
For example, you can use your mailing list to inform your users about a new product with a redirect link to learn more about your affiliate site.
This is a significant number of additional clicks that add to your traffic. You can also share promotions directly via email to your mailing list.
But before you can get emails to build your mailing list, you must first convince people to sign up for your newsletter.
And for that, one of the methods that really works is to offer something interesting and useful for free.
At Twaino, we offer all our visitors something free:
But there are many more things you can offer your visitors to entice them to sign up for your newsletter, such as:
A free eBook ;
Email course modules;
And many more.
It's up to you to see what you have to offer that would really interest your visitors.
7.3. Webinars
The creation of webinars has become more and more popular lately and this is not going to stop anytime soon, especially because of the growth of social networks.
For those who don't know what it is, webinars can be defined as a kind of online meeting broadcasted live on social networks and which brings together several people.
For the promotion of your products, you can also create webinars to present the benefits of the product in length, especially for people who are not too inclined to read.
7.4. Paid ads
Paid ads consist of buying advertising space on engine pages to attract traffic to your site. There are several models of paid ads, you can choose for example the PPC model.
The advantage with paid ads is that you get a good position in the search results as soon as you pay.
But there are some problems with paid ads:
They reduce your profits. Before you get paid ads, you have to pay money, which is less profit for your affiliate business. So you have to be careful how much you allocate to paid ads so that you don't make a loss.
Moreover, once you stop paying money for ads, your traffic also stops systematically, unlike SEO which continues to generate traffic over time.
Basically, paid ads are more beneficial for affiliates who belong to high-paying affiliate programs and can afford to invest in ads without taking a loss.
It is therefore not recommended for newcomers to affiliate marketing or for affiliates who have signed up for low-paying programs like Amazon's.
Chapter 7: Step 6: Convert Clicks on Your Links into Sales
There are two types of conversions that are generally sought after in affiliate marketing to make money:
The click to the product page
And the purchase of the customer.
The first type of conversion is entirely under your control and to get it, simply follow all the tips that have been presented so far.
The second type of conversion which is based on your customer buying the product is controlled by the merchant.
Even if you can't access the merchant's cash register, you can still find some information on the net and find out if there are any affiliates in your niche that are actually earning income with the program you have chosen.
To do this:
7.1. Research public reports related to earnings
If affiliates are earning revenue on a product through an affiliate program, then the product is selling well on the Net.
And to find out how well your product is converting in the market, you can look at reports where affiliates publish the amount of money they have earned from the affiliate program.
For example, if you search for "Amazon affiliate revenue report", you can come across content in which bloggers reveal how much they have earned with Amazon's affiliate program.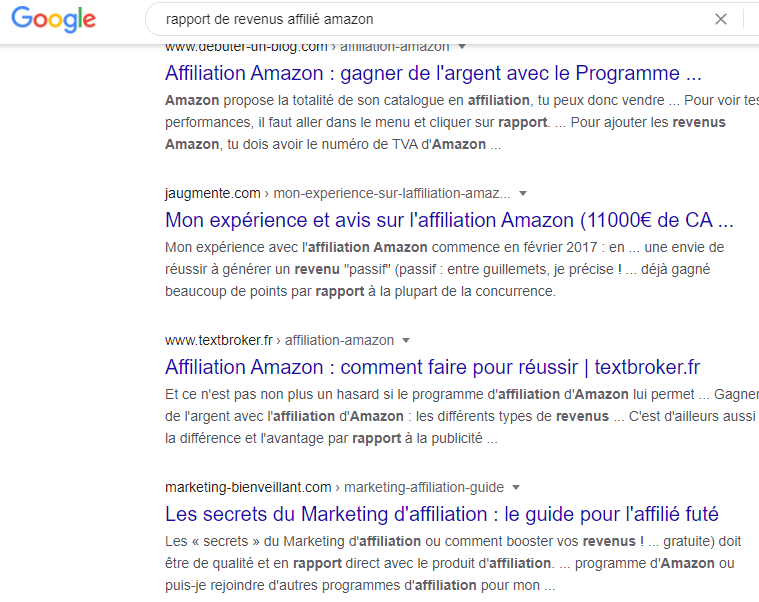 In this screenshot, we see a blogger who tells about his experience with the Amazon affiliate program that allowed him to earn €11,000 in sales after more than a year.
7.2. Formulate questions if you have them
If you can't find enough information about an affiliate program, the best thing to do is to contact the network managers and ask them your questions.
For example, you may want to know what their average conversion rate is or how long their cookie lasts.
It is very important to understand how a program works before you join.
Take the trouble to ask them all the questions you can about the things you are not sure about in order to assess whether the program will be profitable.
7.3. Follow your intuition
Affiliate marketing can sometimes be a matter of instinct. If in the absence of reliable and promising information about a product or program, you still feel like you're not making the right choice, then don't push it.
Trust your instincts and abandon the product, especially if you would never recommend it to a close relative.
Conclusion
Now you have all the information you need to start your affiliate business.
To recap, here are the steps you need to take to get started as an affiliate:
Choose your communication channel to promote the affiliate link
Choose your niche
Research affiliate programs to join
Create content to promote the products
Promote the content through different channels
Convert link clicks into sales
Next, be patient and don't get hung up on the idea of changing your life through affiliate marketing overnight.
It takes time before you see your efforts pay off and start making significant earnings in the field.
So keep your expectations in check and focus on generating your first income. Then gradually set bigger goals and mobilize the means to get there.
If you enjoyed this content, feel free to share it with your friends. Also let me know in the comments if you want to get started in this exciting world of affiliate marketing.
And if you have any questions, please feel free to share them with us. I will be happy to answer you.
Thank you and see you soon.