Google has announced to Universal Analytics (UA) users that the service will no longer process data, although it continues to operate.
Introduced in 2012, the tool is a version of Google Analytics that offers features to track visitor behavior. But Google recently announced that the tool would stop working through a notification.
In this article, we'll find out what this notification contains and whether Google has indeed stopped processing data with UA.
Google's Universal Analytics notifications
Google began notifying Universal Analytics users that the service would soon cease to operate. The search engine had already indicated that users should switch to Google Analytics 4 before July 1ᵉʳ.
Indeed, UA is a tool similar to GA that provides more detailed information on visitor behavior.
Almost two months after the announcement, Google sent notifications to website owners reminding them that the service would be stopping. This was confirmed by some experts and companies such as Third Door Media.
It begins with a warning:
"Your Universal Analytics property needs attention!" and it continues with a shock announcement:"The deadline for Google Analytics 4 has passed!"
What's Google's message to UA users?
"The deadline for implementing Google Analytics 4 has now passed. Your Universal Analytics site [UA site number] has stopped processing new data. All other standard Universal Analytics properties will soon stop processing new data. If you haven't already done so, we encourage you to complete your transition to Google Analytics 4.
If you need help configuring your Google Analytics 4 property, we recommend that you consult the configuration wizard. The Setup Wizard will seamlessly guide you through the process, suggesting recommended features and settings tailored to your needs."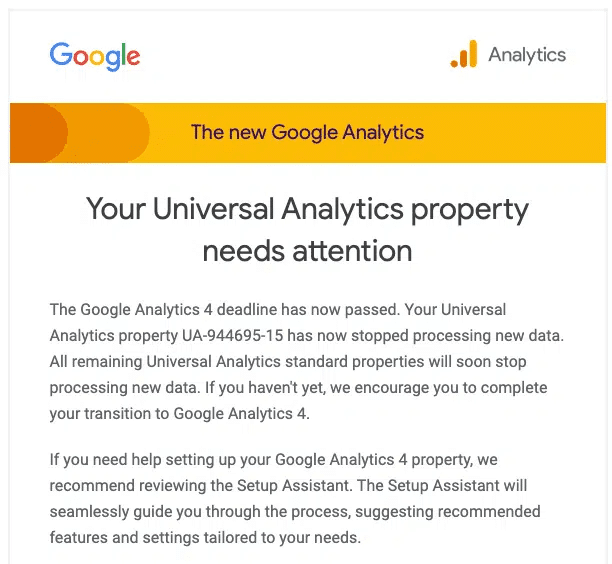 Source : searchengineland
These messages also appeared online, notably on social networks like Twitter, where users shared their experiences with these notifications.
Get ready, Google is starting to turn off UA. 1st of my clients got notification today. That's nearly 2 months after they said they were going to turn it off on June 30. pic.twitter.com/CmqNomyIKh

– Alan K'necht (@aknecht) August 22, 2023
And it has started, my first few Google Universal Analytics "Your Universal Analytics property has now stopped processing new data". A few hundred more emails to receive. pic.twitter.com/s5L0gIpsWE

– Tony McCreath 🇺🇦 (@TonyMcCreath) August 23, 2023
It's worth remembering that the Google Analytics interface is not user-friendly. In fact, this is one of the reasons why people continue to use Universal Analytics, even those who have migrated to GA4.
When will UA stop processing data?
Despite its July 1ᵉʳ "ultimatum" and multiple reminders, Google has not yet stopped Universal Analytics (UA). We were astonished to find that UA properties were still collecting and analyzing data.
And that's not all! To this day, many UA properties are still active, even though Google had promised that this would end "soon".
So it's hard to say when UA will be definitively replaced by Google Analytics 4, Google's new measurement tool. It's possible that UA will remain operational for a few more weeks.
In a nutshell
Google has not kept its promise to end UA and continues to notify UA users that they must migrate to GA4. However, UA has not stopped processing data, despite repeated warnings since early July. To keep up to date with the latest news from Google, subscribe to our newsletter.