As a merchant, you probably already know that Google Shopping remains an excellent channel to reach new customers and increase your sales.
The search engine alone receives more than 6.8 billion queries every day, including probably millions of searches for the products you sell
But to truly reap the benefits of Google Shopping, you need to successfully optimize your product listings to rank in the top Google search results
However, the fact is that almost all the content available online that deals with Google Shopping basically revolves around how to set up a good Google Ads campaign
Many seem to forget that an equally important element is the optimization of product feeds to appear in the organic (free) Google Shopping results
In fact, as of the end of April 2020, Google has announced the expansion of its Shopping Search service to free listings
This is an announcement that offers the possibility for all online and even physical merchants to have their products listed in Google Shopping results, without necessarily investing a penny in advertising
So if you don't have enough resources to launch an expensive advertising campaign, Google Shopping can be the white knight that helps you attract new customers and generate more sales without breaking the bank
But how do you go about it? In this comprehensive SEO guide, we will detail all the steps you need to take to successfully rank your products in Google Shopping results for free
Chapter 1: Google Shopping – What it is, how it works and how it benefits retailers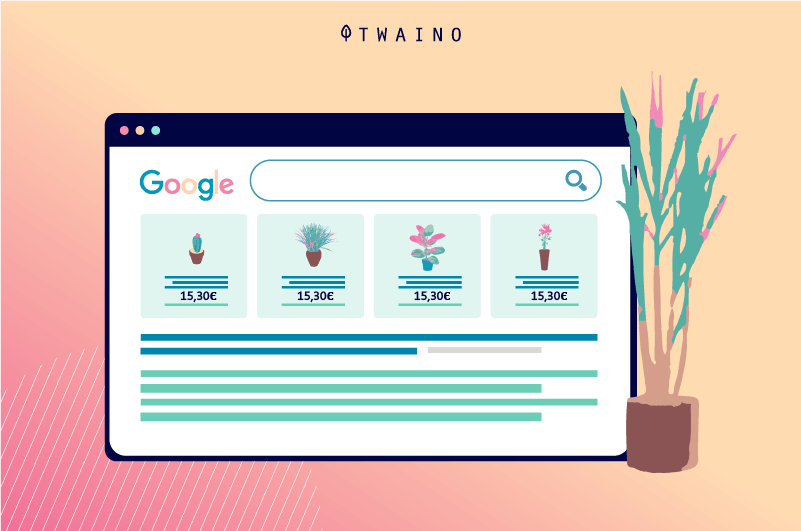 In order to better understand the optimization techniques for Google Shopping, it would be useful to first understand how the platform works
1.1) What is Google Shopping?
Formerly known as Google Product Search, Google Shopping is a price comparison engine that allows users to browse and purchase millions of products from various stores
It's a service offered by the online search giant that is transforming the way people search for products online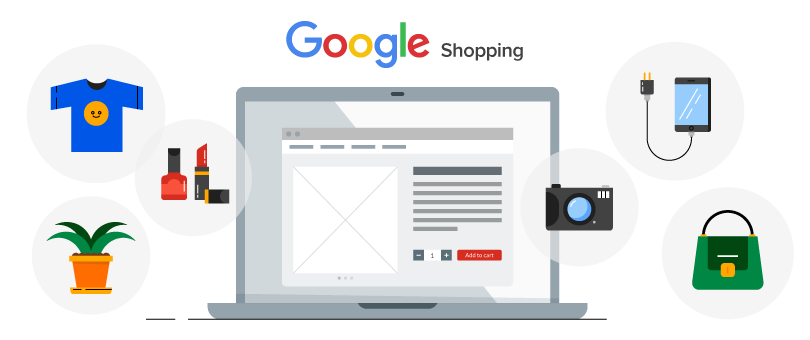 Instead of consumers going directly to Amazon or Alibaba to search for a product, they can check Google Shopping for the best prices available online or at local retailers.
Clearly, when a user searches for a product on Google Shopping, the engine brings together on a single page, a list of relevant products offered by various merchants. Each product offered is represented by
A title
A brief description
A price
And a thumbnail to have an overview of the product
The user will be able to compare the price and features of the products without necessarily having to visit the stores' websites individually
And they will probably choose the retailer that offers the best value for money.
Google Shopping results are available on the regular Google pages, but under the tab that says "Shopping"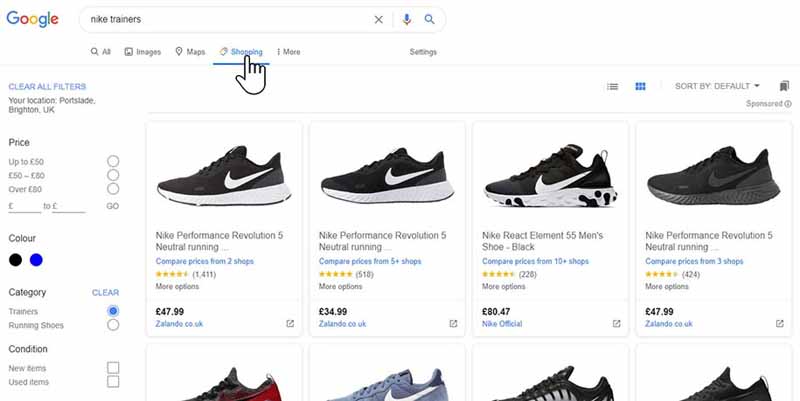 However, this tab only appears when the user searches for an e-commerce product
Google will not show you the "Shopping" tab in its results when you search for terms like "presidential elections" or "Marseille" for example.
However, if you wish, you can go directly to Google Shopping using the official website link and specifically search for a product name.
1.2) How can users access Google Shopping?
One of the great advantages of Google shopping for retailers is that the platform is very accessible to consumers.
In fact, Google remains the most popular search engine in the world, with over 6.8 billion searches per day
And as an ordinary internet user, you don't need any special skills to use Google Shopping. The platform has been designed to be as user-friendly as possible.
In concrete terms, here is how an Internet user can access and use Google Shopping
Let's say you are looking for a new pair of sneakers. And since you are not loyal to a particular brand, you go to Google and enter something like "sneaker trend 2022"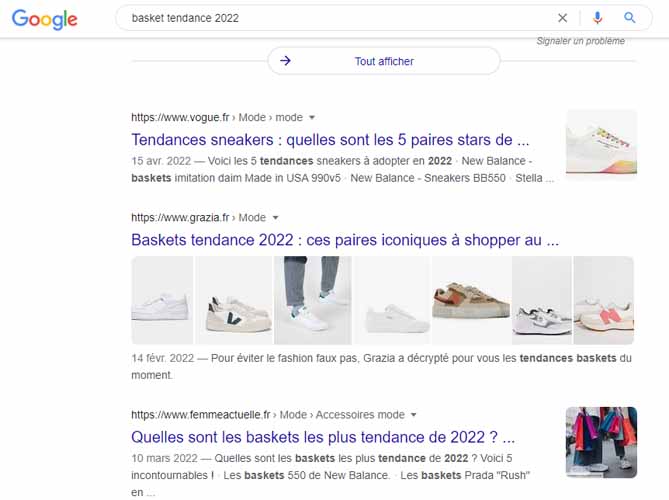 The search engine generates a pile of results for you featuring a few ads and blogs that discuss "hottestsneakers in 2022."
But since you don't have time to read everything, you can go fast by clicking on the "Shopping" tab available in the menu bar of the page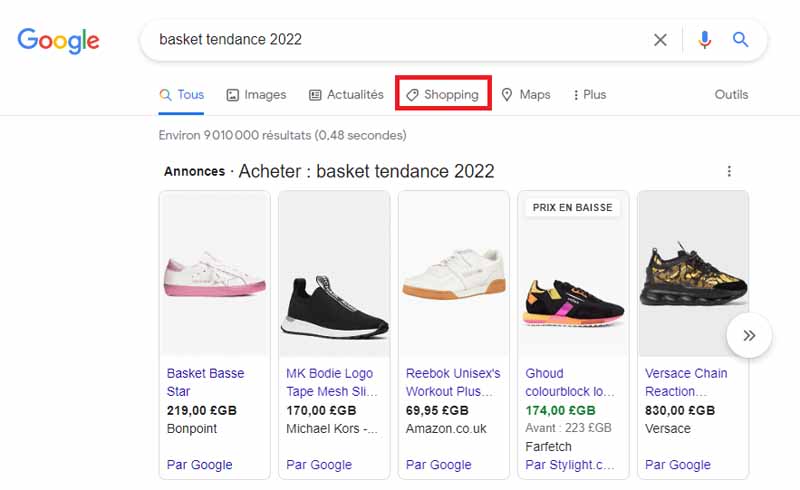 Then by clicking on the column to your left, you can filter the proposed results based on criteria such as price, color, gender and many others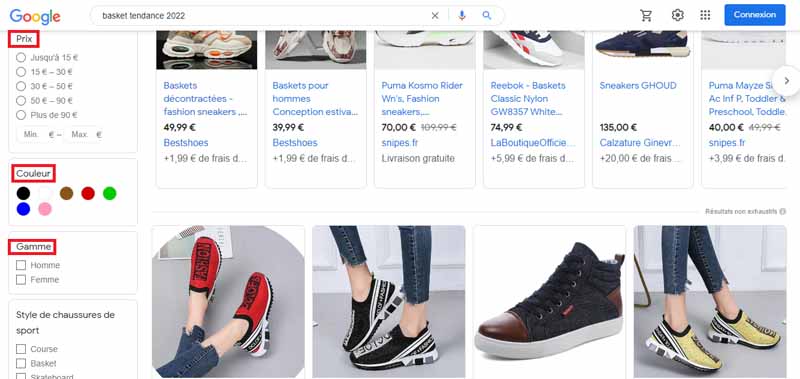 You can also consult the comments left by other consumers to help you make your choice.
Once you have made your choice, you can buy your pair of sneakers directly from the interface and easily in a few clicks
As you can see, it's very easy for consumers to search and buy products on Google Shopping
It's also simple for sellers to set up Google Shopping and have their products ranked in the search results. And that's what we'll see in the next chapter.
1.3) How does Google Shopping work?
Google Shopping works by processing files called "product feeds"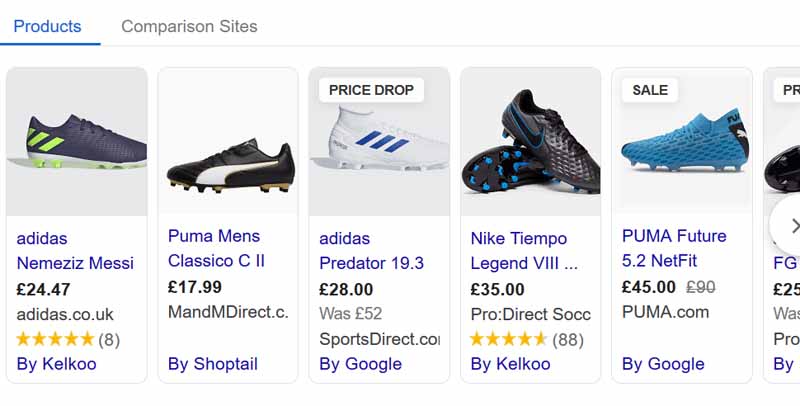 Online merchants like you can list their products in the form of these files and then submit them to the search engine to appear in Google Shopping results
As a seller, you can add all of your products to the platform for free and then run advertising campaigns to maximize your chances of being seen by more consumers
In any case, each Google Shopping feed must contain a certain amount of information such as product name, description, image and price, etc. Google will then associate this information with the queries of your customers
Google will then associate this information with the search queries of the users to provide search results
When a user launches a search (as in our previous example on sneakers), he will see on his screen a list of proposals associated with his request.
Since important product information is already provided by retailers, Google will be able to easily display current prices and in-stock availability.
If the user finds a relevant suggestion, they can click on it and be redirected to the store or seller site to proceed to purchase or discover other related products
Important features of Google Shopping include
The Google Merchant to add your products and manage your feeds.
Local search: To help also physical stores to improve their visibility on the platform and increase their sales
Consumer Reviews: With the feedback left by consumers, Google Shopping is able to rank the products that get the highest review scores at the top of the list. This would mean that when your products get positive reviews, you can see your sales increase significantly
Payment and product delivery: The search engine also offers online payment services via Google Play and product delivery via Google Express
Google Ads: This is where retailers can run their ad campaigns to get good positioning for targeted queries. They can control budgets, bids and other aspects of their campaigns such as location, ad scheduling, etc. Google also offers Smart Shopping campaigns and Local inventory ads to deliver ads beyond targeted queries.
1.4. Why should you use Google Shopping's free product listings?
There are 5 good reasons why you should integrate Google Shopping into your marketing strategy
1.4.1. Benefit from a high search volume
The first advantage of Google Shopping is the volume of queries that the search engine receives
Indeed, Google is the most visited website on the internet, with billions of requests recorded daily.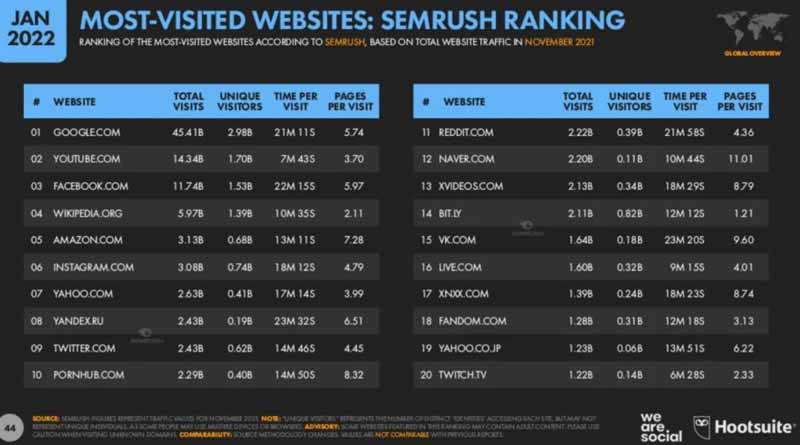 Source :Digital-mag
And 55% of these searches are about commercialized products. It would be a shame to miss such an opportunity that can considerably contribute to improve the visibility of your store
1.4.2. A means of visibility accessible to small and medium-sized businesses
Google's organic product listings represent an excellent opportunity for businesses, especially small and medium-sized businesses that are often limited in their budgets.
It must be recognized that online search lacks diversity and is largely dominated by big brands
Whenever you search on Google for something like "men's sneaker", chances are that sites like Nike or Adidas will be at the top of the list
This is due to their high brand awareness, but also to the huge budgets they invest in paid ads on Google Shopping
However, 43% of e-commerce traffic comes from organic search (without ads). This is a relief for those who still don't have enough money to last in the online advertising market

Source : Appsthatdeliver
Clearly, you don't always have to pay for sponsored ads before attracting visitors to your store
With a good SEO strategy on Google Shopping you can also drive traffic to your website and increase your sales
Now that the search engine offers free SEO on Google Shopping, you don't have to depend on your traditional SEO strategy alone
You can also use Google Shopping's free product listing to get more conversions and stand out from the competition without investing a fortune in advertising. Since it is a free solution, it would be a shame not to take advantage of it.
1.4.3. Get more clicks for your products
The first 3 organic results (ranked without ads) on Google pages get 75% of all clicks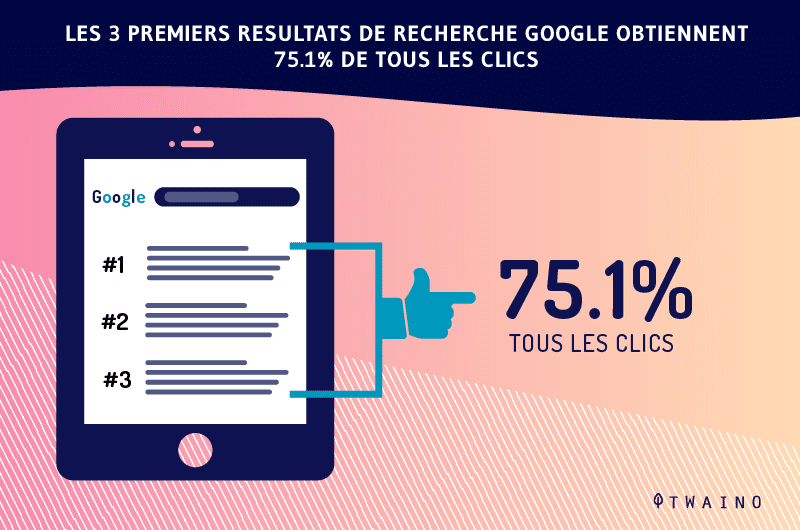 The advantage here is that Google Shopping results are ranked well before these organic results. This provides better visibility for your products
In addition, the fact that Google Shopping results are enhanced with a photo and the price of the products naturally encourages users to click on these results than the organic links
1.4.4. Take advantage of targeted traffic for a better conversion rate
As a merchant, it's good to have traffic to your website, but it's even better to have traffic that converts into sales
And that's one of the great benefits of Google Shopping for online retail stores
A user who searches for "vacuum cleaner under 50 euros" is more likely to buy than a user who vaguely searches for "home vacuum cleaner" or "how to repair a vacuum cleaner"
When using Google Shopping, you need to target your website on these commercial search terms
This makes Google Shopping the channel that allows you to access a targeted audience ready to buy than any other platform
1.4.5. Get more visibility with Google Lens
Google Shopping is integrated with Google Lens, the image recognition service of the search engine
On the face of it, Google Lens was created to allow users to get relevant information about an image.
But combined with Google Shopping, the application allows users to scan an object and access a list of companies that sell that product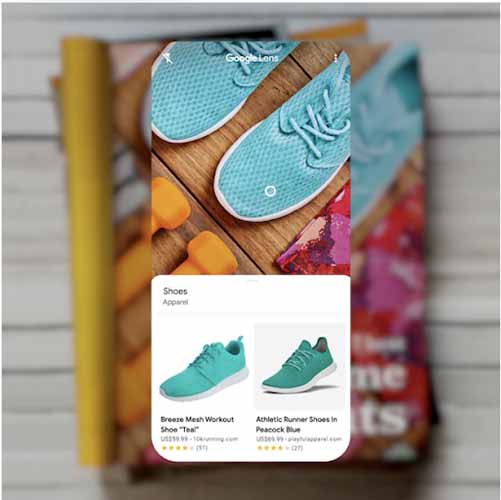 This is still an important advantage for sellers like you who can also appear in Google Lens results
Chapter 2: Google Shopping – How to add and optimize your products for free?
In this second chapter, we'll look at optimization techniques for listing your products on Google Shopping
But before going to the optimization step, you should first succeed in adding your products on the platform
2.1. How to add and sell your products for free on Google Shopping?
To see your products ranked in the organic results of Google Shopping, the work will be essentially based on 3 steps
The creation of a product feed file
The creation and configuration of a Google Merchant Center account
And the activation for "free product listings"
Concretely, here are the different tasks to accomplish for each step
2.1.1. Create a product flow file
We already know that the product feed is a file where we have to fill in all the important information about our products, such as name, price, category, brand, stock availability and shipping time.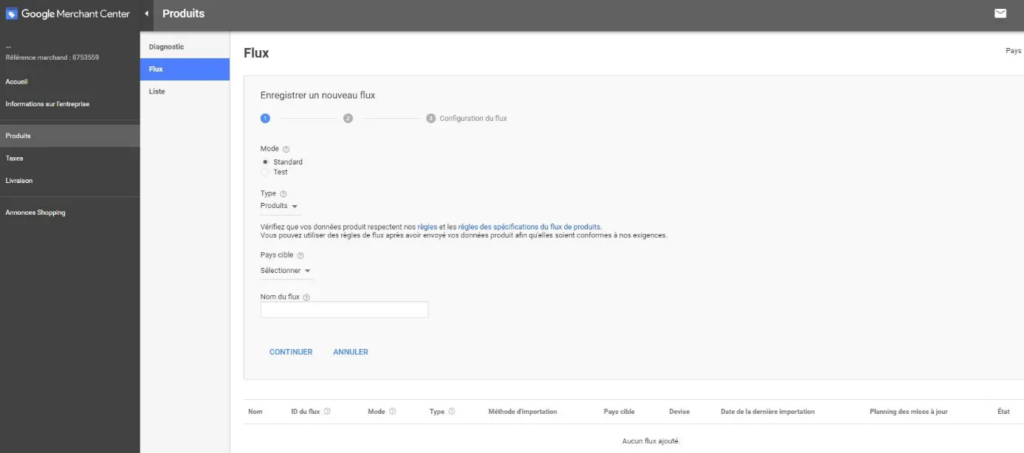 A product feed is not exclusively for Google Shopping. After creating a product feed, you can always export it and use it on other e-commerce platforms such as Etsy, Walmart and many others
The advantage of creating a product feed is that it can save you valuable time by not having to add all your products individually on each e-commerce channel. A single product feed can be used on multiple channels at the same time. To create a feed, you can consult this support from Google
2.1.2. Create and configure a Google Merchant Center account
The second step of the process will be to create your Google Merchant account. And for this, it is advisable to use the same login that you have used for other Google accounts, including Google Analytics and Google My Business.
This way you will only have one username and password to remember for all Google services.
But one of the likely questions you may be asking yourself right now is whether Google Merchant is a free service?
Well, yes. As long as you already have a Gmail account, you can sign up and get Google Merchant Center services for free
If you don't have a Google Merchant Center account yet, you can check the official Google documentation
After creating your account
Go to the "Growth" menu and then click on the "Manage Programs" option
The tool will present you with a "Free product list" section
Then click on the "Start" button to begin the process
If this is a new Google Merchant Center account, you will be prompted directly to create an organic product listing for Google Shopping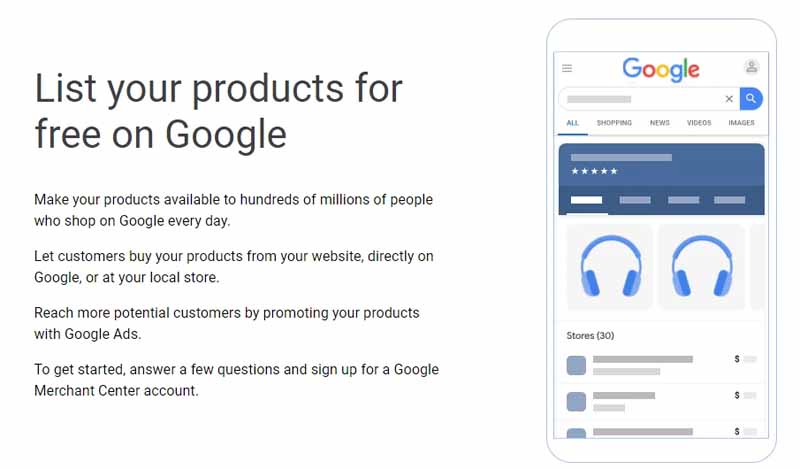 To set up Google Shopping organic product listings from a new account
Scroll down the sign up page to your business information section and then fill out the requested fields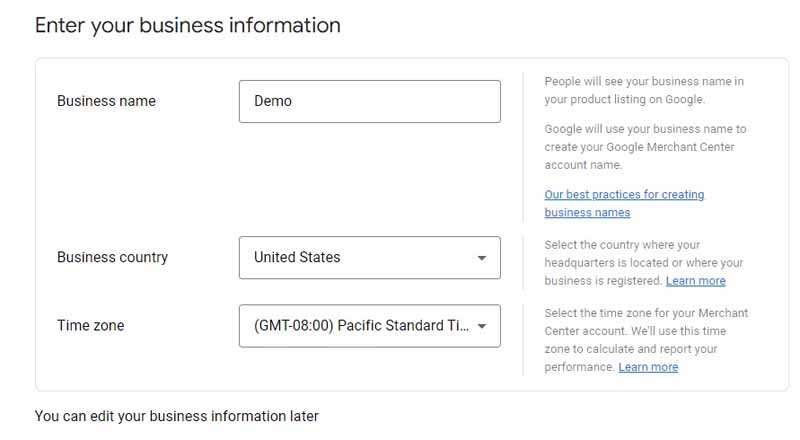 Next, you will be asked to choose how you would like your customers to checkout to pay for your products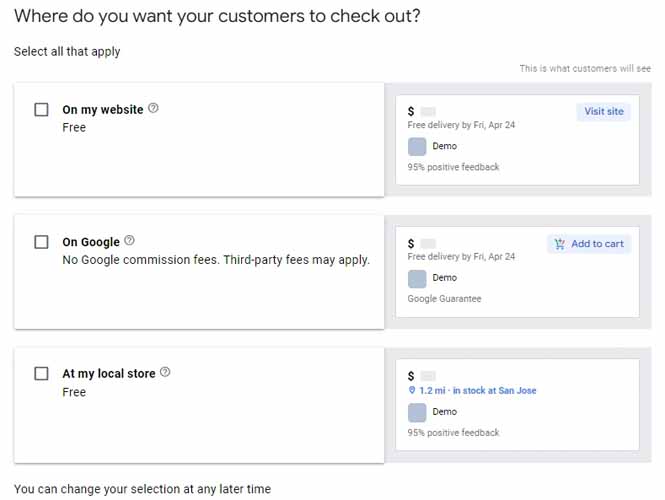 Choose the option
"On my website" if you have an online store
"On Google" to allow the purchase of your products directly from the Google interface;
And "In my local store" if you sell your products offline in a physical store
For those who have an online store, check the corresponding box to specify the platform you use
Then accept the terms of use and click on the "Create an account" button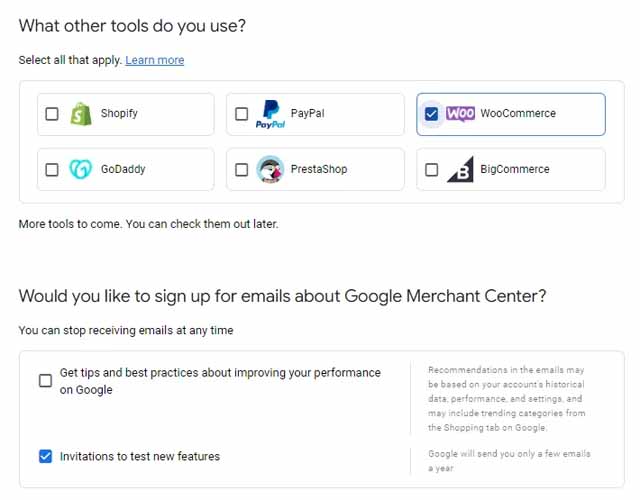 You have now created your Google Merchant Center account. You will then have to go to the next section to fill in the rest of the information, upload your product feed and finalize the configuration of the free product listings for Google Shopping

2.1.3. Setting up the free product listings on Google Shopping
By clicking on the "Continue" button in the previous section, you will be directed to a new window with a checklist to fill in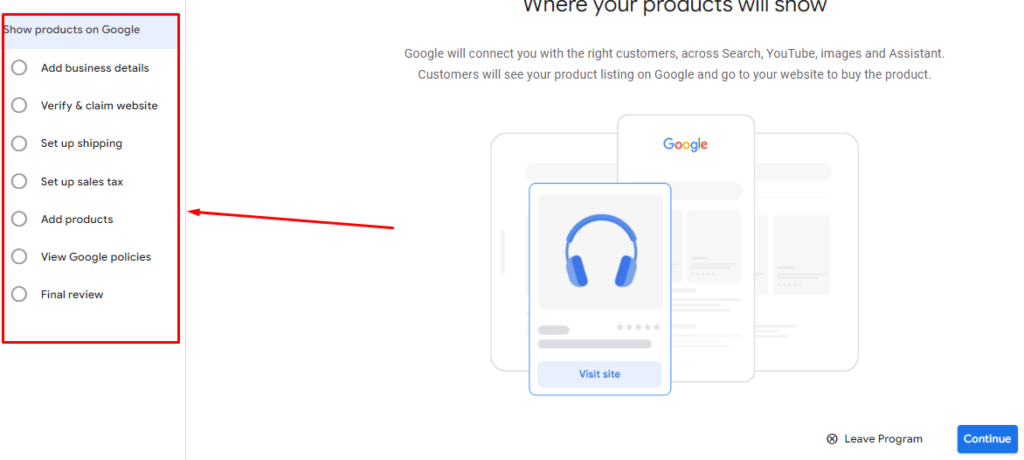 To begin, enter your business address and then click the "Save" button
Also enter your phone number to prove that you are the owner of the business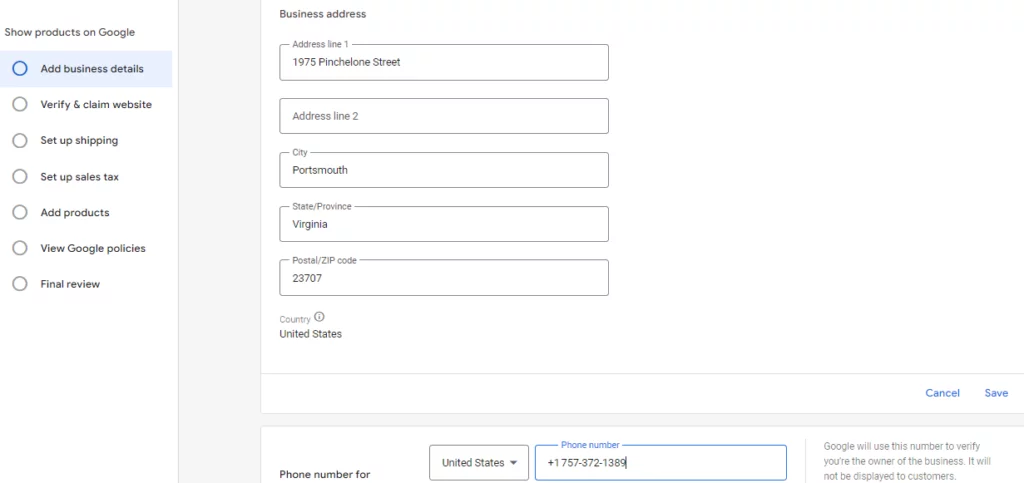 Then, you will have to verify your e-commerce site on the platform
To do this, enter the domain name of the site and click on "Continue"

The platform then offers 2 methods to verify your website
The method by adding an HTML tag
And the one by uploading an HTML file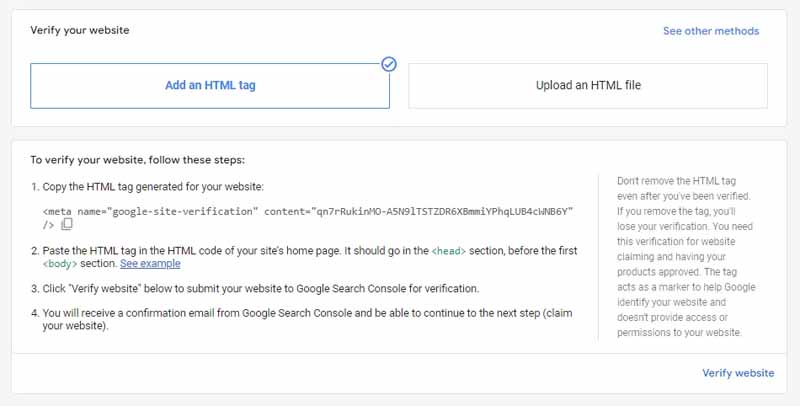 The method by adding an HTML tag can be a bit complicated for people who do not have programming skills
However, there are popular themes like Divi that make it easy to add without you needing to change a line of code
There are also plugins that allow you to add tags without going through the HTML files
For the second method, if you can access your web server's control panel, you can simply import an HTML file
Once the verification is done, you will get a success message

Next, you will be asked to fill in some information about the shipping conditions of the products and the sales taxes. Now the next step will be to upload the previously created product flow file.
2.1.5. Uploading the product feed file to Google Shopping
To upload a product feed file to Google Shopping
Click on "Add products" and then choose the option "Add multiple products at once"
This second option is more convenient when you want to add all the products in your store at once
Moreover, if you make changes on your website, the product feed is automatically updated so that the latest changes are also visible on Google Shopping

Then enter your country of sale and choose a language: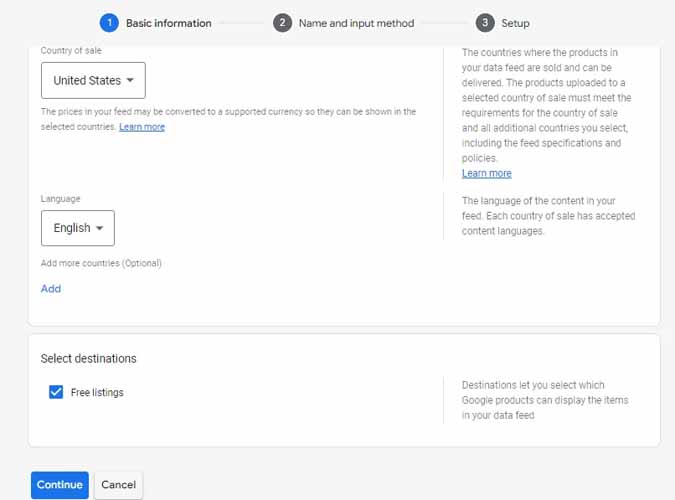 Assign a name to your product feed file
Click on the option "Scheduled recovery" and then on "Continue"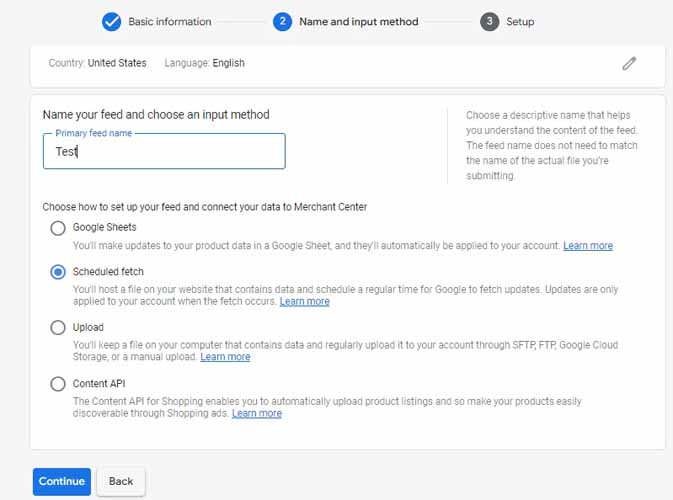 You will be presented with a new window in which you must enter the name of the product flow file previously created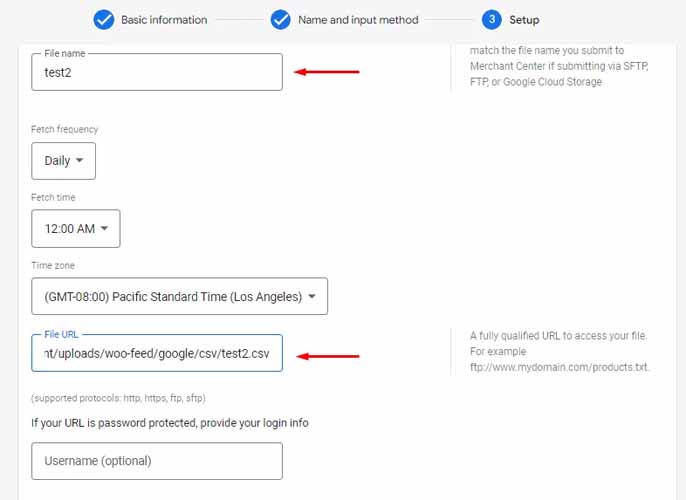 Then go to your site's control panel to copy the URL of the product feed file
Then go back to Google Merchant Center to paste the URL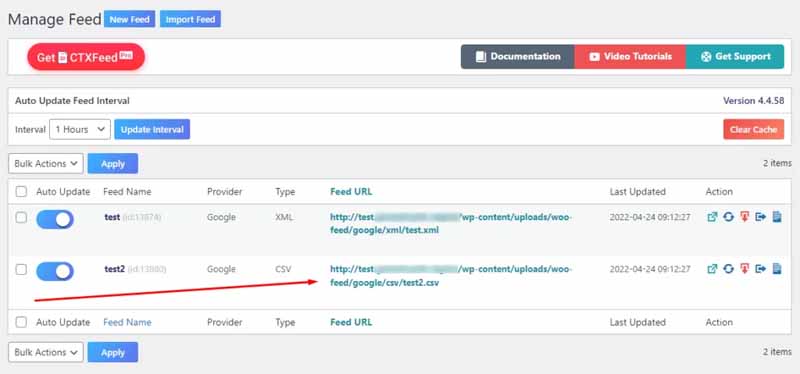 Then click on the "Create Feed" button
Your product feed should be successfully connected to Google Shopping
You can now click on the "Retrieve Now" button to import your products directly to Google Merchant Center

The recovery process may take a while depending on the number of products you upload to Google Merchant Center
Once the process is complete, you can find all your products in the Merchant Center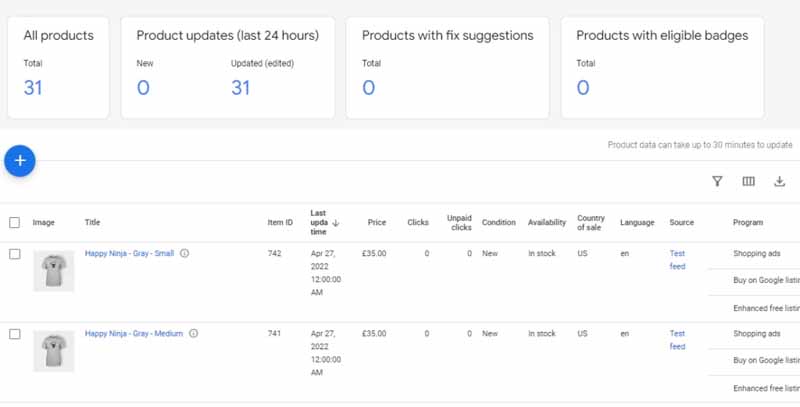 You can also edit the product information from your Google Merchant Center account.
Once you have completed all the required actions, Google will evaluate the information provided before displaying your items in the free Google Shopping ads.

If you have reached this stage, you have successfully completed the process of adding products to Google Shopping. Now people will be able to see your products in the organic results of Google Shopping
2.2. how to optimize the organic listing on Google Shopping?
Now that you've added your products to Google Shopping, you probably expect your products to rank high in Google Shopping results to increase visitors and sales in the store
However, things are not that simple. Have you thought about the many products that are already on Google Shopping?
Why should the search engine prioritize yours and rank them at the top of the list when a user searches?
That's why SEO is important and should be an inevitable part of your strategy for long-term Google page rankings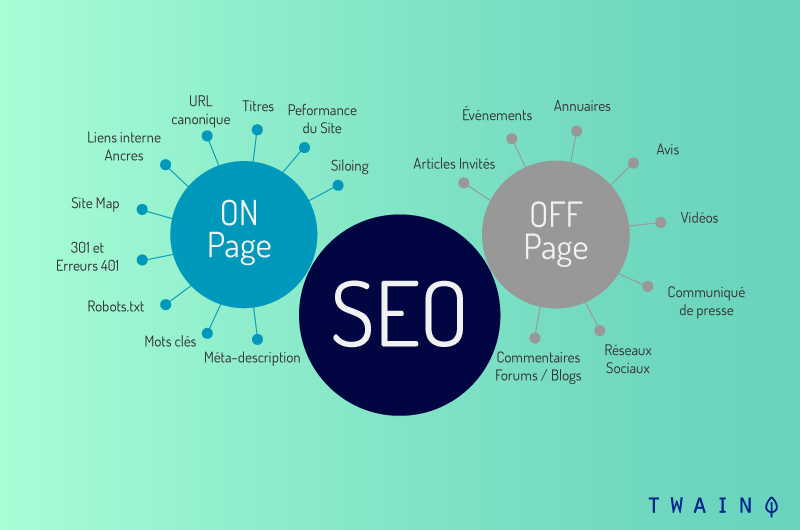 Moreover, advertising campaigns on Google Shopping do not allow you to enrich your content sufficiently on the keywords of your choice.
During these campaigns, Google will simply crawl your product feed to understand the relevant keywords for your products
SEO by contrast gives you enough maneuvering to enrich your product sheets on keywords of your choice
To help you succeed in SEO optimization of your feed and increase the chances of your products ranking in the top Google Shopping results for relevant keywords, here are some tips to follow
2.2.1. Product title optimization
This is the most serious factor to take when optimizing your product feed for Google Shopping SEO.
It is thanks to the title you fill in that Google's algorithms get to know which product it is and will be able to better rank them in the results when users specifically search for that product or a related product
Moreover, it is also the title that you propose that communicates to consumers the product you sell.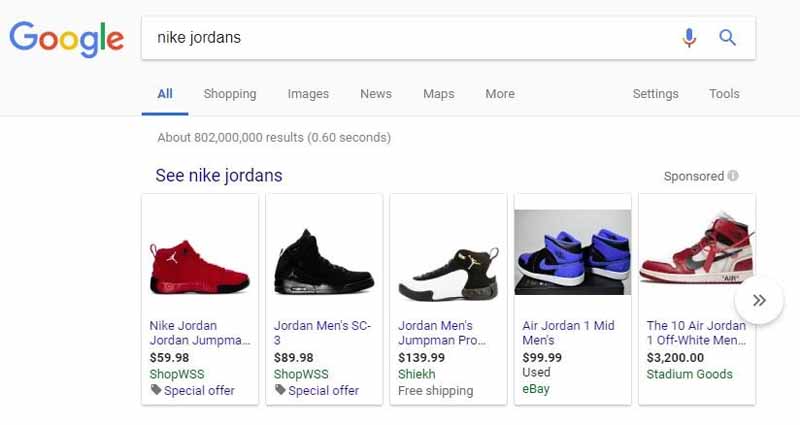 This is why the titles you propose must contain
The real name of the product presented
The main keyword targeted
The important attributes of the product (model, color, size, etc.)
But be careful not to exceed 150 characters for fear that your titles will be truncated on the Google Shopping results pages. This could be less of an incentive for users to click on the product
In addition, it should be noted that Google gives importance to the words that make up your product title according to the order in which they are linked.
The words that are most important to you should be placed in the first position
For example, if you sell kitchen utensils, it would be wise to suggest "Ikea 23 CM non-stick frying pan" rather than "Ikea 23 CM non-stick frying pan"
If you are manually adding your product feeds, you can take care to offer a well-optimized title
But for those who use feed management tools, it is advisable to configure the creation of your titles by specifying the order of the product attributes
For example, you can configure the tool so that your product titles are built according to the template
This way, you are sure to generate SEO optimized product titles that increase your chances of ranking well on Google Shopping
2.2.2. The product description
Product descriptions are also an important part of SEO for Google Shopping
Although they are not directly visible on the regular Google results pages, the search engine still takes them into account to understand the context of your product listings to better rank them
As for the free ads ranked in the Google Shopping tab, the product descriptions you offer will be well visible by customers
All the more reason to provide detailed and eye-catching descriptions. To do this, your product descriptions should include
The main keyword of the listing and if possible other secondary terms for a broader lexical field
The features and benefits of the product to form a strong sales pitch
However, you must remain concise and precise so as not to bore the customer
2.2.3. Product images
In e-commerce, images represent a decisive factor that can considerably influence the click rate of your products
That's why it's crucial to offer impeccable images for your products
To help you present better product images for Google Shopping, here are some tips to consider
Use images with a plain background;
You can also use images in context of use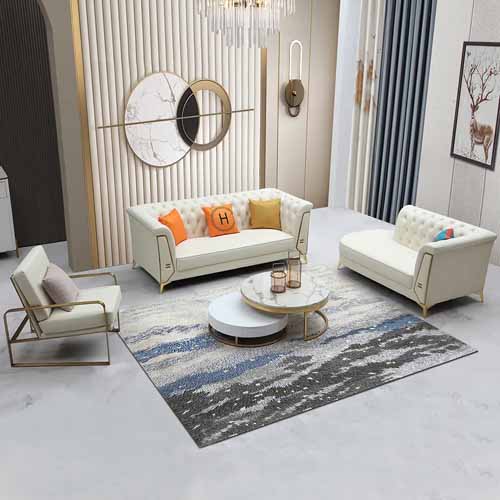 Crop the images well to avoid product features being hidden in thumbnail mode
2.2.4. Google product categories
For a better referencing, your product category must be included in the Google taxonomy
To do this, choose a product category that is well known by Google to help the engine better understand your niche so that it knows the queries of Internet users for which it should rank your products
Although the name you give to your category is not as important as the product title or description, it should also be taken seriously for quality SEO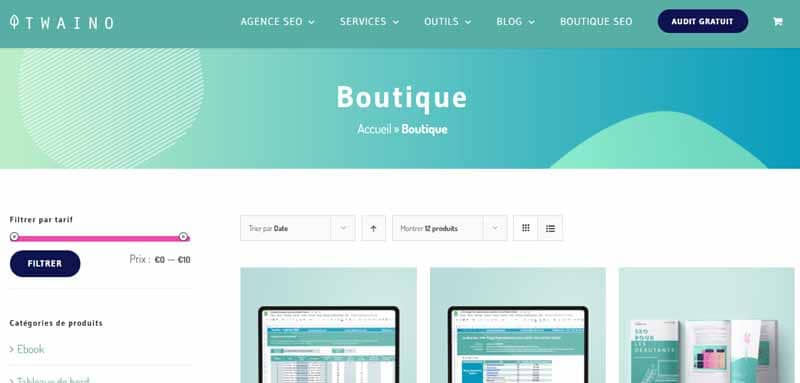 For example, if you have a store selling suits online, you can choose as category "Clothing and accessories" with subcategories "Clothing" and "Suits".
2.2.5. The price of the product
It is true that on a product sheet, the importance of images is no longer to be demonstrated, but it is especially the price that really influences the customer's choice
If we take for example two retailers who sell the same items, it is mainly the selling price that will push customers to prefer one seller over another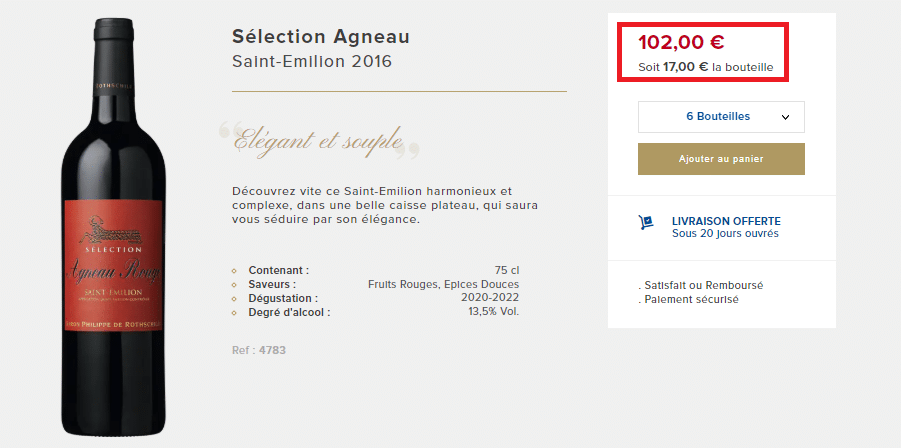 If you operate in a highly competitive industry and sell the same products available in the market, a selling price that is too high will definitely hurt your Google Shopping ad
On the other hand, if your product is unique or offers better benefits than the competition, a high selling price could work in your favor and drive consumers to click on your ads
For example, let's say you sell pairs of custom sneakers. Your target audience will obviously be people who are looking for quality shoes with a unique design
People who are looking for cheap sneakers won't be so interested in your custom sneakers
But the problem is that on Google, high-end customers and those looking for bargains use almost the same search terms
In such a case, a higher selling price than the competition will help you stand out and bring in quality clicks from your actual target audience.
2.2.6. The type of product
It must be said that when filling in the [ Product type ] field, there are no rules as such to follow
You really have carte blanche to propose types for your products. Moreover, they are only visible to Google. No customer will see the type you assign to your products
Nevertheless, it is recommended to insert at least the keywords for which you want to be ranked on Google Shopping. This will increase your chances of being listed on the search engine
2.2.7. Annotations on the discounted price
For products that are discounted, they will be displayed on Google Shopping with the "Promotion" insert
This tends to push customers to naturally click on the product. That's why Google is very selective about the criteria to benefit from this display. The challenge for the search engine is to get sellers to be honest and not make up numbers just to attract consumers' attention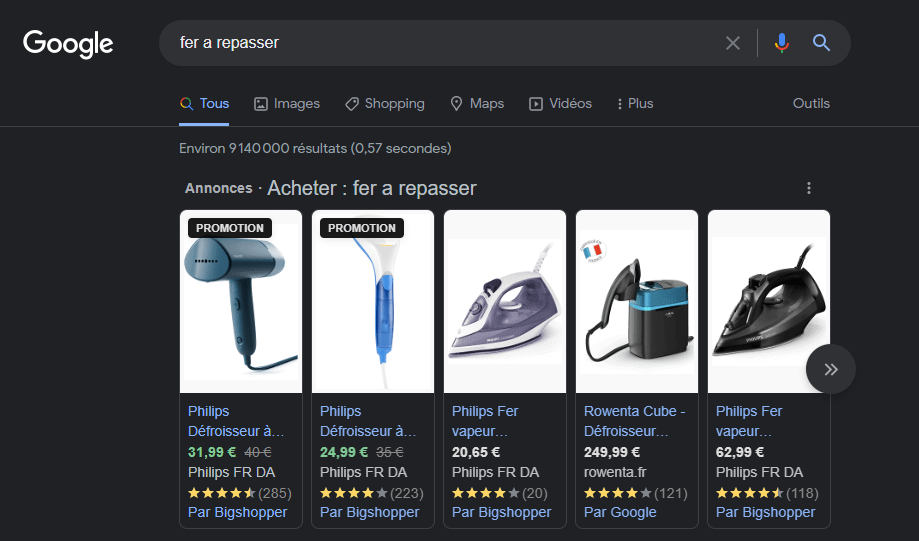 Indeed, the search engine requires that you have a base price that you have charged for at least 30 non-consecutive days in the last 200 days. Your selling price must then be at least 5% lower, but no more than 90% lower.
2.2.8. Product details
This is the field where you can fill in additional information about the product, other than its attributes
It is an opportunity to present the technical aspects of the product such as dimensions, material, etc.
Although product details do not directly improve your ranking in Google Shopping results, they can still generate clicks when presented well
2.2.9. The product brand
Whether you're the manufacturer or a reseller, it's important to mention your product brand in the feed
Some consumers are specifically loyal to certain brands, especially those with high purchase intent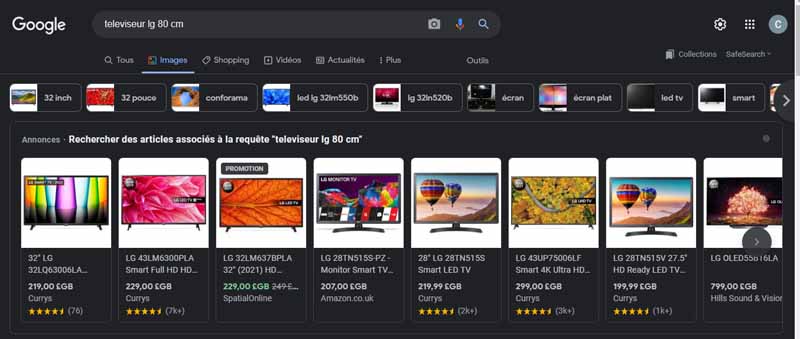 So branding your products could significantly increase your click-through rate and potentially your sales, especially if it's a popular brand.
And if you own your own brand, mentioning it in your Google Shopping ads would serve to improve its branding for more awareness
2.2.10. Clothing categories
If you have a store selling clothes, it is important that your product sheets include the information that is highly sought after by Internet users
This includes, among other things, the following
Gender: Are your clothes for men, women or are they unisex?
The age group: What are the layers of people most concerned by your products? newborns, babies, children, adults?
Size: What sizes are your products available in?
The size system: EU, FR, US, etc.
The type of cut: standard, small, large, wide, maternity, etc.
The color
For a more complete list of recommended attributes for each clothing product, you can consult the Google documentation
2.2.11. The manufacturer's product number and the global identification number
In Europe, the global trade identification number is usually your EAN. When it comes to literary works, it is more like the ISBN
Before, Google only searched for 3 references on products
The brand name
The manufacturer's reference (MPN)
And the GTIN code
Today, the GTIN is still relevant and is required for any manufactured product. So if you are a reseller, you need to get in touch with the manufacturer to get the GTIN and EAN codes, otherwise your products could be banned from being listed on Google.
2.2.12. Sales tax and shipping
To provide more information about your products and increase your chances of being listed on Google Shopping, you can also add the VAT rates as well as the regions where your products are sold and the shipping rules applied
All this can be added in your Google Merchant Center settings. To be quick, it would be better to define rules in your Google Merchant Center settings instead of adding them individually on each product page.
On your Google Merchant Center control panel, you can for example set your shipping policy to be
Free shipping
Flat rate delivery
And a delivery evaluated by the shipping agent
2.2.13. Other required information
These types of information gather small details required by Google
If any of this information is omitted, your product may be rejected by Google
These are generally
Product availability: Terms often used are "in stock," "not available," "pre-order," and "backordered."
And product condition: The terms used are "new", "reconditioned" and "used".
2.2.1.4. Personalized labels
Personalized labels are an internal organization and can be of great benefit to you in advertising campaigns
When you create a new Google Ads campaign, it is possible to organize your products by the usual attributes (brand, category, etc.), but also by a custom label
Although the creation of such labels is optional, it can be useful to highlight a fairly selling attribute of your products during campaigns
For example, you can create custom labels such as "vacation" or "summer category"
Chapter 3: Frequently asked questions about Google Shopping
3.1) Google Shopping: How does it work?
Google Shopping is a product search engine, a price comparison service and an advertising platform all in one.
For product searches, Google usually offers sponsored ads and organic (free) ads that match the user's query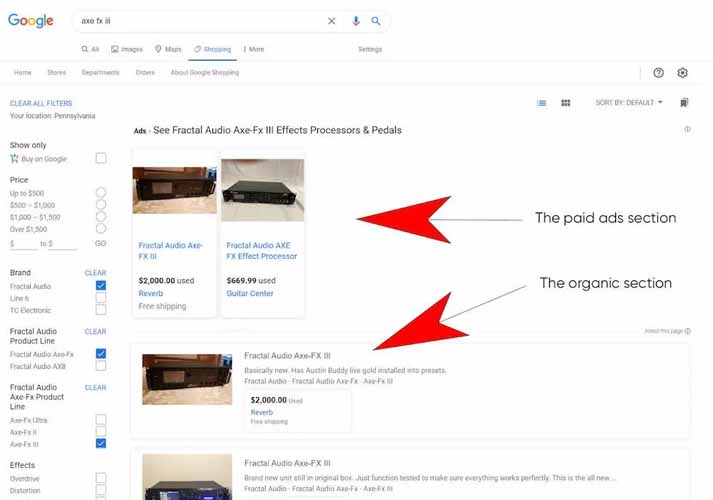 By clicking on the Shopping tab visible on the Google SERPs, the user will be able to access the list of products matching his search and compare the different products offered by different sellers without necessarily needing to visit their stores individually
3.2. What is the Google Merchant Center?
Google Merchant Center is an indispensable tool for any retailer who wants to see their products listed on Google Shopping
It is a platform connected to the search engine where you have to fill in all important information about your company, your products and your delivery policy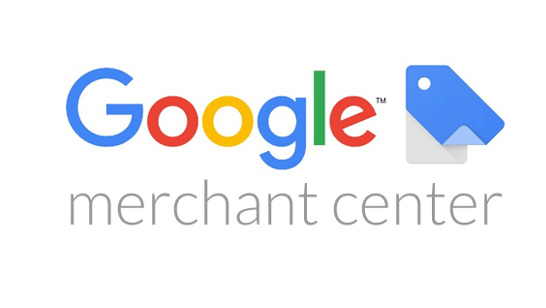 All this information will be submitted to the platform in the form of a file called "product feed"
Google Merchant Center is an excellent tool to list your products for free on Google Shopping. It is also essential to create advertising campaigns on the search engine
3.3. Why use Google Shopping?
Google offers interesting advantages for retailers, whether they sell only online or even have physical stores. The platform offers the possibility to list products for free to be ranked in its search results.
This is an opportunity for SMEs. It also offers advertising campaigns to boost the visibility of sellers and their products
In addition, Google Shopping users are generally ready to buy. Getting a good ranking on Google Shopping will then allow you to attract a quality audience for better conversion rates
3.4. is Google Shopping free?
Yes, as of April 2020, businesses can list their items on Google Shopping for free and appear in the "Shopping" tab of the search engine.
This means you can build an SEO strategy to see your products reach the top organic Google Shopping results
However, Google Shopping is not completely free. Paid ads on the platform are still relevant
3.5. The history of Google Shopping
In the beginning, Froogle was the name given to Google Shopping and it was just a simple search engine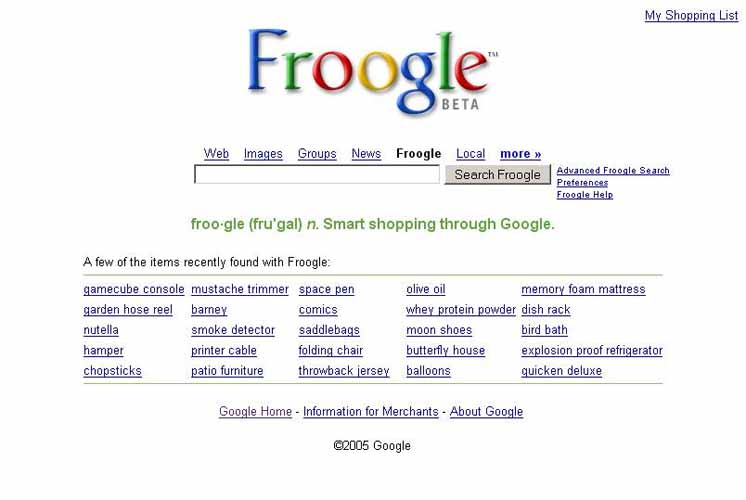 To use it, users just had to type in the name of a product and get a list of websites associated with their queries to which they can buy their products.
Over time, Google improved its service to compete with eBay and Amazon, which are among the giants of online commerce.
The search engine had the idea of adding a feature that allows its users to browse a list of e-commerce stores to compare prices of products more easily from a single space without necessarily needing to visit each store individually
Then in 2012, he offered merchants a paid advertising strategy to be ranked in search results.

The platform became from then on, an extension of Google Adwords, the paid advertising service that e-commerce businesses use to rent a well-located position on Google SERPs
However, Google has seen the usage rate of this service gradually decrease over time. The fact is that many businesses are abandoning the idea of using this service mainly due to the fees being too expensive to rank.
With the effect of the coronavirus pandemic on the global economy, Google has revamped the way Froogle works by offering merchants the opportunity to be listed for free on Google Shopping since April 27, 2020
There are so many e-commerce sites today that consumers can not know them all.
Even big brands such as Fnac are still unknown in some regions. Google Shopping offers the possibility to all e-commerce sites to improve their visibility on the web
Retailers who now use Google Shopping can take advantage of Google's vast database to present their products to millions of users around the world and potentially increase their sales
Recent changes made by the search engine allow you to list your products for free on Google Shopping and be searchable worldwide
This new system offers consumers some interesting features for a better experience in the online shopping industry.
3.6. Why did Google create the free Shopping product listings?
To understand Google's real intentions, we should consider the context of the online search market
At the time, Amazon was experiencing significant growth in advertising revenues to the point of dethroning Google in this specific aspect.
The number of product searches performed on Amazon far surpassed that recorded by Google and Microsoft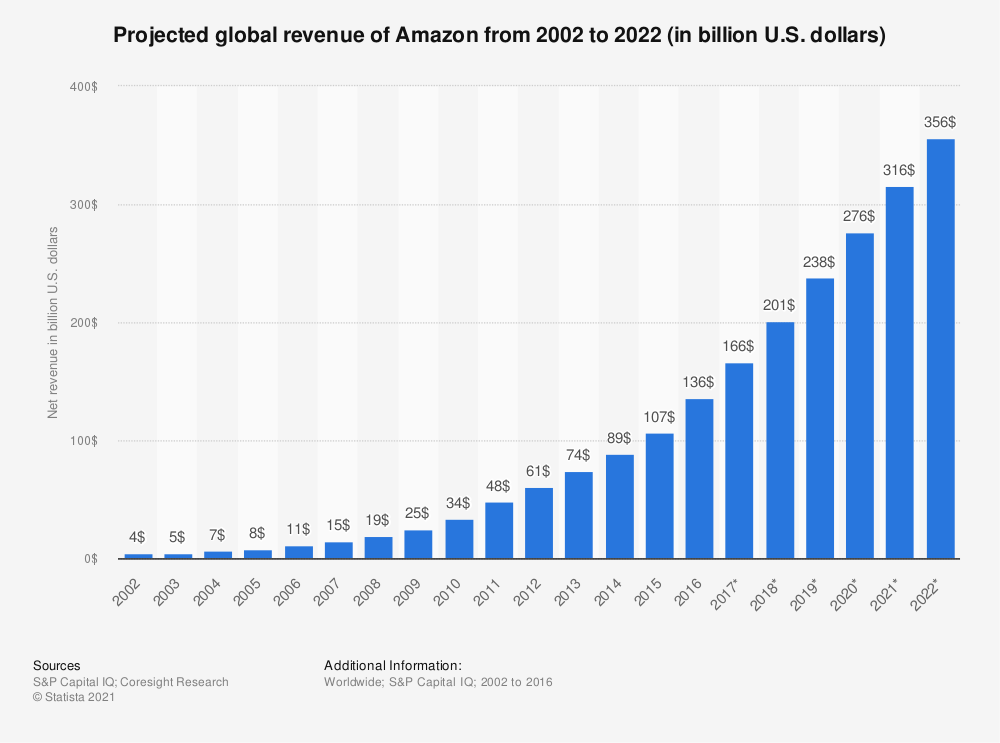 Source: https: //www.statista.com/statistics/745091/annual-net-revenue-of-amazon/
This has not failed to raise alarm bells at Google, which has decided to act quickly by offering the possibility of adding products for free on Google Shopping.
The idea is to attract new sellers to bring more visibility to its Shopping service and become a reference for Internet users who search for products online
And we can say that this strategy has paid off since the announcement of the free product listings, Google claims to have seen a 70% increase in clicks and 130% increase in impressions, on average, for both the free ads and the ads in the Shopping tab in the United States.
But that doesn't mean Google Shopping is completely free. Paid ads are still a thing. This is just a strategy of the search engine to continue to compete with other e-commerce platforms and increase its advertising revenue
3.7. What are the different types of organic (free) results on Google Shopping?
Globally, the free results on Google Shopping exist in 2 forms
Standard results
And the enhanced results
3.7.1. Standard Google Shopping results
Generally, standard Google Shopping results present products with some descriptive information and are only visible on the classic Google results pages

They provide access to basic product information such as:
The product name
A brief description
A rating
Consumer reviews
And the availability in stock
3.7.2. Enhanced Google Shopping results
As the name already indicates, the enhanced Google Shopping results display much more information than the basic ones present in the standard results
Unlike the standard results, the enhanced listings are only visible in the Shopping tab of the Google results and are presented as a carousel of products
With an enhanced Google Shopping result, you can see for each product offered
The product name
A brief description
A rating
Consumer reviews
Availability in stock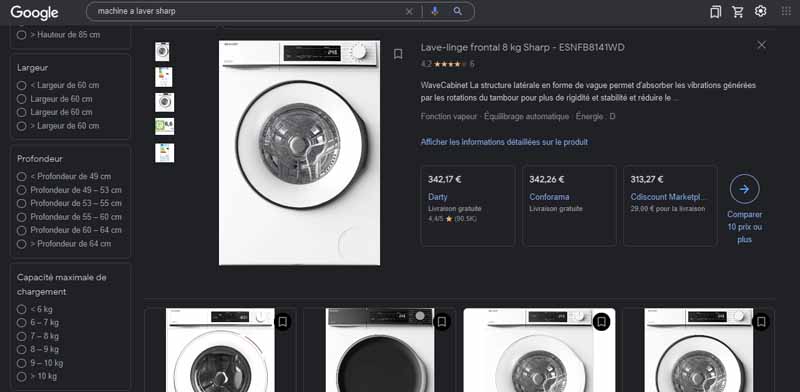 But also other additional details such as
A redirection link to the seller's store
A price comparison option with other retailers
Gender
Age group
Size
Pattern
Material
And many more
This form of result is more enriched and offers a more attractive presentation of the product
3.8. Where do the organic (free) Google Shopping ads appear?
As previously explained, thanks to the free Google Shopping ads, your products can be ranked on the classic Google results pages, Google Images and Google Lens.
But in concrete terms, here is how the search engine organizes all this
3.8.1. The Shopping tab
With the sneakers example, we got an overview of how Google displays products on Google Shopping. But it is only the enhanced results that are offered under this tab and they are accessible from desktops and smartphones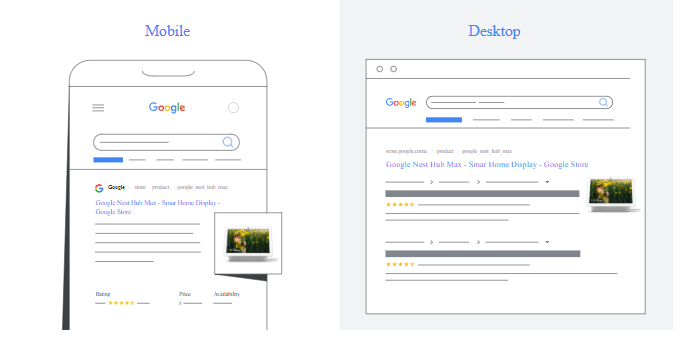 However, these items will only be visible in countries where the Shopping tab is available.
It should also be said that the free Google Shopping product listings are also accessible for physical stores
If you are a local retailer, for example, with a physical location, you can also list your products for inclusion in the Google Shopping tab.
To do this, it will be necessary to provide certain information such as your business hours, phone number, store address, etc
This information allows Google to propose your products to the surrounding internet users as being a nearby establishment
It is also possible to activate the "Buy from Google" feature to allow users to order your product directly from the Google Shopping interface. However, this option is only available in the United States at this time
3.8.2. The classic Google results pages
On Google results pages, your free Google Shopping products can be presented in 3 ways
3.8.2.1. Rich results
When users search for a particular product, retailer or brand, Google can display the product in the classic results as enhanced results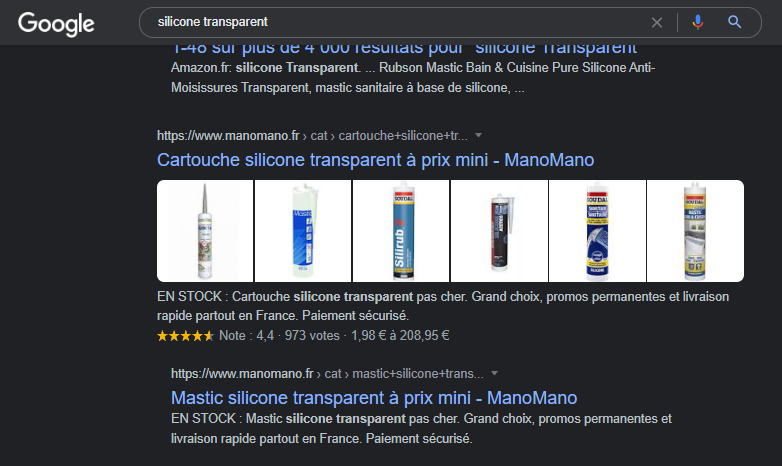 These results are distinguished by the additional information (price, availability, consumer reviews, etc.) that the search engine adds to the usual page title and meta description of organic links
Users can view these enhanced results from any country and any device (smartphone, tablet or computer)
3.8.2.2. Popular items (clothing and accessories)
If you sell clothing, bags, hats, shoes and other items in the clothing and accessories category on Google Shopping, your free ads may appear in the "Popular Products" list.
This is a section that allows users to access the most popular products associated with their searches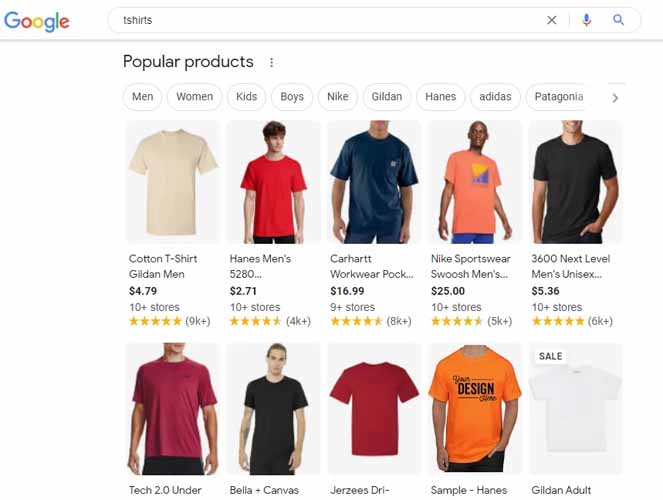 Once a user clicks on a product, a pop-up window appears on the right side of the screen displaying details about the product as well as other similar products from other sellers
In SEO jargon, this window is called the "knowledge panel"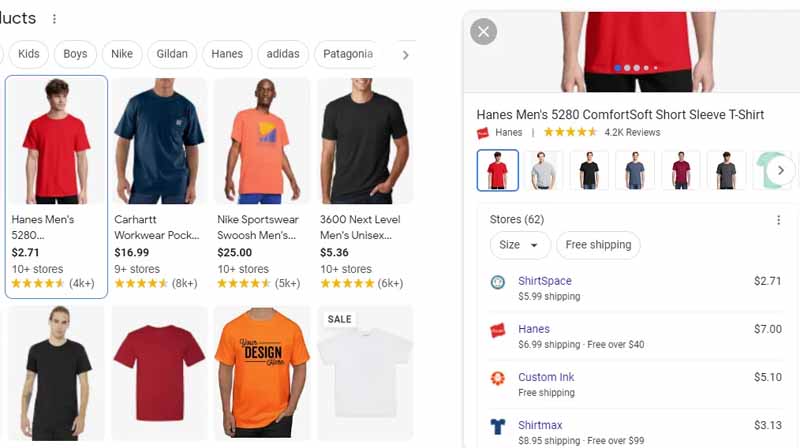 3.8.2.3. The Top 24
As you can already guess, the Top 24 is a new form of presentation of Google Shopping results that ranks the first 24 relevant results of a query
Just like the results ranked in the "Shopping" tab, the Top 24 ads appear specifically for product searches
When one searches for "smartwatches" on Google, for example, a Top 24 ad is offered in the results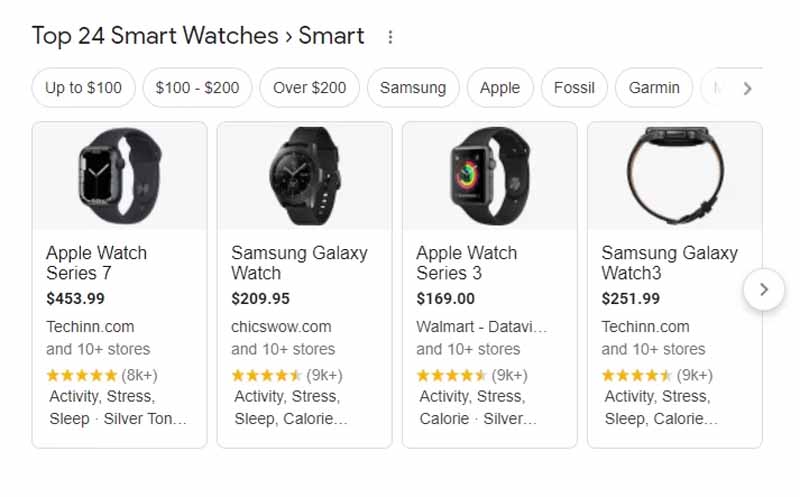 On the other hand, when one specifies "apple smartwatch", the Top 24 ad list is no longer proposed in the results
For the Top 24 section, we have a palette of filters to better refine the search results, exactly as the "Popular Products" ads work
And for each product clicked, the knowledge panel also appears on the screen
However, the Top 24 section does not seem to be limited to a specific niche or product category
With this type of ads, your free Google Shopping products can be ranked in the results regardless of your niche and the items you sell.
3.8.2.4 Google images
Apart from these two locations (the classic Google results pages and the Shopping tab), Google Shopping product listings can also be visible in Google Images results
Typically, when the user queries a product or brand, Google may tag some images with a "Product" label offering the opportunity to purchase the product in question.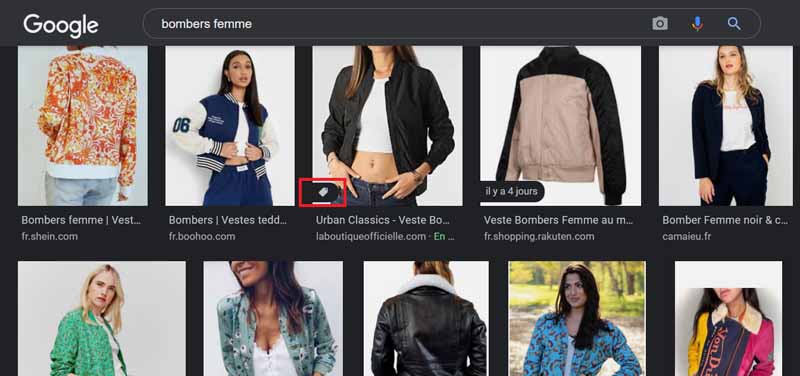 Once the user clicks on this label, he will be redirected to the product page to proceed with the purchase.
In addition, Google Shopping free product listings can also be ranked in Google Lens results
Here, when the user clicks on the "Lens" icon marked on an image, they will be able to access a stack of products similar to the original image
With Google Shopping optimization, there is a good chance that your product-related images will rank in these results to drive qualified traffic to your website.
3.8.2.5. YouTube
Google Shopping organic ads can also be ranked under YouTube videos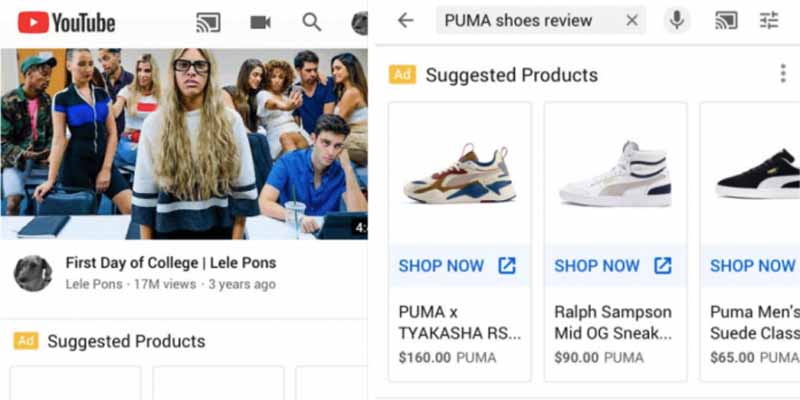 So if a user searches for a product on YouTube, it is possible that your free items listed on Google Shopping will be displayed in the video results.
However, this option is only available on mobile devices and limited to a few countries
Conclusion
Are you already a seller on Google Shopping? Or are you considering joining the platform? Either way, free ads on Google Shopping are a great opportunity that would be a shame to miss out on
Google Shopping campaigns have been shown to generate better conversion rates than text ads. A good visibility on Google Shopping would therefore greatly contribute to improve your traffic and your sales in store
You can stick to a free Google Shopping listing strategy or boost it with an ad campaign for more effectiveness
Ads could be used to get short-term visibility while SEO would be used to get quality and sustainable ranking over time
Throughout this SEO guide, dedicated specifically to Google Shopping, we have gone through all the techniques you need to implement to get your products listed for free on the search engine
I hope you enjoyed the content and that you will find it useful. If you have any questions or opinions to share, it will be a pleasure to read you in the comments
Moreover, if you lack the availability or skills to optimize your product listings for Google Shopping, Twaino agency has a team of experienced and passionate SEOs who will help you
With our experience in SEO, we will bring an expert look at your ecommerce site and your product sheets in order to establish a tailor-made SEO strategy and effectively attract new prospects to increase your conversions
Thank you and see you soon!