In order to propose a website as an answer to a given query, search engines proceed to a sorting in order to choose the sites they consider sufficiently reliable and useful to Internet users.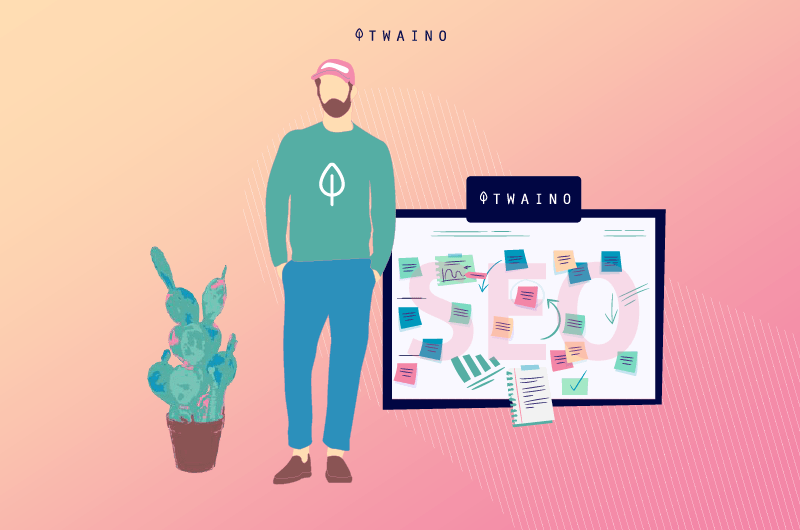 Google, the world leader in online search, uses more than 200 ranking factors to give each indexed site a deserved position in its search results.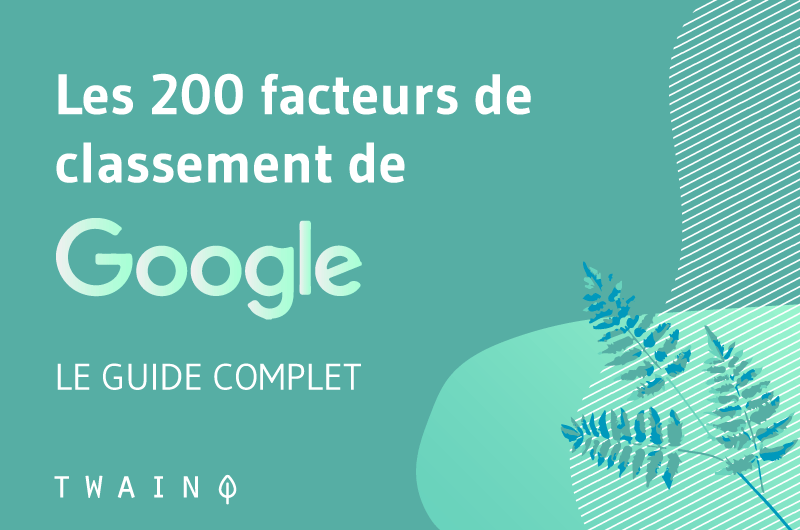 Faced with algorithms that are becoming more and more intelligent and demanding, how can you really succeed in making your website eligible and help it to rank well on search engines?
Of all the answers you may have read on the subject, I propose you today to discover the SEO strategies that I personally implemented, step by step on my site Twaino.
This is an SEO campaign that I have implemented since the creation of my site and that has allowed me to exceed 20,000 active visitors per month.
The content you're about to see is a case study that I've put together in the form of a business case to help you understand how I'm able to make real changes to my clients' sites and help them get more traffic.
Without further ado, let's take a look at this study, supported at times by captures of some performance indicators to give more credit to the content.
Let's go !
Chapter 1 : Presentation of Twaino SEO Agency
Before starting this business case, I would like to take this opportunity to quickly introduce myself.
1.1. Who is Alexandre Marotel?
So, for those who don't know me, I am Alexandre Marotel, SEO consultant and founder of the SEO agency Twaino.
These are contents that mainly revolve around digital marketing through which I try to share as much as I can, my knowledge of SEO consultant and web entrepreneur.
You can find these contents on:
If I had to summarize my background, I would say that I first graduated from business school with 3 years of professional experience abroad before I started my entrepreneurial career, especially in SEO.
Today, I am the founder of a SEO agency in Paris, Twaino, which is gradually building a reputation in the SEO industry in France.
To prove my expertise in the field, I hold the QASEO (Qualification d'Aptitude au SEO) which is a certification issued in France to attest the SEO skills of SEOs.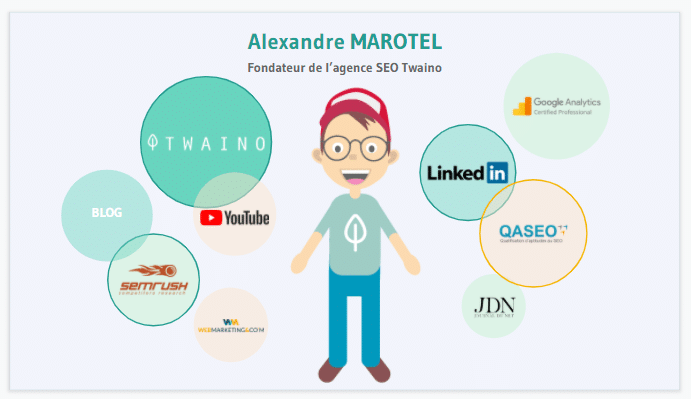 I also hold a certificate of achievement from the Google Analytic Academy.
But you might think that between degrees and work experience, there can sometimes be a big gap.
Well, I'll give you that, and in my defense, I've been helping business owners get visibility and new customers through search engines for several years.
In my previous articles, in the same format as the one you are reading now, I had the opportunity to present the action plan I use to help my clients' sites rank on search engines.
To follow the same structure discussed in those previous Business Cases, the client this time would be me, or at least my agency's Twaino site.
This may seem a bit contradictory, but for the sake of convenience, let's play along.
1.2. Presentation of the client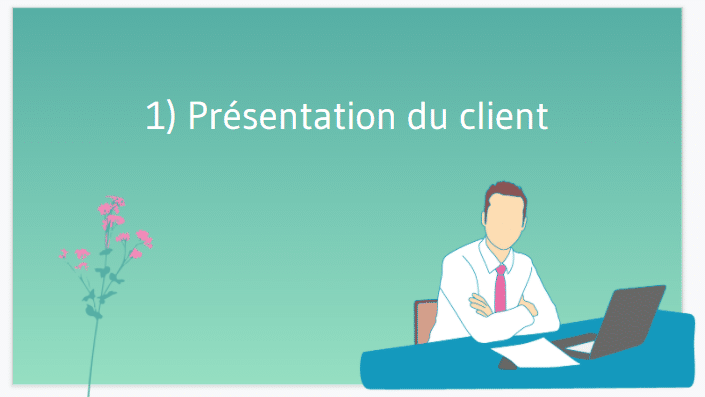 Twaino is an SEO agency headquartered in the 10th arrondissement of Paris with representations throughout other regions of France.
The main goal of the agency is to assist business owners in their projects to acquire more visibility on the Web in order to attract new customers.
To effectively meet the needs of its customers, the agency has set up a high quality referencing service that takes into account :
An SEO campaign ;

An SEO audit ;

An SEO study of the competition ;

Proposal of content ideas and SEO web writing ;

Creation of personalized visuals ;

And online SEO training.
The brand wants to differentiate itself from other SEO agencies and opts for a rather singular policy namely :
A referencing service turned exclusively to natural referencing, the SEO. This means that Twaino does not offer to buy links or advertising campaigns to improve the visibility of its customers.
Regulatory techniques that comply with search engine guidelines. Although some SEOs unscrupulously attempt to circumvent search engine algorithms, Twaino remains ethical to ensure that its clients rank consistently and without penalty.
A personalized approach based on clients' challenges and difficulties. At Twaino, not all clients are entitled to the same intervention program. To ensure the effectiveness of these SEO campaigns, the agency takes the trouble to listen to its clients and audit their sites before deciding on the course of action to take.
A methodology that is easy to measure to evaluate the results of its branding strategy in complete transparency. Because performance is better proven with numbers than with promises, Twaino periodically shares with its clients the performance achieved on their websites through detailed and verified analysis reports.
To give an image of the quality of its SEO services, Twaino's website is often ranked in the top results of Google for several queries with a domain authority that is progressively increasing: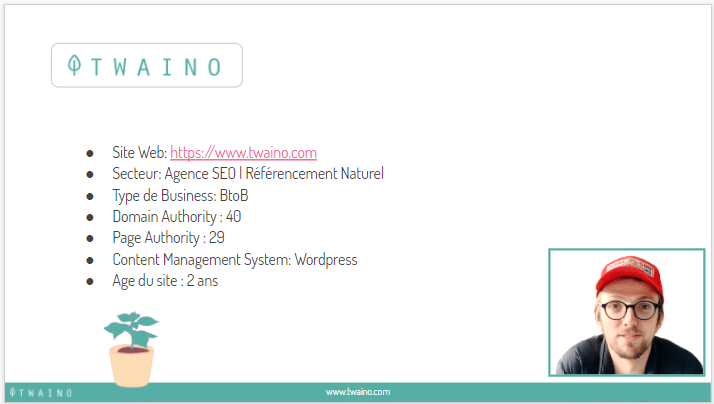 Website: https://www.twaino.com/
Sector : SEO Agency / Natural referencing ;
Business type : BtoB ;
Domain Authority : 40 ;
Page Authority : 29 ;
Content Management System : WordPress ;
Age of the site : 2 years.
Even though today the site is growing, it started small, much smaller than you can imagine. Let's find out in the next chapter.
Chapter 2: SEO Pre-Audit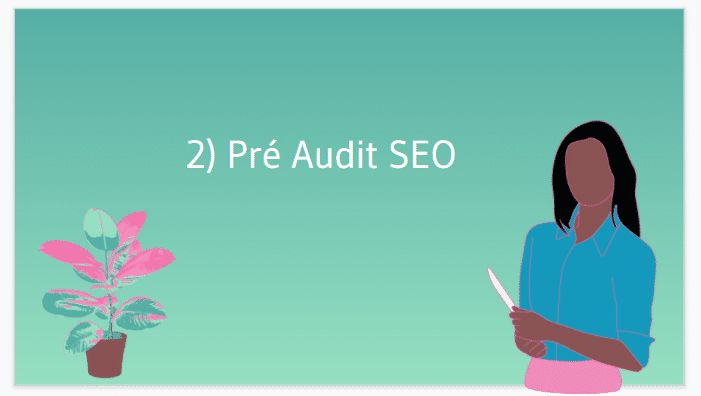 To work on the SEO of my clients' sites, I always start with a SEO pre-audit, to get a rough idea of the state of the site.
With Twaino's site, the pre-audit revealed the following data:
2.1. Aspect of the site before the redesign
It is agreed that before proposing a strategy to work on the SEO of a site, there should be at least a first contact with the site to appreciate its structure and user experience.
My first contact with Twaino's site, as part of this SEO campaign, was a simple visit, exactly as an average Internet user would do.
This visit allowed me to appreciate Twaino's home page and to suggest some adjustments for the site's redesign (we will come back to this in more detail in a later chapter):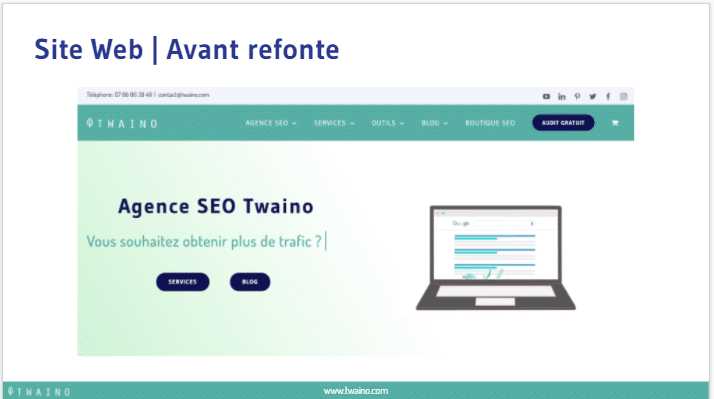 2.2. Overview of the site
Next, it was time to go through the site with an expert eye and this time I was able to collect the following data, the result of my pre-audit analysis: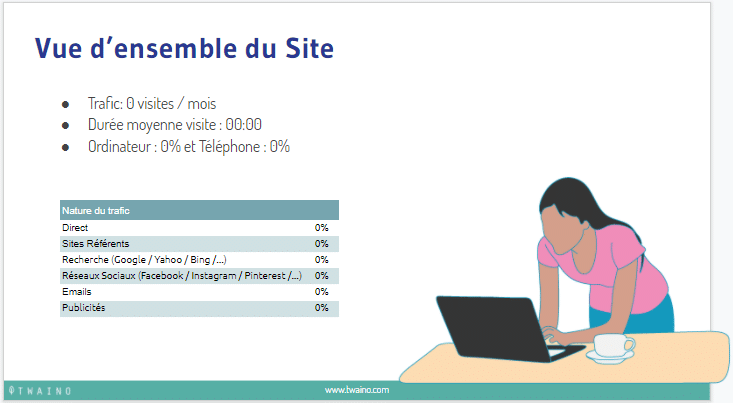 Traffic : 0 visits / month
Average visit duration : 00 : 00
Computer and Phone: 0%
Type of traffic
Direct : 0% of the traffic
Referral sites : 0
Search Engine : 0% Social Networks : 0% Social Media : 0% Social Media
Social Networks : 0% of the total
Emailing : 0%.
Advertising: 0%.
You will probably already have an idea about these pre-audit results, but to make it more explicit, it appears from these results that at its creation, Twaino's website was at 0 visitors per month.
As a result, whether from search engines, social networking platforms, mailboxes or even from a third-party site, no one tried to connect to the site.
That's when it was decided to actually start the SEO campaign in order to fix the situation and help the site to get visibility on the net and new customers.
Chapter 3: SEO Campaign – Process
As an SEO consultant, it is my responsibility to find the best approach to ensure that my clients' goals are effectively met.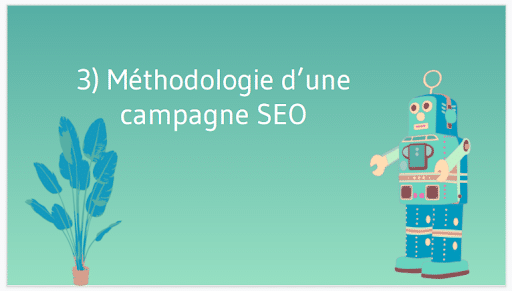 But that sounds easier said than done, since SEO is a field known for its complexity and all the efforts that must be made before obtaining any results.
In order to remain effective in my strategy and not end up with a sterile or counter-productive SEO campaign, I have set up a methodology, a sort of roadmap drawn in 3 main phases.
These are :
An SEO audit ;
A phase of optimization of the existing ;
The creation and promotion of new content.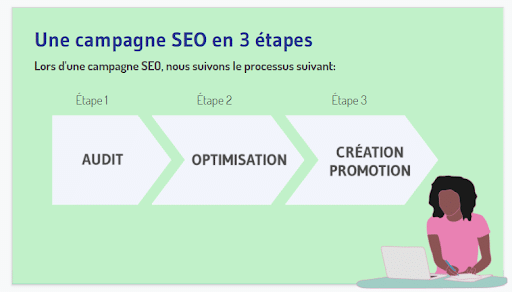 Technically, what are the tasks I perform during these 3 phases of my methodology?
3.1. SEO audit
If you were a doctor, where would you start to find the right treatment to cure a sick patient?

You would probably answer with a diagnosis in order to know first what ailment the patient is suffering from. Well, by analogy, we could compare this medical diagnosis to the SEO audit in my field.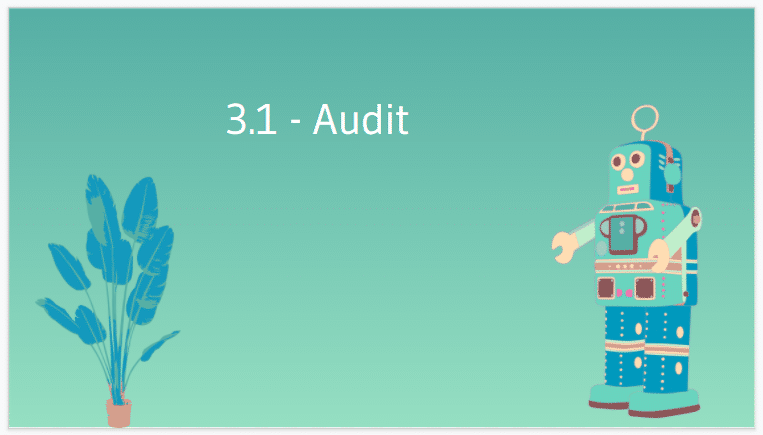 Indeed, it is during the SEO audit that I diagnose the "ills" from which my clients' sites suffer.
It is a step that allows me to understand why the pages of the site do not manage to occupy a good place in the search engine results.
It is also during the SEO audit that I can identify the assets that can be exploited to improve the SEO performance of the site as much as possible.
The SEO audit itself can be a time consuming task with a report that can run into hundreds of pages.
It can be so complex that some SEOs don't find the time to implement all the actions they have planned to execute on the site after the audit results.
With my clients, my challenge is to perform a complete SEO audit that explicitly identifies a list of priority strategies to implement.
With Twaino, the SEO audit essentially consisted of :
Conducting a study of the competition;
Suggesting a review of the site's architecture;
And identifying the site's On Page opportunities.
3.1.1. Study of the competition
Chances are you already know of some great competing brands that offer exactly the same services as you do in your business.
But when it comes to quoting your competitors on search engine pages, the question becomes more delicate, since your competitors on the ground are not necessarily the same on Google for example.
The study of the competition will allow you to target these SEO competitors who already have good rankings on search engines.
The goal of the competition study is to get the maximum of information from the strategies of the competing sites in order to better exploit them to reach your SEO objectives.
Thanks to the competition study, I can identify :
The strategies used by competing sites to improve their backlink profile;
The keywords that generate the most traffic to competing sites;
The strategies that work in your sector, but also those to avoid;
The weaknesses of your competitors in order to exploit them to produce something more competitive.
Like all other SEO techniques, competitive research also takes time and application. Fortunately, there are some SEO auditing tools that can simplify the process.
With Twaino, these tools allowed me to accurately examine:
The Domain Authority of competing sites;
The different sources that drive traffic to competing sites;
And the construction of competing sites.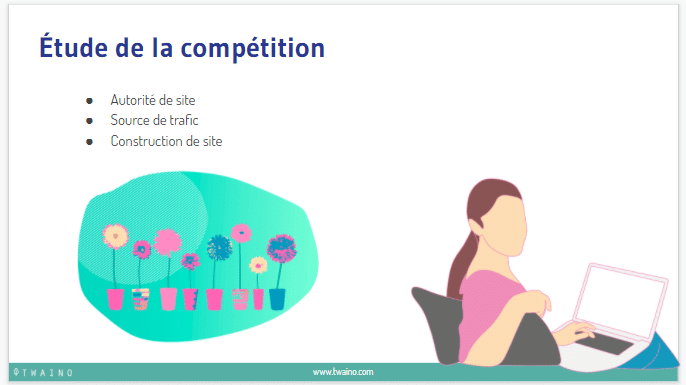 Only sites with a high Domain Authority score, a diverse traffic source, and a well-structured architecture were targeted as important competitors of Twaino on the Web.
3.1.2. Reviewing the Site Architecture
Site architecture is often overlooked when considering Google ranking factors. Yet, it is an important aspect without which all the traffic acquired on the site could bounce back.
Note that a website can lose a lot of its traffic if it doesn't guarantee a user-friendly experience for its visitors.
You certainly won't want to continue your session, let alone come back to a website that has kept you going in circles for a long time without finding the information you were looking for.
But concretely, what do I mean by offering a user-friendly experience to visitors? Well, it's managing to offer:
A fast and responsive website ;
An easy and fluid navigation;
A successful internal and external linkage;
A pleasant and uncluttered design.
Basically, offering a user-friendly experience means succeeding in satisfying the visitor by bringing together everything he or she needs for a useful, simple and pleasant environment.
And this is what I tried to offer to Twaino's visitors by :
Proposing a new SEO architecture;
Conforming this new architecture to the client's needs;
And by categorizing the site's content.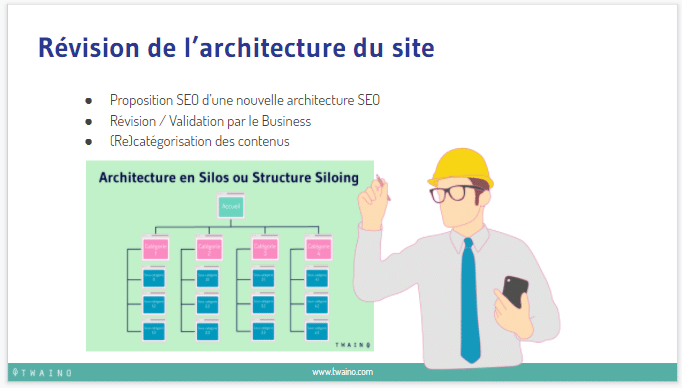 Technically, this means "redesigning" the entire Twaino site and making new improvements. To begin with, I thought it would be useful to highlight the company's contact information.
The first element of the home page provides information:
The agency's phone number;
Its email address;
And the agency's YouTube, LinkedIn, Pinterest, Twitter, Facebook and Instagram accounts.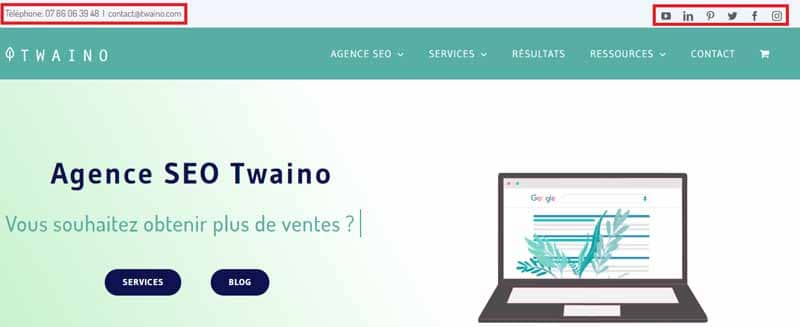 The idea is to keep the agency's contact information in plain sight so that the web user can easily contact them if needed and regardless of their location on the site.
Then comes the menu bar which includes :
The logo and the mention of the agency's brand, Twaino, to return to the home page at any time;
A main menu composed of 5 modules (SEO Agency, Services, Results, Resources, Contact);
A logo in the shape of a supermarket cart to access the agency's sales store.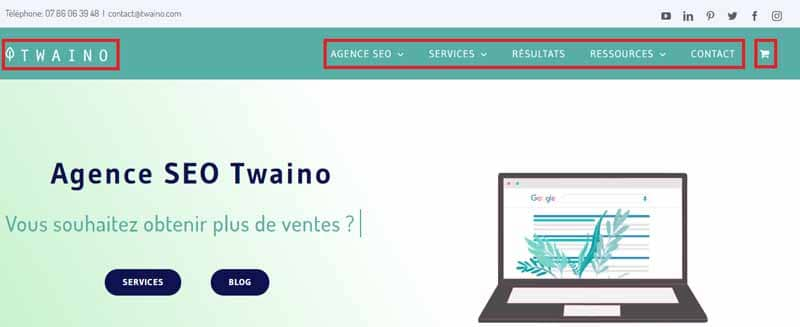 For the rest of this first visible part of the homepage, many websites choose a background image with some inscriptions on it.
For Twaino's site, I preferred to put a short animation to make the homepage a little more dynamic.
On your right, you'll notice a piece of text that scrolls in a loop reminding you of the agency's main goal: Helping businesses get more traffic, more customers and more sales.
I then thought to occupy the left side of the screen with another animation that shows young tree shoots gradually growing on the Google search results page.
It's a way of saying that just like a young shoot that needs maintenance to grow, at Twaino, we provide all the necessary attention and delicacy that your site needs to grow on search engines.
For us, if we could compare your website to a garden, we are the gardeners.

I have also integrated on the Twaino site, a system of collecting emails to periodically send special offers to registered members.
It is a subscription to the newsletter of the agency giving free access to an exclusive video reserved for members.
This video presents :
An effective SEO strategy;
A clear action plan;
And exclusive SEO tips.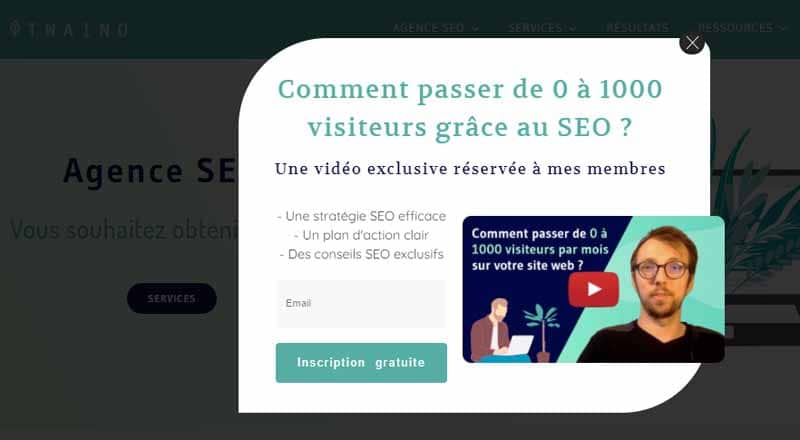 In order to offer a better experience to visitors, I proposed to set up cookies to make the pages load faster the next time users connect to the Twaino site.

A notification bell was also added to allow users to be alerted (without even being connected to the Twaino site) as soon as new content is published.
Then, by scrolling down the homepage a little, the user will come across a short presentation of the agency. This is a 2-minute video in which I briefly introduce myself and the objectives of the Twaino agency.
Continuing down the page, the user will discover the services offered by Twaino Agency, divided into 4 sections. These are :
SEO Campaign;
Natural referencing ;
Web writing ;
SEO Audit.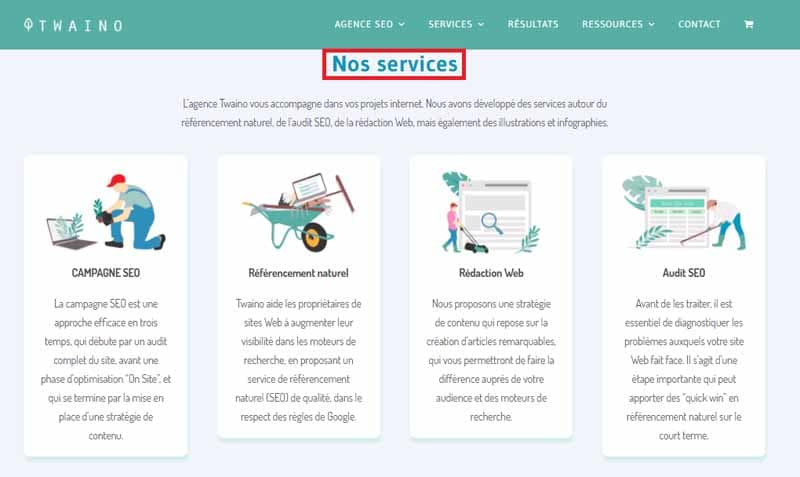 Each of the 4 sections links to a more detailed description of the service it represents.
I also found it useful to remind you of my SEO campaign methodology which is divided into 3 phases:
Audit
Optimization
Creation and Promotion.

I then presented the principles that Twaino has remained faithful to in order to guarantee quality SEO to its clients and that distinguish us from other SEO agencies on the market.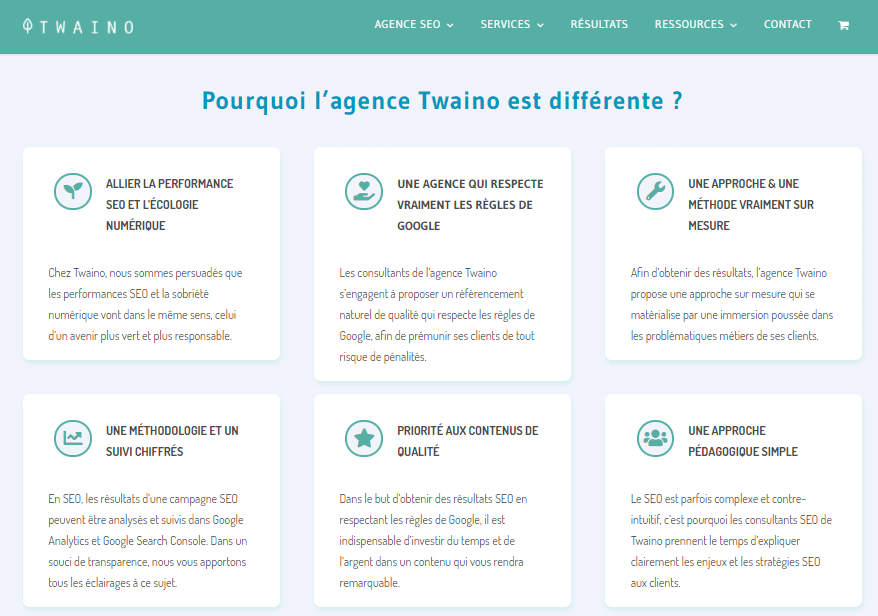 It must be said that we at Twaino have always taken pride in our work, which is why we never miss an opportunity to transparently present the SEO performance we have achieved on our own site.
So I've added another section called "SEO Performance" where users can see:
The number of visitors Twaino receives per month ;
And the main sources of this traffic.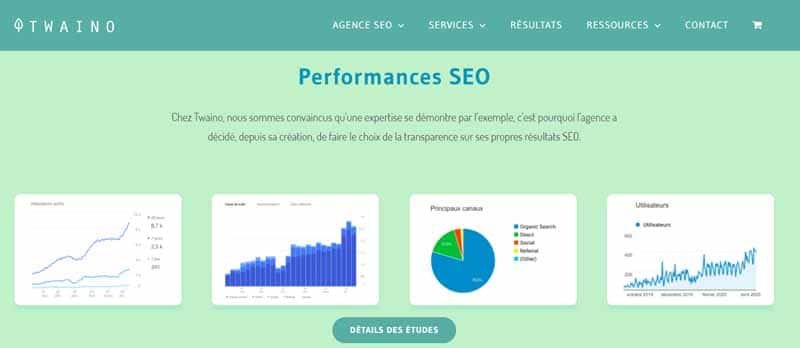 This is data collected directly from Google Analytics and Google Search Console that we share with our visitors to show our expertise, but also to show all the performance that can be achieved ONLY through SEO.
Although I've already displayed the agency's contact information at the top of the homepage, I thought it was important to create a "Contact" section that still includes Twaino's contact information.

The idea is to allow users who might have missed seeing the agency's contact information to catch up by discovering this section.
But this time, they can either contact the agency directly or schedule an appointment for an interview.
Depending on the availability of my agenda, an email will be sent to them mentioning the time and date of the interview.
At Twaino, we don't just take care of the SEO of our clients' websites, we also provide online SEO training to help our clients get started or even work on the SEO of their website themselves.
Another section "Our SEO trainings" has been added to allow visitors interested in the program to register.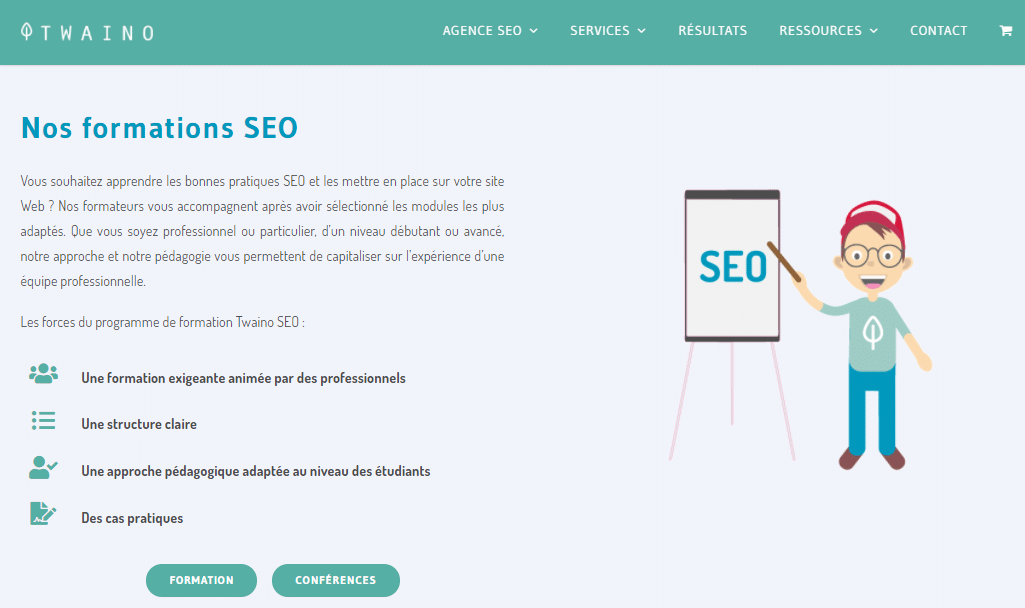 Twaino is also an SEO blog that visitors can access from the menu bar or directly from the home page by scrolling to the "Blog" section.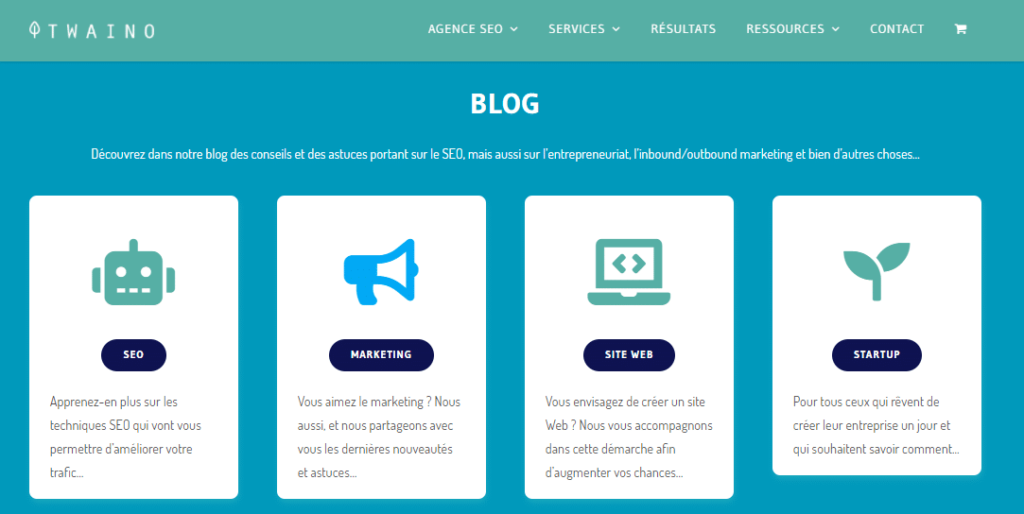 To make it easier for Twaino visitors to find information, I proposed a categorization of the articles published on the site's blog following the silo model.
This is a data organization model that recommends grouping articles by theme with an internal linking system that allows articles that share the same theme to be linked together.
With Twaino's blog, I proposed to organize the published content into 5 main themes namely:
SEO ;
Marketing ;
Website ;
Start Up.
It would also be interesting to present the latest content published on the agency's blog. So I proposed to add another section "Our latest articles" with a button "All our articles" to discover the rest of the contents of the blog.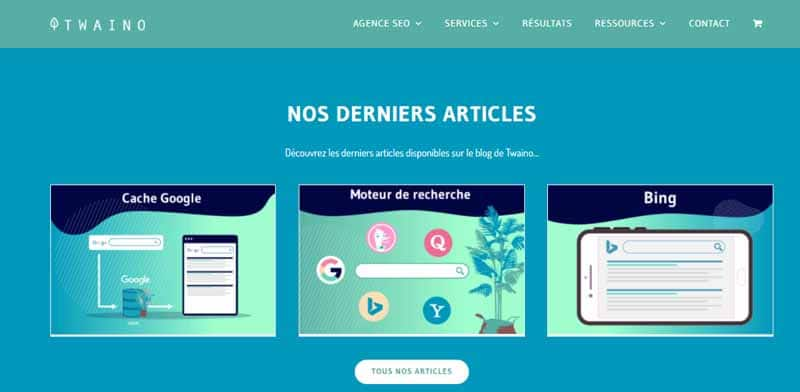 With all these sections, you can say that the homepage is anything but empty, yet there are still a few elements to add to create a more complete homepage.
As presented in the first chapter, I also have a YouTube channel on which I share video content always related to SEO and digital marketing in general.
Users can view some of my videos on the Twaino homepage or go directly to the channel to see all my videos.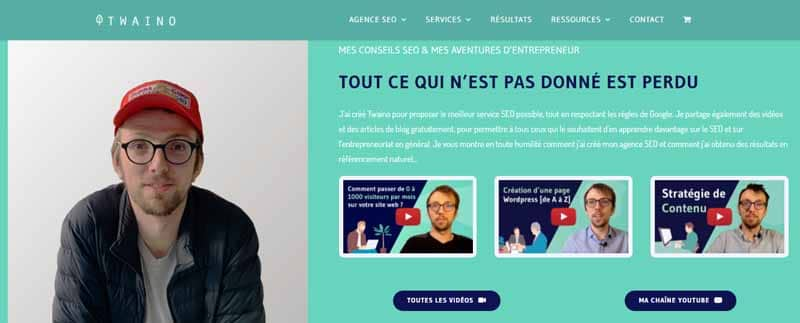 Statistically, it is proven that 88% of consumers trust online reviews as much as recommendations from family and friends.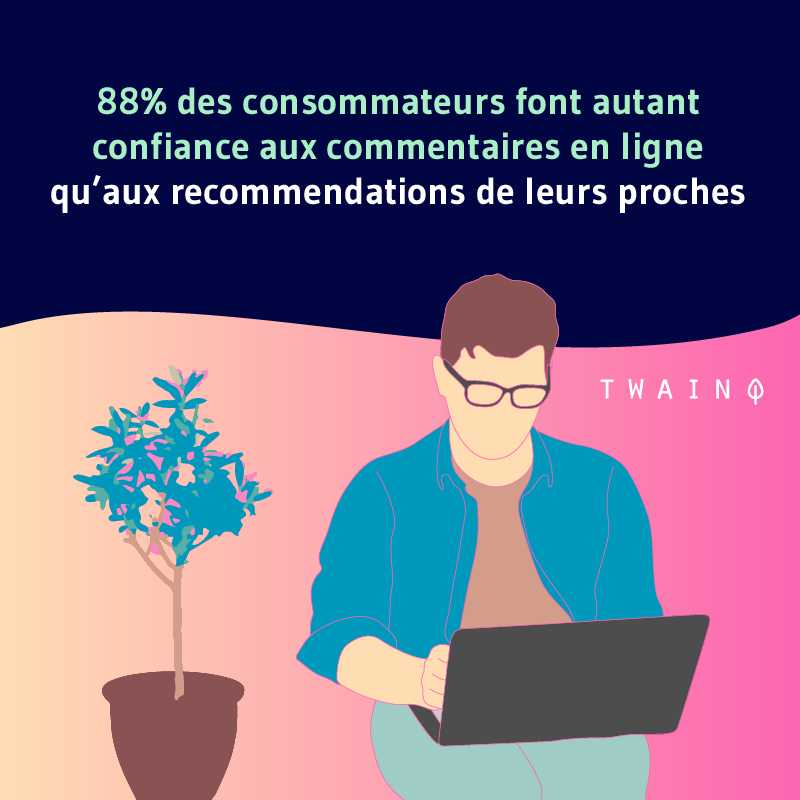 Since Twaino receives rave reviews from its customers, I suggested presenting these customer reviews to reassure new visitors about the quality of the agency's services.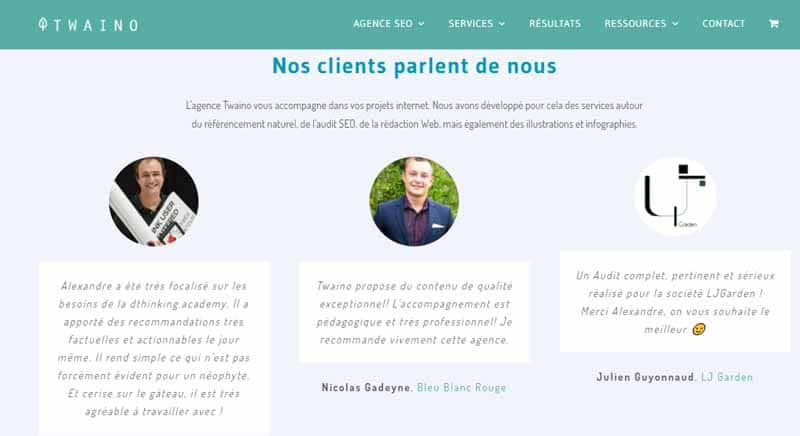 Finally, I had to organize a footer for the site. The footer of Twaino's website contains the following elements
The site map to allow visitors to consult the entire site architecture in a single space.
Contact to contact the agency.
Blog to discover the articles of the site.
Recruitment to recruit new talents to join our team.
Cookie policy to find out how the agency manages data in cookies.
A list of social network accounts on which Twaino is present to join the brand's community.

3.2. Identifying On Page Opportunities
In SEO, the term On Page refers to techniques that can be used on a web page to improve its ranking on the SERPs.
Usually for sites that already have significant existing content, I proceed to an On Page problem identification.
But since Twaino's site was almost empty of content at the beginning of the campaign, the work here was more about identifying On Page opportunities.
Essentially, this comes down to keeping good On Page practices in sight for:
Successful internal linking;
And Title, Meta Description and Hn tag optimization.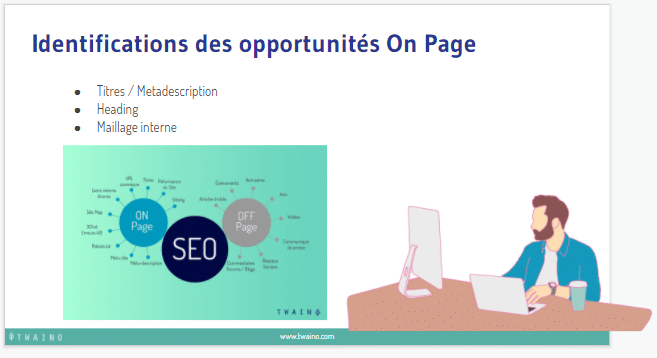 3.2.1. Good practices for successful internal linking
We talk about internal linking when there is a network of hyperlinks on the site that allow the user to start reading from a given article and then gradually discover other articles that address advanced concepts (or related) on the same topic.
When successful, internal linking provides a better user experience and makes it easier for search engines to crawl the pages.
But inserting links without any strategy could affect the ranking of pages and sometimes lead to Google penalties.
With Twaino, the work at this stage was mainly to consider good SEO practices for internal linking.
These include:
Create enough content ;
Avoid linking back to the home page;
Prioritize visitor satisfaction and engagement when inserting links;
Use a reasonable amount of internal links;
Etc.
3.2.2. An optimization of the Title, Meta Description and Hn tags
Unlike a physical salesman who can use his smile or his warm welcome to stop passing customers, you, on the Net, only have a few words to attract the attention of the intentions.
That's why page titles, meta descriptions and headings at various levels within pages must be flawless to really entice visitors to consume your products.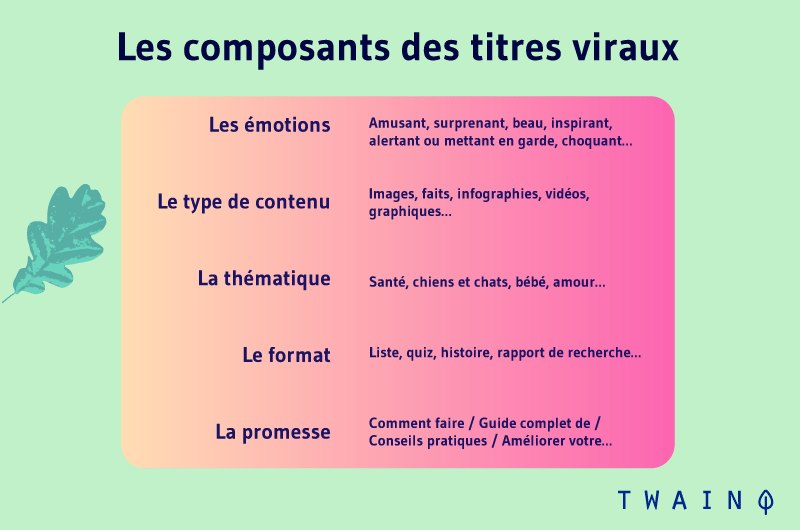 In addition, explicitly stated and properly optimized titles serve as a sort of benchmark for search engines.
They allow the engines to understand without ambiguity the theme of the page in order to better rank it when a user searches for this same theme.
With Twaino, to make sure I created powerful and SEO optimized titles, I made sure to :
Avoid using duplicate Title and Meta Description tags;
Avoiding titles and meta descriptions that are too long or too short;
Avoid missing Title and Meta Description tags;
Insert at least the important keywords of the page in the Title, Meta description and Hn tags.
Once the SEO audit was conducted and the SEO opportunities identified, I was able to move on to the next and final step of my campaign.
3.3. Creating and promoting new content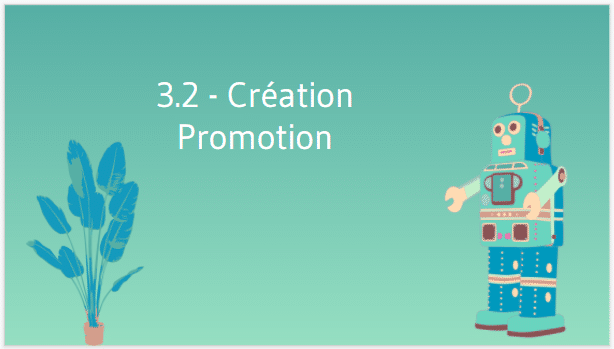 I integrated the creation of new content into my SEO campaign methodology for the simple reason that content is ROI when it comes to SEO work.
Creating an attractive website with a nice presentation of your services is not enough to attract customers to you. It is up to you to make the first step and meet your customers.
This is where content marketing plays an important role in SEO. Already, notice that if a site were to rank on Google, technically, it is not the whole site that is ranked, but rather a page of the site.
Now, the question you have to ask yourself is: If I were to count on my home page and my service pages, how many times will my site be represented on Google?
Well, in this case I don't think most sites will exceed 10 pages. Which is probably not very much when you know how tough the competition is on the search engine pages.
By creating several articles on interesting topics in your industry, you will maximize your chances of being represented several times on the first page of Google.
Content marketing is nowadays almost unavoidable if you want to get quality traffic that will last over time. And many marketers have understood this.
Statistically, 90% of marketers use content marketing in their branding strategy and 53% of them make it a priority even if it means allocating an average of 31% of their budget to create new content.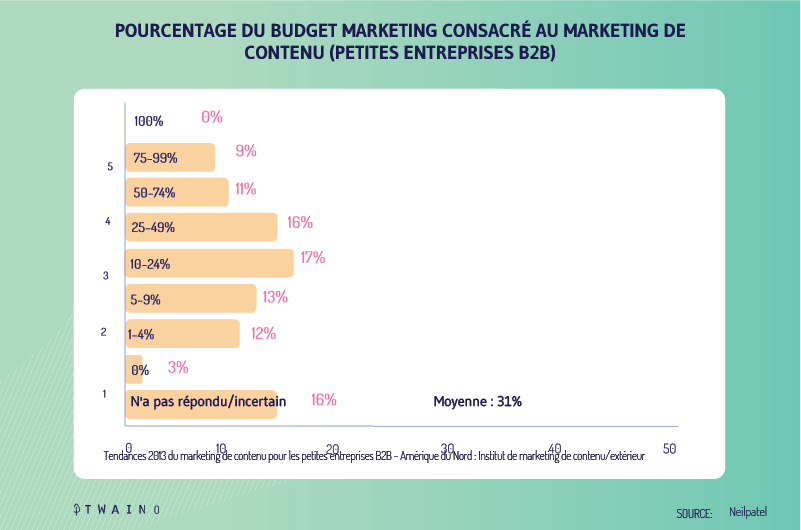 But as you might already expect, content creation requires certain rules to be strictly followed lest you ruin all the SEO efforts that have already been made so far.
This is a very delicate stage during which I strive to create quality content that is fully optimized for search engines.
With Twaino, content marketing has essentially consisted of :
Identifying high-potential topics;
Creating new content.
3.3.1 Identifying high-potential topics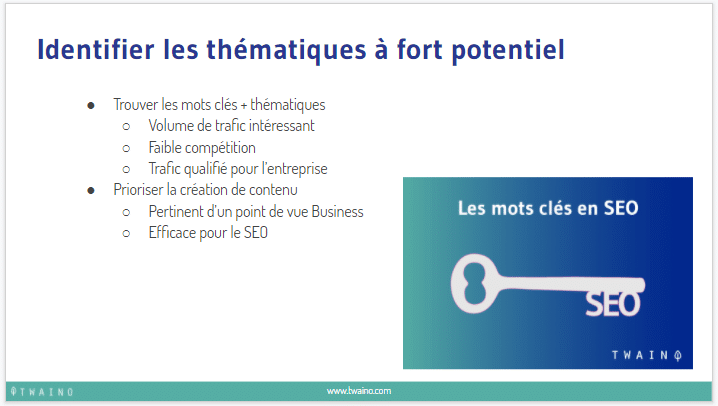 Before even trying to apply writing and optimization techniques, it is important to first find interesting topics that really grab the attention of Internet users.
For this, some SEOs rush to the first keywords most searched by Internet users hoping to attract traffic to their site.
However, identifying a high potential keyword is not only about a high search volume, it is not the only metric to take into account.
The fact is that behind each keyword, there is another metric, the "Keyword SEO Difficulty" which, as its name indicates, allows to evaluate the difficulty to occupy a good place with this keyword on Google.
So a keyword can be highly searched, but yet difficult to reach for some websites, especially the smaller ones that have a low domain authority.
At the beginning of my campaign with the Twaino website, targeting highly competitive keywords would be counterproductive for the expected results.
In addition, a website can be well positioned on a query, attract traffic, but ultimately record almost no conversion. Let's take the example of the queries "what is the role of a cookie?" and "why do an SEO audit?".
As an SEO consultant, even though the cookie query turned out to be the most requested, the audit query is more beneficial to me in terms of conversion.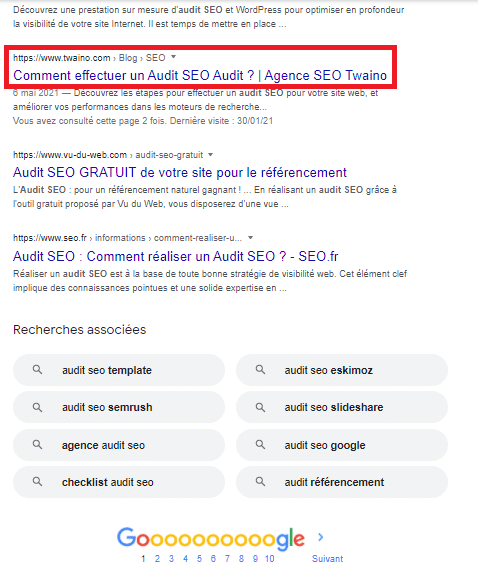 Notice that with a well-detailed SEO audit content, I'm more likely to get audit requests from people. This represents conversions for my business.
But that doesn't mean that I should systematically avoid targeting low converting keywords. They are more recognized to generate more visitors.
So, yes I need conversion to make my investments profitable, but I also need traffic to strengthen my visibility on the Net.
So it's all going to come down to gumption to decide which keywords have the highest priority. With Twaino, I combined 3 metrics when searching for keywords to make sure I only choose terms that will really benefit the site.
So for each potential keyword, I basically had to look for:
Interesting search volume; ;
Affordable SEO difficulty;
And a good conversion rate.
Only the themes that manage to accumulate good scores for these 3 different metrics can be qualified as high potential keywords for the site.
3.3.2. The creation of new content
Now that the right keywords have been selected, the creation of content can begin. The objective here is to take advantage of all the work that has been done so far to produce 100% SEO friendly content.
I also respected some rules specific to web writing, namely :
Prioritize the quality of articles over quantity;
Write excellent paragraphs in such a way as to reinforce the performance capacity and the SEO effect of the contents;
Inserting secondary keywords to support the main terms and broaden the semantic scope of the article;
Optimize the images of each article for their referencing in Google Images;
Improving headings, titles and meta descriptions.
This is where my SEO campaign ends, but we can only really talk about the end after measuring the results obtained after the campaign.
What changes have been observed on the site since the beginning of the campaign?
Have these changes actually improved the SEO performance of the site?
These questions will be answered in the last chapter.
Chapter 4: The results of the SEO campaign
It is important to measure the results obtained at the end of each SEO campaign in order to better appreciate the different strategies used and if possible make some readjustments for optimal results.
It must be said that an SEO consultant has several dedicated tools to evaluate the effectiveness of his campaign.
Among the most used and most effective, we can mention :
Google Analytics
Google Search Console
AHrefs.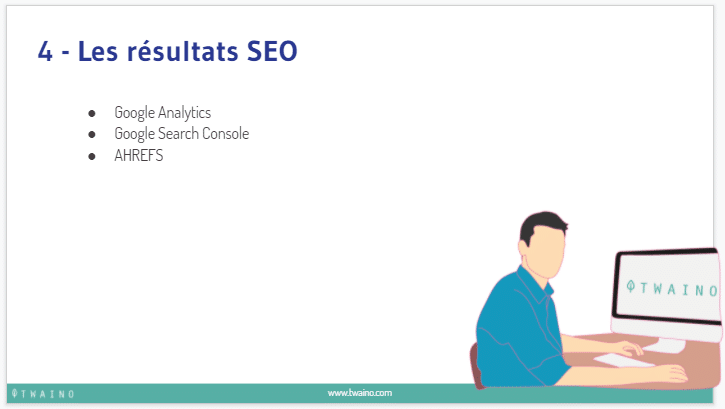 Let's now look at the analysis report that each of these tools reveals.
4.1. Google Analytics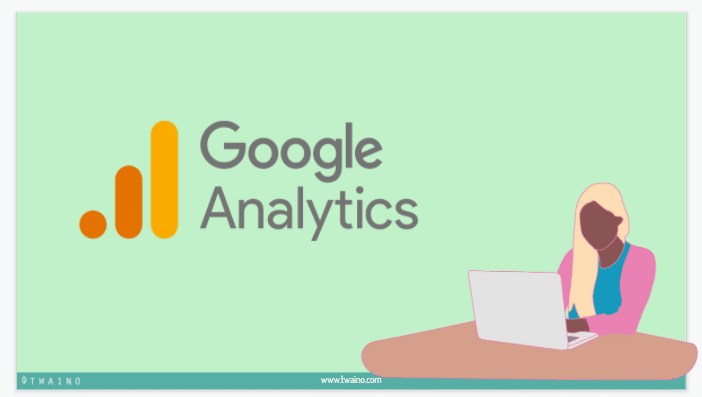 The first important report to check on Google Analytics is the "Overview" report.
This is the same report that gave me an idea about the state of Twaino's site before the campaign was launched: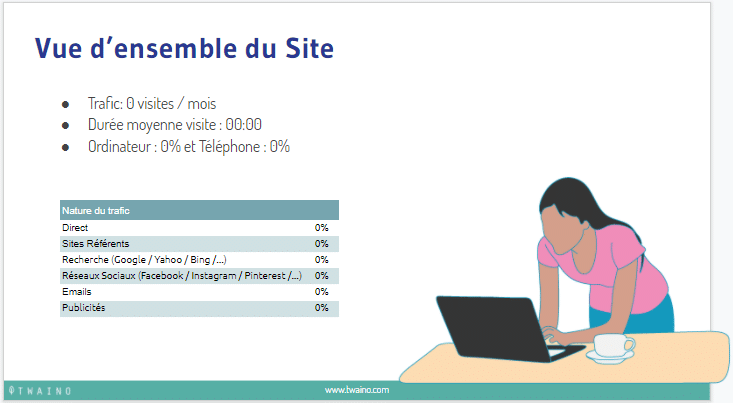 Traffic: 0 visits / month
Average visit duration: 00:00
Computer and Phone: 0%.
But 2 years later, here is what the "Overview" report revealed:
As you can see from the above capture, Twaino's site has reached the 20,000 active visitors per month mark.
A traffic that has gradually grown over time thanks to an SEO campaign that has been in place since the beginning.
The second interesting report provided by Google Analytics is the "acquisition report" which did not identify any traffic source at the creation of the site:
Direct: 0%.
Referral Sites: 0
Search Engine: 0%.
Social Networks: 0%.
Emailing: 0%.
Advertising: 0%.
But currently, Twaino's traffic is diversified and comes from all over the place:
Organic: 85% ;
Direct: 12% ;
Social: 1.6%;
Referral: 1.3%;
Paid: 0%.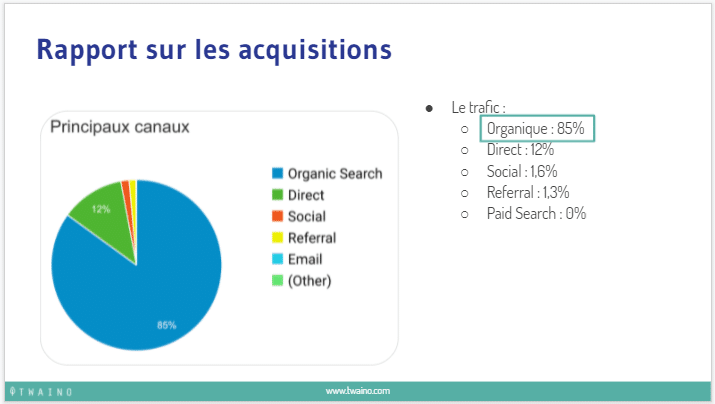 As you can see, organic traffic (coming from search engines) largely prevails over the rest of the traffic.
As for the paid traffic, it always remained at 0%, since as I had to remind it several times, I do not use advertising or any other form of paid marketing to work on the referencing of my clients' sites.
Moreover, it must be said that the architecture of Twaino's site has improved a lot since the campaign, especially thanks to the categorization of the contents and the new SEO friendly structure put in place during the redesign.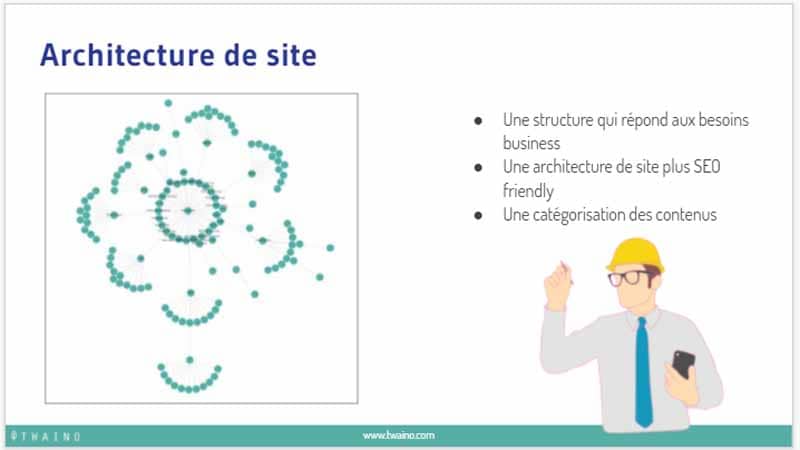 The third report that interests us on Google Analytics is the "Session by country" which provides a breakdown of traffic by country.
With the data obtained from this report, we can see that the Twaino brand is becoming better known internationally with users connected all over the world: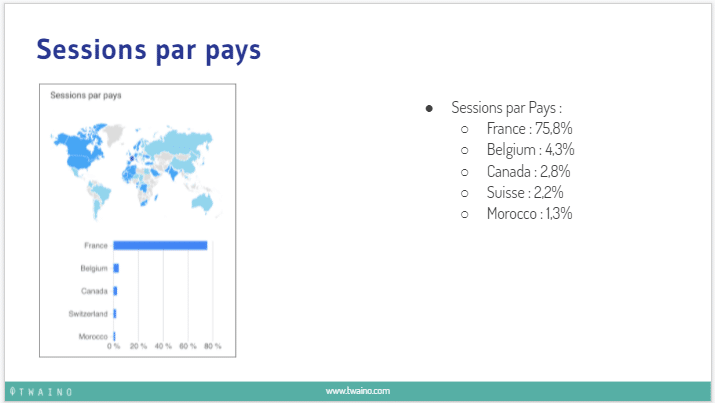 France : 75,8% ;

Belgique : 4,3% ;

Canada : 2,8% ;

Suisse : 2,2% ;

Maroc : 1,3%.
These are the important metrics we were able to analyze with Google Analytics. Now, let's look at the data collected on Google Search Console.
4.2. Google Search Console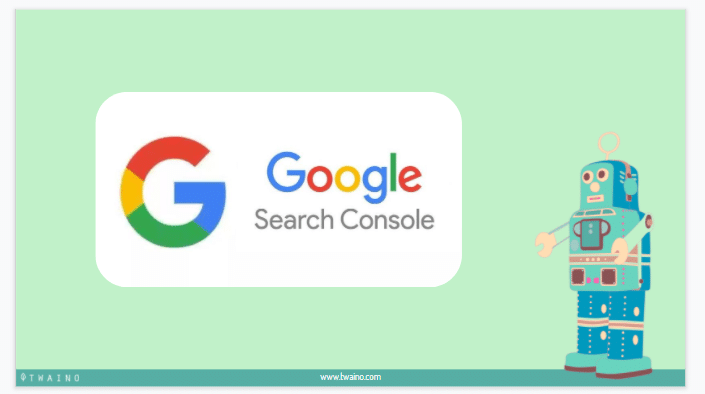 The data collected by the Search Console are in the same direction as those observed on Google Analytics.
For example, we can see in the image below that the "Total number of clicks" that the Twaino site receives is 176,000 with a representative curve that is growing.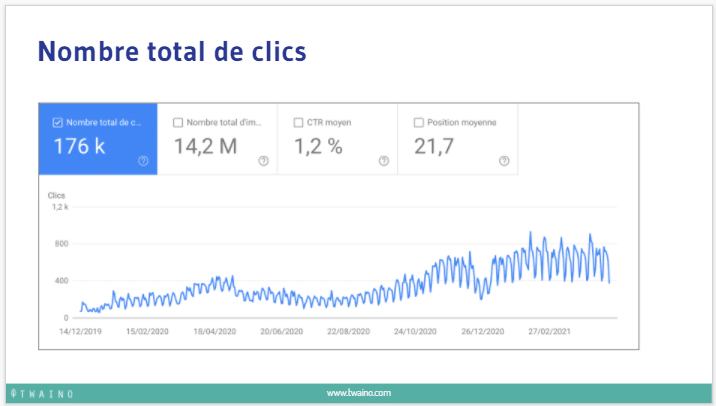 The same scenario can be observed in the "Total number of impressions" which has passed the 14 million mark.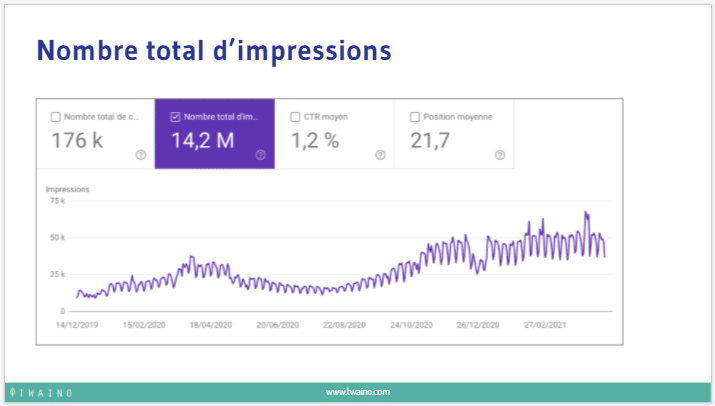 Basically, Google Search Console and Google Analytics reports all show a site that is doing quite well in terms of SEO performance.
But we are going to diversify the source of our reports and use this time a different tool than the ones offered by Google.
4.3. Ahrefs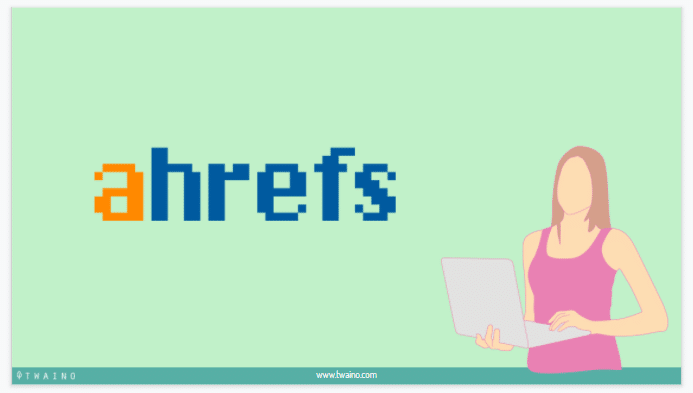 Even with Ahrefs, the previous trends recorded keep almost the same look: organic traffic is growing.
What's more, this traffic only really started to grow in mid-2019, confirming the site's 2-year age.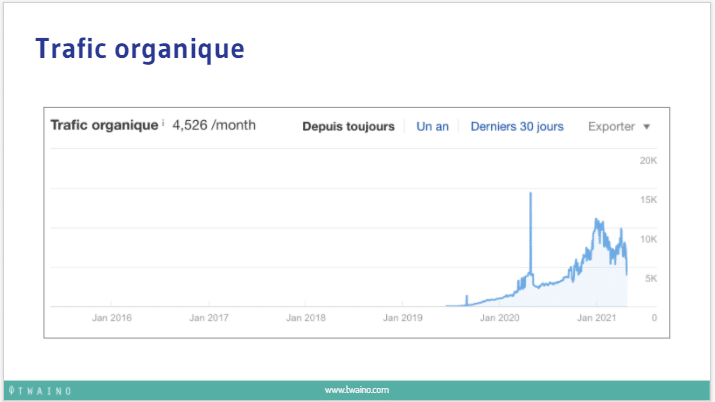 Not surprisingly, the number of targeted terms on the Twaino site is also growing with exactly 10,078 total keywords.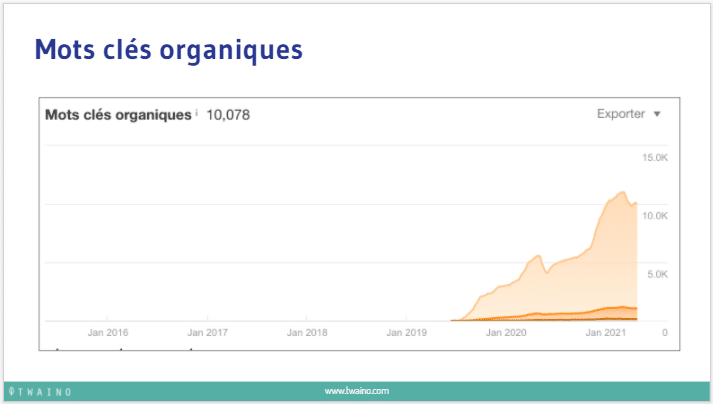 Moreover, along with the rest of Ahrefs reports, we can say that the domain authority of Twaino site is gradually increasing.
First of all, the site registers almost 300 referring domains. Referring domains are nothing but third-party sites that have cited the Twaino brand in their content by pointing a backlink to the site.
Typically, these are websites that have liked content published by another site to the point of redirecting their visitors to the site to discover the content in question.
This means that at Twaino, our content is so well-written that other sites do not hesitate to recommend it to their audience.
In all, Twaino is cited by nearly 300 referring sites for 610 referring pages: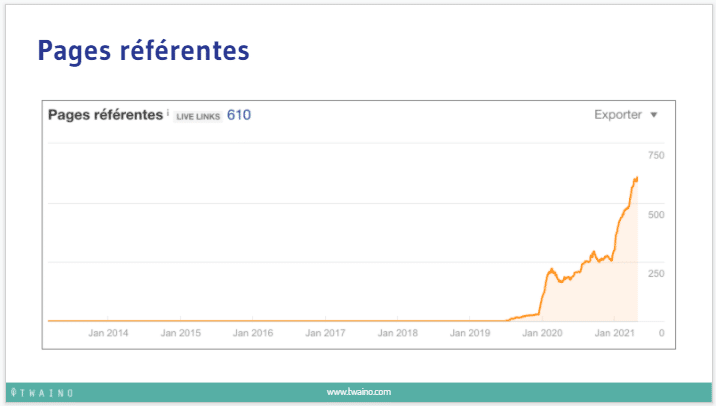 This has naturally increased the Domain Rank of the site to 40.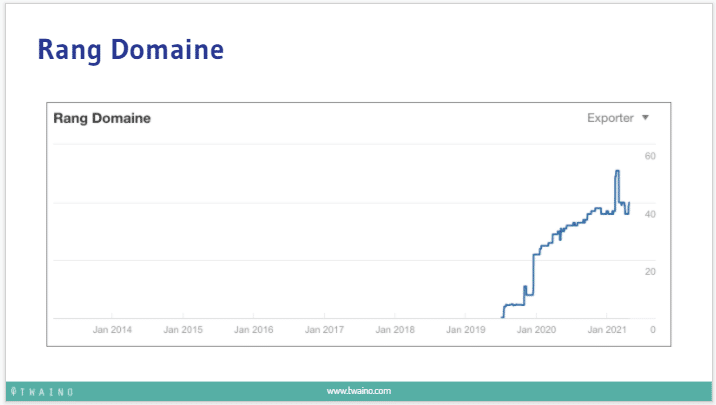 A rather average score that can be further improved, but that shows all the work done to reach this level of authority in only 2 years, and this without any advertising campaign or backlinks purchase.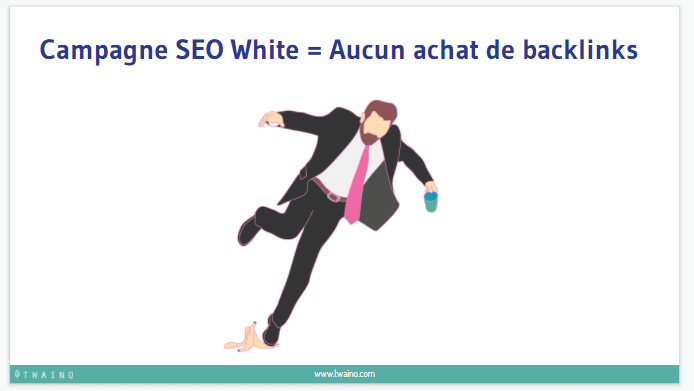 Basically, we can say that Twaino's SEO performance has improved significantly since the launch of my SEO campaign.
Whether it's monthly traffic, total number of clicks, number of acquisition sources and targeted organic terms, the site has seen a nice growth that continues to climb.
Results of rigorous and methodical work that gives me comfort when I look at how far I've come from scratch.
In summary!
Thank you for reading this business case to the end. I hope it really gave you a plus and realized how much an SEO white campaign can improve the visibility of a site on the Net and generate new visitors.
All the SEO strategies explained throughout the article are techniques that you too can apply to get good results.
But if you find that you're too busy to get down to learning SEO or if you're already using an SEO strategy that's not very (or not at all) successful in achieving your marketing goals, Twaino is ready to help you.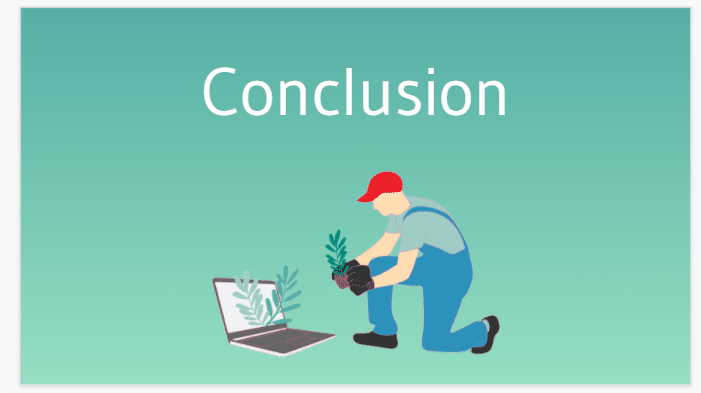 Thanks to our high-end SEO services applied in strict compliance with search engine recommendations, we are guaranteed to bring you more traffic to expand your address book and increase your sales.
As you have seen throughout this case study, our intervention systematically begins with an SEO audit to identify and solve the problems that undermine the performance of your site.
The existing content will be improved during the optimization stage. And finally, a content creation stage will be launched to maintain the performance obtained on the site and take on other more competitive challenges.
Contact Twaino
If you need to entrust the referencing of your site to a competent SEO agency, do not hesitate to contact me:
PARIS
20 passage cardinet, 75017 Paris
Téléphone: 07 86 06 39 48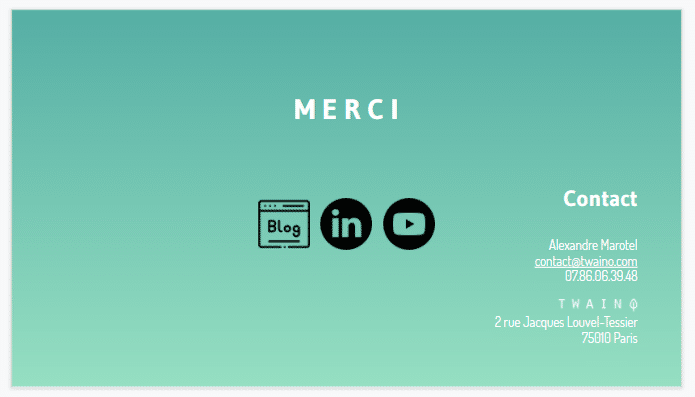 Merci et à bientôt !