Reaching Internet users when they're ready to discover new products and services… That's the challenge that Google has taken up with Google Discovery ads. This type of ad captures the attention of your target audience while they're ready to search.
With the rise of artificial intelligence in recent years, Google intends to take this AI-powered service a step further. The service is changing its name altogether, and the American firm has officially announced the roll-out of the beta version of its successor.
In this article, we take a look at the new face of this service, which Google calls Demand Gen, as well as the timetable for its roll-out.
So get ready!
Testing the new Google Demand Gen ad campaign type
From October 2023, advertising campaigns will no longer be the same at Google. The search engine is preparing to roll out Demand Gen, an artificial intelligence-powered campaign type that the American firm is currently beta-testing.
Google has begun the transition from the old Discovery ad type to the new one. This is according to Google Ads liaison Ginny Marvin's announcement on Twitter on August 15.
Some news on Demand Gen, which will take over from Discovery campaigns:

✍️ You can now sign up for Demand Gen beta access here https://t.co/iDQvGaa9pH

Once in the beta, any active Discovery campaigns will be migrated to Demand Gen. Historical data carries over.

Then..

– AdsLiaison (@adsliaison) August 15, 2023
With the beta version, old active campaigns will be migrated to Demand Gen. The advantage of this type of campaign is that it will stimulate demand in the middle of the tunnel, thanks to an AI solution.
What are Demand Gen campaigns?
It's a new type of AI-powered advertising campaign that Google believes will help stimulate demand in the mid-funnel.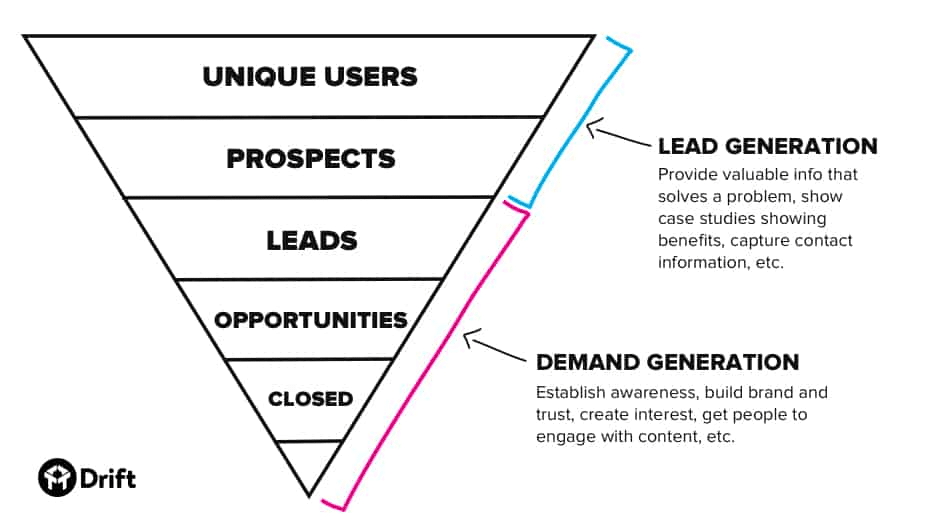 Source : sproutsocial
Introduced in June 2023, at the same time as Video View, Demand Gen campaigns are distinguished by features not found in other campaign types.
The ads in these campaigns stand out for their ability to be more social. In fact, they highlight your best-performing videos and images on Google's visual platforms such as:
YouTube ;
YouTube Shorts ;
Discovery ;
Gmail.
The search engine justifies this with research that states
"91% of consumers act immediately after discovering new products or brands on Google feeds, such as Discover or Gmail."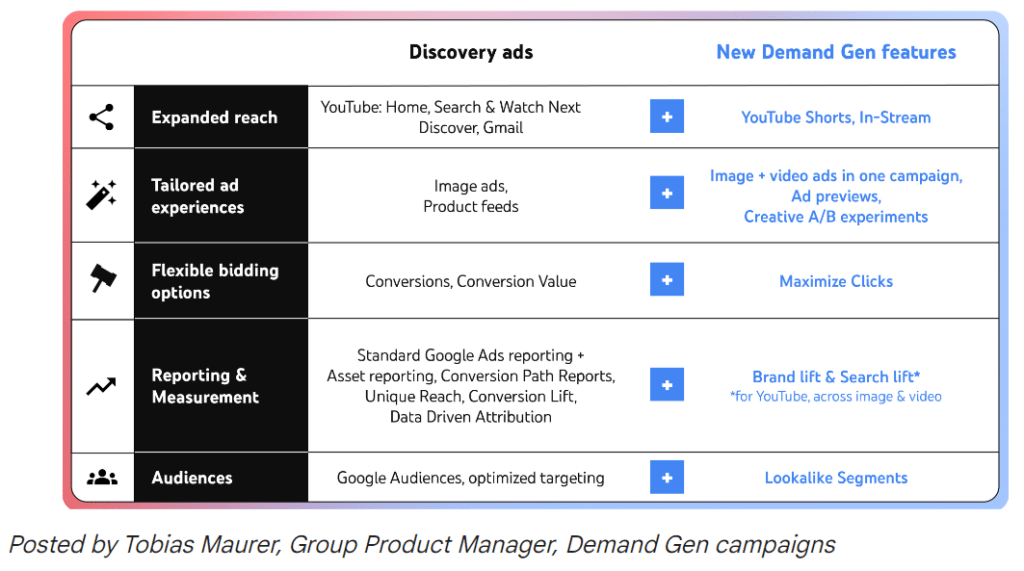 Source: searchenginejournal
In comparison, this image illustrates the characteristics of Demand Gen versus Discovery Ads. Within a single campaign, it's possible to use multiple ad formats such as images and videos to maximize its potential.
These include:
Short videos ;
Carousels ;
Portraits;
Square images.
In addition, advertisers will be able to broaden their lookalike audiences with a view to winning new customers.
They will also be able to use several Smart Bidding strategies such as Demand Gen campaigns aimed at generating traffic, actions and conversion.
Available strategies include
Bids for conversions;
Conversion value;
And click optimization.
What's the timetable for migrating to Demand Gen campaigns?
Those interested can already register for the Demand Gen beta version. After confirmation, you'll be able to start creating these types of campaigns.
Please note, however, that your active Discovery campaigns will be automatically migrated to Demand Gen campaigns.
The good news is that your Discovery campaigns will still retain historical data and optimization suggestions.
Google intends to make Demand Gen campaigns available in its Phase 2 for everyone in October 2023. As a result, existing Discovery campaigns will be upgraded. The migration will be effective for all Discovery campaigns from November onwards.
Phase 3 of the roll-out will end in March 2024, with all remaining Discovery campaigns upgraded to the new campaign type.
What does this mean for advertisers?
As you'd expect, the announcement of the migration raises a host of questions from advertisers on several aspects of the campaigns, namely: reporting, audiences, etc.
The Ads Relationship Manager has confirmed that placement-level reporting will not be available for Demand Gen campaigns.
However, rest assured, advertisers won't be left in the dark. They will have access to standard reports that will shed light on many aspects of their campaigns.
What's more, Demand Gen campaigns offer more options than their Discovery predecessors. To this end, advertisers are urged to opt for campaign migrations.
In addition, Discovery campaign metrics can appear unstable when migrated to Demand Gen, especially if YouTube placements are included.
A key aspect to note is that each ad placement in the new campaign type corresponds to a distinct level of engagement.
So, if your new Demand Gen campaigns suddenly show a significant drop in click-through rates compared to Discovery campaigns, you shouldn't immediately conclude that your campaign is ineffective.
Indeed, ads on YouTube, for example, tend to have a much more modest click-through rate than on other sites. So it's important to examine contextual transformations appropriately.
Advertisers switching to Demand Gen campaigns also need to rethink the use of their creative.
Bear in mind that this new type of campaign and its associated formats are specifically designed for a more visual appearance.
The transition to Demand Gen campaigns is therefore a time for advertisers to plan or optimize their creative to deliver a more compelling user experience.
To sum up
In conclusion, please note that registration for the beta version of Demand Gen campaigns is now open, and advertisers can already sign up. All advertisers will be able to benefit from this type of campaign at the end of the beta period.
So get ready to experience this new way of doing things, in which Google relies on AI to improve campaigns on its platforms.