As usual for the past few years, I have taken the initiative to reveal the figures that my agency Twaino obtains in one year and 2021 will not fail in the tradition ?
Compared to the year 2020, we can say that there have been nice progresses on some points, but also some regressions that we will have to correct in the new year
So in 2021
How have my site's organic traffic and page positions on Google changed?
How much content did I manage to publish?
What conferences have I been able to attend and organize?
And what are my projections for 2022?
Together, let's discover Twaino's journey in 2021!
Chapter 1: How did my traffic change from 2020 to 2021?
In this first chapter, we will go back one year to 2020 to better understand my traffic in 2021
1.1. evolution of my traffic from 2020 to 2021
Google Analytics remains one of the reliable tools used in SEO to track the traffic of a website over a given period
And here is what the tool reveals about Twaino' s traffic over the period from January 1, 2020 to December 31, 2020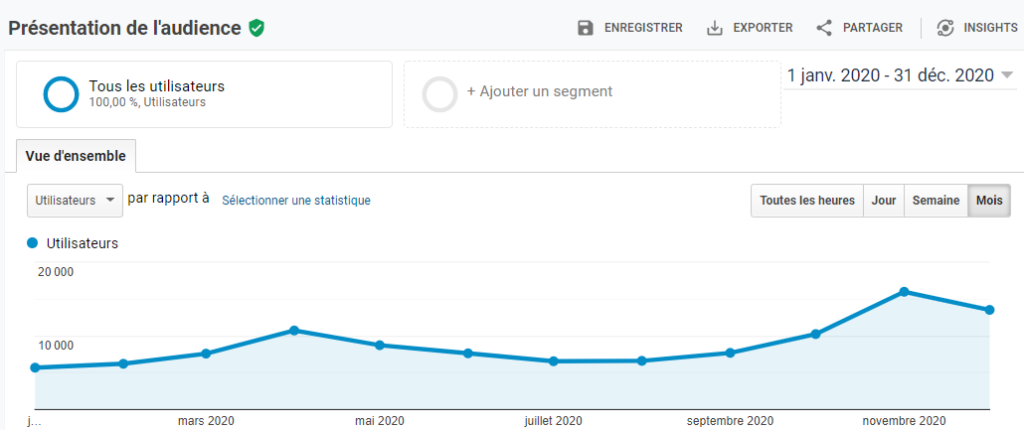 So, at the beginning of 2020, my site was receiving an average of 5,687 active visitors per month. During the very first months of this year, it has grown significantly, reaching 10,729 monthly visitors in April 2020. That is to say the double of the starting traffic in 3 months of work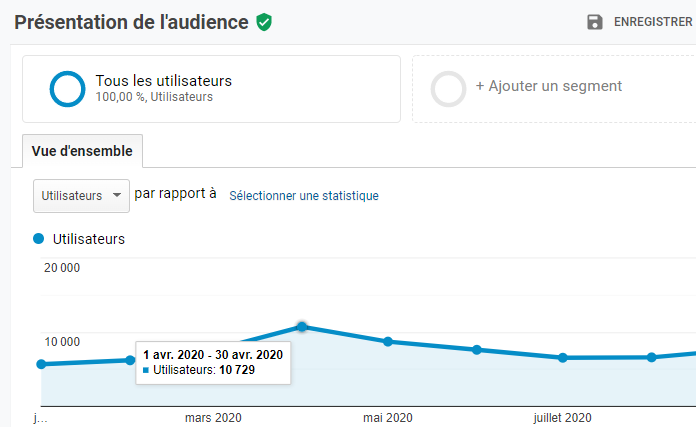 This growth curve then stagnated slightly between July and September before rising again to reach 15,981 visitors per month in November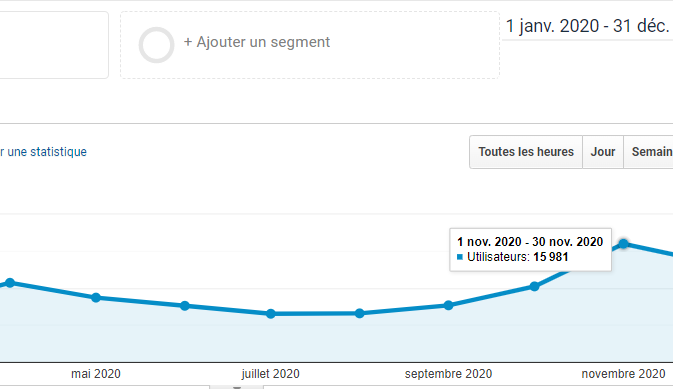 Then in December during the holiday season, my site experienced a short drop in traffic. This can be justified by the seasonality of my business. On December 31, 2020, I had 13,521 internet users visiting my website per month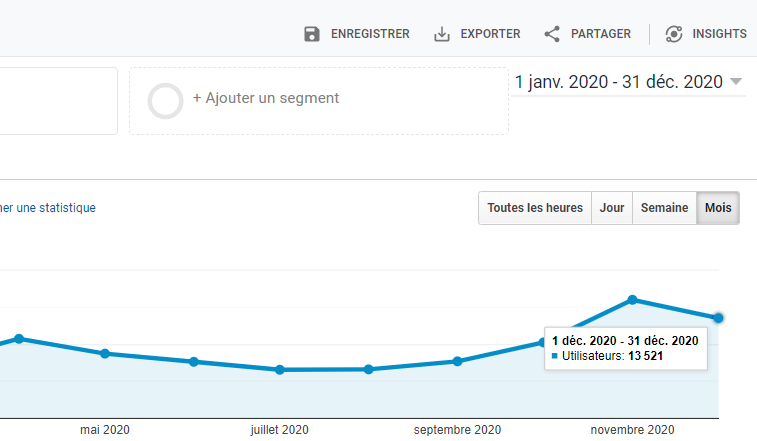 Here is a more complete report of the numbers recorded that year
Users: 105,981
New users: 104 215
Sessions: 127,128
Page views: 164,514
Number of sessions per user: 1.20
Pages/Session: 1.29
Average session length: 1 minute
Bounce rate: 87.11
Portion of returning visitors: 9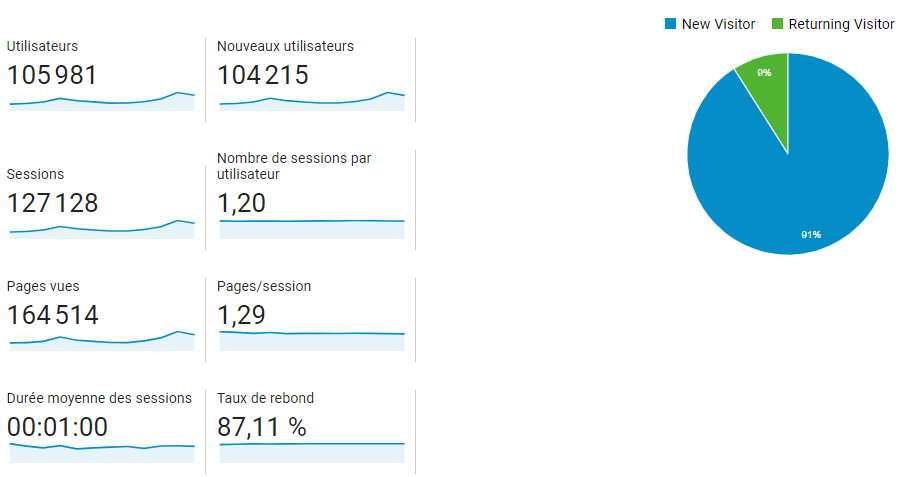 And in 2021, what were the numbers?
The Google Analytics "Overview" report provides this graph on the evolution of my traffic over the period from January 1, 2021 to December 31, 2021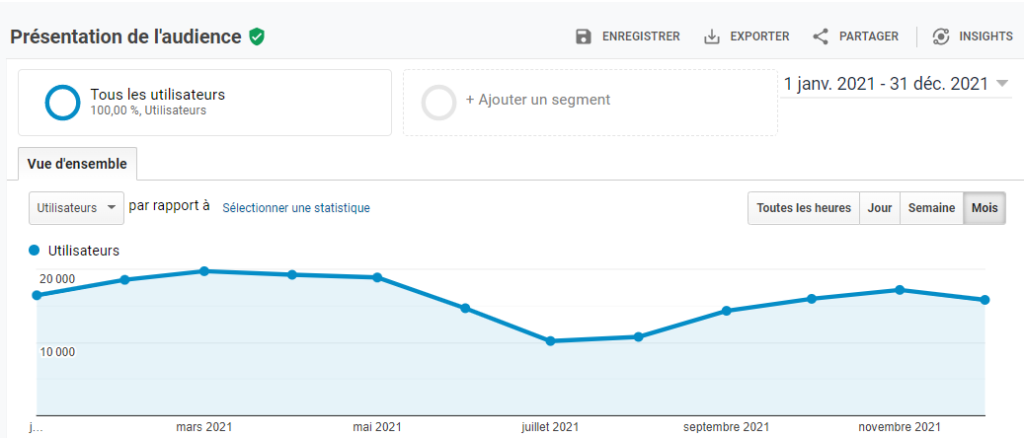 Just after the holiday season of 2020, we can say that business has picked up at Twaino and in a big way
From 13,521 visitors on December 31, 2020, I reached the 20,000 visitors per month mark in March 2021 without any advertising campaign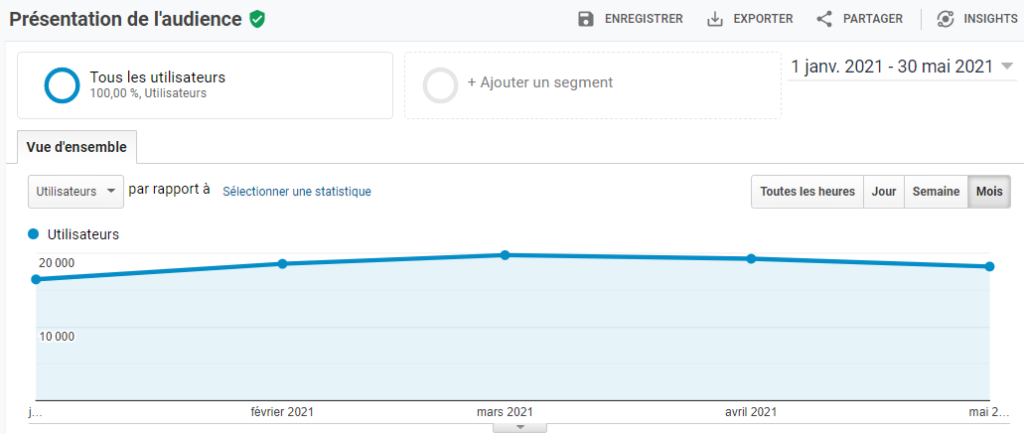 This is a nice growth that I was very happy about because it shows the fruit of my efforts and remains the proof that I am on a good momentum, even if there are always things to improve
Then, after this performance, I entered a period of significant traffic decrease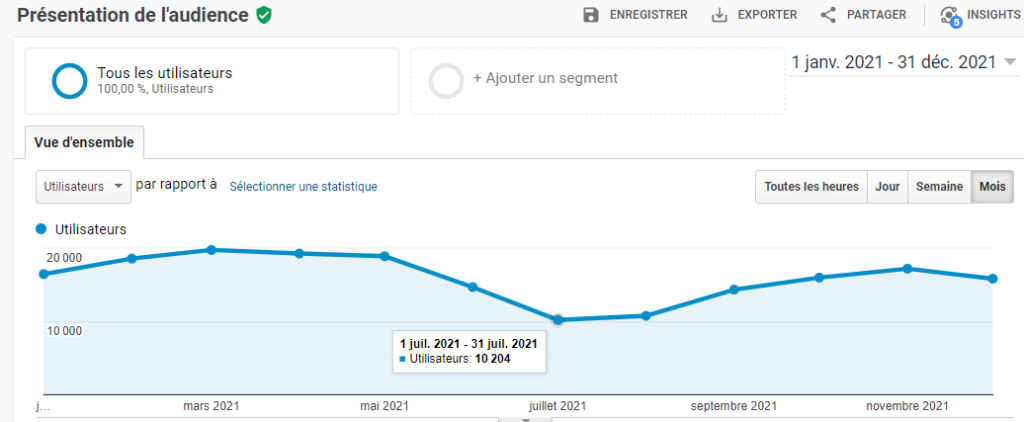 From 20,000 visitors per month, I dropped to 10,204, almost half of the traffic lost in a few months
This situation can be explained mainly by 2 reasons
1.1.1. I was much more frequent on YouTube
During this period, I was less regular in posting articles on my Twaino site. The fact is that one of my resolutions for 2021 was to diversify my traffic sources and coveting social networks was a good opportunity to do so.
So, outside of working on my clients' projects, I spend most of my time creating videos on my YouTube channel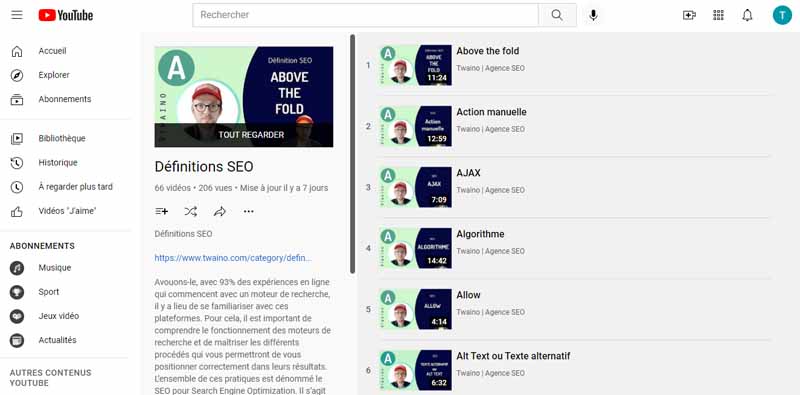 This has led to a decrease in posts on my own website and likely to a drop in traffic
All of this shows the importance of consistent posting to maintain and improve the current traffic of a website
Moreover, as I always used to mention in my previous articles, Twaino is a 100% SEO oriented agency. That is, I do not provide paid search services (ads) before helping my clients achieve good rankings on the SERPs
To set a good example, I think it's wise to stay true to this approach on my own site, which is why I didn't use search engine advertising to try to turn around this period of traffic loss.
1.1.2. COVID 19 and containment periods
It seems that the COVID 19 pandemic with all the constraints that go with it is still disrupting our habits and many sectors
These are basically the two reasons that affected the traffic of my site during a given period in 2021. So it was important to fix the situation and get back on track and this is how I did it
So, nothing new, the job was to continue with the same approach that helped me reach 20,000 visitors a few months earlier
Basically, it's about concentrating again my efforts in the creation of quality contents and on a quite regular frequency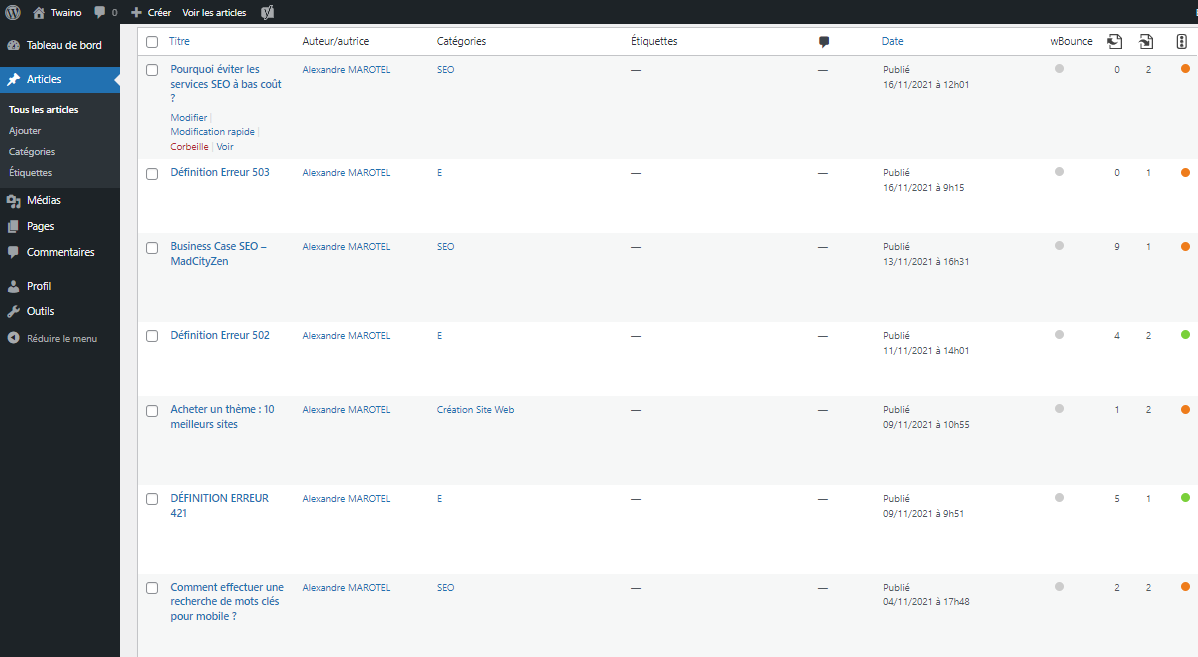 Gradually, I was able to get back on the path to growth. In November 2021, my traffic is back to 17 184 and I remain confident that this progression will continue to rise in 2022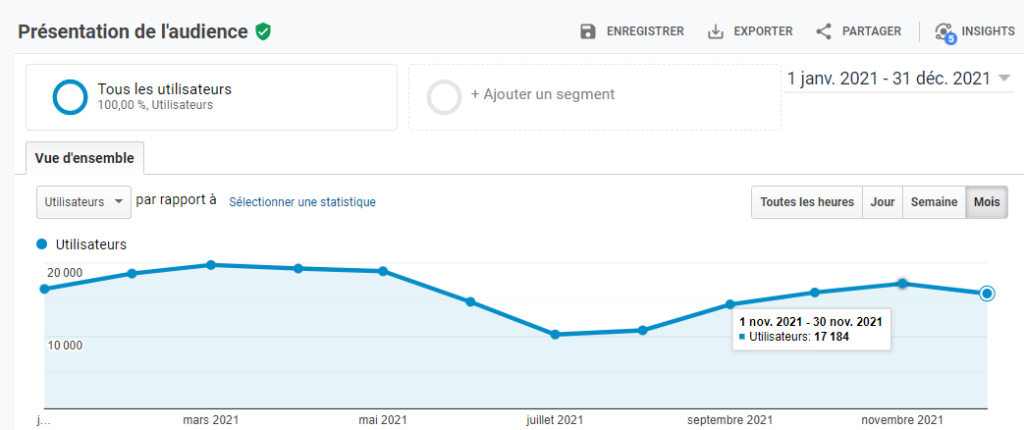 1.1.3. Summary of Twaino's traffic numbers in 2021
In 2021, here is a summary of the numbers recorded on my site:
Users: 186,636
New users: 185,592
Sessions: 231,740
Page views: 299,276
Number of sessions per user: 1.24
Pages/Session: 1.29
Average session duration: 00 : 57s
Bounce rate : 85,22
Portion of returning visitors: 10.4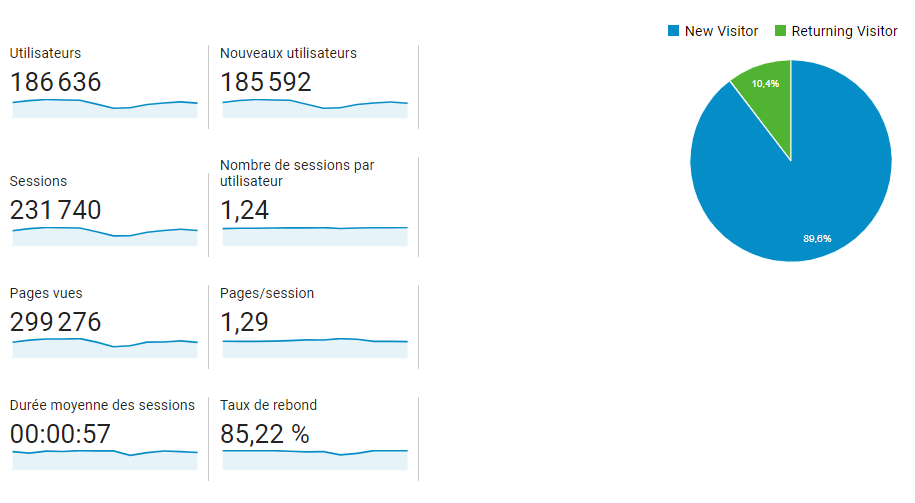 Compared to the numbers recorded in 2020, here is the rate of change obtained for each of the above metrics in 2021
Users: 76.10
New users: 78.08
Sessions: 82.28
Page views: 82
Number of sessions per user: 3.33
Pages/Session: 0
Average session length: -5 %
Bounce Rate: -2.16
Portion of returning visitors: 15.55
When we look at the different rates of change observed at each level, we can say that overall, the organic traffic of my site has evolved in 2021
But at the same time, the Pages/Session ratio has stagnated and the average session duration has decreased by 5%.
So, in addition to aiming for more traffic, one of my priorities at the beginning of the year will be to review my strategy to improve the Pages/Session ratio and the average session duration of my visitors
1.2. Twaino's main traffic sources between 2020 and 2021
In 2020, organic traffic dominated my traffic sources with 85.32% share against 12.09% for direct traffic and 1.3% for traffic from referral sites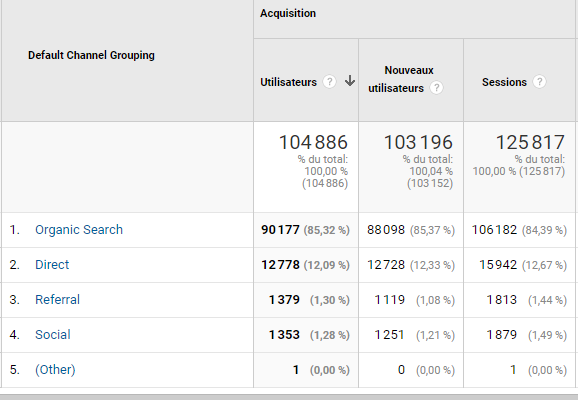 In 2021, the trend remains roughly the same
Organic Traffic: 87.69
Direct traffic: 9.68
Referral traffic: 1.15
Social traffic: 0.98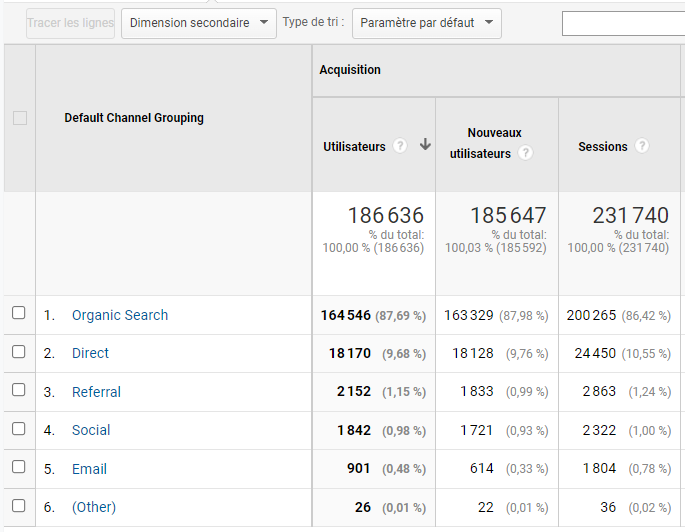 Comparing this data over the last two years, Twaino recorded during 2021
Organic traffic: +2.77
Direct traffic: -19.93
Referral traffic: -11.53
Social traffic: – 23.43
It can be noticed that organic traffic is the source that generates the most visitors for me and as an SEO agency it seems quite normal that search engines are my most important source of traffic
1.3) How did visitors behave on Twaino's site between 2020 and 2021?
Now, let's look at the different metrics that allow us to track visitor behavior on the Twaino site
To do this, we will go to Google Analytics and click on "Behavior" and "Overview":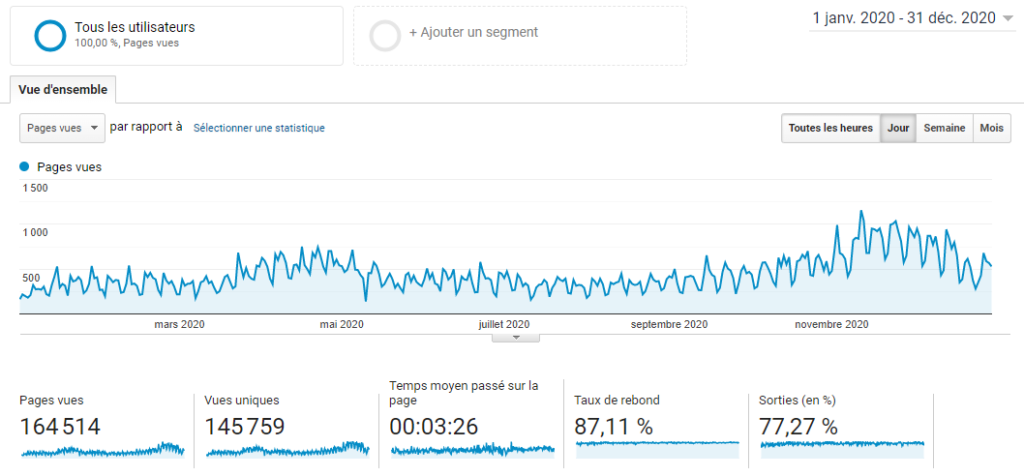 As you can see on the capture, in 2020 I recorded on my website
Page views: 164,514
Unique views: 145,759
Average time spent on the page: 00 : 03 26
Bounce rate: 87.11
Exits (in %): 77,27
And for the year 2021
Page views: 299,276
Unique views: 257,804
Average time spent on page: 00 : 03 15
Bounce rate: 85.22
Exits (in%): 77.43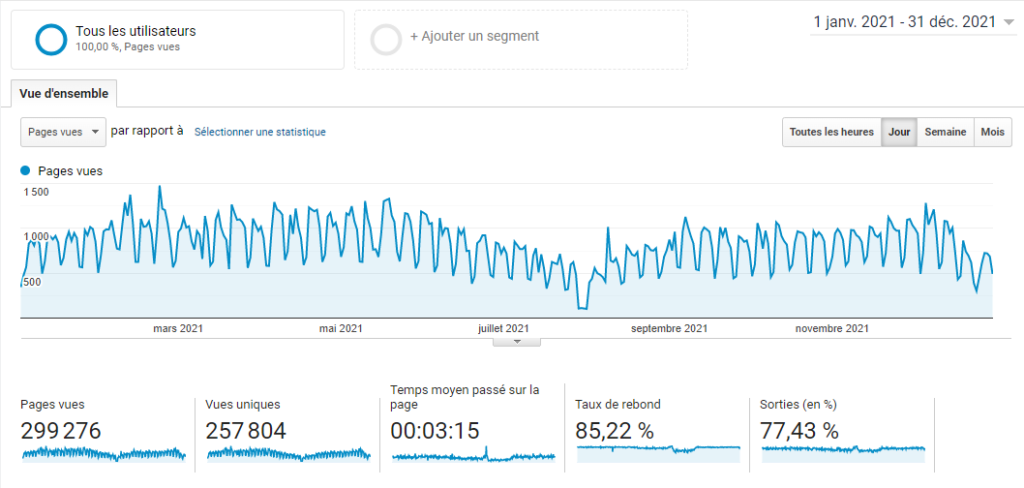 Comparing the two captures, we can see that 134,762 pages were added in 2021 to the number of page views recorded in 2020, an increase of 82%. The number of unique views also saw an increase of 76.87%
But the average time spent on page dropped by 11 seconds. While 11 seconds of difference isn't too critical, it's still a sign that I'd need to revise my strategy to improve this metric
As for the bounce rate, it dropped by 2% and that's a pretty good sign. It's a proof that Internet users interact more on my website.
Chapter 2: How did the ranking of the Twaino website on Google SERPs evolve between 2020 and 2021?
In this chapter we will focus more on the queries for which my web pages are ranked in Google search results and the positions they occupy
And for this, nothing better than to rely on the reports generated by the Google Search Console which reveals that the performance of my site in 2020 was
Total number of clicks: 103 000
Total number of impressions: 8,730,000
Click-through rate: 1.2
Average position: 21.4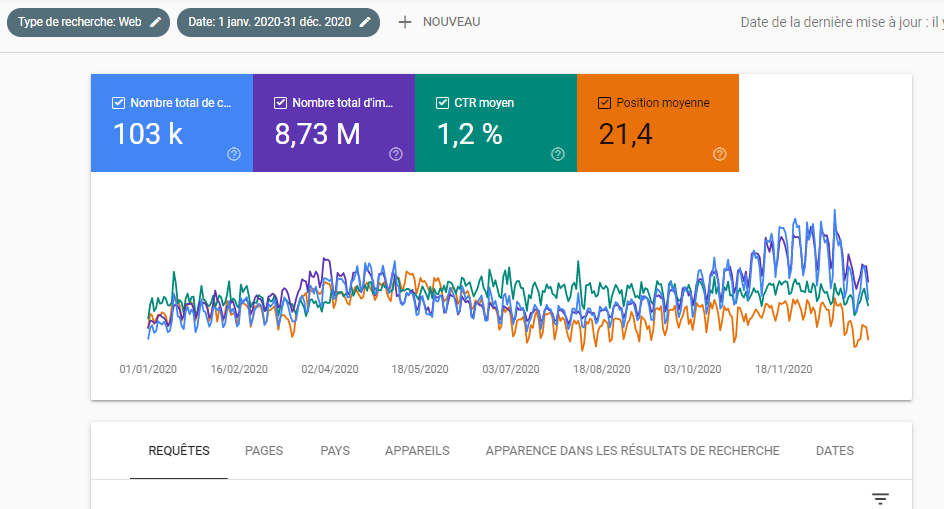 The top 10 keywords that generated the most clicks for me were
Blogger
Blogspot
Twaino
Website mockup
Word counter
Russian search engine
Sales Funnel
Business podcast
1000 characters = how many words
1000 words how many pages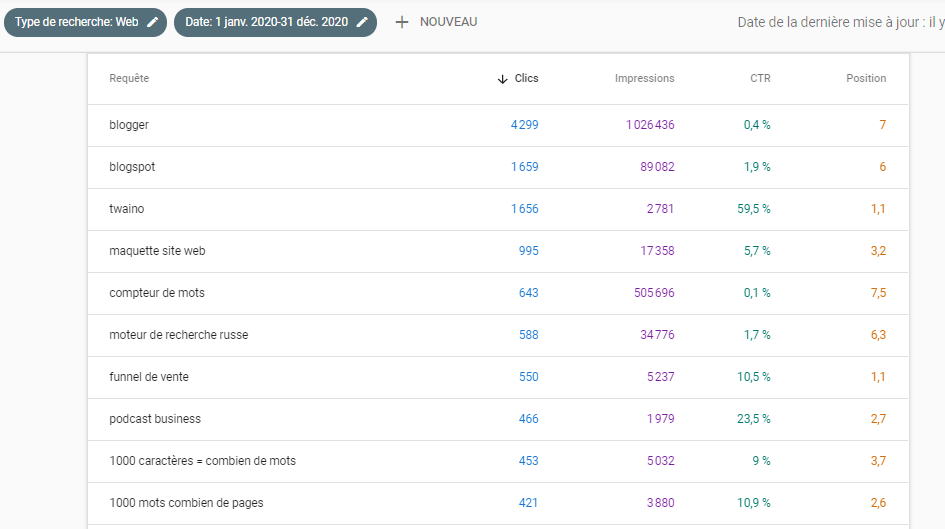 I also targeted other much more competitive keywords with high conversion rates where my pages managed to rank in the top positions on Google.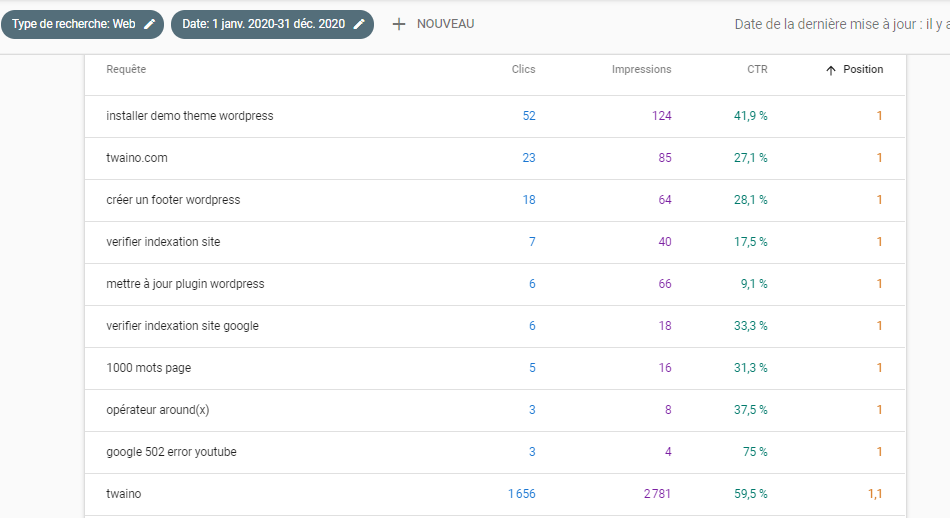 We have for example the query "update a wordpress plugin" where my page is ranked in first position just after the featured snippet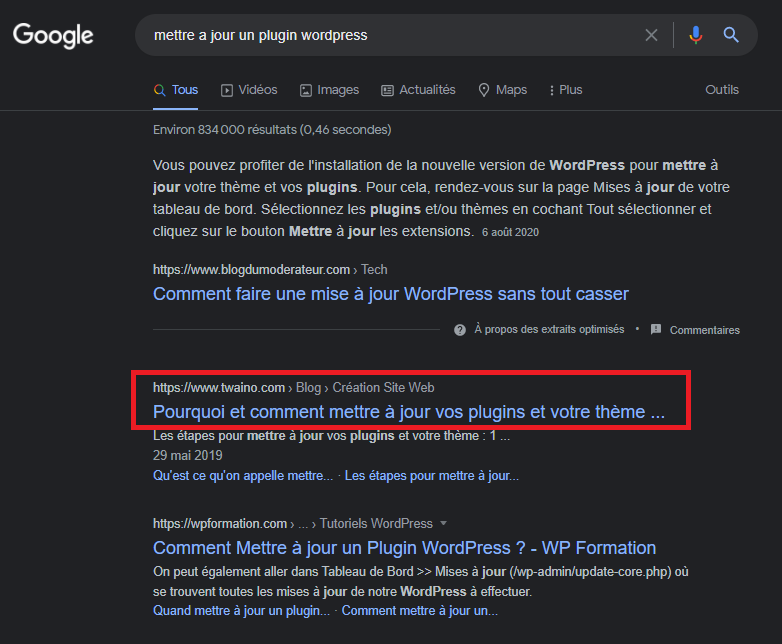 Or the query "create a wordpress footer" where my blog post is ranked at the 2nd place and my video at the top of Google "Videos" results :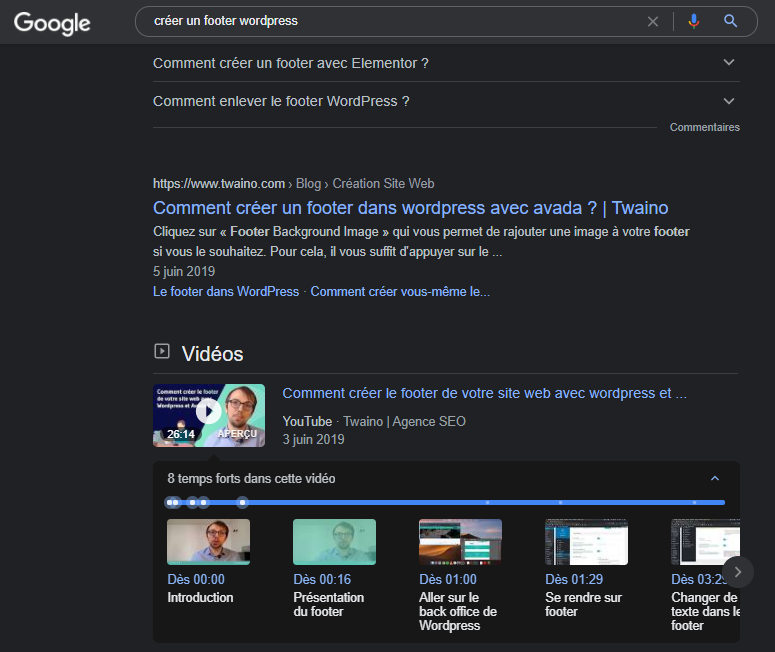 What about the performance achieved in 2021? Well, we have
Total clicks: 190,000
Total number of impressions: 16,700,000
Click-through rate: 1.1
Average position: 25.7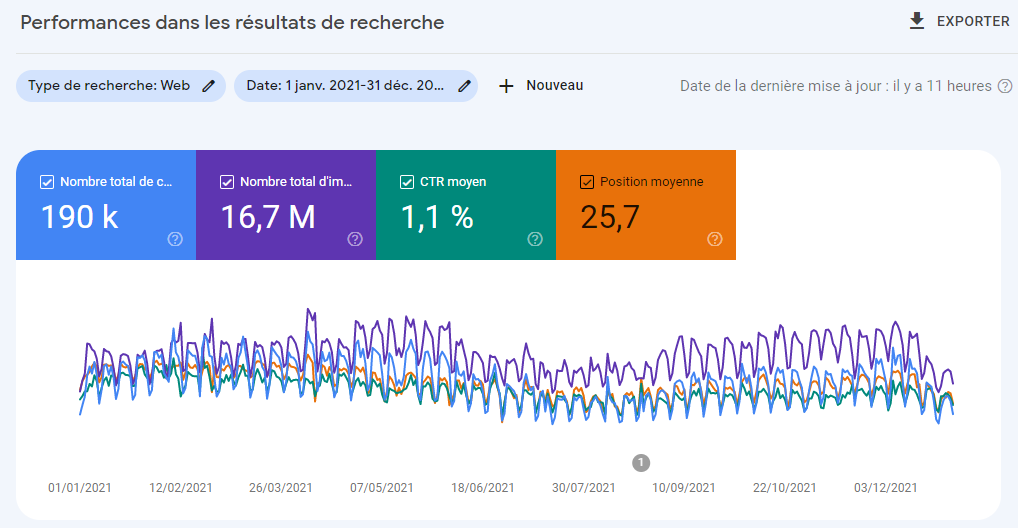 As for the top 10 queries that bring me the most clicks, the list has undergone some slight changes
502 bad gateway
blogger
twaino
word counter
502 error
1000 = how many words
blogspot
error 400
bad gateway
1000 words how many pages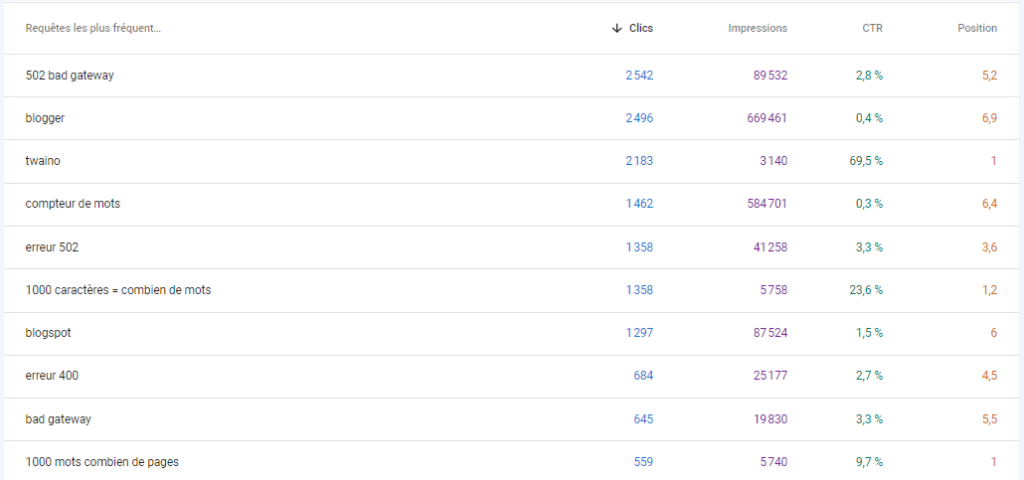 And I continue to rank well on Google pages for several queries: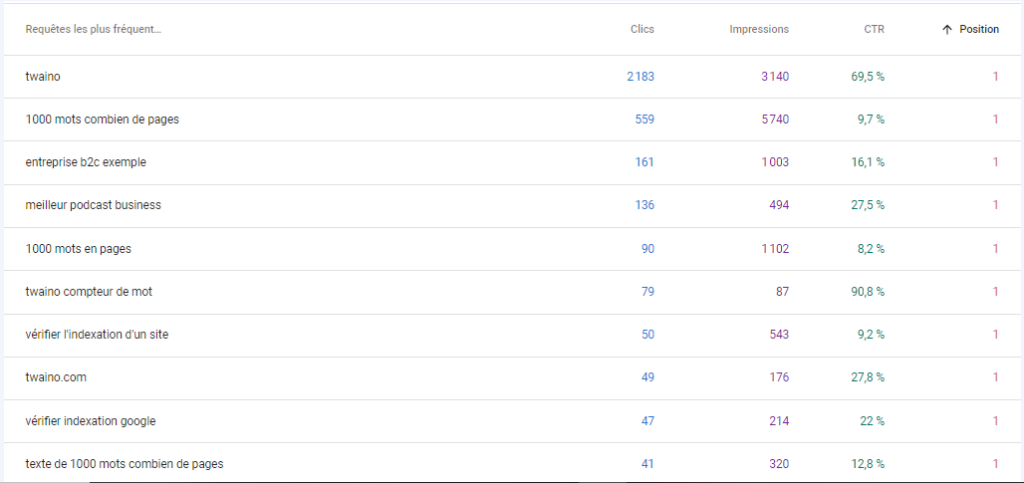 We have for example "business b2c example", "check google indexing" or "paid traffic definition" :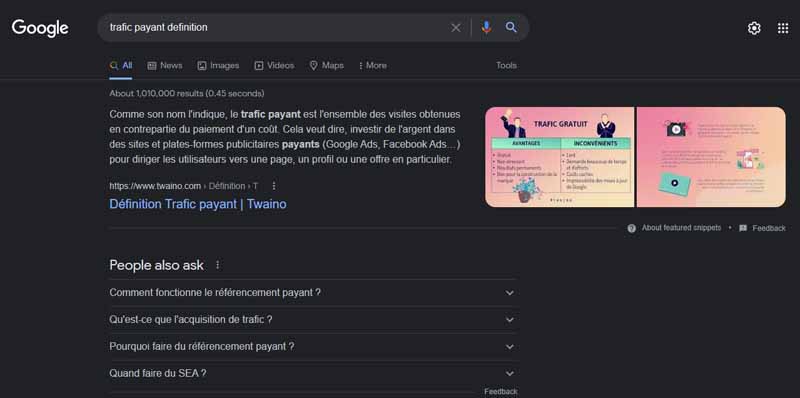 And I plan to continue to gain good rankings on Google for several other queries, especially those related to SEO
These were the figures obtained on Twaino page rankings in 2021, let's continue our review with other elements
Chapter 3: How much content is published on the various Twaino channels?
First of all, I would like to remind you that Twaino publishes content on 3 different channels, namely
Without further ado, let's find out how much content has been published on each of these channels
3.1. number of contents published on Twaino's website
The Twaino website has a "Blog" section where I frequently publish articles on topics related to digital marketing in general
There is also a "Videos" section where I post the videos available on my YouTube channel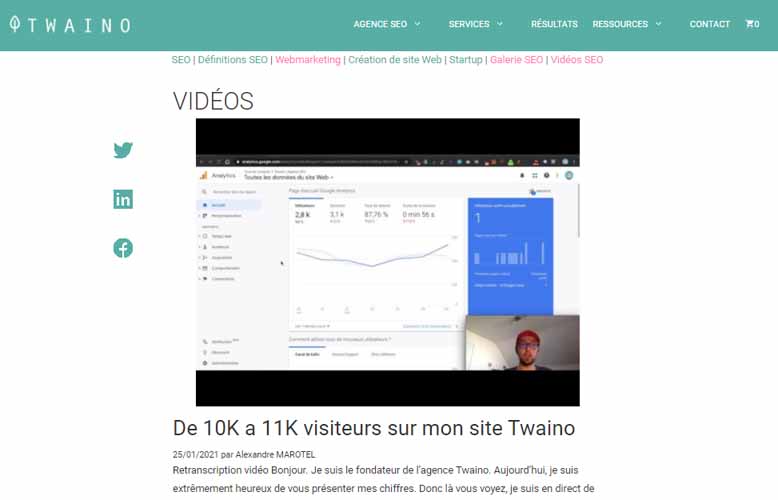 In 2020, I published 117 articles, 85 of which were written and 32 of which were videos
2 articles in January
4 articles in February
9 articles in March
0 article in April ?
1 article in May
2 articles in Jun
10 articles in July
9 articles in August
13 articles in September
12 articles in October
36 contents (10 articles, 26 videos) in November
And 19 contents (13 articles, 6 videos) in December
In 2021, I tried to do a little more by publishing 183 articles during the year. An effort that allowed me to get a +74% evolution rate on the articles published on Twaino
3.2. Number of videos published on Twaino's YouTube channel
In 2020, I was not very active on YouTube with only 22 videos published throughout the year. So, at the beginning of 2021, one of my resolutions was to be more frequent on the network
I have rather succeeded in keeping this resolution by going from 22 to 88 videos published, which is a nice increase of +214% achieved in 2021
3.3. Number of LinkedIn posts
LinkedIn is still a great channel for me to spread my brand and share experiences with people in my industry. Before I went all in on creating YouTube videos, I was much more LinkedIn oriented in terms of sharing experiences
This has earned me over 81 posts in 2020 with an engaged and very supportive audience
Unfortunately, it was a little difficult for me to be everywhere at once in 2021. With blog post writing, script writing and video posting, I still managed to total 44 LinkedIn posts during the year
Compared to 2020, this represents a -50% regression on the number of posts. A regression that can be justified by my efforts on YouTube
But for this new year, I promise to be more regular and to continue to share my successes and failures in all transparency ?
3.4. Number of Twaino subscribers on the different channels
Regarding Twaino's audience on the different communication platforms, the results are quite satisfactory and I take this opportunity to thank you for your loyalty? :
Linkedin – Personal profile : 10 534 (+17%)
Linkedin – Twaino page : 623 (+48%)
Youtube : 1 112 (+142%)
Newsletter: 2 424 (+1571%)
Chapter 4: Free tools created by Twaino in 2021
Since I started my career as a web entrepreneur, I've always found that anything that isn't shared is lost
That's why in addition to the free content I publish, I've also been committed to creating free tools for my visitors for the past few years
In 2020, I had to create 3 tools namely
Then in 2021, I continued in the same way and I created again 3 other tools namely
4.1. The People Also Ask Twaino
This is a tool I created with the idea of helping SEO actors find relevant topics to use for new content creation
It's free to access online and requires no downloads or subscriptions. To use it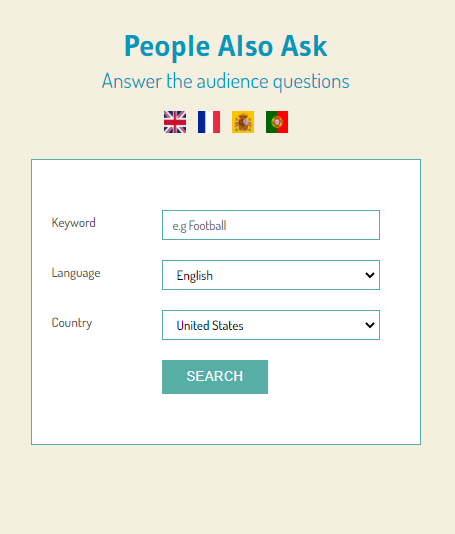 Then enter a search topic;
Choose your language and then your country;
And click on the "SEARCH" button to launch the search.
After a few moments of processing, the tool should generate a first list of idea proposals related to your search theme following a silo model: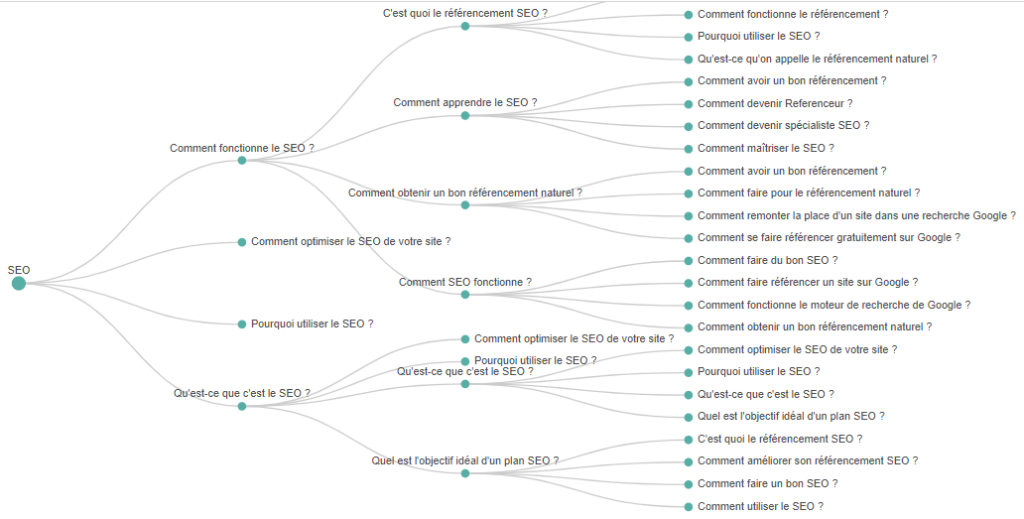 But if you are not comfortable with this form of display, you can click on the bullet list icon for a simpler display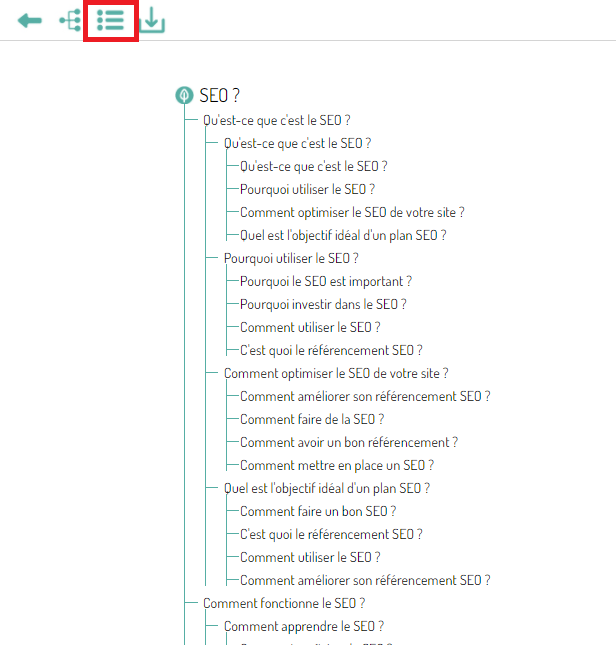 But depending on the number of items generated, you may need to scroll down the page before you see the rest of the suggestions
But that's not all, People Also Ask Twaino also allows you to refine this first list of suggestions for more specific topics
To do this, click on a suggestion of your choice and the tool will make it a search topic and generate a stack of other matching suggestions
You can repeat the process as many times as you want until you have a list of satisfactory proposals
Then you have the choice to manually copy the suggestions that seem relevant to you, to take a screenshot or to export them directly into an .xls file.
4.2. A platform of +1156 Blogs that accept guest posts
If, like me, you have at some point looked for French blogs that accept guest blogging in order to improve your site's traffic and authority on the web, you will probably also have noticed that there is not really a well-stocked list on the subject
To help you save time in your research, I thought it would be useful to propose a list of more than 1,000 French blog sites that are favorable to guest blogging, classified by a dozen sectors of activity, namely
Digital Marketing
Business
Web Design
News and Media
Technology
Finance
Legal
Travel & Tourism
Wellness
Health
There is a good chance that you will find relevant niche blogs that you can contact and submit your guest post request.
To use it, go to the platform
Then browse the available pages using the pagination system at the bottom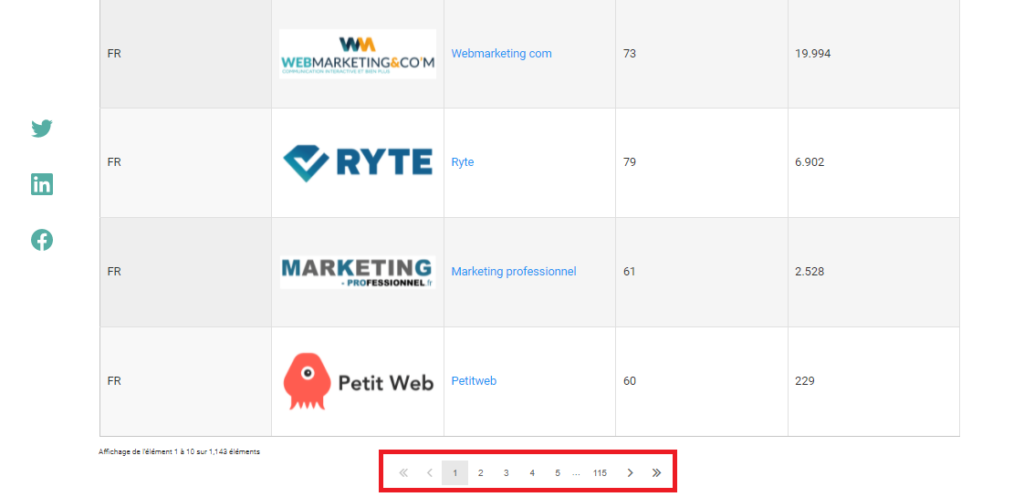 But to go fast, you can directly enter a language and choose a search theme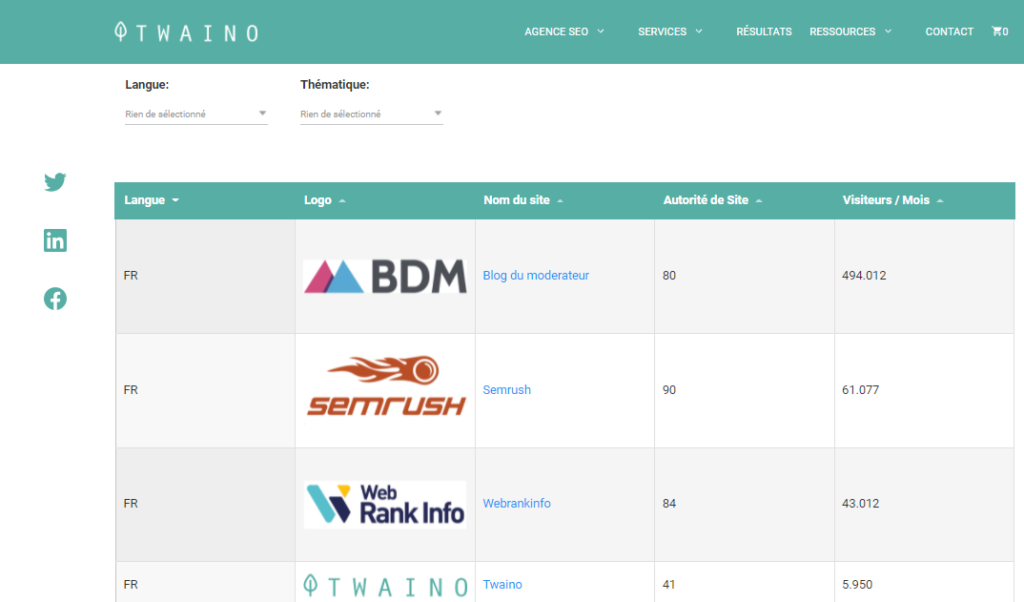 The tool will then suggest the tools that correspond to the filters you have chosen
4.3. A platform of +300 SEO Tools
This is a platform that gathers the most frequently used tools in SEO. My intention is to help you find in the same space, all the tools you may need to perform most of the tasks in SEO, including
Keyword research
Content optimization (written, images, videos) for SEO
Backlink analysis
Position tracking
Etc
Its use remains quite simple and the results are generated automatically. That is, you don't need a validation button before the platform generates a list of tools related to your search
To use it
Then click on the search bar located below the "TOOLS" label
The text cursor should appear
Enter or directly select the type of SEO tool you are looking for.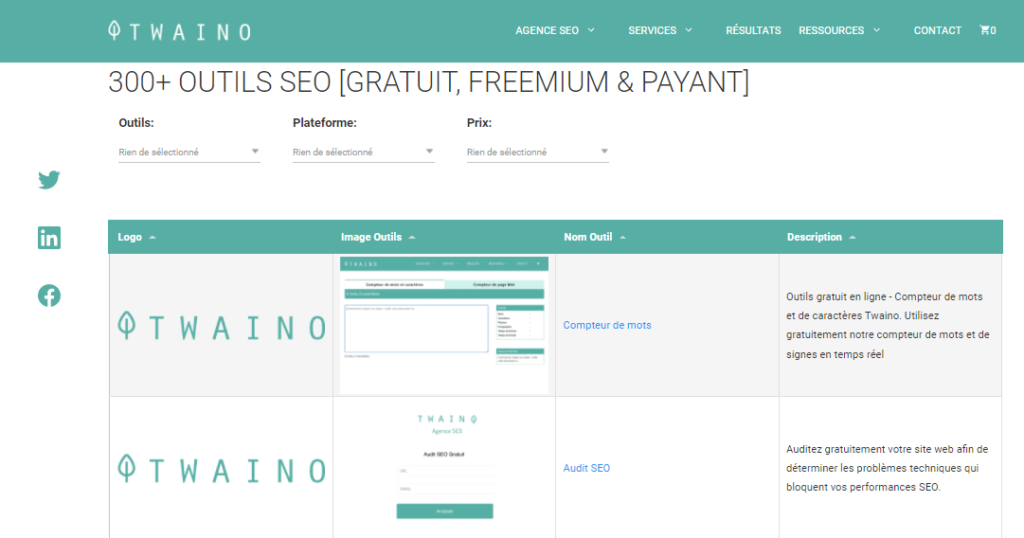 You also have the possibility to complete two other filters to better refine your search. The platform will automatically suggest a list of tools that match your search criteria as the filters are chosen
To add the latest filters
Click on the search bar below the label "PLATFORM"
The text cursor should appear
Type or directly select the type of platform you intend to use the tool on
Click on the search bar below the "PRICE" label and directly enter or select the "price" option you want: FREE, PAID and FREEMILLION
Once the tools corresponding to your search criteria are displayed, click on the name of a tool to access its official page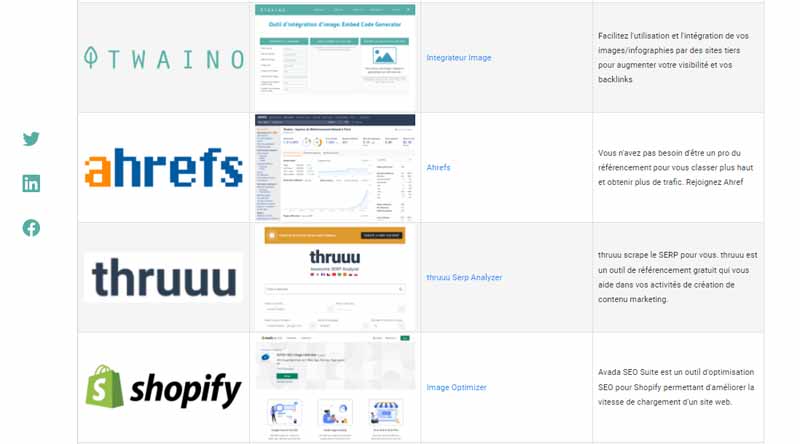 These are the 3 tools I had to create in 2021 and due to the positive feedback I received, other tools will also be created in the new year 2022
Chapter 5: Trainings, Books and Events in 2021
5.1. Continue my SEO trainings
Twaino is an SEO agency with a primary goal of helping business owners improve the visibility of their brand on search engine pages and attract new customers
This is done through SEO campaigns, but also through training modules that I organize for people who want to learn SEO
In 2021, I had learners that I assisted to improve the SEO of their website themselves
5.2. Publish two books in Twaino's "Learn SEO" collection
Twaino is also an online store selling SEO products. For now, my store is mostly ebooks. In 2021, I had to finish and published 2 new books of namely
Optimizing a Product Sheet for SEO
How to get Google reviews?
I take this opportunity to invite you to visit my SEO store, some products might interest you ?
5.3. Events I attended in 2021
I often attend professional events where I meet digital marketing actors coming from all horizons
In 2021, the most important event I attended was the 2nd edition of the LinkedInParisLocal networking event that I organized and that took place on October 7th, 2021 at La Felicità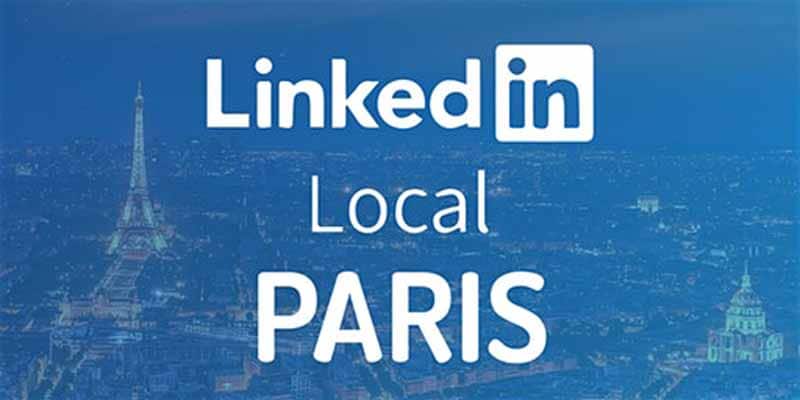 The first edition was held in 2020 and was very appreciated by the participants. This encouraged me to organize the second edition.
Just like the first time, it was a beautiful experience of sharing and meeting with actors from all over the world
My intention in organizing this kind of event is to offer the opportunity to the Twaino community on LinkedIn to meet in real life for more connection and sharing. You can find all the details and pictures of the evening in this content.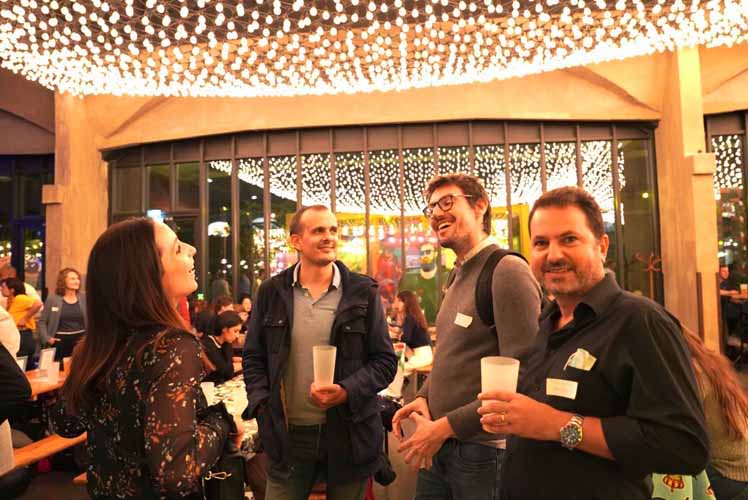 Speaking of organizing, throughout the year I've also hosted live chats still on LinkedIn, but also on YouTubeand Instagram
Chapter 6: Twaino website redesign and the outlook for 2022
6.1. Making the Twaino site faster and cleaner
Loading speed is an important issue for any website owner because it is a decisive aspect in Google ranking criteria
That's why, since the creation of my site in 2019, I never got tired of making small changes in order to optimize the loading speed of my web pages both on desktop and mobile devices
Also this year Twaino has seen small improvements for an even faster site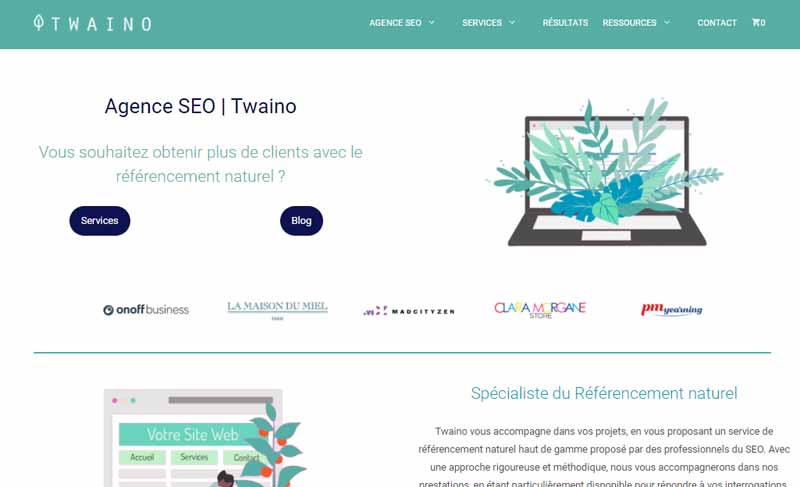 Moreover, I have always advocated the fact that it is possible to achieve great SEO performance while remaining eco-friendly. So I continued to take actions in this direction to keep my Twaino site less polluting
6.2. Twaino's financial results and outlook for 2022
From a financial point of view, 2021 has been a pretty good year for Twaino. The cash flow is in the green and I have not had to resort to borrowing to cover the company's resources
Regarding my clients' projects, I managed to finalize 6 SEO campaigns with results ranging from +20% to +300%
I had the opportunity to present the figures of these campaigns in the form of customer business cases such as
What more could I wish for the new year if not to continue in the same direction with an even higher conversion rate and profits
My ambition for 2022 is to continue to develop my client base with even more projects and more business cases showing in all transparency the organic results I manage to bring on my clients' websites
And to achieve this, I intend to reach the following goals during the year 2022
| | | | |
| --- | --- | --- | --- |
| | 2021 | 2022 | 2021 vs 2022 |
| Twaino Website: | | | |
| – Users: | 186 942 | 280 413 | 50% |
| – Page Views: ? | 299 806 | 479 690 | 60% |
| – Average session length: ⏱ | 00:57 | 01:00 | +5% |
| – Traffic Source: | | | |
| SEO | 87,7% | 85% | |
| Direct | 9,7% | 10% | |
| Social + Referral + Email | 2,6% | 5% | |
| | | | |
| Number of additional publications during the year : | | | |
| – Articles published on Twaino: +183 ? | 183 | 220 | 20% |
| – LinkedIn posts published: +44 ? | 44 | 50 | 13% |
| – YouTube videos posted: +28 ? | 88 | 100 | 14% |
| | | | |
| Audience & Subscribers : | | | |
| – Linkedin – Personal profile : | 10 534 | 12 641 | 20% |
| – Linkedin – Twaino Page: 420 ? | 623 | 1 000 | 61% |
| – Youtube : 458 (+350) ? | 1 112 | 2 000 | 80% |
| – Newsletter (without mentioning it) : 145 ? | 2 424 | 5 000 | 106% |
Finally, 2021 was also a year where I strengthened my freelance team for web writing and content integration. I also automated some SEO tasks and reviewed my internal work methodology for more efficiency
The goal for 2022 will be to strengthen this team and continue to optimize my internal process for better results
These are my plans for 2022. What about you? What are your resolutions for the new year? Tell us in comments