Founded in 1994 by David Filo and Jerry Yang at Stanford University, Yahoo represents one of the leading email and search engines in the history of the Internet. After several years of repeated successes and failures, Yahoo was acquired in part by Verizon in 2016 at a price of $4.5 billion.
Factually, Yahoo is an American company with a portal website and various services. Initially, it had only a web directory. The company has expanded with time offering many other free and paid services such as: The search engine, the mailbox, instant messaging …
Many websites were created with different objectives and themes following the appearance of the World Wide Web in 1989. Among these, some were created with the aim of gathering most of the other websites in one place and to facilitate navigation. These are called web directories.
Yahoo is one of the directory sites that appeared in the 1990s and later became one of the giant web portals with a lot of services and a built-in search engine.
What is the history of Yahoo? What are its different services and features?
What is Yahoo's relationship with other search engines and what is its market share?
Chapter 1: Definition and History
You've probably already heard of Yahoo or even taken advantage of its services on the Web at least once. In this chapter, we'll find out what Yahoo is and how it came to be.
1.1) What is Yahoo?
Yahoo is a platform that integrates a directory of websites and a search engine. The websites are well organized hierarchically according to different themes.
The company offers users as a directory the ability to browse through hundreds of thousands of well-architected websites and web pages.
Yahoo is also a giant search engine that was among the most popular in the 1990s. It was one of the best ways for users to search for a given topic on the Internet based on keywords
In order to provide its various services and meet the expectations of its users, Yahoo has partnered with several other search engines. Thus, when it is unable to find appropriate answers among the contents of its websites to a query launched by an Internet user, it uses the contents of one of the partner search engines.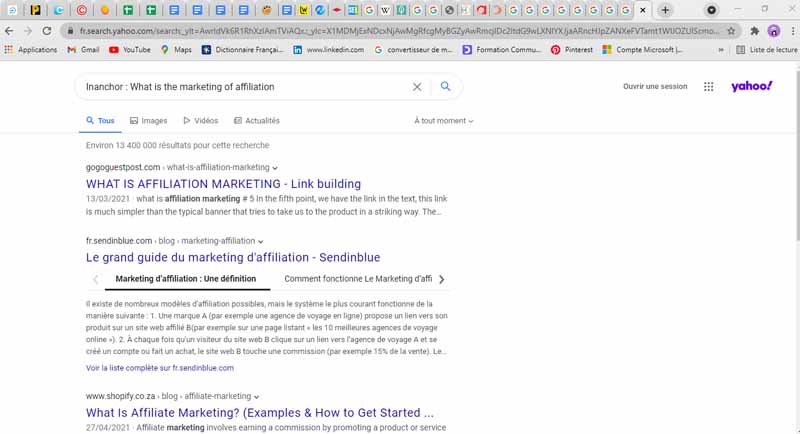 To differentiate itself from other search engines and to offer many other services and features such as streaming video, Yahoo has developed a specific search technology called Yahoo Search Technology (YST).
1.2. what is the history of Yahoo
The web directory "Jerry and David's Guide to the World Wide Web" was created in January 1994 by two Stanford University students, Jerry Yang and David Filoto publish their favorites. These two Computer Engineering students who spend their time browsing the Internet decided to identify and collect interesting websites and categorize them according to topics.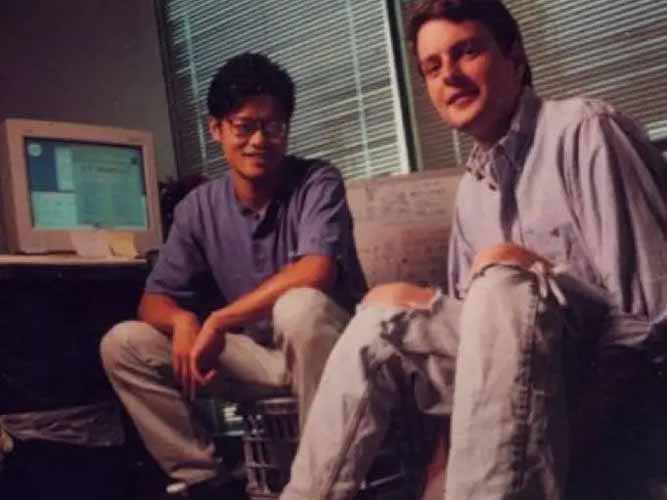 Source Business Insider
They use their university's infrastructure as part of their study to list and prioritize web pages by topic. The idea of these two students will give birth to the first directory site respecting the logic of referencing websites. At that time, when there was no search engine and Google did not exist yet, "Jerry and David's Guide to the World Wide Web" was a growing success and allowed users to search by keywords.
Yahoo later included new services such as the search engine in April 1994 to allow users to easily search websites by keywords.
1.2.1. Where does the name Yahoo come from?
Yahoo is often cited as the acronym for "Yet Another Hierarchical Officious Oracle", literally translated into French as : "Yet Another Hierarchical Officious Oracle".
On the other hand, the creators of the company explained that the name Yahoo was chosen because they would have to give a project name beginning with "Y" in order to be listed in the Stanford University computer project ranking.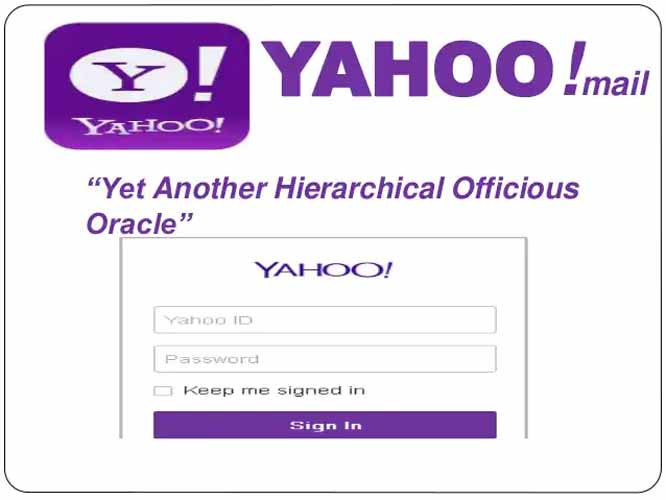 Source SlideShare
Jerry Yang and David Filo explain that they chose the name referring to "Yahoos"creatures in the book "Gulliver's Extraordinary Travels", published by Jonathan Swift in 1721.
1.2.2. The evolution of Yahoo from 1994 to 2016
A few months after the launch of the search engine, Jerry Yang and David Filo left the campus to start their own company on March 2, 1995. Indeed, the expansion of Yahoo's traffic caused a saturation of the university's network.
This prompted university officials to fire the two creators. They then accepted the offer of Netscape communicationsco-founded by Marc Andreessen to host their site. The company is based in Mountain View, California.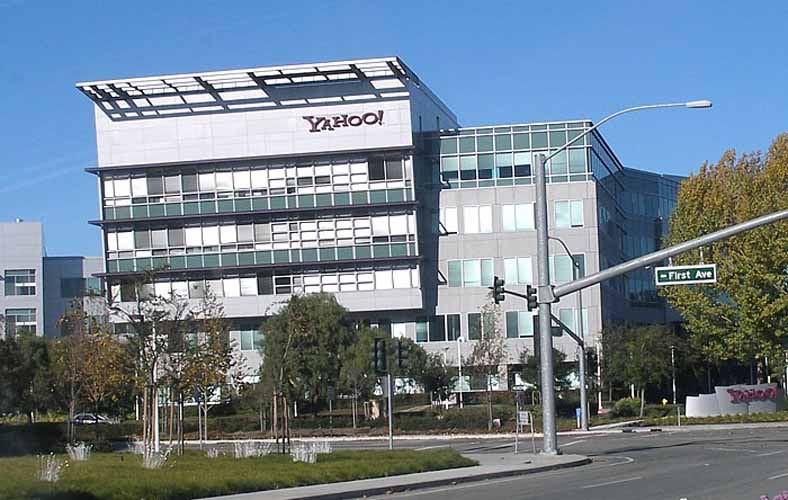 Source Wikipedia
Yahoo soon became the landing point for all Internet users who consulted the web directory. This great success of Yahoo motivated Jerry Yang and David Filo, who decided to add new services, transforming the web directory into a web portal.
Less than two years after the company's launch, in 1996, Yahoo reported 2.6 million shares sold ($13 each), making it an IPO. Yahoo then opened its Yahoo France annex in September 1996.
Between 1996 and 2009, Yahoo had a strong popularity and developed its image internationally. The company obtained during this period the highest traffic rate of the French Internet and took the upper hand over the competition especially against the French-speaking directory Nomade, created in 1996.
This success led the leaders of Yahoo to develop the actions of the company, to sign partnerships and to buy several local sites for the expansion of its services. The famous e-mail service, Yahoo Mail was established and Yahoo expanded into Europe, Asia, and South America.
In the meantime, the company developed its own search engine technology (Yahoo! Search Technology, YST) with the concept of a free search engine, depending exclusively on advertising revenues. The success of this model will soon be noticed and will be the model adopted by many other engines.
1.2.2.1. 2001: the beginning of Yahoo's difficulties
After seven years of strategic development, Yahoo experienced its first decline in revenues in 2001. Indeed, following the first threats of the Internet bubble in 2001, Yahoo's advertising revenues fell sharply. Remember that advertising revenues represent 90% of the turnover of the Californian company.
In 2003, following the explosion of the internet bubblein 2003, following the explosion of the Internet bubble, Yahoo was caught up by the competition, especially in the face of a new engine called Google. The latter completely overturned the concept of web directory and invented the search engine in 1998, including a revolution in online advertising with its new system Google Ads, formerly Google Adwords.
Despite the tough competition, Yahoo has made some attempts to resist and revive its actions. In July 2003, Yahoo bought Overture services which is a company specialized in sponsored links and transformed it into Yahoo Search Marketing.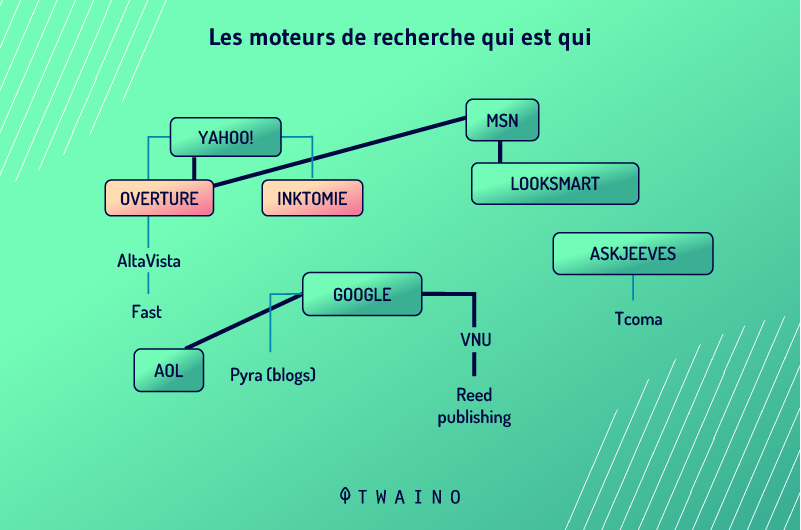 The Californian company took advantage of the search engines Inktomi and Alta Vista, acquired by Overture services a few months before it was bought to develop its own search engine technology YST (Yahoo! Search Technology) in February 2004.
With this technology, Yahoo tried to take over Google, which is now the number 1 in web search and online advertising. But this attempt was unsuccessful.
1.2.2.2. Yahoo's attempts at revival
Between 2004 and 2007, Yahoo launched several new services in an attempt to regain its position in the competition. In early 2004, it acquired the price comparison engine Kelkoo to develop its Yahoo Shopping service. The purchase price of this engine amounts to 475 million euros. This service essentially allows advertisers to generate links to their sites in order to boost traffic. Yahoo then tries to become an interactive platform with the launch of Yahoo 360°. This platform presents publishing and information sharing services such as:
Blogs;

Playlist sharing;

Etc.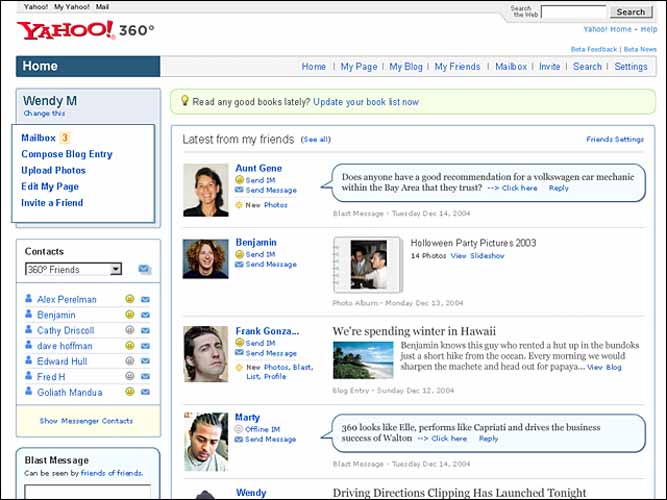 Source eWeek
These services remained in beta until 2009 before being removed. Terry Semel, who was in charge of the general management of Yahoo developed a new strategy to face its competitor. He set out to buy Google at a price of one billion dollars to start negotiations. Google declined the offer and Terry was demoted a few months after his failure.
1.2.2.3. The proposed takeover of Yahoo by Microsoft
In January 2008, the computer giant Microsoft began a series of negotiations to buy the Californian company Yahoo. Microsoft made its first proposal at a cost of $ 44.6 billion. An offer that the board of directors of Yahoo will not hesitate to decline, considering it insufficient.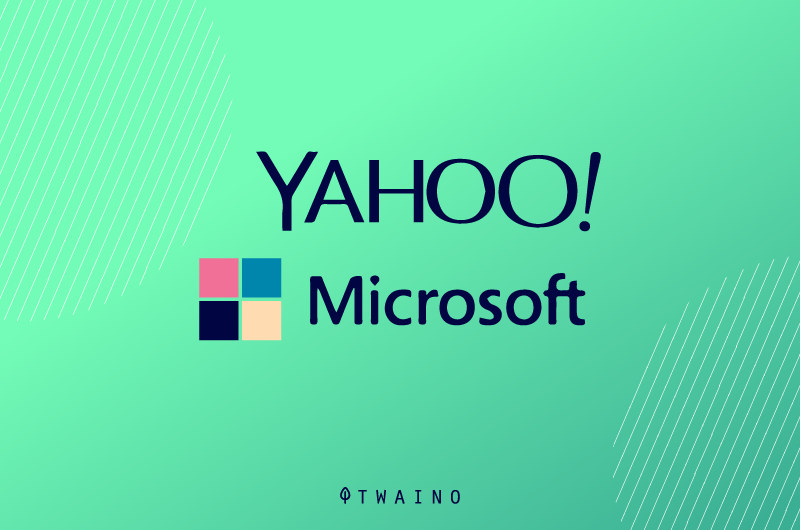 Microsoft's objective was to encompass Yahoo, to take advantage of its advertising service and especially to develop the video and mobile sector. Despite two other proposals in June and July of the same year, Yahoo remained adamant about its decision and rejected all Microsoft's proposals.
A few years later, in 2012, Scott Thompson took over the reins of the California-based company. His policy is to achieve $375 million in savings per year. Indeed, according to Scott, Yahoo must necessarily change its strategy to refocus on users and advertising.
For this fact, he announced in April 2012 the elimination of 2000 jobs. A rate of about 15% of the entire workforce of Yahoo, estimated at nearly 14,000 people worldwide. After 130 days at the helm of Yahoo, Scott will be removed from the service.
1.2.2.4. The appointment of Marissa Mayer as CEO of Yahoo
On July 17, 2012, Marissa Mayer, the former president responsible for mapping and geolocation services at Google was appointed president and took over from Ross Levinsohn who was acting as interim CEO after Scott Thompson's departure. During her tenure, Marissa Mayer has developed an offensive strategy focused on the multiplication and acquisition of several partnerships especially with companies such as:
Tumblr ;

Yelp;

RockMelt;

BrightRoll;

Cooliris ;

Etc.
This young director almost won her bet because two years after her appointment as head of Yahoo, the latter has seen its share revenues more than double.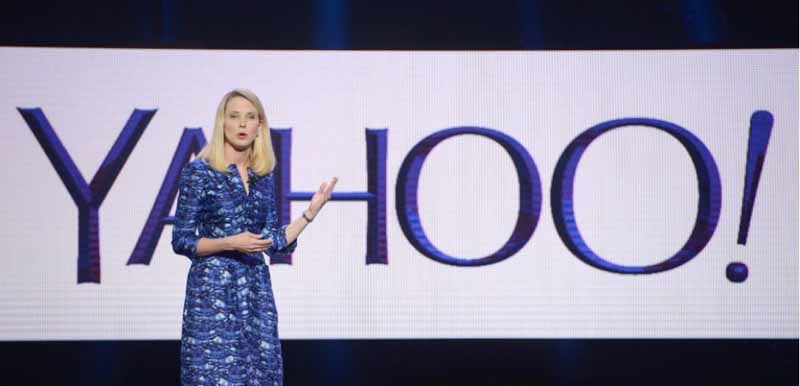 Source Challengers
In December 2015, the administrative board opposed the sale of Yahoo's stake in e-commerce company Alibaba. Better yet, it announced a separation of the web activities instead.
Marissa Mayer, who supported the sale of Yahoo's stake, is now under heavy criticism and constant pressure from investors to accelerate Yahoo's turnaround, a promise she made three years ago.
It should be noted that at that time, Yahoo's stock was plunging into chaos. In the first quarter of 2015, net profits plummeted 93% and revenue fell 4%.
Marissa Mayer attempted to remedy these setbacks by announcing on February 2, 2016 that 1,700 jobs would be cut. In addition, another 2,800 positions were changed from full-time to part-time work. The goal of the young director is to save 400 million euros to revive the expansion of Yahoo shares.
Almost all of Yahoo's businesses are in trouble except for a few activities, mainly mobile, which reported a 61% growth in revenues. As for search services, they are reporting about 19.5% revenue thanks to the partnership agreement between Yahoo and Mozilla that makes Yahoo the default search engine on Firefox.
Seeing itself in these final days, Yahoo decided to sell itself in 2016. A few months after the announcement, in July 2016, Verizon bought Yahoo for $4.5 billion.
1.2.3. What happens to Yahoo at Verizon?
By buying Yahoo, Verizon intends to combine it with the AOL brands it acquired a few years earlier at a price of $4.4 billion to become an advertising giant, a true competitor to Google and Facebook.
Being a real leader in the telecom industry, Verizon has a capital of more than 230 billion dollars. It concludes the purchase of Yahoo by paying the 4.5 billion dollars in cash. But, it will not have access to all the services of Yahoo. Verizon offered itself essentially:
The Yahoo search engine;

The advertising network;

The various information sites (Yahoo sport, Yahoo Finance, Yahoo News);

Etc.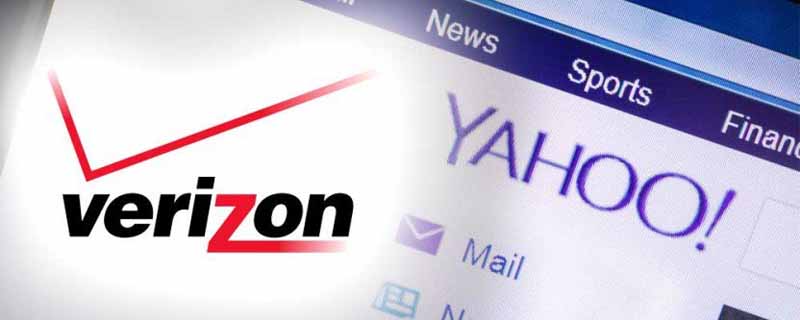 Source Tech Tip
After a failure of its attempt to compete with the two giant American companies Google and Facebook, Verizon decides to sell its activities including the brands AOL, Yahoo and even TechCrunch. The sale will be concluded between Verizon and Apollo Global Management, in May 2021 at a price of 5 billion dollars while keeping a 10% stake in all shares.
1.3 Yahoo and its visual identity
Since its inception in March 1995, Yahoo's logo has not undergone major changes except for the evolution of the shading effect and color. The company made a change to the color and shading effect in August 1995, when the red version of the logo was released.
This version will be maintained for quite some time before giving way to the purple version of Yahoo logo. The company officially introduced this new version in June 2009 on all Yahoo services, the portal as well as the search engine.
As soon as the 2013 school year started, Yahoo released a statement announcing a logo change. To celebrate this news, the company posted a different logo on the search engine every day for 30 days before unveiling the new logo on September 5, 2013. The last change was in 2019.
Noteworthy in this new version is a change in the lowercase font to bold Century Gothic. Nevertheless, Yahoo maintains the purple color and enhances it.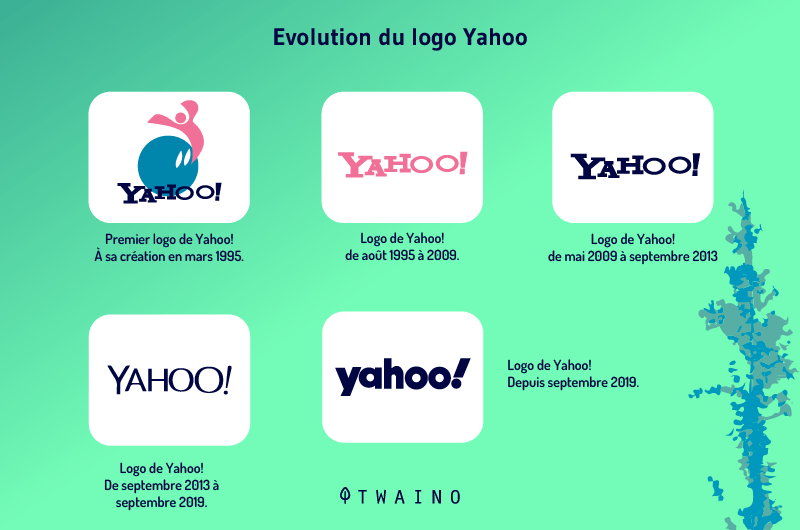 Chapter 2: Yahoo: its services, its relationship with other search engines (Google, Bing) and SEO
Yahoo is considered more as a portal site with web search as a feature than a search engine in the true sense. The difference between Yahoo and other search engines (Google and Bing) is already noticeable from its homepage.
Indeed, Yahoo's homepage is more ornate and interactive, enriched by a wide range of products and features such as:
News ;

Shopping ;

Travel;

Sports results ;

Etc.
Although Yahoo's Internet search is powered mostly by Bing, Yahoo has control over the ranking of results displayed on the SERPs. Unlike Google and Bing, Yahoo rarely displays answer boxes. In addition, the right-hand column remains almost non-existent on Yahoo's SERPs.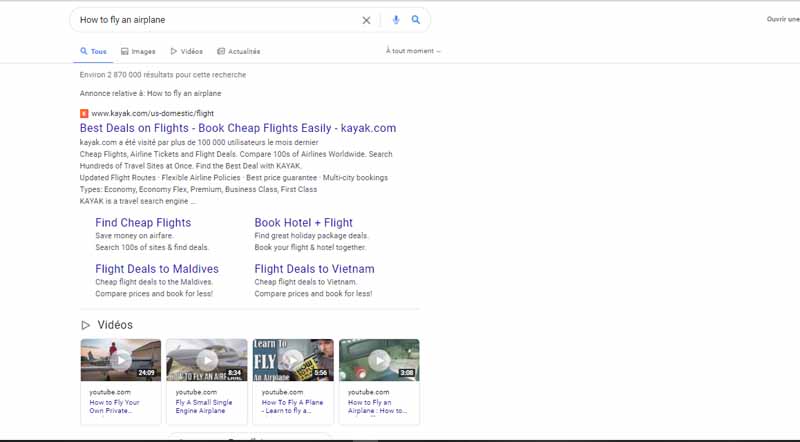 There is also a dissimilarity between the display of results on the SERPs. In fact, the display of organic results varies from one search engine to another. Although Yahoo and Bing are powered by the same search technology, both do not present search results in the same way.
2.1. The different services of Yahoo
Yahoo today represents one of the oldest known names on the Internet and one of the most popular websites. When you first visit Yahoo's homepage, you may get the impression that it is just a news portal site. But, beyond this feature, Yahoo offers many other services that we will discover in this section.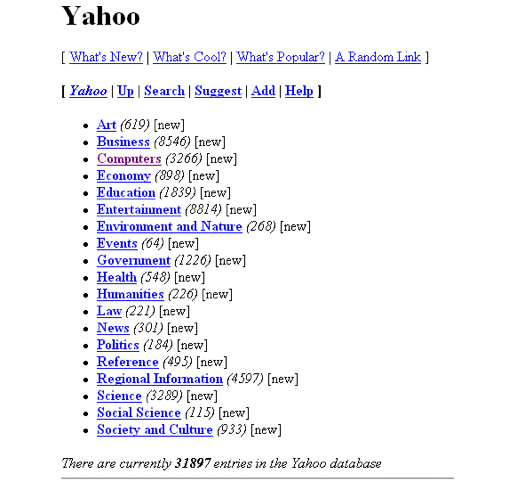 Source Gigazine
You can directly access all Yahoo services in one place. This is their Yahoo Everything page
Here are some examples of the features and services you can find there:
Yahoo Answers: This is a feature that allows users to interact with other users through questions and answers.

Yahoo Downloads

yahoo Downloads: is an extension that you can install on your browsers (Firefox, Edge, Chrome) to access services such as: Yahoo news, view the contents of your inbox, use Yahoo as your default search engine, etc.

Yahoo Entertainment: This feature allows you to present users with TV-specific movie, news and video schedules;

Yahoo Fantasy Sports : Here you can find all the sports news, scores, games, fog, etc.

Yahoo Finance : All the news concerning economy and finance (stock exchange information, quotations, etc.) ;

Yahoo Mail

yahoo Mail: This is the free messaging service of Yahoo. Yahoo Mail allows its users to send and receive electronic messages;

Yahoo Groups

yahoo Groups: From this feature, all users can create a group on Yahoo, which many other users can access and interact with like a forum;

My Yahoo

this service gives you the possibility to modify Yahoo and make it a personalized homepage;

Yahoo News: is a space for displaying the latest news from around the world and the United States in particular;

Yahoo Shopping

through this feature, Yahoo allows you to browse stores or stores to make your purchases online. You have the opportunity to browse brands and categories such as: clothing, toys, gifts, electronics, flowers, etc.

Yahoo Search

this is the search engine where you can make your various queries and find answers in the form of web articles, videos, recipes, images, etc.

Yahoo Weather: It allows you to display the weather news and forecasts of all countries in the world.
Yahoo has several other services like Yahoo Lifestyle, Yahoo Developer Network, Yahoo Small Business. On the other hand, some services like Yahoo Messenger, Yahoo 360 and Yahoo People Search are no longer available.
2.2 Yahoo and Google
Despite the similarity between the two different search technologies used by Yahoo and Google, each of the two search engines provides different information. Indeed, each of these two companies offers different experiences to their users through their features, tools and even the results they offer to queries.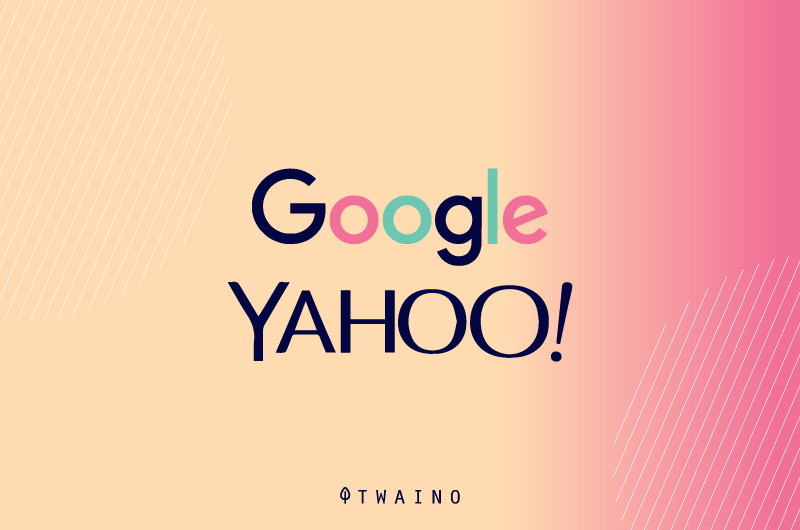 One example is the news that Yahoo regularly provides on its home page, which is not found on Google. These differences reflect the objectives and the image that each search engine tries to develop. Google focuses on developing new tools while Yahoo strives to become a one-stop destination.
2.1.1. How the search engines work (Yahoo and Google)
Both Yahoo and Google operate on their own based on a specially established set of rules, called an algorithm. The algorithms are responsible for :
Automatically summarize the content of web pages:

Make assumptions about the meaning of the user's query;

Matching the user's search to the most appropriate content possible.
Algorithms are the most important element of all search engines. The difference between the algorithms of different search engines (Yahoo, Google, Bing) can be a cause of the difference between the search results they present.
2.1.2. Similarity in the process of ranking web pages and presentation of search results
Yahoo and Google go beyond simply presenting web pages containing the user's search terms. Based on their respective algorithms, these search engines rank web pages according to topics.
These web pages will be presented in the SERPs based on the likelihood that they contain information that will satisfy the user
Yahoo and Google agree on how to prioritize web pages in order to present users with results that are relevant to their different queries.
2.1.3. Difference in design between Yahoo and Google
The aesthetic differences of each search engine can have an impact on the types of information it presents to its users. While these small details may seem insignificant, they nevertheless mark a big difference between the different search engines.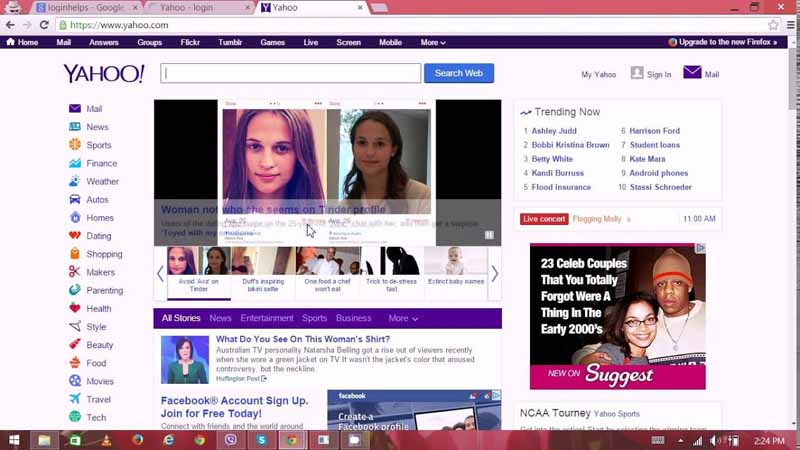 Source i.ytimg
When a user searches for a popular or influential artist or personality on Yahoo, for example, he or she gets results that include videos of the person searched for. Google, on the other hand, only shows the same type of results as a normal query.
2.1.4. Tools and Features
Both Yahoo and Google have a wide variety of additional tools and features that remain specific to their niches. For example, Google has a great location tool called "Google Maps". This is a tool that allows users to not only search for an address on a map, but also zoom in to get a real view of the location.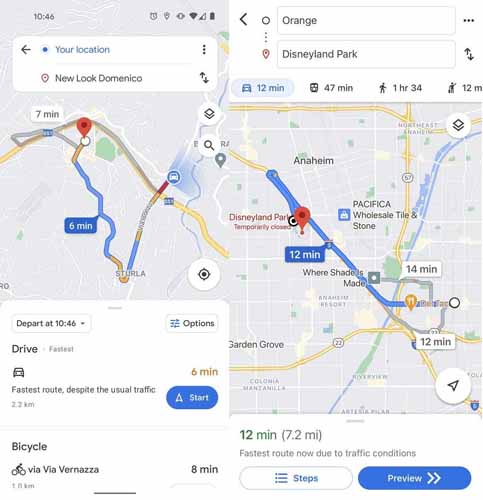 Source Netcost
Similarly, Yahoo has a hotel locator tool. This tool helps users search for a hotel and also compare rates and room availability. Both Yahoo and Google have developed tools that allow users to make comparisons of items (products and services) in multiple stores or outlets.
It should be noted that these two engines regularly update their various features.
2.2. Yahoo and SEO
It is no longer a fact that Google has the largest share of the search engine market and generates more traffic when it comes to website optimization or SEO. However, there are other search engines like Yahoo, although they do not generate as much traffic as Google, they are still likely to generate targeted traffic.
Thanks to Yahoo, you have the possibility to develop the visibility of your website. Indeed, the Yahoo search engine is powered since 2010 by Bing, a result of the collaboration with Microsoft. In concrete terms, Yahoo's search results are now based on the ranking performed by Bing's algorithm.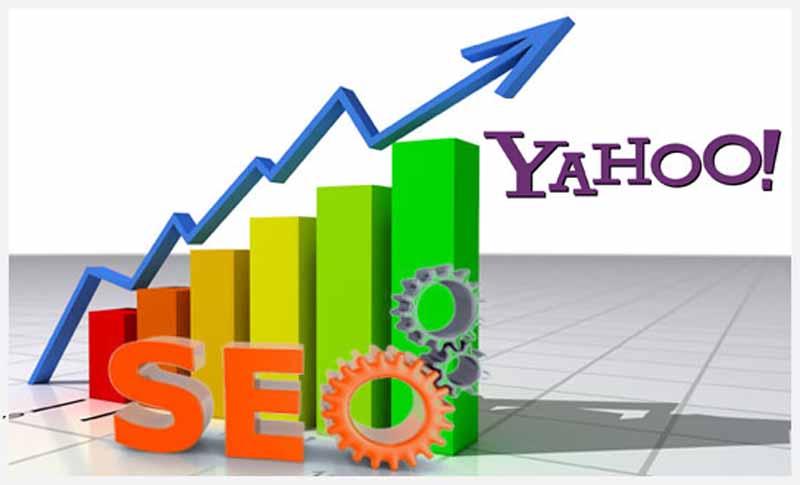 Source itarticle
Therefore, by improving the positioning of your website on Yahoo, you are also doing it for Bing. It should also be noted that these two search engines are obviously less competitive than Google. It is therefore an advantage for websites because they can position themselves in the first results of SERPs from the same keyword.
Summary
Between its birth in 1994 at Stanford University and the takeover of its various activities by the Telecom company Verizon in July 2016, one of the first portal giants of the Internet and visibly the oldest search engine Yahoo has exhausted two decades of success and failure.
Despite its repeated failures and the supremacy of competitors including Google which has taken over 93% of the market, Yahoo maintains its claws in the arena and many of its services have remained available.
In this article, we have talked mainly about the history of Yahoo, its features and service offerings
We hope you enjoyed this article and now you have an idea about the journey of this internet giant of the 1990s!
You can share with us what you remember and if you have any questions, feel free to comment.