The keyword funnel reports on the keywords you are targeting and that correspond to the needs expressed by Internet users at each level of their customer journey
In a recent publication, Google stated that the sales funnel is no longer a succession of linear steps. Rather, it is a process that depends on each customer, which makes it difficult to predict.
To deal with this situation, it is important to stop getting hung up on one way of doing things. Instead, one should think and understand the customers, how they act and interact in order to satisfy their needs at all levels of the sales funnel
To do this, you need to set up keywords that correspond to the needs and intent they express at each level of the funnel.
So what is the keyword funnel?

Why is it important for your website?

How to set up a keyword funnel ?
These are some of the questions I will answer in this article.
Chapter 1 : The keyword funnel
Here, I explain what is meant by the keyword funnel, but also why it is necessary to link keywords and the sales funnel.
1.1. what is the keyword funnel?
To better understand what the keyword funnel means, it seems necessary to recall what the sales funnel is
The sales funnel is the path that a prospect follows to become a customer
It is a process, a series of steps that you put in place to explain and educate the prospect on the usefulness of the products or services you offer so that he can make a decision and convert
In a caricatured way, the sales funnel looks like a real funnel or an inverted pyramid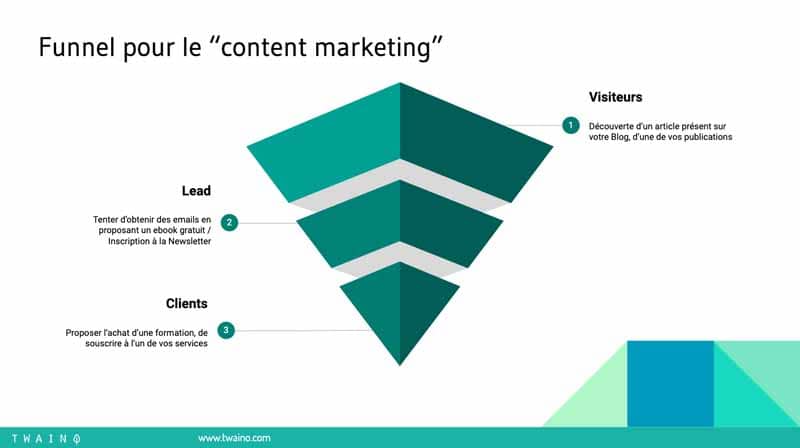 The top part is wide and you can see that it gets narrower as you go down.
The top symbolizes the entrance and you see the audience or visitors in their most global form. The bottom symbolizes the completion of a given act and you will find at this level only those who have converted
This is exactly why you will see that as visitors move down the funnel, their numbers decrease considerably
As you will see, the funnel is used by most B2B companies, e-commerce sites or marketing companies, which reflects the idea that everyone follows pretty much the same customer journey and therefore the same steps to buy
From this point on, one of the questions that may come to mind is what drives a prospect to follow the entire customer journey while others do not.
To answer this question, you must first understand what the customer journey is, but also find out what the prospect is looking for at each step of the journey and what needs to be satisfied to take them to the next step
As you know, when it comes to knowing what the Internet users are looking for or determining the needs they express and which must be met to satisfy them, you must use keywords
Thus, in parallel to the sales funnel, the keyword funnel is identified with the use of keywords that correspond to the requests or needs that Internet users express at each level of the customer journey and that must be met to satisfy them
In reality, at each stage of the customer journey, potential customers have different needs. They therefore use different keywords to express them
Your objective would be to find keywords that correspond to each stage of the funnel in order to be sure that, whatever their search intention, they find the content that corresponds to their search.
1.2. Why link the sales funnel and keywords?
There are two main reasons to link the sales funnel and keywords:
1.2.1. SEO goes beyond getting traffic to your website
The goal of any SEO is to see that your website's performance is green and that it attracts a lot of traffic. But that's not enough, because first and foremost, he hopes that these visitors
Buys products or services from him

Leave him their e-mail address;

Perform the actions he asks them to do;

Etc.
In short, by optimizing his site for search engines, the webmaster would like these visitors to convert
Therefore, it should be noted that SEO goes beyond increasing the performance of a website
It is therefore rightly that Neil Patel said in one of his recent articles that: "SEO is about revenue".
He explains by showing that it is the fact of not taking into account this parameter in the process of keyword research that justifies the fact that the conversion rate of websites is almost absent or remains very low.
1.2.2. The different stages of the sales funnel are based on search intentions
The second reason for linking the sales funnel and keywords is that each stage of the sales funnel can be linked to a search intent
To better understand this, we need to present the different stages of the sales funnel and the 4 types of search intent
1.2.2.1. The different levels of the sales funnel
Traditionally, the sales funnel is composed of 4 levels, namely
Attention

attention: This is the stage during which you capture the attention of the Internet user for the first time. He then becomes aware that you exist and the things you offer

The interest

here, you have aroused his interest by showing that you are able to offer him something of quality. He will then carry out research, make comparisons and think about the different possibilities he has

The decision

at this stage, the Internet user has selected the options that suit him best and feels ready to make a purchase;

The action

during this stage, the customer is at the bottom of the funnel. They have purchased your product and are now a customer of your company.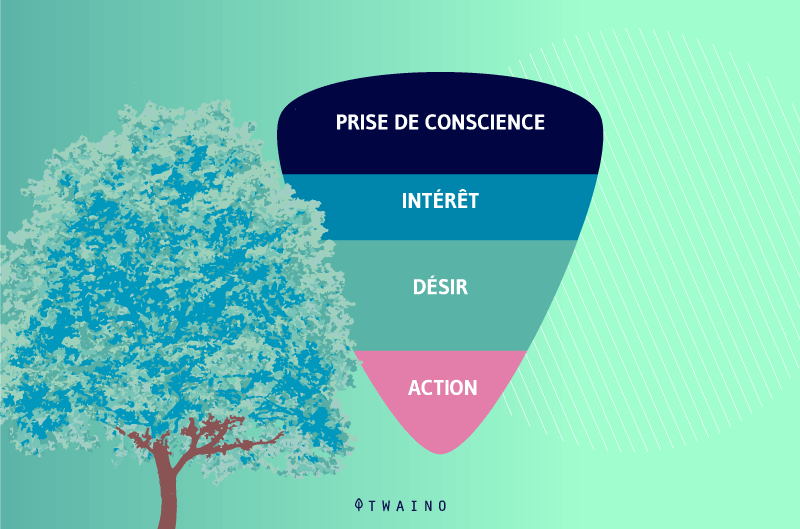 In digital, the sales funnel is broken down into three parts and corresponds to the different entry points on a web page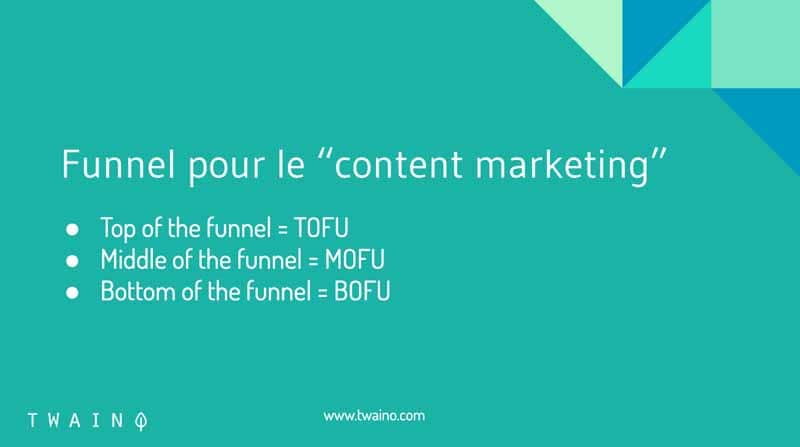 These are the
Top of the funnel

still called top of funnel, this stage corresponds to the attention. It is the first point of entry at which the visitor of your site takes note of your existence online;

Middle of funnel or Middle of tunnel (MoFU)

this stage corresponds to the interest generated by your brand. Internet users here know your brand and discover what you offer them

Bottom of funnel (Bofu)

this stage corresponds to the decision and action phases. This is the final stage of your sales funnel, the searchers who come here are those who have satisfied the objective of your sales funnel.
These are the different stages of the sales funnel or the customer journey. Now, here are the different search intentions that can drive a user to the Internet
1.2.2.2. The different types of search intent
On the Internet, there are 4 types of intentions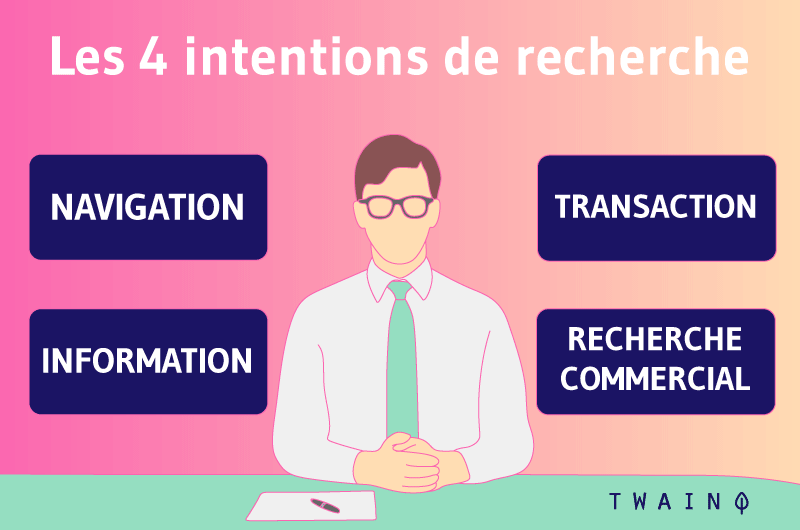 Each of these types of intention is what guides the Internet user for his online visits
Informational intent

the research intention is qualified as informational when the Internet user carries out these researches with the only aim of getting information on a subject;

Brand or browsing intent

the brand or browsing intention: Here, the Internet users carry out their research with the aim of accessing a brand or visiting the website of a company they already know;

Commercial intent

this is the case of people who go on the Internet with the aim of finding a product that they want to buy

Transactional intention

transactional intention: This is the case of Internet users who have found their product and go on the Internet with the aim of buying it
An analysis of the different stages of the keyword funnel with the search intent will show you that each level of the sales funnel can correspond to a search intent
It is therefore up to you to take advantage of this by using and targeting the different stages of the funnel with relevant keywords.
When we add to these observations the statistics related to Google search engines, we realize the importance of keywords in the construction of the sales funnel.
It is then appropriate to discuss in the following lines how to search for keywords that correspond to the sales funnel.
Chapter 2: Searching for keywords that match each level of the sales funnel
In this chapter, I explain how to set up your keyword funnel based on the different stages of the sales funnel.
2.1. The awareness phase
According to databoxthe average conversion rate is about 3%. As you can see, this is a very low rate, so you need to take steps to attract as many prospects as possible.
The awareness phase is the point of entry from which people come into contact with your website. If you can hold their attention, they will certainly be willing to go further down the sales funnel.
This phase can start after reading:
From your articles;

A video ;

An advertising campaign;

Images during a search;

Research on the Internet.
During this phase, your job is to educate and show your prospects that you have the means to meet their expressed needs.
That's why I recommend that you start your keyword strategy by thinking about the type of search questions people might use if they want to satisfy needs that you offer solutions to.
Once you have identified these queries, you will need to answer them with quality content to maximize your chances of ranking high in the SERPs
It is therefore a work of seduction that you do and which will aim to make users want to come to you. The keywords that you must use here must be in line with this idea of awareness
You can identify them thanks to the
2.1.1. Keyword research tools
Keyword research tools are a great way to find keyword ideas that fit with what you are offering. There are many keyword research tools available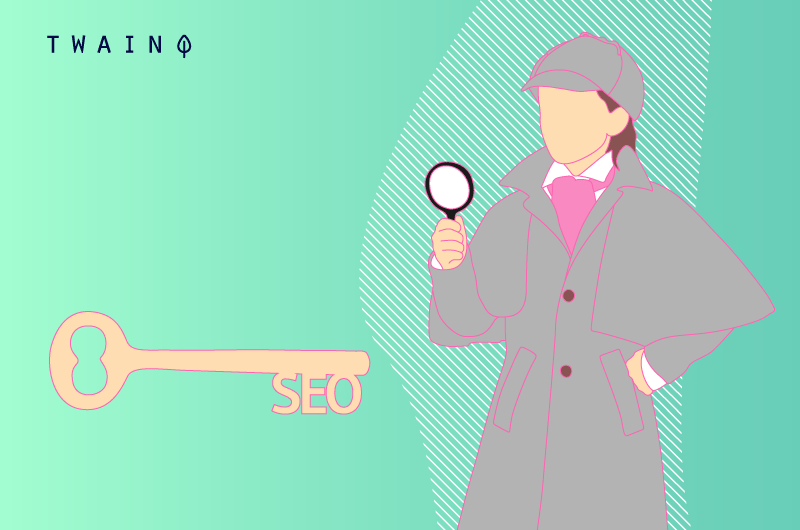 They are easy to use and do not require any special skills. To help you, I suggest you consult this list of 21 keyword research tools.
2.1.2. The characteristics of Google search
Most Internet users start their experience from a search engine, do as they do, use search engines to discover the relevance of a keyword and the intention that guides it. At the Google level, all you need to do is take advantage of the various SERPs features namely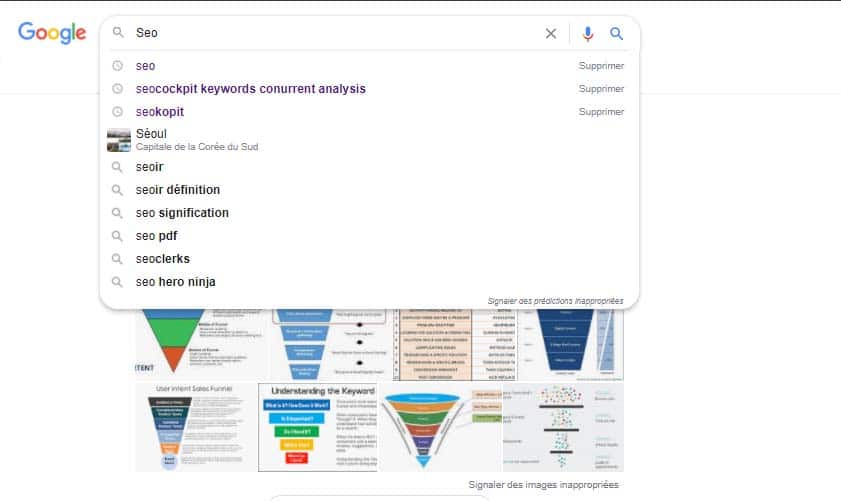 2.2. The Interest phase
When your visitors reach this level of the funnel, it is clear that you have succeeded in attracting their attention. They are interested in what you offer and now want to go further
It's quite possible that they will start by doing less general searches than what they were looking for before
It will be up to you to find these queries and use them to optimize your content
To do this, you can focus on long tail keywords
Long tail keywords are generally expressions composed of two or more keywords
They are a solution here as they are more specific and less competitive than single phrase keywords
They can give you an idea of where the prospect is in your sales funnel and because of their specificity. It may not be automatic, but remember to use them as you move down the sales funnel.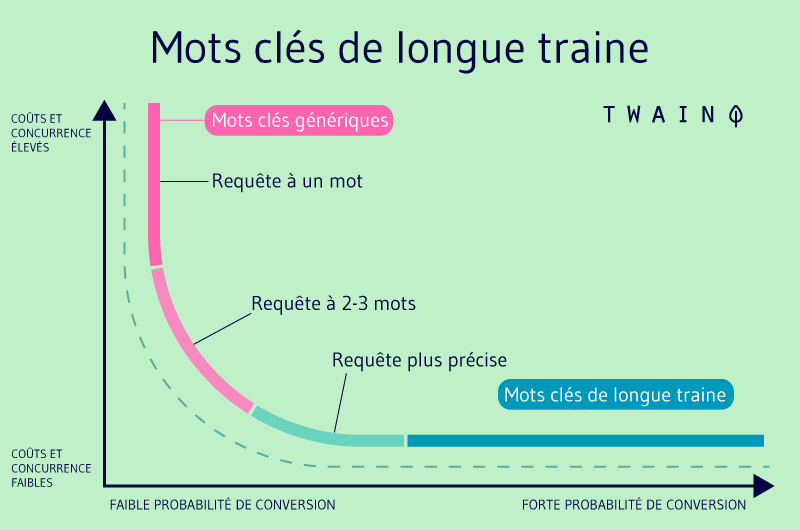 In reality, once at the level of interest, web surfers understand their initial query better and know the means that should be used to get it. You'll find, for example, that they no longer pose a broad, less defined problem
They rightly start by doing more specific searches
These are the terms you need to target at this level of the funnel. In doing so, there is a desire to have a support you complement and accompany wills of, as they are terms with high commercial potential for you and your business.
When you target these new terms, you allow Internet users to find solutions to the new problems they have and that you solve. So it's up to you to rank them as well
2.3. The consideration phase
Here, the Internet user knows that you have the solution to his problem, however, he hesitates to buy it, because he wonders if there is not another proposal more interesting than the one you are making
He will therefore make sure by comparing similar products on the market
Your role is to convince them on a marketing level that your proposal is the best. Here again, your keyword research strategy must be different from the mechanisms used in the first two steps
Here is the direction in which I advise you to orient your keyword research.
Always use long tail keywords, but make sure they are based on the terminology of the sector you are in as well as the basic expressions of your niche. You can also look to dominate the SERPs for modifier keywords
If you are about to buy a product, you will certainly search the internet and read both comments and reviews.
Potential customers will also do the same, you can get ahead of them by looking to dominate the search results for modifier terms such as
Visitors who have made it from the awareness level to this stage have shown serious intent, so they are valuable. They want to buy, but first they want to see the different options available and a comparison between price and value. Examples include
From an acting artist

A checklist;

Infographics;

Imperative blog posts;

Joke articles.
2.4. The Conversion Phase
The fourth stage of the funnel is conversion. Visitors who find themselves in this stage of the search funnel are seriously looking to buy from your company only they need a little persuasion
At best, try to answer the questions that concern your visitors even if it means creating new content to answer a new set of questions.
The best trick is to design a website that captures and converts your prospects at all stages and all that can be achieved with a technically sound website in collaboration with keyword-based content.
In addition, you can also prompt your viewers to perform an action by publishing specific content.
Once the keyword research is complete, the work that needs to begin now is to match each keyword with the right type of content and therefore search intent
This should help you further entice a prospect from the bottom of the funnel to convert.
As an example, you can remember:
Webinars, mini-classes;

Live demonstrations;

Evaluation and comparison sheets;

Question and answer web conference;

Case studies.
Content like this can help a user choose and take the final step to conversion, especially if you're asking them to purchase expensive products or services.
But, it's not just about finding the right keywords and matching them to the content. Think carefully about what you really want the user to do.
Anyway, here are some questions that will help you make your keyword funnel
Chapter 3 : Some good practices to make your keyword funnel
To take full advantage of your keyword funnel, here are two tips that I suggest you follow:
3.1. measure your success
It can and often does happen that your sales funnel encounters difficulties and requires adjustments
To get an idea of what those adjustments might be, you can make the option from the start to monitor the performance of your business as it grows.
When you do, you can learn more about your customers and how your marketing strategy is working.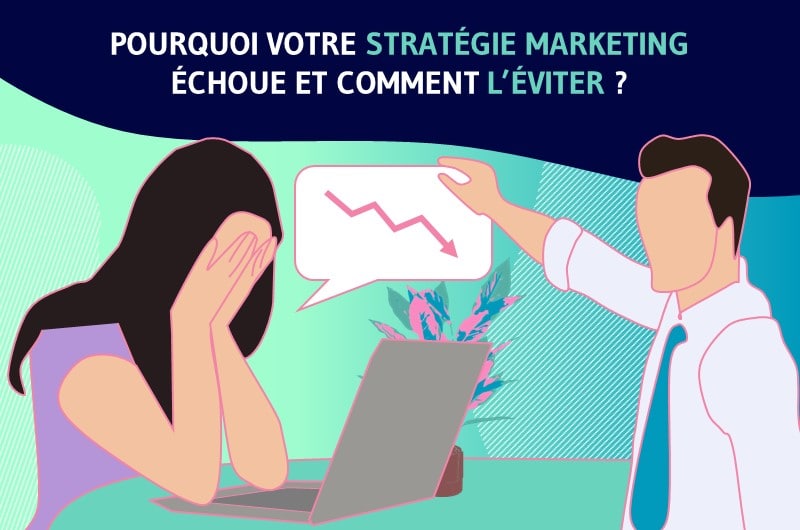 A great way to measure the success of your sales funnel is to track your conversion rates.
3.2. Define your sales persona
A persona is an "imaginary person" that you create and assign common characteristics of your customers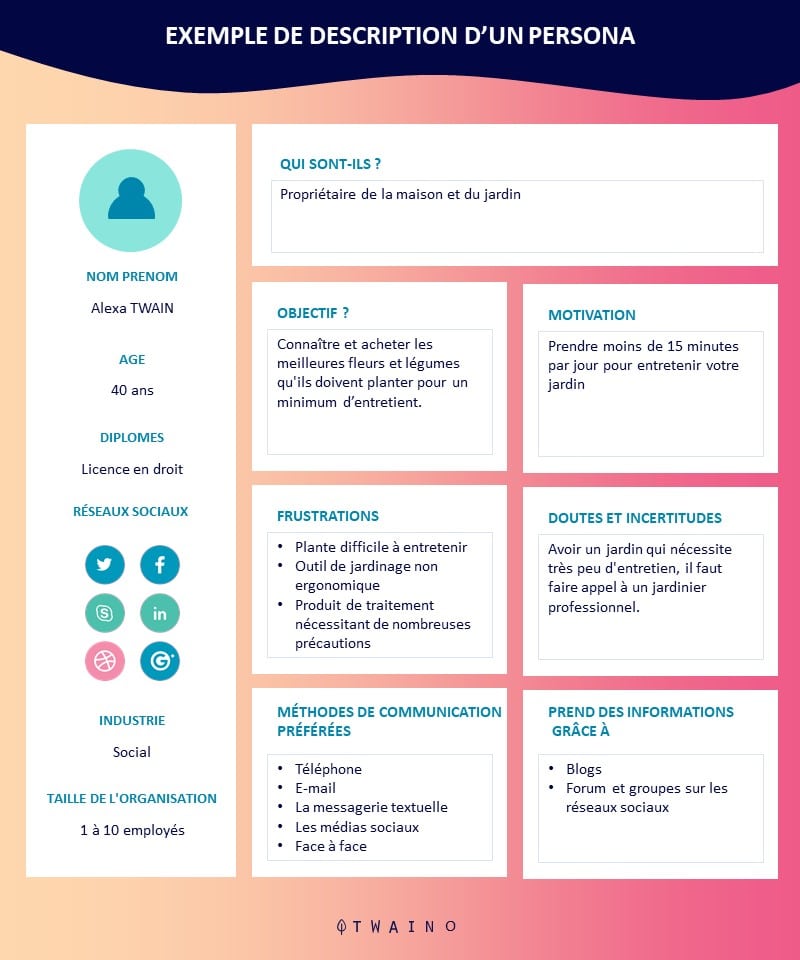 It helps you
Visualize their buying journey;

To internalize who they are;

And to understand their difficulties.
When setting up your personas, you should keep in mind that it is important to get very detailed information about the people you are targeting
Give them names and faces. Fill in their demographic and psychographic information. Understand them:
Goals;

Challenges;

Hopes

Their fears and weaknesses.
Even though your characters may be "fake", make sure they are based on real data that you can access. This data may include
Gender

Age;

Occupation;

Location

Sex

Etc.
In summary
The keyword funnel establishes a correspondence between the keywords and the different stages of the sales funnel. It allows your users to find content adapted to their needs, regardless of the level they are at in the sales funnel.
In this chapter, I explain not only the concept of the keyword funnel, but also its importance and some methods that make it easier to implement.
Use these various elements to create and optimize your keyword funnel in order to increase your conversion, which is always down