Google pigeon is an update specifically designed to provide users with relevant query results close to home. Otherwise, this update ensured that local pages had the opportunity to rank higher in SERPs for local queries.
Unlike other algorithms like Panda and Penguin, Google Pigeon was particularly less harsh against manipulative practices in SERPs
With the latter, Google was able to focus on the user experience by making search results more relevant for local searches.
This means that optimizing your site for local searches can guarantee you a good ranking in SERPs in general.
And to take advantage of this update, I suggest you read this article to better understand the concept and the best practices to adopt.
Chapter 1: What is Google Pigeon?
Let's find out in this chapter what is meant by Google Pigeon and the remarkable changes this update has brought to SERPs
1.1. Google Pigeon definition
Google Pigeon is a filter that relies on several signals of relevance and authority of a page by specifically highlighting local search results.

To better distinguish local pages, the update has simply improved existing Google features such as:
Knowledge Graph;
Spellcheck; and
And synonyms.
The inclusion of traditional ranking signals in the local search space means that local directory sites and local guides will have better visibility in Google's search results overall
For example, Yelp, Yellowpages.com, TripAdvisor, OpenTable, and even local directory sites have benefited from increased visibility and ranking through the Pigeon update in certain areas and for certain search topics.
In any case, directory-style sites are generally structured in such a way that they tend to naturally trigger the strongest local signals related to generic, unbranded searches like "restaurants in Toulouse
They also tend to have more authority because of the many links and mentions from other sites.
Pigeon also solved an embarrassing problem that seemed to impact its relationship with its audience on how it organizes the SERPs.
1.2 What changes has Pigeon made to the SERPs?
In the past, when you're in Paris and looking for a nearby hotel, you'd tend to type "Hotel Reservation Paris" into your browser.
Over time, Google has made local search easier by giving the possibility to automatically and implicitly add your location in order to get local results without having entered a query that specifies your city.
Google understands the importance of the local search perspective, especially since the use of mobile devices is becoming more and more important for browsing or shopping on the internet.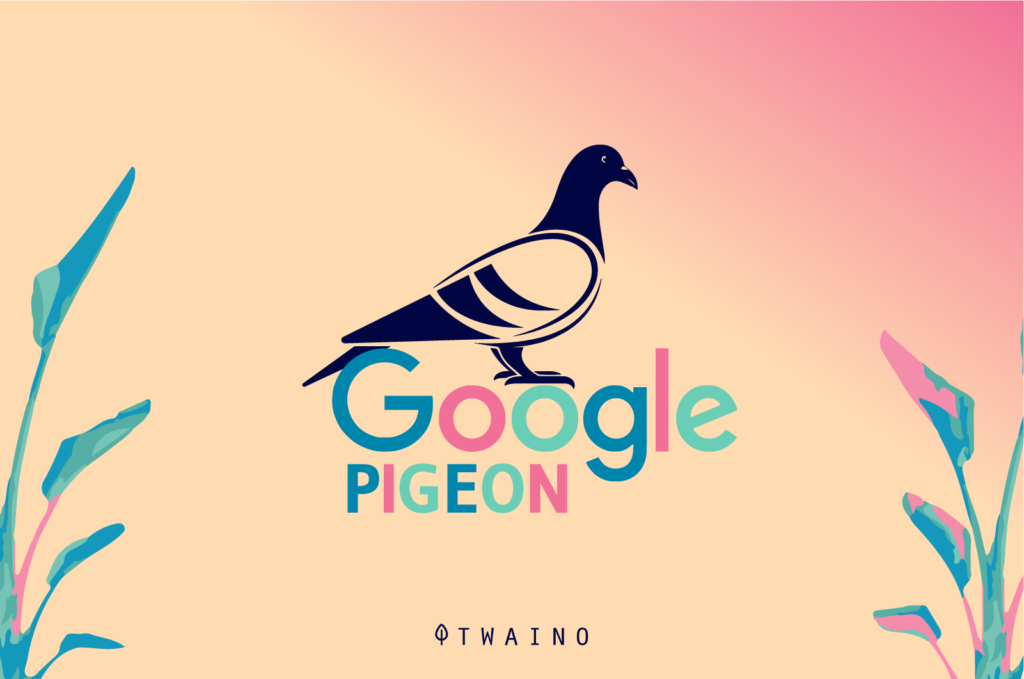 Here are the major changes brought by this update in a few lines:
1.2.1. Replacement of "7 pack" by "local pack
The local pack is a section of Google search results that displays 3 local businesses when the query has a local intention.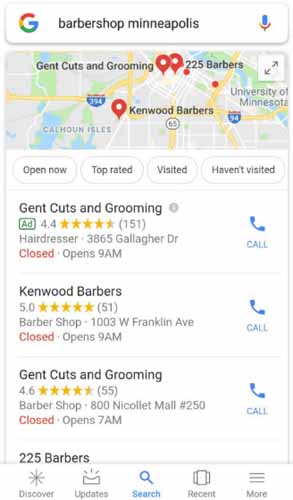 Source : seranking
In the past, the 7 pack was referred to as the "local pack" because it displayed a list of 7 popular businesses in the area.
With the idea of making search results more relevant, the Pigeon update allowed Google to reduce this number from 7 businesses to only 3.
1.2.2. Local directories appear more in local search results
Like the local pack, Google Pigeon also boosted the visibility of local directory sites in search results.
SmallBusinessTrends confirms this in these words:
"Previously, when you searched for something local, you'd get results from your carousel, then a list of organic results, usually individual restaurants. Now, you'll sometimes see directories appear in the search results under the carousel, including OpenTable, Urbanspoon and even TripAdvisor."
We also note the same thing in a Search Engine Land article:
"It appears that Yelp and other local directory-style sites are getting more visibility after the Pigeon update, at least in some verticals. And that seems to make sense since, as Google said, this update ties local results more closely to standard Web ranking signals. This should benefit large directory sites like Yelp and TripAdvisor, sites that have stronger SEO signals than smaller individual restaurants and hotels."
In 2012, local directory sites like Yelp suffered a remarkable drop in Google search results.
Thanks to Yelp's popularity and notoriety, he speculated that Google was manipulating search results to return its own listings ahead of other directories, without considering parameters such as:
Search terms
The popularity or authority of the site
Or other SEO practices.
Yelp went so far as to illustrate in a report how a specific search term that included the word "yelp" would return results from Google+ listings before the Yelp listing.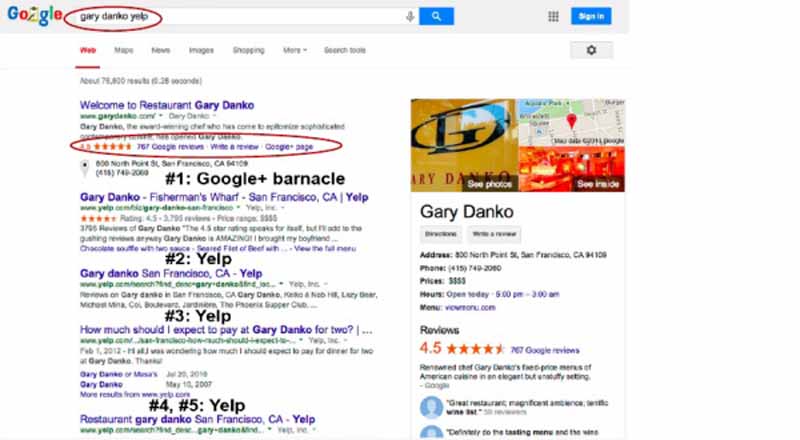 But since the Google Pigeon update, the search term now lists the Yelp listing first in Google results.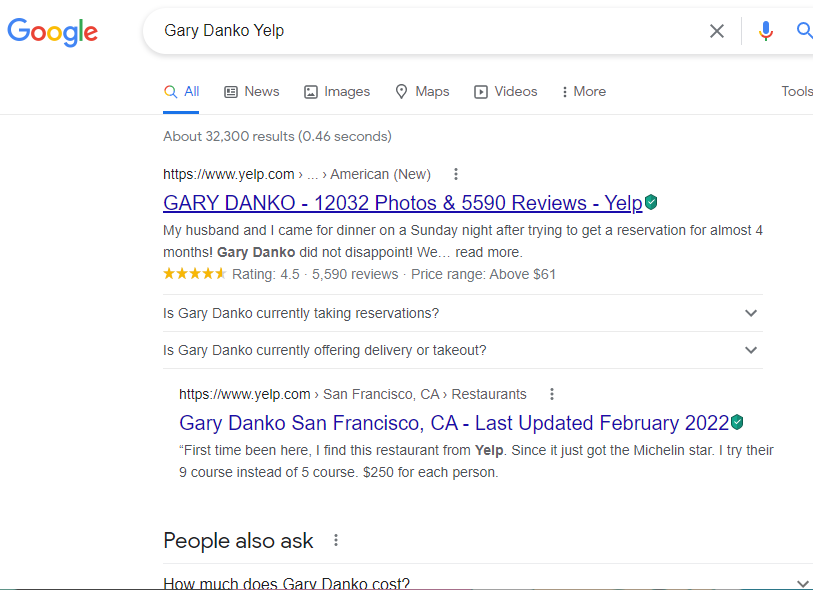 Chapter 2: What makes Google Pigeon different from other updates?
To better notice the difference, we need to define each of Google's major updates:
2.1. Google Panda
The Panda update aimed to rid SERPs of low-quality content that does not provide any value to users.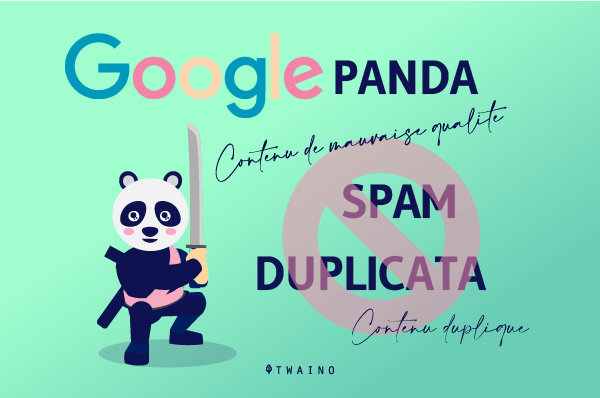 This update mainly targeted:
Duplicate content: This refers to websites that presented the same or extremely similar content on multiple pages. These sites were negatively impacted by this update. This highlighted the importance of unique and relevant content on each page;
Thin content: This refers to web pages whose content does not reach a minimum length in terms of words, nor does it provide relevant information to the user. Pages with thin content have been penalized in Google search results by the panda update.
2.2 Google Penguin
When the Google Penguin update was released, it targeted sites that used excessive optimization techniques.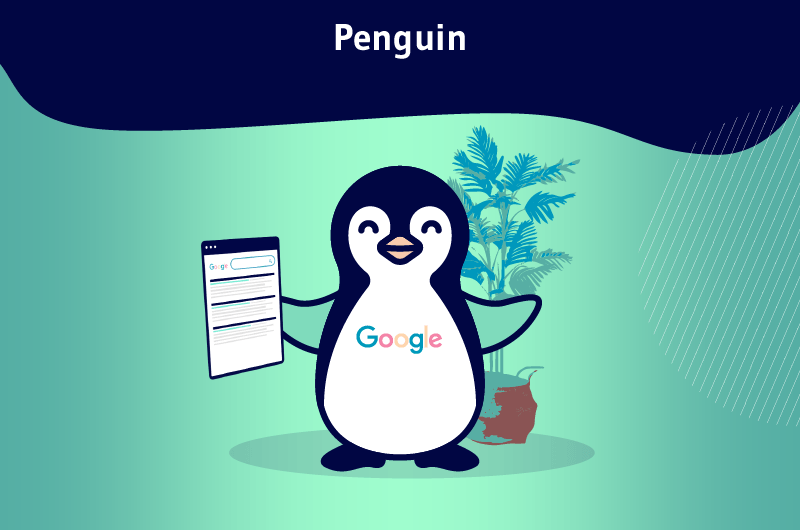 These manipulative practices included:
Fraudulent external links: One of the main reasons for the Penguin update was the use of bad link building techniques. This resulted in a large number of links from low-quality sites that were created solely for the purpose of link marketing. In addition, this update penalized sites that had too many links with exact match anchor texts;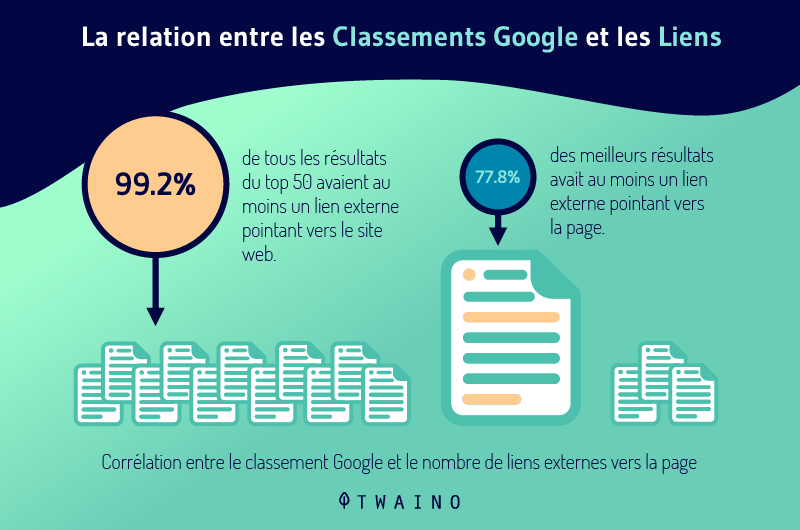 Keyword stuffing: This practice consists of filling a site's pages with keywords for the sole purpose of ranking well. As a best practice, keywords should only be used in a way that fits naturally into the content. It is not necessary to use the same keyword multiple times on the same page.
2.3 Google Hummingbird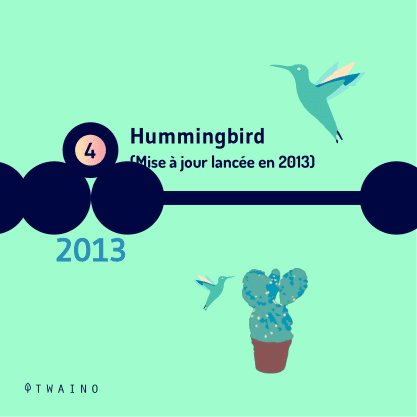 The Google Hummingbird update focused on two specific areas of interest
Contextual search: Instead of simply focusing on exact keywords, Hummingbird allowed Google searches to also examine the context of a search. As a result, it has become more important for sites to provide answers to questions, in-depth content, facts and statistics;
Mobile Devices: It's no surprise that Internet searches on mobile devices are only increasing in number. Hummingbird has emphasized the importance of sites with mobile-friendly designs, so that mobile users can get the full impact and information they need from their phones and tablets. This also means having a mobile content strategy to cater to them and their particular mindset.
3.4 Google Pigeon
As already mentioned, Google Pigeon was specifically designed to improve the ranking of relevant pages in search results for local terms.
Thus, the update has made local businesses that provide relevant information rank very high for local search terms more than non-local businesses.
3.5. Differences
The main difference between Google Pigeon and the other updates is the penalty.
Unlike Google Pigeon, what the other updates have in common is that they impose penalties on websites that do not comply with their guidelines.
Google pigeon was not a harsh update, it calls on businesses to:
Optimize their websites based on traditional ranking signals to answer local queries;
Consider local directory sites;
Etc.
Chapter 3: Best Practices for Google Pigeon Compliance
Now that you know what the Pigeon update is, let's look at the practices to adopt to help your website rank in local SERPs:
3.1. re-evaluate your keyword list
Finding good places in the local SERPs first comes down to doing a thorough re-evaluation of your keyword list.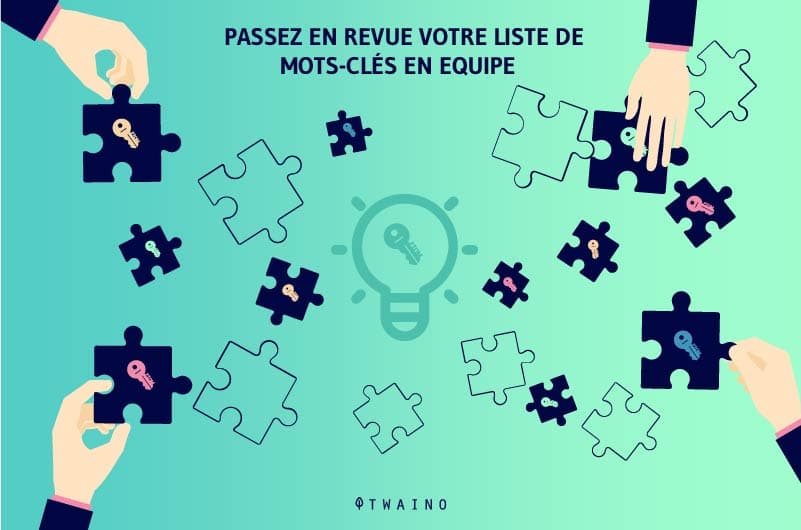 This way, you can feel confident that you've chosen the keywords with high local search volume.
The Google AdWords Keyword Planner is a basic option to find out the local search volume
To do this, simply access the tool using your Google account and follow these steps:
Type in your term with and without your location included, for example "advertising agencies los Paris" and "advertising agencies". Include as many variations of your target terms with local modifiers as possible to better assess the most frequently used keyword or location combination;
Enter your city under "Targeting";
Click on "Get Ideas";
Select the "Keyword Suggestions" tab.
Google's average monthly search data for your target area will show you how many local users are querying Google with these terms each month.
3.2. create a consistent NAP
Make sure your business name, address and phone number are listed accurately on all of your online profiles.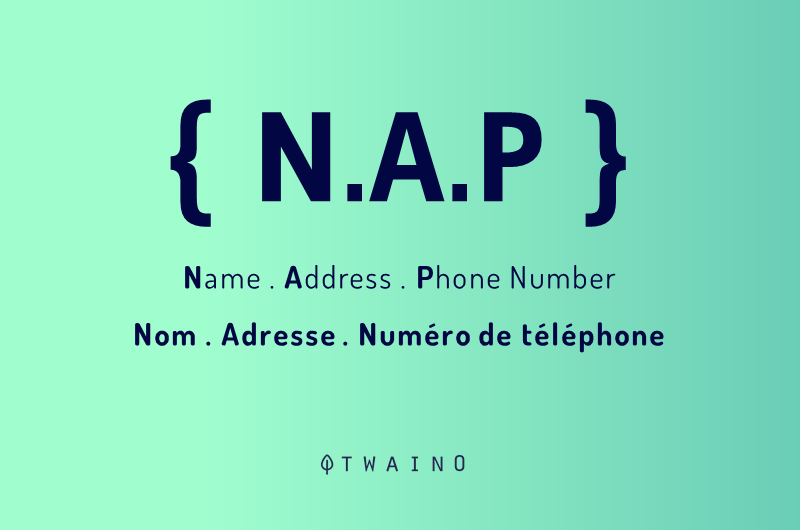 Search engines use NAP information to decide which listings to display for a geo-targeted search
In fact, many SEO experts argue that major search engines validate the legitimacy of businesses based on NAPs.
Search engines certainly won't prioritize sites they don't believe are legitimate
Note that matching NAPs signals legitimacy and consequently increases the likelihood that your site will rank well.
2.3. Adopt Google My Business
If you don't have a Google My Business account, you need to claim it, and if you already have one, this is where you need to optimize your GMB pages.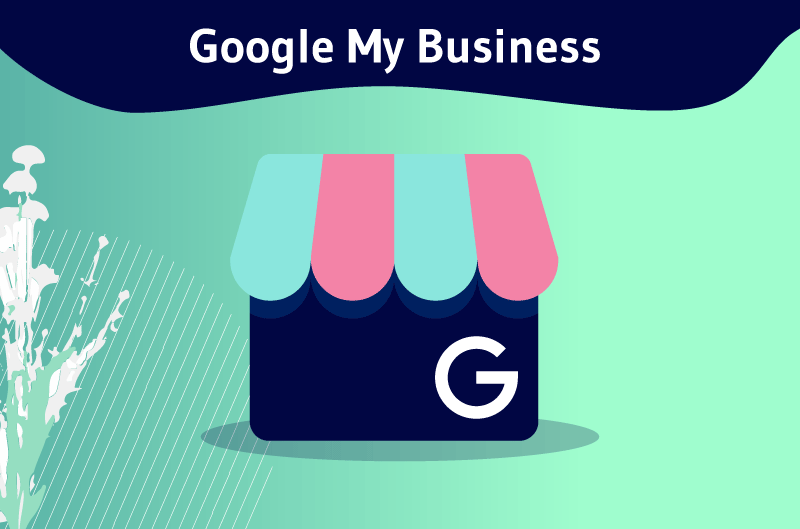 This is the business profile that Google gives you the opportunity to create for free to increase your visibility, especially locally.
Either way, it's a profile that offers several benefits to a business that has an online presence.
Proper Google My Business optimization helps local businesses rank high in the SERPs for search terms that have local intent. That is, your business profile is more likely to appear in local searches.
3.4. Focus on local content
Content marketing has become one of the major marketing solutions in the midst of a bullish trend lately.
Most organizations now invest a portion of their marketing budget in content strategy.
But, when your content strategy doesn't have a clearly defined reader and a very specific niche, it would be difficult to engage the readers. And this lack of focus hurts local businesses the most.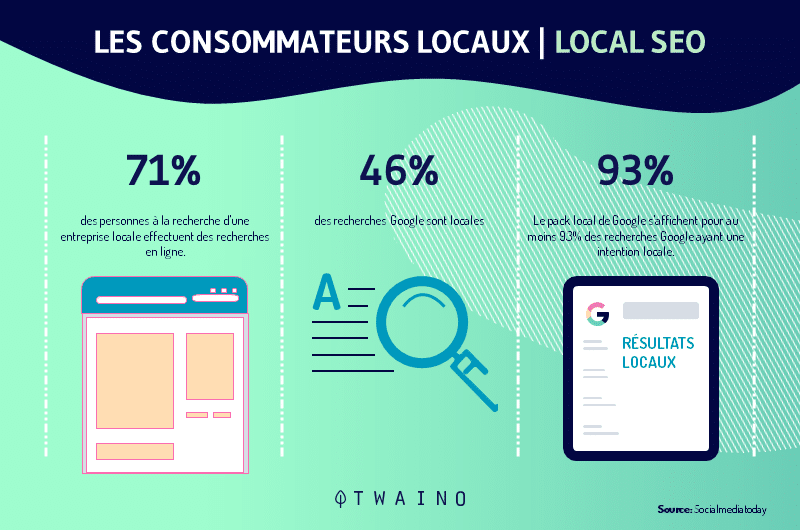 Niche focus is the backbone of any local content marketing strategy. Everything from your website and blog design to the topics of your blog posts should be tailored to your local audience.
But let's face it, content marketing necessarily requires huge investments in terms of time and resources.
Here are the best practices of a local content marketing strategy in a few lines:
3.4.1. Create a strong local brand
Before you start creating content and driving traffic to your website, you need to create a strong brand image that appeals to your local audience in order to stand out from the competition.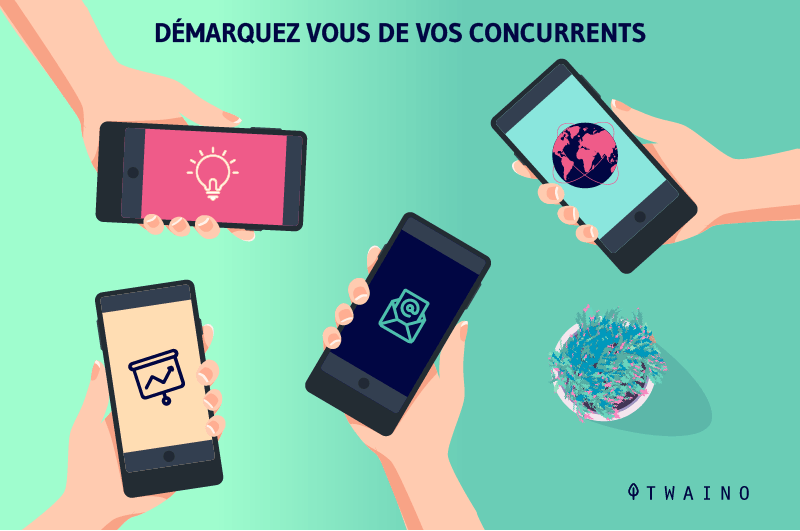 This includes elements such as
The brand name
The visual designs
The tone used;
The website;
Participation or organization of local events
Etc.
3.4.2. Create actionable blog content tailored to local audiences
The quality and usefulness of your blog content ultimately determines the success or failure of your content marketing strategy.
When coming up with content ideas, you need to be as specific and targeted as possible. Identify the most important issues within your target audience and create content rich with actionable information.
Tools like Ahrefs or BuzzSumo can give you content ideas that resonate very well with your audience.
3.4.3. Develop a targeted guest article strategy
Guest articles are effective in branding and reputation building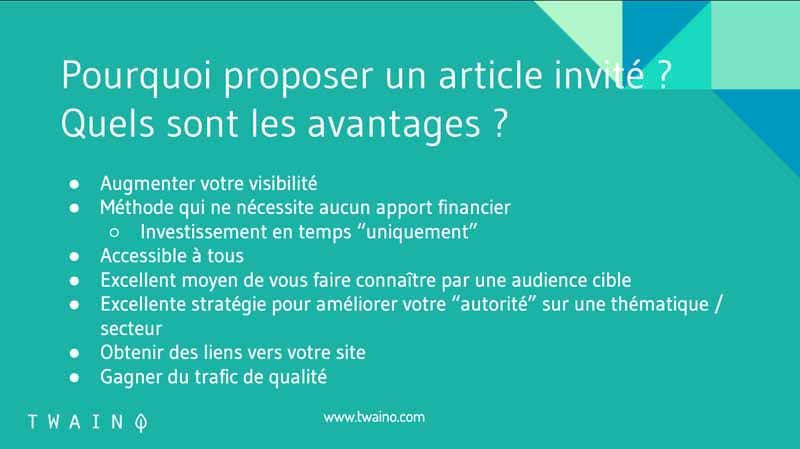 It's one of the best ways to borrow credibility by featuring your company on high authority blogs and magazines in your niche.
You should make guest posts part of your local content marketing strategy, but to really benefit from them, you need to identify relevant blogs in your niche that are also popular with your audience. This will ensure that your content reaches the people you want it to.
3.5. Think about collaborating
The more local citation links you receive, the more your relevance increases, ensuring you rank high for geographic terms.
So rather than worrying too much about directories, you're likely to see a greater increase in SERPs if you collaborate with local news sites and blogs.
Conclusion
It's worth noting that Google Pigeon is not just another severe update. Its objective is to make local search results more qualitative for users.
It is up to web marketers to adopt local optimization practices to be part of the Google Pigeon vision.
And to achieve this, we have listed in this article the best ways of local SEO.
However, if you have other ways for websites to gain ranking in local SERPs, feel free to share them with us in the comments.