Have you successfully created your website on WordPress? That's great! After this step, you have surely installed your theme to give a face to your platform. For this, I strongly recommend you to use a very efficient method: import a demo theme. On WordPress, this is a very simple practice to implement that offers considerable advantages. I will show you in this article and in the video that accompanies it, how to import a demo theme on WordPress.
Importing a wordpress demo theme
In this video presentation, I will show you step by stephow to import a demo theme
on wordpress:
Why import a demo theme on WordPress?
What is a demo theme?
Some themes, not all, will let you install demo themes to visually present your website in different ways.
Indeed, after installing your theme (if you haven't done it yet, read this guide) you have to think about its presentation and there is nothing better than a demo theme to help you. For themes like Avada, which I use for my site Twaino, you will have the privilege of having a large number of site templates. These are easy to import and give you a better idea of how your own site will look. When you go to the theme's website, you will be able to see the available demos.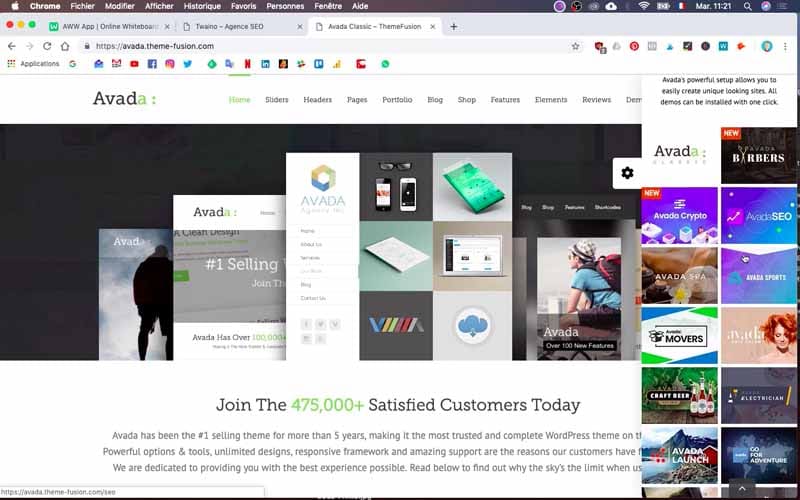 For the creation of my SEO agency Twaino, I used the Avada theme. The default demo theme that is offered is far from the optimal solution for the type of website I plan to have. In order to save time, I will import the Avada demo with the name: Avada SEO. As you can guess, this is a template for an SEO site. The goal is actually to use this demo as inspiration to create my own unique and customized site for my SEO agency Twaino.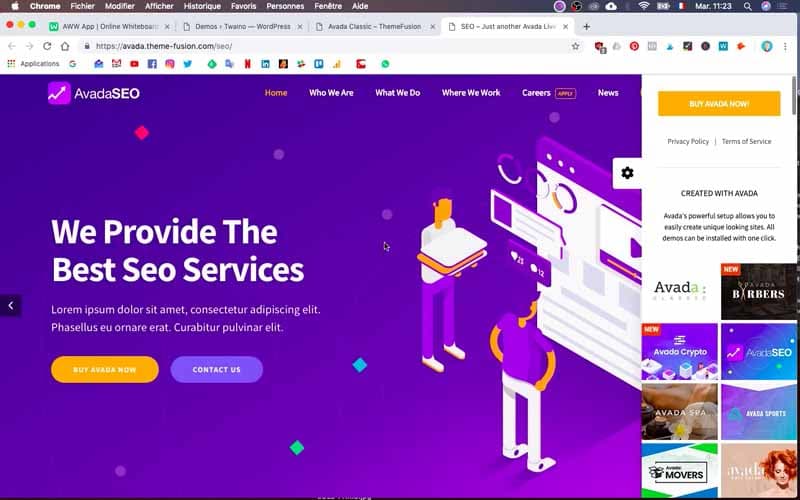 The demo theme: why use it?
If you are new to website design, or if you have no knowledge of internet design, I suggest you use a demo theme since it is designed by professional web designers in the first place. Therefore, you will rely on their expertise and knowledge will allow you to have a professional site with a solid structure.
Apart from this fact, you will be able to easily decide on the type of site you will have by simply browsing through the dozens of demo themes offered. On the other hand, you will avoid starting from a "blank page", which will save you precious time. It is obviously much faster to work on something existing than to start from scratch.
However, don't forget that even if using a demo theme will save you a lot of time, you will still have to change a lot of things like I will have to do for my Twaino site. The final goal is to create your own website with your services, your colors, your contents and your brand image. A demo theme is therefore a gas pedal, but not an ultimate solution!
How to find the right demo theme on WordPress?
Personally, when I am looking to install a theme
for a website, I immediately look at what the results could be with demo themes, by going directly to the theme's website. Indeed, my choice of theme is largely determined by a possible crush on the demo theme. Therefore, I really advise you to consider this as an overall approach.
For example, I went directly to the Avada website to check out the different types of demo themes available. Note that I chose to use Avada because one of the demo themes seemed particularly suitable, and quite close to what I wanted to do.
From the theme site, you can click on the desired template to see how your site will look like if you print this demo site. However, the most difficult part is choosing among all these nice demos.
Consider your industry
To make the best choice of demo theme, you can consider the ones that have a direct or more or less direct relation with your activity (photographer, musician, lawyer, etc.). By taking the one that best fits your activity, you will be able to get inspiration for your own site.
In addition to having the right design for the presentation of your offers, you will also have the different sections with the appropriate pages and menus. Even if my SEO agency website will be completely redesigned later, this is exactly the choice I made by taking Avada SEO as a demo theme.
The design: a very important aspect
This is inevitably one of the most important criteria when you decide to import a demo theme. With a nice demo, you will be able to offer a good site that will help you communicate effectively around your brand identity.
How to import a demo theme on WordPress?
You now know how to choose your demo theme, I will now present you how to import this demo step by step on WordPress. Before doing so, make sure you have already installed your theme and if you haven't done so yet, take a look at this article that guides you step by step.
For my site Twaino.com, I opted for the Avada theme which is the best selling and most popular theme. For this, I imported the avada.zip file, then activated the Avada theme.
Now, I will show you how to import a demo theme on WordPress.
First of all, keep in mind that this import must be done with care. Indeed, this operation is likely to erase all your existing content and therefore may force you to start from scratch. If you are ready, then follow these steps.
1) Go to the dashboard of your site
Obviously, you need to go to the "Dashboard" of your site. This is the first thing and for my part, I have to go to the one of my SEO agency Twaino. To do this, log in by putting "/wp-admin" after the url of your site and then providing your login information.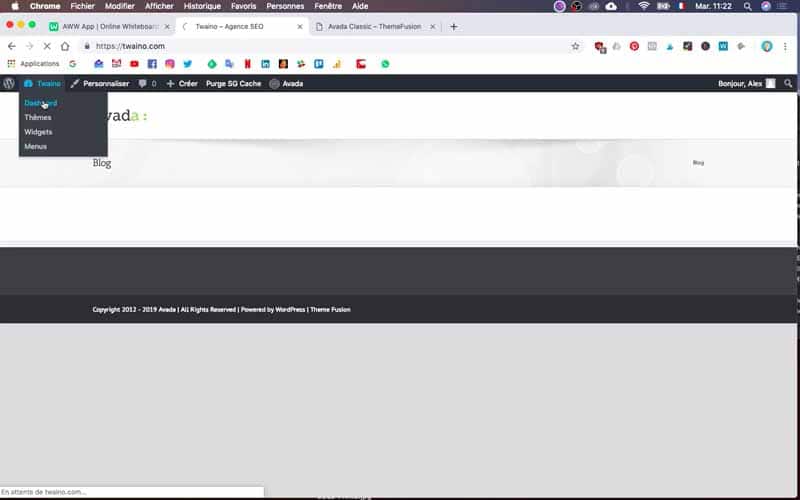 2) Click on the name of your theme
In my case, it is to click on Avada which is on the left sidebar of the Dashboard and in the fourth position.
3) Click on Demo
In the contextual menu that will appear (as shown in the video), you click on "Demo" to have the same list of demo themes as the one on the main Avada website.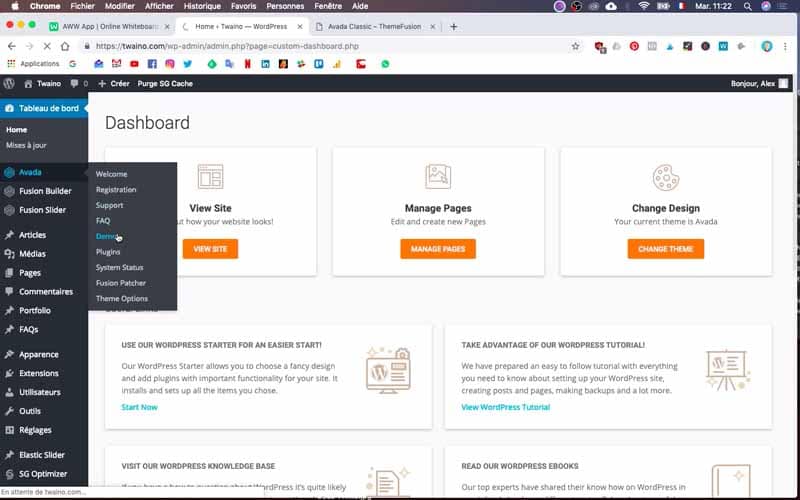 4) Find your demo theme
Once you have the list at your disposal, find the demo you want to install. It will inevitably be in the list. For my site, I find here Avada SEO that I can import.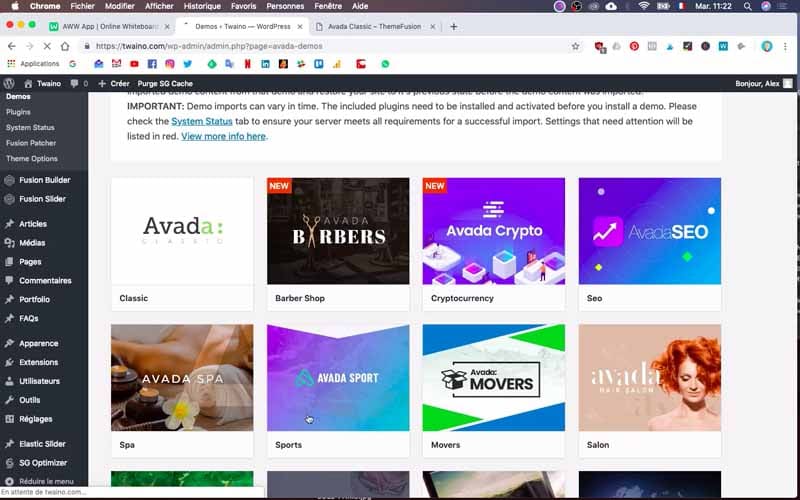 5) Go to "preview" or "import
By putting your cursor on the demo theme in question, you will have two buttons. One is "Preview" and the other is "Import". If you have any doubts and want to check once again that this is the theme you are interested in, click on the first one. You will then have a preview of your website.
By choosing "Import", you start the import process. You will then see a menu allowing you to select certain components.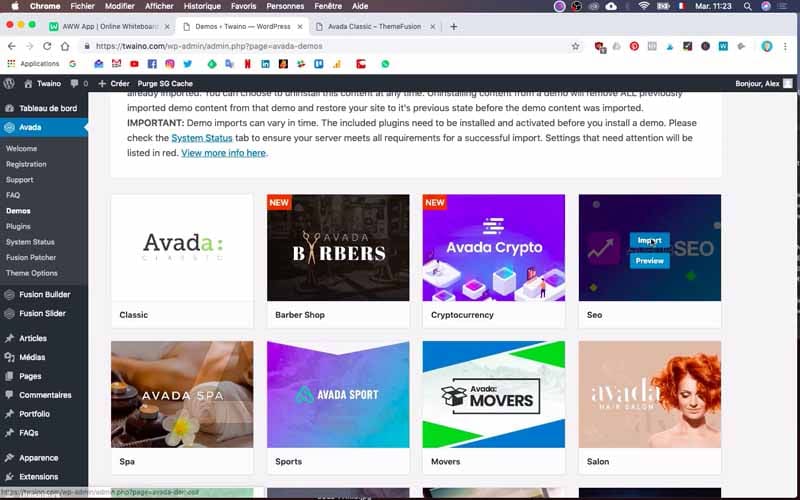 6) Select the components to install with the demo theme
By clicking on "Import", you will have a menu or a dialog box that allows you to optionally choose the components that will be installed with the demo theme.
For my part, there are some plugins that I can decide to install or not. They are for example:
"Contact Form 7" for the contact form
Slider Revolution
Fusion Core, and Fusion Builder.
These plugins have various uses and activating them will only take a few seconds.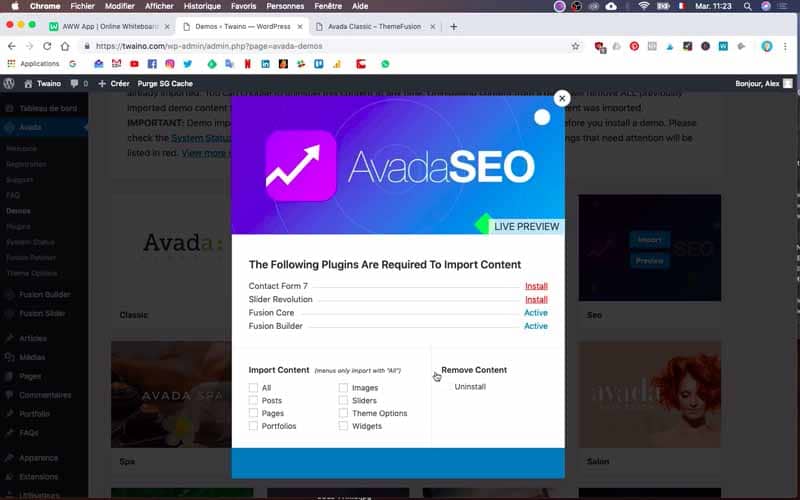 However, it should be noted that some plugins may weigh down the theme and make the loading speed slower. In this condition, you will be able to disable them afterwards, and even delete them.
You also have the possibility to import all the content (which I will do in my case). This includes images, posts, portfolios, pages, sliders, etc. Currently, my twaino.com site is empty. Therefore, I will import everything on my site by clicking on "all" in order to have a little more material to work with.
If you already have a website with content that you want to keep, you should absolutely not import the whole demo theme, because otherwise you risk erasing all your past work. So be careful, to avoid mistakes.
By importing the whole, you will have references for the size of the images, for the font, which is a good method to create your own content later. And don't forget that you can delete unnecessary elements as you go along.
To do this, simply click on "All".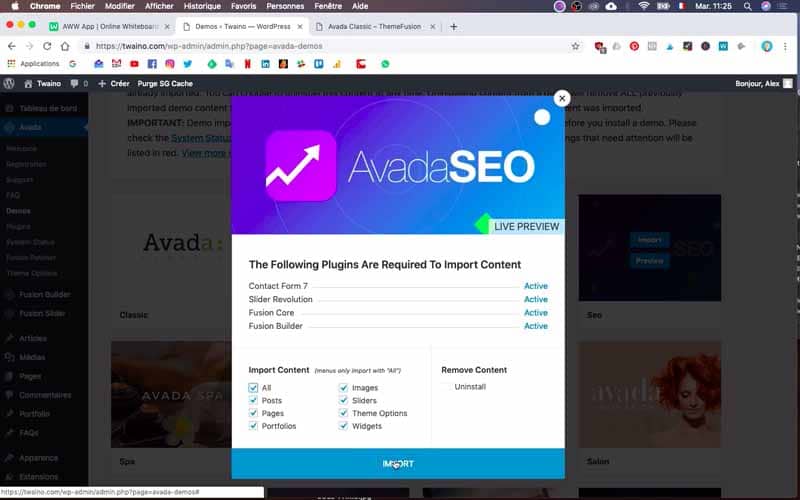 7) Click on Import
After selecting the components you want, you will click on "Import" and you will arrive on a warning page (in my case with Avada). Be sure to read this part which usually informs you about replacing all the information already present on your website when installing the demo theme.
For me, this is not serious since my website is still empty. If this is not your case, be particularly careful to select the best option in your case.
8) Click on " ok " or " cancel "
If you decide for any reason not to continue the installation of your demo, simply click on " cancel ". Otherwise, select " ok " and the installation will start.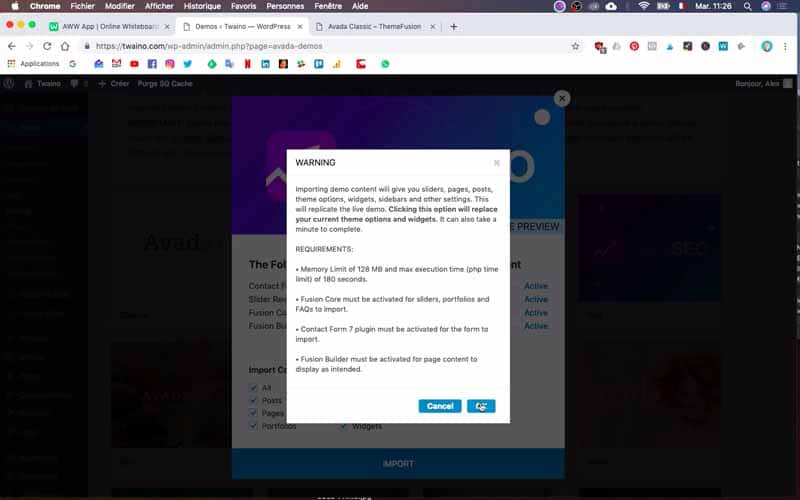 After a few seconds / minutes, the installation will be completed.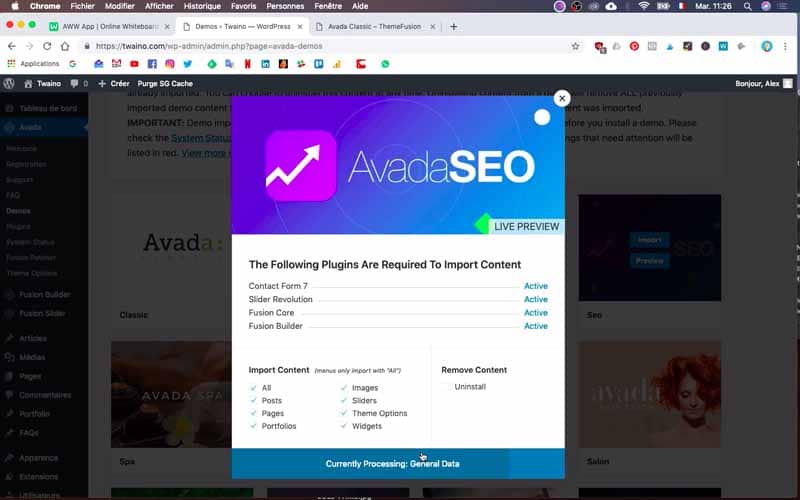 9) Go to the home page
On the left sidebar, you will find "Go to the site" at the top.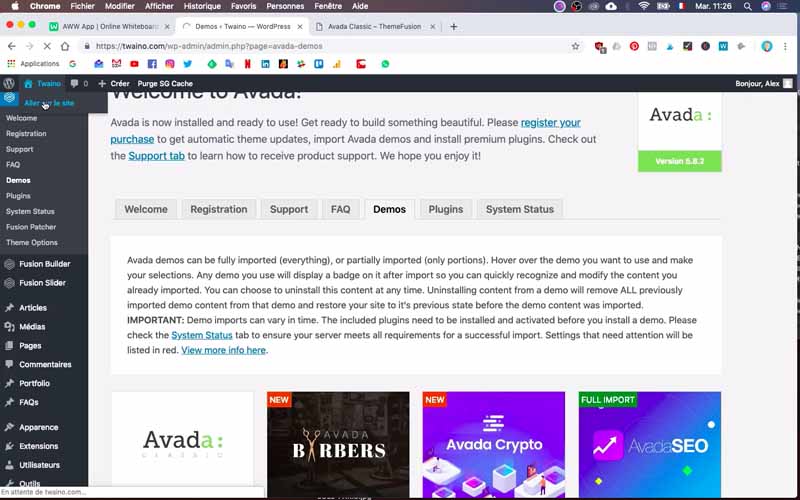 Click on it and you will see that the demo theme has been imported as well as the content. So, you will see yourself that your interface has completely changed.
And that's it! Your import is complete and all you have to do is customize your website.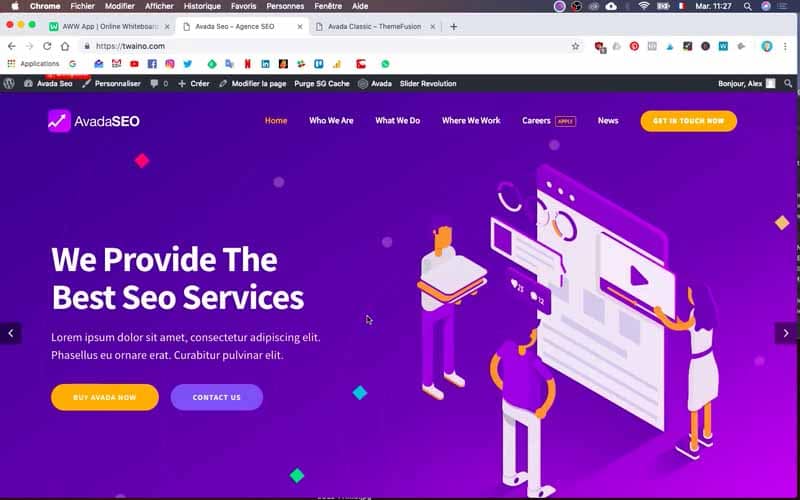 Conclusion
Importing a demo theme remains one of the best ways to quickly have a well structured and well designed professional website. And to increase your chances to find good demos, I suggest you to choose popular themes such as Avada. Indeed, these themes give you access to several types of demos, with good design and navigation. It's up to you to make the choice, but make sure it's as close as possible to what you want to achieve. Once you have imported the demo theme, it will be time to customize your site, to make it unique for your business.
See you soon…