Do you have unnecessary or obsolete pages that you want to remove from your website? These web pages can sometimes cause trouble especially when they appear in search engine results. The good news is that this is an easy operation to perform from a technical point of view. However, the process is delicate and sometimes requires taking certain precautions. Indeed, I advise you to check several elements before deleting it, such as the traffic it generates for example, so as not to deprive yourself of a possible source of visitors. And in this last case especially, there are good practices that I recommend you to take into account in order to remove them properly and efficiently. In addition to these tips and advice, I will guide you "step by step" in the deletion process which is also described in the video that accompanies this guide.
Delete pages in WordPress: practical guide to do it well
In this video tutorial, I show you how to delete a page on wordpress:
Why do you sometimes have to delete a page on your website?
Search engines regularly index web pages in order to allow Internet users to access them directly from the search results. But sometimes, these engines index pages that we would not like to find in the search results for one reason or another.
These are for example pages created automatically when importing a demo theme, pages created accidentally or even obsolete pages of an active website.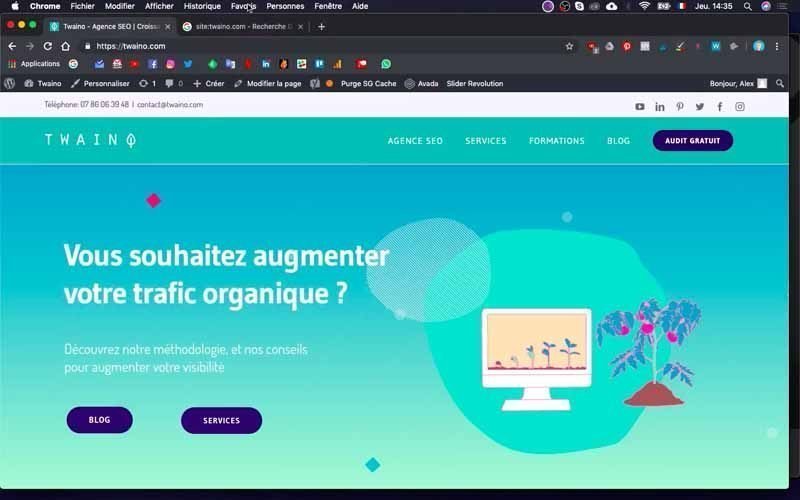 For my SEO Agency Twaino.com website, the following search "Site:twaino.com" in the Google search engine gives me results in which there are useless pages such as :
New – Avada SEO – Twaino ;

Careers – Avada SEO.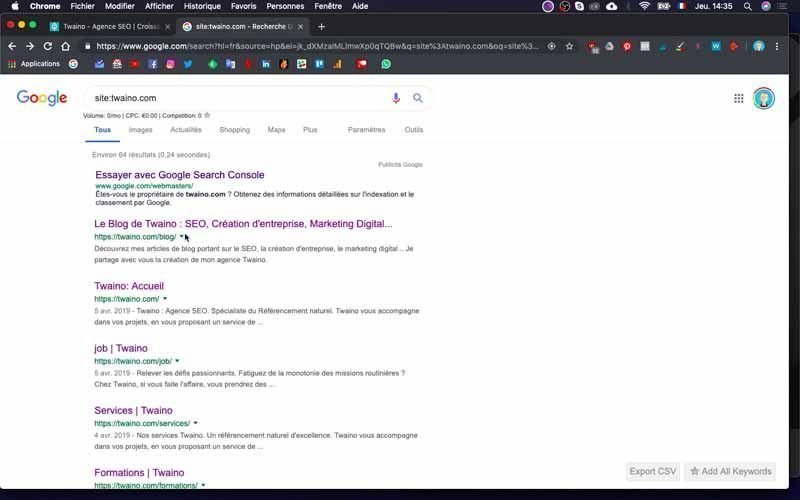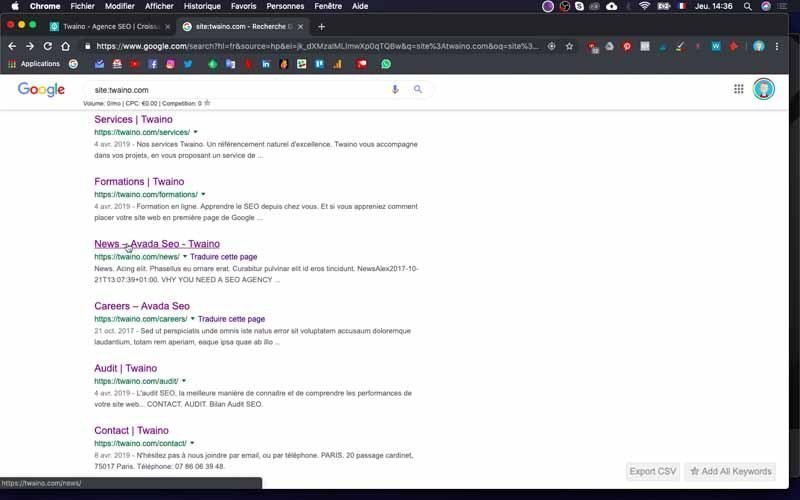 These are actually pages that were automatically created when importing the demo theme "Avada SEO" from my theme "Avada". They were then indexed by Google and I have to delete them since they are useless and totally useless.
Good practices for the deletion of a web page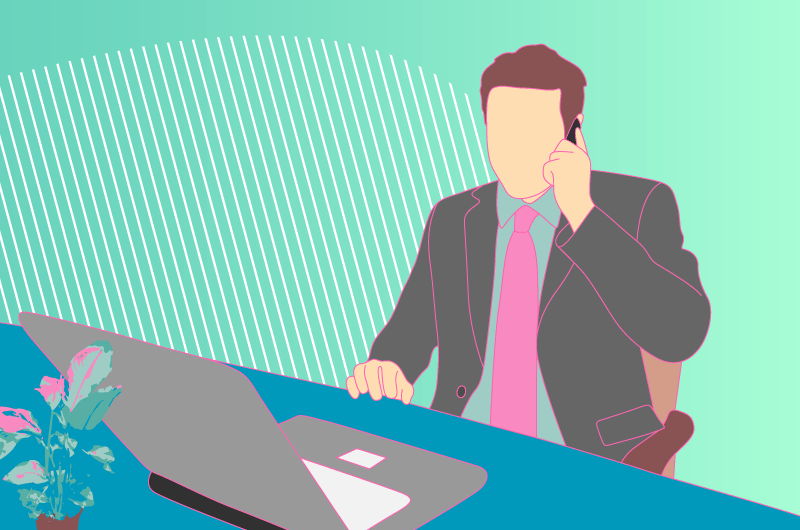 For the optimization of a website, it is sometimes necessary to remove some web pages. However, this action can have consequences especially when the website is already running and enjoys some traffic.
Indeed, an old page does not necessarily imply that its content has no more value for visitors or Google. You must therefore analyze certain parameters such as their popularity and their history to make the best decision regarding them.
The value of organic traffic
Before deleting pages from a website that is already active, you need to measure the value of the organic traffic they bring you. It would be a pity to delete some pages that bring you a non-negligible traffic.
To do this, you need to install Google Analytics on your website, if you have not already done so, and look for the page you want to delete in the landing page reports in order to perform a concrete analysis of its traffic.
Note, however, that Google Analytics does not start collecting data until after it is installed and you may have to wait until you are sure of the numbers.
The value of an external link
Despite the fact that a page does not receive much incoming traffic, it is possible that it has been cited or that other users have taken its link as a backlink. If the number of links is important, you will agree that its deletion is not a good thing insofar as it will impact the authority of your website.
In this case, think of updating the page if the problem is still current or create a 301 redirect to a new page to keep the traffic.
To know the number of links pointing to the page, use tools like AHREFS, MOZ Open Site Explorer which will help you to know who links to this content and why.
The popularity of the page
Even without receiving a lot of organic traffic, a page can enjoy direct traffic thanks to visits via social networks for example.
So don't just focus on the SEO of the page and use Google Analytics again to get the statistics.
To do this, consult the page views report of the tool and take care to examine the figures of the different periods.
A useless or obsolete web page: Possible actions to take
Deleting a web page is not always the ideal solution. In this chapter, I present you with alternatives to deleting pages from your website. To offer you other options, I group here some actions that can be performed under certain conditions.
Refresh the content of the pages
When you notice that the content of the page becomes obsolete, you can proceed to a refresh of the information by updating the data or by changing its presentation.
This action can be done for pages that still have value in terms of traffic and/or referencing. Then, think also about promoting them to give them visibility, and social media can help you a lot.
Make the pages private
In case you don't want to delete the page, but still want to keep it but not have it show up in search results, simply change it from public to private. The process is very simple with WordPress and you can do it in a few clicks.
Redirecting Pages
When you want to consolidate articles, for example, this option is excellent and allows Google to understand that the page has been moved. Users will be automatically redirected to the new page.
Delete pages
When a page has no value in terms of traffic or SEO, you can simply delete it.
How to delete a WordPress page step by step?
I will use a practical case to show you concretely the different steps to delete a web page. In this sense, I will remove some pages from the website of my SEO Agency, Twaino.com which is currently undexed in Google.
So follow along!
1) Connect to the Dashboard of your website
The very first thing you need to do is log in to your website's admin account to access the WordPress console. All you have to do is fill in the "…./wp-admin" entry at your website's URL in your browser.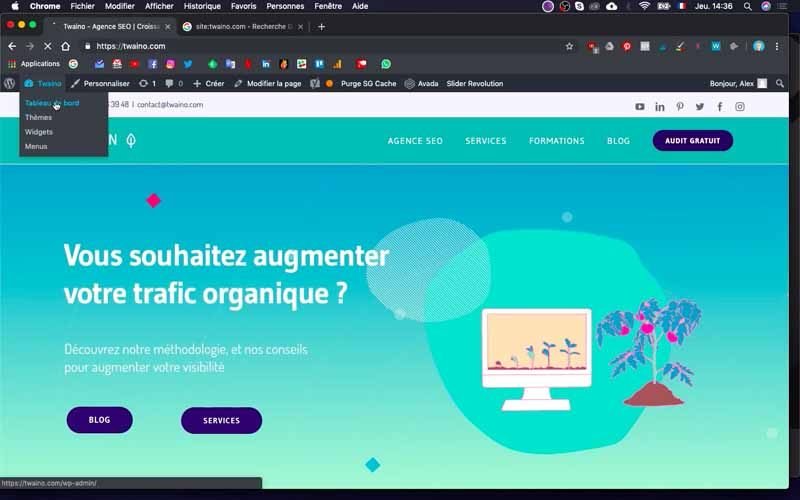 On the connection interface, fill in the boxes with your identifiers and then validate to access the "Dashboard".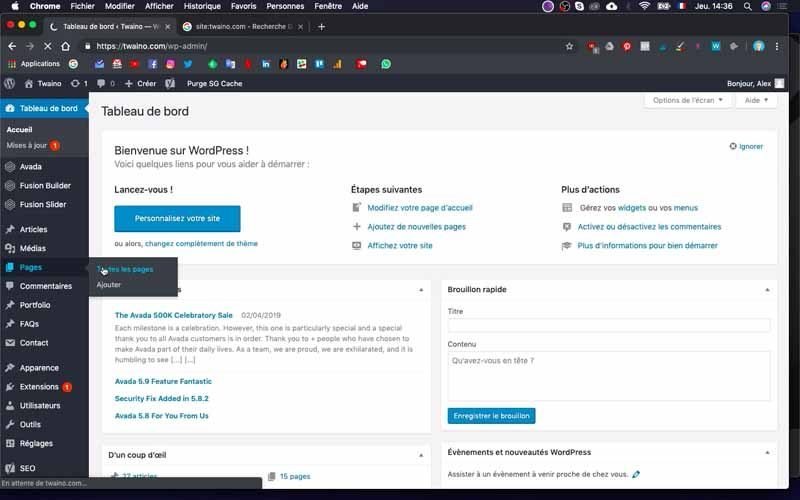 2) Display all the pages of your website
Once in your Dashboard, click on the heading "Pages" which is located on the left sidebar and just below "Media".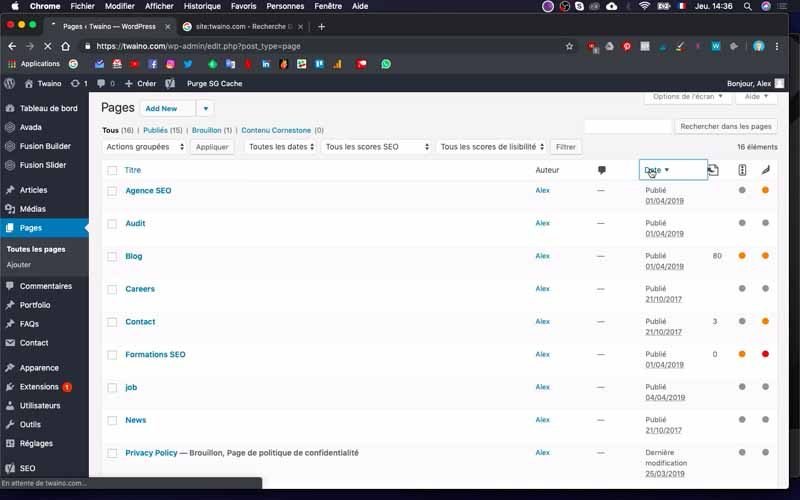 On the menu that appears, select "All Pages" which takes you to the interface where all the pages of your website are listed.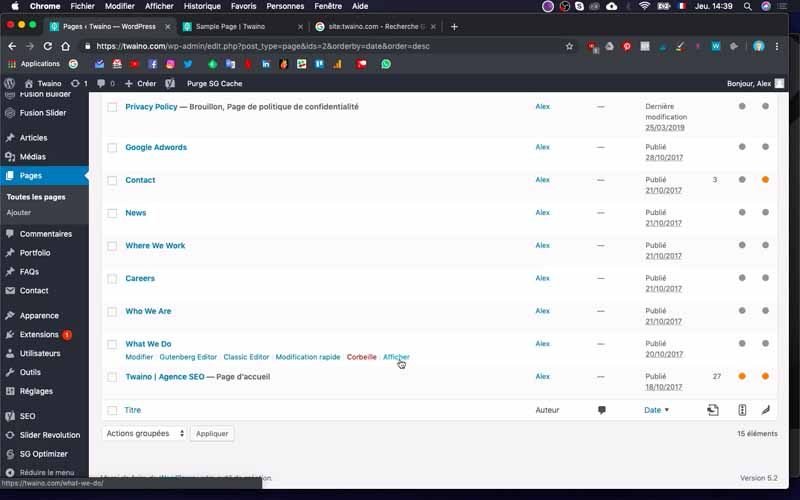 3) Find the pages you want to delete
All the pages inherent to your theme are likely to be older than the ones you created yourself. To do this, you can sort them by date, which will group them below those that have been recently created.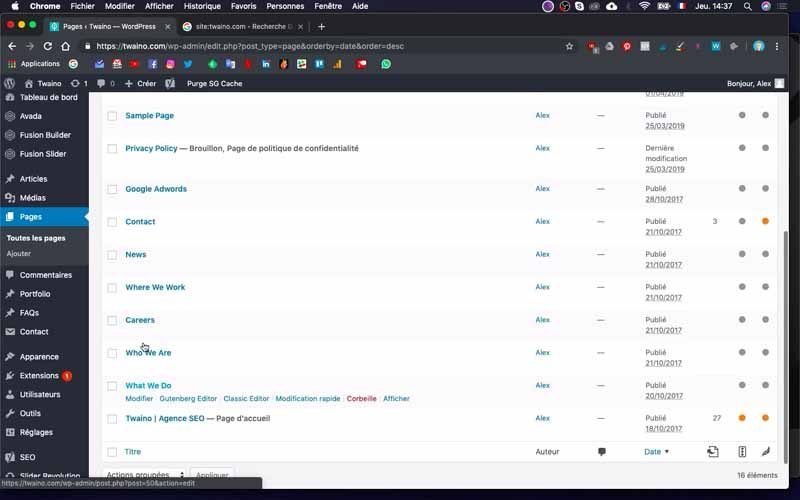 In my case, I created my website in 2019 and the pages I designed obviously carry the year 2019, unlike those in my "Avada" theme which carry the year 2017.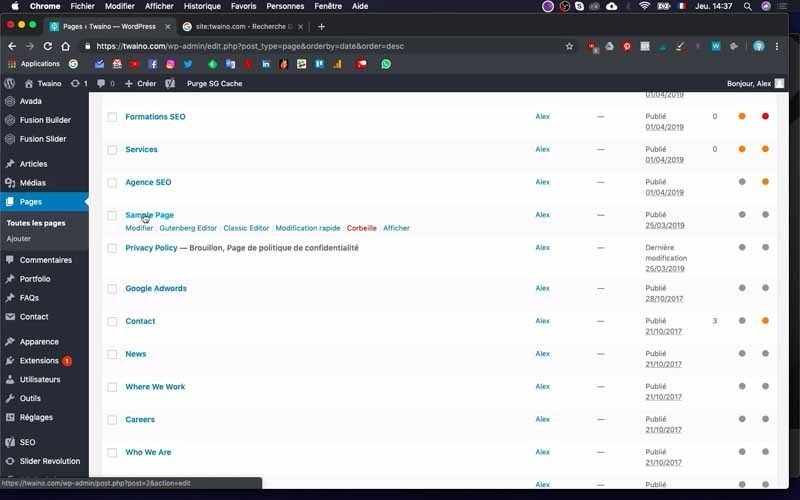 To do this ranking, you just need to click on the "Date" option found on the same bar as "Title", "Author" and other icons. By doing so, I notice that the pages of my website are ranked in descending order. That is, from the newest to the oldest when I scroll down.
4) Check the content of each page
After you have located the oldest pages or the ones you want to delete, there is one important step before proceeding to delete them. This is to verify that these pages are indeed worth deleting and I recommend that you do this to avoid making mistakes.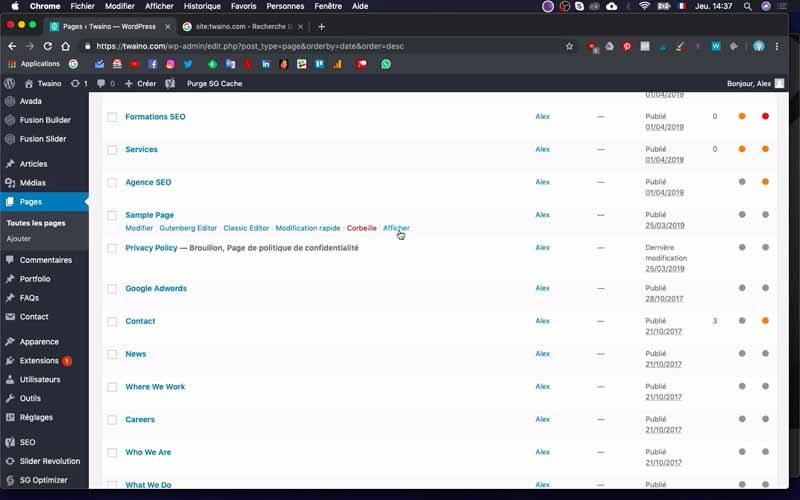 You will therefore display them to get an overview of what they contain. To do this, move the cursor over the title of the page to get the different options concerning it. Then click on "Display" which is located to the right of the options.
A new window will open in your browser and show you the page in question. If there is nothing interesting on the page, you can delete it.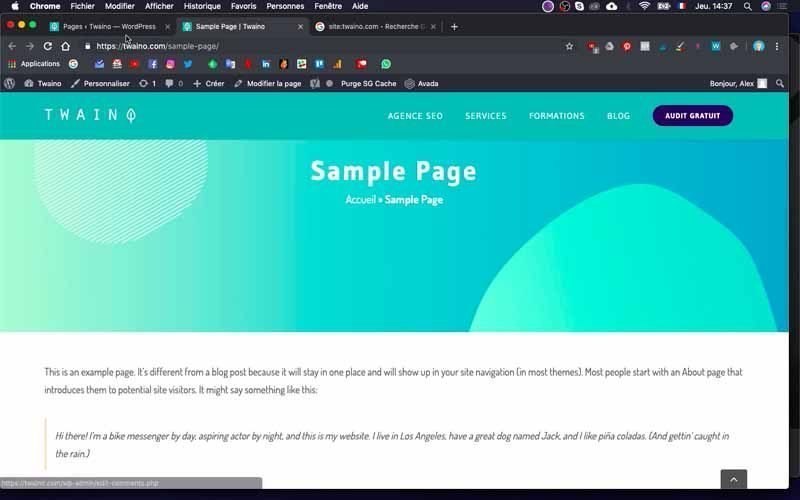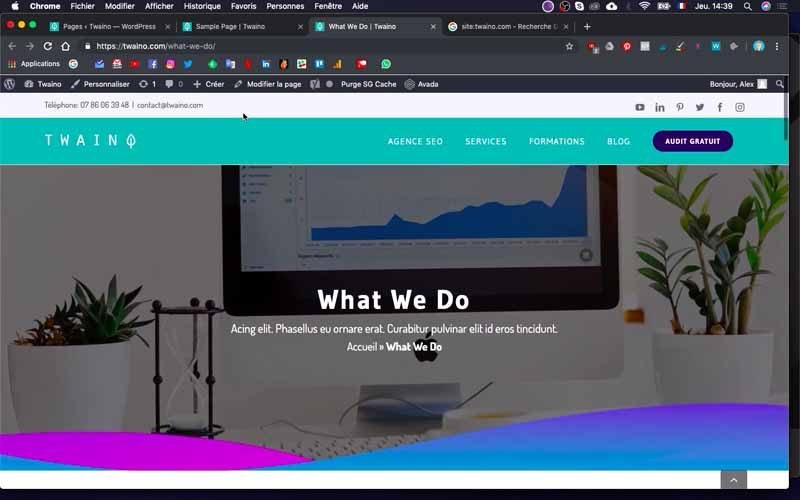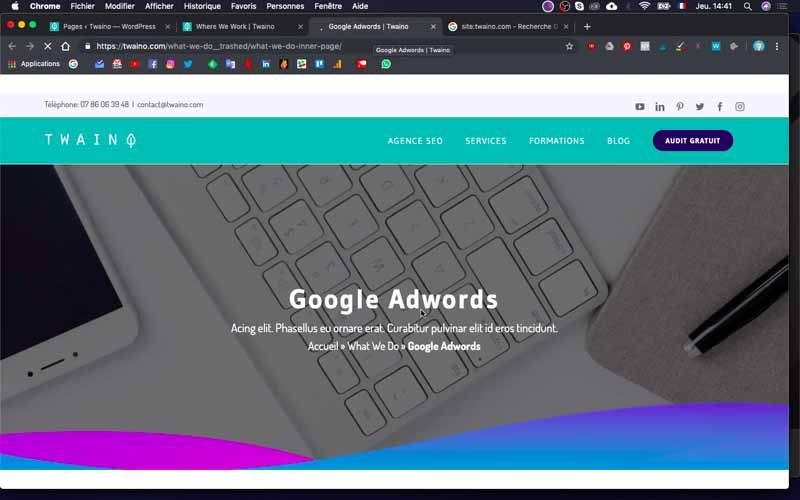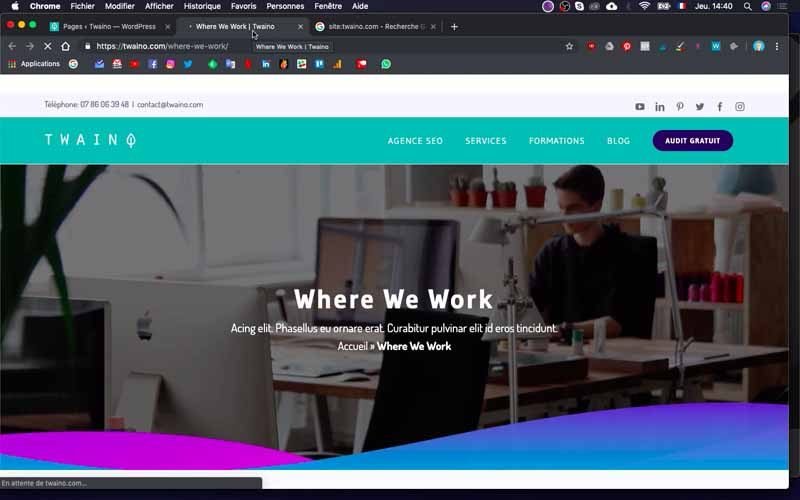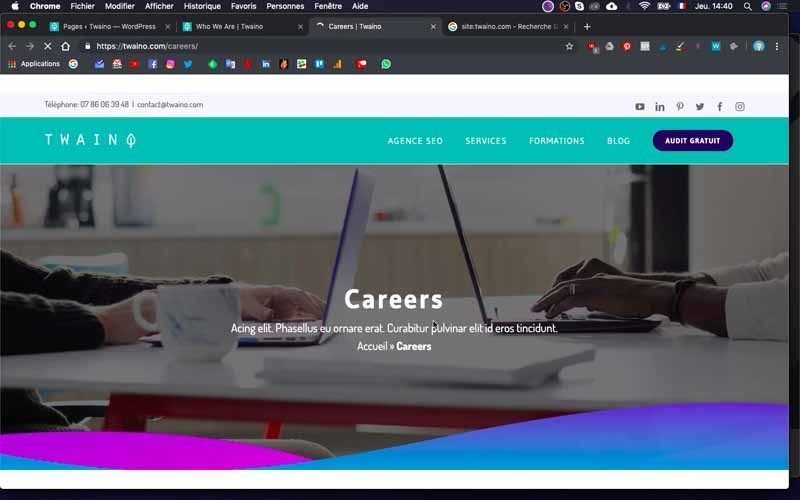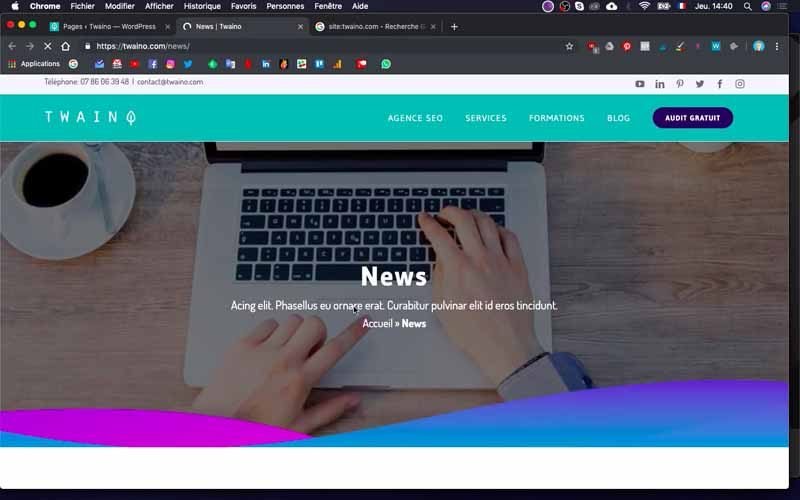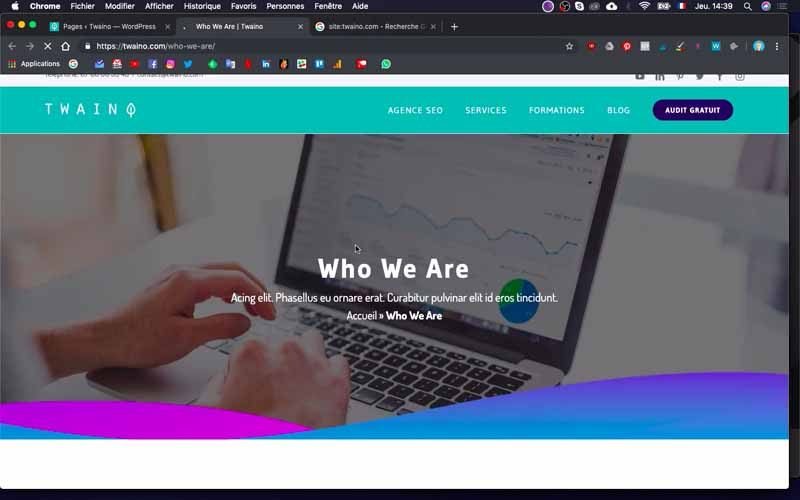 5) Delete, modify or close the web page
I indicate to you the three different options that you can carry out at this level concerning the web page seems to be useless or obsolete:
Delete it: This sends it to the recycle garbage can;

Modify it: Allows you to update it with the content you want;

Make it inaccessible to the public: Allows you to make it private so that it is no longer displayed in Google search results.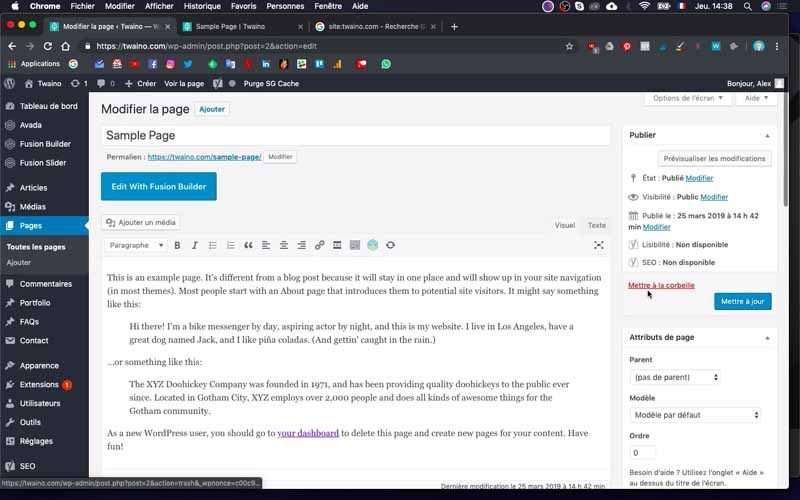 5-1) Delete a web page from your website
To delete a page from your website, drag on the title of it, you will have the different options concerning it including "Trash" which is also in red color. Click on this option and your page has just been deleted.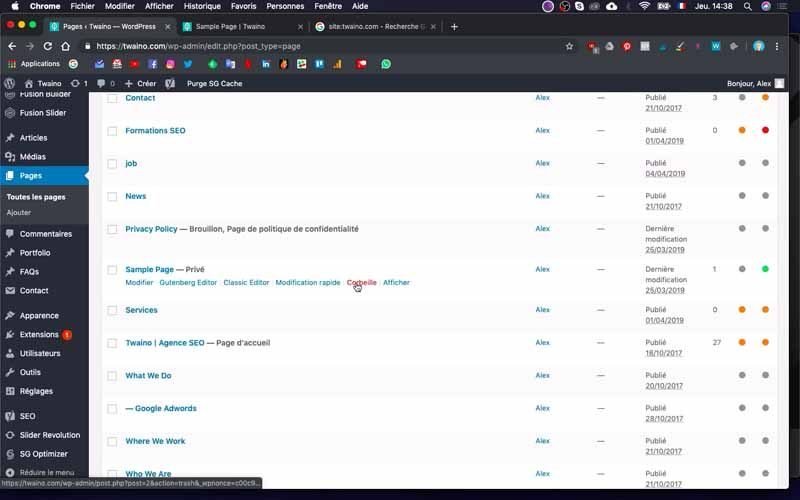 In a few days or weeks, it will no longer appear on your website or in search engine results. But in case you made a mistake, there is an "Undo" option that appears at the top of the new confirmation interface and just in front of the inscription "1 page moved to the trash".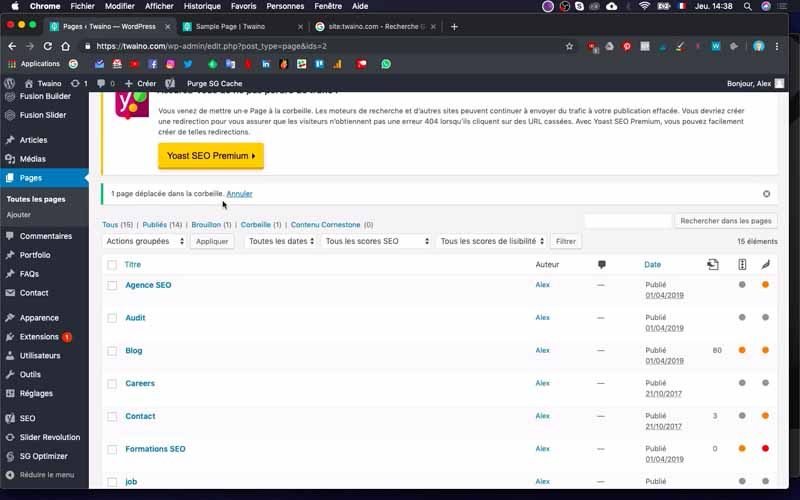 5-2) Modify a web page of your website
In case you need to create a new page, you can use the one you find useless. To do this, always drag the page in question and then click on the "Modify" option at the very beginning of the various options.
On the new interface, you can use the field to make your various changes. If you change your mind, you can delete it directly from this interface by clicking on the "Trash" option located just to the right of the modification field and in red color.
5-3) Privatize a web page of your website
For one reason or another, it may happen that you want to keep the web page without it appearing in the search engine results. To do so, you just have to make it private.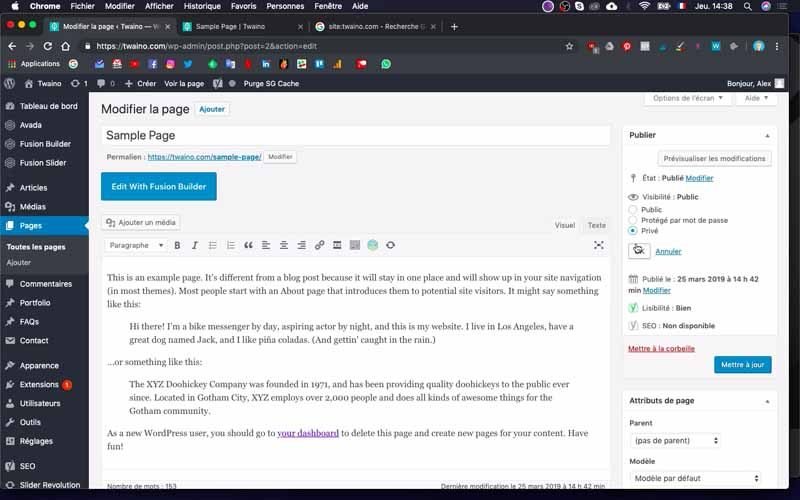 Click on the "Edit" option that appears just below the title of the page and on the editing interface, click on the "Edit" option in blue and underlined in front of "Visibility". This setting is preceded by an eye icon and is located in the right sidebar of the "Publish" menu.
Then check the "Private" option instead of "Public" and press the "OK" button. Save this change by clicking on the blue "Update" button.
You have just made this page invisible and it will no longer appear in the search engine results.
6) Get your web page back
After deleting a page, you may finally think that it could have been useful for your website. For this, depending on your theme, you will have the option to specifically download a page from the demo theme in order to import it back into your website. This is a very useful method to create new pages quickly. In my case, the Avada theme offers this option which I really appreciate.
And that's it! We just deleted a web page.
Conclusion
For the improvement and optimization of a website, you will have to modify, reorganize and sometimes delete some web pages. However, even if the deletion process is very easy, as you have just seen, it sometimes presents risks. To do this, you must first make sure that the pages you want to delete can be deleted without any consequences. In the case where this deletion does not benefit you, you can opt for an update, or a redirection of the page to keep the traffic it continues to bring you. But if not, you can delete it without any problem.
See you soon!