Although the origin of e-mails dates back to 1965, they remain one of the most popular means of communication.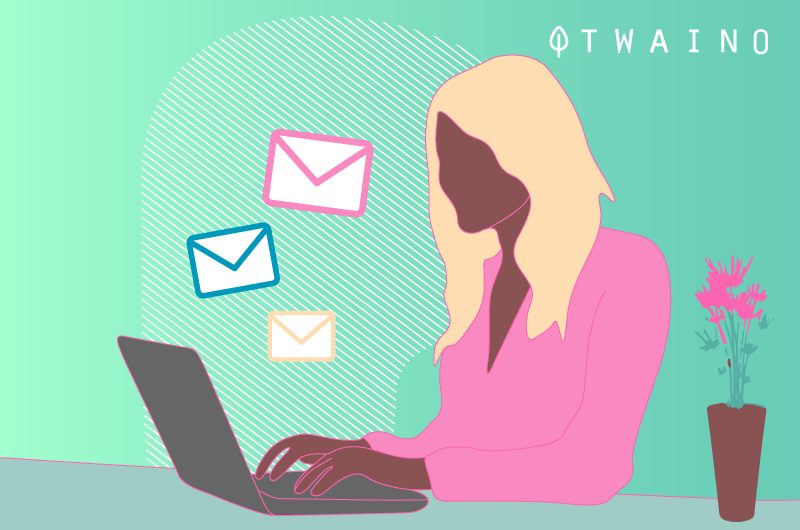 Far from going out of fashion, this channel continues to attract more users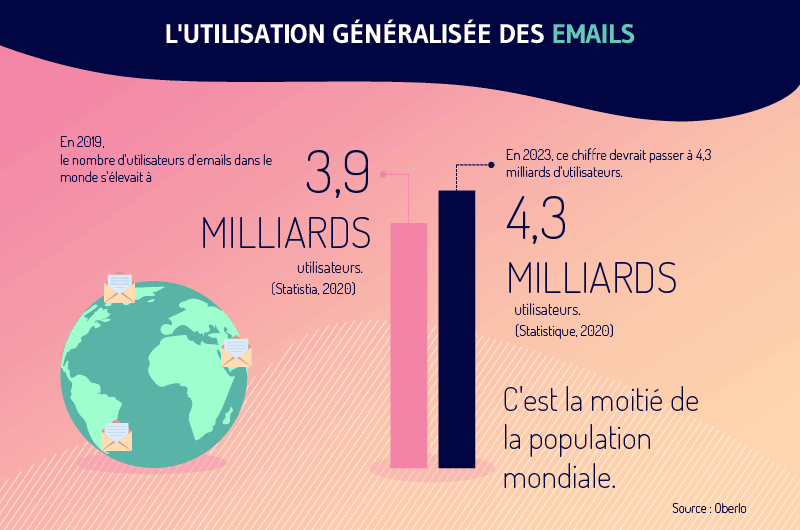 That's why it remains one of the most important pillars of webmarketingthis is why it remains one of the most important pillars of web marketing, especially since the mailing offers a rather substantial ROI compared to other channels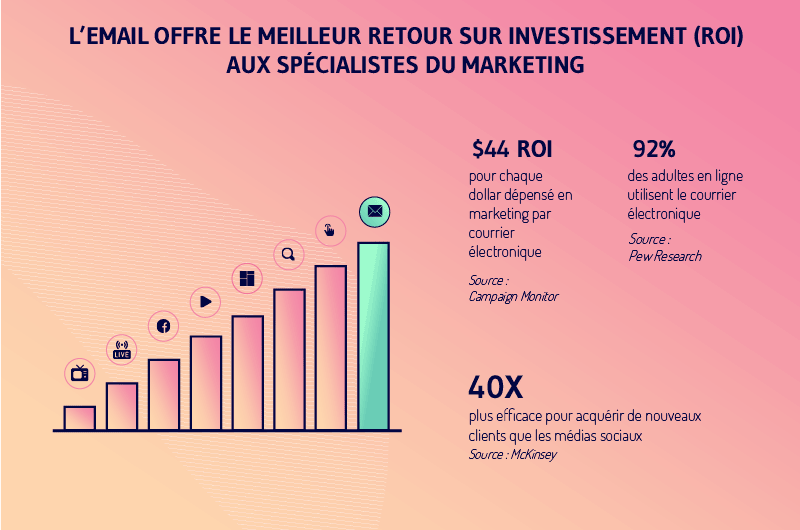 Of these figures, it is advisable to keep preciously and not to lose any email address. On the contrary, it is rather interesting to try to enrich the list you have.
It is in this logic that I offer you this article which includes all the tricks I regularly use to find the email address, even of a person I do not know personally
As a bonus, I reveal some simple rules to follow before contacting someone by email.
So, are you ready for the discoveries?
Chapter 1: Finding your prospects' email address: Seven (7) solutions to try
Having a person's or company's email address is sometimes crucial to a business or project. Whatever your goal, here is a list of 7 strategies you can use to quickly find the email address of a person or your prospects.
1.1. Use Google Chrome extensions
Extensions are mini software included directly in browsers. They allow us to perform several actions, such as a mini SEO audit of website. There are hundreds of these extensions developed to perform various tasks.
Here are six (6) Google extensions that are of great help when you want to retrieve email addresses.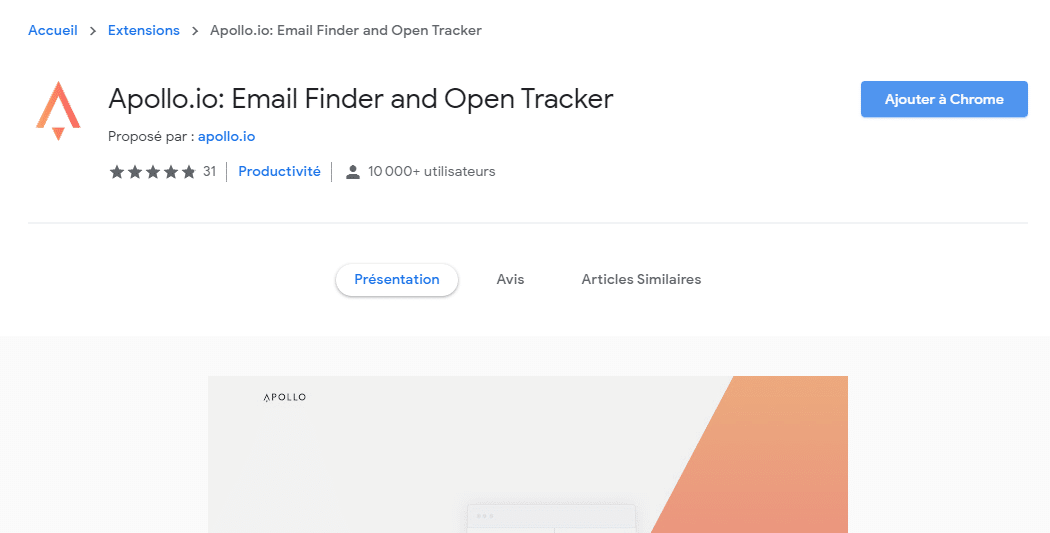 The APPOLO extension allows you to search for email addresses and phone numbers directly on the web pages you browse. It also gives you the privilege of knowing everyone who opens your messages
To find the emails, you just have to click on the extension and start your search. The extension allows you to enter a database giving you access to several information
Email;

Phone number

The tools they use ;

Etc.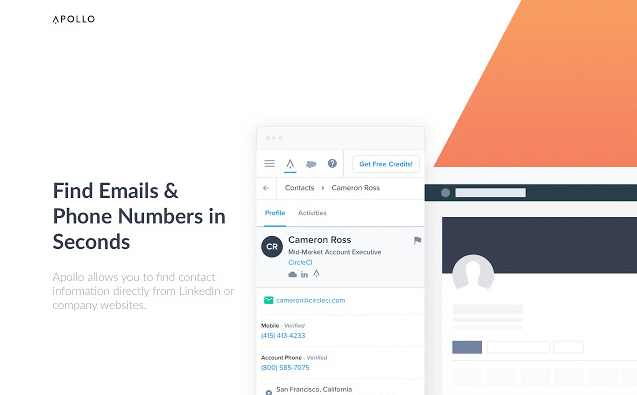 To use it, you must create an account. Note that registration is free and gives you access to 100 free searches per month. However, you can opt for a paid account that gives you access to more features.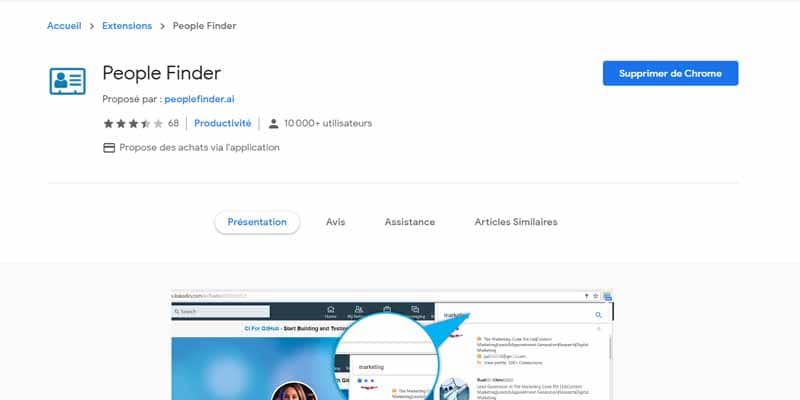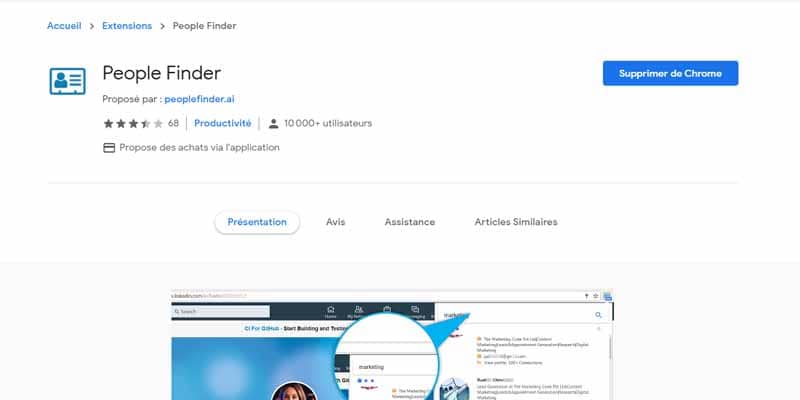 The People Finder extension allows you to find emails, phone numbers and many other data
From your keywords (name, location, busy title, etc.), People Finder will retrieve:
Name;

Job title;

Company data;

Location;

Profile URL;

Websites and email address of your prospects.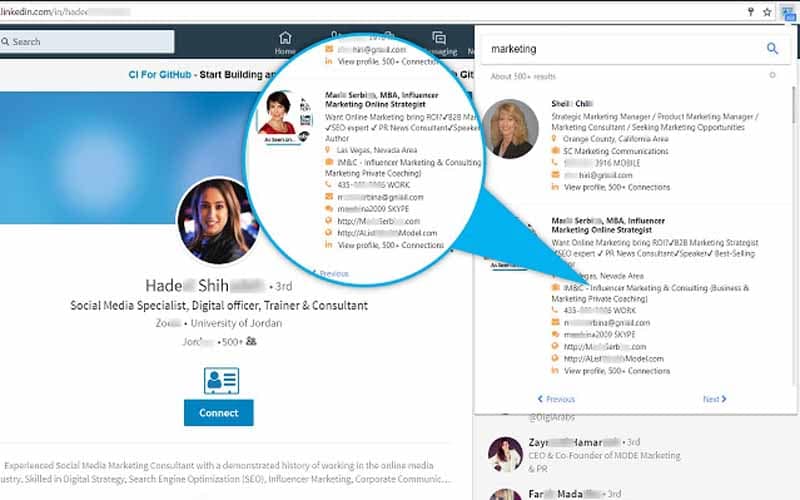 It offers two plans
A premium plan that allows users to export contacts ;

A free plan that allows you to search up to 100 profiles per month.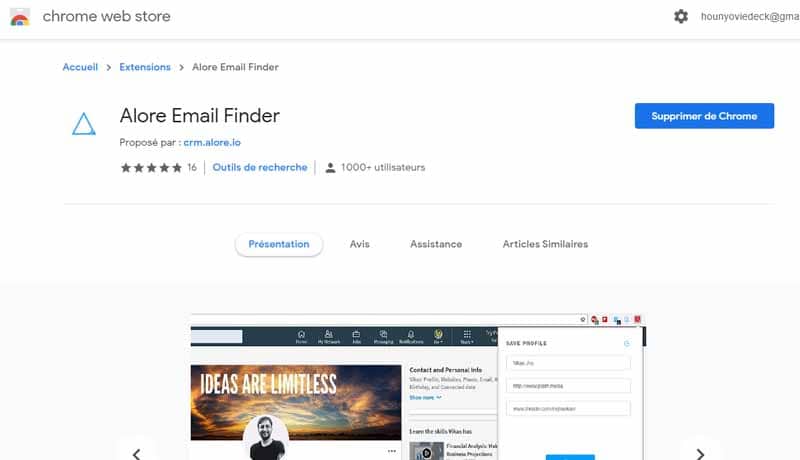 This extension allows you to search for leads on
By entering only the name of the person and the domain name of his company, you can find email addresses individually or in bulk in Alore Email Finder :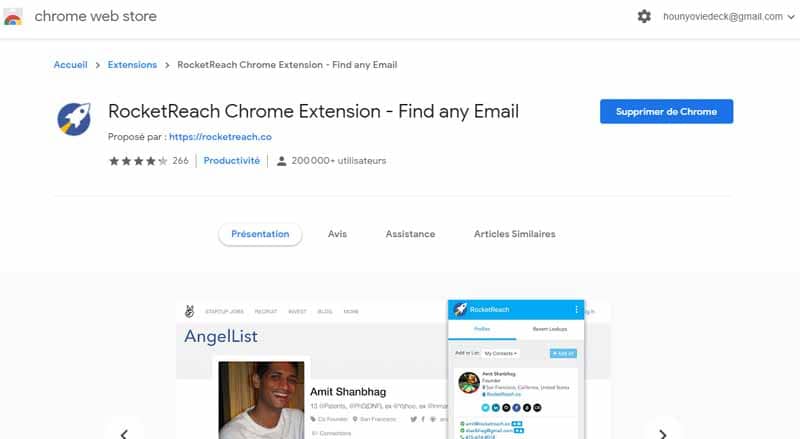 This is a business research and prospecting tool used by thousands of people. It works on LinkedIn, AngelList, Crunchbase, Google and other company pages.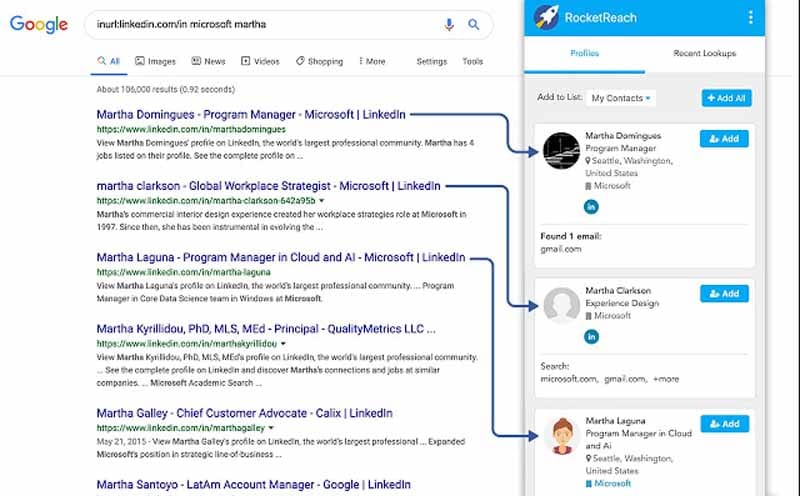 The RocketReach extension is based on a database of over 300 million contacts across ten million companies.
It is easy to use and guarantees maximum accuracy for its users.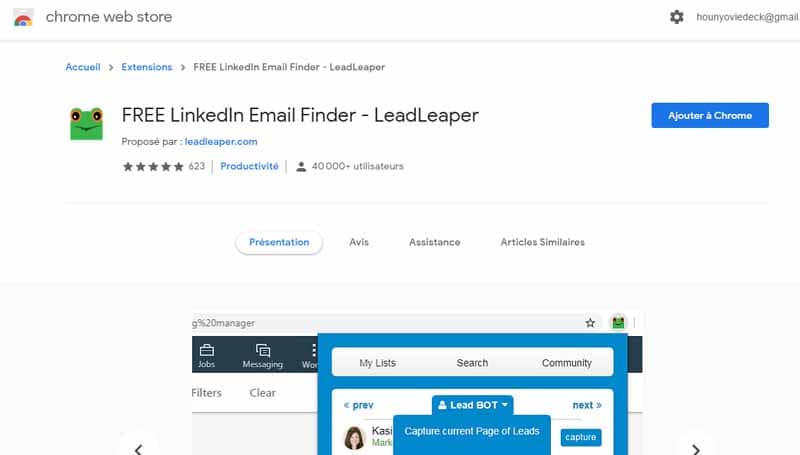 LinkedIn Email Finder is an email search extension that finds emails and phone numbers on any LinkedIn profile or website visited.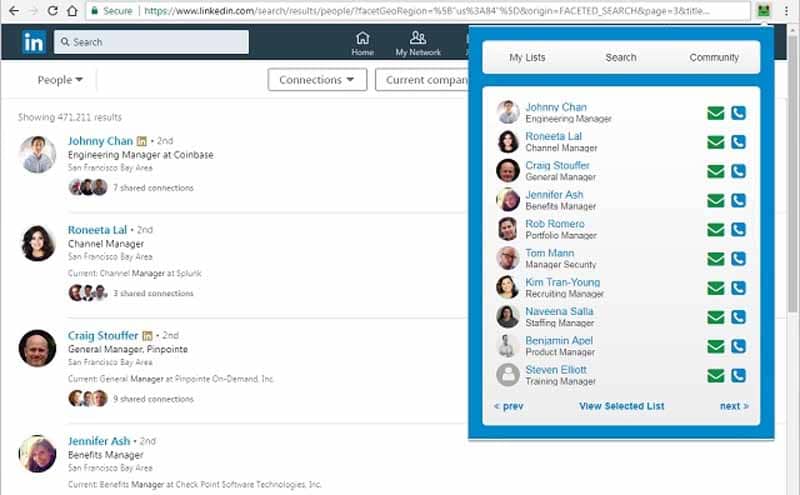 It is used by:
Sales Professionals;

Lead generation teams; ;

Recruiters;

Human Resources Professionals;

Business leaders, business analysts and marketing consultants

And maybe you 🙂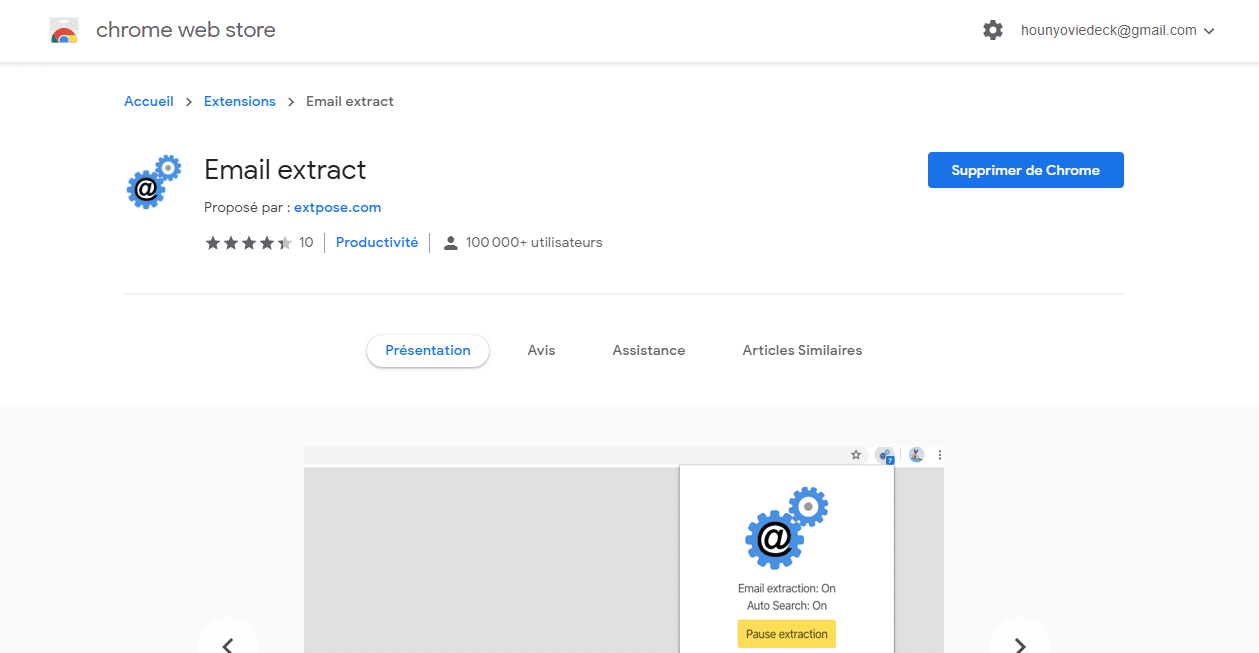 This Google Chrome extension automatically collects emails from the different websites you visit.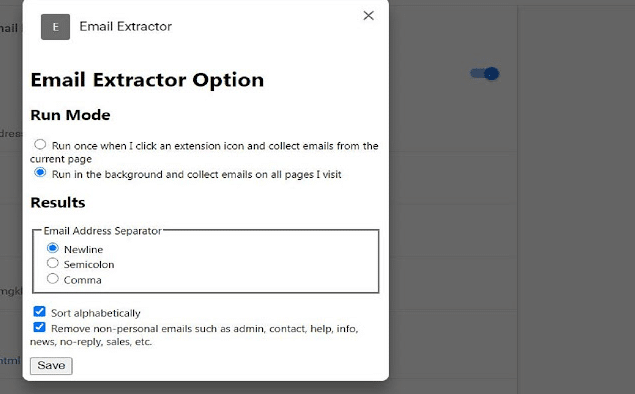 It allows you to:
Extract emails from visited pages;

Automatic searches for the main search engines, for example Google and Bing;

Export to Excel in XLSX format with the appropriate data types
To take advantage of Email extract, simply click on the extension icon to get an Excel file with all the collected emails.
1.2. find the email address with the email search services
1.2.1. HUNTER
Hunter is a search solution through which you can :
Find the email address of most websites

Find the email address of a professional;

Verify the email address to ensure secure delivery.
As for its use, Hunter is easy to learn. It is presented as a search engine and to find the email addresses of a company, you will only have to enter the domain name linked to the company's website.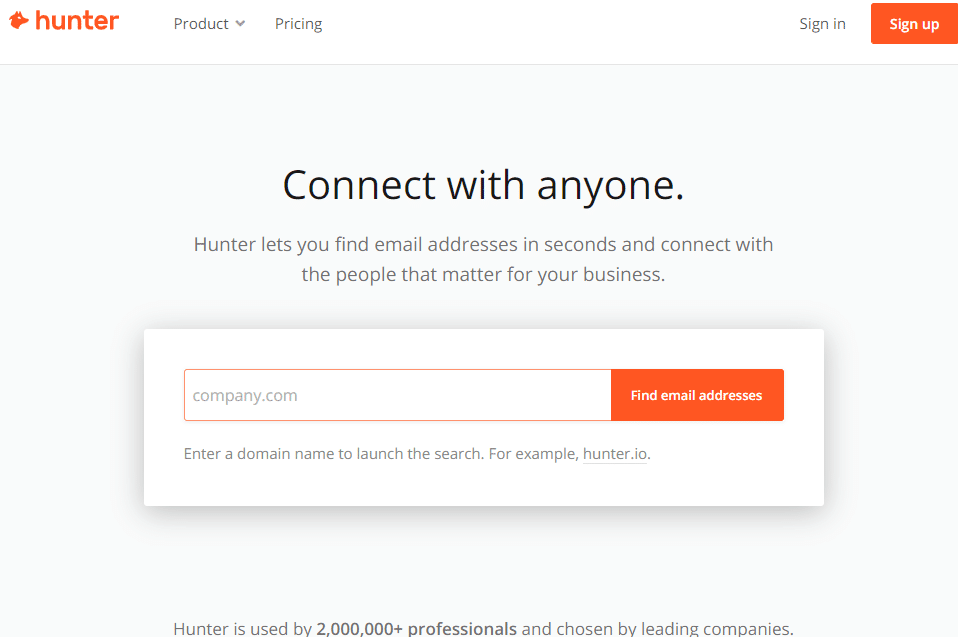 The tool has several filters through which you can refine your search.
As far as pricing is concerned, Hunter offers you several plans, but you have the possibility to perform 50 searches per month for free.
1.2.2. DATANANAS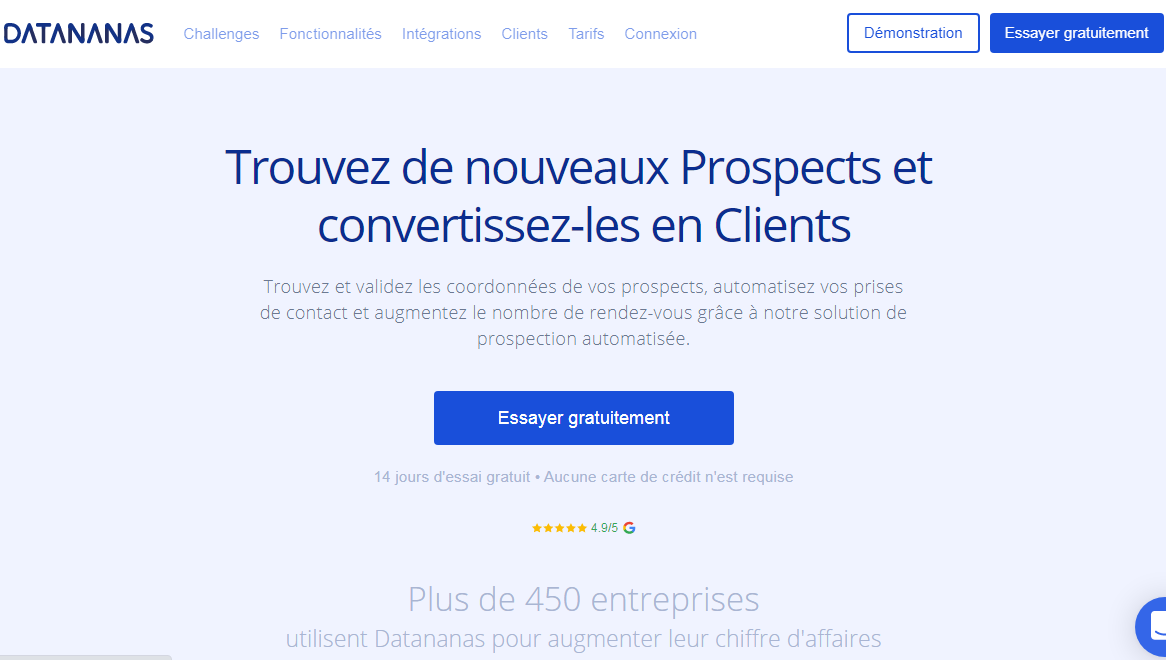 Datananas is a prospecting tool that integrates with your browser as an extension. It allows you to send to your potential contacts a series of fully personalized emails in an automatic way.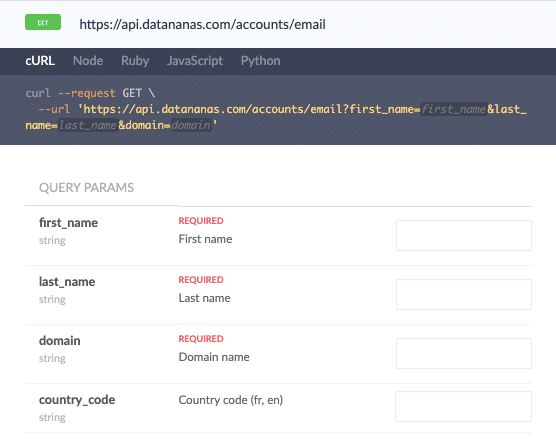 It allows you to:
Find prospects

To generate leads

Find traffic.
For the subscription, Datananas offers you a 14 days free trial.
To use it, you must install the extension in your browser and go to the site of your choice. In order to identify the profiles you are interested in, you will press the DATANANAS icon. The software then collects the key information of the profile concerned
Last name ;

First name

Email address

Etc.
1.2.3. ANYMAILFINDER
This is an email search tool that offers you to find prospects individually or in bulk. The emails you receive are fully verified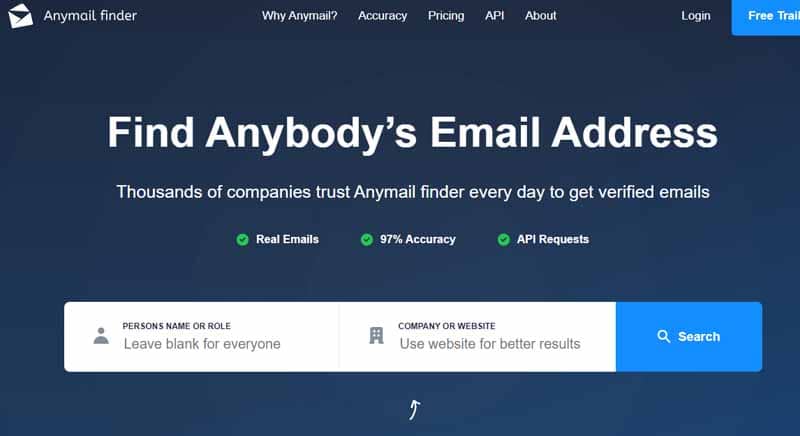 Anymailfinder uses a growing search database and gives you the possibility to download up to 50.000 email addresses
You have several pricing plans and a free plan that allows you to find up to 90 emails per month.
1.2.4. Voila Norbert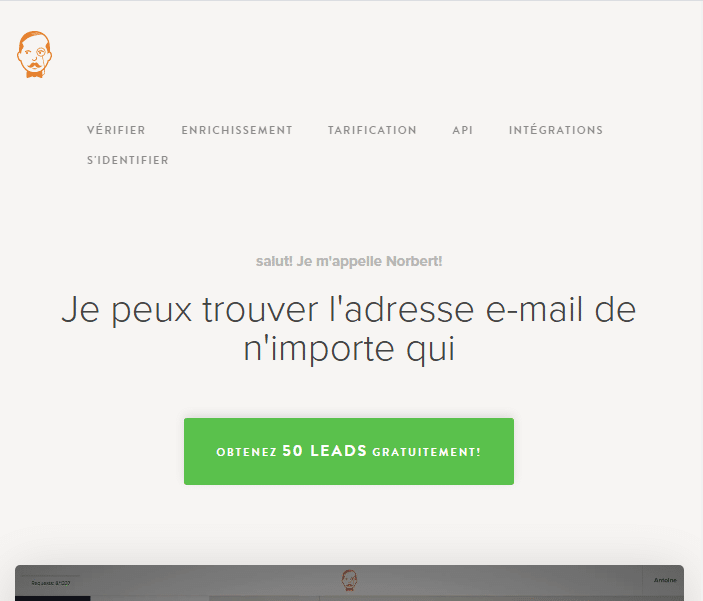 This is a web service that allows you to find the email addresses of your target audience using the name of an individual, a company or a website
Each proposed address is validated based on a mail server test, which allows you to reach real people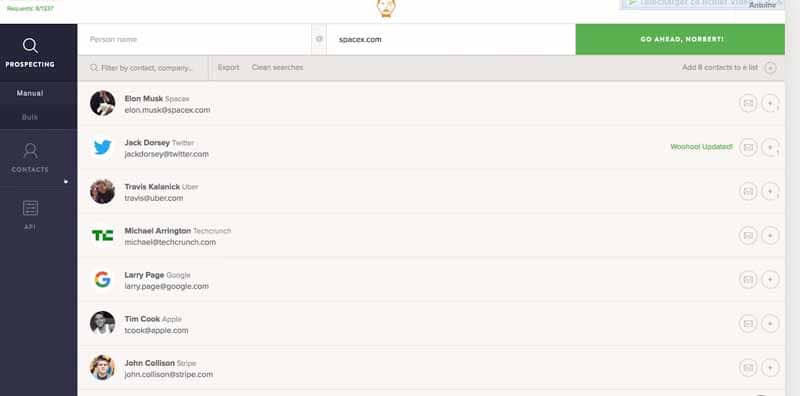 On Voila Norbertthe search for a prospect is done from the name, the first name, the company, the website or a nickname on social networks
The site offers a free search of 50 emails. For the next times, the search will be at 0,10 dollar.
1.2.5. EMAIL-PROSPECTOR PRO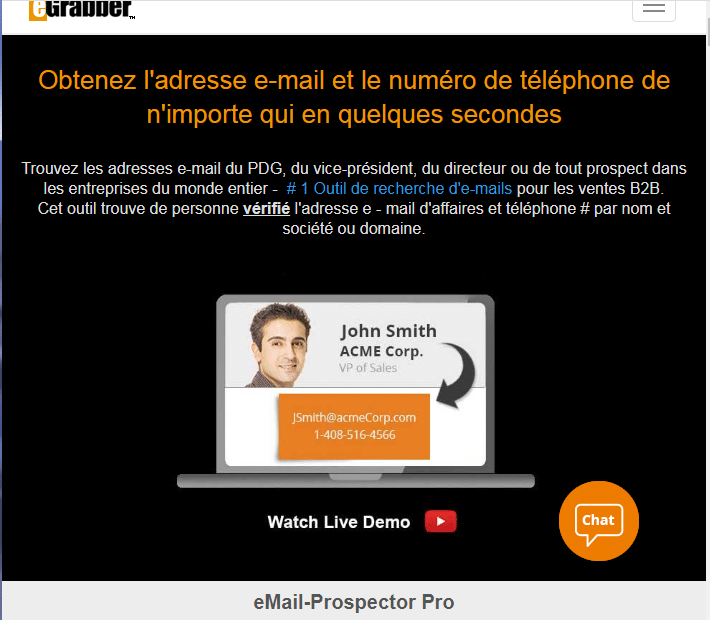 Designed for sales, marketing and lead generation teams, email-prospector pro helps you find the business email address and phone number of your prospects
To do this, you will need the first and last name of the person concerned or the domain name of their company. The use is conditional on the purchase of a license.
1.2.6. SNOV.IO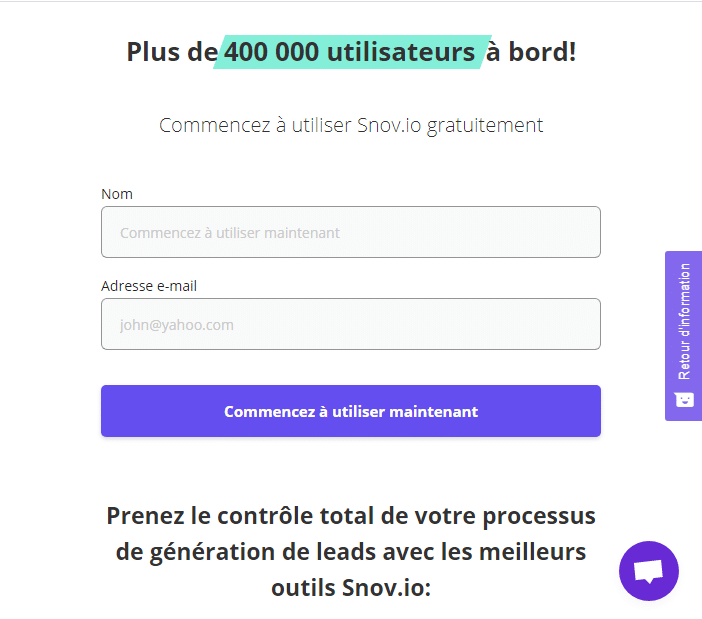 With over 400,000 users, snov.io allows you to :
Search for emails from a domain;

Filter email addresses;

Create and send complex emailing campaigns with target triggers and automatic follow-up messages;

Etc
For a start, the tool offers you a free search of 50 emails per month.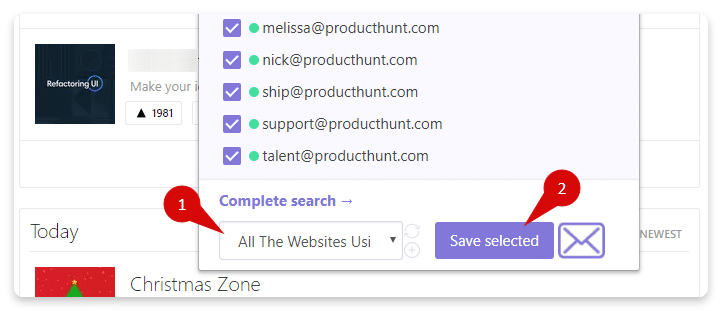 To use it, you need to integrate the extension into your browser. Then, when you visit a site, you click on the icon of the extension. The tool then displays a list that you can save in your prospect list.
1.2.7. Linklead
Linklead is an online software that allows you to download files containing thousands of email addresses of your targets.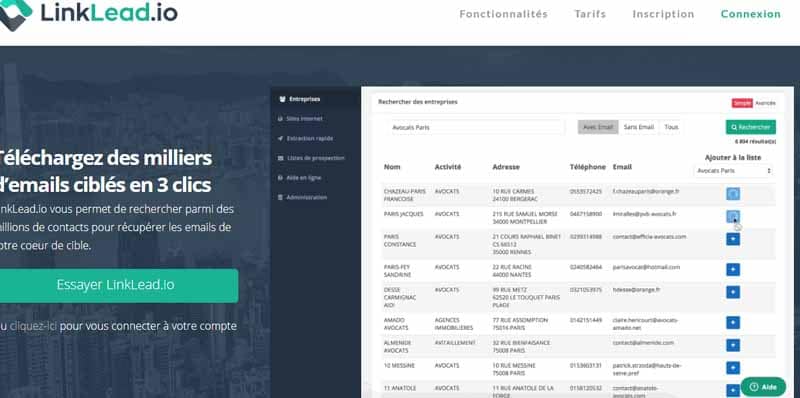 Among other things, it allows you to:
Retrieve emails from website creators;

Find and extract emails from several companies.
You can also try it out by taking advantage of the 7-day period it offers.
1.3. Find a person's email address on their company website or blog
To find a person's email address on his or her company's website or from a blog, there are several solutions.
1.3.1. Use the generic address or a contact form.
Websites offer a contact form that allows users to contact them and request information
You can therefore use this solution to ask them to put you in contact with the person you want.
1.3.2. Subscribe to their mailing list
If the person you are targeting has a newsletter on their website or blog, you can subscribe
It is likely that these newsletters come from their personal email addresses. If this is the case, you can quickly get in touch with your prospect.
1.3.3. Check their "about" and "contact us" pages
Alternatively, you can try looking at a site's "contact us" or "about" pages to find email addresses.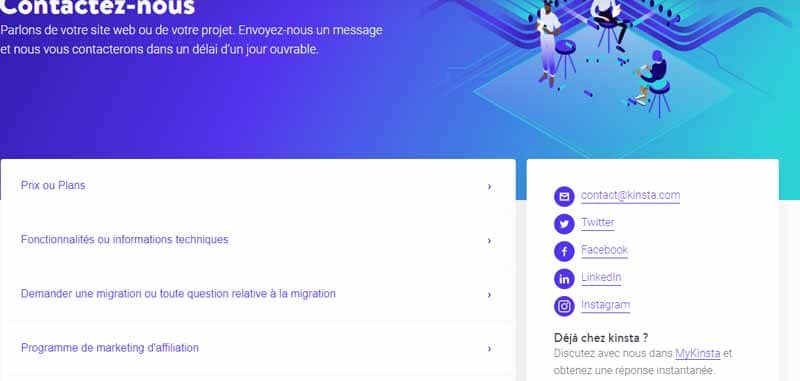 If you don't see this page, you can try to consult it from a URL address. The formula would be :
Name-of-site.com/contact-us ;

Name-of-site.com/contact-me;

Name-of-site.com/about ;

Etc.
1.3.4. Do a WHOIS search
The Internet Corporation for Assigned Names and Numbers (ICANN) recommends that website owners fill in all the information related to their domain name so that it is visible to the public.

Thus, thanks to the WHOISsearch tool, the public can have access to the last name, first name, telephone number and email address of the owner and therefore contact him
1.4. Search on social networks
You can find the email addresses of your targets on the main social networks. Indeed, most people often connect to social networks through this address. They put it in their contact information or include it in the content they post
So, how to find the email address of a person on :
1.4.1. Facebook
With over 2.5 billion active userssfacebook allows you to quickly get in touch with someone
For example, send an invitation and as soon as it is accepted, ask your contact to send you their email address.
You can also look in their profile (you will find it in the "about" section if they have not protected it).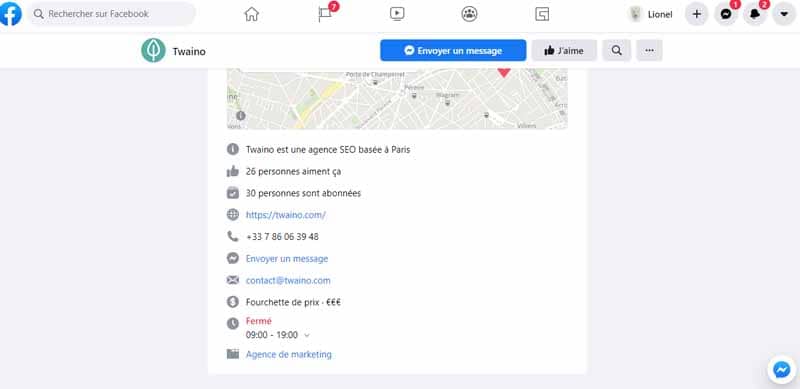 If your target has a page, look also in the "about" part of this page to see if the email address is not there.
1.4.2. Twitter
On Twitter, people sometimes include their email addresses in their biography.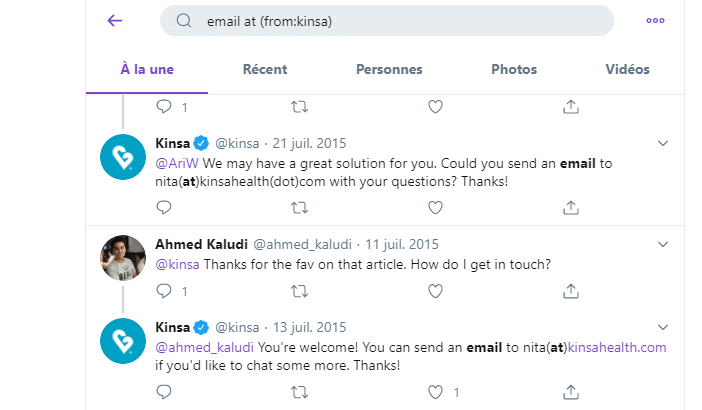 But this is often protected from bots. To find the email address, you can try to search the words "at" or "dot" with the advanced search tool from their twitter account
1.4.3. LinkedIn
On LinkedIn, you can find the email address of your targets using different strategies.
The first is to visit your targets' profile and look in the "contact information" section.
The second is to export your email addresses. To do this, you need to:
Connect to your LinkedIn account;

Choose your profile;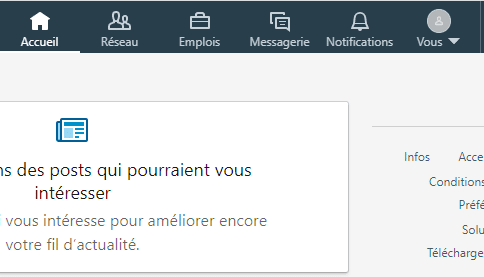 Go to "preferences and privacy";

Choose "how LinkedIn uses your data"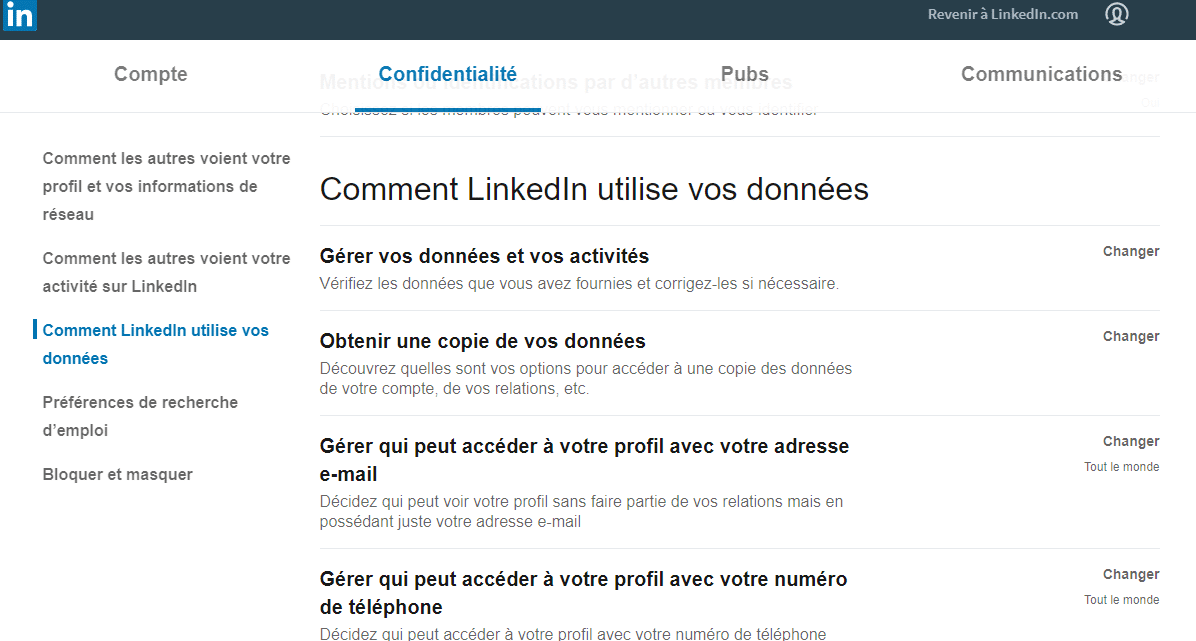 Click on "get a copy of your data";

And do "request archives".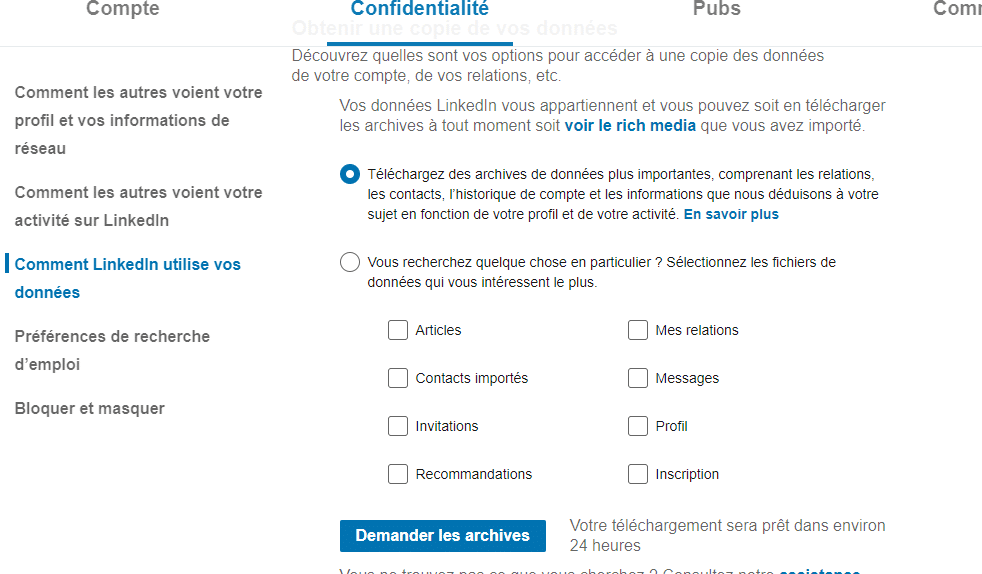 Once this process is complete, you will receive a list in your email box containing the email addresses of all your LinkedIn contacts.
1.5. Use search engines to find the email address
Of course, search engines allow us to access a lot of information. The important thing is to know how to proceed to display what you want.
In Google for example, if you want to find an email address, you just have to type in the name of the prospect and see what comes up
If you know a little more about your prospect (company, location, etc.), refine your search using some search operators :
[name] + "company they work for;

[name] + email ;

[name] + LinkedIn;

[name] + hometown.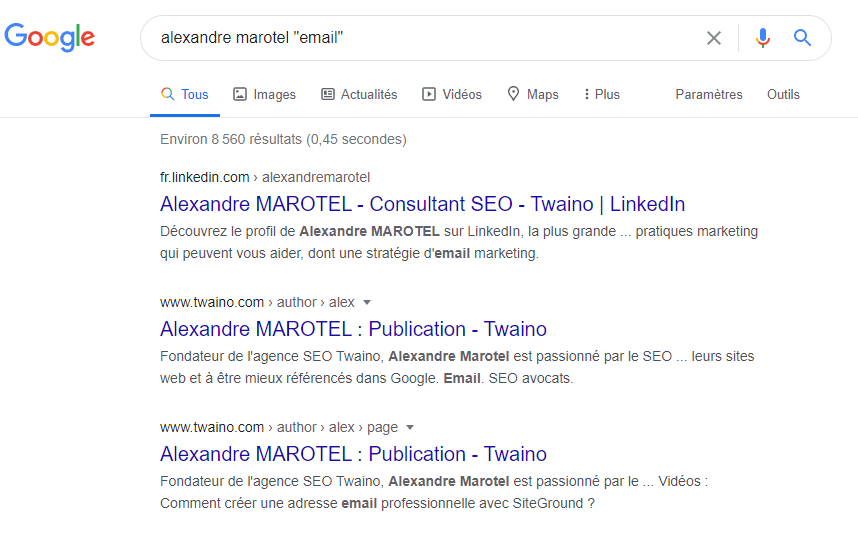 On the other hand, if it is about a company's email addresses, the search engine search becomes even easier. Indeed, most email addresses of websites have the domain of the website
Thus, you can find the address of all the members as soon as you find the email address of one person. All you have to do is perform a search like this:
"(Person searched)@domainname " email.
You can also use the search engine Duckduckgo. Duckduckgo is a search engine that displays search results using information from other engines. It is also appreciated for the fact that it preserves the anonymity of users. In this search engineto find a person's email address, all you have to do is use the formula : @domainname.com
When you do an exact match search for "@domainname.com" in DuckDuckGo, you'll get results for all email addresses attached to the domain that are publicly available.
1.6. Find a person's email address from a template and test it
Most email addresses follow the same format, i.e
A part identifying the person or department;

A separator character @ ;

The server address, it can be a domain name.
We can therefore use this format to find the email addresses of our prospects ourselves. To do this, we would need some information about the person we are looking for. From the first and last name, we can try the following formulas:
[Firstname] @domainname ;

[First name+last name] @domain-name ;

[first name+1st letter of last name] @domain-name ;

[1st letter of first name+last name] @domain-name ;

[Initials] @domain ;

[lastname. firstname] @domain-name ;

Etc.
Once you have made these guesses, the next step is to check if any of the guesses correspond to a real address. For this step, you'll need to go into Gmail, hit the "compose" button and paste all the suggestions into the "To" field. Once this is done, go point the cursor at each of the addresses to see what will be displayed.
If the selected address is associated with a profile, a small pop-up menu will appear. If not, nothing.
On the other hand, since building the different permutations can be difficult and time consuming, you can try an online tool. It is called email permutator.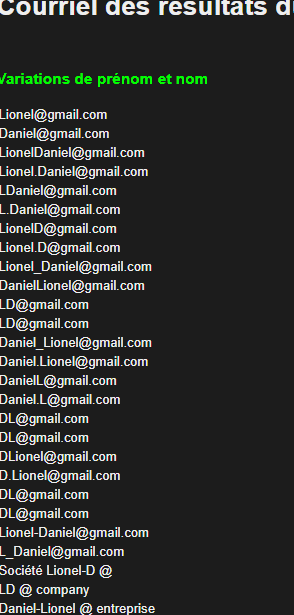 As soon as you fill in the different fields, it will show you the different email address possibilities.
1.7. find a person's email address using company directories
If you know for example the name of the company where the person you want to contact works, you can find his email address on the official website of this company. A search on the site will allow you to find for example :
A directory of employees

Or a contact email from which you can express your need
If you cannot find the email address of your correspondent on the site, try to see if other addresses are listed. From these different addresses, you can deduce the one of the person you would like to get in touch with.
You can also search from a general directory such as "page jaune" which allows you to get in touch with different people. Indeed, the yellow pages allow companies to add :
Their contact information ;

Their email addresses

Their cell phone numbers (professional or personal).
To find the address of a person on the yellow pages, you just have to go on the site pagesjaunes.fr and make a search
If the person you are looking for has entered their email address, the phrase "contact by email" will appear below their phone number

Source at
However, you do not have direct access to this address for security reasons. You must therefore wait until your target agrees to let you contact him/her by email.
Chapter 2: Some rules to follow when trying to contact someone by email
Despite the existence of many email services, the email address remains an important means of communication
According to the site Orbelowebsite, more than half of the population uses email La fabrique du net.fr informs us that people spend an average of 2 hours to check/read their emails
Indeed, email allows individuals :
To be in contact with their relatives ;

To send any type of file (text, documents, videos, images, sound);

To communicate with companies;

Etc.
For companies, it is a very important tool since it allows them to easily send personalized messages to their potential customers.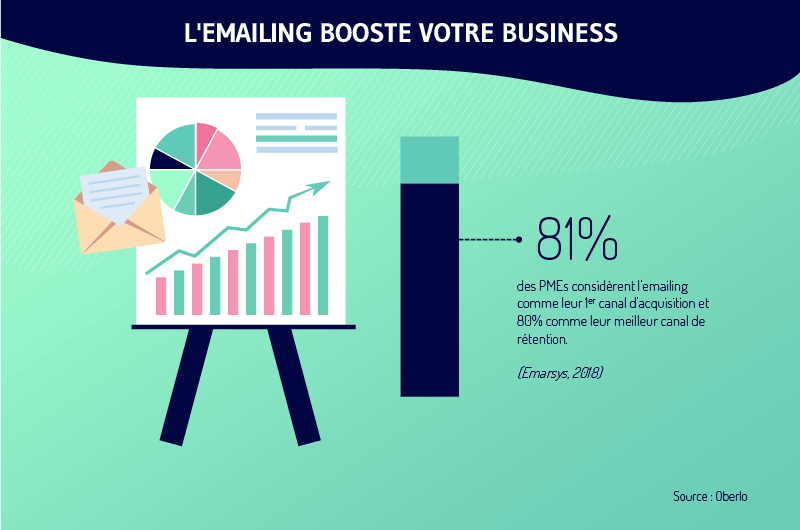 Beyond the importance of email for individuals and companies, one may need to find another person's email because:
One wants to get in touch with that person;

We believe that he is better placed to read our messages;

We are looking for a target audience to present our product;

Many other reasons.
In any case, to get in touch with a person by email, you must have in mind some rules. These are not only necessary, but also important since they give a good image of you.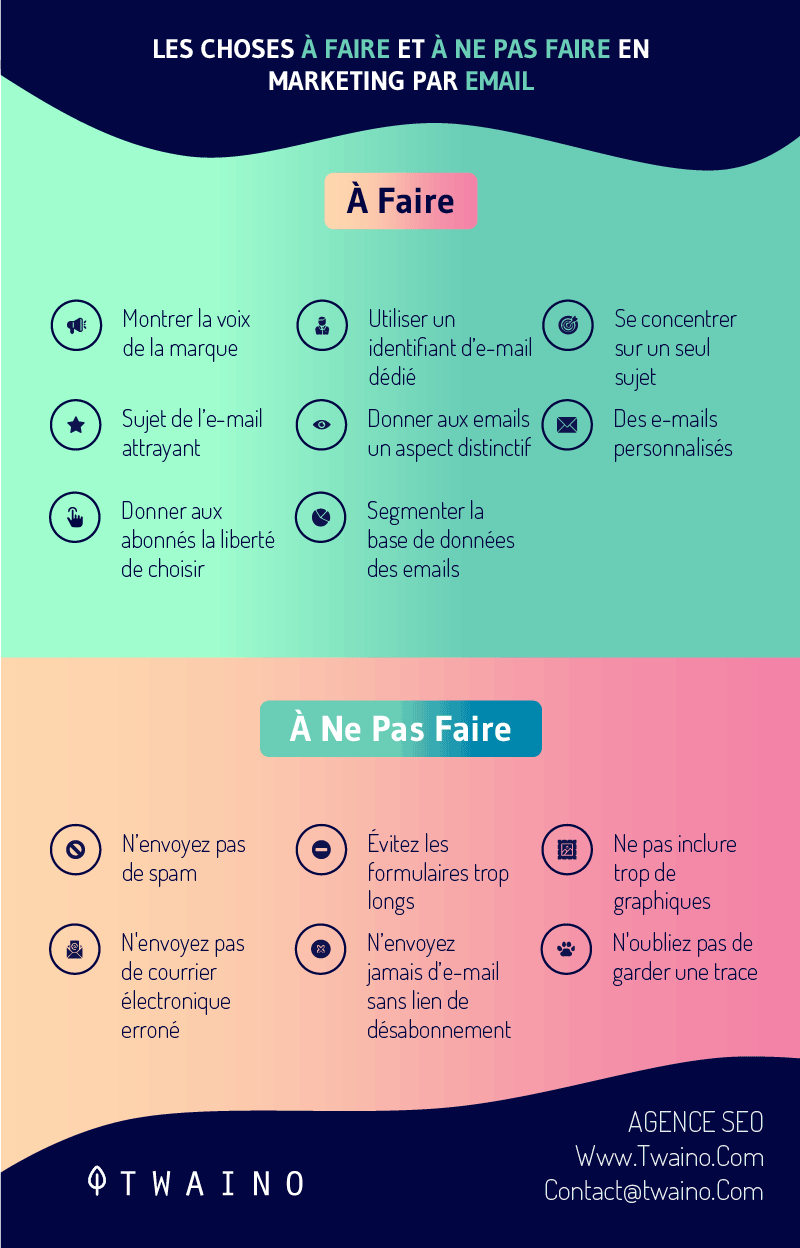 Once you have found the email address of the person you are looking for or you have obtained the list of email addresses of your different prospects, you can try to get in touch with them.
To do this, you need to follow certain rules. Here are some of them:
Fill in the "subject" field

this will allow your recipient to better organize his messages and to judge the relevance of what you send him;

Make sure that the reader is concerned by the message

make sure that the reader is really interested in the message sent. It will not be a question of spamming your interlocutors;

Be brief, precise

to hope to be read and understood, you must produce an attractive and error-free text. It would be preferable to use short and meaningful sentences. Break up your message into several sections if it is long. Use simple language and avoid inappropriate language, sarcasm, etc.

Attachments

When sending attachments, keep them to a reasonable size. Files should be in a format that is accessible to everyone

Login:

In case your contact wants to reply to your email, a message with the senders' addresses can attest that the message is serious

Proofread your message before sending

reread your message before sending : Rereading your message will allow you to see any spelling or typing errors and to correct them. So remember to proofread your messages before sending them.
In summary!
Finding a person's email address is no longer a headache. Indeed, there are several tools and techniques, both paid and free, that allow you to collect the email addresses of most Internet users
In this article, I have tried to reveal all the tricks I use to quickly find the emails of people I want to contact.
Once you have found the address of the person, you can contact him directly if it is a relative.
But if it is in the context of your emailing campaigns, it is essential to observe the rules listed to increase the chances of getting responses from your recipients.
I hope I've helped you with these tips and if you know of any better ones, don't hesitate to share them with us.
See you soon!