Stuart H. Britt's statement is funny: "For a company, not doing advertising is like winking at a girl in the dark. You know what you're doing, but no one else does, beyond the humor, this sentence illustrates the importance of marketing for companies. It is therefore essential toadopt a marketing strategy that is both effective and capable of developing your business. This is not easy to put in place without a perfect mastery of the different aspects of marketing. To this extent, it is important to have or develop the required skills or if you have the budget, you can simply hire a professional. However, despite the apparent simplicity of this second option, it is a real problem that many companies face. Thus, when recruiting, should you go for a generalist or a marketing specialist profile ? In order to make this choice easier for you, I have elaborated this article whose objective is to help you make the most relevant choice in order to optimize the development of your company.
Which profile to choose in marketing?
Should you choose a generalist or a specialist profile in marketing? I give you my thoughts in this video…
Watch my presentation on the choice between specialist and generalist in marketing:
Hiring a marketing professional: Is it really useful?
Marketing is a powerful tool that allows you to generate more sales by targeting the right customers. Thus, adopting a good marketing strategy means adapting to the challenges of your market in order to make the most of it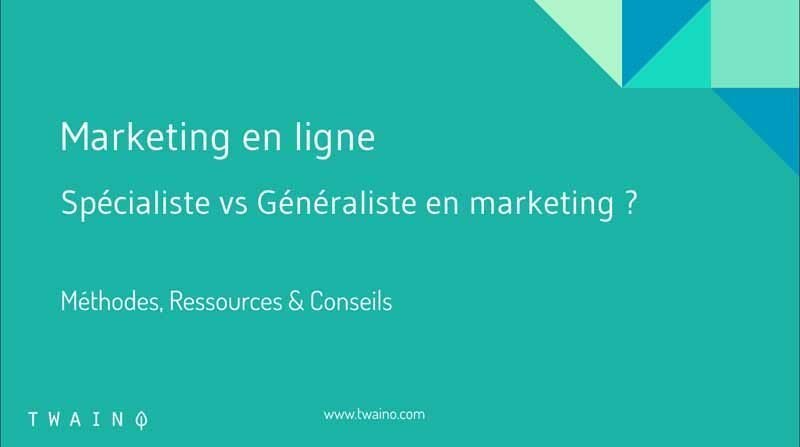 The objective is to offer products and services that meet the needs identified by potential consumers. This obviously implies the use of a certain number of tools and an expertise that must be mastered beforehand. Hence the importance of using a professional, which will allow you to save time in the implementation of an effective marketing strategy for your business.
1) Focus on your core business
Calling on a marketing specialist gives you and your team the opportunity to to focus solely on your core business. For example, if you are in the industrial field, developing a high-performance product that perfectly meets your customers' expectations must remain your number one priority. The acquisition of marketing knowledge can be useful, but don't lose sight of the fact that this is a field where the fields of knowledge to be obtained are very large before being able to take advantage of them. Therefore, I do not advise you to waste your energy in acquiring knowledge that is too far from your core business. Instead, call upon one or more marketing professionals to work with you to develop good strategies for the medium and long term.
2) Time & energy allocation
As a professional, you have objectives and therefore deadlines to respect. Although it is not always easy to meet them. Thus, outsourcing certain tasks is an effective option.
Indeed, some time and energy consuming activities can be done by a marketing professional:
Analysis of your competitors' communication methods;

Analysis of the needs of your targets;

The elaboration of a marketing strategy

The analysis of the evolution of the media;

The analysis of communication tools;

And so on..
The list is very long and you just have to delegate all this work to marketing professionals who will take care of deciphering the trends.
3) Discover new perspectives
Getting new ideas is another benefit you get when you hire a marketing professional. There's no question that you need to know the intricacies of your business better than anyone else to succeed. That said, it's impossible to be on top of every the latest trends and the fresh eyes of a professional are sometimes crucial to unblock certain difficulties.
4) Benefit from quality marketing
Marketing is a dynamic dynamic and constantly evolving sector, new tools and channels are constantly emerging. So much so that it has become crucial to make use of several toolss in order to increase your visibility and therefore develop your business. These are for example :
Websites ;

E-mailing;

Social networks;

Search engine optimization

Content marketing;

Etc..
All these tools require technical knowledge to be used correctly. Without this, you will not be able to use these levers in the right way, which makes the intervention of a professional particularly useful.
5) Decide on a strategy to boost product sales
The marketing professional will allow you to define exactly what type of product best suits your clientele as well as the most appropriate price to reach your sales objectives.
6) Accurate tracking of results
Without a measurable marketing strategy in place, it is difficult to know exactly what key points are helping you gain customers. A marketing professional is able to identify your company's shortcomings and provide the right solutions to your problems. Moreover, he will allow you to present your activity in the best possible way by defining clear objectives focused on the products you offer. These will be quantified over time, in order to help you make decisions.
7) Differentiate yourself from the competition
It is important to differentiate yourself from your competitors and a marketing professional will take care of highlighting your added value. This will allow you to be one step ahead of the competition, which can be materialized by :
A daring communication strategy;

An original positioning of your product

A particularly attractive special offer;

Etc..
8) Anticipate risks and make the product evolve
Without a clear strategy and a strong identity, it will be very difficult to gain or maintain visibility for your products and your brand. The marketing professional will be able to detect avangardist trends, and this well before they are democratized.
Ultimately, hiring a marketing professional is one of the best options for staying ahead of the competition and getting your products in front of your audience. To do this, it is crucial to choose the right person who will have the expertise to help your business grow significantly.
Why is it so important to make the right choice?
According to a study by Google50% of mobile users visit a store after performing a local search. Wouldn't this be a boon for your business to capture new customers? This figure, like many others, proves the importance of to surround yourself with a good marketing team.
And if you're still not convinced, consider that 56% of companies have planned, according to Omnicore Agency, d'increase their content marketing budget.
If they weren't sure they'd get a good return on their investment, would they have thought it worthwhile to increase their investment? This being the case, it is necessary to be able to surround yourself with marketing professionals with the most appropriate profiles for your needs.
Between marketing specialist and generalist: Who to choose?
What is a marketing generalist?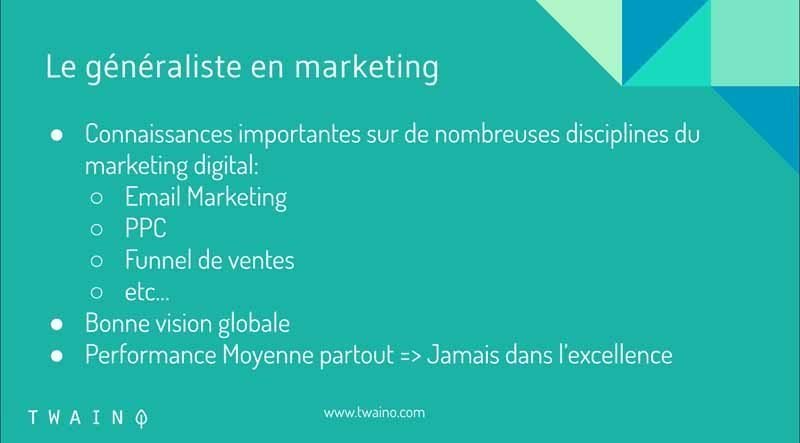 The marketing generalist is the one who has more or less extensive knowledge on many aspects of marketing. Indeed, he is able to give relevant advice in several disciplines such as:
The SEO and the Content marketing;

The emailing ;

Paid advertising;

Management and advertising on social networks;

Etc..
Simply put, the generalist is someone who has a good global vision of what needs to be done in terms of marketing. Nevertheless and not surprisingly, the generalist does not have a specialty as such. In other words, he or she performs moderately well in many marketing disciplines, but has little depth of knowledge in any one area. This is not the case for a marketing specialist.
What is a marketing specialist?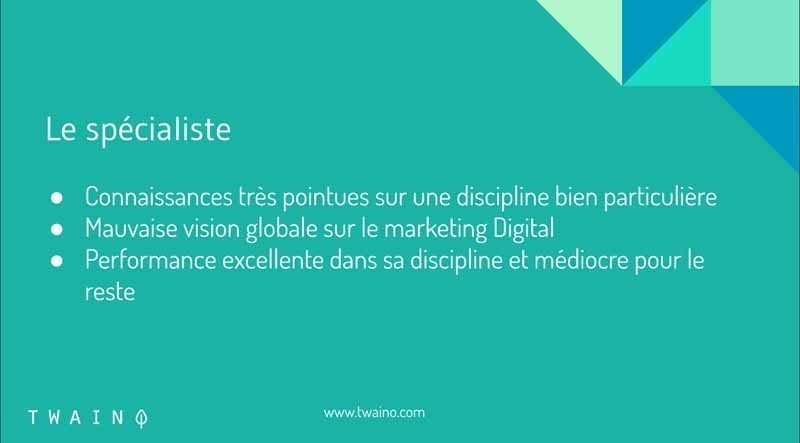 A specialist has mastery of a specific marketing discipline. He may have specialized knowledge in two or three areas, but often no more. His expertise can be, for example
Content marketing ;

Emailing;

Paid advertising;

Management and advertising on social networks;

SEO

Etc..
The specialist can excel in his field, but it will be difficult or even impossible for him to bring the same precision to other aspects of marketing. Therefore, you cannot ask him to have a global vision.
Which professional should I choose?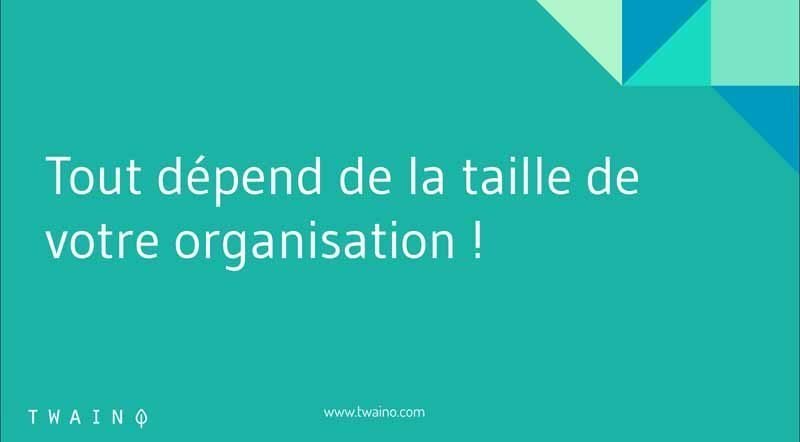 Knowing which marketing profile would be best suited for your company's growth can become a real dilemma. Fortunately, there are several factors can help you choose between between a generalist or a marketing specialist. Consider that your needs depend in part on the size of your company.
Large companies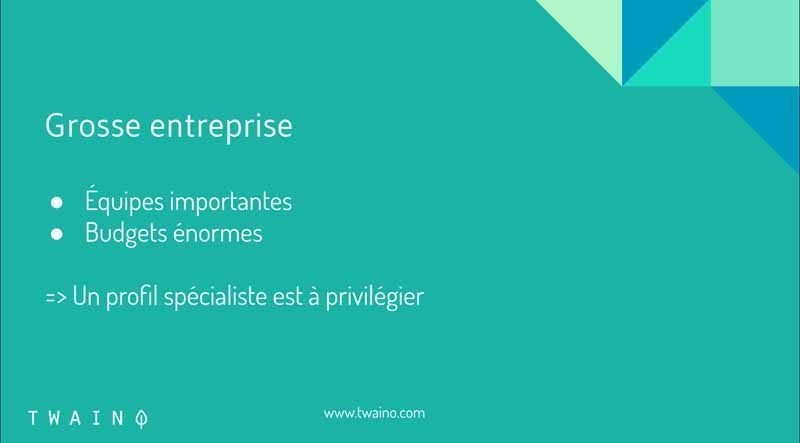 A large company employs many people and usually has a large marketing budget. In such a company, you will need experts in specific areas to improve your performance.
This is because, large organizations need excellence in execution in execution, something that only specialists can provide in their various disciplines. An asset that will allow you to be ahead of the competition in this field.
That being said, large companies also use generalists in order to manage teams of specialists. This is especially true since the generalist will have a global vision of the activity, unlike specialists who are limited to their specific disciplines. Indeed, specialists may tend to privilege their discipline to the detriment of others, which may have negative consequences in achieving the company's objectives from a global point of view.
Startup, VSE or SME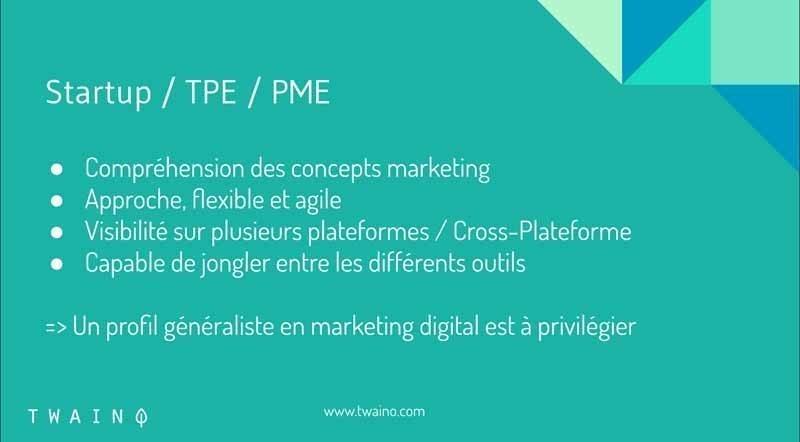 By definition, a startup is a company that is just beginning its activity, therefore it implies that the company very rarely has the resources to hire several professionals per discipline. Therefore, in order not to remain in the embryonic stage, it is important thatthey surround themselves with people who have a global understanding of marketing concepts.
Therefore, the most sought-after profiles for startups are professionals capable of handling several marketing tools. Remember that you can be flexible in your choices, but always make sure they are relevant.
While it is possible to match each type of professional to a type of business, having a generalist and a specialist can sometimes be beneficial to the business at a given time.
The idea being that generalists are going to be much more in demand when the company is just starting out and specialists when the company reaches a mature stage.
Some incredible statistics to know
When it comes to choosing between a generalist or a specialist marketer, there are some very interesting statistics that can serve as a guide.
1) 78% of marketing managers want both generalist and digital specialist skills on their team (source: Hays)
This statistic shows that both types of profiles are important for business development
2) The most difficult specialists to find in marketing are: In data analytics (51%), marketing automation (41%), digital lead conversion (32%), SEO and SEM (25%) and digital content production (24%) (source:

Hays

)
While finding these specialists can sometimes be difficult, you should know that there are many generalists who have fairly advanced skills in these areas who can help you.
3) According to a survey of 400 marketing managers, 9% said that the expertise of specialists is more important than that of generalists to lead and guide new trends (source: Hays)
Specialists are very knowledgeable in their discipline, which makes it easy for them to spot new trends, new tools and more, as it relates to their discipline.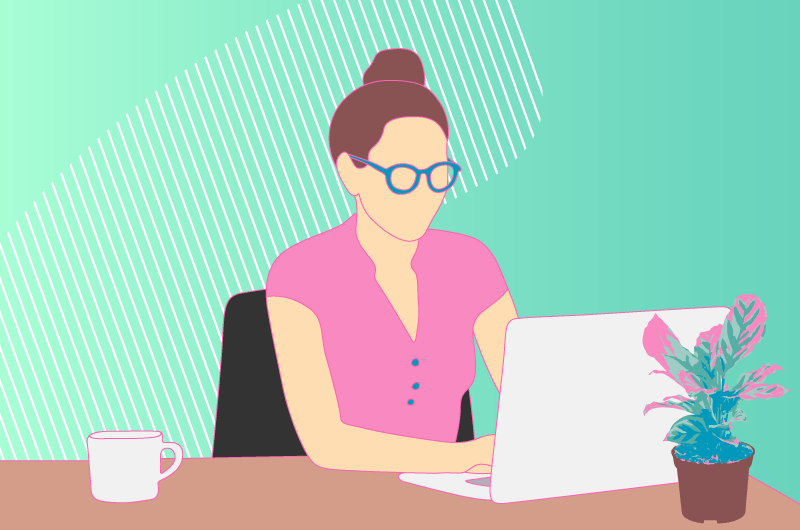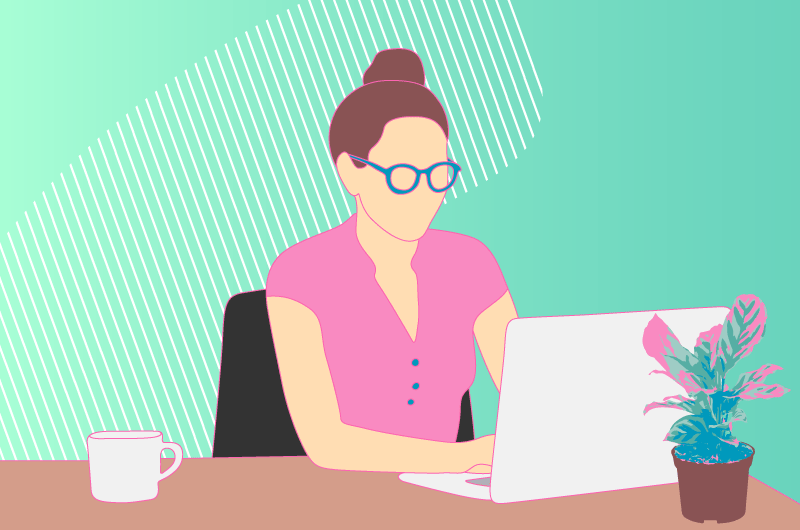 Conclusion
Surrounding yourself with marketing consultants can be a real necessity if you want your business to grow. Thus, choosing the right marketing professional for your needs is a real dilemma. While the generalist brings you a global view of the marketing aspect of your business, the specialist excels only in one discipline. That said, generalists tend to be the most sought after by small and medium sized businesses who want to build their visibility at all levels. On the other hand, specialists are the most adored by large companies who often want excellence in certain strategic areas. Thus, I advise you to solicit one or or the other according to your budget, your needs and your growth perspectives.