With over 2 billion users worldwide and 720,000 hours of videos uploaded every day, YouTube is now considered the second largest search engine used by people all over the world.
Obviously, the difficulty of ranking on this search engine can be clearly observed thanks to these figures.
But the higher you rank, the more business opportunities you get, since statistics show that 90% of people discover new brands or products on the platform.
In this guide, we will together discuss the best ways to optimize your videos for the YouTube engine.
Chapter 1: What is YouTube SEO?
Let's discover in this chapter the true meaning of YouTube SEO:
1.1. What does YouTube SEO mean?
Building an audience and driving traffic starts with getting your content to rank well on the SERPs.
Optimization for YouTube (SEO) consists of creating video content likely to be recommended by the search engine to answer a query.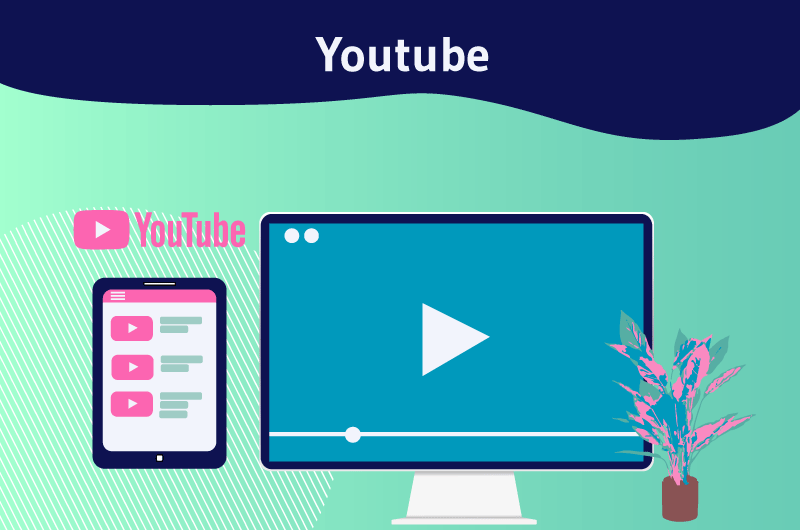 Although YouTube and Google are both search engines, they use different methods for SEO.
While Google focuses on more than 200 factors, YouTube gives importance to optimizing channels, playlists, metadata, etc.
There are several things you can do to ensure that your videos are indexed correctly by search engine crawlers, whether they're hosted on YouTube or another platform. In particular, you can use key terms in titles, as well as your meta descriptions.
However, one of the most important factors is the accessibility of the videos. Ensuring your videos are accessible to as many easier for search engines to find and index properly.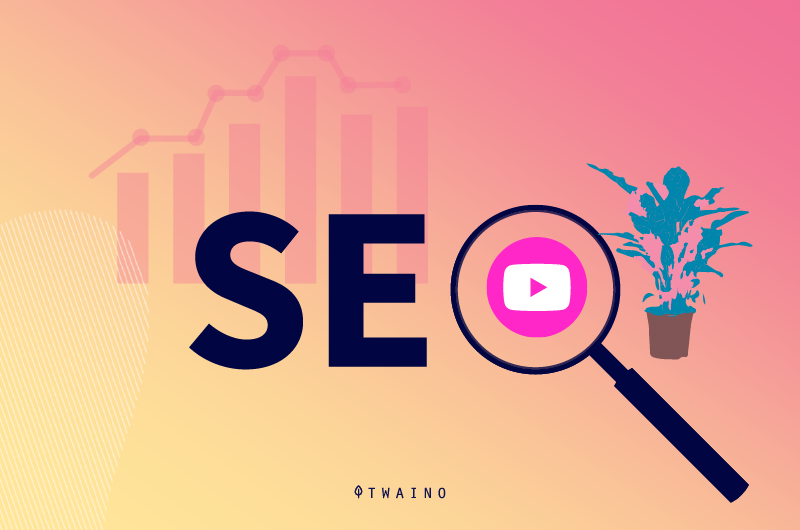 Using transcripts, subtitles, and subtitles in your YouTube videos can have many user and SEO benefits. By having a positive impact on user experience and engagement, you will also increase watch time and viewership.
1.2. How does YouTube SEO work?
YouTube was acquired by Google and therefore uses the same search intelligence systems as the search engine. The idea is to push further the way the search engine meets the expectations of its users.
The algorithm takes into account several factors to decide the best results for each individual.
Just as your search and browsing history is important to Google in terms of personalizing your results page, YouTube uses an algorithm that considers both engagement and channel optimization when ranking videos. . For example, a video with an optimal title, markup, and description will tend to rank higher than a video that lacks these elements.
If a YouTube channel generally gets more comments and likes, it will rank higher than a channel with little engagement. This makes sense, as the platform recognizes that these videos provide a superior user experience.
So when someone searches on Google, the search engine also offers a selection of videos that are more relevant to what was searched for. These videos are sourced from both YouTube and other platforms.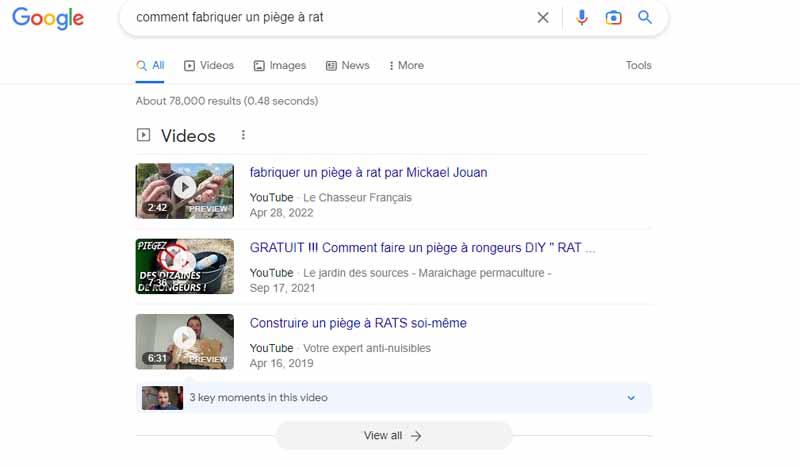 The optimizations you make for YouTube have a direct impact not only on how users find your content on the site, but also on your ranking in Google search.
1.3. What are the benefits of YouTube SEO?
SEO for YouTube has many benefits for both YouTube channel owners and website owners.
1.3.1. YouTube SEO Gives More Video Content Ideas
As with any other SEO strategy, researching the search terms your audience may find you for is essential if you want to outrank the competition on YouTube.
YouTube can not only be used to watch videos, but also to identify topics that are becoming more popular on the platform.
For this, you can simply set YouTube as a search engine in Google Trends. However, one of the disadvantages of using Google Trends is that it does not provide real data on the number of searches made for a particular term.
Fortunately, several other tools on the market like Ahrefs Keyword Explorer allow you to identify content ideas for your YouTube channel.
Content creators can use SEO tools to find out what people are looking for on YouTube and then create videos that address those topics. It's a great way to capture customer interest and ensure your video content is relevant.
1.3.2. YouTube SEO has an indirect impact on video engagement
metrics Engagement metrics such as video views, channel subscribers, likes, video comments, and estimated watch time define a video's rank on Youtube. The search engine analyzes user experience metrics to determine if the content is of good quality.
If a video has high engagement metrics, it will rank higher than a video with lower metrics.
YouTube SEO may indirectly impact these metrics. When choosing which video to display for search, YouTube looks at various video attributes such as title, description, transcript, and/or tags.
YouTube SEO ensures that these attributes are optimized, allowing the video to be visible for relevant keywords. The higher a video ranks organically, the more likely it is to have higher engagement metrics.
1.3.3. Including YouTube videos on your website pages can lead to YouTube ranking well in Google
A YouTube study conducted by Moz revealed that 94% of video search results are obtained from YouTube. This means that if brands embed YouTube videos on their site, users are likely to stay engaged for longer.
Instead of providing a link that directs the user to YouTube, an embedded video allows the user to watch the full YouTube video while still on the site.
Aligning YouTube content with website content is key to having a comprehensive YouTube SEO strategy.
Not to mention that both channels will benefit from embedded videos. YouTube video metrics will increase, while website landing pages will improve engagement performance (e.g. increased CTR, average time spent, etc.).
1.3.4. YouTube videos can appear in Google
By using structured data markup, you increase the ability of search engines to more easily understand the content of a page. Also, certain types of schema markup can allow your videos to show up on SERPs as a snippet on search engines, increasing click-through rates.
The video schema is a code that provides the most important information to search engines about your web page. This allows for better communication between your site and search engine results pages, as well as displaying video-specific details in the SERPs.
1.3.5. YouTube SEO Can Boost Paid Ad Metrics
A channel's YouTube audience consists of two paid groups: Lookalike
Audiences;
And remarketing audiences.
By growing these groups through organic activity, channels can more easily improve the quality as well as the volume of the target audience more than a paid search strategy would.
These paid campaigns aim to achieve a certain marketing goal that is in the upper or lower funnel of a customer's journey.
YouTube SEO can influence paid media performance across the entire funnel. It's not just about improving brand awareness, but also delivering tangible results for the bottom line.
The more users paid media can target, the better the engagement metrics will be, the reach will be large and unique, the video impressions, as well as the views and clicks will be huge.
Conversion metrics can also be improved by increasing the quality of these target groups. Users are more likely to watch video content from a brand they have interacted with before.
Usually, this interaction happens organically. YouTube's SEO activity thus broadens the audience towards users most likely to convert, indirectly influencing view rates or click-through rates.
1.3.6. YouTube SEO Gives Audiences More Content
When you create a YouTube channel, you're giving your audience an easy way to enjoy the personalized video content your team has worked so hard to create.
A YouTube channel is a great way to keep your IT buying audience engaged, encouraging them to return frequently.
Additionally, you can use your YouTube channel to drive engagement on your website by sharing or embedding your own videos or sponsoring other people's content.
Either way, you're reaching a large audience that really suits your offering.
This becomes even more apparent if you ensure that your channel is solving a specific problem of people in your market.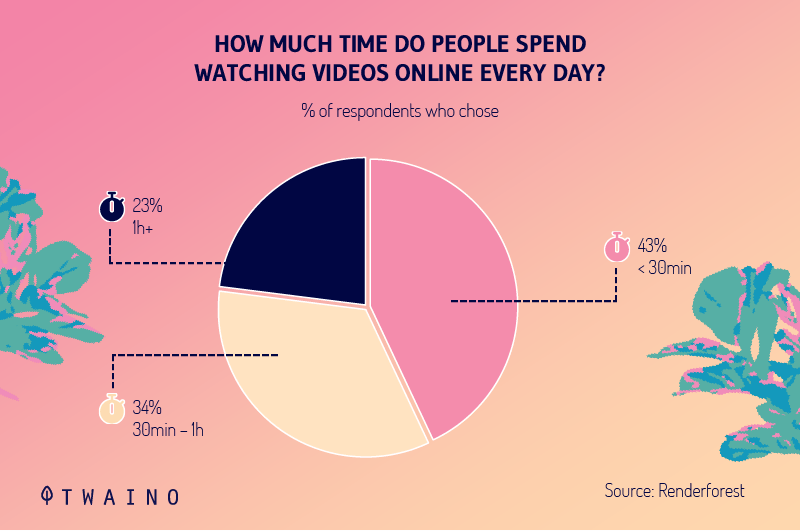 Ensuring that your YouTube channel content addresses issues for your specific audience is a great way to build a base of subscribers who are eager to keep coming back for more.
1.3.7. YouTube optimization is a creative outlet
Video is a great way to personalize your brand and creatively share your brand values ​​with over a billion users on YouTube.
But the benefits of YouTube don't end with a large audience for your video content.
Sharing videos on YouTube is a great way to unify your company's public messaging, get buy-in from your own team, and it's also a creative outlet.
Studies have shown that creativity is important in the workplace because it increases problem-solving skills.
When organizations promote video content creation for YouTube, the benefits go beyond the business case. For example, adding valuable keywords and backlinks to your website, improving SERP rankings, helping people find your business online, and closing more business.
Arguably the best business case for promoting video content creation in your organization is that it brings teams together.
This helps clarify your business offering in the minds and messages of your team. It promotes a fun environment in the workplace and challenges teams to succinctly qualify and quantify your organization's value proposition.
Creating videos can be a lot of fun and it's a great way to connect with other people who share your interests.
1.3.8. You can have a closer connection with your potential customers
Video can help you connect with potential consumers on a bigger level by giving them a sense of who you are as a business and what you do. It can also help build trust, which is essential for any business relationship.
Studies shown that consumers are more likely to buy from companies they trust and believe are goal-oriented, and video can be an effective way to build trust and credibility.
By showcasing your company's culture, values, and products or services in an engaging and informative way, you can build a strong connection with potential customers that could lead to conversions down the road.
1.3.9. YouTube SEO brings more life to your website content
Just as you optimize your blog posts for certain keywords, you can also optimize your videos for keywords. If you are able to rank these videos on YouTube and/or Google, then you can direct this traffic to your blog.
It also works in reverse. You can reuse your existing blog posts as videos and then embed the videos into the post. This will help your articles rank higher and attract traffic from video search.
Since video content is highly engaging and shareable, you can increase your chances of attracting links to your website from sites that choose to share or link your video. If you have unique and compelling videos, that gives sites a good reason to link to you.
At the same time, you can earn referral traffic through the links you include in your YouTube channel's bio and video descriptions.
Chapter 2: What are YouTube ranking factors?
There are several YouTube algorithm ranking factors, some of which we will mention in this section.
2.1. Video Comments Help Rank Well on YouTube
YouTube gives content producers the ability to post videos that people will want to watch and interact with.
Comments are a key engagement metric, letting you know if people are engaging with your video.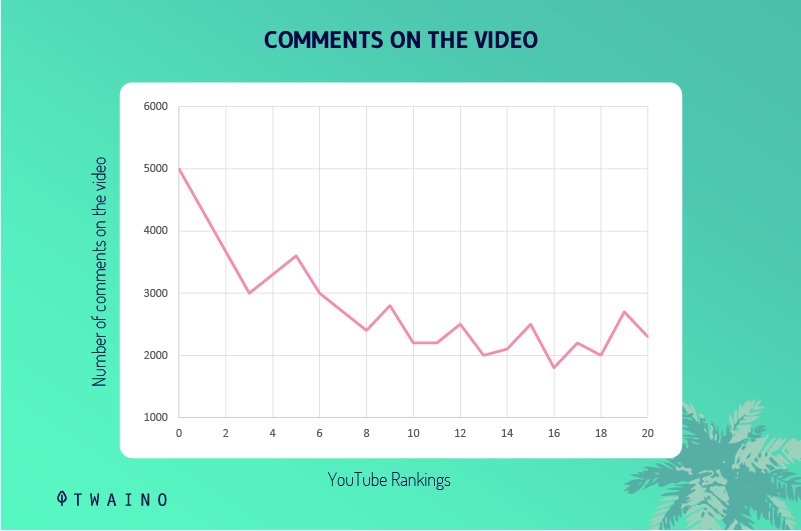 Source : search-foresight
As the graph shows, videos with more comments tend to rank higher on YouTube.
This is likely because user engagement is a key metric that YouTube considers to determine search rankings.
2.2. Longer Videos Outperform Shorter Videos Watch
time is another element considered a huge factor for YouTube rankings. As an illustration, experiments show that people take enough time to watch longer videos.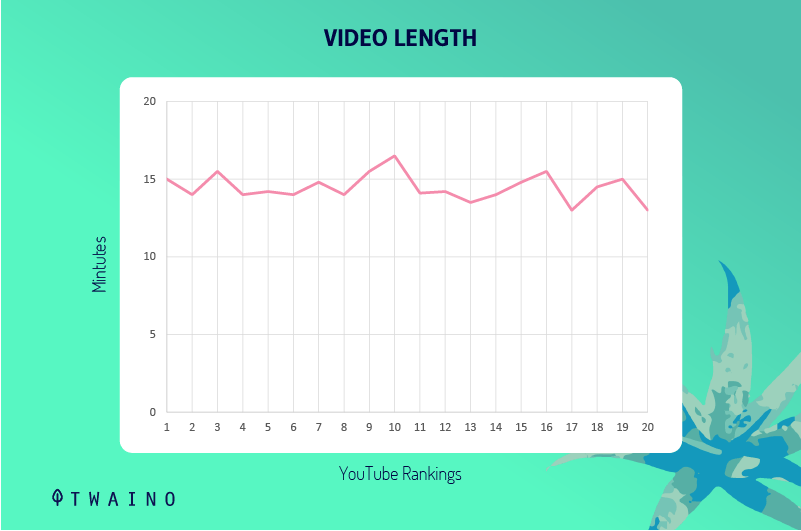 This means that YouTube grants more authority to videos that have a longer total view time.
Moreover, YouTube itself has confirmed that the watch time of a video is quite decisive for its ranking.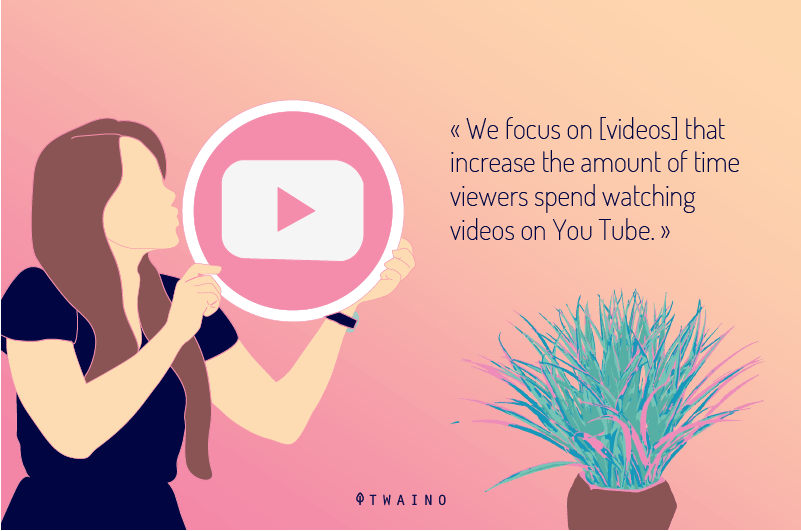 As a result, YouTube wants to promote videos that encourage people to stay on the channel or website for long periods of time.
Longer videos have been shown to be the most effective in this regard, which explains the preference for longer video content.
One theory is that people are more likely to find longer videos useful and entertaining. These videos often rank higher in search engines because they receive more interaction signals, such as comments.
If you search for popular keywords, you'll notice that it's hard to find shorter videos that rank well in search results.
According to research, YouTube videos that are 14 minutes and 50 seconds in length are more likely to appear on the first page of YouTube search results.
2.3 Video shares are strongly linked to higher rankings
Despite version to the contrary , social signals can play a rather remarkable role in how their algorithm ranks pages.
The great proof is that YouTube, which functions similarly to Google, has been shown multiple times to use social media shares from platforms such as Facebook, Twitter, and LinkedIn as part of its ranking system.
Statistics can perfectly illustrate this hypothesis:
Source : search-foresight
Using YouTube's public sharing report, this analysis can confirm that social shares are an important ranking signal. But the problem with this is that it's easy to exploit this system by paying other people to share content on Facebook 100 times.
YouTube allows users to share videos with other platforms, which allows the site to know the popularity of the video and where it is shared.
Sharing on YouTube is often correlated with high search engine rankings, which isn't surprising since YouTube encourages publishers to create shareable content.
2.4. Total Views Contribute to Ranking
In the past, a video's view count was directly tied to its ranking. In fact, at one point it was the number one factor for YouTube.
The idea behind this was that videos with a large number of views were likely to be popular or high quality videos.
However, YouTube has realized that often views are not a good indicator of a video's quality. So he changed his algorithm to focus on other things, like audience retention and engagement.
Contrary to this theory, the reality is that statistics have again recently proven that the more a video is viewed, the higher it tends to rank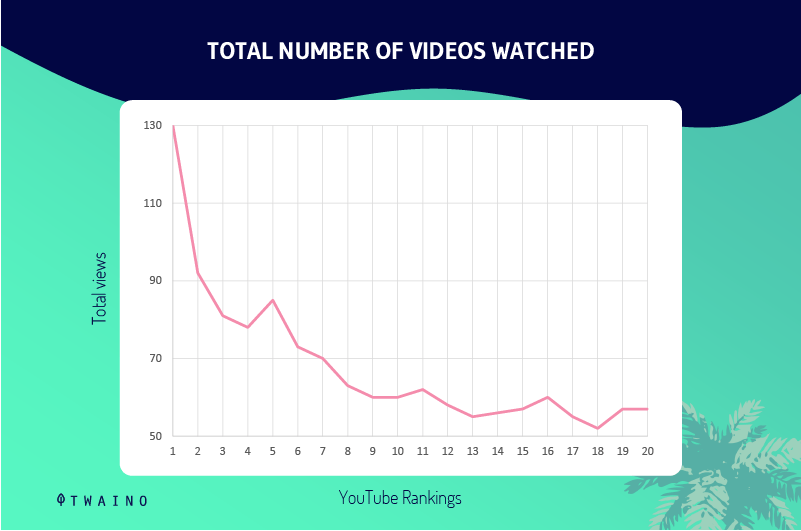 Source : search-foresight
Although YouTube views aren't as important as they used to be, you still need a certain number of views to rank well.
Since total watch time and comments are key signals used by YouTube to determine the quality of a video, it is essential to have views even if there are functions that there is a time to have more of views ceases to be useful.
That's why you'll find that high-quality videos rank higher than lower-quality ones, even though the latter have been viewed more often.
2.5. A channel's subscriber count is moderately correlated with rankings
Another trusted YouTube ranking factor is the number of people who choose to regularly follow the channel when it posts new videos by subscribing.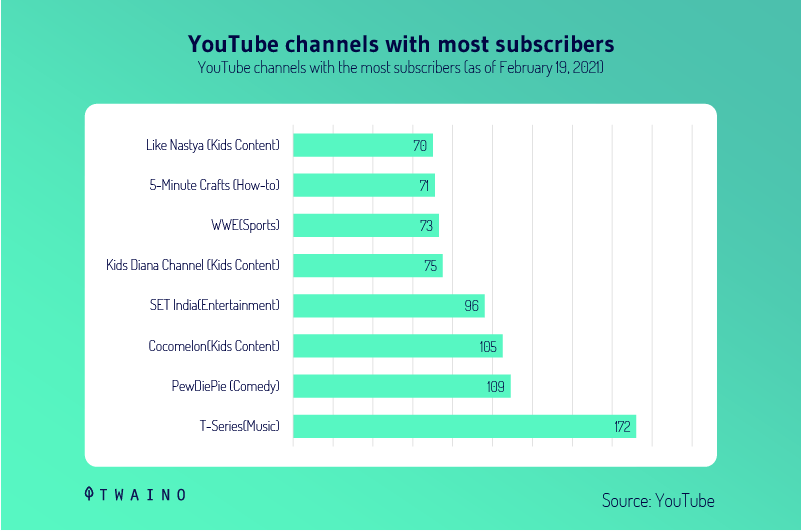 Source : statista
If you have a small or a new YouTube channel, this is good news for you. Unlike Google, which generally favors big brands, YouTube gives higher rankings to content from smaller brands.
Although larger channels generally have an advantage on YouTube, videos from smaller channels often rank higher.
2.6. Videos with lots of likes outrank videos with fewer likes
YouTube favors videos that pique the interest of its audience, and likes are an effective way to gauge that interest. After all, likes are a participatory measure that allows the YouTube community to express their opinion about your video.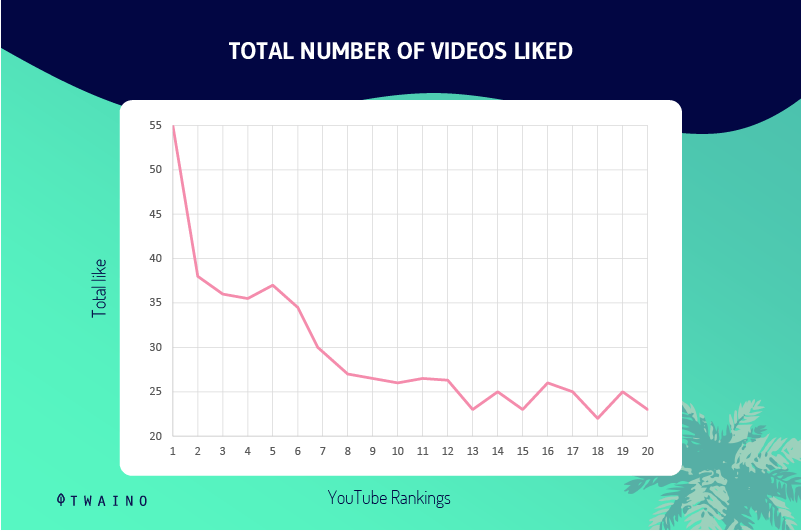 Source : search-foresight
This suggests that YouTube may be using "likes" as a ranking signal.
It should also be understood that correlation does not always mean causation. Videos with a large number of likes are also likely to be of high quality, and YouTube values ​​other ranking signals like audience retention for high-quality videos.
YouTube could use "likes" to rank videos directly. It's also possible that videos with a large number of likes produce other signals that YouTube places a high value on.
2.7. Videos that generate new channel subscribers rank higher than videos that don't generate subscribers
When people see a video they like on YouTube, one of the things they most often do is subscribe to this channel so you can watch more videos from the author that caught their attention.
And it is noticed that a high number of new subscribers for a channel is synonymous with quality content. And that's not all, this parameter is also extremely difficult to achieve on a large scale.
While it's true that you can get a small number of people to subscribe to your channel after watching one of your videos, that's significantly more difficult than generating thousands of fake views or fake likes.
The data reveals a strong relationship between "motivated subscriptions" and higher video rankings, suggesting that YouTube takes this metric into account when ranking content.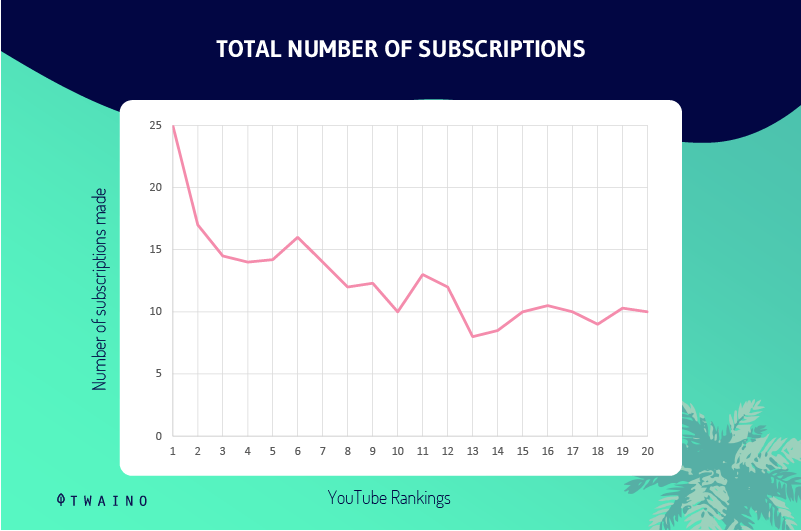 Source : search-foresight
The number of people who subscribe to your channel after watching one of your videos is displayed publicly on YouTube, unless the publisher chooses not to display this information. As with most success metrics, you can increase the number of subscribers your videos generate by creating world-class video content.
But, the best way is already what we observe in YouTube videos where presenters ask their readers to subscribe and activate the notification bell in order to be informed for new content.
It's been proven that when we include a clear call to action asking viewers to subscribe, the number of subscriptions for that video increases dramatically.
2.8. Keyword-rich tags have a low correlation with YouTube rankings
When online videos first emerged, platforms like YouTube relied on metadata to decipher video content. For example, YouTube interpreted your video's title, description, tags, and even filename. In other words, if you include texts in your video, search engines will understand it better.
Today, YouTube can listen to and understand the audio in your videos without you having to download a transcript first.
There is only a weak link between using keywords in video tags and higher rankings.
Source : softwaretestinghelp
Although tags may not seem intuitive, they are nevertheless necessary for YouTube to have a basic understanding of your video. Also, YouTube experts recommend using descriptive tags.
keywords target as a tag can improve your rankings, overall tag usage seems to be low.
2.9. Titles optimized for keywords are slightly correlated with rankings
Although YouTube has historically given considerable importance to video titles as metadata, recent studies have shown that including an exact keyword in your title n only has a limited effect on the ranking.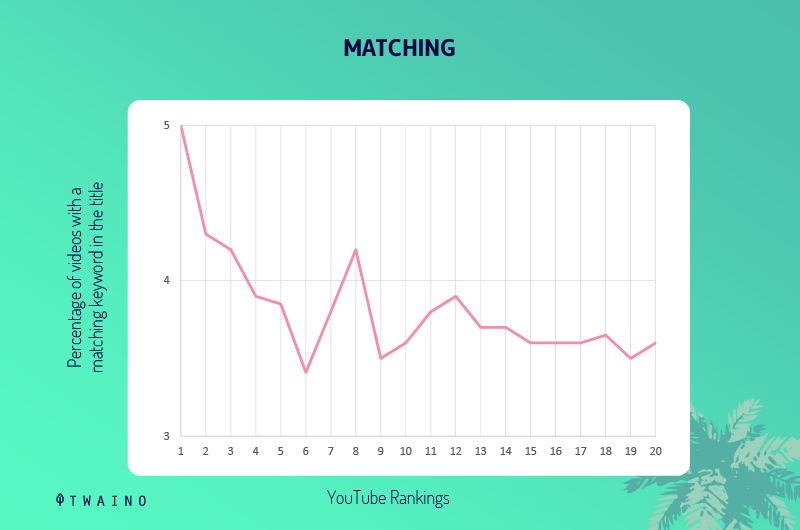 YouTube may have downplayed the importance of video titles. However, this seems unlikely as YouTube has stated that titles contain valuable information to help viewers find your videos in search results.
YouTube is more likely to have achieved a greater understanding of the meaning of the title than just surface keyword matching.
In other words, it could use a less complex form of Google's semantic search. If so, YouTube require you to see a specific keyword from your title to rank for that query – a synonym would suffice.
You might be surprised to find that many videos rank well on YouTube for popular keywords, even if the term isn't in the title.
It pays to put your target keyword in your title if you're aiming to rank for that term. However, the link between using good keywords in video titles and ranking is very weak. There is no connection between optimizing descriptions with keywords and ranking for that term.
You don't have to use your exact target keyword in your YouTube description for the site to understand what your video is about.
For example, if your target keyword is "how to make a rat trap", phrases like "make a rat trap" and "best way to make a rat trap" can be just as effective.
Finally, it is possible that YouTube ignores video descriptions as a ranking factor, although this is unlikely.
Indeed, if well-written descriptions containing the appropriate keywords are included, YouTube claims that "views and watch time" will most likely increase, as the video is more likely to appear in search results.
Chapter 3: What are YouTube video optimization tips?
After years of watching YouTube change and evolve, we've learned a lot about what works and what doesn't when it comes to YouTube SEO.
The best way to maintain your success on YouTube is to create relevant, consistent, and high-quality content. Another tip would be to understand why YouTube exists and who owns it (Alphabet/Google).
It should also be understood that YouTube is above all an advertising platform. User-generated videos are therefore used to generate ad revenue for both the site and its creators.
All past, present and future updates to YouTube's algorithms will be influenced by the amount of revenue it can generate from advertisements. However, if you want to be successful on YouTube, you need to produce content that is easy to place ads on.
By observing the content on YouTube, you can quickly see what trends are emerging. Compared to other search engines, YouTube's algorithm changes affect how we use the platform for discovery, enjoyment, and interaction as soon as possible.
Without considering YouTube's advertising model, it will be more difficult to develop a successful SEO strategy. This is because you won't have a steady stream of ad revenue to support your content creation. It all depends on the goals you have set for your YouTube channel and its growth potential.
Here's how to implement it:
3.1. Keyword Research for YouTube SEO
As with any SEO project, good research and analysis of search terms is paramount to success on YouTube. You need to understand what keywords your potential viewers are using to find videos like yours, and then use those keywords throughout your channel optimization process.
There are many ways to research potential keywords for your videos, including Keyword Tool, Ubersuggest's and Keyword Planner.
Another important way is to use search engines themselves.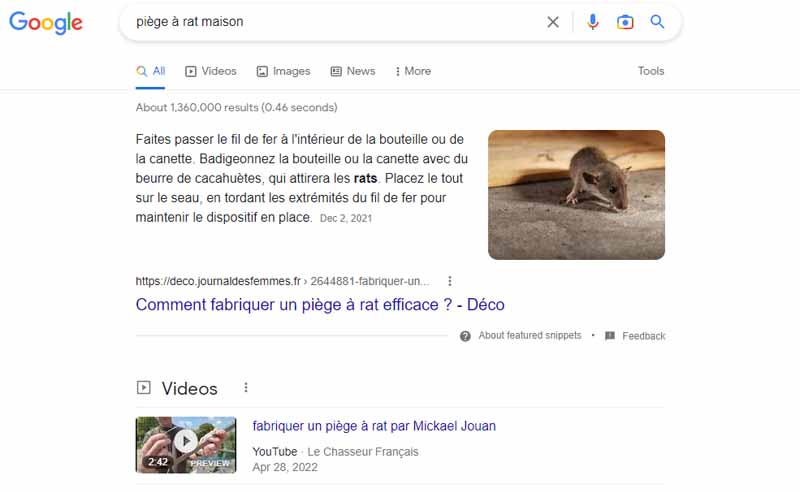 While there are keyword research tools out there to show you how frequently a word or phrase is searched, none of them can tell you precisely the search volume for that same keyword. on Youtube.
Keep this in mind when using the tools, they primarily reflect Google search volumes rather than YouTube Search.
In general, search volumes between Google and YouTube are the same or have slight variations depending on demographics and topic.
Even if a keyword is not relevant right now on YouTube, these tools can give an idea of ​​its popularity.
Along with making your research process easier, these tools can also provide you with a list of keywords to search for on YouTube.
When doing keyword research for YouTube videos, remember to include similar, synonymous, and long-tail keywords that relate to the topic of your video. Not all of these keywords need to be optimized right away, but they offer ideas you can use later when creating a new video.
The best place to find suitable keywords is YouTube as well as other nearby search engines. By researching keywords that show videos in search results, you can get a better idea of ​​what people are looking for.
3.1.1. Find the most relevant keywords on YouTube
When performing keyword research on YouTube, examine the results carefully. It can give you great ideas about other ways people search for the topic. For example, look at how YouTube offers auto-complete options for the keyword you just typed.
By seeing what others are searching for, auto-complete can help you discover potential new keywords to use.
For your next video project, search YouTube for similar videos and take note of the keywords they use in their titles and descriptions. So you can replicate what's already working and get inspiration from other creators.
This could be a good opportunity for you to focus on a particular keyword. For example, if only one or two videos match the keyword you entered and the others are close to the topic but not exact, it could help you target your audience more precisely.
You can beat the competition and improve your video's ranking by creating a video that directly matches the keyword query. Users would get what they are looking for, which means you would meet their intent.
You can find other related ideas by using the various YouTube search filter options.
3.1.2. Finding the Most Relevant Keywords on Google Search
YouTube is great for finding relevant keywords, but you can also use Google Search to expand your options. Videos often appear in the top results for these keywords, which can be a very effective method.
This way of thinking can help your video rank higher in Google search results and thus attract more viewers to your content.
The rankings your video gets can be extremely valuable to you in the long run, and they expand your traffic sources beyond YouTube. Just like when you use Google search, watch how it automatically populates your searches and targets those keywords.
3.1.3. Analyze YouTube
Competition The competitiveness of your YouTube SEO ranking is based on how difficult it is to rank for given keywords. If you're a new channel, it's not a good idea to target very competitive keywords, but as you gain popularity, you can start using more difficult words in your videos.
Find keywords you have the potential to rank well for and start building an audience, that should be your ultimate goal.
If you're looking at your competition, take note of any new ideas you might bring and offer a unique perspective on something that's already ranked.
A quick way to gauge keyword competition on YouTube videos is to run a Google search for . your keyword followed by the search operator "site:YouTube.com"
The number of results obtained will give you an idea of ​​the situation, although it can be difficult to establish an objective reference. In general, fewer results mean less competition and a better chance of ranking well.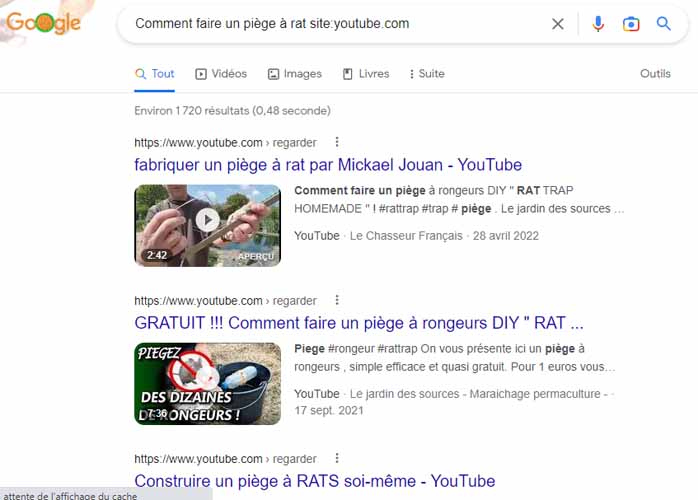 3.1.4. Always Meet Search Intent
A critical part of YouTube keyword research is understanding which types of videos are most successful for each keyword.
This is important because if your video content isn't what users typically search for, you may see lower engagement rates, even if you're ranked first.
Periodically checking your keyword rankings is vital to the success of any SEO campaign:
videos and other guides;
Listicle Videos;
Video tests;
News video;
Educational Videos
To rank for a specific keyword, you must have similar content to what is already ranking. For example, if you want your video to be found by searching for the keyword on YouTube and other results appear instead, you should consider editing your video or the keyword.
After finding the best keywords for your YouTube channel, incorporate them into your video titles and descriptions to improve your search intent match.
3.2. Optimize Video Titles for Higher SEO Rankings and Improved Click-Through Rates
A title should not only attract potential viewers, but also let YouTube know that the video is relevant and informative. If you focus on getting clicks without optimizing your SEO, you will only get people who already know your content or rely too much on the algorithm.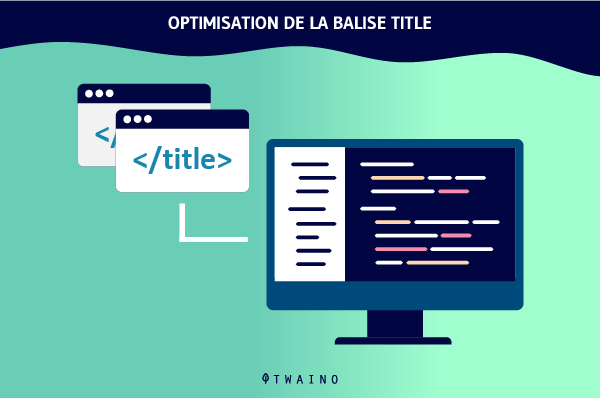 So, to create an impactful title for your YouTube videos, you should:
Include your primary target term;
Create a fairly long title. When you write short titles with keywords, it can seem spammy to search engines;
Use a title of 60 characters or less (about five words) to have the best chance of getting people to watch your YouTube videos;
Have control over your title's visibility, as a long enough title may not display fully on search results pages;
Create a search-relevant title that still meets the user's search intent;
Have an easily understandable title for anyone;
Encourage people to click through the attraction of your title.
If you want more people to watch your videos, make sure your title is interesting and makes you want to know more. The title should also contain the key points of the video so that viewers know what they are going to watch.
Engage with potential readers by engaging with them in the comments and on other social media platforms.
3.3. Optimize your YouTube video descriptions
By including a relevant keyword in your video description, YouTube will be able to more easily understand what your video is about.
It is important to note that the complete description may not appear immediately for Internet users who carry out a search, in general only about 120 characters are visible.
The first 120 characters of your video are crucial for the reader to decide whether to click on it or not.
In order to improve your ranking on YouTube, be sure to include a target keyword in your video description.
why viewers should watch the video and keep the description as long as possible for greater reach
ExplainYou can also train them by writing longer descriptions. A shorter description won't help your cause, even if it includes the right keywords.
In addition to improving your SEO, a good, long description can help hold your viewers' attention. Try to incorporate external sources, like your website or additional reading material, to make the experience more engaging for readers.
It's also important to remember to include a clear call to action at the beginning of your video description. By giving an enticing reason to click 'Read More', you'll be sure to hold viewers' attention even after the button appears.
To further engage your viewers, write a longer description that covers the main points of your videos. Aim for a keyword density of 1-2% in your text, moderation is always better.
A longer description will provide more information to those who want it without detracting from the viewer experience.
If you want more people to engage with your content, take the time to write a good description.
3.4. Optimize your YouTube video tags
Adding tags to your videos helps YouTube better understand the content of your video and recommend it to new viewers. Using relevant keywords that match your video's topics will help YouTube categorize your video more effectively and serve it to viewers interested in those topics.
Always use relevant keywords, including long tail keywords and synonyms that match the topic. By default, YouTube users cannot see tags associated with a video. To see these tags, you'll need to use external tools like Tags for YouTube or something similar.
Conducting good keyword research is essential if you want your videos to be seen by major search engines.
Finding the most relevant tags and using them in your video will ensure that your main keywords are included in top searches.
However, do not include too many keywords in your tags, as this will only result in penalties from search engine algorithms.
Your tags should contain keywords that are both relevant and important to your video. Keep in mind that too many keywords can lead to decreased relevance, which means fewer people will watch your video.
3.5. Optimize Your Thumbnails
The thumbnail you create for your YouTube videos is more important than the title in getting people to click on your video. A good thumbnail will increase the number of clicks you get, and if you get a higher CTR than your competitors, your videos will rank higher than theirs.
It is therefore crucial to stand out from your competitors by creating an optimized thumbnail.
A thumbnail is basically a brief summary or preview of your video, and it should definitely include what your video is about.
A YouTube video thumbnail is a way to ensure that potential viewers will actually watch your video among all the other videos on YouTube.
For example, if someone is doing a search and five to ten results come up, eight of which are in the recommended videos list and five in the related videos list, having an eye-catching thumbnail can be key to choose yours.
There are several ways you can optimize your thumbnail to ensure viewers click on it rather than a competing video. A well-designed thumbnail allows a reader to determine at a glance if a video is worth watching. The more visually appealing it is, the more likely you are to get clicks.
It's also important to be consistent with your thumbnails when branding your channel, look for consistency across all images for best results.
If you randomly try to recreate someone else's style in an attempt to get more clicks, it will backfire. Most viewers can tell what they are about to see based on the thumbnail image alone. If your video doesn't look like the original creator's, viewers may lose interest and move on, hurting your engagement and future rankings.
3.6. Optimize Your YouTube Channel Page
Creating an optimized YouTube channel isn't just good YouTube SEO practice, it's the key to building the brand you want on YouTube. You need to make sure that your entire channel page accurately reflects the image you are trying to create for your business.
If done correctly, you will get more subscribers and views as well as higher rankings.
Use the most relevant keywords on your channel page. This will allow YouTube to get an idea of ​​what your brand offers.
To do this, focus instead on the key terms for which you would like to rank your web pages, but do not use them too often. In other words, 1-2% of the time in a video description should be enough.
You want potential viewers to easily find your channel and be interested in what you have to say, so write a captivating description that covers the most important elements of your brand.
If you do it right, YouTube will put your channel at the top of relevant search results, and that increased visibility translates into more subscribers.
3.7. Using captions
Adding captions to your videos gives you the opportunity to make them even better. You can let YouTube automatically create subtitles for your videos, but they'll never be perfect.
By optimizing your video captions, you ensure that everything said in the video is accurately transcribed for those who use them.
Not only will YouTube's review and editing of captions improve your video's search engine rankings, but it will also match your video to potential viewers.
Captions improve engagement by making your content more accessible to viewers. By ensuring that your captions are error-free, you can provide a better experience for people who want to watch your videos by enabling them.
Analytical research will show you how important transcripts are to your videos, on average. If you want to save time with transcriptions, create a video script before making the video itself.
3.8. Optimize translations
If you're looking to grow your video channel's audience, translating your videos into different languages ​​can help them rank in other countries.
However, keep in mind that translations may not be necessary, as original content ranks higher. It also depends on the volume of your channel and its geographic reach. For example, using translation can be useful if you have a lot of viewers in countries where there is more than one dominant language.
If you have an international audience that doesn't speak the same language, translations can be a great way to submit keywords for titles, tags, and descriptions. And if eventually you can do it, creating videos in different languages ​​can be beneficial.
3.9. Optimize your filename
Before uploading your next video to YouTube, take this simple step to improve your rankings. For example, give your file the same name as your title and include a relevant keyword. Although the impact of these measures on the ranking is small, it is an easy measure to take and without inconvenience.
By including keywords in your video, you tell YouTube what your video's main topic is.
As with most other keyword methods, it's important to be consistent with the keywords you choose. This means that you should use the same keywords related to your YouTube video each time you use a keyword-based method.
If we look at how Google Images works and the importance placed on file naming, we can assume that it would work the same way for YouTube, although the impact is not as great.
This makes your videos easily findable and interesting for readers.
3.10. Boost CTR: YouTube Cards and End Screens
By using end screens and cards in your videos, you increase the chances of viewer engagement.
Additionally, YouTube will take notice of the signal that people tend to watch your content in small chunks and promote your video even more to people who might like it.
If you want to increase engagement, try using cards. You can place YouTube cards at strategic points when mentioning topics you've already created videos for.
YouTube cards appear in the video at the location you choose, and users can interact with the card by clicking on it. This helps reveal additional information about the card. With a strong call to action, you can entice viewers to watch another one of your videos.
By promoting similar videos or other videos you have on your channel in the end screen, viewers will be encouraged to watch more of your content after watching the original video that brought it up. This extra step will result in an increase in the number of videos watched by the player.
3.11. Building Links in YouTube SEO YouTube
will judge the value of your video by the number of backlinks, so try to get as many as possible. Also, you should not only link to similar videos you've posted in the past, but also make sure to include a backlink for each new video.
This way, future readers will be able to easily access all of your content and YouTube will see how established you are on the subject.
Building authority is a crucial step in YouTube SEO.
Link building for your videos works like a cycle because the more links you get to your videos, the more views they get. This builds authority and gets even more links. Collaborating with others will get you those vital links that directly increase your audience and indirectly impact your rankings
YouTube videos and channels that get mentioned on other websites often rank well in search engines . This is because mentions from blogs and online media can significantly improve rankings.
Of course, getting a mention referencing your channel will directly increase your video's views.
Working with other YouTubers is a great way to get more views, subscribers, and engagement from a new audience. This will also signal to YouTube that your content is worth promoting.
When looking for collaborators, try to find collaborators who are in the same industry as you. This will make it easier to build relationships with them.
Be useful to other YouTubers in return by generating quality content or helping them in any other way possible.
If you want successful partnerships, both parties must offer something of value and be on equal footing. You can aspire to collaborate with YouTube channels bigger than your own, but only if you bring qualities or skills they lack that they would find advantageous.
Make sure your pitch explains why, from their perspective, it's worth investing their time in working with you. Also remember that having a large number of subscribers does not give you any rights, you must prove that you deserve a partnership, regardless of your number of subscribers.
Think about being even more useful in your industry than settling for what you already offer.
In conclusion, the key is to contact creative collaboration methods that are beneficial for all parties involved.
3.12. Create playlists for your videos
Incorporating old and new videos into playlists not only increases viewer engagement but also improves YouTube rankings. By doing so, you give your videos the chance to show up higher on YouTube's search results pages.
With YouTube, Internet users have the possibility of finding selections of videos pre-organized by numerous keywords. For people looking for them, playlists can be an easy way to watch videos.
For example, you can tieredtopics that would work well together as series.
With a playlist, you can increase traffic to all your videos by making them more accessible and increasing watch time.
Creating playlists from related videos simplifies big topics into manageable experiences for creator and viewer, encourages return traffic, and provides an easy way to engage with lots of content at once.
If you have a list of closely related keywords in terms of content, this is an opportunity to build a playlist around those keywords. This will help your viewers find the content they are looking for and also improve your chances of ranking well in search engines.
3.13.viewer engagement is at the heart of YouTube SEO
If you want your YouTube videos to rank well, boosting engagement is essential. Not only will this improve your rankings, but it will also make your content more enjoyable for viewers who consume it and get them to recommend new uploads faster.
YouTube views videos that have the potential to go viral more favorably, and user engagement is one of the determining factors in whether a video is interesting enough to recommend to other users who might like it. Engagement also plays a vital role in getting people to come back to watch your new uploads.
If you don't drive user engagement with your videos, it will be harder for new fans to find your content. Always try to involve your audience in every video so they don't miss any of your future releases.
You have several ways to interact with your readers through your videos:
Invitation to subscribe;
Activation of the notification bell;
Likes and its opposite;
Video sharing;
Full visualization.
The more your videos engage viewers, the more likely they are to watch them. If you have higher engagement rates for your videos than your competitors, you're more likely to rank higher, even if their YouTube SEO is much stronger than yours.
3.13.1. Tips to Increase Engagement in YouTube Videos
If you watch videos on YouTube, you've probably seen the YouTuber ask their readers to like, comment and subscribe many times. This method is a call to action that encourages viewer interaction with the video.
When creating content, think of ways to encourage engagement with your viewers. This can be in the form of a discussion promotion in the comments section, or a call to action like "comment on video".
You should also try to respond to comments in an effort to keep a good connection with your audience. Finally, don't forget to include a new call to action in every video you create to promote comments, likes, subscriptions, etc.
When you've achieved success and established a timeline that works for your brand, it's not always possible to respond to every comment immediately. But it would be nice if you could respond to comments only within the first few hours of uploading the video.
By doing this, you show your audience that you are consistent. As your community grows, pay attention to what they say and learn to engage with them using call-to-action techniques that suit your style.
3.13.2. The Importance of Subscribers to Views is Changing
YouTube is starting to change how it determines which videos to show to subscribers. Previously, all new videos were seen by all of a channel's subscribers. Now, YouTube considers factors such as interests and viewing/engagement history to decide what each subscriber sees.
For example, if you have a huge following on YouTube, a user might watch all of your uploads without ever subscribing. Based on their interests and past activities, YouTube will automatically show and recommend similar videos.
Having many concurrent viewers who are not subscribers but still watch all of your videos can affect your YouTube channel growth. You can discover this data by using analytics. Although it doesn't impact views as much as it used to, total subscribers are still a critical metric for growing on YouTube.
For example, to monetize your content, you will need at least 1,000 subscribers.
By clicking the bell icon on each video next to the subscribe button, viewers can choose to receive notifications when their favorite creators upload new videos.
If people subscribe to your channel but never watch or participate in your content, that tells YouTube that your videos don't live up to what was promised in the title and thumbnail.
This can prevent you from having a good ranking and impact the number of people who see your videos.
Any tactic that allows you to gain subscribers quickly without getting engagement from them, such as online ads or worse, buying subscribers, is detrimental and will negatively affect your channel for a long time.
When YouTubers change their style of content, which leads to lower subscriber engagement, it also means your videos are less likely to be promoted or recommended. To put that into perspective, you can have a million subscribers but only 10,000 views per video.
3.14. Increase watch time for your videos
The longer a viewer watches your video, the more likely it is to rank well on YouTube. So you need to make sure that your videos are interesting enough to keep viewers interested until the end.
Each creator's tricks for increasing watch time are different and finding what works best is simply a matter of experimentation.
To do this, experiment with new tactics until you find the right combination that keeps your audience engaged.
You can find your ideal video length by using YouTube Analytics to track watch time. Videos that last longer generally perform better, especially when it comes to ad revenue.
While there are exceptions depending on your industry and genre of videos, you can strike a balance by analyzing your data. This will help ensure that you have a channel with quality content that viewers will want to watch.
While you can technically lengthen your videos by 10% without compromising quality, this can lead to less engaged viewers and, therefore, lower rankings on YouTube.
Keep your audience in mind when creating videos because relevant content will ensure they watch until the end.
Also, using smart editing techniques can help keep viewers engaged throughout the video.
3.15. Share your video for an initial boost in engagement
The first few hours after a video goes live is crucial for getting initial views and engagement, so check all the checklist items beforehand. YouTube SEO.
Remember that viewer engagement is key to growing your audience with YouTube SEO. To give your videos a first boost, share them on all your social channels and other traffic sources.
So find the best time to post a video for your target audience, find the times when you get the most views, and post at that time.
By allowing your social followers to watch your videos first, you can more quickly determine if the content is interesting and worth sharing. Don't forget to share across all channels, like blogs, websites, and mailing lists.
If you include a video on your blog that is related to the topic of your post, you are more likely to increase views and engagement, which could lead to a higher ranking for your blog.
3.15.1. Promote your video via social media
To give your videos the initial boost they need, use all the social media platforms you have.
The more viewers you can attract to each video initially, the more widely it will be shown on the platform.
Developing a presence on other social platforms can increase your visibility on YouTube accordingly.
If you want to share your content on the internet, don't just spam different channels. Instead, focus on sharing through proprietary channels that are related to your video topic.
When using Facebook groups or platforms like Quora, ask yourself if members of those groups would find your video useful.
If so, reach out to the group leaders and try to create original content that would be relevant and interesting to them. Thus, people will be more likely to move to watch your videos.
3.15.2. Promote your video with YouTube Ads
If you want to grow your YouTube channel, one of the possible approaches is paid advertising. Paid ads can be a quick way to build an audience if your videos are good and relevant to the ad targets.
It all depends on your videos and whether you want or need to reach an audience faster.
While you can grow with YouTube Ads, keep in mind that the average person who comes across your ad is less engaged than someone who found you through another source.
Although many people think that ads are useless, they can actually be very beneficial to businesses trying to sell their products or services. Advertising on YouTube is almost essential in these situations.
If your primary goal isn't to grow your YouTube channel, but rather to make sales, ads are more important. In other words, you want an audience that will buy from you instead of just watching your videos.
Of course, if you're using paid promotion of videos through ads, consider using other ad platforms as well.
3.16. Follow YouTube guidelines and avoid demonetization
In the world of YouTube, demonetization can wreck all your past SEO efforts and make it harder for new videos to rank. Channels have no control over how their videos are demonetized by YouTube.
In some cases, it seems that particular topics, keywords, and video language are targeted for demonetization.
Demonetization can lead to lower engagement, views, and worse, future rankings, creating a cycle of burying your video. It can be difficult to avoid demonetization because the factors involved are not entirely public.
Adherence to advertising guidelines is an obligation for any content creator. If you think you were unfairly demonetized, appeal the decision immediately. Remember that the appeal process takes time, which can be detrimental when your channel starts to grow.
If you want to give your YouTube video another chance to rank and get promoted, allow ads on your videos again. It's not often pleasant, but it can help. You can use YouTube analytics key metrics to see what needs improvement for future videos.
By studying the essential details of YouTube videos, you can improve your perception of how viewers watch your videos, how they can find your videos, and gauge their level of engagement.
With the various ways YouTube makes this data available to users, it's easy to see steady growth for your channel by taking note of what's working and not working for each individual video.
Chapter 4: The Best YouTube SEO Tools
In this chapter, we've collected the best YouTube ranking tools that can help you make your YouTube channel even more popular.
Let's take a closer look.
If you want your YouTube channel to be successful, you need to make videos that people want to watch. Google Trends is very useful for knowing which topics are most popular with viewers and for identifying the most searched queries.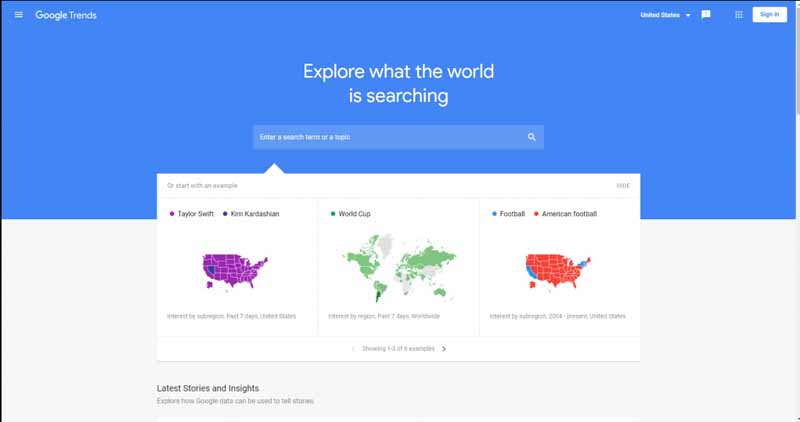 You can use this free YouTube ranking tool to find out the popularity dynamics of any topic that interests you. Simply enter your topic, region, category, and time period in the search box to get results describing how popular your topic is.
Your video title is an important element that grabs attention because of its relevance to the audience.
By using Google Ads, you can optimize your chances of getting your videos seen by YouTube users by adding relevant keywords to the title and description.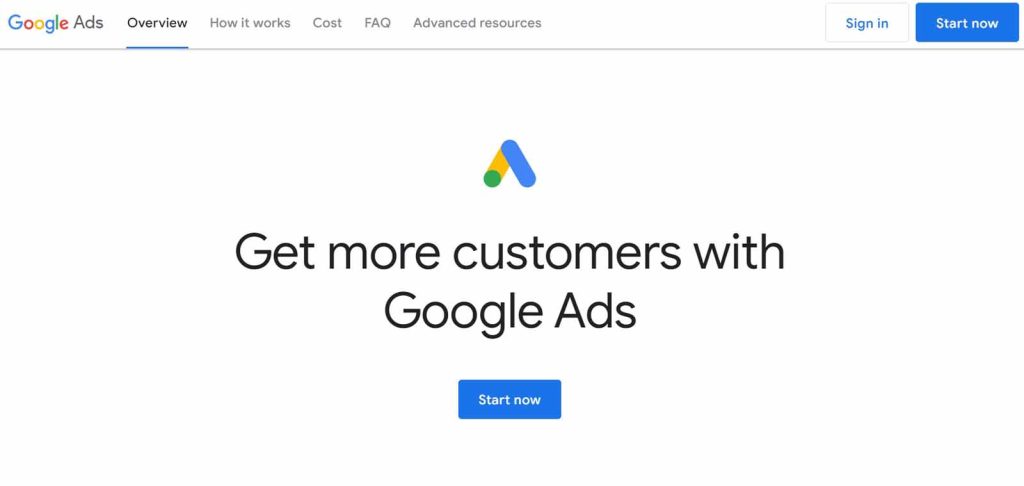 This software will perfectly meet your expectations when it comes to improving your YouTube rankings. Within seconds, it displays the most popular keywords for your topic, as well as the number of impressions and competition for that keyword.
You can use this information to tailor your video accordingly, and even share it with your team members.
Google Ads is a free tool with an intuitive interface and lots of different features to help you improve your business.
Instructions for use are provided precisely, making it the perfect tool for anyone looking to boost their business.
Rank Tracker is another great program worth spending some time on.
With this software, you can easily identify a large amount of the most popular search terms related to your topic on YouTube.
You can also find out where certain words or phrases rank in the rankings for specific locations, like countries, states, or even addresses. And, also, the software groups the requests by theme to save you precious time during your research.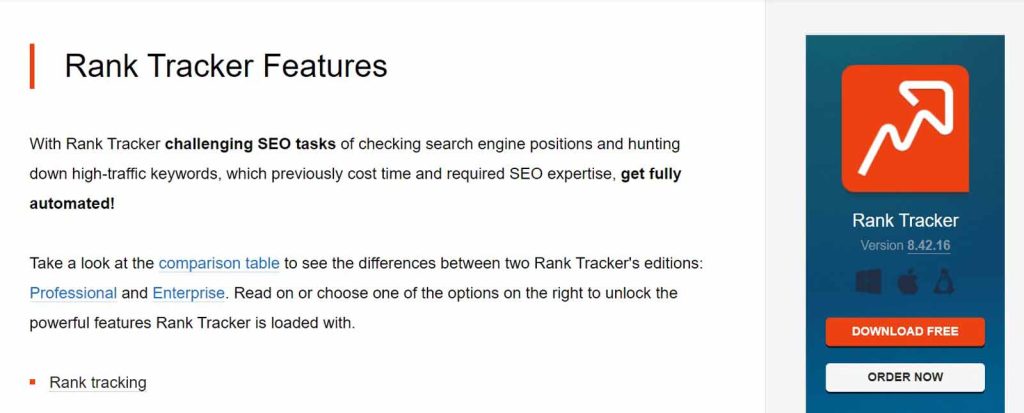 You can try Rank Tracker for free before committing to a paid version.
TubeBuddy not only helps you evaluate the performance of your videos, but it also tells you how well you framed your video.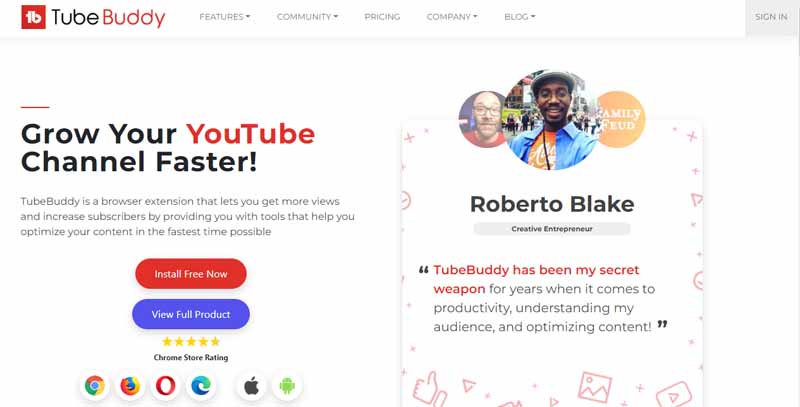 Video editing software like TubeBuddy is not only a great proofreader, but it will also edit your video's metadata to make sure it meets YouTube standards. This process can save you hours of endless research by streamlining the entire process.
You can quickly improve the ranking of your videos using VidIQ. This YouTube tool allows you to compare your videos side-by-side with your competitors' content to identify and immediately fix any errors.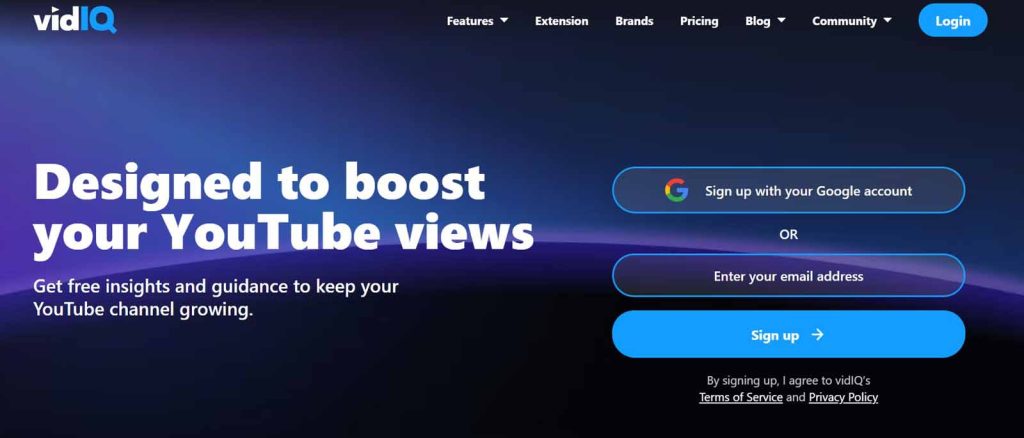 Not only does the software recommend keywords, titles, and descriptions for your videos, but it also analyzes them. You can customize the tool to provide you with email notifications to notify you of any important events related to your channel topic. The tool has a free version and paid versions.
4.6. YouTube Analytics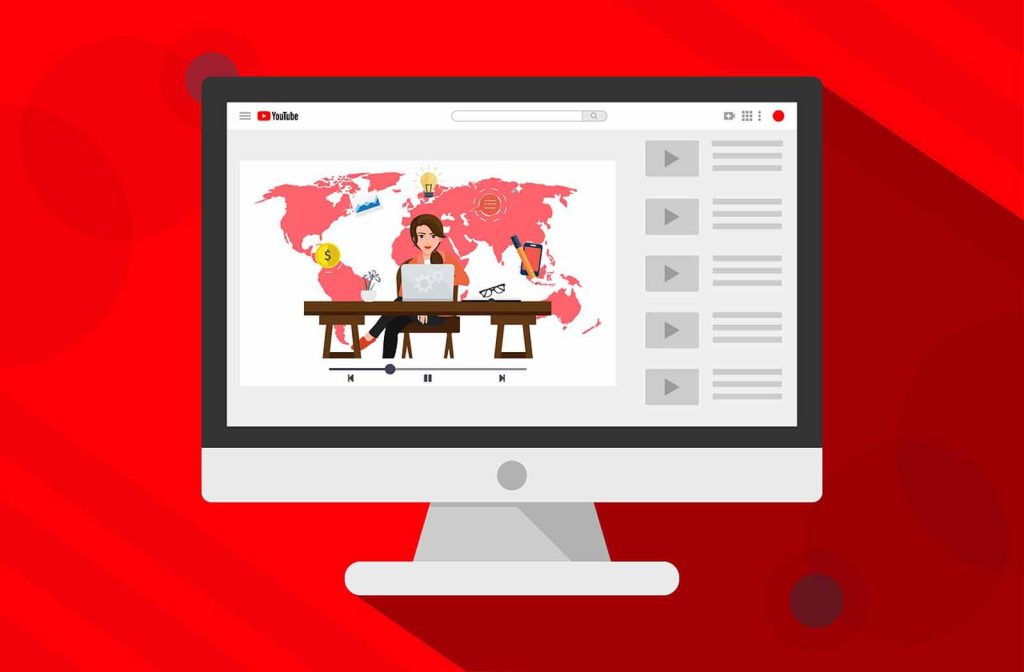 In our opinion, the best and most useful recommendations come from YouTube itself. It is the YouTube video ranking software which is available for all users.
It tracks stats for each uploaded video as well as the entire channel. Therefore, it is indispensable to analyze your channels on YouTube.
YouTube Analytics is divided into several main sections:
Overview: This overview presents data from different key parameters;
Real-time data: The data here explains a YouTube channel's interactions for the last five videos in 48 hours;
Revenue Reporting: Data from your channel's YouTube analytics regarding revenue and advertising effectiveness will be shown if you are connected to an affiliate network;
View time reports. Analytics provides data on how long viewers continue to watch a particular video.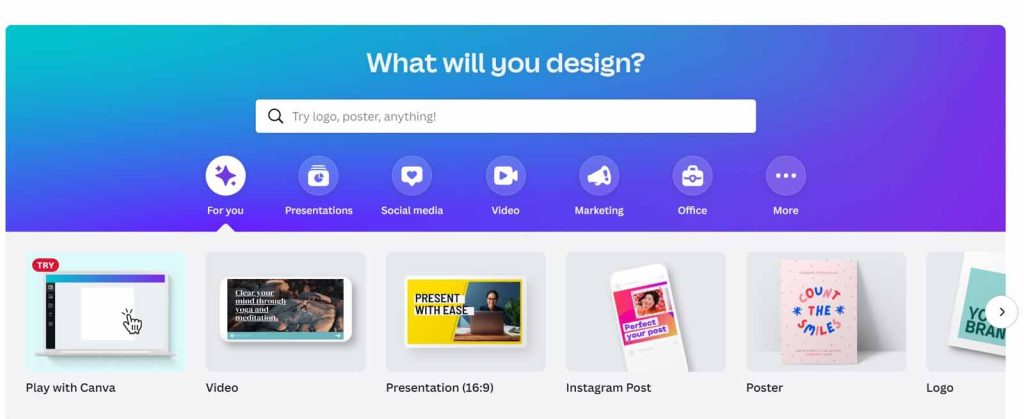 The quality of YouTube videos is constantly increasing. And to keep up, the Canva design and marketing app is a great way to create high-quality content that will engage users.
With over thousands of templates to choose from, Canva is the best tool for creating awesome video thumbnails for YouTube. You can create your design from scratch or take inspiration from a pre-made template.
You can easily create a preview image for your videos without any design or graphic design background. The process is similar to using a builder, where you follow simple steps to create a unique artwork.
With Canva, you can easily create visuals that will make your YouTube videos stand out. Canva offers users both free and paid versions.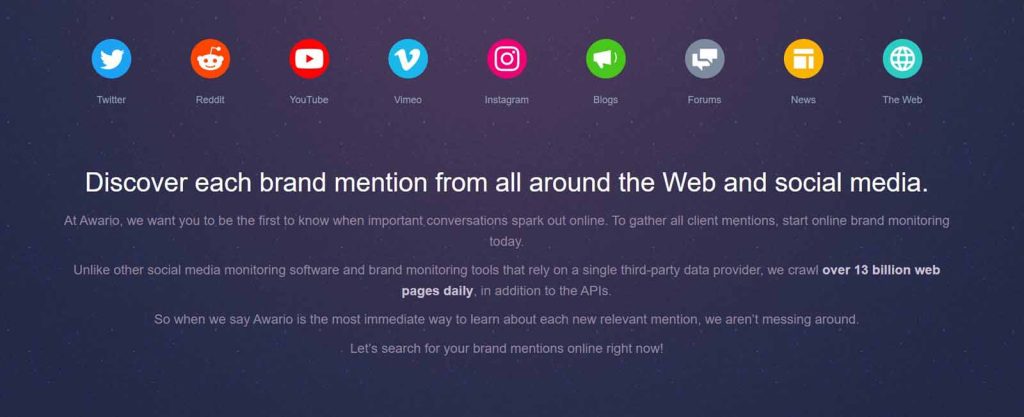 marketing Awario makes it easy to discover which publications or social media platforms are talking about your content. Just enter the link to your video in the search box, and you'll get results in seconds.
With Awario, you can also track your competitors and monitor comments and likes. If you want to increase views on your YouTube channel from other platforms, use Adsy, a backlink building service that offers a free trial period. After the trial period ends, it costs $29 and up.
6.9. Blender
Blender is a free video editing tool with advanced features. You can use Blender for visual effects, animation, modeling, rendering, 3D, and even creating video games.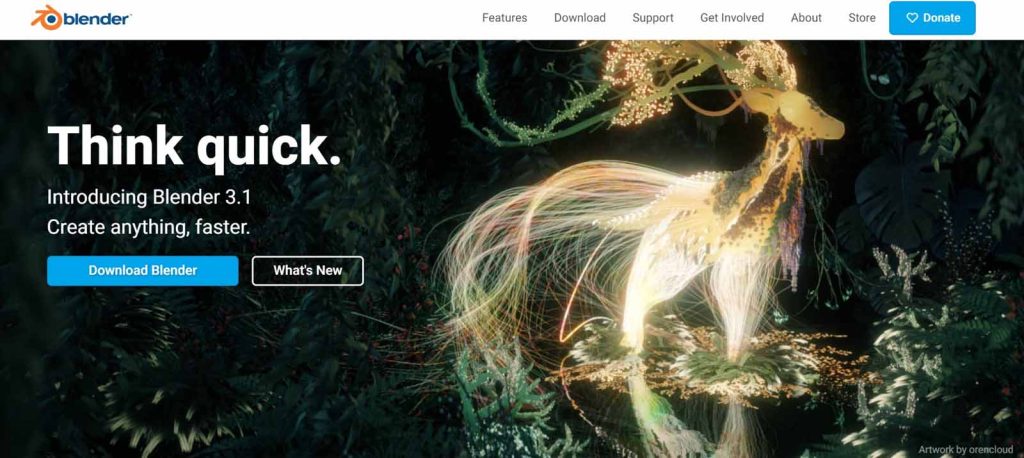 Along with these fun tools, Blender lets you crop videos and add filters and transitions to make your YouTube videos unique and fun to watch.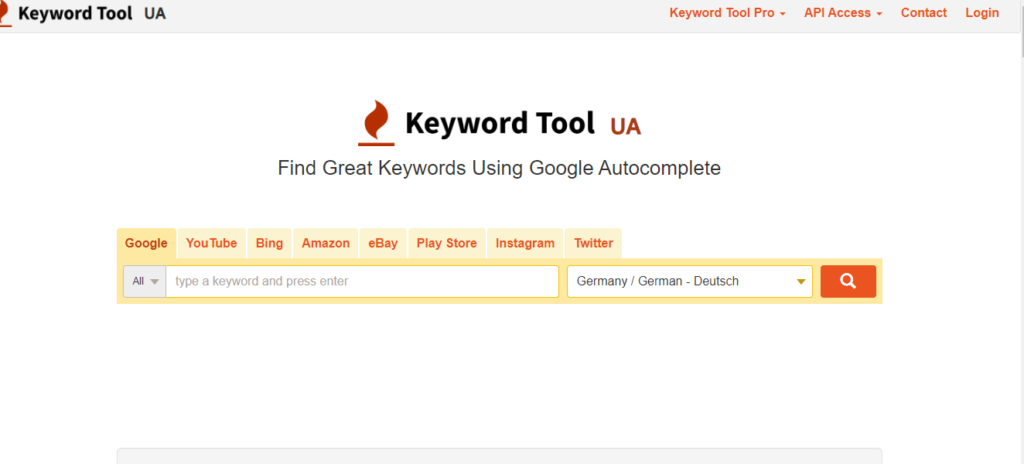 Keywordtool is an online video SEO tool that can help you find topics of interest to your viewers, based on their search history. For example, if you type in a high-level keyword or topic, Keywordtool will suggest related questions, prepositions, and hashtags.
The paid version, starting at $69 per month, gives you access to search volumes and prices, competitor data, and trends. Learn more about how to engage your audience with dynamic content that keeps them coming back.
Conclusion
Optimizing your videos for YouTube allows the search engine to regularly crawl and display your videos. If you want to understand how it works and the best practices to adopt, we've covered it all in this guide.