Hard to be an SEO expert without tools, don't you think? Unlike some disciplines, SEO requires the use of different tools to perform several types of tasks.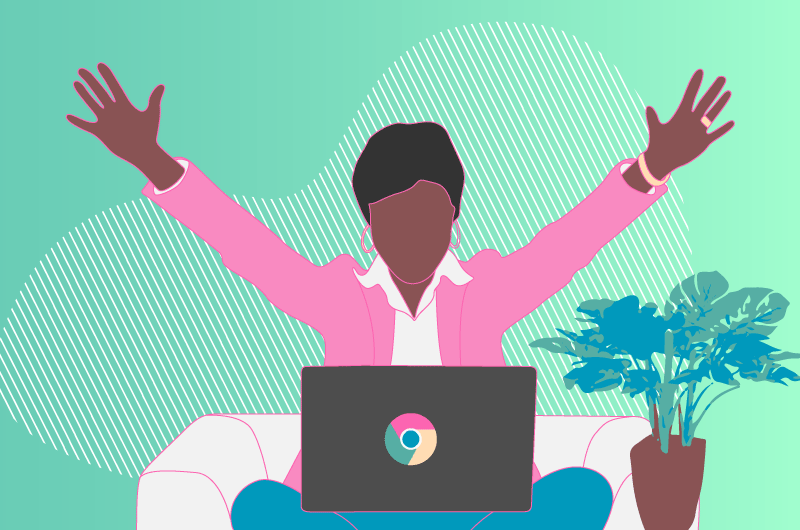 Technically:
Checking redirections;
Evaluation of loading speed;
Etc.
On the marketing level:
Find the best keywords;
Check whether the emails you sent have been opened or not;
Etc.
Most of the time, you have to use applications such as Moz, Ahrefs, Ubersuggest… which are also paid and sometimes too complex.
The good news ? You can now use dozens of extensions that could make you more productive.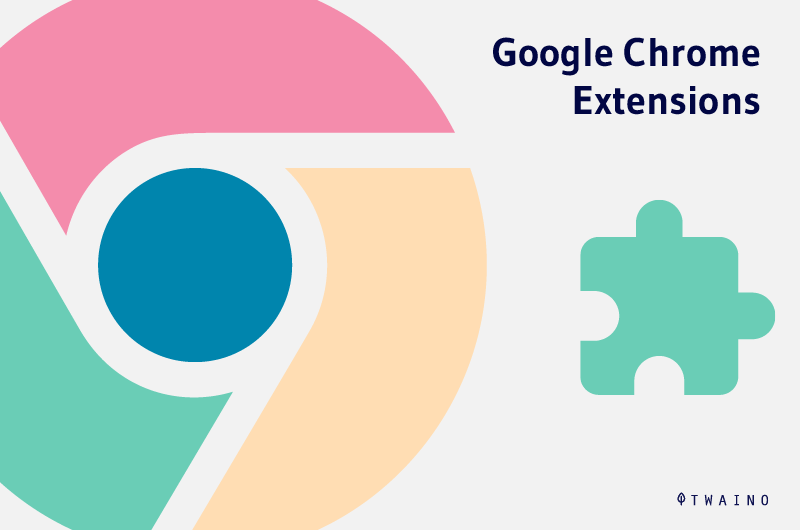 The best part is that some are completely free and you'll be surprised how much SEO data they give you.
To help you navigate this vast world of Chrome extensions, in this article I offer you the 40 best Chrome extensions for SEO.
Let's go and see if I can manage to make you more productive with extensions!
Publisher: SEMrush
Price: Freemium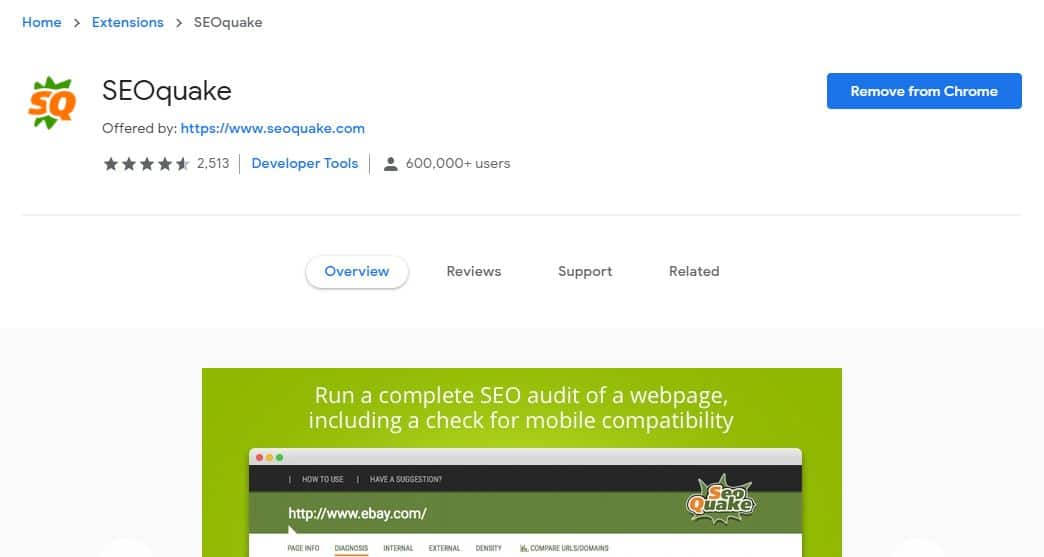 SEMrush is one of the top leaders in the SEO industry and no list of the best Chrome extensions for SEO would be complete without its flagship tool: SEOQuake.
SEOquake is undoubtedly one of the most popular Chrome extensions, and for good reason. It's kind of like The All-in-One SEO Toolkit for SEO Audits.
In addition to being easy to use, this tool is also extremely useful for any SEO specialist, regardless of their experience in the field.
The data provided by SEOquake is essential for improving your SEO on a technical level, content creation and optimization of site authority.
SEOQuake offers for your site (or that of your competitors):
A comparison of URLs;
A comparison of backlinks (internal, external, etc.);
Keyword density;
Authority of domains and pages;
A review of almost all SEO metrics (Alexa rank, Google index, Google PageRank, Bing index, backlinks, etc.);
An assessment of compatibility with mobile phones;
Etc.

When you search on a search engine, SEOquake identifies several metrics on each of the SERP pages: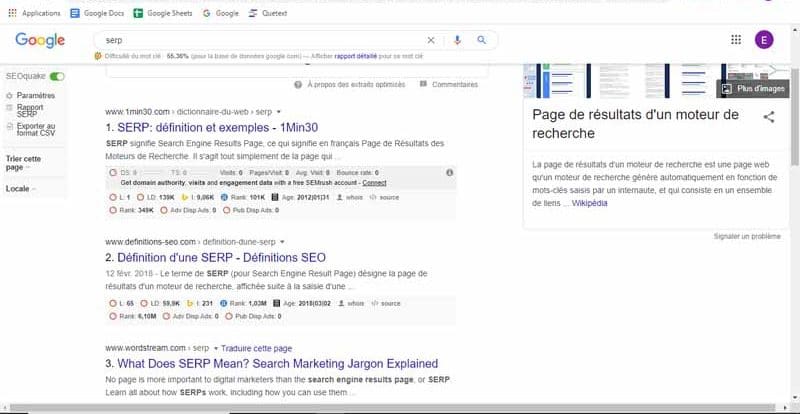 The extension is very well maintained, regularly updated and offers the possibility ofbeing configuredThe. It's completely free, but you can unlock other features bySEMrushlinking your account.
Ifyou area premium member, you will have even more options. Tempting, right?
Publisher: WooRank
Price: Freemium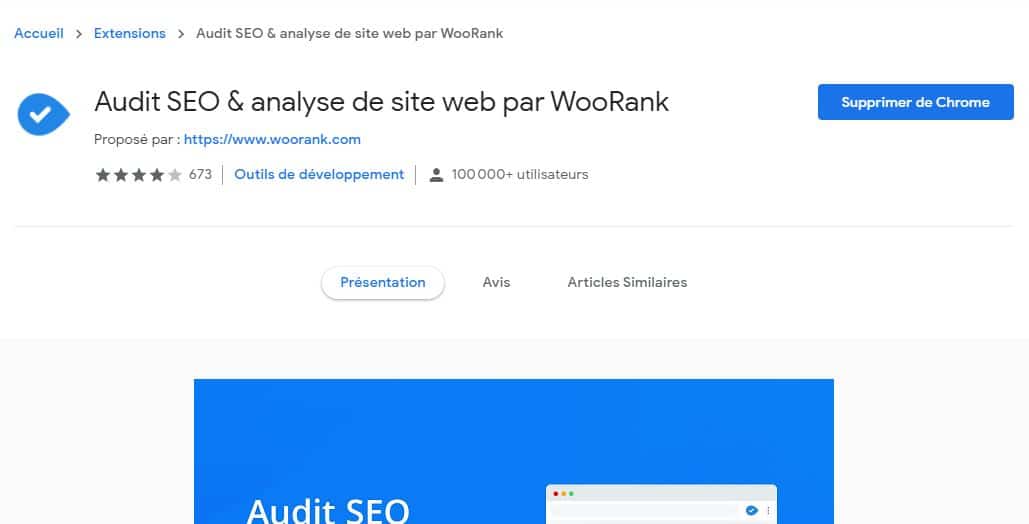 One of the main competitors of SEOQuake, SEO Audit & Website Analysis by WooRank is a tool that provides on-demand SEO report detailed for any website.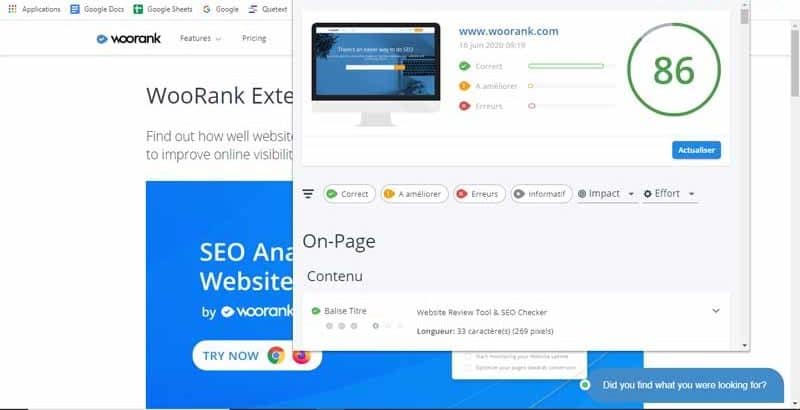 This chrome extension is full of features that you can use to find lots of information on your web pages.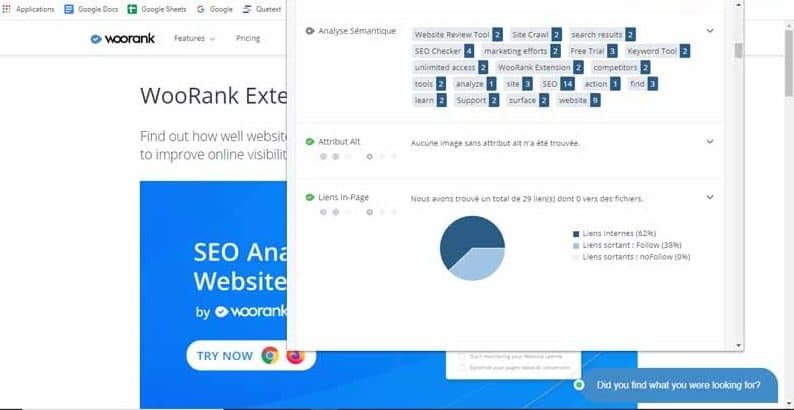 When activated, the extension opens a popup with On-Page and Off-Page data such as:
Title and meta description tags;
Mobile ergonomics;
Data on indexing;
Presence on social networks;
Traffic estimates;
Traffic classification;
Google Ads traffic;
Etc.
The extension also provides some data that can only be obtained by having a premium account.
Publisher: Mangools
Price: Freemium (Free without account; 10-day free trial then from $30 per month.)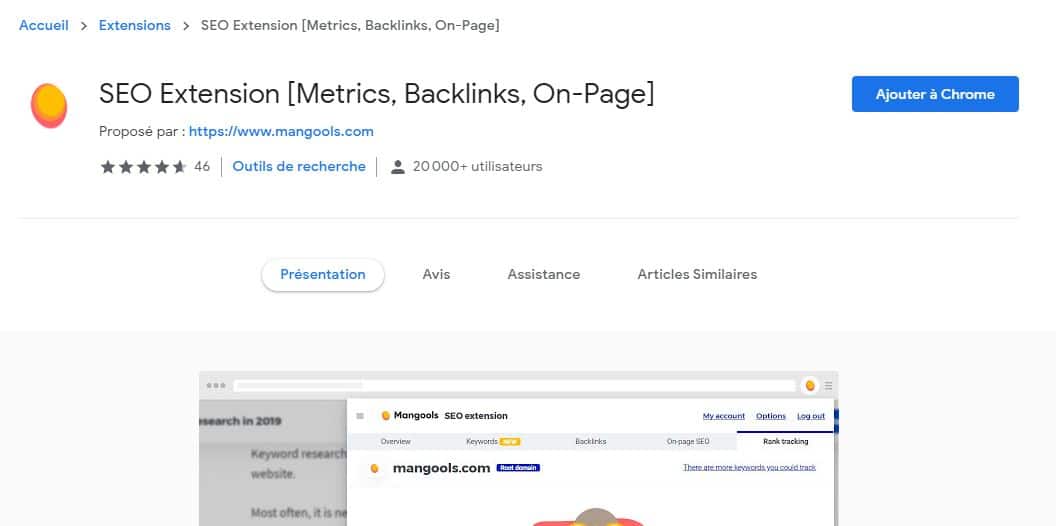 If you are looking for an extension to find all the information on a page, here is an extension made for you: Mangools SEO.
It's free for basic features without an account, even better when you create one. You have 10 days to test if you choose the second option.
Mangools SEO gives you access to essential information from quite popular SEO tools (KWFinder, SERPChecker, LinkMiner, etc.) that you can use anytime for in-depth analysis.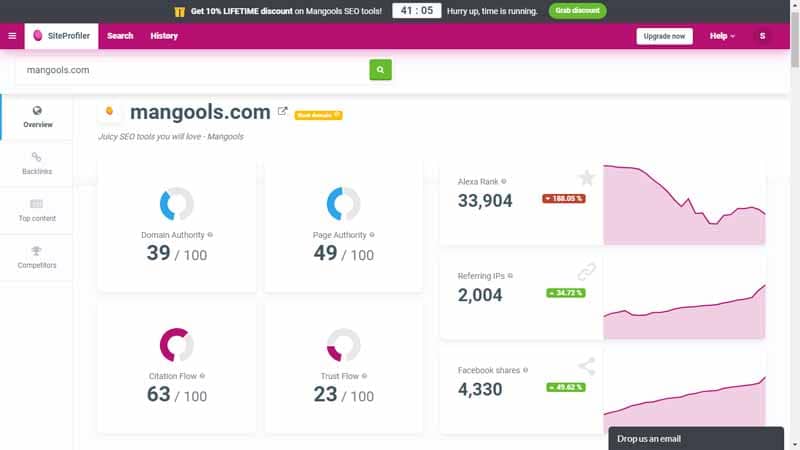 The Mangools SEO extension is a powerful way to perform a quick analysis of a website from the comfort of the Mangools SEO suite available anytime while browsing the internet.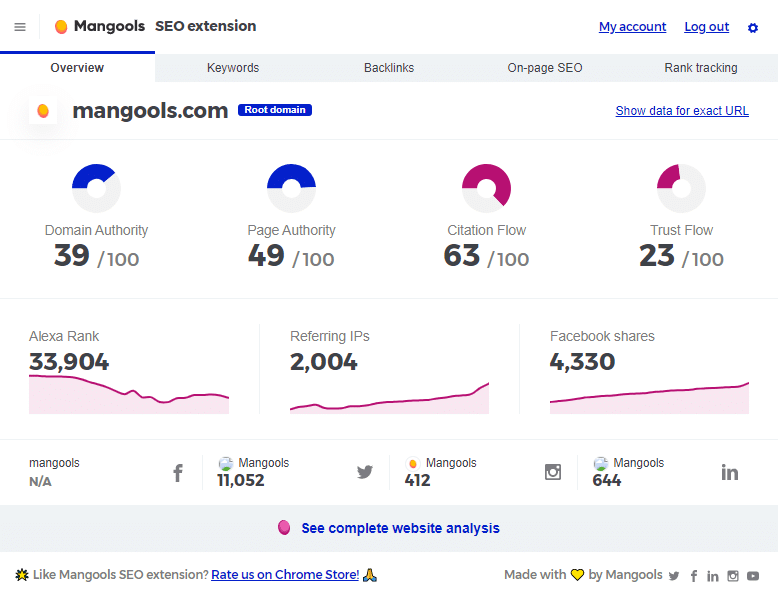 Without using additional tools and without leaving the current tab, you obtain:
Domain authority;
The authority of the page;
The citation stream;
The flow of trust;
Popularity metrics such as Alexa rank, number of referring IPs and shares on Facebook;
The list of backlinks;
Etc.
Mangools SEO also includes:
A SERP preview tool;
The Keyword Density Checker;
A word counter;
And a page speed analysis tool.
The extension integrates quite easily into your context menu and provides advanced functions available directly in the Google SERP, such as localized results and shortcuts to analyze backlinks as well as the domain profile.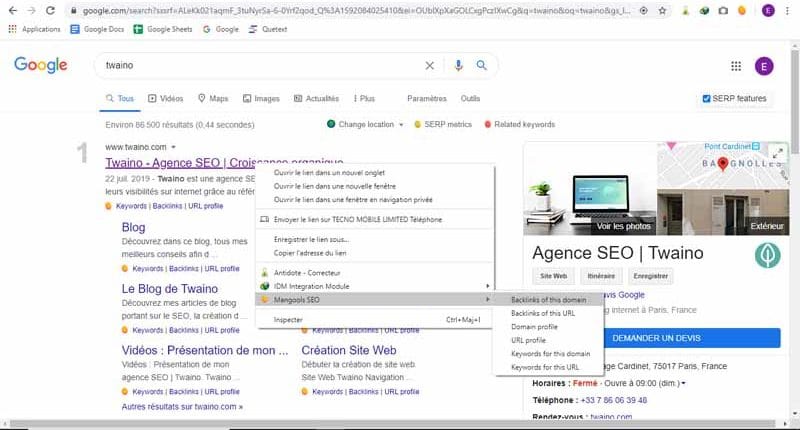 While you can use this SEO Chrome extension for on-page SEO and page speed checks for free, it works best with an active subscription.
Publisher: Ahrefs
Price: Premium
$7 for 7-day trial;
$99 per month for the "Lite"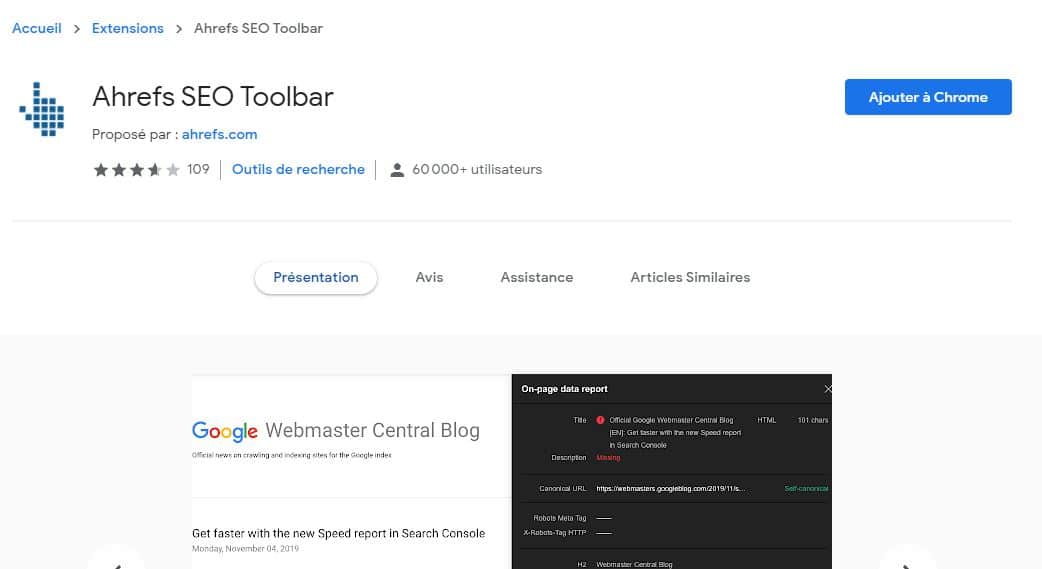 plan Ahrefs is a Chrome extension that gives an instant SEO report on any page you visit. When activated on a page, it displays:
The URL rating;
Domain evaluation;
The number of keywords for which the page is ranked;
The number of backlinks;
The number of referring domains;
Estimation of organic search traffic;
Etc.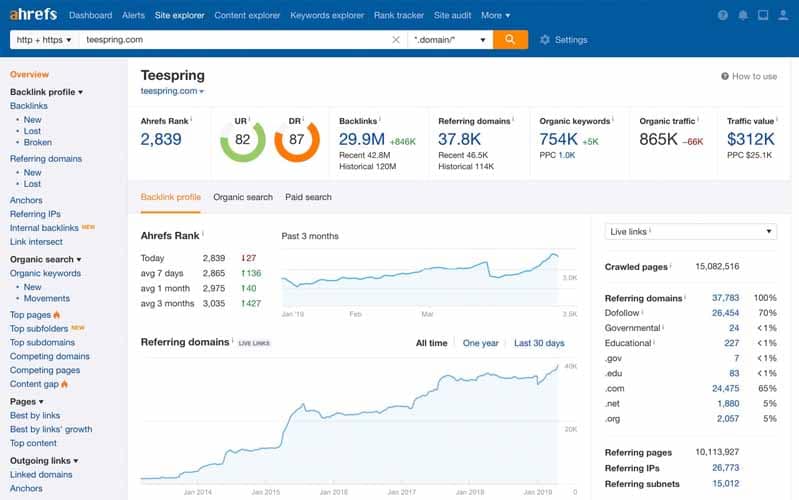 Source : Ahrefs
Ahrefs also provides you with important SEO metrics. Those who want can even use it as a broken link checker or redirect tracker.
Page reports are available without a subscription. If you have an active Ahrefs account, you can access advanced SEO metrics.
Publisher: Moz
Price: Freemium
Free for basic features;
30 days free trial then from $99/month.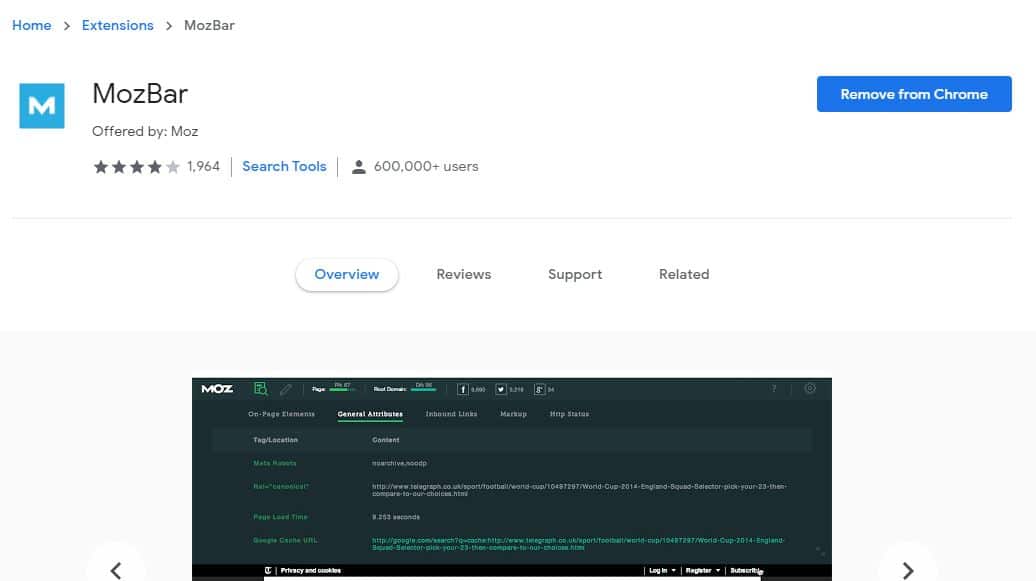 MozBar is a Chrome extension that gives you instant access to lots of SEO information. This in one click while you are browsing a website or directly on the results page of your favorite search engine (SERP).
The extension works with or without a Moz. Some features will remain inaccessible if you choose to use it for free or without a Moz account.
When you visit a page, MozBar allows you to:
Compare authority (PA and DA) between pages when viewing search engine results.
Identify, locate and underline links on a page. The tool offers you the possibility to highlight the links according to whether they are NoFollow, DoFollow, external or internal.
See a page's structure, attributes, and other elements (markup, HTTP status, meta description, etc.) See
page-related SEO metrics (spam score, domain authority, and page authoritypage)
Perform custom searches, check for page issues, fetch SERPs in CRV format;
And much more.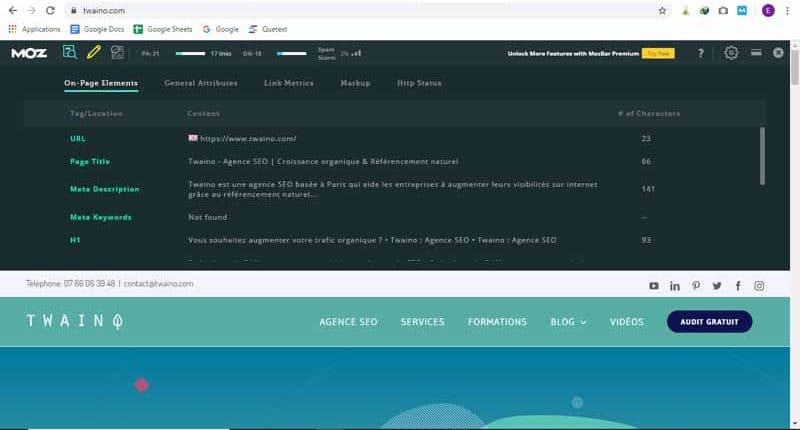 If you choose to upgrade to the premium package, MozBar still has plenty of features in store for you like keyword and difficulty analysis, on-page optimization, and more complex SERP metrics.
Publisher: Google
Price: Free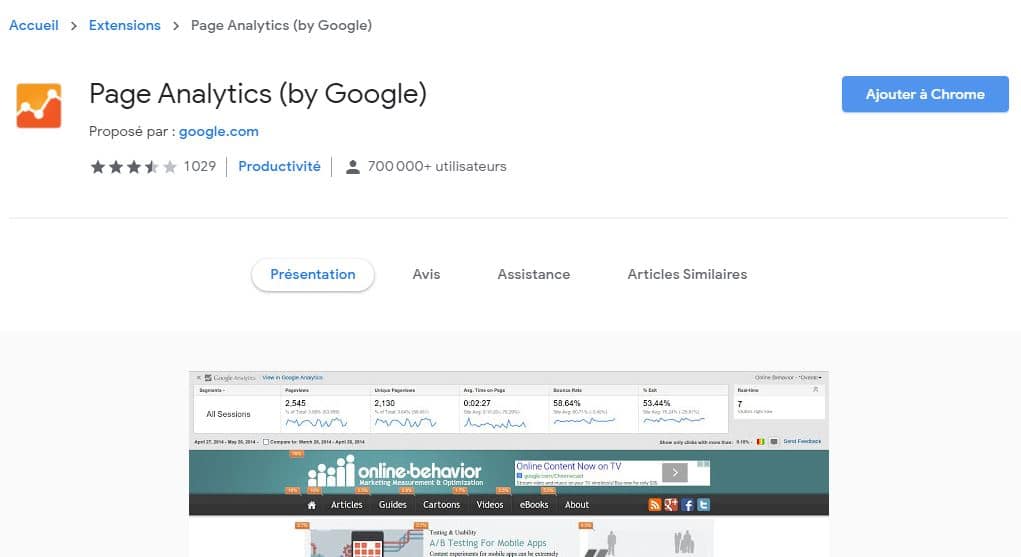 Page Analytics extension is a great tool for understanding how your customers interact with your website.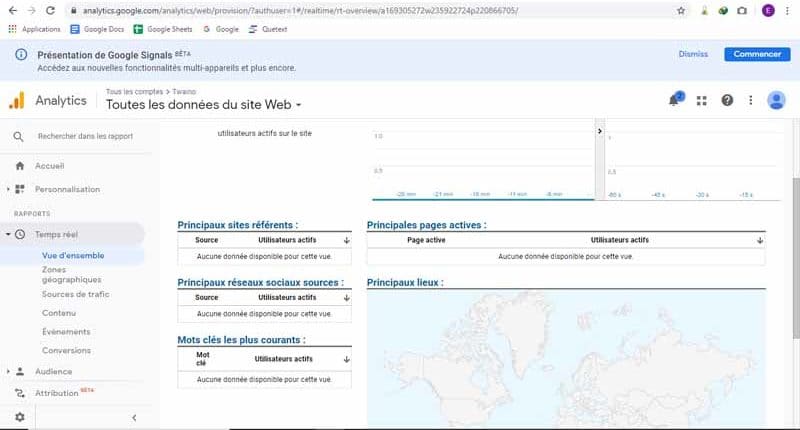 Page Analytics allows you to track your website directly from your Google Analytics account without having to visit the site itself. The tool provides you with important SEO parameters such as:
Pages visited;
Active visitors;
The average consultation time;
The bounce rate;
Etc.
As long as you are logged into your Google Analytics account, you can access and view your real-time data just by clicking on the extension icon.
By using this extension, you will be able to track the performance of important pages on your website and work to make them more engaging.
Publisher: Ayima
Price: Free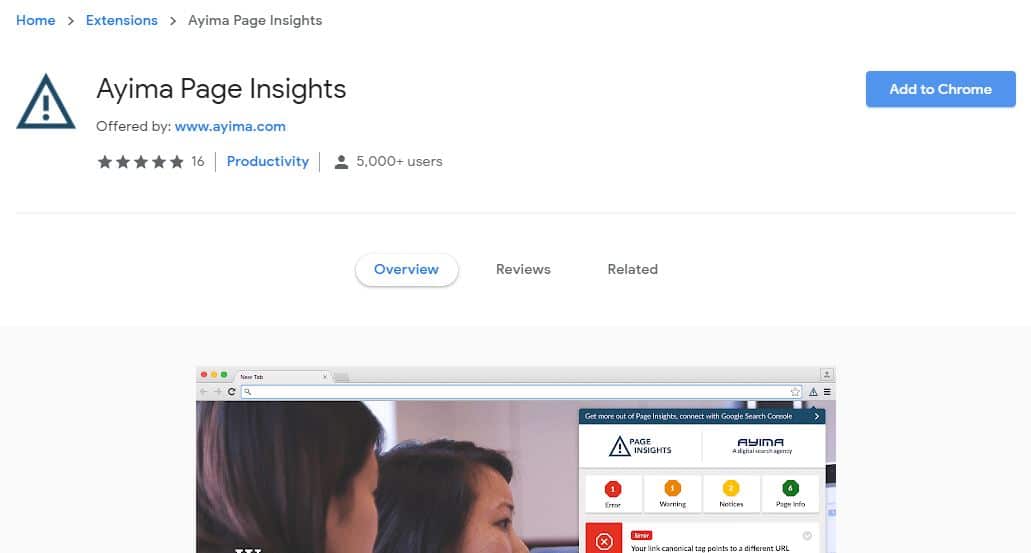 Ayima Page Insight is a very easy to use extension that allows you to discover problems and various technical errors related to your pages.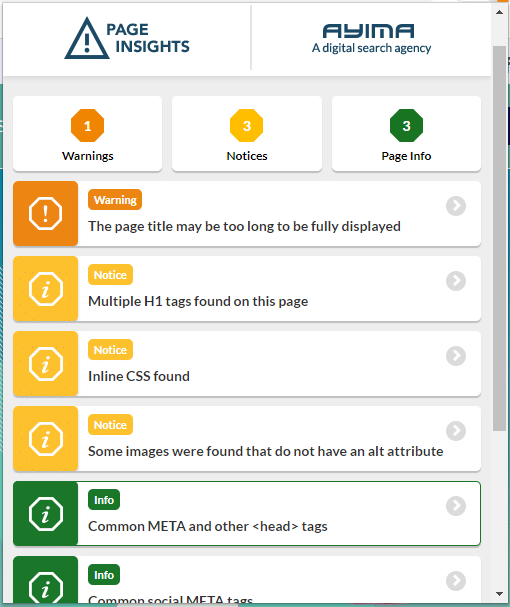 The extension is divided into three types of notifications:
Errors;
Warnings;
And information.
As soon as you load a page, the extension automatically scans it and notifies you of the result. to you to take the necessary measures to correct your page.
Publisher: Portent
Price: Free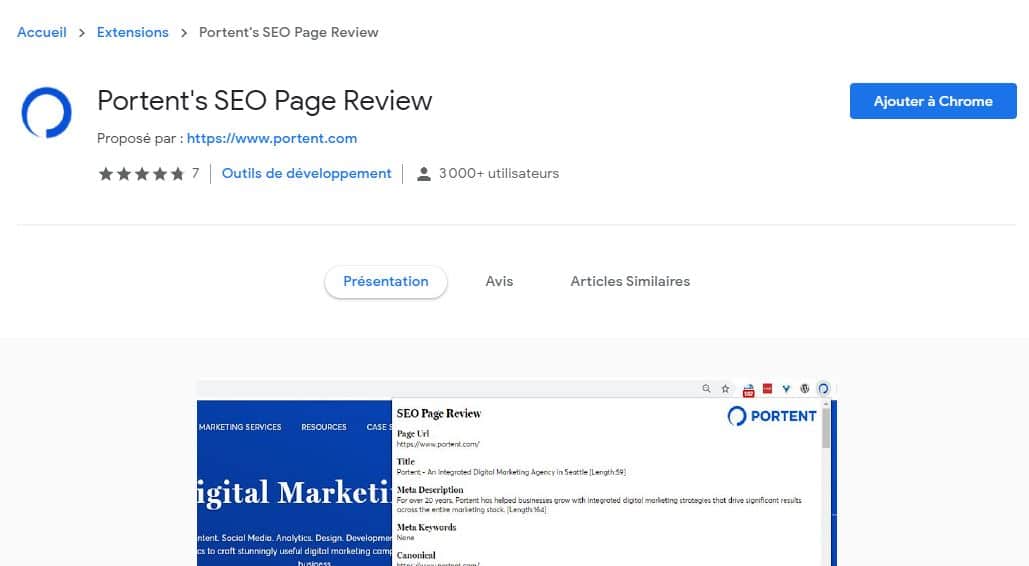 SEO Page Review is an extension by Portent that summarizes in one page the important information of a page and therefore, possible problems that could become embedded.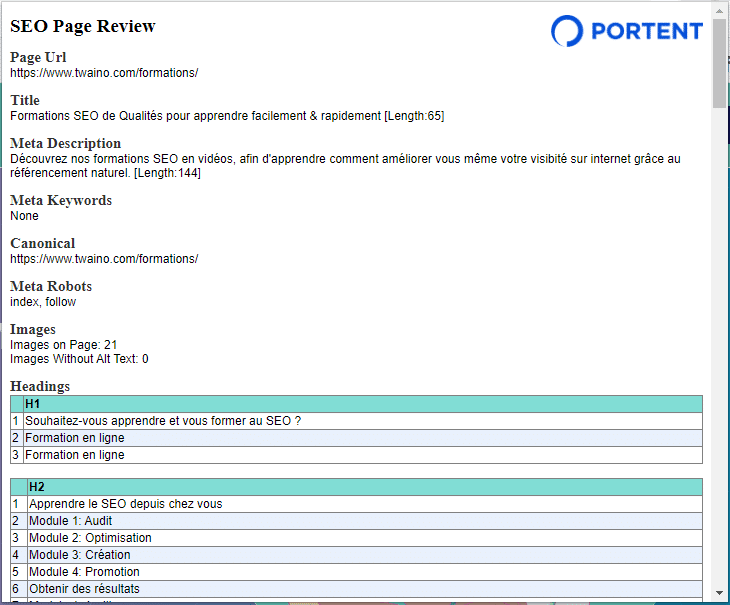 With just one click, you access:
The structure of the page (title, description, headings, etc.);
Facebook and Twitter tags;
To links on the page;
Etc.
Once again, simple and practical!!!
Publisher: ObservePoint
Price: Free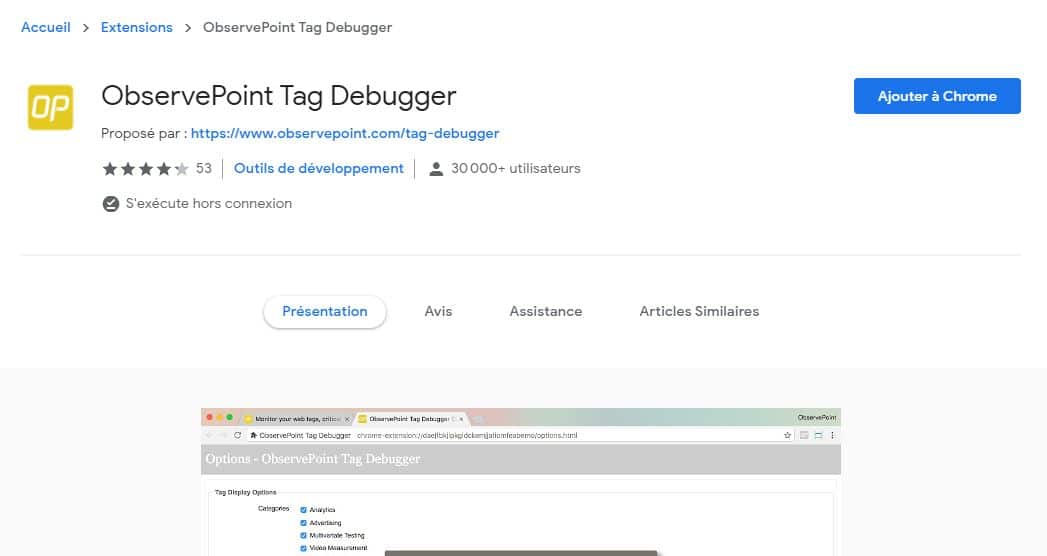 TagDebugger is a popular extension allowing you to identify and debug on your page, problems related to tags and website analytics (Google Analytics and Tag Manager for example).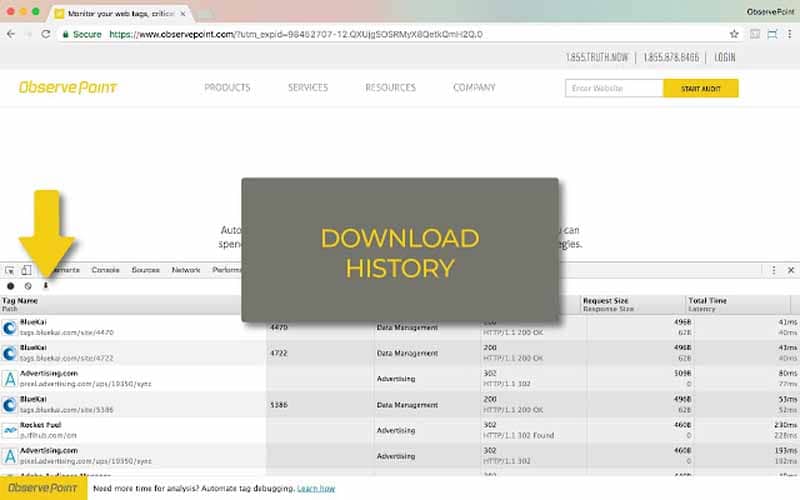 Source : Chrome Web Store
Everything you need to make sure your tags display correctly and don't need to be fixed, TagDebugger shows you: Tag
name;
Account ;
Category ;
Status ;
Loading time
Size;
Etc.
The extension also checks variables and events related to clicks.
Publisher: Growth Marketing Pro
Price: Free for 5 days then $29 per month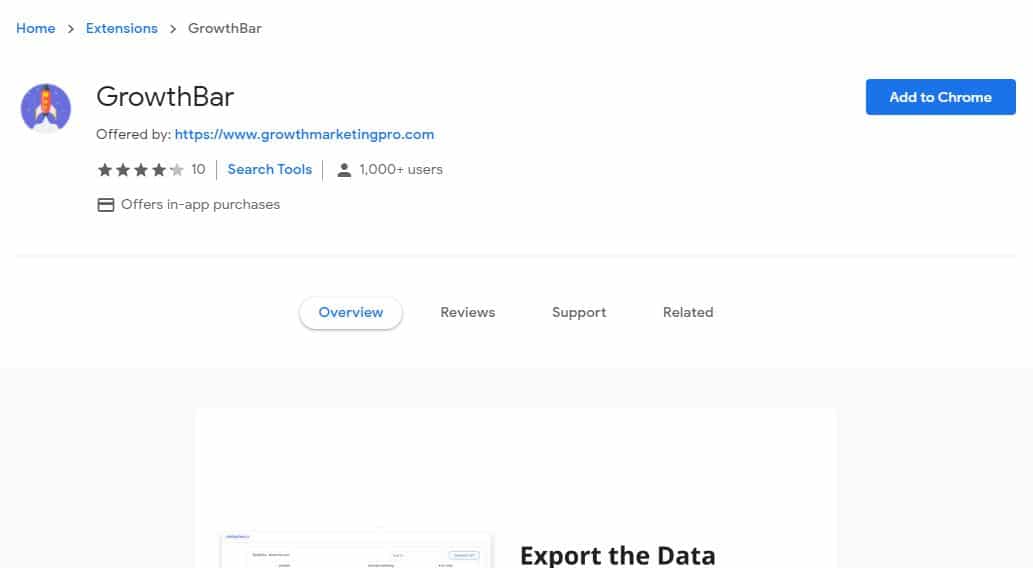 GrowthBar is an SEO tool that helps you with your SEO research or keyword research. The tool allows you to access all essential data of any website and view the keywords and growth channels of that page.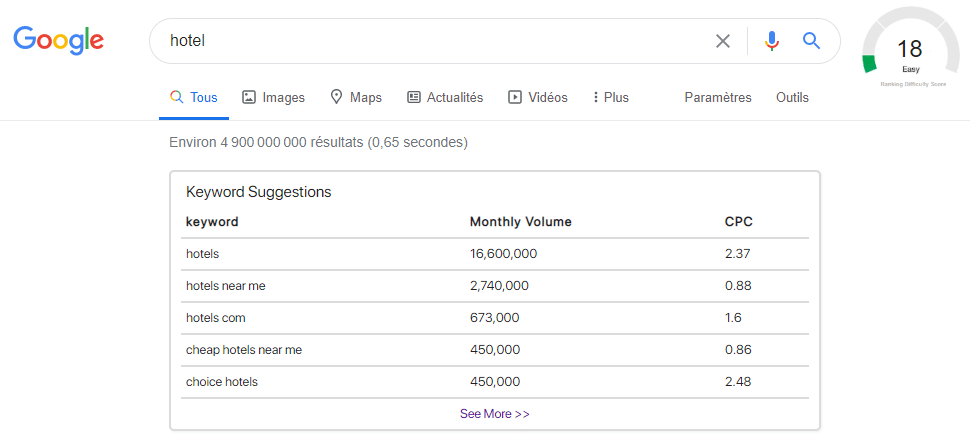 It all happens from the comfort of your search engine. Just run a query in the Google search bar and GrowthBar immediately provides you with information such as: Top
performing keywords;
Ranking of Keyword Difficulty Indexes;
The domain authority;
Backlinks;
The number of words on the page;
Facebook ads;
Etc.

This information and measurements allow you, among other things:
To see which sponsored and organic keywords generate the most traffic for a particular website as well as a list of the most reliable backlinks pointing to the site;
Quickly assess the ranking difficulty for a particular keyword based on the domain authority strength of the first-page ranked URLs;
To see if a site broadcasts Facebook ads and to have an overview;
Get suggestions for keywords you might want to rank for.
When used well, this data can help you improve your rankings immensely.
Publisher: Serpstat
Price: Freemium
Free for basic information;
Starting at $69 per month for the basic premium.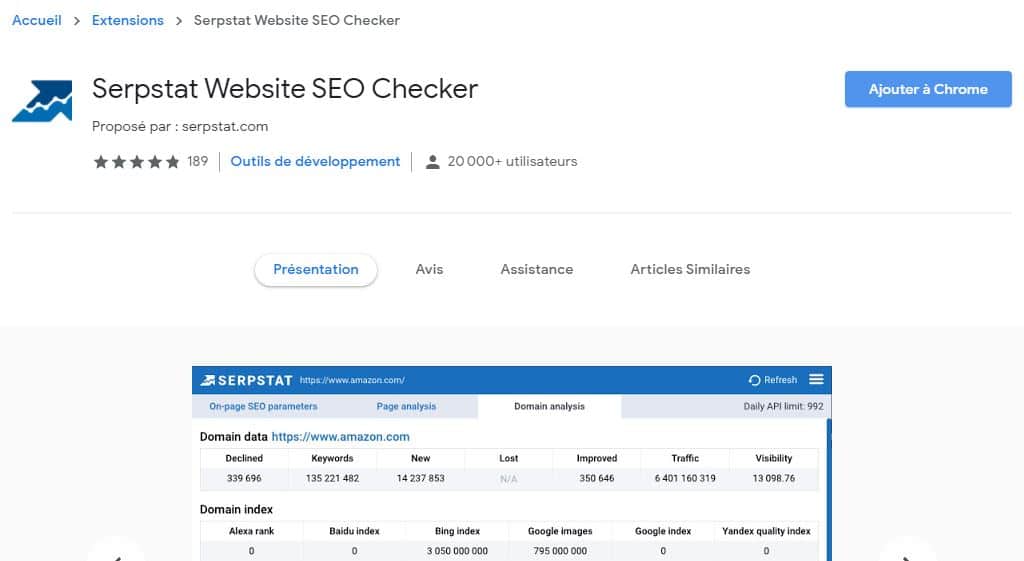 Serpstat is basically an "all in one" SEO platform, used by SEO specialists for:
Auditing websites;
The assessment of the competition;
Ranking follow-up;
Keyword research;
Backlink analysis;
Etc.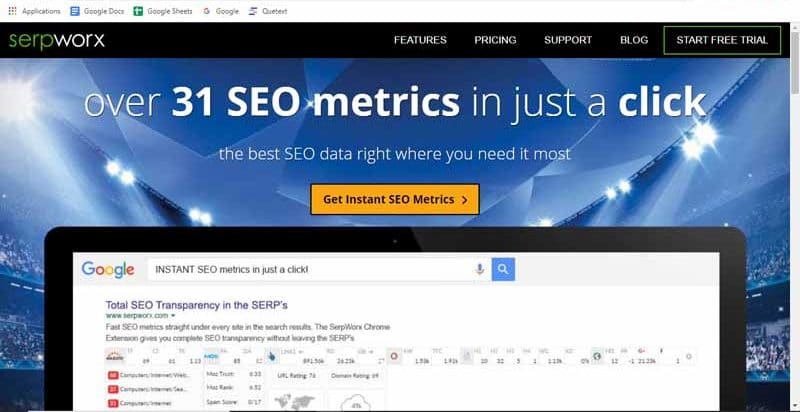 Domain analysis. The platform is accessible with one click in the form of a Google Chrome extension called Serpstat Website SEO Checker. The SEO expert will be able to find data relating to:
The visibility of his domain,
The traffic on his pages,
keywords of his site,
The meta-tags,
Etc.
All these features are divided into three sections: On
-page SEO settings;
Page analysis;
The basic functionalities are accessible without registration, but it will be necessary to think of a premium subscription to benefit from all the functionalities of the platform, the most useful at least.
Publisher: serpworx
Price: 5-day free trial, then starts at $30 per month.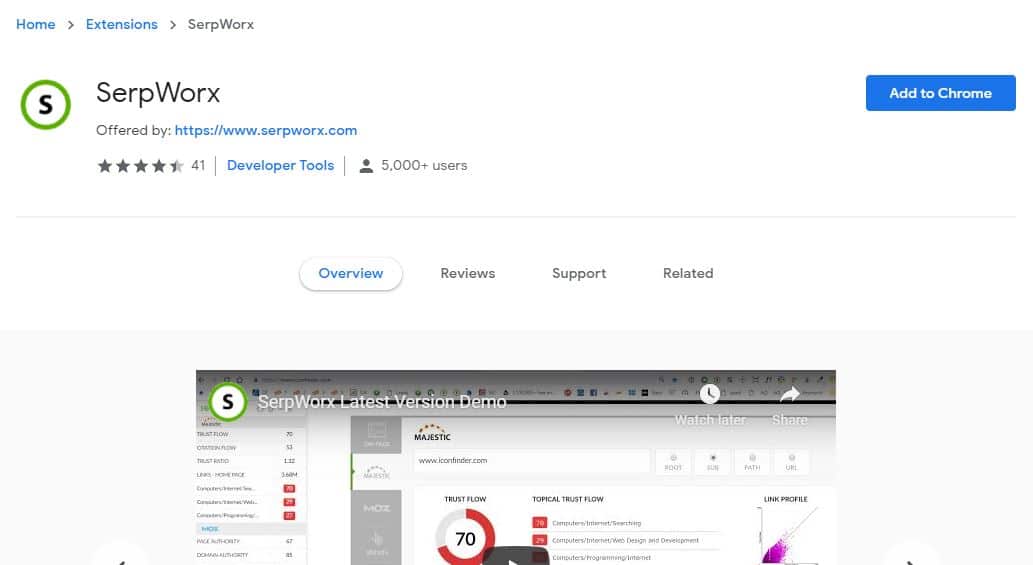 SerpWorx is a Chrome extension that combines the best SEO tools to provide you with around thirty SEO metrics in a user-friendly and easy-to-access interface.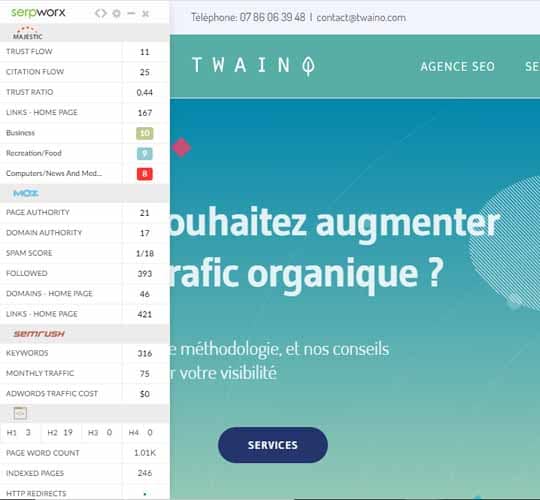 The reputation of the tools operated by SerpWorx is not a subject of debate for anyone and most of these same tools have already been presented in this same article. These include:
Google Analytics tools;
Ahrefs;
Moz;
SEMRUSH;
Etc.
So if switching between tools bothers you a bit, SerpWorx gives you essential SEO information in one place. However, this advantage offered has a cost if you want to take advantage of it.
Publisher: FATJOE
Price: Free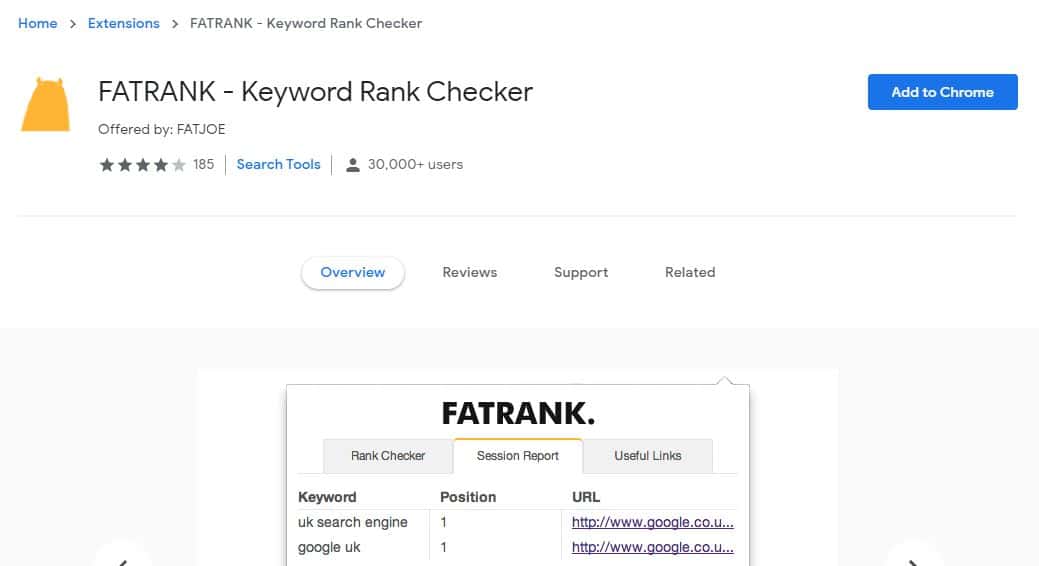 Fat Rank is an essential tool for researching competitive keywords. With one click, the tool allows you to see the ranking of a site you visit for a given keyword.

Publisher: SimilarWeb
Price: Free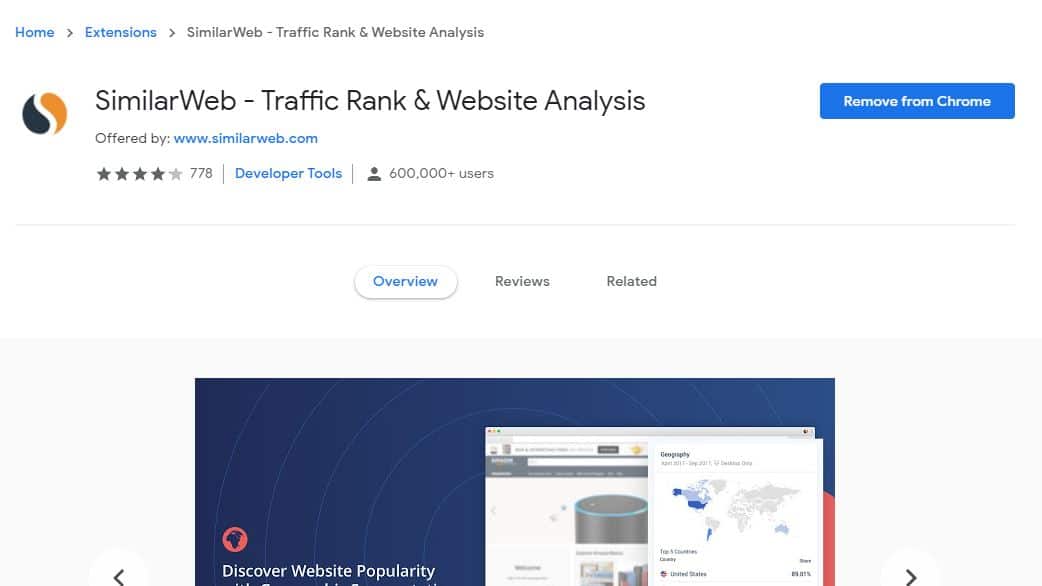 In the search for SEO, as in any race for that matter, it is essential to know your opponents. It is much easier to beat your competitors when you know more or less where you stand in relation to them. This is the very point where many companies and websites fail when it comes to SEO.
The SimilarWeb extension allows you to easily analyze any website and get detailed information about traffic, bounce rates, time spent on site, and more.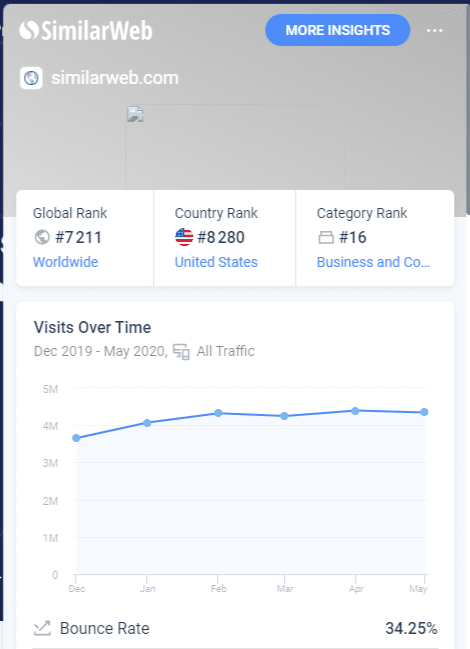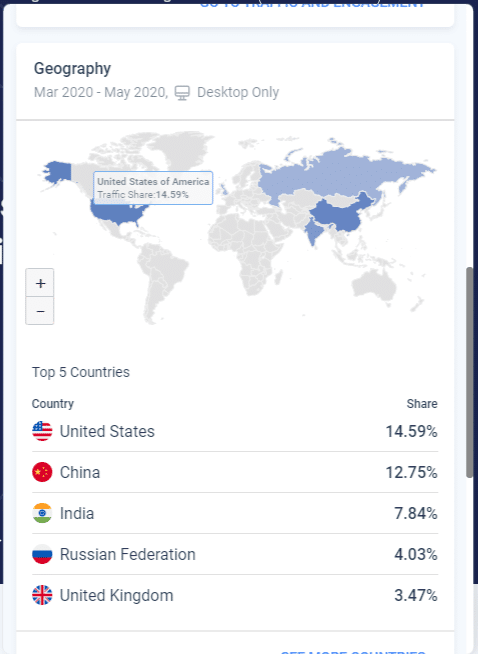 The tool is backed by robust technology that allows it to analyze data collected from various internet service providers and web crawlers.
In this way, you have instant access to the advertising expenditure of your competitors as well as the geographical areas that send them the most traffic.
This information is valuable and allows you, if you know how to use it, to properly optimize your level of referencing.
Publisher: Keywords Everywhere
Price: 1 credit equivalent to a search, 10,000 credits are available at only 1 dollar.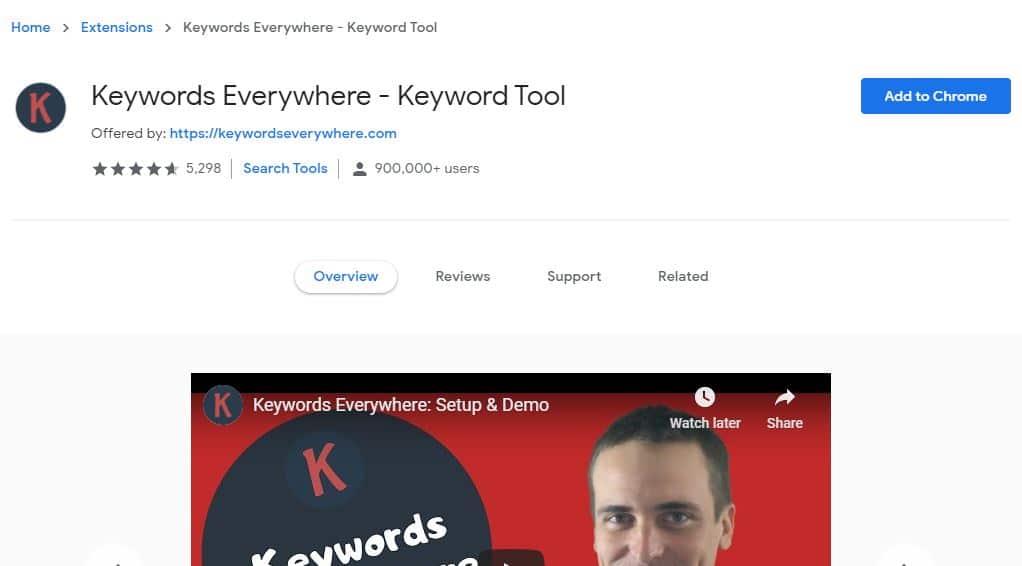 Keywords Everywhere is a fairly popular Chrome extension that gives you useful information related to keywords on Google.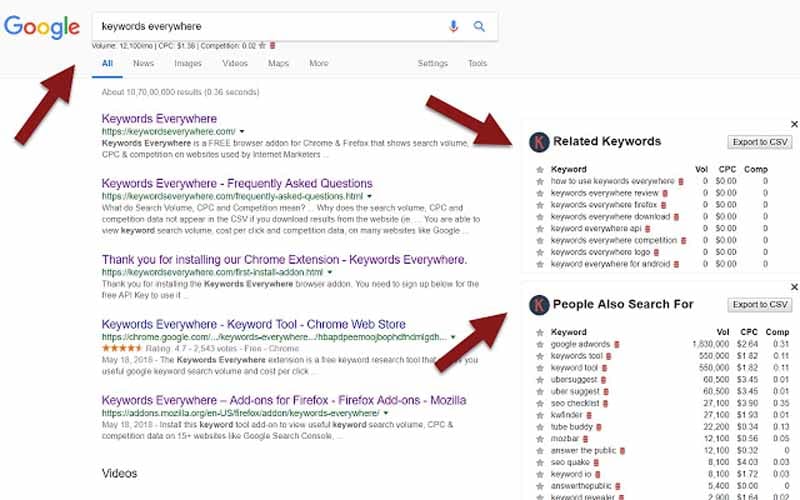 Source : Chrome Web Store
No more going back and forth between Google Keyword and your search engine. As long as Keywords Everywhere is activated, each time you type a keyword into Google, you immediately access:
Cost per click;
Monthly search volume;
To Google Adwords competition.
You also see thanks to this extension, more precisely on the right of your SERP, the keywords associated with your search and the related information (cost per click, search volume and competition).
Publisher: SeoStack
Price: Free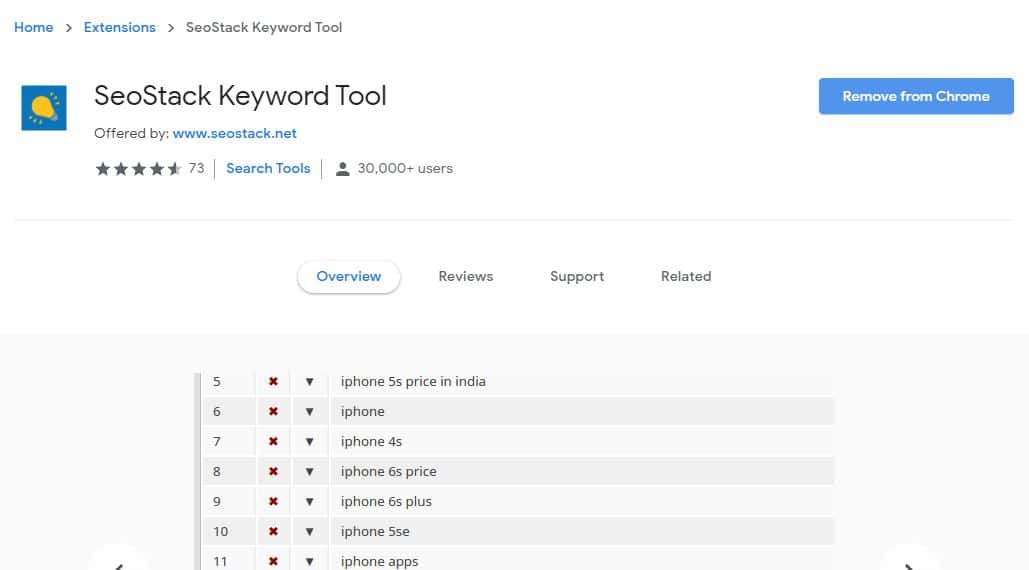 Long-tail keywords are search phrases of three or more words. These keywords have the particularity of being very specific. Therefore, a visitor who knows what he wants is more likely to land on your site than on a competing site.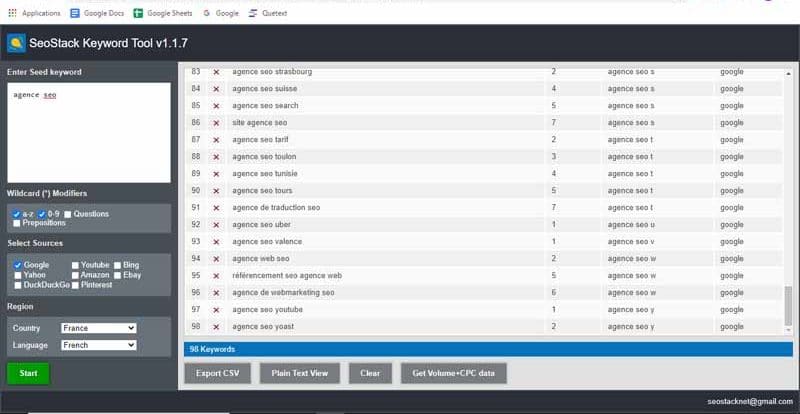 Whether it's to write a new article or to focus your new SEO strategy, a keyword will be of greater use to you. SEOStack Keyword Tool is a free SEO Chrome extension that lets you find long-tail keywords quickly and easily.
The tool relies on multiple search engines including Google, Bing, YouTube, Yahoo and many more to generate a ton of long tail keyword ideas. You can then export the generated data in CSV format.
Publisher: SEO Minion
Price: Free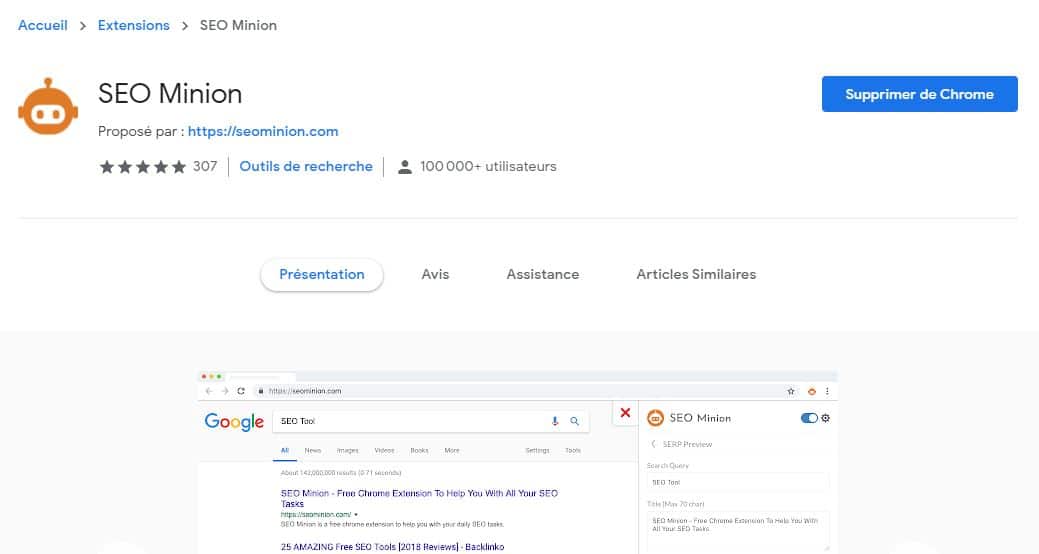 SEO Minion is a completely free Chrome extension providing you with a whole arsenal of interesting SEO features:
SEO analysis of pages;
Broken link checkers;
SERP overview;
Location simulator for Google search;
Etc.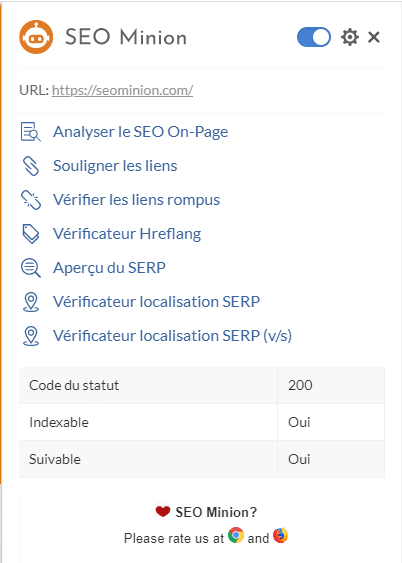 The flagship feature of this extension, the one that sets it apart from the others, is the ability to compare the SERP page for two different countries.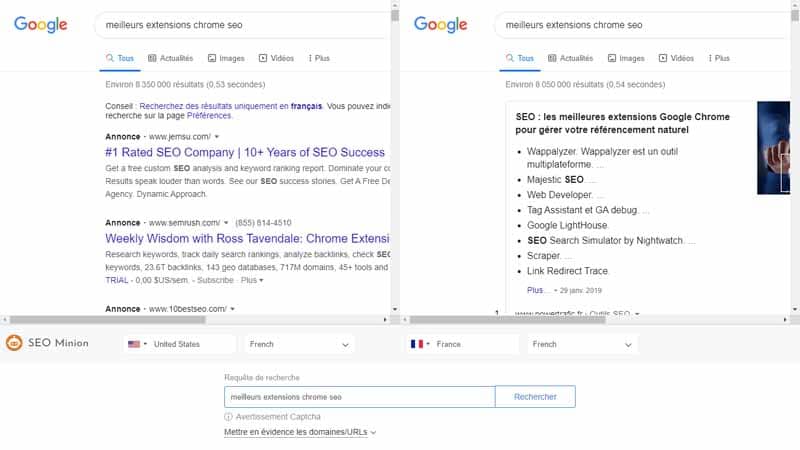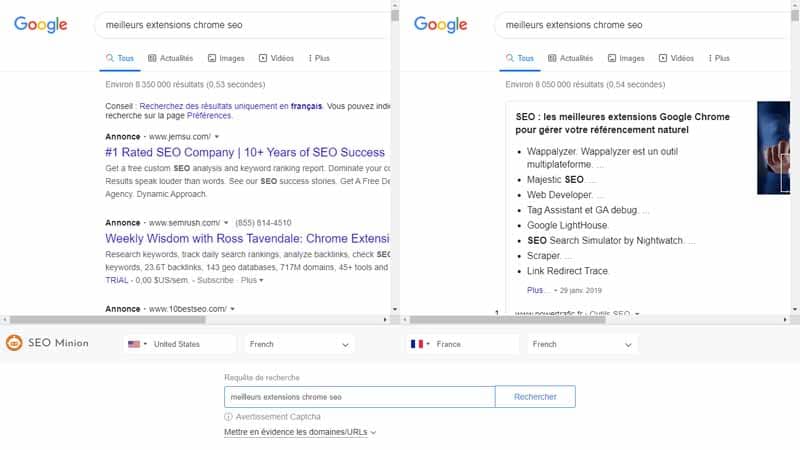 This will save you enough time.
Publisher: Nightwatch
Price: Free
SEO, when done right, can attract prospects from around the world to your website. That said, it's actually a bit more complicated.
The traffic you receive depends on how your website ranks in different geographies.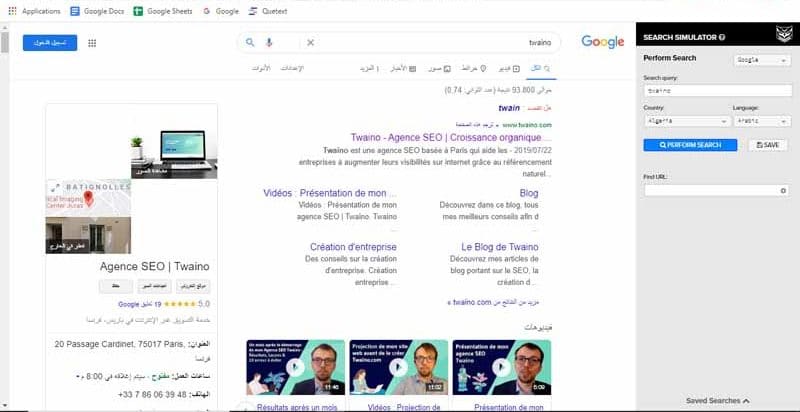 At one time, Google allowed to simulate a geographical area just by changing the domain name. In this way, SEO specialists could check the ranking of a site (including competing sites) in just a few clicks.
Today, this is no longer possible. But luckily, SEO Search Simulator simulates a search engine query from any country in the world.
This extension not only shows you where you stand in the world, but also where your competitors dominate or are absent.
This extension emulates Google searches from anywhere in the world and checks if a particular URL ranks in the top 100 results.
Here is a great tool that simplifies the work of any SEO specialist who wants to use an intuitive solution to track the ranking of websites in the SERPs.
SEO SEarch Simulator is free, easy to use and saves you a lot of time.
Publisher: Undefined
Price: Free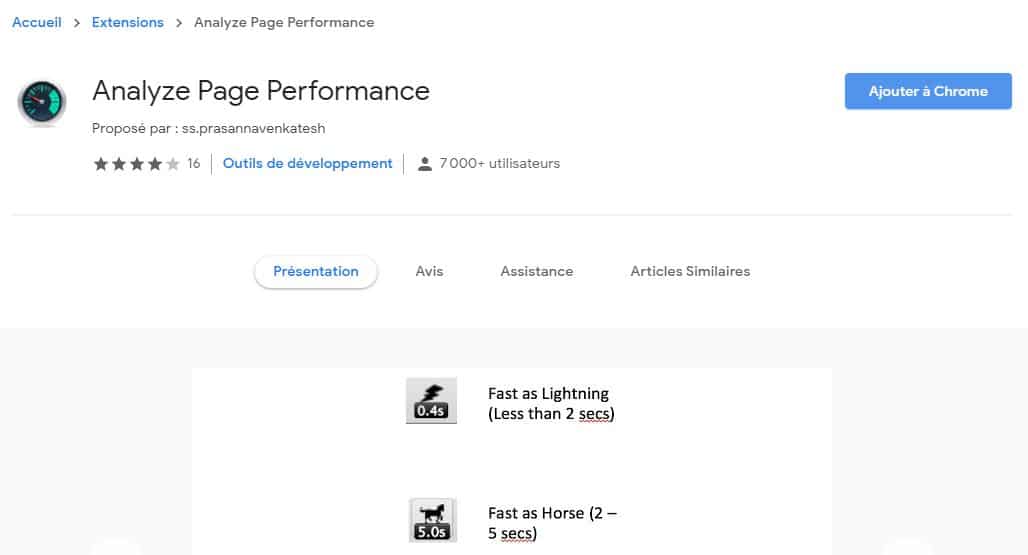 It doesn't matter what techniques and tricks you used to bring visitors to your page. If they fail to charge quickly, they will go away. As an SEO specialist, you certainly know that the speed of your site influences your ranking in search engines.
Analyze Page Performance is a free SEO Chrome extension that measures the load time of the web pages you visit along with other important performance-related details.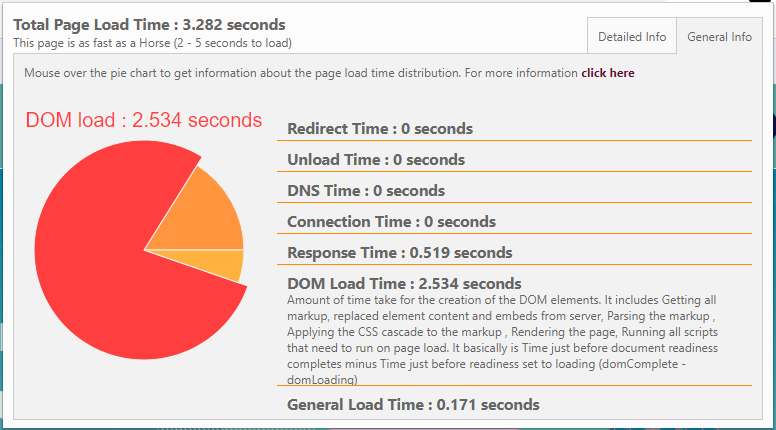 With this data, you can optimize your pages to deliver them faster to the first comer.
Publisher: vidIQ
Price: Freemium
Free for basic package
From $7.5 per month for more advanced features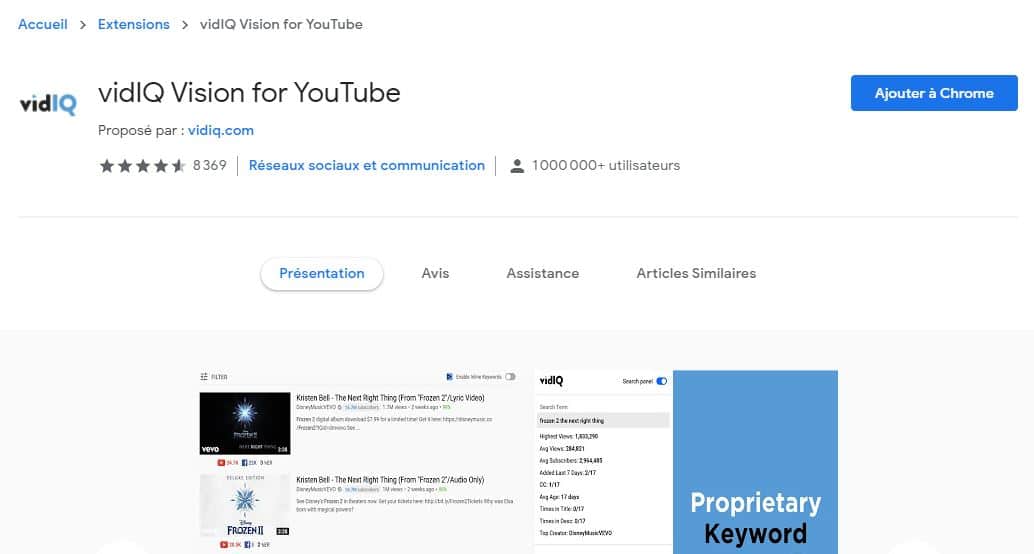 If you want your videos to rank well on YouTube and get more views and views subscribers, then you need the vidIQ Chrome extension by your side.
vidIQ is one of the leading YouTube SEO tools on the market today. It's one of the best tools to have in your kit if you want to start optimizing content on your channel.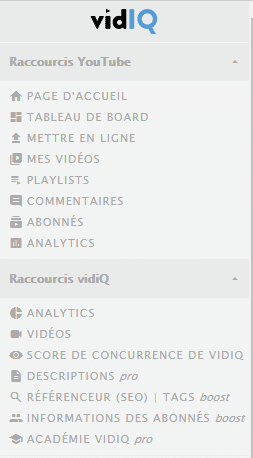 The tool piggybacks on YouTube to provide you with the most useful insights for growing your YouTube channel(s). VidIQ lets you run an audit to show you what's working with your content and where you need to improve.
When you do a video search, vidIQ digs deeper into those searches for the keywords entered by comparing the results in order to provide you with key statistics and information such as:
The maximum number of views recorded by a video;
The average number of subscribers of competing channels;
The number of videos added in the last 7 days;
The best channel;
The overall score (the quality) for these keywords;
Suggested keywords;
Etc.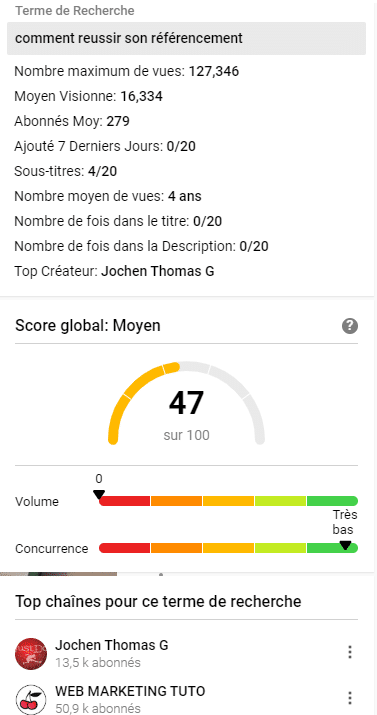 When you watch a video, a panel full of statistics and similar information opens next to it, telling you about the engagement rate, the number of views per hour, the SEO score, the social performance and more.
Another very useful feature of this extension is that it allows you to see the tags of videos on YouTube. Normally this information is reserved for the author of the video, but VidIQ gives you a little help.
With such information, it is easier for you to create quality and highly competitive targeted content.
VidIQ is free to use, but there are also paid tiers like Pro, Boost, and Enterprise that offer more features than listed above.
Publisher: AMP
Price: Free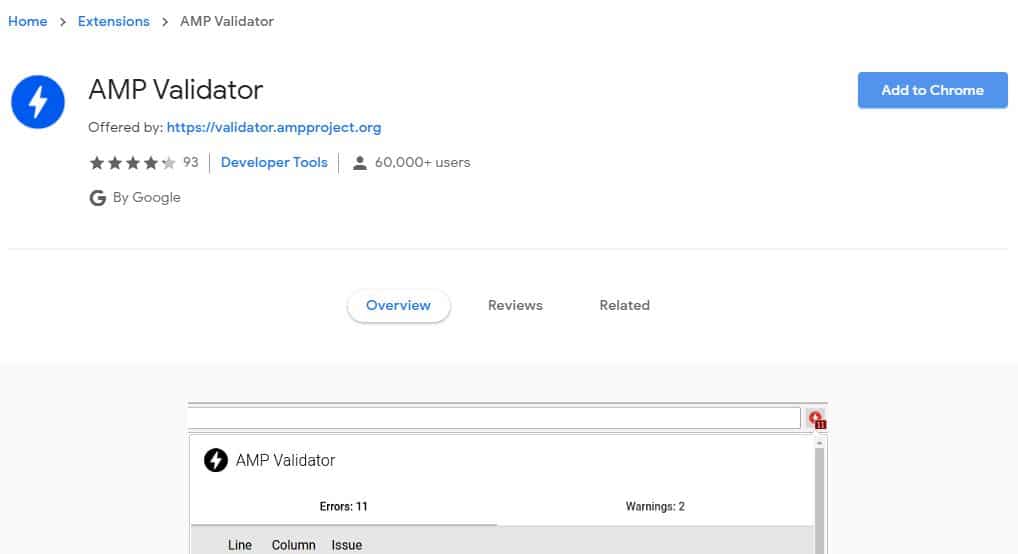 AMP or Accelerated Mobile Pages is an open source coding standard designed to help developers provide their readers with the best browsing experience.
Here is the principle. Mobile-friendly sites load slower than sites designed for desktop devices.
AMP therefore makes it possible to load the light version of your site on mobile devices so that your users can quickly access the essential useful information.
AMP technology is a necessary and highly recommended optimization for websites today. This optimization is not only important for a better experience, but also for better SEO. Google wants to provide the best possible experience to its users when they click on a result in the SERP.
Once you've optimized your website, use AMP Validator to check your pages and make sure the mobile integration is successful.
The tool will check each page and indicate (on the extension icon) if the page passed the test. If a page is not optimized for AMP, it will show a red flag on the extension icon.
Publisher: Google
Price: Free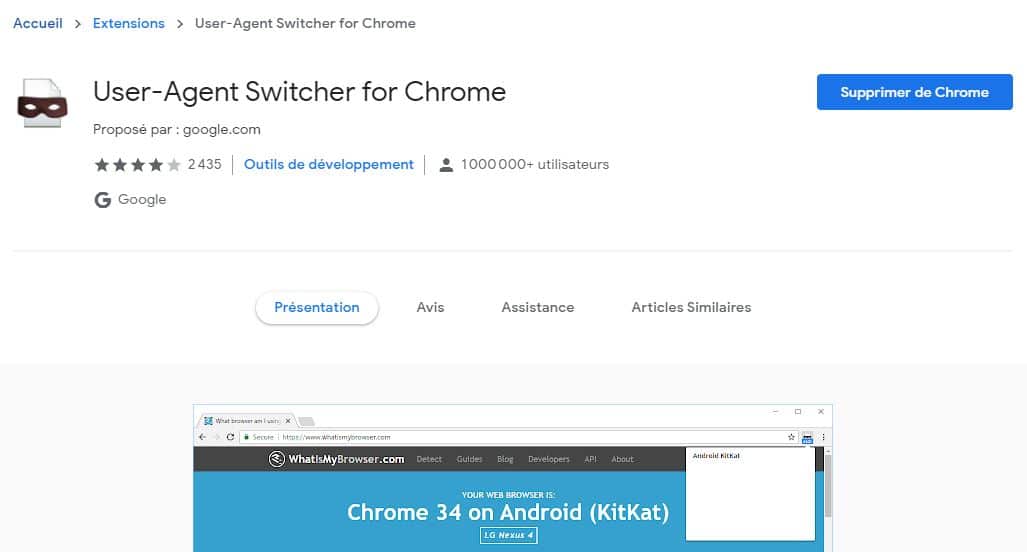 "There was a time when SEO was easy", that's what old hands in the field will tell you. Since 2013, Google has made things worse by announcing, shortly before Christmas, that websites that do not have a good mobile experience will also not benefit from good SEO on mobile devices.
It has therefore become essential to check the presentation of its web pages on a computer as well as on a telephone or tablet.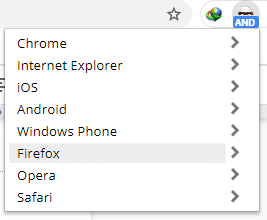 User-Agent Switcher is a very simple to use little extension that allows you to see how a web page would look in different web browsers such as:
Chrome;
Firefox;
Internet Explorer;
Opera;
Safari.
You also have the possibility of seeing how a page is displayed on terminals other than a computer:
iOS;
Android;
Windows Phone.
This way you can see if the web page is suitable for mobile phones. And if not, you can always fix that. User-Agent Switcher saves you time that you would probably spend manually switching devices.
Publisher: FindThatLead
Price: Free, limited to 50 credits per month.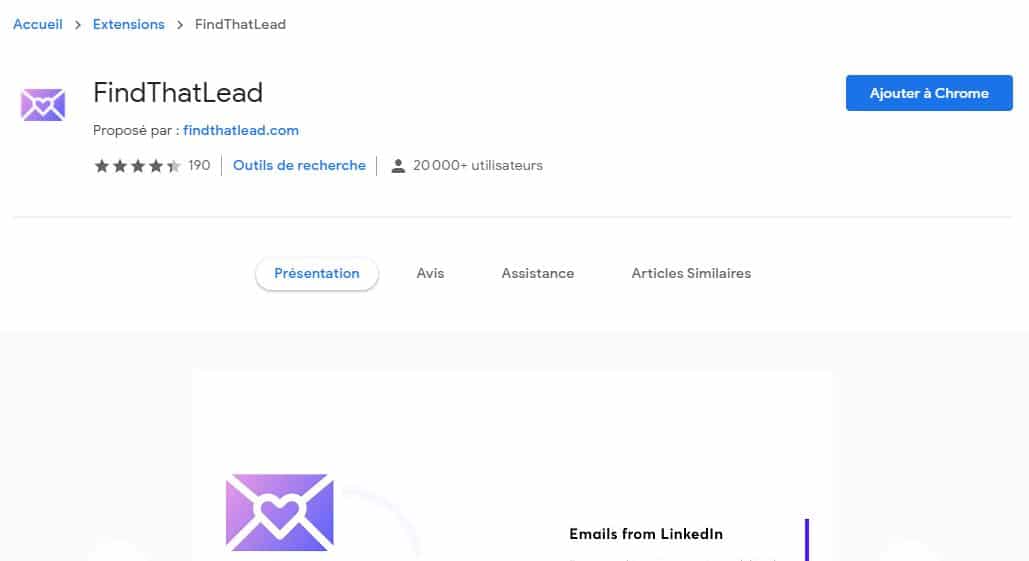 One of the best techniques for getting backlinks pointing to your website is outreach to people of interest, influencers or bloggers. That said, this is a long-term task since it would already be necessary to find a way to contact said people.
You could spend long hours on LinkedIn finding what you need to jump-start your outreach, or just a few minutes on FindThatLead with just a domain name.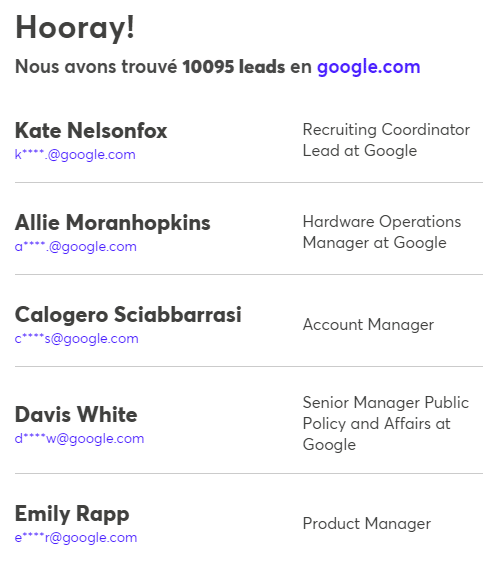 The Lead Search feature lets you find anyone's email address with just their first and last name, and a domain or company name.
If you are unsure of having this information and have at least one profile on a social network, the Social Search would be suitable for you.
Got an important email address from a third party? Check if it validates with Email Verifier. And find more emails with Prospector.
Although this tool is more of a marketing tool than an SEO tool, used correctly, this extension can prove to be very useful in making you stand out from the crowd.
FindThatLead's free plan entitles you to 50 queries per month. You will have to pay to buy additional credits or wait until next month to take advantage of FindThatLead services again.
Publisher: Hunter
Price: Free limited to 50 credits per month.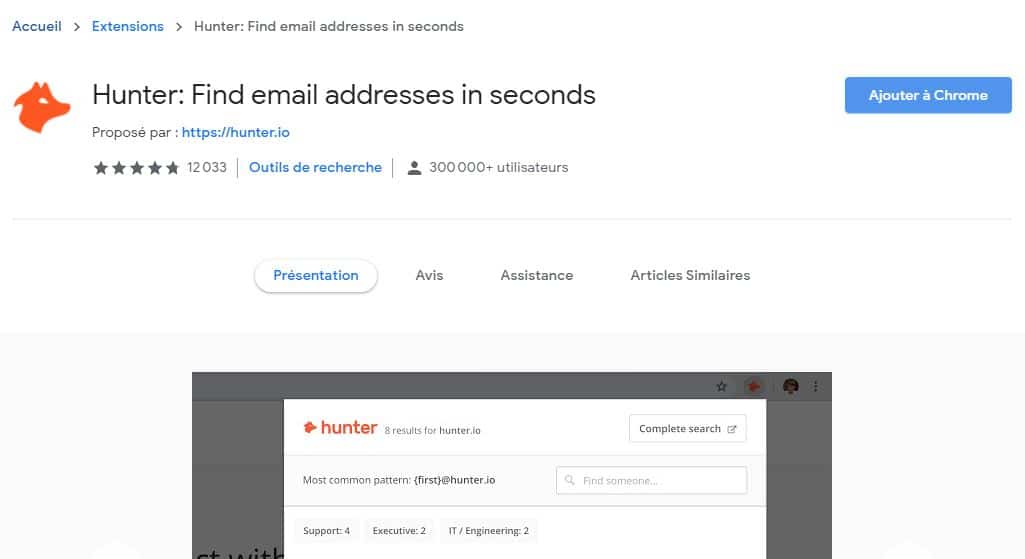 In the same category as FindThatLead, Hunter is another email address search tool.
In addition to providing you with e-mail addresses, Hunter also provides:
The names of the contacts sought;
Their businesses and functions;
Their telephone numbers;
And their social contacts (Facebook, Twitter, etc.)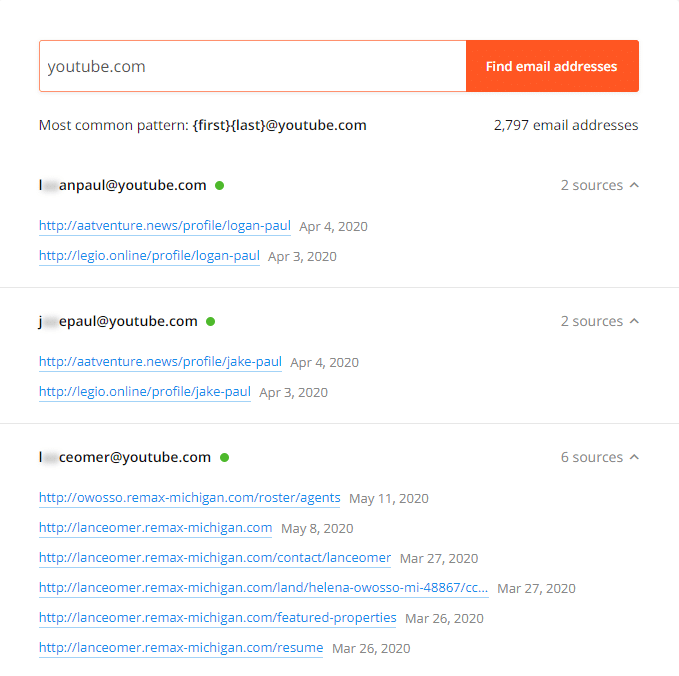 Hunter's free plan also gives you 50 free credits per month.
Publisher: Ninja Outreach
Price: Free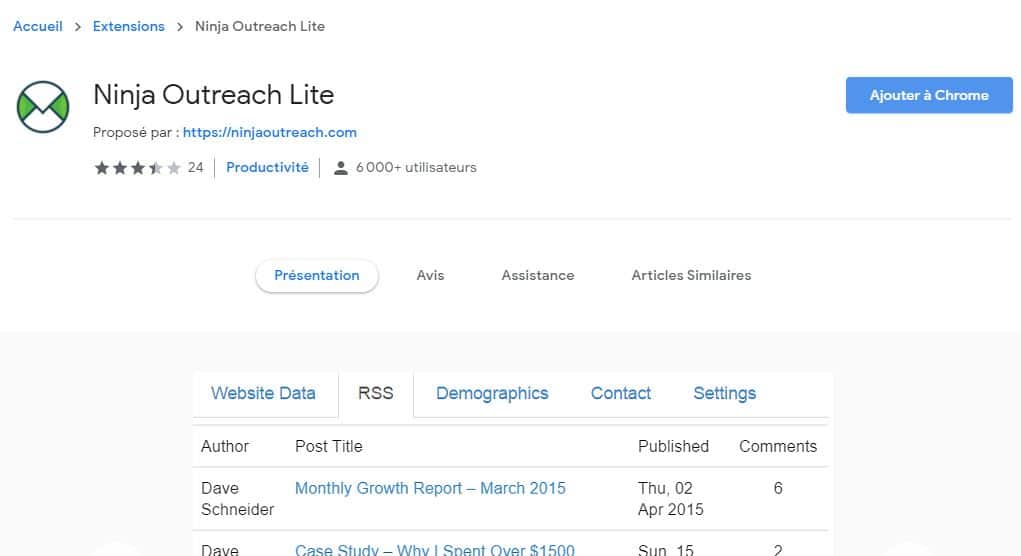 Ninja Outreach is basically a powerful prospecting and outreach platform for bloggers. Ninja Outreach's Chrome extension only offers some of the features offered by the platform.
It allows you to extract in one click, rather interesting information from any website.
Among other information, the tool offers:
Title;
Address ;
Telephone ;
E-mail ;
Page Authority;
Domain Authority;
Alexa rank;
Etc.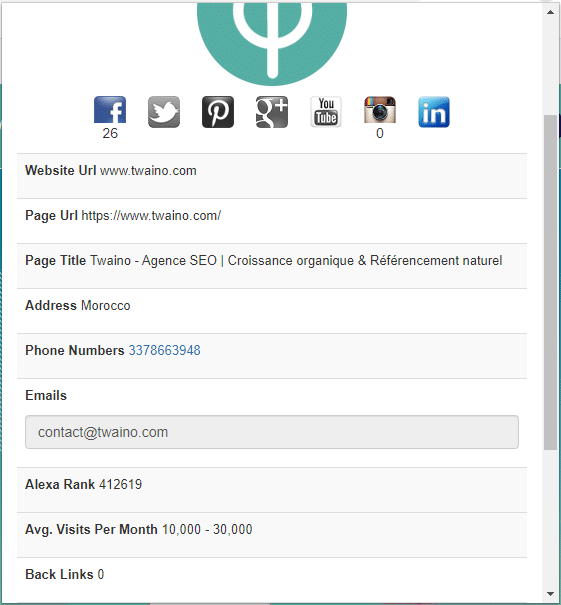 The tool also adds powerful prospecting and outreach capabilities to your web browser like pre-made outreach email templates that you can use from the extension itself.
Although the features below are more or less sufficient, you will also be interested in the premium offers of the platform which are not directly accessible in the extension.
Publisher: BuzzSumo
Price: 7-day free trial then $99/month for basic premium.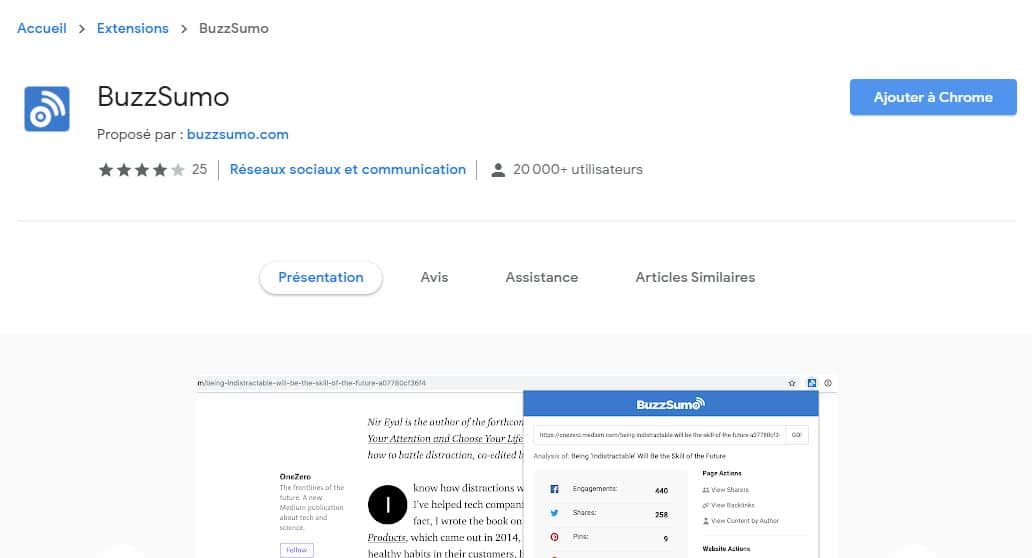 If you need a social media monitoring tool, BuzzSumo is the extension for you.
If you're in a business, your communications team would surely be interested in the extension's content sharing options. But it is not to be neglected for SEO specialists.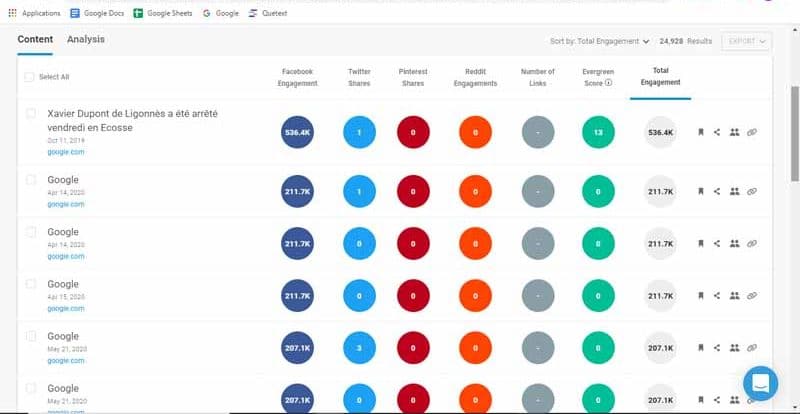 BuzzSumo is a content marketing tool that lets you search for the most shared content for a given topic.
The tool allows you to see the number of shares that one of your articles has been able to obtain and the number of backlinks pointing to the indicated article.
Quality content that is very well shared on social networks has better rankings on Google. This indicates the interest of Internet users for your article. The more content is shared, the more backlinks will point to.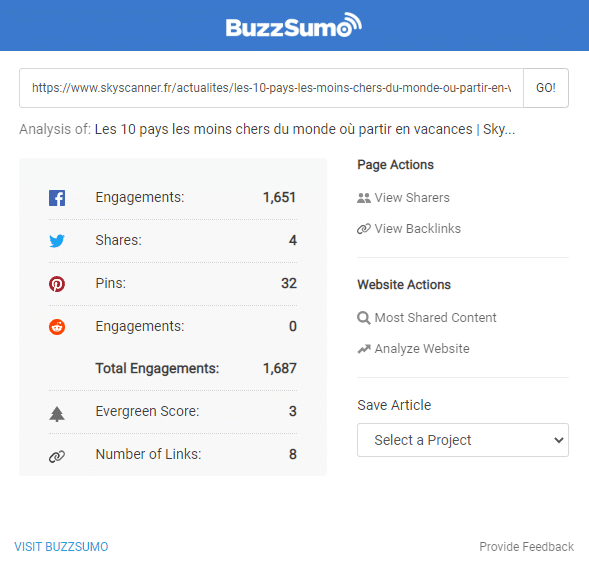 On the other hand, BuzzSumo can allow you to take advantage of the competition, or at least manage it better, by probing their articles with this extension. In this way, you will know the most popular topics among the competition and therefore useful information for your strategy.
To access all of this data, simply visit the article's web page and click on the BuzzSumo extension icon at the top right of your browser.
Publisher: Trafikant
Price: Free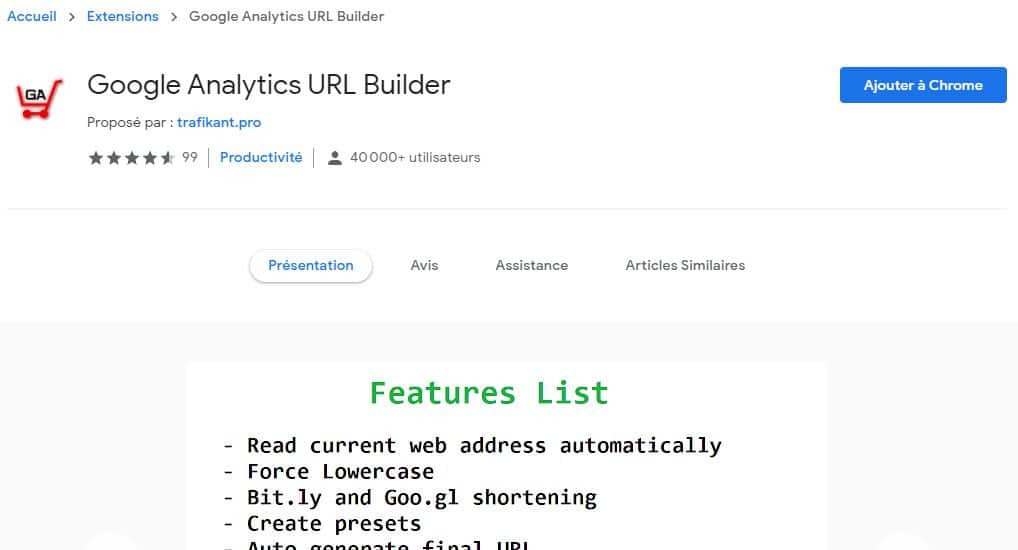 Google Analytics URL Builder is a very useful tool for tracking your website traffic in Google Analytics.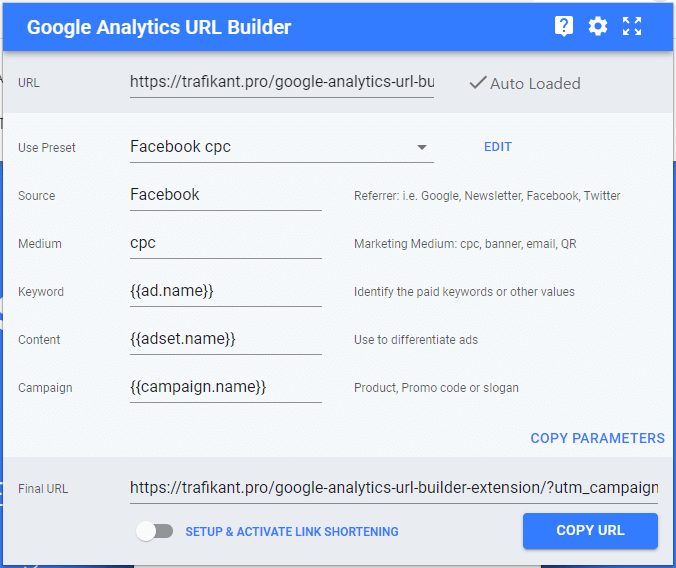 The add-on allows you to quickly tag the URLs you want to track in your Google Analytics campaigns.
Using the extension is quite simple. Once on the page you want to popularize, click on the URL Builder icon which looks like a shopping cart.
The tool will automatically capture the page URL. You will then have to fill in the form that appears with information such as the source, keywords, etc.
Once the form is completed, the tool will automatically generate the final URL. You can then share this new tagged link through your social media accounts and track them independently using Google Analytics.
Publisher: Google
Price: Free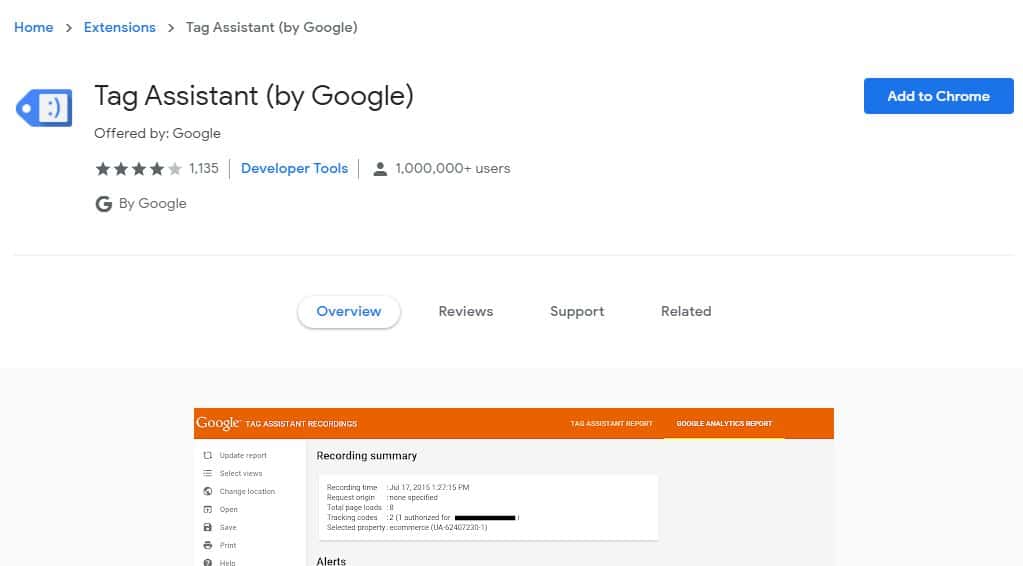 One of Google's many masterpieces, Tag assistant, is a tool that assists you in installing your Google tools such as Google Analytics, Adword conversion tracking, Google Tag Manager, etc.
From any page, just click on the extension icon. Tag Assistant will automatically display the tags present and report any errors.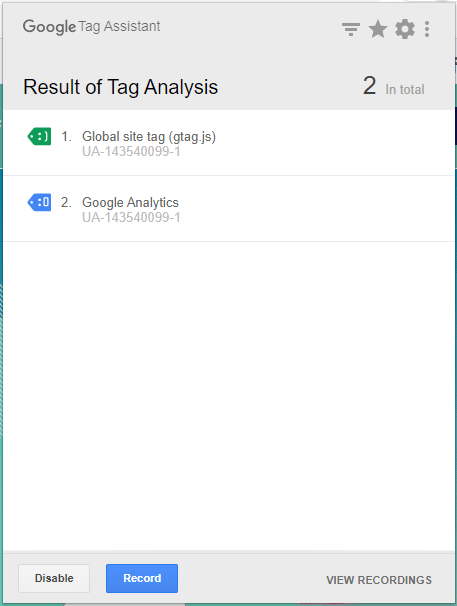 This extension allows you to check the status or troubleshoot the various Google tags on any web page of your choice. It also allows you to see if your HTML tags have been correctly placed in your code.
Basically, don't let the simplicity of this plugin fool you. Its great usefulness is only noticed by using it.
Publisher: Google
Price: Free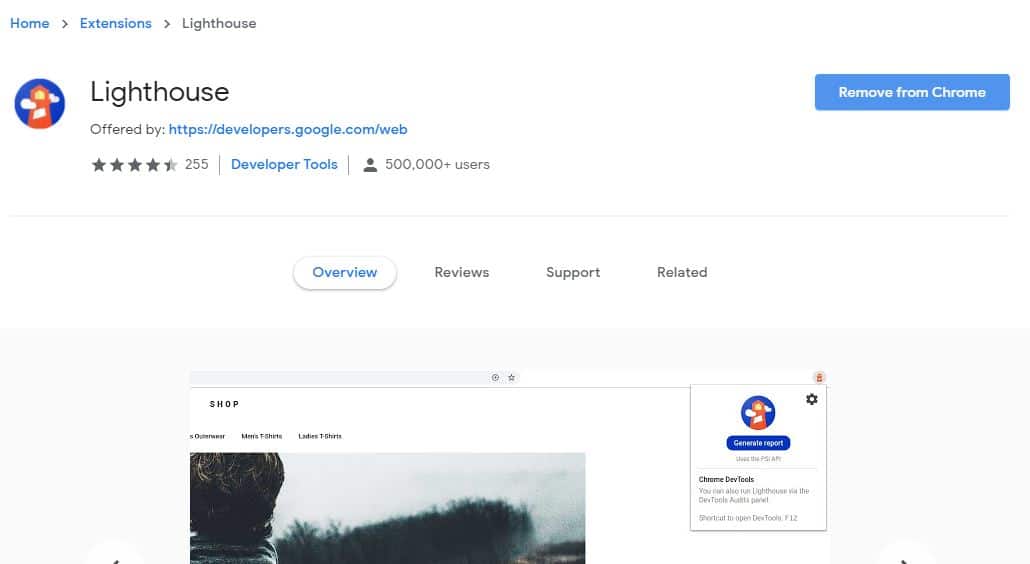 Google has published Lighthouse, a completely free Chrome extension, to help SEO experts optimize their web pages.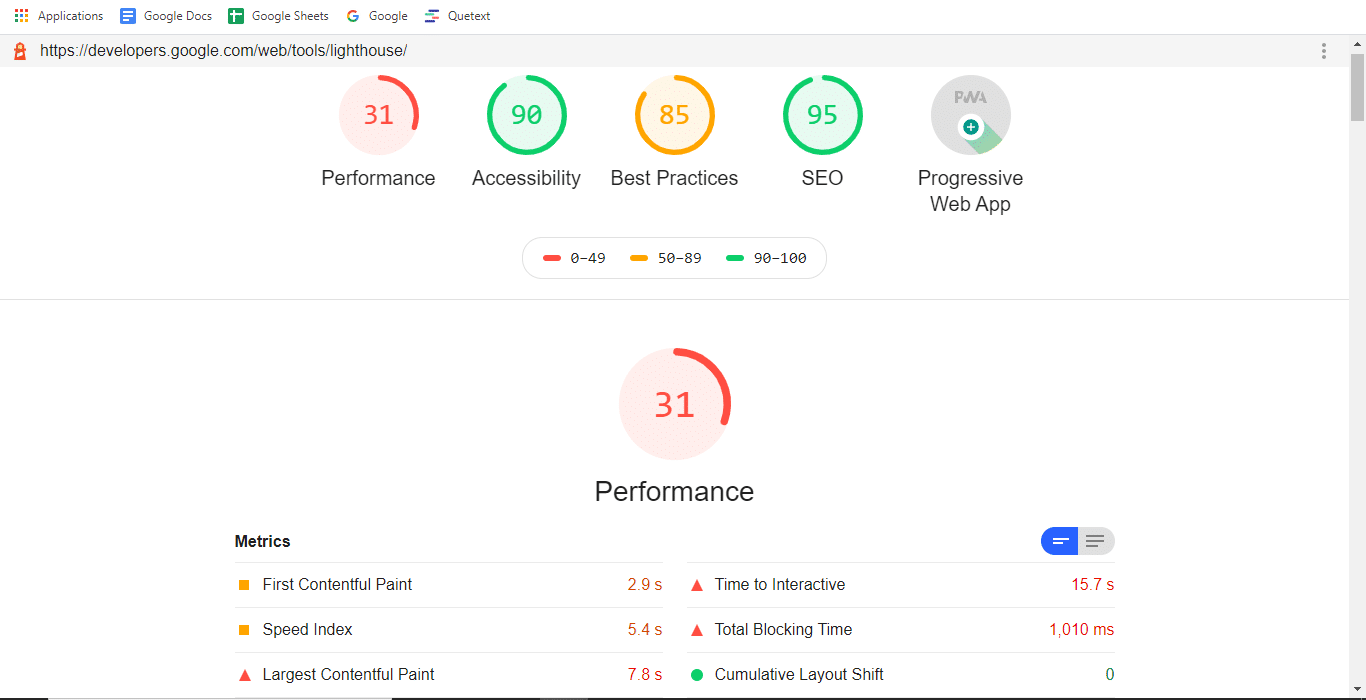 The tool performs an audit of your URLs and suggests actions to implement to improve the accessibility, performance and SEO of your pages on both desktop and mobile.
Publisher: Ayima
Price: Free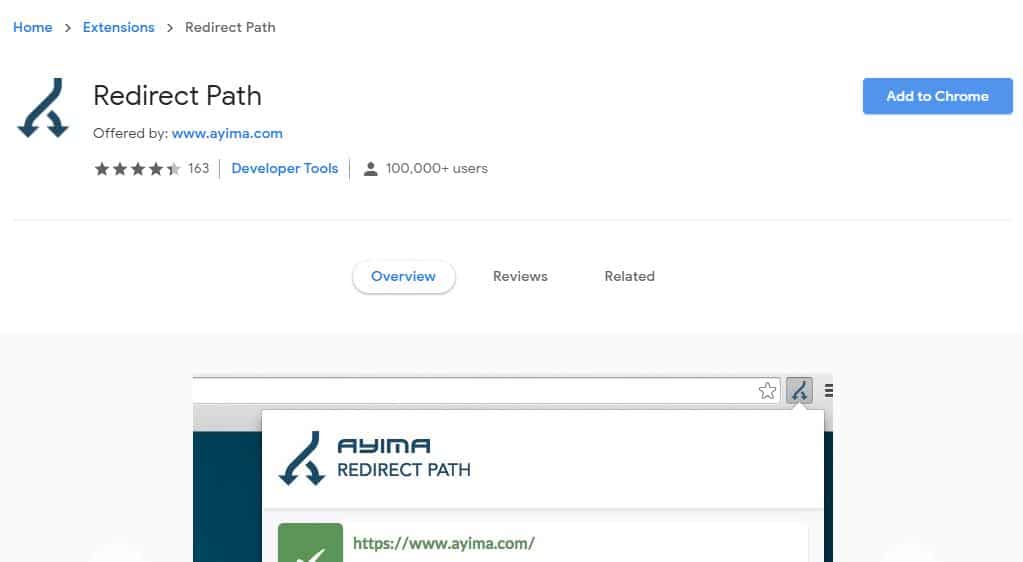 Ensuring the technical referencing of your up-to-date website is essential for it to be healthy. Achieving this requires, among other things, keeping all your links in good working order.
Who says link says redirection. Redirections occur when, for one reason or another, you move or delete a page located at a given address. In this case, you surely want your visitors to be able to be automatically redirected to a page other than the famous "404".
Redirects aren't just for visitors. They matter a lot to your search engine rankings.
With the help of the Chrome Redirect Path extension, you can check if your redirects are working properly and ensure that your website visitors have a good user experience.
The tool, once installed, will closely track each page upon opening and tell you what code the browser received in response to which page.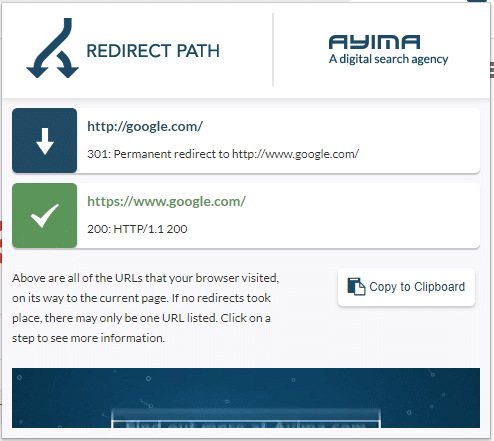 The extension reports HTTP status codes:
301 – redirect permanently;
302 – temporary redirect;
404 – page not found;
500 – server error.
The extension also flags client-side redirects like Meta and Javascript redirects.
When a response code other than the standard code 200 is detected, Redirect Path notifies you directly of the number on the extension icon and you just have to click on it for more details.
Publisher: Undefined
Price: Free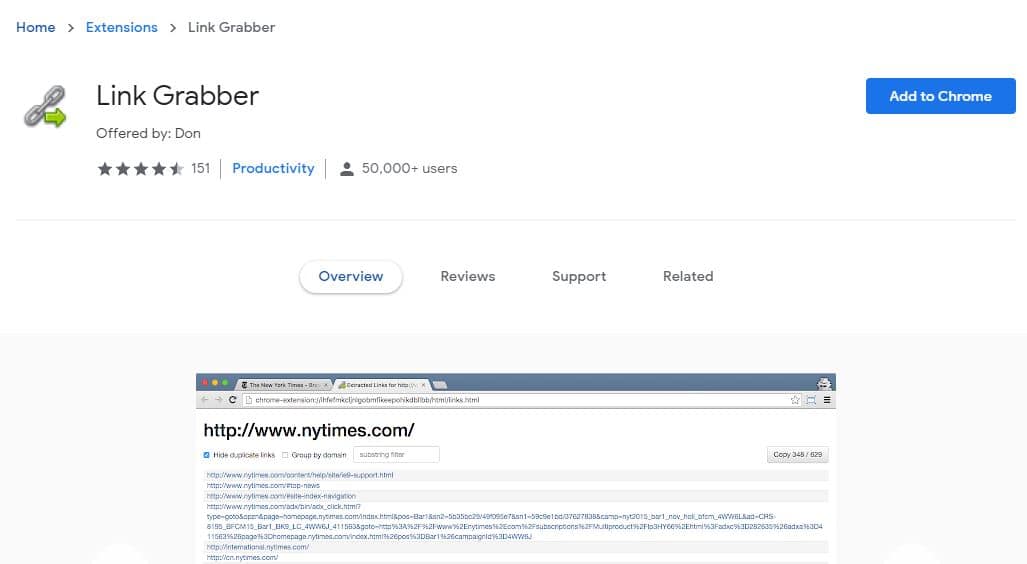 Link Grabber allows you to extract all the links from a page in one click and display them in a new tab.
From this new location, you are free to do with them as you please, browse them one by one to assess the competition or just reuse them in one of your projects.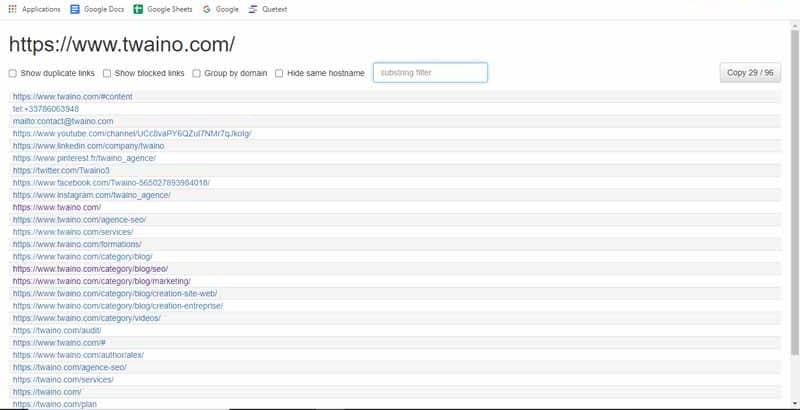 You also have the option to block links from a given domain.
Publisher: Bitly
Price: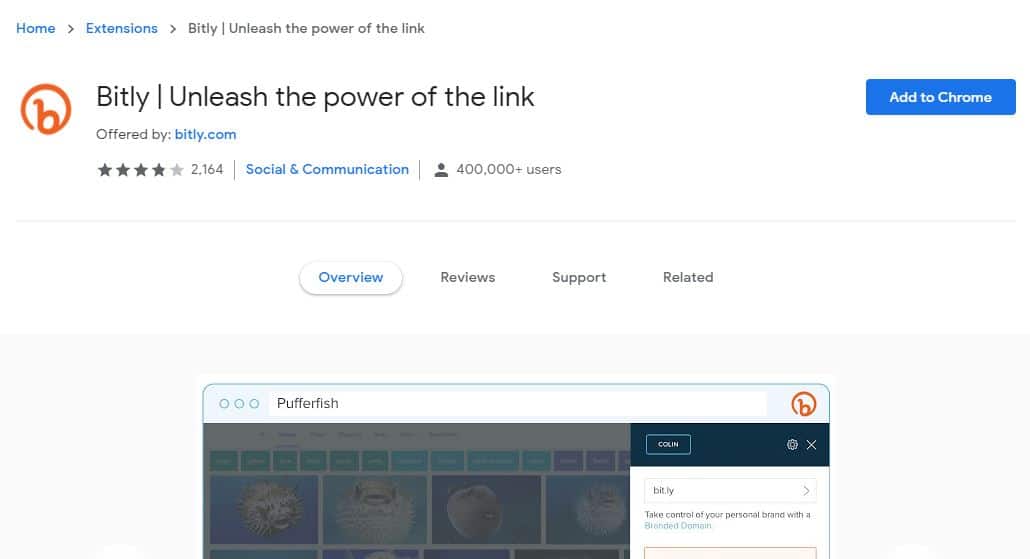 Of the tons of URL shorteners out there, Bit.ly is hands down the best.
When the Bit.ly extension is installed, it allows you to shorten your links very quickly with one click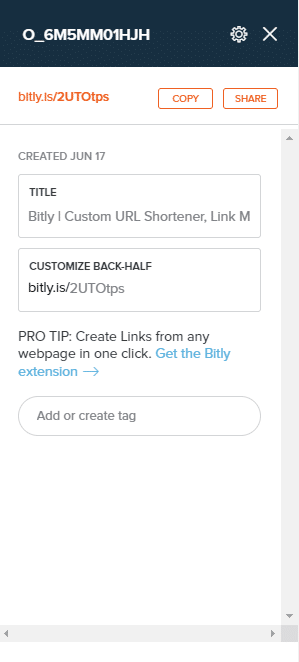 Simply click on the extension icon. You get a shortened URL which you can then share directly.
The tool even comes with interesting statistics such as the number of clicks on a given link.
Publisher: Page Modified
Price: Free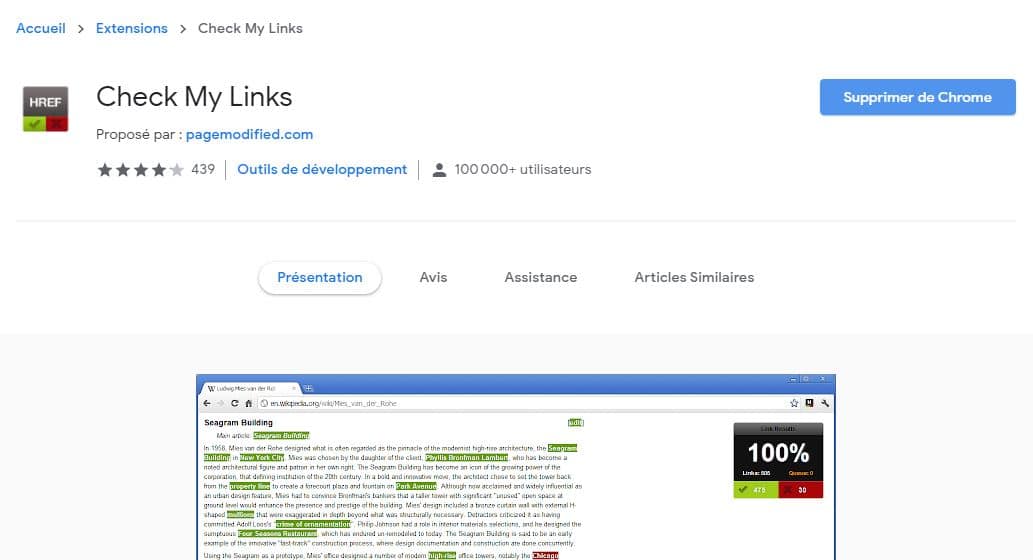 Links play a vital role in the functioning of a website, its referencing and therefore its authority. Broken links on a website negatively impact SEO and user experience.
Finding broken links is quite complicated. The traditional way is to click on each link and see where it leads. The bigger the website, the harder the quest to find broken links.
Check My Links is an extension that allows you to quickly check all the links on a page in one click.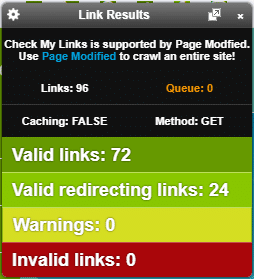 As soon as you load a web page in Chrome, click on the extension icon to scan the links on the page. Once the scan is complete, you get in detail:
The total number of links;
The number of active links;
The percentage of active links;
The number of broken links.
Active links are highlighted in green and broken ones are highlighted in red.
Publisher: LinkResearchTools
Price: Free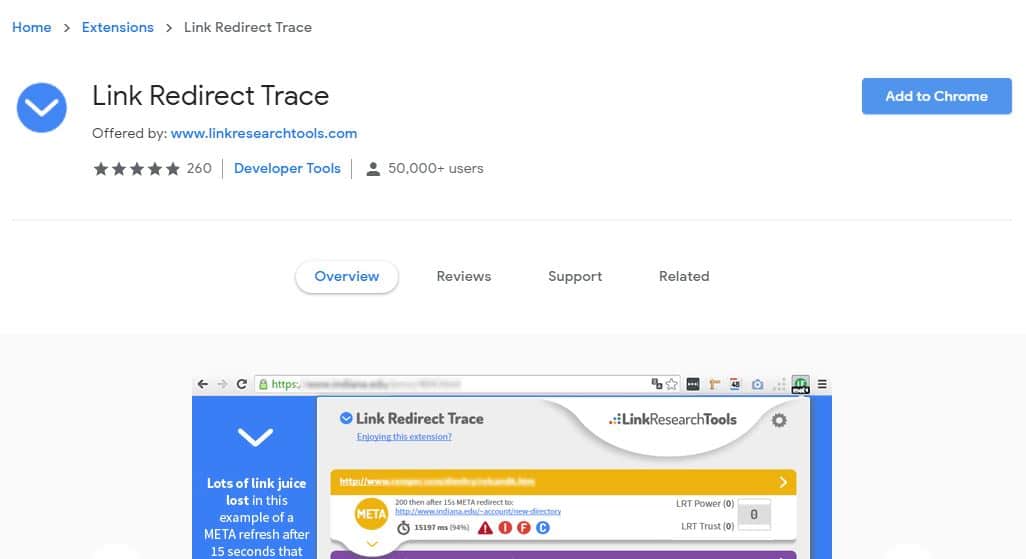 Link Redirect Trace is an SEO extension that performs a thorough analysis of links, redirects and canonical links on a web page.
It identifies all URLs in a redirect chain, including 301, 302, and JavaScript redirects.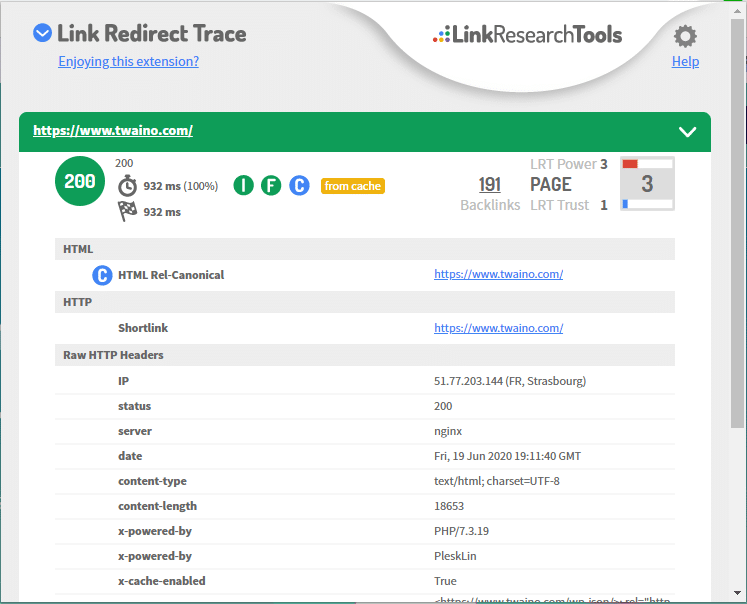 Link Redirect Trace also allows you to check if a page has nofollow or noindex tags or robot-specific blocks.
Publisher: IgorWare
Price: Free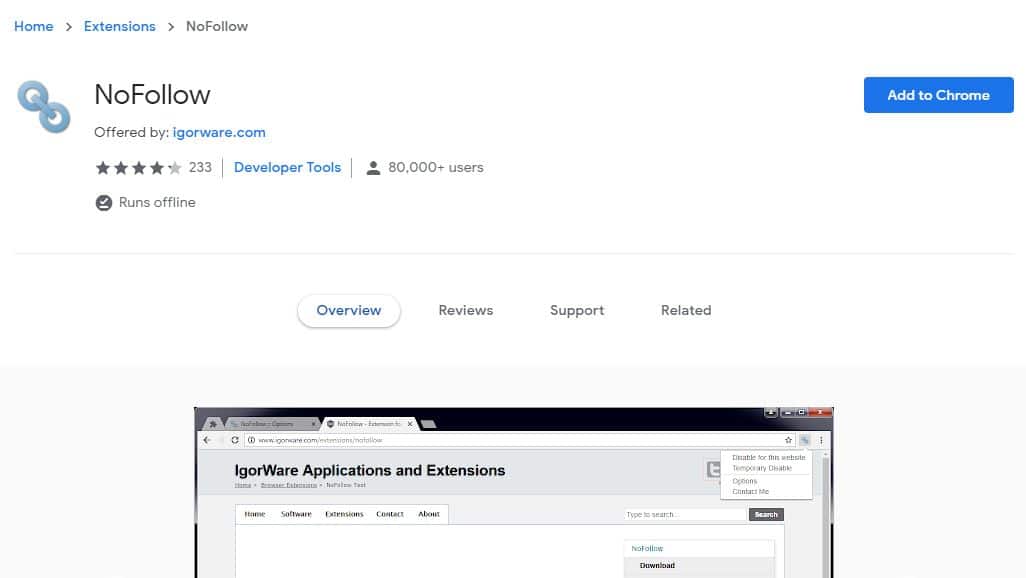 If, ​​as an SEO expert, you don't want a web page to be counted for your search engine rankings, just give it the nofollow attribute.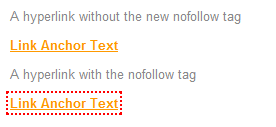 Source : IgorWare
Here is a small, simple extension, but very practical. It allows you, when enabled, to highlight all nofollow links on a page.
Publisher: OpenLink Software
Price: Free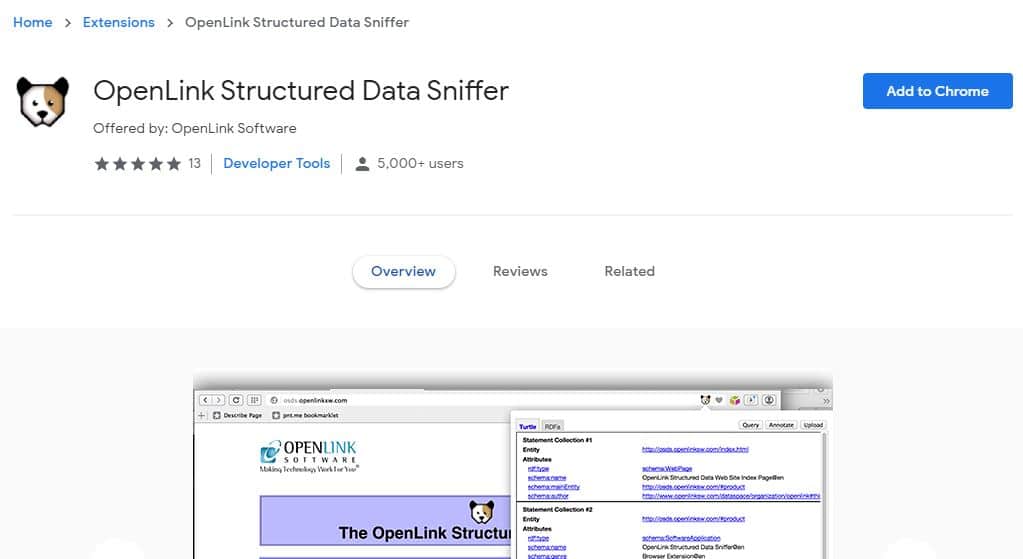 You want to take the next step in SEO, but don't know where to start. Here's a lead: structural metadata.
Metadata is data about the content of your website. Put simply, metadata provides information about your site's data. The content comes in various forms including text and image.
Without going into details, note that this metadata can be used to improve your ranking in search engines.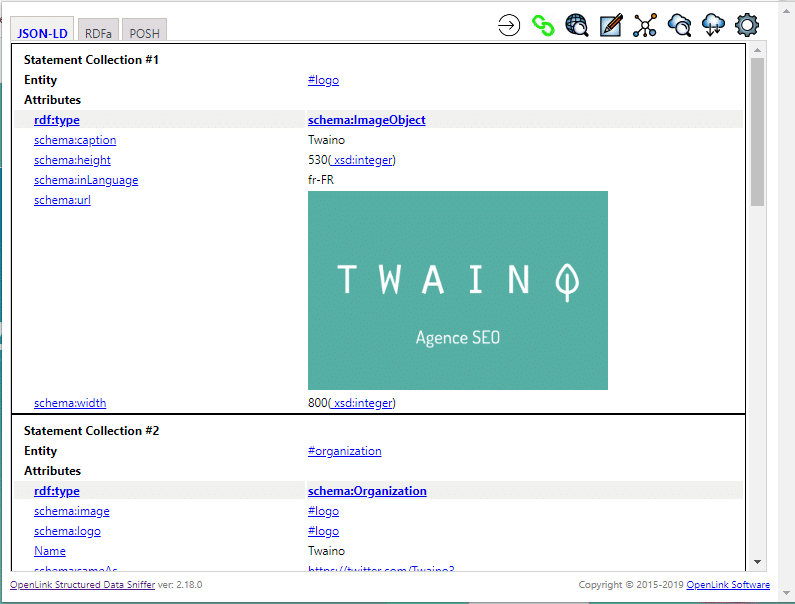 OpenLink Structured Data Sniffer is an extension that allows you to extract and display structural metadata from your website. The extension currently supports RDF, JSON-LD, Turtle, etc.
Once extracted, it's time for optimization!
Publisher: Data Miner
Price: Limited free plan and paid plan from $20 per month
Data Scraper extension extracts all data from a web page in HTML and returns it in different formats of workbooks including Excel and Google Sheets. Other supported formats are .xls, .csv, .xlsx or .tsv.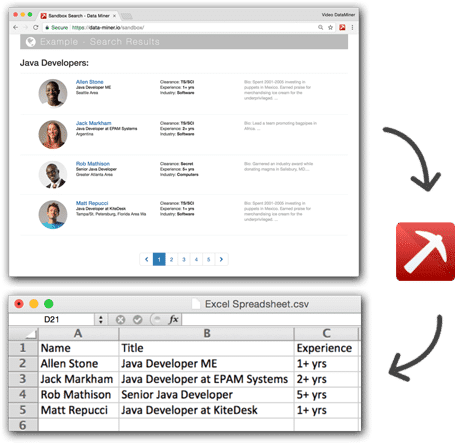 Source : Data Miner
This extension should be used with caution. Some call this feature "malicious". But for us SEO specialists, it's a tool we use ethically.
Publisher: WhatRuns
Price: Free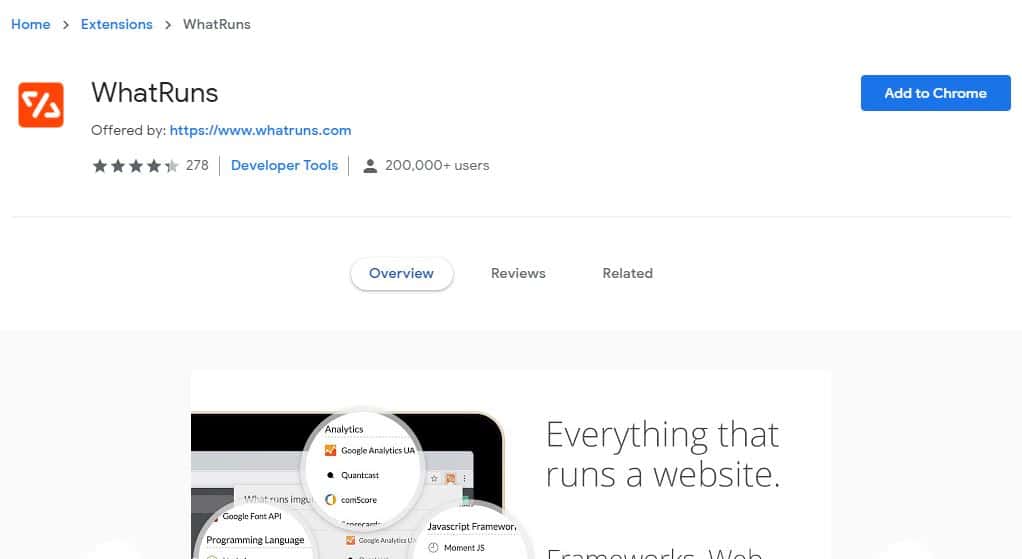 From English "What runs", the WhatRuns extension allows you to see the platforms and systems used by the websites you visit, regardless of whether it is your site web or that of a competitor.
You can even do a bit of spying like all Specialists do. Well, let's call it "competition assessment" instead.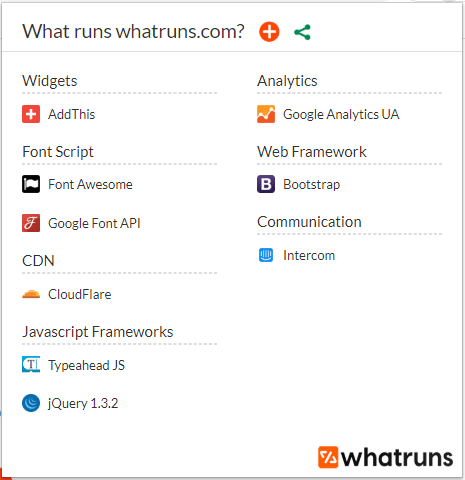 The extension comes with a feature that notifies you when new technology is added or removed from a site you follow.
Publisher: Wappalyzer
Price: Free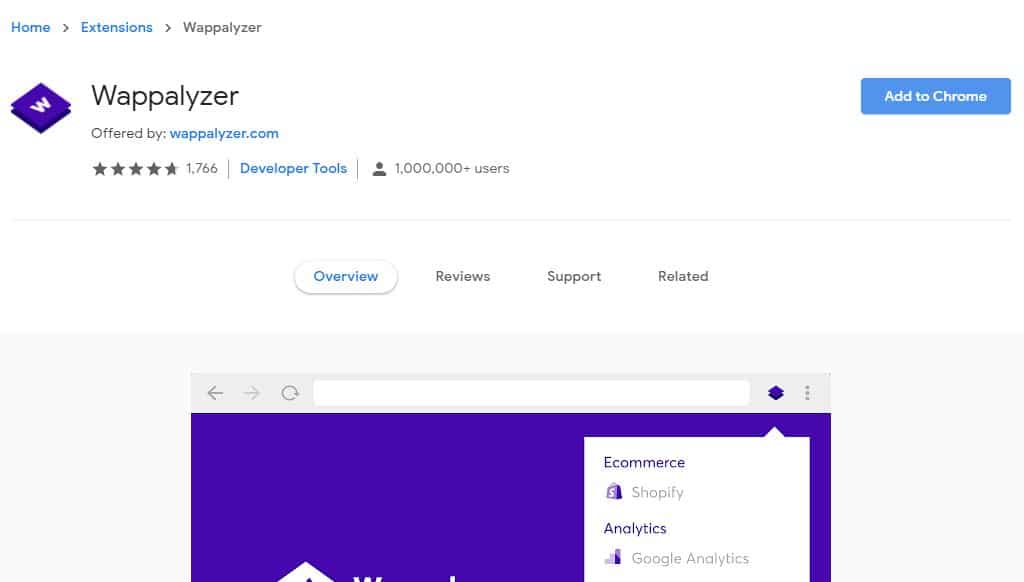 Wappalyzer is an extension of the same kind as WhatRuns. So if you are not satisfied with one, you can always try the other.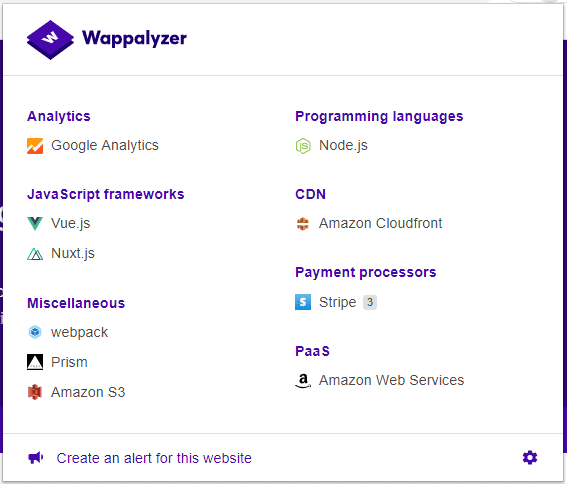 At first glance, Wappalyzer looks better than its previous counterpart. It has around 800,000 more users and slightly higher reviews.
So all you have to do is take the information provided by the extension and apply it to your own website and make the necessary changes to it in order to obtain the long-term SEO results.
Publisher: Thomas Ardal
Price: Free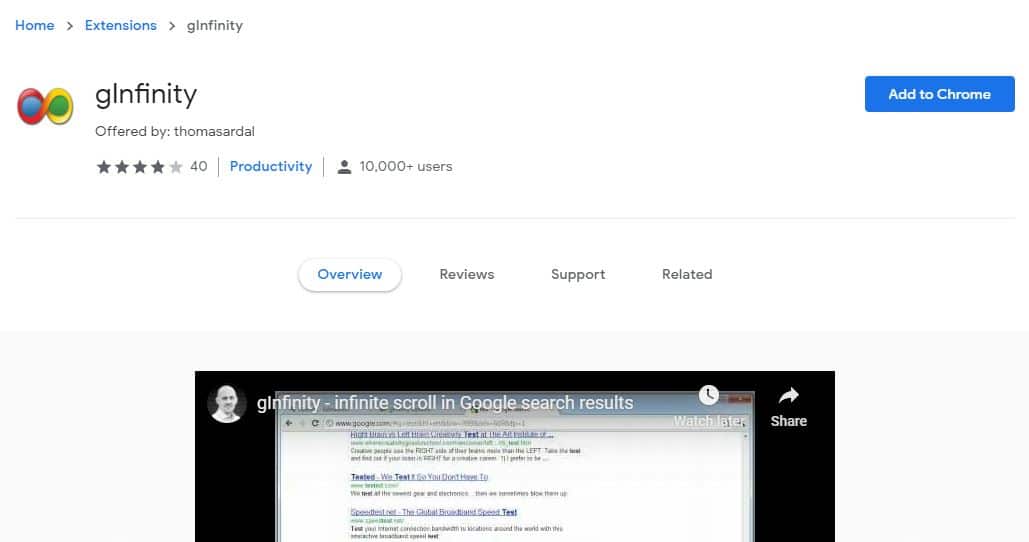 scroll through search results on your search engine.
Normally, the number of results on a page after a Google search is limited to 10 in general.
Now imagine that you could save about 3 seconds (that you would have spent moving to the next page) for every 10 results. Assuming that you have to jump from one page to another on your SERP about 50 times in a day, you save precious minutes.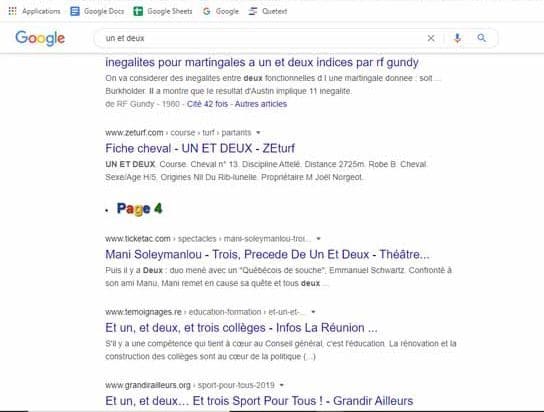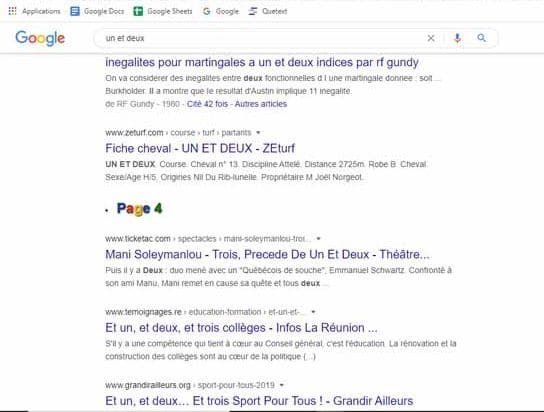 Plus, when used with other analytics tools like MozBar, you get search results more easily, and in bulk.
In summary
Thanks to the evolution of technology, we are entitled to the appearance of new tools that are more and more efficient and ergonomic. While it was necessary to leave the web page to be analyzed and go to software, it is now possible to audit a website without leaving it.
This feat is due to Google Chrome extensions that offer a lot of data like traditional solutions.
But while it is certain that these extensions will have a significant impact on your productivity and save you a lot of time, it is not recommended to use several of them at the same time.
Focus on using the ones that will add real value to your SEO project.
I hope these different tools will be of great help to your marketing strategy and I will keep updating the list when I discover new extensions.
So which ones do you use most often?