The hype surrounding artificial intelligence is not about to die down. Microsoft recently unveiled a number of innovative artificial intelligence (AI) updates for its Bing search engine that will delight automation enthusiasts.
The new features include visual search, Bing Chat Enterprise and Microsoft 365 Copilot. If you're not a fan of AI, let me tell you that these new features will change your everyday life.
In this article, we'll take a look at each of these new features and what they're all about.
What's new in Bing thanks to AI?
Here are the key points to remember:
Visual search is now fully functional on Bing Chat.
Bing Chat Enterprise is designed to protect sensitive business data.
Microsoft 365 Copilot is a highly sophisticated AI system that acts as a true personal assistant.
Image search now possible in Bing Chat
Microsoft had already announced that visual search and image recognition functions were being deployed on Bing Chat.
Now it's official: visual search is ready for use, a major advance that looks promising for all users.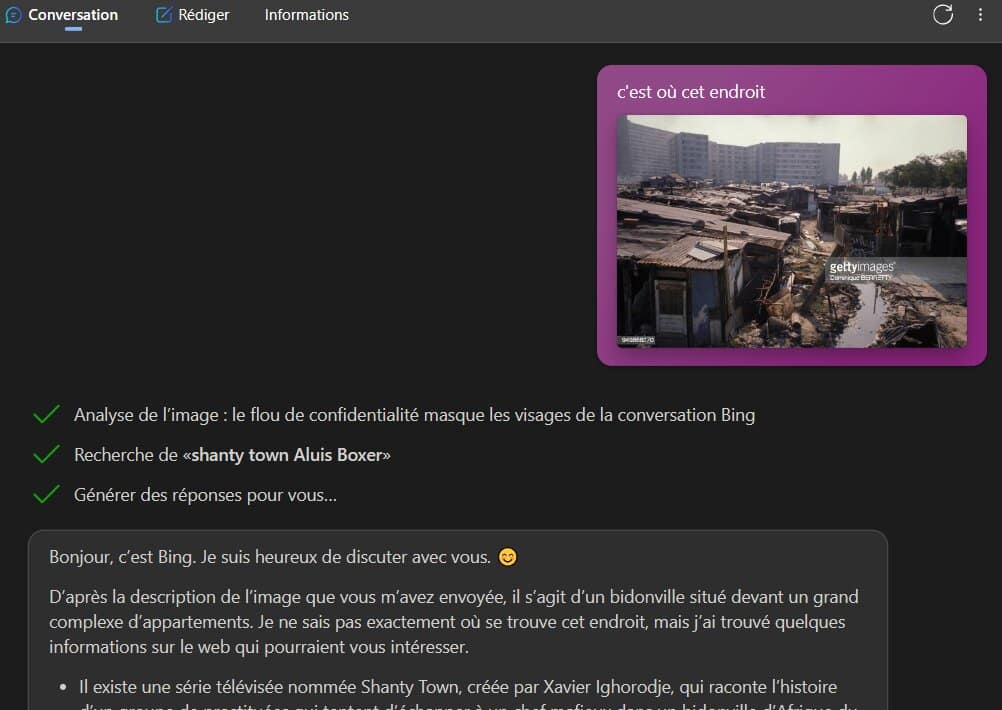 With this feature, you can upload an image to Bing Chat and discover web content connected to it. Bing has the ability to interpret the context of an image as well as answer questions about it.
According to Yusuf Mehdi and Jared Spataro, "Whether you're on vacation in a foreign city and wondering something about the local architecture, or looking for recipe ideas based on what's in your fridge, simply upload the image to Bing Chat and use the web's deep knowledge to get answers."
Bing Chat Enterprise
In parallel, Microsoft's AI is now aiming to strengthen security within companies.
Indeed, according to a Microsoft study, 70% of employees say they delegate as much work as possible to AI tools. Microsoft points out that the use of AI tools not specifically designed for enterprises could compromise sensitive corporate data.
For this reason, Microsoft has introduced Bing Chat Enterprise, a version of Bing Chat specifically tailored to businesses, with enhanced protection for business data.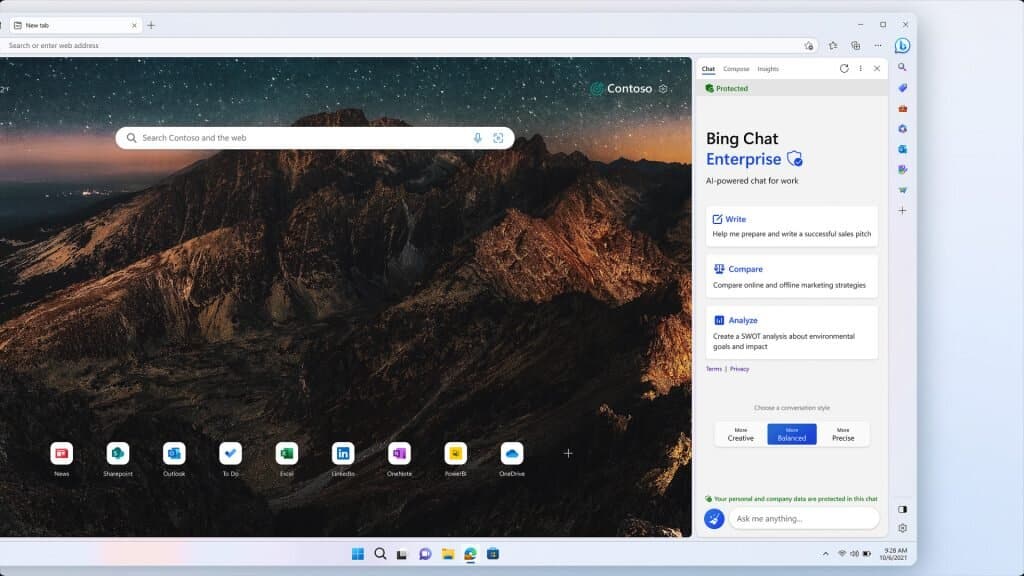 Source : microsoft
In this version, chat information is not stored, and Microsoft has no way of viewing conversations. What's more, this data is not used to train AI models.
Bing Chat Enterprise is now available in Microsoft 365 E3, E5, Business Standard and Business Premium. Soon, it will also be available separately for $5 per user per month.
Microsoft 365 Copilot
Finally, the last innovation announced by the American firm is Microsoft 365 Copilot, a new work mode in which an advanced AI system compiles and analyzes a company's data.
Microsoft 365 Copilot can perform numerous tasks using company data. It is integrated with several applications to stimulate your creativity in Word and analyze your data in Excel. It can also keep presentations on PowerPoint, sort your e-mails in Outlook, summarize Teams meetings and more.
The company also unveiled a new indexing tool that will enable Copilot to better exploit internal company data.
Copilot can also draw on Microsoft Designer, the company's new graphics creation application, to bring these ideas to life by creating images from idea suggestions developed on Whiteboard.
For example, DALL-E, OpenAI's text-based image generator, is integrated with Microsoft PowerPoint. Users can ask Copilot to create images from text descriptions, which can then be inserted into presentations.
Copilot in PowerPoint can also enhance text, such as converting bulleted lists into paragraphs (or vice versa) or modifying tone.
It can also produce a SWOT analysis using your internal or public data, keep you informed of a project's progress, or even send e-mails. It works like a real assistant.
Microsoft 365 Copilot will be available to business customers for $30 per user per month.
In a nutshell
These AI-based innovations represent real breakthroughs for Microsoft, and demonstrate the company's commitment to bringing innovative solutions to users and businesses alike. What do you think of these advances from Microsoft?