Majestic SEO – The definitive guide
According to a recent study by yoomweb, backlinks are the third main factor on which Google uses to rank web pages.
If your main goal is to perform a successful link building activity, Majestic SEO can be an excellent choice.
Many SEO professionals use it because of the efficiency and variety of features it offers.
In this guide, we will mainly talk about:
His utility ;
Its operation;
Its main features;
Its advantages and disadvantages;
And its pricing.
So let's go!
Chapter 1: What is Majestic SEO and what is it for?
Dans ce chapitre, nous allons voir non seulement la définition et l'utilité de cet outil, mais aussi son fonctionnement et ses caractéristiques.
1.1. What is Majestic SEO?
Majestic SEO is a web positioning tool that follows all the websites in the network until it makes a complete map of the Internet to build a powerful database with links from all over the planet.
It is not an All-In-One tool that contains various functions related to web positioning, but rather focuses on everything related to incoming links (also called backlink or backlink).
Backlinks or inbound links are links from another page to yours.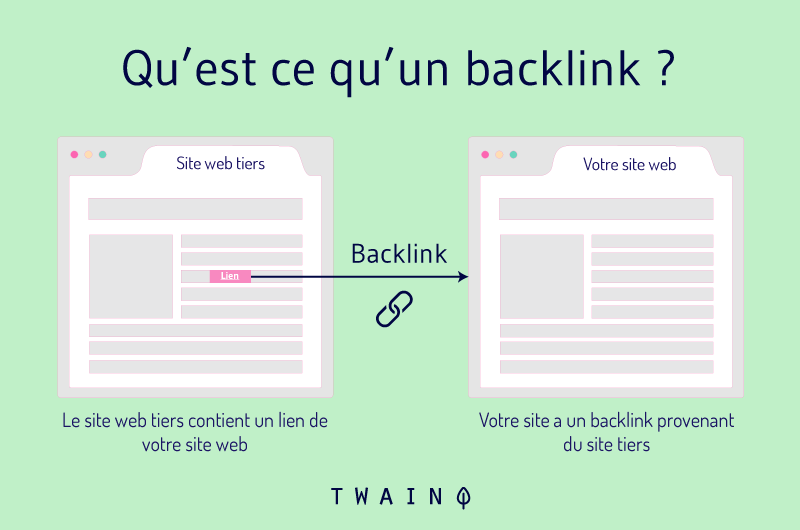 If your SEO strategy relies primarily on link building, you should have this tool because it will give you all the detailed information you need about your website's backlinks.
The more (qualitative) backlinks you have, the more reliably and relevant search engines will see your website. And this translates into a better position in the results.
Apart from the links which are its main utility, it also adds a series of additional SEO services that are very useful for beginners and experts.
It has 11 different sections, which are mentioned below:
Backlink history;
Bulk Backlink Checker;
Click Hunter;
Comparator;
Link Map Reports;
Keyword Checker;
Link Profile Fight;
Majestic Million;
Majestic Widgets;
Neighborhood Checker;
Website Explorer.
Each of them aims to perform all kinds of important tasks when it comes to planning positioning campaigns.
Before delving deeper into the features of the tool, it's good to explain what you can expect in general.
1.2. What can you do with Majestic SEO?
Majestic SEO helps you track, analyze and build organic backlinks.
It provides you with an overview of the link profile of your own website and that of your competitors.
Site owners typically use it to:
Finding domains to buy links from;
Know who the main competitors are and which of their content receives the most links and from whom;
Know the level of authority generated by a link. This way, users can understand if the impact of a link in a website will be positive or negative on Google rankings.
You can also analyze social media profiles with this tool. For example, if you enter a Twitter profile, Majestic SEO will tell you its authority, the number of links pointing to it, and the topics it ranks on.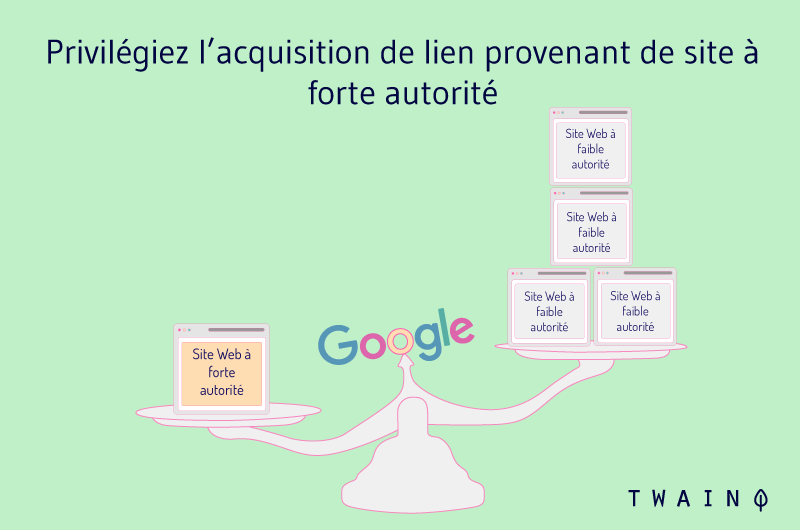 This way, you will be able to know if someone who has thousands of followers is really influential or just a bloated account.
You can also use Majestic SEO to identify negative links to remove.
With this tool, you get answers to some important questions about your link profile.
You will learn among other things:
How many backlinks your website or another website has;
How these backlinks are built;
Anchors that are used for backlinks that have been counted;
Etc.
You can use this information to further analyze and optimize your pages.
1.3. How does Majestic SEO work?
This tool can be used easily and simply. You just need to create an account with an email. Then you can go to the search bar and place the link you want to analyze to get the information you need.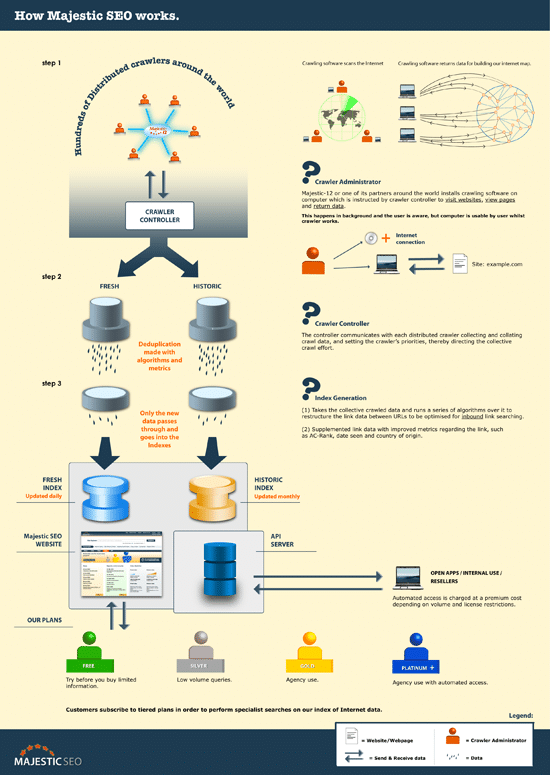 Source : How Majestic SEO Works
You can use this tool without being registered, but the information it provides will be limited, as well as the number of websites you can visit.
It is therefore recommended to register in order to obtain precise information and to consult the sites which you wish.
1.4. Some features of Majestic SEO
This SEO analysis and research tool offers several interesting features. Here are some mentioned below:
Easy to understand index;
Site Explorer;
Flow of trust;
Campaigns;
Mass backlink checker;
Historical index;
Raw data exports;
Custom reports;
Compare sites;
History stream metrics;
Competition analysis ;
Backlink history;
Search Explorer;
Keyword research tools;
Email alerts;
Communication panel;
Keyword checker;
Track keyword positions;
Backlink tracking;
Etc.
Find out more details about the main features of this tool below.
Chapter 2: Major Features of Majestic SEO Tool
Majestic SEO comes with a lot of features. It will help you access and interpret all your backlinks databases. With the help of this tool, you can update your website frequently.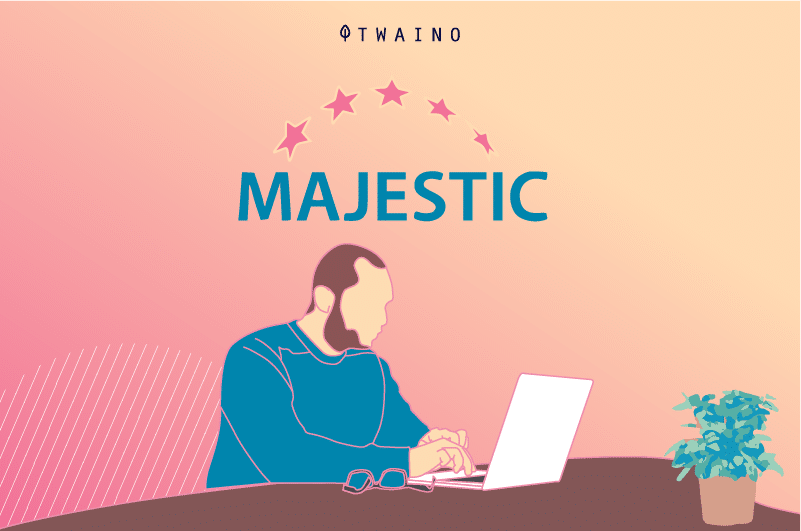 Here are some of its features:
2.1. Site explorer (site explorer)
When you log in to Majestic, you need to choose the "Tools" menu, then "Site Explorer Overview", and the page will direct you to the section called "Summary".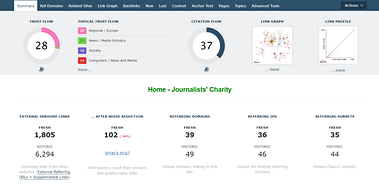 This option of Majestic SEO allows you to analyze in detail a URL, whether it is yours or that of a third party.
It has a huge amount of information available.
With just one click, you will know:
What is the webpage about;
How many backlinks it has, both inbound and outbound;
And how many inbound links have been lost and gained over time.
If you see that a website has lost a lot of links lately, it means that it has a higher chance of losing authority and, therefore, positions in the SERPs. You should therefore not think of buying links on this one.
We recommend using this option to get the outbound link metric of the website that links to you so you know how many domains it points to. The more outbound links there are, the less authority they carry.
Additionally, you will also see all the anchor text used to link to your website.
2.2. Majestic million
This feature lets you see which web pages are getting the most links based on data from Majestic SEO.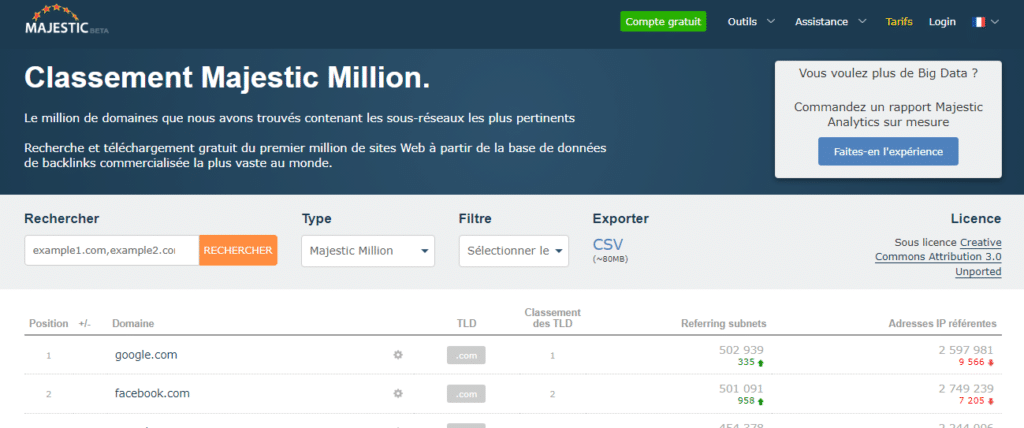 This information is used to check not only the position of your website, but also that of your competitors or any other page you wish to analyze.
Of course, don't be depressed if you don't appear in this list, because it covers websites from all over the world.
2.3. Majestic Backlink Analyzer (Majestic Plugin)
It is possible to integrate Majestic with Chrome or Firefox via a plugin called Majestic Blacklink Analyzer. Note that it is not mandatory to have an account with Majestic for the basic indicators, since the extensions are free.
On the Majestic SEO page, you will find two icons at the top of the site, as shown in this image:

Additionally, on every website that appears in the browser, the plugin presents you with:
Number of links on the site;
Number of hyperlinks to the URL;
It shows the strength and reliability of ties at all levels;
Graph of link profiles and link acquisition timelines.
2.4. Majestic Reports (Standard and Advanced Reports)

By being registered with Majestic Seo, you will have the option to receive reports (about your website or that of your competitors), which can be standard or advanced.
These standard report types will show you the most important data for a domain or URL, in the Majestic index.
It allows inserting up to 20 URLs for free. Which means that you will have all the information corresponding to a site in a simple report, but with relevant information.
This report is composed of three parts which are:
General view ;
Backlink view;
Showing anchor text.
2.5. Bulk backlink checker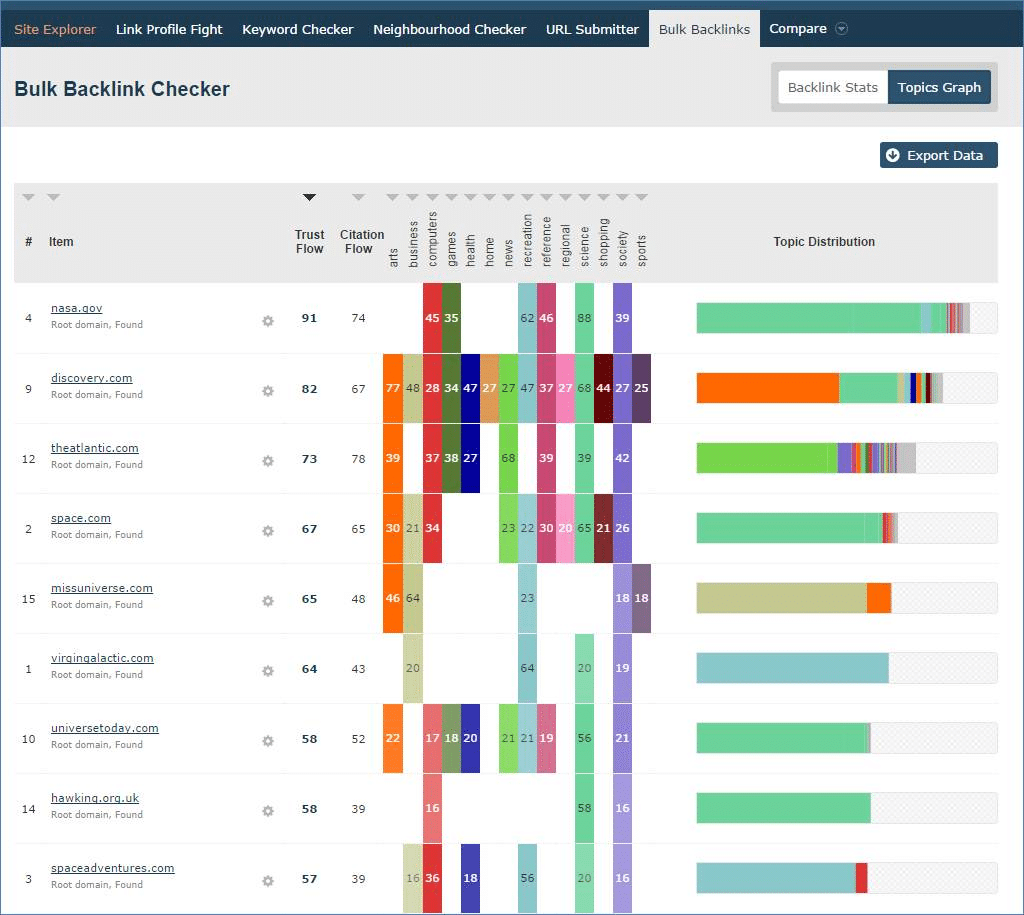 Source : Majestic
If you need to know exactly what a domain's inbound links are, you'll need to use this tool that can analyze up to 1,000 URLs loaded from a file or 400 if you enter them manually.
Moreover, it will tell you how many domains are pointing to your website and which of them are considered referring domains, i.e. those with more authority.

It lets you know all the websites that point to a list of domains. So you can quickly see the details of all the URLs that point to your website.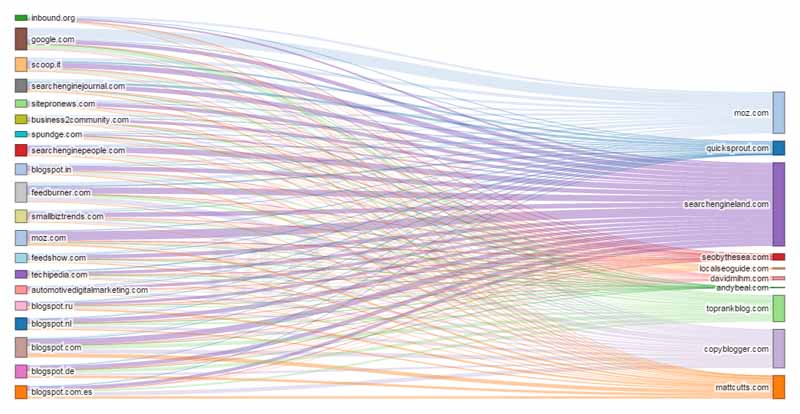 Source : Majestic
Moreover, thanks to this function, you will be able to know which domains contain links to the web pages of your competitors. This will help you discover sites where you can try to get inbound links to yours.
This tool is particularly valuable if you are starting to evolve in a sector that you do not yet really master.
Thanks to it, you will not only know your most influential competitors, but by detecting the pages from which they receive the most links, you have a high chance of earning a link to your website as well.
2.7. Link Profile Fight (Majestic Link Profile Comparator)
Thanks to this function, you will be able to compare the number of inbound links of two different web pages in a very visual way through a color graph.

You will also be able to see the main metrics of each of them compared to the other:
The Quote Flow;
The Trust Flow;
External backlinks;
Referring domains;
And indexed URLs.
Without a doubt, it is the best option to quickly and easily compare your website with that of your competitors.
With the Majestic SEO payment option, you can also use the Compare feature where you can compare up to 5 different web pages.
This option will show you the reputation of the sites you receive inbound links from. Just put in a domain and it will show you a list of websites hosted on the same IP and subnet.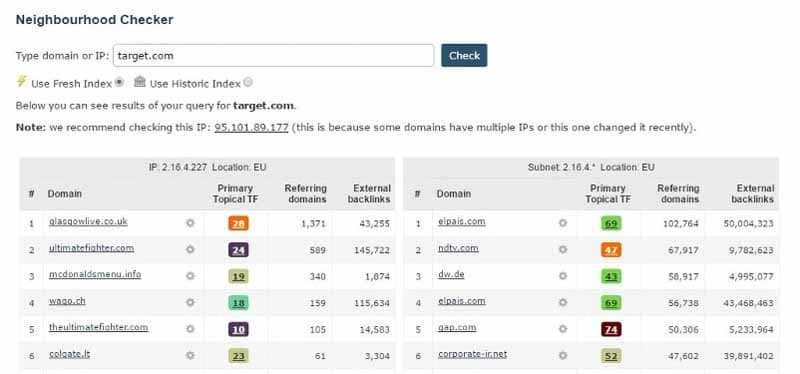 Source : Martechwiz
This way you will know if they are linking to you from a link farm, i.e. spammers.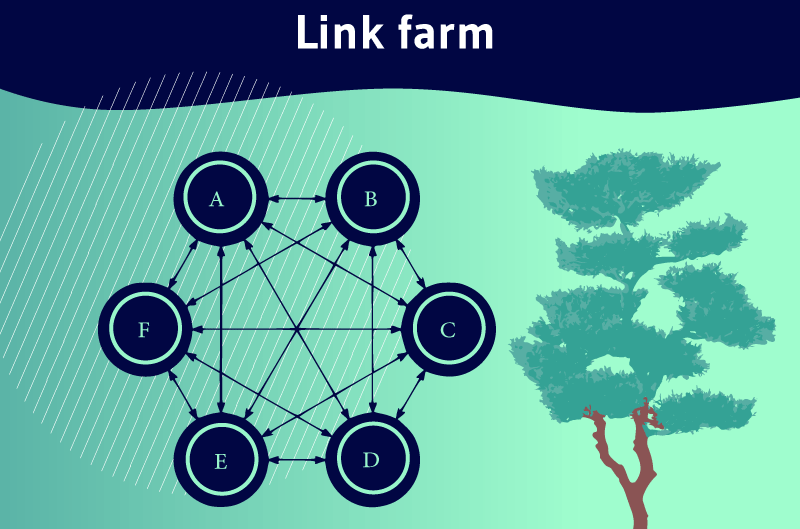 If so, you should get rid of such links as soon as possible because they can harm you more than you think. It is advisable to use this tool before buying a link on a link building platform.
Again, Majestic SEO not only gives you information about shared IP addresses, but it will also tell you:
The links that these websites have;
From how many domains;
And what is their TTF (thematic trust flow).
With the Majestic Keyword Checker, it is possible for webmasters to find out how often a keyword appears in the platform's listings. This makes it easier to know if that keyword you want to use has high competition.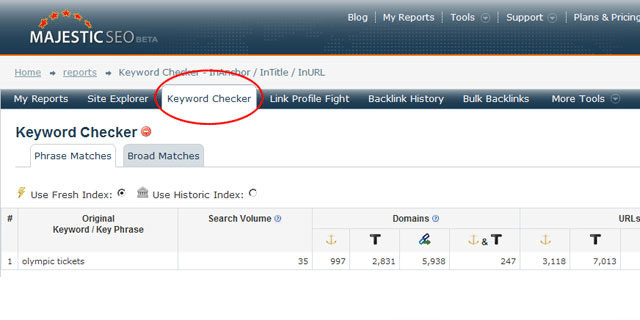 Source : State of Digital
That is, if many web pages use it as a term to position themselves.
This way, you can decide if it's worth working to rank for that keyword or choosing a less competitive one. To make your decision easier, Majestic SEO assigns a number from 1 to 100: the higher the number, the more often this keyword appears.
2.10. Historic index
As the name suggests, this is a history of all the information Majestic SEO has collected since you've been using the tool.

Source : Majestic
As you can imagine, this is a fairly large report and it is more complicated to update, taking place once a month and therefore showing a few days behind schedule. Our advice is to combine it with data from the Fresh index.
2.11. Fresh Index
It is a smaller index and may be updated more frequently.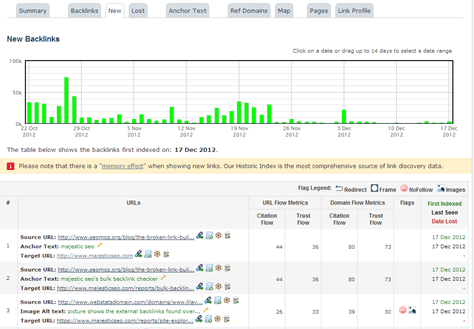 Source : Majestic
Your data is integrated into the historical index when it is updated.
Therefore, it is likely that the oldest backlinks in the new index are in the historical index. It is important to note that the new index is updated weekly and contains link data from the last 90 days.
2.12. Citation Flow or CF
It is important to understand how the Majestic SEO citation feed works since it is a benchmark metric in the SEO environment.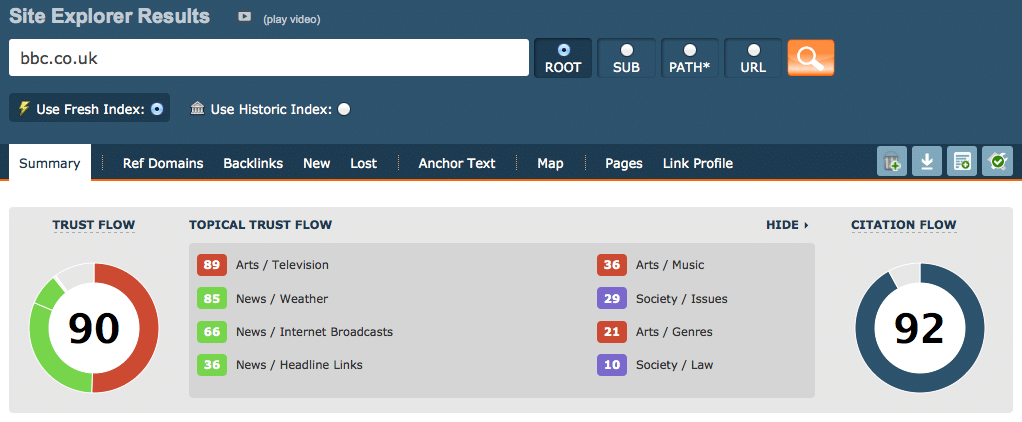 Source : Majestic
To get this score, Majestic measures the number of inbound links your website receives. In addition, it predicts the influence that each URL will have, based on the web pages that link to it.
That is to say, it takes into account the value of each link to obtain this metric since, as you know, not all links carry the same degree of authority.
2.13. Trust Flow or TF
Knowing what the Majestic SEO Trust flow is for will be useful for knowing the quality of the links pointing to your website.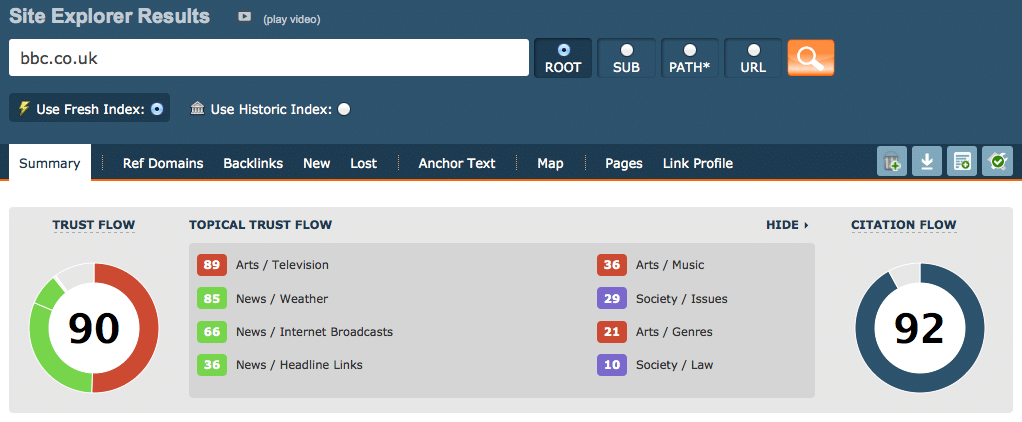 Source : Majestic
This metric is based on the quality of incoming links, that is to say the quality of the links that point to our site.
The way to calculate it is to compare the score of the incoming link with that of the manually selected authority sites. The closer the two scores are, the more trustworthy the link to your website.
This metric along with the previous one (Citation Flow) will best indicate how your link building strategy is working.
To get a rough idea of your link building strategy, you should divide the TF by the CF and the closer to 1 (or even higher) the better.
If you manage to exceed 1, it means that in your incoming links, the quality exceeds the quantity, which is a very good sign of the linkbuilding operation and that we are on the right track. 😉
For example, if the Trust Flow (40) is divided by the Citation Flow (52), the result will be 0.77. This is a good indication of how link building works. If the value was much lower than the one presented, it would indicate that the inbound links are of low quality.
It is more difficult to increase the number of TF than CF because it is more difficult to obtain quality links than a large number of links
2.14. Topical Trust Flow or TTF
Between the metrics called Trust Flow and Citation Flow, you will see a box called Topical Trust Flow.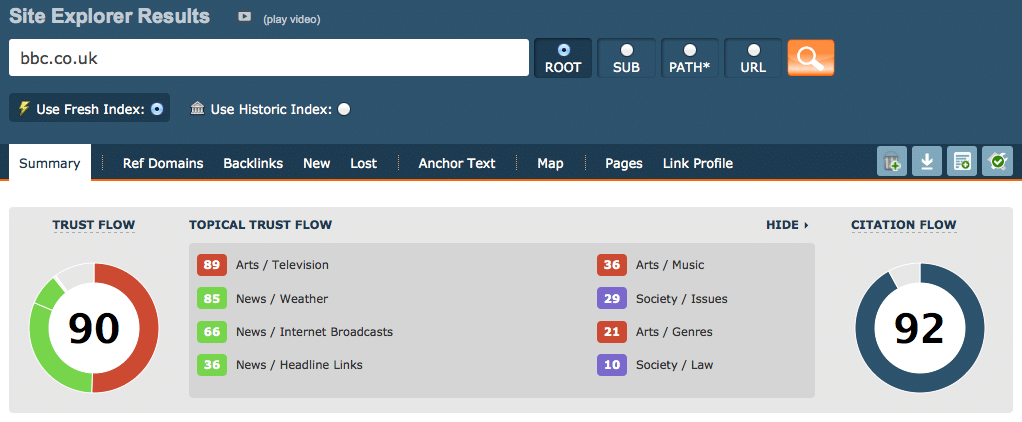 Source : Majestic
This table numbers the general categories of websites that link to the analyzed domain.
Majestic SEO categorizes all web pages into around 1,000 themes or categories, which lets you know if the website referring you is thematically related to your page.
Additionally, the tool provides a series of numbers based on a scale of 0 to 100. These numbers show the related influence of a web page or root domain, in a given category.
The higher this number, the more the thematic relationship exists and therefore, the more confidence it will give Google as to the naturalness and relevance of this link.
Of course, this feature is only available in the paid option.
In the "Topics" tab of this function, you will see the list of topics under which a specific domain is classified according to the incoming links it receives.
If a domain receives many inbound links from pages of a certain topic, it will eventually rank under that topic, even if it is not its main topic. Do you see the importance of getting links from websites related to your topic?
Moreover, within this same function, you will also get detailed information such as:
Referring domains;
The sections from which the inbound links come;
Backlinks;
Links acquired and lost;
The anchor text used;
Etc.
In short, a complete report on the area you want to analyze.
2.15. Report on "Topics"
Another useful overview of Majestic SEO is the Topics report. This is a report of the topics of sites linked to you.

Source : Majestic
A good backlink is not only reliable, but also relevant. This means that it comes from websites that are in the same theme as you.
Additionally, search engines determine what your site is about by looking at where your backlinks are coming from. This report gives you insight into how they view your website.
Suppose you have a website on the subject of "Health". Then you can see what topics of websites are linking to your page.
If these fall into the same category, you confirm to search engines that the subject of your page is indeed "healthy" and that others writing on the same subject find it relevant enough to link to.
This feature makes Majestic SEO unique. No other program allows you to request a similar report.
2.16. Referring domains
Under the Referring Domains tab, you can see which domains are linked to your website.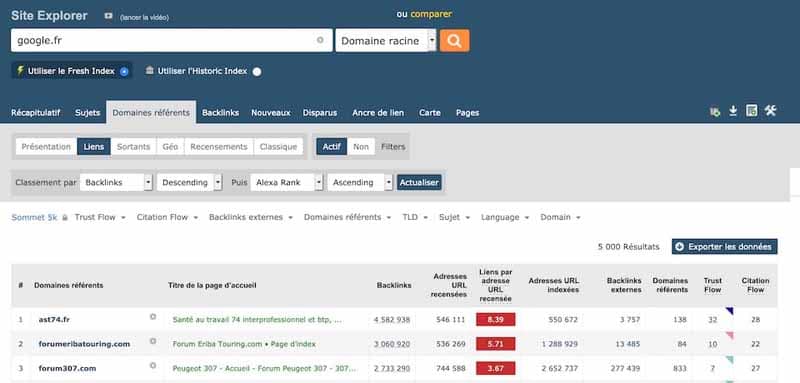 Source : Nextlevel
This is important because if you have five backlinks, for example, and they all come from the same source, they are each less valuable than five backlinks from five separate websites.
If this happens too often, your Trust Flow will decrease. You can sort the list of referring domains in different ways, for example:
By Trust Flow;
By Quote Flow;
And by Top Level Domain.
It is possible to expand this information further and request the exact pages that refer to you.
2.17. Backlinks Report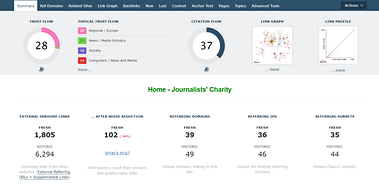 Via the Backlinks tab, Majestic Pro presents you with an overview of your website's backlinks profile. You can also organize them in all sorts of ways to find the information you need.
You can request backlinks from websites with a certain high (or low) trust flow.
You can also see which backlinks have been removed, which have been added and it is possible to download all this data in an Excel spreadsheet or a CSV document.
2.18. link anchor
Anchor text is the text used for the link itself. It is important that it matches the topic of your page. Poor anchor text reduces backlink strength. The better it describes what is on your page, the better the backlink scores.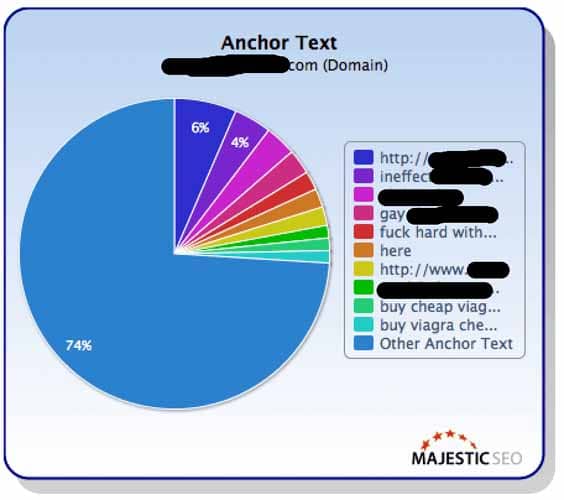 Source : Pragm
If you see lower quality anchor text here, then you need to send the webmaster a neat email asking if they can adjust the text.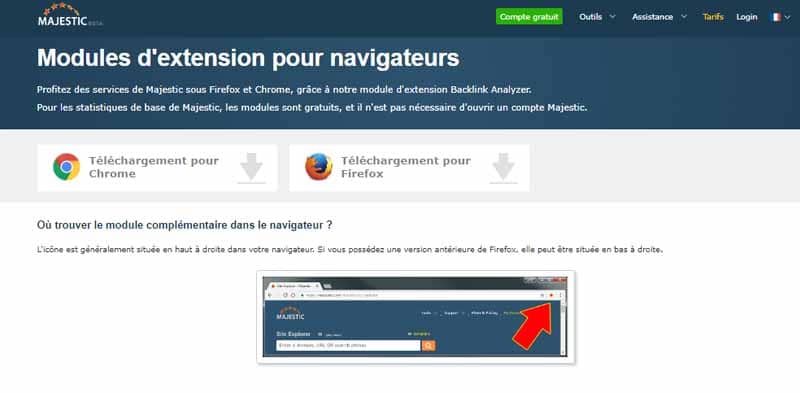 These are small applications (Widget) and Plugin for browsers or websites.
Using this section, you can compare up to 5 different domains. It provides results such as:
Reference domains;
Reference IP addresses;
Total number of external backlinks;
Educational external backlinks,
Etc.
To use this section, you must have a paid account, otherwise the function will be limited, i.e. you can only use two domains to compare.
The campaign in Majestic works differently than the campaign in other SEO tools. It also provides the same information about entering URLs, i.e. trust flow and citations, but in a different visual format.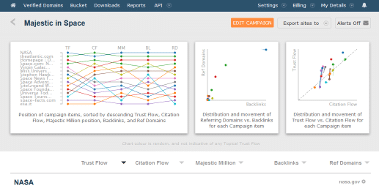 Source : Majestic
It contains different data showing methods, usually in some kind of theme.
2.21. Search Explorer
The Search Explorer is the Majestic's search engine that allows you to search for a keyword or site.

Majestic has its own algorithm where it displays results based on SEO factors. The result is based on the keyword that appeared in:
The title ;
Backlinks;
And the URL.
However, this feature is only available to subscribers with the PRO plan.
2.22. Backlink history
Another useful feature of Majestic SEO is that you can also request a large amount of information about your organic backlink history.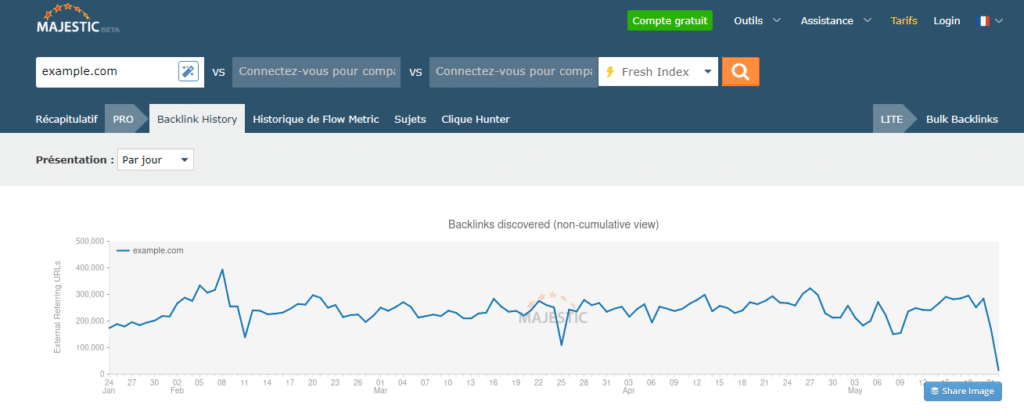 This section will let you know how many inbound links certain specific domains and subdomains have.
This way you can find out what the backlink history of a web page has been and even detect when link building campaigns have been run.
Building links and working on a good backlink profile is a job that is never done.
Majestic SEO therefore gives you an overview of the number of backlinks you have collected during a certain period and you can see if your efforts are having the desired results.
You should see a nice gradual upline. This means that you are naturally collecting backlinks. If there are large peaks and troughs, it may indicate buying backlinks.
Another reason for a spike is a social media post that has gone "viral." Search engines see a difference in this, so you don't have to worry about your pic being misinterpreted.
The PRO plan is required to have full access to this feature.
Chapter 3: Advantages, disadvantages and price of Majestic SEO
Majestic SEO is a program that can help you a lot. A large amount of information is offered to you with which you can perfect your link profile.

Source : Comparing SEOmoz, MajesticSEO & Ahrefs Link Tools [Infographic] (infographicjournal.com)
At the same time, there are also some disadvantages. We've listed them with the benefits to help you decide.
3.1. Benefits of using Majestic SEO
Majestic is a high quality SEO tool with many benefits. Here are a few below:
Majestic SEO is a program that gives you all the information you need to get serious about link building and maintaining your backlinks;
It has unique features not found in other programs, such as Topics Report;
You can see the Trust Flow of websites linking to you and quickly highlight toxic backlinks and bad anchor texts;
You can see at a glance where you are, how your backlinks are being built and where the bottlenecks are;
With Majestic SEO you work on your authority, analyze the authority of your competitors and surpass them.
The data includes the quantity (citation flow) and quality (trust flow) of links pointing to your site;
Offers an SEO extension for Chrome and Firefox browsers;
The Majestic Million feature offers rankings of 1 million top performing websites;
Majestic SEO support team available 24/7: If you don't understand the complex features, they will help you and make sure to answer your questions;
Offers data through its API (Application Programming Interface) which is an intermediary method to connect Majestic tools and applications;
Has a private search engine with a clear ranking factor;
Full data access for link builders;
Establishes a connection with Google Search Console;
Offers many report options;
Good for full competitive analysis;
Reliable tool for backlinks.
3.2. Disadvantages of using Majestic SEO
Here are the main disadvantages of this tool:
To take full advantage of Majestic SEO, you have to take out a subscription and it costs money;
It is a tool programmed only for link building, so for all other SEO methods you need a different tool. This is inconvenient and there are also comprehensive tools available that cover all SEO factors including backlinks;
If you don't want to take link building very seriously and just want a glimpse of how your website performs, it's better to choose another (free) program;
Since it is not an all-in-one tool, many SEO features are not provided;
The user interface is outdated and the user experience is average;
Does not integrate with Google Analytics.
3.3. What are the prices of Majestic SEO?
Majestic SEO offers a free version and offers access to domain search with the Site Explorer view. However, it only provides a limited amount of data. Plus, the Majestic SEO free trial only lasts for one week.
Beyond that, it offers three plans depending on its features and uses: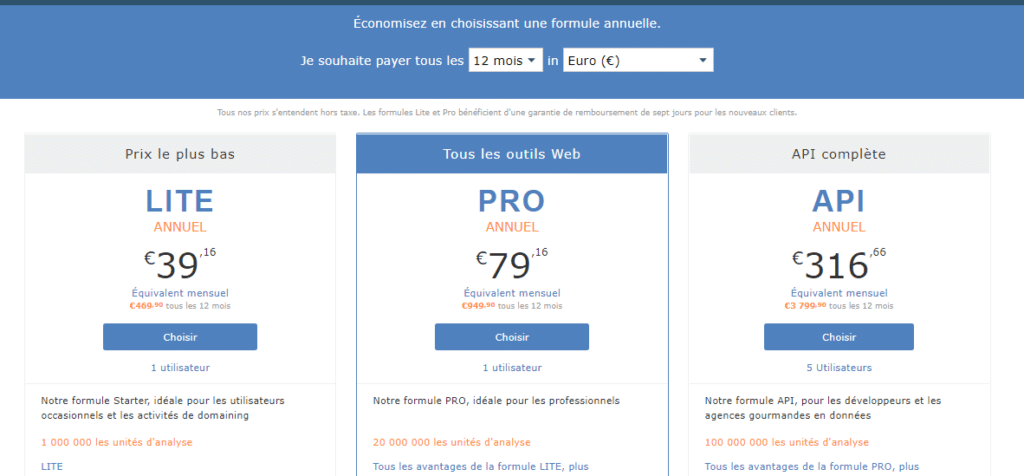 Majestic SEO's pricing is reasonable and won't put much strain on your pocket.
It offers a Lite plan for €39.16 per year for one user. This plan will give a lot of access available to the user on a daily basis.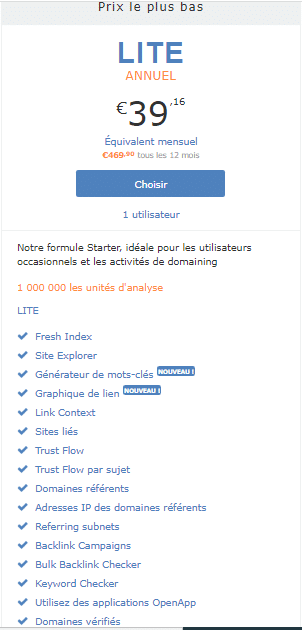 The Pro plan, which is the medium, is available at €79.16: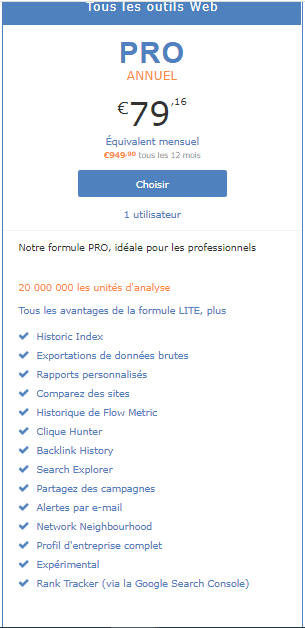 The latest plan, Full API, which is the biggest, is available at €316.66, which is a bit pricey. However, it's not a bad choice if many of you use it.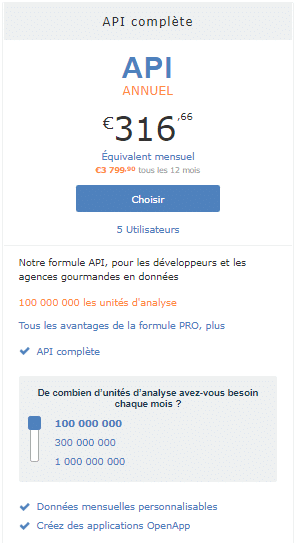 It accepts up to 5 different users.
Chapter 4: All About Domain Authority, Trust Ratio, Trust Flow and Citation Flow in Majestic
4.1. What is authority in SEO?
Authority is an SEO concept that measures a website's popularity, based on specific metrics that Google considers important for improving your page's ranking. There are different types and ways to measure this authority.
4.2. What is a good Majestic SEO score?
Trust Flow is an SEO score provided by Majestic. Out of 100, the SEO score reveals the perceived reliability of a website identified by the quality of backlinks.
A Majestic SEO score identifies and indicates the quality of your outreach and similar activities. This score analyzes the reliability of your site. It will increase if the backlink pointing to your website is qualitative.
Getting a good SEO score is more complicated than a citation stream.
You will need to put time and effort into building good backlinks for your website. The Majestic tool can help you get there.
Here are the three SEO score rankings that will help you gauge your website's performance:
Below 10: This is considered a bad SEO score for Majestic. If your website is at this score level, you need to completely overhaul your link building strategy.
Between 10 and 50: This Majestic SEO score will indicate an average level of trust. E-commerce websites and several other websites fall into this range.
Greater than 50: This SEO score indicates a good level of trust. If your website has achieved this SEO score, you can maintain your website's reputation. Sites like YouTube, TED Talks, Yahoo, LinkedIn, and Vimeo will trust your website.
4.3. What is a good trust ratio?
Well, there are a lot of opinions on this, but generally a TR above 0.4 means there is a higher chance that the site will have low quality or very spammy links.
A TR greater than 0.4 is ideal. ​​
4.4. Why is Citation Flow not enough?
So why is Citation Flow or any other authority metric not enough to know the true authority of a domain?
Currently, there are various apps to check domain authority such as: Ahrefs, Moz, etc. And each other's metrics may vary, therefore looking at a single site would not give us true domain authority.
So you can't really judge the quality of a linked profile based on the citation stream alone.
This is where the beauty of Trust Flow comes in. This is a unique and important metric for the web in search engines.
Since it's all about trust, trust flow is much more difficult to manipulate than citation flow, domain authority, etc.
4.5. How is the trust ratio calculated in Majestic?
There are actually two different ways to calculate the Trust Ratio (TR). After all, it's a ratio, so you can calculate it by dividing Trust Flow (TF) by Citation Flow (CF) or vice versa.
However, the standard way SEOs tend to calculate this metric is trust stream (TF) divided by citation stream (CF).
For example, if your TF is only 20, but your CF is 50 then your confidence ratio (TR = TF/CF) is: 20/50=0.4
4.6. What is the relationship between Trust Flow and organic traffic?
By carefully observing the Trust Flow (TF) or trust flow, we can notice that there is a link between it and organic traffic.
Although this is often true, it is only a correlation. This is justified indirectly in the following two cases:
First of all, a higher Trust flow means you should theoretically have higher quality links. Therefore, Google considers it a higher quality website.
Second, if the site has high quality links, it is also likely to have higher quality content, which has the benefit of good user behavior signals.
4.7. How do Trust Flow and Citation Flow interact?
Another important consideration is how trust flow and citation flow interact with each other. Ideally, you need a good Trust Flow (TF) and Citation Flow (CF).
There are several situations that raise concerns:
A citation flow much higher than the trust flow means:
This situation may indicate that you have many links, but they are not of the best quality.
A flow of trust greater than the flow of citations means:
This means that you probably have fewer links, but these are of higher quality.
An equal TF and CF means:
This is also a good situation because it means that the links you have are trustworthy.
A TF slightly lower than CF means:
It's normal to have a lower TF, so if it's slightly or moderately lower, that's normal.
The ideal situation is to have a high Citation Flow, coupled with a high Trust Flow, which could indicate that you have a lot of authority and, more importantly, trusted authority.
Chapter 5: Other questions asked about Majestic SEO
5.1. What is Majestic used for?
This tool is used to understand how search engine algorithms influence rankings and to learn how specific keywords behave to effect positioning in SERP results pages.
Along with this, it is also possible to know the level of authority generated by a link. This way, users can understand if the impact of a link in a website will be positive or negative on Google rankings.
In this sense, it is an important tool for link building, because it allows us to identify sites that really contribute to a good position.
5.2. Who is Majestic SEO for?
This tool targets marketers and SEO specialists, and in particular, professionals who place great importance on finding quality backlinks.
5.3. Why is it necessary to use Majestic SEO?
SEO or SEM professionals understand that one of the most important ways to influence a website's ranking on search engine results pages is to acquire links from high authority websites.
Conversely, a link from a low-quality website can negatively impact your Google rankings.
While a good link from an "authoritative" website pointing to a URL can be worth 10,000 links in terms of increasing a URL's ranking in Google.
In order to find authority sites to buy from, you must first be able to identify which sites are really good (authoritative). Majestic provides the statistics that make these ratings possible.
Conclusion
You might find many SEO tools for keyword and content research, but for backlink analysis, Majestic SEO is the best tool.
His detailed analysis of everything related to backlinks has made him a reference.
It really is the best data provider for backlinks with the number of analysis methods it offers.
For those serious about SEO, Majestic works as a great tool to gain insight into competitor backlinks and thus rank your site.
I hope this guide will help you decide whether this tool is right for you or not.
Thanks for reading and see you soon!