Google is without a doubt the best search engine on the market in terms of efficiency. But when it comes to privacy, there are better alternatives.
It's no secret that the Mountain View giant uses user data for advertising purposes.
Of course, over time, Google has started to provide various privacy features, but some search engines do more.
After a deep analysis, here are the 11 alternatives that stood out for their commitment to their users' privacy.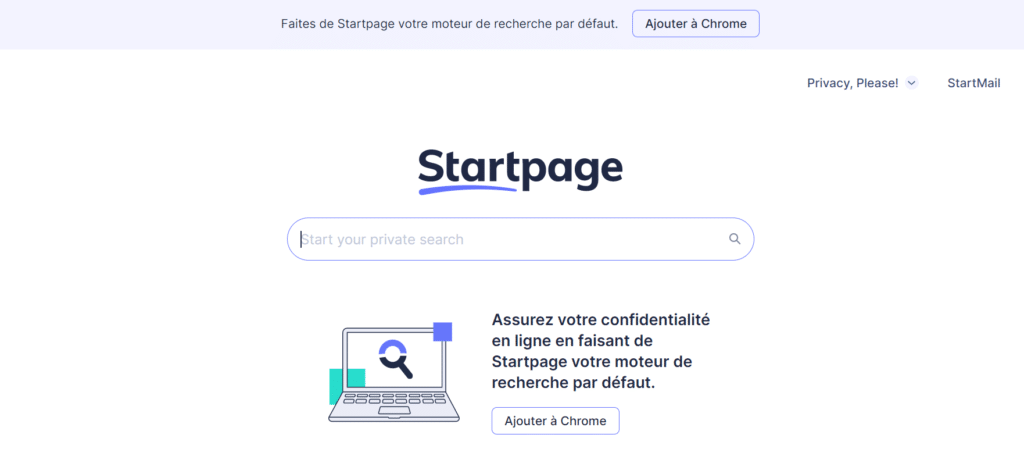 The first full-featured search engine with excellent features (like Google) and above all a policy that respects users' privacy is Startpage.
Based on the Google crawler, this search engine has some interesting gadgets, like a relay for search results.
It offers a host of external services, including tracking blocking and a messaging service of its own. In addition, it does not have the data tracking mode like some other search engines.
First impressions of Startpage
Startpage's homepage looks a bit corporate with its purple color scheme and somewhat dull buttons. It is coherent, intuitive and pleasantly minimalist.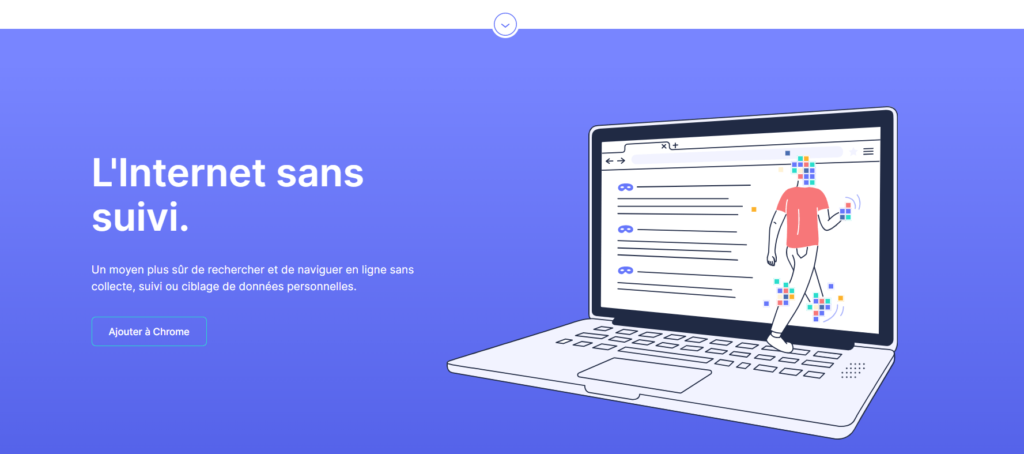 Startpage resembles Google, not only in results, but also in appearance. However, like many other search engines, it displays pop-ups and warnings. Of course, the user can disable them if he wants.

Startpage's anonymous mode feature
For several years Startpage has offered a feature now called "Anonymous Mode". Users can access it by clicking on an icon next to the search results.

The website is then loaded via a proxy from Startpage itself. Thus, all user information seems to come from the engine, not from the user in question.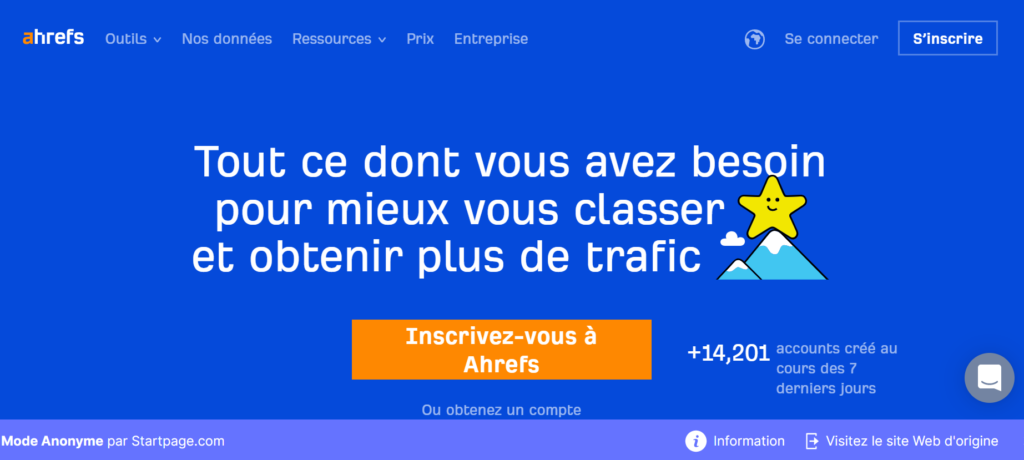 The system Startpage uses to protect the data is simple. Once you start your search on the platform, it processes it anonymously before offering you any results.
No search history is stored in their databases and no tracking cookies are collected. The search results arrive regardless of the information of the person who launched them.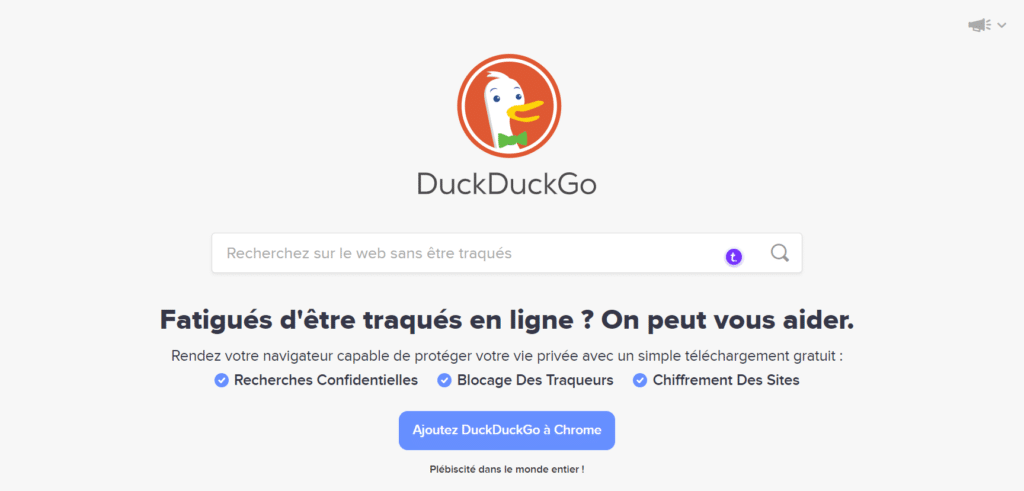 Of course, DuckDuckGo should not be missing from the list of anonymous search engines. This platform is probably the most popular one when it comes to untracked search.
Having a simple and intuitive interface, DuckDuckGo was created by an American company in 2008. Over the years, it has become a very effective search engine that, like Google, offers many additional options.
In addition, you can search for images and videos. However, you can also find recipes and weather information without having to make any further clicks.
To ensure privacy, the search engine does not track your search terms. In fact, DuckDuckGo does not store your search results or associate them with your IP address (unlike Google).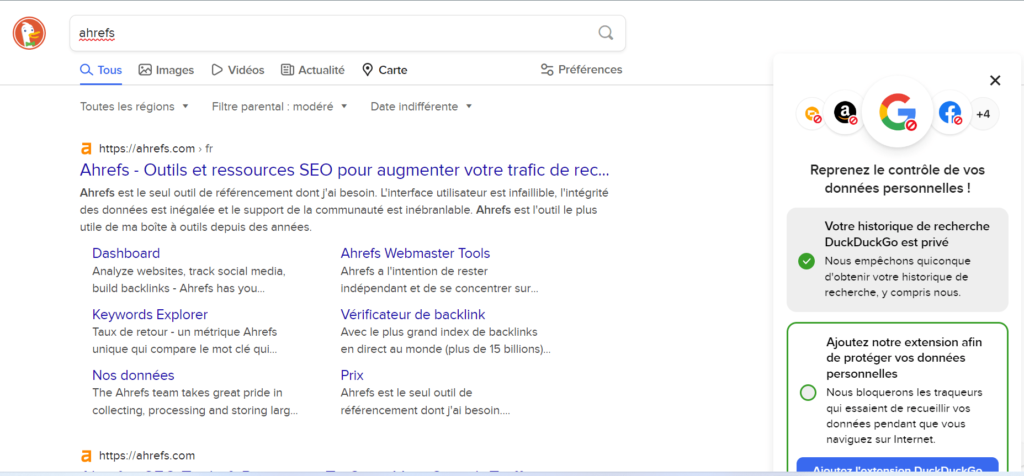 It aggregates results from over 100 sources, such as Bing, Yahoo and Wikipedia. In addition, it has a bot, the DuckDuckBot that constantly updates and improves search results without tracking.
In addition, DuckDuckGo uses a network that makes it much more difficult to track your searches.
It also offers the convenient BANGS search feature, which allows you to quickly search for external sites: so they are shortcuts.

Just add "!" to the search bar to search another site, such as Ahrefs.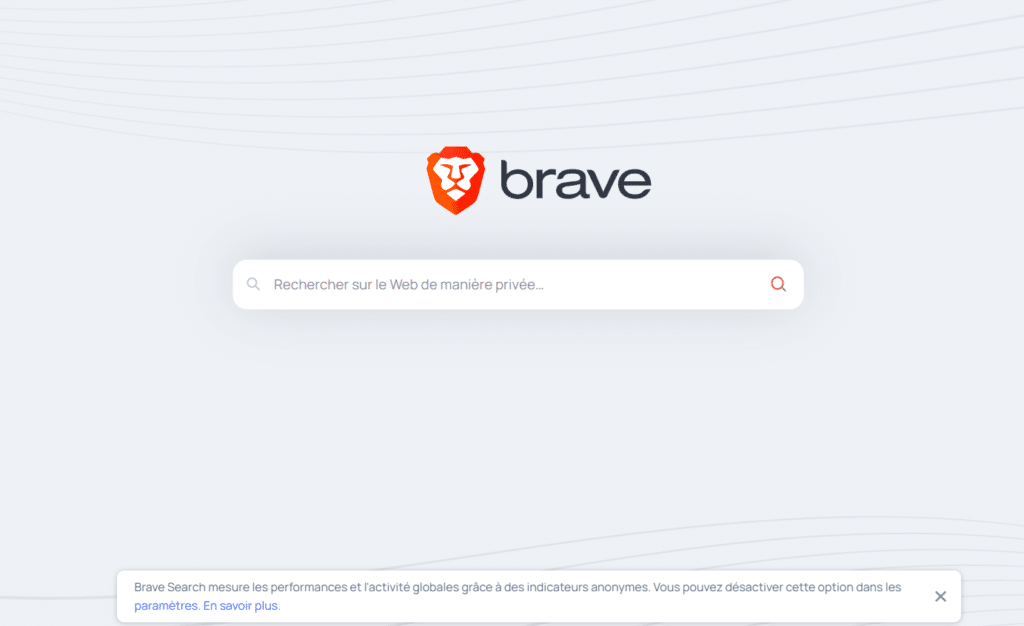 Brave Search is an engine that aims to offer users an alternative to search engines that collect data.
With this platform, it is possible to perform searches in complete confidentiality. Indeed, the engine does not collect users' data. Instead, Brave Search relies on anonymous feedback from its community.
The community is made up of the developers who have made Brave Search a transparent, smooth and reliable engine.
In addition, users will be able to participate in the creation of alternative indexes and ranking models to bring diversity to searches and avoid censorship.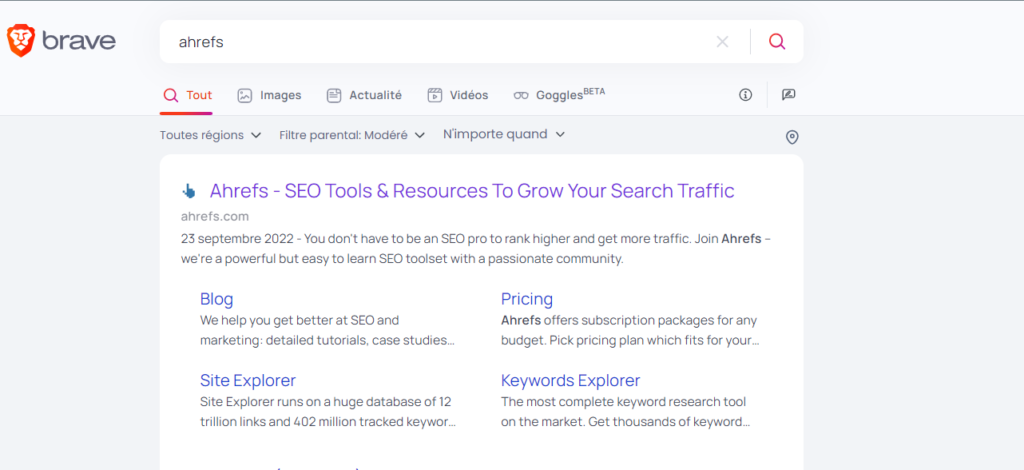 Brave Search is an open source program
One of the advantages of Brave Search is that it is an open source program. Thus, all users can see, analyze and test the code to make sure that the platform delivers on the promises of its developers.
In addition, Brave Search blocks all tracking cookies and advertisements if you wish. The search engine does not collect personalized user data and has a built-in password manager.
For many devices using Brave Search, there is a sync feature that will seamlessly transfer bookmarks and passwords using end-to-end encryption.
Brave Search brings new privacy changes
The creators of the Brave Search browser claim that their product is based on Chromium. This prevents tracking and possible data leakage like on most other search engines.
The main advantage of this platform is that it offers an optimized and secure environment. It also offers the possibility to install the extensions you use in Chrome.
Moreover, to present a real independent alternative to the big search engines, Brave Search has decided to create its own index. Thus, the company does not rent the service from Google or Microsoft, as other search engines currently do.
This allows the company to have total independence in the treatment of users' data. For maximum privacy, Brave Search also offers a VPN-like browser in that it hides your IP address.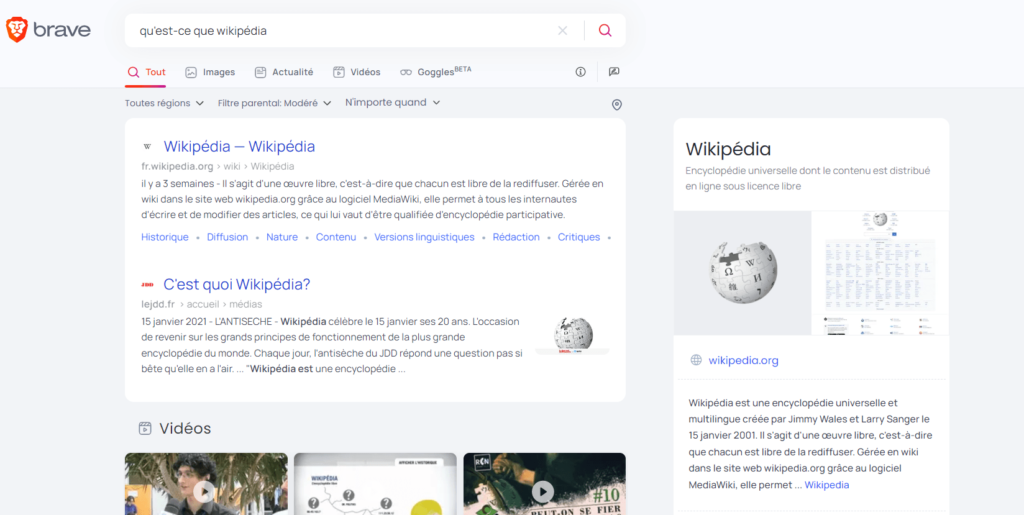 Finally, this search engine, like Google, offers panels to answer questions.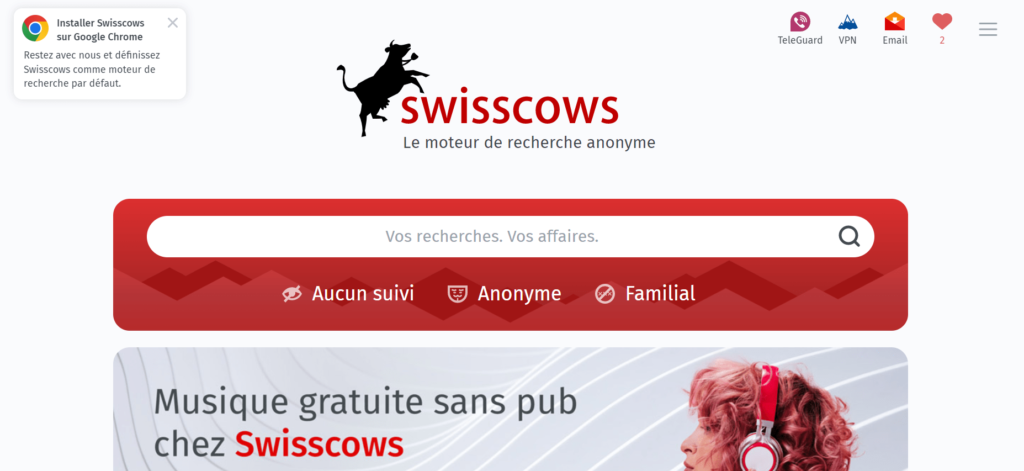 As its name suggests, Swisscows is a Swiss company. This is an advantage, as this country has a very strict privacy policy.
The search engine does not collect IP addresses or other personal information. In addition, it does not analyze users' search behavior and no cookies are placed on sites.
The only information that is tracked is the number of searches performed daily.
In this way, Swisscows can measure total website traffic. However, it should be noted that it may start collecting personal data following an official government order.
The search engine is quite intuitive with a fun aspect offering several ways of displaying search results.
Instead of just listing the search results, the search engine also displays a semantic map and associated terms.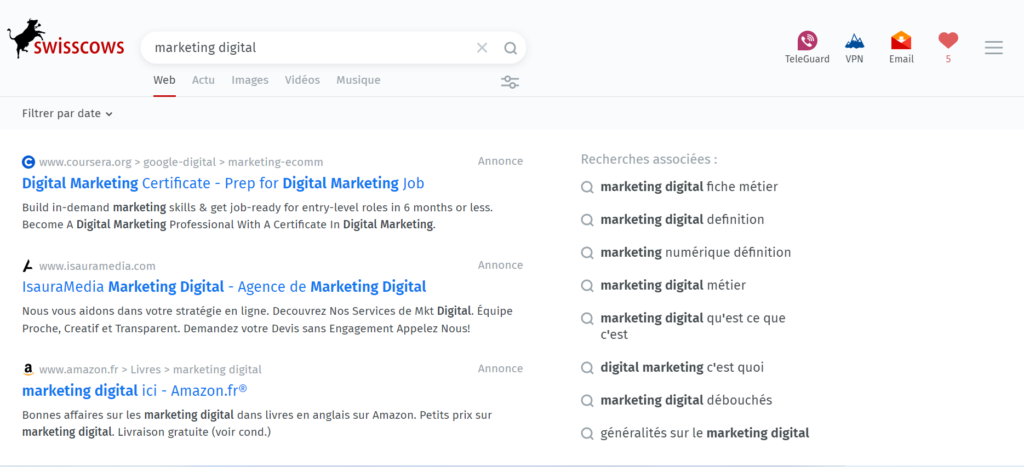 Swisscows also believes that it is important for children to be able to search the Internet safely. It has therefore integrated a filter against pornography and violence.
This makes the search engine very family friendly. You can also search for websites, images, music and many videos on Swisscows.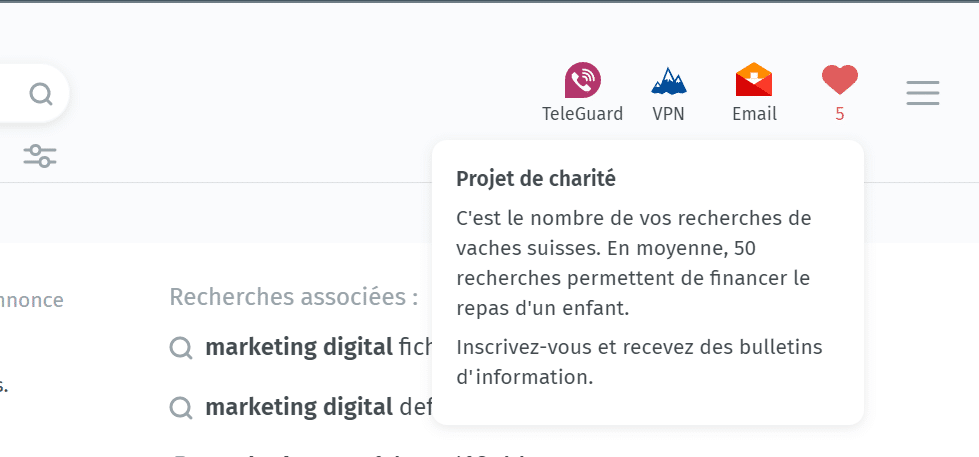 Finally, above the search results is a small "heart" icon for sponsors.

Search Encrypt goes a step further to ensure the confidentiality of your data. Before your search request reaches the server, it is encrypted locally on your computer.
Unlike other platforms, the search history remains anonymous in the web browser. In addition, after 30 minutes of inactivity, all search data stored on Search Encrypt self-destructs.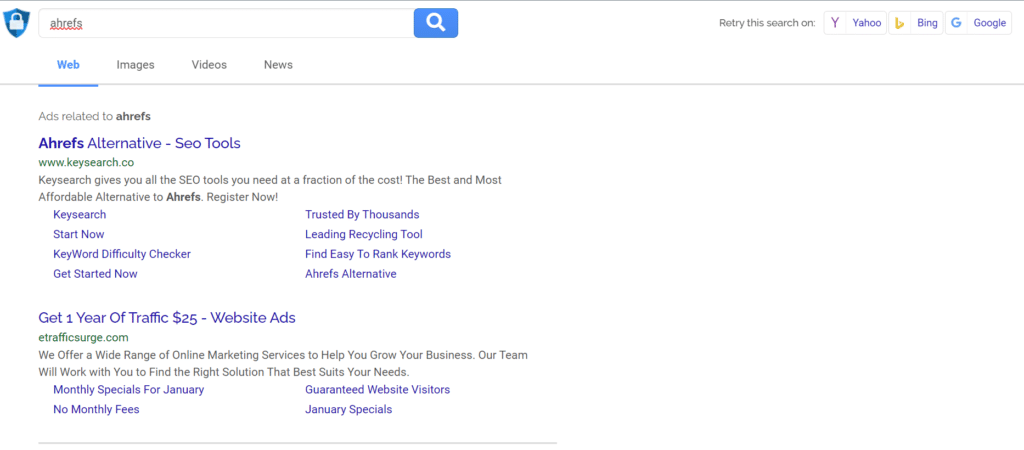 The search page has a minimalist design. It is possible to perform a normal search for images, videos or maps at the top of this page. Remarkably, the video search is highlighted.
Also, videos can be viewed on the search page itself, which avoids unnecessary redirects to the site and video ads. Since search queries are locally coded, response times are slightly faster.

Finally, if you are not satisfied, you can try with the search engines of its partners. These are Google, Bing and Yahoo.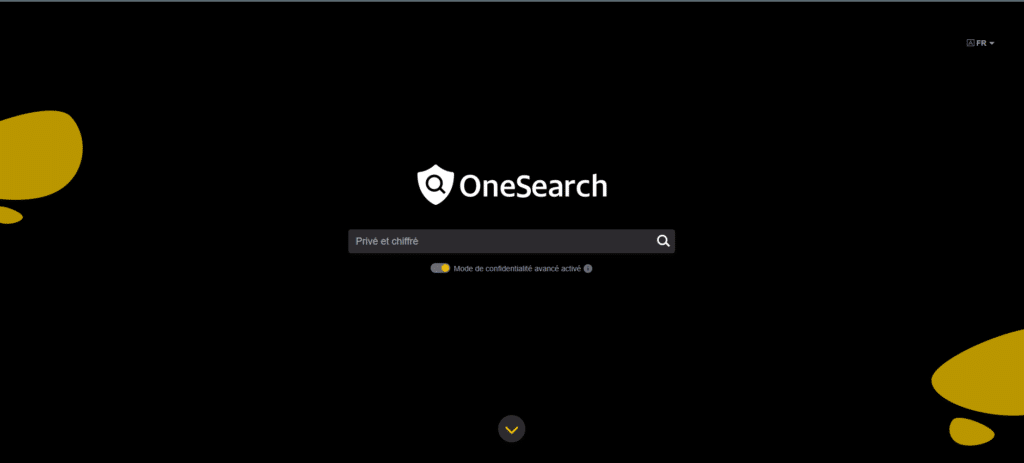 OneSearch is the online search engine that appears in 6th position in our ranking. Offered by the giant Verizon Media, the famous parent company of the famous Yahoo, it has become one of the best privacy-oriented alternatives to Google.
OneSearch has multiple features that guarantee the security and especially the protection of users' privacy. In fact, unlike Google, it does not use cookies, as these tools track and follow users in everything they do.
One of the priorities of OneSearch is to respect and protect the privacy of Internet users. Furthermore, it does not track their browsing or personal data.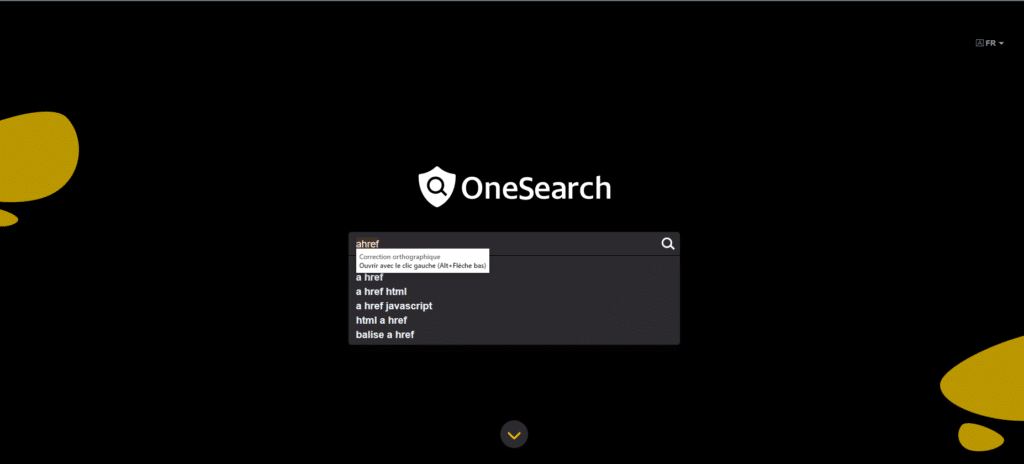 It does not use advertising techniques such as retargeting or targeted ads. OneSearch will also not share your user profile with other search engines.
In addition to these two features, OneSearch does not save your search history. So it won't use it for advertising purposes. In addition, it has an interesting feature that is nothing less than the "Advanced Privacy Mode".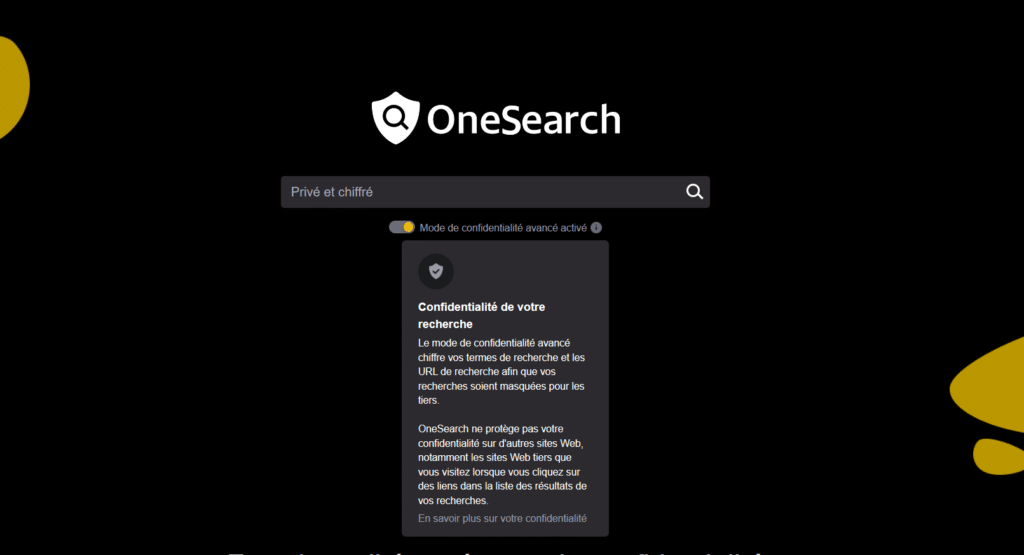 It allows you to strengthen the protection of your search terms through encryption. By activating this feature, you can be sure that your search terms will not be visible to others.
OneSearch also allows you to get unfiltered results based on your data and search habits.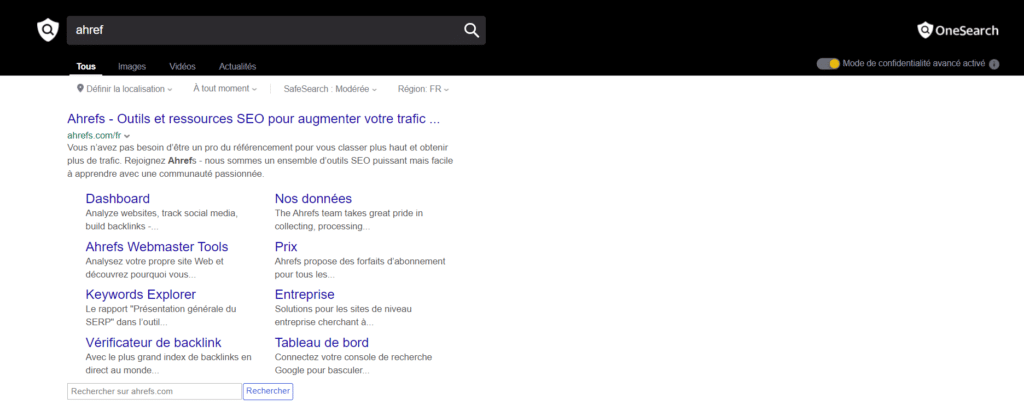 The results are varied since they also come from the Yahoo index. Finally, you can share your links with confidence, as they will expire within an hour.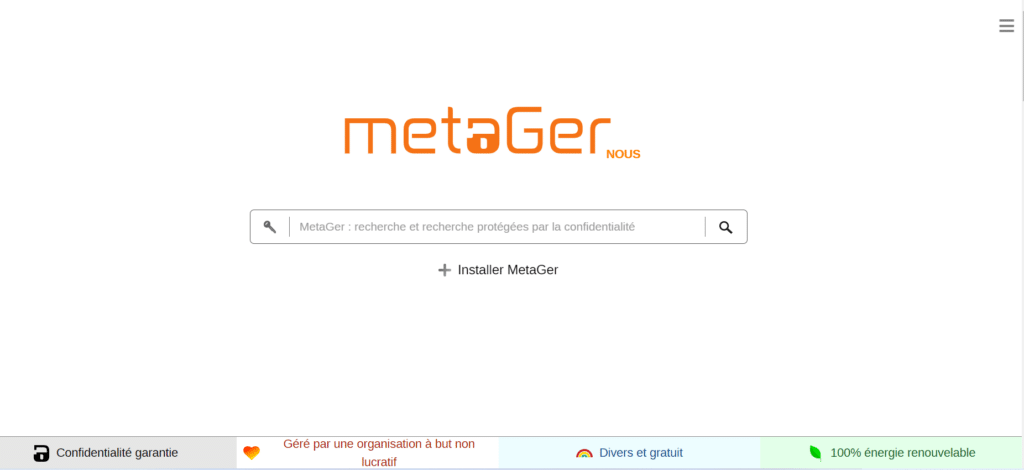 MetaGer, as the name suggests, is a metasearch engine run by SUMA-EV, a non-profit organization. This should be a good starting point, as it does not need user data for advertising purposes.
Based in Germany, it uses many indexes from other traditional engines like Bing, Infotigre, OneNewsPage or Scopia. The results of your searches will therefore be very extensive and above all varied.
This metasearch engine uses servers that are all powered by renewable green energy. Indeed, one of SUMA-EV's priorities is to guarantee environmental sustainability through the efficient management of natural resources.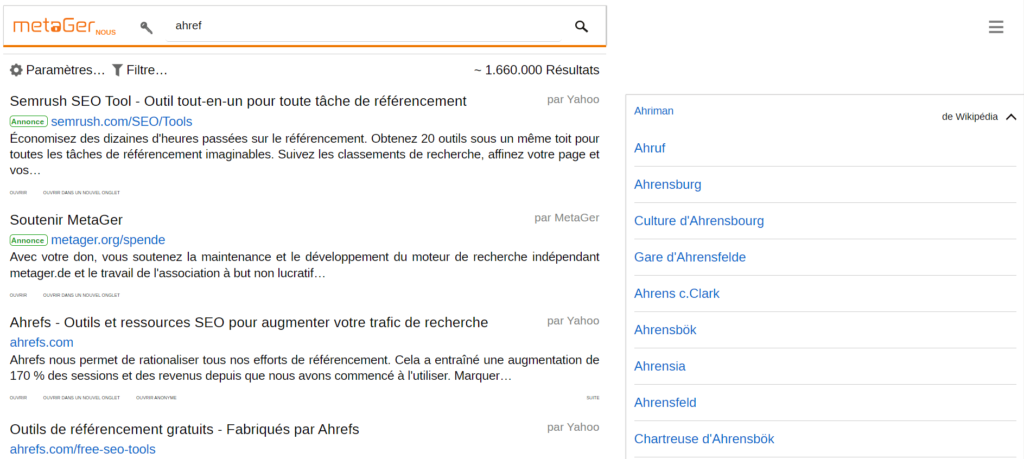 Users who care about the environment can therefore trust it. It also provides an open source and thus a free source code for all.
In addition to that, it is worth mentioning that MetaGer offers an anonymizing proxy. That said, you can conduct your searches in complete privacy by having full control over your various private information.
For added security, it does not filter any search results and even plans location routes without tracking you.
With its extension, MetaGer can become your default start page and engine. This allows you to always ensure your privacy when searching.

Finally, MetaGer offers an interesting feature that allows its users to learn more about it and discover tips on refining their results. You can find it on the right below.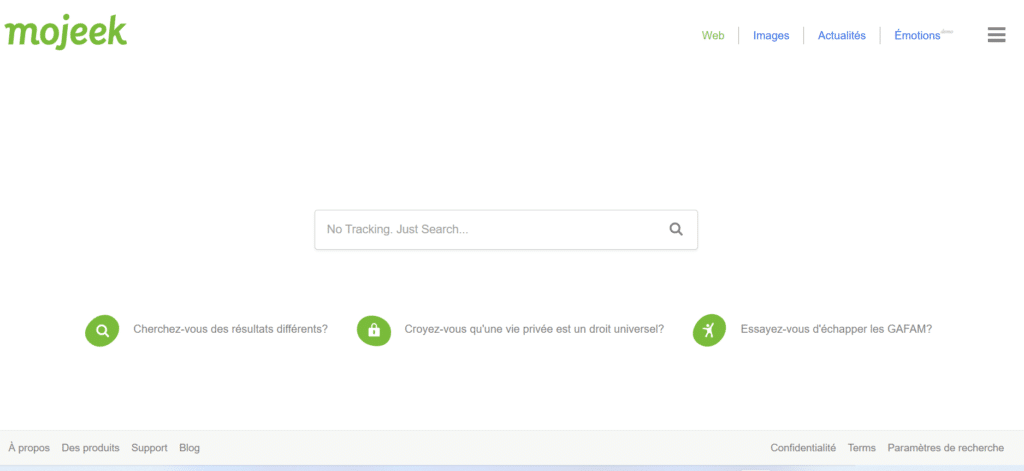 Hosted in the UK for over 15 years, Mojeek is a great alternative to Google.
It is one of the best search engines to have its own directory of pages for searches. Mojeek's index now includes over 5 billion pages.
This great advantage has earned it a ranking among the giant alternative search engines to Google.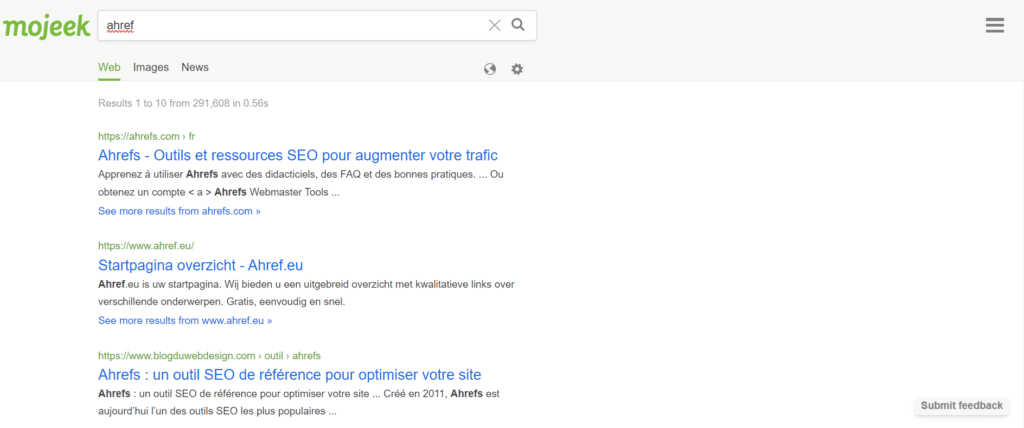 This unique indexing also allows users to obtain accurate, varied and above all unbiased information, since it does not depend on other algorithms. This is without counting the search by region that allows to further refine the results.
"Doing What's Right": a value that ensures privacy and environmental responsibility
One of the best things about Mojeek is that you can browse your websites safely. In fact, the engine doesn't track or trace you.
The founder believes that privacy is a right for every human and that it is in the right order to respect that right. In fact, one of the values of the Mojeek company is "Doing what's right".
So don't worry about your private data being distributed or sold to other engines. Mojeek is the UK's leading server company and is also very eco-friendly.
"Doing the right thing" is also about the environment we live in. Sustainability also means making good use of natural resources such as renewable energy.
Considering the high energy expenditure, it would be more advantageous to use natural energy sources. This is what Mojeek is doing, and it increases the confidence of the users.
The special feature
We can't end this without mentioning the feature that amazed us the most. It's about the search by emotions. Interesting, isn't it?

To search by emotions, just click on the "Emotions" tab. Then, when the window opens, you will just have to select an emotion thanks to the emoticons.
If you want a search engine that protects privacy, but with an aesthetic far from the minimalism of Google, Qwant is for you.
The bright colors and nicely disguised characters hit home and highlight the key concepts which are: no tracking or selling of data!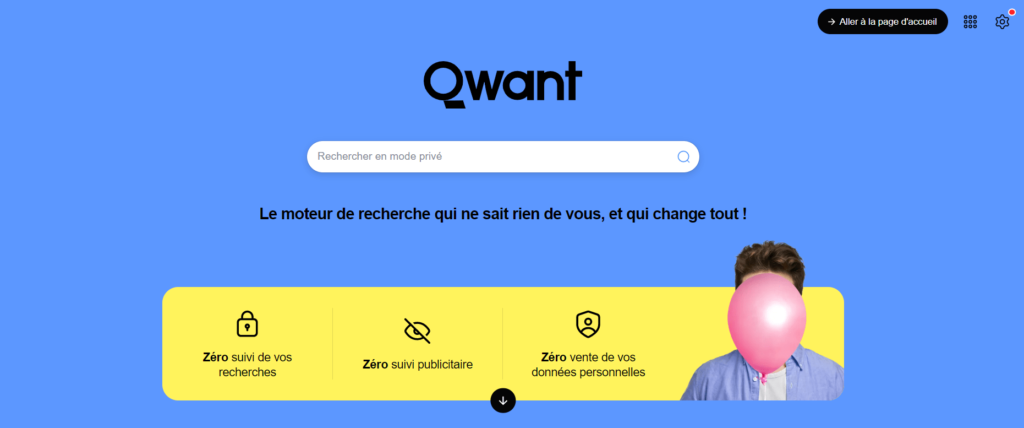 They display advertising in the content, but it is not personalized to the user. In fact, more specifically, they do not use cookies or other profiling systems.
Made in France in Paris, this search engine is also very popular in several other countries around the world (about 30 states). It allows both its crawlers and Bing (Microsoft) results to be used.
Qwant does not collect or store any search history. Each search request received is made anonymous by disassociating the IP address. This is done in accordance with the recommendations of the Privacy Guarantor (RGPD).
During registration, your data such as last name, first name and email address are collected. However, this is an optional process that just allows access to advanced features. After logging in, the principle is the same: no cookies or ad trackers.

Qwant also offers address search options (without tracking) and even a personalized and secure search engine for children.
Finally, you can search directly on a specific site thanks to the Qwick shortcuts feature.

Just type in one of the "&" or "!" symbols followed by the name of the site in question. This saves time.

Ecosia is probably the most popular emerging search engine of the moment. It is a project born in 2009 from an idea of the German Christian Kroll in collaboration with Bing, Yahoo and WWF.
Research for reforestation
The Ecosia project aims to reinvest the revenue from Internet browsing in environmental projects. In particular, the promoters commit to planting a tree for every 45 searches made via their engine.
To solve the skepticism, Ecosia decided to bet on transparency. On the homepage of the site, as you can see, the German company provides clear and exhaustive explanations on every aspect of the functioning of the Ecosia project.
Today, more than 150 million trees are planted every day thanks to the searches made by users. You can see your tree counter at the top of the page, in the right corner.

Privacy aspect
The privacy aspect, which is of particular interest to us here, appears to be perfectly in line with Ecosia's philosophy. It is also addressed with an innovative approach.
The privacy policy of the site opens with an encouraging sentence: "Forests must be protected, as well as your privacy. We care about both". This is composed of 5 iconographic points from which we can conclude that:
Created profiles are permanently deleted from the company's servers every week.
Users' private data is not sold to others, including companies that deal with advertising.
Searches go through an encryption process to protect the user from "prying eyes.
No user tracking is used by Ecosia.
You can disable tracking in the site settings at any time. Only the necessary data is collected.

You.com is a free engine that focuses entirely on privacy and a different approach to search than Google.
Created by Richard Socher and Bryan McCann, the engine already in its beta phase offers a unique experience. Instead of the linear list of links of most search engines, it provides a grid of results organized by source.
These results are grouped into several categories. These include:
All: for web results;
Images: for images;
News: for news;
Videos: for video results.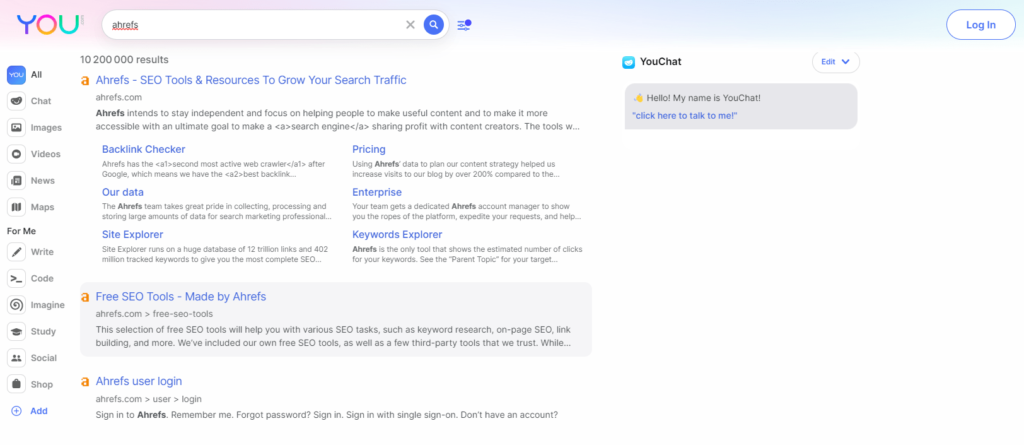 In addition, You.com offers sections with specific results for networks such as Reddit, Twitter, TikTok or Instagram.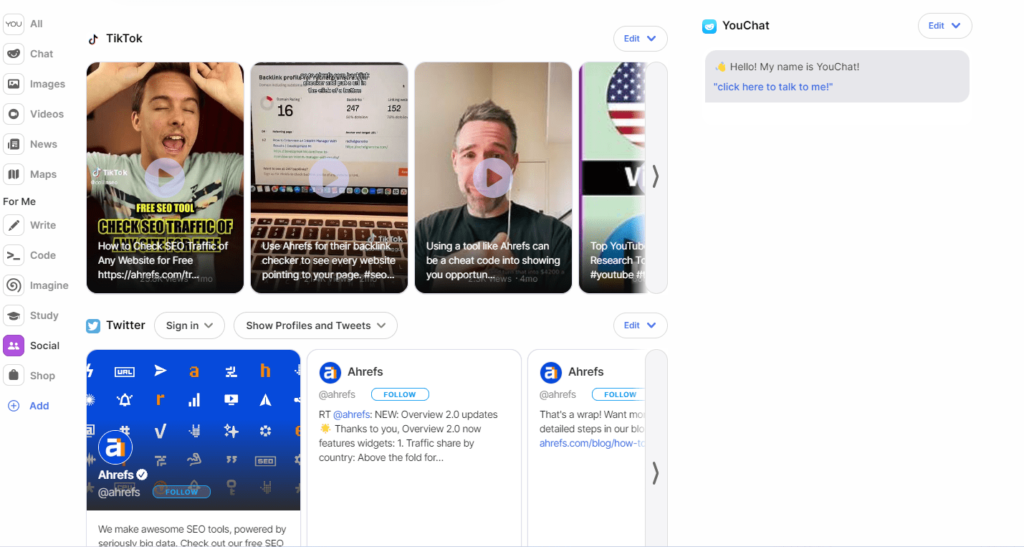 Summarizing search results
One of the main features of You.com is that it presents you with a summary of results. This saves you from opening multiple tabs, but only those that actually contain what you are looking for.
Respecting privacy
You.com does not allow ads and therefore will not track your web activity. Also, when you enable private mode, the engine never stores your queries, preferences or locations.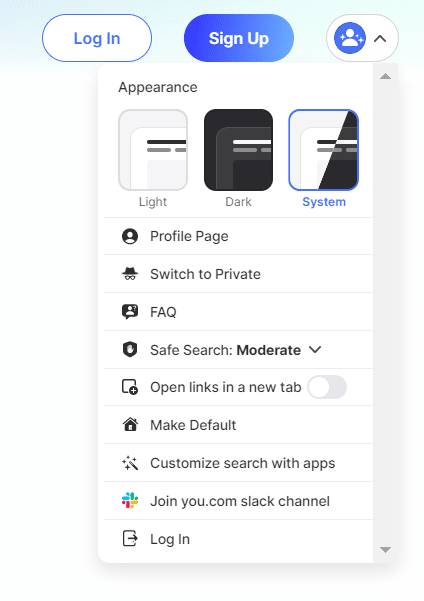 It only stores certain data to prevent software attacks and server abuse. Click Switch To Private to activate it.

Finally, you have the ability to add custom search sections. Just click on the "Add" tab.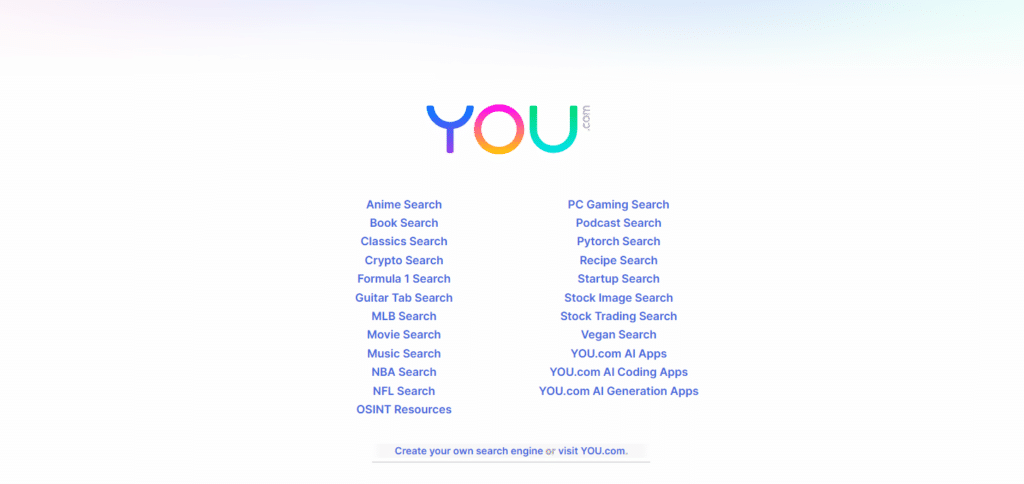 You will be redirected to a page that will display suggested sections to add according to your preferences.
In summary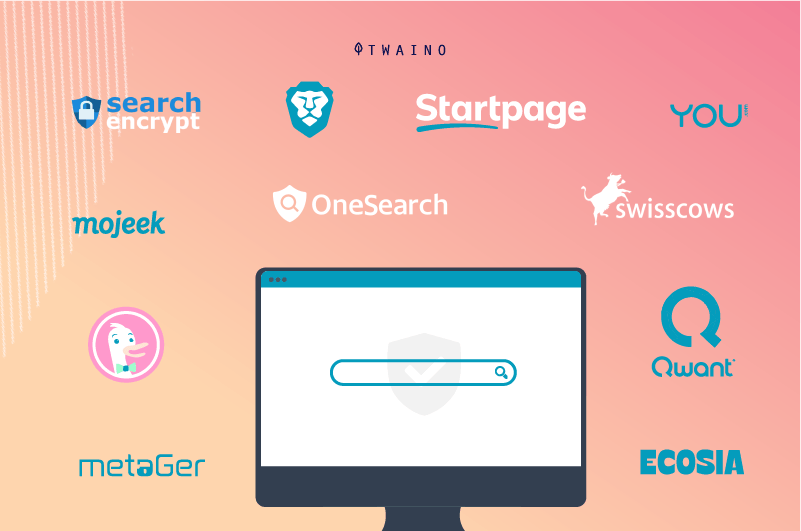 There is no doubt that Google is the most used search engine in the world and even in France. However, many users are still not reassured and prefer to find alternatives.
If you are one of them, our list will probably help you. However, don't take our word for it. It's up to you to try them out and decide which one(s) will suit your needs and preferences.