The players on the SEO market
Discover in this video, the way I proceed to make an analysis of the players on a market. You will discover why knowing your "competitors" is an important lever to create a unique business on the market:
Why, should you pay attention to the players in your market?
When you are going to set up your company, it is important that you know your environment, and the information related to your market. Therefore, it is always interesting to see what your future competitors are doing in terms of :
Offers and services proposed
Communication levers
Prices
Customer relations
Why don't I like to talk about "competitors"?
Indeed, it often happens to call what I am going to present you a "benchmark" or "study of the competition". Personally, I don't like to talk about competitors, as I believe that it is "a view of the mind" as long as the company is not really launched. In fact, the companies I'm going to talk to you about have already been around for several years.
Whereas I, for the moment, do not exist! In that I have no website, nor official company at the time I shoot the video. So rather than talking about competitors, I would say that they are actors who are present on the SEO market
. A market on which I hope to make a place for myself in the future.
Map of SEO agencies in France
As its name indicates, this is a mapping
and not a ranking. The layout and order of the agencies was determined according to the ranking in Google at the time I shot the video. I am aware that this positioning in Google is likely to change regularly.
Eskimoz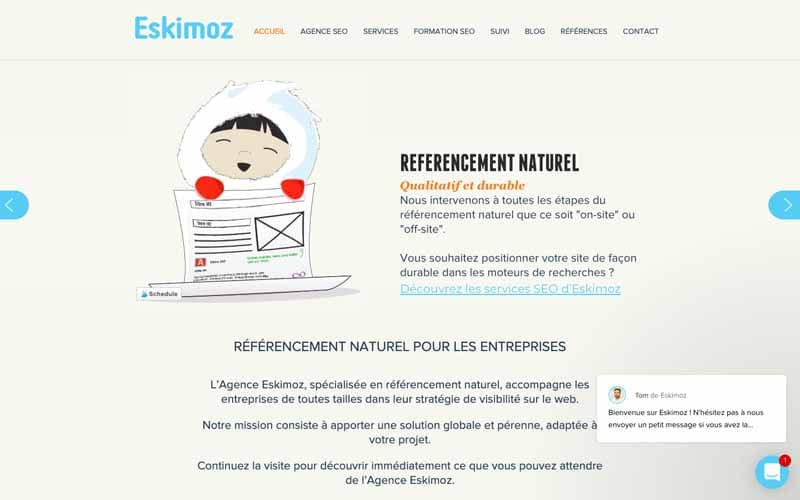 The first result in Google, when I type "SEO Agency" is a company called Eskimoz
. Without a doubt, due to their number 1 ranking in Google, this company is extremely talented in natural referencing, this is exactly the service that this agency wants to highlight. On their website, they communicate on a real proximity with their customers, and they offer the following services
Natural referencing
Social referencing
Google penalty
Web writing.
In terms of visuals, they created a branding around the eskimos. So I'm not sure why they chose this idea of eskimos… Maybe they wanted to make a connection between eskimos and penguins in reference to the Google Penguin algorithm. I guess so, to be confirmed. They also use presentation videos for their services and they propose long and detailed pages on the keywords they have targeted like "natural referencing". They have also developed a training part, and a section for customer care. Not surprisingly, they have a Blog section with very good quality content, which could explain in part their first place in Google. In the "sitemap" section, it is possible to see in a much more synthetic way the structure of their website. I counted about 50 Blog articles, which is good, but not huge either. Knowing that everything depends on the length of their blog post, but, I think that since they are an SEO agency, they know how to optimize their content perfectly. Surprisingly, their blog posts are not that long. At least on the article "Https: What is it and how to migrate your website?" it's pretty short. It's an even more amazing article because it talks about how to migrate a site to "https" when their own site is not secure.
Eskimoz is a key player in the SEO sector in France. They are seasoned SEO professionals, who seem to offer a quality service. Without a doubt, a company that I will follow closely in the future.
SEO.fr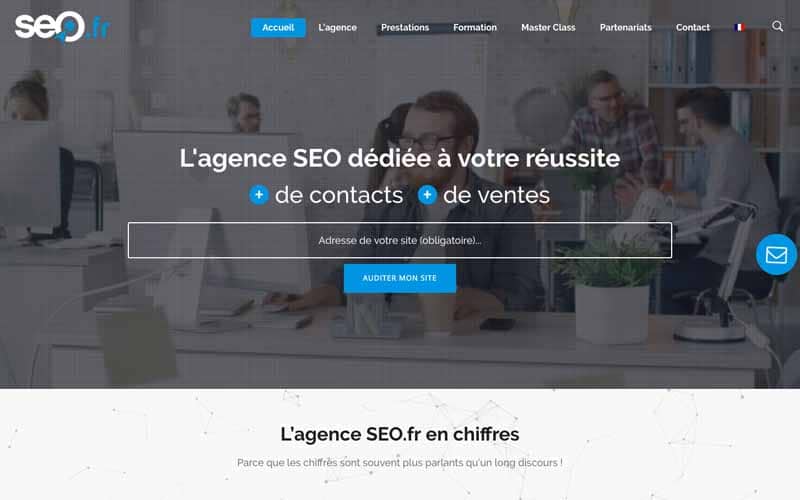 The second result in Google for the search "SEO Agency" is the seo.
fr agency. The first thing that interests me when I arrive on their website is to be able to get information to contact them very easily. Seo.fr has also chosen to add as "CTA" or "click to action" a button "Free Audit". For me, this is something extremely positive, which is not necessarily done by Eskimoz. Seo.fr also offers a tool to analyze directly the site by indicating the URL, which is rather well done.
On their "homepage", they detail the SEO consulting aspects they propose, with the most regularly asked questions. With Seo.fr, we are talking about a rather historical actor, as they have been present on the market for about ten years. When I look around, I see that they have quite a lot of content on their Blog, I would say that they have about fifty articles. Within their menu, they have a part, SEO agency, SEO training, Blog. This is a fairly standard structure that you would expect for an SEO consulting website. In any case, the "call to action" with a free audit, is something I will also implement on my site, because it is a very good method to be contacted by potential prospects.
From a design and communication point of view, Seo.fr is on a much more classical register, even formal and administrative. I have not been able to identify a particular communication angle, or a strong image that emerges. In any case, if we compare with Eskimoz, the brand image of seo.fr is from my point of view much less strong.
The Web agency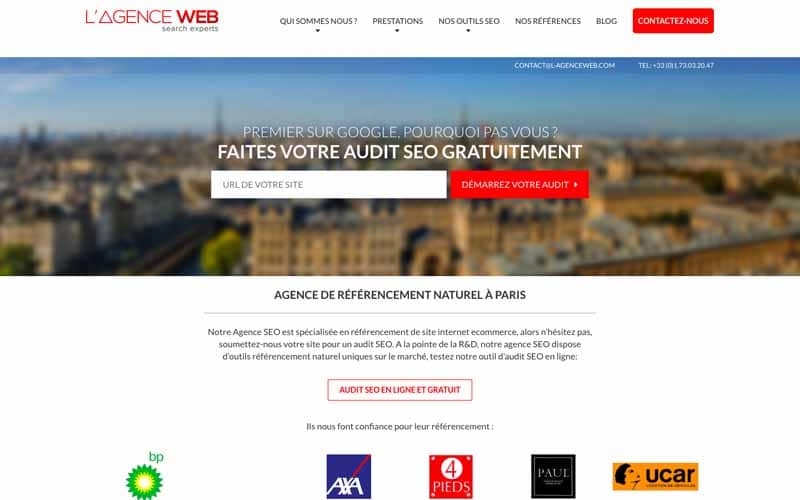 They highlight the different prestigious companies they have worked with, Axa, BP, Paul, etc… What is an interesting and reassuring element for the customers who wish to call upon their services.
SEO Hackers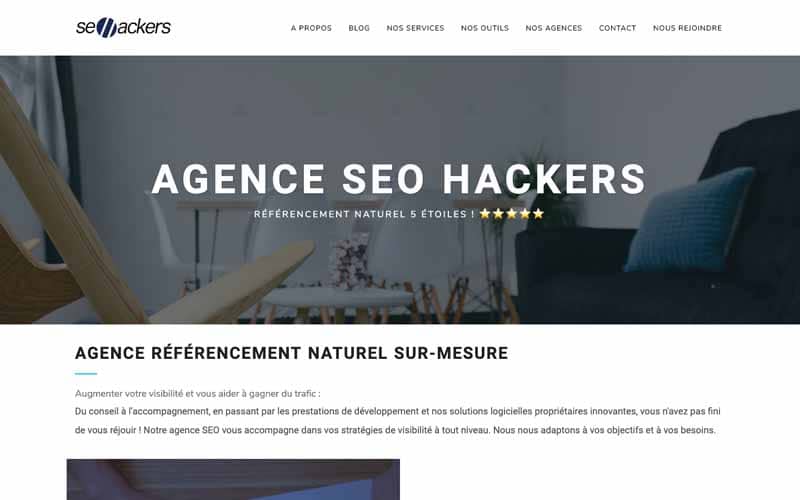 Then, the 4th agency I find in Google is called SEO Hackers
, they offer
Natural referencing on measure
Netlinking
SEO
SEA
E-reputation
The images on the site come from free image banks, which gives the feeling that the proposed content is not really unique. In a classic way, there are sections "Join us", "Tools", "Contact", "Our agencies"… To my surprise, they have not developed their blog section at all. In any case, I don't see much content. It's all the more surprising, since they rank quite well in Google, without having developed this part. Unlike SEO.fr, they don't offer anything like a free audit.
I think that the 4th place of the SEO Hackers agency in Google must be the result of a very good Off page SEO approach (Link building / Guess Blogging). For that, we should check in Ahrefs.
Primelis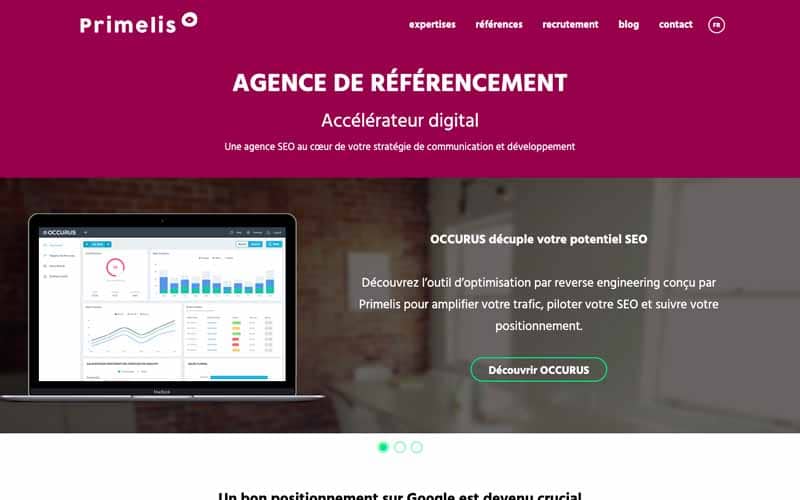 Now, I'm going to move on to the next agency, namely Primelis
: Digital Accelerator. The following sections can be found on this agency's website:
Expertise
E-reputation
SEO Audit
I read on the site that "conducting an SEO audit is the basis of a solid SEO strategy" about which, I am perfectly aligned, so it gives me a sense of confidence and professionalism. Overall, this is a very good website, both clear and precise, with about 150 quality articles.
Rankwell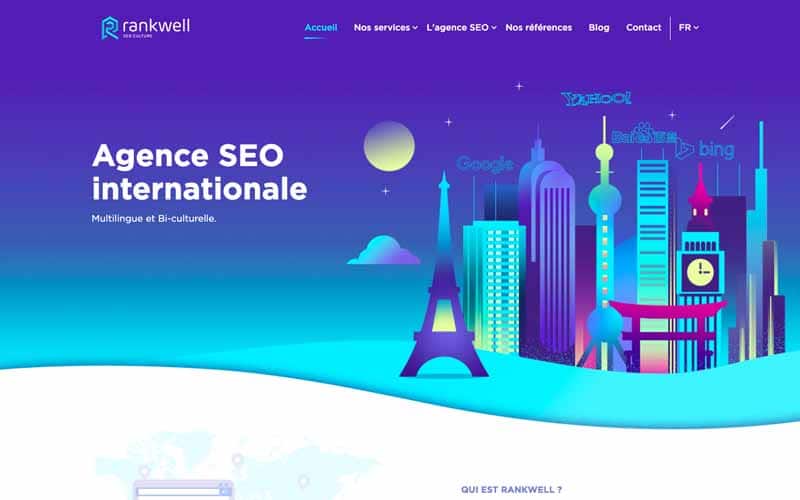 We find the following sections:
Our services
Technical SEO
Technical phase
Next step technical SEO
Contact us
Blog
From my point of view, the blog part is a bit weird… When you click on it, you don't see all the articles, but only the last one, which doesn't make the user experience perfect in my opinion. Especially since it's not possible to see how many blog posts there are in total on this site, which is a shame because they seem to be of good quality.
Korleon Biz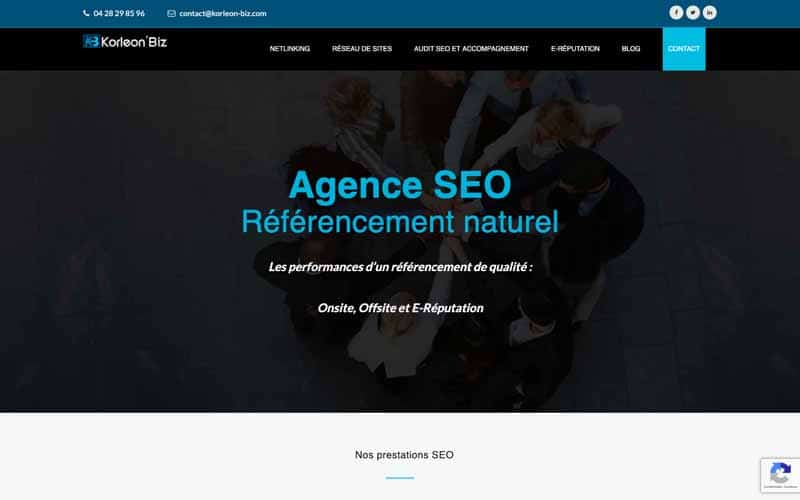 When I go to the blog, I see that it is composed of the following categories:
SEO
Web culture
Onsight
Offsight
SEO Event
I find it interesting to see how they have structured their content. However, I don't understand why in the Blog part, they add the members of their teams, it seems a bit weird to me actually. I've rarely seen a presentation of the team members like that, but then, it can be justified I guess. If you take out the team members, it seems to me that there is very little content in the end, which surprises me. On the other hand, there are a lot of comments on the published articles… Maybe people from their team, I don't know.
1st position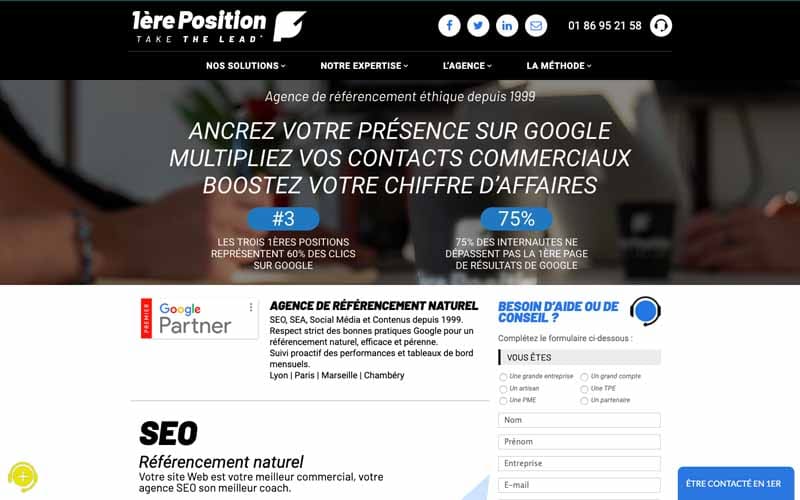 The last agency I will have the opportunity to consult is called "First Position
".
The homepage is quite dense from my point of view, with a lot of information, which doesn't make things perfectly clear in my opinion. They thought of integrating a form to contact them, which is really practical and which I think of adding on my site too. They offer a "home page" with quite a long and explicit content.
We find the sections :
Agency
Our solutions
SEO
SEA
Content marketing
Let's take a closer look at the "our experts' blog" section. One interesting thing, they did put the phone number up front, to make it easier to get in touch, I think this is a very good practice. The first article I'm going to look at is called "How google handles SEO for its own websites". I confirm that this content is well dug.
One thing that particularly interests me about what they do is their glossary section. Indeed, I find that a section with definitions is really relevant. Especially since there is a kind of jargon in SEO, which can be difficult to understand when you are a beginner. Having a glossary section is going to be something that I will also implement on my own site. Concerning the volume of articles, there seems to be a lot, I count approximately 26 pages, so about 250 articles. After that, some articles are quite short. They also propose contents with "CAS clients fitness store a blog as a webmarketing lever", which I find a good idea!
Capitalize on the best
Following this presentation, I now have a better visibility on the different actors who rank well in google for the term "SEO agency". Insofar as I would like to have my website present on the first page of Google, I will have to propose a website that is as good as or better than those I had the opportunity to present. This is a difficult challenge to face, because we are talking about an extremely competitive sector, with qualified professionals in SEO, which will make the task complicated, but not impossible (If we think that everything is impossible, then we never become entrepreneurs).
Another difficulty to consider is that some companies like SEO.fr have been on the market for about twenty years now. So, as far as it is a historical actor, known for a long time, it will be difficult to arrive with a new company (with a brand new domain name) and succeed in getting a good place in Google quickly.
Take the good ideas and outbid them
My goal is to take all the good ideas and make sure to "make them my own" by improving them compared to what exists. For example, in terms of design, I'm not necessarily enthusiastic about what I've seen. For me, there is only the Rankwell agency that really distinguishes itself by the quality of its interface and its UX. Afterwards, in terms of actions and clicks, I think that offering a free audit or having a tool that allows you to audit your website for free, are two effective levers that I will try to implement on my own website.
Be inspired while cultivating your differences
So indeed, there are some ideas that I'm going to take from what I've seen, I'm thinking in particular of the "Glossary" part. Nevertheless, when you create a website, don't fall in the trap of "pale copy" of the competition. To avoid this, I will make sure to build a site that is unique, both by its content and its UX. Thus, another lever to assert the "personality" of your brand will be played at the level of communication. In the next few videos, I'll have the opportunity to show you how I'm going to go about it, to try to create a business that is really very different from anything else out there. I already have some ideas on how I want to approach the communication of the website. After that, I will have to go from the idea to the realization, which is always a delicate step.
To be different, without being at odds with the client's needs
In terms of service, the different websites I showed you are SEO agencies too. Therefore, my website will offer services relatively similar, if not identical to what already exists. In this type of sector and profession, what will make the difference will be:
The quality of customer service
The relationship of proximity / trust & professionalism with the customer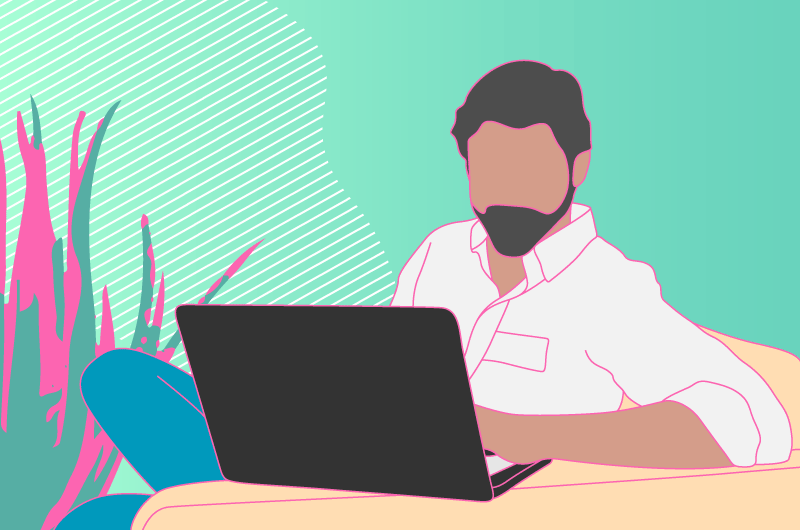 Conclusion
If you have the ambition to start a business, always take the time to step back before jumping into the battle to really understand who is in the market? How do these players satisfy their customers? What is their site structure? Is it possible to do something better or not? Sometimes you may feel that the amount of effort it takes to have a successful site or business in a particular area is too difficult, if not unattainable, for your resources and budget. Indeed, it will potentially require so much funding, that you will not be able to do things right to succeed. So really, do your homework. Look at different competitors, different websites, how they've structured their site. Get inspired by how they did it to be successful. As part of my research on the term "SEO agency" I have listed the sites that are first in Google. Concretely, if Google propels them to these positions, it simply means, that there are things they do very well to deserve their places. So, the idea is to pick up on good practices, and on top of that bring real differentiating elements, both from a "content" and "communication" point of view.
See you soon…