Are you struggling to find your first clients after launching your consulting business? If so, or if you're planning to launch soon, then you're in the right place. And for good reason, I reveal here all the actions and steps to follow to succeed in such a project. Indeed, it is very difficult to have visibility as well as customers on the internet. To change the game, you must have a good strategy. This practical guide gives you tips and advice that will inevitably help you to be successful in your consulting business.
Setting up a consulting business
In this video, I walk you through what you need to put in place to start your consulting business:
Find my presentation:
The moment of the launch is here!
You are at the beginning of the launch of your business and obviously you have no audience, no income and you are totally non-existent on social networks. This situation is quite normal, but your goal must be to leave this state of non-existence and to gain visibility little by little.
To ensure your success, I recommend that you use this period to define exactly what you want to do and the plan to put in place to achieve your goals. Indeed, launching your business means making choices that will not please everyone and it would be totally useless to try to do so.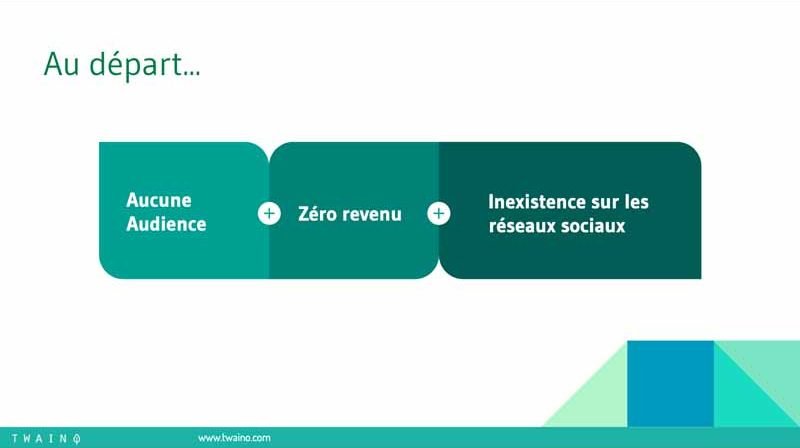 Focus on what you do best
Defining what you do best is the first step before going out to find clients. If you haven't already done so, then I suggest you take stock of all your experience and skills. This exercise allows you to identify the areas in which you excel and the results you have obtained.
This step is crucial to the success of your consulting business because it will allow you to stand out from the crowd with a specialization that will differentiate you on the market. Note however that apart from your skills, your specialization may be the result of a specific problem to which you will try to bring a solution.
What is your target market?
Once you have clearly defined your specialization, you need to define your target in order to focus your efforts and develop a good communication strategy. Knowing your target will be a major asset, and even if it will change over time, it is important to have a clear idea of who you want to reach.
Your catchphrase
Once you have determined what you want to do, and who you want to reach, you will be able to come up with a relevant catchphrase when you introduce yourself or your company. The goal is to have a sentence as clear and precise as: "I help [such and such people] to solve [such and such a problem] thanks to [my solution]". Indeed, knowing precisely what your service or product brings, for whom, as well as the reasons why it is interesting, are the bases that will make your company a success.
When I created my SEO agency Twaino, I also had the opportunity to work on this catchphrase. Today, I use this one: "My name is Alexandre Marotel, I am the founder of Twaino. Twaino is an SEO agency whose goal is to help companies increase their visibility on Google through natural referencing".
The short-term goal
After defining your target, you must set two short-term goals. These are to get customers and to generate revenue as quickly as possible. For this, you need an identity, a good strategy and the right tools.
Create a brand image
I strongly recommend that you create a professional identity in order to differentiate yourself from your competitors. I distinguish two essential points in this regard:
Visual identity
Marketing messages.
The first remains the most known and includes everything that represents your consulting company and its values. It is the logo, texts and formatting as well as the signs that will be used on all your communication supports.
As far as powerful messages are concerned, it is really about your commercial argument which must be clear, concise and highlight the advantages that the customer will enjoy if he uses your services.
Define your communication levers
On the other hand, you need to take effective actions and use the right tools. Communicating in the wind will be a waste of time and you must take the time to select the most adequate actions and communication tools for your objectives and your target without forgetting your budget.
Furthermore, develop your strategy to succeed in your online presence, but I also advise you not to put aside the construction of your offline presence. For this, do not hesitate to exploit the network of your immediate circle (family, friends, colleagues and former colleagues, etc.). Associations, groups and events should also be exploited to the fullest.
How to get your first clients?
One of the crucial moments in the launch of your business will be to obtain your first clients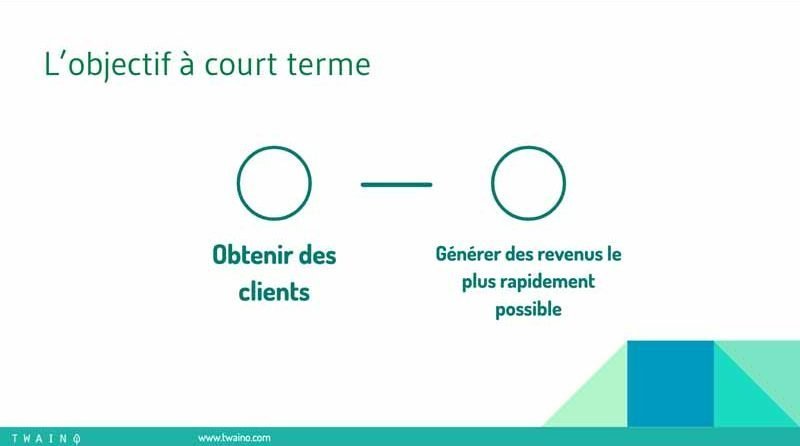 Freelance platforms
To find your first clients, what better way than to start with freelance platforms. Coder, Upwork, Hopwork… there are many platforms that allow you to showcase your skills. However, there is a catch: the competition is very tough and there is an incredible number of consultants, developers, graphic designers, etc. The real question is how to increase your chances.
At this level, I recommend you not to consider them as your only source of prospection and not to privilege only one platform. This will allow you to be often in the right place to land great opportunities.
In order to increase your chances on freelance platforms, you need to observe a few rules. These include having:
A highly professional profile: simple words, no mistakes and a clear structure;
A profile picture that shows you off;
A clear and personal presentation;
A unique and personalized response (not automatic) to each project;
A fair price (neither too low nor too high) and focused on value;
If possible, recommendations from your former clients and examples of achievements.
Targeting companies that have recently raised funds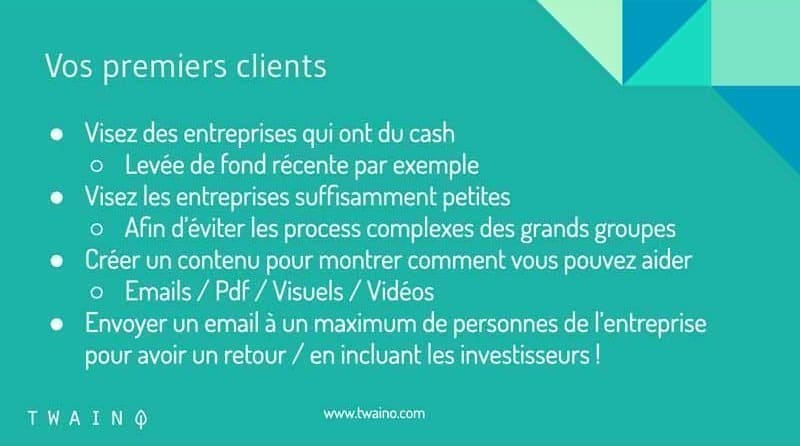 The second step I recommend is to target companies that have cash. In other words, target those who have recently raised funds. Indeed, if they are small structures like startups, it will be much easier for you to get in touch with them.
This ease is not the case with large groups which generally have a rather complex process. I strongly advise you against them because you will have great difficulties to approach them especially when you have just launched your business or when you are a freelancer.
Therefore, focus on small structures that are likely to give you a quicker return.
In order to guarantee the success of the first contact, I advise you to create a unique content for the companies you target, likely to help them. The objective is to show them what you are capable of.
Indeed, the first customers are the hardest to get, therefore take the time to make your emails explaining how you can help them and what added value you can bring them.
Use several media, emails, PDFs, visuals without forgetting videos. Make the effort to personalize your communications in order to seduce your first customers by making them understand how their business will be improved if they choose your services.
Then, I recommend that you contact many companies, in order to make yourself known, and try to reach the maximum number of people in each company. Also include the investors who are interested in the company's development since they have put money into it. If you manage to convince them, they can become real levers for you to get that new client.
Start with a niche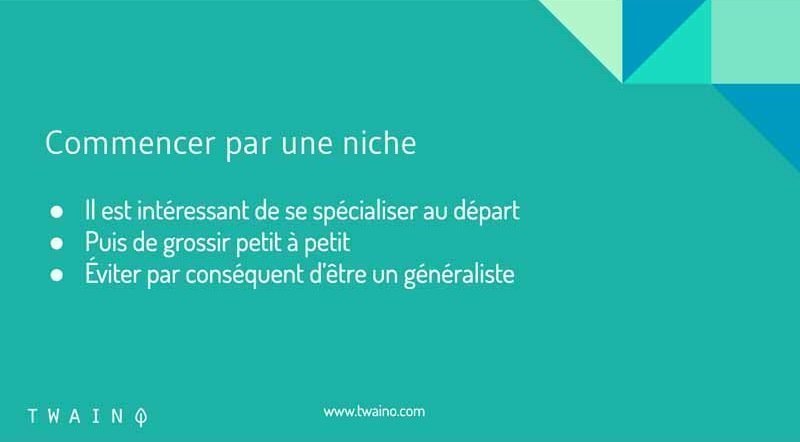 To give you an idea of what this is all about, I'll give you a simple example. Imagine that you need to call a craftsman because your bathroom is leaking. Are you going to call a plumber who specializes in bathrooms or are you going to choose an all tradesman who does plumbing, carpentry, etc.? The answer is obvious and you would inevitably go with the former, right?
Starting with a niche means starting with a specific area that you have expertise in, rather than being all over the place. By doing so, you will have several advantages, including a consequent reduction of the competition and a better visibility at the same time. Your goal should be to offer a new service or product that will make you stand out from the crowd.
Starting a blog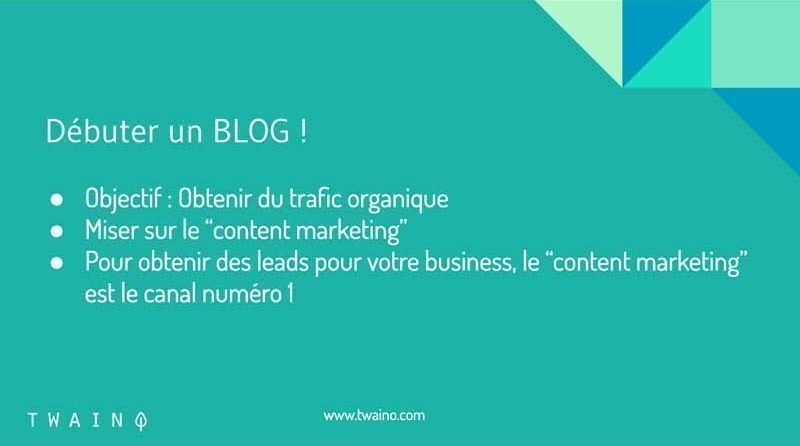 The first objective being to get organic traffic, having a blog is one of the best ways to get visibility. You must rely on content marketing which is now the number 1 channel to get traffic.
By creating a blog and taking care to feed it regularly, you will get many benefits both in terms of getting new customers, and your visibility on search engines.
A blog will allow you to :
Generate qualified traffic
If you are able to create relevant, original and optimized content for your audience, your pages will be more visible and you will have a natural increase of traffic. To do this, choose your keywords and themes well, in order to convert your visitors into customers.
Convert traffic into leads
An increase in traffic does not necessarily lead to an increase in the number of leads. Having a blog will allow you to produce content optimized for conversion on your website. This obviously requires effective "Call To Action" as well as links placed in the right place and leading to the right page. Also, set up processes to easily retrieve emails or registrations that will later turn into customers. However, find a good balance between entertaining, informative content and commercial incentives.
Boost your brand awareness
Regularly feeding your blog with content allows you to have interest around your offers or your brand. Your notoriety and your e-reputation will be improved and you will be able to reinforce your singularity which plays as an element of differentiation compared to the competitors. Moreover, by helping Internet users and providing answers to certain questions, you will appear as a reliable and expert company. Your audience will have more confidence in you and will be inclined to use your services.
This is the least known point, but it is crucial. By producing content for your blog, you will have indications about your potential customers and your audience. Google Analytics will reveal socio-demographic information and you will know which topics your target audience is most interested in. Also, you will be able to know their opinion thanks to comments and social networks and thus understand their needs. Then, you will be able to propose an adapted service to help your audience.
one of the important keys is the regularity in the publication of your contents. By doing so, you will create a kind of appointment with Internet users that will be a very important lever in improving your reputation. Subsequently more, they will be more likely to buy your products or use your services.
Organize webinars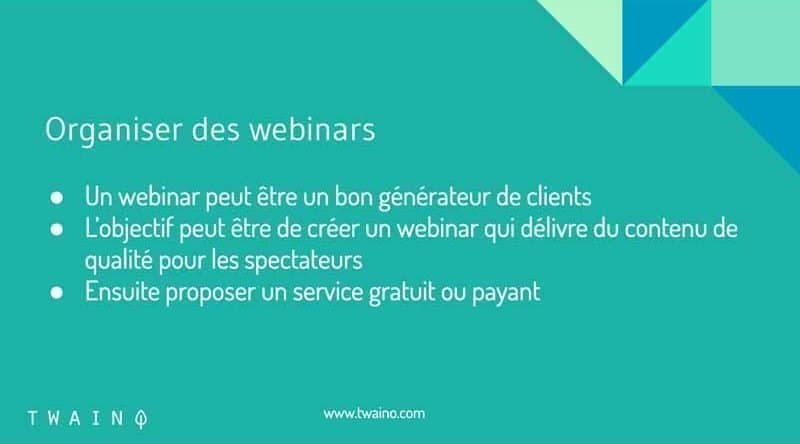 Still called webconference or webinar, the webinar seduces more and more marketing experts. And for good reason: they are affordable and very easy to organize. You can add them to your content creation strategy for the five reasons I'll share with you.
An economical format in time and money
In addition to being simple, it is one of the cheapest contents to produce. All you have to do is register on platforms such as Livestorm, GoToWebina or Webikeo. Then invite your audience to register and at the time of the appointment, click on "Play". The webinar is very economical and avoids the costs and time wastage associated with a traditional conference. In addition, the webinar recording remains accessible in replay.
An interactive and engaging format
There is a live chat or comment option offered by the main webinar platforms. You will be able to read live comments from participants and respond to them if you feel it is necessary. Polls can also be organized and you will have a real interaction with your audience. I recommend that you have a moderator who will be in charge of collecting or answering comments on the chat.
Reusable content for your content strategy
At the end of your webinar, you have the option to access the recording which you can (and I recommend) share on your various channels. Publish it on your blog, your YouTube channel and integrate it in your loyalty or canvassing emails.
Relevant KPIs to measure your marketing actions:
With a webinar, you will be able to measure the effectiveness of your strategies since you will have many statistics. These include engagement rates, attendee list, most engaged leads, etc
Make segmentations to propose content adapted to your audience and don't hesitate to push them to consult other complementary resources belonging to you. I'm talking about your blog articles, white papers, industry studies, etc. You can also take the opportunity to offer a free or paid service.
Creation of a tool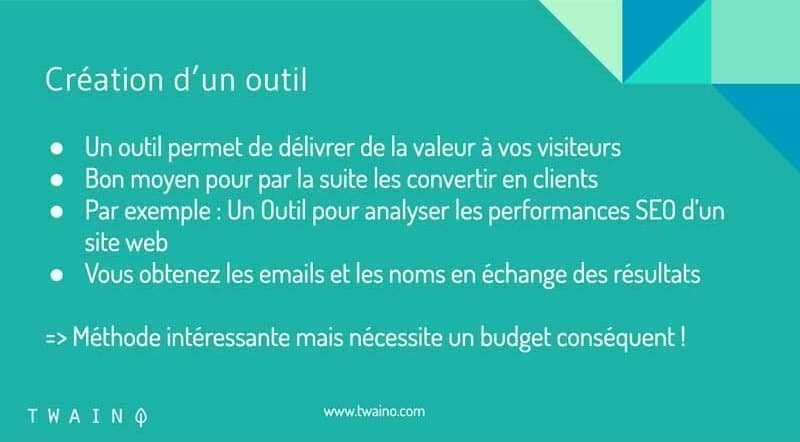 Creating a tool is also a very interesting method, but it requires a much larger budget. Indeed, when you will create a tool, there will be visitors who will use it to have a certain added value. The final goal will be for example to exchange the results of this tool against the email of these visitors. This is very interesting to get leads.
In a few months, I would like to give the possibility to people who want to go to my website twaino.com and use the URL of their websites to have an automatic analysis of their SEO performance. This will be the role of the tool on my site and in exchange, I will have the emails of the visitors who will have used the tool.
In reality, this is a "good exchange of services" that is very effective and can be a very good traffic generator. If you have a large budget, don't hesitate to do it.
Record a Podcast
To reach your customers and prospects, the podcast is also an excellent way to use. Indeed, customers like to have news and make audio recordings. The podcast responds perfectly to the current mode of consumption:
Practical,
Fast,
Available everywhere and at any time.
However, make sure that they respond to the problems of your audience. Moreover, a podcast is a good tool to make your expertise known.
Technically, you don't need much equipment to start a podcast, you just need to acquire a microphone and an introduction jingle on a sound bank and that's it. Then make your edits and think about feeding your social networks with these contents.
To make your podcasts successful, I advise you:
To be brief and to the point;
To invite (if you can and if necessary) references or specialists in the field;
To forget your text in order not to fall into a monotonous reading, but trying to keep your content structured.
Making videos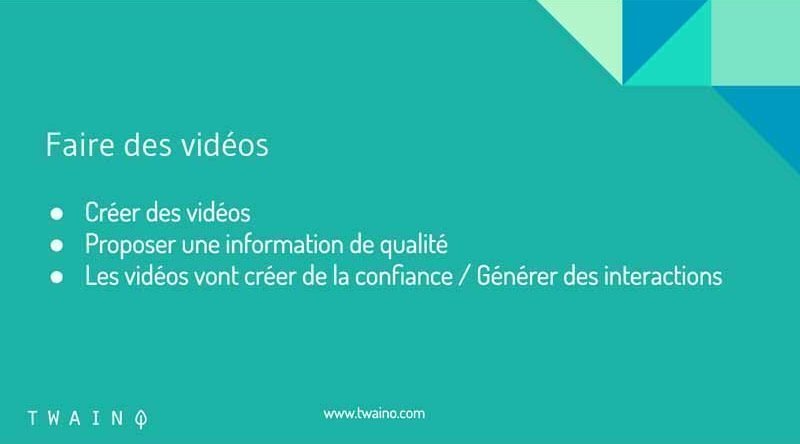 A picture is worth a thousand words, so what about a video? For you, it will be an opportunity to communicate clearly and simply without interference. And for Internet users, it will be an opportunity to retain information more easily.
Indeed, a study shows that visuals allow 65% of people to remember more easily than other forms of communication. In addition, a quality video encourages trust and purchase. By putting a video on your homepage, you will be able to almost double your chances of converting your visitors into customers.
In addition to increasing the reach of your communications, this type of content increases the interest of your emailings. In fact, e-mailings with videos have a 96% click rate. You should therefore consider including them in your content creation strategy.
To go further, you should know that YouTube is the second largest search engine in the world and that you are 53 times more likely to appear at the top of Google results with a video than with a text.
To improve your visibility on the Internet, you must therefore include the creation of videos in your strategy.
Conclusion
In the digital age, you must imperatively carry out certain actions in order to have visibility or clients. If you have just launched your consulting business, you should know that it is first essential to define your target and the type of service you want to offer. Secondly, you will need to get organic traffic and you must rely on content marketing by creating for example a blog that will be regularly fed with quality content. For this, do not hesitate to organize webinars, to make videos and podcasts apart from publishing articles. You will then be able to keep your customers loyal and have more and more of them.