If feedback is becoming increasingly popular, it is undoubtedly because of its great impact on the success of companies. The improvement of services, the definition of commercial strategies and the development of consumer loyalty are some of the aspects that can no longer do without it. In addition, the Google search engine is joining the trend by showing customer reviews in some results. You must therefore master this concept and in this post, I reveal the why and how to collect customer feedbacks?
The importance of feedback
In this video I present the importance of customer feedback and how to get it.
Find the presentation on feedbacks below:
What is feedback?
As you may have already noticed, it is a term that is used in English. However, it is simply defined as all the comments, ratings and customer opinions that are related to the services and products you offer. Moreover, there are basically two different types of feedback.
On the one hand, you have informal customer feedback that can come from various channels including discussions between customers on forums or social networks and discussions between employees and customers.
On the other hand, you have formal customer feedback which, unlike the previous one, gathers comments and customer opinions collected via telephone surveys, satisfaction surveys or feedback tools set up by the company.
Of the two types of feedback, the formal one is the easier to handle, especially since you have direct answers to your questions. However, don't ignore the informal one, so as not to miss out on certain sensitive aspects. This can be the cause of a bad reputation online, something to avoid as much as possible.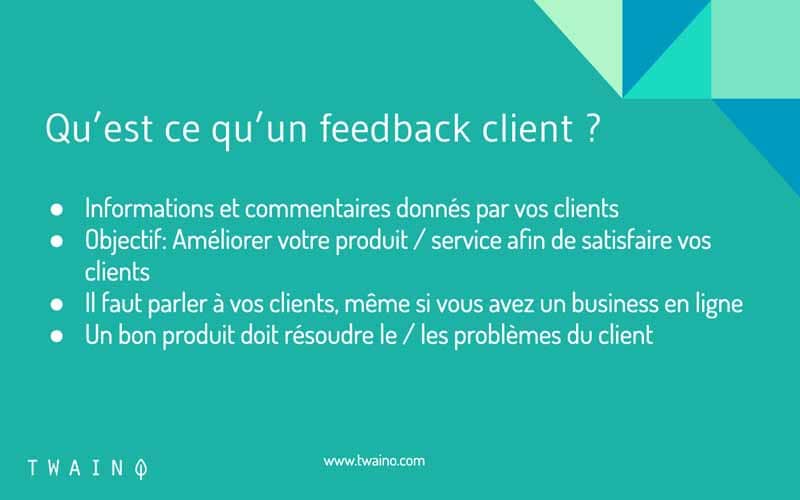 Why is this so important?
There are a lot of reasons why it is a crucial element that you should absolutely take into account. I have therefore taken the ones that are essential and that will certainly make you take action.
According to IFOP, 88% of consumers have searched for online reviews with the sole purpose of appreciating the products or services offered by a local service provider or merchant, and this is before moving on to consumption. This figure is from 2015 versus 83% in 2013. This denotes the evolution of this habit that you should definitely not overlook.
Apart from this point, every part of a company finds important information to make an improvement. For the head office of a company, customer feedback is considered an effective and objective management tool. The head office must guide each department with the best decisions and action plans, otherwise its reputation and performance will be impacted. Customer feedback is a powerful tool that you can use to provide quantifiable and measurable data.
On the other hand, it is a direct feedback on the work done as far as frontline employees are concerned. In general, they are the ones most concerned with customer feedback, but they often don't have access to it for several reasons. By accessing it, positive feedback is a source of motivation and sometimes compensation, while negative feedback, which is often feared (see below), is a lever for improvement.
Feedback is a precious barometer of customer loyalty and satisfaction for CRM managers. For product teams, it is actually useful data on existing products and on upcoming innovations. It allows you to validate the choice of your brand and/or to do better to have a product that end-users like.
Lastly, marketing teams consider them as valuable data to better understand customers and attract new consumers. This is done by knowing the customers' preferences and their perception of the brand and its products.
So you can understand that customer feedback is of paramount importance for all components of a company. The consequences of its absence are enormous.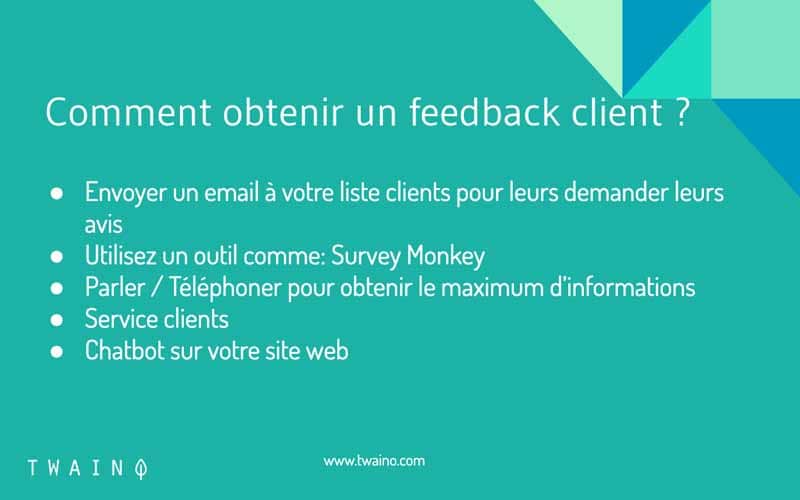 The risk of the absence of feedback?
According to the marketing director of the Pierre & Vacances group, the group loses 10,000 euros in turnover if there is a negative review on TripAdvisor. This statement illustrates the consequences of a lack of customer feedback.
Indeed, this absence or mismanagement of this element has caused the bankruptcy of many companies. Another example is that of a customer who is looking to have a new glass window installed. He finds two glaziers nearby, one with a satisfaction score of 2/5 and the other with a score of 4.5/5. Which one do you think he will choose?
On the other hand, it is 80% of the reviews that are generally positive according to wizville. So don't hesitate to set up a real policy in order to optimize investments in customer dissatisfaction management. This will greatly reduce negative word-of-mouth and benefit your online reputation.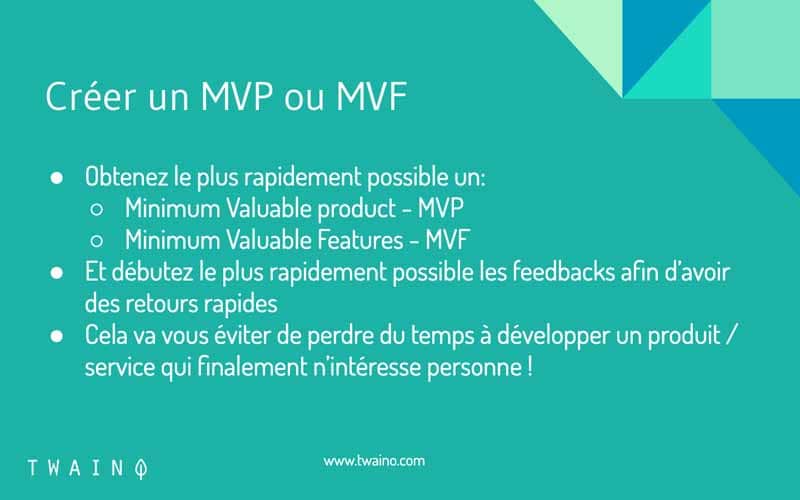 Feedbacks to save time and make your customers more satisfied
You are now aware of the added value of customer feedback for your company. You must therefore develop a strategy to implement it and especially to exploit the information collected.
You will save a lot of time since it is a shortcut to the ultimate goal of any company which is to provide the best possible customer experience. Note however that collecting customer feedbacks is not a complicated task and that at all key moments of the customer's and consumer's buying journey, information, comments or customer opinions can be captured.
There are many ways to be quick and efficient when deciding to have formal or informal customer feedback. You can use one and/or the other to get the maximum amount of data since each of them allows for spontaneous collection.
First, there are the classic means such as points of sale, telephone and email. Then, there are digital means such as messaging, selfcare or e-care (chatbots, FAQ, community spaces, etc.).
In addition to these, social networks (Twitter, Facebook, etc.) are the favorite places for collecting opinions and comments. They allow you to set up surveys and get spontaneous opinions on services and offers. Your website can also be used to collect feedbacks via blog comments or product sheets.
When customers do not express themselves spontaneously, you may need to use solicited feedback. These are satisfaction surveys and online questionnaires. These are submitted to customers after a purchase on an e-commerce platform for example. This can be done by means of a QR code placed on the products, emailing or via the widget of a website.
To go further, collect feedbacks during beta testing or prototypes. Big data" or customer information automatically collected through your application or website is also a great source that you should not neglect. Finally, customer service is a real mine to exploit.
Keep in mind that customer satisfaction also depends on the immediacy of the answers to their requests. Moreover, I strongly recommend that you use artificial intelligence to process and analyze all the information that will have to be infused in all the departments of the firm.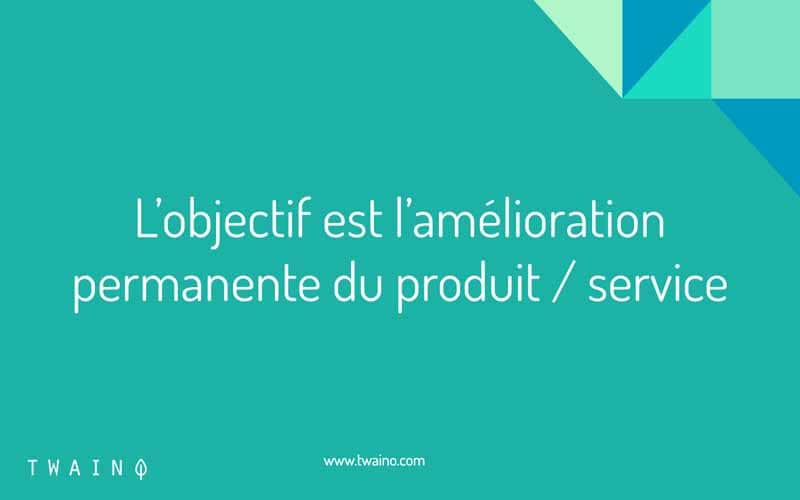 Make your customers happy
By successfully collecting and centralizing customer reviews, you and your teams will be able to offer a better customer experience. This will be felt at every stage of the customer's buying journey as offers will integrate their needs and preferences.
Whether it's positive or negative reviews, you will be able to build and develop an evolving offer that will always be more optimized and follow market trends.
Establishing a feedback management program is the key to a company's performance. All departments (sales, marketing, product and customer relations) will have their decisions oriented towards the ultimate goal of a better customer experience and satisfaction.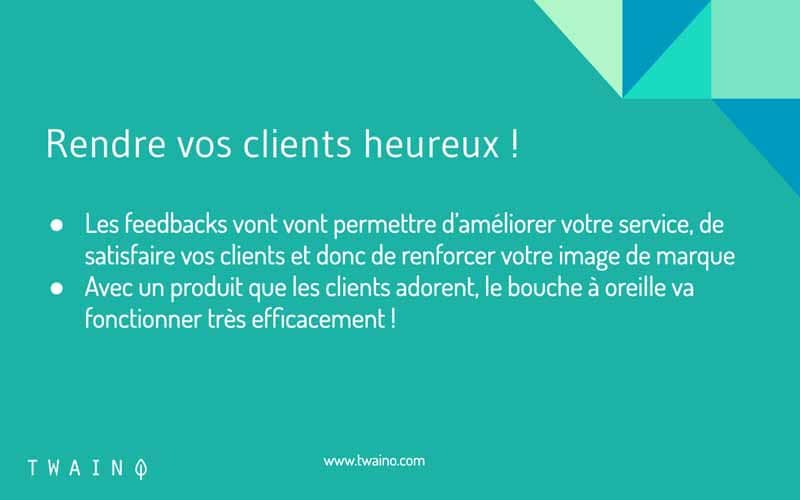 Should we be afraid of negative feedback?
About 12% of consumers write complaints and it is almost impossible to escape negative feedback completely. And in case they do appear, it is dangerous to let them go to waste.
In the first place and for the simple reason that the customer took the time to write, you should return the favor. Even if it's an online or in-house comment, you need to respond in a meaningful way that goes beyond a simple thank you or apology. Then ask the right questions about the causes and alternatives to make the experience a positive one.
Negative reviews play a major role in the purchase decision. A Reevoo study indicated that 68% of consumers develop more trust when the company presents both positive and negative reviews. So leave all reviews so that customers are reassured and encouraged in their curiosity about the service or product offered.
I'll take a simple example to illustrate. A negative review from someone complaining about an unpleasant smell in your store. This review can scare away potential customers who will think that the smell is permanent. Turn this into an advantage by justifying that the smell comes from painting operations in order to have a more pleasant space for consumers. This information will reassure readers in choosing your store.
Ignoring a negative review can cost you dearly. In the case of the marketing director of Pierre & Vacances mentioned above, a good response on TripAdvisor can change the game. However, it would be dangerous to give an immediate response by expressing your emotions. You can give an answer even within 48 hours by making sure you give a concrete answer.
In the case of a customer who complains publicly about tainted food in their burger, it would be dangerous not to respond. You risk a drop in patronage, but by apologizing and bringing the action immediately, you will entice customers again.
On the other hand, negative feedbacks are used to refine your customer knowledge and improvement strategy. With this information, you will know the preferences of the customers, the reasons of dissatisfaction and satisfaction, the most appreciated elements, in order to set up particularly certain action plans.
You must always respond to negative comments in order to positively influence the purchase decision and show customers that their opinions count.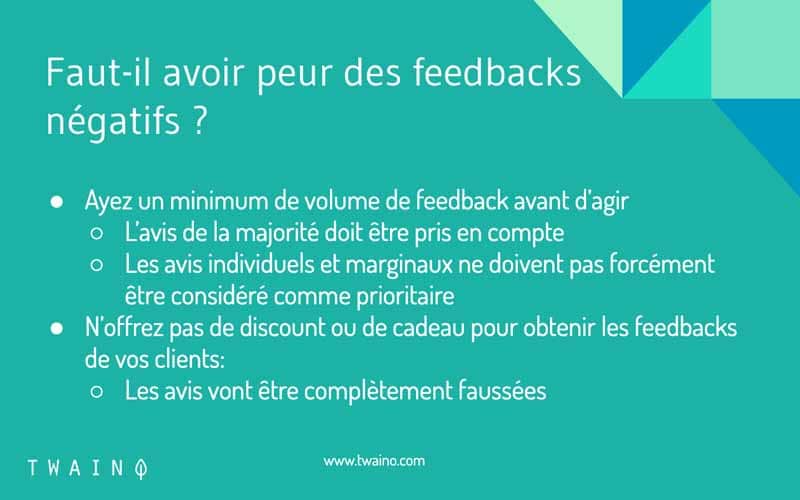 The importance of feedback volumes
By expanding the number of feedback collection media, you will have more qualifying information. This allows you to have a very rich customer database.
The customer service of your company will be able to answer in real time to the various requests. For more relevance, the knowledge base will evolve at the same time as the digital tools. The FAQ of your platform will be enriched for example, but only if it is intelligent and dynamic. It will be the same for the chatbot that will refine its answers.
In order to be efficient and effective, classify customer feedback thanks to efficient centralization devices that are not dissociated from the collection tools. Indeed, a good centralization offers you several advantages including:
Access to data for all the company's stakeholders
A better circulation of feedbacks
A much more favorable internet communication
Easier analysis and processing of data.
For a successful centralization, opt for a customer relationship management tool in order to facilitate your task and to be efficient.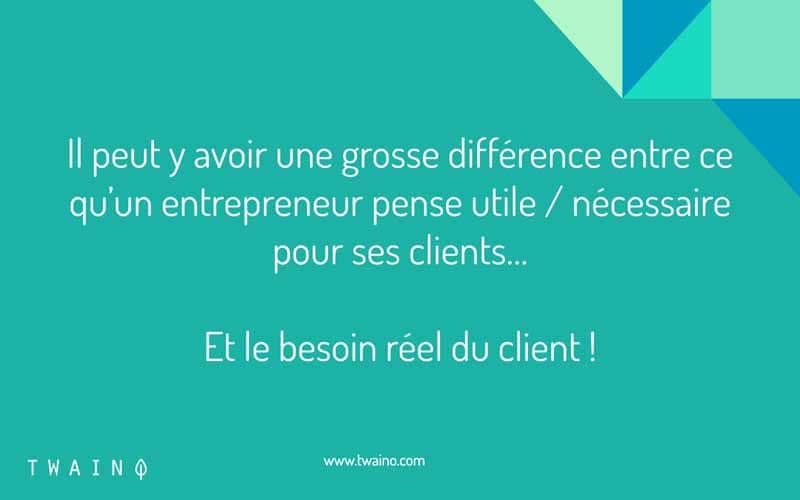 Feedbacks must be selfless
Success in feedback management depends on the number of disinterested opinions or comments you collect. Indeed, you will get the least objective and constructive feedbacks when there is an interest at stake.
Therefore, there is no need for a reward system or anything like that when you want to do a formal feedback collection. Also, keep in mind that informal feedbacks are sometimes the ones that are full of relevant information since they are usually disinterested.
Conclusion
Finally, I will tell you that the performance and survival of your business depends on how well you handle customer feedback. The more you collect, the richer your database will be, allowing you to offer products or services that contribute to a better customer experience and satisfaction. However, beware of collecting feedback if you are not ready to make the necessary improvements since customers will feel that their opinions are not considered. This can cause you to lose out especially when you ignore negative feedbacks.
---
Video transcript:
Hi, it's Alex. Today, we're going to see together why and how to collect feedbacks from your customers. So first of all, what is a customer feedback? In a general way, it is in fact an information or a comment that will be given to you by one of your customers who bought either one of your products or one of your services. Why is this important? It is very important because finally, it is what will give you elements to improve your product or your service in order to satisfy your future customers. Even if you have an online business, it is absolutely essential to give feedback to your customers. So objectively, do it too. How to get customer feedback? Well, there are several ways to do this. One of the easiest ways is to send an e-mail with a form that you will ask your customers to fill out. This is the first way. Another way is to use tools such as Survey Monkey which will allow you to make feedbacks, to make forms to complete a feedback. Then, if you want to have something a little more qualitative, you can talk directly to your customers. If you ever have a physical store, if it is not the case you can also phone them to access, to get the maximum of information. Another way that is interesting is the customer service. If you finally have a customer service, you will see what are the different problems that your customers may have encountered and therefore you can really use the customer service as a real good lever to improve your service and your product in general. Finally, on your website, you can also set up an automatic or semi-automatic Chatbot system. Where you can collect feedbacks. Because indeed, between what we can have in mind when we are an entrepreneur, we can say to ourselves ok, the customer needs such and such things, but in reality, what is more important, it is rather than to make a little vague idea. It's to ask the customer concretely what he needs and finally a feedback allows to do that and to have a return. For example, if you start a new company, if you create a new service, one of the ways to do it is to start with what we call a minimum Valuable product or a minimum Valuable Features. So the objective is that as you create your product or your service, you will constantly go back and forth with customers to see what they think of it very quickly. This is something that is interesting because in fact, the evolution of your service or your product will depend on the feedback you get from your customers. And so, this will prevent you, for example, from wasting a lot of time trying to develop services that, in the end, are not of interest to anyone. So before a permanent feedback during the creation of your product or the creation of your service, it is something extremely interesting. So the objective at the end of the day, obviously, is to make your customers happy. Indeed, that's the main idea with the feedback, to improve your product, your image, your service and consequently to create a brand image that will be quite strong, especially when you have customers who like your products, the word-of-mouth system works extremely well. And your customers practically become your ambassadors, so it's an interesting thing to go towards. And feedback allows you to satisfy your future customers even more. Should we be afraid of negative feedbacks? Well, sometimes when you have a website or a company, you can say to yourself, well, I don't give feedback because I'm so afraid of the reaction of my customers, that I don't know what, I don't really want to know. That's not a good thing at all, just know that when you go out and get feedback, really have logic in mind that's going to be with high volume. Don't make decisions based on one person's opinion or very very marginal opinions in the end. Simply because if you don't, it will lead you to dead ends or even to market mistakes. So globally, try to capture volumes, to have several people for example who have filled in your forms. And from the moment you have these visions a little more important, you can make decisions that will be all the more interesting. Another element, don't offer discounts or gifts to your customers so that they can fill in forms, feedbacks, simply because otherwise, the opinions will be completely distorted and therefore you will have a completely biased vision of your product or your service.