Clubhouse, the new 100% audio network that's causing a stir on the web
You've probably heard the media hype about Clubhouse, the latest social networking nugget that's currently creating a buzz in Silicone Valley
Launched only in March 2020, the platform claims more than 2 million active users every week and is already raising $1 billion!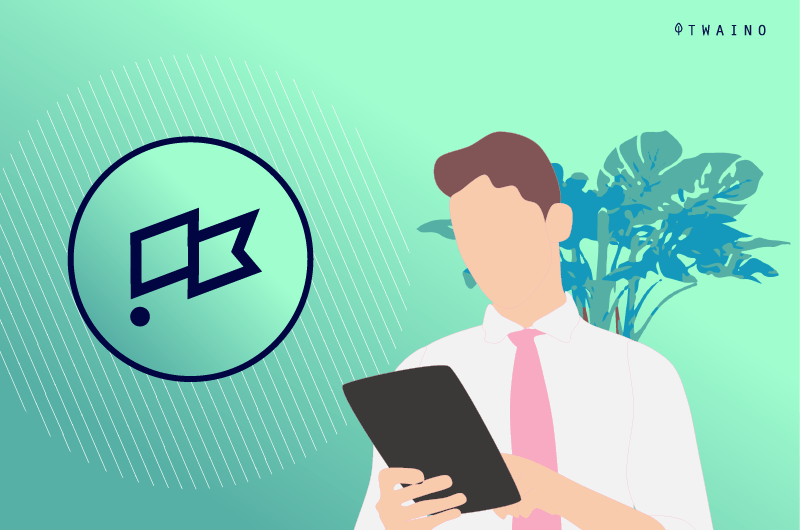 A spectacular success that does not leave anyone indifferent and that is causing a lot of ink to flow
Who is at the head of this social networking application?

What makes Clubhouse so special?

Why is the platform growing so fast?

How do I use Clubhouse?
Find out everything there is to know in this article signed 100% Clubhouse!


Chapter 1: Understanding the Basics of Clubhouse
Before we present you with a complete guide for your first steps on Clubhouse, let's discover together the world of this new network, and nothing better than a good definition to start

1.1) What is Clubhouse?
That's the question on everyone's mind right now. And to answer it, Clubhouse is a social networking platform, but a little different from anything you've used before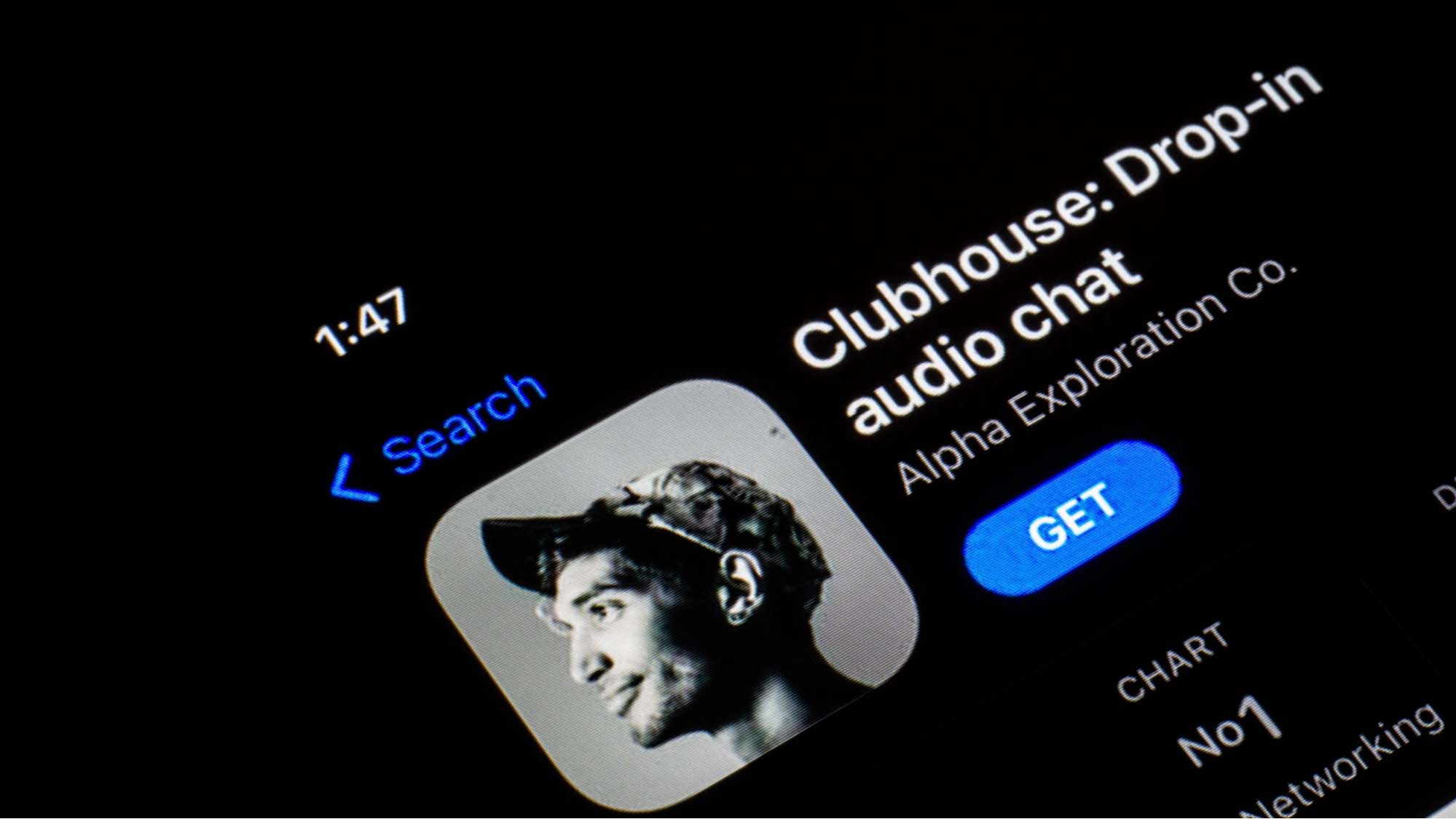 Unlike Facebook, Instagram or Twitter, Clubhouse is not about posting useless information
No one is interested in your favorite meal or where you spent your last summer vacation
Clubhouse is a social network that works exclusively with audio content. The platform is serious about allowing its users to share constructive conversations around topics such as
Technology

Professional sports

Politics

And many others
On Clubhouse, you can't send
Photos

Videos

Or even written messages
Once registered on the network, each user just has a profile picture and the possibility to browse the different virtual rooms, listen to the conversations and participate in them
Each conversation can be kept secret or simultaneously accessible to thousands of people, much like a conference, a live podcast or a collaborative radio show.
The company describes itself as "a new kind of voice-based social product that allows people to talk, tell stories, develop ideas, deepen friendships and meet new and interesting people around the world."
On the platform, each user is free to create his or her own chat room and set the access rights, public or private. It can also allow off-the-cuff chatting exactly like a Facebook group.
Administrators, who are a bit more rigorous, can regulate their room and only allow discussions with authorization. So a member who wishes to intervene in a conversation must "raise his hand" to ask to speak and it is up to the moderator to grant it.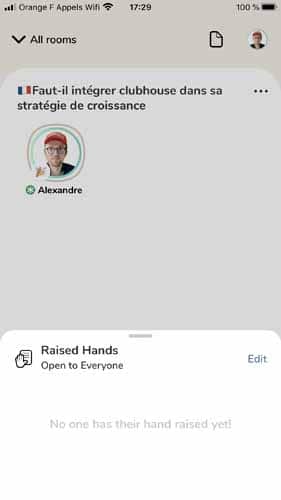 In addition, unlike platforms that retain content, Clubhouse rooms are closed as soon as the conversation is over. There is no way to replay a missed chat on the network
However, it is not prohibited for users to record a discussion, such as this one that was broadcast live on YouTube
The platform also offers an "Explore" feature that allows users to browse rooms categorized by topic that can contain up to 5,000 users connected simultaneously
But you'll need to join the network first before you can hope to join these lounges
1.2. how to join Clubhouse?
For now, there is only one way to join Clubhouse: get an invitation. Although the platform is worth $1 billion, it has only a handful of members who join the community exclusively by invitation
Much like you need an invitation to join a new country or a VIP club, but in a virtual way. However, the invitations here are only offered by members already registered on the platform
That is, to join the Clubhouse, an existing member must send you an invitation from their application. The invitation is received as a link via SMS on your number, directing to a registration page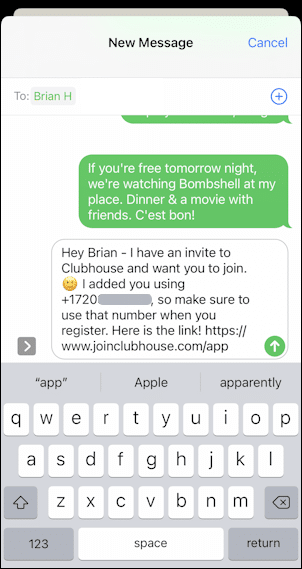 Creating a profile is easy as it is for most social networks by filling in just a few fields. It must be said that the platform encourages users to fill in their real name for the creation of their profile
For the subscribers of the network with the blue bird, it offers the possibility to quickly pass the registration by importing its Twitter profile
Once registered on the platform, the algorithm suggests friends with whom you share the same interests
But it is important to note that even with an invitation, without an iPhone, it is impossible to download the application and register. For now, Clubhouse is only only available on iOS
However, the CEO of the brand was reassuring and promises that the Android version of the application will be launched soon, without giving a specific date
But why does the network only work on iPhone and with invitations? To justify this "exclusive" side of the application, the company explains that its program is still in beta version
And that it wants to gradually expand its community, in order to prepare the necessary features to manage a larger number of users.
The excuse seems quite logical since we remember the beginnings of Gmail which was also reserved for a small community, the nerds
Recently, the Clubhouse managers were able to suggest that the year 2021 will be devoted to finalizing the beta version of the application so that very soon, Clubhouse will be accessible to everyone
Visit the brand's official websitewebsite, it states "We're building Clubhouse for everyone and working to make it available worldwide as quickly as possible".
And this desire to make the network accessible to the general public is already materializing, since at the beginning, a new member could only offer two invitations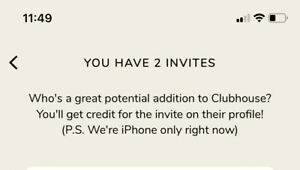 But today, this number has risen to 4, showing the company's willingness to effectively expand its community.
However, with the current membership policy, if you don't have a certified account on other social networks or don't collaborate with a big network, you might have to wait a long time in the queue before getting your ticket to join the platform.
Indeed, with your iPhone, without an invitation, you can always install the application, reserve your name on a waiting list and hope to join the Clubhouse, even if there is no guarantee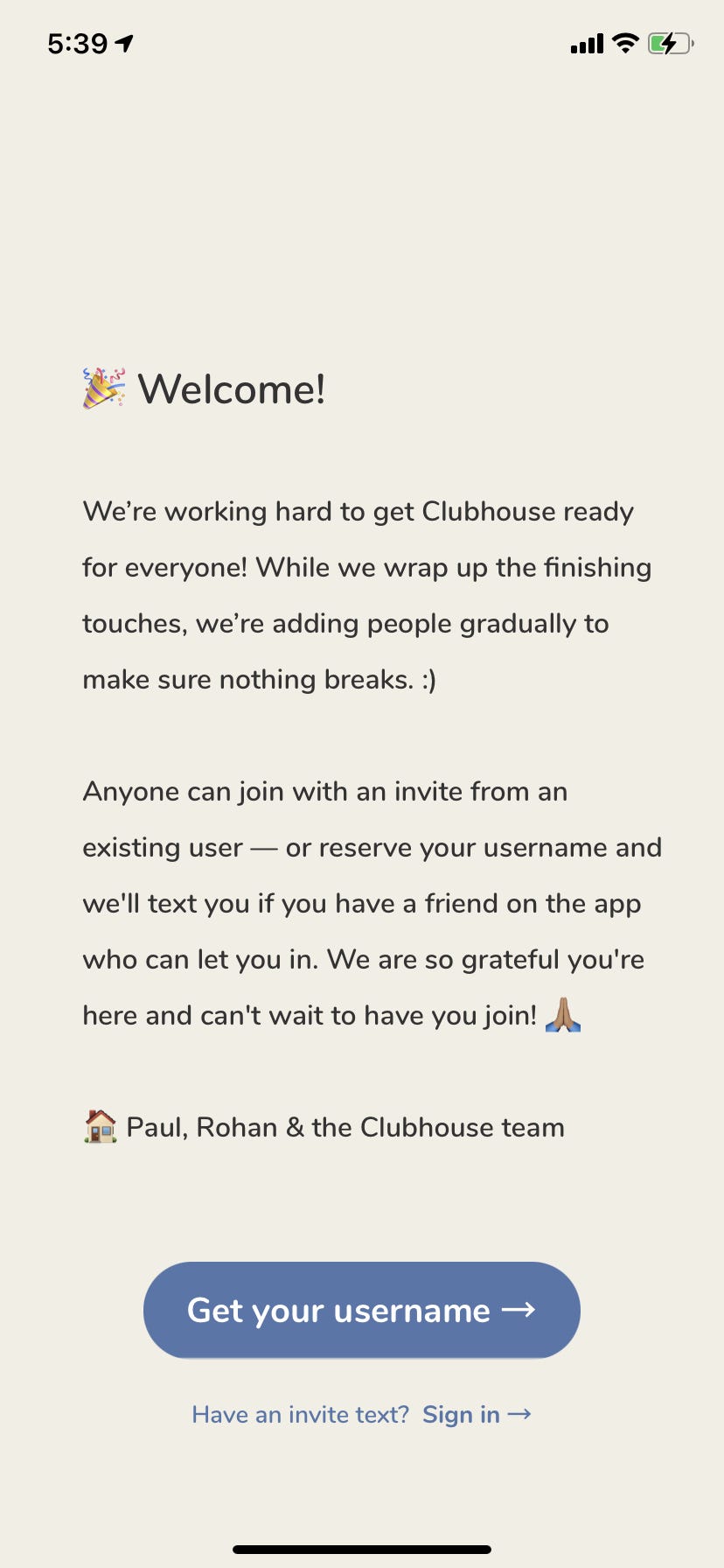 If you really want to hear your favorite celebrities and have a chance to chat with them live, you'll have to hurry to get your invitation. Some experts in the field already think that by July 2022, all possible spots to join the network could already be filled
1.3. Who can I meet on Clubhouse?
Clubhouse was officially launched in March 2020, by entrepreneurs Paul Davidson and Rohan Seth. A month after that launch date, the network had only 1,500 subscribers, but was already worth 1 billion dollars on the market
Its users consisted of just a handful of people, mostly regulars from Silicon Valley
They were Californian journalists specialized in NTIC, actors of the financial world, big investors, some of them even having been recognized in the board of directors of Facebook
But since last week, the platform is at the heart of an unparalleled media uproar
It all started when Elon Musk, the world's richest man held an hour-long audio chat on Clubhouse with Vlad Tenev, CEO of Robinhood, an american financial services company
During the conversation, the Tesla boss had to talk about his futuristic projects. Indeed, the man is working on the design of a man-machine interface with the aim of increasing the capabilities of the human race
The project would already be underway and the billionaire entrepreneur even revealed that brain implants have been tested on a sign to bring the animal to play a video game just with his thought
Elon Musk was also interested in less serious topics such as giving his opinion on the science fiction movie Tenet
A moment of discussion as instructive as amusing, which did not fail to saturate the discussion room to the point where the event was broadcasted live on YouTube to allow everyone to follow it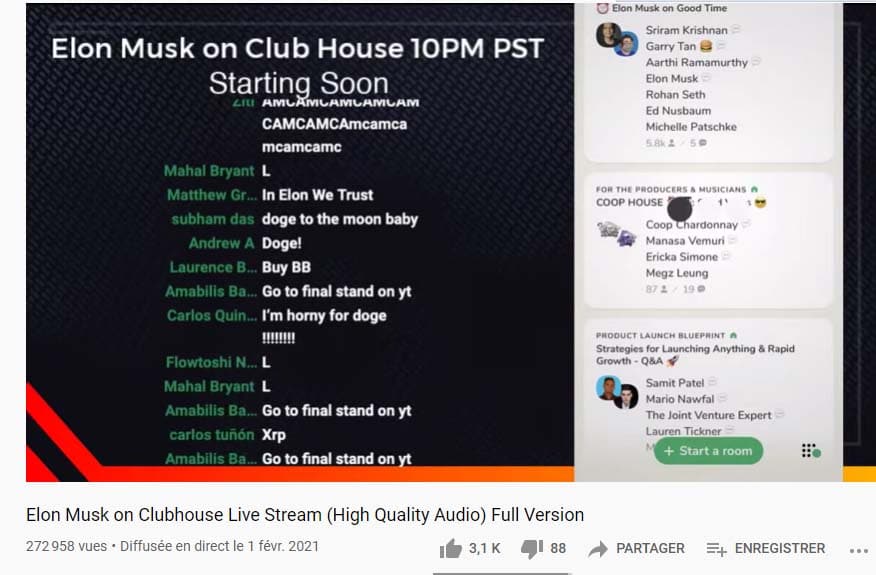 Recently, the SpaceX boss even asked in a tweet to Russian President Vladimir Putin to join him on Clubhouse for a chat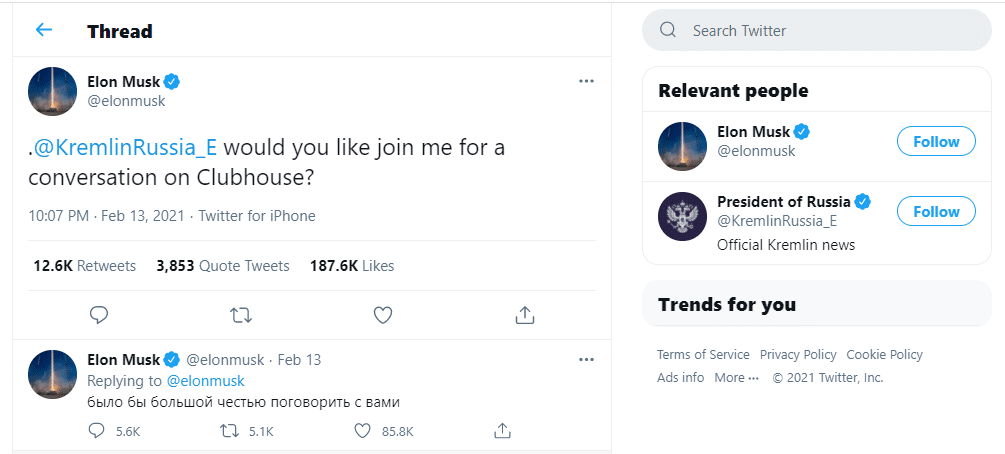 Predictably, the appearance of such an influential figure has only propelled the platform to the forefront of startups of the moment with an impressive wave of invites
As of February 1, there were 2 million users to join the Clubhouse and the network is already planning to add interesting new features to grow its brand to grow its brand
Today, Clubhouse remains the first 100% audio chat social network. With $100 million in funding, it is also considered a unicorn startup like AirBnb, Uber or even SpaceX
Needless to say, with such a meteoric success, everyone wants to join this rising social media star. Demand has become so high that there is currently an open market on Reddit, eBay and Craigslist to buy referral links and join the network
But Elon Musk isn't the only celebrity who has been welcomed to Clubhouse. Just days after his live chat, Mark Zuckerberg also made a surprise appearance on the platform
The owner of Facebook, the world's leading social networker, also joined Clubhouse as "Zuck23" where he was able to present projects from Facebook's Reality Labs division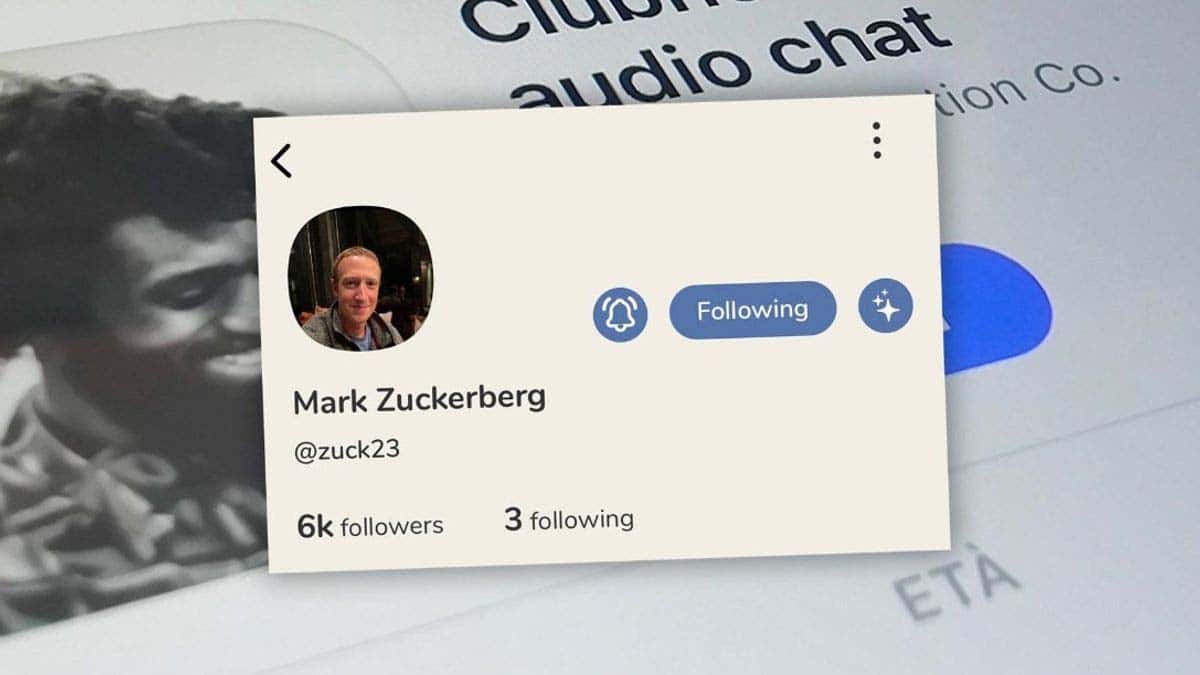 Source Void
According to the explanations of the billionaire boss, this section of his brand develops solutions to improve Virtual Reality and Augmented Reality experiences. The said project is already underway with a roadmap developed over 4 or 5 years of work
A wave of African-American celebrities have also been added to the list of prominent figures encountered on the network
These include rappers Drake and Meek Mill, who have supported beatmakers, or actors like Kevin Hart, Tiffany Haddish and Deray McKesson who are known to be staunch supporters of the Black Lives Matter movement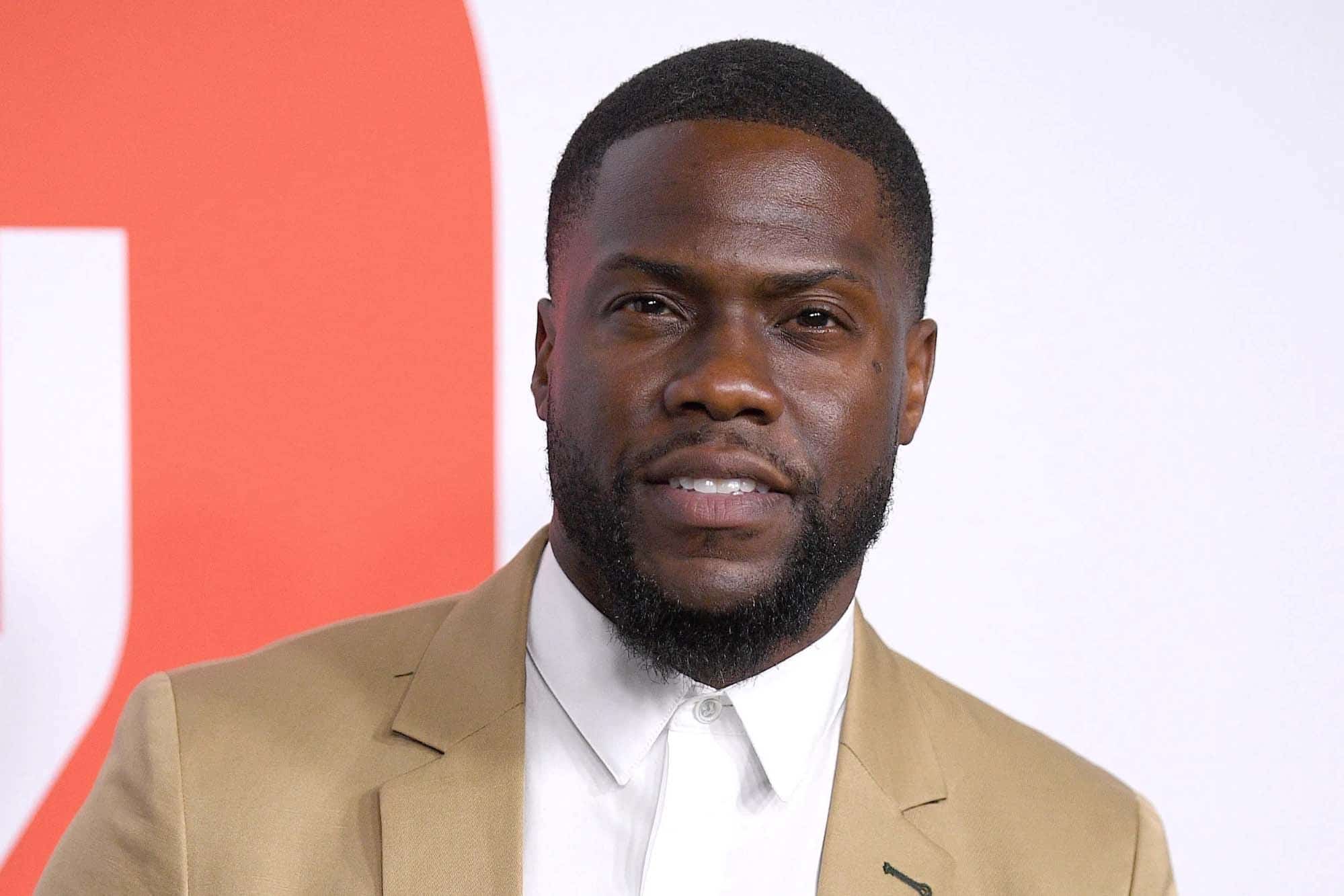 In addition to the celebrities to whom the platform owes its success, it's fair to say that containment has also weighed in. Being almost locked up all the time, people feel the need to interact with new people, which they easily find on Clubhouse.
It's also important to note that the platform has not only an American audience, but also a European and even Chinese one
It is well known that the majority of Americans use iPhone phones, which makes it easy to download the application.
Even if the same cannot be said in Europe, the United Kingdom and Germany have more than 200,000 users on Clubhouse. Gradually, France is also joining the trend.
The platform was also a hit in China, but very quickly it was silenced
1.4. What happened to the Clubhouse network in China?
You may not know it, but China has the largest and most sophisticated online censorship system in the world. Government crackdowns and controls are frequently observed throughout the country.
In fact, the social networks Facebook and Instagram do not work on Chinese soil, precisely because of this control system. Despite all this censorship, Clubhouse managed to escape the Chinese firewall for several months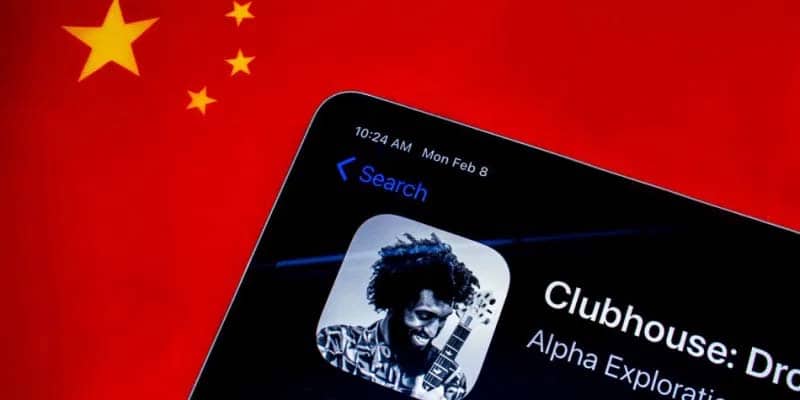 Since its release, the network has been very popular with the Chinese, who find in Clubhouse a rare opportunity to " express themselves freely ". In the chat rooms, Chinese users talk about everything from the most embarrassing to the most normal topics
On the site Quartzit even says that "Chinese users, largely investors and technology professionals, use the space to talk about topics that would otherwise be censored at home, such as democracy."
The Clubhouse concept has been so popular that invitation sales markets have developed on Chinese e-commerce sites. Invitation codes were sold on the Xianyu and Taobao platforms ranging from 150 to 400 yuan, or €19.31 to €51.50
But all this did not last long, the Chinese authorities have taken notice of this new social network and have blocked it since February 8. Like other blacklisted social networks on the Chinese territory, Clubhouse is also blocked in China
1.5. The controversy with Clubhouse
Paul Davison and Rohan Seth's platform does not only meet with positive reviews. In recent days, problems with abuse and moderation of conversations have been reported and are increasing
The New York Times reports that there have been numerous complaints about the lack of provisions by the platform's managers to protect users from abuse
At The Vergealso denounces this lack of measures to moderate content. Since last December, Vanity Fair has even published an article detailing how the audio-only nature of the platform and its leniency have allowed speakers to voice misogynistic and racist comments
In the face of this controversy, a company spokesperson spoke out and attempted to reassure users with these words "All forms of racism, hate speech and abuse are prohibited on Clubhouse and are a direct violation of the community Rules and the terms of Use "
While this may sound like a bit of a comforting statement, it still begs the question: What are the rules and how do I use Clubhouse?
Chapter 2: The Complete Guide to Using Clubhouse
Here's a complete guide to discovering and using all the features of the Clubhouse application
2.1. Join Clubhouse
As explained above, to join Clubhouse, you must have an iPhone (or an iPad) because the application is only available on iOS for the moment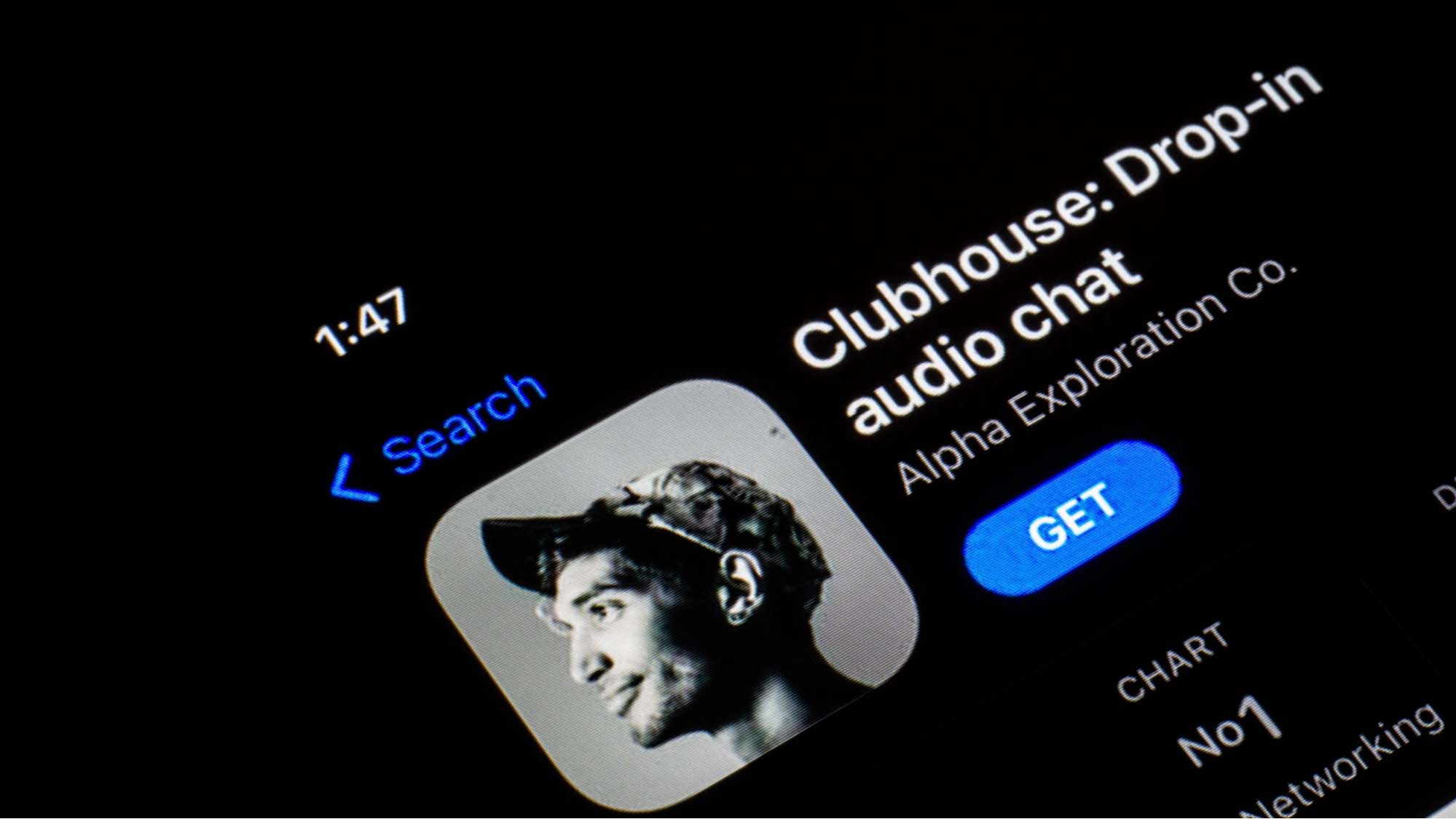 Once the application is downloaded and installed on your iPhone, you have two options for joining Clubhouse
2.1.1. Reserve your username on the Clubhouse waiting list
This waiting list is for those who do not yet have a personal invitation to join the network
It is especially useful in that you can reserve your username so that it is not taken by another member
Also, once you are on the waiting list, your contacts who are members and already using the Clubhouse network can be notified of your arrival
This way, they can send you an invitation to access the actual content of the network.
To reserve your username on the waiting list
Open the downloaded application and click on the "Get your username" button at the bottom of the welcome message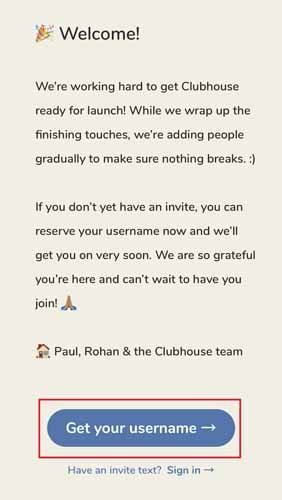 Enter your phone number and click "Next"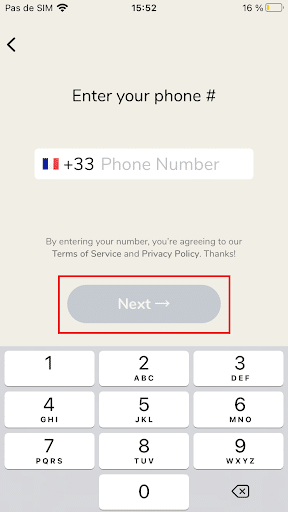 The application will send you a 4-digit authentication code by SMS to the number you entered
Enter this code and click on " Next " to continue.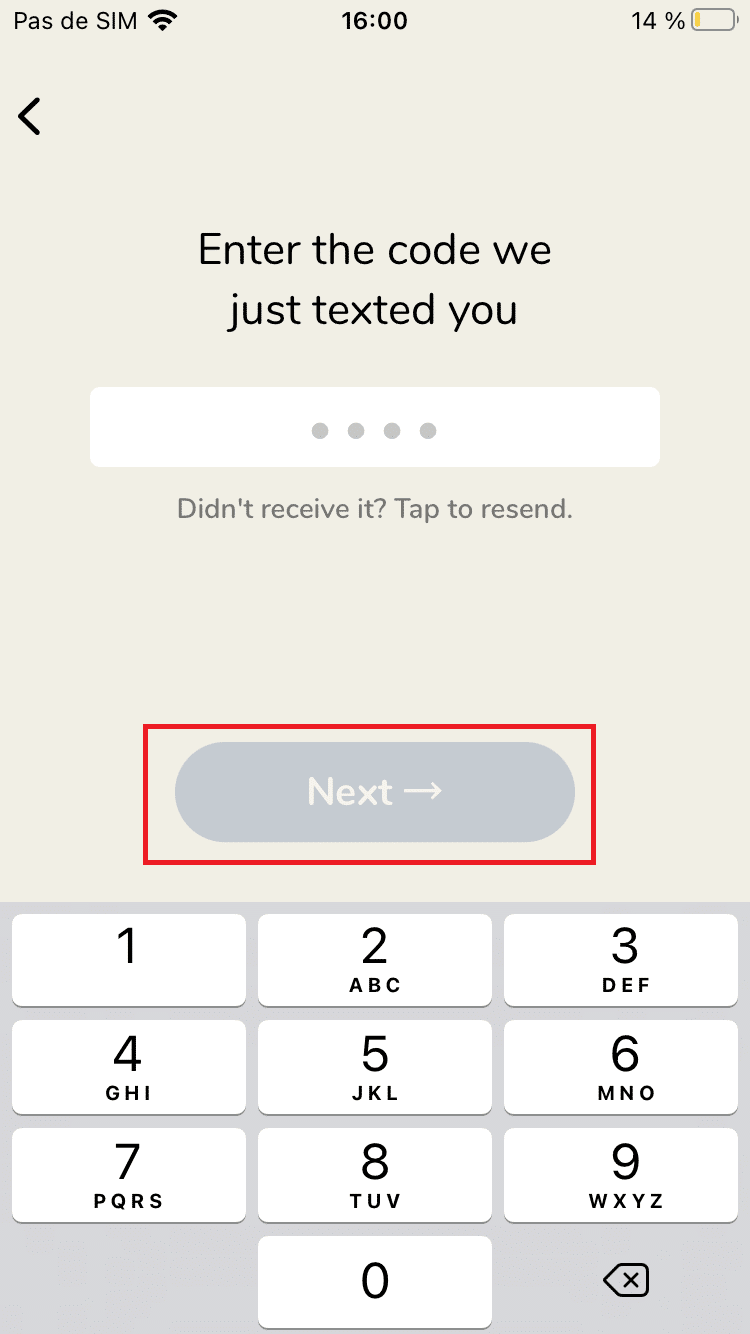 Then enter your Name and First Name and click on " Next ":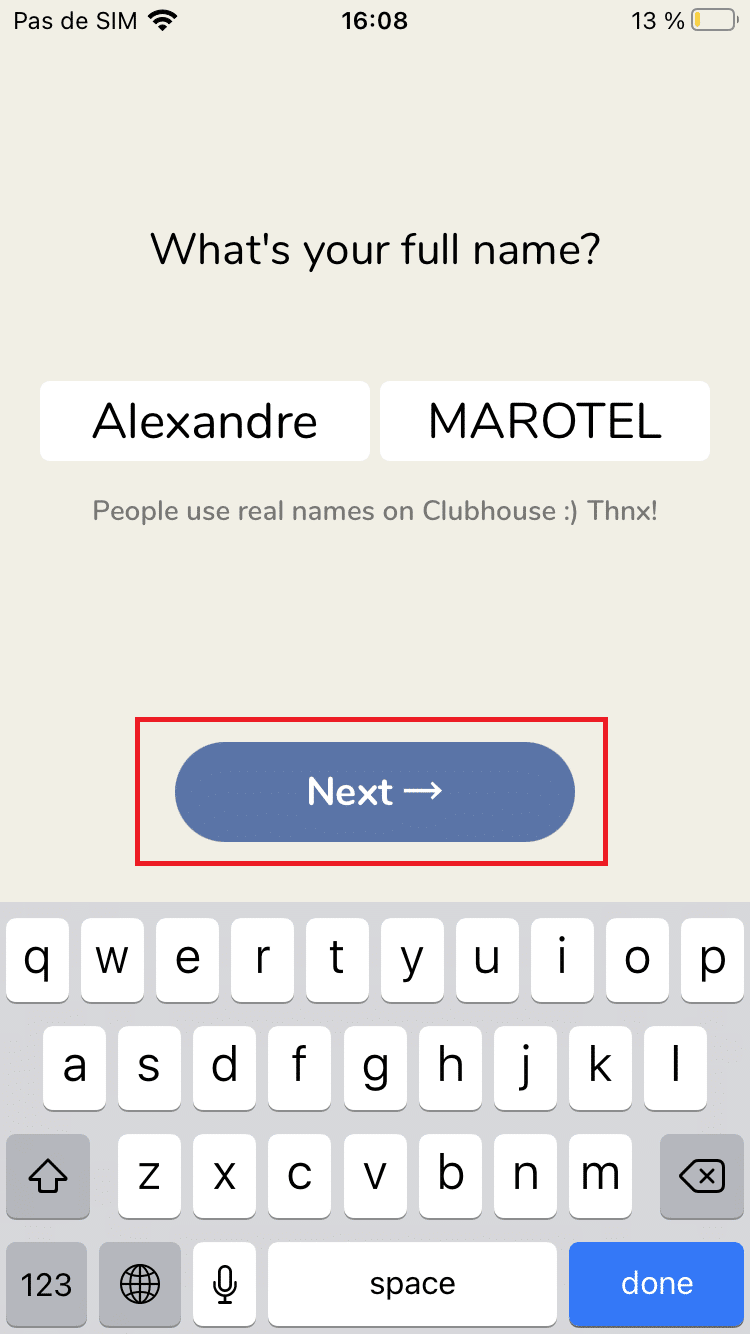 Enter a username and click on "Next"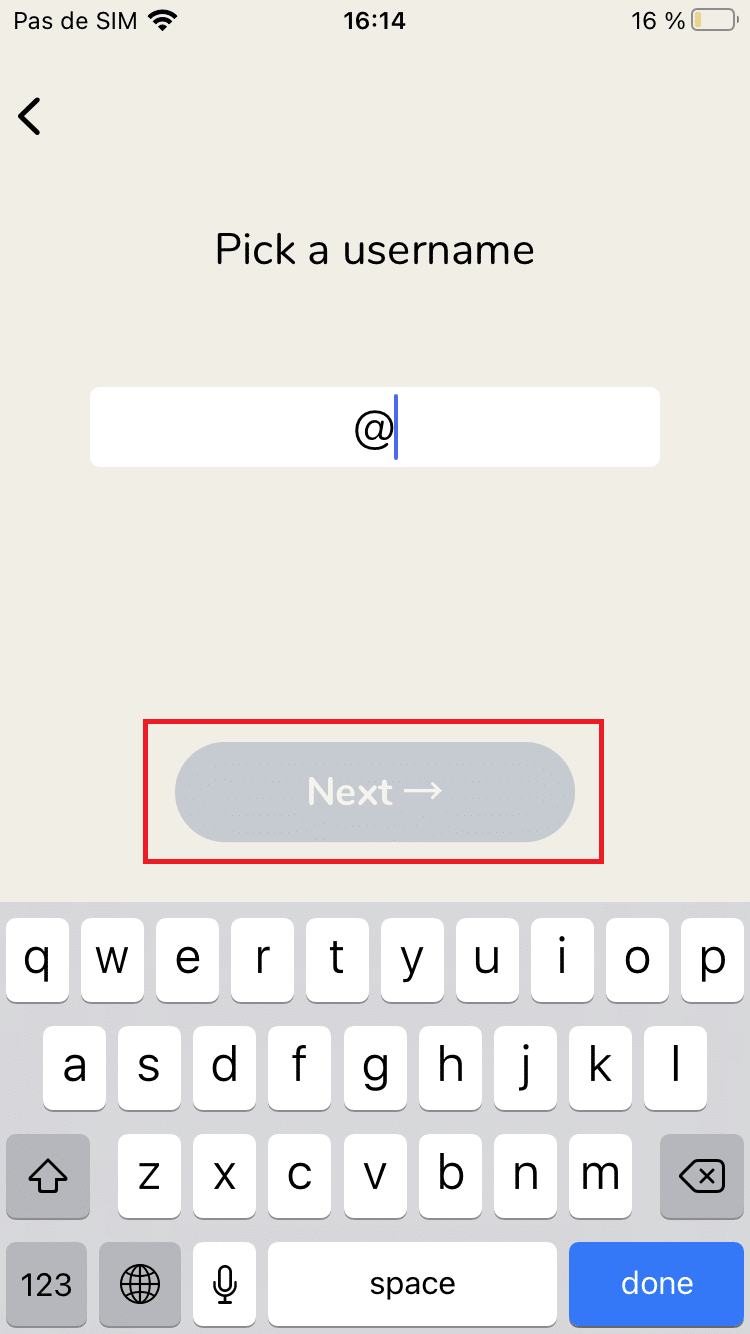 If the username you entered is available, you will receive a success message notifying you that your username has been reserved
2.1.2. Use a personal invitation link to join Clubhouse
The second option for joining Clubhouse is to use an invitation link
To use it, just click on the invitation link
It is included in a text message you receive on your phone number. You will then be redirected to the application with a welcome message and the name of the friend who invited you

2.2. set up your clubhouse profile
To go fast, the configuration wizard offers you the possibility to import your Twitter profile
To do so
Click the "Import from Twitter" button and enter the account information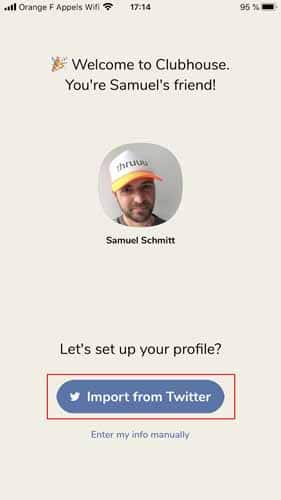 But if you want, you can manually set up your Clubhouse profile
To do so
Click on "Enter my info manually"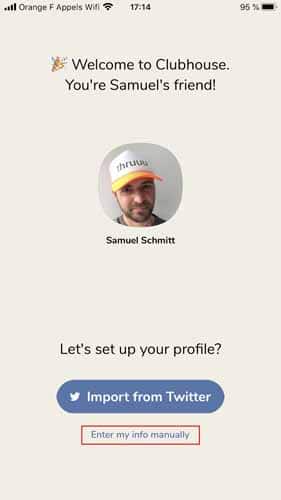 Setting up a Clubhouse profile is pretty straightforward. Like other social networks, it's essentially a matter of describing yourself and what you're offering on the network in a few words
To do this, you will be asked to add a profile picture and a biography
The profile photo can be chosen directly from your photo library or by using your camera to take a new photo. In any case, it is important that
The photo used clearly shows your face with if possible a small smile to give a more cheerful impression

Your profile picture is of good quality and framed at the right size since the same picture will be displayed in several places on the application. Sometimes it can be displayed in a close-up or thumbnail with your name. A poor quality photo can therefore make you unrecognizable from certain angles

The platform itself has rather bright backgrounds. By also using a photo taken with a light background, you will make your face stand out clearly by contrast. This will quickly make you stand out in a list of profile photos
For your biography, the application offers enough space to write a long and complete biography. So be sure to write it well, since the bio is among the first information other members will see when they type in your profile
But the Clubhouse editor does not support hyperlinks or HTML code. As a little tip, you can write your bio from an external editor of your choice (Google Doc, Notepad…) and paste it into Clubhouse
This way, you can easily add emojis or use special formatting for keywords that are important to your industry
These keywords are particularly important for your visibility on the network, as they allow you to be found quickly when users use the application's search function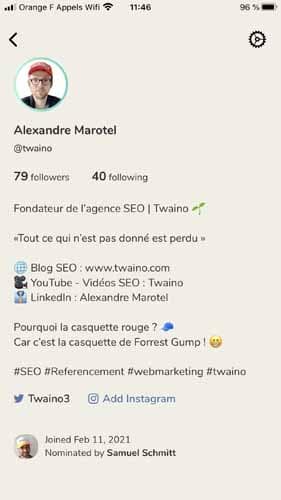 Although the application does not allow you to add clickable links directly in the biography, it does accept the addition of links from your Twitter and Instagram profiles, but in a different way
2.how do you link your Instagram profile to your Clubhouse account?
To add your Instagram profile to your Clubhouse account
Click on your photo to go to your Clubhouse profile

Scroll to the bottom of the page. You will see the Instagram symbol with "Add Instagram" next to it

Click on it
The app will ask you to connect your Facebook account before linking your Instagram account.
If in the future you want to disconnect your Instagram profile, you have two ways to do so, one from the Clubhouse interface and the other from Instagram
First, tap on your photo to access your Clubhouse profile.

Then click on the settings logo in the upper right corner of your screen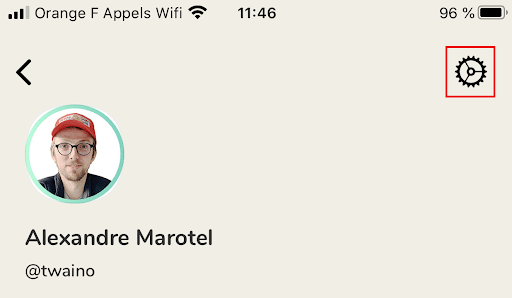 Scroll down the page and then click on the "Disconnect Instagram" option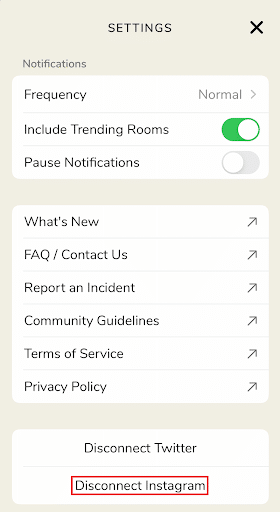 And your Instagram account will be effectively disconnected from Clubhouse
The second option is to revoke Clubhouse access from your Instagram account
To do this:
Log into the Instagram app and go to your profile

Scroll down to the hamburger menu on your right and click on "Settings".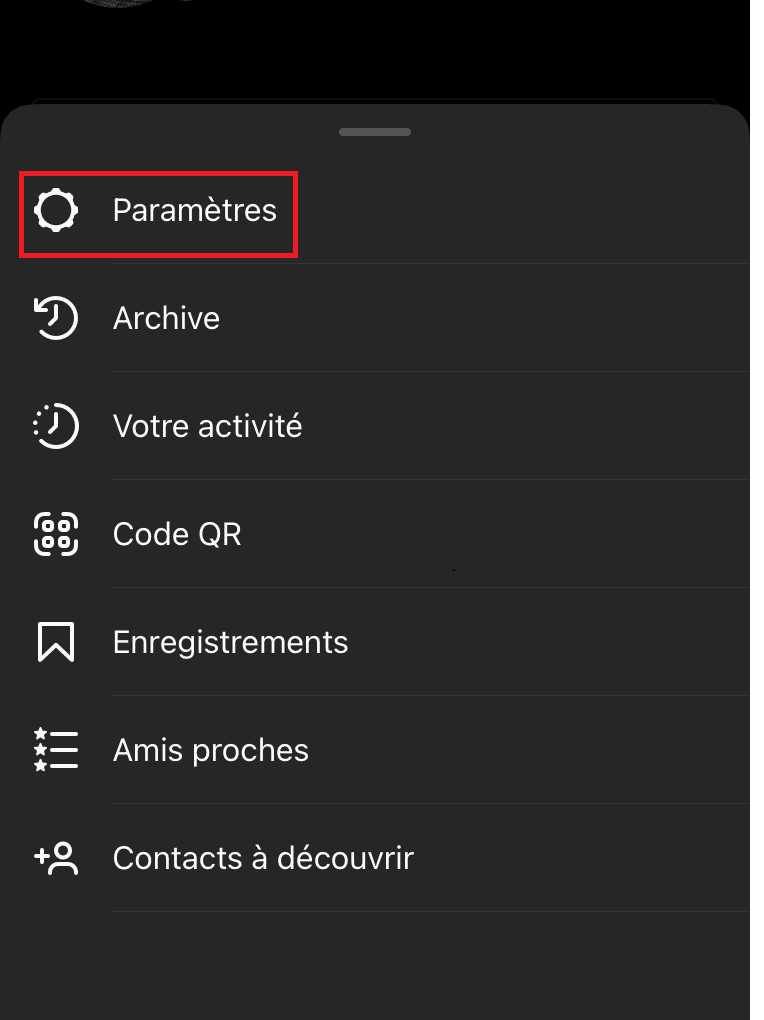 Then click on "Security" and then "Applications and Websites"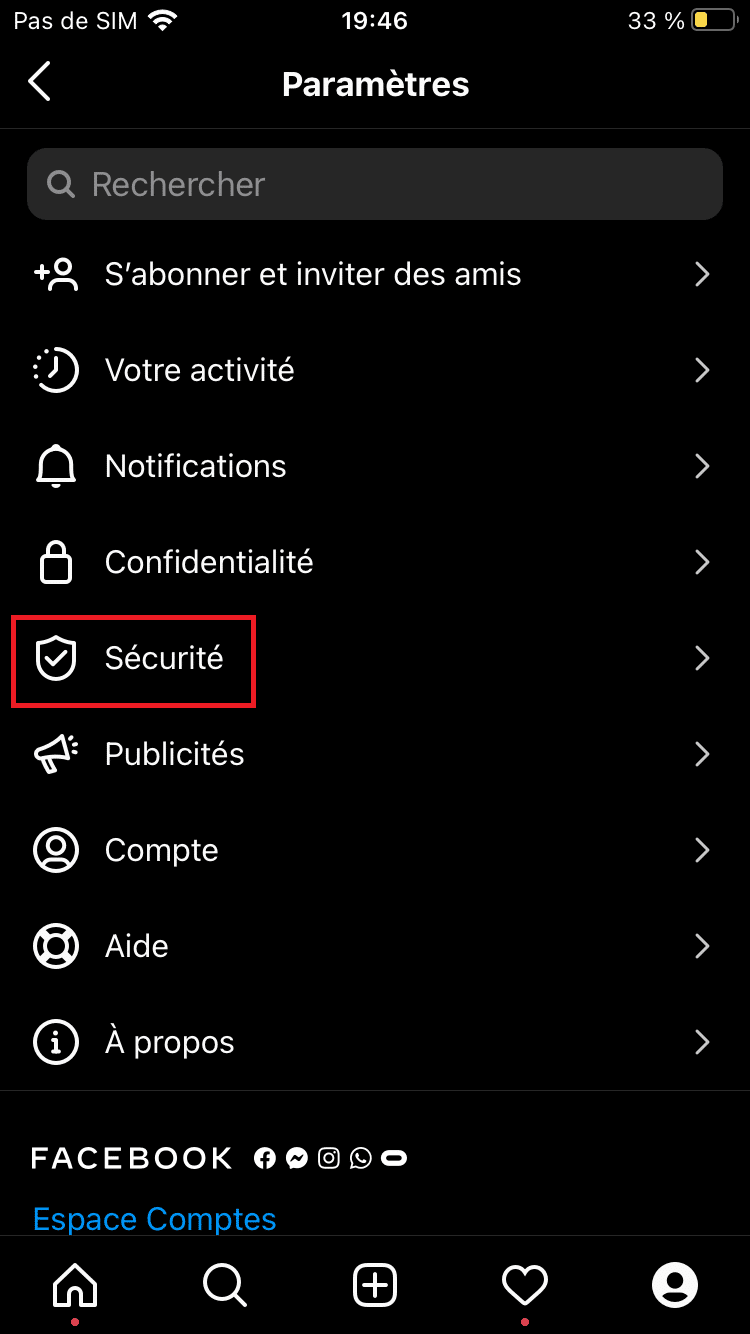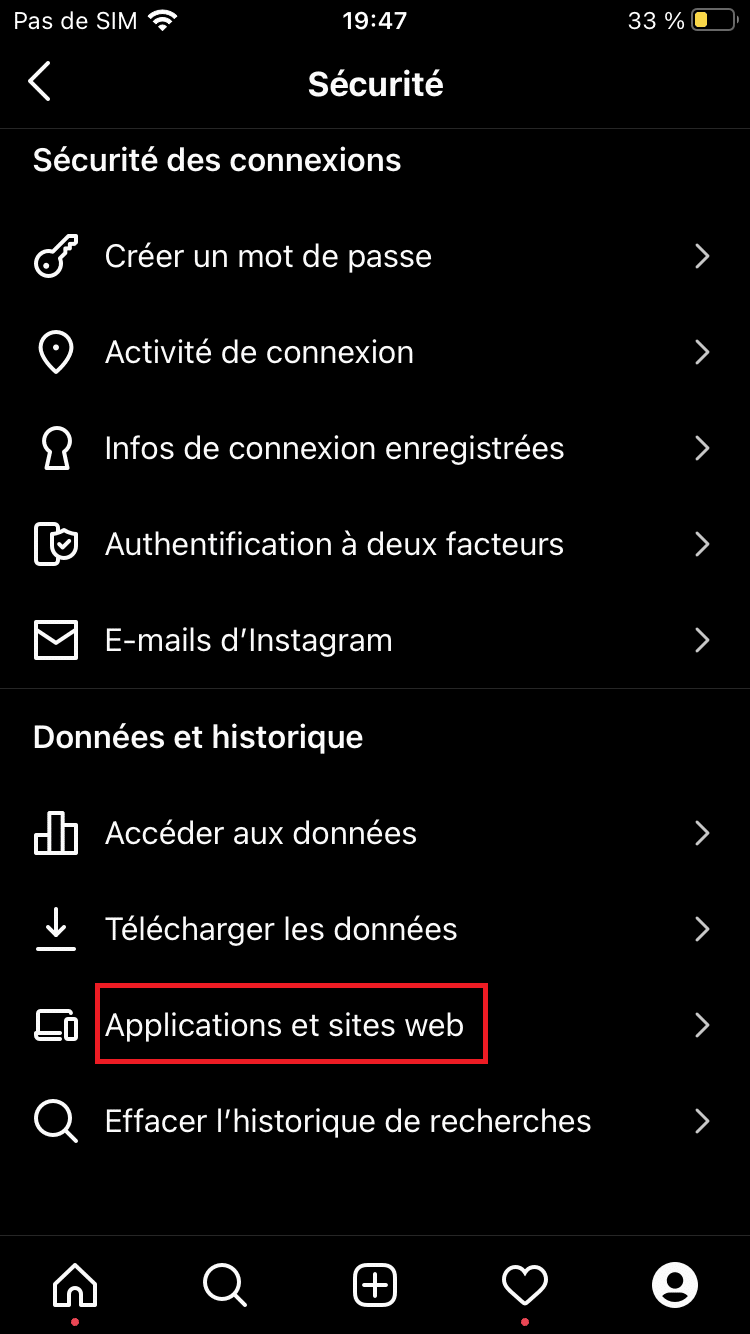 Finally, click "Remove" to remove Clubhouse from your Instagram account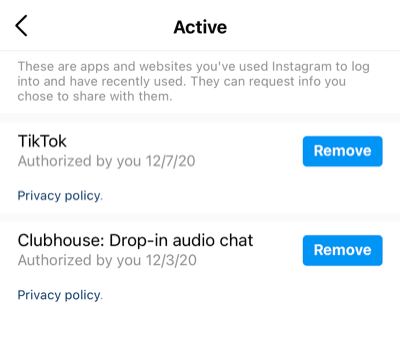 Once you return to Clubhouse, you will notice that the Instagram account is logged out. You can start the add process again to connect an Instagram profile again
2.4. How do you link your Twitter profile to your Clubhouse account?
To get started
Go to your Clubhouse profile and scroll down the page

Click on the "Add Twitter" link and enter your Twitter account information to add it to your Clubhouse account
There are also two ways to disconnect your Twitter account
The first method is to click on your photo to access your Clubhouse profile

Then click on the settings logo in the upper right corner of your screen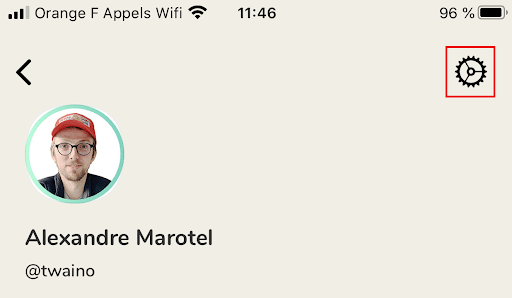 Scroll down the page and click on the "Disconnect Twitter" option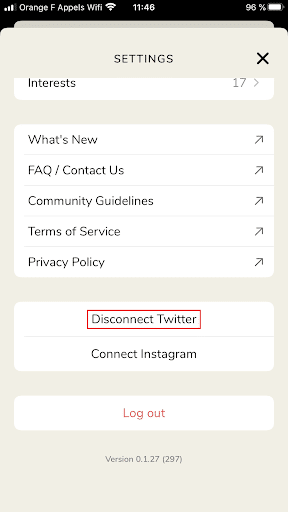 The Twitter account will be effectively disconnected from Clubhouse
But if you wish, you can disconnect the account by removing access from the Twitter application
For this second method, use the Twitter application to log into your account

Scroll down to the main menu

Click on "Settings and Privacy"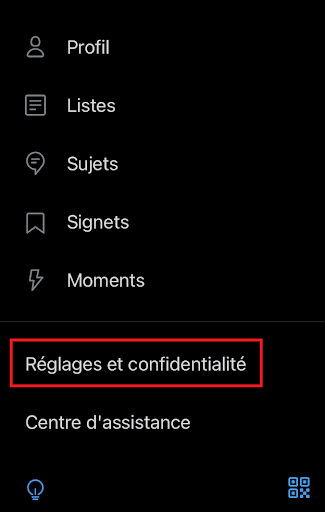 Click on "Account" and "Applications and Sessions"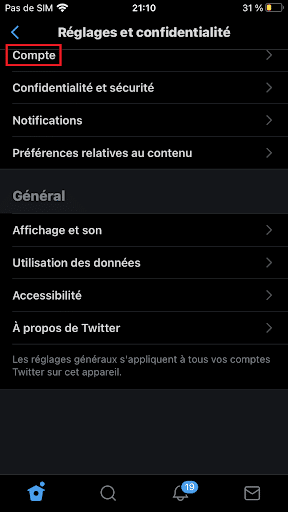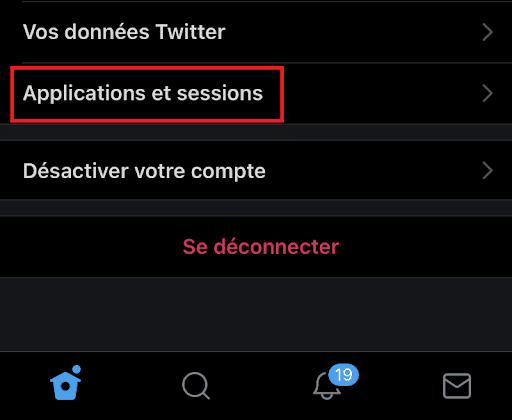 Then click on "Connected App".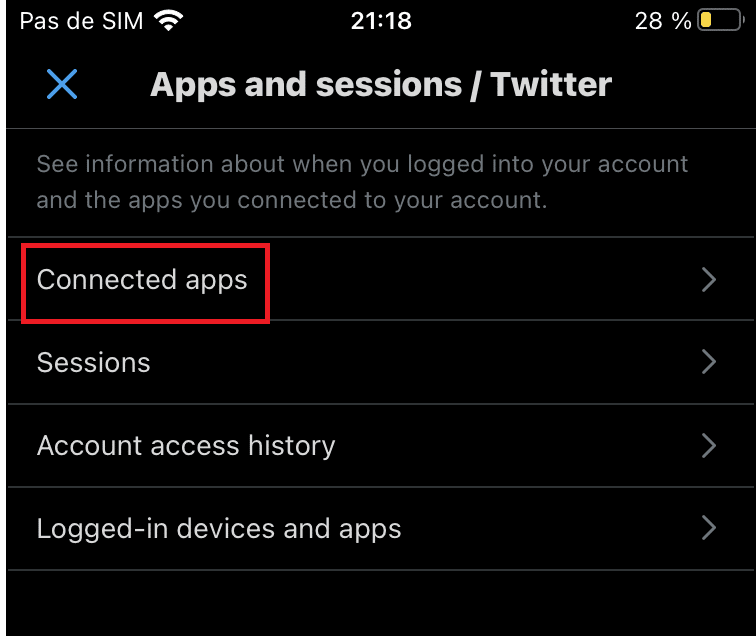 Scroll down the next page until you reach the Clubhouse application and then remove access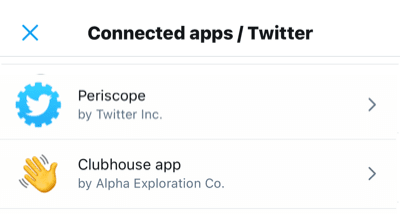 Once you return to your Clubhouse profile, you will notice that the Twitter account has been effectively disconnected. Resume the add process to add a Twitter account again
Many users use Twitter and Instagram as a backchannel to better connect with members they've met on Clubhouse. Since the platform doesn't offer messaging, it's a good idea to link your Twitter and Instagram accounts to keep in touch with members you meet on the network
With your Clubhouse profile properly created and linked to your Twitter and/or Instagram accounts where possible, let's move on to navigation
2.5. How do I navigate Clubhouse?
Your home page will look something like the image below. On this page, you'll see a list of chat rooms that are active
If you have joined clubs on the network or follow chat rooms, you will find some of them displayed on this page as well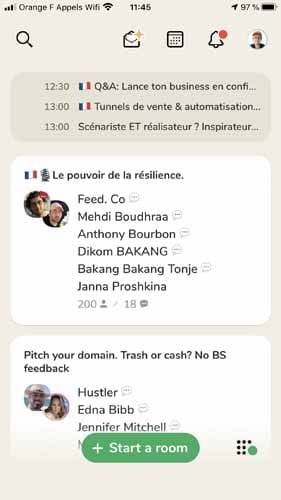 On this first page, you have the main menu bar of the application that occupies the whole upper part of the screen
This menu allows you to
Search for a member of the network by name or by a keyword in their niche

Invite a friend to join the Clubhouse community

Browse the calendar for upcoming events

View your notifications

Access and edit your Clubhouse profile

2.5.1. Search for a Member or Club on Clubhouse
Clubhouse has a "Search" feature that allows you to find any member on the network
To use it, press the search symbol to access the "Browse" tool and then enter the person's name or a keyword from their industry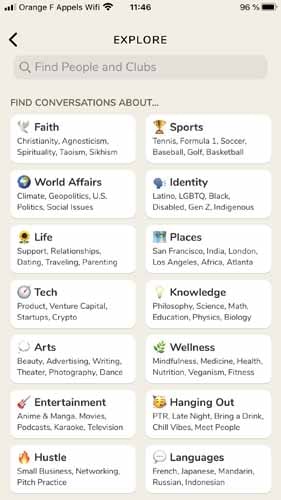 At this time, the platform does not offer the ability to make an account private. Therefore, any member registered on Clubhouse should be found after a properly formulated search
In order to propose relevant results, the application's algorithm will explore the contents of the Last Name, First Name and Bio fields of all registered members in order to bring out those that include the keywords entered in the search bar
The process is the same for searching for a Clubhouse club
Enter the club's start name or one of its keywords
The application will suggest clubs based on the term you entered. In the results, the club block is located just below the name block
2.5.2 Invite a Friend to Join the Clubhouse
Before you can invite a friend to join the network, you must have invitations to share. When you sign up, the application offers you 4 invitations that you can share with close friends, whom you consider interested enough to animate and develop the network
But you must first save their phone number in your address book before you can send them an invitation
The fact is that Clubhouse only accepts address book contacts, but you must first authorize access
To get started, click on the envelope logo in the main menu bar
You will then be redirected to the page below, listing your contacts with the number of invitations you have left
From this list, you can also see how many friends each of your contacts already has on Clubhouse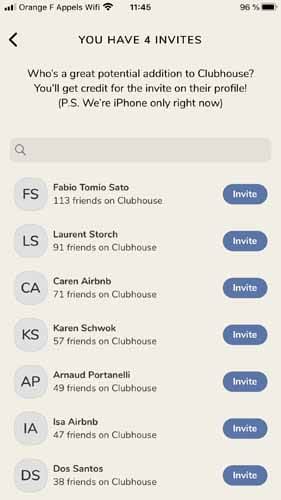 As you can see, I still have 4 invitations available that I can send to friends, but only those that I have saved in my phonebook. In front of each contact, I have a blue button with the word "Invite" that allows me to send an invitation to the person.
To be quick, you can enter the name of the contact directly in the search bar
However, if I simulate for example the name of a friend who is not registered in my address book, I get no result, and therefore no "Invite" button.
In addition, I cannot search for a friend by typing their number in the search bar, even if they are in my address book
So to invite a friend to Clubhouse, make sure they are registered first and then
Click on the "Invite" button in front of their name
You'll be taken to your phone's messaging system with an invitation message already preloaded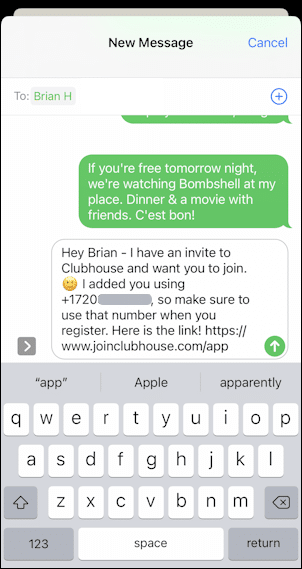 You can change the message as you wish, but make sure you don't change the invitation link, otherwise it won't work
Also, it would be wise not to remove your phone number from the message. This way, the person concerned will be able to recognize you easily
Once the invitation message is ready, send it and that's it. You've just invited a friend to join the Clubhouse network
You will be notified as soon as the invited friend uses your link to join the platform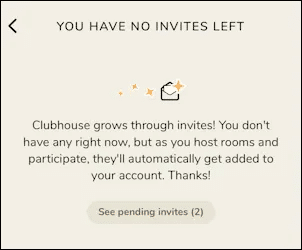 2.5.3. Use the calendar to view Clubhouse chat room schedules
The application offers you a "Calendar" feature that allows you to consult the list of upcoming events on the network, this is the 3rd logo on the main menu from your left
Each member of the network can decide to create a new event or a new chat room
To view these upcoming events and chat rooms
Click on the calendar icon and scroll down the page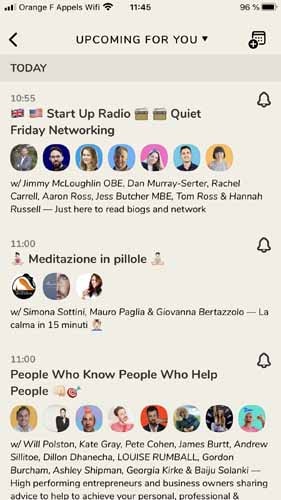 The application's algorithm will mainly present you with items that are in line with your interests
In front of each event, you have a bell? that you can click on to follow the event administrator and be notified as soon as the chat starts.
You also have other interesting features like joining the current chat room, sharing the event (even on Twitter) and adding it to your calendar
To access these features, click on the title of the room and a list of options will be displayed
2.5.4. Check your Clubhouse notifications
To check your Clubhouse notifications, you must return to the home page and click on the bell icon on the main menu bar. This is the icon just before your profile picture
It allows you to be notified as soon as
A member follows you

One of your contacts has just joined the network's waiting list so you can send them an invitation to join the Clubhouse.

A member or club you've been following starts a conversation about a topic that might interest you

A friend in the network sends you a "Ping" or invitation to join a chat room they think you might be interested in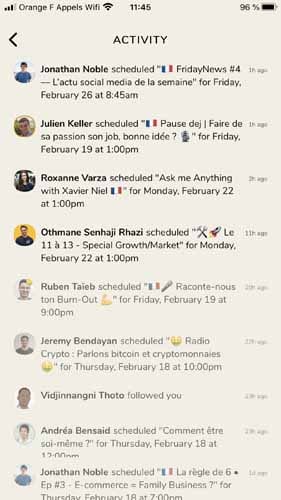 Keep an eye on this icon to see what's happening in your Clubhouse account. To ensure that you only receive interesting notifications, be selective about which members or rooms you follow
Also, send invitations only to friends who share your interests
That way, every notification you receive will be in line with the goals you set for yourself when you joined the platform.
2.5.5. Managing Your Clubhouse Profile
Once you have created your profile, you can manage it in your own way
To do so, click on the Settings icon located on the left side of the screen
Click on the settings icon in the upper right corner of your screen to access the settings.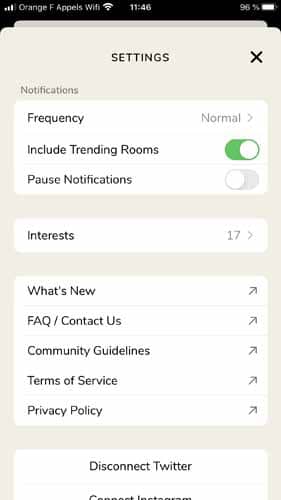 From this page, you can customize the default settings of the application. You can decide to suspend your notifications or review their frequency or even allow only notifications from the rooms that are important to you
There's also an additional section for reporting a problem with the app, a list of FAQ's and the network's terms of use and privacy policy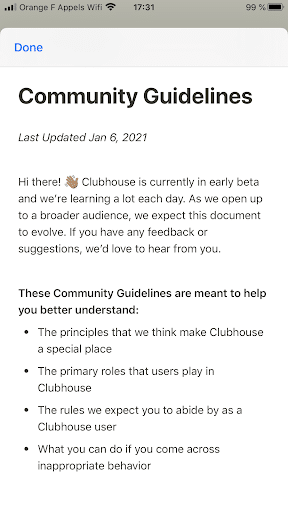 Now let's take a look at everything that can happen in a Clubhouse chat room.
2.6. How do you get started in a Clubhouse Chat Room?
This is where the beauty of Clubhouse lies, in the Chat Rooms. As you walk through the various rooms, you might think of the feeling as if you were at a large convention in person
You can walk around the hallway and take a quick peek through the door of each room to listen in on the conversation the room members are having
In front of each room, you'll see the name assigned to the room, the names of some of the members and the total number of attendees
All the rooms you will find along the corridor are public and therefore accessible to everyone. But if you want, you can start your own private room and invite just a few members for a secret conversation
To see which clubs are currently active or which people are available on the network to chat with
Return to the app's homepage

Then swipe your screen to the left with one finger
The application will present you with a list of available clubs and/or people with their chat rooms
People who are currently online are marked with a green light next to their profile picture with the word "Online"
For others, the green light remains slightly grayed out with the number of minutes they have been offline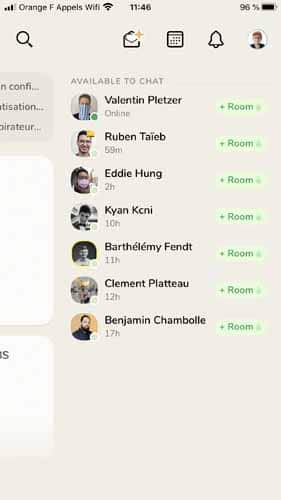 Since Clubhouse is a community, it's important that you know how the community works to truly leverage your presence on the network
In a chat room, there are 3 levels of participants that you need to know about:
The listener

The speaker

And the moderator
2.6.1. What is a listener in Clubhouse?
When you first join a Clubhouse chat room, you are registered as a listener. That means you are not allowed to speak up and join the conversation, not always
You can just sit in on the conversation and listen to the exchanges, much like someone who is sitting in a room and quietly listening to the guests on the set
Except that on Clubhouse, while you're listening to the discussion, you can click on each person in the room to view their profile, whether they're listening or speaking.
You never know who might be in the room right now, you might run into a celebrity or a friend or even meet someone new
Always keeping your ear to the ground, you can also have fun browsing other lounges and see if something more interesting is going on elsewhere without losing the sound of the current lounge
To do this
Scroll down to the "All rooms" menu at the bottom of your screen and scroll down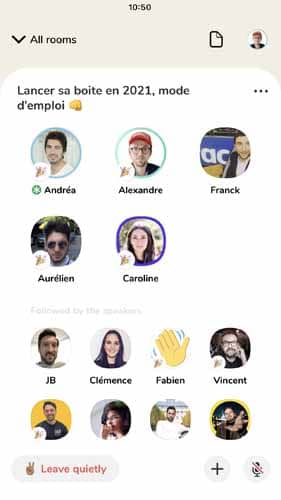 And where the Clubhouse app gets even more interesting is that you don't have to stay glued to the app before you can listen to a chat
You can shut down the app to check your email, browse other networks without losing a word of the conversation
As soon as you feel ready to come back to the application, just click on the small yellow hand on your right
2.6.2. What is a speaker in Clubhouse?
Occasionally, a listener may be asked to join the stage to speak, and this may be called a speaker. A Clubhouse speaker is just someone who can speak and participate in a conversation.
Generally, once they are on stage and it is not their turn to speak, speakers turn off their microphone
The idea is to reduce background noise while other speakers are speaking
To mute at your level
Click once on the microphone icon at the bottom of the chat room

To unmute
Click the icon a second time
But how do you recognize the current state of your microphone? Well, pay attention to the shape of the icon. If the icon is crossed out with a red line, then the microphone is actually switched off, otherwise it is working
As a little trick, you can use your microphone to applaud a speaker. It's a way to encourage them and show that you agree with what they are saying
To applaud a speaker in a clubhouse lounge
Quickly turn your microphone on and off
This makes a sound, so they can tell that you liked what they said
2.6.3. What is a Clubhouse Moderator?
It must be said that Clubhouse is still in its beta version and all we can say is that the rules are rather relaxed, for the moment anyway
Although the platform strongly discourages discriminatory and aggressive language, most of the rules are set by the room moderators
A moderator on Clubhouse can be thought of as the administrator of a Facebook group
On Clubhouse, there are two ways to become a moderator
You can create a chat room yourself

Or you can ask a moderator of a room where you are a member to change your status from listener to moderator
This status offers several privileges on the network. Indeed, a moderator can
Turn on and off the ability for listeners in the room to "raise their hands";

Invite listeners to speak;

Accept a listener's request to speak;

Set rules for moderating room discussions;

Cutting off a speaker's microphone

Changing a speaker's status to that of a listener
Whether you started the event yourself or were delegated to moderate it, it is important that a moderator actively contributes to the organization of the conversation.
To keep a good atmosphere in a room, the moderator must be active throughout the session to moderate the conversation when he or she feels it is necessary
As soon as he or she notices that the discussion is dying, he or she can re-energize it by allowing listeners to join the stage to ask questions
If he or she also notices that tension is building among the speakers, he or she can bring order before listeners decide to leave the room
Also, the larger the room, the more difficult it is for listeners to recognize the speaker
For this reason, it is recommended that the moderator set the scene and periodically ask speakers to introduce themselves so that listeners who are caught up in the discussion at least know who is speaking
Listeners should also be aware of the number of active participants in the room and how the moderator is allowing people to speak
In rooms with fewer participants, speaking can be free. The room moderator can invite everyone to come up on stage and participate in the conversation simultaneously, much like an open forum
In other (usually larger) rooms with a large number of participants, speaking can be on a rotating basis with the possibility of "kicking out" participants. In these rooms, moderators can designate a certain number of participants to join the stage
They can also set a number of minutes for each participant to raise their concern. Once a participant's questions have been answered, he or she returns to the floor to give the floor to another person
2.6.4. The Different Rooms in a Clubhouse Discussion Room
As soon as you enter a room, one of the first things that catches your eye is the Stage. In Clubhouse, a room's Stage is the first section of your screen that contains the profiles of the room creator, moderators and speakers
The room owner's profile is tucked away in the upper left corner before the moderator and speaker profiles follow.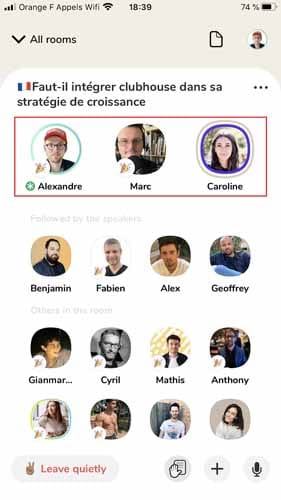 Initially, only those present on the stage are allowed to speak. But if you are invited to a room as a stage speaker, you can always come down whenever you want and join the audience
To do so
Click on your profile picture and then on the "Move to public" option and your profile will now be displayed as a single listener in the room
Just below the stage is another section called "Followed by speakers"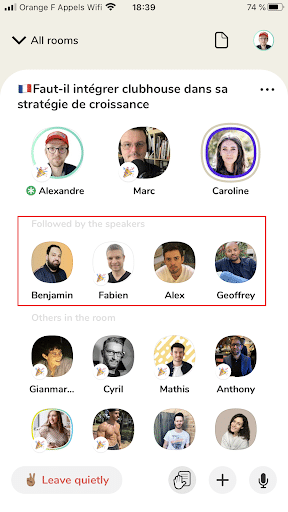 This section contains listeners who have interacted in some way with the people currently on stage. This is a way to distinguish people who are in the audience, but are connected to the speakers who are participating in the conversation
In the last position, you have the rest of the assembly, which is simply passive listeners who are quietly listening to the conversation. This section is called "Others in the room"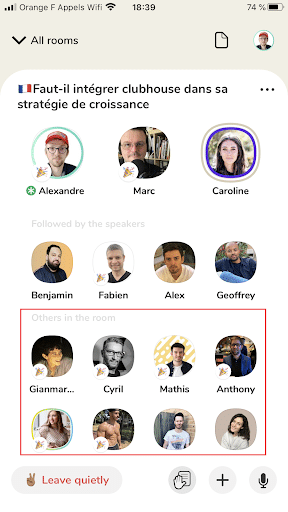 During a discussion, there can be a lot of movement. As some people leave the room, others may arrive. Some leave the stage to join the audience while others raise their hands to come on stage
Sometimes speakers may even temporarily change their profile pictures in an effort to show a photo, infographic or something important to the audience
To keep track of all these moves, it is a good idea to refresh your page from time to time during the discussion
To do this, swipe up and down on your phone screen and you'll see new photos as well as the current list of people in the room. In Clubhouse parlance, this is called a PTR, which translates into English as "Pull To Refresh"
So don't be surprised if a moderator asks the audience to do a PTR, he just means swipe down to refresh the chat page
2.6.5. What is a Club on Clubhouse and how do I create one?
Clubhouse Clubs are nothing more than small communities that you can create within the platform
However, it is important to understand that a chat room is very different from a club. In a club, you can have one or more chat rooms, but not the other way around
And a public room registered under a club is not necessarily accessible to EVERYONE. It can be only public within the created club, but marked private for all those who do not belong to this club
To promote their clubs, some owners may leave the rooms open to the general public and encourage more followers to join their community
So, how do you create a Club on Clubhouse? To begin with, you should know that for the moment the creation of a club requires first an approval from the platform. In other words, you need to make a request to create a club, submit it to the company and wait for approval
To ensure a good user experience and to prevent the network from being overrun by "dormant" clubs with absent moderators, the platform adopts a rather particular policy
First of all, you can only create one club at a time with a waiting period of about 2 weeks before creating another one
Also, for club requests, the platform gives priority to members who have managed to host at least 3 weekly conversations
So after 3 periodic conversations, you can send your request by consulting this link and fill in the dedicated form
Or if you prefer you can
Click on your photo to access your Clubhouse profile

Then click on the settings logo in the upper right corner of your screen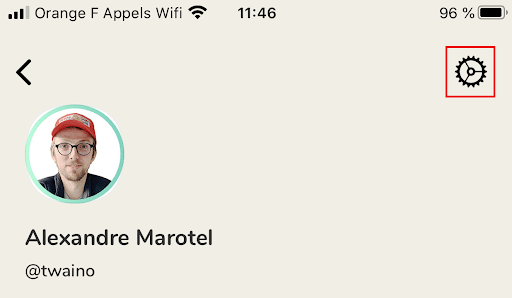 Then click on "FAQ / Contact Us". You will be redirected to this page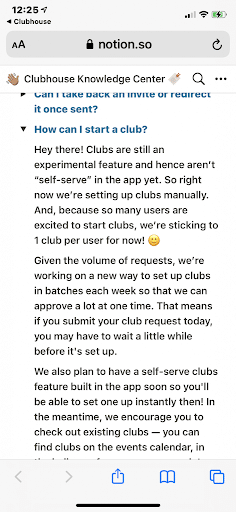 Scroll down to

"

How can I create a club?

"and click on the arrow.

Fill out the "

Request a clubhouse

"form and submit it
You have now submitted a request to create a clubhouse. It will take about two months to receive a response to your request
However, it is important to remember that while it is possible to change the icon and rules of a club after it has been created, it is IMPOSSIBLE to change the name of the club
Please make sure you choose the right name for your club before submitting the application
But until the network approves the name, here are the different levels of membership you need to know about
Founder the founder is the owner of the club and has the right to change the icon, description and rules of the club. He can also invite members of the network to join his club
The admin the admin is appointed by the founder or other club leaders. He has the right to accept or decline the application of members to join the club. He can also start a private or public room in the club
Members as the name already indicates, a member is any participant whose application to join the club has been accepted. Each member has the right to create private chat rooms in the club, not public ones. However, they can participate in all the club's rooms, both private and public, and even invite other members of the network to join the club
Followers followers are not full members of the club. That is, they can only follow the public activities of the club. A follower cannot create a room in the club, but they will receive notifications when a public discussion is started
2.6.6. How do I speak in a Clubhouse Lounge?
If you are in the audience, Clubhouse offers a "Raise Your Hand" feature to speak up and share your opinion. However, this button is not active all the time, so it is up to the moderator to activate it periodically to voluntarily allow certain audience members to take the stage
To "Raise Your Hand" and request the floor in a Clubhouse room
Press the hand icon at the bottom of your screen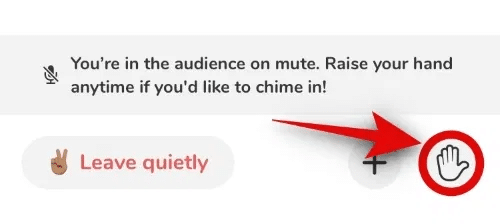 The speaker will immediately receive your request and can decide whether or not to accept it. If he or she accepts, your listener status will change to speaker with a notification on your screen to join the stage or not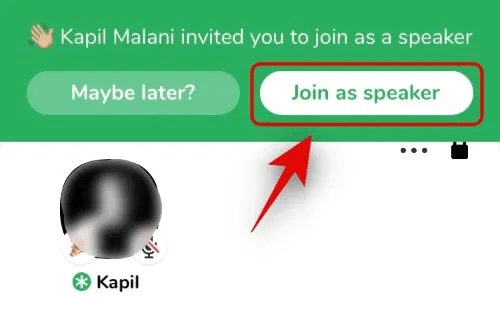 By clicking "Join as speaker", you agree to come on stage and take part in the conversation
It can happen that you raise your hand by clumsiness, in this case you will also have to lower it quickly
Please note that if your hand is raised, the icon remains colored.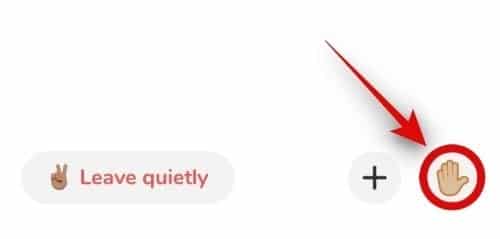 Press once on the icon to lower your hand
The icon will then return to its original shape indicating that your hand is no longer raised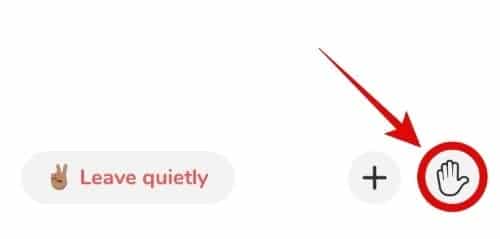 On the other hand, the moderator will lose the notification that they have accepted your request to speak.
Sometimes, the hand icon may be missing like in the picture below

Well, that would mean that you are already a speaker or moderator in that room. The "Raise your hand" feature is only available for people who are not allowed to speak
2.6.7. How do I turn the feature off/on in a Clubhouse room?
As a moderator of a room, you have the ability to decide when listeners can join the stage
Therefore, you can turn off the "Raise Your Hand" feature to the audience and turn it back on when deemed necessary
To do so
Click on the raise hand icon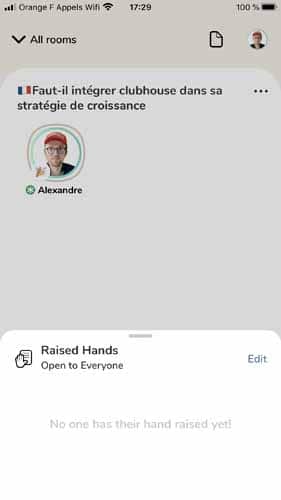 Choose the option
"OFF" to disable this feature

"Open to everyone" to make it accessible to everyone;

"Limited to Followed by the Speakers" to make it available to speakers only.
As a listener, if you notice that the hand icon is grayed out on your screen, this would mean that the room moderator has disabled the "Raise Your Hand" feature
If not, the feature is available and you can use it
2.6.8. Can I follow people on Clubhouse?
When you first sign up, the application can access your address book and offer you the possibility to follow contacts you want. All you have to do is click on the FOLLOWING button next to the contact's profile picture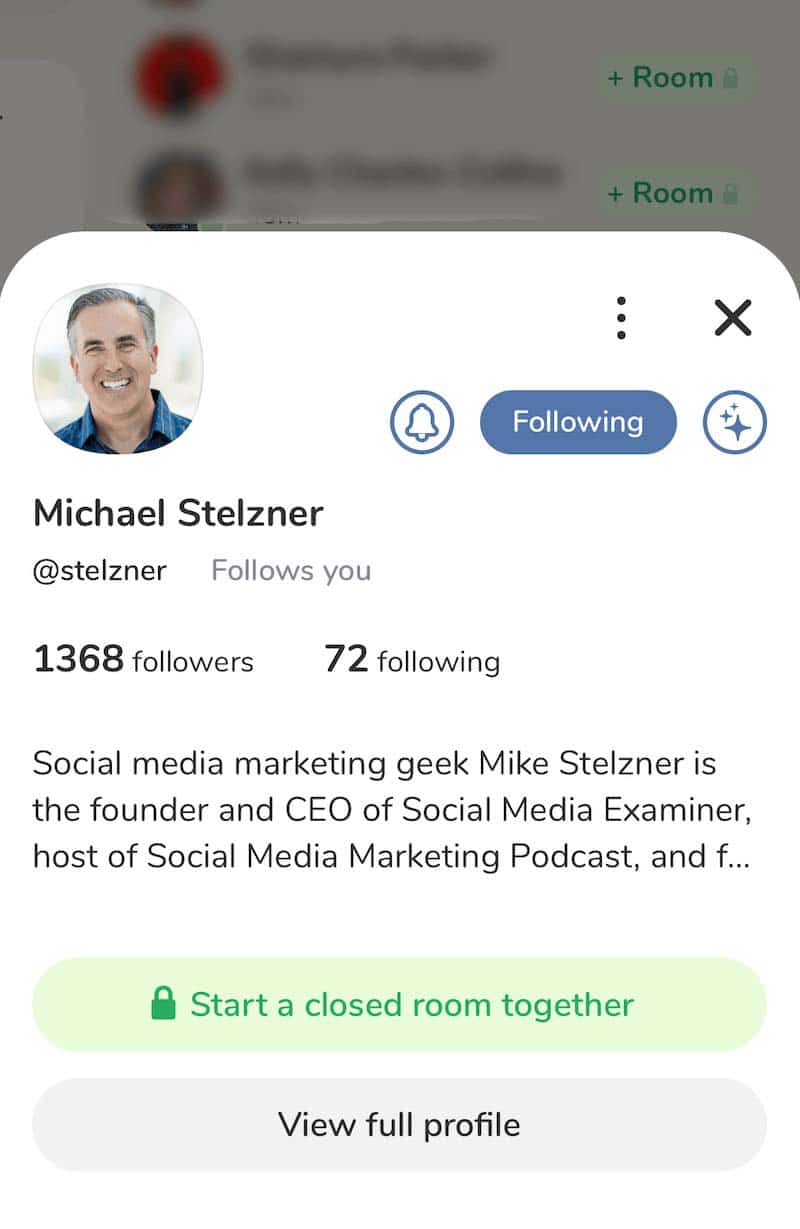 Source Social Media Examiner
Clubhouse's algorithm can also suggest people to follow based on your interests
2.6.9. What about topics?
Just like people, you can also follow topics on Clubhouse. If you come across a topic that you're particularly interested in, you have the option of following it to find out more about shows that cover the same topic
To do this, right at the bottom of the suggestion block of people to follow, you'll find a selection of topics listed under "Find conversations about…"
Scroll through the list. You'll find broader topics or sub-topics to further refine the theme.
You'll find a little bit of everything
Entrepreneurship

Small and medium-sized businesses

Networking

ICT;

Cryptocurrency

Sports

And even metaphysical topics such as faith, spirituality, etc.
To get more topics, you can click on the "Explore" button and access an almost unlimited combination of proposals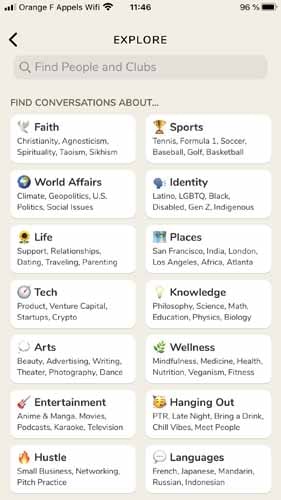 If a conversation on one of the topics you have been following starts, the application can send you a notification to join the chat
2.6.10. How do I join a Clubhouse Chat Room?
All the rooms you see displayed on your home page are available to you
And when you want to join a room, don't worry about interrupting the conversion in progress. As long as you're not invited on stage, no one will hear you
Also, your microphone is muted by default
Once you join a room, you can leave it and explore other rooms
To do this
You have a "Leave quietly" button to press to leave the room without making noise
No notification will be sent to indicate that you have left the room

2.6.11. Can I invite friends to join a chat room?
Let's say you come across an interesting conversation that might also be of interest to a friend. Or you find yourself in the same room as the Facebook boss. You may well invite friends to share this moment together
With the latest update of the application, you can simply click on the "+" button at the bottom of the room

You also have a "Share" button to share the chat link directly with friends on Clubhouse and even with friends in your Whatsapp groups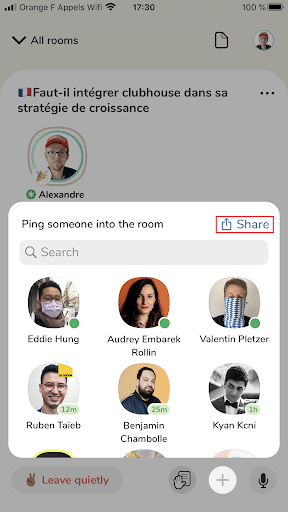 2.7. How do I create and manage an event on Clubhouse?
There are two ways to create an event on Clubhouse
Plan the creation of the event

Spontaneously create the event
2.7.1. Planning an Event on Clubhouse
Scheduling an event on the network has several advantages, as you'll get a link to the event you created that you can share
This way, members who have subscribed to your profile can be notified as soon as the event is scheduled
This option also allows you to provide a detailed description of the event
To schedule an event on Clubhouse
Press the calendar icon located on the main menu bar

Then click another calendar icon, but this time with a little "+" that makes a difference

You will then be redirected to a page where you can plan and register your event
You have 60 characters to define a name for your event
You can also add a collaborator to your event, preferably someone you trust, since a collaborator can cancel a new member's membership or delete current members from your event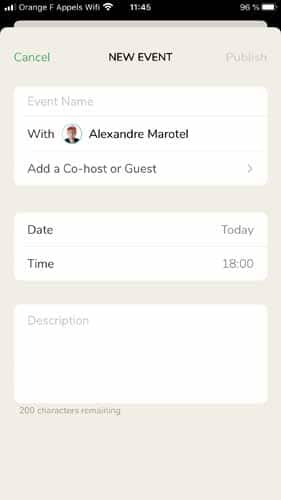 Complete the registration form with the time and date of the event and the option to associate a club you are already a member with
Finally, you have 200 characters to give a description of your event
Once all the fields are filled in
Click on the "Publish" button located in the upper right corner of your screen
You have now created your first Clubhouse event. If you wish, you can share it with other members of the network, on your Twitter wall or add it to your calendar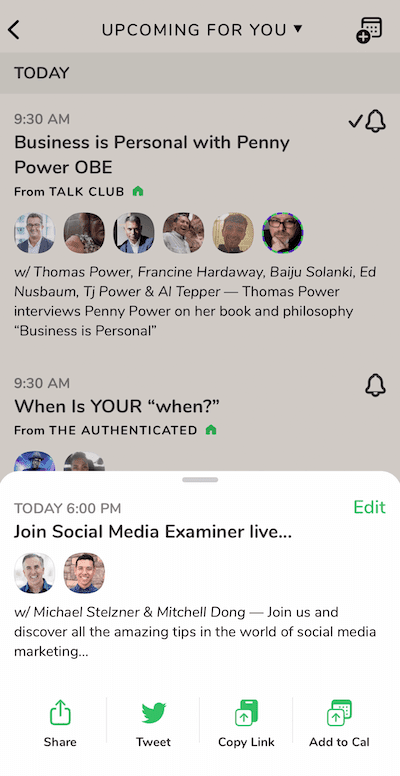 Once an event is scheduled, you can always make changes to the information you entered or even decide to delete the event
To find an event you've already created:
Tap the calendar icon.
Scroll down to the "Upcoming for you" module
Choose the "My Events" option to display only the events you have scheduled.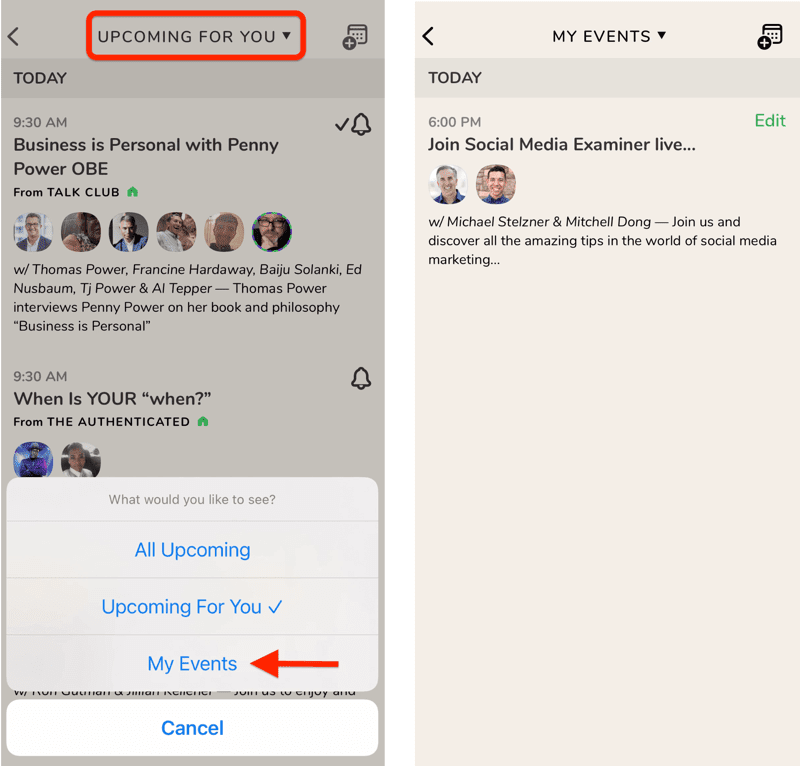 You can edit the event information and press the "Start Room" button to update
2.7.2. Creating an Event Directly in Clubhouse
Remember that unlike the previous method, this way of creating an event does not give you a shareable link, nor do you have enough characters to provide a long description
To create a Clubhouse chat room directly:
Return to the app's home page

Press the "Start a Room" button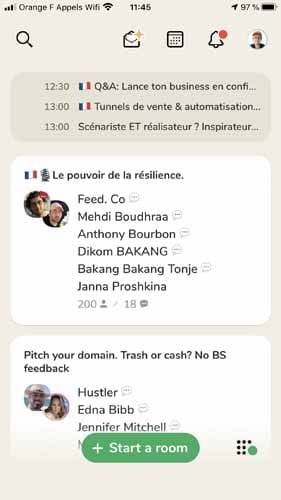 The wizard will then offer you 3 levels of accessibility to choose from for the event: Open, Social and Closed
As a reminder, an "open" event will be accessible to all registered Clubhouse members
A "Social" room is reserved for your subscribers and a "Closed" room is strictly for members you decide to invite to join the event.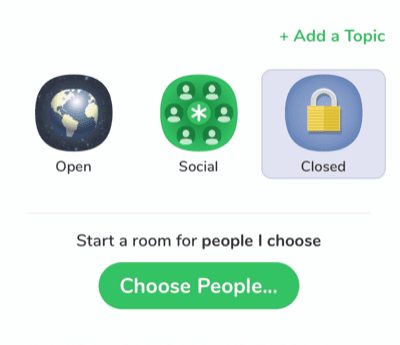 After choosing the type of room you want to create
Press the "+ Add a Topic" button

On the next page, enter the topic that your event will be about
The topic here is equivalent to the event name we saw in the previous method (plan an event). It cannot contain 60 characters and cannot be changed afterwards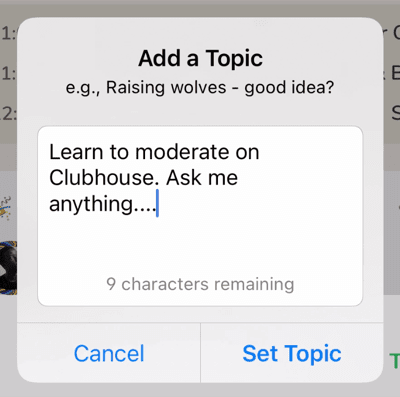 If you initially chose to create a "closed" event, at this point you must add at least one person to the room to continue
To add a member to your event
Press "Choose people" and select a person of your choice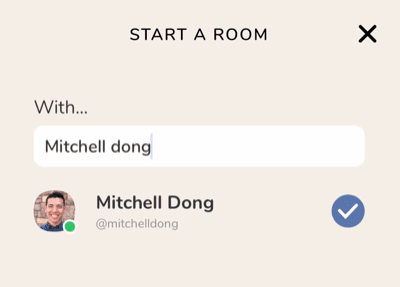 Also, remember that a room declared "private" can very well be turned into "public" at any time
To do so
Press the "Open It Up" button completely at the bottom of your screen and choose the level of access you want

So you can start a private room, add a few members of your team and then chat together before opening the room to everyone
2.7.3. How do I add more moderators to a Clubhouse room?
It is useful to have moderators in your room because if you are the only moderator and you have an emergency, you will be forced to close the room. But if you still have other moderators, the discussion can continue
To add moderators to your event
Click on the profile of a member present on the stage and choose the "Make a moderator" option.
A small green star will be added to the profile picture of the moderator right next to his or her name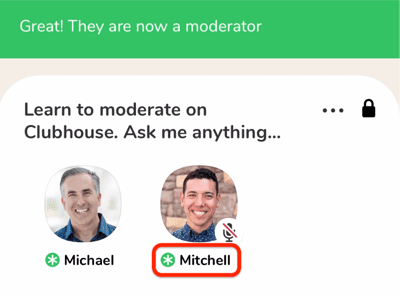 2.7.4. How do I close a Clubhouse room?
After a conversation, the room should be closed
To do so
Press the 3 dots at the top of your screen, thank everyone for being there and then press "End Room"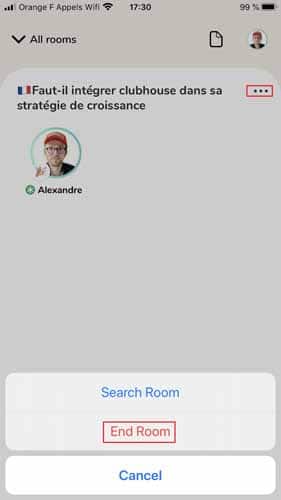 As you can see, the Clubhouse application is still easy to use and is not packed with features
It is just a space to share opinions around constructive topics without being distracted by visual content
Although the platform is already a success, its leaders plan to add more features in the future.
These will mainly be money-making opportunities directly on the network, which will encourage more users to join the Clubhouse family
In a nutshell
The Clubhouse application is a new approach that many marketers are already incorporating into their social media marketing strategies. And it's safe to say that the network is getting a lot of love because of all the positive feedback it's receiving
However, there are already many questions about its future. Once the beta version of the application is completed and available to the general public, what will happen to the network?
Will web marketers invade the platform? And what about e-commerce stores?
If Clubhouse loses its exclusivity, will users' interest in the platform decrease?
These are all questions that are being asked behind the scenes, but which will only be answered when the public version of the application is officially released
In any case, while waiting for this long-awaited release, take advantage of the network's exclusivity to make new connections