Ranking sites on Google is very complex for everyone. Especially since the search algorithm of the American giant combines more than 200 factors to rank sites.
Nevertheless, SEO professionals have enough understanding that allows them to help companies rank better in search results.
But explicitly,
Why should you hire an SEO consultant?
What does an excellent SEO consultant look like?
In what areas does an SEO consultant work?
Through this guide, I will answer these questions in detail.
So follow along!
Why hire an SEO consultant?
Before getting to the heart of the matter, let's look at what an SEO consultant is.
What is an SEO consultant?
An SEO consultant is a search engine optimization specialist that site owners solicit to ensure the visibility of their sites on the net.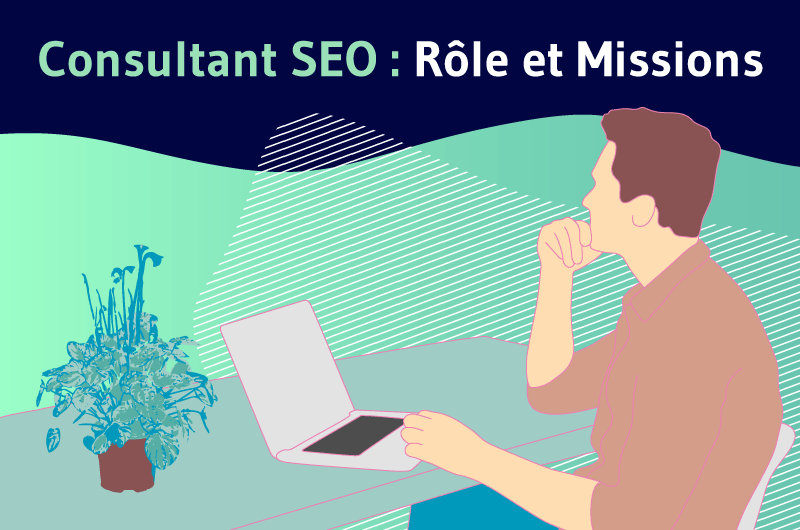 The role of the SEO consultant is to accompany site owners by providing advice and recommendations on how to obtain:
A good positioning
Targeted traffic
More revenue for their sites.
To do this, he analyzes, reviews and improves the sites he is responsible for in order to increase their SEO performance.
Why is it necessary to hire an SEO consultant?
Hiring an SEO consultant is very important for businesses and individuals who aspire to grow their online business. Here are the top 4 reasons why you should hire an SEO expert today:
Saving time
Most people who start online businesses do not have the skills and tools to get their sites on the first page of Google.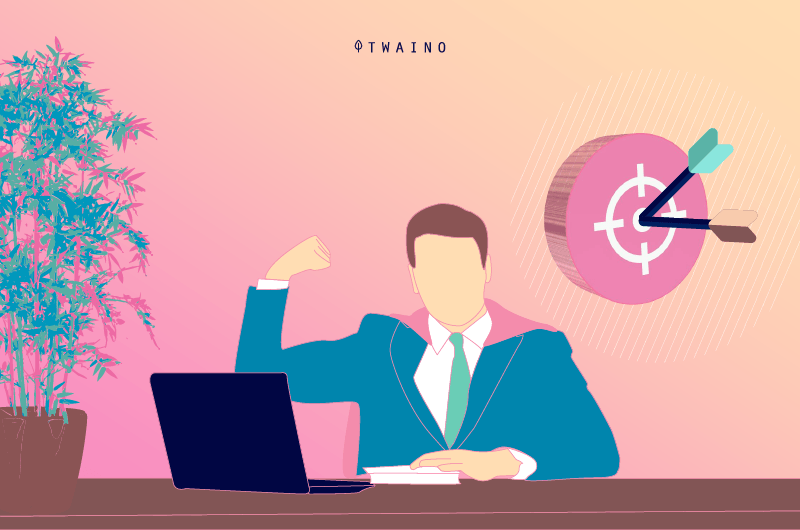 These people are forced to spend years learning the fundamentals of SEO and learning how to use SEO tools. Unfortunately, time does not stand still during these years of learning and business models are constantly changing.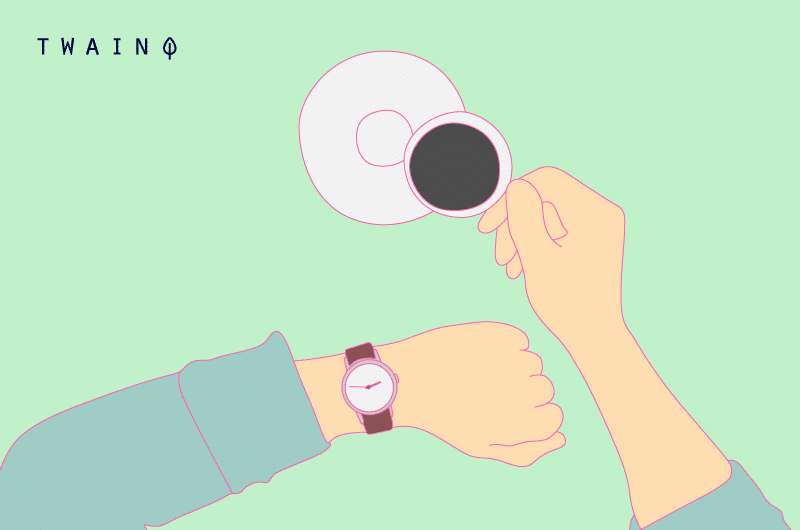 Referring to an SEO consultant is therefore a great way to move faster and avoid making mistakes that could lead you to start over.
Hiring an SEO consultant also allows website owners to free up their schedule to focus on developing their business.
The prospect of a better result
Website owners who hire SEO consultants should expect better results. Indeed, an SEO expert who has the necessary qualification is equipped enough to use the right practices to optimize a site.
With this knowledge and experience, he can easily keep up with the changes that search engines make to their algorithms.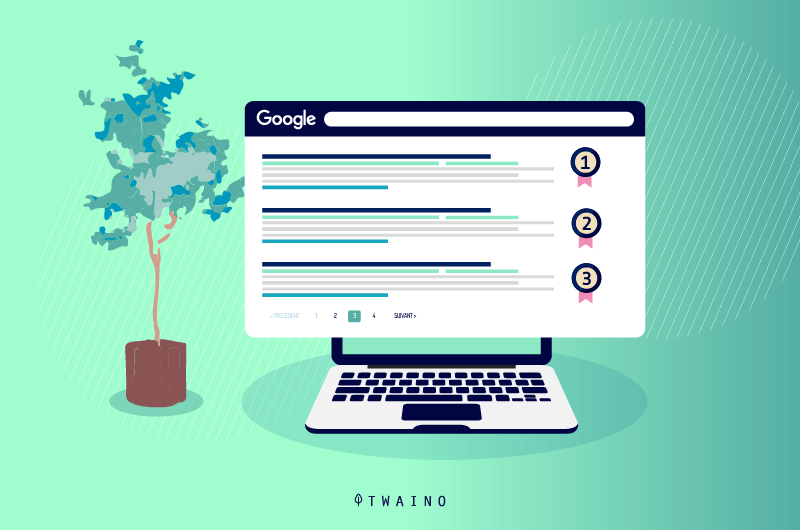 Thus, he is able to help you adapt to the changes of the search engines in order to remain always visible in the search engines.
A good understanding of your site
There are many elements that go into a site's ranking and you need to regularly review your site's profile to see its strengths and problems that may be hindering its performance.
In SEO, the consultant is a technician who knows how to analyze a website in detail to identify its problems. Therefore, he can study the structure of your site and detect the problems that may block its potential.
The SEO consultant is also the ideal profile that can help you to understand the various reports resulting from the analysis of the functioning of your site.
Decrease the cost of advertising expenses
It is no secret that advertising expenses to promote a website can be huge. The SEO consultant helps you to have visibility naturally and thus allows you to save on your advertising expenses.
Indeed, sites that are ranked higher easily generate traffic and therefore potential customers. This is because people find a site faster when it is properly optimized than when it is not.
The fact that you can generate organic traffic allows you to stop investing in advertising. According to Searchenginejournal, those sites that get a lot of leads can reduce their ad spend by up to 65%.
What does the profile of an SEO expert look like?
An SEO consultant obviously has qualities and skills that make him or her an SEO resource.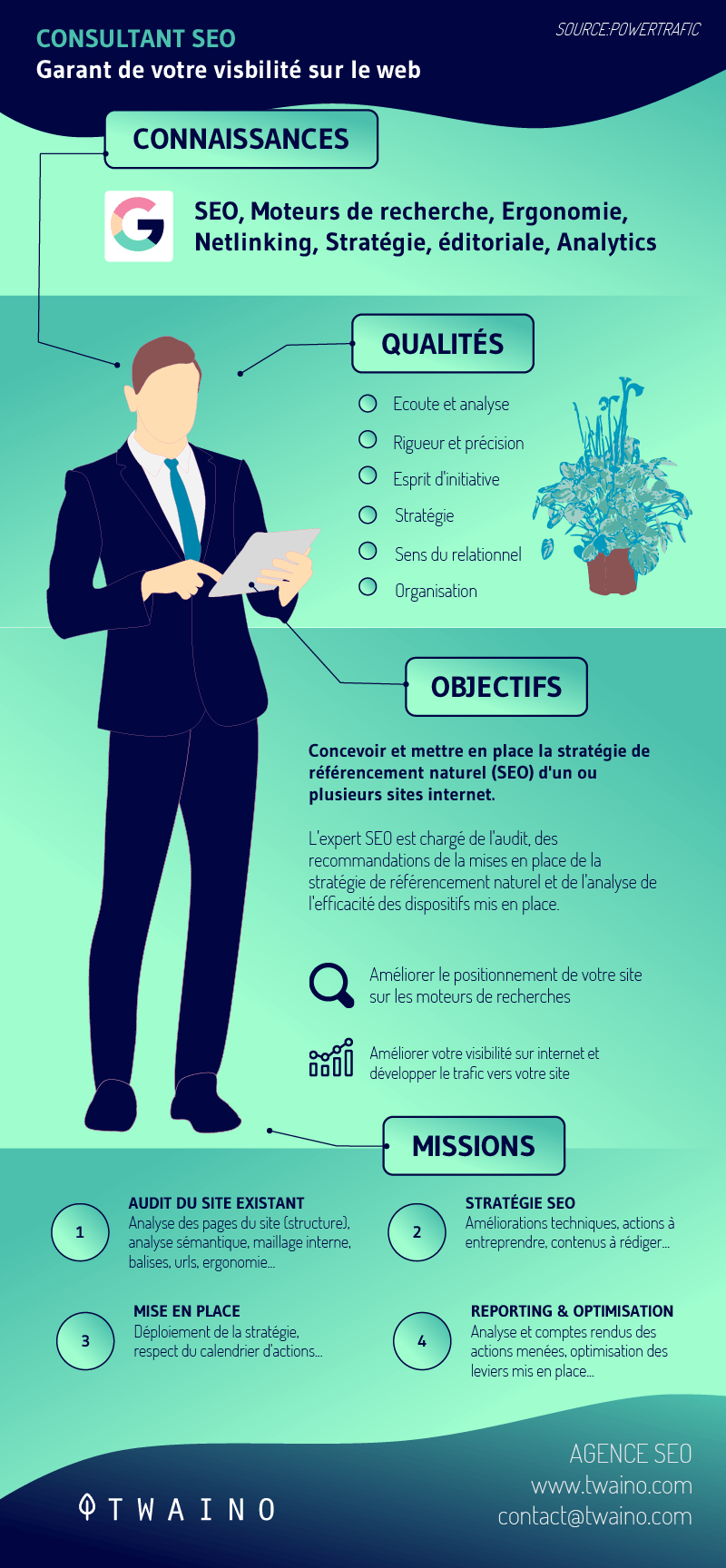 Do you like this image? Integrate it for free on your website with Twaino.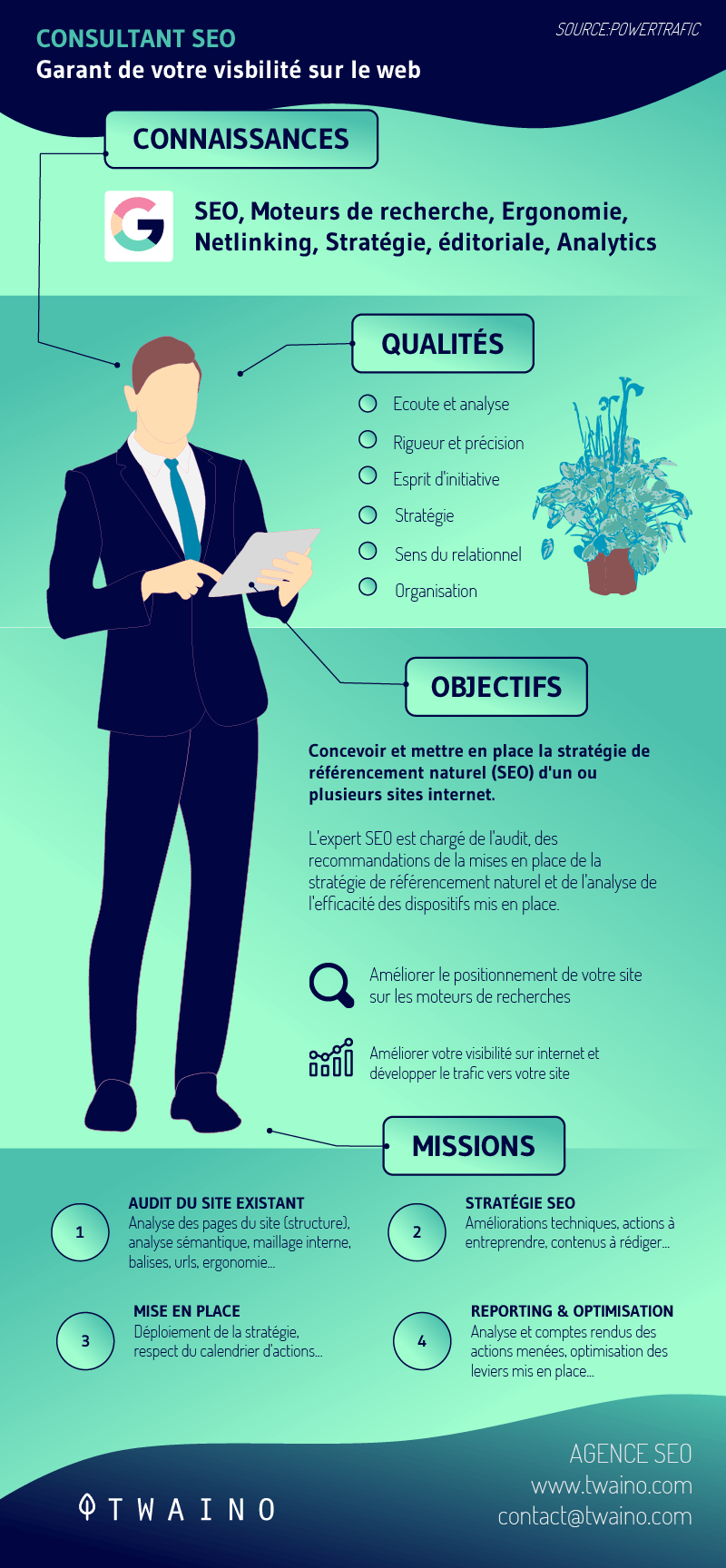 Image source:Consultant-SEO-guaranteeing-your-visibility-on-the-net | Twaino
The qualities of an SEO consultant
The qualities of a consultant are numerous, but we discover the most important
Easily integrate the objectives of the company and its culture
An SEO consultant is someone who is able to align himself with the objectives of his clients as well as with the culture of their company. The best consultant is the one who easily integrates your objectives and establishes his strategies while respecting the culture of your company.
It is important to make sure that the SEO consultant you hire understands the reasons why you have referred to him. The interest must direct his work in the direction you want your business to go in terms of SEO.
In addition, the SEO consultant you hire must be able to communicate and interact in the style of your organization. This means taking into account the way he or she is organized and especially his or her personality and integrity.
Have good communication and listening skills
Communication skills are extremely important for the SEO expert, as they must be able to clearly express the problems faced by a website as well as the solutions they recommend.
Communication skills also allow them to easily understand your messages and communicate easily with other members of your team.
Be curious by nature and have the spirit of initiative
The least an SEO consultant can do is to be curious and seek to know as much as possible about their field and their clients' industries.
By trying to understand your industry and the different clients you covet, he or she will be able to help you refine your SEO goals and strategy.
A consultant who has a developed curiosity seeks to enrich himself with new skills every day. This is a real asset that will allow him to find and propose in real time, the appropriate solutions to achieve your goals.
The SEO consultant must justify a good experience in SEO
An expert is by definition, is a person who has extensive knowledge and experience in a given field
Therefore, the SEO consultant is a person who not only has knowledge in SEO, but who has acquired know-how in this field. This know-how comes from the years of practice and experiences he has accumulated.
It should be noted that an SEO consultant must be able to justify at least one year of experience, because SEO involves many aspects that may require years of practice.
The skills of the SEO consultant ?
As well as their qualities, you should pay attention to the skills of an SEO consultant before hiring them. These skills include:
In-depth knowledge of how the internet and search engines work
The internet operates on a number of infrastructures and technologies that the SEO consultant must understand as an expert. The SEO consultant must understand the different HTTP protocol status codes and how a server communicates with a browser.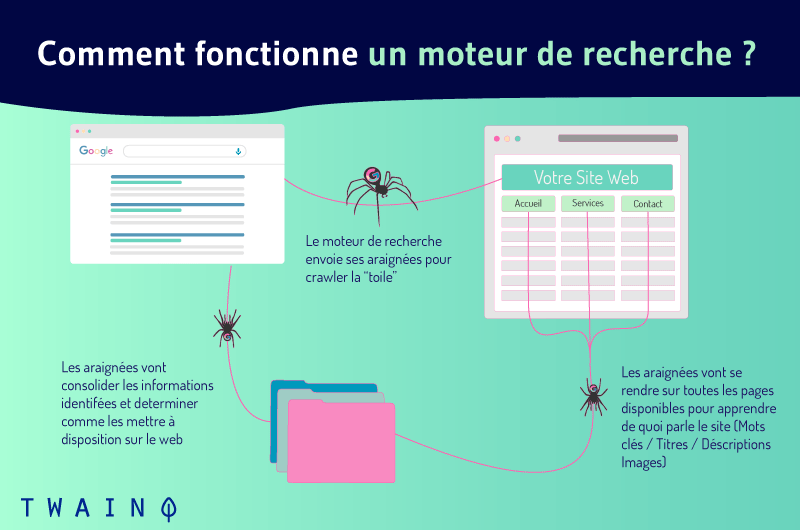 Furthermore, the SEO consultant must understand the process that leads to the display of search results.
A great capacity of analysis
It is true that the consultant must be able to collect data on a website, he must also be able to process this data.
The processing and analysis capacity of the SEO consultant allows him to formulate hypotheses for the functioning of a site and to implement adequate actions.
Have knowledge in HTML
The implementation of an SEO strategy also involves actions on the pages of a site. For this, the SEO consultant must know perfectly the HTML language.
He must also know to some extent the other languages that are increasingly used in the design of a site such as :
Editorial skills
For years, search engines have been reminding us that the creation of quality content is the basis for ranking a website. Thus, no effective SEO strategy can be implemented without the creation of quality content.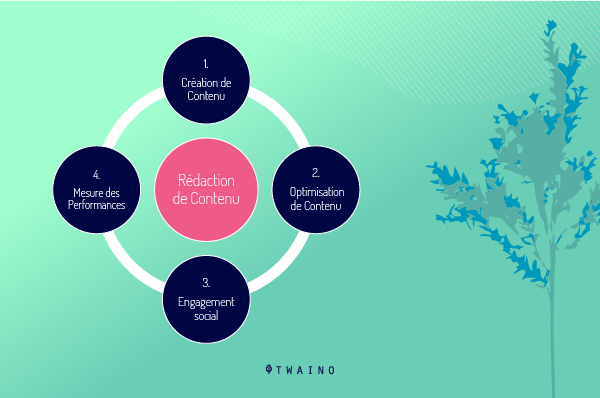 This is why the SEO consultant must have the editorial skills to appreciate the content of a site he is responsible for, but also to optimize this content himself.
How much does an SEO expert cost?
The cost of an SEO consultant is not specific and varies according to the different aspects on which he has to work, notably :
The size of the site and the pages that need to be optimized
The amount of content created;
The extent of the competition;
The number of backlinks created;
Etc.
It is therefore up to the site owner to define with the SEO expert, the scope of the tasks he must perform in order to determine its cost to the company.
Depending on whether you are working with a consultant or an agency, the cost of SEO work can be paid on a flat rate or a daily rate.
When it is a fixed price, you will be able to fix with the consultant or the agency, an amount in advance. But when it comes to paying a daily rate, the consultant can do a pre-audit to determine the number of days during which his work can be done.
SEO issues for experts and companies
Experts and companies are faced with issues that are important to know before embarking on the SEO adventure.
SEO issues for consultants
Managing the client's expectations is the first challenge for the SEO consultant. It is not uncommon to meet clients who have almost unrealistic expectations for an SEO campaign.
It is up to the SEO consultants to discuss with the clients in order to inform them about the concept of SEO and to clearly define the objectives from the start.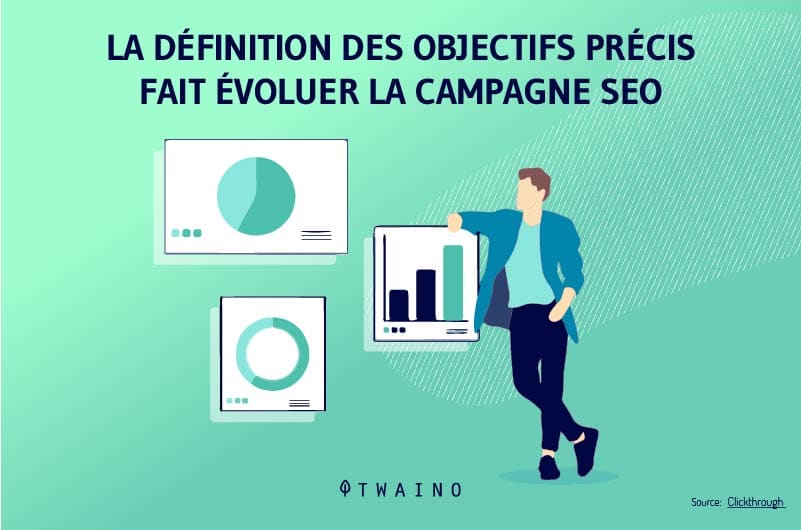 The SEO expert must also follow closely the sudden changes in Google's algorithm in order to adjust his SEO strategies.
Moreover, there are different kinds of tools that the SEO consultant can use during his work. But most of these tools work in the same way and the SEO expert must choose a tool that he masters to avoid a bad manipulation.
The stakes of SEO for companies
Just like SEO consultants, companies face a number of issues when it comes to launching an SEO campaign.
Indeed, when companies hire an SEO consultant, they forget the realities of web referencing and hope to have quick results.
But in reality, the results also depend on other external factors such as the efforts of the competition and the updates of the Google algorithm.
Among other issues for companies, they should avoid using fake SEO companies by analyzing the different offers.
It is also common to see some companies neglecting the budget to devote to SEO, without knowing that the success of SEO strategies depends in part on this budget.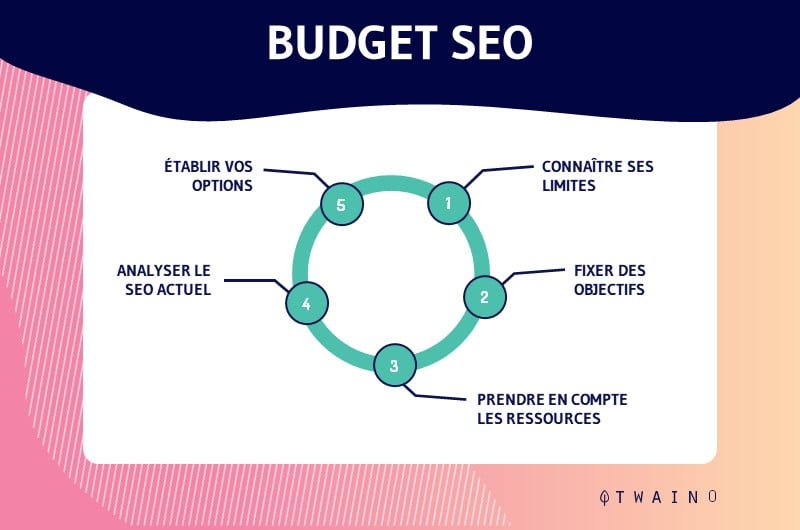 As a challenge, companies must learn to allocate a budget for the different SEO activities.
How to choose your SEO consultant?
Choosing an SEO consultant is a delicate action that could not be done randomly. In this section, we will discuss the elements that you should consider before hiring an SEO expert.
How your site's ranking will be improved
The competition on the web is very dense and your site cannot be ranked higher among the many websites in your industry without a tailored strategy.
An SEO consultant who claims to be able to help you improve your site's visibility must explain to you at the outset the strategies he or she wants to put in place to achieve your goals.
How will the consultant keep you informed of changes to your site?
As soon as the consultant has access to your site, he must update you frequently on the different changes he makes and the way he makes these changes on your site.
It is ideal to define from the start the means by which he will keep you informed of what is happening on your site and the frequency with which he can send you his analysis reports.
Past results and SEO consultant tools
As we mentioned earlier, the SEO expert is someone who has know-how and experience in SEO. Before hiring a consultant, candidates should be able to show their past results.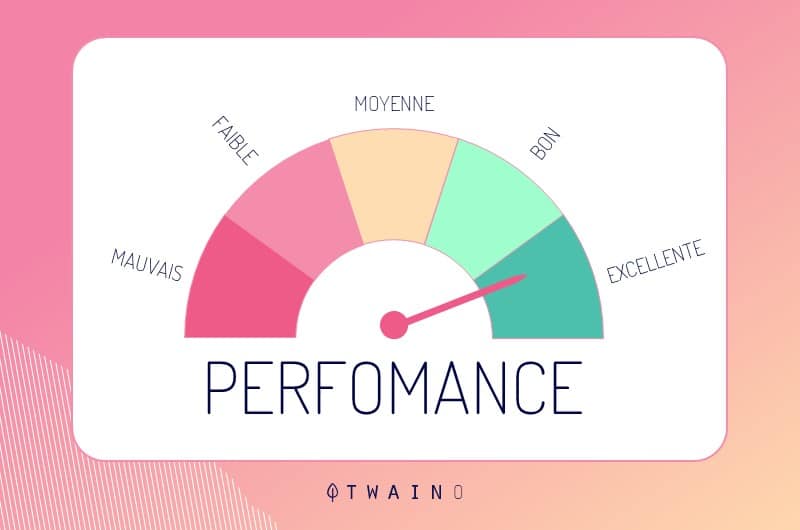 This allows you to know who your SEO consultant's clients are, but also what to expect in terms of results.
As far as his tools go, it's a matter of researching those tools to find out if they are appropriate and if they deliver results.
The results they intend to achieve and how they plan to measure their success
It is crucial to ask an SEO consultant what results you can expect at the end of the job. This can help you expose the dream salesman.
As an example, when an expert promises to rank your site first in the SERPs, you should be wary of them, as they may be doing short-term work.
On the other hand, agreeing on how to measure the success of your consultant will allow you to see at the end of his work if the objectives are achieved.
In what areas does an SEO consultant intervene?
Although the role of the SEO consultant is to improve the visibility of a site, it is concretely to work on certain aspects of a website. We discover in this part these different aspects on which the SEO expert must work.
The different compartments to reference a website
SEO strategies can be implemented in different ways to improve the performance of a site. Here are the compartments of SEO on which the SEO consultant must work.
On Page SEO
Still called on-page SEO, it is all the efforts you make on your site in order to improve its performance. It is on this aspect that many companies focus when it comes to defining an SEO strategy.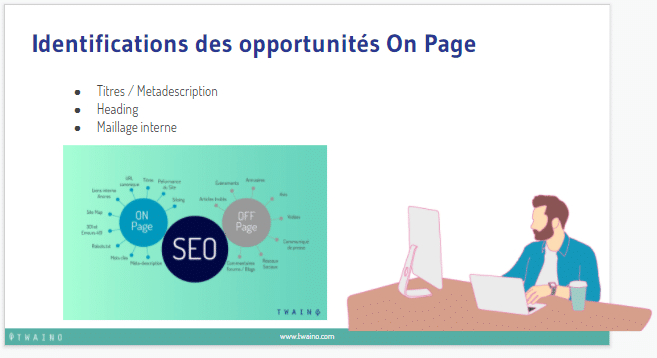 It takes into account the optimization of:
Keywords;
URLs;
Loading speed;
Etc…
Off Page SEO
This aspect of SEO refers to all the actions that are implemented outside of your site in order to always improve its performance.
It is about sharing on social networks, reviews and backlinks. Although sharing does not directly affect the ranking of the site, it can help you gain more traffic. As for backlinks, they are among the top three ranking factors of a site.
SEO for voice search
According to Invoca, Internet users are increasingly using voice search to make online purchases and voice is expected to be a $40 billion channel by 2022.
Companies need to take action on this rise of voice search by optimizing their websites for it.
What are the different SEO practices?
The different SEO practices fall into three categories. The first category is white hat SEO and is based on optimizing a website according to the rules of search engines.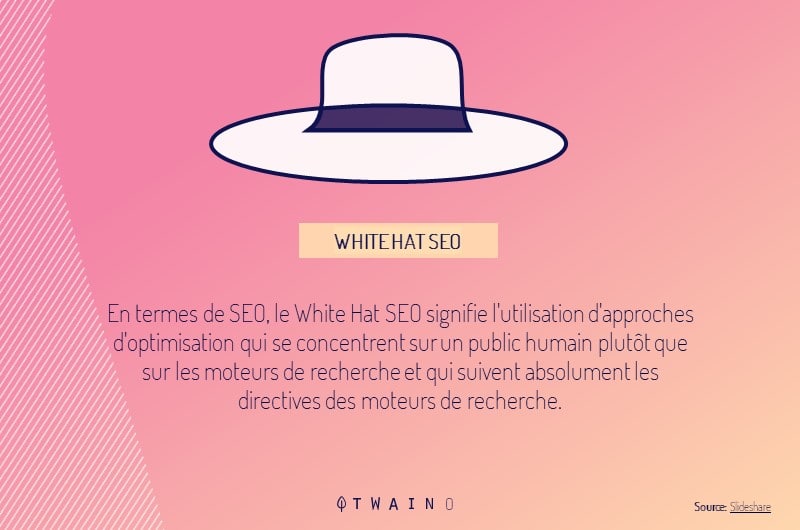 The use of these practices still called white hat is the best way to improve the performance of a site even if it can sometimes take time.
It is about :
create quality content;
Optimizing the code of a site;
Optimizing a site for mobile search;
Etc…
The second category is black hat SEO, a set of practices that seek to exploit the weaknesses of search engines in order to have a better place in the SERPs.
Black hat techniques include:
Spam Linking;
Cloaking;
Invisible anchor texts to hide links;
Scraping content from third-party sites;
Link exchange for money;
Etc…
Black hat practices work at times and some SEO consultants do not hesitate to use them, because they can get good results in a relatively short time.
A good SEO consultant must obviously move away from black hat practices and adopt white hat SEO practices in order to obtain sustainable results for his clients.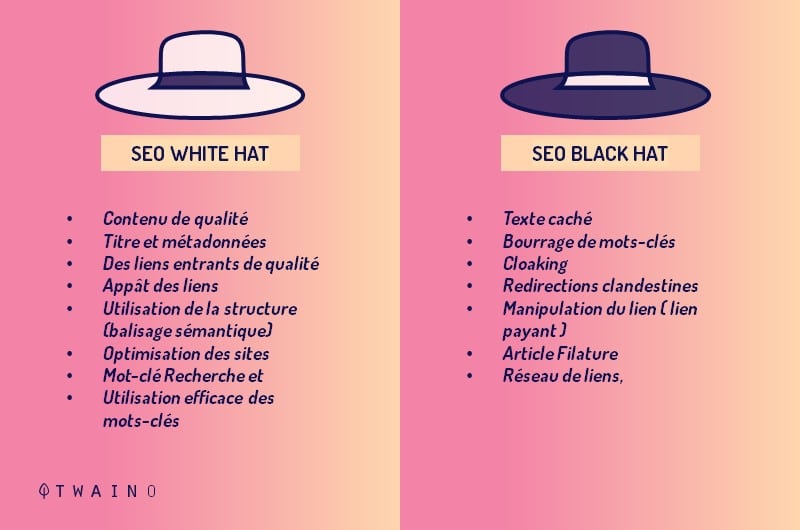 The last category of SEO practice is gray hat. Gray hat practices are SEO techniques that are neither considered good nor bad.
In fact, these techniques are not banned by Google, but they are not best practices for SEO of a site.
The areas of intervention of the SEO expert
The areas of intervention of the SEO expert are all the actions that he can perform on a site.
The on site audit and the off page audit
The first requirement in terms of SEO is to ensure that websites comply with Google's guidelines. The SEO consultant is called upon to verify this compliance through a detailed audit of all the elements of the site for which he is responsible.
The off-site audit consists of checking how backlinks are created to the site in order to eliminate toxic ones and how competitors manage to rank for the same keywords as your site.
The content strategy, the creation or redesign of a site
From his experiences, the SEO consultant can help find relevant keywords to use for the creation of content on a given topic. It is about proposing keywords that are likely to generate more traffic and adapted strategies.
In addition, the SEO expert brings his expertise when it comes to defining the editorial line of the website as well as designing relevant menus to facilitate navigation on the site.
The netlinking
Backlinks are important for the ranking of websites and the SEO expert must implement a netlinking strategy that allows to generate links according to the rules of Google.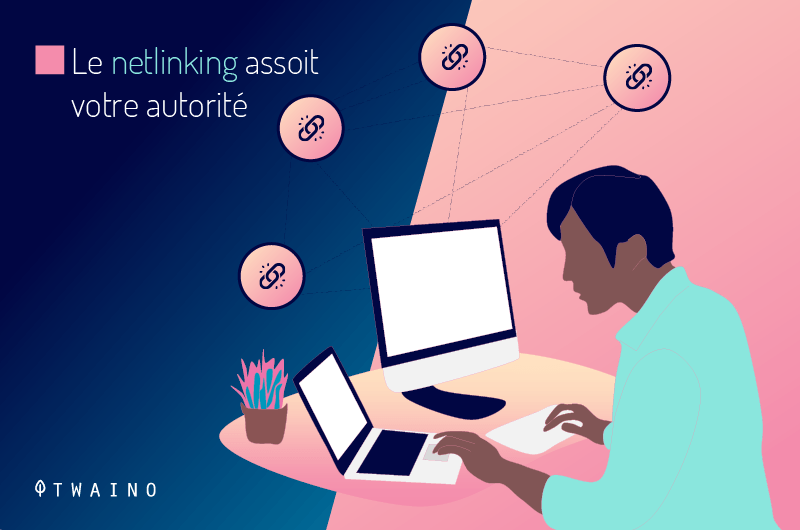 The ideal is to generate backlinks from authority sites that address the same themes as your site.
SEO monitoring and reporting
After the implementation of the strategies, it is necessary to measure the progress. The SEO consultant measures progress using Google's analytics tools.
He then compares the progress made with the state of the site before his arrival and explains to his client, the data on the ranking of the site.
3.3.7. SEO training
An SEO consultant can be hired to reinforce the skills of an optimization team. He is able to teach others the fundamentals of SEO.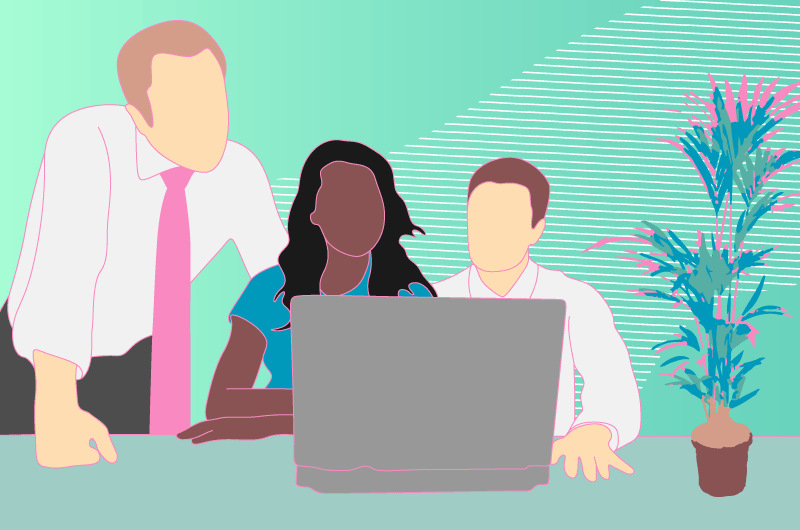 It is true that some SEO experts do not offer training. However, most of them are able to teach others how to implement SEO strategies and how to handle the tools.
In summary
From all the above, hiring an SEO expert allows businesses and individuals to improve the visibility of their businesses in search engines with the help of SEO best practices.
The consultant helps businesses establish winning SEO strategies to rank better on certain keywords despite competitors.
The qualities and skills mentioned in this article make an expert, a good consultant to accompany the companies in waiting for their objectives.