Find keywords | SeCockpit
Short description : Find keywords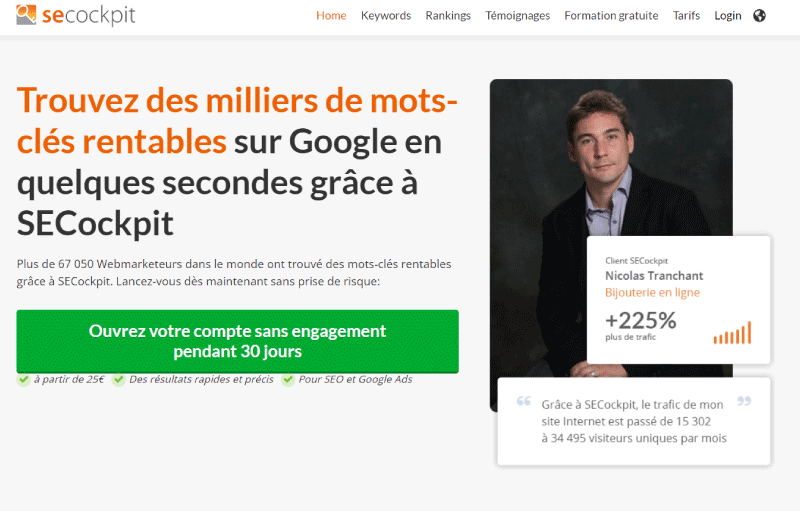 Discover the perfect description of the SECockpit SEO tool: Definition, Advantages, Disadvantages, Features and Price.
Long Description : Find keywords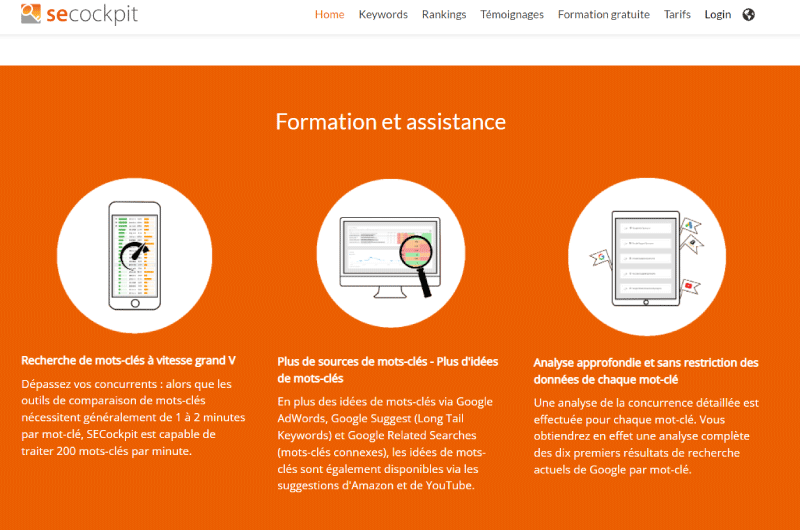 Description SECockpit
SECockpit is a cost-effective keyword research tool that makes it easy to discover the most relevant keywords to attract more customers to a site and improve its SEO.
SECockpit can help drive more organic traffic to your site with its ability to provide insights into keyword research, rank tracking, competition analysis, and more.
It includes all the essentials you'll need to build an effective SEO strategy.
But is it the right tool for SEO for your business? Let's take a closer look at what SECockpit is, five of its most useful features, and how much it costs.
Let's go !
What is SECockpit?
CECockpit
is an online software that helps SEOs improve their SEO efforts. 
In addition to its keyword research function capable of processing more than 200 terms per minute, it has other more advanced features such as:
Keyword analysis;

Filtering of keywords;

And the evaluation of the competition.
It is one of the most efficient and sophisticated keyword research tools.
Like any other SEO keyword research tool, you will simply enter a seed keyword and it will provide you with a list of results. 
But SECockpit is not just limited to displaying a list of related keywords. It performs other functions such as:
Showing low competition keywords; 

Show keywords that receive less CPC in AdWords; 

Show the terms for which YouTube, Ebay or Amazon results appear at the top of the Google page;

Examine the pages that are currently in the top 10 of Google for the keywords you have selected, allowing you to have real-time access to data on the competition;

Use the "related search terms" function and the Google Suggest filter to obtain even more useful information on keywords;

Etc.
Since SECockpit is an online tool, it requires no installation and can be used on any operating system.
All in all, SECockpit saves you time and money for all your content optimization or market research projects.
As
disadvantages
of this tool, there are two essential points to raise: 
It is paying (with 7 days of free trial) with the choice of a monthly or annual subscription;

It can be difficult to understand its features if you are not new to SEO.
5 Best Features of SECockpit
5 Reasons Why You Should Use SECockpit:
1. Provide the catchy keywords to target
Generally,
a keyword research tool
finds relevant keywords from a predetermined database.
https://www.twaino.com/blog/seo/recherche-mots-cles/
This is however not the case with SECockpit, which
gives you access to a variety of sources to discover profitable keywords
that are usually overlooked.
This means that you will have more profitable keywords to choose from.
Here is a description of the main keyword sources used by SECockpit:
A. Keyword ideas from Google
Having a limited keyword resource can restrict your SEO plan. Fortunately, SECockpit relies on a wealth of resources for unique keyword insights.
The tool uses:
Synonyms of keywords suggested by Google to discover commonly used long-tail search phrases;

Google's related search synonyms to discover more useful, but often overlooked keywords.
B. Keyword Ideas from Amazon and YouTube Suggest
SECockpit is a keyword research tool that goes a step further than
Google's Keyword Planner
. 
The program uses Amazon Suggest Synonyms to discover keywords with high purchase potential.
It also uses YouTube Suggest Synonyms to provide keyword suggestions from YouTube.
2. Provide access to in-depth keyword analysis data
SECockpit provides comprehensive keyword analysis that you can use to understand what is more likely to be effective for your SEO strategy.
The first thing you'll notice in SECockpit is the "
Niche
" column. It's a
summary of thousands of data points
, with a
green bar
that indicates a keyword's potential.
In addition to this special appeal, SECockpit provides you with an "
in-depth analysis
" for each keyword idea.
The tool displays the top-rated results for each keyword idea, along with important metrics such as:
Domain authority;

The highest ranked page;

And even social media data, including Facebook and Twitter.
data accessible
Google Trends
for all keyword ideas.
3. Makes Organizing Thousands of Keywords and Structuring Data
Easier Suppose you managed to collect millions of keyword suggestions, low competition keywords, and search volume data. However, you now have the difficult task of
putting them in order
.
Fortunately, SECockpit
easy to organize keywords
for your SEO campaign.
It allows you to build lists or groups of keywords by providing you with a drag and drop function. There is also no limit to the number of folders to create!
You can also use
color labels
to identify and distinguish each keyword.
4. Gives free access to RankTracker
The subscription to SECockpit allows you to have free access to
RankTracker
. 
But what exactly is RankTracker, and how does it work?
It's a cloud-based keyword research tool that gives you actionable insights into your website's keyword performance. You can use the tool to enter a term and accurately track your website's ranking.
With RankTracker, you have the possibility to:
Automatically monitor the ranking of your website on a daily basis;

See the positioning of websites in all countries, cities and languages;

Get accurate ranking data for the top 100 search results.
5. Use competitor analysis to get ahead 
Here are the three important features of in-depth competitor analysis with COCKPIT:
Keyword research by semantic field
With its semantic keyword research function, you can review all relevant keywords your rivals are currently ranking for.
You can use this method to mimic your competitors' valuable keywords and employ their keyword tactics.
keyword data for first page domains is collected by SECockpit.
You can
compare your website to your top ten competitors
using SECockpit. Once the comparison is done, you will be able to determine what needs to be fixed on your site and thus improve its functionality.
How much does SECockpit cost? 
The tool offers three plans (Personal, Pro and Agency) on two bases:
A monthly basis:

An annual basis (to save up to 35%)
Conclusion
By using the real data provided by this tool, you will have several advantages on your competitors.
There are many who just create content that they feel is relevant to their target audience without fully understanding the requirements of their niche or domain, which is a real mistake.
Now you know what this tool is, how it works and what it is capable of.
See you next time !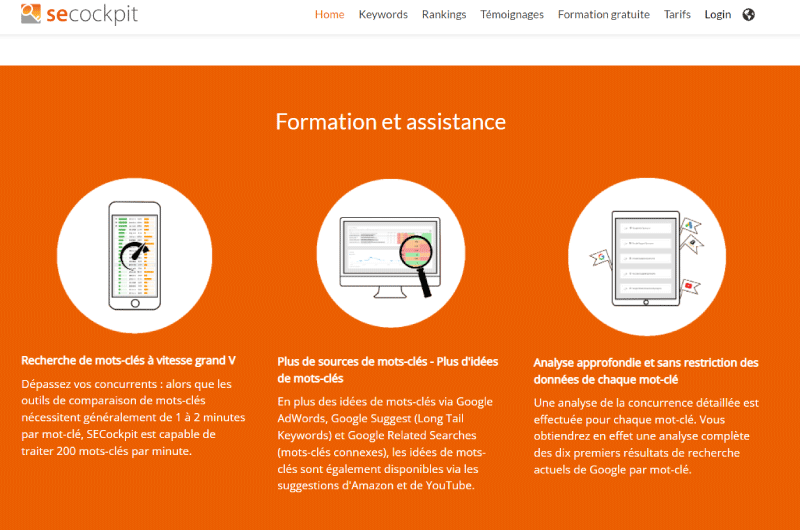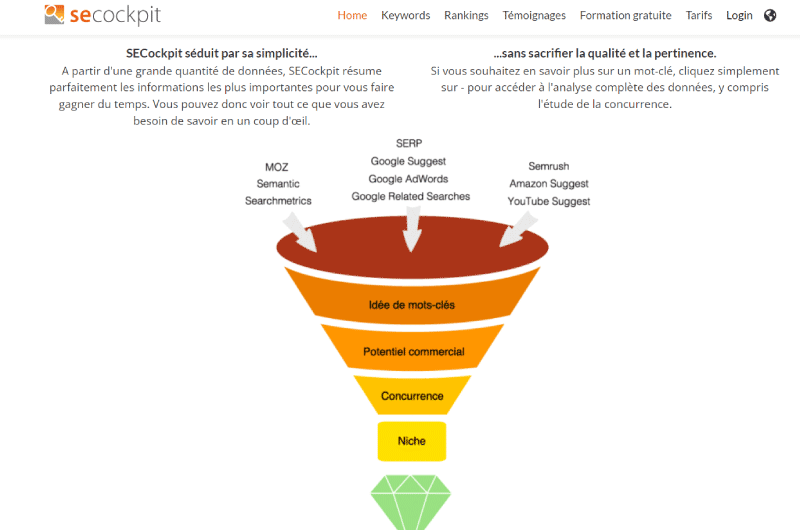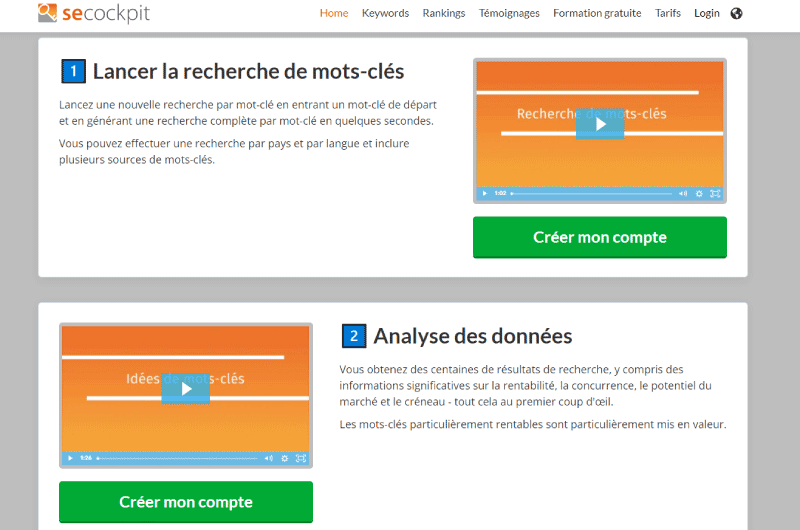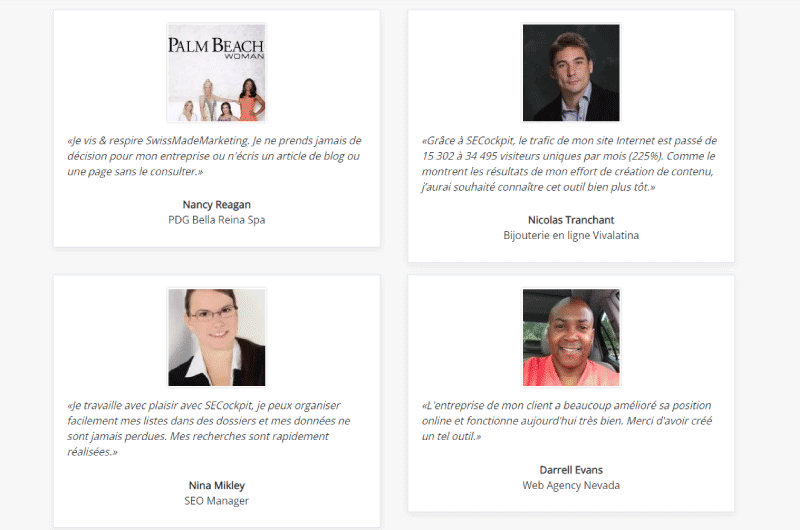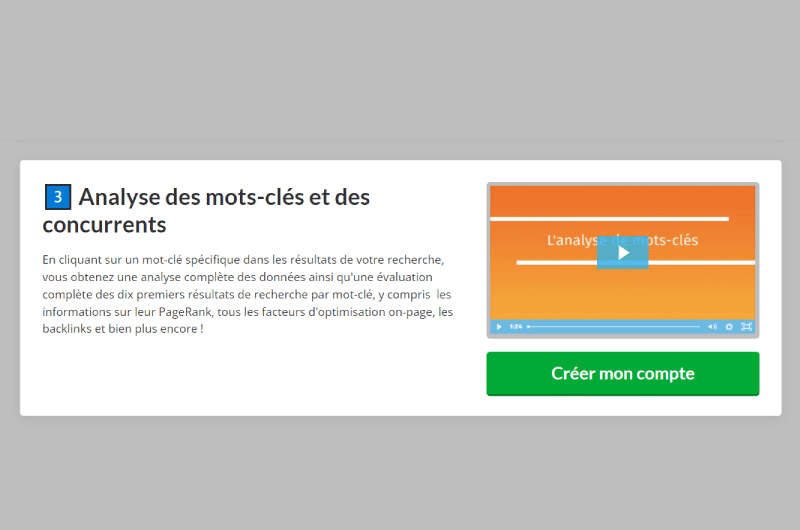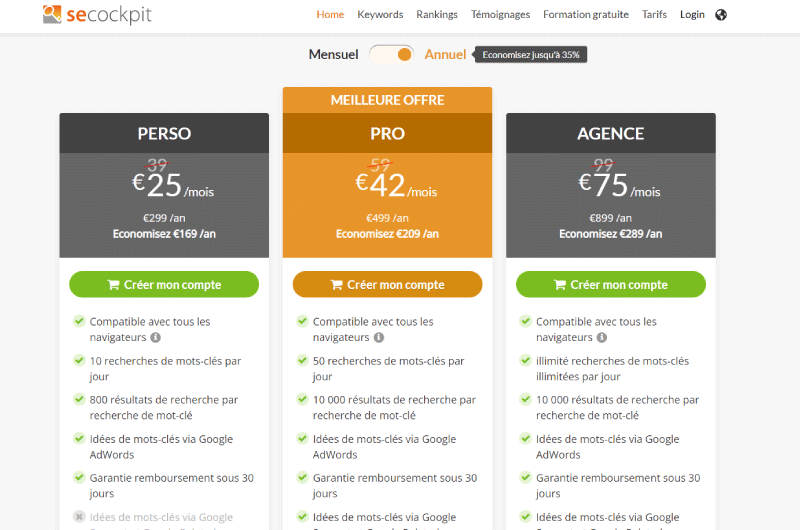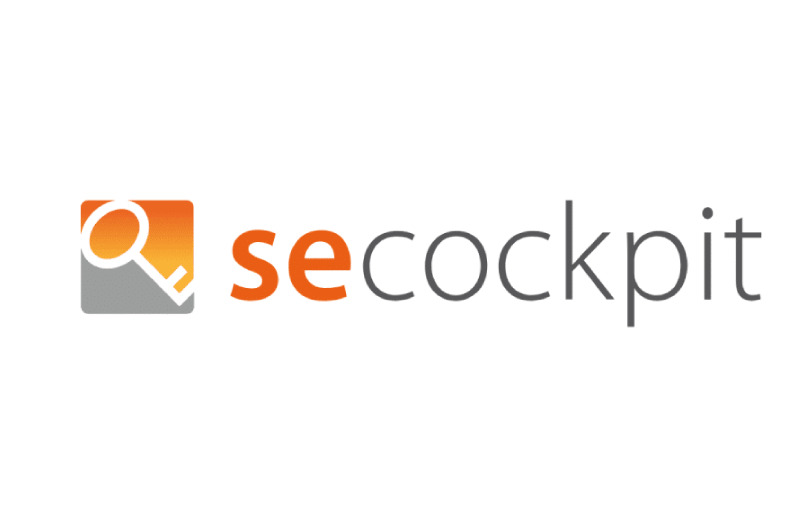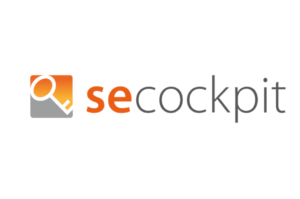 SEcockpit is a tool developed by SwissMadeMarketing. It is made up of two teams, the first of which in Switzerland is made up of highly qualified programmers. The second team is international and is made up of Web specialists. 
Since 2010, the two SwissMadeMarketing teams have been working every day to offer new solutions for both Internet players and companies. These solutions range from keyword research to CMS platforms.
It must be said that SwissMadeMarketing tries to always be at the forefront of innovation with the sole aim of making business processes more automatic and making each entrepreneur more productive and efficient. It is in this sense that the company has set up several tools like SEcockpit.
This powerful tool allows you to find thousands of profitable keywords on Google in seconds. It therefore provides:
very high speed keyword research;

more sources and keyword ideas;

a complete and unrestricted analysis of the data of each keyword.
Social Media : Find keywords
Others Tools : Find keywords
Alexandre MAROTEL
Founder of the SEO agency Twaino, Alexandre Marotel is passionate about SEO and generating traffic on the internet. He is the author of numerous publications, and has a Youtube channel which aims to help entrepreneurs create their websites and be better referenced in Google.