Sitekit (Plugin WP) | Google
Short description : Sitekit (Plugin WP)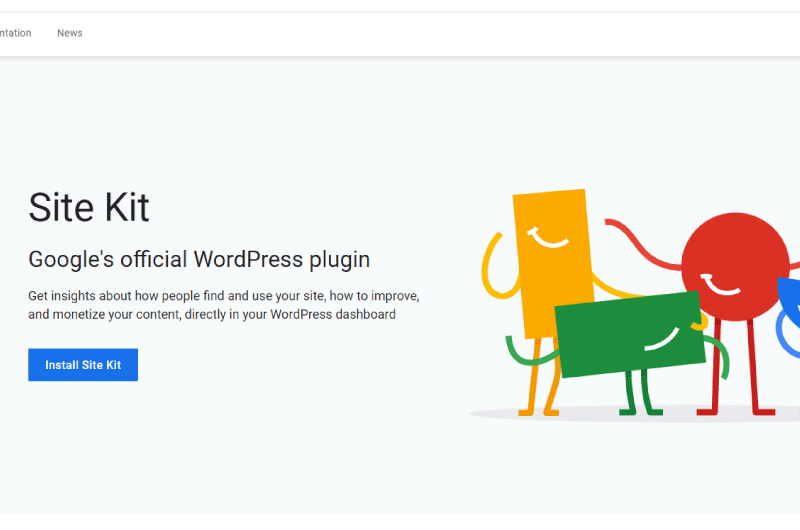 Do you want to know everything about the Google Site Kit plugin? This article gives you the useful information about this tool.
Long Description : Sitekit (Plugin WP)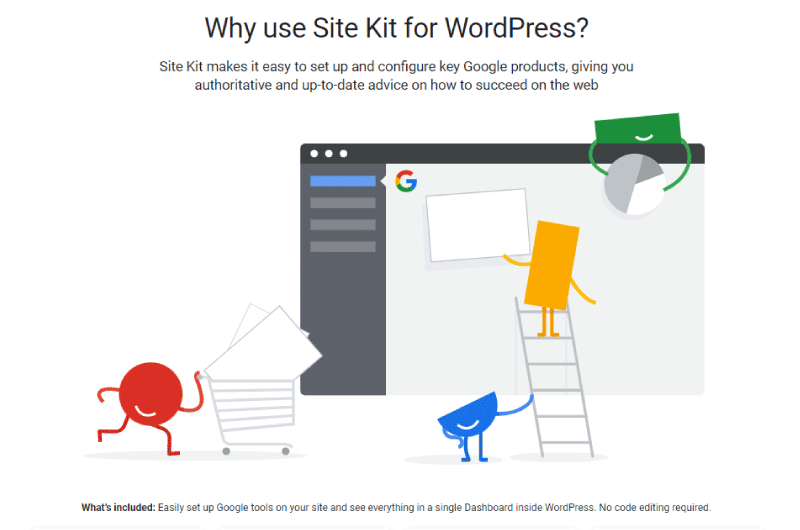 Site Kit
Site Kit is a WordPress CMS plugin that allows you to track analytical data from your site. 
Source:
sleonproductions
WordPress
is one of the most used CMS in the world. It allows you to edit content on your website. 
However, after you have your content strategy in place, it would be nice to see the results. 
Site Kit is a free tool designed by Google that allows you to have various important information on how people use your content. It connects to other Google tools to help you get an overview of your site on a well-detailed dashboard.
In this article, we'll cover the following:
What is Site Kit for?

How to install this plugin?

Which Google services does Site Kit support?
What is SiteKit used for?
To begin, it is important to highlight how the Site Kit tool is useful for your digital marketing strategy on your site. Indeed, the advantage of this plugin is that it allows you to connect different Google tools to WordPress. 
Thus, it gives you access to many tools and features. Site Kit then allows you to take advantage of the specificities of each tool to:
Have simple and reliable Google statistics directly on WordPress;

Configure several Google applications on your site without having to change its source code;

Have information on site metrics as well as promotions;

Set granular permissions directly on the CMS. 
Who is SiteKit for?
Site Kit is a Google tool linked to WordPress. Thus, as a plugin, it can be used by anyone who wants to improve the results of their website based on specific data. 
However, it should be noted that it is an extremely profitable tool for site owners as well as developers and agencies.
Site owners
For people who own a site on WordPress, Site Kit gives you useful information on how your content is handled by visitors. The data it provides you on your dashboard will be very useful for
improve your content
. 
Also, it must be emphasized that you do not need to be an expert to understand the statistics. This is simple information and fairly easy to use.
Developers and agencies
If you are a developer or an agency, Site Kit gives you state-of-the-art tools to analyze the evolution of your client's site. With the many features offered and the data presented, you will have enough weapons to produce
engaging content
.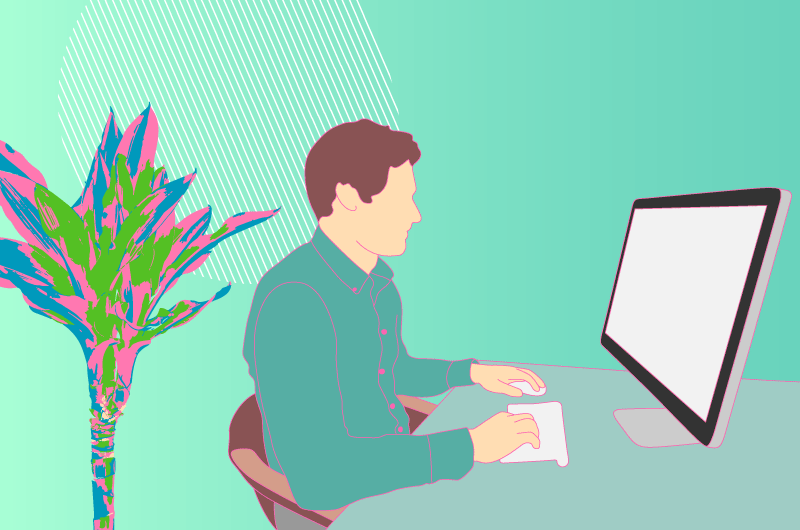 On the other hand, with this tool, you no longer have to send reports to your customer on a regular basis. This one can go on the site with the accesses and see the evolution and the necessary statistics on the dashboard.
How to install SiteKit?
Installing Site Kit is not a complicated procedure. You don't necessarily need to have coding knowledge. Before starting, however, you must ensure that the following conditions are met:
Your WordPress version is 4.7+ with PHP versions 5.6+;

Your browser must be of modern type;

Your site must be available and accessible to the public;

The REST API must also be operational. 
Once all of these are in place, you can install Site Kit.
Installing from WordPress 
To install Site Kit from WordPress, you must go to the Plugins tab from your dashboard. Next, you need to tap on the "Add New" button. After that, you need to search for Site Kit in the search bar. 
Once you have it, you need to install it. After that, you will be asked to connect your Google account. Following this step, the plugin will be available and you can use it. 
What to do after installation?
After installing your tool, you must connect the various Google tools to use it well. To do this, go to the menu of the Site Kit plugin. Then you must follow the instructions that will be given to you. 
Generally speaking, this will take you to the Site Kit dashboard. You will notice that the Search Console tool is already present with its various metrics. You just need to connect the remaining Google tools. To do this, you must go to the settings and press the "Connect other Google tools" button. 
WhichGoogle services can you connect to Site Kit?
In order to properly monitor your site and improve your content according to visitor reactions, you can use several Google services. There are several that can connect to the Site Kit tool. 
Google Search Console
This tool will allow you to know your positioning in Google results when Internet users type certain specific queries. You will know what are the keywords that your visitors search for the most. This can give you ideas for interesting content.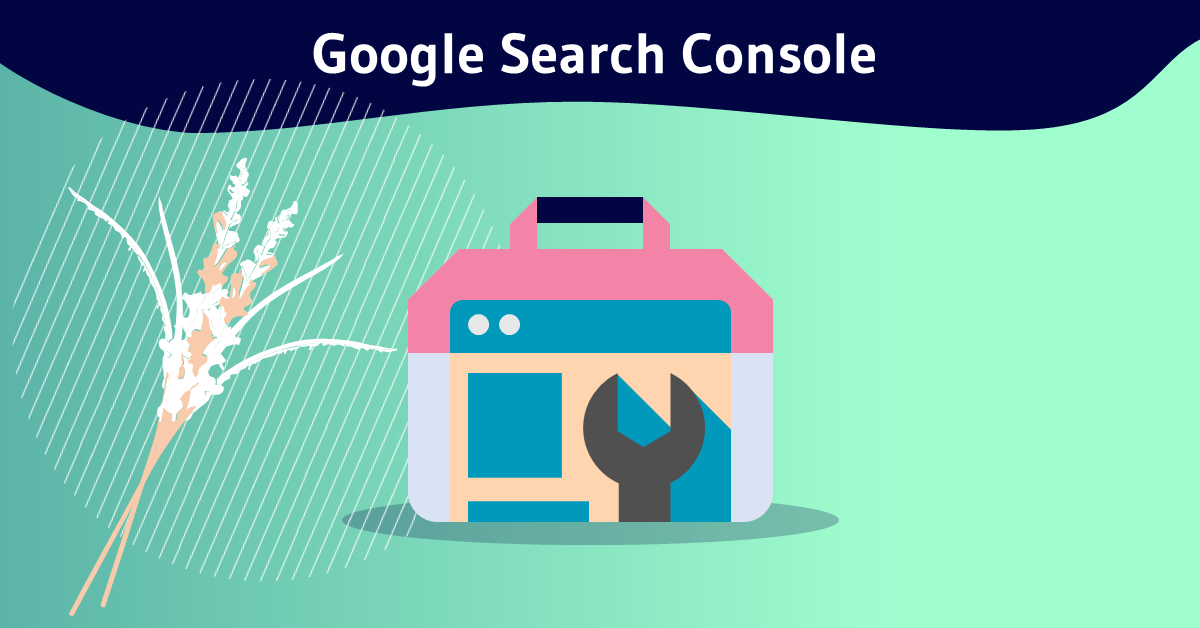 Also,
Google search Console
gives you specific details like: 
Clicks; 

The CTR;

The position of your site;

The impressions ;

Etc.
Google Analytics
Site Kit also allows you to connect your "Google Analytics" account. The latter is a tool that allows you to have access to certain information on the behavior of visitors to your site.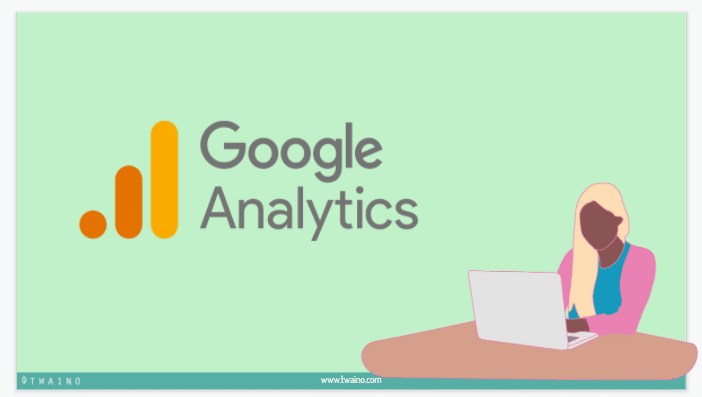 Google Analytics
informs you about:
Your most popular pages;

The number of visitors per day on your site;

The average visit time per visitor;

The geographical areas from which these people come;

Etc.
Idea Hub
When you connect your "Idea Hub" account to Site Kit, you will have content ideas for your site directly on your dashboard. This tool is based on frequent requests from Internet users to suggest original content that could arouse the interest of your visitors.
Apart from these tools, you can also connect your "Google AdSense" account. In this way, you will be able to manage the advertisements that you post on your site in order to earn money. 
Source:
Wpformation
There is also the "PageSpeed ​​Insights" tool which provides information on the speed of your site's pages. Moreover, other tools such as "Tag Manager" or "Optimize" can also be added to your Site Kit plugin. 
Ultimately, the Site Kit tool is an important plugin for the proper management and monitoring of the content you publish on your website.
Videos : Sitekit (Plugin WP)
Images : Sitekit (Plugin WP)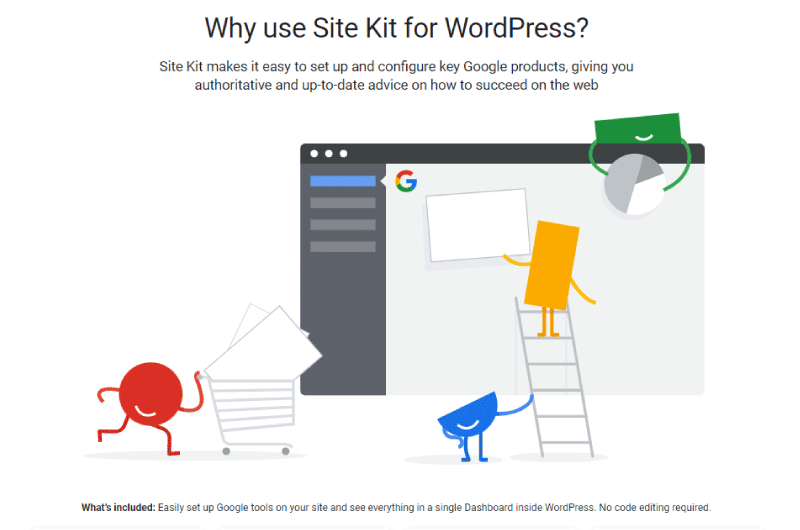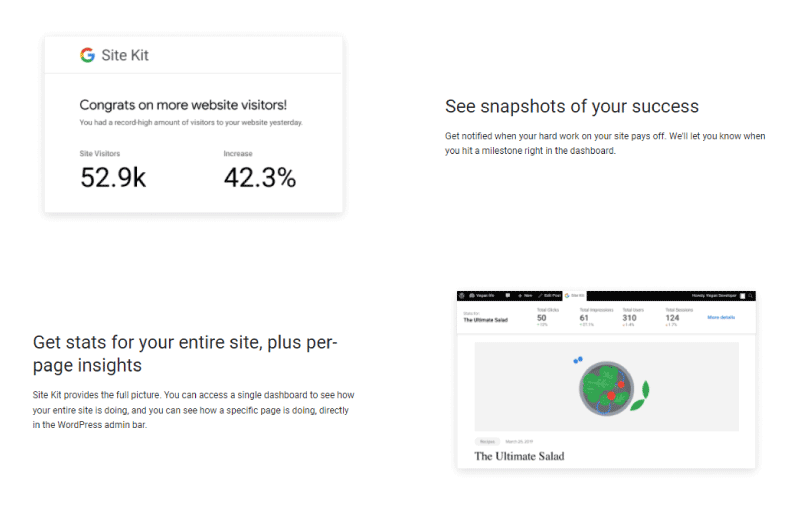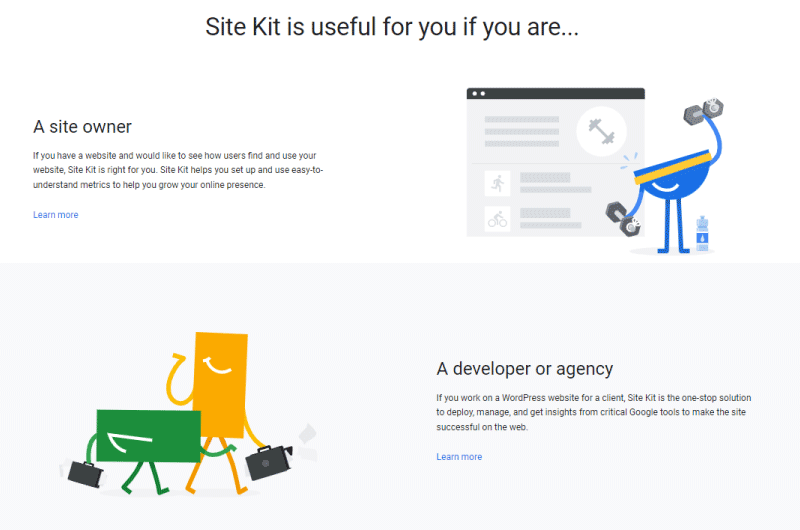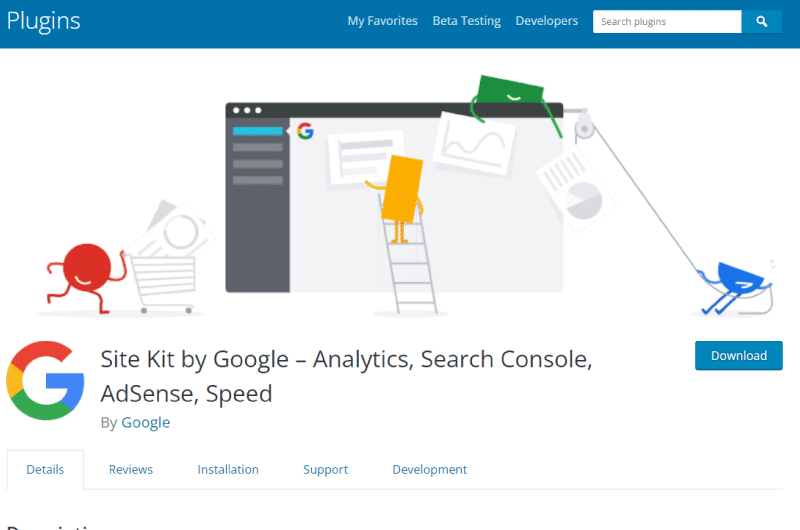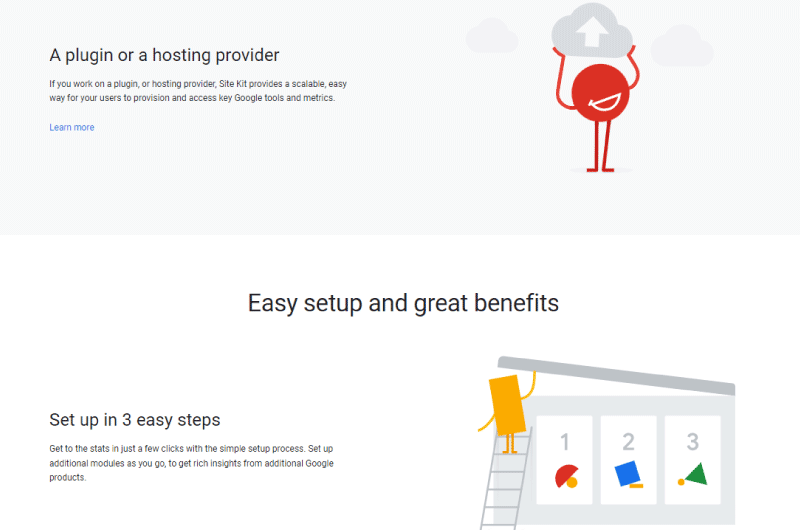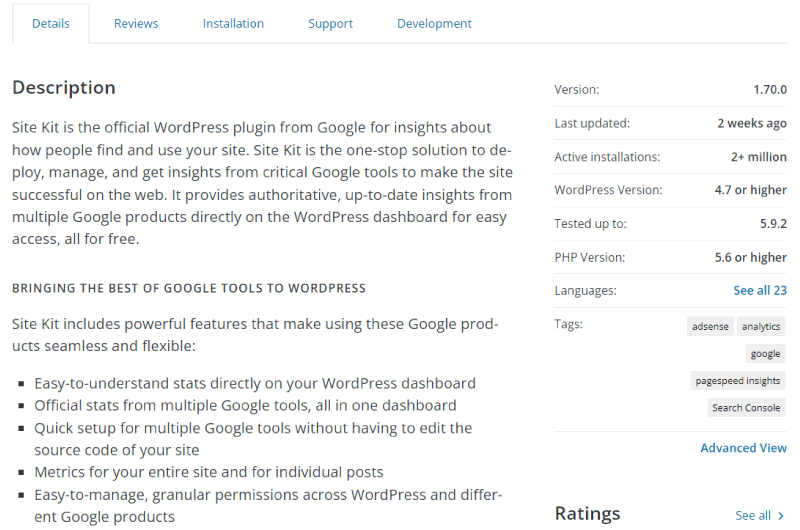 Company : Sitekit (Plugin WP)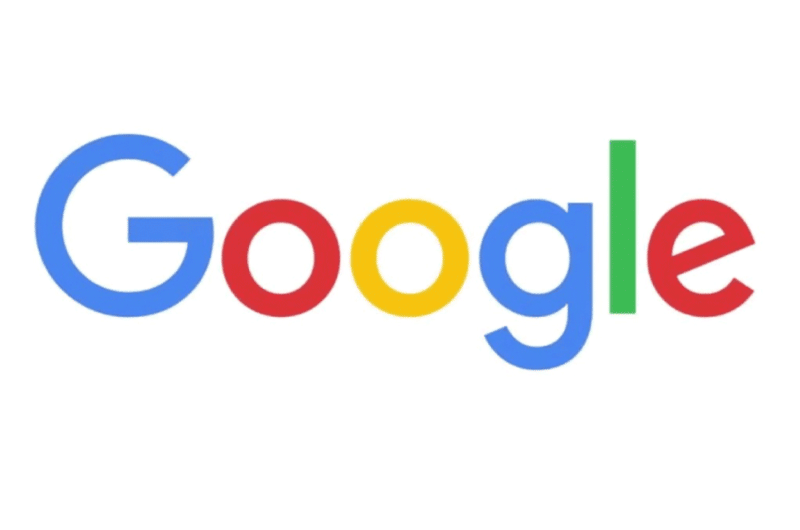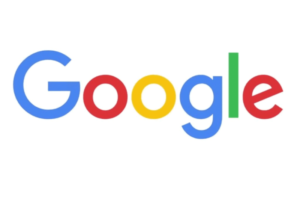 Google is an American company, founded in 1998 by Larry Page and Sergey Brin. It specializes in the provision of technological services and has grown in Silicon Valley in California. Since 2015, Google has been a subsidiary of the Alphabet company with Sundar Pichai as CEO.
The Google company created the Google search engine, which is one of the most widely used in the world. The latter is highly appreciated for its ability to offer many relevant results to the queries of its users. Apart from its search engine, the Google company has many other subsidiaries which are:
YouTube;

Speaktoit;

Kaggle;

Google Ad Mob;

looker;

etc
Each of these subsidiaries offers various and varied services. 
Contact : Sitekit (Plugin WP)
Social Media : Sitekit (Plugin WP)
Others Tools : Sitekit (Plugin WP)
Alexandre MAROTEL
Founder of the SEO agency Twaino, Alexandre Marotel is passionate about SEO and generating traffic on the internet. He is the author of numerous publications, and has a Youtube channel which aims to help entrepreneurs create their websites and be better referenced in Google.