Questions from your Audience | DB Question
Short description : Questions from your Audience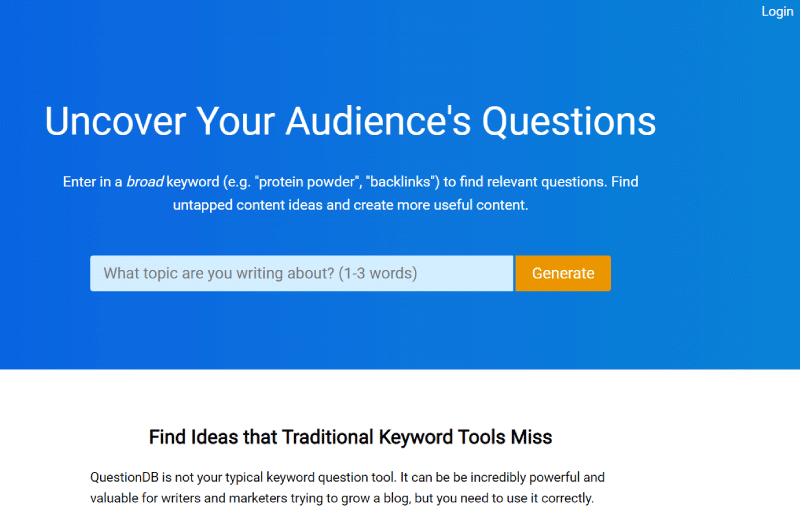 Find out all about QuestionDB, the tool for discovering unique content ideas based on a large number of user queries !
Long Description : Questions from your Audience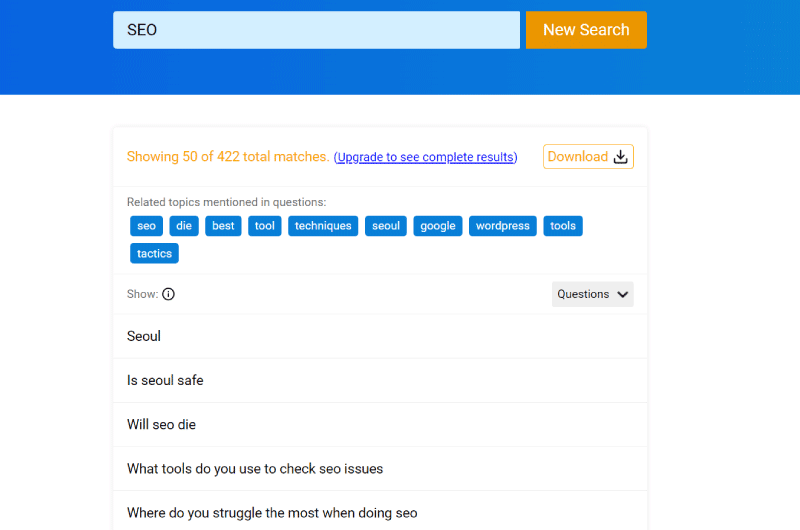 Description QuestionDB
QuestionDB is a content idea generator (free and paid) that helps you find the questions most people ask on a certain topic. Thanks to this huge reservoir of requests made by users, you will be able to discover content ideas that have not yet been exploited.
If you think that only Answer the Public is the keyword research software that uses questions to help rank a website or blog, you're wrong. There is also
Question DB
!
But what is QuestionDB?

How does it work ?

Is it free or how much does it cost?
In the rest of this description, we will discuss each of these questions in detail.
Great, let's go!
What is meant by QuestionDB?
Like Answer the public, QuestionDB is an online program that collects and organizes user questions into a vast database of over 30 million questions.
However, unlike Answer the public, it does not collect data from Google but from
Reddit
, which makes it more authentic.
Indeed, it is not a generic keyword tool. It is mostly useful for bloggers, content writers, marketers, and businesses that need a platform to manage their keywords.
It
's a question platform
that aggregates millions of queries made on various websites over time into a gigantic searchable database.
In general, it performs the following tasks: 
Helps get the best relevant content ideas through its huge collection of user questions;

Provides a list of questions relevant to your keyword;

Provides a wealth of new and innovative content ideas. ;

Has a large database built on queries from Reddit users (A platform used daily by millions of users to discuss questions or get their concerns answered);

Improves the position of your site in the search engine results pages (SERPs) by using the appropriate and most important keywords;

Allows you to find

the source of a

specific question and the comments it generated.
Its next goal is to encourage content creation on
the most discussed topics
.
The Features of QuestionDB
Best Blog Topic Idea Generator
QuestionDB is the best blog topic generator tool that allows bloggers to search a large number of user-posted questions to get the best original content ideas.
Provides questions from the public
When you enter a
keyword
into QuestionDB, you discover a whole host of questions about it. It's up to you to choose the best words for your content.
Storing huge information
QuestionDB stores queries submitted to search engines by exploiting
algorithms
and then linking them to keywords.
Thus, a new blogger will have a huge amount of information to incorporate into their content, allowing them to gain in-depth expertise on a single keyword.
Enables Infinite Searches
Due to the continual addition of new questions to QuestionDB, it has become much easier to find
fresh, untapped content ideas
.
This can only be beneficial for new bloggers who are struggling to improve their site's rankings.
Provides Collaboration Opportunity
This tool allows bloggers to create collaboration agreements with other blog owners to produce quality content and get as much traffic as possible.
Offers SEO power
By looking at the number of queries associated with keywords, you can use QuestionDB to boost your SEO.
Pricing of QuestionDB
Price: Question DB has two pricing plans, Free and Pro ($10 per month):
The free version allows you to sort results by topic popularity or interest, save CSV files and get up to 50 hits per search.

The paid plan: allows you to sort by new questions added to QuestionDB, have access to the API and do as many searches as you want.
To learn more about their pricing plan,
click here
.
Pros and cons of QuestionDB
isPros:
loaded with several features that make it very flexible and easy to use;

Its database is huge with around 48 million accessible questions;

It lets you search for questions in a variety of categories, making it easier to find;

It searches for ideas in real time and returns them to you in the most appropriate style, based on your interests.
Cons:
User interface can be complex for beginners;

It focuses exclusively on searches from Reddit and a few other websites.
Using QuestionDB to Find Topic Ideas
We'll now take a step-by-step look at how to use QuestionDB to discover new topic ideas, whatever your industry.
Its use is simple, just enter a keyword and it will generate many questions relating to it. 
Go to

QuestionDB

Enter your seed keyword and click the yellow

Generate

. Let's take "SEO" as an example here:
Put topic ideas into a spreadsheet, to use later in your article writing process.
It's the easiest way to plan your content creation schedule!
As in our example, when using the free plan, the tool limits you to 50 results.
This does not prevent you from obtaining as much information as you need to come up with quality topic ideas.
But if you want to upgrade to a paid plan, which isn't necessary, you can
check the pricing here
.
Summary 
The closer we get to the keywords our customers search for, the more relevant and visible we are to them.
For this, it is essential
to carry out a thorough research of the keywords
and to use the tools which make the task.
Videos : Questions from your Audience
Images : Questions from your Audience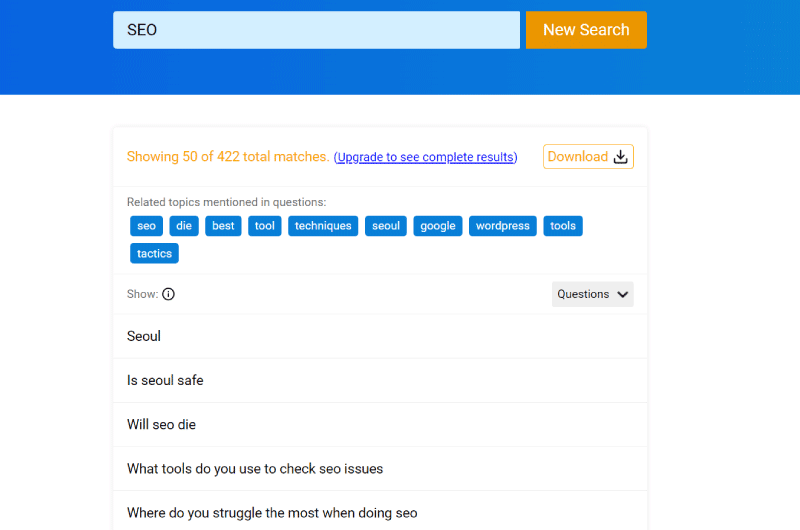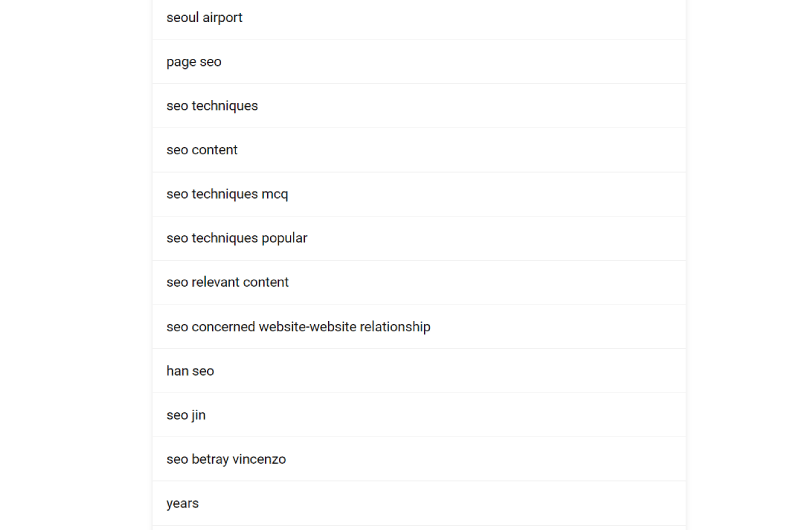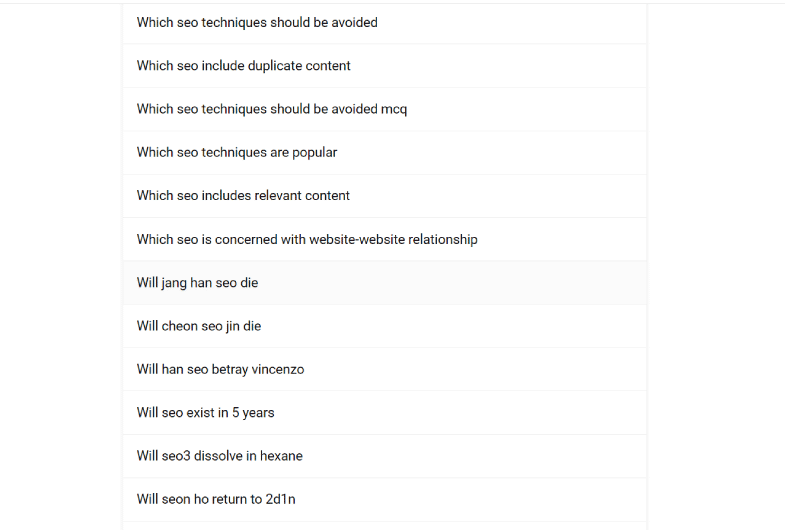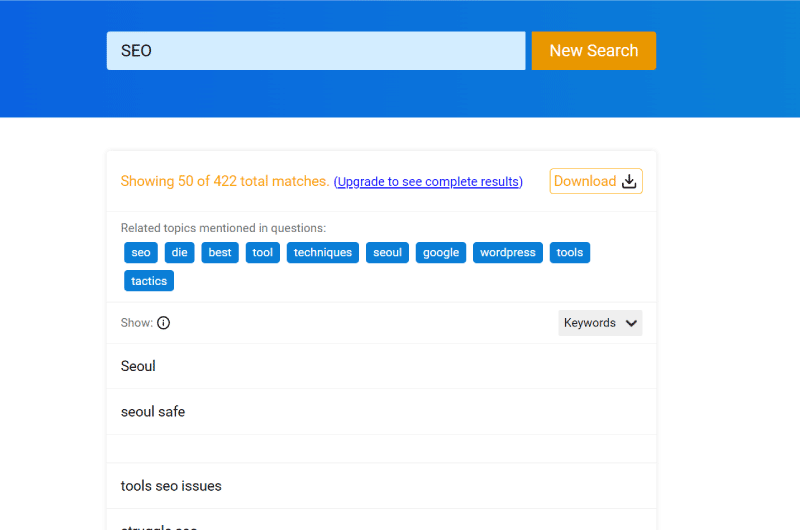 Company : Questions from your Audience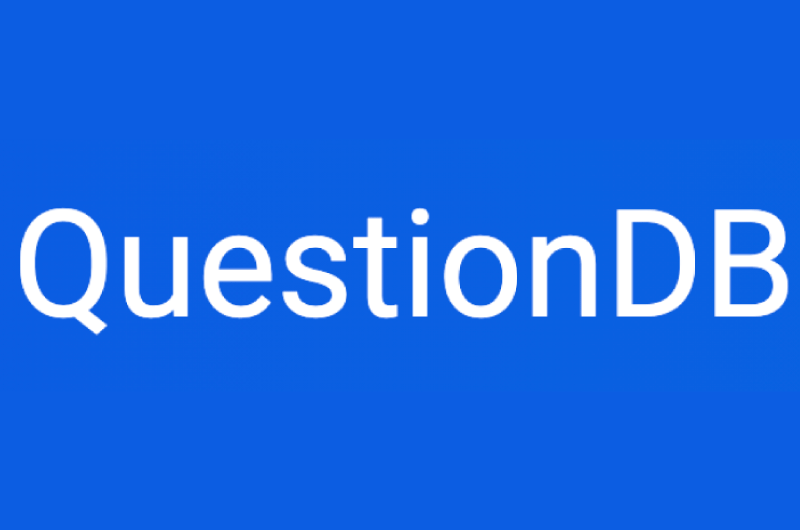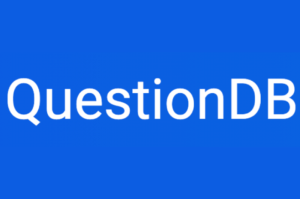 Question DB is a platform that allows you to discover the different questions that the public is asking. Thus, it comes to the aid of SEOs and content marketers who can use it to rank their blog well in the Google SERP.
This is precisely a free keyword questions tool. Its platform is very intuitive, which makes it easy to use. Just enter a broad keyword to find relevant questions. 
With Question DB, if you are a writer, you will have the opportunity to find ideas for content not yet exploited. That said, creating more useful content will become an easy task.
Contact : Questions from your Audience
Social Media : Questions from your Audience
Others Tools : Questions from your Audience
Alexandre MAROTEL
Founder of the SEO agency Twaino, Alexandre Marotel is passionate about SEO and generating traffic on the internet. He is the author of numerous publications, and has a Youtube channel which aims to help entrepreneurs create their websites and be better referenced in Google.