Local Listing Score | Moz Local
Short description : Local Listing Score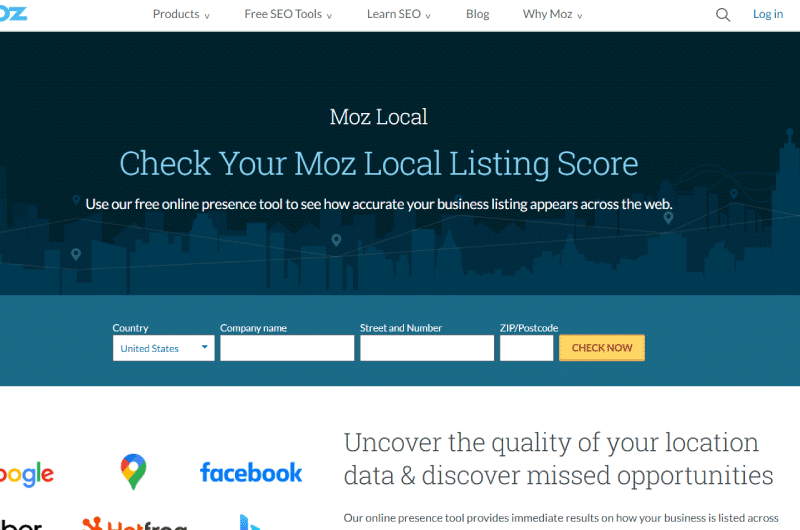 If you want to give more visibility to your local business, the Moz local application could be the solution.
Long Description : Local Listing Score
Description of Moz local 
Moz local
is another product developed by the digital marketing agency
Moz
. 
This is a tool to help manage and improve your local SEO strategies as well as your business reputation through different listings and features.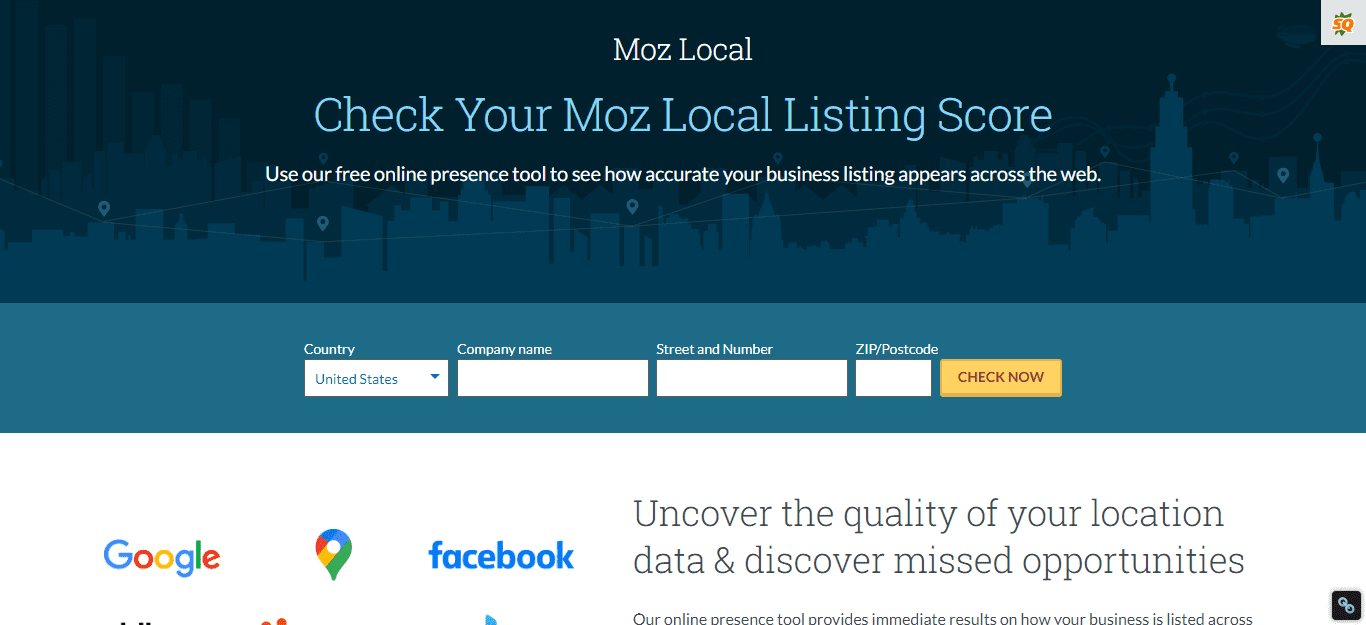 Since almost
97%
of online consumers search for a local business through search engines, it is essential that you improve your local presence by improving your SEO strategies, but also by using tools like Moz Local. 
Who is the local moz tool intended for? 
As you can imagine, this local SEO tool is useful for local businesses, in-house marketing teams, and SEO agencies alike. 
It allows local businesses to take charge of their future by developing both their visibility and their reputation. 
To the various internal marketing teams, and SEO agencies, this tool allows them to collect the necessary data for the implementation of a real local SEO strategy that works and attracts more customers. 
Why is the Moz Local tool important? 
The local Moz tool is an important tool that can help you grow your local online presence. 
This first because of the importance of local SEO and second because it is a tool that, unlike others, focuses on managing your listings and reputation. of your company. 
It actually contributes to the management of the most important factors of a local search for both visitors and search engines, namely: 
Accurate information about your local business;

The best photos of your products; 

The response to the opinions of your customers; 

Updates etc
What are the strengths of the local Moz tool? 
As you would expect, the performance of the local Moz tool is relative to its many features. 
These fall into three main categories, namely: 
Local Managing and synchronizing your company's listings 
SEO places particular emphasis on accuracy. 
Therefore, the local Moz tool allows you to create and manage business listings on different platforms such as Google, Facebook and other sites. 
This is to help people find your website in search results. 
This functionality includes the continuous synchronization of your lists, the automatic deletion of duplicates to avoid the risk of confusion, the optimization of your profile thanks to the addition of data and photos necessary for the improvement of the advertisements made;

Reviews management: 
According to local Moz, good reviews management should bring more business and have an influence on the positioning and display of your website in the SERPs. 
It therefore seems essential to read and respond to them in order to respond to negative reviews and create a good customer experience that can help build customer loyalty. 
Managing opinions also allows you to reduce your response times and to follow the overall trends of the feeling that Internet users have towards your company;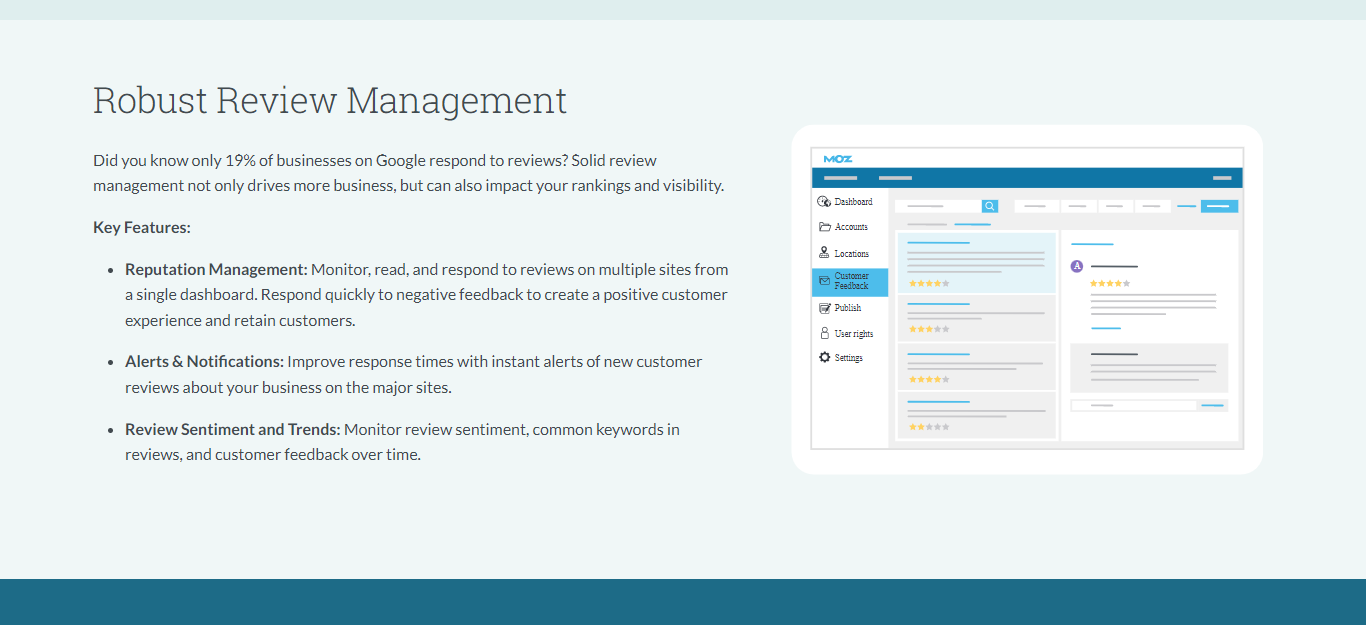 The publication of new updates and offers: 
The objective of this feature is undoubtedly to keep your customers engaged. 
This involves the possibility of publishing your profile updates and your offers with sites like Google and Facebook. 
The possibility of adding a large amount of information to make the product special and enrich the content of the site;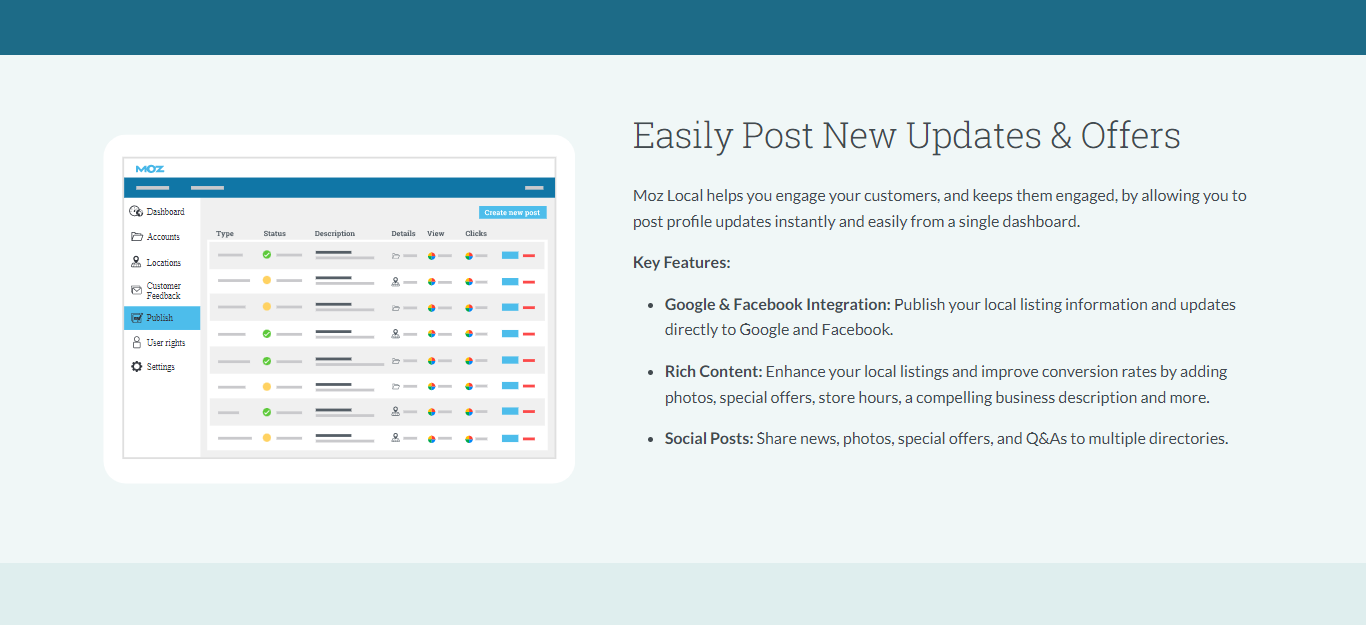 The availability of reports and other very useful information: 
Apart from the functionalities that we have just mentioned, it should be noted that the local Moz tool provides you with a certain number of local reports relating to elements such as the index of visibility, online presence score and completeness of your profile. 
Most of these reports allow you to not only have a good understanding of your profile and local site performance, but also measure the perception of the online business as well as collect data on traffic, clicks and prints. 

How much does the local Moz tool cost you? 
Although it offers you a free trial, Moz Local Tool is not free. If you want to take full advantage of the features it makes available to you, you must subscribe to one of the plans it offers.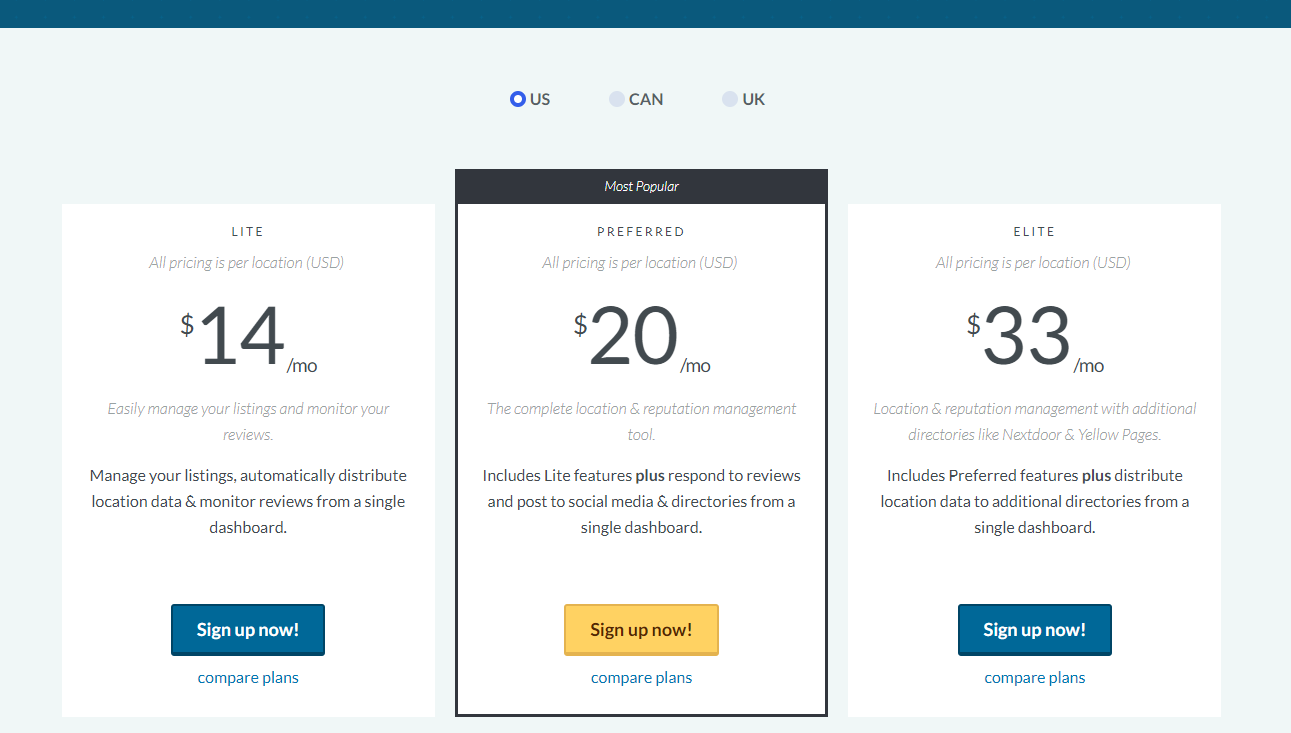 These plans are three in number, namely: 
The light plan

: It is valued at $14 per month and does not entitle you to all the functionalities of the tool. Because, with this plan you will not be able to benefit from reputation management or social publications. You also don't have access to options such as directory submission or data aggregator.  

The popular plan

: This is the most used plan. It is valued at $20 a month and only restricts you from submitting additional directories. 

The Elite Plan

: Priced at $33 a month, the Elite Plan is the latest subscription type plan that the local Moz tool offers you. It also gives you access to all features.  
Now that you are knowledgeable enough about the features and cost of the local Moz tool, now learn how it works. 
How does the local Moz tool work? 
To allow users to get a glimpse of how the local Moz tool works, a free version of the local Moz tool is made available to them. This free version actually gives a taste of the many possibilities you will have after subscribing. 
To use it, all you have to do is fill in the various fields offered, namely: 
Country, 

,Company

PostalStreet and number 

code; 

And hit the "check now" button.

Once the search is launched, you may see a new window display in which you will get the results relating to the quality of your online data on different directories. You also get detailed results on how your site displays on different websites. 
Use it to better understand and adjust your online presence for local searches. 
Videos : Local Listing Score
Images : Local Listing Score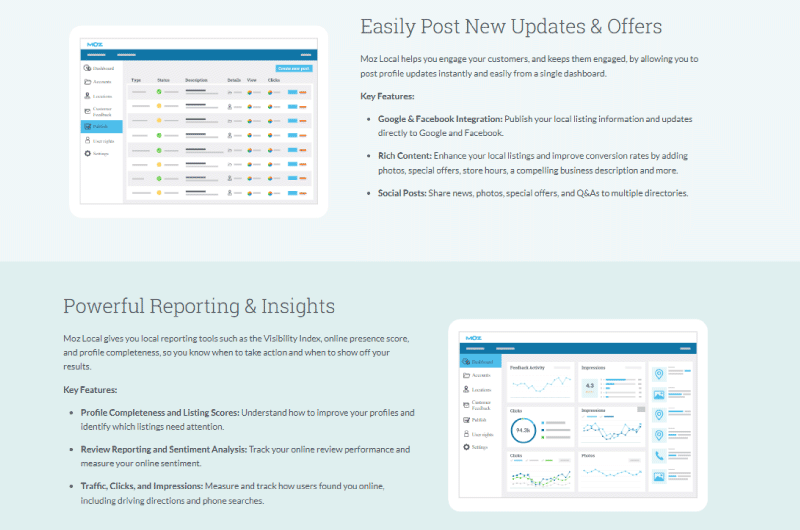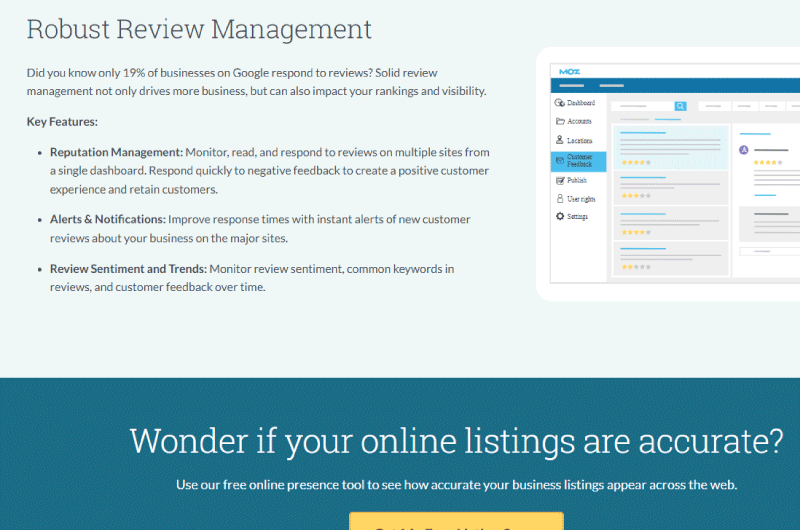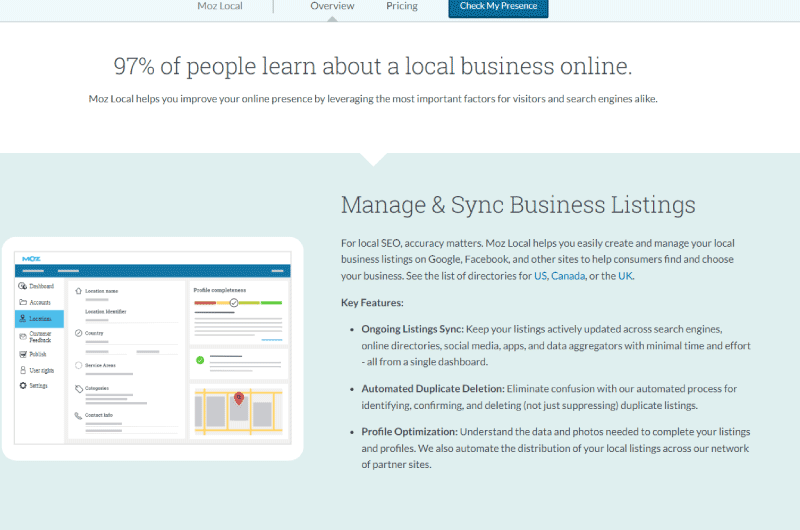 Company : Local Listing Score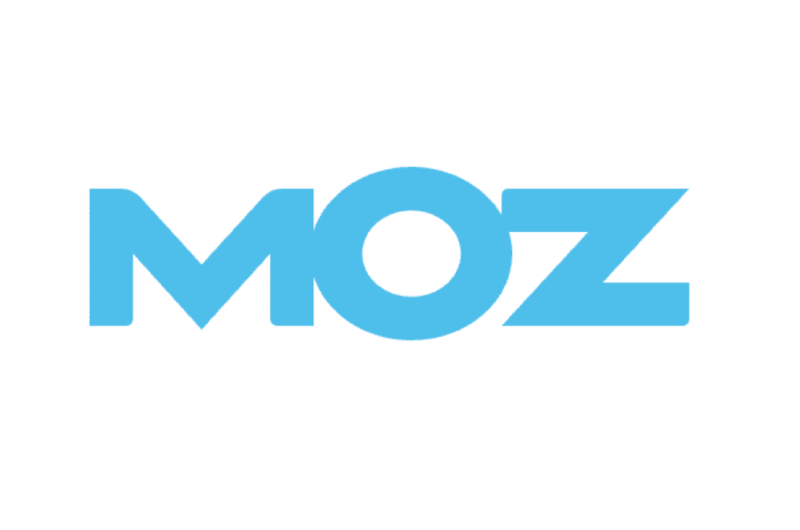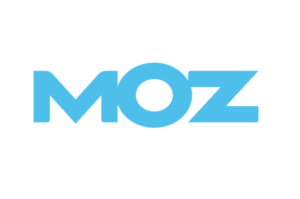 Moz is an American digital marketing agency created in 2004 by Rand Fishkin and Gillian Muessig. Even if its main objective is to allow companies to access the best SEO strategies, it is recognized for its tool.
In the beginning, Moz was just a simple SEO blogging agency, and was called "SEO Moz". Today, Moz is an agency more focused on digital strategies, especially SEO. 
Indeed, the Moz agency offers its customers products such as Moz Pro and Moz Local, which help companies improve their SEO. 
These products are highly appreciated by customers, as evidenced by the many favorable reviews for this purpose. It also offers many other services such as:
site audits;

ranking monitoring;

analysis of backlinks;

Keyword research.
Moz is a very versatile and dynamic agency, which covers many countries. It has its offices in two countries, namely in Seattle in the United States and in Vancouver in Canada. It has a community of around 500,000 digital marketers, as well as many partner companies, like Trivago, Zillow, Alaska, etc.
Contact : Local Listing Score
Social Media : Local Listing Score
Others Tools : Local Listing Score
Alexandre MAROTEL
Founder of the SEO agency Twaino, Alexandre Marotel is passionate about SEO and generating traffic on the internet. He is the author of numerous publications, and has a Youtube channel which aims to help entrepreneurs create their websites and be better referenced in Google.