Words Counter | Internet Marketing Ninjas
Short description : Words Counter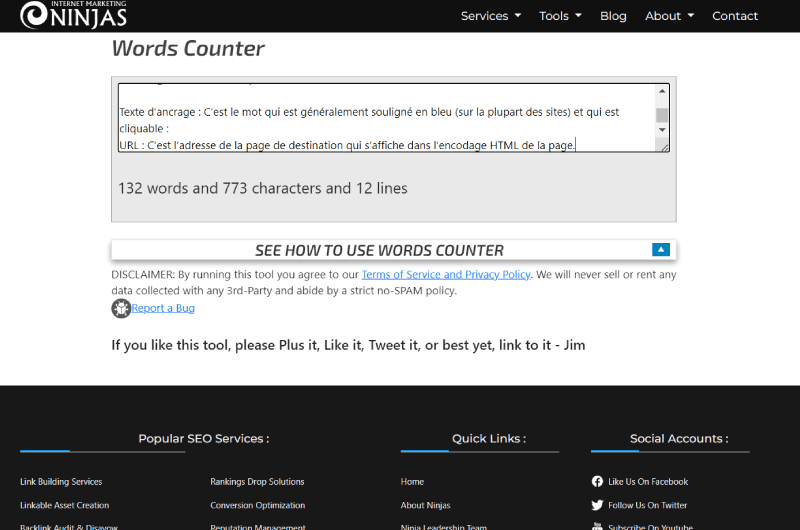 Want to know how many words and characters are in your text? Discover Words Counter.
Long Description : Words Counter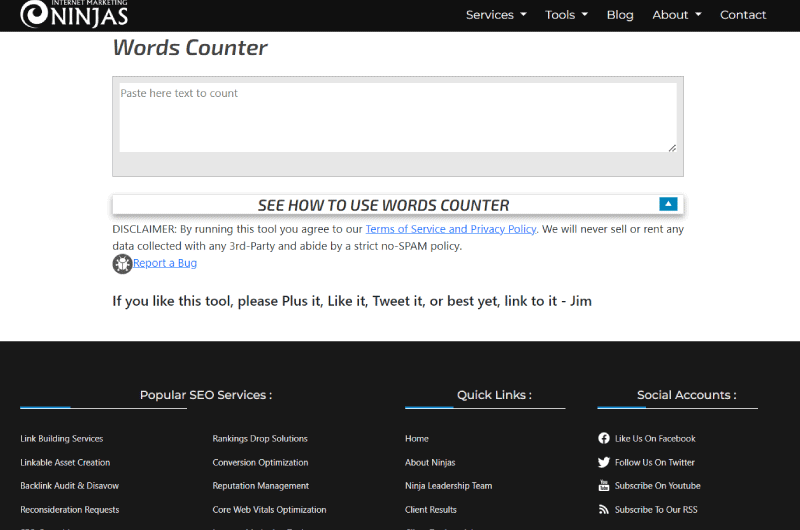 Words Counter—Internet Marketing Ninjas
Having a word counter at your fingertips is a necessity for many professionals today. Most platforms have a character limit like meta descriptions and Title that Google displays in search results.
Exceeding this character limit will result in your information being presented incomplete, which is neither good for SEO nor for any type of publication.
This is the advantage of having a word counter to know in advance the number of characters in your text.
While you can see the character count on most text editors, Internet Marketing Ninjas also offers you a much easier to use word counter.
In this description, you will learn about Words Counter, the Internet Marketing Ninjas word counter and its features.
What is Words Counter — Internet Marketing Ninjas?
Words Counter is a tool from Internet Marketing Ninjas to find the number of words, characters and lines in a text.
This tool that helps you find and count characters in your written content produces correct results and shows whether your content is long or short.
Words Counter doesn't just tell you the word and character count of your content. This is a sophisticated text parser that many people already use.
This tool is perfect for content-related projects, whether you're an entrepreneur or a social media influencer.
Indeed, nowadays, everyone from internet bloggers to published writers needs to be careful about the length of their writing.
Even if you're working on a long document or using social media, if you're writing words, you'll be dealing with text accounts whether you realize it or not.
For example, the Twitter network went from 280 characters to limit the number of characters to 140 characters.
Similarly, you cannot use more than 8,000 characters to comment or write text longer than 63,206 characters on Facebook. On Instagram, the number of hashtags is limited to 30.
All this shows how much you have to be careful with the number of characters you write so as not to deliver incomplete messages.
It's important to stay on track and make sure your message stays within the boundaries of different platforms, so you don't inadvertently need to scale down or scale up.
For this, the Words Counter tool from Internet Marketing Ninjas will be of great use to you. This word counter is not limited to counting the characters of a message on social media, you can also use it for your content intended for the web.
How to use Internet Marketing Ninjas Word Counter?
All you have to do is fill in the white space by pasting your text into the text box. As soon as you
start the tool
, it starts scanning and immediately shows you the results.
Words Counter has a simple and easy to use interface, yet powerful enough to produce excellent results. You can access Words Counter on any device from your browser.
The advantages and disadvantages of the Internet Marketing Ninjas Words Counter?
The first advantage of this tool is the time it will save you. If you disagree, try manually counting the characters in your content. 😀
It is obvious that no one would like to spend valuable time counting a long document when it is enough to copy and paste in Words Counter to get a satisfactory result.
Words Counter from Internet Marketing Ninjas is both smart and fast, ideal when you need an answer in a hurry.
Also note that this word counter is different in many ways. Although there are several word counters, Words Counter stands out for its ease of use and speed.
It not only reports the number of words, but it also performs the following tasks:
Character counting, which analyzes the number of words, characters with spaces and characters without spaces;

It also shows you how many lines your text is.
It should also be noted that this tool cares about the privacy of its users, so you have nothing to worry about. Indeed, Words Counter is a word counting tool that does not store your content on its server.
In other words, Words Counter by Internet Marketing Ninjas does not store or view your text when you use the tool.
That said, when you use this word counter, your information is always 100% secure. Although Words Counter is free, it remains intuitive and you will not be disturbed by pop-ups or noisy advertisements.
As for the cons, Words Counter can't distinguish how many characters your text contains without spaces. Also, this tool does not allow to obtain the number of exact sentences contained in your text in the statistics.
This online word count tool displays word and character data at the same time and then counts spaces as characters. 
What should you know about Words Counter?
What it considers a word
: This tool considers a set of characters as a word. Words are separated by spaces, hyphens, punctuation marks… As a result, an emoji will also be considered a word.
What it considers a character
: Any printable or unprintable character, such as spaces, is counted as a character, which is the character count. That said, the stat you get on the character count actually includes spaces.
Finally, Word Counter is a simple way to count the number of words, characters and lines that a text has.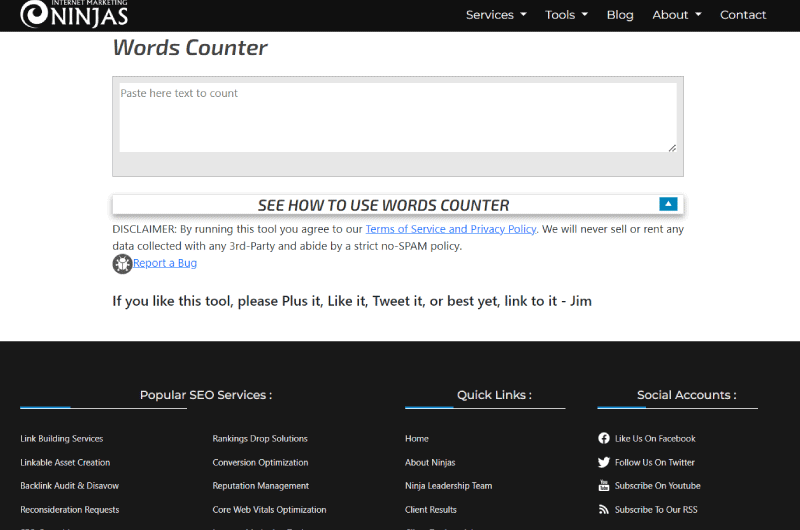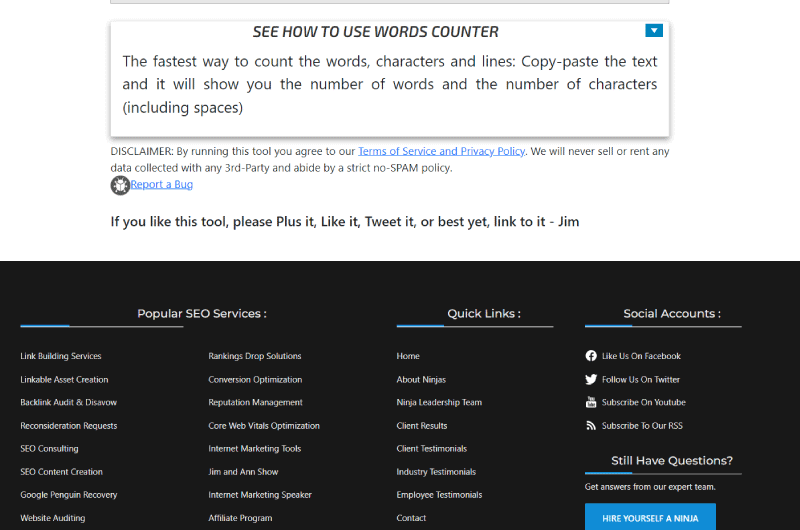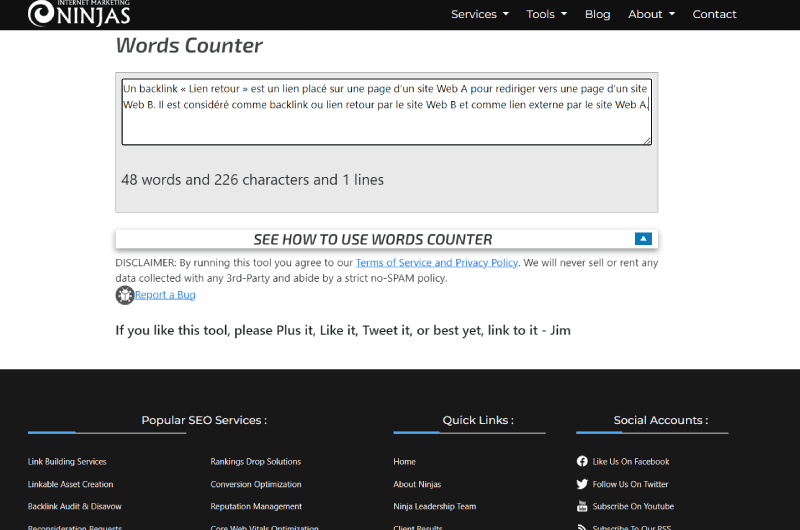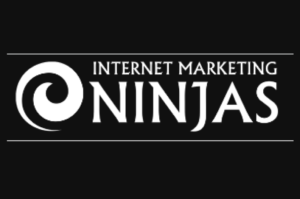 Internet Marketing Ninjas is a company founded in 1999 by Jim Boykin, with more than 10 years of experience in the field of SEO. The company's mission is to help their customers get better traffic to their websites through secure methods.
Internet Marketing Ninjas specializes in optimizing pages and websites for search engines. Based in the United States in Clifton Park, the company is made up of 50 members who are all experts in their fields
. Internet Marketing Ninjas offers the entire digital community complete digital marketing services, but also SEO services and tools. Among the 87+ tools developed by them, here are some free SEO tools they have developed:
Social Image Resizer Tool;

What's My Browser Size Tool;

HTML Source Code Viewer Tool;

Meta Tag Analyzer;

Domain Age Checker;

Meta Tag Generator & Snippet Preview;

Search Engine Spider Simulator;

Keyword Combination Tool;

URL Inspection Tool…
These tools are aimed at SEO agencies as well as marketing professionals, not to mention companies. They will surely help to improve your various marketing strategies.
Social Media : Words Counter
Others Tools : Words Counter
Alexandre MAROTEL
Founder of the SEO agency Twaino, Alexandre Marotel is passionate about SEO and generating traffic on the internet. He is the author of numerous publications, and has a Youtube channel which aims to help entrepreneurs create their websites and be better referenced in Google.