Backlink Generator | Prepost
Short description : Backlink Generator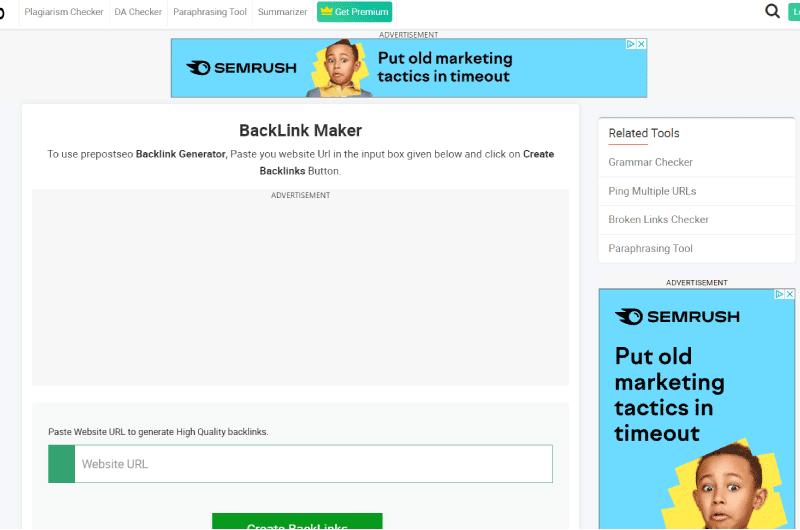 Use backlinks maker to refine your strategies for creating and obtaining backlinks.
Long Description : Backlink Generator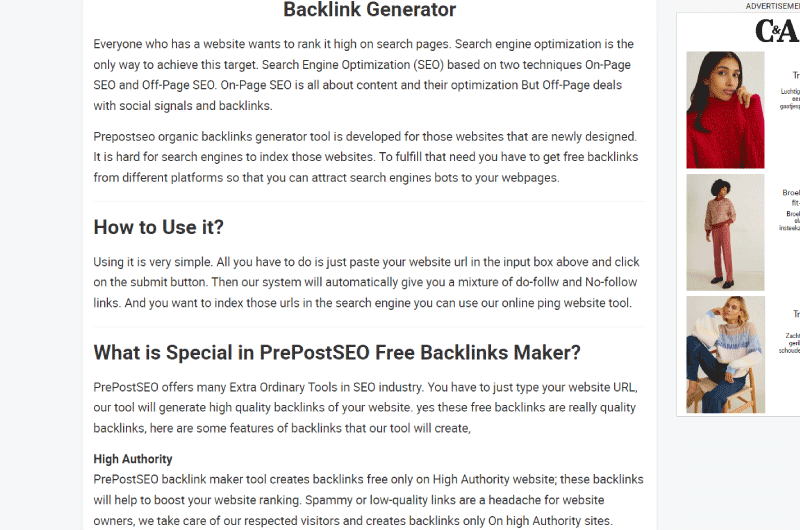 Description of the Backlinks maker tool Backlinks 
maker
is a tool for creating backlinks. It allows you to find backlinks to insert in your content to get a better chance of ranking.
It is a tool designed and put online at the same level as several dozen other SEO tools on the PREPOSTSEO internet platform. 
Thus, like the other tools of this platform, you can use the Backlinks maker tool to improve the number of backlinks on your website. 
Indeed, as you know, backlinks play an important role in the ranking of your website for search engines. 
They are part of the so-called off-page SEO strategy and greatly contribute to improving the quality of the site with search engines.
Who is the Backlinks maker tool intended for?
The Backlinks maker tool is for new sites that are struggling to gain a place in search engine rankings. 
The tool therefore allows them to quickly find some backlinks likely to help them. 
Why use the Backlinks maker tool? 
The reason you may be interested in this tool is that it helps you find quality backlinks. That is to say backlinks from sites with high authority.
In reality, aware of the requirements of the Google search engine, this PREPOSTSEO tool, create backlinks by respecting the following criteria: 
Natural

: The links are created in a natural way. You will therefore not be dealing with bad quality links; 

Relevance

: Tools are created based on relevance. This means that this link building tool only searches relevant sites. That is to say those who have a link with your website. 
What are the features of the Backlinks maker tool? 
In terms of functionality, it should be noted that with the Backlinks maker tool, you can generate a list of 50 backlink URLs per search. 
You also have the option of checking the domain authority of the sites offered by the platform. 
This also allows you to be entirely sure of the quality of the links that the tool offers you. 
With this you now have all the elements to make informed choices without consequences for your website. 
How much does the Backlinks maker tool features cost?
Regarding the price of this tool, it is interesting to know that the tool is free. 
However, you must first disable your browser's ad blocker or share the tool on your social networks. 
If you do not wish to do this, you can also subscribe to a paid subscription to have access to the tools and certain advantages of the PREPOSTSEO platform. 
How to use this backlinks creation tool? 
To use
backlinks maker
, you just have to follow the following steps: 
Go to the tool's page; 

Type, insert or paste in the field provided for this purpose; 

Click on the "create backlinks" button. 
Once these three steps are completed, you will have to wait a few seconds to see a list of suggested backlinks appear on your screen. 
You can also check the domain authority of each of these links. 
So choose what you think best matches your expectations and include it in your content. 
With all this information, feel free to use the backlink builder tool when you want to get free backlinks for your website. 
Videos : Backlink Generator
Images : Backlink Generator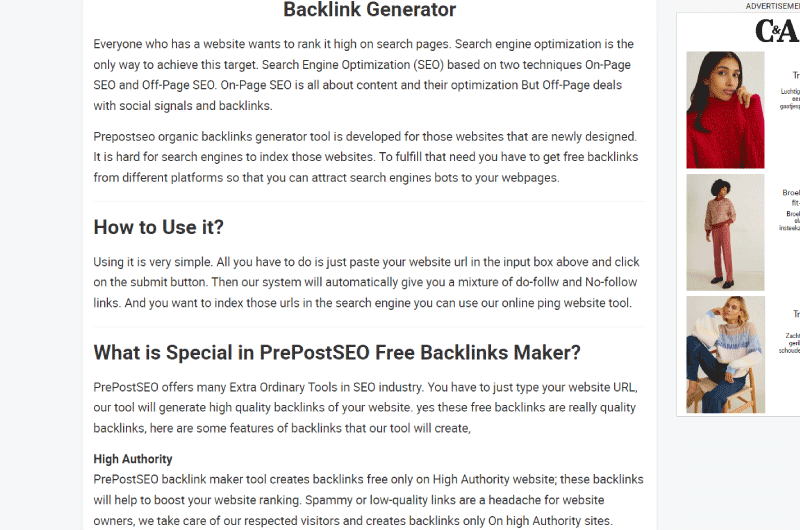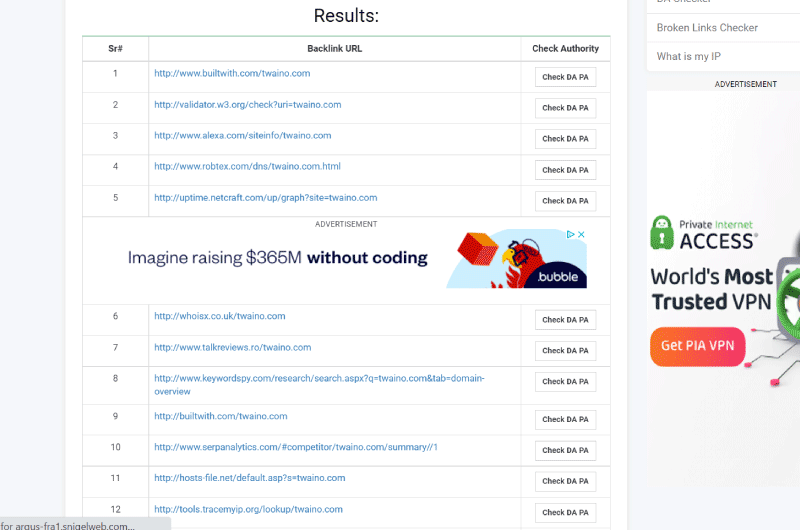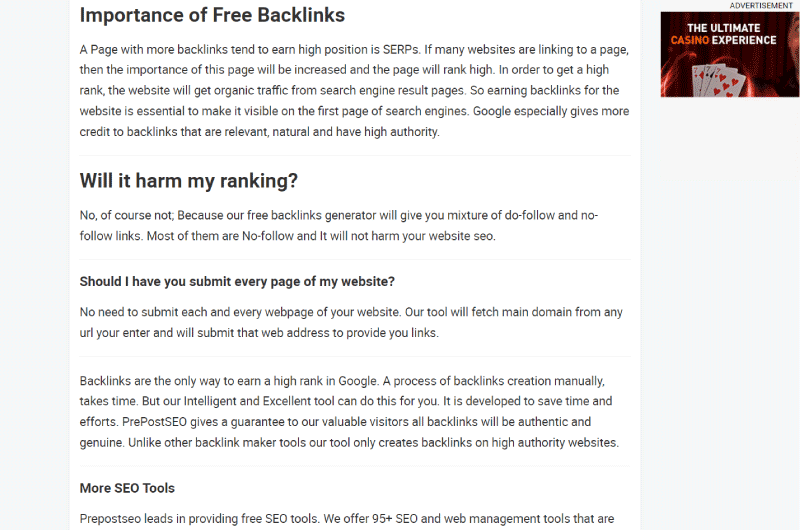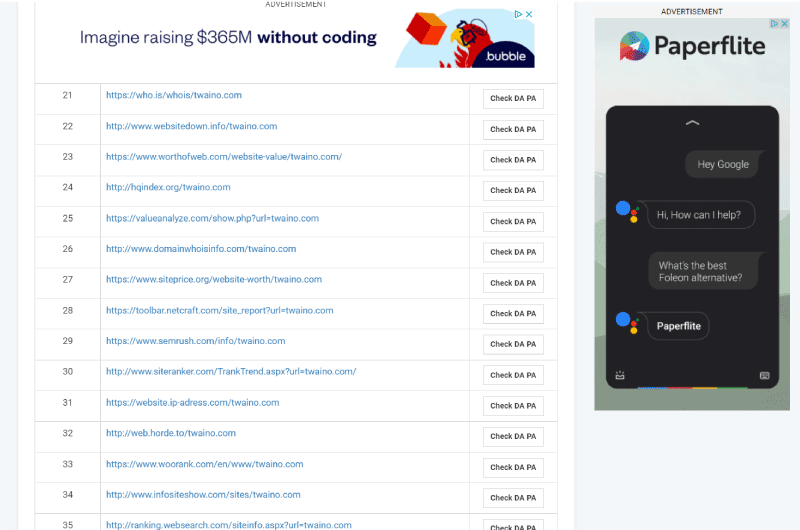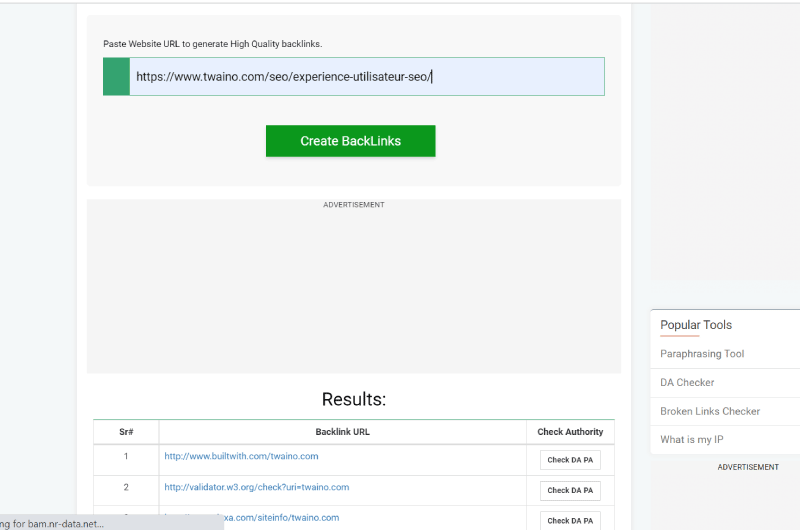 Company : Backlink Generator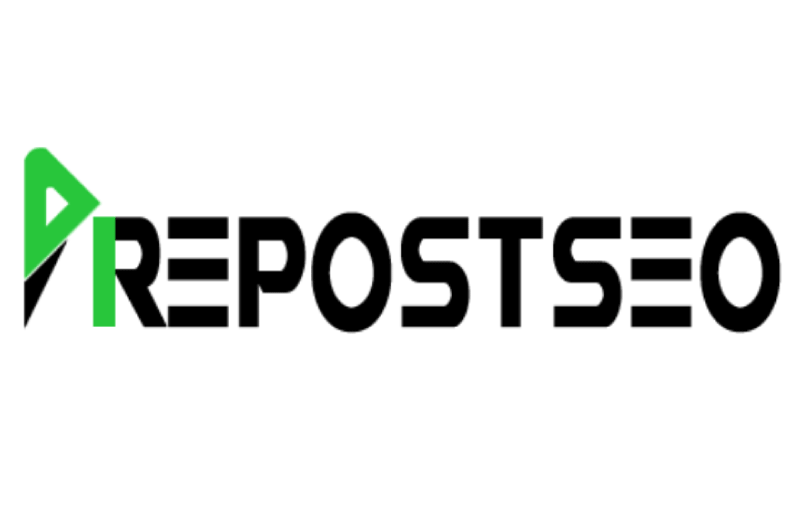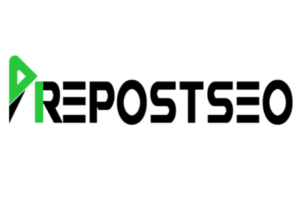 Prepostseo
is an agency founded by
Ahmad Sattar
, a web developer and his AR AS assistant to help
web editors
,
webmasters
and
SEO experts in
creating high-performing articles. 
Its main objective is to improve the content and referencing of websites. For this, it offers free tools to its users so that they can upload content without plagiarism and above all of quality. 
We can cite as tools the
DA Checker
, the
Paraphrasing Tool
, the
Plagiarism Checker
, the
Summarizer
, etc. Thanks to these tools, Prepostseo provides its users with the best SEO solutions. 
Thus, they can easily check: 
The plagiarism rate of an article;

The SEO score of a content;

Spelling and grammatical errors in an article;

Backlinks (return links);

Keyword density;

Domain authority, i.e. the quality of a website;

And much more. 
With these tools, the Prepostseo also helps to reformulate and summarize articles. All this to facilitate the writing of content optimized for the web. 
Contact : Backlink Generator
Social Media : Backlink Generator
Others Tools : Backlink Generator
Alexandre MAROTEL
Founder of the SEO agency Twaino, Alexandre Marotel is passionate about SEO and generating traffic on the internet. He is the author of numerous publications, and has a Youtube channel which aims to help entrepreneurs create their websites and be better referenced in Google.