Expired SEO Domains | YouDot
Short description : Expired SEO Domains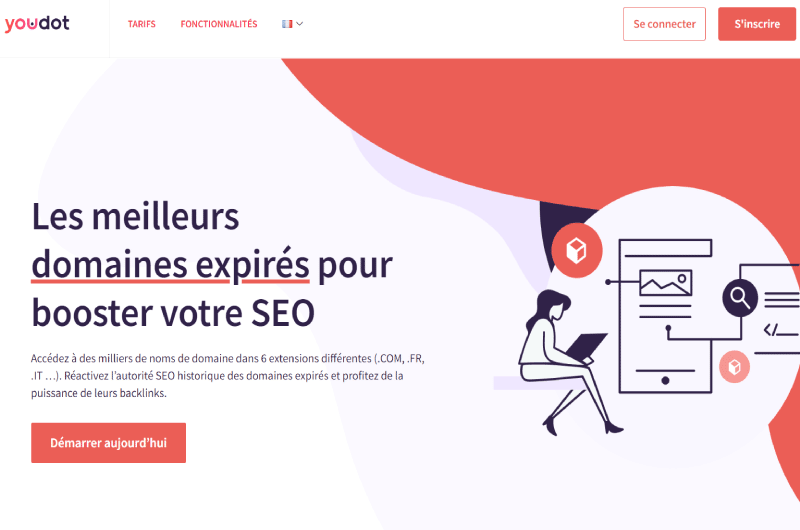 Youdot: Buy expired domain names that have already gained some authority on the SERPs to boost the SEO of a new site.
Long Description : Expired SEO Domains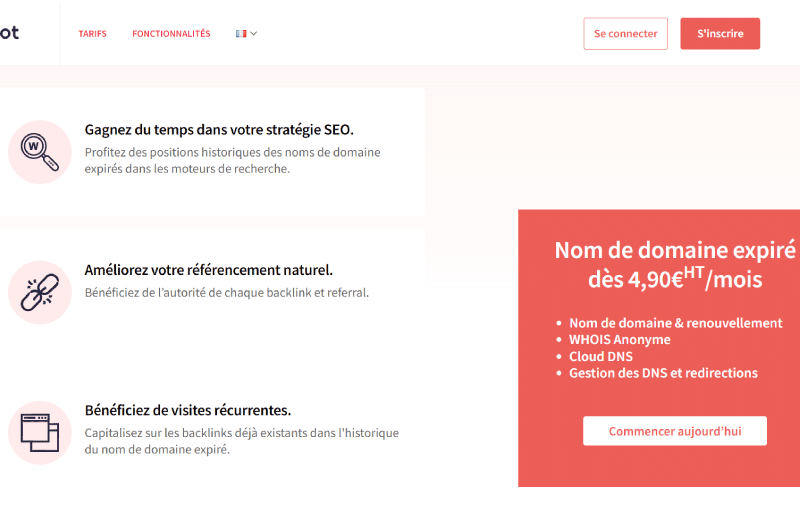 Description Youdot 
Youdot is a French platform that identifies and sells expired or expiring domain names that have already acquired a number of backlinks and a position on Google. 
The idea is to benefit from the authority and seniority of these domains to boost the SEO performance of new websites. 
What is Youdot? 
Buying an expired domain name for the purpose of reuse is a practice used inSEO to give a newly created site a SEO boost. 
The idea is to take advantage of a turnkey SEO strategy to boost the ranking of a new site on search engine pages. 
Youdot is a French service specialized in the recovery of expired domain names (NDD) which already benefit from a certain authority and a good ranking on Google. 
By exploring the web, Youdot has the capacity to identify and list more than 500,000 domain names per month, available in 9 extensions including .com, .fr, .org, .co.uk, and it. 
The platform identifies expired domain names (or whose expiry date is approaching) and offers them for sale to people who wish to improve their visibility on search engines. 
This can be very beneficial for the buyer because the older a website is, the more trust search engine algorithms place on it. 
Youdot: How does it work? 
To provide its expired domain name services, Youdot has set up a rather well thought-out system: 
1. Search and filter the best expired domain names 
To search for NDDs to buy, Youdot has set up a search bar in which a main keyword will be filled in. 
The platform will then generate a list of expired (or about to expire) domains related to the searched keyword. 
This first list can be quite long. And to help you choose relevant NDDs, Youdot offers filters that you can use and sort the suggestions according to: 
The type of extension (.com, .fr, .org, .co.uk, it…)

The length of characters of the domain name 

And the "Dot Rank" rating. 
As a reminder, the Dot Rank is a measurement proposed by Youdot which makes it possible to globally evaluate the relevance of a domain name. 
The Dot Rank is measured on a scale of 0 at 100 and the higher its score, the more reliable the domain 
name.For those who feel comfortable with SEO data, Youdot also offers SEO metrics such as: 
The number of backlinks 

The Trust Flow 

And the Domain Authority 
names that are really relevant to your objectives 
domain
. first launch a pre-order since it may happen that the domain is not it not yet expired or coveted also by other buyers. 
For this, Youdot sets up an auction system during the first 8 days following the expiry date of an NDD. 
If no buyer appears during this period, the domain name will then be allocated to you, otherwise you must bid higher to be sure that the NDD is returned to you. 
3. A free tool 
The Youdot domain name catalog is accessible free of charge to everyone. All you have to do is create an account and access the list of NDDs offered by the platform. If you wish, Youdot offers you the possibility to choose more than 1,000 NDD at a time. 
In addition, pre-orders at Youdot are also free. Unlike other similar services that may charge a fee when pre-ordering, Youdot only charges you when you win the auction. 
Enough to pre-order an NDD that interests you before it goes to auction. This increases your chances of acquisition. 
Youdot: How to get started with the tool? 
To begin, access the Youdot page then click on "Start"
Choose "Registration", enter the information requested then click on "Register" 
Complete the rest of the information requested and "Confirm your registration"
You should now be able to access your Youdot: 
To search for an expired domain name, you have the choice of: 
Enter a main keyword 

Or select a theme
After processing your request, the tool displays a list of domain names. For each NDD, you have: 
Its Dot Rank score 

The length of the domain name 

The number of backlinks 

Its Citation Flow score (Majestic)

Its Trust Flow score (Majestic)

The number of referring domains 

The domain authority (Moz)

The WebArchive history 

The Tropical Flow (SEMJuice)

And its cost per month. 
To your right, you have a series of metrics to filter the results: 
And if a domain is of particular interest to you, you can click on it and proceed to purchase if it is available. 
Youdot: Key features
1. Create alerts and be notified when a new NDD matches your criteria 
After launching a query from a main keyword, Youdot offers you the possibility to save your search criteria and configure an alert. Thus, you will be notified as soon as a new NDD that meets your criteria appears in the platform's catalog. 
2. Filter the list of NDDs with reliable SEO KPIs
Youdot offers hundreds of thousands of domain names collected across several sectors of activity. 
To help you find the domain names that are really relevant to your project, the platform provides you with SEO metric filters to further refine the list of results, namely: 
The number of backlinks;

The number of Referring domains;

The Trust Flow (Majestic SEO)

The Domain Authority (Moz)

A list of the best keywords 

The anchor texts 

The Webarchive history (to trace the path of the domain and ensure that it has not been blacklisted in the meantime)
3.
Add domains to favorites
If you are particularly interested in a domain name, Youdot offers you the possibility of following it closely thanks to the "
favorite domains" feature. 
4. Import the list of NDD
It is also possible to download the list of domains available from Youdot to a CSV file. This facilitates the sorting and processing of data. 
Youdot: Who is the tool intended for? 
Youdot remains a priori a tool intended for natural referencing agencies. In addition, verifiable SEO metrics on a domain name prove that the platform is aimed at an informed audience. 
However, you don't necessarily need to be an expert in natural referencing before realizing the usefulness of this tool. The fact that domain names from all sectors of activity are offered on the platform proves that it is well suited to everyone who wishes to set up a new project. 
Youdot: Advantages and Disadvantages 
Advantages 
Modern and user-friendly interface, very easy to use 

Easy and free access to the catalog of expired domains 

A fairly detailed presentation card on domains for sale 

SEO optimization service available for purchased domains
Disadvantages 
Some themes may refer few results 

Selling price of NDDs high compared to the cost of a domain on the 
Youdot market: Pricing 
Buy an expired domain name on Youdot from €4.90 excl. tax/month
Videos : Expired SEO Domains
Images : Expired SEO Domains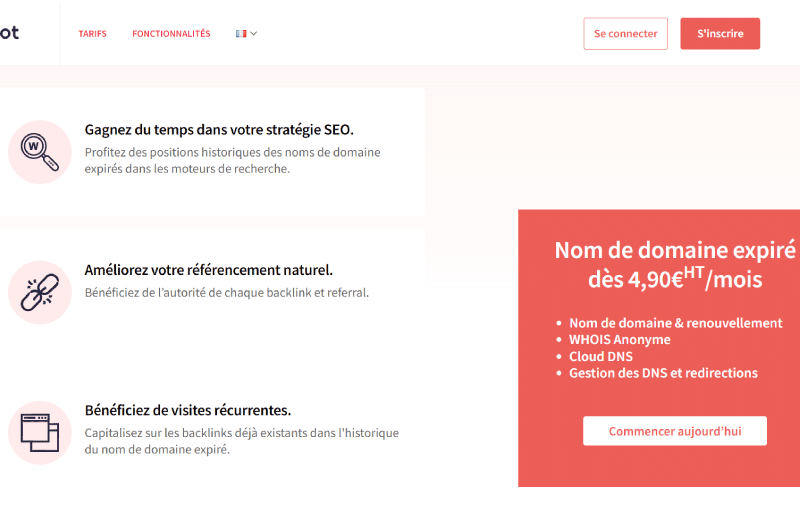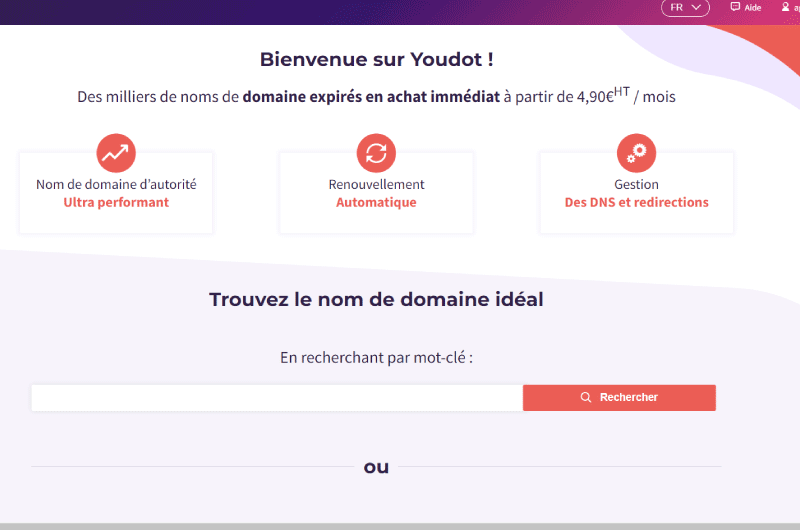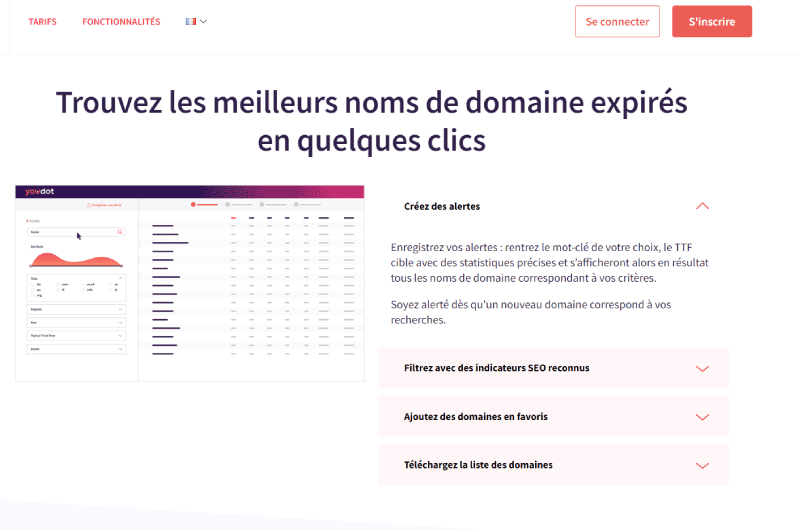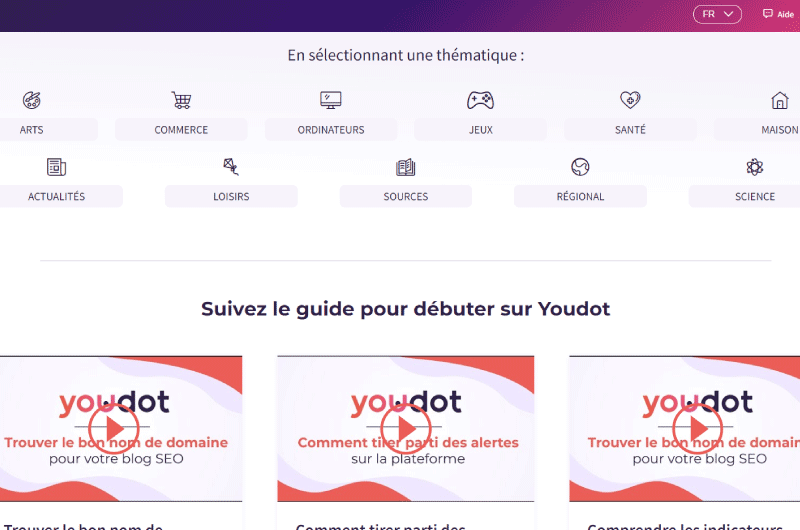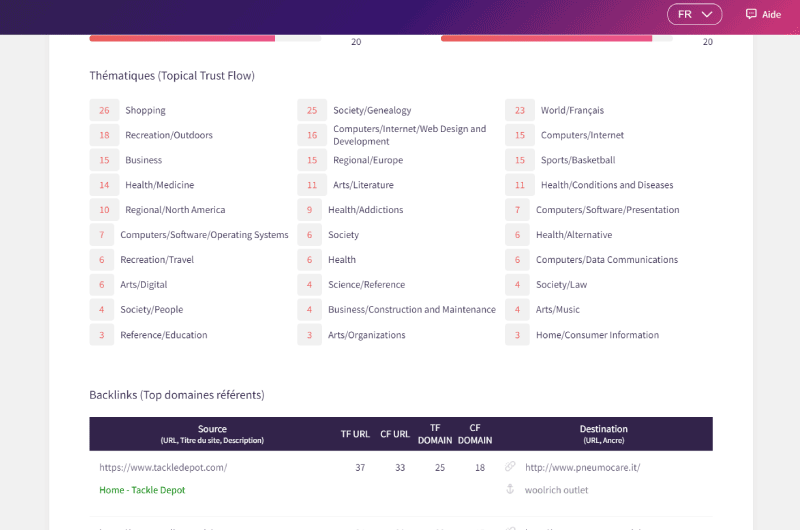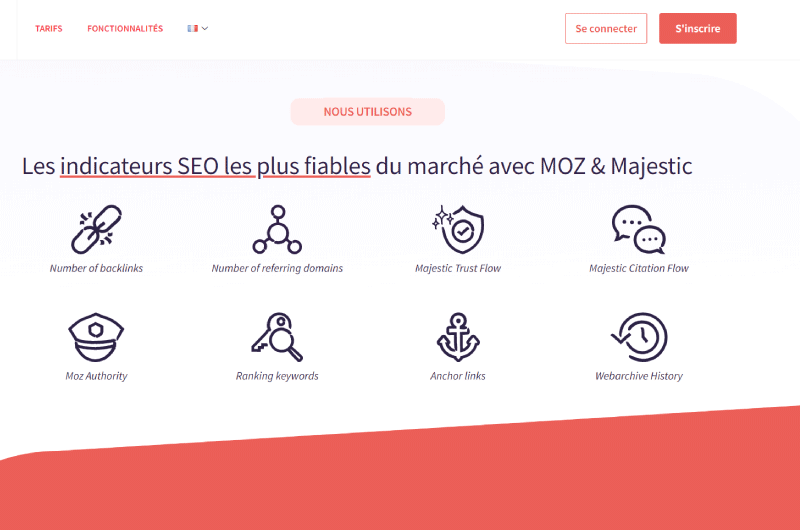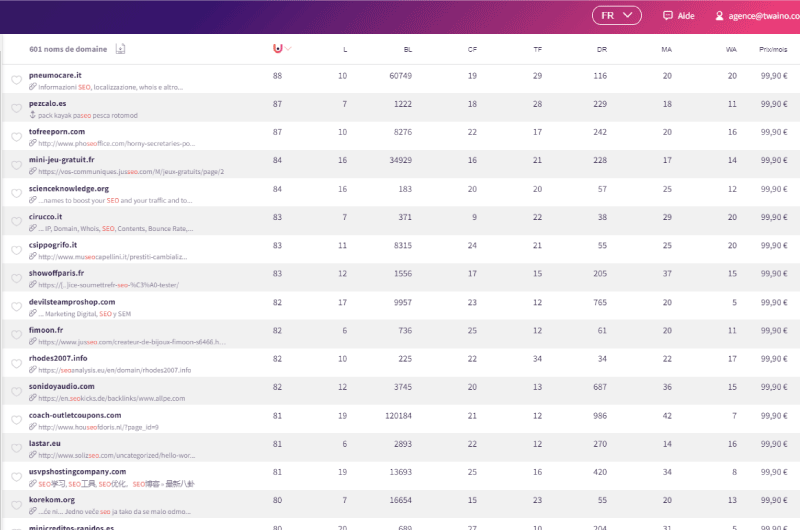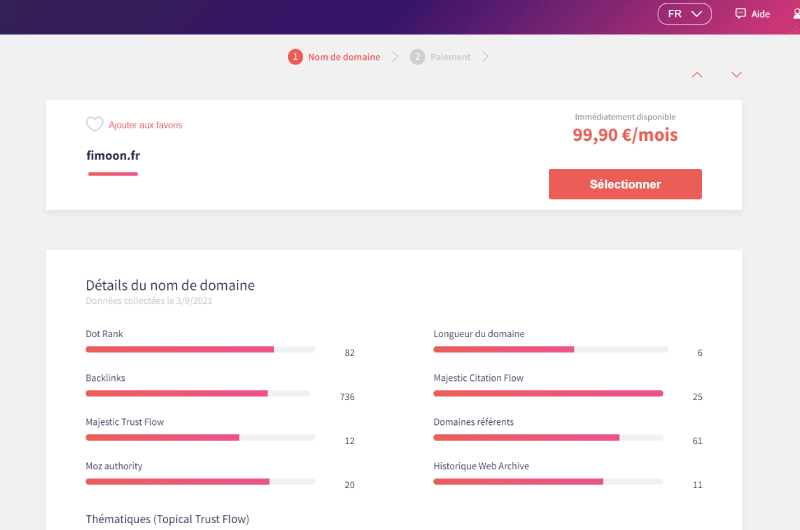 Company : Expired SEO Domains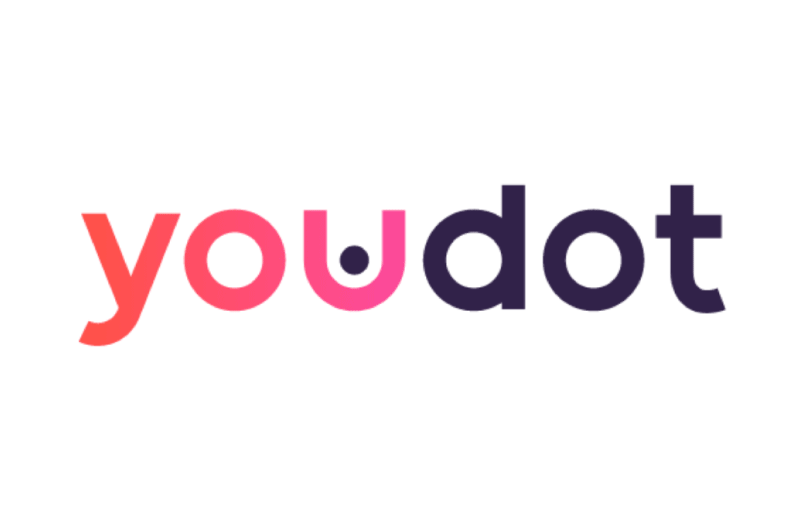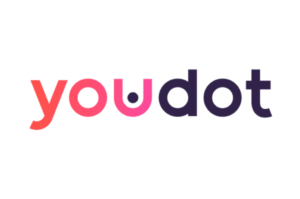 Youdot is a brand of the Dom Raider group. It was created in 2013 by Tristan Colombet. The said brand offers innovative solutions in the SEO sector, which makes its services aimed at SEO specialists, SEOs, web and digital agencies, not to mention e-commerce site owners. 
Youdot is precisely an SEO tool that identifies the best expired domain names. Indeed, an expired domain name is an inactive domain that has not been renewed by its owner. Thus, it can be updated and used by a new owner. 
Inactive domains can be important for your SEO strategy as you can reactivate the SEO authority of these domains and benefit from their backlinks. The Youdot tool allows you to easily detect them in order to improve your SEO strategy. It can bring you several benefits. 
Among others, we have:
saving time;

optimizing your SEO budget;

the rapid improvement of your SEO;

the benefit of frequent visits.
Contact : Expired SEO Domains
Social Media : Expired SEO Domains
Others Tools : Expired SEO Domains
Alexandre MAROTEL
Founder of the SEO agency Twaino, Alexandre Marotel is passionate about SEO and generating traffic on the internet. He is the author of numerous publications, and has a Youtube channel which aims to help entrepreneurs create their websites and be better referenced in Google.