Traceroute Domain | Prepostseo
Short description : Traceroute Domain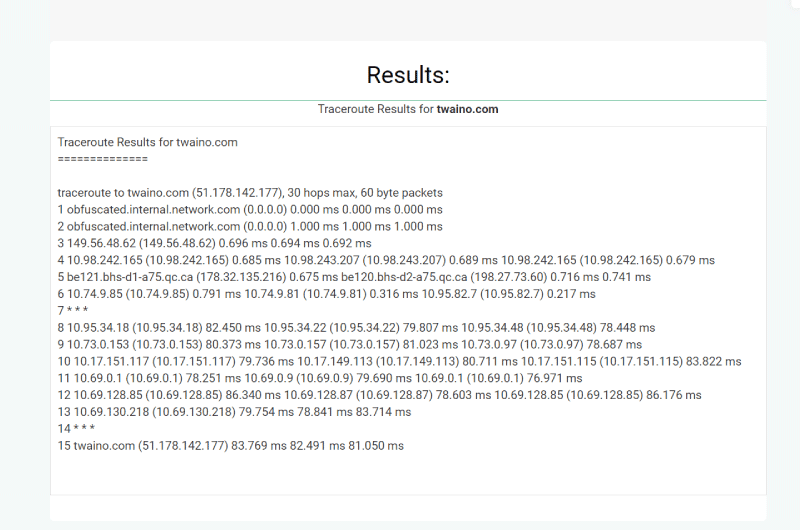 Use Traceroute Tool – Prepostseo to find the route between internet host and computers within a network.
Long Description : Traceroute Domain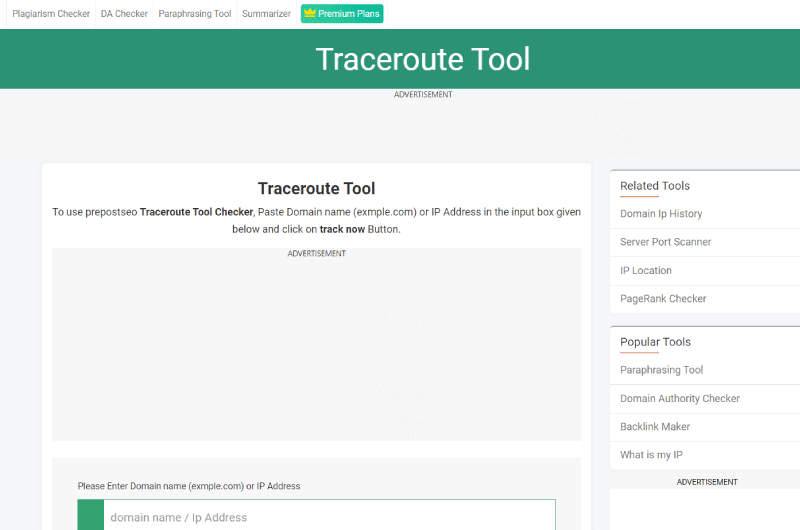 Traceroute Tool – Prepostseo
The Internet is a major means of transiting data between computers and servers. The resources of a website are also stored on a server and Internet users who want to access these resources make a request to the server.
But sometimes the server can take a long time to respond, which makes your site slower. Since people quickly leave sites that take a long time to load, it is important to diagnose the problem.
For this, you can use Traceroute tools such as Traceroute Tool – Prepostseo. In this description, you will discover this Traceroute Tool and how to detect the origin of the slowness problems of your site.
What is Traceroute Tool – Prepostseo?
Traceroute Tool – Prepostseo is a tool that indicates the routes of IP packets between two or more networks, which is also called hop. It can help you identify problems within a network.
Indeed, Traceroute Track of Domain Location is the path used to pass the data to the target computer or machine where the website is hosted. This tool shows the precise route of your target.
It is a utility that allows you to trace the route of a packet from your computer to an Internet host.
This tool from Prepostseo will allow you to trace this path and will also show you how many hops the packet takes to reach its host as well as the time each hop takes.
Who can use Traceroute Tool – Prepostseo?
If you want to know who is authorized to use the Traceroute Tool – Prepostseo, note that it is intended for system administrators and network engineers.
They use it to see how traffic flows through an organization and detect irregular paths.
In addition, ethical hackers can also use Traceroute Tool – Prepostseo to map an organization's network to help identify its flaws.
The advantages of Traceroute Tool – Prepostseo
Using Traceroute Tool – Prepostseo first allows you to display the time needed to reach each "hop" between the source and the destination. This is very important for tracking down the real cause of the drop in traffic or performance difficulties.
Unlike other tools that don't show your exact site location of a domain, Traceroute Tool – Prepostseo is much more accurate.
It unearths the location of domains and proceeds to determine the path of requests and packets that take certain routes to a specific point.
It is also used to perform diagnostics and gather more information on networking. It also tracks traffic flows between your device and a target domain.
Besides, this Traceroute Tool – Prepostseo tool saves you a lot of time because you are no longer required to do "command prompt" to do the job.
Traceroute Tool – Prepostseo also helps identify weak links in your network chain.
Thanks to its reliability and ease of use, one can take advantage of its power and ensure that your data travels in the best possible security ways.
As a final advantage, Traceroute Tool – Prepostseo is completely free and allows you to determine where the longest delays occur while waiting for their targets.
How to use Traceroute Tool – Prepostseo?
To make use of this tool, you just need to enter your domain or any IP address of the targeted domain.
When you enter the domain and press the green "follow now" button, it converts the domain name first to an IP address and then sends packets to the target address.
Traceroute Tool also displays the ping result and the exact IP addresses and their path.
How it works ?
When you enter the domain name, the tool converts it into an IP address and sends small packets to the domain server.
These queries are designed to keep in memory the desired paths and their execution times. Traceroute thus determines when the packet has reached its destination within a period of time.
Traceroute Tool traces the complete route that data travels from its origin servers to your screen each time a query is sent.
Once the IP or web address of the target machine is entered, it presents an overview of the path taken by the packets, and therefore the number of hops as well as the different networks it must take.
Videos : Traceroute Domain
Images : Traceroute Domain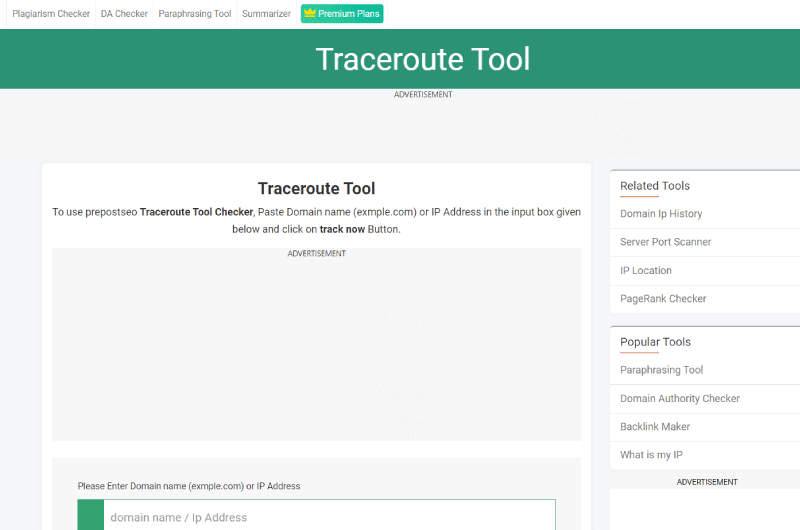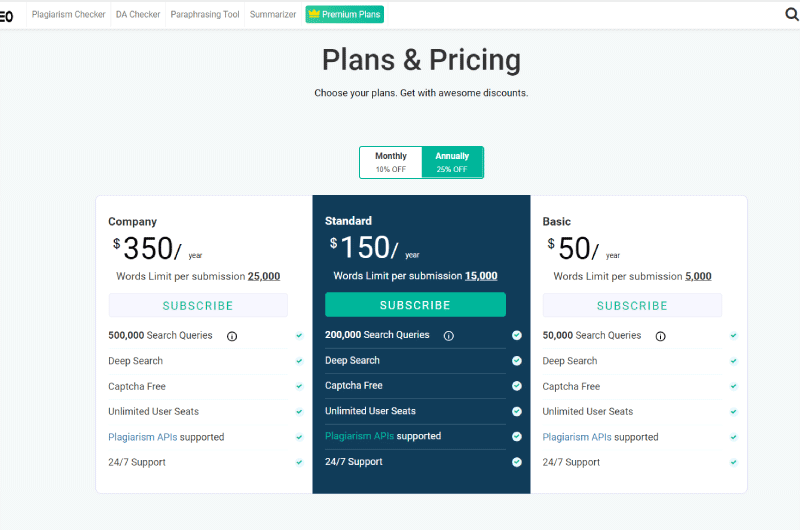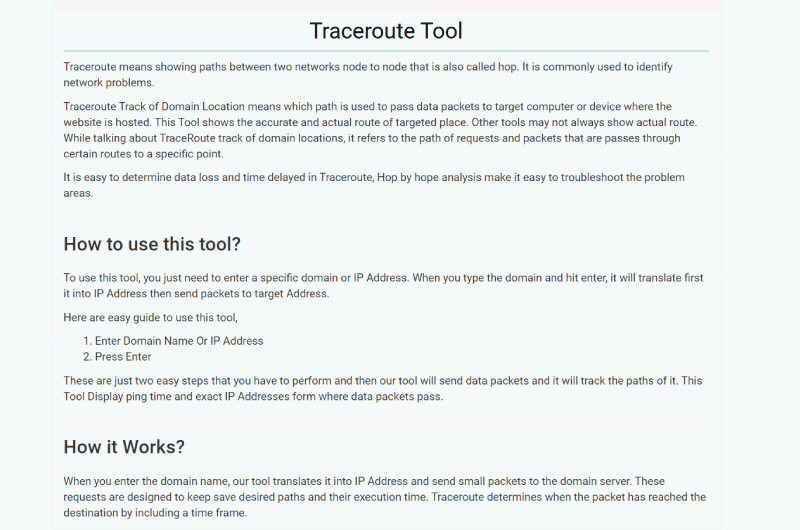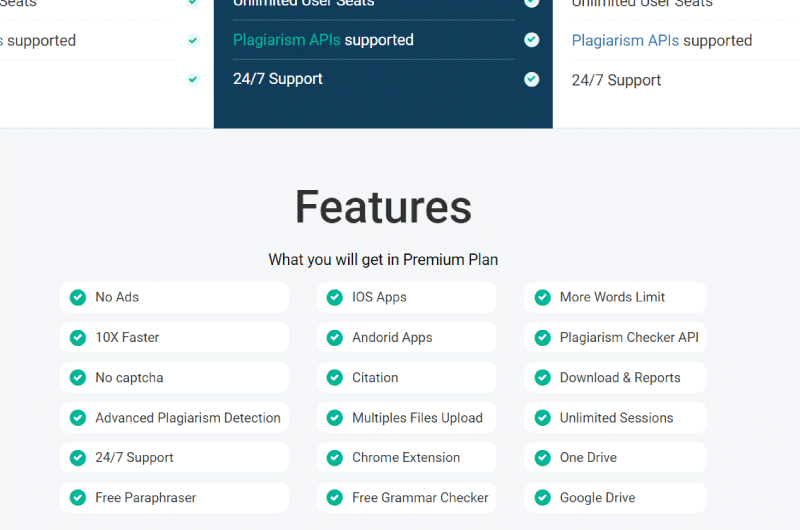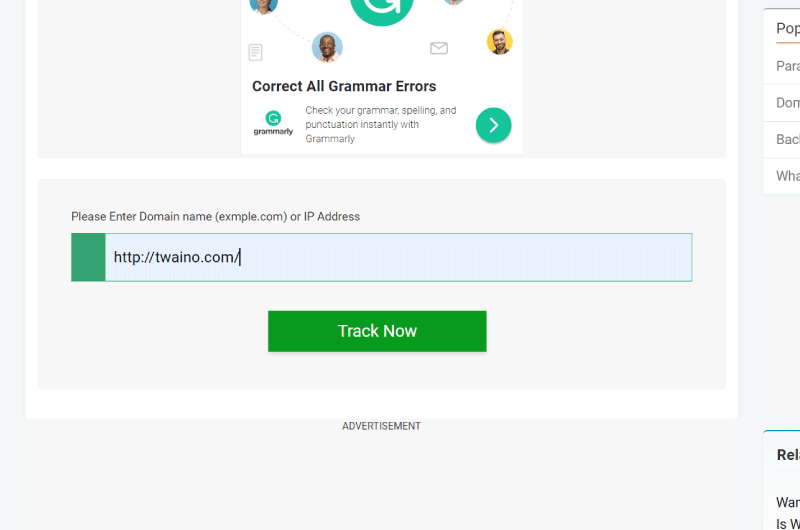 Company : Traceroute Domain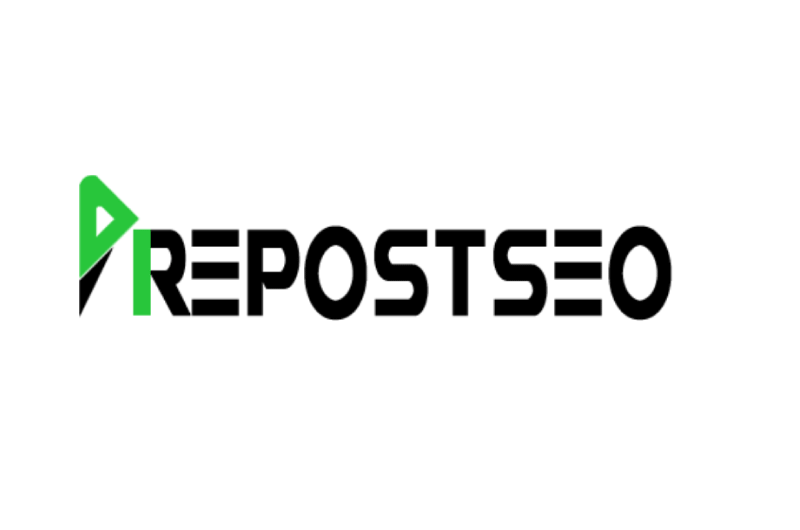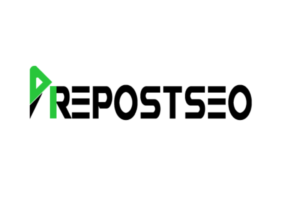 Prepostseo
is an agency founded by
Ahmad Sattar
, a web developer and his AR AS assistant to help
web editors
,
webmasters
and
SEO experts in
creating high-performing articles. 
Its main objective is to improve the content and referencing of websites. For this, it offers free tools to its users so that they can upload content without plagiarism and above all of quality. 
We can cite as tools the
DA Checker
, the
Paraphrasing Tool
, the
Plagiarism Checker
, the
Summarizer
, etc. Thanks to these tools, Prepostseo provides its users with the best SEO solutions. 
Thus, they can easily check: 
The plagiarism rate of an article;

The SEO score of a content;

Spelling and grammatical errors in an article;

Backlinks (return links);

Keyword density;

Domain authority, i.e. the quality of a website;

And much more. 
With these tools, the Prepostseo also helps to reformulate and summarize articles. All this to facilitate the writing of content optimized for the web. 
Contact : Traceroute Domain
Social Media : Traceroute Domain
Others Tools : Traceroute Domain
Alexandre MAROTEL
Founder of the SEO agency Twaino, Alexandre Marotel is passionate about SEO and generating traffic on the internet. He is the author of numerous publications, and has a Youtube channel which aims to help entrepreneurs create their websites and be better referenced in Google.