Search Keywords | UberSuggest
Short description : Search Keywords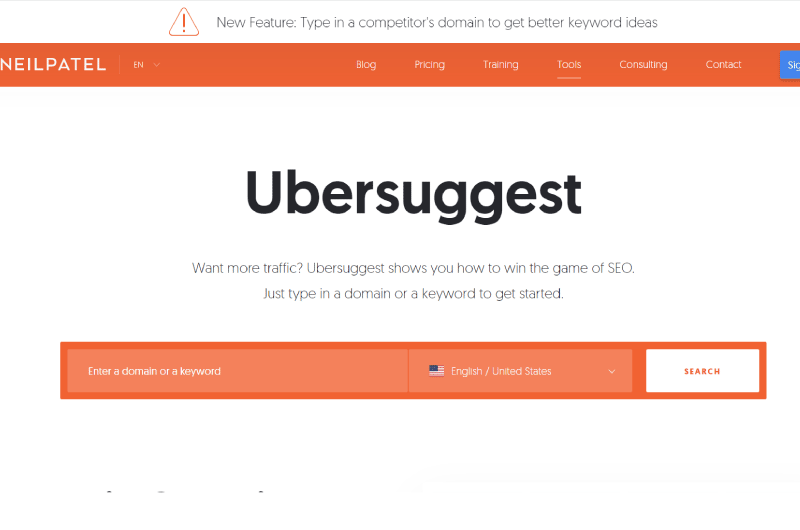 Need more traffic? Ubersuggest shows you how to win the SEO battle. Just type in a domain or keyword to get started.
Long Description : Search Keywords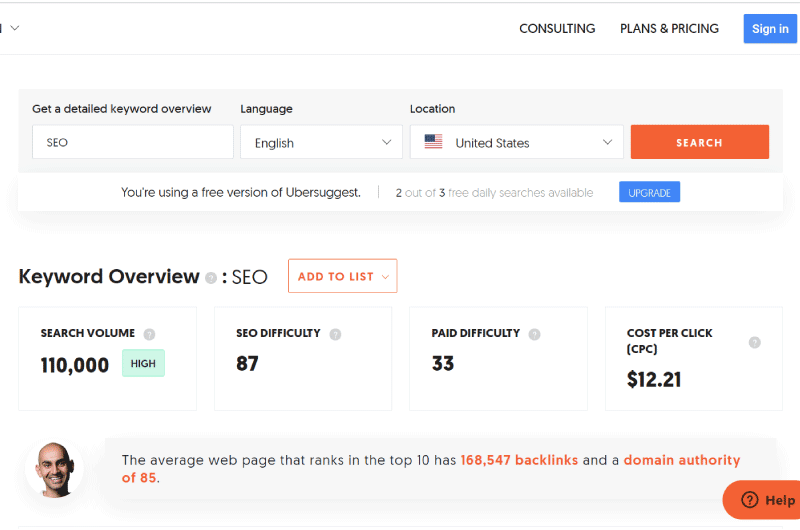 Description Ubersuggest
Without a doubt, one of the big challenges in SEO is choosing the ideal keywords to help you position your content on the first pages of Google. 
Among the tools that can help you do this effectively, we have: Ubersuggest.
With this Neil Patel tool, you will not only get a comprehensive keyword analysis of any webpage, but also information about your backlinks, competitor positioning, and content recommendations.
The ability to filter the information obtained and download it in .csv format makes this tool even more interesting.
Whether you dedicate yourself to SEO professionally or are building a personal project, this tool can be useful to you.
In this mini guide on Ubersuggest, we will see all that is possible to do with it. This can help you, especially if you
are new to the world of SEO
.
So let's go!
What is Ubersuggest and what is it used for?
Ubersuggest
is a comprehensive tool currently owned by Neil Patel, one of the most influential names in digital marketing in the world. 
After acquiring Ubersuggest, he made it a powerful tool that can help carry out successful SEM or SEO campaigns. 
Ubersuggest is not only used to collect good ideas for
keywords
to position your project, but also to do:
A quick SEO audit of the site;

And a backlink analysis.
Also, with the "content ideas" section, you'll see previously published content that performs best for a given keyword.
With all this, you will be able to make decisions on the best SEO actions and
the main errors
to correct in your project to improve it in terms of positioning in Google.
Creation of Ubersuggest and its migration to Neil Patel's website
Ubersuggest means something like "
on suggestions
" and its original name followed the German spelling: U
berSuggest
.
Source:
Mybloggerlab
It was created on April 24, 2014 with a simple website whose address was
ubersuggest.io
. 
But in early 2018, it migrated from its own domain to Neil Patel's personal website:
neilpatel.com
. Thus, the tool has evolved from a restricted means of keyword research to a much more comprehensive tool.
Why use Ubersuggest?
One of the first benefits is that you can use it
for free
. And, in each of the versions, you will have access to the discovery of the terms most searched for by Internet users. 
That way, you'll know exactly what to use to grab your audience's attention.
It collects, categorizes and delivers the data searched on Google so that you can improve your content marketing.
Additionally, Ubersuggest gives you the ability to not only search, but also evaluate your keyword results using different metrics. 
As a result, you will get much more return on the organic aspect and ad campaigns.
6 steps to use Ubersuggest 
To start using this tool, you have two options:
Without logging in: This method is more than enough to perform some simple tasks.

Registration on the platform: You will have access to more tools and a greater amount of data displayed. Registration is very simple and is done via a Google account (your Gmail). 
Below we will see in 6 steps how to use Ubersuggest without registering, which is not bad at all. Its use is very simple and intuitive. 
Enter the keyword
Enter in the search bar the term you wish to analyze and the language of the country for which you wish to obtain the results. To illustrate, we will use the keyword "SEO".
Do an analysis of the overall metrics
After performing the research, go to
Keywords >> Keyword analysis
and you will get an overview of the metrics for your keyword:
Search volume

: This will be the number of times this keyword was researched over a period of one month.

SEO Difficulty

: The number represents the competition for that specific keyword. The higher the number, the greater the competition.

Paid Difficulty

: This works the same as SEO Difficulty but refers to paid media search.

CPC

or

Cost per Click

: It refers to the average value it will cost you to position yourself in Google ads. If you see the keyword has a high CPC, it may be because it has a lot of content value.

Comparison of searches by device

: You'll see how many searches were done on mobile and how many were done on desktop.
The lower left corner of the graph shows a comparison of the click split between organic and paid results. And the right part gives us information about the age group of people who usually search for this term.
Check for keyword suggestions
In this section, Ubersuggest gives you ideas for similar terms that have been created in relation to your search. 
Additionally, it categorizes the search by: 
Suggestions; 

Related research;

The questions asked on the subject; 

The prepositions in which the keyword appears;

And the comparisons.
The metrics that the different ideas give you are the same as those shown with the initial keyword, along with a graph of the search trend for each specific term.
Also, if you click on the arrow to the right of one of the keyword ideas, you will be able to see which are the top 10 pages that appear in Google for that term.
Be inspired by new content ideas
This part is very useful to know the existing content for this keyword, which ones are popular and what you can propose new. 
In addition, it displays information relating to visits to these contents and the number of backlinks pointing to them.
This is a preview of what Ubersuggest can do for you. However, you can use the tool much more, diving into each of the sections that you will find in the drop-down menu on the left.
Filter your keywords
If you want a more specific search, you can go to the Keyword Ideas section on the left. You will see that the tool gives you the option to filter keywords and include or exclude terms.
In this example, we have the keyword "SEO" and we want to filter the search so that only ideas related to backlinks and guest posts appear with the exclusion of the word Audit. 
Searching this way will give you more specific results. 
Select and export keywords
As you see the keywords that suit you to optimize your content, you can mark them in the box on the left and add them to a list related to your search. 
This way it will be easier for you to segment the useful keywords and, if you need it, export them to a CSV document with all the information.
AlthoughOther features of Ubersuggest 
this tool is used to do keyword analysis and get content ideas for your marketing strategies, it also gives you the opportunity to know:
The SEO status of your website;

Its level of traffic;

And the links it receives.
SEO audit of your website
section
Site Audit
the left menu. This is without a doubt one of Ubersuggest's most powerful tools. This will give you a fairly comprehensive technical SEO audit.
But to get access to all of its data, you need to upgrade to the PRO version.
All you have to do is enter a specific domain or URL and Ubersuggest will take care of tracking all the information that can affect the SEO of your website.
All the data obtained is part of what is called on-
page SEO
. In other words, they are internal factors of the page that you can modify to improve your positioning.
Among these, we have:
The SEO score of the URL entered: It is valued from 1 to 100, the higher it is, the better the SEO status of your website;

Monthly organic traffic;

The number of organic keywords the page ranks for;

The number of backlinks that redirect to the URL;

Page health: This is an interesting section, as it shows you all the pages that have errors such as: broken links, pages with duplicate content, with problems in the different headers (H1, h2, h3…), without meta description, etc.

Classification of SEO problems: Ubersuggest makes a high, medium and low classification of the errors that the web reports at the SEO level. This way it is much easier to know the priorities and start working on them.

Web Speed: Evaluates loading time for computers and mobiles.
Traffic analysis
This function is accessible via
Traffic
>
Analysis
. This is the main screen when analyzing a website (even if it's not yours). 
The data you will be able to get when entering your domain into the traffic analyzer will be:
Number of organic keywords this website ranks for;

The approximate monthly organic traffic you have;

Domain Authority: This is a metric that helps you know how likely your website is to rank in the top search positions (

SERPs

);

A ranking of the keywords for which you have been positioned in recent months;

The number of backlinks to this site from other domains (including those that are not tracked);

Pages that bring more traffic to your site through organic positioning.
As in the web audit, these metrics are only given to you if you pay for the PRO version.
Backlinks
You already know
the importance of backlinks in SEO
when it comes to increasing domain authority to improve your website's position in Google search results.
Therefore, we consider this last feature of Ubersuggest to complete all the useful information you can get when analyzing the different factors of your web page.
In the first part, you will see:
The DA, that is to say a metric of the authority of your site which goes from 1 to 100; 

The number of backlinks and how many of them are NoFollow;

The referring domains that point to you.
Additionally, the graph below will help you see how often you acquired backlinks, which is very useful for managing your link building campaigns.
And finally, to have everything even more under control, Ubersuggest provides you with a list of all the web pages that have links to your site.
Next to each link, you'll see the following information: domain authority, page authority, spam score, anchor text, and finally the first and last time Ubersuggest bots crawled that link.
Of course, all this data can be filtered or exported with just one click.
Taking advantage of the tools available on the market to optimize your SEO is always worth it. However, by preferring reputable and well-supplied platforms like Ubersuggest, you are guaranteed to get good results.
It is therefore the tool that allows for better management of keywords. From this analysis, you receive better insights and notes to modify domain metrics accordingly.
We hope this description on Ubersuggest was helpful. If you want to know more, feel free to take a look at our
complete guide on this tool
.
Thanks for reading and until next time!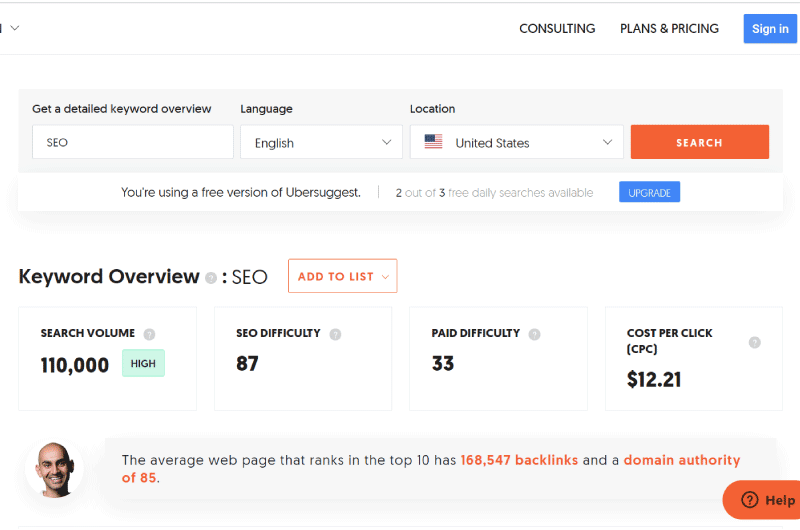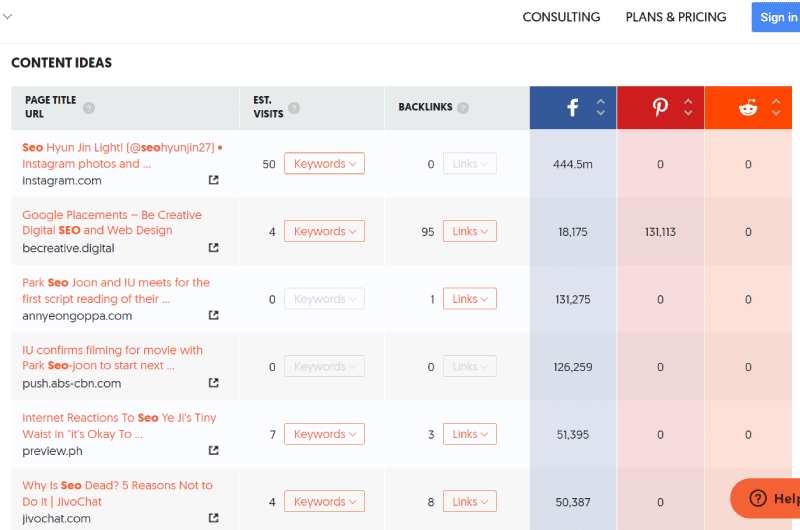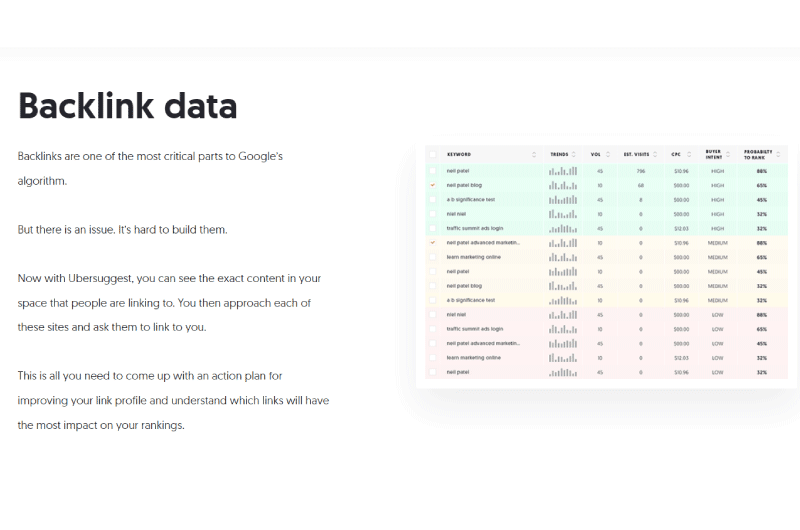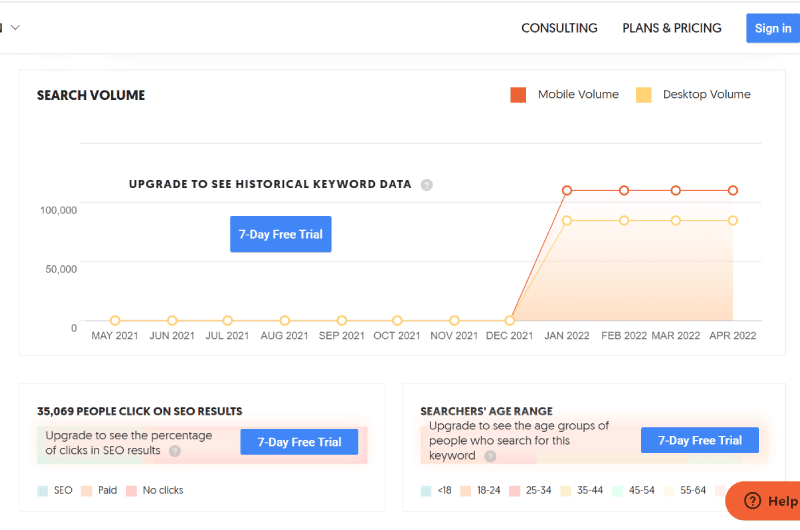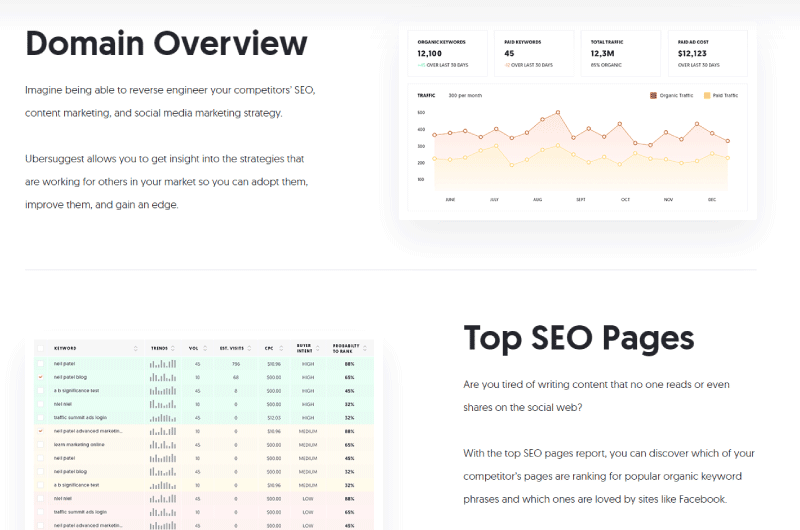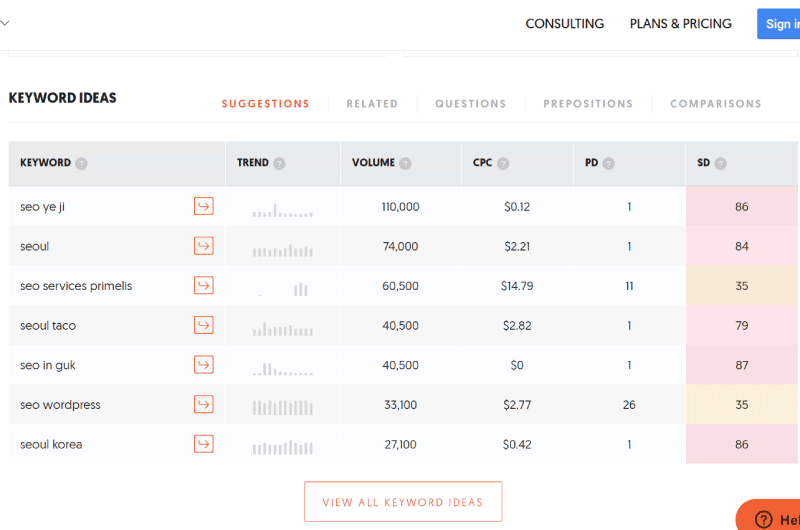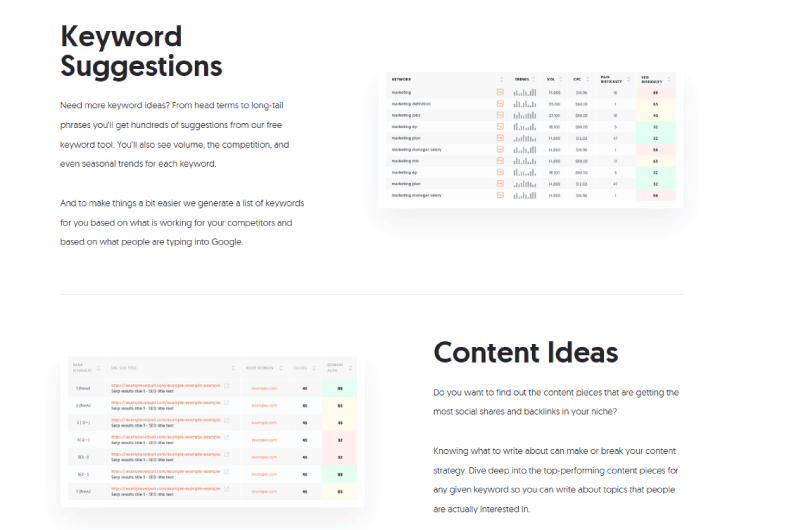 Company : Search Keywords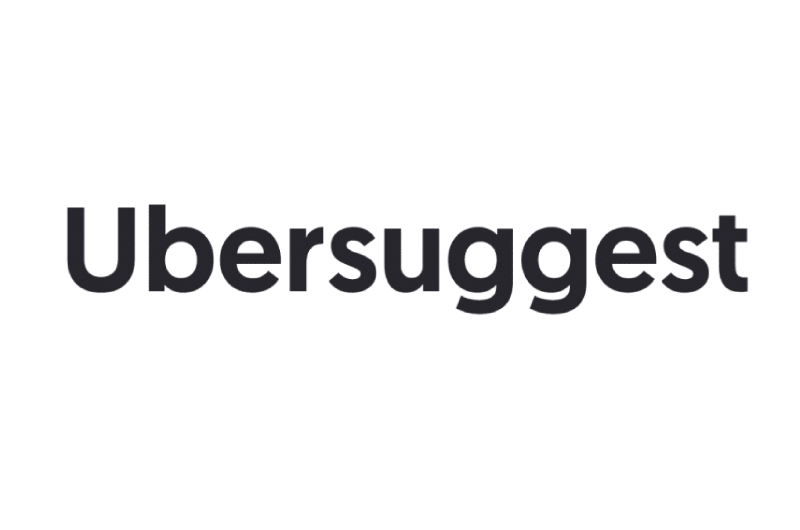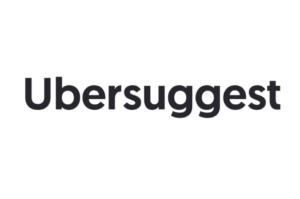 Ubersuggest was acquired in July 2017 by Neil Patel, a marketing expert. In the world of SEO, thiskeyword generator is quite popular. The tool helps companies with sites to have an overview of their domain.
However, its native functionality remains the generation of several lists of keywords. Better developed after its acquisition, Ubersuggest promotes a good analysis of the results of the SERPs, which makes it possible to discover the positioning of the pages of your competitors. 
Apart from these different advantages, Ubersuggest also helps companies using its services to come up with content ideas. Regardless of your sector of activity, if you have a site, it allows you to unearth the precise contents of your world to which Internet users make links. 
Finally, other tools complement it. These are:
SEO Analyzer;

A/B Testing Calculator;

Backlink Checker;

AI Rewriter Tool;

Website Traffic Checker.
Contact : Search Keywords
Social Media : Search Keywords
Others Tools : Search Keywords
Alexandre MAROTEL
Founder of the SEO agency Twaino, Alexandre Marotel is passionate about SEO and generating traffic on the internet. He is the author of numerous publications, and has a Youtube channel which aims to help entrepreneurs create their websites and be better referenced in Google.