Robots.txt Generator | Ryte
Short description : Robots.txt Generator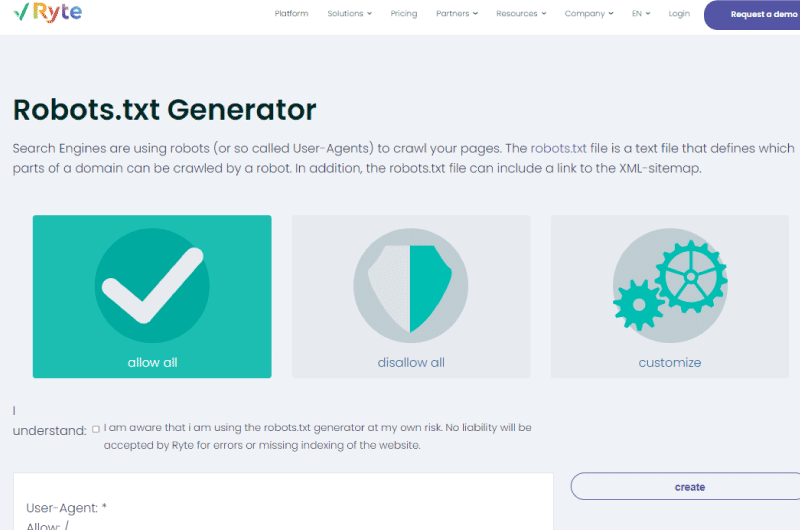 Use Robots.txt Generator to generate a robots.txt file with your sitemap in a few clicks.
Long Description : Robots.txt Generator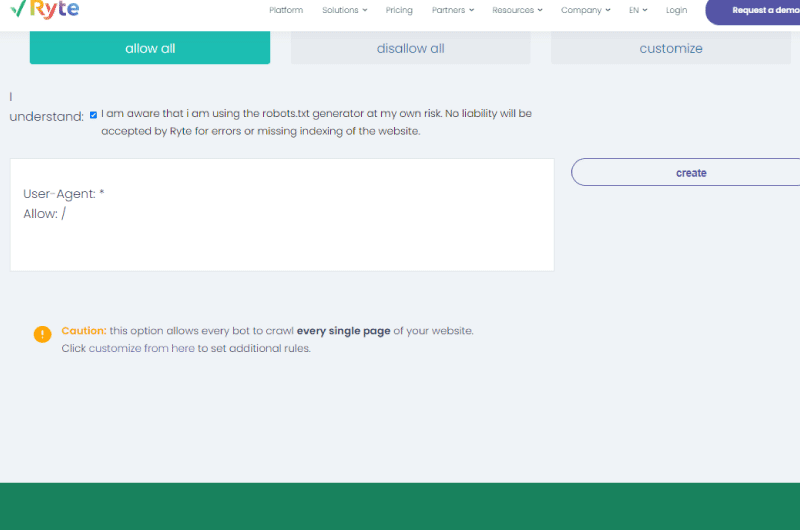 Robots.txt Generator
Search engines give websites a crawl budget which is the number of URLs spiders must crawl on a site in a given amount of time.
But there are some factors that eat up this budget like error pages. Also, crawlers don't need to crawl every page on your site.
In this case, the robots.txt file gives instructions on how crawlers should browse your site. The creation of this file on the other hand can be a real headache since at the slightest mistake, it can negatively affect your site.
To help webmasters, RYTE offers the Robots.txt Generator tool to easily generate robots.txt files.
Through this description, we discover how to generate this file from the tool and verify the correctness of your instructions.
What is RYTE's Robots.txt Generator?
RYTE's Robots.txt Generator is a very easy to use robots.txt generator for beginners. You can assemble your robots.txt file in just a few steps.
Indeed, a robots.txt file is a form of instruction for robots and crawlers (eg Googlebot) that defines which directories of a website can be read and which cannot. For example, duplicate pages can be excluded from indexing.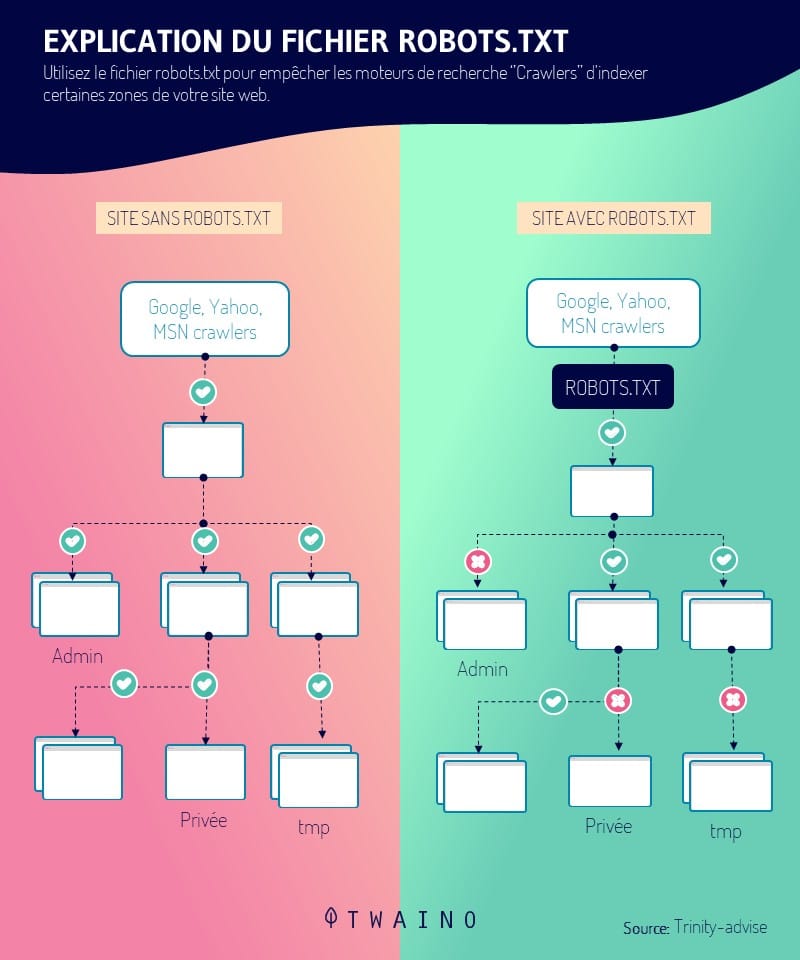 In the absence of such a file, the exploration engine or the crawler searches the entire website and potentially every file.
This way, all files can show up in Google search, for example, even when they shouldn't be there (like in the private administration area of ​​the website).
This phenomenon can also have a negative impact on your SEO, because the sub-pages that are crawled are not optimized for search engines.
The Ryte Robots.txt Generator can help you quickly generate robots.txt files with a selection of 11 spiders.
Once you have everything configured, with one click you can create and upload the file. All you have to do is upload it to the root directory of your website.
Who is RYTE's Robots.txt Generator suitable for?
This robots.txt file generator is for webmasters who want to block search engines from accessing certain resources on their sites that don't need to appear in search results.
By doing so, you optimize
your site
's crawl budget so that spiders will only crawl essential pages.
It is also free and allows you to add your sitemap to the robots.txt file.
Ryte Robots.txt Generator options to generate your file
Before exploring the options of this tool, let's first look at the syntax of the robots.txt file.
A robot file includes one or more blocks of directives to be sent to search engines. The first line specifies the user agent, i.e. the name of the crawl to which you are giving crawling instructions.
That said, one begins by specifying the user agent to which the statement should apply, and then follows a command which is nothing more than the statement.
Allow all or accept all
This option gives access to all robots to crawl all pages of your website. You understand that this is not the ideal option when you do not want all the pages of your site to be crawled.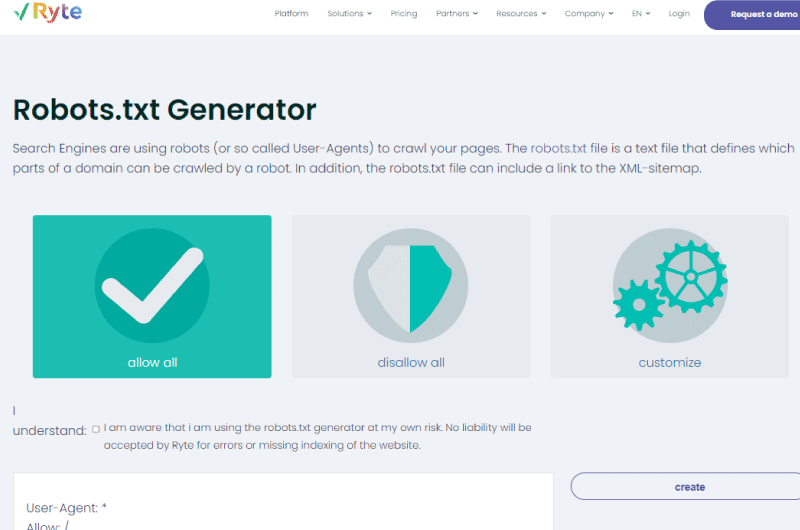 However, you can customize it and tell which bots you want to instruct and which pages they should crawl. 
Disallow all or Disavow all.
This option does not allow crawlers to crawl the pages of your site. However, if spiders cannot crawl your site, then obviously your site pages will not be indexed.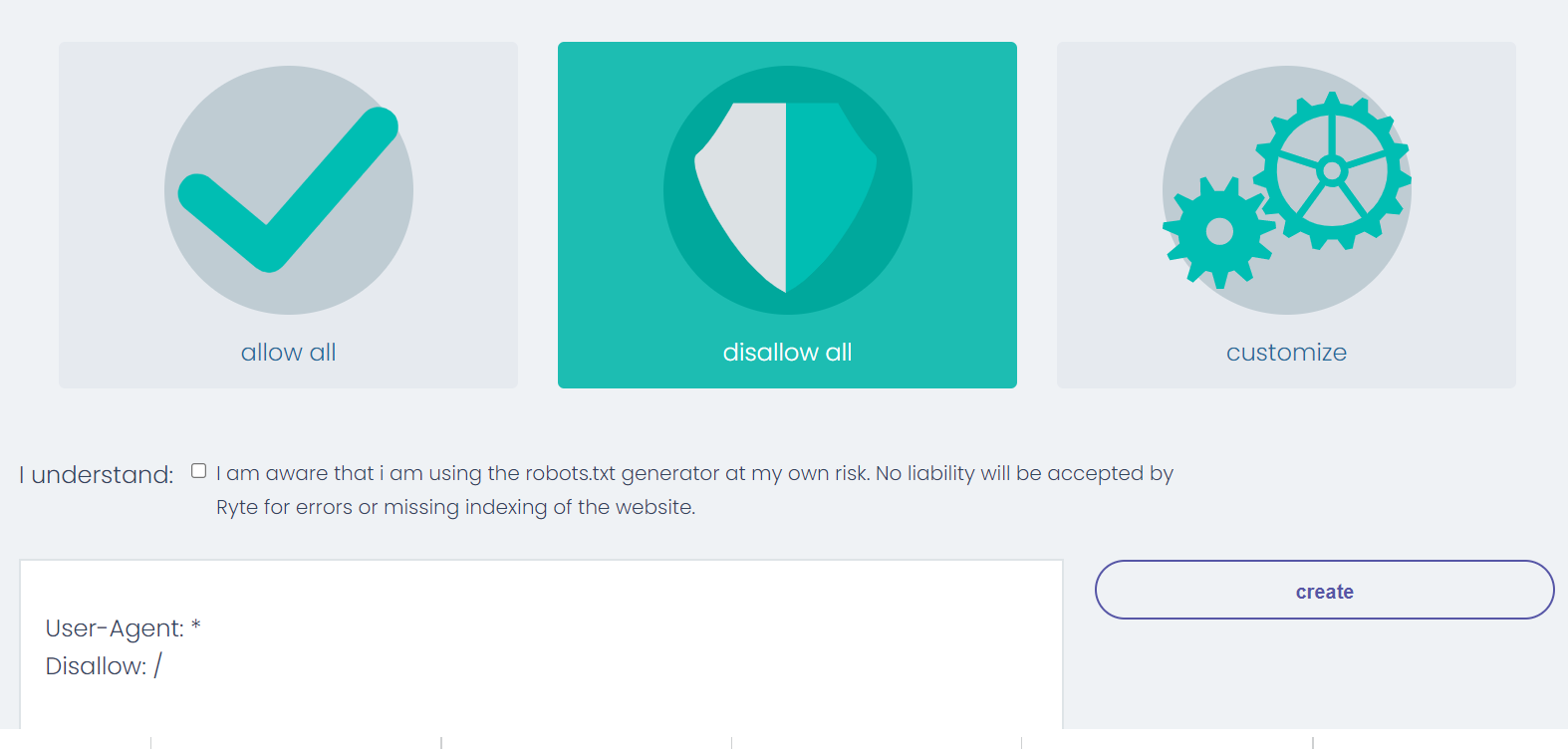 And when your web pages aren't indexed, they can't appear in search results either. This is why you need to be careful how you create a robot file.
Customize or customization option
This is the most interesting part of the Ryte Robots.txt Generator tool, because you have the option to customize the robot.txt file and give instructions as you wish.
On the left in Select Bot, you can define which crawlers you want to give directions to.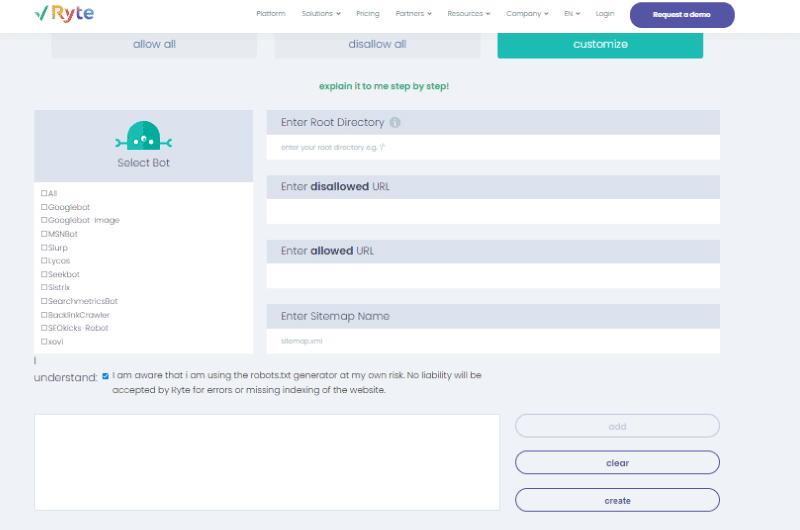 On the right, you'll define both the URLs (or directory) that bots shouldn't crawl and those they're allowed to visit.
Long story short, here are the steps to generate the file using the tool.
1. Enter your root. Just enter ( ⁄ ) and add your allowed or disallowed URLs relative to your server's root folder;

2. Choose the robot(s) you want to allow to browse your site;

3. Enter the paths that you want to authorize or not to access your site;

4. Add your sitemap to make it easier for crawlers to see your sitemap when they land on it;

4. Each time you finish with a statement, click 'Add' to save your rule and start writing another directive;

5. Upload your robots.txt file.
Test your robots.txt file before publishing
Always check the accuracy of the robots.txt file before placing it in the root directory of the website.
The slightest error can cause the robot to disregard the specifications and perhaps integrate pages that do not need to be in Google's index.
Ryte also offers
Robots.txt Test Tool
which allows you to test your robots.txt file. All you have to do is enter the relevant URL and select the corresponding user agent. 
After clicking "Start test", the tool checks whether crawling on the given URL is allowed or not.
In short, Ryte's Robots.txt Test Tool will allow you to generate a robots.txt file for your site without any technical knowledge.
Videos : Robots.txt Generator
Images : Robots.txt Generator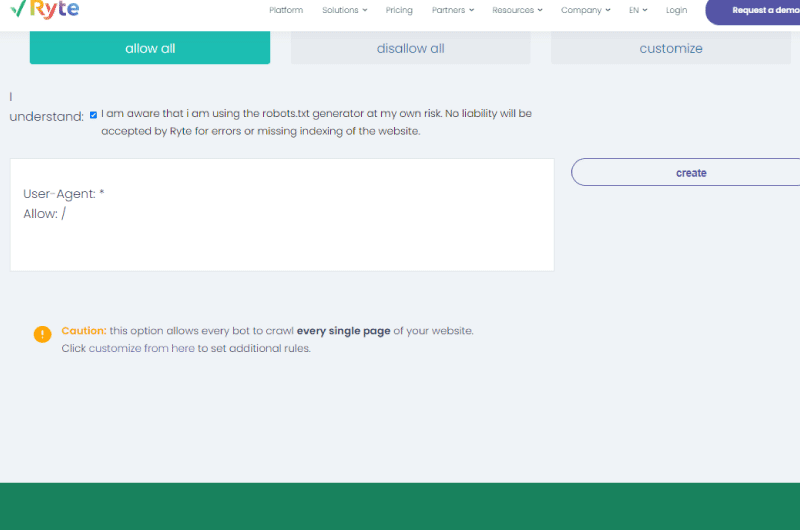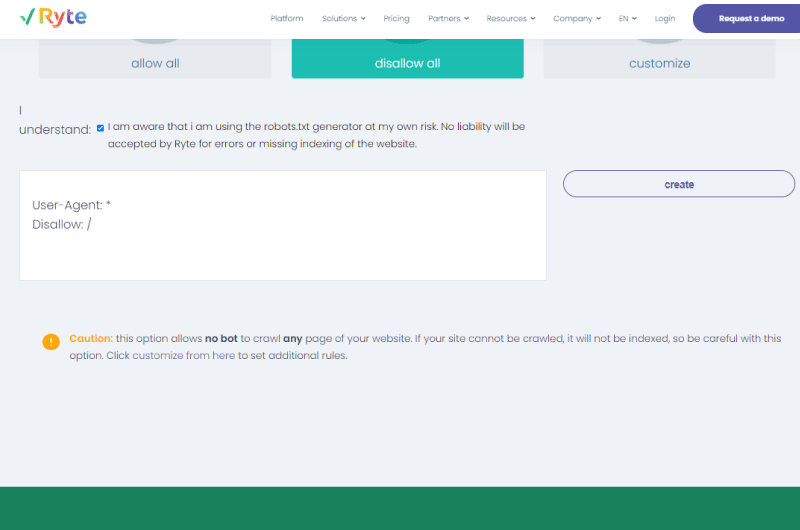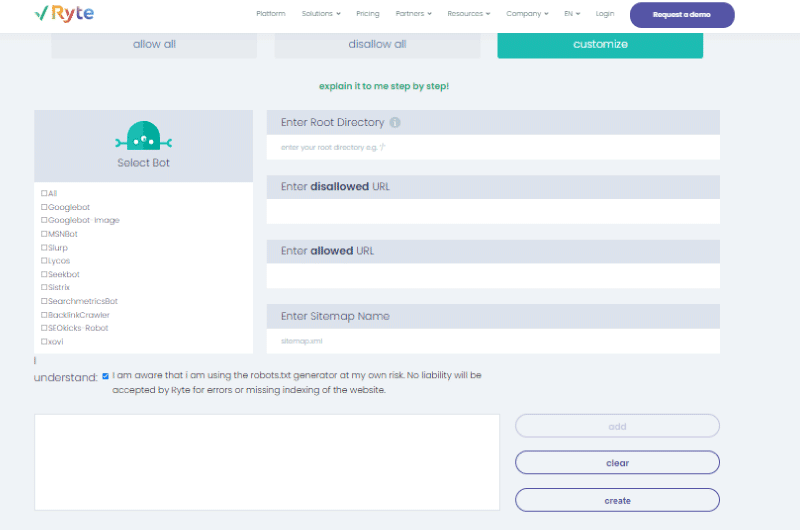 Company : Robots.txt Generator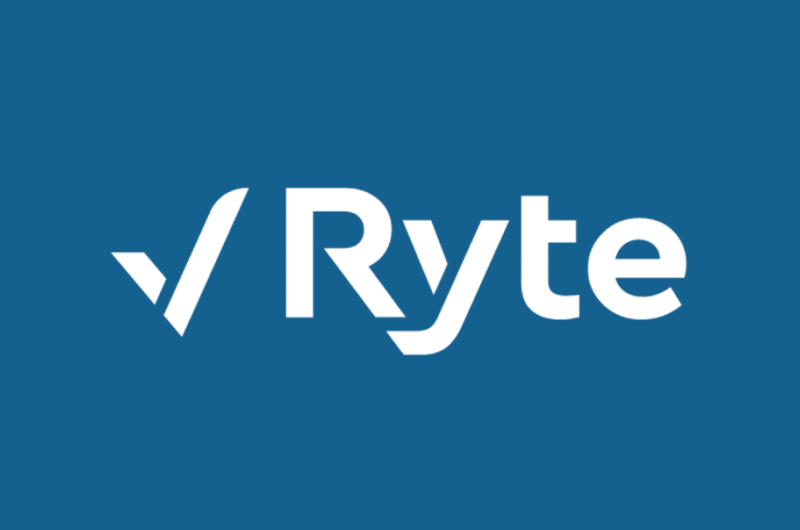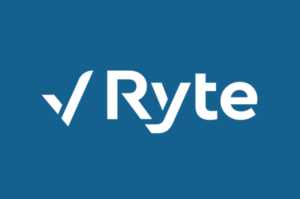 Ryte is a German tech company founded in 2012 and based in Munich. Its managing director is Andreas Bruckschlögl. Ryte is one of the fastest growing technology companies in Europe. She has also been rewarded several times for her many performances in this area.
Ryte's main mission is to help agencies and companies to optimize the experience of their users on their websites, thanks in particular to cutting-edge software products. 
With Ryte, digital marketers can reach their website's full potential. Especially since, Ryte provides its users with three essential tools for creating a sustainable website. These include:
Website Success;

Content Success;

Search Success.
To achieve its objectives, Ryte is committed to developing other, more efficient products. In addition, many internationally renowned companies, such as Daimler, Allianz and Sixt, trust Ryte's technology to unlock the potential of their website.
Contact : Robots.txt Generator
Social Media : Robots.txt Generator
Others Tools : Robots.txt Generator
Alexandre MAROTEL
Founder of the SEO agency Twaino, Alexandre Marotel is passionate about SEO and generating traffic on the internet. He is the author of numerous publications, and has a Youtube channel which aims to help entrepreneurs create their websites and be better referenced in Google.