Short description : AI Detector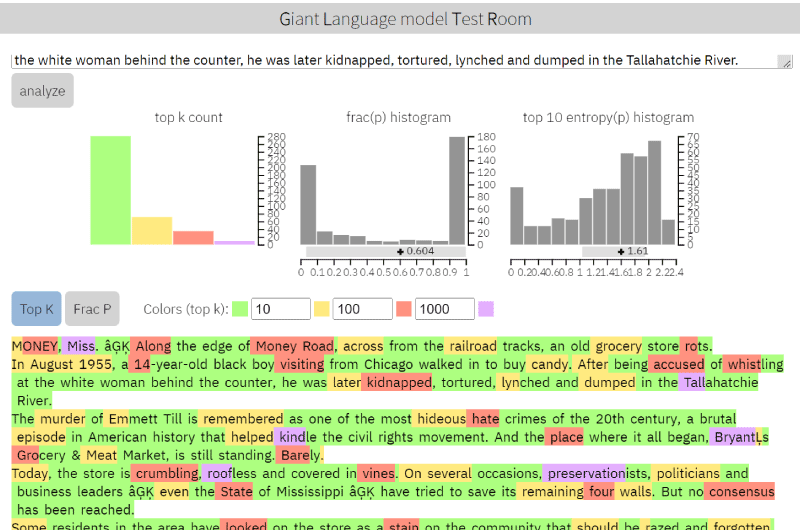 gltr.io is an excellent software that can detect texts or parts of a text generated by tools based on artificial intelligence.
Long Description : AI Detector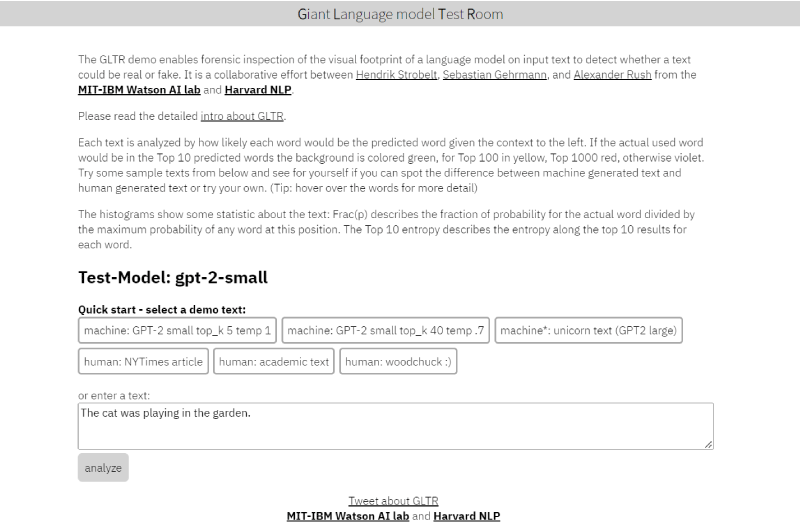 Description gltr.io
Content generated by artificial intelligence is associated with poor SEO practices according to Google.
This is a good reason for website owners to analyze every piece of content before putting it online to avoid penalties from Google.
To meet this need, gltr.io was created to help you study each of the words that make up your content.
To learn more, I invite you to read this description.
How does the gltr.io tool work?
The tool studies your text and determines the probability that each word it contains is a predicted word according to its parameters.
The background is colored in green if a word of the text appears in the Top 10 of the predicted terms, in yellow for the Top 100, in red for the Top 1000, or in purple if it does not appear there.
To use the tool, all you have to do is paste your content into the text box and then click on the "Analyze" button.
Then the tool examines your text and generates an analysis report in seconds.
What is AI Generated Content?
We talk about artificial intelligence generated content, when a machine is used to write articles such as blog content, marketing texts and emails.
For a content to be generated, the generator needs human intervention to give certain indications such as entering a description or defining parameters. The input can be a word, a sentence or even a short paragraph, depending on the content you want the machine to generate.
AI-generated content aims to mostly remove the need for human assistance when creating content. Thus business owners can take advantage of AI content generators to save time and money in the costly or costly process of content marketing.
While AI content generators have the power to speed up your content publishing frequency, they're not always a better solution. 
A major downside of AI-generated content from a content marketing perspective is that it isn't always completely original. Content generators only gather information that is already in the settings. 
Although the content may be deemed free of plagiarism, it will not contain any new study, ideas or data.
This means that the AI ​​can generate simple texts, but it cannot share opinions or create in-depth content.
What are the advantages and disadvantages of AI-generated texts
Benefits of using AI writing software
As advantages, here are a few:
Reduce writer's block: If you find it difficult to get started in writing an article, AI tools can be useful to help you get started.

The content generator can help come up with new content ideas, especially if you use a content idea generator. Seeing how a tool structure or write a long article can reactivate your writing skills.

You can save money and energy;

AI generators can be used for different types of content, but the quality won't always be perfect. For example, if you try to create captions for social media using the AI ​​tool, they may turn out to be better than long-form content, but not always perfect.

You can use these tools to generate first drafts of content that you can edit and expand on, which is great when you're stuck or running out of time.

The content produced by AI improves with use, because the tool learns to invest in the subject on which you write.
Disadvantages of using AI writing software AI-
generated content can be useful for many purposes, but it also has several disadvantages:
AI generators are not as insightful as humans when itabout emotions and motivations. Therefore, the text they produce will never be able to speak to an audience in the same way as content written by a human;

Because AI tools are unable to fully understand human language, they sometimes make mistakes when conveying information to your audience;

AI tools can limit the reactor's creativity when creating content;

AI-generated content may not read properly, and may even communicate false information that would require human review. If errors or mistakes are included in your online content, it could damage your reputation;

As artificial intelligence tools struggle to understand spoken language and dig deeper into the complexities of what is being said, they do not work well when it comes to demonstrating expertise in a given area.
In general, gltr.io can be a great option if you want to verify the authenticity of every word in your content before uploading it to avoid Google penalties.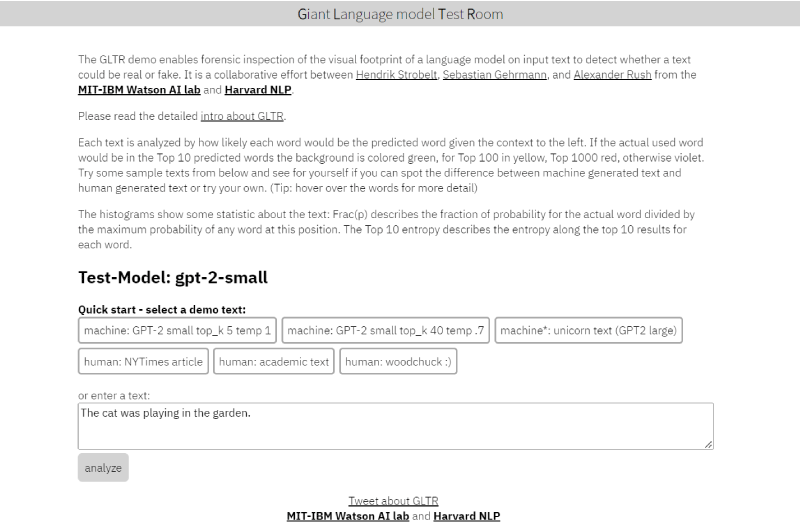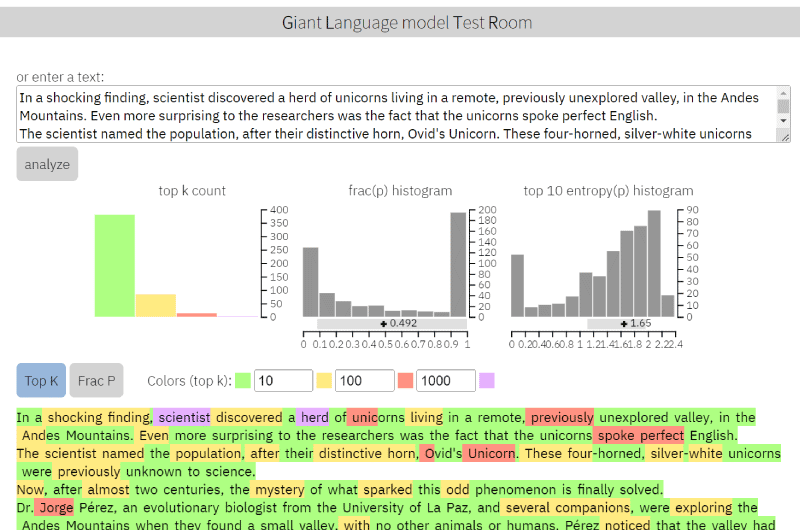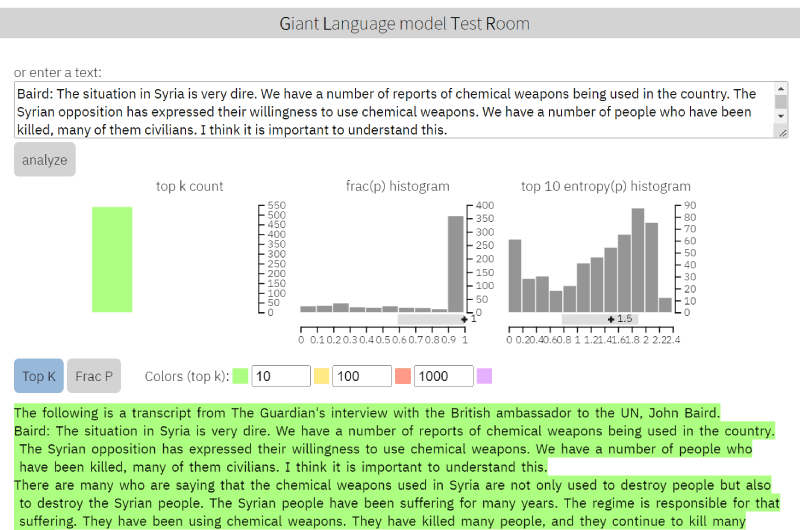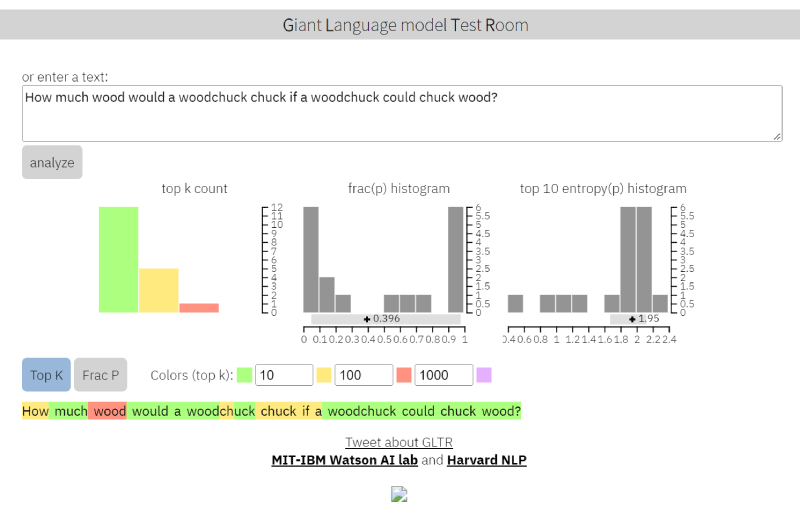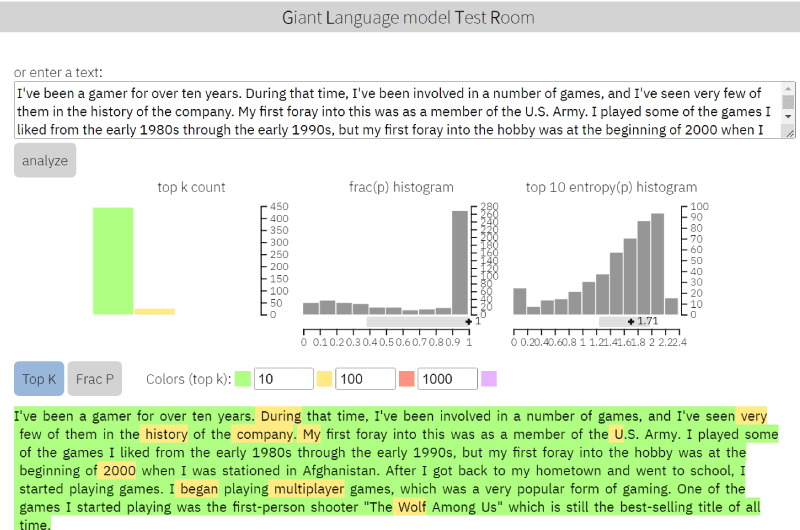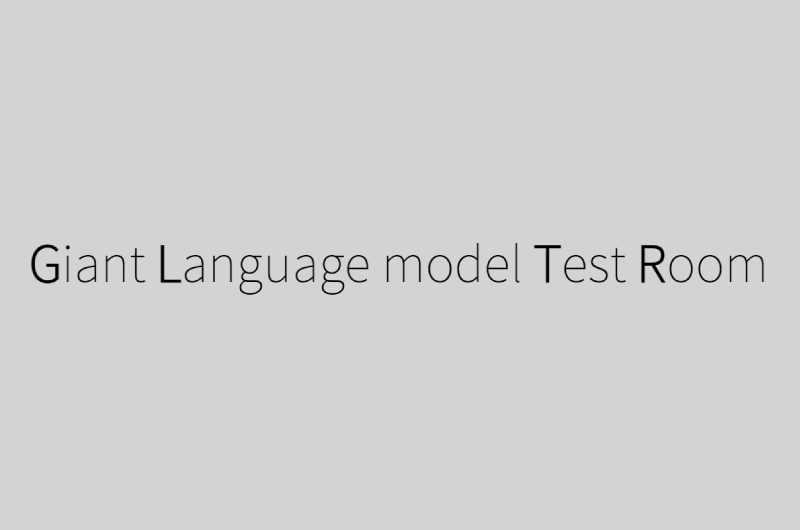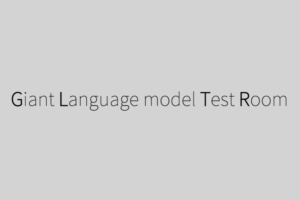 GLTR
, standing for Giant LModel Test Room, is a company developed by Sebastian Gehrmann, Hendrik Strobelt and Alexander Rush. The latter come from the artificial intelligence laboratory MIT IBM Watson and Harvard NLP.
The company provides its users with a tool that identifies automatically generated text through a language model designed to anticipate the next word in an input context.
Through this tool, the company allows its users:
To analyze and classify the words that the GPT-2 model would have anticipated on a text;

Obtain a visual indication of an input text;

To differentiate between human-generated text and machine-generated text;

Etc.
Thanks to these services offered by the company GLTR, you can easily analyze the probability that a computer system can generate an input text. This is what lets you know if this generated text can be real or fake.
Social Media : AI Detector
Others Tools : AI Detector
Alexandre MAROTEL
Founder of the SEO agency Twaino, Alexandre Marotel is passionate about SEO and generating traffic on the internet. He is the author of numerous publications, and has a Youtube channel which aims to help entrepreneurs create their websites and be better referenced in Google.