User-Agent Switcher | Chrome Web Store (Plugin)
Short description : User-Agent Switcher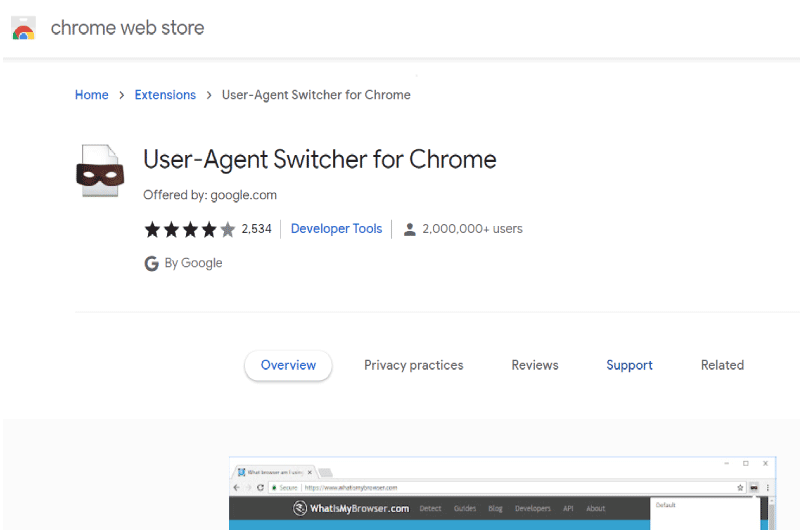 Want to quickly switch between user agent strings while browsing? User Agent Switcher is one solution.
Long Description : User-Agent Switcher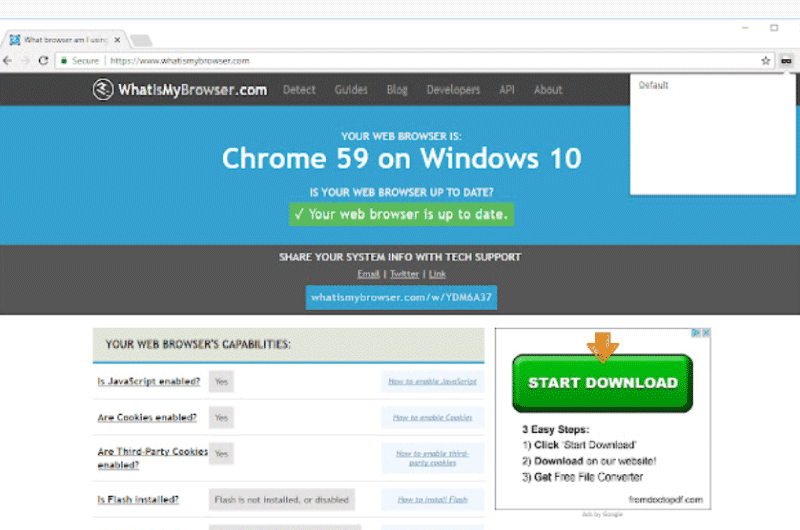 Description User Agent Switcher
User Agent Switcher is a user agent switcher that allows you to browse the internet through any browser or operating system from Chrome. This means that you can change your Chrome browser's user agent.
Sometimes while browsing Google Chrome, you may face incompatibilities which may prevent you from browsing as it should.
For example, there are websites that limit access to different devices and operating systems or their functionality differs from browser to browser.
In this case, to avoid installing all browsers or changing devices each time, you can switch your Chrome browser's user agent from one channel to another using the User Agent Switcher tool.
It's a chrome extension, free and simple to use when you find yourself in one of these cases.
What is User Agent Switcher ?
As the name suggests, User Agent Switcher helps in changing your browser's user agent.
User Agent Switcher is a very effective tooldeveloped by the web giant Google itself, which makes it the most popular user agent industry with over two million downloads.

According to customer reviews, it can be noted that users do not regret at all for choosing User Agent Switcher as a user agent switcher to browse the internet quietly.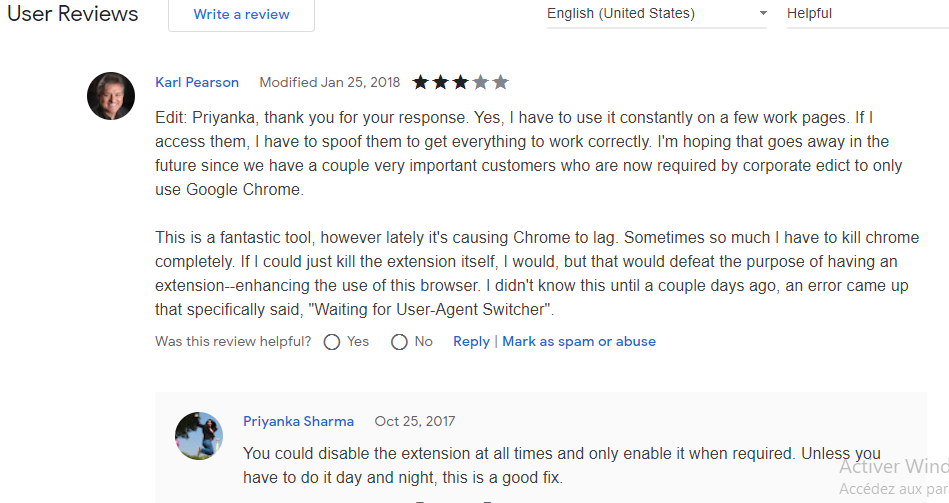 However, a user agent is usually a string of encoded text that your browser sends to the web server it communicates with. It informs the server of all the necessary information about the user such as:
The browser he is using;

The operating system used;

The search engine in question;

And lots of other details.
This information, which is sent using the HTTP protocol, can determine how a site's content may be displayed on the device used to access the internet.
While the role of a web browser is to render information in the form of text, images and the like, web servers are supposed to really understand the user agent and what it is looking for in order to be able to send the content correctly.
However, User-Agent Switcher helps you modifythe string of code that is sent over the HTTP protocol to make your server look like you are browsing from another browser or operating system instead of the one you are really using. .
Severalreasons can explain theneed to use User Agent Switcher to browse the Internet:
When developing a website, developers, instead of installing multiple browsers, prefer to use the User-Agent Switcher extension to see how the website looks on different browsers.
For example, when you develop your site on Chrome, User-Agent Switcher allows you to preview it on:
Opera mini;

Windows Firefox;

Mac Firefox;

Internet Explorer;

Etc.

This means that on the same browser and same device you can test how your site looks on different browsers and operating systems.
User-Agent Switcher can also help you preview yourwebsite on mobile devicesit is being developed.
This allows you to test the usability of the site, that is, its ability to render content correctly on computers as well as mobile devices. 

Moreover, if you regularly browse the Internet, it is not surprising to see certain websites with functionalities that only work on mobiles.
In this case, the extension can help you quickly switch your browser's user agent to phone for easy access to mobile features.
It may sometimes happen that you cannot access a website because of the browser or operating system you are using.
For security or interest reasons, some websites can only be accessed through certain defined browsers or operating systems.
When you face this situation, you don't need to search for another device browser, just switch to another user agent using your User Agent Switcher extension.
How it works ?
Connecting to a website using multiple browsers and explorers from chrome is not complicated enough with the User-Agent Switcher extension.
The most important thing to do is to add the extension to your Google Chrome browser. The extension is available and downloadable from the Chrome store.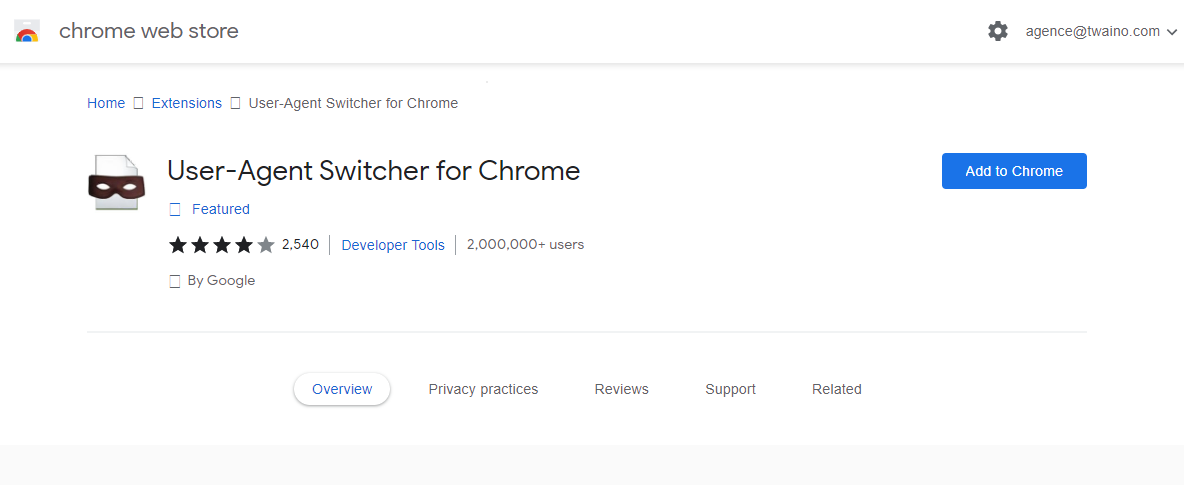 Once the extension is added to your Chrome browser, just click on it to switch the user agent from one string to another.

When you click on a browser, the extension also asks you to choose a browser-compatible operating system in its variety of versions.

For example, when I click on Internet Explorer, I have to choose between:
Internet Explorer 10;

Internet Explorer 6;

Internet Explorer 7;

Internet Explorer 8;

And Internet Explorer 9.
It is the same for other browsers too, you have to choose between the exploration systems that go with it.
Like its installation, uninstalling this tool is even easier when you no longer want to use it.
Since it's already installed on your browser, if you go to the Chrome store again, you will now only have the option "Remove from chrom" instead of "Add to Chrome" .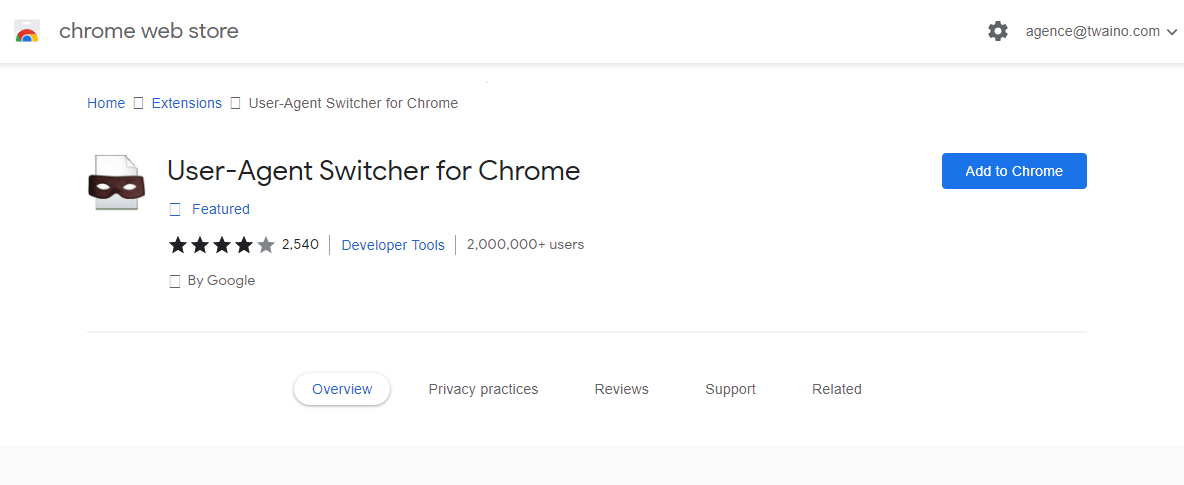 When you click on the button, a pop-up window will appear asking you to confirm the removal of the extension from your browser. It is up to you to decide whether you will uninstall it or not.
User Agent Switcher is therefore a great extension that you can easily download from the Chrome Store. 
If you are looking for a way to overcome restrictions in your Internet browsing, this option is a perfect solution, because it is free, simple, and easy to use.
Videos : User-Agent Switcher
Images : User-Agent Switcher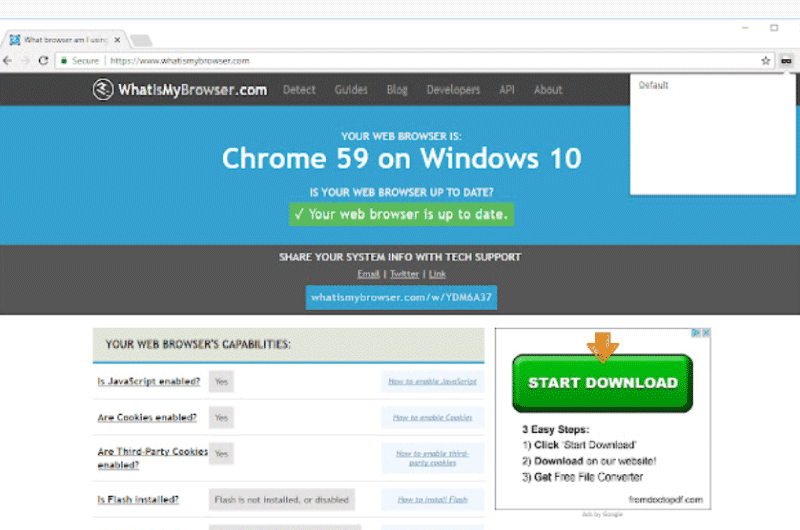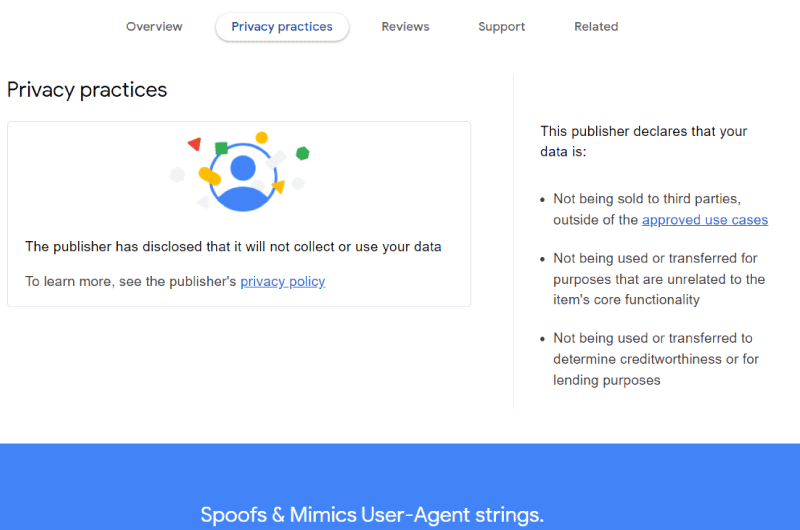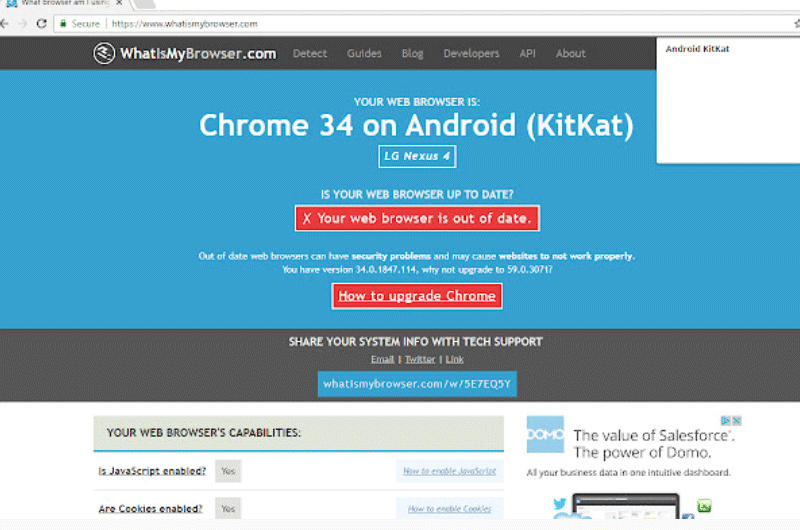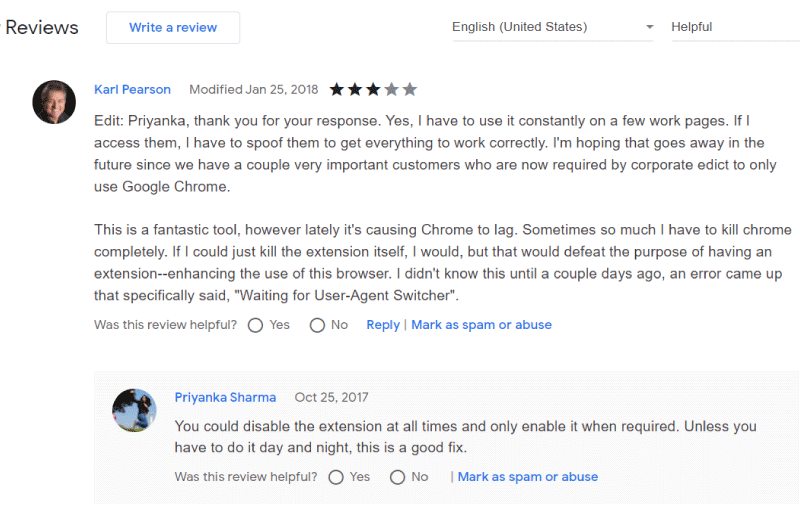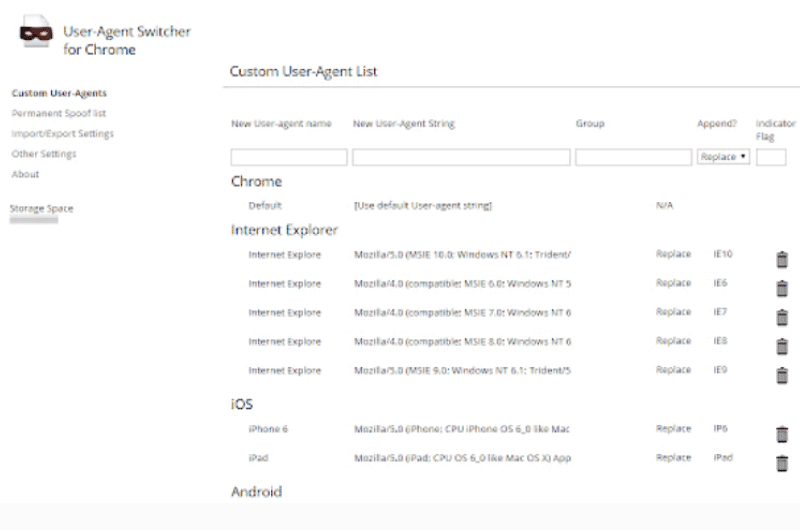 Company : User-Agent Switcher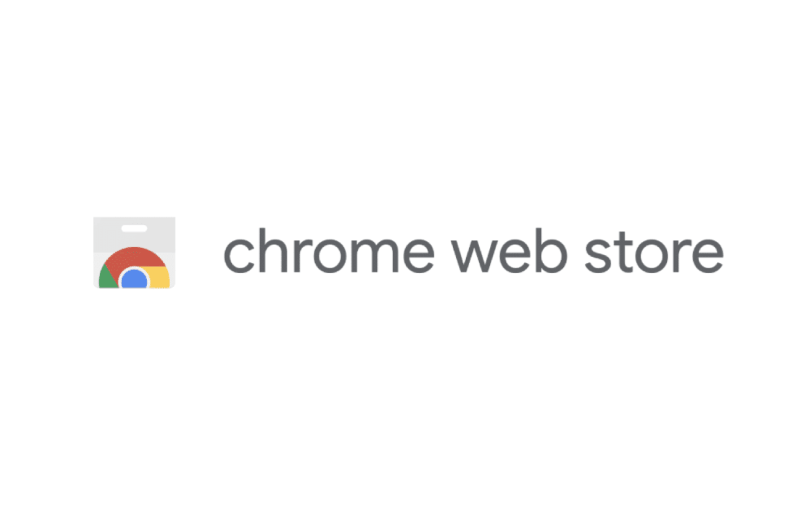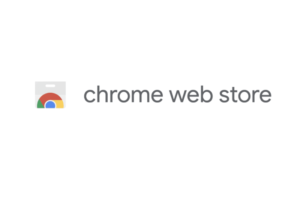 Chrome Web Store is a Google Chrome browser platform created by Google in 2010. It is used by millions of people around the world since it offers thousands of extensions of various types. 
Through Chrome Web Store, you can get additional apps, extensions, and new themes on your Google Chrome browser. This will help make your browser more personalized, intuitive and easy to use.
Chrome Web Store is also a platform for tool creators. As long as they can create their extension and submit them to the platform.
While some tools offered by the platform may be free, others require a fixed payment or subscription.
Contact : User-Agent Switcher
Social Media : User-Agent Switcher
Others Tools : User-Agent Switcher
Alexandre MAROTEL
Founder of the SEO agency Twaino, Alexandre Marotel is passionate about SEO and generating traffic on the internet. He is the author of numerous publications, and has a Youtube channel which aims to help entrepreneurs create their websites and be better referenced in Google.